Do you ever look at someone and think, "Wow, I wish I had her style."? That was my response when I first opened the folder of images for today's wedding. From her bold red lip and sleek haircut to her minimalist, chic gown and exquisite vintage jewellery, I'm in awe of bride Felicity's sophisticated look. So, let's meet the bride and her groom Tom.
Felicity and Tom are both in the medical profession; Felicity as a psychiatrist and Tom as a medical doctor. They married after three years together on 20 May 2017 in a civil ceremony and reception at the Queen's House, Greenwich, London. The couple chose to wed in the capital as London is their home and many of their friends and family live close by. Felicity is a firm believer of the minimalist 'less is more', and the wedding style was simple, classic elegance, with ivory and green botanicals.
The bride opted for a bespoke hair vine, finding Clara Francis Jewellery through this very blog blog.We really are so lucky to have worked with Clara many times on Love My Dress and to list her on Little Book for Brides. Clara's work is breathtaking and so unusual – perfect for adding a unique touch to a bridal outfit that can be worn again and again.
"I was drawn to the unique nature of her designs; intricate without being bling. I have so much admiration for Clara and the hours of beading work that go into creating each design from scratch. Clara's workshop is a bijou beaded heaven! She took the time to find out about my plans for the wedding day and fashioned a gorgeous hair vine using white, silver and navy inspired by my shoes, jewellery and dress."
Photography Joanna Brown Photography
I just love the design story behind Felicity's bespoke gown, which has now become part of Clerkenwell designer Andrea Hawkes Bridal's core collection. It combines minimalistic style with clean lines and an ever so slight vintage vibe.
"Andrea designs truly beautiful dresses, which are even more gorgeous in real life. Supporting a British designer was also important to me. I knew I wanted a dress that was less 'bridal', fairly minimalist in design with no frills, puffiness or flowers! I adored Andrea's use of clean simple lines, sumptuous silks and unusual fabrics to create a modern yet timeless elegance. I relished the opportunity to adapt the shape of and combine collection pieces, in addition to choosing fabrics to suit my personal taste."
The bride made the last leg of her journey to Greenwich with her uncle, who has a keen interest in vintage cars and is the proud owner of a distinctive Sunbeam.
"We decided that the 20 mile trip from my home in Kent where I was getting ready was a bit far with the roof down but my uncle kindly drove me from the nearby hotel where some of the guests were staying. It was certainly an experience travelling through Greenwich in style, if not a little windy! The car looked lovely parked outside the Queen's house during the drinks reception."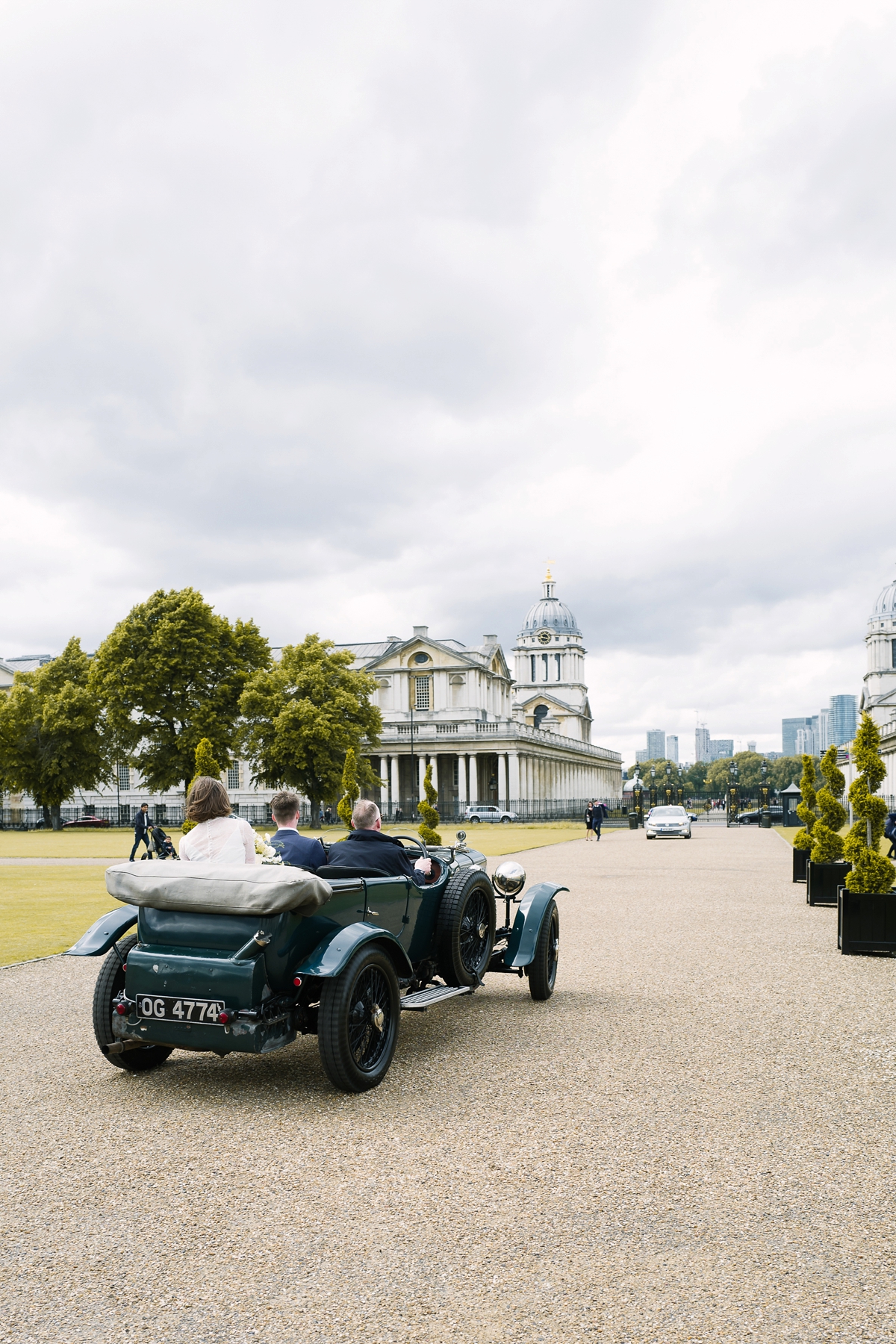 Felicity kicked off her wedding day in a slightly different way, to keep her calm and centred throughout the celebrations.
"I am a dedicated yogi and practice everyday. On the morning of the wedding a family friend who teaches yoga agreed to teach a lesson. The road my family house is on is a bit like the set of 'Neighbours'! A few of us gathered in the hall along the road and had a lovely relaxing start to the day; such a great way to have a moment of calm."
"I had never seen anything like the unique lace used for the overlay of my dress. The made to measure service ensured that my dress fitted like a glove and sat beautifully on the day. My dress was a delight to wear on the day. I felt confident, classy and comfortable but most of all myself – rather fitting given that Andrea included the dress in her next collection and named it 'Felicity'. I cannot thank Andrea and her team enough; they were wonderful to work with and incredibly patient throughout the process."
Felicity's shoes were L.K.Bennett heels in navy, metallic suede. A further splash of blue came from her antique diamond and sapphire earrings, gifted to her by her father-in-law. Keeping the look simple and elegant, she also wore her mother's platinum and diamond wrist watch.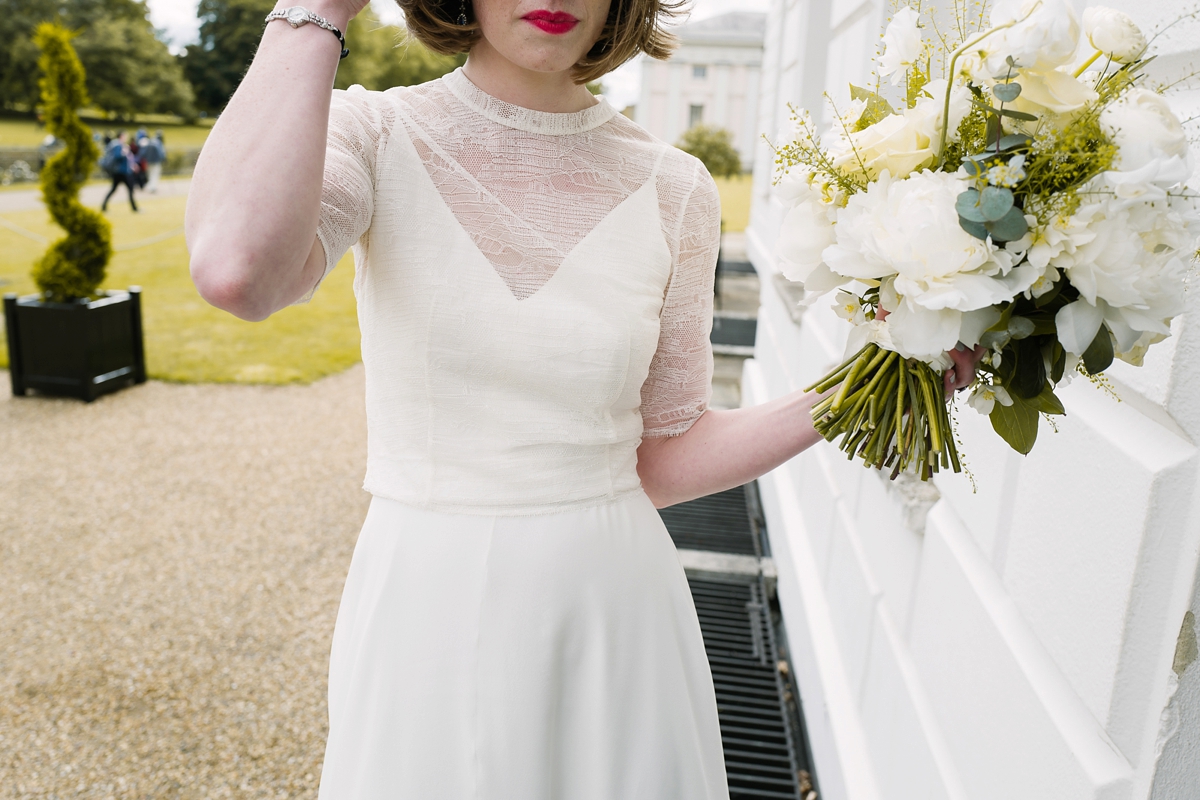 The Queen's House, with its Thames-side location, is a spectacular backdrop for any wedding; the marble floor and airy height of the Great Hall is wonderful. It needed very little enhancement apart from fresh flowers.
"Tom had already considered the Queen's House having been to his aunt's wedding reception there many years ago; his grandfather also lives just across the park in Blackheath. I can remember visiting Greenwich Park on many occasions as a child though had never seen the Queen's House. Tom and I arranged to look round and despite the renovation work (and having to wear hard hats!) being done at the time it felt just perfect as a venue. The Great Hall is such a beautiful space and the backdrop of the park is stunning. On the day the weather the early evening sun meant we were fortunate enough to be able to have the drinks reception outside. The convenience of being able to be in one place for the day was also appealing!"
"The Queen's House staff could not have been more helpful. We were assigned an events manager for the day, Amy, who was an absolute star. She co-ordinated everything with each of our suppliers during the run-up to and on the day itself, which meant we didn't really have to think about anything  once the suppliers were chosen."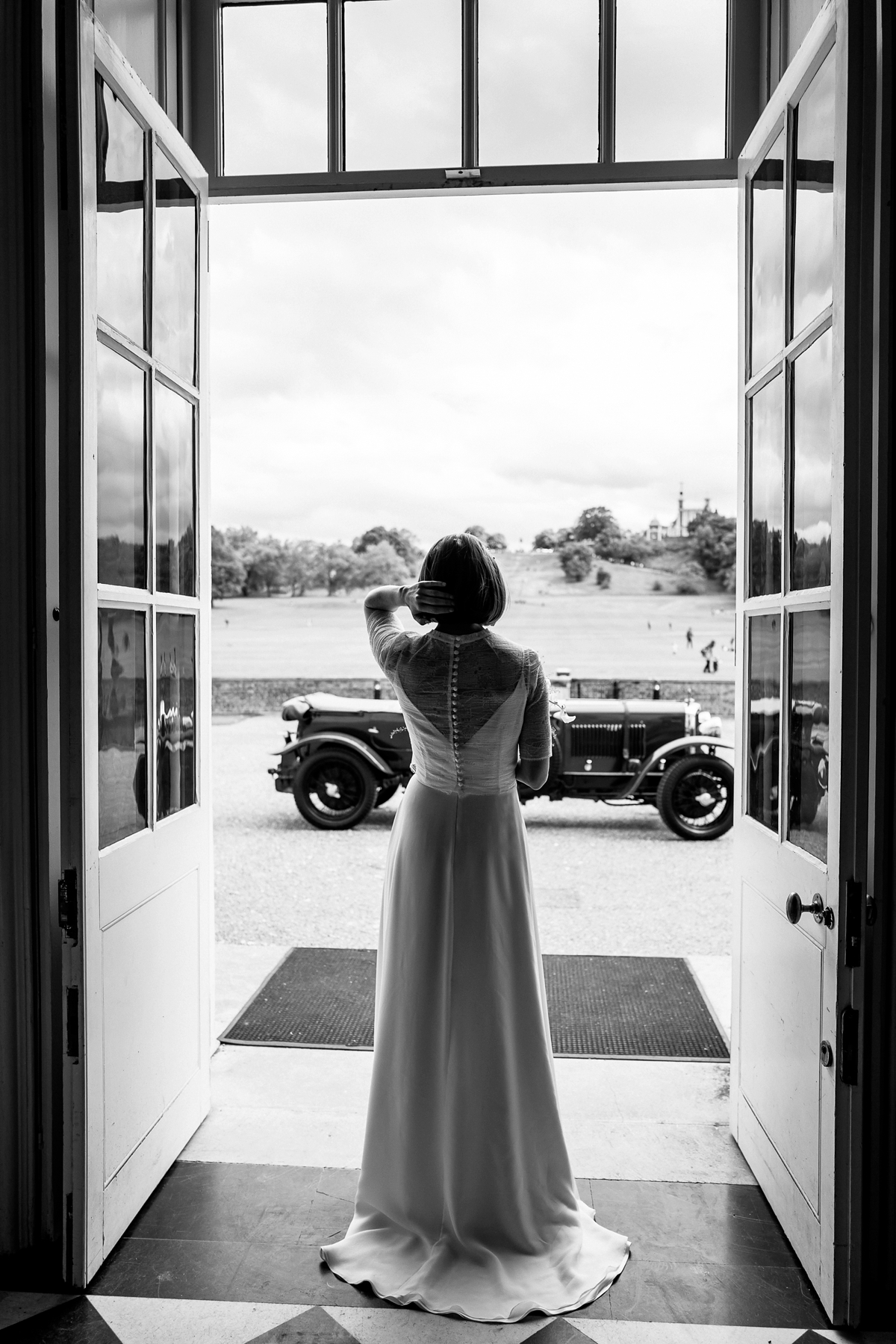 The two grown-up bridesmaids (the bride's sisters) wore navy sequinned-top tulle dresses from ASOS with navy glittery closed-toe heels from Dune. Like the bride, they wore identical pearl necklaces, given to them by their mum after their father died seven years ago; "They are always a special reminder."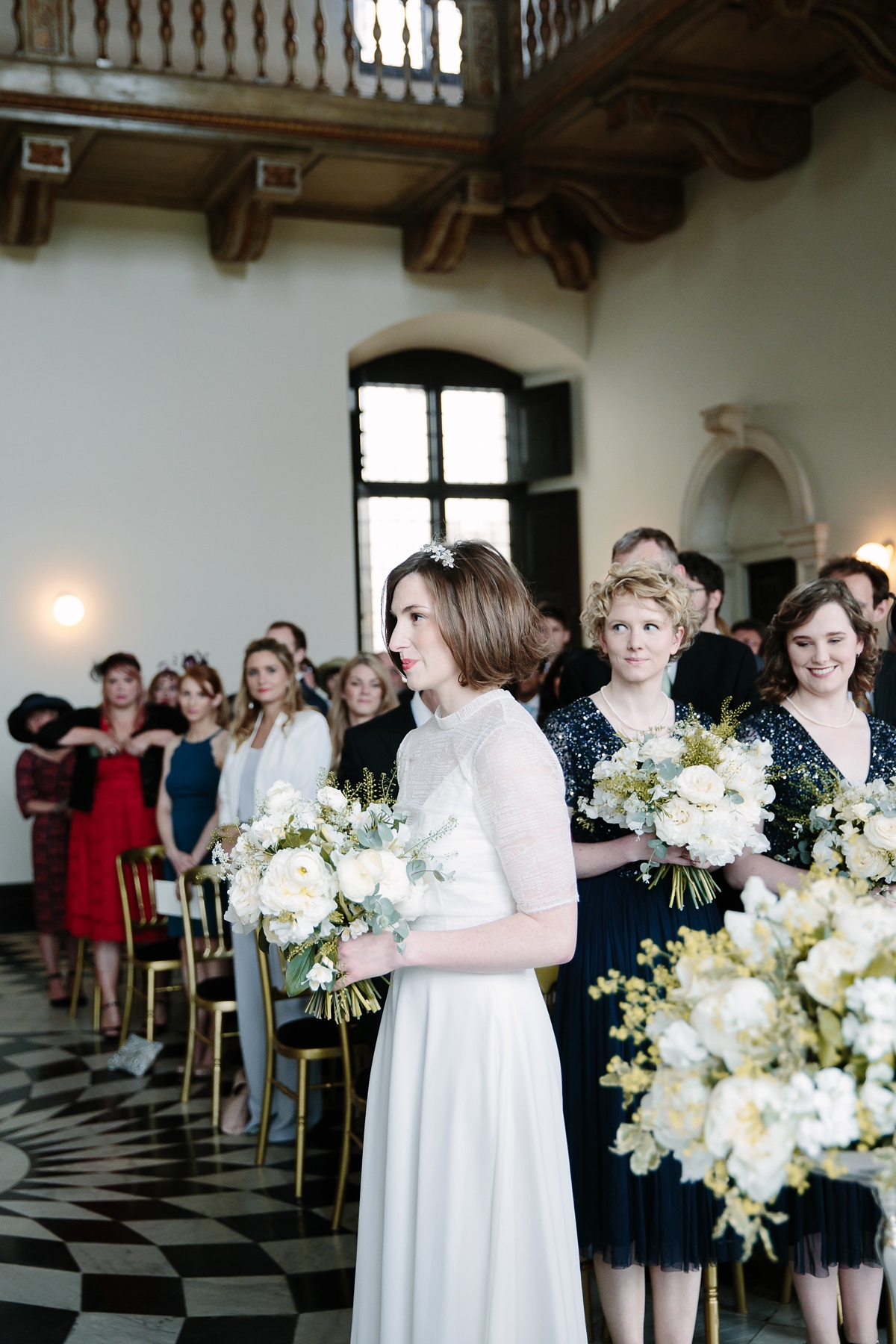 Tom hired his smart, traditional morning suit from Alexandra Wood in London and added a pair of gold cufflinks, engraved with his initials, and a pair of Barker Oxford shoes. The pair met in Oxford whilst they were both junior doctors.
"Tom and I met in May 2014 at a mutual friend's birthday party. Thereafter we were pretty much inseparable. After a few months I had to move to London due to work commitments and Tom followed as soon as he could a year later. In January 2016 Tom completely surprised me with a romantic proposal on Waterloo Bridge – down on bended knee with ring in hand! We love living in London and the view across the city from Waterloo Bridge is one of our favourites. Unbeknownst to anyone Tom had secretly chosen and bought a beautiful antique art deco platinum, sapphire and diamond ring from Matthew Foster who now operates from Grays Antiques in London. Due to various exams and other work commitments we planned the wedding for the following year in May in the hope that it would be reasonable weather in spring."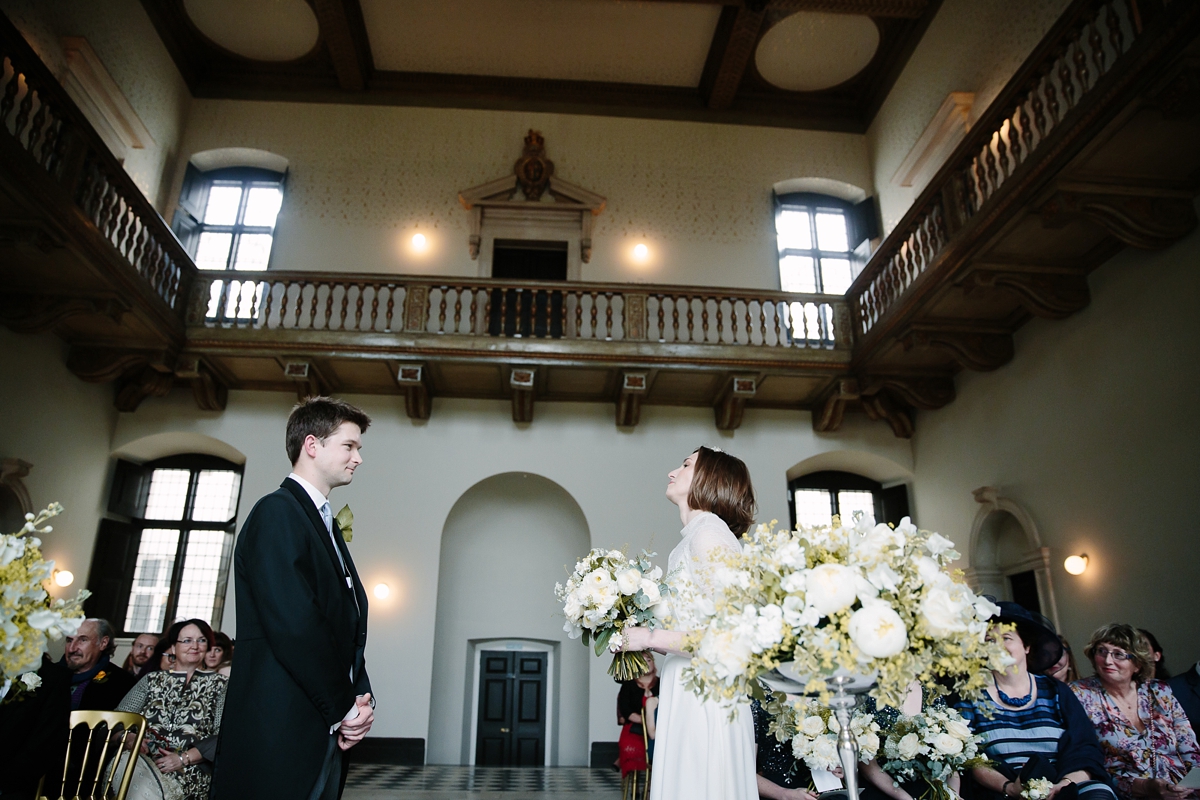 Felicity chose to walk down the aisle alone to meet Tom, to the beautiful sounds of 'La Rejouissance' from 'Music for the Royal Fireworks' by G.F. Handel played by a string trio (of which a family friend is a member).
"My father passed away almost seven years ago and to me it didn't feel right to have someone next to me in his place. I am a pretty determined and independent lady and am sure that my father wouldn't have expected anything different from me."
"As with most couples meeting each other at the end of the aisle has to be one of our favourite parts of the day. Tom and I hadn't seen each other for two nights so there was so much excitement. I had a permanent goofy smile walking up the aisle and in my eagerness even managed to trip up the stairs into the great hall – though everyone tells me they didn't notice!"
One of Tom's old school-friends read Shakespeare's 'Sonnet 55' – a lesser-known sonnet chosen because the couple loved its focus on enduring love – and the poem 'To the Lady May' by Aurelian Townsend which was read by Felicity's older sister.
Rings were chosen at Cred Jewellery in London, who specialise in fair-trade, ethically-sourced jewellery.
"We try to do what we can to help the environment and support sustainability so it seemed like the right thing to do. The girls at Cred were really helpful and extremely patient whilst we spent ages trying different sizes! We both went for slim gold wedding bands, which have been really comfortable to wear."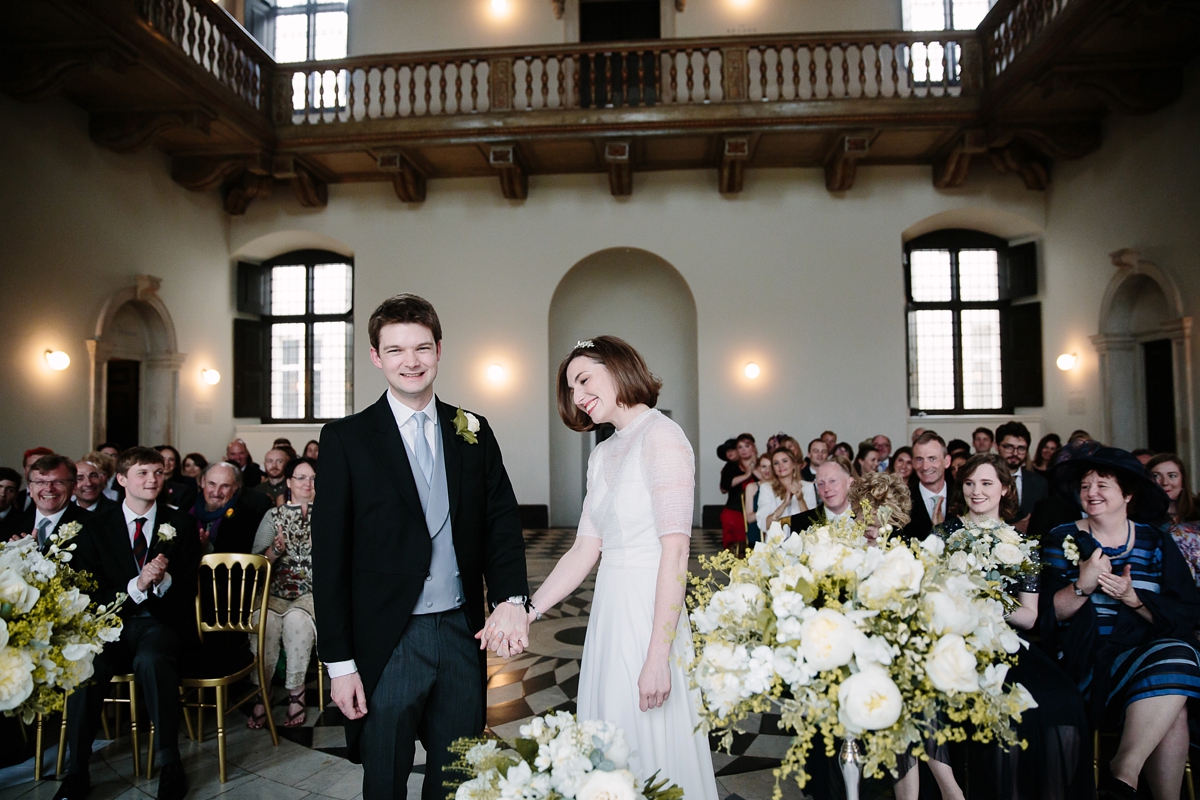 In keeping with Felicity's minimal tastes, the bouquets were in sophisticated tones of green and ivory arranged in sumptuous style by White & Winsome.
"The bouquets were arranged by White & Winsome close to my home in Kent. My mother knows Cappy who runs the company. She was so helpful and did a fantastic job. Cappy absolutely nailed my bouquet for the day all via email and Pinterest."
"The main flowers were provided by Karen Woolven Flowers located near the venue in Greenwich. I arranged to visit Karen's shop, admitting that I didn't know the first thing about flowers but that I wanted something simple and elegant using ivory and green. Karen suggested roses, peonies, sweet peas and stocks. Having seen pictures of her previous arrangements I completely trusted her to produce something beautiful on the day which she did. We had two larger arrangements on either of the ceremony table and a trio of vases on each dinner table."
I'm sure that many brides will relate to Felicity's worries about bridal make-up.
"I had originally planned to do my own make-up on the day. As someone who doesn't wear much make-up I was worried about looking over-done. I had a wonderful makeup lesson with Frey-ja Barker at Fenwick and bought lots of lovely make-up. However, later I had a last-minute freak out reminding myself that it was a ridiculous idea given that I wear make-up about once a month."
"I searched online for fashion make-up artists who also do some bridal work and came across Sophie Higgingson who was happy to come to my family home in Kent on the day. I contacted her fairly last-minute but she was extremely accommodating. The trial really put me at ease. Sophie was personable and flexible in tailoring a natural look, though I didn't take much persuading to go for some red lipstick. On the day Sophie was a calming influence to have around. She did an amazing job of covering up my irritating outbreak of spots and created the natural look I had hoped for."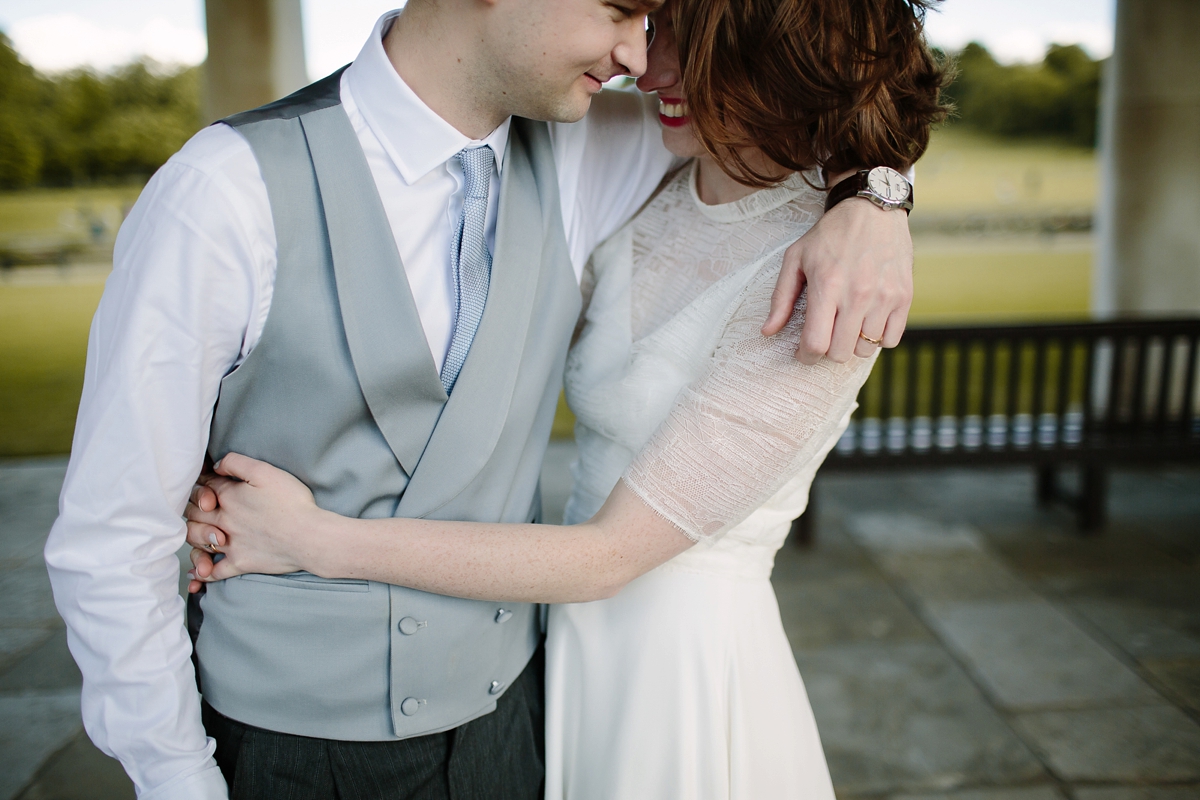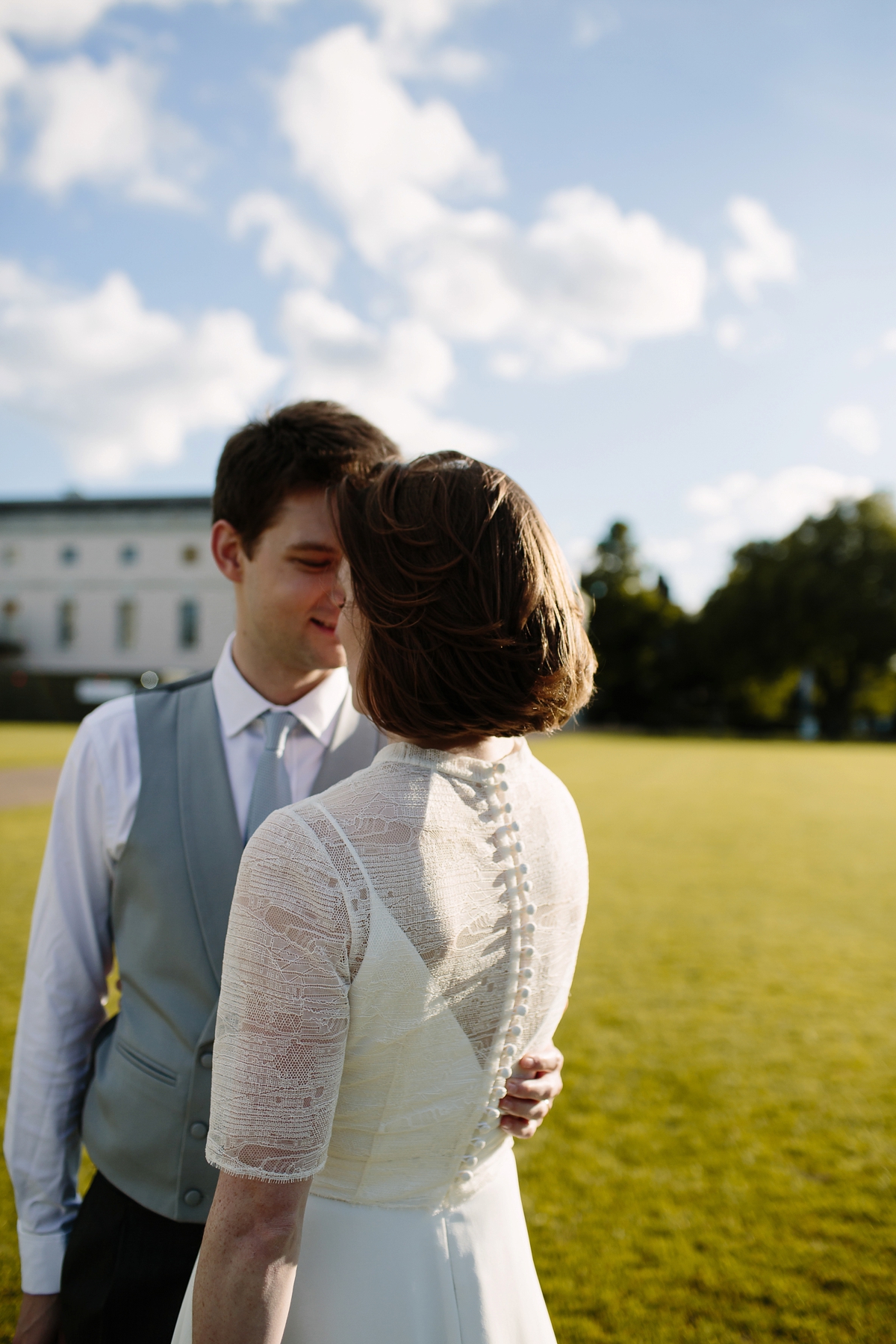 As the 20 May turned out to be a beautifully warm, spring day, the newly-weds and the guests spilled out on to the green lawns surrounding the Queen's House to chat and have photos taken. Felicity really cannot speak more highly of their photographer, Joanna Brown.
"Oh Joanna. This lady. Joanna is one of the most awesome, friendly people I have met and she really does take incredible photos. Joanna was recommended to me by another photographer that I had enquired with who was unavailable on our wedding day and I am so glad that they pointed me in her direction. Tom and I loved the slightly arty, timeless feel to Joanna's work and I admire her ability to capture those intricate unnoticed moments. We met Joanna via Skype one evening and knew she would be absolutely great on the day; I was trying to be desperately cool, Tom teased me afterwards for trying too hard to be funny. Hopefully Joanna doesn't remember that!"
"On the day Joanna totally put us at ease; she was professional, relaxed and so super smiley. She integrated with all our guests and it really was like having another friend join us for the day. Joanna managed to capture the essence of our day exactly as I had imagined – elegant and classy, yet completely effortless. She has created lasting memories that we will treasure forever and for which we will always be grateful. The extra Polaroid photos that Joanna posted to us were such a treat."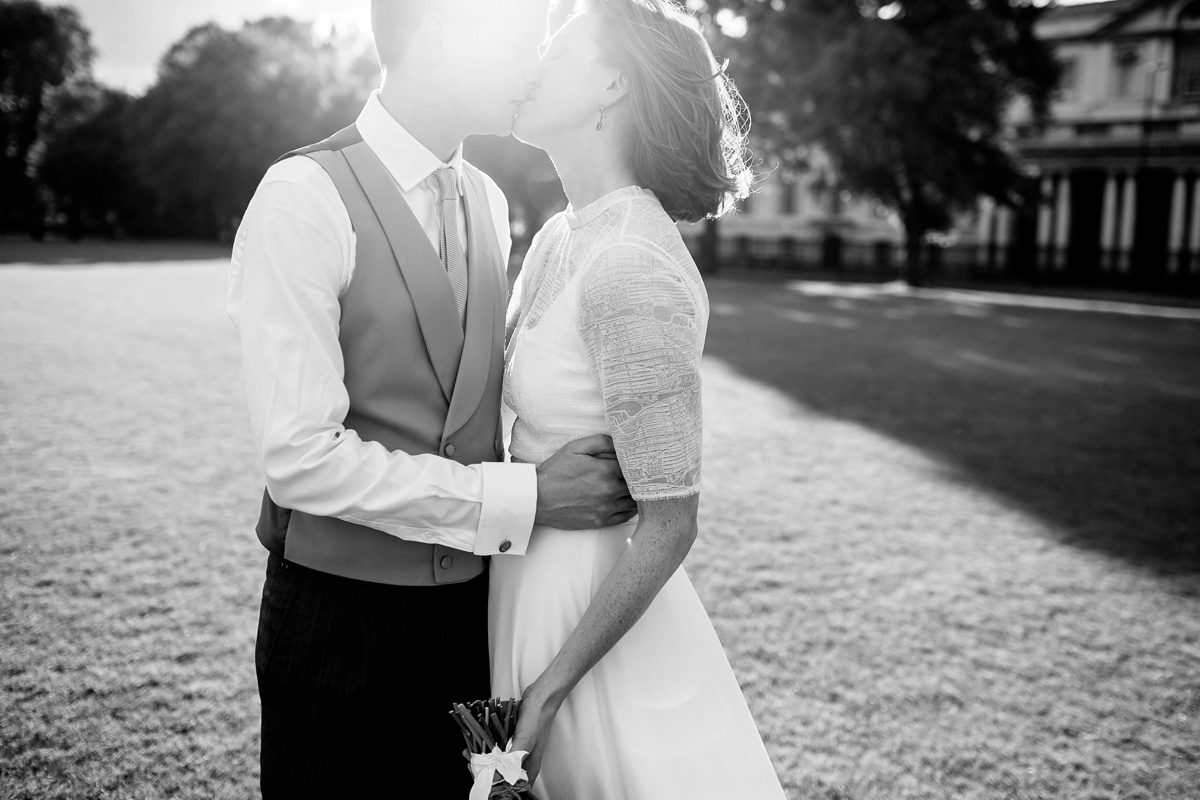 Vegetarian canapés and food were served up by Party Ingredients, and the couple even managed to source vegetarian wine.
"We opted for a variety of canapés served during the drinks reception, a three-course meal followed by tea, coffee and petit fours and a cheese table for later in the evening.  Tom and I are both vegetarian and decided to remain true to our values with an all vegetarian menu on the day. Party Ingredients were great; professional, organised and friendly."
"We decided to provide our own alcohol, which we bought from Majestic Wine. I organised tasting at our local shop. The staff were really helpful and had even picked out vegetarian wines! We kept things simple with Prosecco for the drinks reception and toast, red and white wine with dinner and more wine and some beer for the evening. Party Ingredients took delivery of all the alcohol before the day and even stored it for us whilst we were on our honeymoon, which was a great help."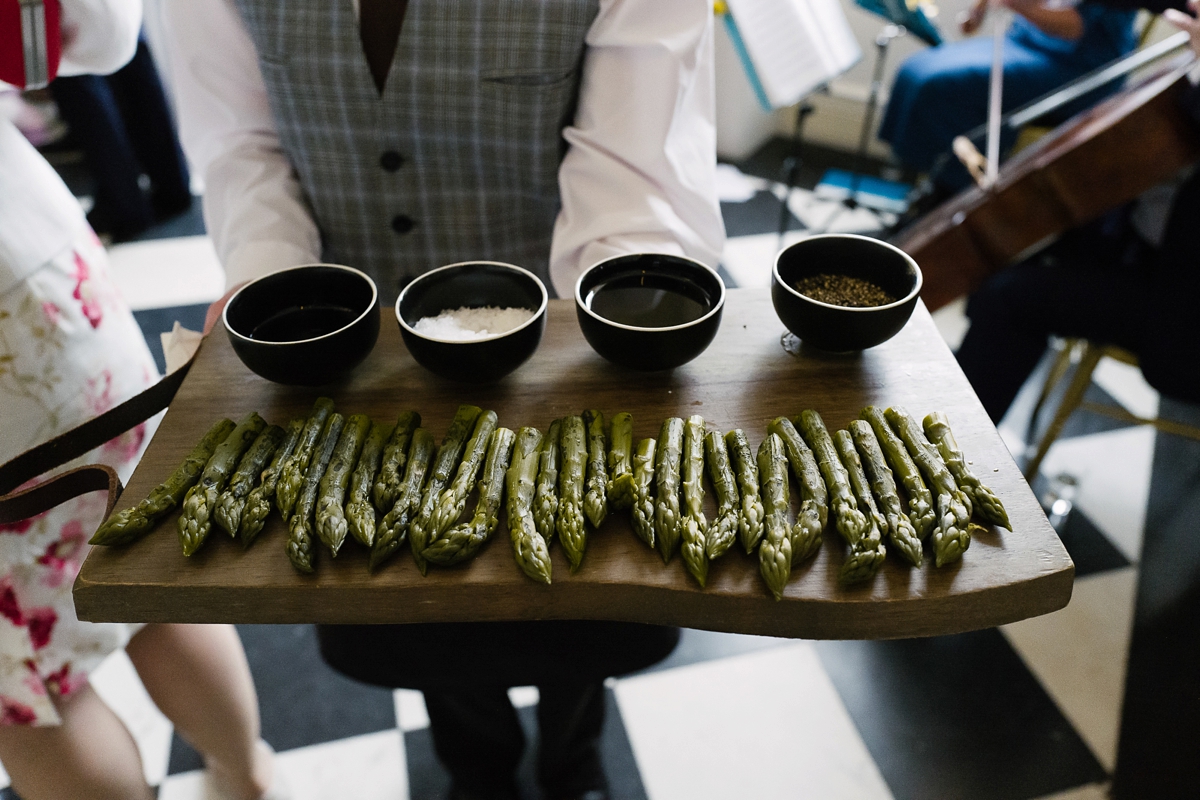 It's lovely to hear that Felicity was inspired by weddings she read on Love My Dress; thank you for your kind words.
"I love the way in which each wedding is told as a unique and personal story. No two weddings are the same yet there is no right or wrong way to do things."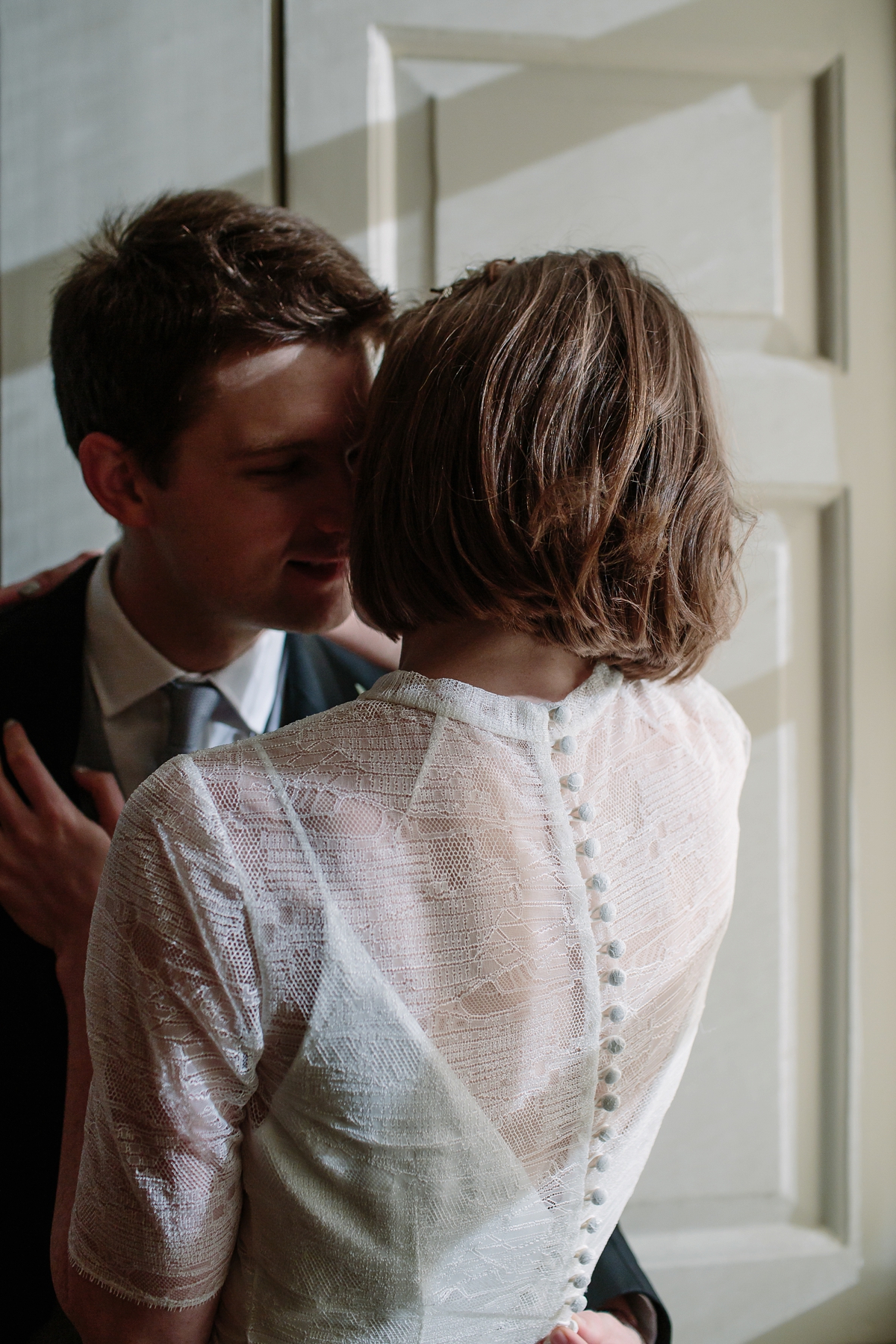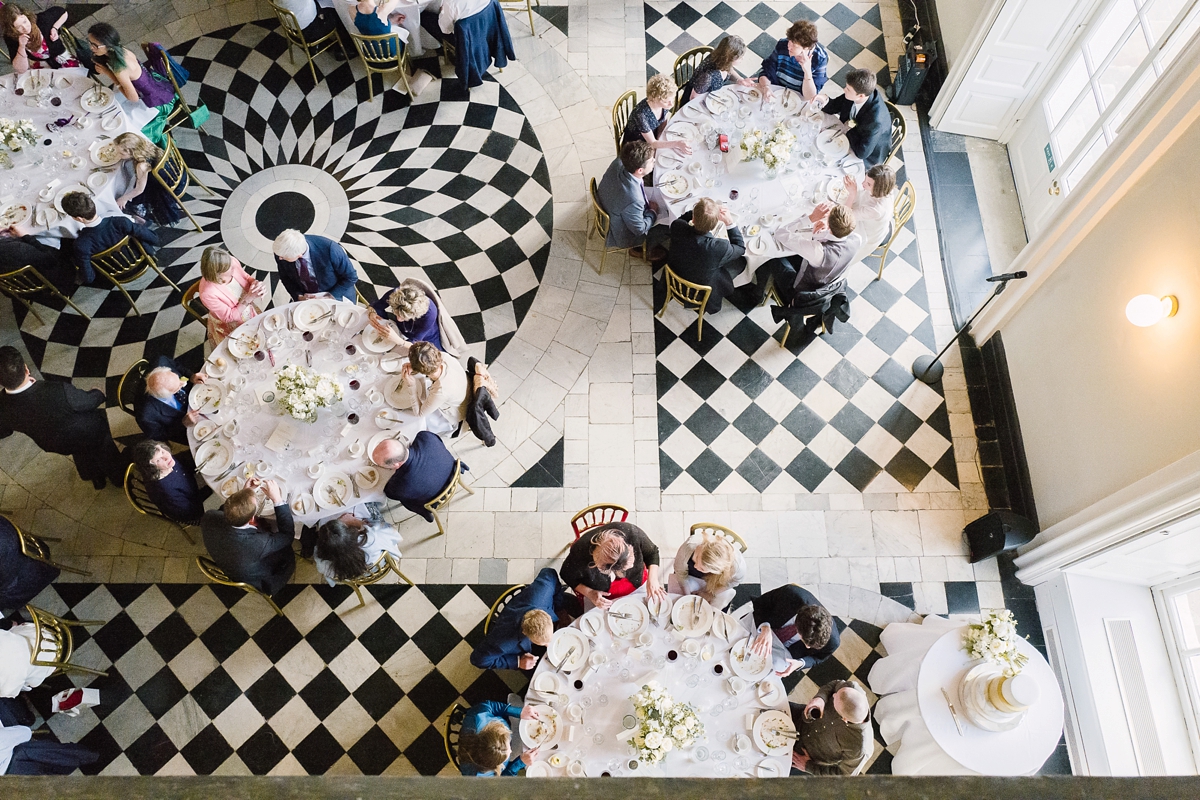 In case you're wondering about the presence of stick-on moustaches in these photographs, it was a way to include Felicity's late father in the day.
"It sounds odd but one of our family friends had made envelopes containing a stick-on moustache and note in memory of my father. In true mischievous fashion he went through a phase when visiting people of secretly sticking a moustache on various pictures or photos around their house and seeing how long it would take for the moustache to be noticed. I think one family friend didn't notice a moustache on a family photograph for months! It has since been a running joke amongst friends and family on my side."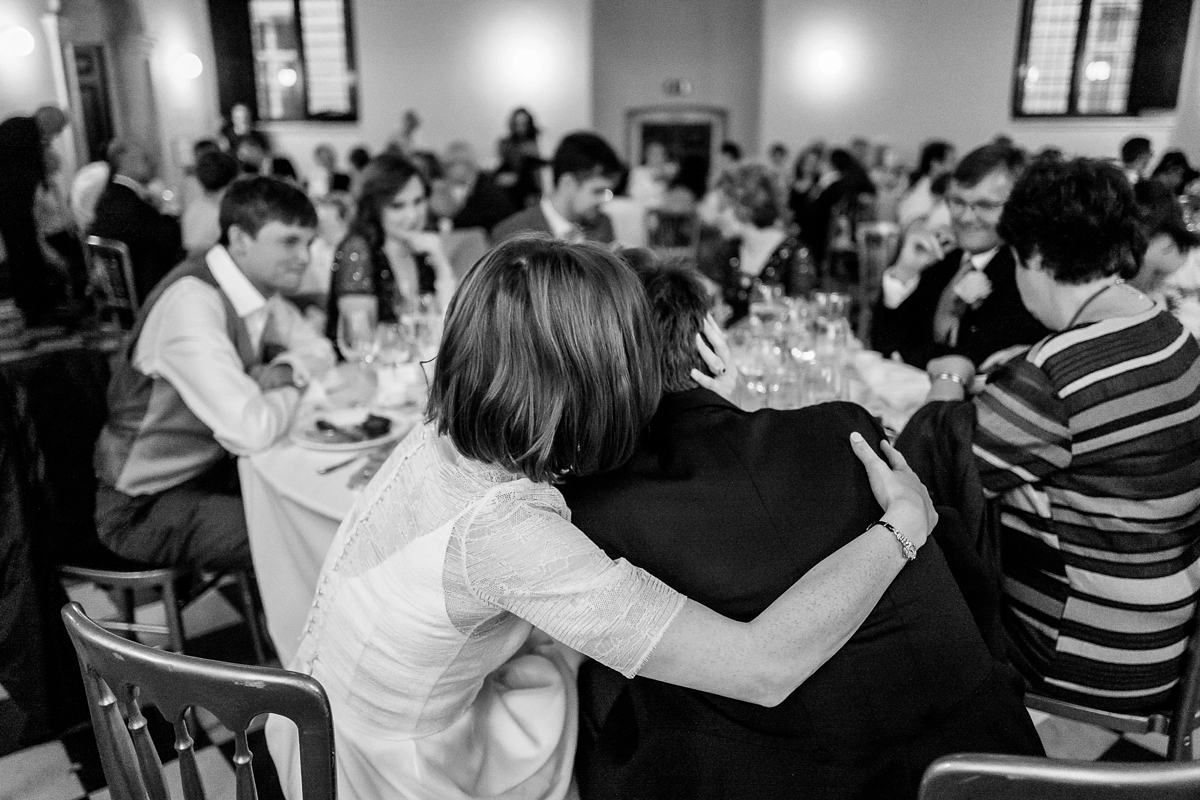 The minimalistic, totally beautiful wedding cake fits in with the feel of the day so well. Created by Blossom & Crumb, it combined tiers of  Madagascan vanilla cake with raspberry preserve, lime and coconut and rich fruit cake, all covered with marble-effect, gold and white icing.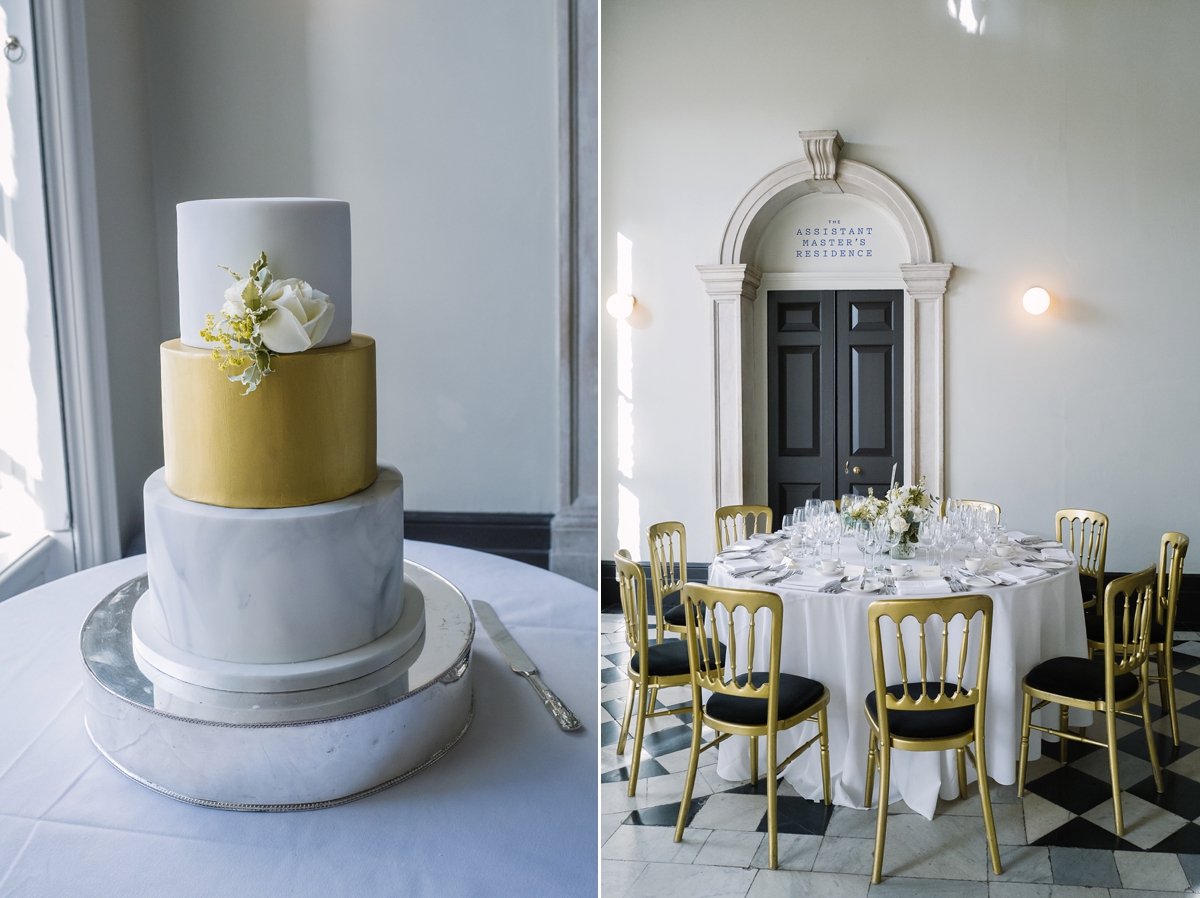 "I absolutely loved going to meet Megan to taste flavours and design the cake together. She was warm, welcoming and immediately understood what I wanted. Tom couldn't make it on the day but Megan was kind enough to provide some samples for me to take back to him. Megan's cakes were honestly the tastiest cakes we've ever eaten and it was so difficult to choose. My only regret is not eating enough of it on the night! We are both 30 next year so at least I have an excuse to buy another cake from Megan."
DJ Mitch Matthews was on hand to play for the after-dinner party, after a performance of The Pointer Sister's 'I'm So Excited' for the first dance.
"We have a soft spot for 80s music and we wanted something upbeat. This song seemed to sum up the excitement we share about life, us and our wedding day. Our first dance together was also a highlight despite our embarrassing parent-like dance moves."
"Mitch is great – he definitely knows how to make a good party. We had multiple telephone conversations in the run up to the day to plan the set for the night. Mitch is a such a friendly guy and completely hilarious. I had found Mitch online after searching for DJ's. We decided we didn't really need a band and that as long as there were some great tunes being played people would be on the dance floor, which they were – it was full all night, mostly due to Mitch's constant enthusiasm and love of a good party. He really managed to tune in completely to our taste in music, which is impressive."
Words of Wedded Wisdom
"I know it's a cliché but don't stress the small things. Your true friends really won't pay any attention to the awful corkboard table plan you created as they will be so pleased to be celebrating your special day with you."
"Sort the main suppliers first (venue, photographer, caterers, alcohol, entertainment). Having these in place is a huge relief then the rest will gently follow and seem more enjoyable. A venue with an events manager is also a huge help."
"Focus your efforts on what is important for you and your husband – it is your day after all. If stationery and wedding favours aren't your thing but carefully planning a killer DJ set is then it really doesn't matter – there is no right or wrong."
"Take time to make decisions but trust your natural instinct – it's often right."
"There are so many glorious wedding suppliers, which can seem overwhelming. Do explore options but pick a few and accept that you can't ever explore all possibilities as they are endless!"
"Try to retain some sense of normality. People seem to feel such pressure to look and be their very best and for things to work out perfectly. The wind messing up your hair a bit, or your red lipstick coming off isn't the end of the world. The most important thing is to just be you – that's who your future husband fell in love with!"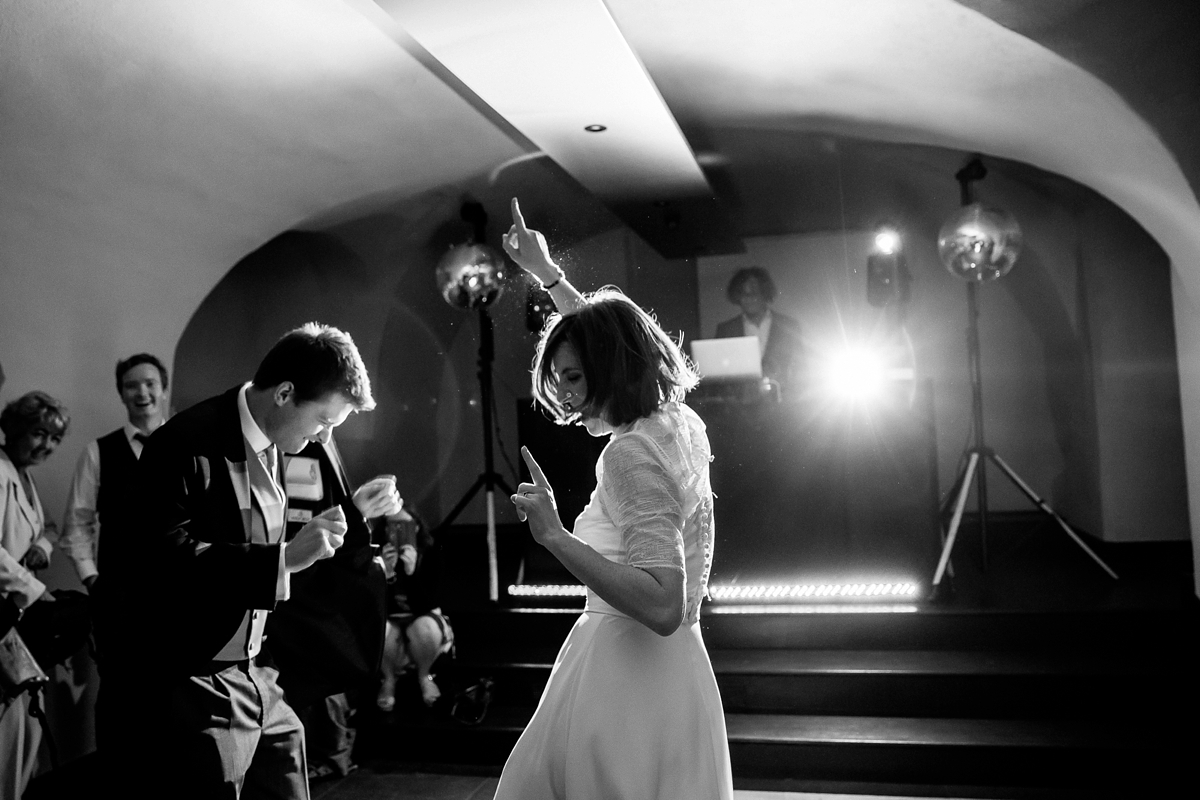 It's been a real highlight of my day to write up this beautifully elegant wedding. Thank you so much to you both Felicity and Tom, and sending you many congratulations on your marriage. Thanks also go to Joanna Brown Photography for her lovely photographs.
If you'd like to see more of Clara Francis Jewellery's beaded handiwork then please take a look at these Love My Dress features.
Ele xx