Another day, another gorgeous wedding for you lovelies. Today we're travelling across the Channel to one of my favourite countries in the world (nothing to do with the wine, honestly…), France, for a simply stunning day, filled with rustic touches and a relaxed vibe.
Architect Katy and Cabinet Maker Paddy tied the knot at Le Domaine De La Léotardie, in Saint-Georges-de-Montclard, France on 13th July 2017.
"We took a 2-month trip to France about 7 years ago on a whim. We just packed up the car, drove from Ireland, had a tent, and just travelled around. We had been doing a long distance relationship and spent some time apart as I travelled on a university break, and Paddy was studying and working. It was our best and favourite trip to date. From that point we knew we wanted to be with each other for the rest of our lives. Our favourite region was the Dordogne and I'd holidayed there as a child too. When we decided to get married, France was an obvious choice. I'm originally from the UK and Paddy from Ireland so people were going to have to travel regardless of where the wedding would be. We decided if all guests travelled then it would be fairer than just one side travelling. Most guests made a weeks holiday out of it which was so fun!"
Images by Adam and Grace
After an unsuccessful wedding dress trip in New Zealand, Katy tried again on the hunt for the perfect dress, this time in Sydney, Australia with two of her bridesmaids.
"We decided to visit some stores with a different selection of dresses. I knew the one I eventually chose was 'the one' as soon as I put it on. It was delicate and romantic, with beautiful pearl detailing and lace. I thought it would suit my shape and would look very fitting at our rustic venue. I wanted something light and not too fussy as I knew it would be hot in the French summer sun. The detail on the dress is what I love most, it has a really timeless feel."The dress in question which Katy eventually settled on was the Femi Gown by Chic Nostalgia via Perfect Day Bridal. The bride accessorised with a Cathedral length veil also from Perfect Day Bridal, metallic block heels from ASOS and a beaded wire halo from BHLDN. Her perfume of choice was The Vert & Bigarade L'Occitane en Provence.
"For reasons as romantic as it's the only travel sized perfume I have and our bags were overloaded already as we were travelling from New Zealand! We didn't have much room for anything else!"
"I did also wear a necklace from Filigree given to me on the morning of the wedding by Paddy. It was handmade in New Zealand using the same gold and hammered technique as our wedding bands. I paired this with a gold band bracelet which had been my grandmothers who passed away 7 months before the wedding. She would have loved to have been there and it has an intricate and delicate vine pattern on it so felt very fitting for a French outdoor wedding. Finally, my earrings were a last-minute addition from a vintage shop in Cork, Ireland about 5 days before the wedding!"
"The venue offered us lots of accommodation for family and friends, and it was beautiful, rustic and authentic. They also offered flexibility with suppliers, the ceremony location (I had always wanted to get married outside), and we could rent the place for the whole week!"
After meeting at school at the sweet young age of 14, the couple have grown up together.
"We met in school, backstage at a school show. I was dressed as a Havana Banana from Guys and Dolls and Paddy was a much cooler gangster. Paddy then plucked up the courage to start a conversation and we shared our first kiss after the show disco on closing night. We've been a couple ever since! We've grown up together and only grown closer."
"We've been together through many milestones, long distance, each choosing our own education and career paths, and more recently, making the decision to move to New Zealand and experience that adventure together!"
When it came to the stationery, Katy doubled up items such as the ceremony booklets as fans to keep guests cool in the warm weather.
"Menu's, table plans etc. were all designed and handmade by me and put together by Paddy and a team of helpers. Place names were made by a family friend who has lovely handwriting. Signage was done by Ajna and included a handwritten calligraphy welcome sign and information sign posts."
With the rustically French venue pinned down, Katy wanted a relaxed and natural style when it came to the decor to compliment their gorgeous surroundings.
"We're both lovers of nature and wanted a very relaxed style for the day. We wanted to embrace and enhance the rustic nature of the venue we chose such as the soft muted colours of the French buildings and the beautiful forest and tree canopies in the grounds. We just wanted to add a few extra touches to the beauty that was already there to make it feel extra special. I'd consider our main themes romantic, rustic and woodland."
Katy's bride squad looked simply stunning and ethereal in soft mint pleated matching dresses from ASOS, paired with beaded sandals and gorgeous green and bloom-filled bouquets.
The flower girls looked angelic in Monsoon dresses and delicate floral headbands, and the squad's hair and make up was perfected by Jane Emerson via French Perfection.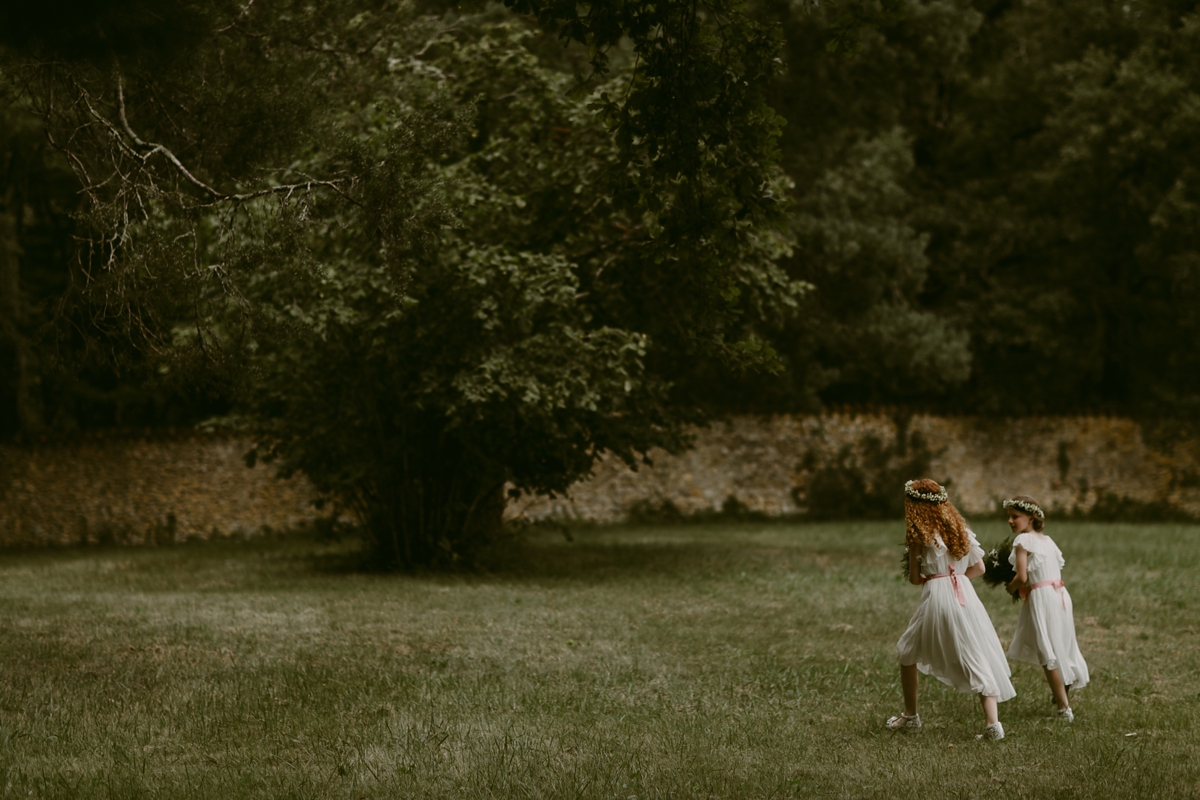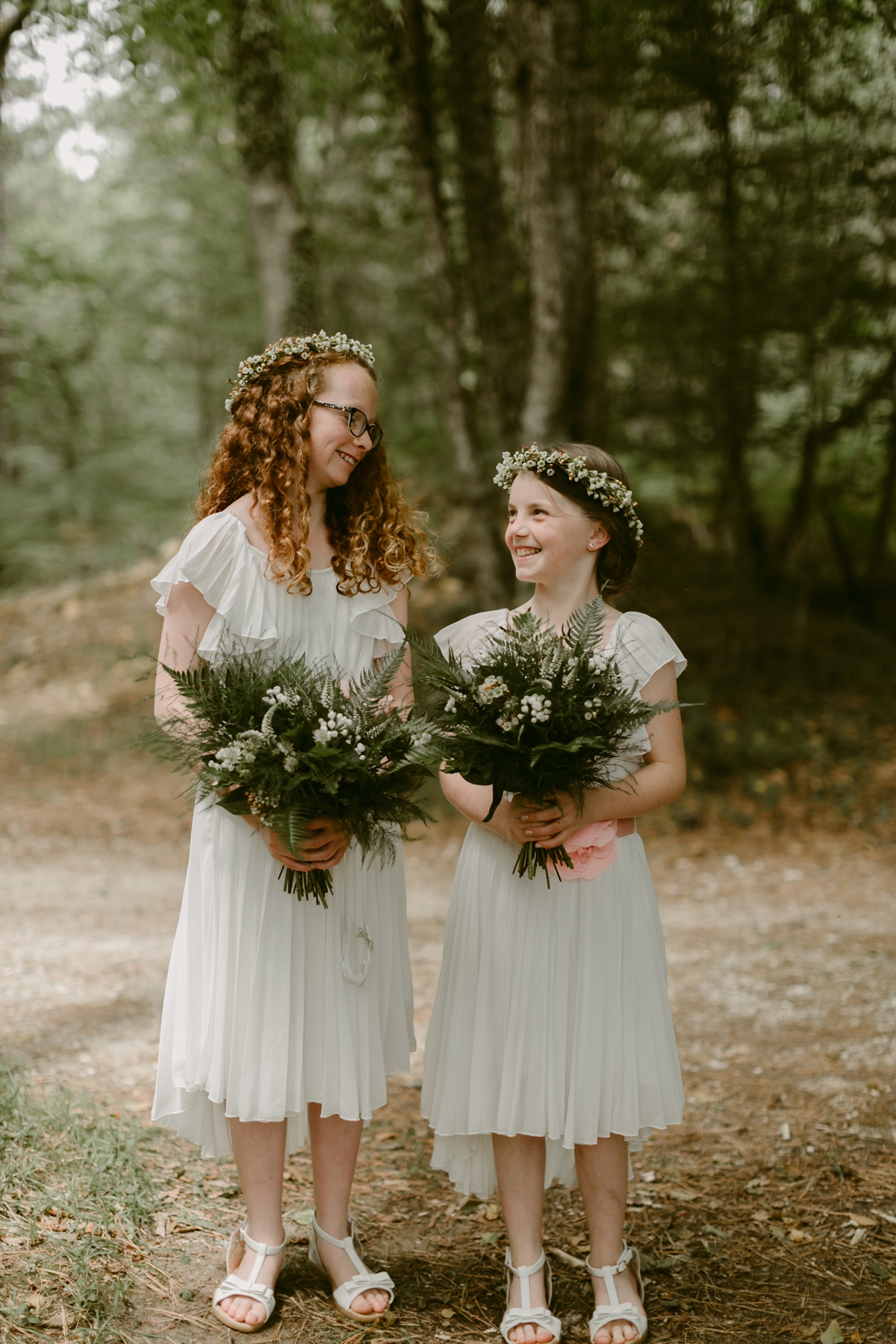 To help create the beautifully rustic and pastel-hued bouquets, arrangements and button-holes, Katy hired florist Jenny Moss via My Wedding Florist.
"Jenny seemed to understand straight away what I wanted which was not easy with my limited flower knowledge. She was patient as we worked through flower types to include. She created beautiful florals that complimented different areas of the venue, as well as a wonderful bridal bouquet which included elements from my late grandmothers bouquet from her wedding, which was very important to me."f
Katy's stepfather Mike walked her down the aisle to Arrival of the Birds by the Cinematic Orchestra, played by Hicksville Swings. Sandie Smith from English Celebrant in France then conducted the ceremony and the couple were delighted with the personal touches she added to the ceremony. Katy and Paddy wrote their vows together to include key things which they held important to them:
"You inspire me to be a better person.
Today, I take you to be my (wife/husband)
I promise to honour you, respect you, laugh with you, cry with you and support you.
I promise to be faithful to you and to love you with actions, not just words.
I give you my hand, my heart and my love for as long as we both shall live."
Three readings then followed; Oh Call It By Some Better Name by Thomas Moore, Touched By An Angel by Maya Angelou and finally, an extract taken from Katy's favourite childhood book, Winnie the Pooh by A.A Milne.
Groom Paddy wasn't going to let the bride squad get away with demanding all the attention and dressed handsomely in a black two-piece suit from Ballantynes, white ASOS shirt and floral tie. His groomsmen came from all over the world including Ireland, Dubai and New Zealand so after a lot of coordinating and online shopping deliveries, they eventually found a blue trouser suit, white shirt and tweed waistcoat combination from Esprit and ASOS.
Photography husband and wife duo Adam and Grace captured the day on camera in all of its natural glory.
"Adam and Grace have a beautiful documentary style that presents a running record of the day. The photos capture natural moments rather than set up photos. We're delighted with the results and think the soft and delicate treatment of the edits complimented the themes of our day perfectly. This husband and wife duo were easy to relax in front of and it was great to have two photographers on the day as they were able to capture more moments."
Once the ceremony was over and the I Do's had been done, the guests were treated to a champagne reception on the lawn, complete with a jazz set performed by Hicksville Swing via Band in France. A delicious wedding breakfast by The Event Kitchen was then served, followed by the evening entertainment by Tomorrow Band, a great rock band with an electrical atmosphere.
"George, who is the lead in Hicksville Swing, is the father of Tom, the lead in Tomorrow Band and George is married to Sandie our celebrant! Our day felt like a very family affair with many husband and wife teams which was great!"
Katy recruited wedding planner Joanna Burgess via A Dream French Wedding and stylist Ajna Austin-Ellis via Oui, Mon Coeur to help in the run up to and on the day to make sure everything ran smoothly.
"Anja provided many decor items to create the feel we decided on. We Skyped a few times and sent images back and forth to understand what we were going to do. Then Ajna helped develop the theme with items she already had and sourced some items especially for our day. Items Ajna already had included lanterns, vintage buckets, tables, chairs for the reception, fairy lights, wine barrels, drinks dispensers and vintage glassware. She then sourced wooden logs for the ceremony aisle ends, fabric tree decorations and a vintage rug for the 'altar'. It was all then set up by Ajna, myself and Jenny Moss."
"We also provided a New Zealand wildflower seed mix as our wedding favours and New Zealand sweets for the children. We had stickers produced on Zazzle, and put them in brown bags with hessian decoration."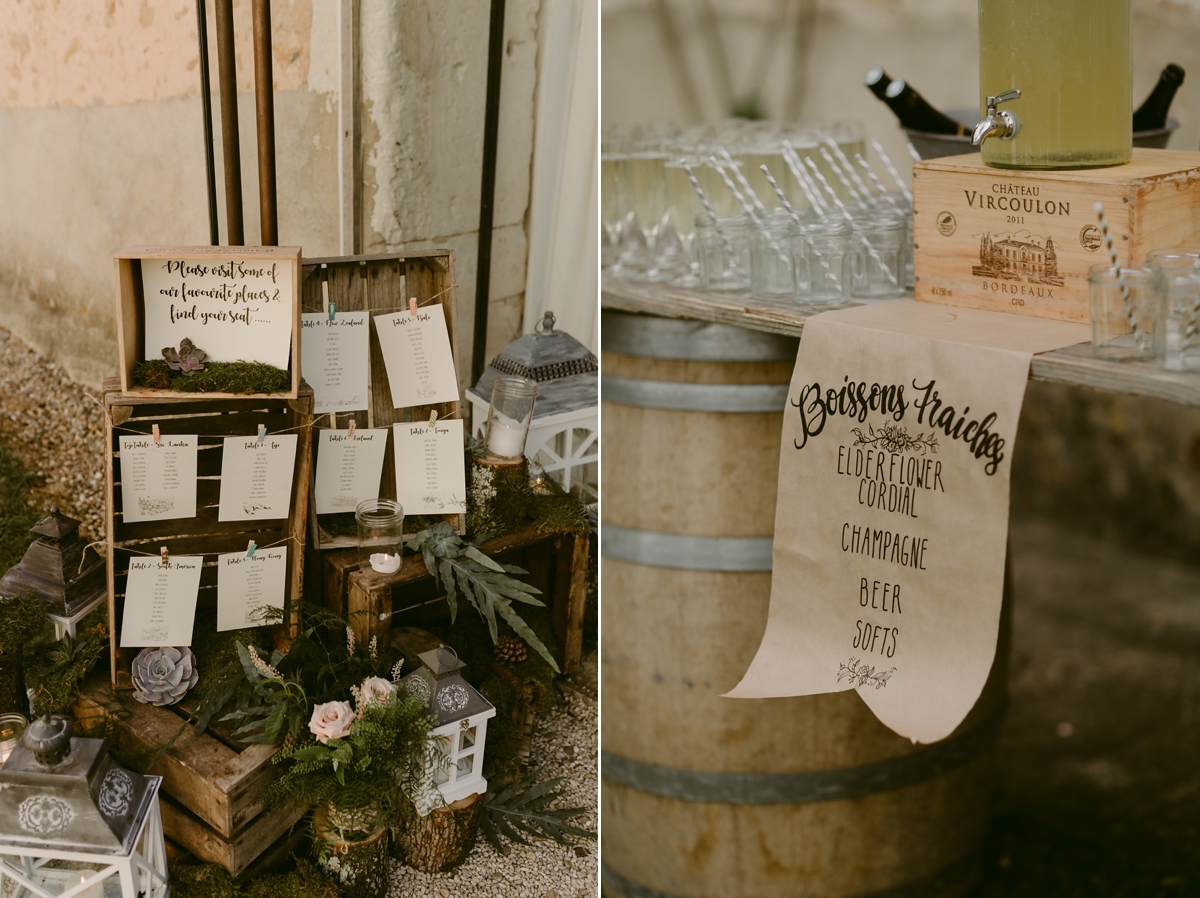 "Our day just felt so personal between us and our guests it felt like such a special moment in time that we'll never forget. We think we're pretty lucky to say we can't think of anything we would do differently. It was a week in France that meant the world to us and our family. You just don't make that time for each other these days."
"That day we felt the love from each other and everyone around us and it was magic. It was helped by the fantastic team and suppliers we had helping to make it happen and feel like that."
The newlyweds chose First Day of Life by Bright Eyes as their first dance track.
"It was performed acoustically by Tom from Tomorrow Band outside in the courtyard, It was decided last-minute to have the first dance in the courtyard under the string of globe lights as it looked so beautiful. Within 5 minutes Ajna and Joanna had brought over the rug, candles and lanterns to create an intimate space outside for the dance. It was a truly beautiful moment."
"I think the first dance was my favourite part of the day in fact. It was a moment I was so nervous about, but in the end was such a peaceful and romantic moment. To have it outside as we did was so special. It was followed by a sparkler send off which was great fun and full of laughter."
Words Of Wedded Wisdom
"It's your day. You can spend a lot of time trying to cater for everyone else and do things for others but it's your day and I recommend doing it exactly as you wish to do it. It will show on the day that it's exactly how you want it."
"And just enjoy it! It's a crazy busy time organising in the run up to the day but don't lose sight of the beautiful day you are working hard to create and try to create some downtime in the few days before the wedding to take it all in."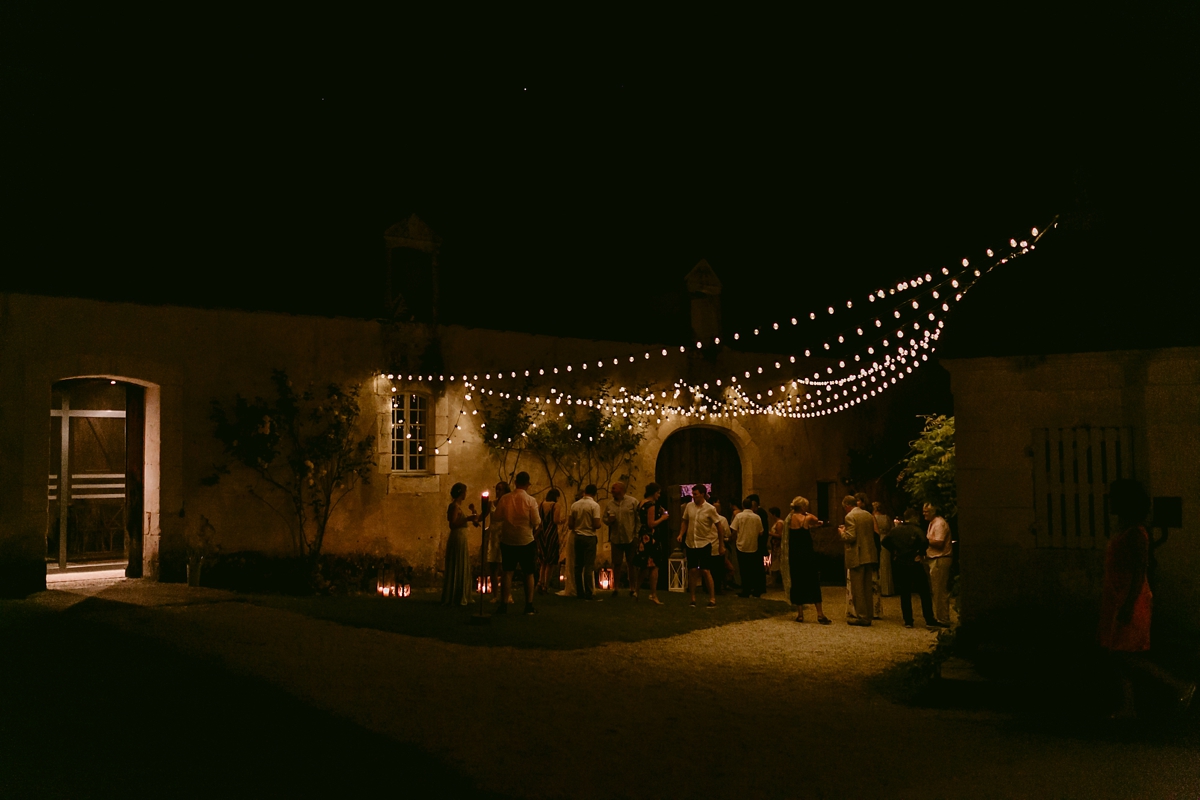 Congratulations Katy and Paddy! I'm absolutely in love with the aesthetics of your wedding day. And a huge thanks to Adam and Grace for really capturing the mood.
Until next time…
Much love,
Holly x