Best women in sparkly separates, a table laden with cakes, a bride in an exquisite embellished gown and a Tilly Thomas Lux headpiece; what a treat there is in store for you today.
If you're concerned about patriarchal issues and equality in traditional marriage ceremonies then this couple have some invaluable ideas to inspire you. I've fallen in love with the bride and groom's fresh and breezy approach, and their determination for equality and a feminist marriage, and hope you do too. The bride and groom are Prudence, who works for an education charity and Tom, a claims manager in insurance.
They married on 28 October 2017 in an intimate civil ceremony at Clissold House, Stoke Newington followed by a humanist ceremony and reception with 130 guests at Clapton Country Club, Clapton. A London wedding was important to the couple and they wanted a relaxed, fuss-free day in a modern, blank canvas venue that offered dry hire. Clapton Country Club, with its industrial, modern, romantic and relaxed vibe, fitted the bill perfectly.
The couple carefully selected their wedding suppliers to put together their feminist wedding. I'm delighted to hear that Love My Dress played a part in the planning process, too.
"What I like about Love My Dress is its variety. It's representative of a huge community of women, all making completely different, interesting and thoughtful choices about their wedding day. It's a creatively diverse space, with not a hint of the cookie-cutter approach that you see on other wedding blogs. Part of what made our wedding feminist was working (almost) exclusively with female small business owners; our florist, photographer, videographer, caterer, makeup artist, celebrant and accessories designers. It was a joy to work with such an incredible group of talented and creative women, and to be able to support small, local businesses."
Photography Kim Williams Photography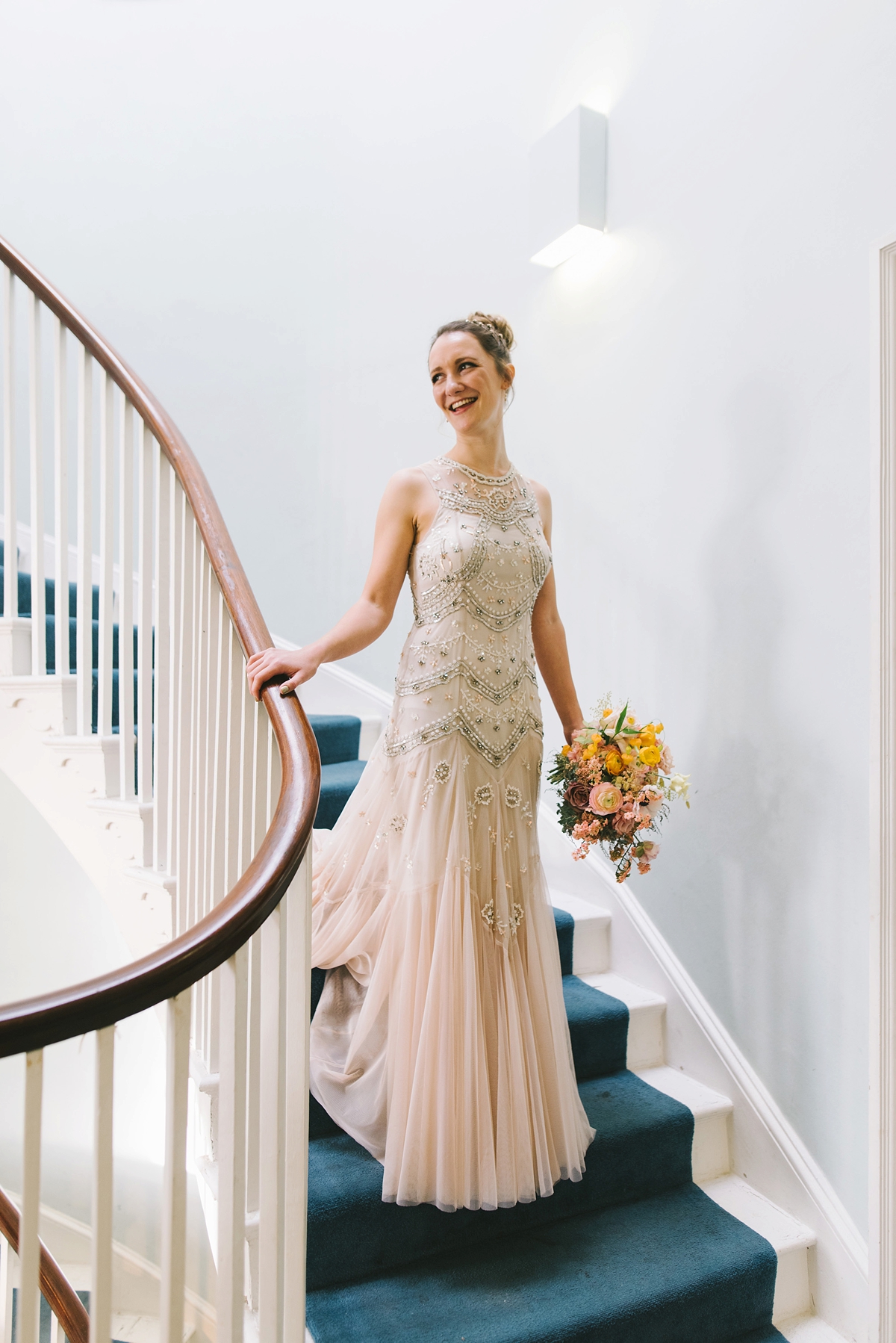 Needle & Thread had the perfect gown for Prudence – an embellished drop-waisted number in a soft pink covered with beads for a 1920's vibe.
"I couldn't get on board with the idea of spending a lot of money on a dress I'd only wear once. I also never went to a bridal store as the idea of putting on dresses in front of an audience was never an appealing one. My sister-in-law suggested Needle & Thread, and I started hunting online. I fell in love with a past season Needle & Thread dress but I could only find it at BHLDN, Anthropologie's wedding dress collection in the States.""If I ordered it online I would have to pay a crazy customs fee which I wouldn't ever get back if I had to return the dress. It was a risk! But I just had a gut feeling that it would work, so I took my measurements carefully and clicked 'buy'. I'm so glad I took the punt as it was perfect. It was comfortable, it made me feel special but also completely myself, and it had a 1920s glamour that fit well with our venue. Plus, it was so fun to twirl in."
"My shoes were epic – pink velvet, strappy block heels by Carvela Kurt Geiger, which were super-comfy all day whilst still giving me a decent bit of height. I plan to wear them to every wedding I'm invited to from now until forever."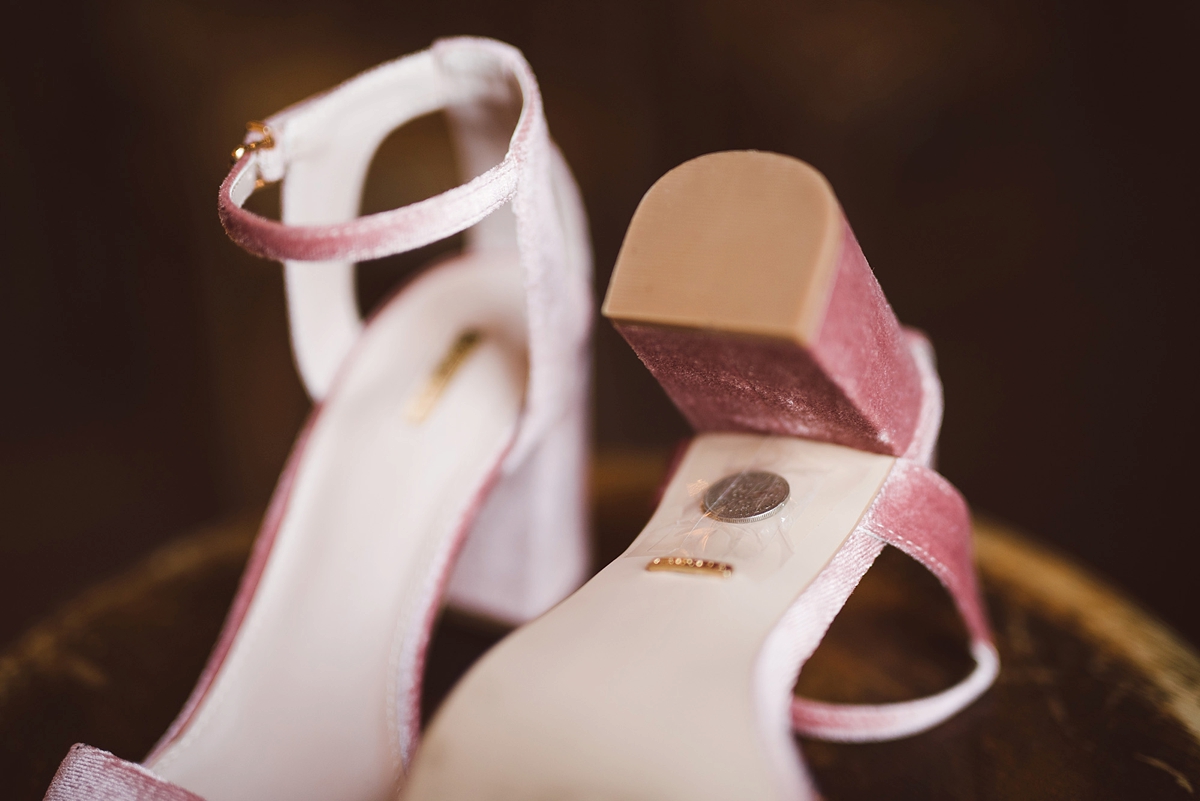 Kim's friend and colleague Rosie Williams was called upon for her make-up and hair styling services.
"Rosie often does make-up for Kim's headshot shoots. Headshots often require a completely natural look as they're shot so close-up, which was just what I wanted as I rarely wear make-up and was keen not to look too 'done'. I was so happy with Rosie's work; I felt like I wasn't wearing any make-up at all. She was also such lovely company in the morning, not to mention astonishingly efficient."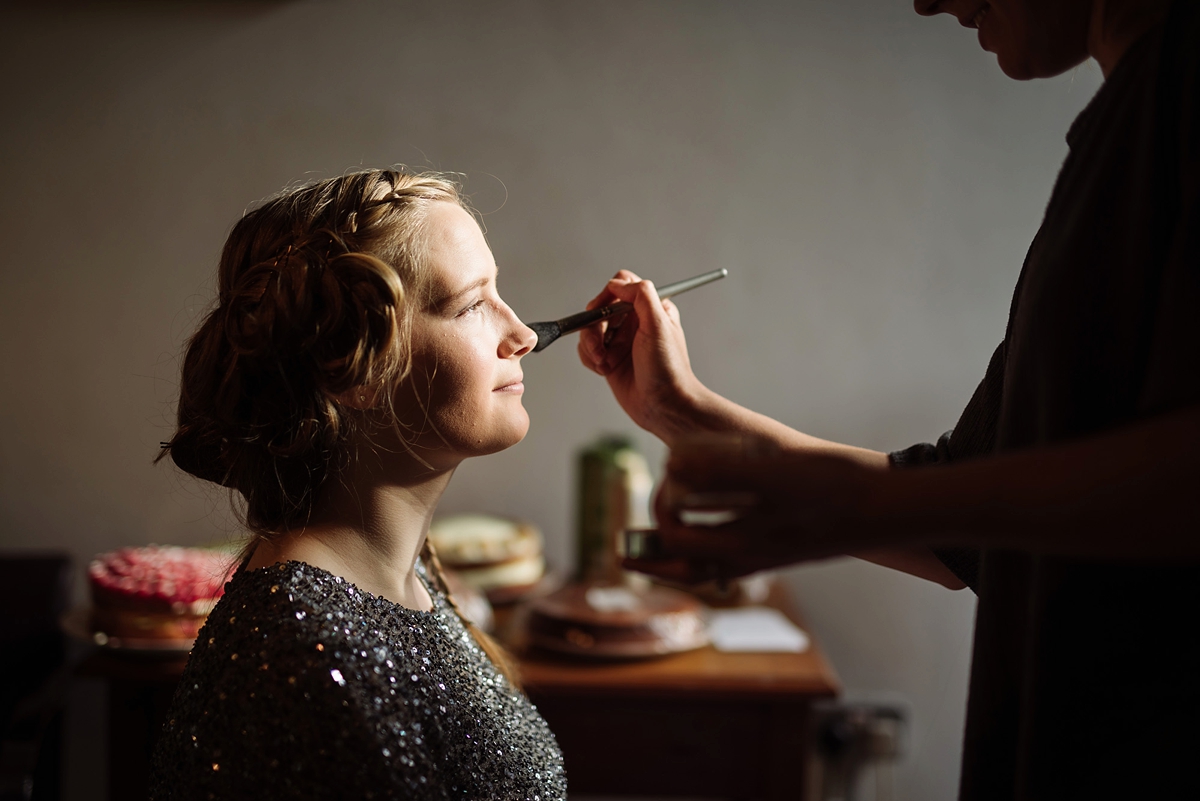 Prudence's best women looked spectacular in their separates of statement sparkly tops and floaty skirts which mirror the brides's own; I am such a fan of this look! The best women's accessories came from 'Superwomen' packs that Prudence had put together for the day.
"My best women wore the same skirt – a lavender/grey maxi from ASOS. They then chose their own tops with one brief – sparkles! I wanted them to shine, but also to have something they'd happily wear again."
"We share a Whatsapp group with my mum that we've called 'Superwomen' where we share feminist food for thought. As gifts I made them a little Superwomen activist pack each, including a feminist book and tote bags saying 'Nevertheless she persisted'. I also included starry studs from Tilly Thomas Lux, a necklace from The British Museum and a glittery clutch from PupTart – another fab female small business owner, who I found at the fantastic Most Curious Wedding Fair."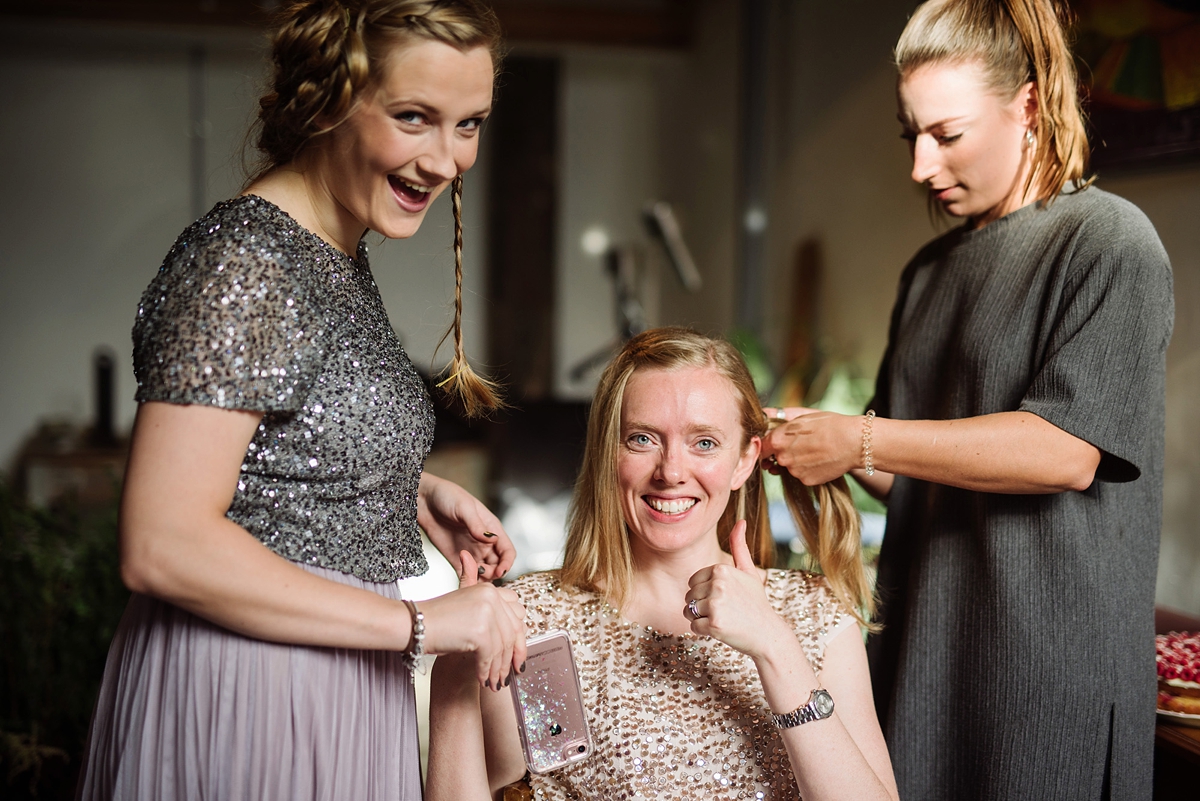 Uncomfortable with the historical connotations of a veil, Prudence opted for a statement headpiece and found Tilly Thomas Lux through our Little Book for Brides wedding supplier directory. I love the glamorous feel of this starry handmade piece.
"As soon as I found Sally's website I got sucked straight in and fell for every one of her incredible creations. She invited me to her studio for a bespoke appointment where we talked about my dress and the feel of the day. I'd already been eyeing up the starry Lucia headbands so Sally showed me one in rose gold, which wasn't yet on her website."
"Sally is an absolute gem of a human being and astonishingly talented to boot. I loved her pieces so much that I ended up going back to her for more sparkles – earrings for my best women.  Sally had celebrated her wedding at Clapton Country Club herself just a few weeks before us and she offered tips and enthusiastic praise for the venue and its staff. By the time I got married Sally and I had exchanged so many emails it felt like I'd made a friend. She is the dream supplier and a lovely lass."
The soft, pastel flowers were styled by Petalon, who Prudence stumbled upon in the adjacent warehouse to Clapton Country Club.
"We worked with Florence and the rest of her amazing team at Petalon. I cannot overstate how phenomenal these women are, or how beautiful the flowers were. I stumbled upon their workshop while I was exploring. Later I went home and looked at their Instagram, which is a haven of epic beauty."
"After meeting Florence I had so much trust in her and her team that I pretty much gave them free reign over our flowers. I told her about our day, our budget and give her a vague idea of a colour palette but ultimately it was lovely to be able to hand over complete creative control to her.
She and her team completely smashed it. My bouquet, especially, drew gasps from so many guests. The way the pink cascaded into yellow and the way it moved – there were these little bell-shaped flowers which bounced beautifully in the autumn breeze… just stunning."
Prudence added pearl and rose gold drop earrings given by her dad to her mum the day she was born and layered on two Jo Malone scents – Wood Sage and Sea Salt body cream with English Pear & Freesia cologne.
"I did the Jo Malone 'Scent your Wedding' experience with my mum and sister just for a bit of fun but had every intention of wearing my everyday perfume. I had this idea that I wanted to smell like myself, but my mum kindly bought me my two favourite Jo Malone scents as a gift for the wedding. I am actually really glad I wore a new perfume, because smell links to memory in a very powerful way and now whenever I wear my Jo Malone it really takes me back."
The couple met in 2014 the modern way on Match.com, and Tom was the top result in Prudence and her sister's search for 'Prudence's Perfect Man'.
"I was visiting my sister in Edinburgh when she encouraged me to set up an online dating profile, then we thought it would be hilarious to use its advanced search function. For a laugh we applied every filter that exists on the site. It returned just three results and the top result was Tom. I emailed him straight away but the days passed and I didn't hear back. A week or so later, I heard from him. It turned out that Tom was on holiday – he was emailing me from the back of a tour bus somewhere in Cambodia (which of course gave him even more points, in my eyes). We arranged to meet when he was back in London. We had our first date at the British Museum, where the afternoon quickly melted into the evening."
"After a couple of years Tom and I began to talk about marriage. It was important to me that we approach our engagement as we approach everything in our life together – as equals. I had always been uncomfortable with the idea of being proposed to, which Tom knew. We wanted to spend time discussing what marriage meant to us both, and for us to decide together when we felt ready. After revisiting the topic several times in the months leading up to it, we eventually got engaged during a chat over dinner whilst on holiday in Sicily. When we got back to London we chose – and paid for – my engagement ring together at A.R.Ullmann. In the name of equality, we did the same for Tom's rather special platinum wedding band."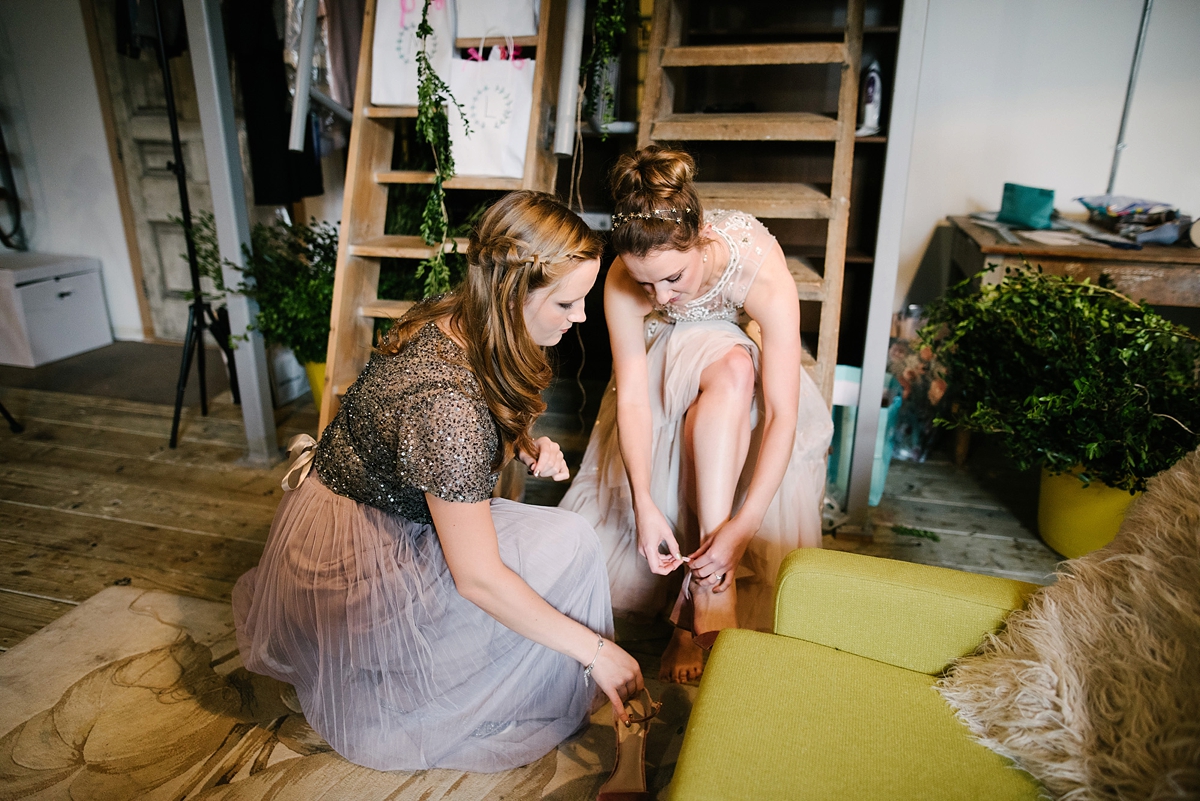 This very practical bride travelled to the civil ceremony at Clissold House in a minivan with the rest of the bridal party.
"It cost us a total of £8! We didn't want to spend excess pennies here."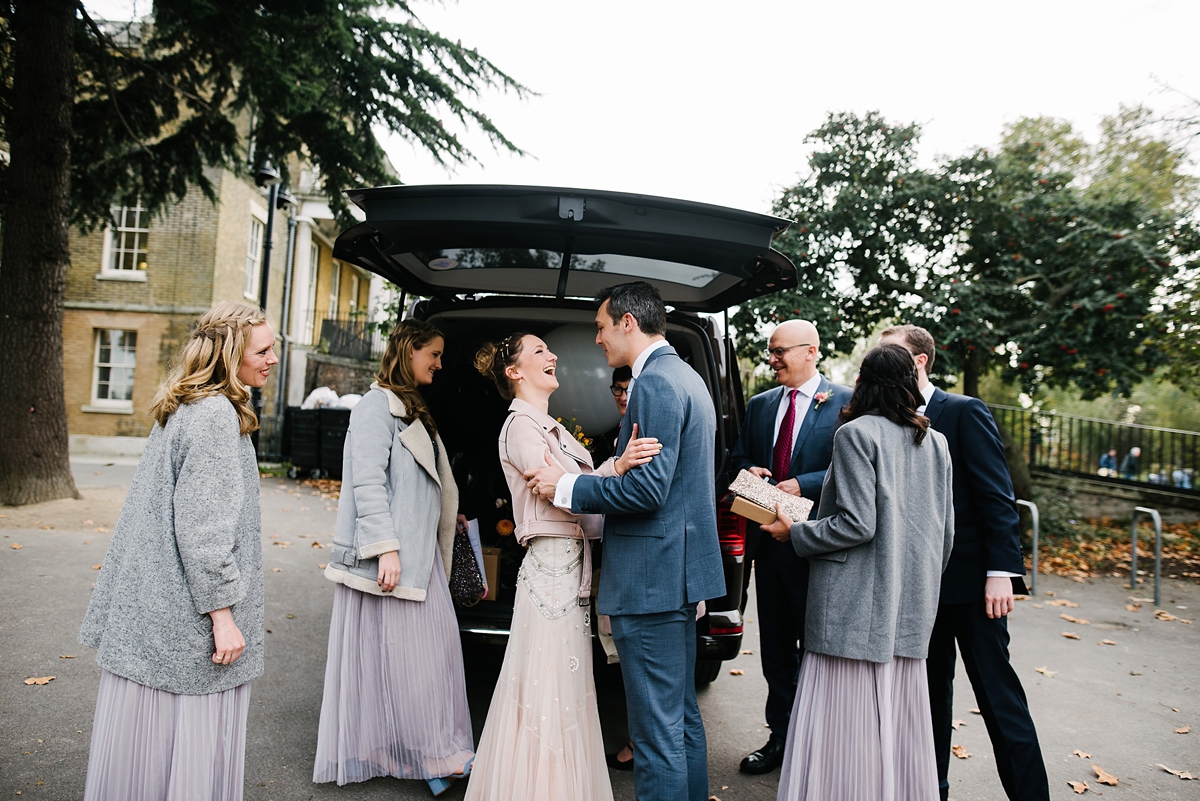 After a few photos in the grounds of the house, the group jumped in to taxis and headed back to Clapton Country Club for the late afternoon Humanist ceremony.
"I walked down the aisle with both my parents to 'All Of My Days' by Alexi Murdoch. I wanted to distance myself from the patriarchal history of being property that's given away and I also wasn't comfortable about the message that walking down the aisle with just my dad sent about my relationship with my mum – that she was somehow the less important parent.
My mum and my dad are equally strong supporters of me and advocates of my relationship with Tom, so it was only right that they both be there to hold my hand. Rather than skate over the issue, we decided to confront the tradition of giving the bride away and subvert it. When we reached the top of the aisle our celebrant asked 'Who gives this woman to be married?' to which my parents replied 'She gives herself freely, with our love'."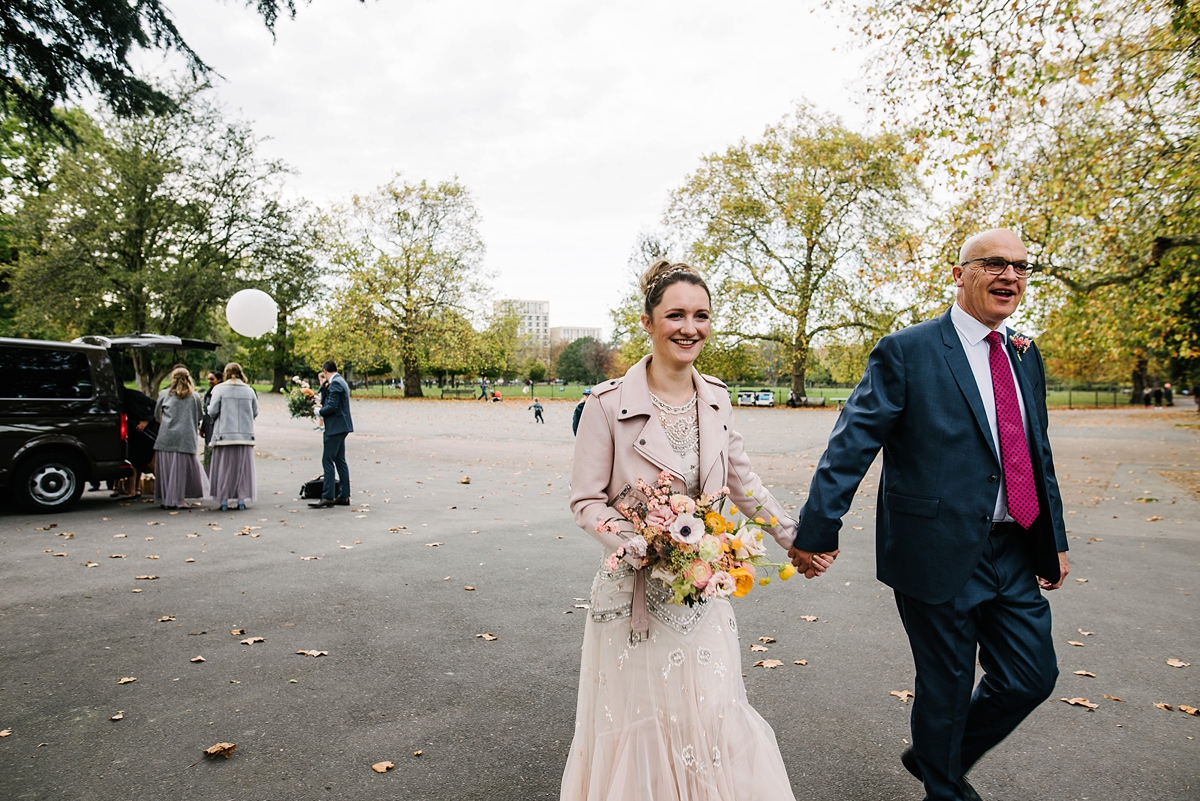 The civil ceremony, attended by the bride's family and groom's family was a quick affair. Prudence is an atheist and a member of Humanists UK. She and Tom agreed that Humanism was the most appropriate framework on which to hang the wedding ceremony as it reflects their shared values of equality, reason, empathy and treating others with kindness and respect.
"I went solo down the aisle at our civil ceremony. It sounds odd, because obviously we were in the presence of a small group of friends and family but I wanted the experience of seeing Tom for the first time to be one that I didn't share with anyone else. I wanted it to be just me and him in that moment, and it was."
"Our Humanist celebrant was the incomparable Stephanie Kendrick from Humanists UK.  She learned and understood our back story, our values and what getting married meant to us. She then wrote and delivered a stunning script that our guests could not stop talking about for the rest of the day – it was light-hearted and fun in places, incredibly moving in others. Steph delivered our ceremony with flair and personality. We're so grateful to her for playing such a significant role in our day and we cannot recommend working with her enough."
"Steph gave us the push we needed to write our own vows from scratch and the confidence to wait to first share them with one another on the day. Tom was a bit nervous that we'd each take a different approach and would end up with mismatched vows, where one person (or both!) felt they'd got it wrong somehow, but Steph encouraged us to give it a go. We then sent them to her and she reassured us that no one had gone hugely off-piste! This meant we were able to first hear our promises to one other in the very moment that we made them. It was nerve-wracking but we were both glad we did – it was one of our most precious memories."
The bride's antique yellow gold ring was found at Grays Antiques, whilst Tom's was a platinum band from Ernest Jones.
"Tom's favourite part of the day was seeing me for the first time as I walked down the aisle at our civil ceremony. I'll never forget his face in that moment. My favourite part of the day was saying my vows to Tom in front of everyone we love."
Prudence and Tom's chose three readings; 'Ever After' by C. S. Lewis read by a friend of Tom, 'Union' by Robert Fulghum read by Prudence's two brothers and 'To Love is Not to Possess' by James Kavanaugh read by Tom's two sisters.
"Tom and I chose our readings carefully. They all conveyed messages about what marriage means to us – that our marriage is more than our wedding day, that today isn't about a 'happily ever after' and it, inevitably, is the beginning of a many challenges (as well as happiness of course!), but we've chosen to face those challenges together, and that no matter how hard it gets, marriage is about making an active choice, every day, to stay. These sentiments were really important to us as we feel they can sometimes get lost in all the wedding mayhem."
Meanwhile, Tom was getting ready with his best men, dressing in a bespoke Moss Bros three-piece suit in navy blue pinstripe with a pink lining, and adding a further shock of colour with a raspberry pink tie from Charles Tyrwhitt and raspberry pink cashmere socks from John Lewis.
"I took the design to a very reasonably priced print shop – Oldacres – in Hatton Garden where I had them printed in black and white, adding colour later by hand with a couple of watercolour palettes and an afternoon with some very kind friends and family. It was so lovely to have family involved in the design and execution, and the end product was simple and beautiful."
These spectacular images which capture the fun and relaxed feel of the day are the work of Kim Williams Photography, a close friend of Prudence.
"Kim is incredibly talented, and I've been lucky to call her a close friend for many years. The first item on our wedding planning agenda was always going to be asking Kim to be our photographer. A lot of couples write about how their photographer felt like a friend. For me, I actually had one of my best mates by my side all day – I consider myself incredibly lucky."
"And on top of that, the shots she captured are just perfect. There are so few posed photos, which isn't Kim's (or our) style at all. Instead she's caught gestures, facial expressions, tiny little moments of nuance that take us straight back to our favourite day. The way Kim works with natural light is exceptional."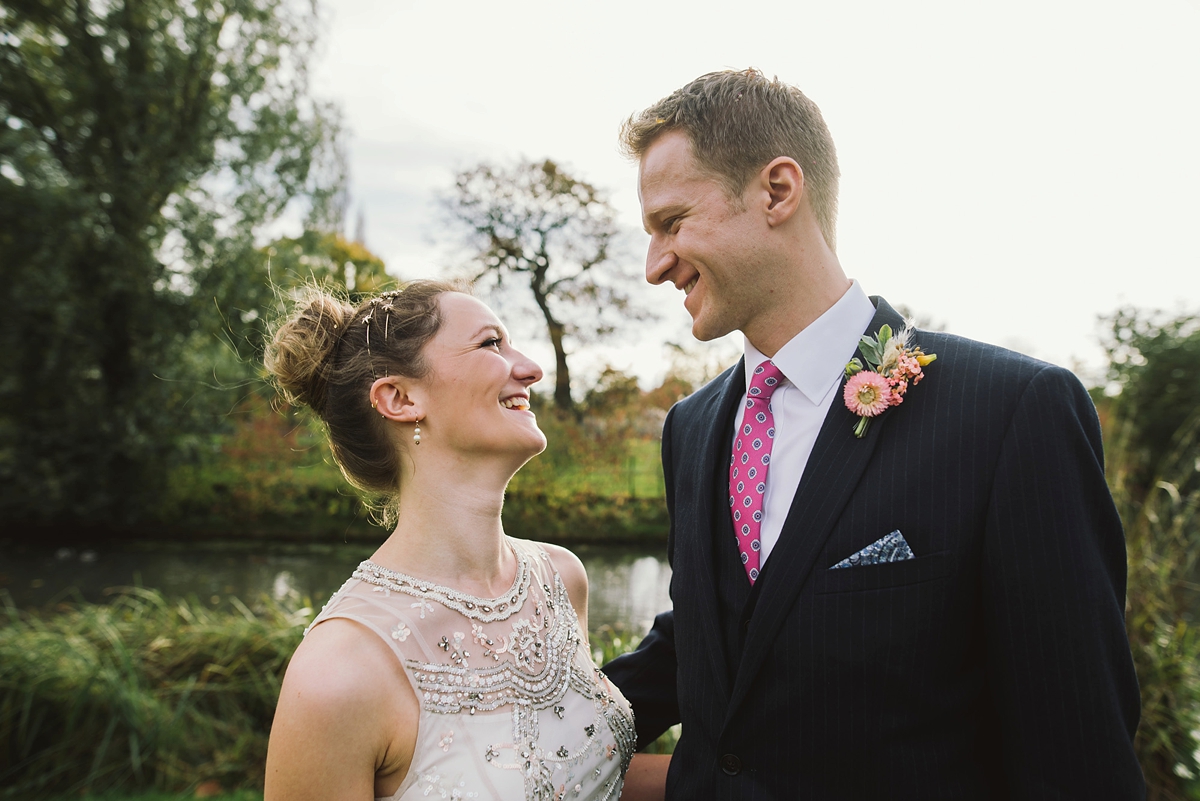 "Not only is she phenomenally talented, Kim is one of the best people I know. If you want someone to capture the laughter and the hugs in passing, that brief moment when your nephew gets spun around on the dance floor, the shadow of horror that passes over your grandmother's face when there's an overshare in a speech, and that split second when you break into disco finger dancing with your new husband (yup, that happened), then call Kim. She will catch every flicker of a moment, and she'll make you laugh your socks off while she's at it."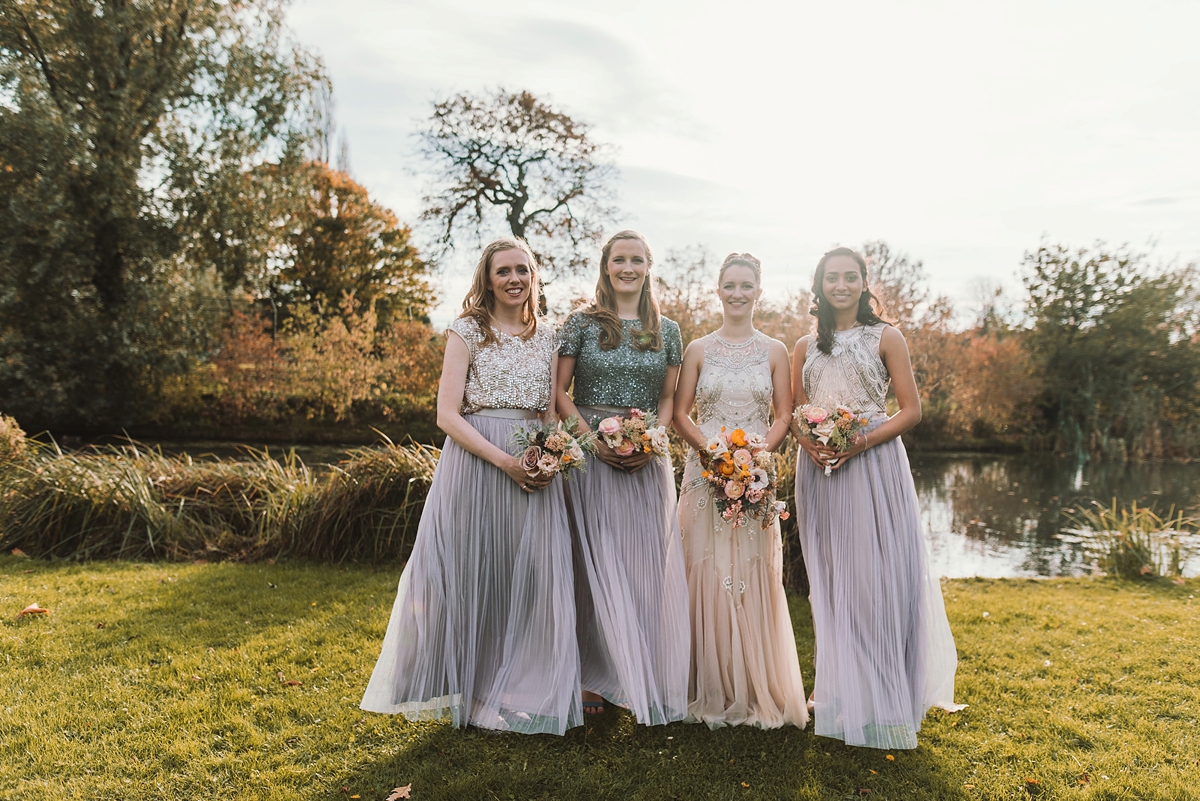 The video was filmed by Silvia Alba, a friend of Prudence's sister-in-law. A videographer was beyond the couple's budget but Prudence's siblings and their partners clubbed together to give Silvia and her filmography talents as a wedding present.
"Tom and I were so grateful for their astounding thoughtfulness and generosity and we adore the final product – so much happiness captured! Silvia did the video at my sister-in-law's wedding to my brother. I've always loved that video and have watched it hundreds of times. It was what made me want one so desperately for our wedding."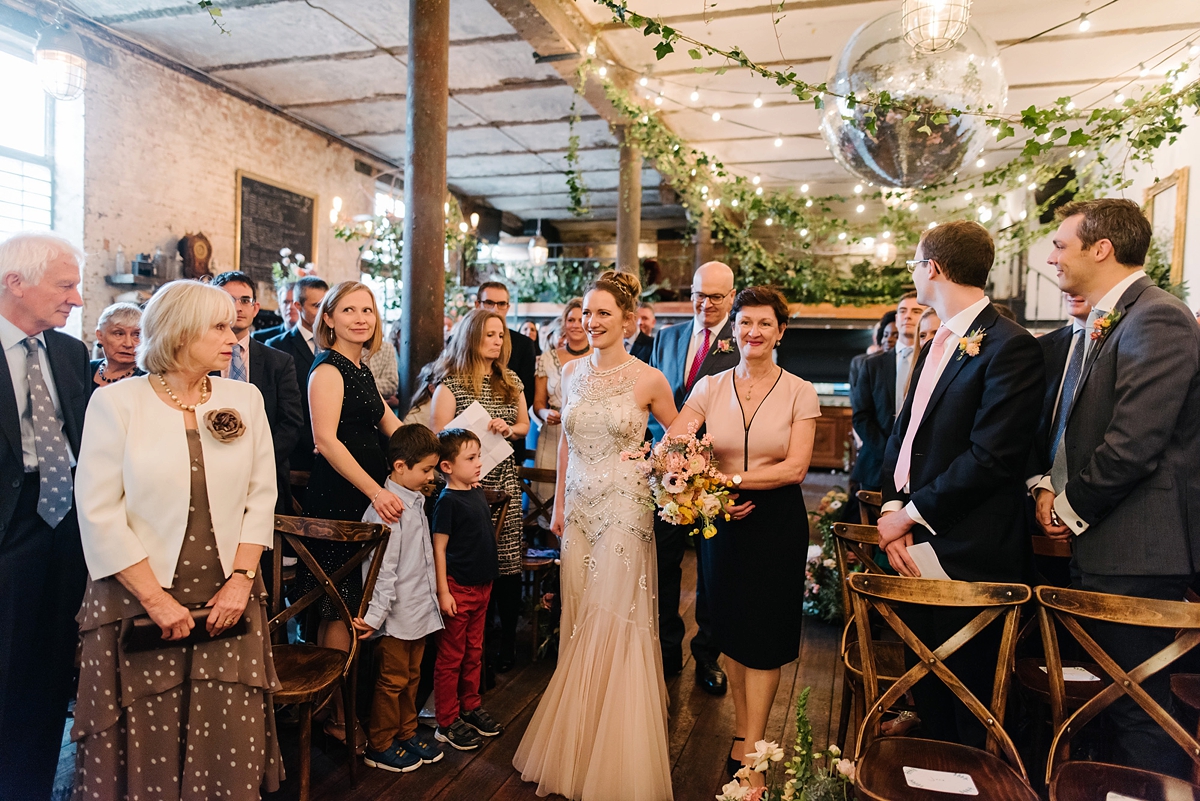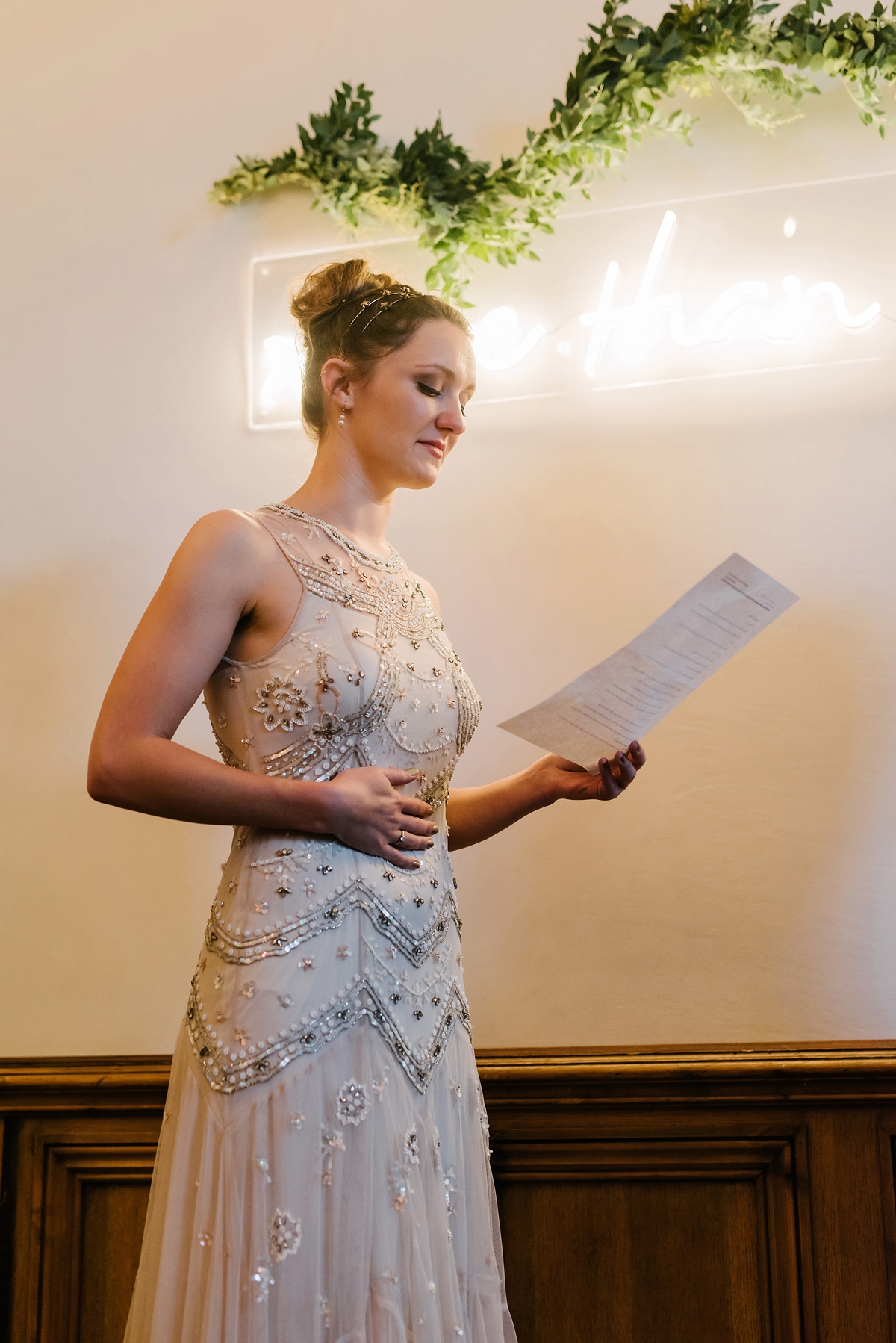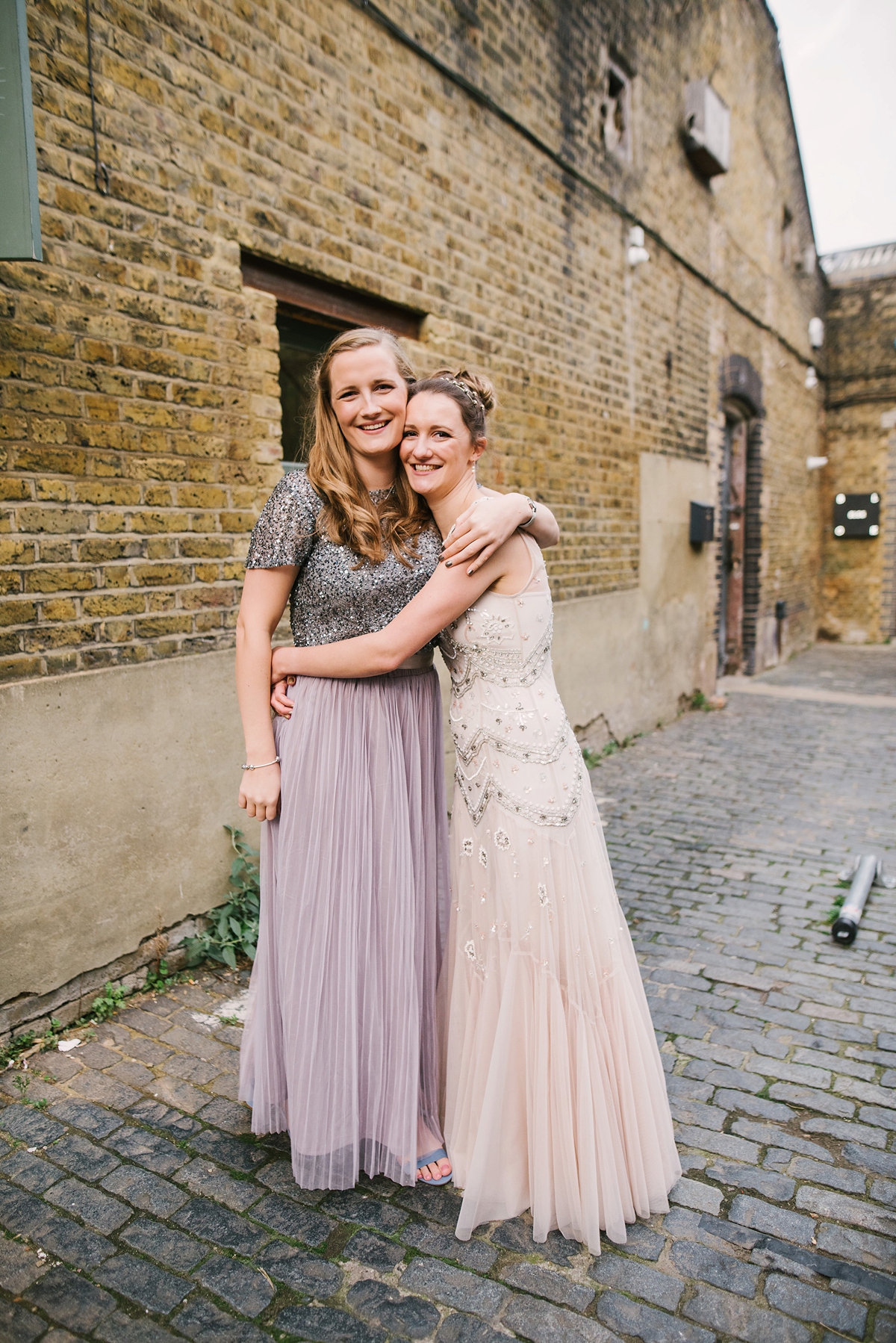 A London venue was of prime importance to the couple and Clapton Country Club offered the blank canvas they wanted as well as accommodation for the bridal party.
"We wanted to get married in London as it's our home – it's where we met, where we live and where most of our guests live. We tried to make the day relaxed and easy for everyone, with as little travel and faffing about as possible. We searched for a venue that was urban and fun and it was also important that it was dry hire so that we could build our wedding from scratch, and it needed to fall within a fairly strict budget. It was hard to fulfil all these requirements in a London location, but then we found Clapton Country Club."
"The space is industrial but at the same time warm and welcoming and the owners completely 'got' us. In fact, they'd had a very similar brief for their own wedding, and so had bought and refurbished the space when they'd been unable to find anything in London. Tom and I knew they'd be able to help us to create exactly the day we wanted."
"The venue also has an amazing loft apartment out the back that we hired for the night before the wedding (for me and my best women) and for the wedding night (where Tom and I stayed). The girls and I had such fun dashing between hair and make-up and setting up the space."
"We went down the dry hire route so we could choose our caterers and therefore choose our price – we spent a fair bit on food but got great value. Dry hire also enabled us to source our own booze, so we did a day trip to Calais to buy wine and bubbly at a fraction of UK supermarket prices. I would really recommend using the Calais Wine Superstore where they do great deals that include travel costs if you spend over a fixed amount. For everything else we went DIY, asked family and friends for help, or where it didn't feel important to us we decided to omit it. From the outset we discussed not including anything because we 'should', but only because we wanted to. The combination of the above meant that we stayed in budget, but most importantly it resulted in the day feeling completely authentic."
The delicious-looking cakes which adorned the cake table were all baked and brought by the bride and her guests.
"A cake wasn't something we felt was going to play a sufficiently important role to justify spending a large amount of money on. We called upon friends and family to help us out and they really came through. My best women and I also spent an (exhausting) day together making a grand total of five cakes in one afternoon. We ended up with a gorgeous, bake sale style spread of cakes, some of which had been lovingly transported from as far as Devon and Durham."
Sinead Evans of The Flavour Kitchen fulfilled the couple's brief of a bowl food feast, providing a real spread of cuisines including Spanish pork belly, Moroccan lamb and Indonesian curry.
"We didn't want the formality of a sit-down meal and this gave us more time to mingle with our guests. We loved the casual ambience of this approach, having everyone standing and milling about while they ate resulted in more of a cocktail party feel. Sinead's food was excellent and her staff were fab. I quickly got caught in conversation and kept forgetting to eat, but I remember her waiters very sweetly checking on me and bringing me bowls of the most delicious food."
Rather than hire in a band or DJ, the couple created their own Spotify playlist over the year that they were engaged. You can listen to it here.
"We have been to weddings where a knockout Spotify playlist makes for a great party and, again, the entertainment was somewhere we were looking to save a little money. We were thrilled when it was one of the things people raved about during post-wedding debriefs. It was the thing I was most nervous about in the run-up to the wedding – that the music would flop and no one would dance. My advice to anyone considering taking the Spotify route would be to be brave and go for it."
"The first dance was to Elvis Presley's 'Falling in Love'. We often dance to this in our kitchen – Tom is a big Elvis fan. We wanted something timeless and a bit schmaltzy that we could have a little sway to, before the proper dancing kicked off."
Little additional decor was needed for the Country Club, but Prudence commissioned a Bag & Bones neon light as a surprise wedding present for Tom.
"He saw it for the first time right before our Humanist ceremony. It says 'More Than Words', the title of a song by Extreme. It's far too cheesy for us to have played it on the day, but I liked featuring it this way as the song holds a special place in our hearts and I also felt that it was an apt message for our wedding – our marriage will be made of so much more than the words we said on that one day."
"I found a photo of time we'd spent with every wedding guest and had them printed polaroid style on Photobox. We pegged them up on twine along the walls of the mezzanine level at Clapton Country Club and encouraged people to take their photo home with them at the end of the night."
Words of Wedded Wisdom
"When we started wedding planning, Tom and I talked about not becoming one of those couples where the woman does all of the wedding work because she's supposedly the one who cares more. We were going to split tasks fairly. Sadly, the combination of Tom's working hours being significantly longer than mine, and the fact that I'd been the one to initiate contact with all our suppliers through my email address, meant that I soon found myself knee-deep in wedding planning, alone. I felt like I'd painted myself into a bit of a corner.
If I could go back and start from the beginning, the first thing I'd do is set up a joint email address for both me and Tom to use for all wedding-related activity. This would have given us joint ownership and made splitting tasks so much cleaner and simpler (and fairer!)."
"A point on feminist engagements. The first thing people asked when they find out that I was engaged was 'So how did he propose?'. The second was not so much a question, but a speedy grab for my left hand to inspect the diamond they imagined they would find there – they usually looked appalled to find the temporary, giant, blue piece of costume jewellery we had sourced from a Sicilian market for a laugh. The problem arose when people discovered there was no proposal story to tell, or at least not the sort that they were expecting. There was no ring hidden in a Champagne flute, no rose petals scattered on the ground, no sunset or Eiffel Tower backdrop. There wasn't even any kneeling, well not until a few hours later on the walk home from dinner, when we were joking about what an anti-climax it all was, so I got down on one knee in the middle of a square full of people."
"Tom and I made the leap in the way that suited us best. We spent a few months talking about the possibility of getting married, and what marriage meant to us before jointly deciding that we should get engaged. For us, it was perfect. But when telling some friends and family how we got engaged, I was often greeted with quizzical looks and, at times, what I felt was sympathy."
"Our overall aim was to stay in budget and keep costs reasonable. Before we started planning we had a conversation about our priorities for the day and where it mattered most for us to spend our budget. It came down to people, food and booze. We desperately didn't want to cull our guest list and we weren't comfortable with having day guests and evening guests. This was why we had a second ceremony in a venue that could accommodate our full guest list."
"To any women out there who want to feel involved in their own engagement, to feel autonomous and present in a joint decision about joining two lives together. I say be proud and be vocal. It's your life too!"
Prudence and Tom, it's been really wonderful to share your unique marriage on Love My Dress today, especially hearing about your feminist perspective and approach, and those helpful words of wisdom. Thank you also to Kim Williams for your beautiful work. Brides-to-be, if you'd like more advice and inspiration for your own feminist celebration then you might like to read this From The Heart piece on maintaining feminist values whilst planning a wedding.
Ele xx