Last summer my husband and I had a week in Tuscany in September, driving up from Rome (it made sense at the time, honestly) through the countryside to Florence and then slowly making our way back down again, staying in various Bed and Breakfast places and small hotels along the way.
It was the most wonderful week and today's gorgeous photographs and this beautiful Italian wedding have brought it all rushing back- the quality of the light, the colour of the local stone, the sun bleached greenery all around.  I'm suddenly hit with the most immense urge to be back there, with the sunshine warming my skin and the warm wind in my hair. Valentina,  a communications consultant, and Riccardo, a financial analyst, married at the beautiful Il Mulino delle Pile, near Chiusdino, Siena, on the 9th of September 2017, and I'm so thrilled to share their day with you all.  Their wedding was planned by Daniela Ferrara from Un Gorno Un Sogno, as Valentina and Riccardo now live in Germany.
"We wanted a bohemian style wedding, and a garden party with a barbecue.  These two things were important to us, and are why we chose to marry in Tuscany, where there are so many beautiful places to have a wedding outside, with barbecue, trees and flowers. We chose Il Mulino delle Pile because of the beauty of the gardens and immense open spaces."
Images by Marco Fantauzzo
Valentina wore the most beautiful Grace Loves Lace gown, which she bought online.  The delicate lace and flowing fabric is just stunning and I adore the way the shoulder straps attach at the waistline at the back, creating such a lovely shape.  Romantic is the only word.
"I loved the simplicity and romanticism of this dress, as well as the fact that it was perfect for a wedding in a garden.  My aim was to find a dress that perfectly fitted to the location (as well as to me of course)."
"We have been together for eleven years.  We met in Rome, where Riccardo comes from, and I visited the city with my school class at that time (back in 2006).  The first year we lived in separate cities (Frankfurt and Rome), and in 2007 I moved to Rome, where we lived for nine years before moving to Germany.  Riccardo asked me to marry him in September 2016."
Hair and make up as the work of Patrizia Tavella of Wedding Make-up Italy and Valentina chose to wear her hair in tousled waves, with braiding for added volume and natural make up, which went beautifully with her relaxed boho style.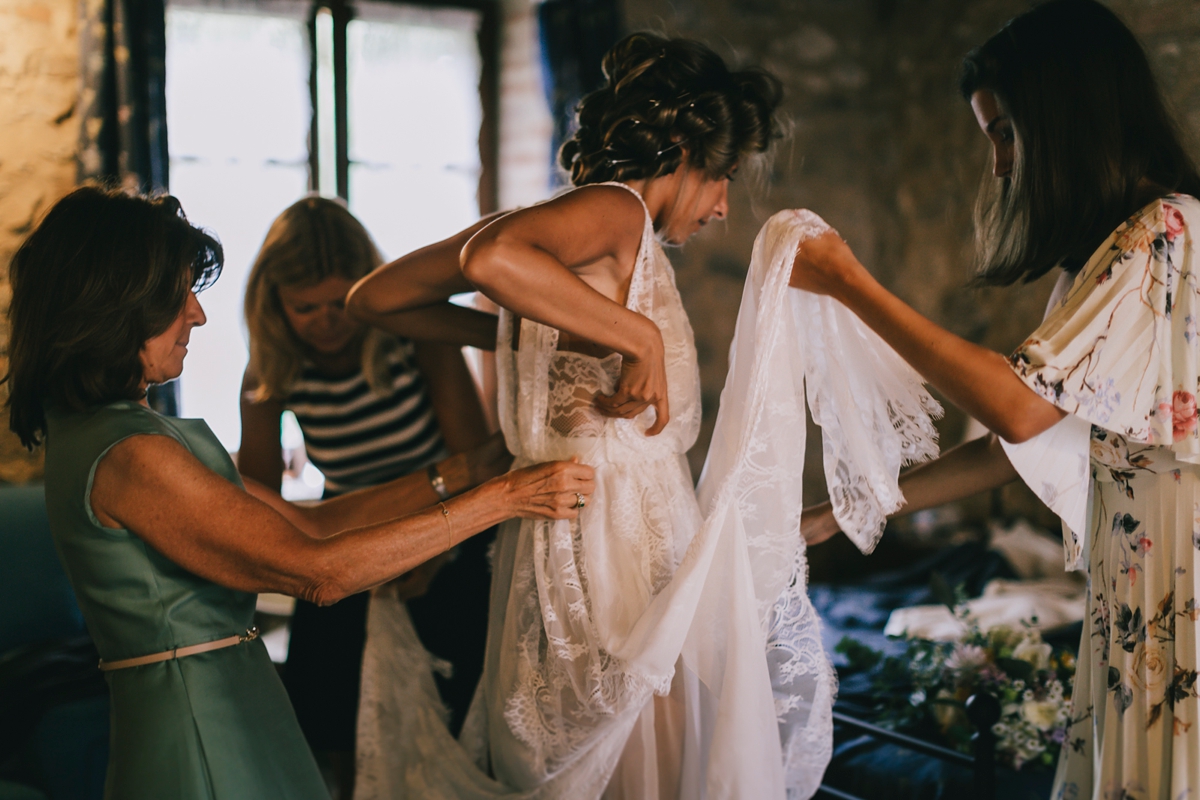 Flowers were the work of Marta Petrioli of Flowers Living who, apart from the stunning bouquets and buttonholes, was also responsible for the fabulous flower-adorned structure under which Valentina and Riccardo said their vows, and the hundreds of flower filled green bottles lining the dining tables.
"I had seen pictures of her work and thought she was just amazing!"
For jewellery she wore simple diamond earrings and two rings, one which was her great grandmother's engagement ring and the other a small sapphire, which was given to her by her grandfather, both very precious and personal choices.
Valentina was accompanied down the beautiful outdoor aisle by her father, to classical music played live by two violinists.
"We are both Catholic and had a normal Catholic wedding, but instead of marrying in a church, the priest agreed to do the function in the garden in our venue.  It was an exception to do a Catholic wedding outside."
Riccardo wore a blue two-piece suit from Dolzer, bought in Hamburg, which he wore with a fabulous green bow tie (which was loosened very shortly after the ceremony).
The couple exchanged traditional vows and smiled the biggest smiles throughout.  To cement their promises, they exchanged rings, handmade by Kristina Köllner.
Today's photos come to us from award winning photographer Marco Fantauzzo.
"The best photographer ever!  I can´t describe it with better words, I just love the photos."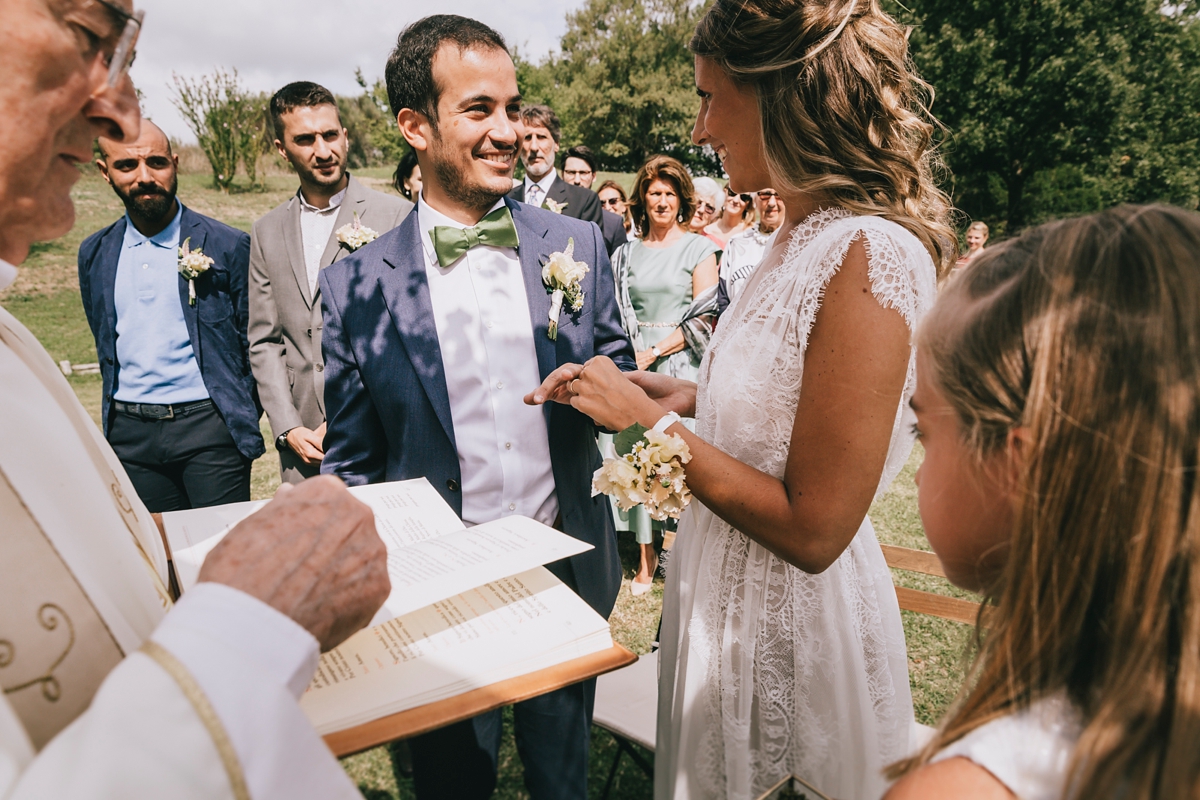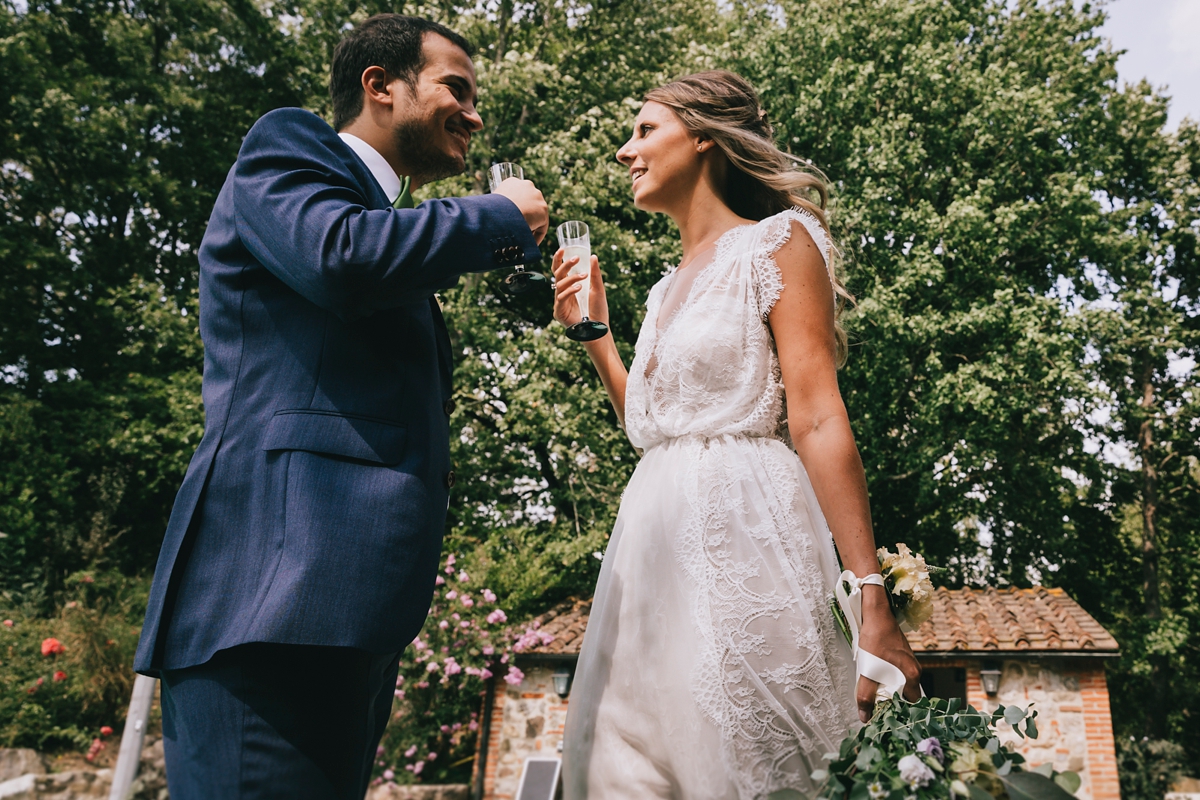 Catering was provided by the venue and the bride and groom and their family and friends ate al fresco under the trees- absolutely magical.
For favours, what else but olive oil from Tuscan olive mill Oliviera Sant' Angelo?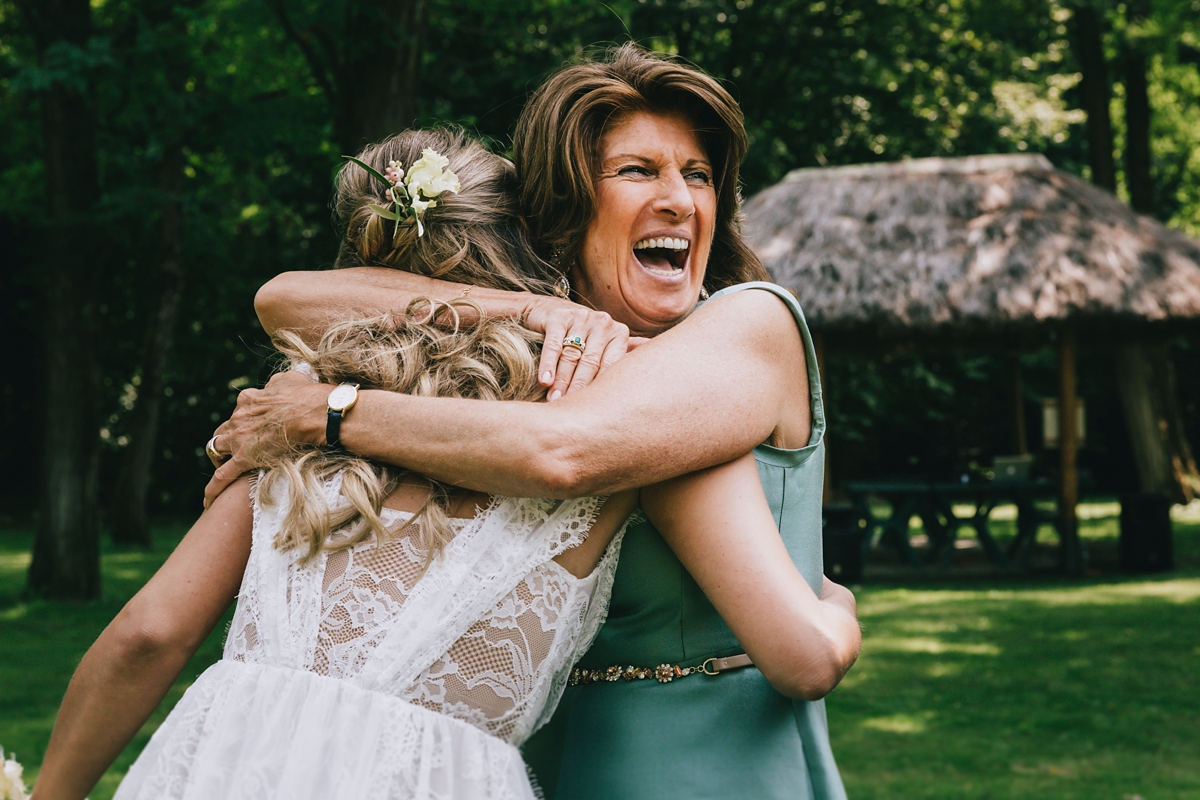 On her feet Valentina wore simple flat slip on shoes from The White Ribbon, Berlin, while in her hair she wore fresh flowers- perfect for a garden look.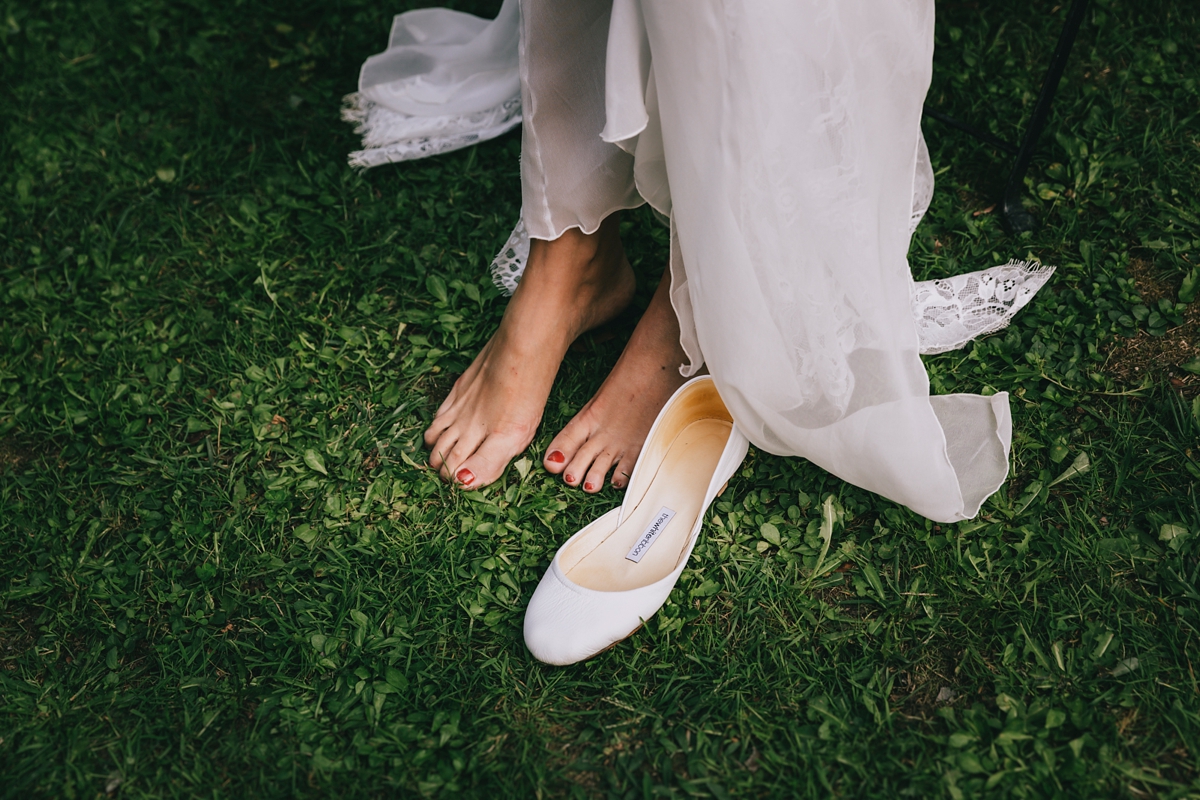 Evening entertainment was provided by DJ Marco Vincenzoni (sadly we do not have details) and the party danced the night away under the stars.
"I loved the venue, the flowers on the table, the sun, the people…  I just loved everything from that day!  I would have done nothing differently at all." 
Words of Wedded Wisdom
"It will be the most beautiful day of your life and you will remember it forever, so invite everyone who you would love to be there and do not listen to others.  Do simply exactly how YOU would love to spend that day, and then it will be perfect."
So many thanks to Valentine and Riccardo for sharing their beautiful day, and of course, thank you to Marco Fantauzzo for sharing his work.  I just have to point you in the direction of some more sun-drenched Italian weddings now don't I?  I know I'm certainly in the mood for a bit more Italian sunshine!  Take a peek here as well, for more beautiful Grace Loves Lace gowns to fall in love with.
Much love,
Shona x