Hello lovelies and (almost) Happy Easter! I do hope you have some lovely long bank holiday weekend plans in the diary – here's hoping the weather gets it's act together and gives us some much needed spring sunshine this year!
On a different note, as spring is in the air, it's getting me extremely excited for wedding season so I'm delighted to share today's wedding with you and spread the good vibes. Today's couple, online accessories business founder Linsey and building company owner Nick said their I Do's on 13th May 2017 at St Mary's Church in Stanstead, followed by a reception held at Court Lodge Barn.
"I was a total DIY bride and so was looking for a blank canvas I could stamp my own style onto. The amazingly classy wedding planner extraordinaire Sama Hemsley from Utterly Wow fame found Court Lodge Barn and sent me some photos. It was a new find for both of us which made it a bit more exciting in a way. We both went to see it and it was the first and only venue I saw – we just had to book it! It may seem a little crazy or head strong or that I quite frankly couldn't be bothered, however that's not the case, I just visualised our wedding there from the moment I saw it. This was then compounded by the fact that the stunningly beautiful St Mary's Church was a 30 second walk from it. Sama and I had no idea until we turned up at the venue and so it all just fell into place."
Images by Dominique Bader
"On our wedding day, Nick and I were married in St Mary's to the sound of church bells ringing out. Then we walked down to Court Lodge Barn with all of our guests. It was the quickest marriage ceremony to reception I had ever encountered but our guests all loved it. Everyone said how easy it was and how lovely it was to go there together with everyone walking along and chatting in different groups. Even though I made a quick decision on the venue, I knew I'd made the right one."On hand to style Linsey's wavy down do to perfection was hairdresser Lauren Peck.
"Lauren is a freelance hairdresser who has been my hairdresser for a long time now. If you could see me now you'd see she's a miracle worker. She was also a guest at our wedding and would come up to me every so often with a lipstick or some powder for touch ups."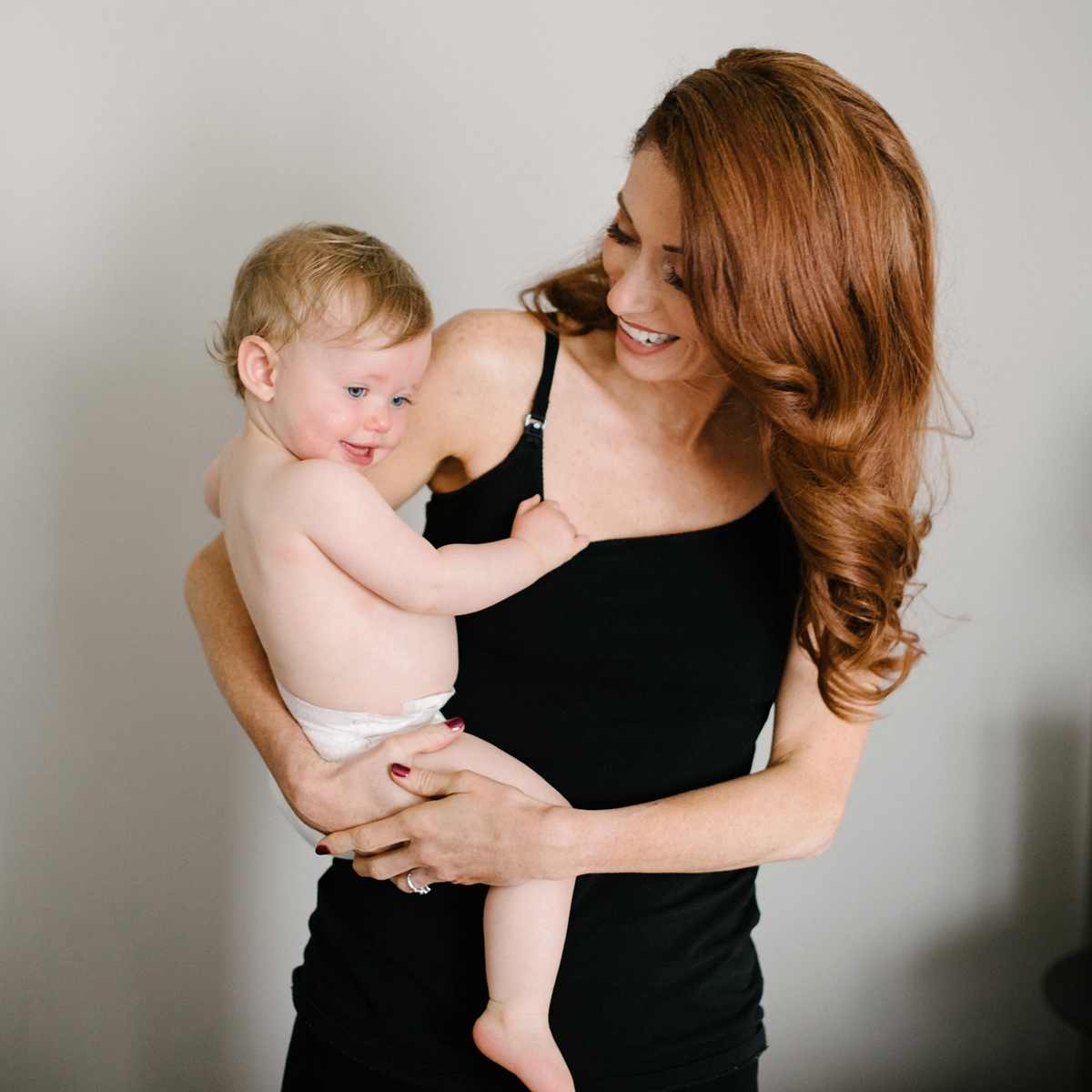 To match her dress, Linsey bought a pair of John Lewis shoes, a vintage comb found on eBay, worn in her hair, and a silver bracelet her children had bought her a few months before the wedding.
"It was inscribed with 'Merry Christmas Mummy Love Ted and Florence'. It wasn't the perfect styling piece to match my dress but I wanted to wear it all the same. I also had my dad's wedding ring hidden away in my dress. I put it there when I got dressed and never told anyone. Nick and my mum don't know to this day so they'll be surprised when they read this!"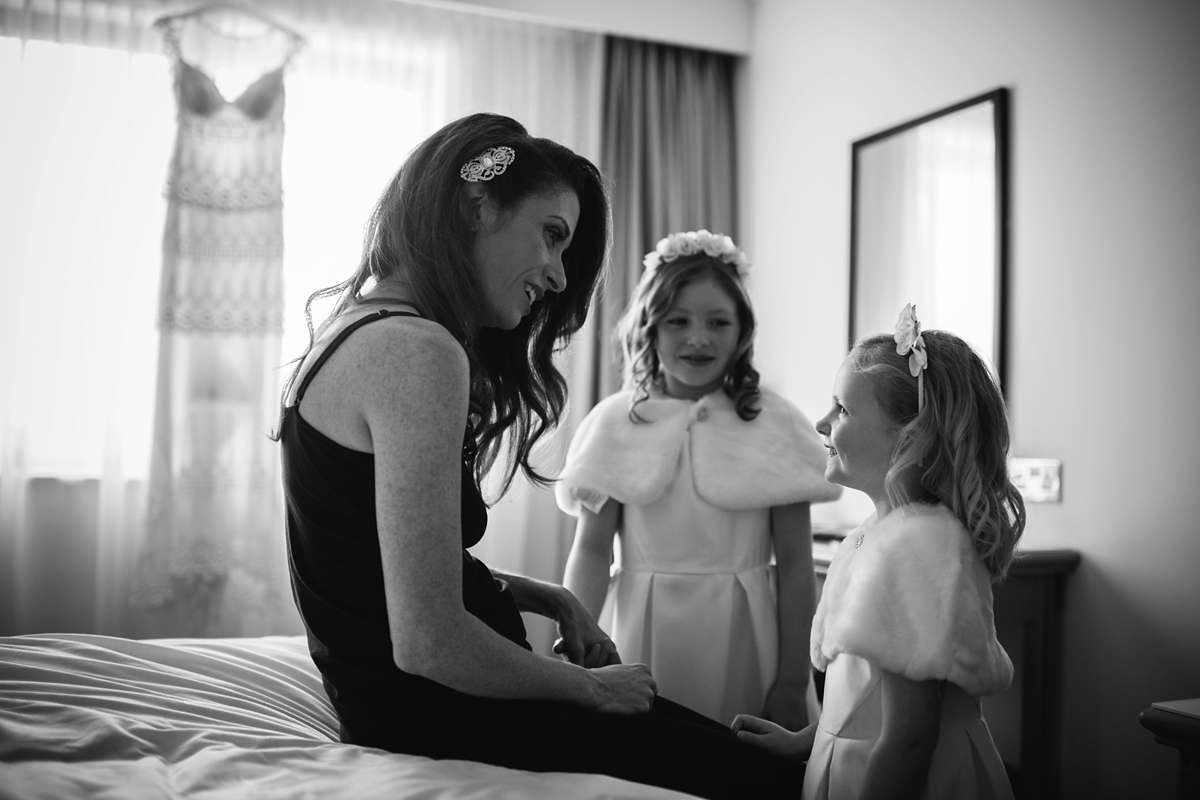 And speaking of the dress, what an absolutely gorgeous one it was, by designer Claire Pettibone via Blackburn Bridal Couture in Blackheath.
"My dress was the Kristene gown and I also got my veil from Claire Pettibone too. The personnel in the shop couldn't have been more amazing and nothing was too much trouble for them. For me it was a personal decision to dress shop on my own, as picking a dress is the only thing we do for ourselves amongst all the wedding planning and all that mattered was my own opinion."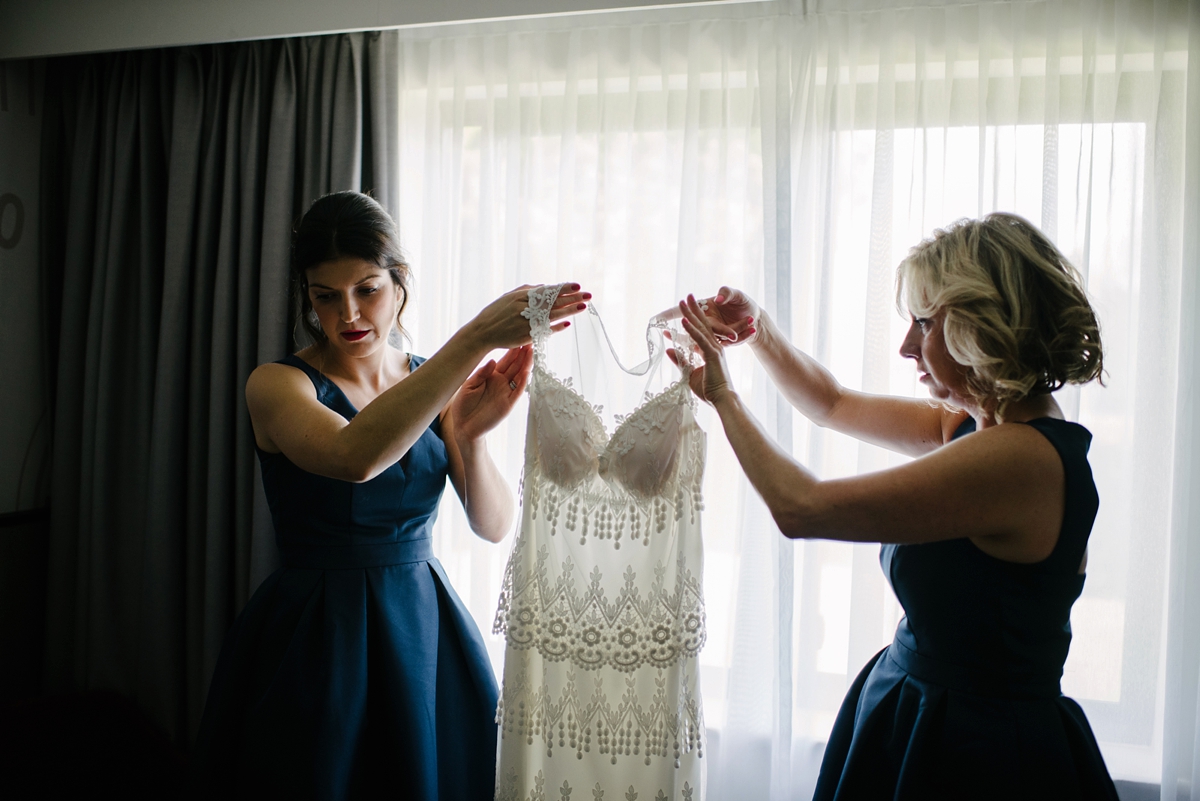 "I wanted a dress that I was in love with, with no distractions. I tried a few on in different styles as I wanted to experiment with what I thought would look amazing and to also reassure myself that the picture I had in my head was what I wanted. For me it worked as the Kristene dress was then brought out. I tried it on and the rest is history. The dress and veil were both bought that day!"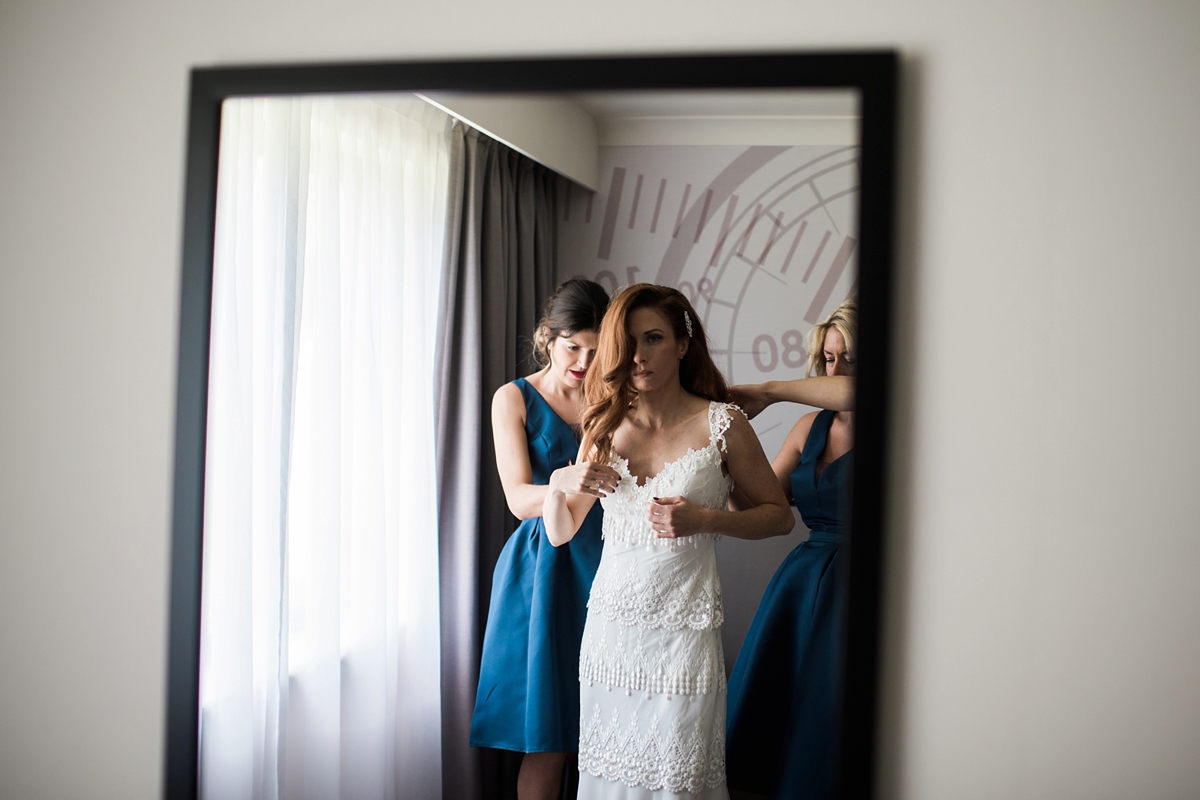 "I love everything about the dress. It suited my frame and showed off my figure but with the antique lace panels, it also hid a few of my 'bits' I wasn't 100% happy with."
"I was a 40-year-old bride that was trying on a dress 3 months after having her second baby so the dress had to be a miracle dress, which is exactly what it was. As soon as I saw the back of it my mind was made up. It was also the first time I was able to wear a semi-backless dress without needing a bra. Like I say, miracle dress!"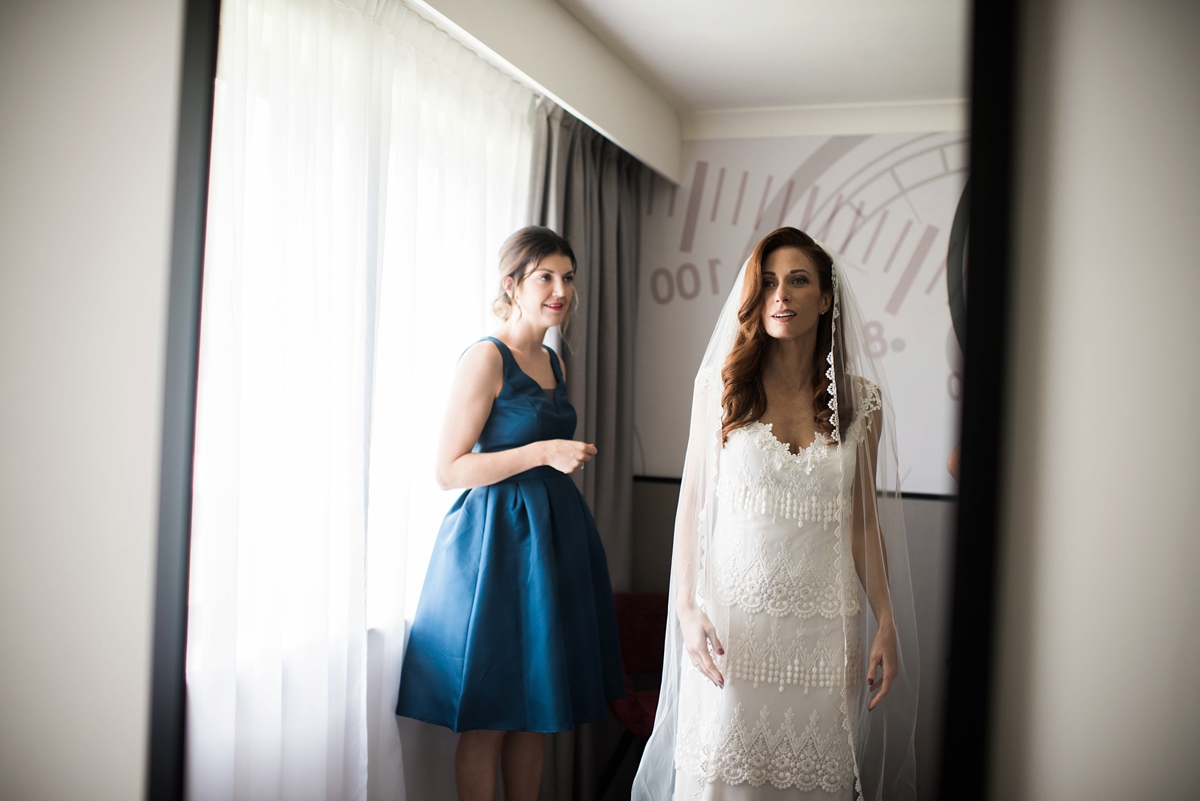 Linsey and Nick met through Linsey's cousin Robert when they were 17 and dated on and off throughout their teen years.
"When I went to university we kept in touch, fast forward to 2011 and I saw Nick again, though through tragic circumstances as my cousin Robert was sadly killed. We started dating again and had our son Ted in 2014. In July 2015 Nick, Ted and I went for a day out in Greenwich Park and were having a picnic by the river when Nick wandered off, then came back with a glass Prosecco."
"I saw my engagement ring sitting in the bottom of the glass and that was it really! No big fanfare or extravagance when it came to the engagement but I wouldn't have had it any other way. It was so lovely that it was just the three of us and I had no idea he was going to pop the question."
"We planned for a September 2016 wedding and I immediately got in touch with Sama to start the planning process. In September 2015 I found out, much to our delight, that we were expecting our second child but delighted as I was, I didn't fancy walking down the aisle having just had a baby so the wedding was postponed until May 2017."
Linsey's bridesmaids looked simply stunning in knee-length navy blue Chi Chi dresses and silver heeled ASOS sandals, and her three flower girls looked angelic in ivory satin dresses from Marks & Spencer.
"I bought all my bridesmaids vintage antique brooches which I fund at Greenwich market. Each brooch had a story of its past owner. I don't know if the stories were 100% true but I loved them all the same! I wrote about the stories in the cards and gave them each the brooch and the corresponding card. I gave them to them before the ceremony and when I turned up to the church, two of my friends had them in their hands which made me smile. They then put them on their dresses and off we went into the church."
Linsey's favourite part of the day was being in the taxi on her way to the church.
"Not because it was the highlight of the day, but because I still had the whole day in front of me to live and experience – I was so excited!"
Once there, the ceremony went without a hitch and Linsey's uncle Steve walked her down the aisle to the Bridal Chorus by Richard Wagner. Linsey and Nick then exchanged the traditional vows (omitting the promise of Linsey obeying Nick) and included two readings; Scaffolding by Seamus Heaney and Love is a Temporary Madness from Captain Corelli's Mandolin by Louis de Bernieres.
"We chose these two as we felt we wanted to express the realism of marriage as well as the subtle romantics of it too. Nick and I have 2 young children and we don't always see eye to eye on lots of things. Sometimes we get mad at each other and scream and shout, say things we don't mean and sometimes not like the other person even when you still love them. But it would be inconceivable for us to be separate as we've grown together and we've made a foundation on which our children will flourish too. It's to remember that in those moments when things aren't 'perfect', you have a structure that's built to last and you go back to that all the time."
The boys also scrubbed up well with the groom opting for a black 3-piece suit from Marks and Spencer, paired with an oxblood tie and matching handkerchief from Charles Tyrwhitt. His best man Neil, four groomsmen and page-boy all wore navy suits from Rocha by John Rocha.
The bride and groom swapped rings bought from Hatton Garden, Nicks a plain titanium band and Linsey's, a thin platinum band to enhance her emerald cut diamond engagement ring.
"One of Nick's best friend's works in Hatton Garden so he supplied all the rings, including my engagement ring. As Nick's a builder, his hands are permanently dirty so he had to get a hard-wearing metal. I wanted a plain band that would enhance my lovely diamond ring. I have tiny hands too so I can't carry off something too big. My husband had it engraved without me knowing, or so he thought…I caught wind of it and got his engraved without him knowing. He didn't know until I told him after the ceremony! Both of them have the date of our wedding and our Children's names."
Capturing the day on camera beautifully was talented photographer Dominique Bader.
"I have neither enough space or superlatives to wax lyrical about this lady. Dominique was a recommendation and I loved her work on her website as it looked like a high-end editorial with really romantic imagery. I went to meet Dominique at her home when I was 7 months pregnant with my daughter Florence."
"I did not look like a bride to be I can assure you…Dominique then showed me her work and I was blown away. I chose her almost immediately after that meeting. She was over my budget that I'd set aside but take note ladies and gents, she was worth every penny."
"I wanted candid photos mostly as I'm not a fan of staged moments and was adamant we wouldn't have any. We talked about how it would all look and she wasn't afraid to say to me that I should consider some group photo's, and she was so right. Dominique and her lovely assistant Nicky took amazing photo's of the day and were able to look at things a little differently."
"Dominique is also a brilliant personality and makes you feel at ease all the time. Not everyone likes having their photo taken and my husband is one of them, but with Dominique he was like a changed man and positively enjoying himself! In years to come my children will look at the photo's and have them to treasure and that's all because of Domonique and her genius. I cannot recommend her enough! I'm such a lucky lady as I now have beautiful high-end photographs of me wearing my beautiful dress with my husband and two children."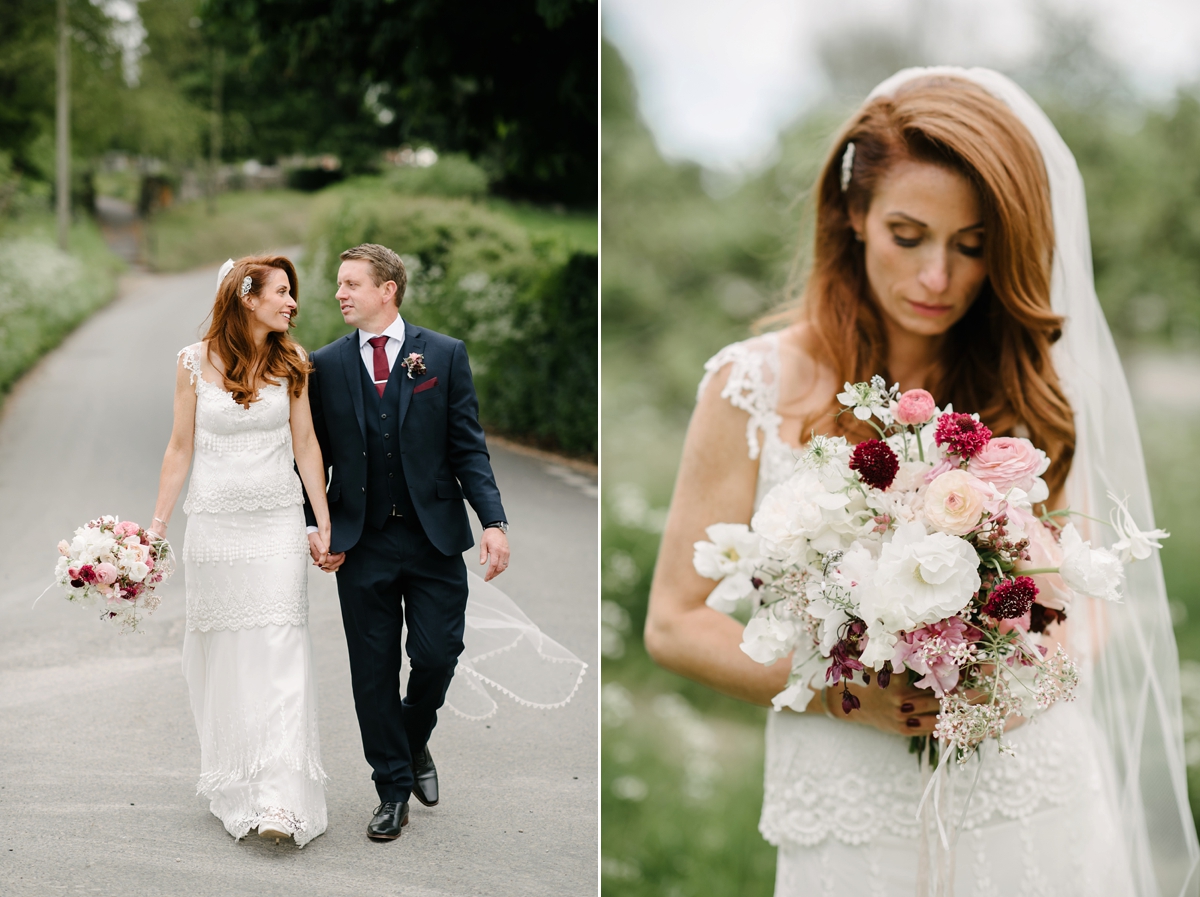 Linsey held a stunning bridal bouquet of brilliant white and pink florals to walk down the aisle with, created by the incredibly talented florists at Aesme Flowers London.
"These girls aren't just florists, they're a whole innovative floral design team. The two sisters put together exquisite wedding flowers that matched the ideas in my head and made them a reality. I showed them one picture of the colour scheme and briefly described what I wanted. What they came back with exceeded all my expectations. They presented drawings, sketches and colour options and gave me a massive platform to pick and choose my perfect floral world."
"Flowers are expensive and it's not until you start looking at these things that you realise just how much. Aesme totally understood when I had to scale back the budget as I just didn't have it. They went away and came back with more ideas that were just as beautiful and captured what I really wanted."
"I didn't see my bouquet until I got to the church. That's not because it was too difficult for them to get to me but because they keep them in water until the very last second so they look as amazing as can be. The Aesme sisters were at the church when I arrived and handed me my flowers. They were amazing and I was so pleased with them. All of them had also hit it out of the park on the table designs too. I was blown away when I walked into the barn and I'll never forget having that 'wow' moment."
"After the wedding ceremony, they took some floral arrangements from the church and walked them over to Court Lodge and arranged them in the barn whilst everyone was having a drink. They did this so discreetly and with no nonsense. They also took all of our bouquets and put them in water so they looked fabulous for the photos. I can't recommend Aesme enough as wedding florists. They really know their stuff and are a floral creative power."
Once the ceremony was over and guests had been transported from the church to the reception venue via coach, they were treated to a sit down meal catered by Australian Style Catering which included a bit of something everyone would enjoy.
"I wanted a laid back affair when it came to dinner and the caterers allowed that. They created a menu that catered for everyone as there were so many choices. Everyone had a bit of everything on the table which allowed guests to talk to each other whilst passing the food around. Geoff who owns the company is a lovely fella and is really accommodating as he knows how important it is to you."
"He's done a lot of weddings and the team he's built around him I can't praise enough. The ladies who were serving food and drinks couldn't do enough for you and guests had nothing but compliments for them. In the evening they brought out huge cheese boards and Cornish pasties that were delivered all the way from Cornwall on the morning of my wedding day. I still get asked about them to this day. Goes to show how some things make such an impression!"
The couple chose not to provide wedding favours due to budget restraints but they did provide guests with a free bar all night and created beautiful stationery for the day.
"I'm very lucky as one of our friends works in the print trade so I designed the invites and day booklets myself. St Mary's church is an old church and has an old-fashioned black heavy wrought iron key to open its doors with. I hung that key off the 3000 year old tree outside and took lots of photos. I then converted them from colour to mono and sent them to my printer friend. The picture went on all of the invited and day booklets set on ivory paper."
"Sama and her colleague Helen are fully responsible for the design and printing of the table numbers, place names and table plan. We had a completely different idea to what we eventually went with, however it didn't work out so we went with plan B."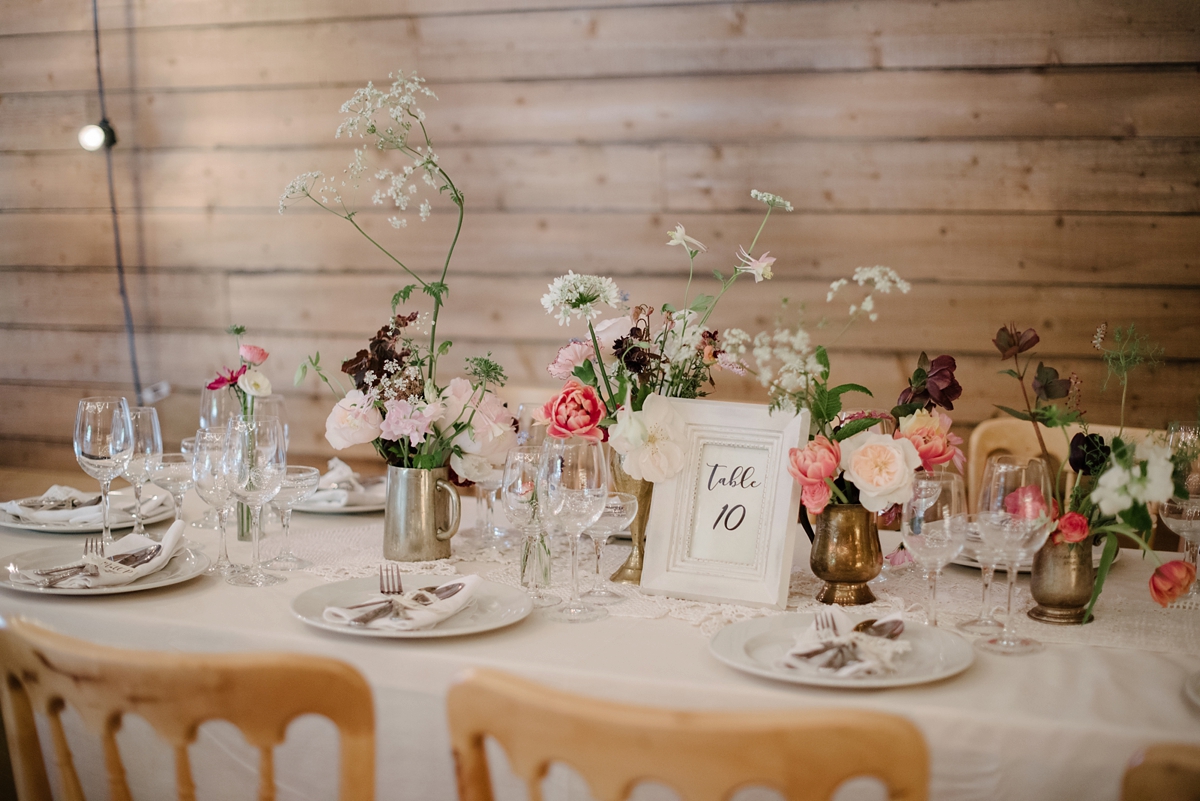 As well as designing her own invites and day booklets, Linsey went DIY with the decor too.
"As a DIY bride we styled the barn ourselves from scratch. The day before the wedding, some select members of the wedding crew were on hand to help and I'm not going to lie, it didn't all go to plan, however we got there in the end to a spectacular effect in my opinion. I had round paper lanterns in neutral, hot pink and oxblood colours, which were suspended from the ceiling with fishing wire. I also had a string of festoon lights, huge metal circus lights spelling 'DANCE', a vintage bar and crates and old chalk boards to show the drinks menu."
The wedding cake was provided by Cakes by Charlotte and turned out to be an ivory vintage cake masterpiece.
"Charlotte was the only wedding cake maker for me. She's a one woman powerhouse! I spoke to her about my cake and explained I was tight on budget (having overspent on the dress). I didn't want a massive cake with lots of decoration as it wasn't in keeping with my simplistic style. I discussed with her about wanting a vintage style and left her to it. Her baking and design genius knows no bounds and it also tasted amazing! I vaguely remember stuffing a big slice in my mouth on the day!"
"Charlotte also cared about what she was making as she told me after she'd had a few tears over my cake that she just wanted it to be perfect for me. I loved that she cared so much even though it was a small cake. You can't beat a personal and caring touch and so for all those reasons I can't recommend her enough."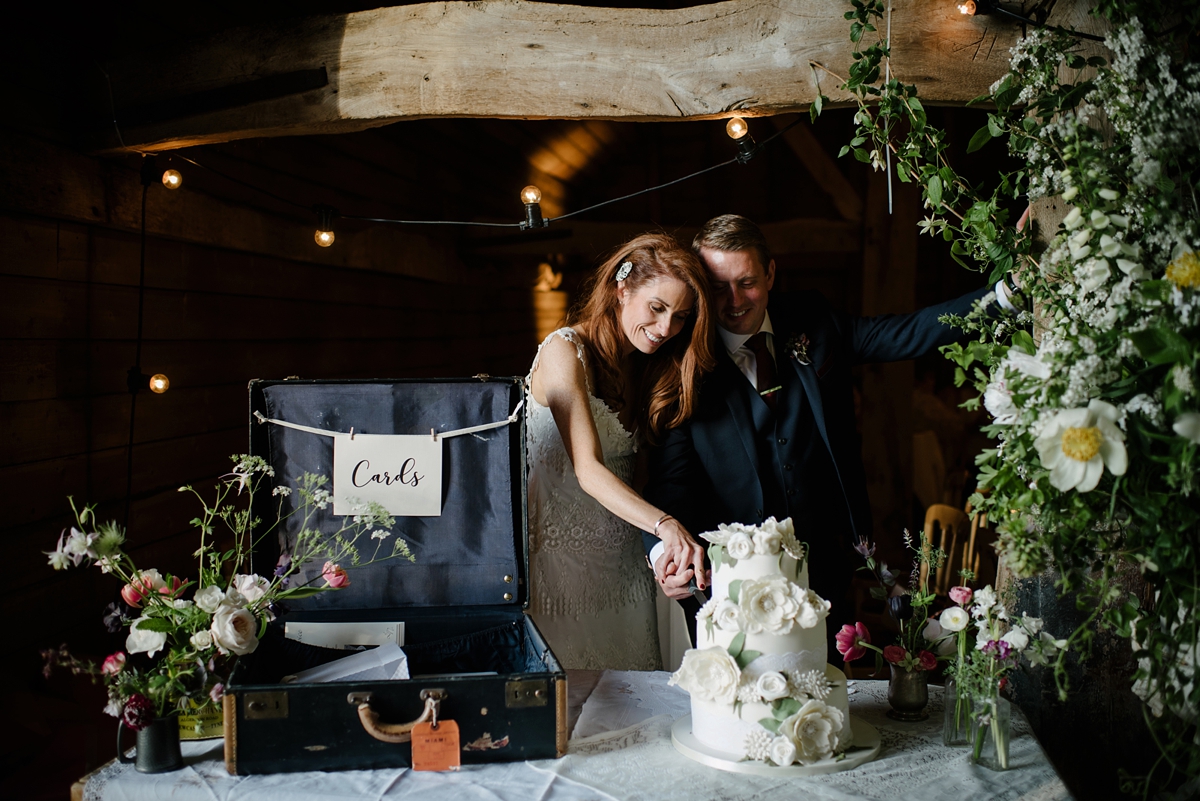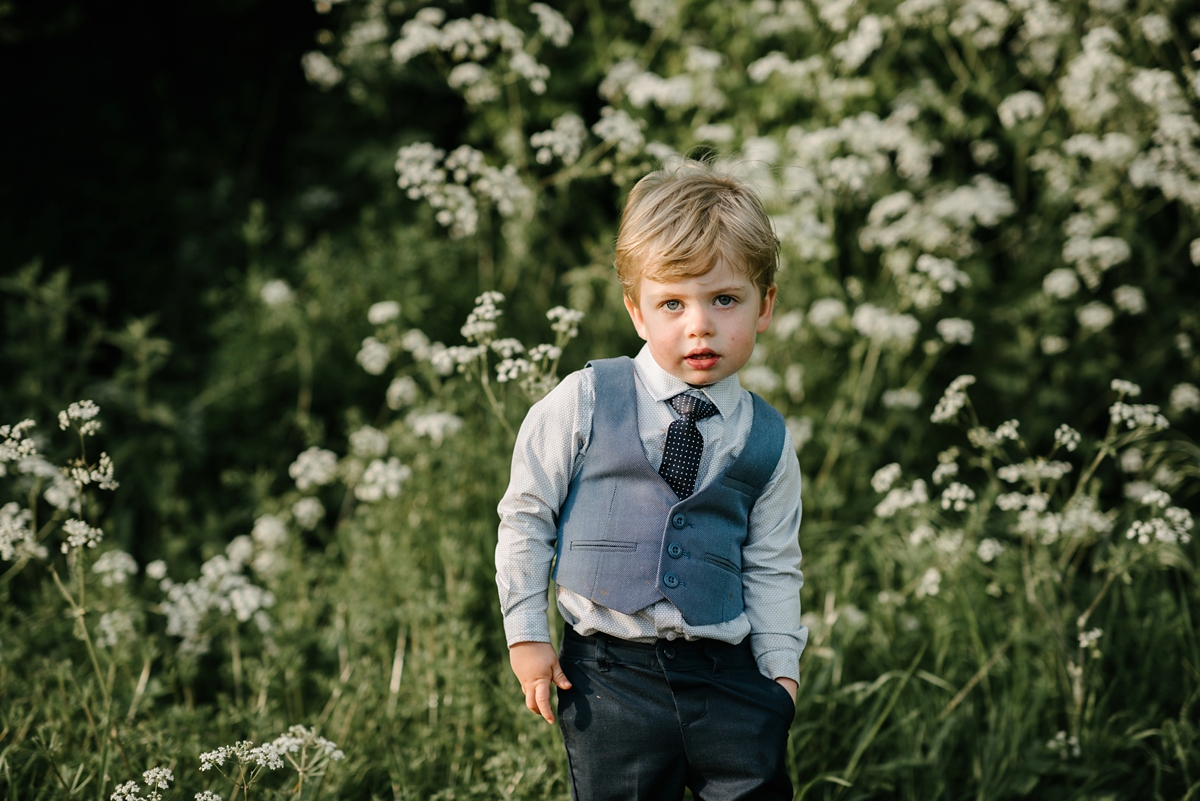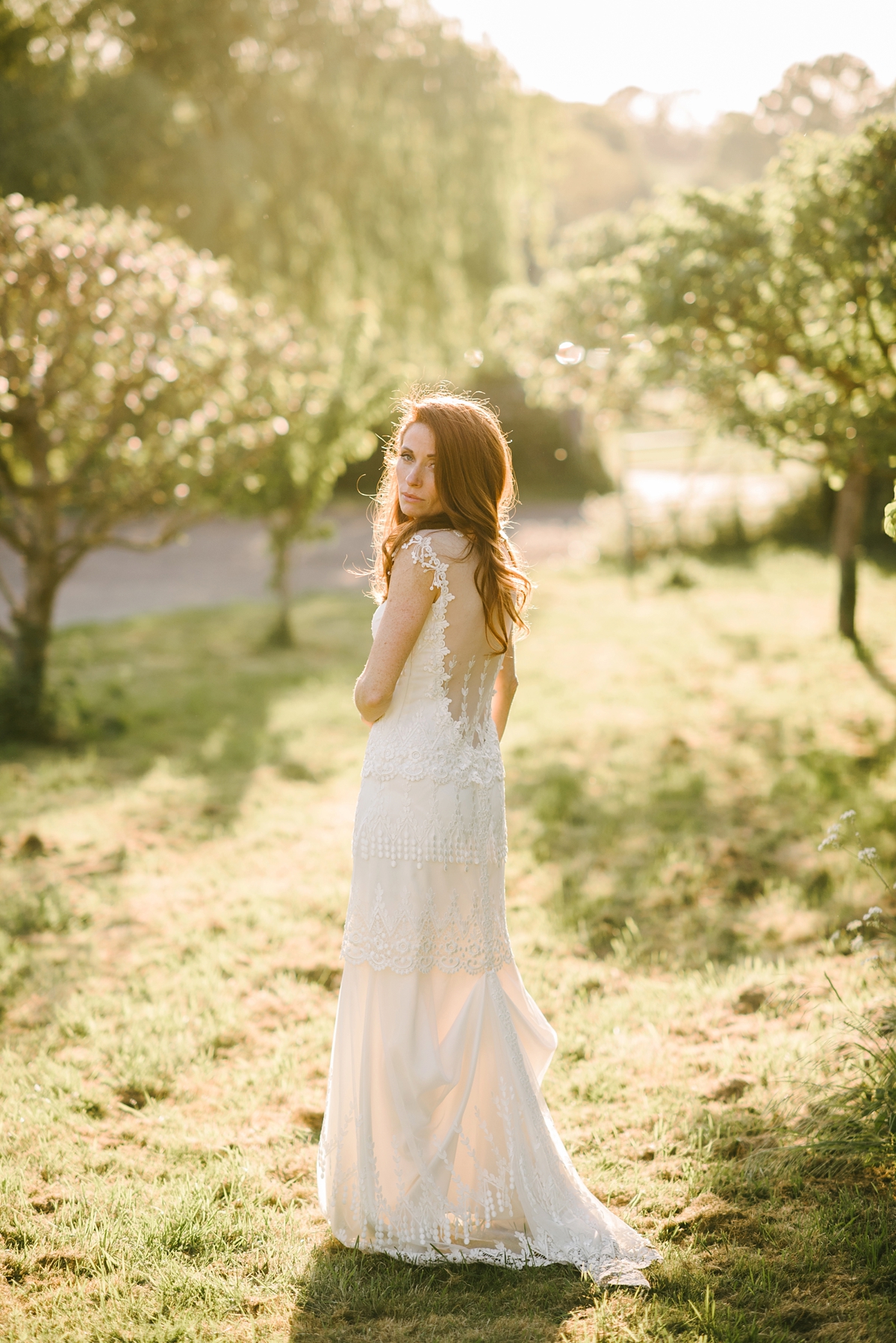 Kicking off the evening entertainment was Flood The Floor; an interactive London-based events band.
"Let's get things straight, if you want a party, then you need to book this band. They rocked my wedding and then some! These boys trekked down to our wedding in the countryside, hauled their own equipment into the barn and set up around the guests with nothing but smiles. All our guests were left so sweaty from dancing after they'd finished their first set. Their lead singer is very interactive with the crowd and the crowd loved him all the more for it. He wasn't phased and even tried to get Nick to sing a song (which he flatly refused to do!)."
"Nick and I are old souls and love older genres of music, especially Northern Soul. These fellas played an older playlist for us mixed in with some more up to date stuff which went down a storm. The boys smashed it."
Words Of Wedded Wisdom
"Enjoy yourselves! However you've planned your wedding, you've worked hard to put it all together. You've had the panis, the sitting bolt upright in the middle of the night thinking about what you've forgotten, you've written lists, executed some of the actions, changed your mind, changed it back, laughed, cried and shouted. That's all done now. Enjoy your day with your new husband or wife and don't worry about what other people are doing. They're at your wedding because they love you as a couple and want to celebrate the day with you, not be entertained at your expense."
"No one notices if the presents are being put in the wrong place or the wrong wine has been brought out, they just care about you guys. Kiss your new husband or wife throughout the day as you're celebrating as a couple. Take time out to have a little moment together later in the evening and just take a step back to look at everyone enjoying themselves. It will make you smile."
"It all goes so quickly so please don't sweat the small stuff. At the end of our wedding day I got into bed where my 2-year-old son was already sleep. A little boys voice then said 'Mummy, it was busy today, have we got to do it again tomorrow?' and I said 'no darling, it was just for today.'"
Thank you so much to Dominique Bader for these absolutely beautiful shots – she sure knows how to capture a wedding on camera! And a huge congratulations and best wishes for the future to Linsey, Nick and their gorgeous family.
Until next time…
Much love,
Holly x