Glasgow isn't a city I know well, but definitely one I want to explore more.  Today's bride and groom have made this city their home and wanted to share it with their wedding guests, choosing venues close to where they live which is a lovely idea.
Rebecca and Quentin, a junior doctor and business owner respectively, married on the 20th of May 2017 with a Humanist ceremony at The Memorial Chapel, University of Glasgow, followed by a reception at Cottiers Theatre.  The couple met while at university in Glasgow and Quentin proposed in 2015 with Rebecca's great grandmother's ring during a skiing holiday. Rebecca looked beautiful in the gorgeous 'Eloise' by Dana Bolton, with a custom back and matching veil.  I absolutely adore the lace bodice and the almost regency cut.
"I wanted a dress that was relaxed, romantic and most importantly, comfortable.  I found Dana's dress online and my mum convinced me to fly down to London to try it on as she knew how much I loved it.  Dana then worked with me to customise the back and also created a long matching veil."
Images by Struve Photography
"We wanted a wedding that really felt like our own and I think having our home as the backdrop to this helped.  It was really nice to have photos of us in our own environment and at places we continue to pass by everyday.  We brought as much tradition from Scotland, the Isle of Man and France as possible.  Many of our friends and family had never been to Glasgow before or even Scotland and it was amazing to have the opportunity to show off what a great city it is.""We spent a lot of time trying to decide where to get married.  I have family between Scotland and the Isle of Man where I grew up and Quentin is French so we had lots of places to choose from.  In the end we decided to get married in Glasgow as it is the city we fell in love in."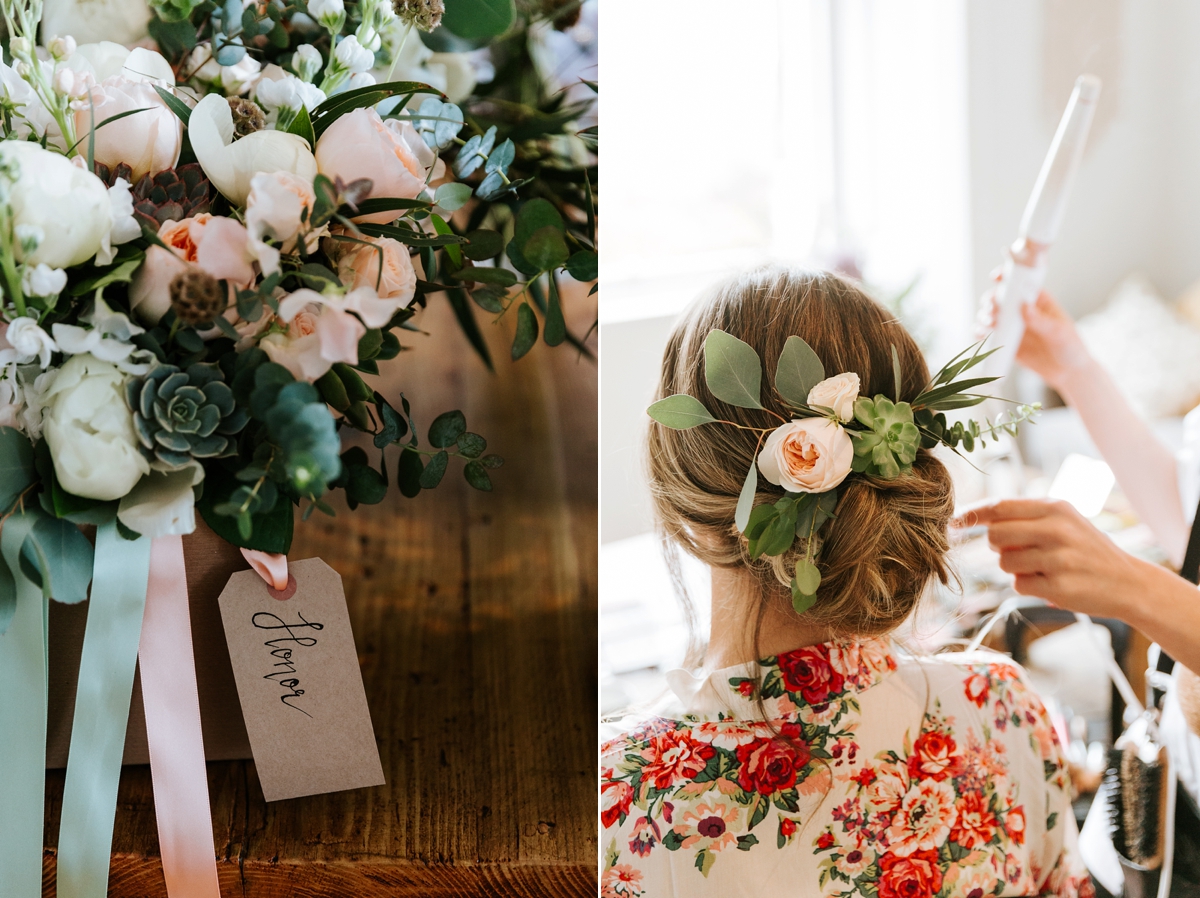 On her feet Rebecca wore ballet pumps from The White Ribbon on Etsy, while in her hair to chose to wear the most beautiful real flowers, from florist Little Botanica.
"I wore a ring of my great great aunt's as my 'something blue'.  My mum wore that ring everyday when I was growing up so it meant a lot for me to wear it.  My earrings were also a family heirloom."
Hair and make up were the work of AMM Hair and Make Up and the ladies got ready in Rebecca and Quentin's beautiful flat, close to the ceremony venue.  I love Rebecca's gorgeous braided bun with a whole rose as decoration.
The bridesmaids looked gorgeous in palest blue dresses from Hobbs and House of Fraser. Each dress was different to suit the personal style preferences of each wearer.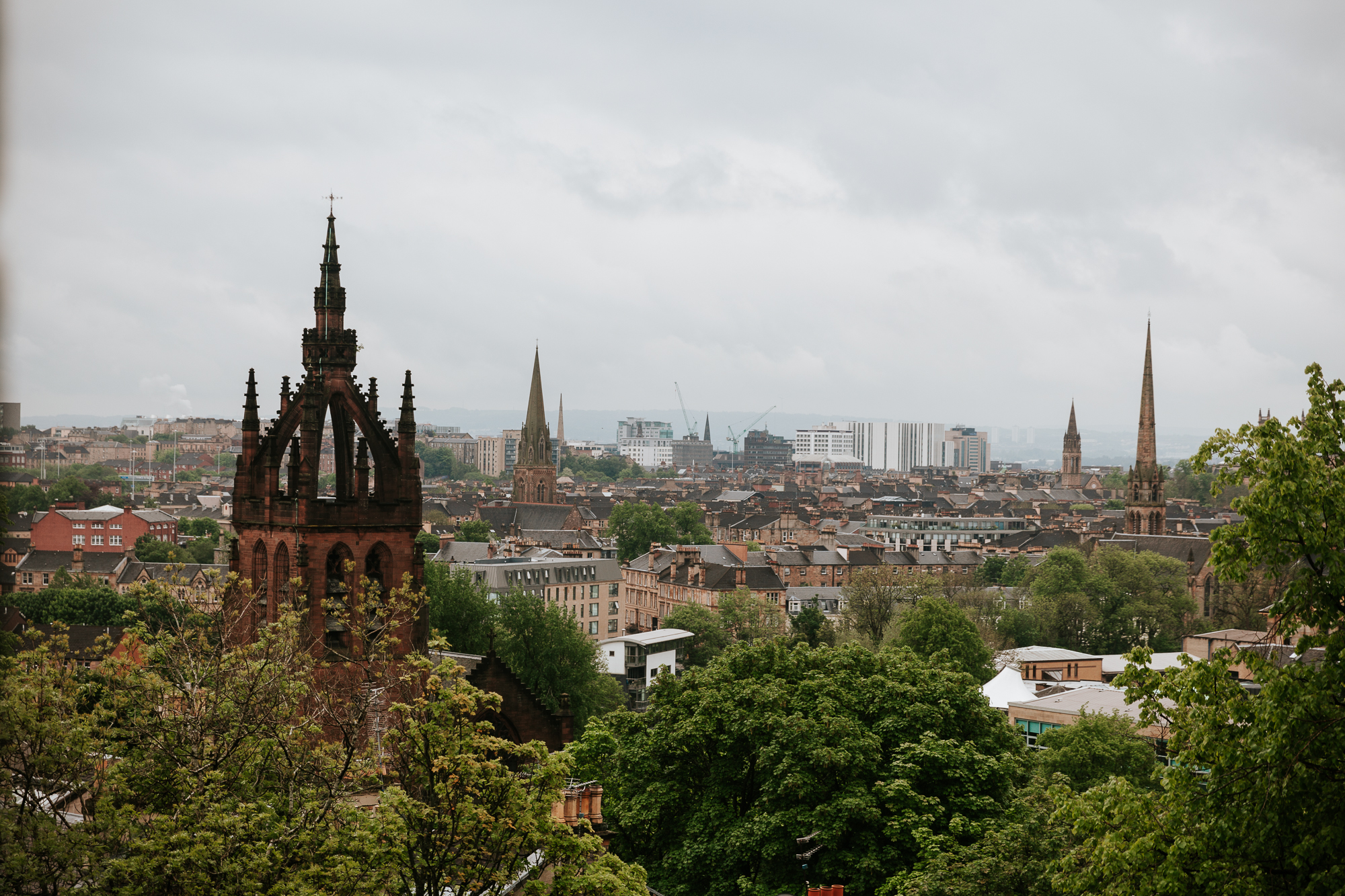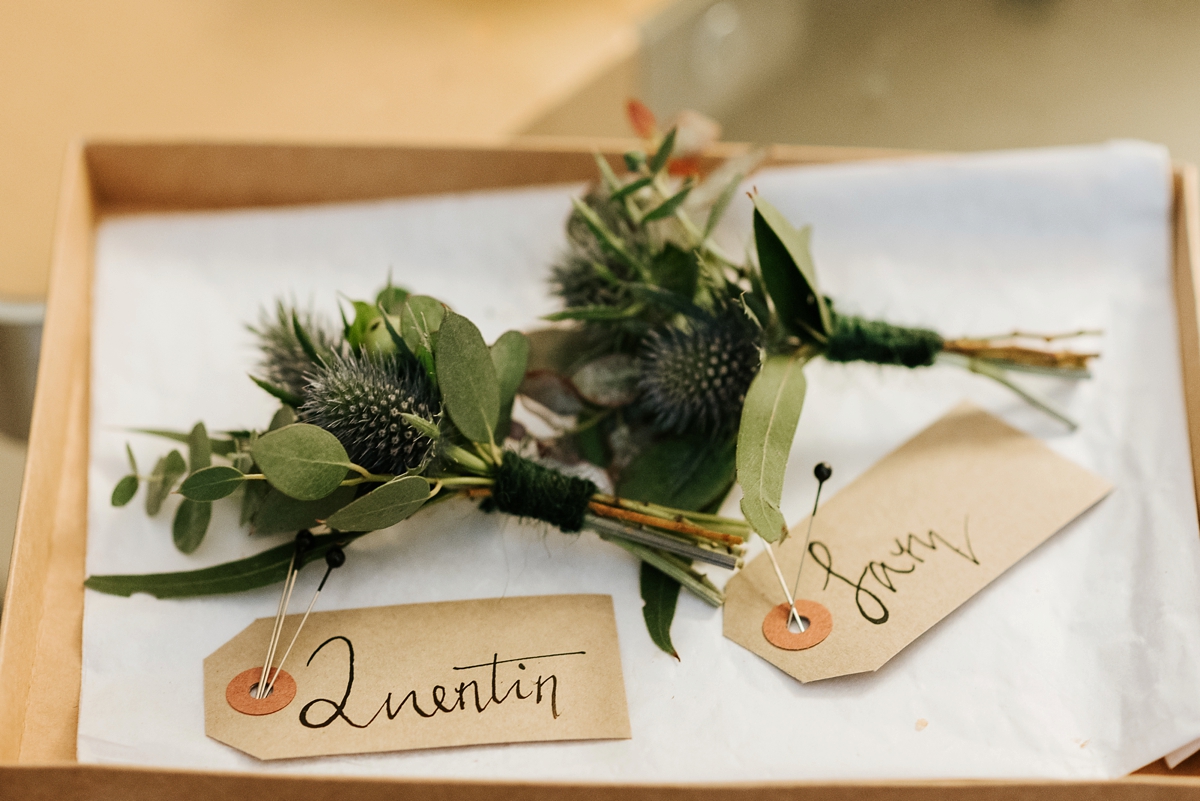 Quentin wore a beautiful tweed suit which he had altered to fit him perfectly by a local tailor.  His shoes were from Santoni.
"The groomsmen wore their own suits with matching silk bow ties bought in Lyon, France.  They certainly brought some French je ne sais quoi to the proceedings!  In the morning they all got ready together and went to their local Italian barber to get their hair done too."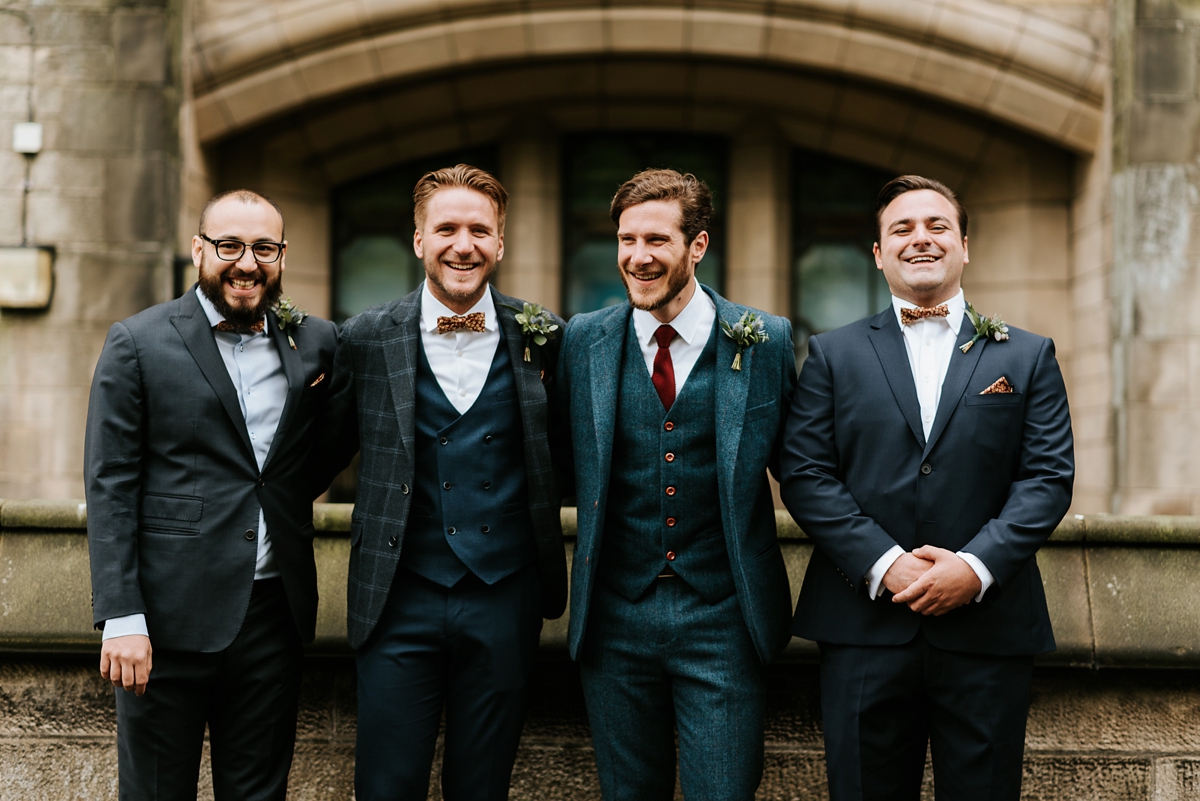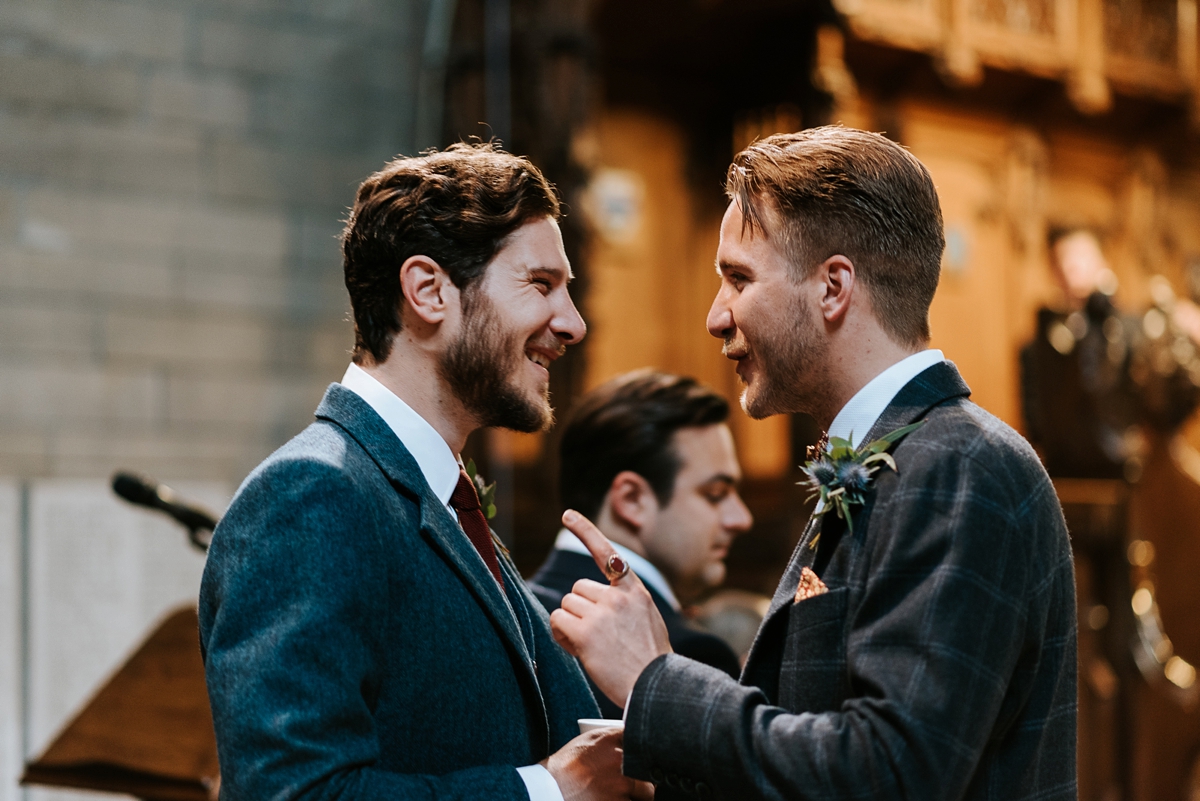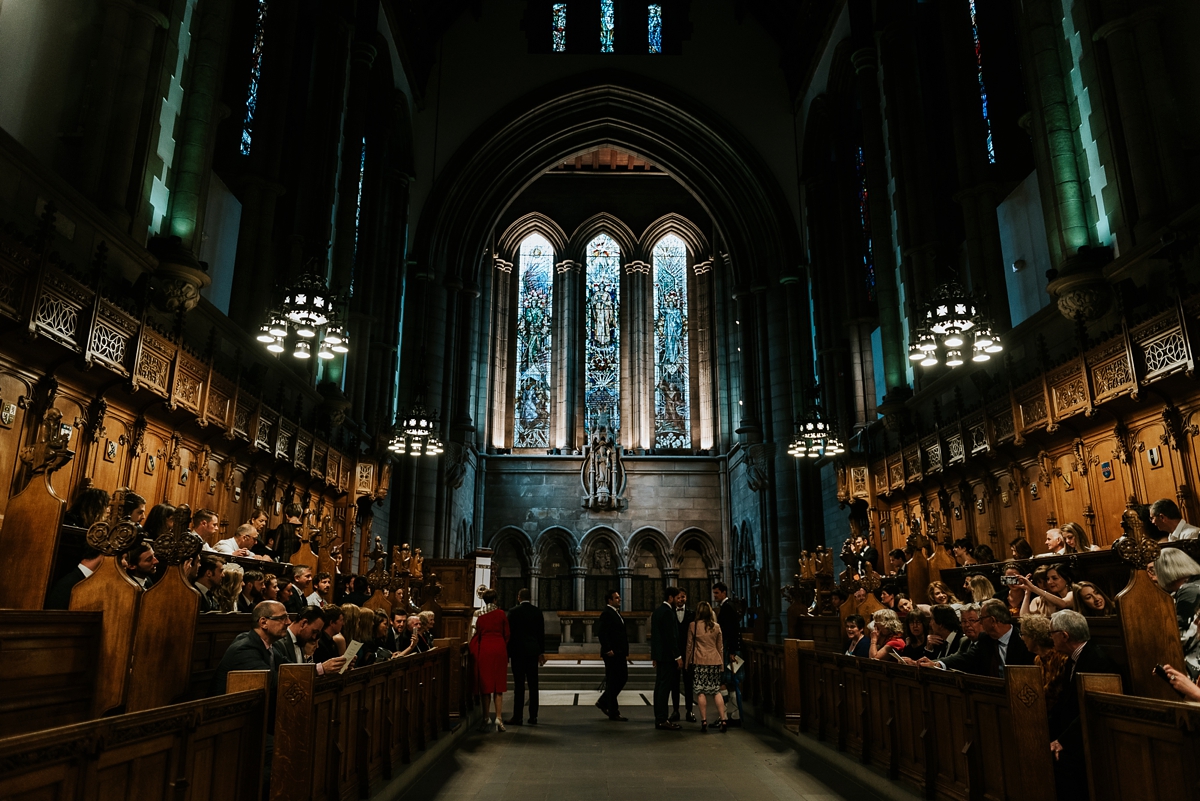 The beautiful flowers were the work of Little Botanica.
"ElainaRose completely understood my vision for the day from the start and I really enjoyed sharing ideas with her. We incorporated succulents into the bouquet which is unusual but a risk I absolutely loved.  I'm currently drying out the bouquet so I can keep them forever."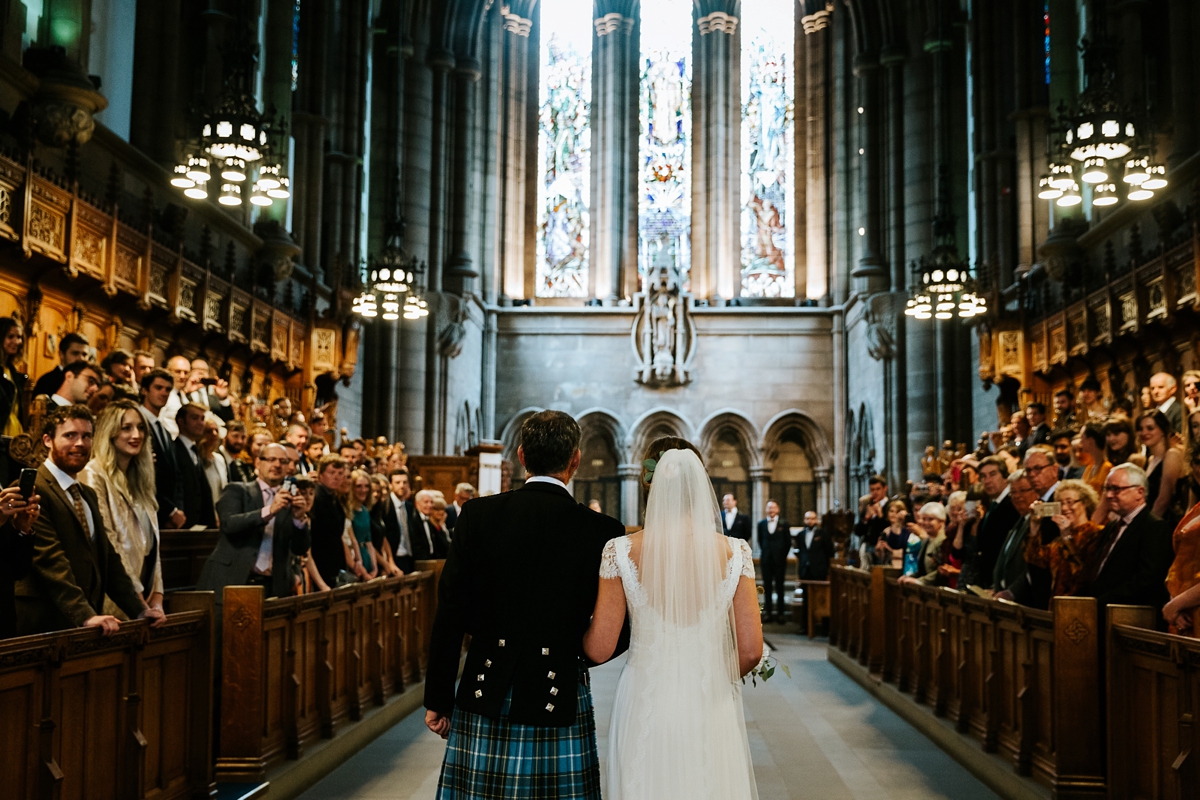 As is French tradition, Quention walked down the aisle first with his mother and Rebecca's dad accompanied her down to Canon in D by Pachelbel. Rebecca's dad wore a Manx kilt, the colours of which symbolise the Manx landscape: blue sky, purple heather, yellow gorse, green hills and white crofts.
"Kathryn Ross was our celebrant.  We wanted a really personal ceremony with a lot of focus on our friends and family and how much they meant to us.  Kathryn gave us a few different vow options to read through and we settled on those which reflected our feelings but also involved the least speaking."
Quentin's mum Valerie read a passage about love by Victor Hugo in french while friend Sian read a passage from Captain Corellis Mandolin, which they had studied together at school.
"We had the order of service (by fabulous Little Book for Brides members Papier) made in both French and English so that everyone could follow as much as possible."
"My mum's friend Alison sang a beautiful Manx song (Ellan Vannin) while we were signing the register.  It's somewhat of a national anthem on the Isle of Man."
"We had our wedding bands made from gold from two of my great grandmother's rings.  The jewellers mixed the gold together and so we both have a bit of each."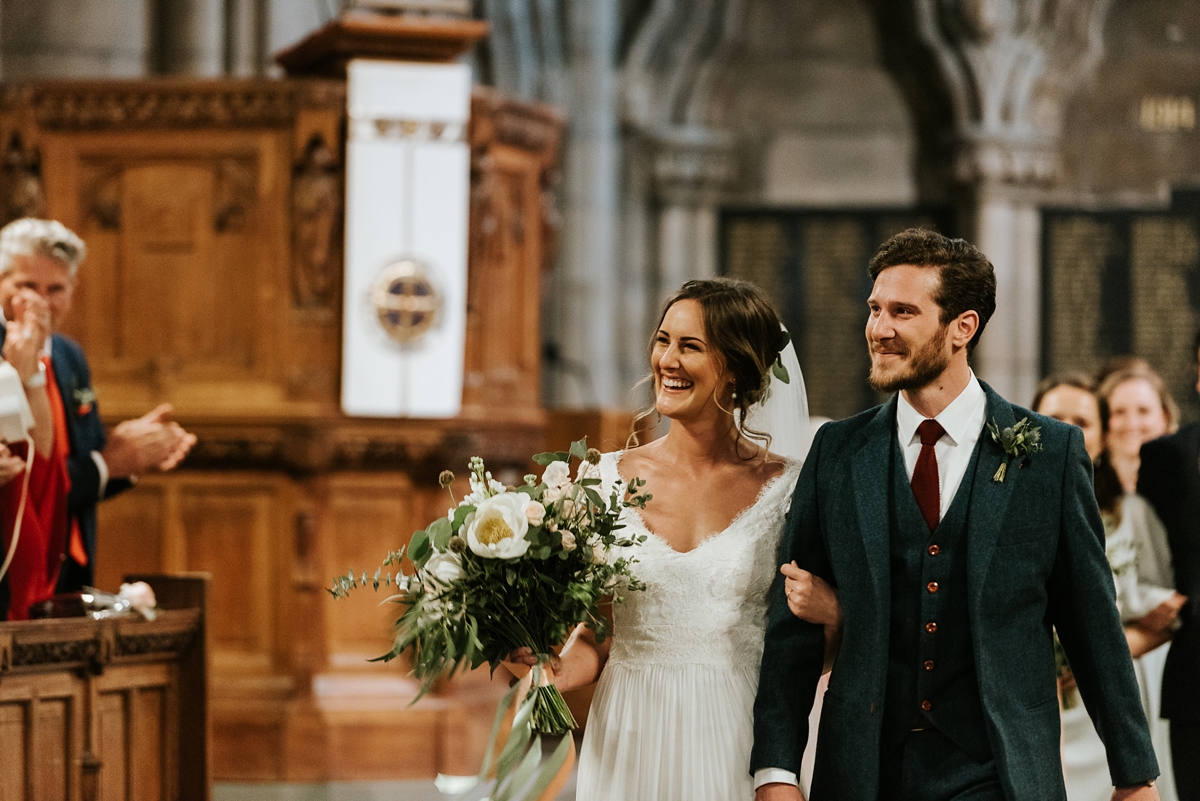 After photographs in the beautiful university grounds, Rebecca and Quentin travelled to the reception venue in a Jaguar MK hired from Ecosse Classic Cars.
Today's stunning photographs come to us courtesy of the talented Kristin Sharp of Struve Photography and second shooter Julie Broadfoot of Photography by Julie Bee.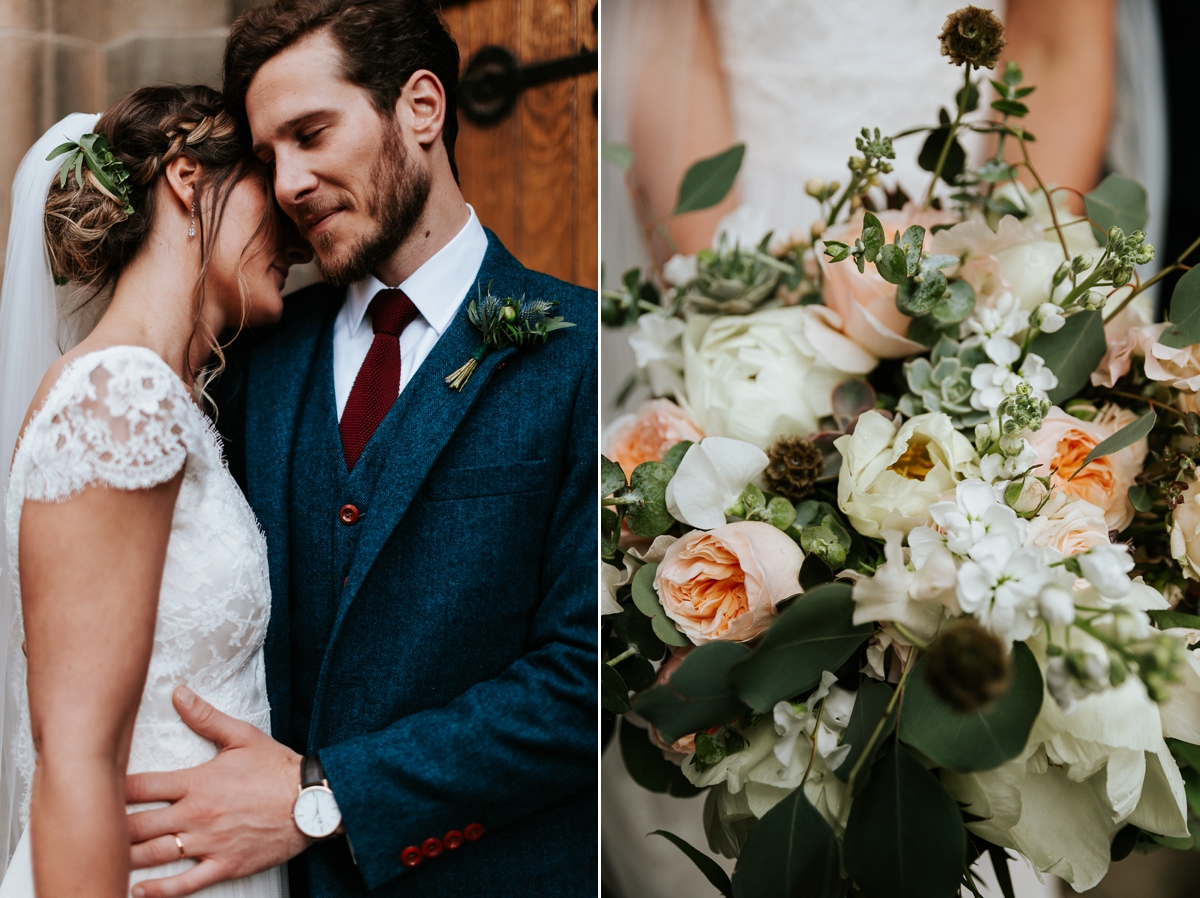 "We would highly recommend Struve Photography; we absolutely love our photos.  Kristin was so much fun to work with and always put us at ease.  I would highly recommend having a second photographer if your budget affords, as we got some amazing photos from an alternative angle."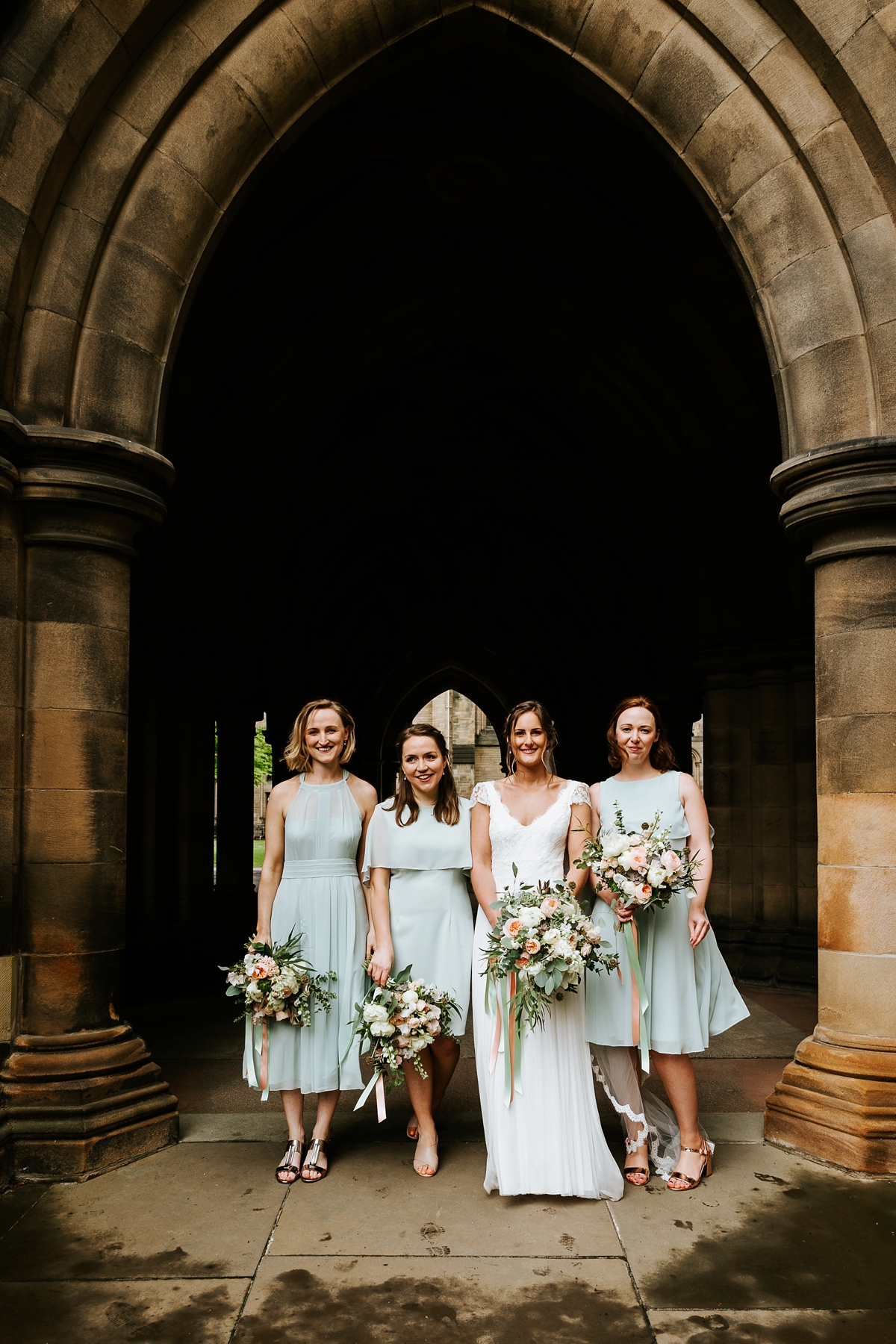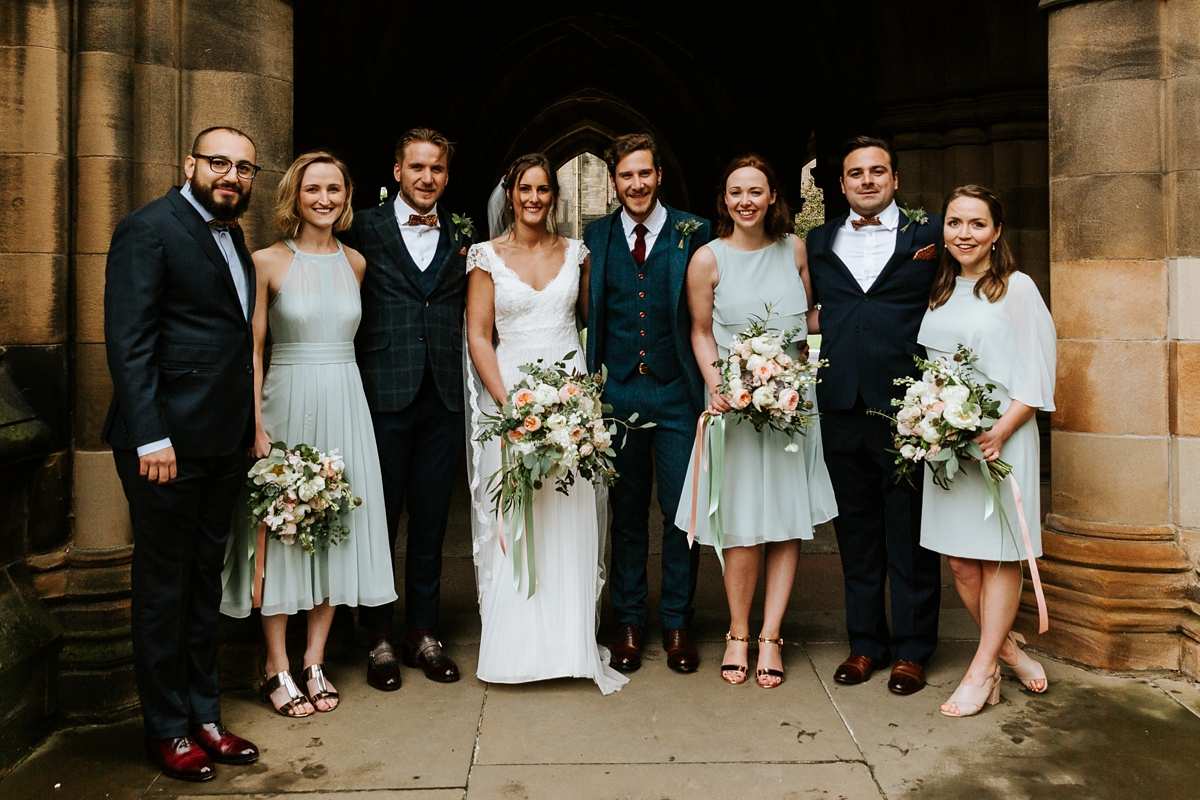 "In true Scottish style it started pouring with rain as soon as I left for the ceremony, but without it we wouldn't have got beautiful photos of us reflected in the puddles, guests walking under umbrellas or the big group photo under the university cloisters."
"Also, as our photographer Kristin said, there is rarely a day without a patch where it is dry, you just have to wait for it and she was right.  After dinner we were able to sneak away for a few photos in the evening sun."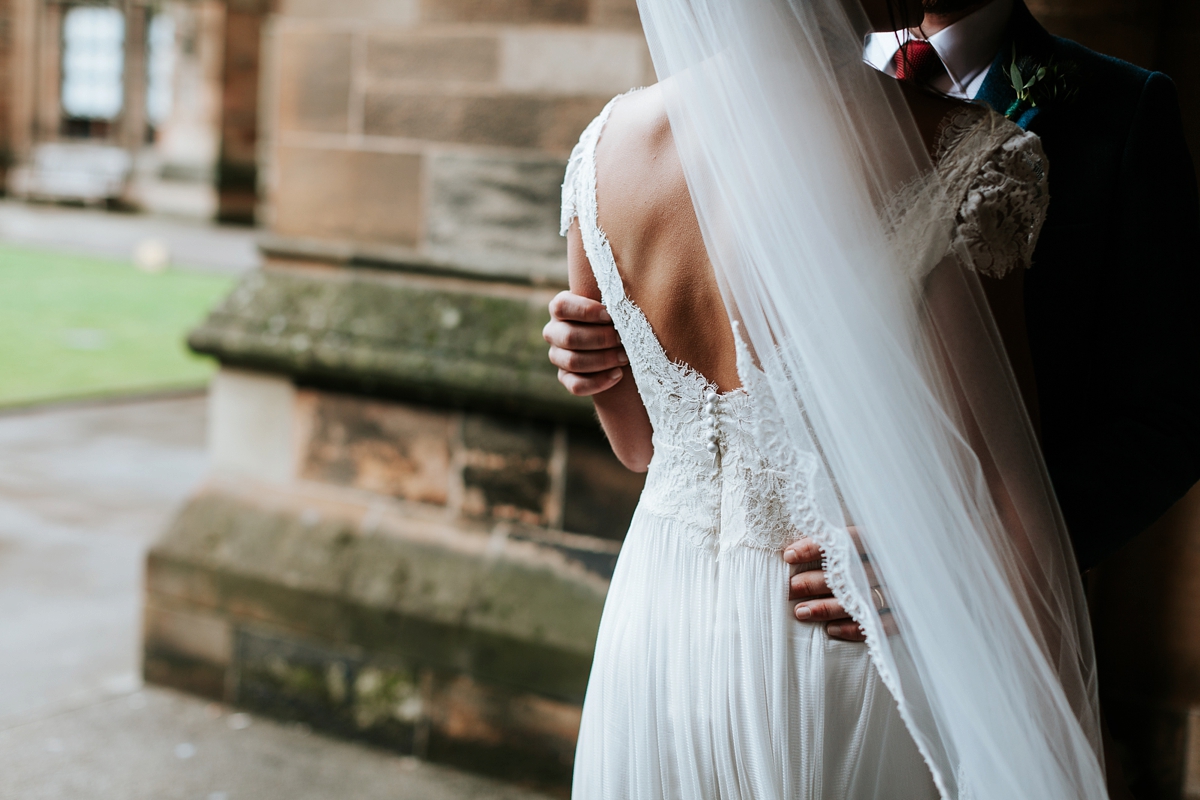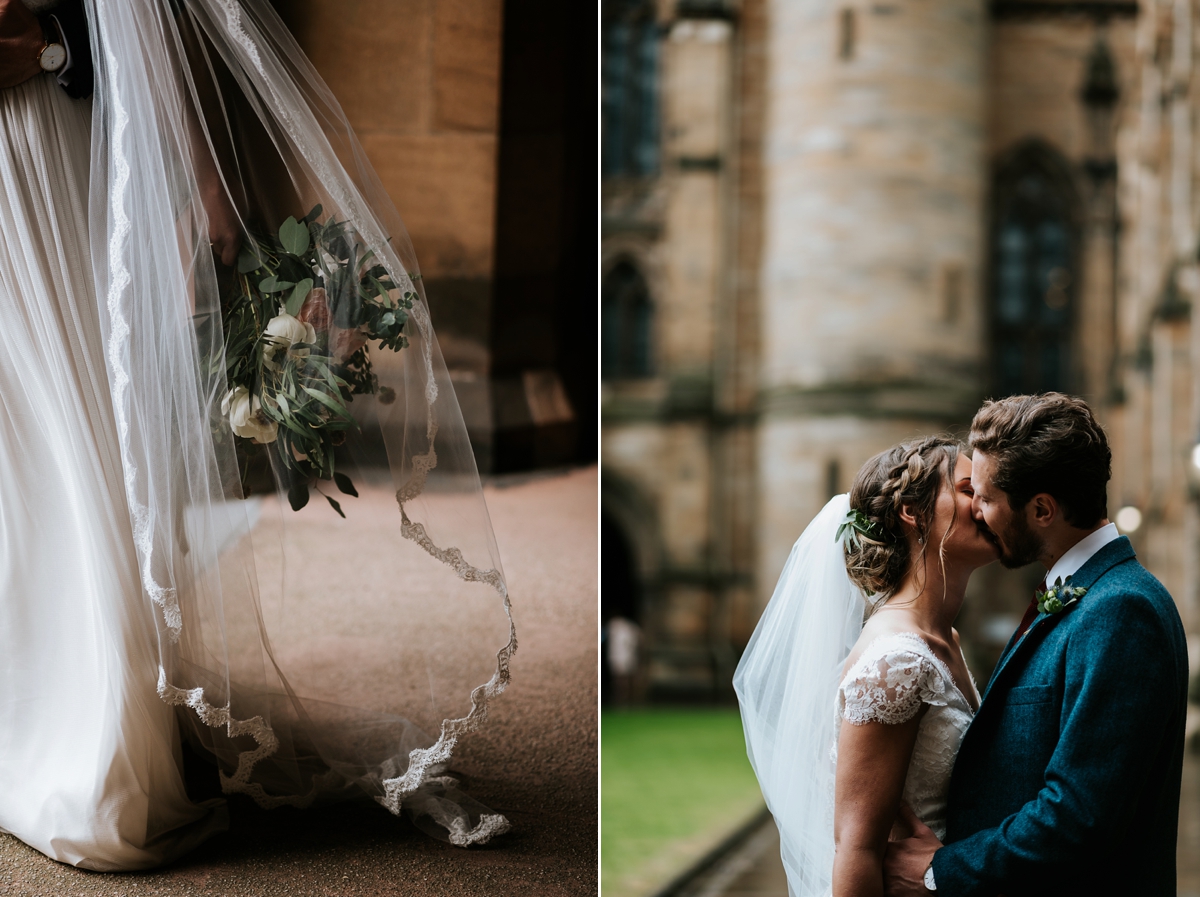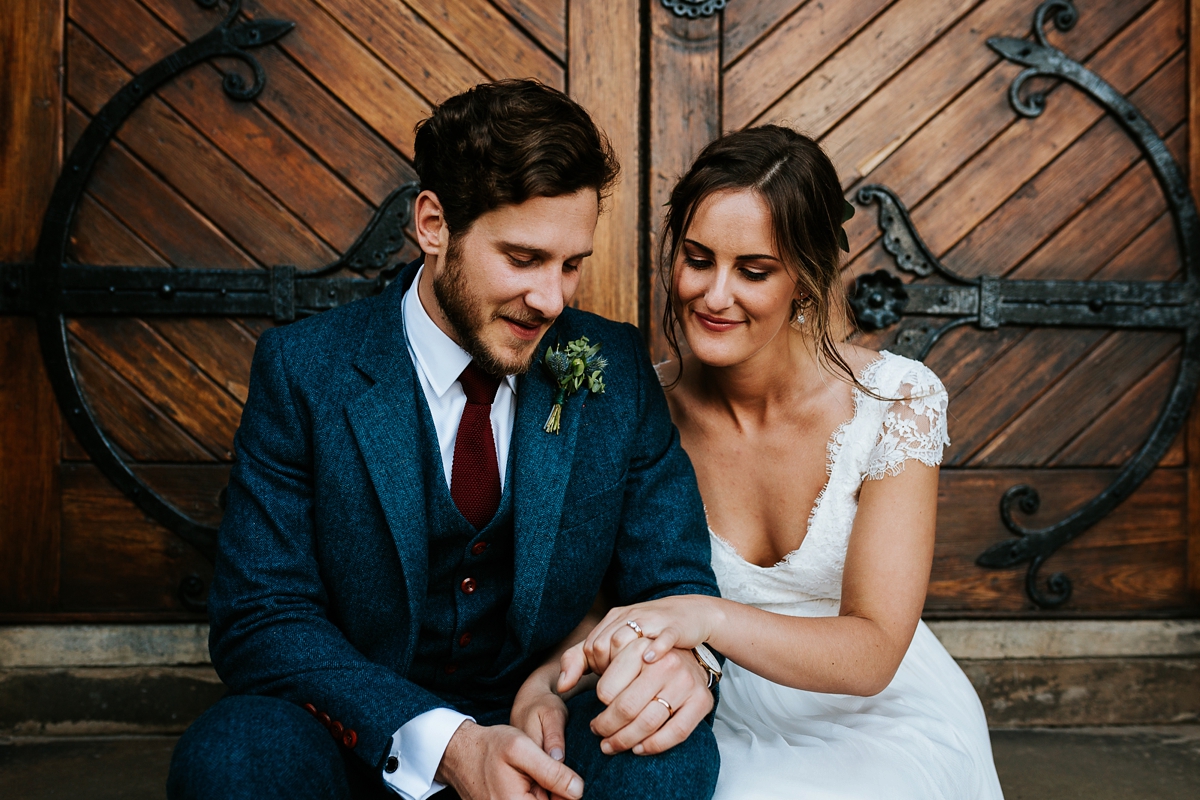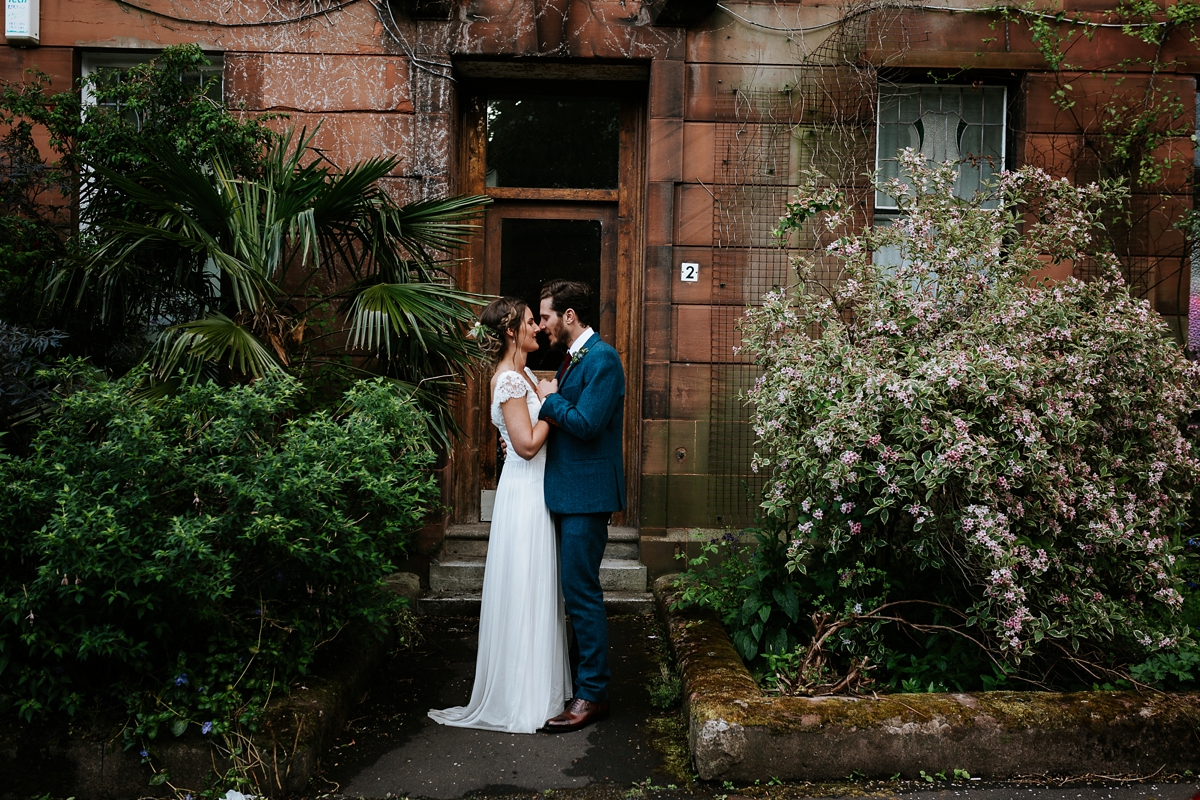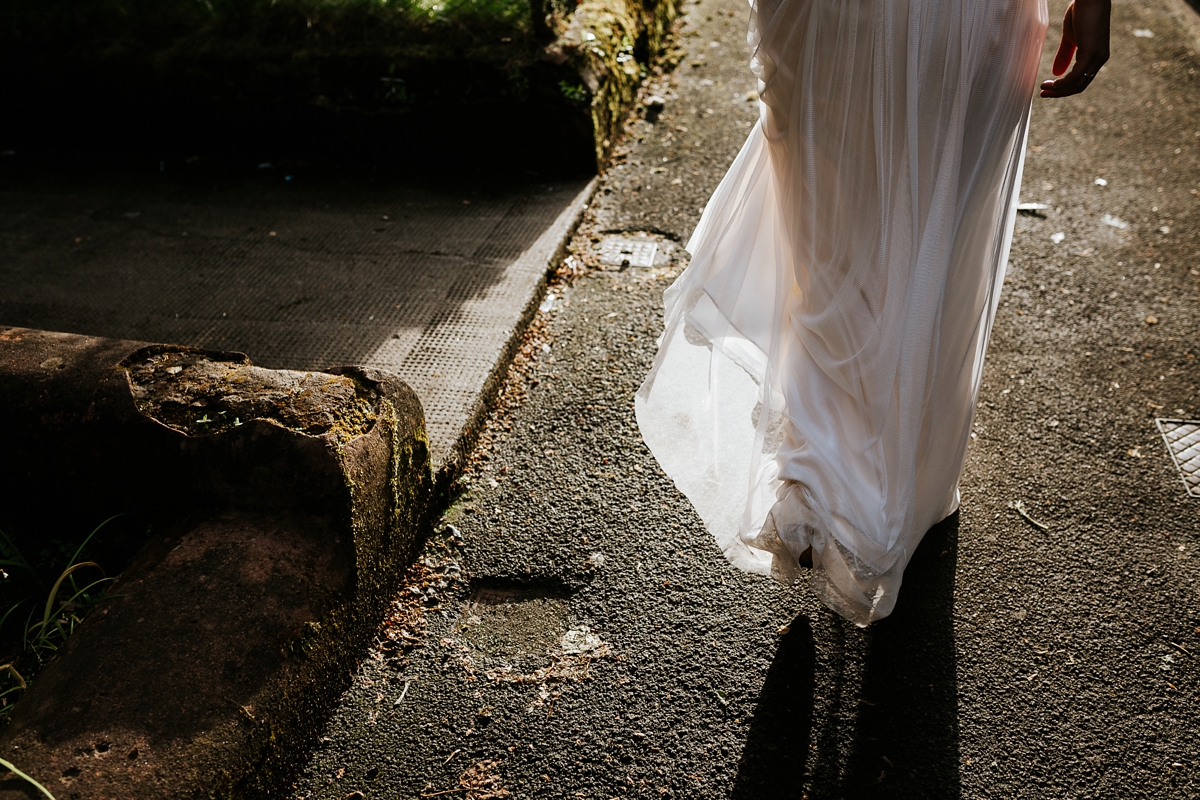 "Cottiers Theatre used to be my great grandad's local church and is now used for weddings, theatre and gigs.  We loved that it had stained glass windows, fairy lights, exposed brick and felt very relaxed.  We wanted a venue that felt fun and would make people want to dance!"

"We had ordered single stems from our florist so that these could be loosely arranged in bottles collected these from vintage stores around Glasgow.  We also took labels off beer bottles which we added our own personalised stickers to."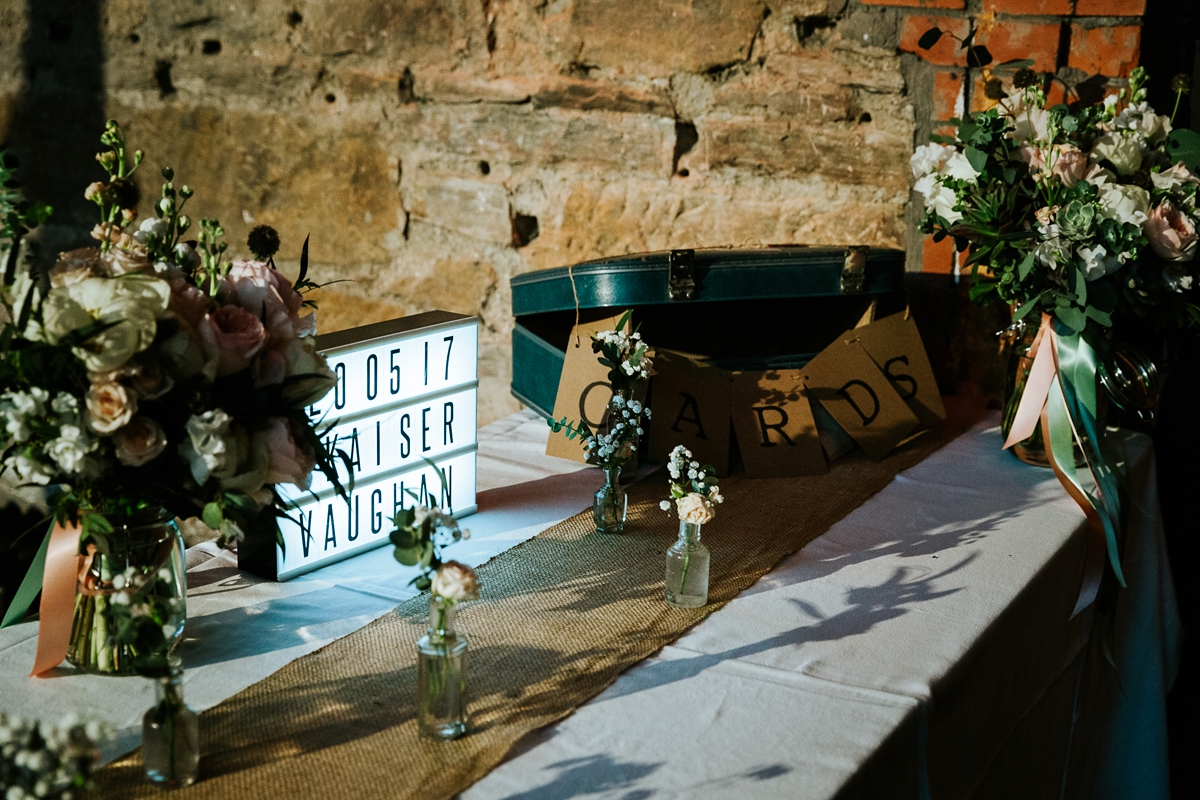 The beautiful cake was by Bakery47 with one tier of coconut, vanilla and raspberry and a second of pistachio rose covered in white chocolate icing which sounds incredible.  Rebecca and Quentin also chose a tower of cheese from IJ Mellis.
"The cake topper was my grandparents and had been kept in pristine condition in my gran's cupboard for all these years.  It was so lovely to be able to use it."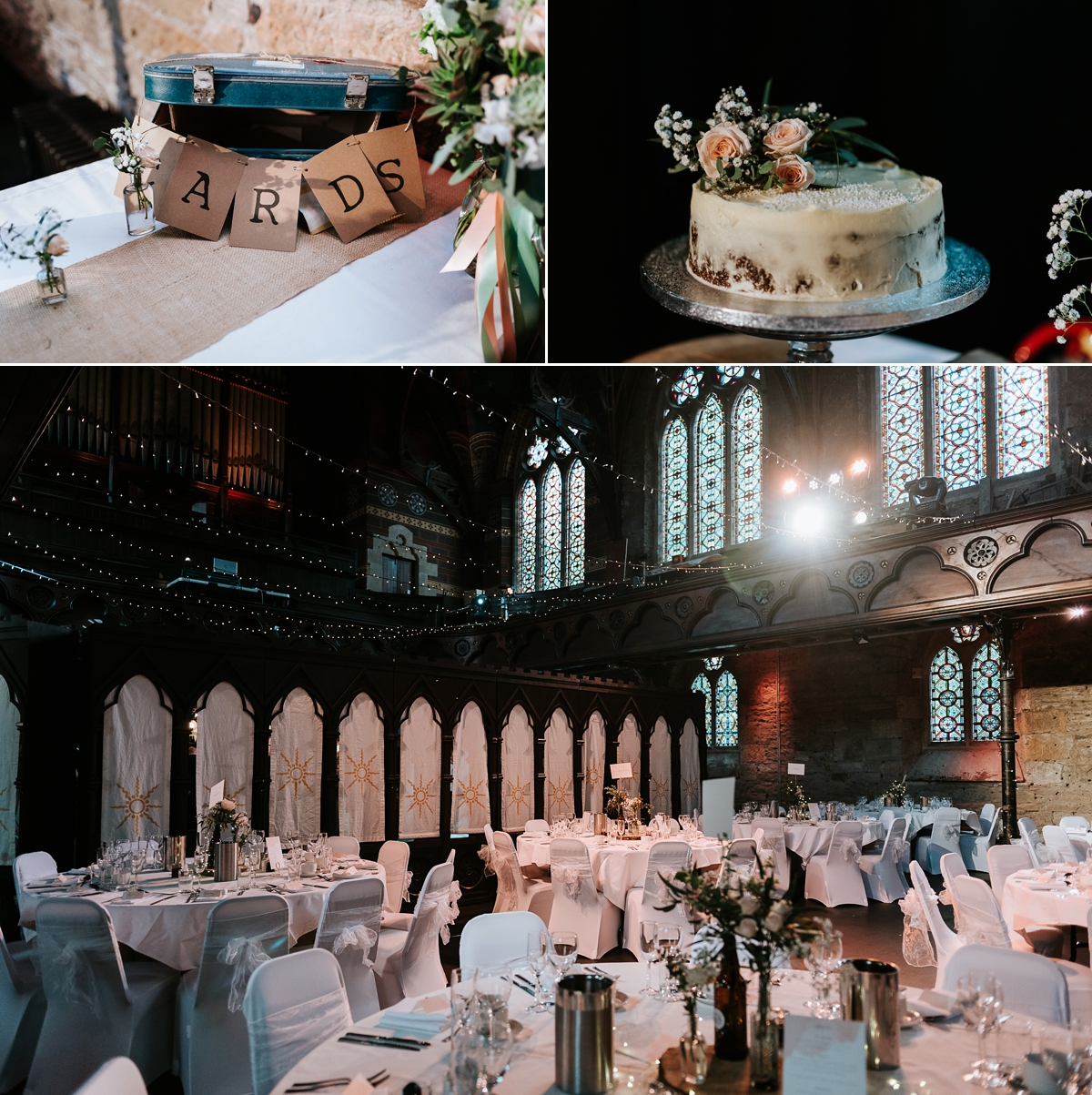 "I'm obsessed with fairy lights so as well as a fairy light canopy we also got little copper lights for all the tables. We didn't want anything to feel too formal and really wanted the place to look natural with lots of eucalyptus and pale pastel flowers."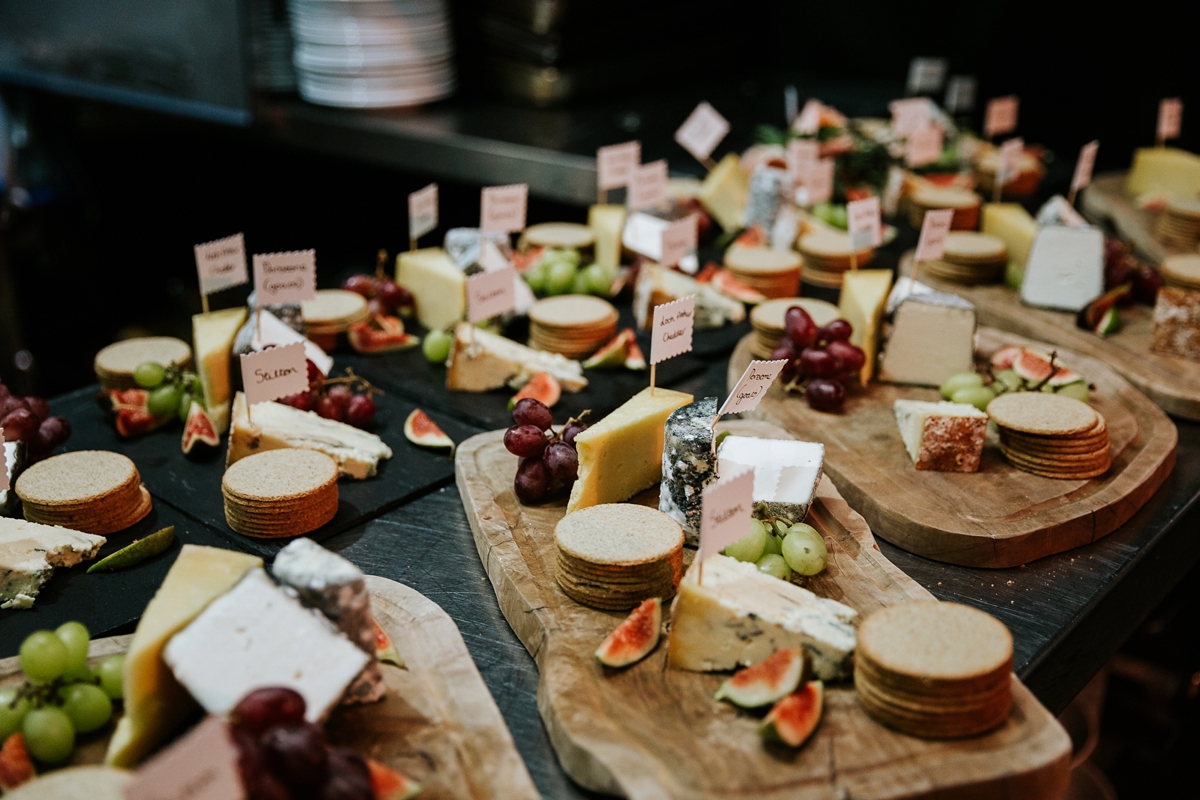 "The ceilidh (by The Glasgow Ceilidh Band) was so much fun and was a brilliant way to get everyone up and dancing.  It definitely crosses any language barriers.  Afterwards two our friends DJ'd.  There was everything from disco to 90's RnB and they had everyone on the dance floor till the end."
"We had a traditional Scottish piper (Pipe Major Stuart MacKenzie) who piped the guests entering and leaving the church as well as our arrival at the reception.  This went down incredibly well with our overseas guests."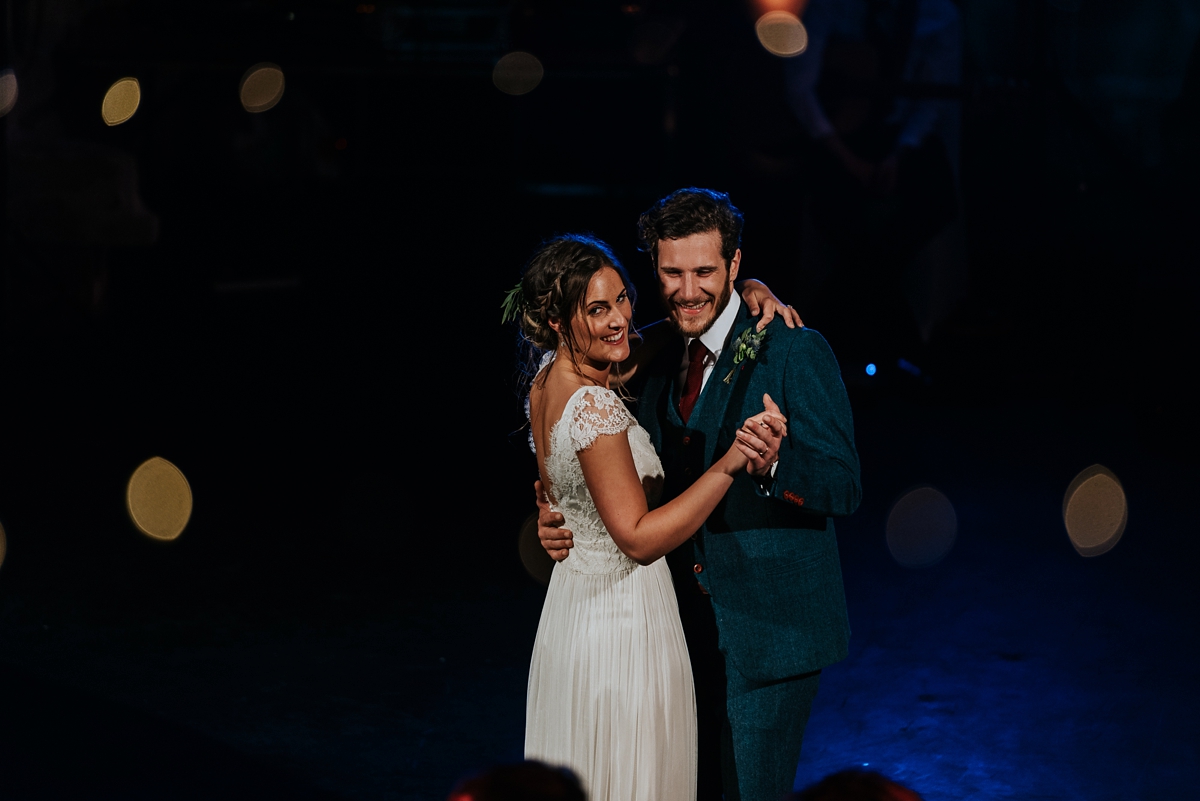 Words of Wedded Wisdom
"Speak to your family and find out if there is anything tucked away in a cupboard somewhere that can be incorporated into your wedding.  I'm sentimental and love a story behind an object whatever it is."
"Embrace the fact that it probably will rain.  We bought matching umbrellas from Love Umbrella the week before the wedding. I would highly recommend doing this as it took a lot of stress away and looked great in the photos too."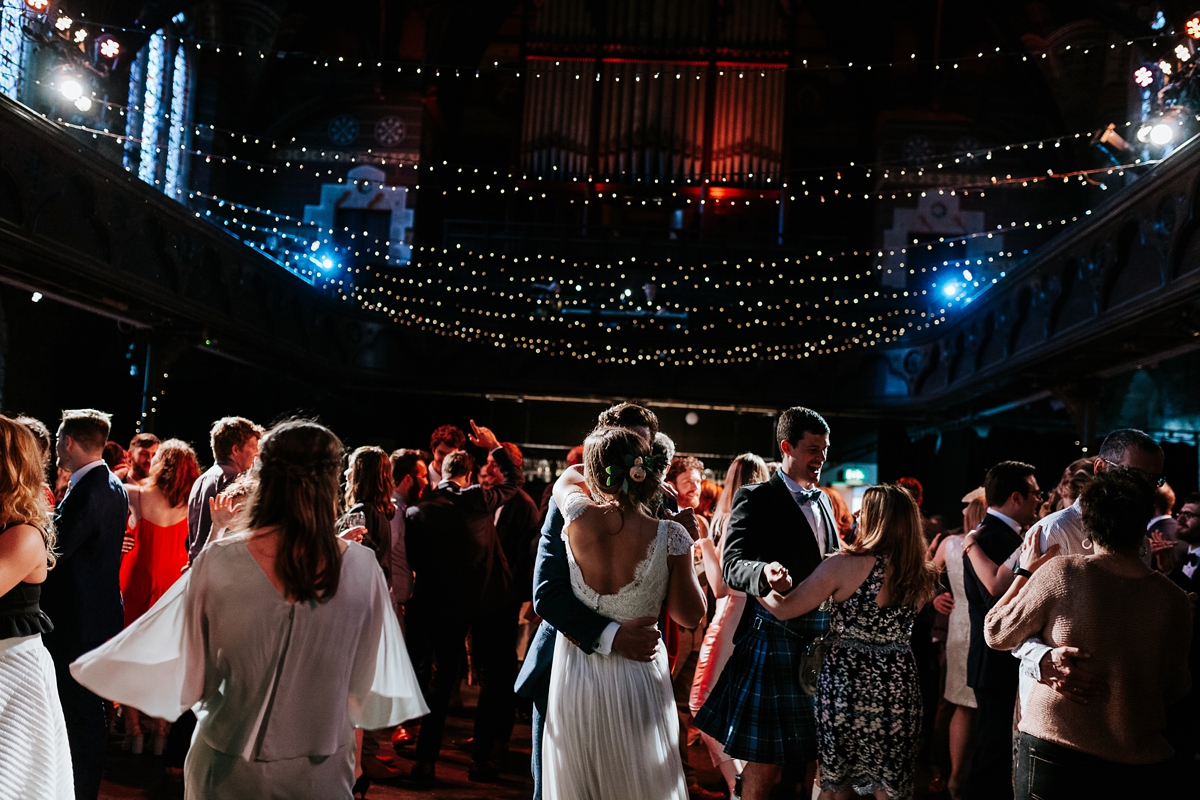 Huge thanks to Rebecca and Quentin, I just love this beautiful and fun filled day.  I've fallen hard for Rebecca's gorgeous dress- take a look here for more Love My Dress brides in Dana Bolton gowns.  They're all equally lovely.
Much love,
S x