Last year I had the most lovely holiday in the Dordogne region of France, so when I opened up the photographs for today's wedding I instantly recognised the rolling French countryside and warm stone buildings; so much so that I wanted to return there immediately
Sit back and soak up the beautiful wedding of Ben and Nadine. Ben and Nadine grew up in the same village so have known each other a long time, only getting together in 2013 after they went to Ben's brother-in-law's birthday party. Château de la Bourlie, Urval, Dordogne, France was the venue for the marriage of copywriter Ben and Nadine, an HR professional, on 12 August 2017. The couple wanted a relaxed and informal, fuss-free day and kept their decor simple, letting the château's beauty shine through. They decided on a destination wedding as they love holidaying in France and wanted to host a whole weekend of celebrations.
"Ben proposed on his favourite place in the world – a beach in Portugal where his family have been going to since he was a child. We got engaged in September 2016 and married in August 2017. We saw seven different châteaux over a weekend and picked la Bourlie for its beautiful setting."
Photography The Shannons Photography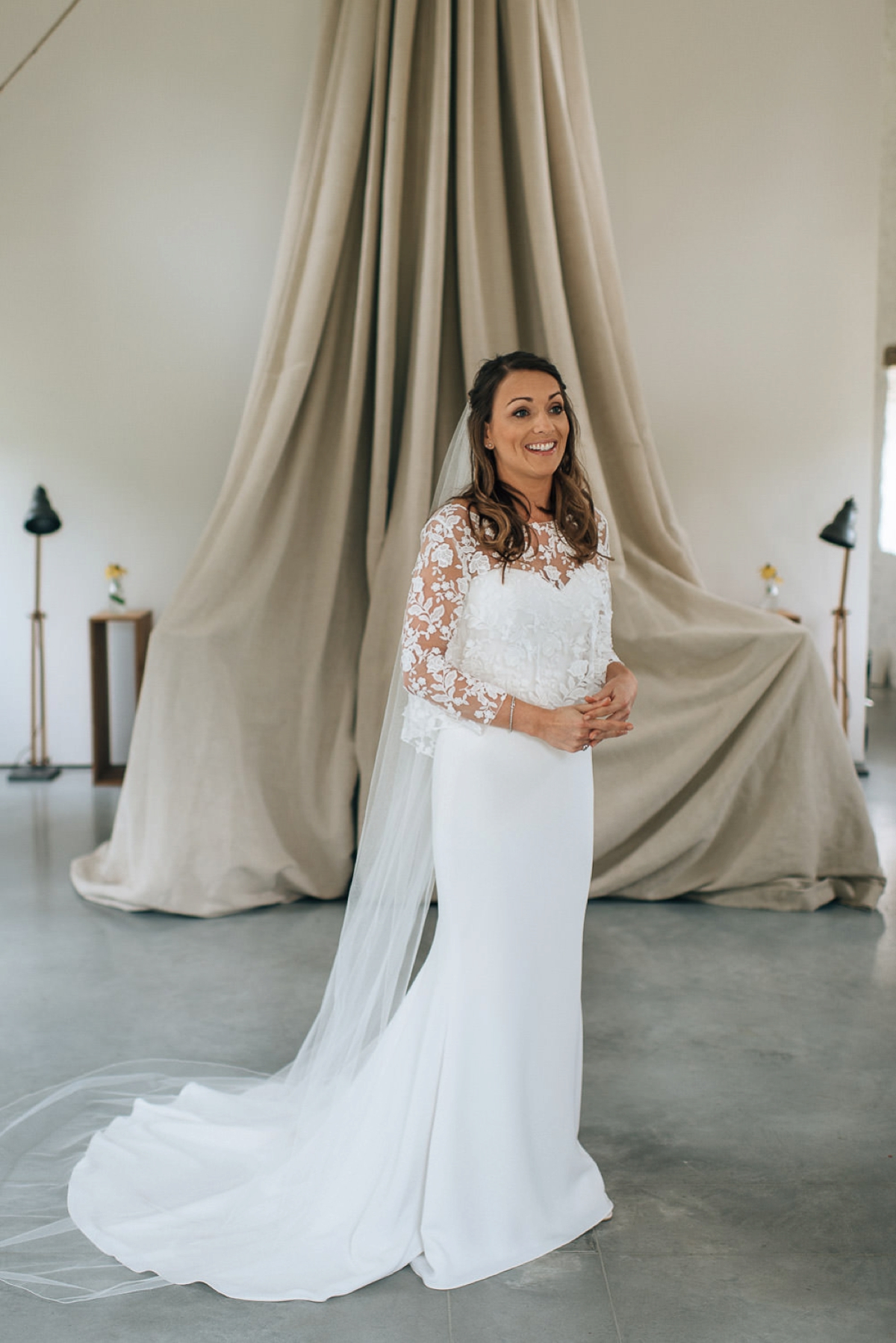 Nadine opted for a beautiful fitted mermaid gown with a slinky train by Enzoani, found at The Wedding Dress Shop in Wimbledon. Layered with with a Rime Arodaky lace topper from The Mews Bridal in Notting Hill, the overall look is elegant yet relaxed. We adore!
"I immediately fell in love with Rime Arodaky designs – I loved the lace and the relaxed feeling that the designs had. When I tried on the Enzoani dress I thought that the simplicity would complement the Rime Arodaky lace top that I had chosen. I took the top off for the evening and added a big turquoise necklace which gave the impression of two different outfits."The couple worked closely with the château's event planner Lucy Williams to source their local suppliers and co-ordinate the running of the day itself. As you can see, the château is beyond beautiful and Ben and Nadine were able to make full use of it over their wedding weekend.
"It was such a gorgeous setting. We used different areas of the château for the different parts of the day; the trees for the ceremony, the rose garden for the Champagne reception, the courtyard for the wedding breakfast and the barn for the bar and dance."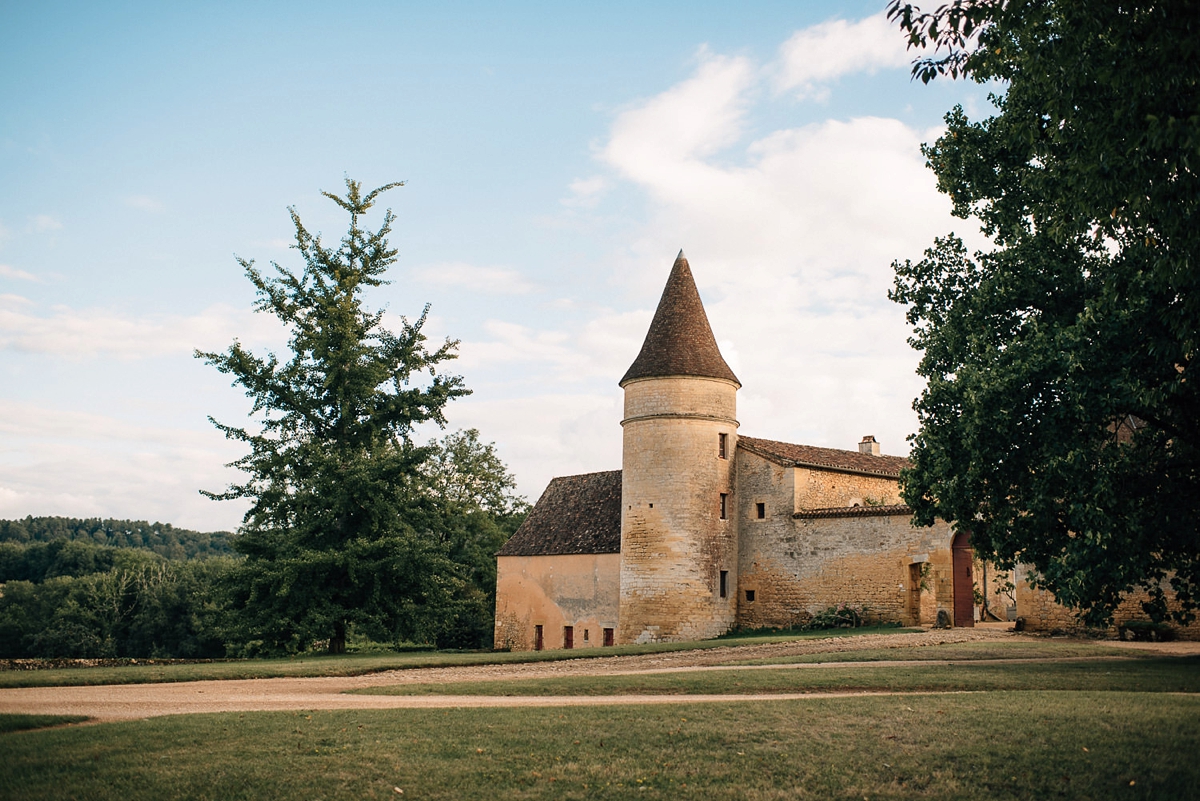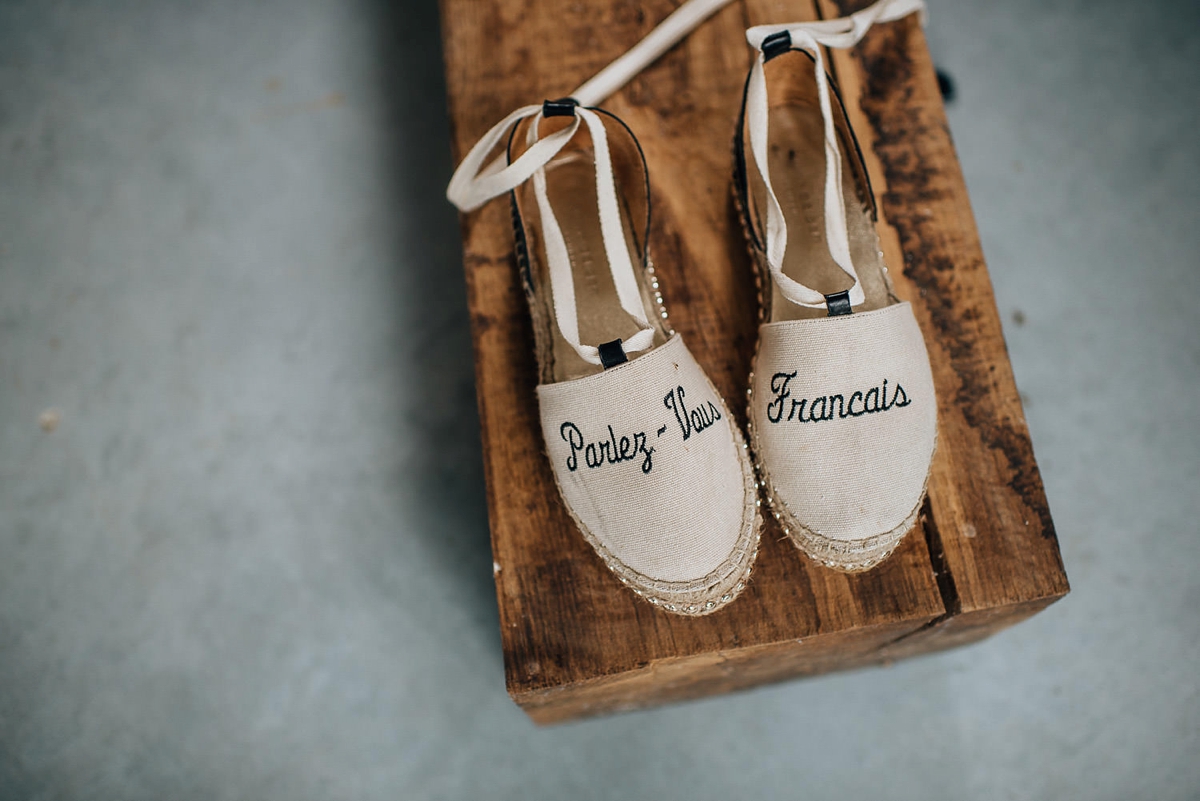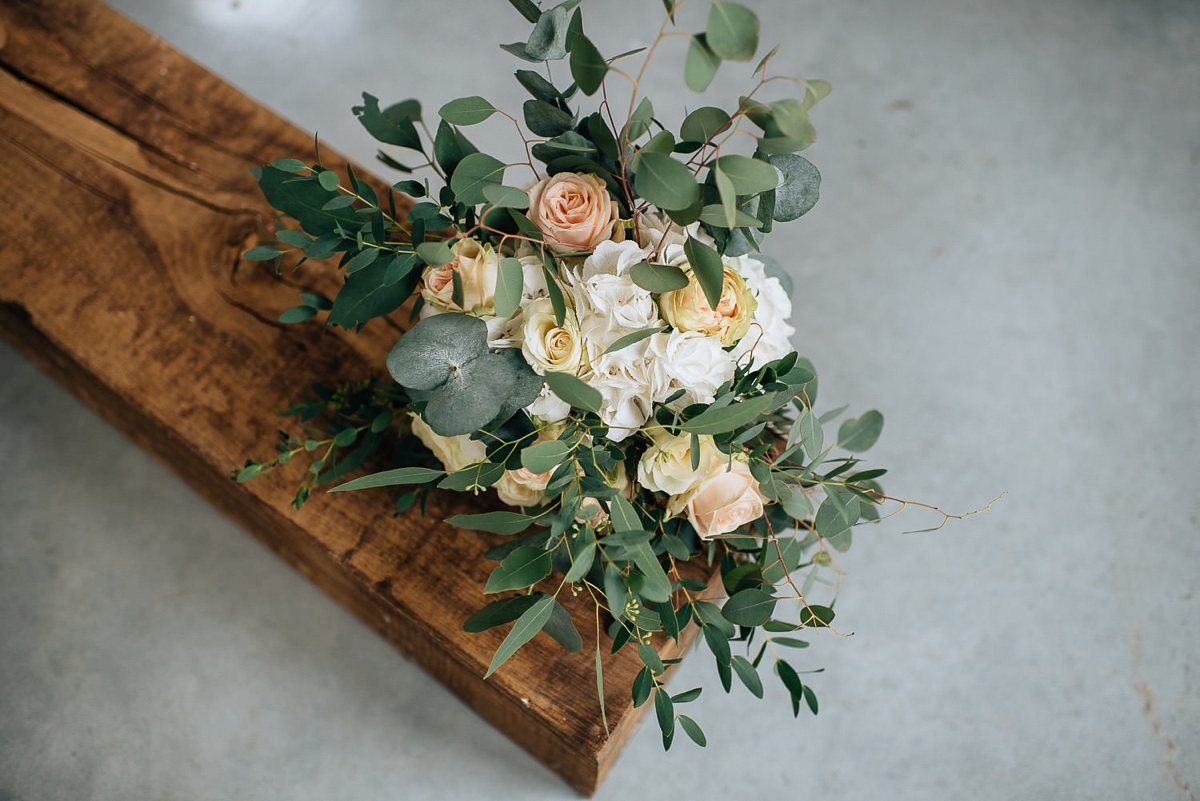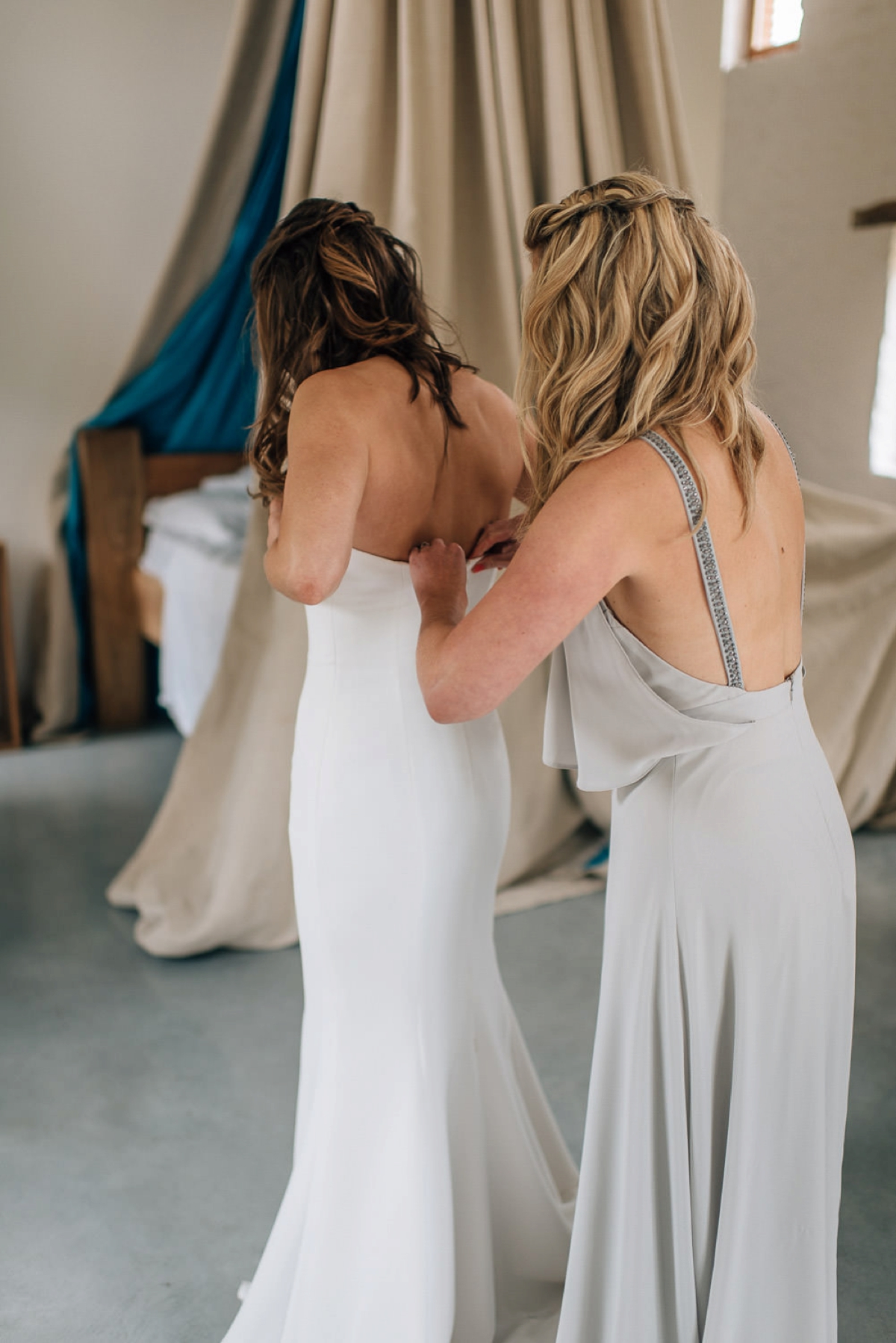 "Ben gave me a tennis bracelet on the morning of our wedding. It's something that I had wanted for a very long time and is beautiful."
I love the natural feel of Nadine's hair-style; the soft waves held beautifully throughout the entire day and really framed her face. The team at Simple Beauty and Wedding Consultancy Services came to the château in the morning to style the bride and her bridesmaids.
"Karen and Nikki were a super team. They are both expats living in the Dordogne. They brought a lot of laughter to the morning and were really flexible to accommodate what we wanted."
Ben had a total of seven ushers – his brother-in-law and his best friends from school. He chose a slick Hugo Boss suit, worn without a tie for a relaxed feel, and a statement buttonhole.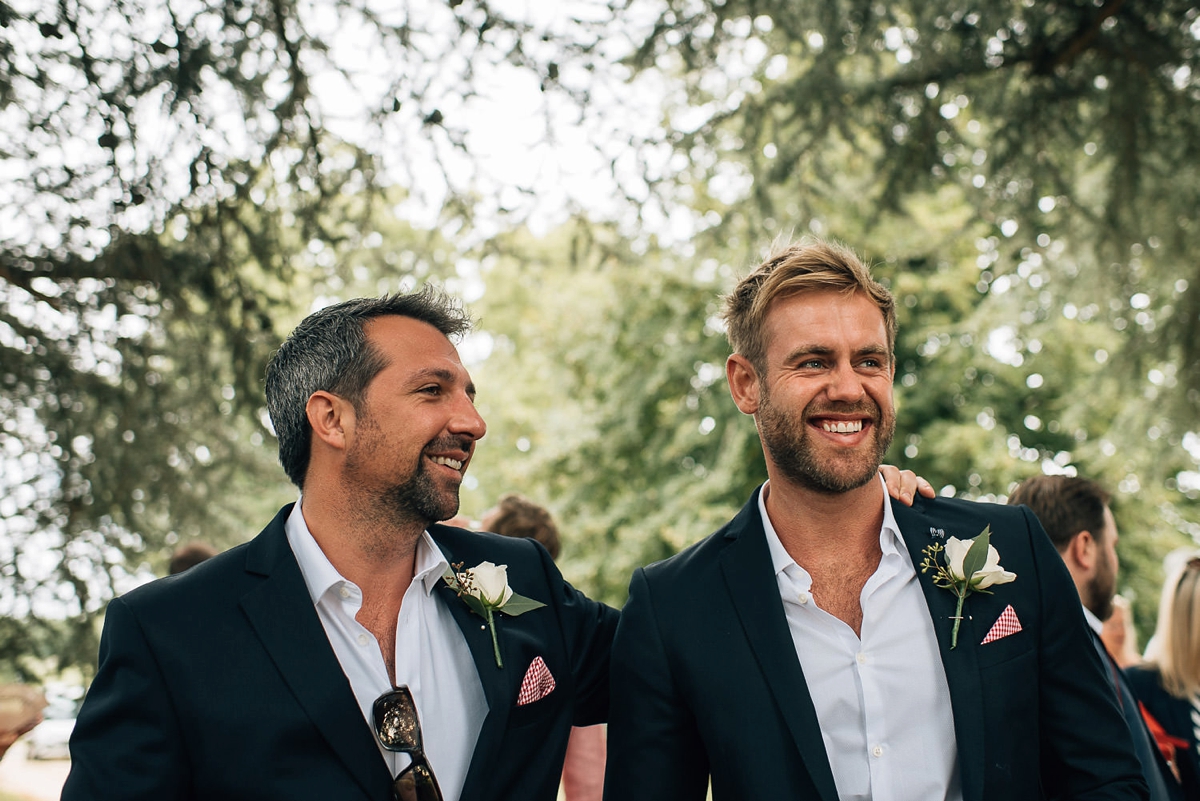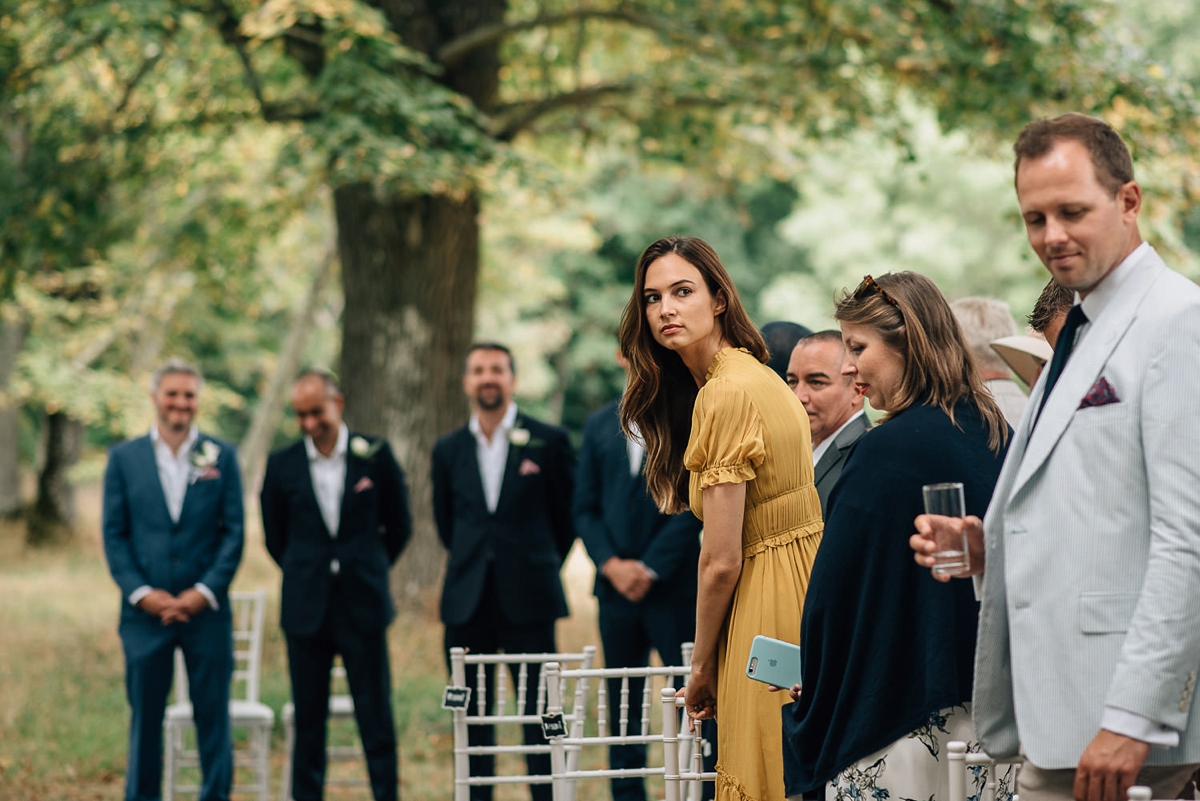 The bridesmaids looked glamorous in long, layered gowns in mink found at ASOS, which they wore with Monica Vinader bracelets – thank you gifts from Nadine.
"This was the biggest challenge of the wedding. We couldn't find anything that we liked and after many failed attempts, settled on an option from ASOS."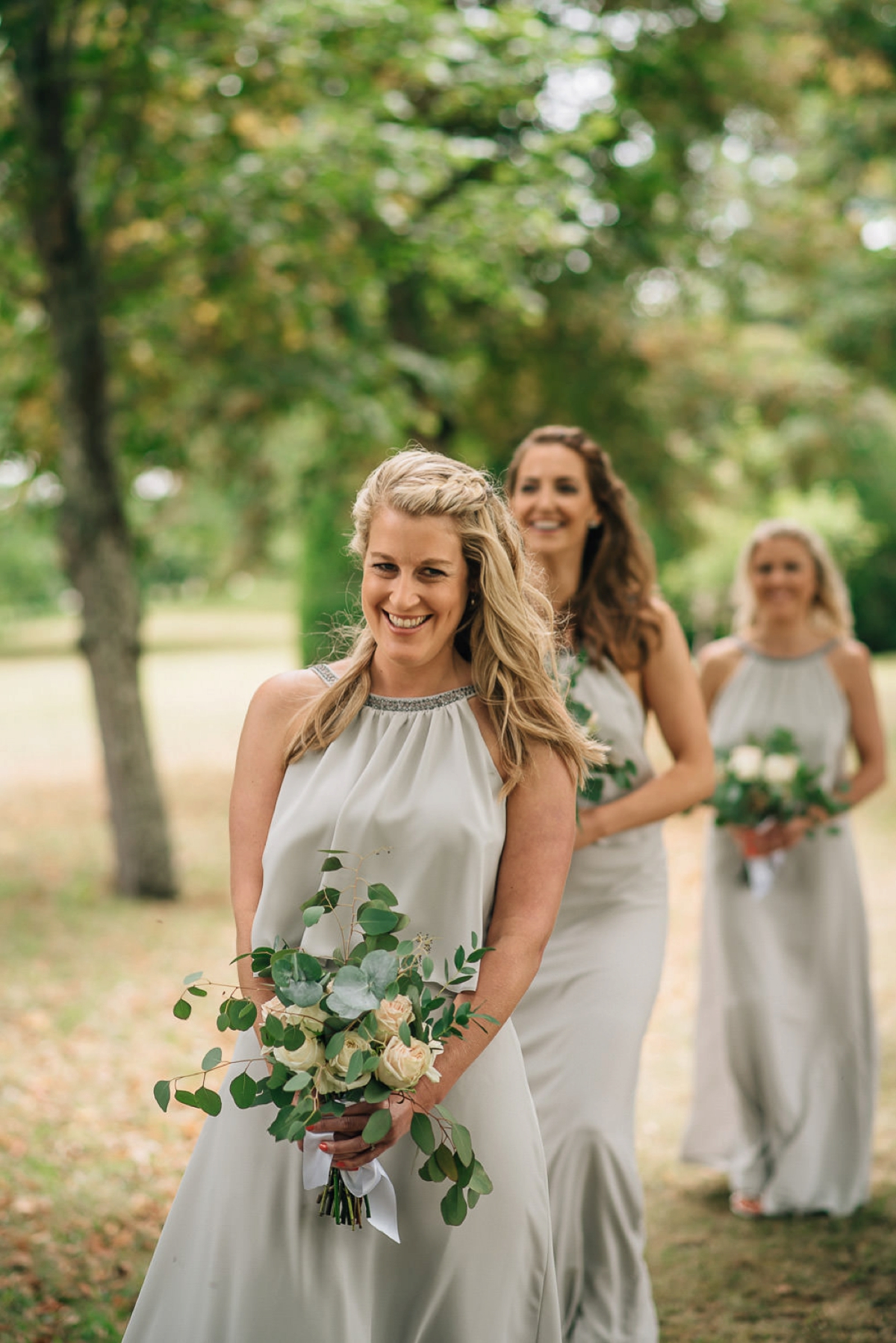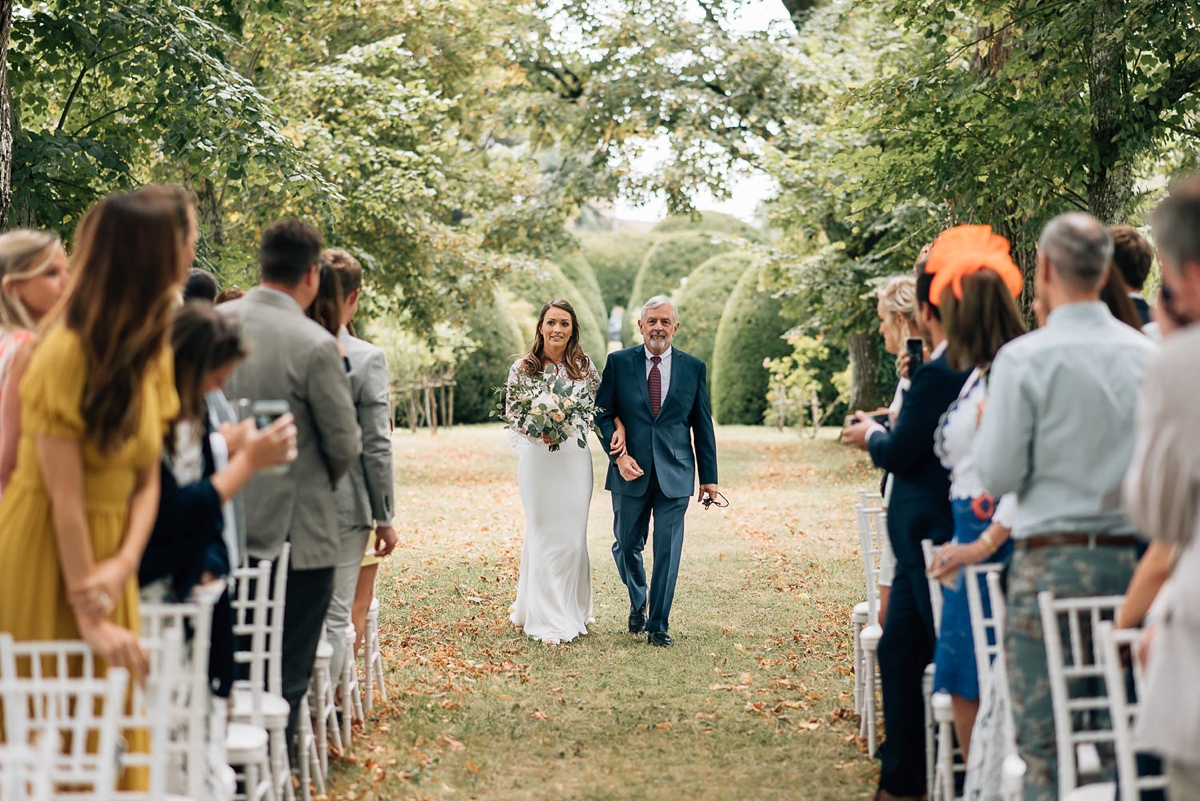 Nadine walked down the outdoor aisle with her dad, as 'Everybody Loves Somebody' played softy in the background. Their celebrant was Sandie Smith who is an English celebrant living in France.
"Sandie shared a questionnaire that we completed, then she wrote our vows and what she intended to say. We were able to then tinker with what she wrote."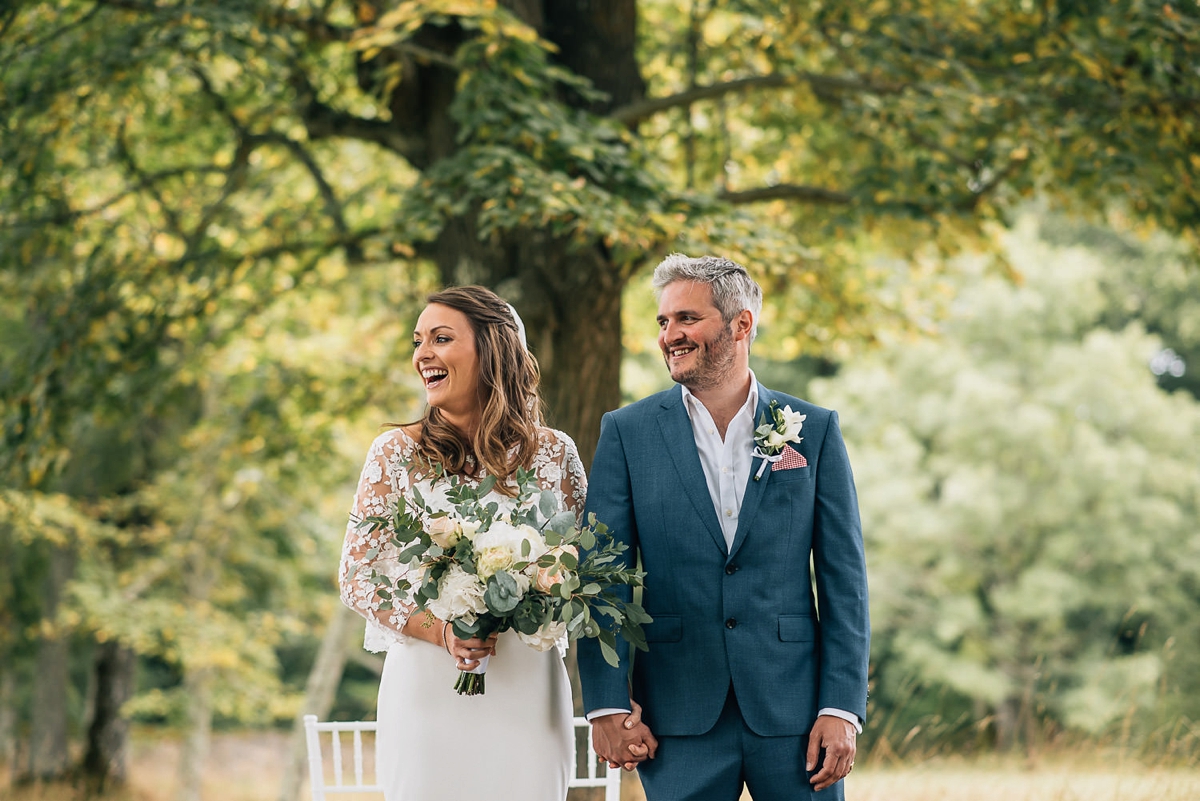 Readings were '1 Corinthians 13' and Shakespeare's 'Sonnet 116' as well as a poem, 'XVI' by Ben's favourite poet Pablo Neruda.
"I do not love you as if you were salt-rose, or topaz,
or the arrow of carnations the fire shoots off.
I love you as certain dark things are to be loved,
in secret, between the shadow and the soul.
I love you as the plant that never blooms
but carries in itself the light of hidden flowers;
thanks to your love a certain solid fragrance,
risen from the earth, lives darkly in my body.
I love you without knowing how, or when, or from where.
I love you straightforwardly, without complexities or pride;
so I love you because I know no other way
than this: where I does not exist, nor you,
so close that your hand on my chest is my hand,
so close that your eyes close as I fall asleep."
The couple found their wedding bands at Purely Diamonds in London.
"My office is very close to Hatton Garden so used a company that a colleague recommended. Their prices were extremely competitive and we had the option to design what we wanted."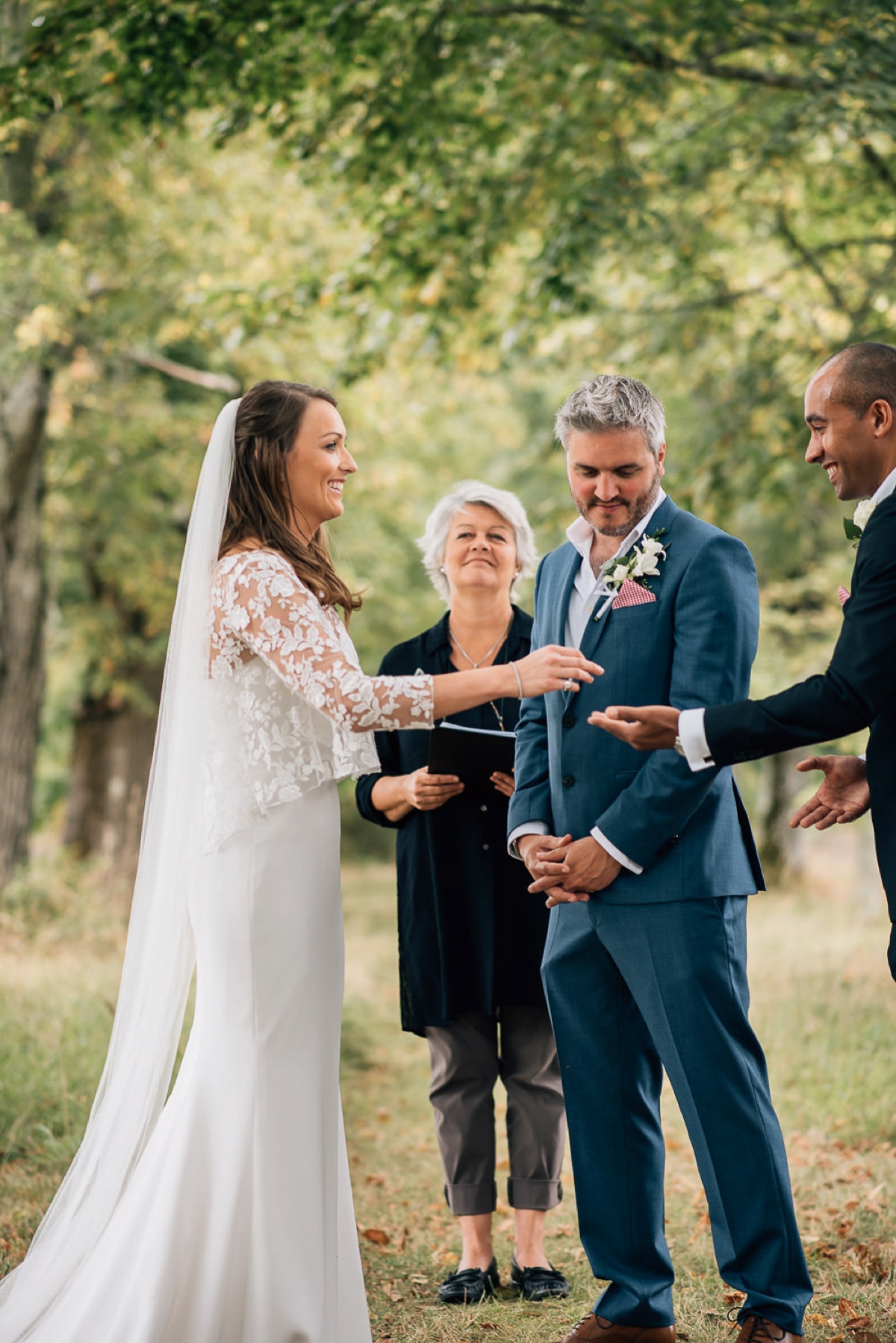 The bride added a long, barely-there veil from The Wedding Dress Shop and accessorised with a bespoke diamond necklace for the daytime celebrations. I love Nadine's idea of transforming a beloved piece of jewellery.
"I had matching necklaces made for me and my mum to wear on the day. The diamonds were from my great-great-great grandmother's necklace. It used to belong to my mum who gave it to me when I was younger. Neither she nor I wore it so I thought it was time to redesign it into something that we would. We used Hallmark Jewellers."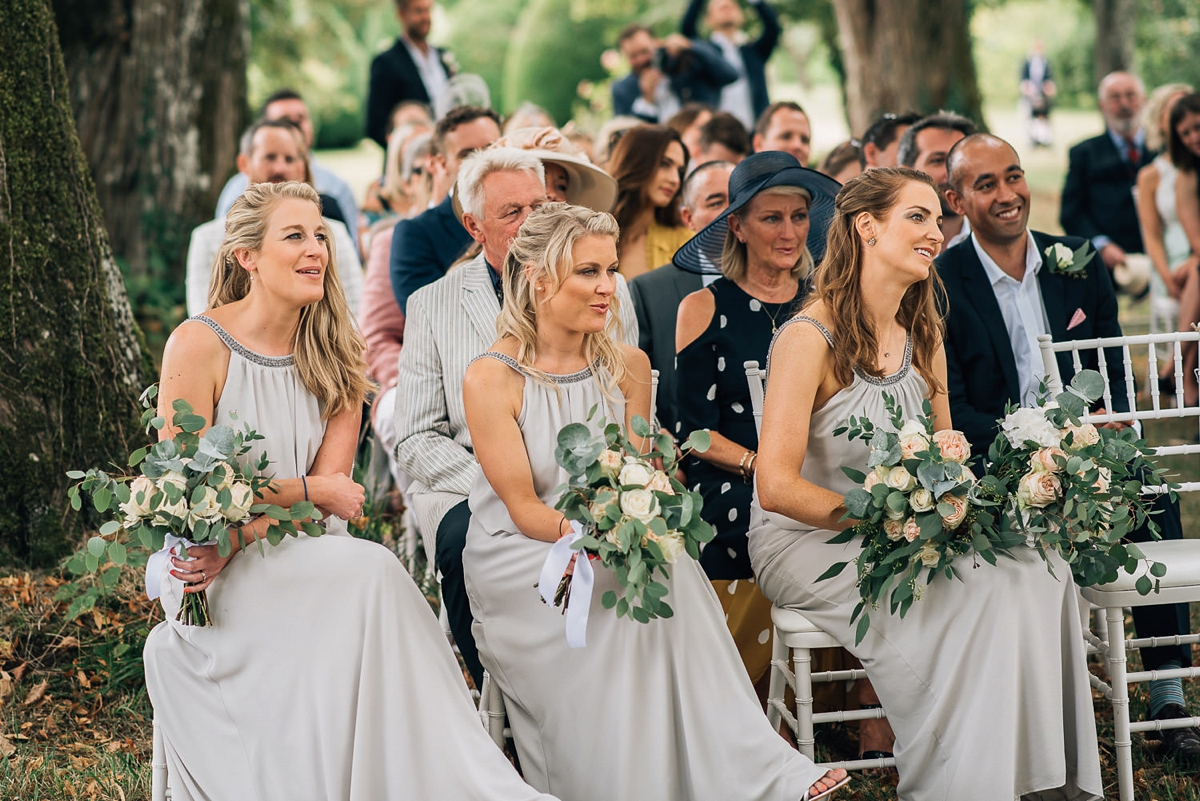 Beard and Mane were on hand to record the celebrations on film.
"Kerry and David were the first thing we booked after selecting our venue as they had done a great video for friends of ours. We were delighted with the final result."
These delightful photographs are by The Shannons Photography. I love how they've captured the sleepy summer feel of the château and its grounds in the early morning, and all the love, romance and fun of the celebrations into the evening.
"We couldn't have been happier with Vicki and Pete. Not only did they take the most stunning photos, they had the perfect balance of authority (with the formal group photos) and banter to make us relax. They were there for every moment and I feel captured the atmosphere of the weekend perfectly. We met with them twice before the wedding so we could get to know each other and they were very open to all the ideas that we had."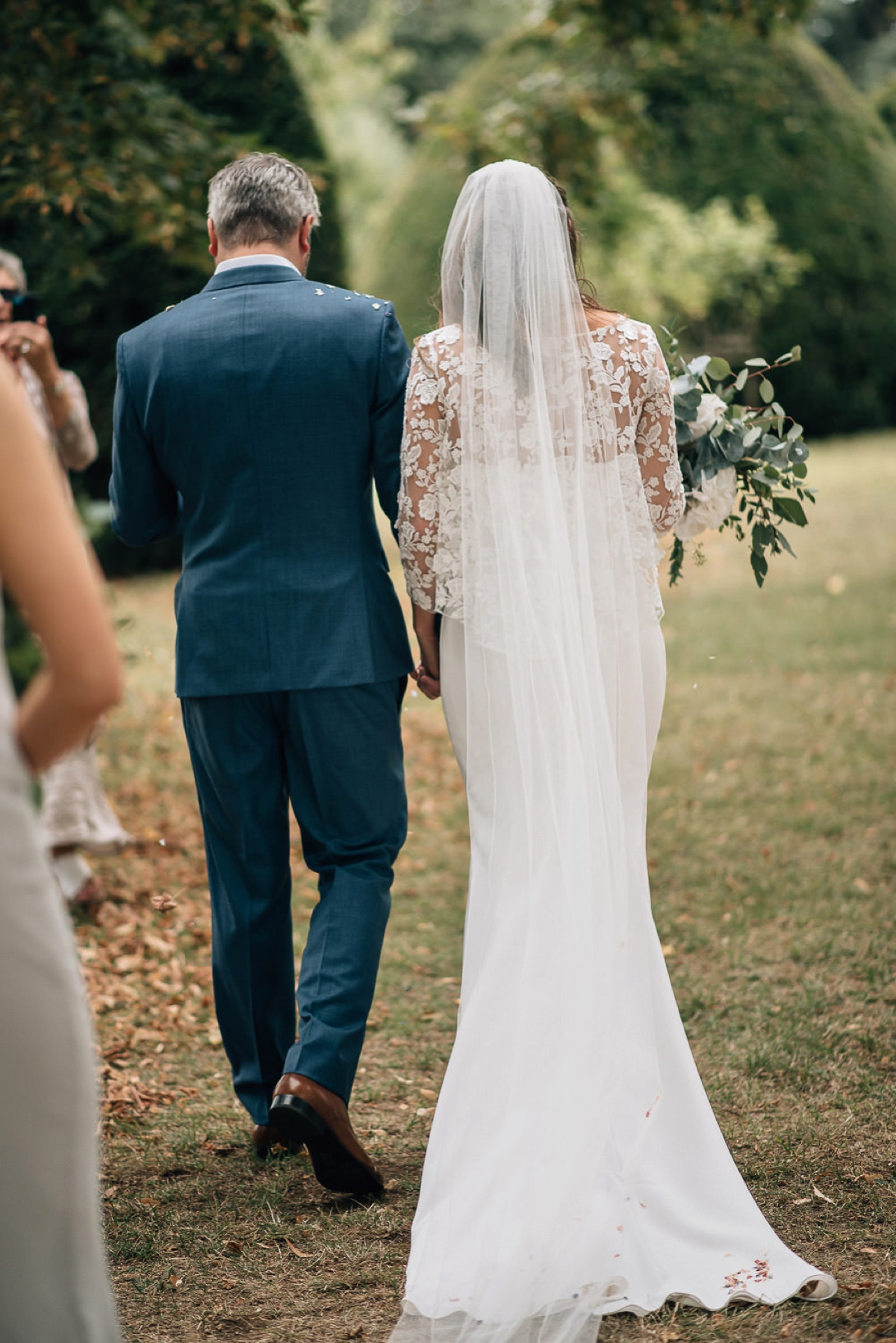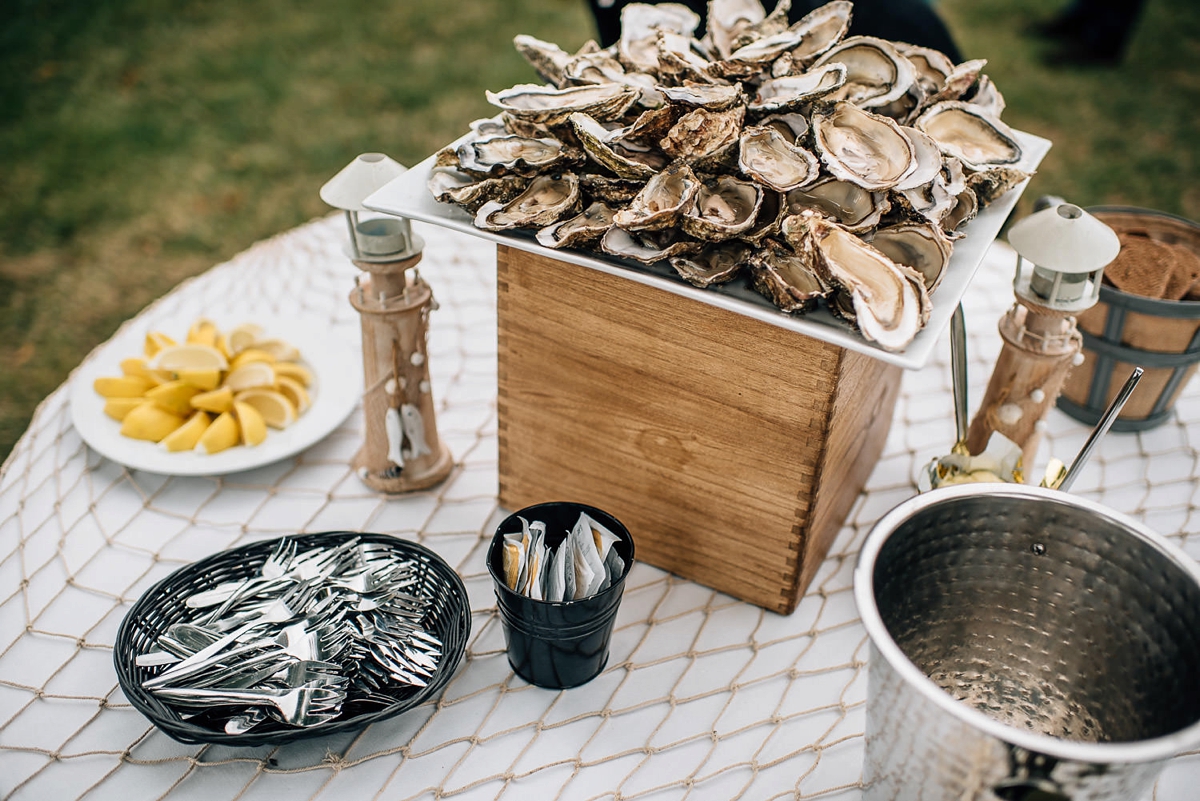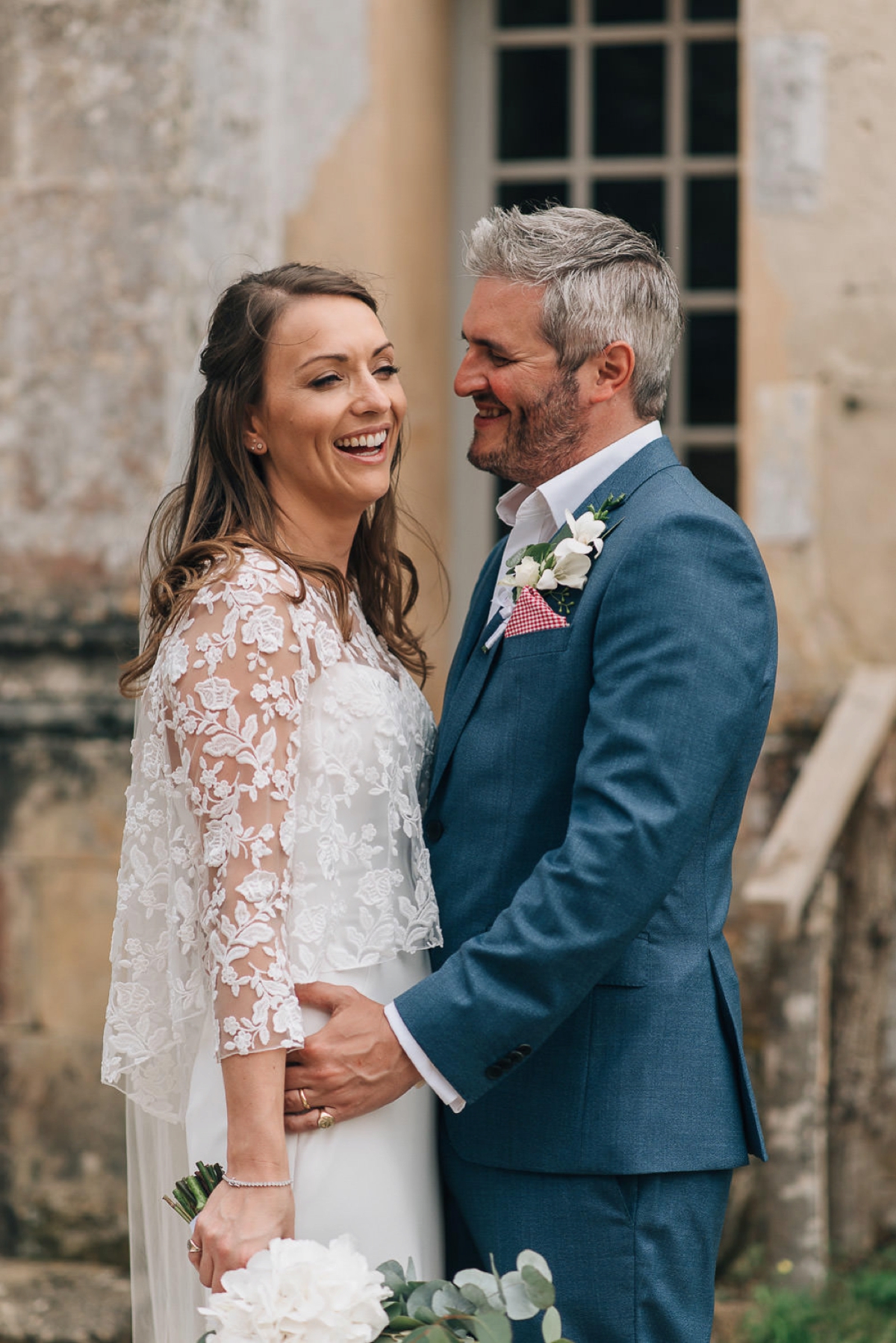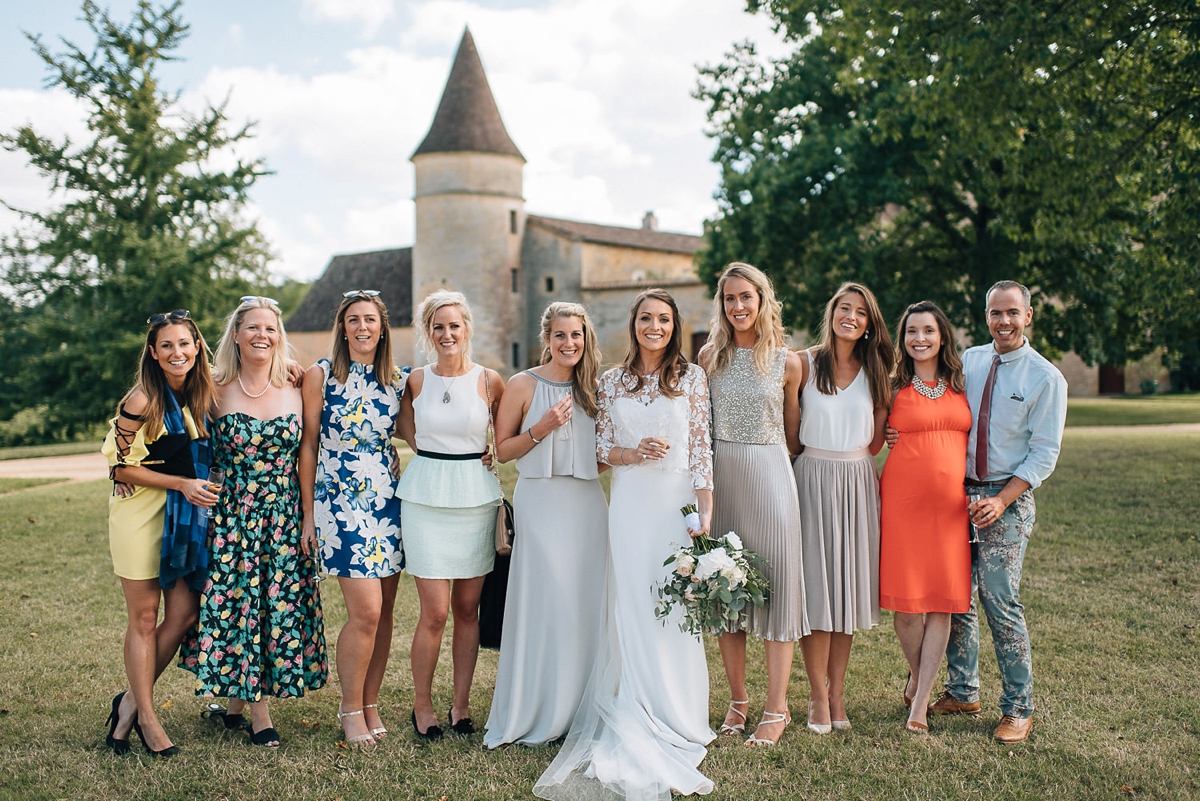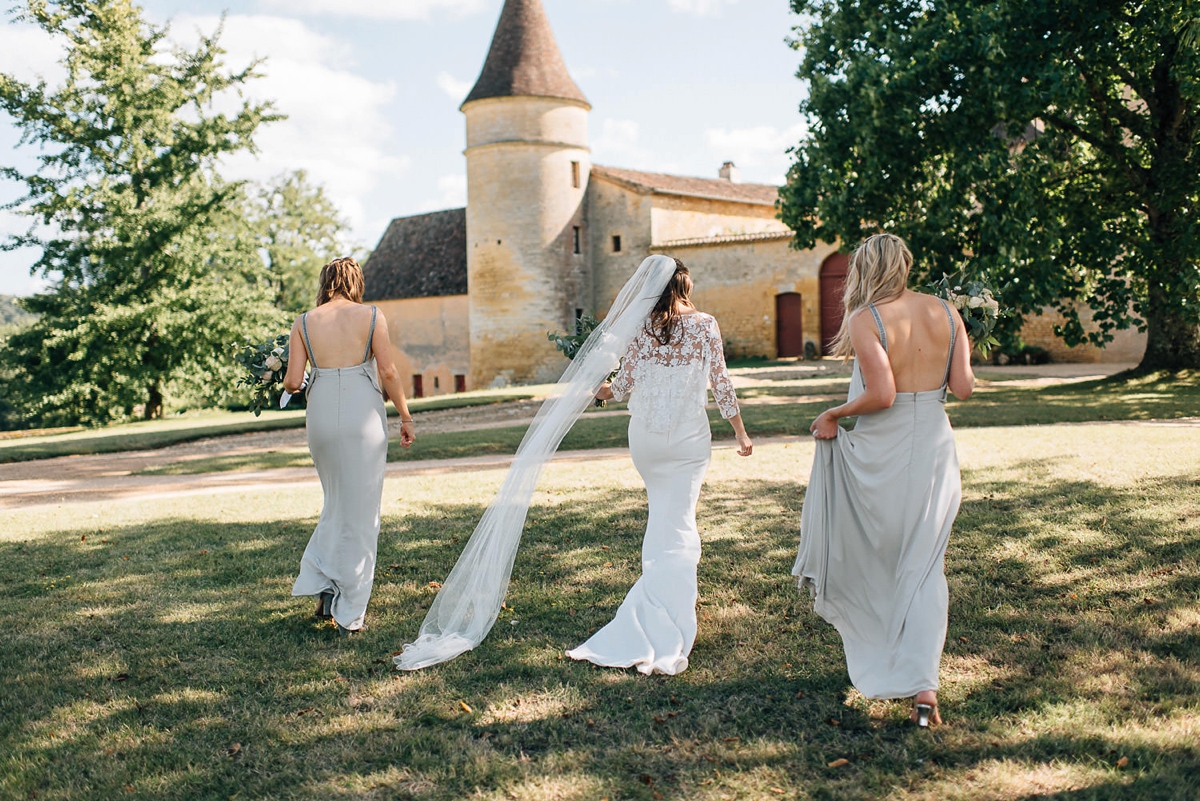 The organically styled bouquets were based on a heart of cream, yellow and peach roses with yet more eucalyptus.
After the ceremony, a Champagne reception was held in the rose garden accompanied by acoustic music from Rix and Eric Delsaux.
I love the intimate feel of the long trestle tables laid out in the shadow of the château. They were styled with sumptuous floral arrangements in shades of cream and soft apricot by Mary Devreux of Ellerymay.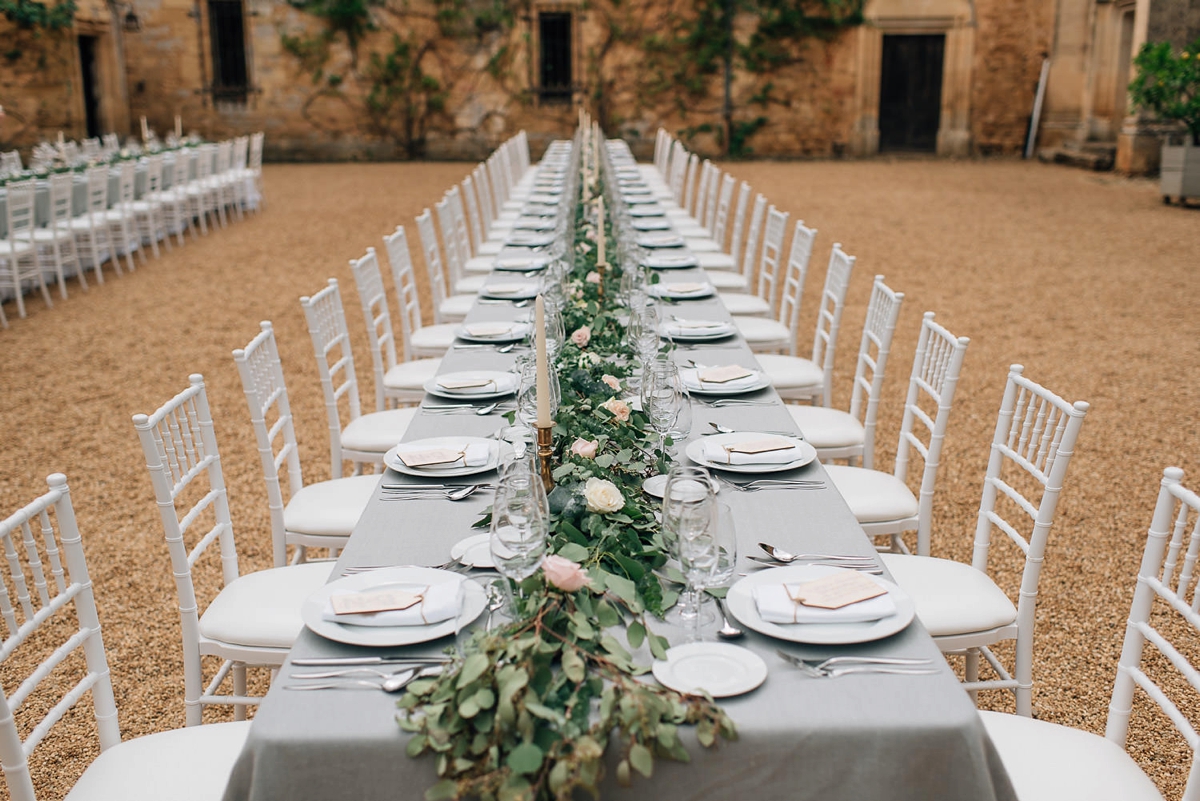 "Mary was very responsive to emails and ideas when we were looking for a florist. I had seen a few table arrangements on Pinterest that I sent to her. I loved the idea of garlands running down the middle of the tables, as it's traditional in France to have long tables rather than round. I love the smell and look of eucalyptus so that was the predominant foliage we used in the bouquets and table decoration."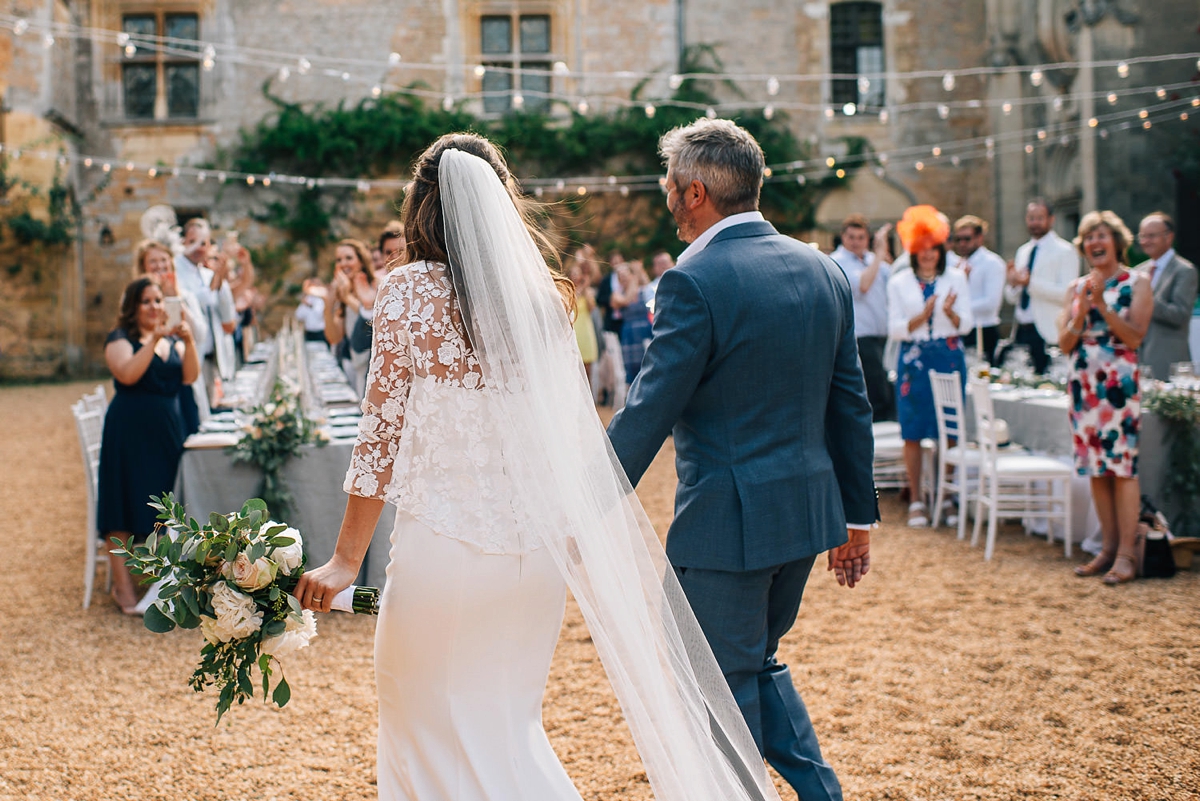 A gourmet French feast was served by Le Nectar, followed by a spectacular croquembouche – filled choux pastry buns piled high.
"We made our own menus and used funny photographs of our guests for the table plan. We didn't do wedding favours but wrote a short poem for each guest. It was instead of a place card and was a great way for people to get to know each other."
"I loved the meal and speeches. Everyone was relaxed enjoying the setting sun and tucking into delicious French food. We had five sets of speeches and it was so special to hear from the mother of the bride and the bridesmaids, as well as the regular bunch."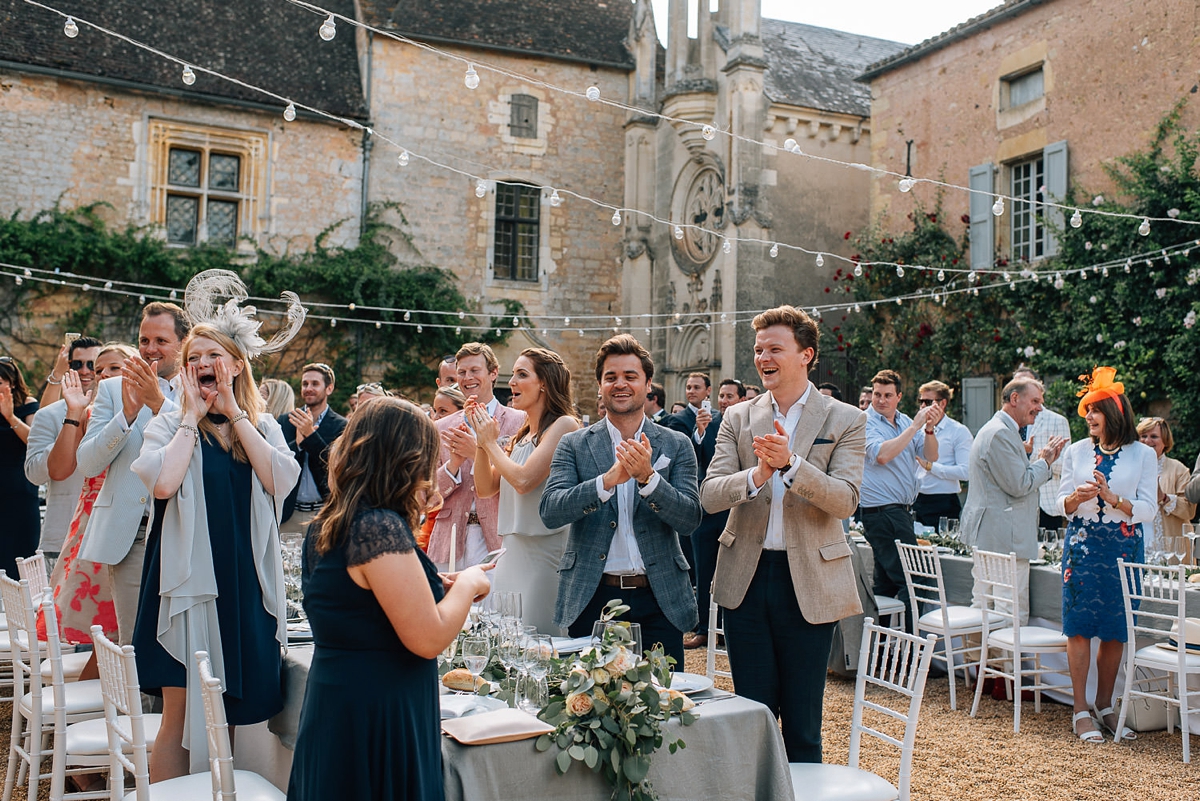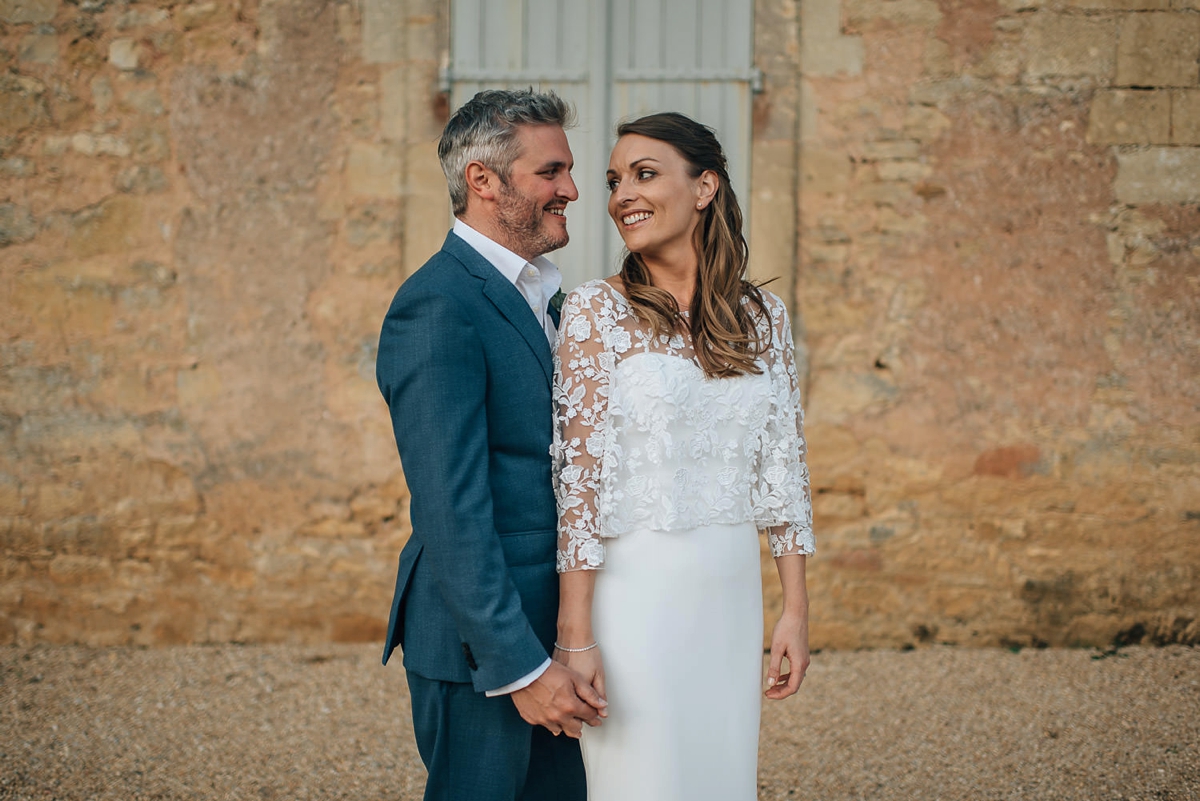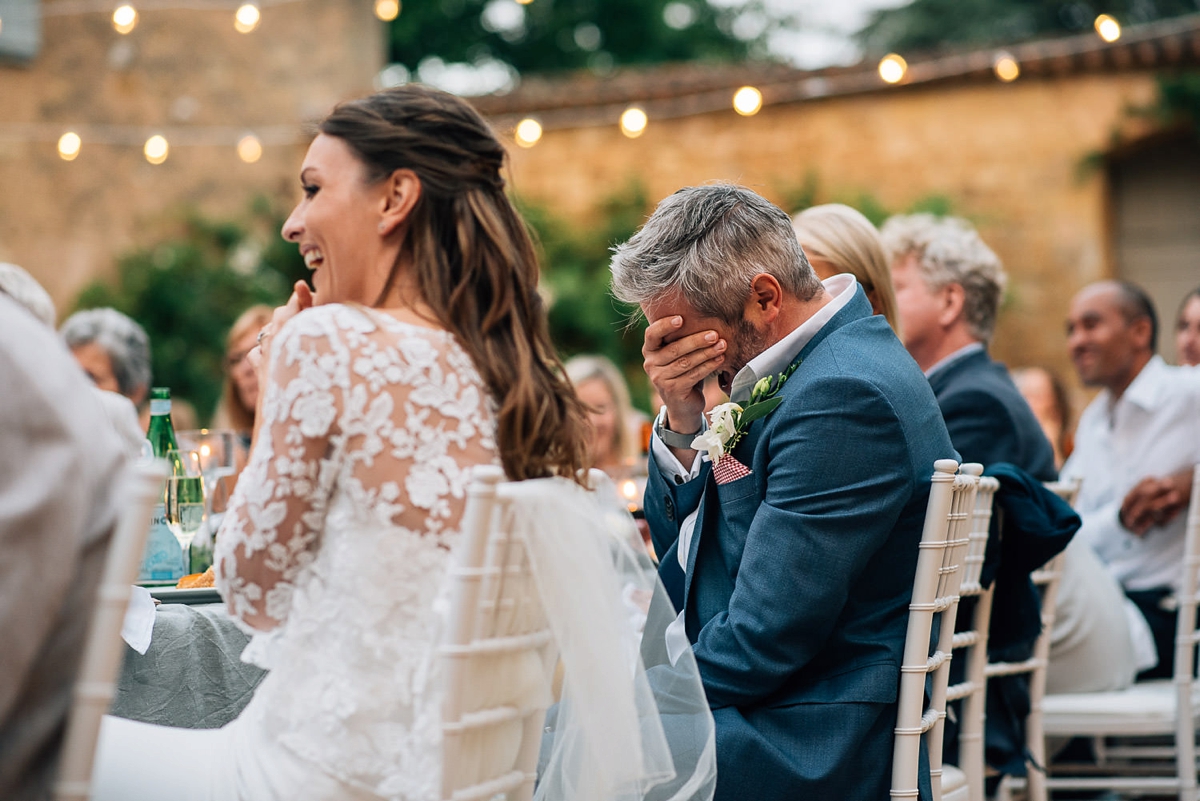 Later in the evening, the guests and newlyweds made their way into the barn for more drinks and dancing. The first dance was an unusual choice, especially given the time of year; 'All I Want for Christmas' by Mariah Carey.
"We had Paddy Sherlock for the evening dance. We struggled to find anyone that we liked that didn't cost a fortune. Paddy is Irish, living in the Dordogne and great fun."
"We didn't want a slow or cheesy first dance. I have a huge love for Christmas no matter the time of year, so settled on our favourite Christmas tune. It was a surprise in mid-August!"

Words of Wedded Wisdom
"I would thoroughly recommend having a wedding planner and help on the day. It was wonderful not worrying about making sure that the tables were set correctly, that the chairs were in the right places for the ceremony, having someone to check in with the band etcetera. We could just focus on spending time with our friends and family and having a great time. I didn't feel stressed at all during the day, knowing that someone else was ensuring that things ran smoothly. Some of my friends reflect that they were often worrying about the next part of the day on their wedding days and having Lucy and her team, took away all of that for me."
"I would have definitely started looking for bridesmaid dresses sooner. It was the most difficult thing to find for the wedding."
"On reflection, I wish that I had invited more people. We were conscious not to invite everyone on our original list. As we were asking people to travel, we didn't want for people to feel obliged to come. If I was to do it again, I would have invited more, knowing that people are often happy to make the effort to join the celebrations."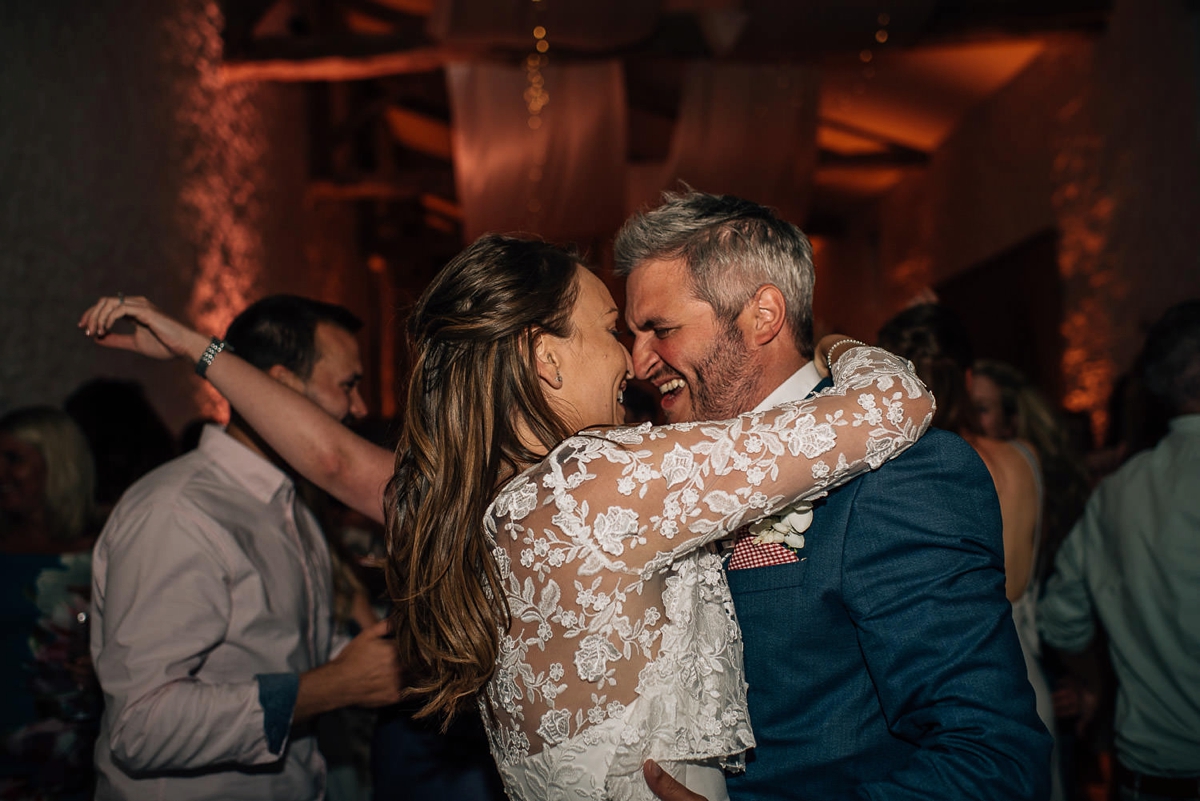 Such beautiful French festivities! Thank you so much Nadine and Ben. I've thoroughly enjoyed sharing your beautiful day today. For more weddings held at this divine venue please take a peek at these other weddings on Love My Dress. I must say thank you to The Shannons too – your work is so beautiful.
Ele xx