I always think that one day I'll suddenly transform into an official grown-up who isn't continually covered in fluff, and who manages to stay looking 'put together' and stylish all day long.
I don't imagine that today's bride, Liz, has ever had such worries – how stylish is she?? I dream of such elegance and poise, and she made her veil and did her hair and makeup herself! Liz; I'm in awe of your skills! Enjoy this beautiful wedding, everyone. Liz and Eden, an Architect, had been together nine years when they got engaged and planned their wedding in eight months. The couple chose locations close to home for their wedding on 2nd September 2017.
"We like modern and simple, and we were on a budget! I saw an image of a wedding bouquet of wildflowers with some gold foliage mixed in and felt inspired to add gold touches to our day. We both love plants as well so there was a bit of a botanical vibe."
Image by Kitty Wheeler Shaw 
After Liz initially struggled to find the dress of her dreams, fate intervened in the form of Grace Loves Lace.
"I was struggling to find something contemporary, cool yet pretty on my limited budget and was searching online obsessively with no luck when I found Grace Loves Lace. They opened their first European showroom in Shoreditch in London just at the time I started looking for my dress so it felt like it was meant to be. I love their brand and knew I wanted the Nia 2.0 when I saw it on the website as I didn't want a traditional wedding dress. I wanted something feminine yet simple with a laid-back vibe which suited our intimate wedding and country pub reception, and it had to be comfortable and easy to dance in! I knew it was the one when I saw it on the website but going to the showroom confirmed it. I love the open back and lace detailing around the arms.""We chose St Andrews Church in West Tarring and The Ginger Fox in Albourne. I'm originally from Nottinghamshire but Brighton and Sussex have been home for 10 years now so it felt right to do it down here."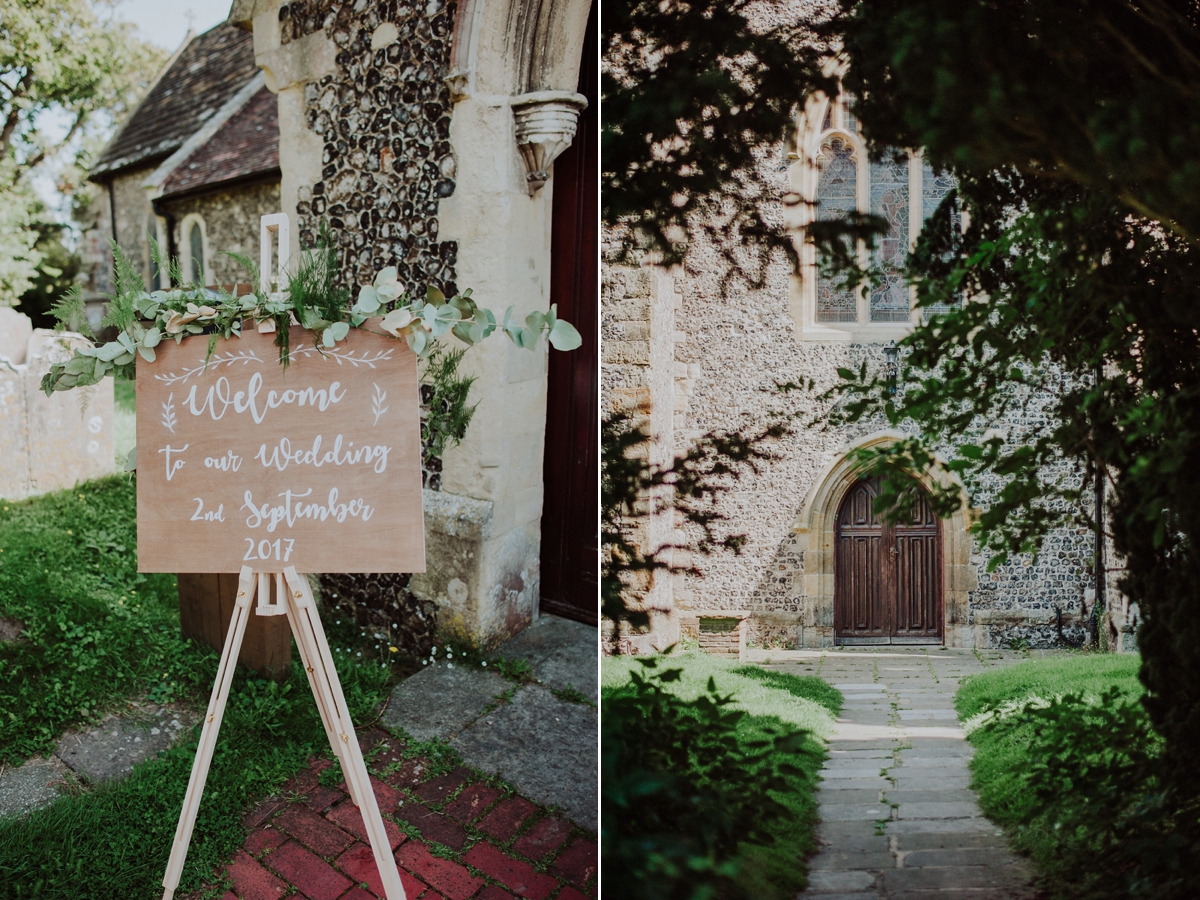 "We met at uni in Brighton on a 'geek chic' theme club night. I was talking to Eden's friend, who introduced us, and I didn't believe his name was really Eden so I made him get out his driving license. We got chatting and the rest is history!"
"Eden and I both have a design background and are creative types so we designed and printed our own Save the Dates, Invitations, Place Cards and Order of Service."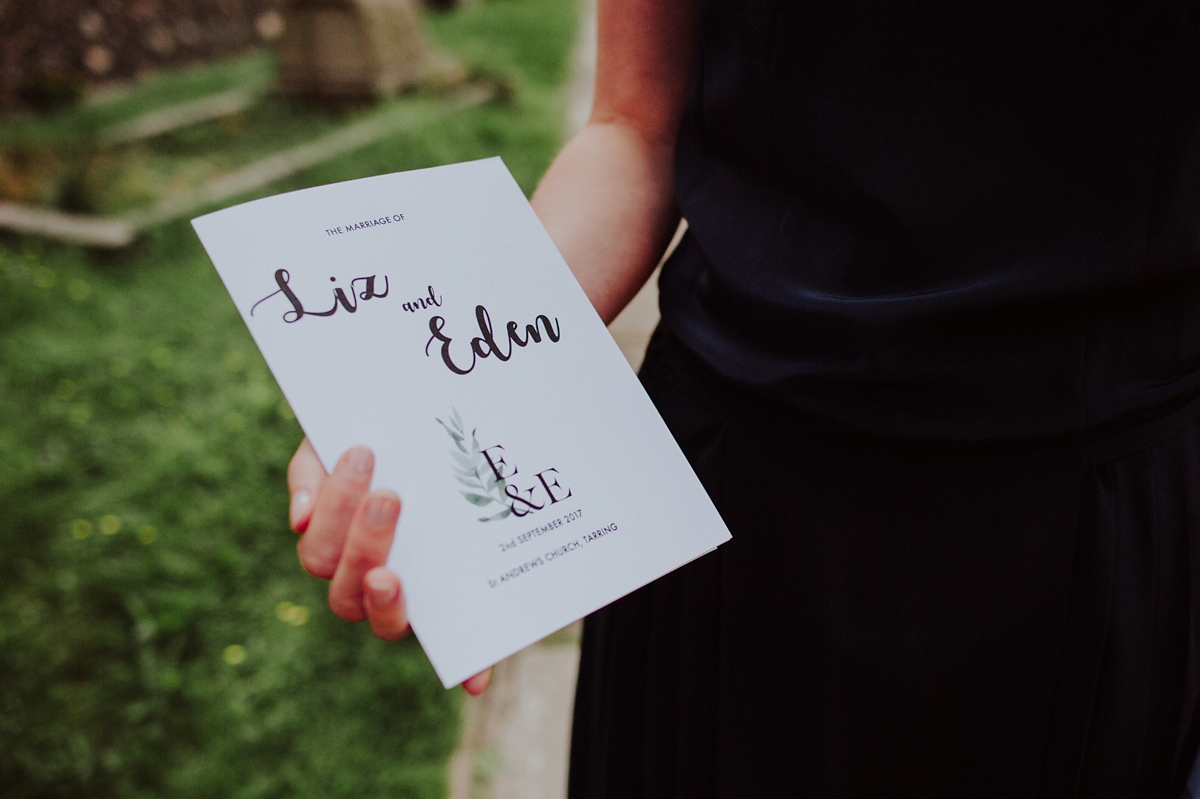 Such a stunning dress didn't need much in the way of accessories, so Liz chose rose gold sandals from ASOS, and gifts given to her on the day.
Grace Loves Lace gave Liz the inspiration for her veil.
"I fell in love with a silk chiffon veil at Grace Loves Lace but it was way out of my budget so I opted to make my own version with the help of an online tutorial. I thought the chiffon on the Grace Loves Lace one was so unique as veils are usually tulle, so I ordered the fabric online. My veil was 2.5metres long!"
Liz chose I'm Kissing You by Des'ree to walk down the aisle, accompanied by her father. Any of us who've seen Romeo and Juliet will, I'm sure, be struck by such a lovely choice – I am sure I'd have shed a tear!
"It was lovely to share that special moment with my dad and we definitely walked too quickly down the aisle because we were so full of adrenaline!"
Liz and Eden had two readings during the ceremony.
"We had an extract from Captain Corelli's Mandolin and 'A Lovely Dinosaur' by Edward Monkton– both of which were delivered perfectly by our friends."
As well as making her own veil and doing her own hair and makeup, Liz also did the flowers, stationery and decor too!
"My mum grew all the flowers in her garden and brought them from Nottinghamshire to Sussex. They were beautiful English garden flowers like cornflowers, roses and larkspur with lots of eucalyptus. We arranged the flowers together and opted for a whimsical, natural style."
Liz enjoyed doing the flowers for her wedding so much that she's set up a business! You can find her at Flower & Fern and on Instagram.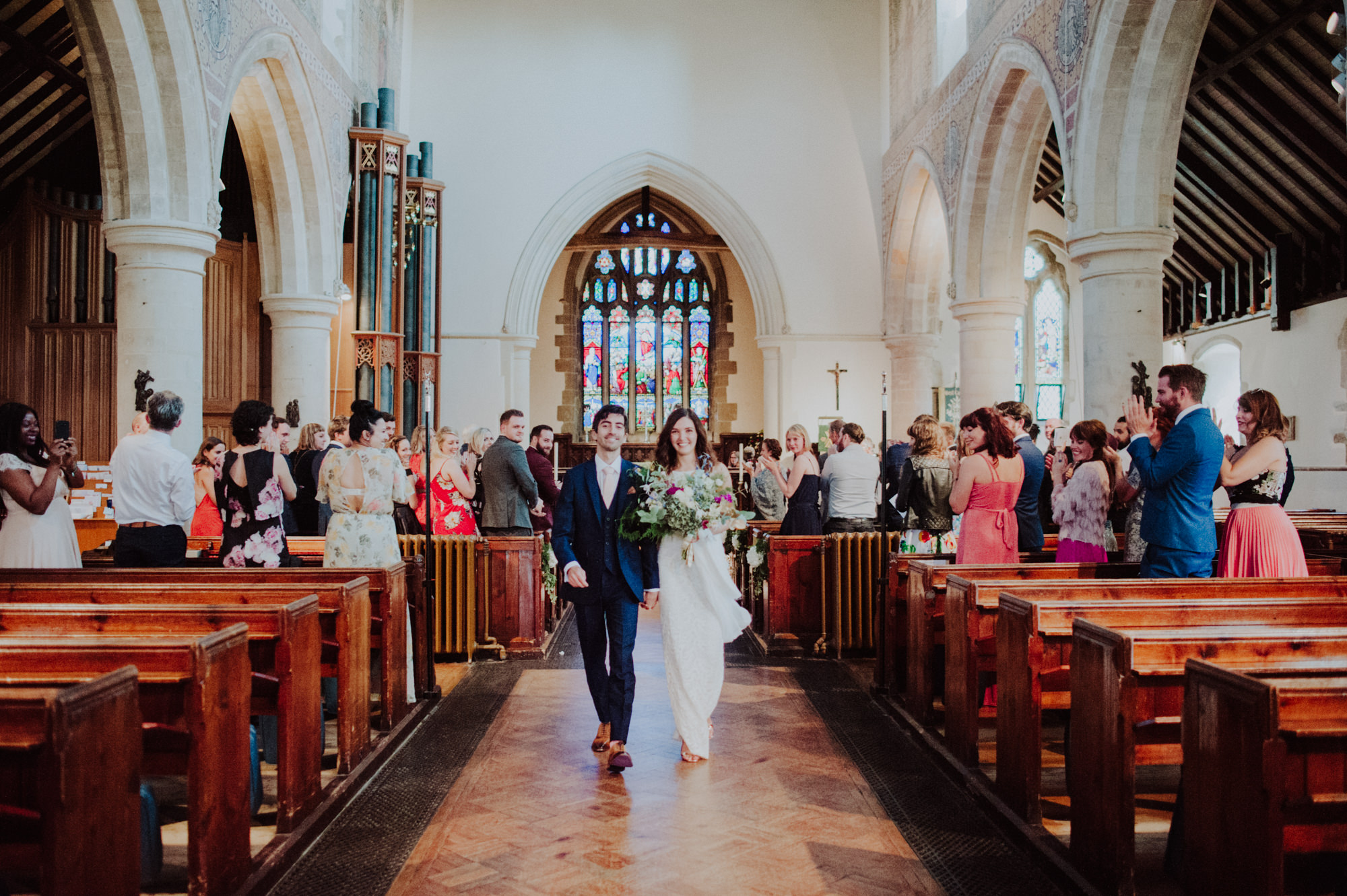 Eden wore a bespoke suit from Gresham Blake, shoes from Eves and Gray and a Paul Smith pocket square and cufflinks
Liz and Eden kept their preference for handmade and bespoke when it came to their rings.
"We chose Wedding Rings Direct as we saw they had good reviews online. I found that their head office and workshop is in Brighton so we visited to view some rings. It was fascinating seeing their workshop and loved that the owner had over 600 ring samples all in individual brown envelopes for us to look through. Their service was great from start to finish and we would recommend them."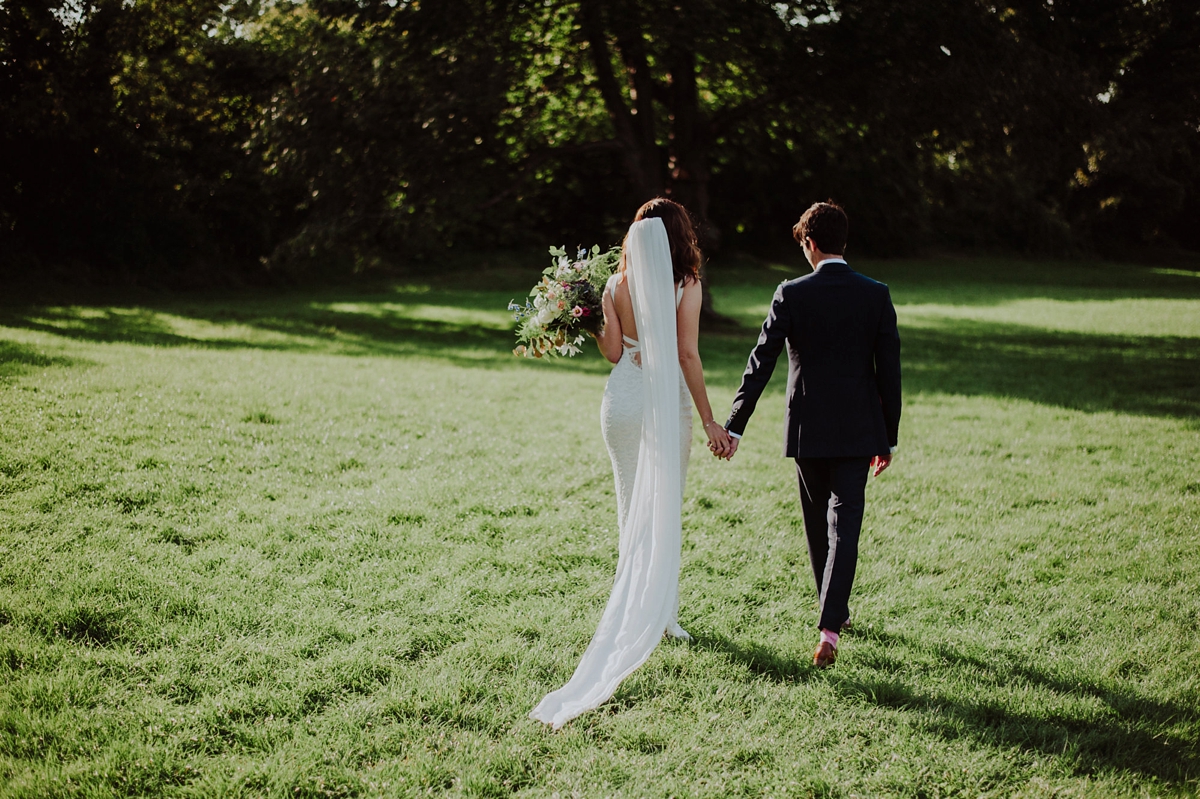 Liz and Eden chose Kitty Wheeler Shaw for their photographer.
"Kitty was fantastic, she was great at herding our guests when needed but also blended amazingly into the background to catch candid shots. She captured some beautiful moments where the lighting, composition and people's expressions came together perfectly. We knew from looking at her Instagram that her style fitted us and we weren't wrong. We have had so many compliments saying how the images really capture us as a couple and the mood of the day."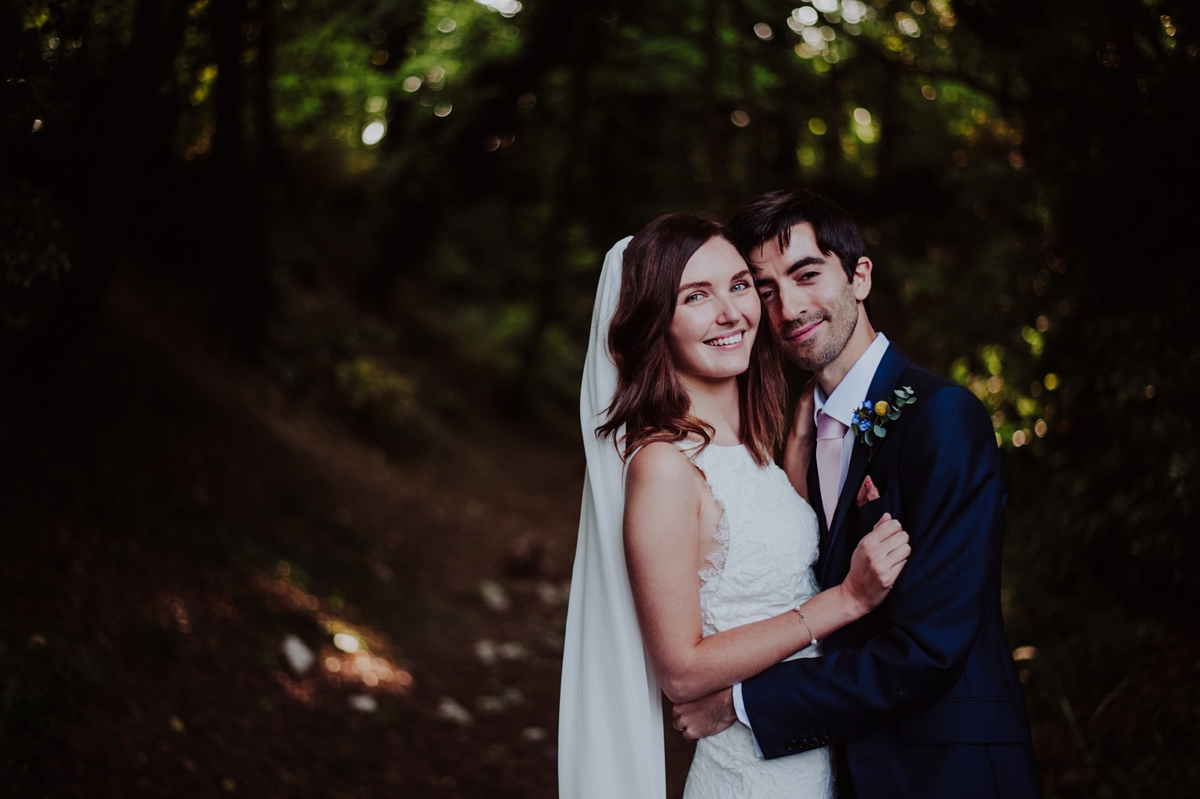 After the ceremony, Liz and Eden chose Big Lemon (the best coach name ever?) to transport their guests to The Ginger Fox.
"We used The Big Lemon bus which runs on recycling cooking oil to take everyone from the ceremony to the reception. We chose it as we used to use them a lot while we were students in Brighton."
i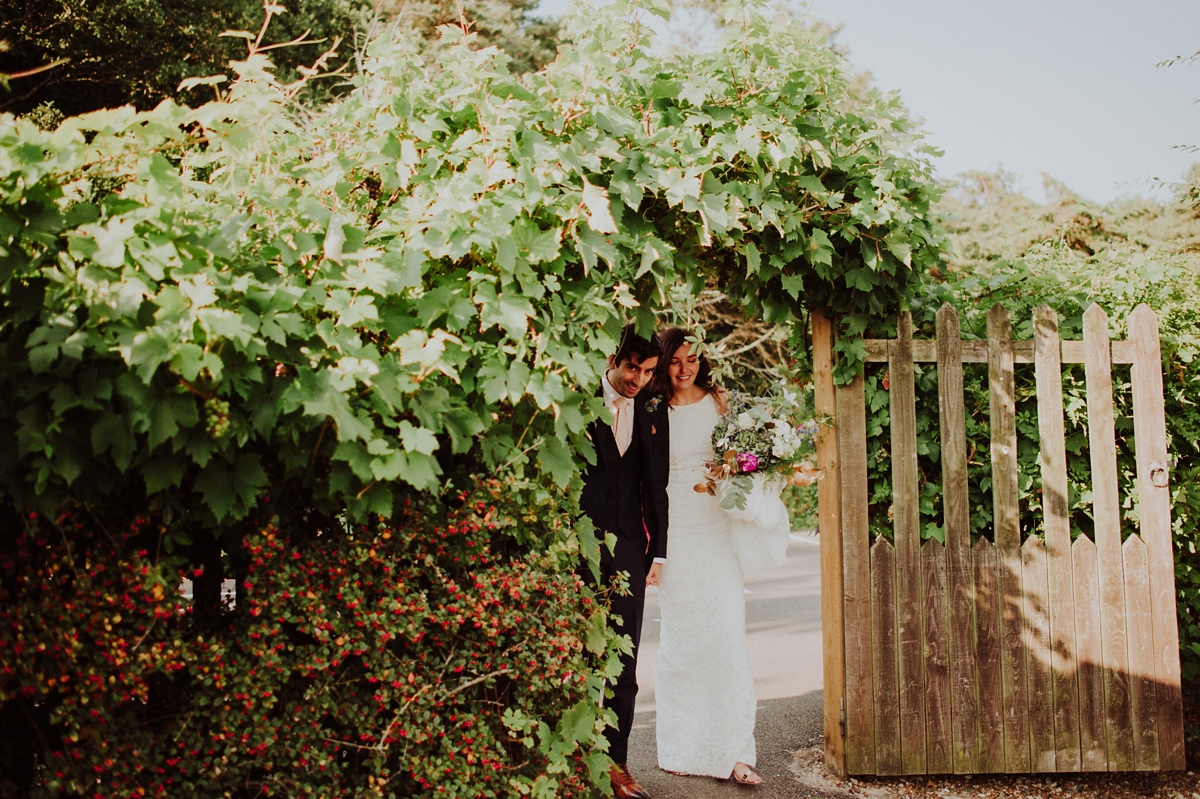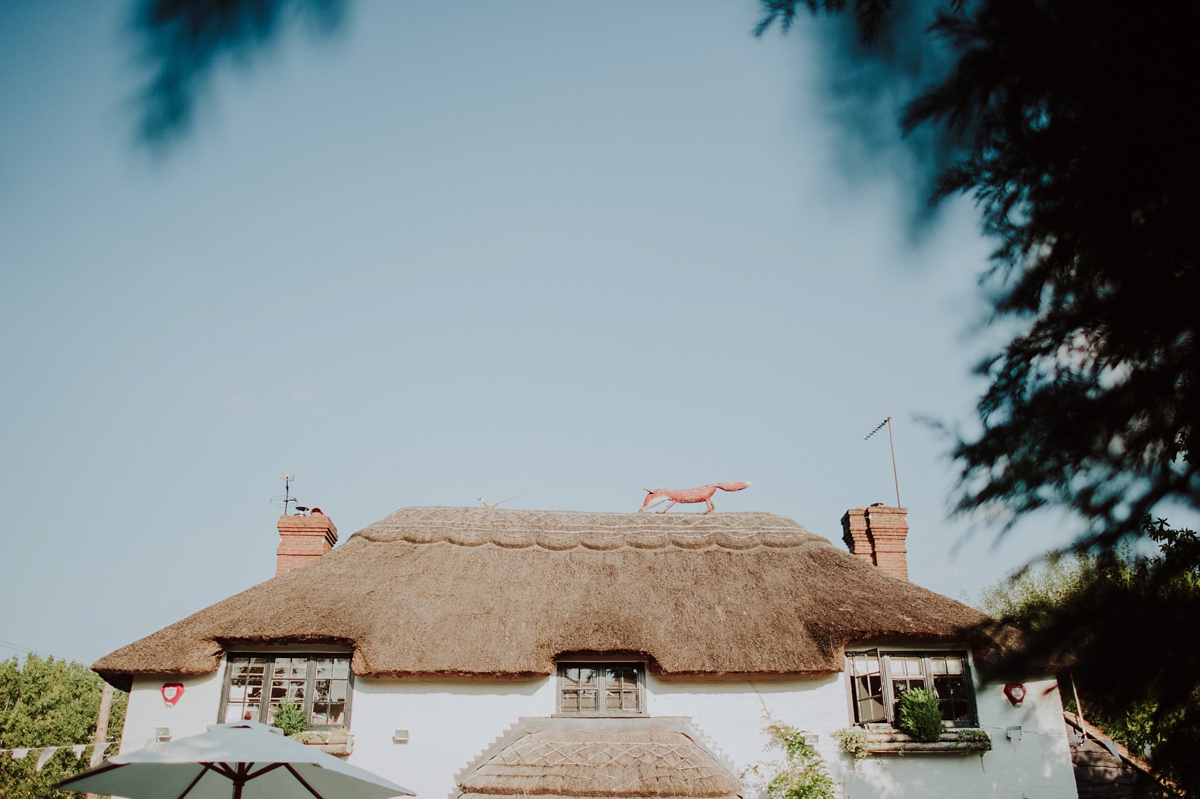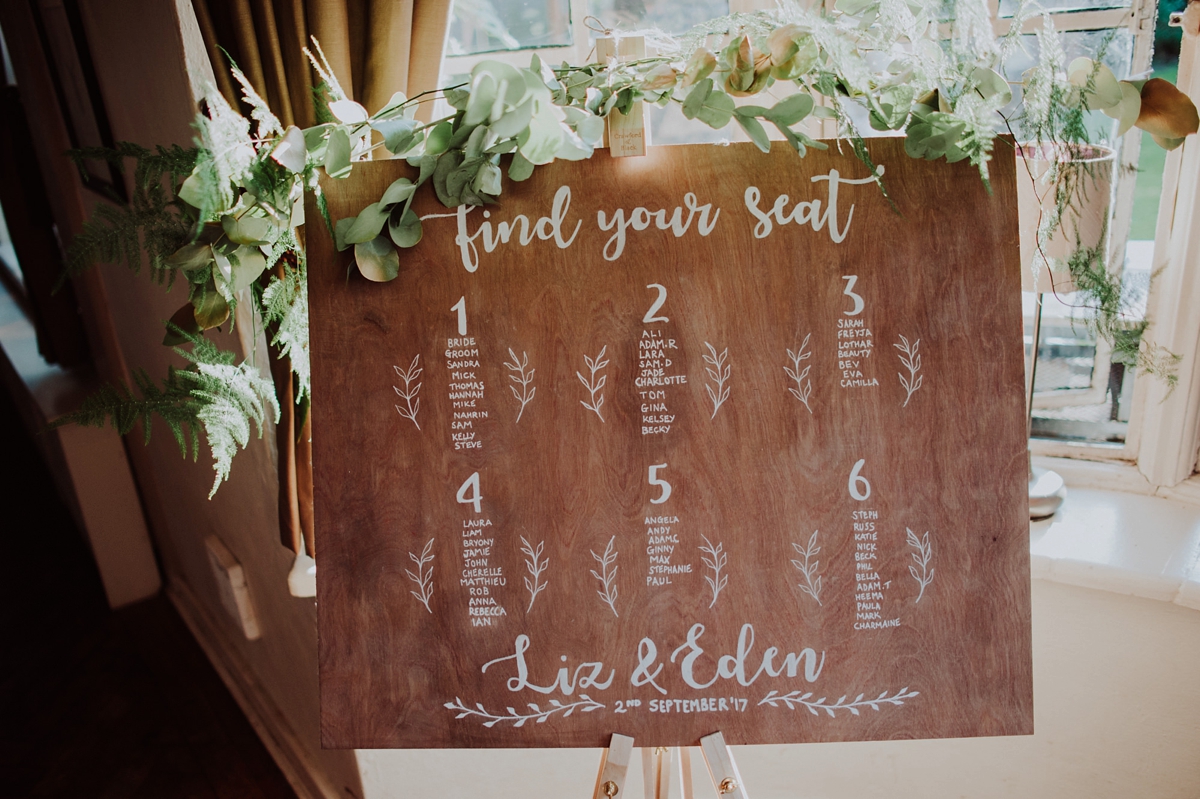 "We made tassel garlands with the help of some friends and hung these from the ceiling. I decorated jam jars with gold glitter for tealights."
"Our wedding table was draped with a vintage Moroccan Wedding Blanket which I got online. In Moroccan culture, it is traditionally handmade by the women in the family with the bride whilst sharing marital advice, which I thought was fitting for the day. We also used a tin storage pot shaped like a star for cards from Tin Design. We then used a lot of fairy lights which gave The Ginger Fox a magical and cosy vibe that was beyond our expectations."
Liz and Eden's guests were in for a treat with the wedding breakfast.
"The Ginger Fox's food was delicious. We had canapes and Sussex pink sparkling wine, followed by an amazing 3-course meal that they put together for us based on our favourite foods. We had so many people say it was the best food they'd ever had at a wedding, including our photographer!"
"My mum made our cake! It's her Christmas cake recipe that has been passed down through her family so it was very special. We decorated it together with gold leaf which was surprisingly tricky to do! We topped it with a picture of us from our engagement shoot."
When summing up the day, Liz said,
"Everything was perfect – the late summer weather was the best on the day of that week and the atmosphere was just amazing. As our wedding was smaller we got lots of opportunities to get round to everyone and spend time together."
In the evening, it was over to a DJ from Disco Shed.
For their first dance, Liz and Eden chose  'God Only Knows' by the Beach Boys.
"Disco Shed are a non-cheesy wedding DJ company and do a lot of festivals so we knew everyone would have a great time on the dancefloor."
"We love how you have to really listen to the lyrics to understand what a beautiful declaration of love it is. Its been 'our song' for a very long time and was always going to be our first dance song."
Words of Wedded Wisdom
"Try to relax and not worry about what others think. You will have an amazing day so there is no need to worry. And do whatever you have to do to get some sleep beforehand!"
Thank you so much to Liz and Eden for sharing their beautiful day with us, and to Kitty Wheeler Shaw for the wonderful photographs.
Sarah x