Today it's my absolute pleasure to share with you the union of Science Teacher, Fiona and Service Designer, Greg.
They said their 'I Do's' on 8th April 2017 within the Council Chamber at Islington Town Hall, followed by a reception at The Peasant Pub in Clerkenwell. After agreeing early on to keep the day as relaxed as possible, Fiona and Greg focused on having good food, good wine and lots of time to spend with their guests. In keeping with the minimal fuss theme, Fiona knew she was onto a winner with her wedding dress as soon as she arrived for her bridal shop appointment at Love My Dress favourite and Little Book Wedding Directory  member, Indiebride London.
"My first encounter with wedding dress shopping involved an impromptu trip to the shops to try on some ready-to-wear designs and I ended up feeling a bit disappointed as I failed to find the perfect dress with minimal fuss. As soon as I saw all of the beautiful lace dresses at Indiebride London. I knew I was at the right place. I loved the fact the dress was made in London and I had the pleasure of meeting my dressmaker in person at both of my fittings. The dress I went for was quite different to my original ideas about what I wanted but it felt comfortable (a huge priority for me) and I loved the cowl neck and lace detailing."
Photography by Matt Parry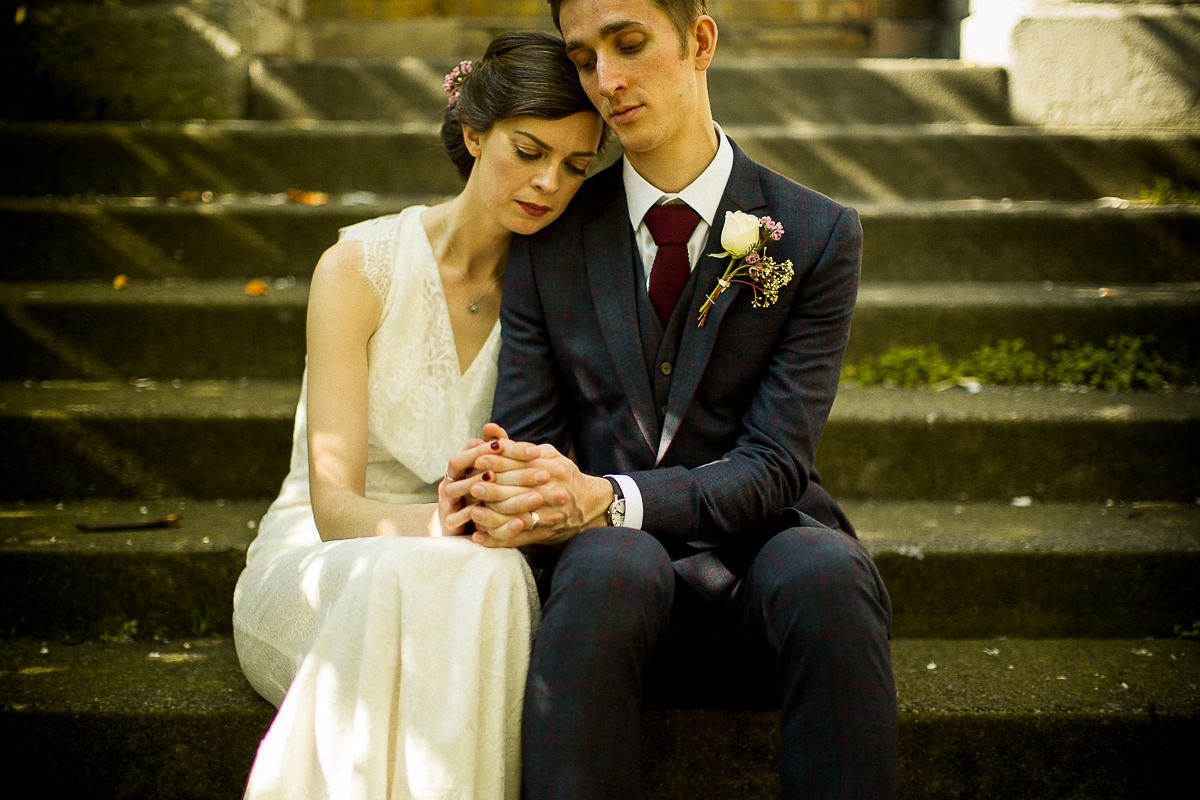 "London seemed like the obvious choice for us as we met here over seven years ago, and it's the place we now call home. Although we both grew up in more rural areas (Yorkshire and Hertfordshire), we love the hustle and bustle of London. We both used to live in North London and spent many weekends wandering along Upper Street in Islington. We like the way the rest of London just carries on whilst a bride and groom celebrate such an important day with all those they love around them."Our couple enjoyed an 18 month-long engagement after becoming engaged in a small cabin in the Dordogne, giving them plenty time to plan the day of their dreams.
"We met through a mutual friend (who was a bridesmaid on the day). We spent six years exploring London and the rest of the world together, then got engaged among the autumn leaves in the Dordogne. Our 18 month-long engagement flew by but it gave us lots of opportunity to enjoy the process and not feel pressured by time. We were able to give each decision plenty of thought and to make many of the decorations for the venue ourselves."
Fiona accessorised with rose gold glitter Steve Madden heels from Dune, a necklace, a ring which had previously belonged to her Grandma, and fresh flowers in her hair from The Flower Appreciation Society to add that finishing touch.
"The Flower Appreciation Society were on my radar from as soon as we started planning the wedding. Their arrangements are stunning! Ellie and Anna were super helpful in the run up to the day and I cannot recommend them enough. I was keen for the flowers to be unstructured and have a freshly picked feel to them."
"We didn't have a particular colour theme for the day so I left it up to them to pick the freshest flowers on the day! Their flower choices and arrangements did not disappoint."
"The arrival of my bouquet and the bridesmaids posies on the morning was a very exciting moment. (Second only to the bit where we actually got married!)."
"The wonderful Natalie Danielle did my hair and make-up. She was fantastic and helped me to feel at ease on the morning of the wedding. I don't normally spend long on hair or make-up and she was able to strike a perfect balance between feeling special but still feeling myself. I cannot thank her enough!"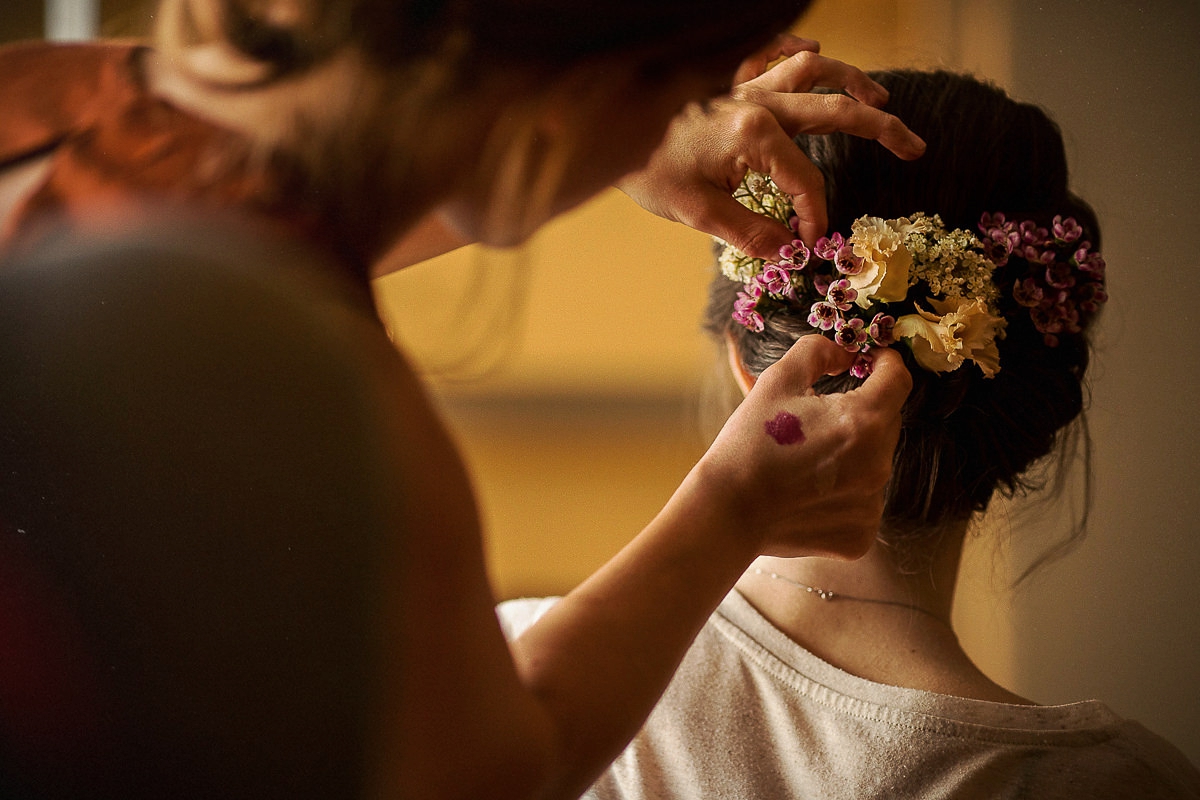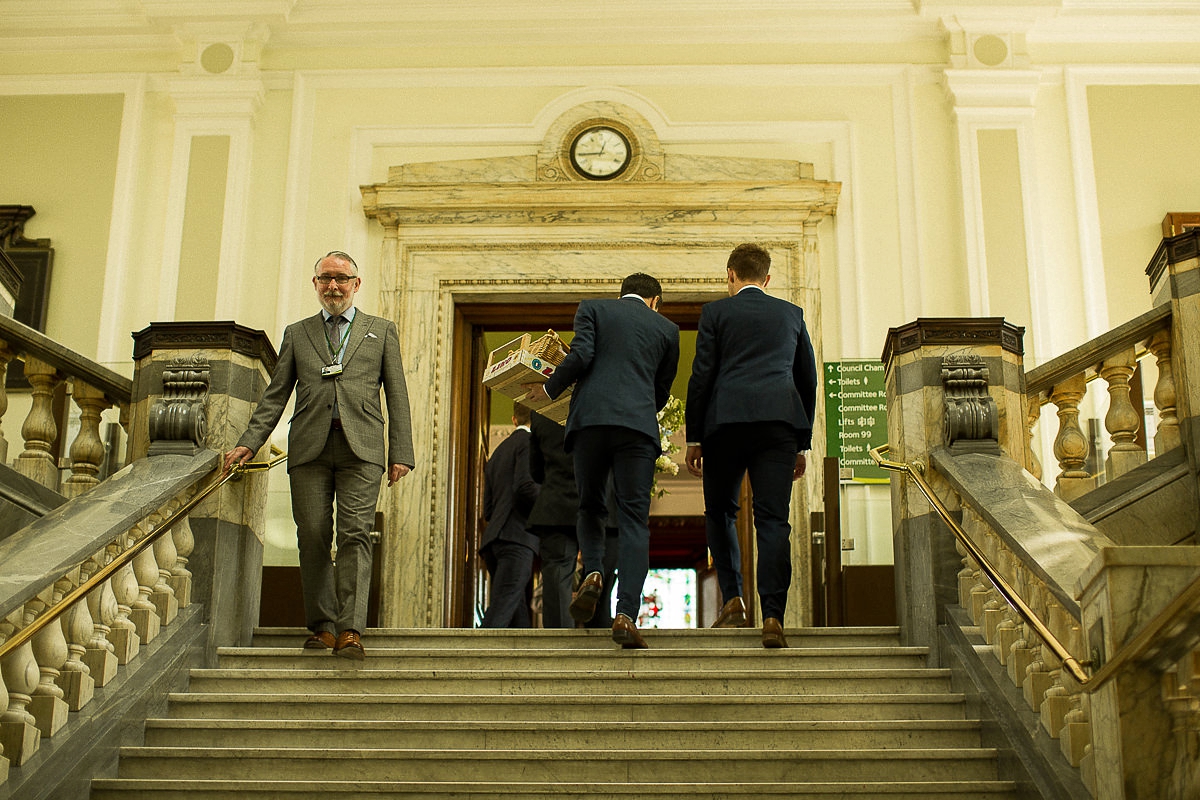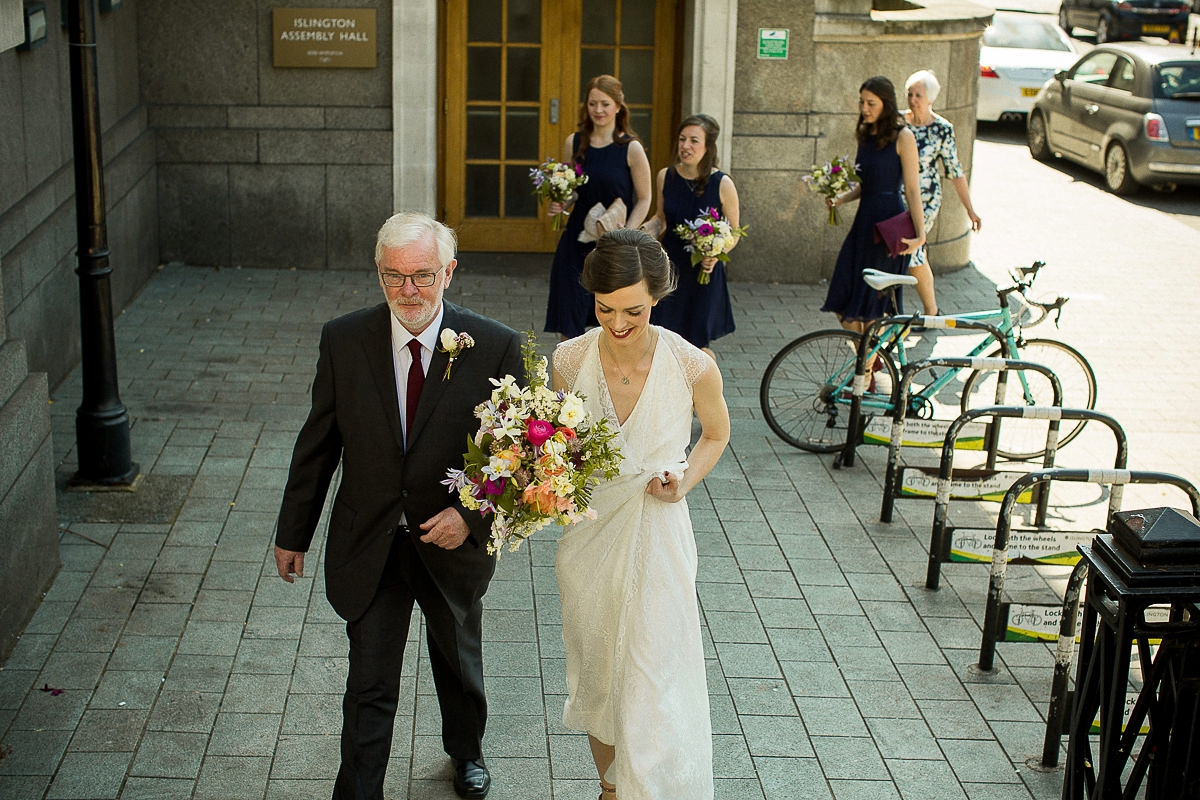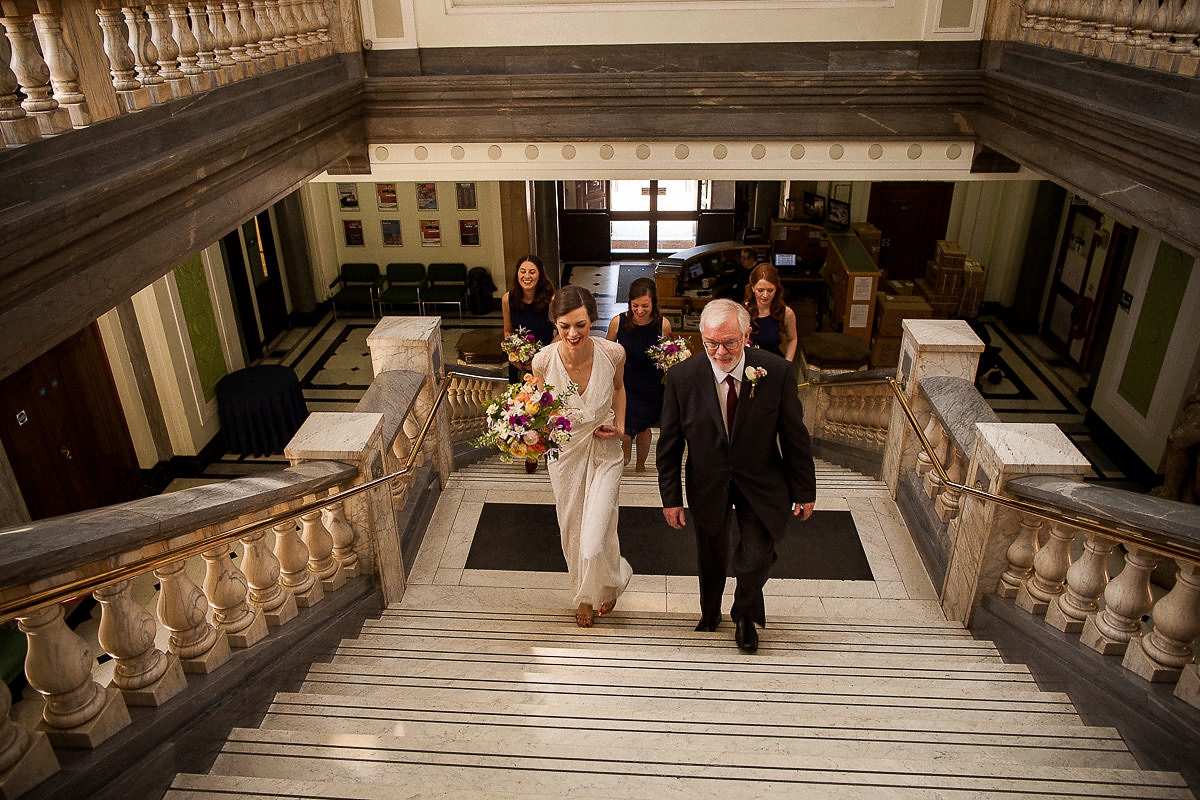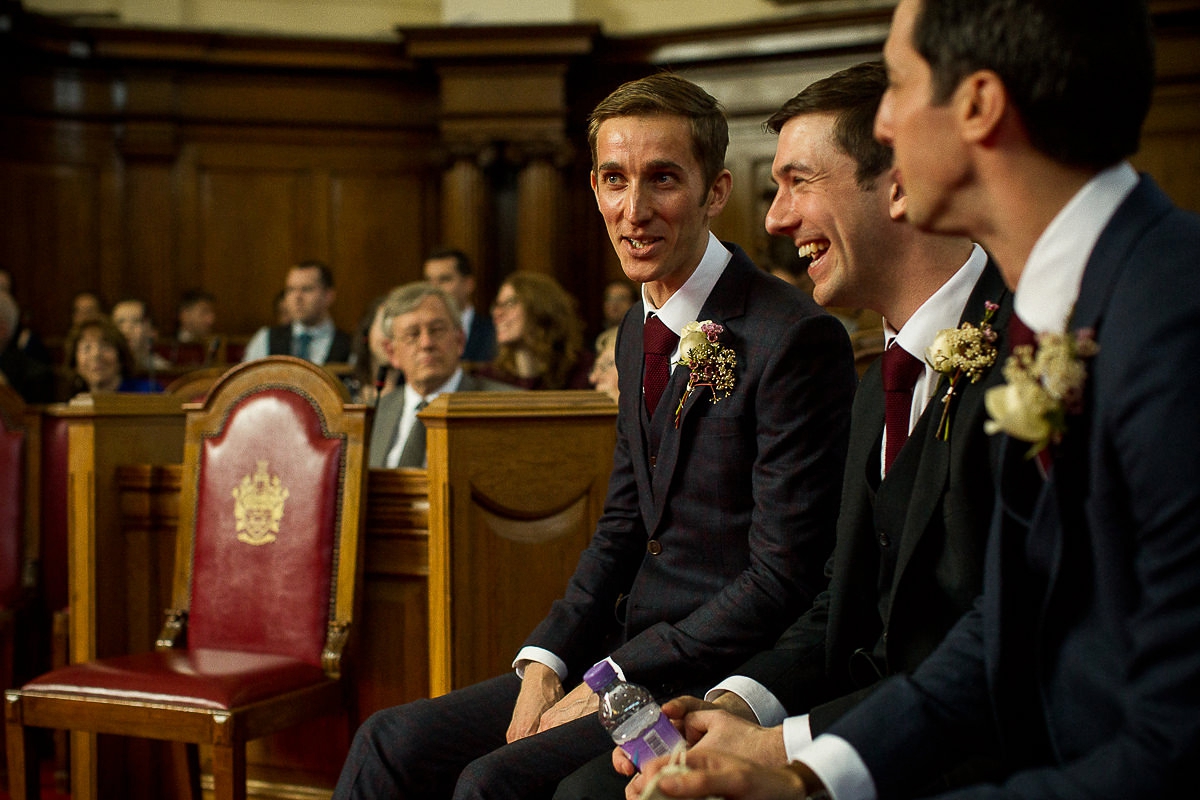 "I spent the night before the wedding in an Airbnb across the road from Islington Town Hall so before the wedding it was just a short (and slightly nervous) walk to the ceremony. My dad accompanied me down the aisle to 'Avril 14th' by Aphex Twin and Greg and I opted for fairly standard vows from the options Islington Town Hall had. We chose ones that emphasised the meaning and importance of marriage without being overly melodramatic. My favourite line from the ceremony is about how important closeness and distance is in a marriage, so that you can both grow together, but also as individuals."
"Greg's sister read 'The Present' by Michael Donaghy during the ceremony. It's a beautiful poem with a nice nod to our love of science and, more importantly, it also communicates the fleeting nature of life and a need to live both in the moment and for the moment. We often spend time looking back or looking forward and sometimes it is nice to just sit back and be present in the moment. Your wedding day is a perfect opportunity to do that."
Looking extremely dapper in a 3-piece, deep blue wool suit with red check was the groom. Greg had his suit made to measure by the guys at Beggars Run and accessorised with a pair of deep red brogues from Dune and a burgundy knitted tie from Marks & Spencer.
"Greg wanted something that was slightly out of the ordinary without being garish. We found Beggars Run online and were hugely impressed by their style. The friendliness, honesty and attention to detail of the two guys who run it, Keiron and Edward, made not just for a great suit, but for a great time creating it too."
The couple went down the route of helping create their own wedding bands with the help of the wonderful ladies at The Workbench.
"We carved our wedding bands from wax and then they were cast into beautiful wedding bands by the guys at The Workbench. Our wedding bands are one of my favourite things from the run up to the wedding. We attended a workshop with Katie and Kristie who helped us to carve out a simple textured band."
"The wax is used to make a cast which is then used to make the ring in a metal of your choice. The process of carving the wax was a great experience and not too tricky. The end results were two wonderfully unique rings that we wear with pride ever day! They even provided a talking point on a random bus in Russia during our Trans-Mongolian/Trans-Siberian honeymoon adventure."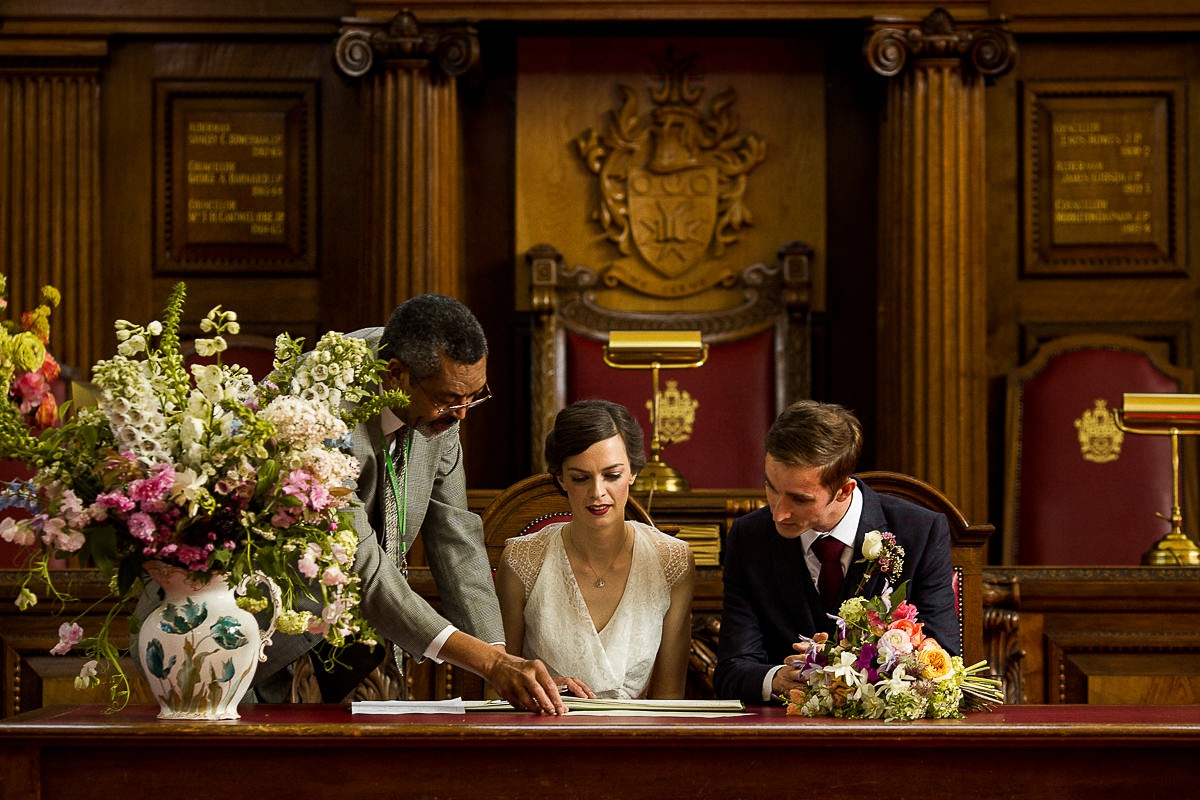 "The bridesmaids dresses were from Dorothy Perkins. We searched high and low for the perfect simple blue dresses and in the end it was a high street store that delivered. The bridesmaids wore their own jewellery and my lovely niece wore a dress from the Debenhams flower girl collection."
On hand to capture the beautiful day on camera was photographer, Matt Parry.
"As soon as we saw Matt's photographs we knew that we wanted him to be our wedding photographer. We really wanted someone who had experience of informal weddings in London and when we saw some of Matt's work in and around Islington, we knew he would be able to capture the day perfectly."
"We particularly liked his striking couple portraits and photographs of candid moments. Posing romantically for photo's really isn't our thing and Matt was perfect at capturing some very meaningful moments without making us feel uncomfortable or ridiculous. Considering how many times he has shot weddings at Islington Town Hall, we were really pleased with the way ours photo's were so unique. They perfectly capture the character and charm of the day!"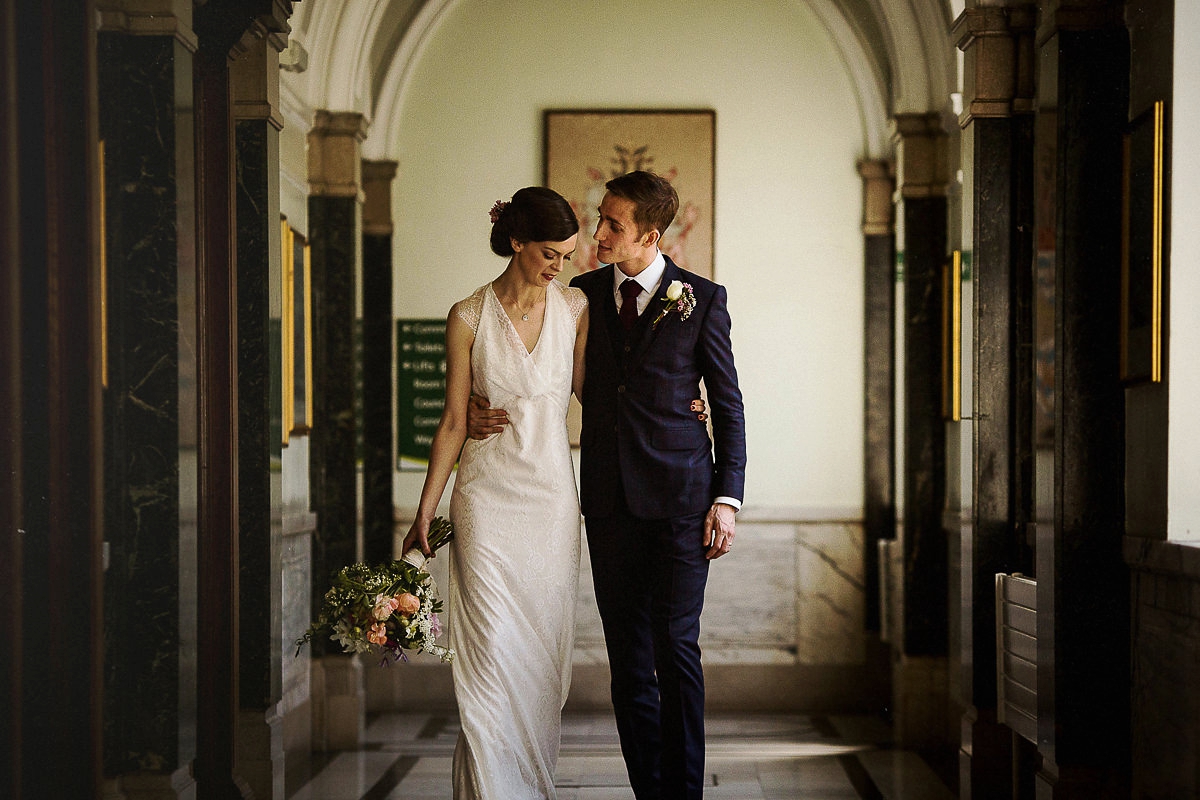 Once the ceremony was over, guests were transported over to the reception venue in two Routemaster buses.
"We gave our guests a small bottle of fruity gin as the favours. We infused the gin ourselves with blackberries, black currants and raspberries, and ordered some small bottles from eBay. I must confess that I am one of those terrible wedding guests that forgets to take the wedding favour home. Thankfully most of our guests seemed to enjoy their gin during dinner so we were just left with 100 tiny empty bottles."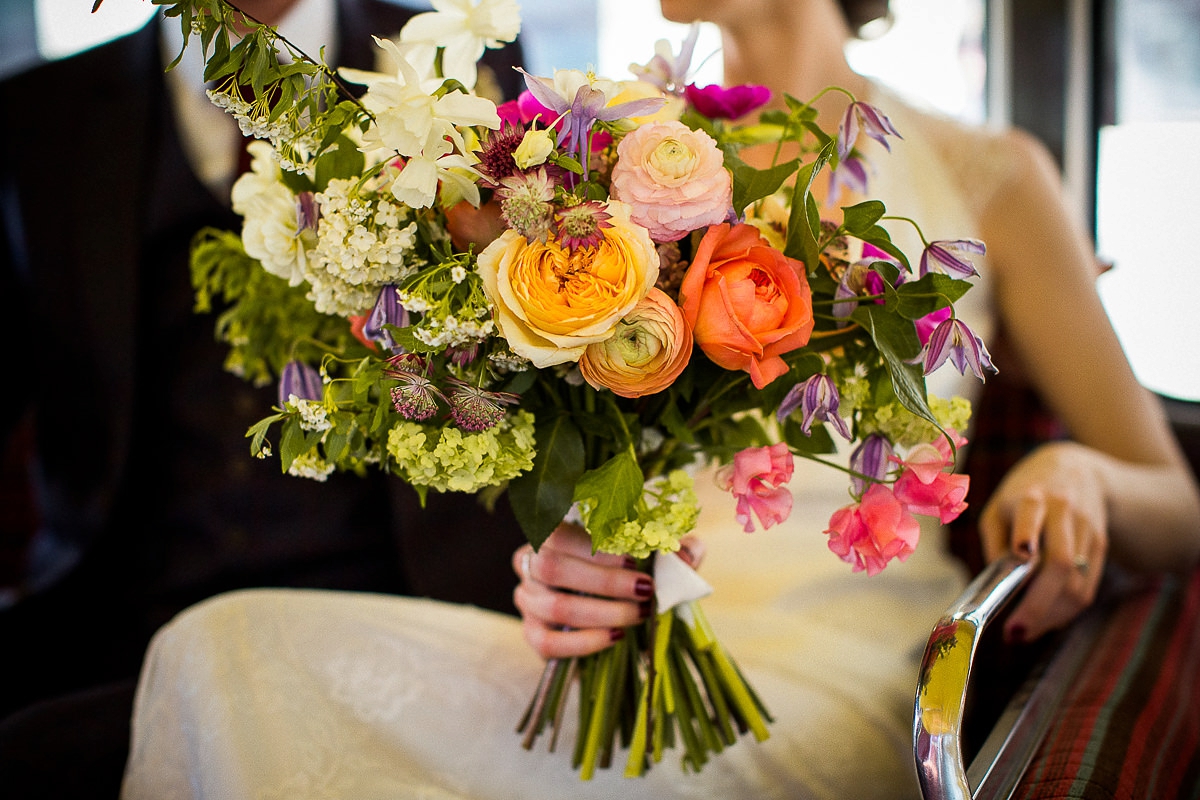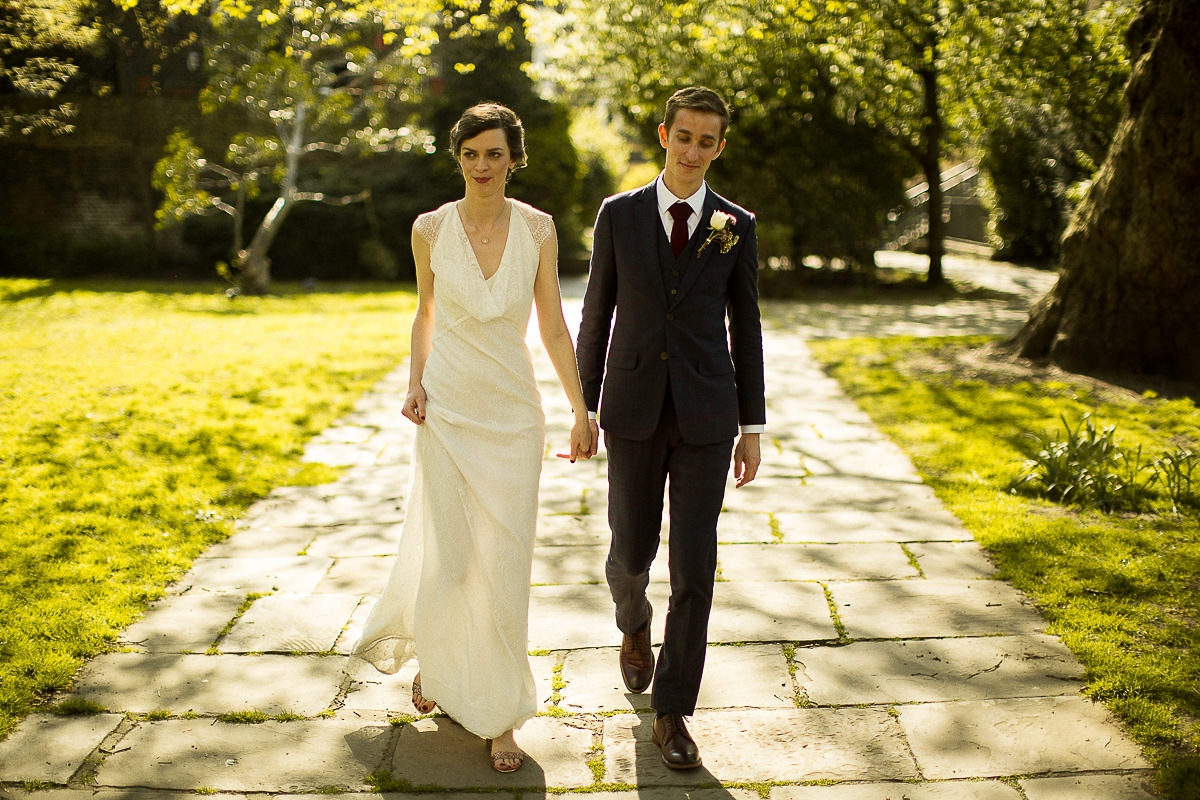 "The best men wore their own suits and we provided a burgundy knitted tie to bring it all together."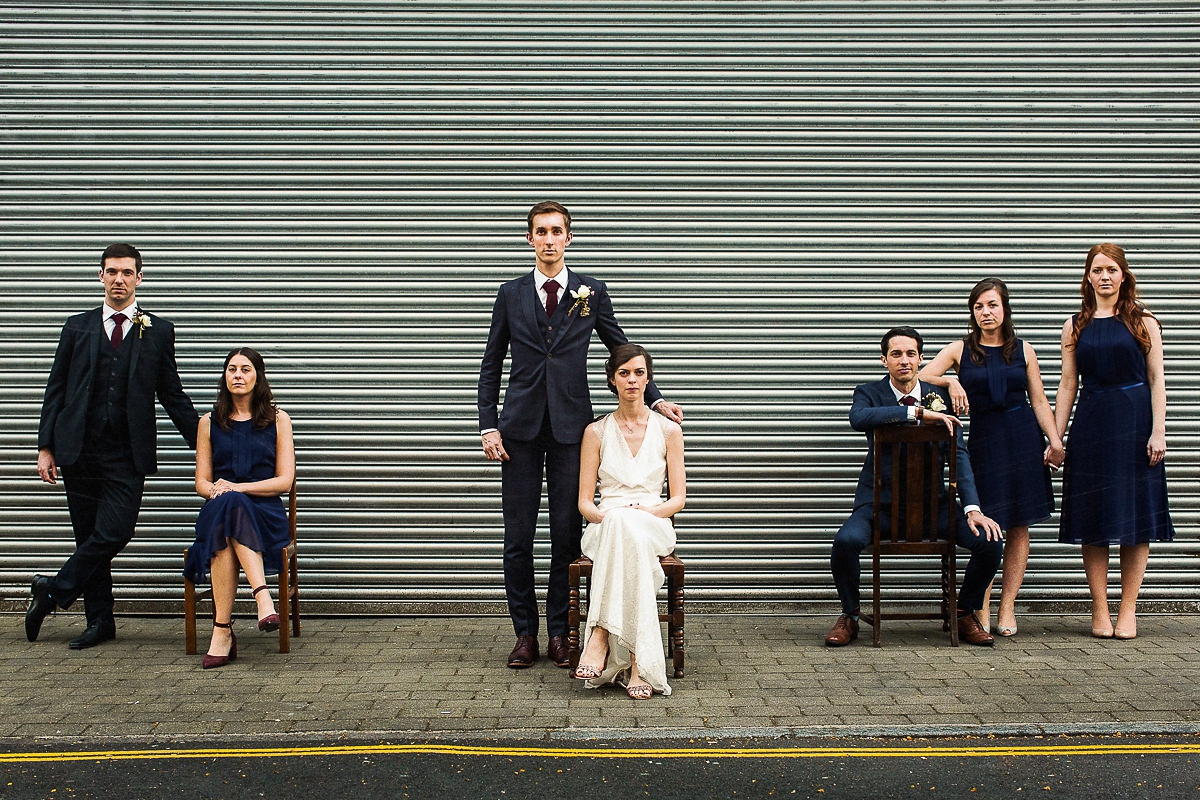 "We stumbled across The Peasant whilst searching for an informal reception venue and it was the perfect choice. We wanted the day to be as relaxed as possible and celebrating our wedding in a pub with fantastic food and wonderful staff met that brief."
"Our biggest project in the run up to the wedding, was making around 150m of bunting. The task certainly improved our cutting and sewing skills. The Peasant is a wonderful old gin-palace with beautiful mosaics, music posters and lots of other interesting artwork on the walls, so we really didn't need to add anything to the space."
"Whilst looking at some photograph's of previous weddings there, lots of people had added some bunting to the upstairs and downstairs space and I liked the sense of celebration that this added so we set about making our own. Matt's photo's of the room in the gorgeous late evening light really capture the upstairs dining room and bunting perfectly."
"My mum designed our wedding invites with a William Morris inspired take on the classic London skyline view. We printed our invites and a short order of the day card using Vista Print and incorporated my mum's design. For place cards we printed some small square photo's that we had taken in various places we have ventured to over the years."
"Our table names were inspired by our love of travelling and our many embarrassing failed attempts at trying to speak the local language. We used a variety of words from a wonderful book of untranslatable words called 'Lost In Translation' by Ella Frances Saunders. We picked words that related to relationships and spending quality time together. For example, one of the tables was called 'Gezzelig', which roughly translates as a sense of coziness and togetherness that comes from spending time with loved ones."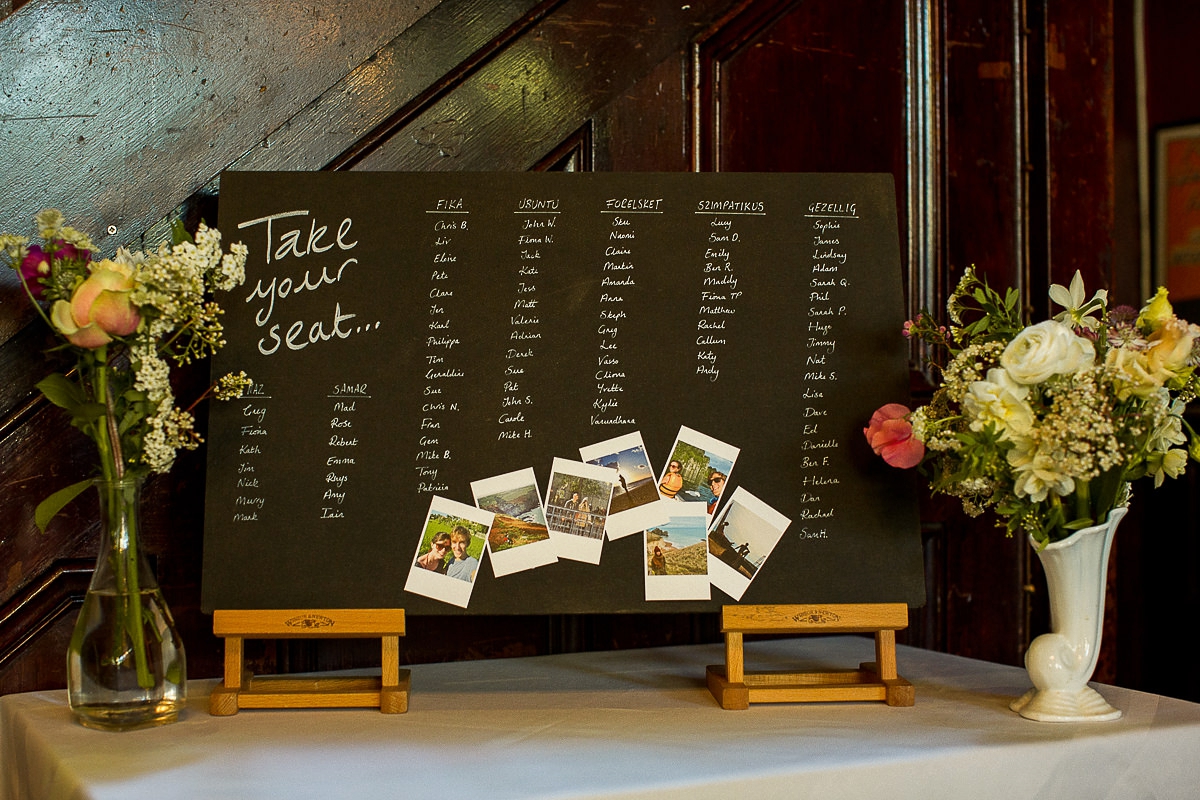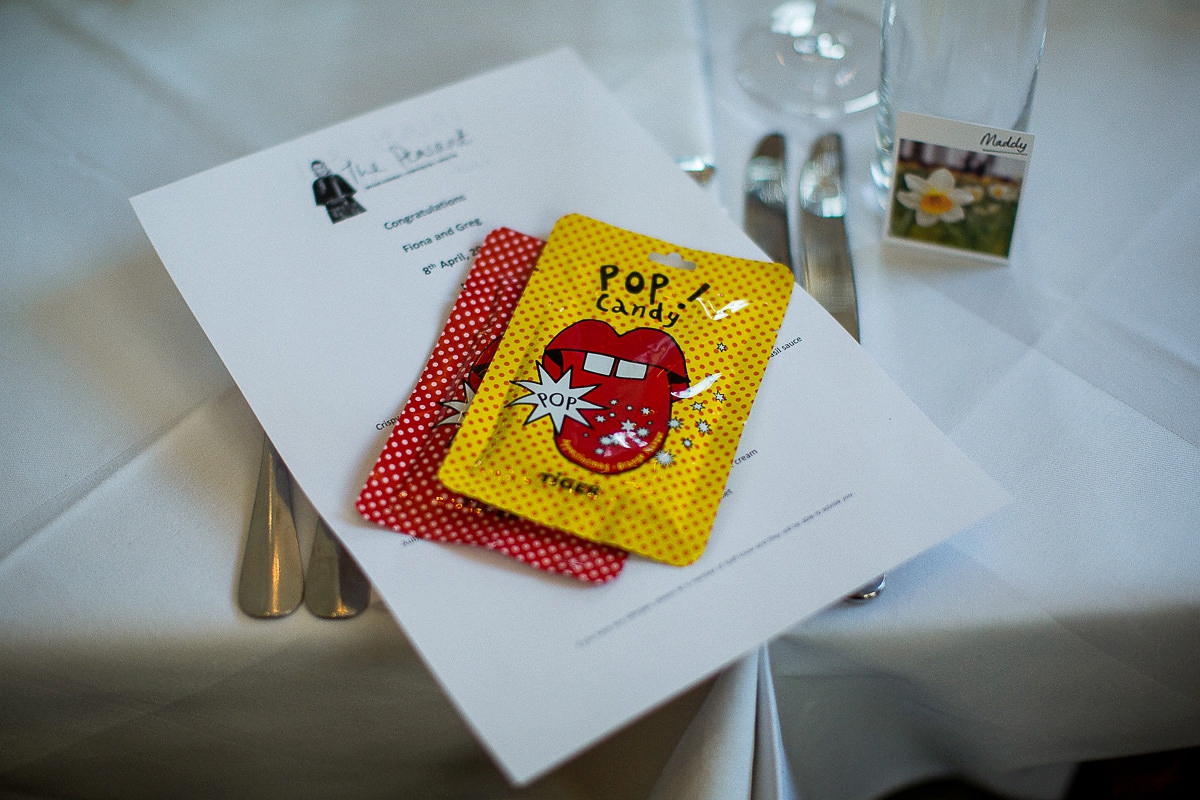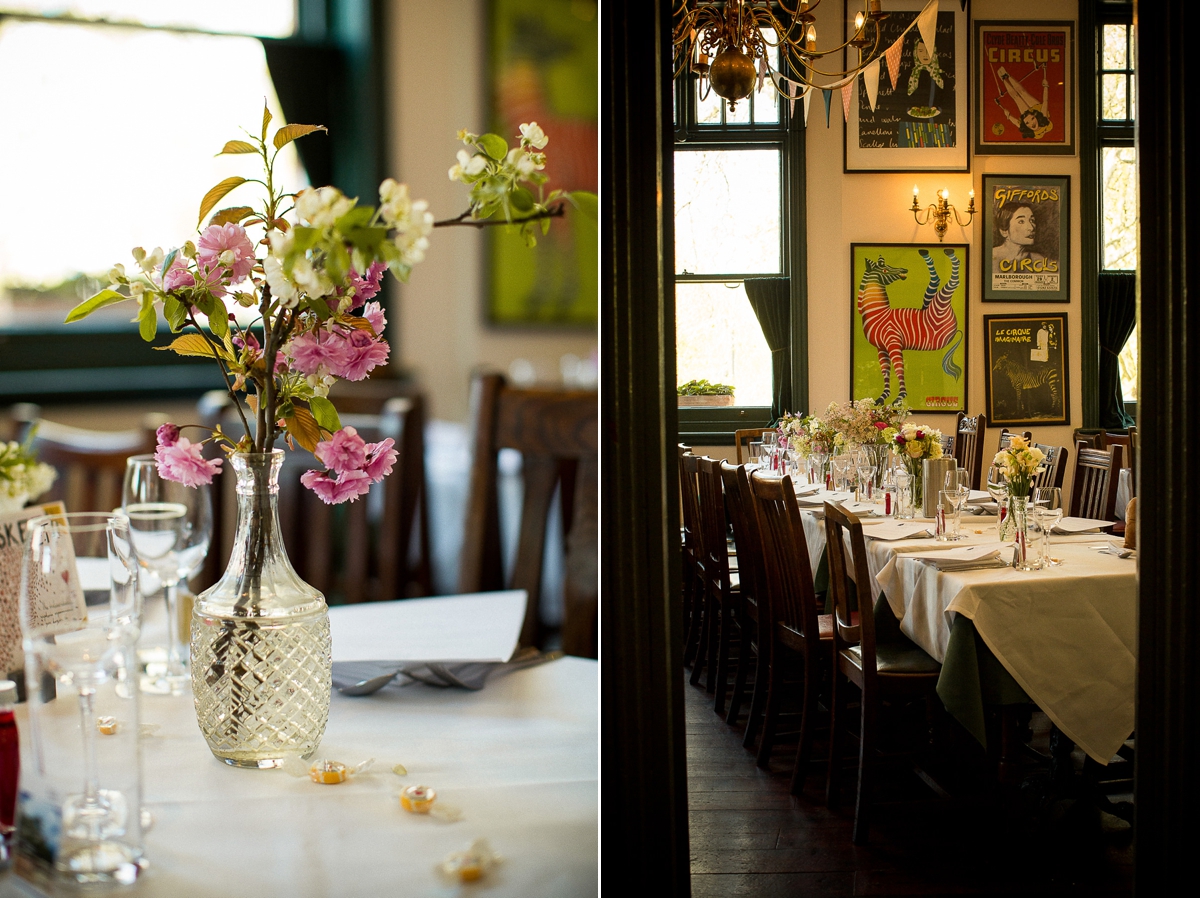 "The wonderful Froth and Rind also provided a delicious tower of cheeses which our guests devoured. Fraser at Froth and Rind was great at sourcing some cheeses from Hertfordshire and Yorkshire as a nod to our heritage. The Peasant catered the wedding with their amazing food (the scotch eggs were a real winner!)."
"My mum made the fruit cake for our wedding (she has an exceptional family recipe) and a lovely lady called Jane at Lacey Cakes decorated the cake beautifully for us. Jane also went to the trouble of packaging the cake very carefully as my mum and dad had to transport it from Yorkshire to London for the wedding (probably not something they would ever offer to do again!)."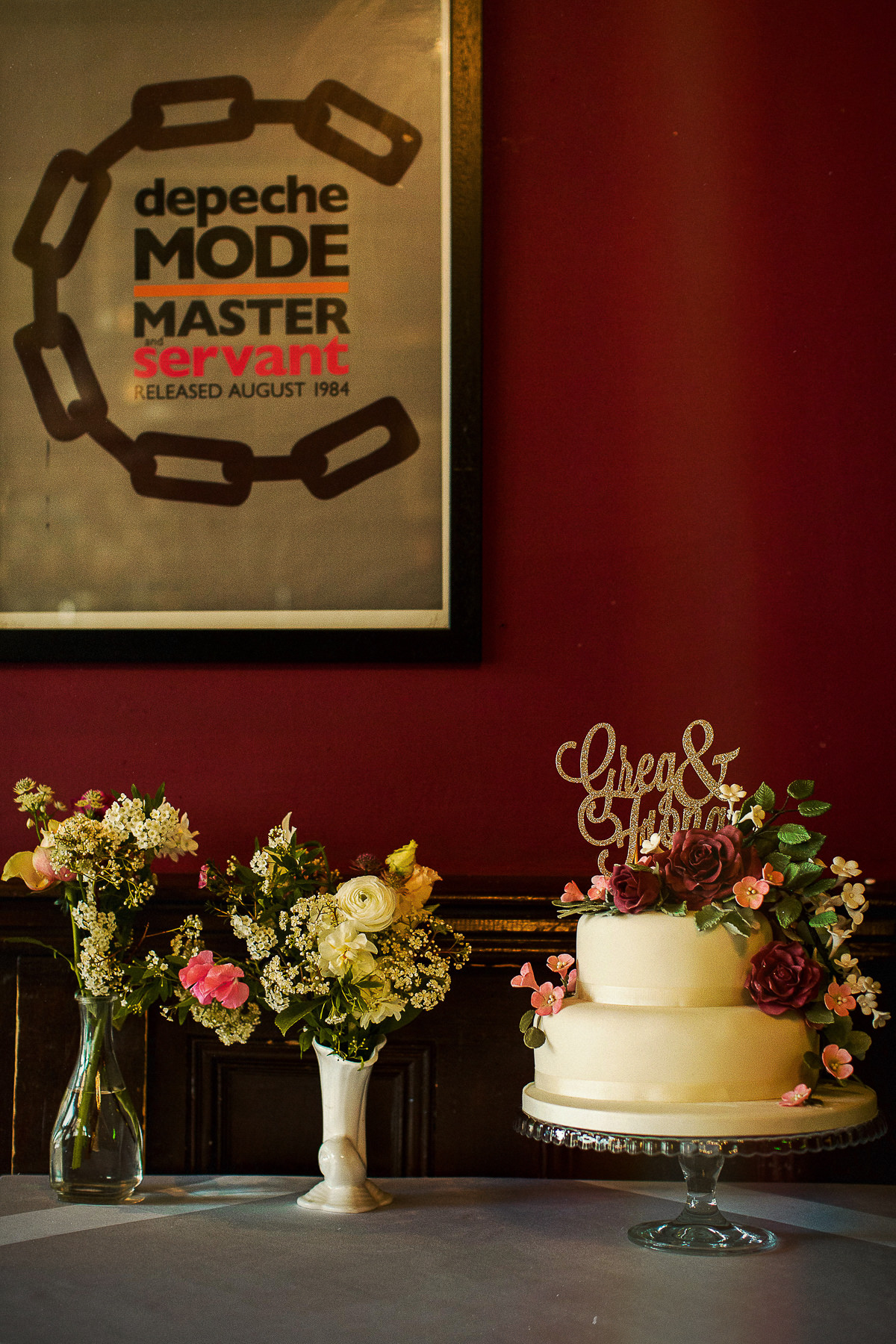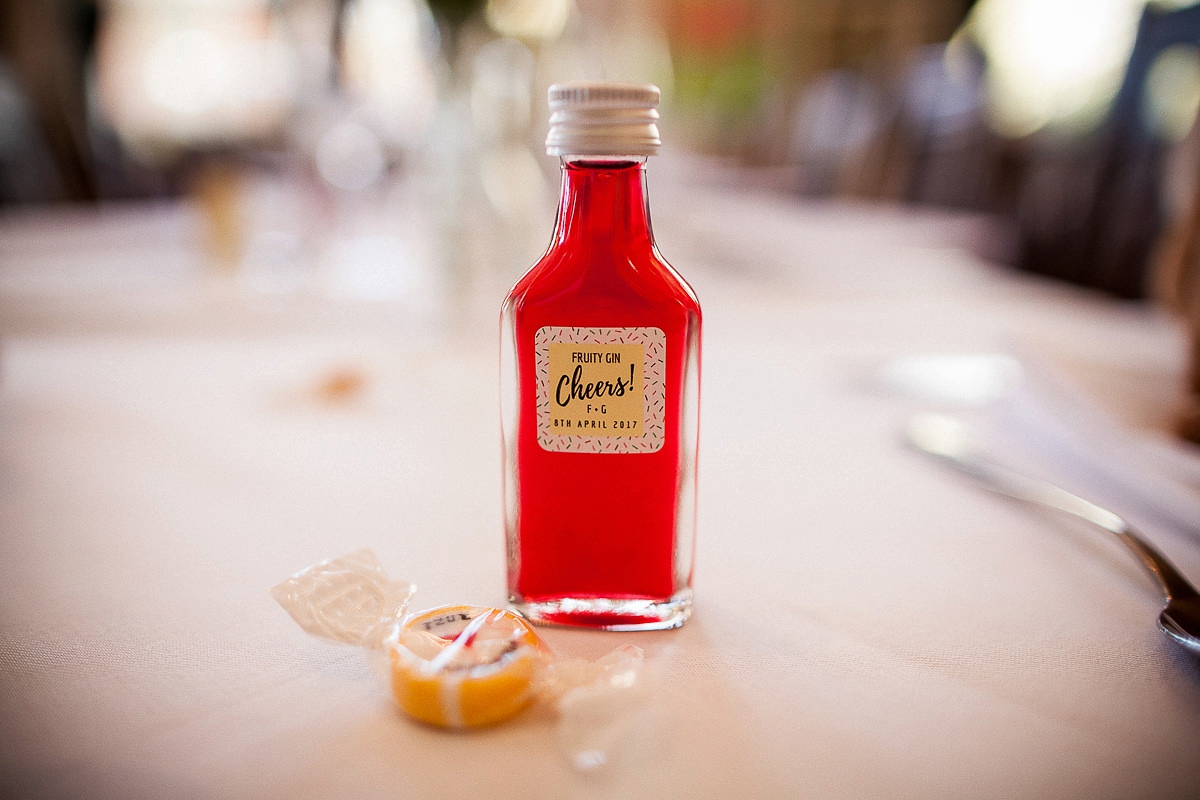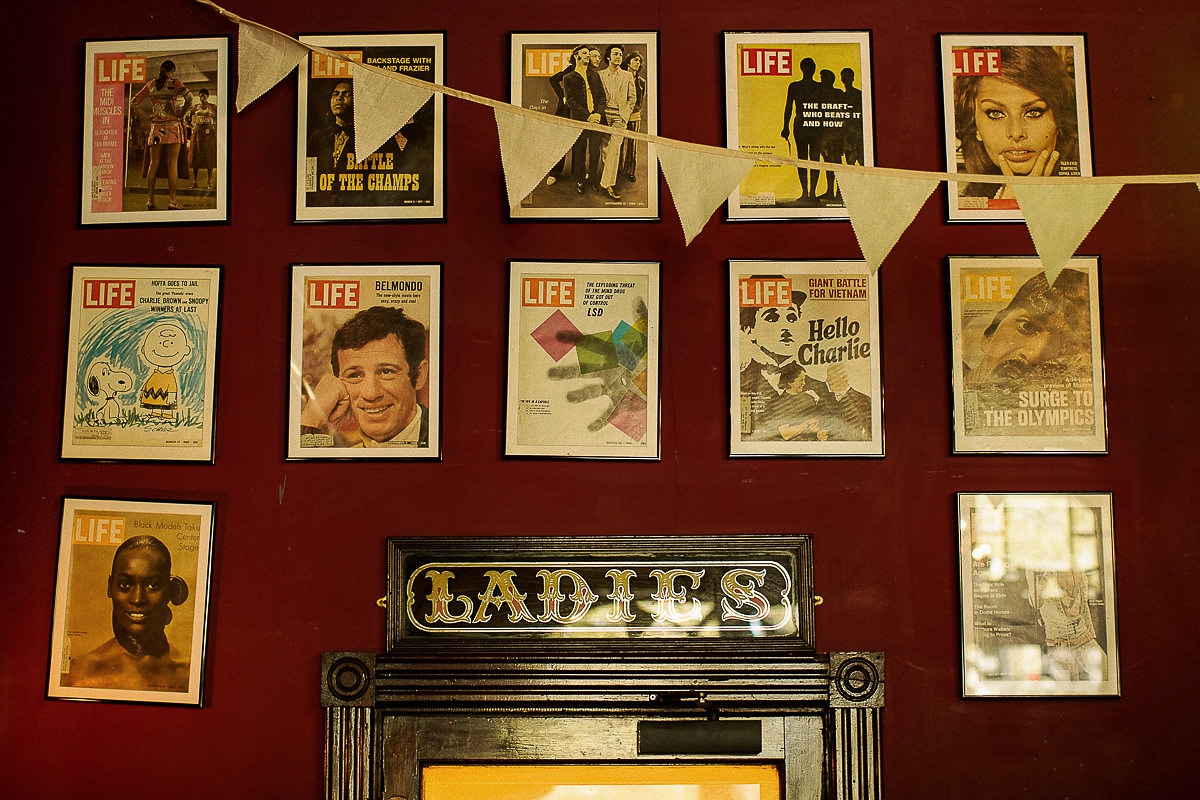 "It's so difficult to choose one favourite moment from the day. There are so many emotions and so many opportunities to take a minute and realise, yes – this is amazing and is actually happening to us! My top three moments would be stepping out with my mum, dad and bridesmaids into the beautiful April sunshine at midday, just before the wedding, and seeing everyone in the Council Chamber."
"Secondly I loved wandering the back streets of Clerkenwell with Matt for a very enjoyable photo shoot."
"And lastly, standing around in the glorious sunshine with friends and family on the pavement outside of the pub with a glass of fizz in hand chatting about a whole host of things!"
"There isn't anything I would have changed. One thing we were so glad we did was make sure we took little bits of time to be alone as just the two of us and acknowledge what a fantastic time we were having."
The couple chose 'This Will Be Our Year' by The Zombies as their first dance track; a nice, upbeat track, appropriate for a first dance without being cheesy or clichéd.
"Another big selling point of the track, given that neither of us are big fans of the limelight, was that it was quite a short track so we didn't have to dance in front of all our guests for too long! Following that we hired DJ Cat Fight (aka Lee), a recommendation by The Peasant, who put together a great mix of music that kept the dance floor full throughout the night."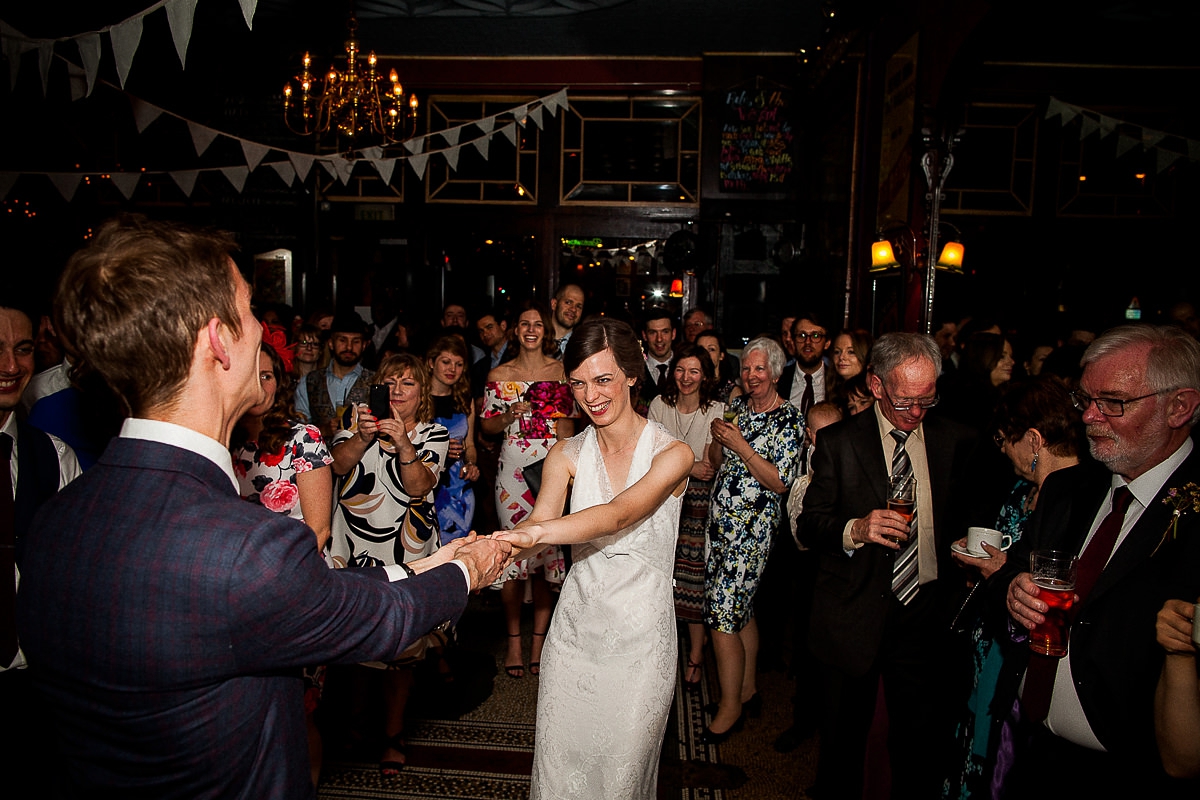 Words of Wedded Wisdom
"I never thought of myself as the type of person that would get married. Then, the more Greg and I attended other weddings to celebrate the marriages of friends and family, the more we realised it probably would be great to celebrate with our loved ones too. We were lucky to find our perfect venues with ease and we aren't the type of people to get stressed about napkin colours."
"We kept some traditional elements but got rid of elements that didn't seem quite right for us. We didn't take on too much ourselves – originally we thought about dry-hiring a venue and bringing in lots of separate suppliers but we're really glad we didn't now. Having a team of people around us who knew how everything slotted together and had done it many times before made it a wonderfully stress-free experience."
Wow, what a glorious day! With special thanks to Matt Parry for sharing these wonderful images, and of course to our newly weds Fiona and Greg for giving us a glimpse into their special day. Wishing you both much love and happiness for many years to come.
Until next time…
Much love,
Holly x