The speculation is rife ahead of this year's hotly anticipated Royal nuptials and so we've turned to some of our most experienced bridal fashion partners to find out what they think Prince Harry's soon to be wife, Meghan Markle, will wear on her wedding day, before the mainstream media hits fever pitch levels trying to suss it out for themselves.
The couple will tie the knot on Saturday 19th May and have made it known they wish for a wedding that will be fun, joyous and allow them to celebrate with the public (they have, in fact, invited 2,640 members of the public to attend their wedding!).
The ceremony will take place at St George's Chapel in Windsor Castle, where Prince Harry was also christened. Any bride planning her wedding will take into consideration the surroundings, venue and overall tone of her wedding day but there is a certain royal protocol to be adhered to on this occasion too – nothing can be too revealing or low cut, for example. So let's take a look what six respected wedding dress designers and experts think that the beautiful Ms. Markle will be wearing in May, starting with our dear friend Emma Marshall, Managing Director of Miss Bush bridal boutique in Surrey.
Emma Marshall, Miss Bush Bridal Boutique
I am not in truth much of a royalist. In fact, Royal weddings fill me with trepidation. The amount of references to Pippa's bottom and inaccurate statements like 'Kate Middleton popularised lace…' that I have heard in recent years are equalled only by 'this must be a lovely job', and, 'will it crease?'.  The latter I have heard at least twice, weekly, since 1981.
Kate looked perfectly lovely in lace, channelling the zeitgeist, which, at that time, was a strapless plain dress with a lace bolero jacket in classic corded lace. Similarly Pippa's bum, and the debate about the use of Spanx thereon, should have been  less about shapewear (although I expect it boosted sales), and more about how a well cut dress should fit.
However – I am facing something of a turnaround in my interest in the Royal family.  Against the absolutely catastrophic state of national and global politics, they look like a ruling family that one might actually vote for. Take away the uncomfortable discussions about wealth and the class system and focus on non-draft-dodging handsome men that are prepared to speak out about mental health  (ahhh, that podcast with Briony Gordon) that have openly said that they need to earn the privilege they were born into – and the Princes look like reconstructed men.
Kate looked like my kind of bride. Good school, good university, middle class, dresses in Jenny Packham and upper end High Street. Lovely – but, familiar. Meghan, though, brings to the fashion arena and possibly to the wedding dress choice, a possibility for a braver and quite US influenced style choice.
A quick check through Vogue's Meghan Markle Style File confirms that this is a woman comfortable in 'Sports Luxe' and 'First Lady' style – the kind loved by my fashion forward, highly educated, liberal-minded clients. Though the internet would have you believe that the bridal world has gone boho, for those of us for whom pattern bravery runs no further than a Breton stripe and a Chanel espadrille as a casual footwear option – Meghan appears to be one of our own.
Meghan's usual style is crisp, clean, and athletic; modest and devoid of sparkle or pattern. Pretty much the entirety of the Miss Bush collection follows this brief.
Suzanne Neville
From Suzanne Neville, I would dress her in Geddes – perfect for a beautiful woman who has never skipped a yoga class. This echoes the stunning simplicity of Caroline Besset Kennedy epoch defining slip wedding dress but with extra coverage because of protocol of coverage due to attending royals.

Geddes by Suzanne Neville
Sassi Holford
From Sassi Holford I would elect to dress her in a coat dress like Florence. This wrap dress/coat classic echoes the classic American DVF wrap dress. Unfussy, unrestrictive yet super smart and eminently well suited to a great piece of millinery.

Florence by Sassi Holford
Jesus Peiro
If I had to be biased, and I had to design a dress for Meghan – if she turned up at my boutique and said "dress me… " (because one day, this will happen and my genius as a stylist will be fully realised…), I would put in a very special gown designed exclusively by Merche Segurra, the designer at Jesus Peiro for Miss Bush's 30th birthday (I know this monumental anniversary has been kept on the down low and for various reasons but fear not I will be celebrating with Annabel my musings on 30 years in bridal fashion very soon).
This has everything that a modern royal bride on the world stage could need; it is pure silk, ethically sourced with perfect provenance. It channels the greatest traditions of the best royal wedding dresses ever which are covered, sleeved and modest but have enough metres of fabric to be seen at a distance and create impact from afar. It has pockets because these are a genius idea and where else are you going to put your tissues, Rescue Remedy and phone?
It has pearls because they are the new sparkle and it gives 'good back'. There isn't a frill or a shred of lace or one unnecessary detail.
A specially commissioned gown by Jesus Peiro for Miss Bush
The most important wedding dress design feature, which everyone overlooks when on their Pin-quest, is not on the dress, it is the face of the bride. This is where the love story is. In Meghan's case, she and Harry are rewriting a British royal history that has pushed all sorts of women through the centuries into strategic and often tragic marriages.  In Meghan's case I hope her bridal legacy will not be a creased dress or lace sleeves.  I am hoping the dress walks the line between 'uptight formal' and 'I woke up like this.'
As Coco Chanel reportedly said if a woman dresses impeccably you notice the woman, not the dress and this has never been truer for a bride as beautiful and as epoch defining as Meghan.
Kate Halfpenny of Halfpenny London
Meghan is an expert at managing to look great with just the right amount of sex appeal whilst also dressing appropriately, so I'm sure she'll nail this again with her bridal look. I'd love to see her wear something ultra modern with a classic twist like our Charlotte dress or perhaps the high-low Breeze dress and Ridley top from the new collection paired with some epic heels.
She has an effortless, chic style and I imagine her in a dress cut from exquisite fabrics with minimal fuss.
I hope she chooses a British designer although it wouldn't surprise me if she didn't. I think she'll wear something demure and simply cut with clean lines, perhaps something off the shoulder to show off her gorgeous décolletage like our Daffodil dress.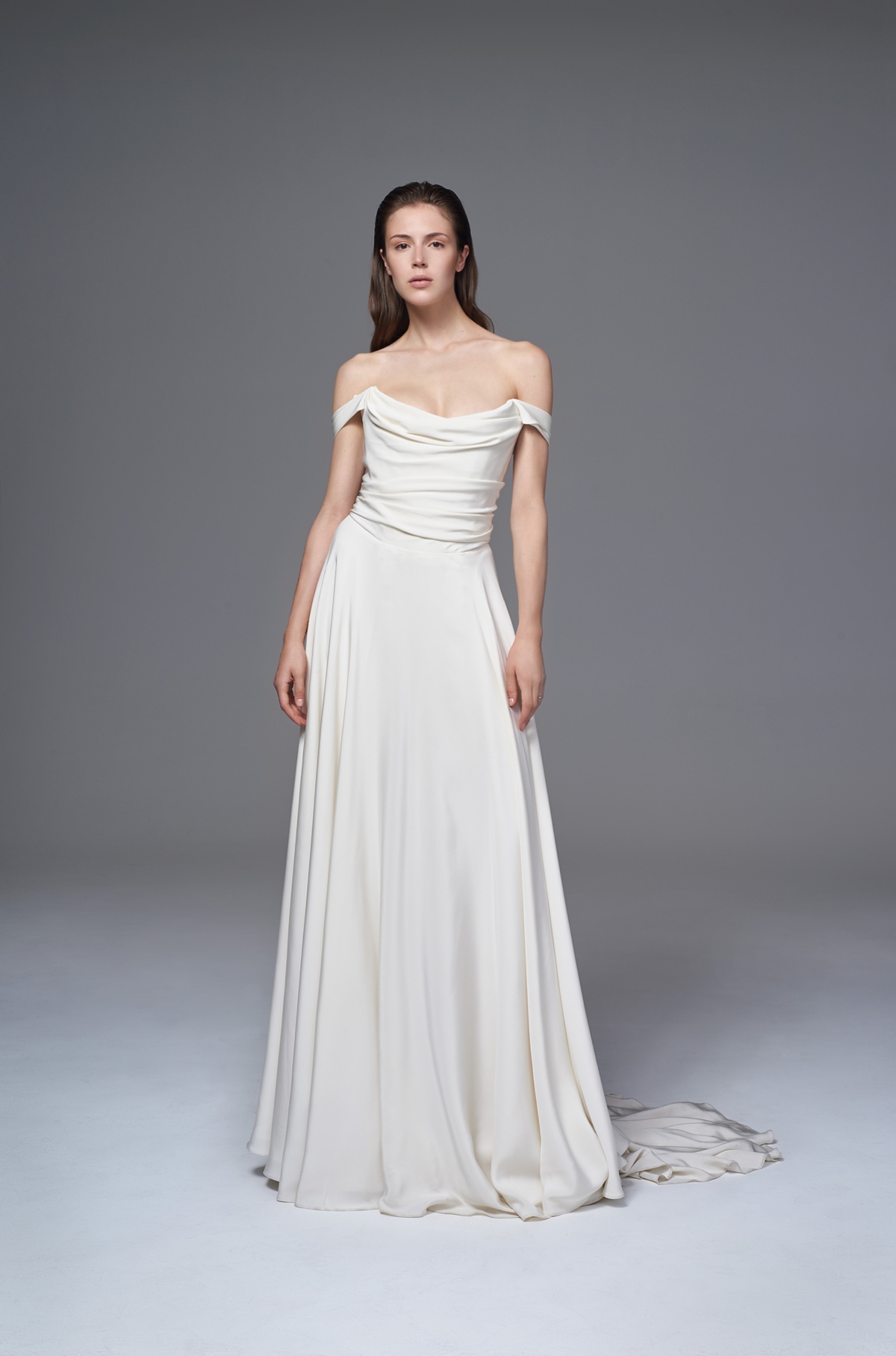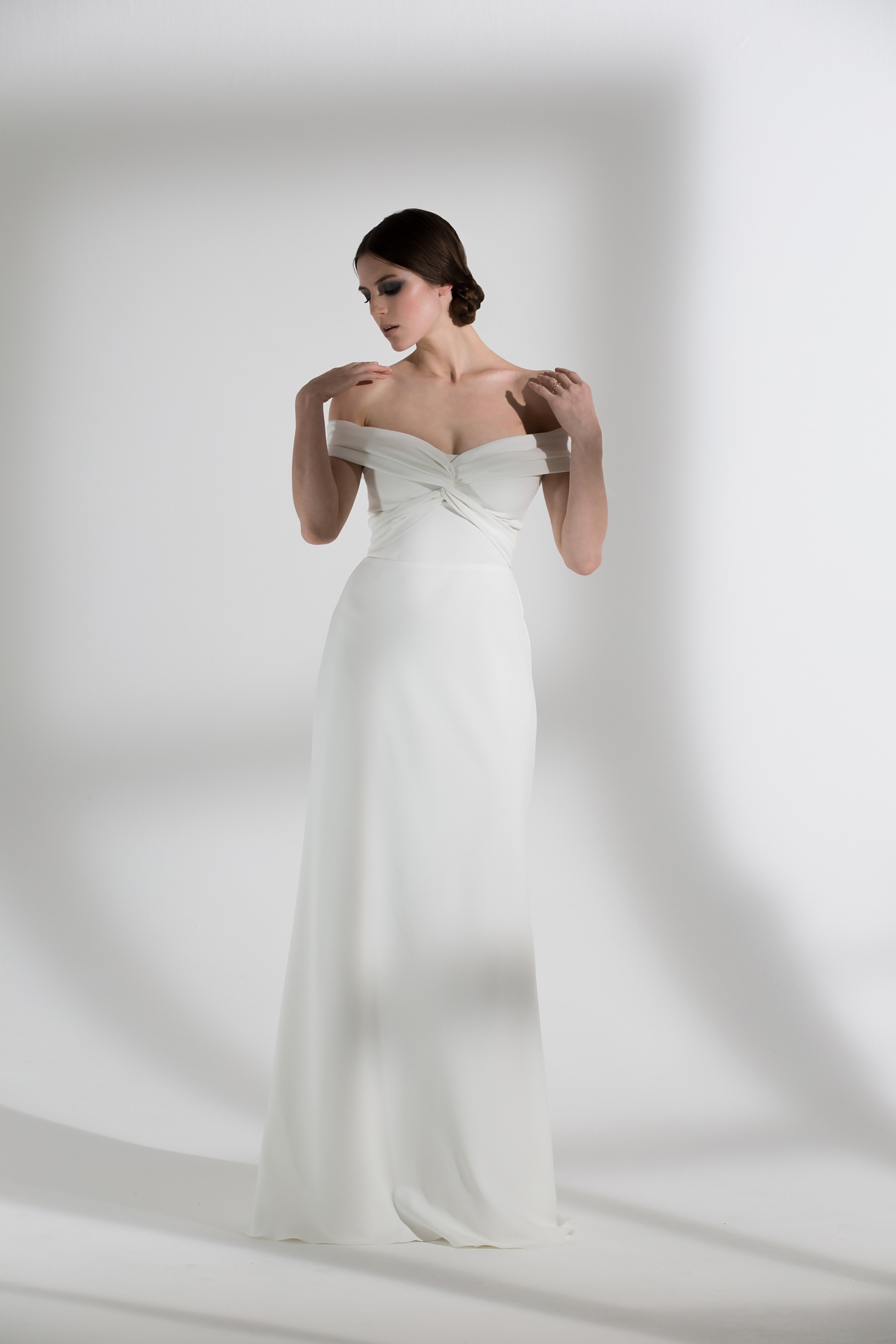 Top to bottom: Charlotte, Breeze & Daffocil, by Halfpenny London
I don't think she'll choose a lace dress but whatever she chooses, she'll look incredible. I'm sure she'll be embracing the fairytale, dream come true moment and going all out, so her gown will be timeless with perhaps a dramatic veil and maybe a second, more flirty, fashion forward dress for the evening.
Honestly, I've genuinely no idea who the designer might actually be, but I can't wait for the big reveal!
Sarah Beevers of White Room Bridal boutique
Suzanne Neville
I would love to see Meghan wear something classic but with a twist – Posey by Suzanne Neville would be perfect.
Suzanne Neville or Phillipa Lepley
What I think she'll wear however will be a classic style gown with no lace or fuss. It's her second wedding, so I think the gown will feature clean lines and have a sense of timelessness about it. Something like Swanson by Suzanne Neville or the attached sweetheart gown with cape by Phillipa Lepley.
Marchesa
If I had to guess who Meghan's actual dress designer might be, I'd say Marchesa – British born designers, based out of the US. A perfect mix of the two nations, just like Meghan.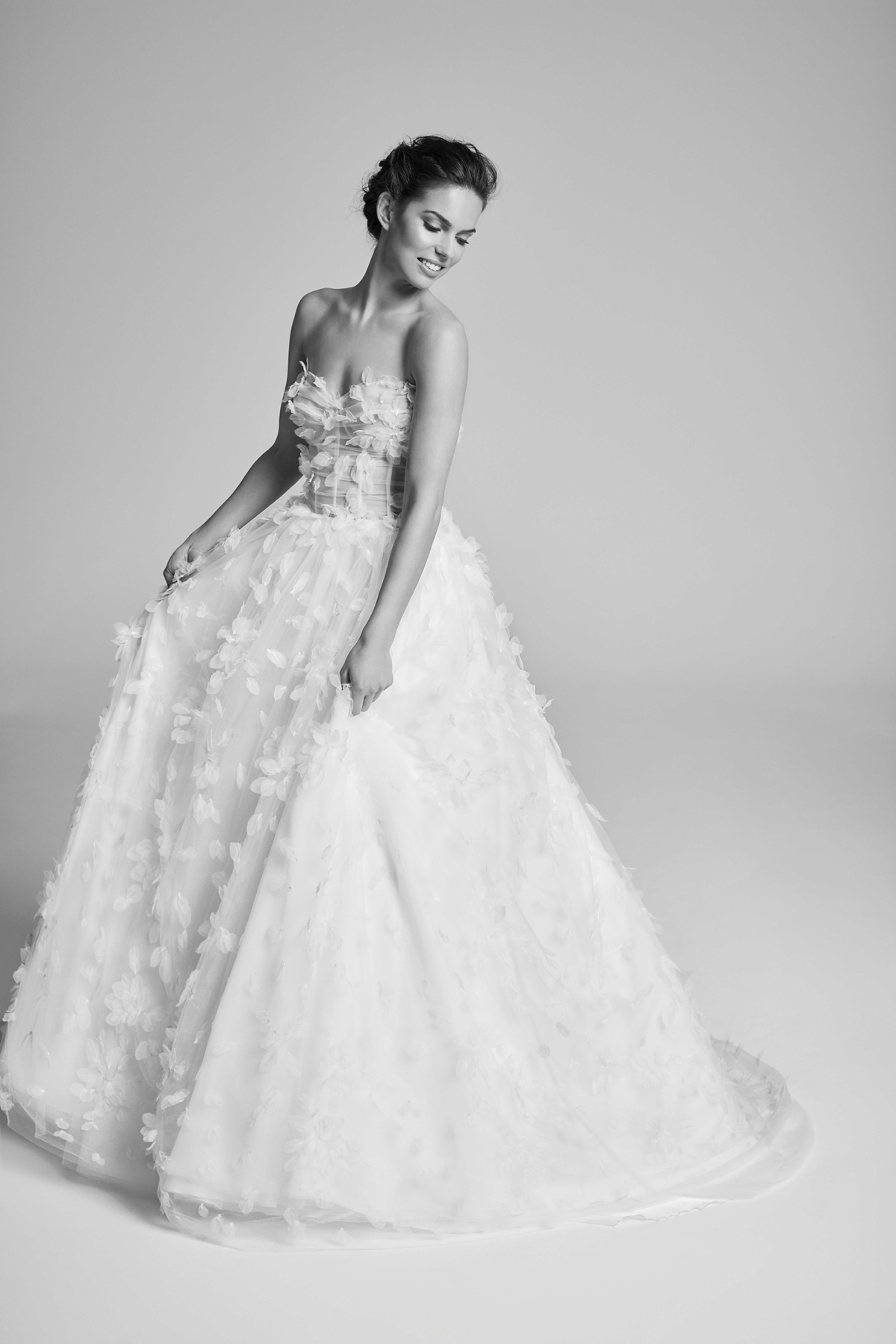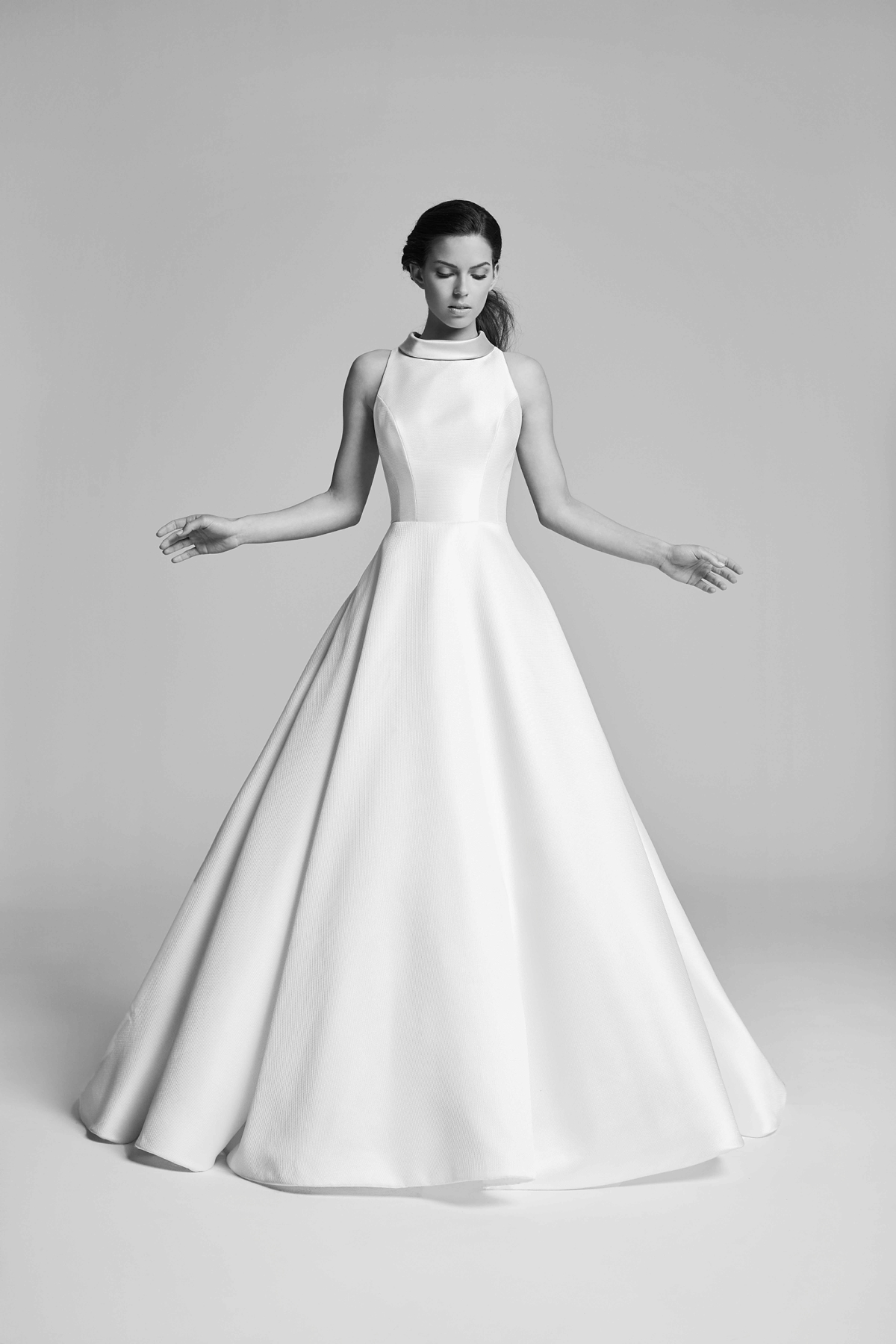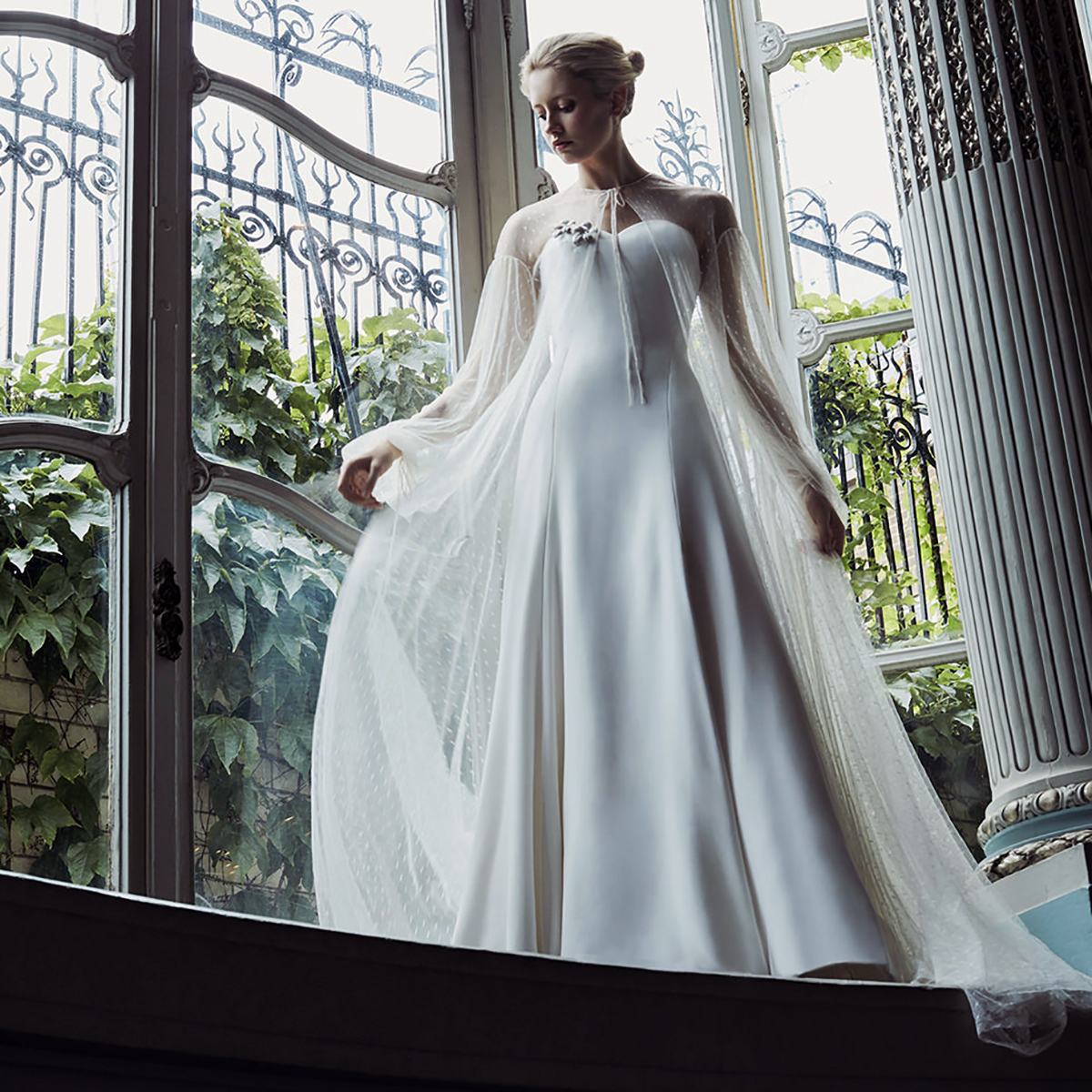 Top, Suzanne Neville Posey & Swanson. Bottom, Phillipa Lepley
Catriona Garforth
We would love to see Meghan in a slinky number that show off her curves in a sophisticated feminine way (see illustration below). For Meghan's look we have used our signature bias cut soft satin skirt that hugs over the curves of the body and falls softly to the ground.  The long train is decorated with pearl buttons all the way up the back of the skirt to the waist.
A sparkle belt separates the skirt from the heavy intricate floral lace that trickles up the bust and down the open back. A feminine, confident, sophisticated look for a Princess in waiting.
However this may be too much for a Royal wedding…. I'm sure it will be high fashion and a statement look rather than traditional.  Some structured tailoring (which is very on trend for 2018) combined with soft lace whilst still showing off her beautiful figure (examples attached)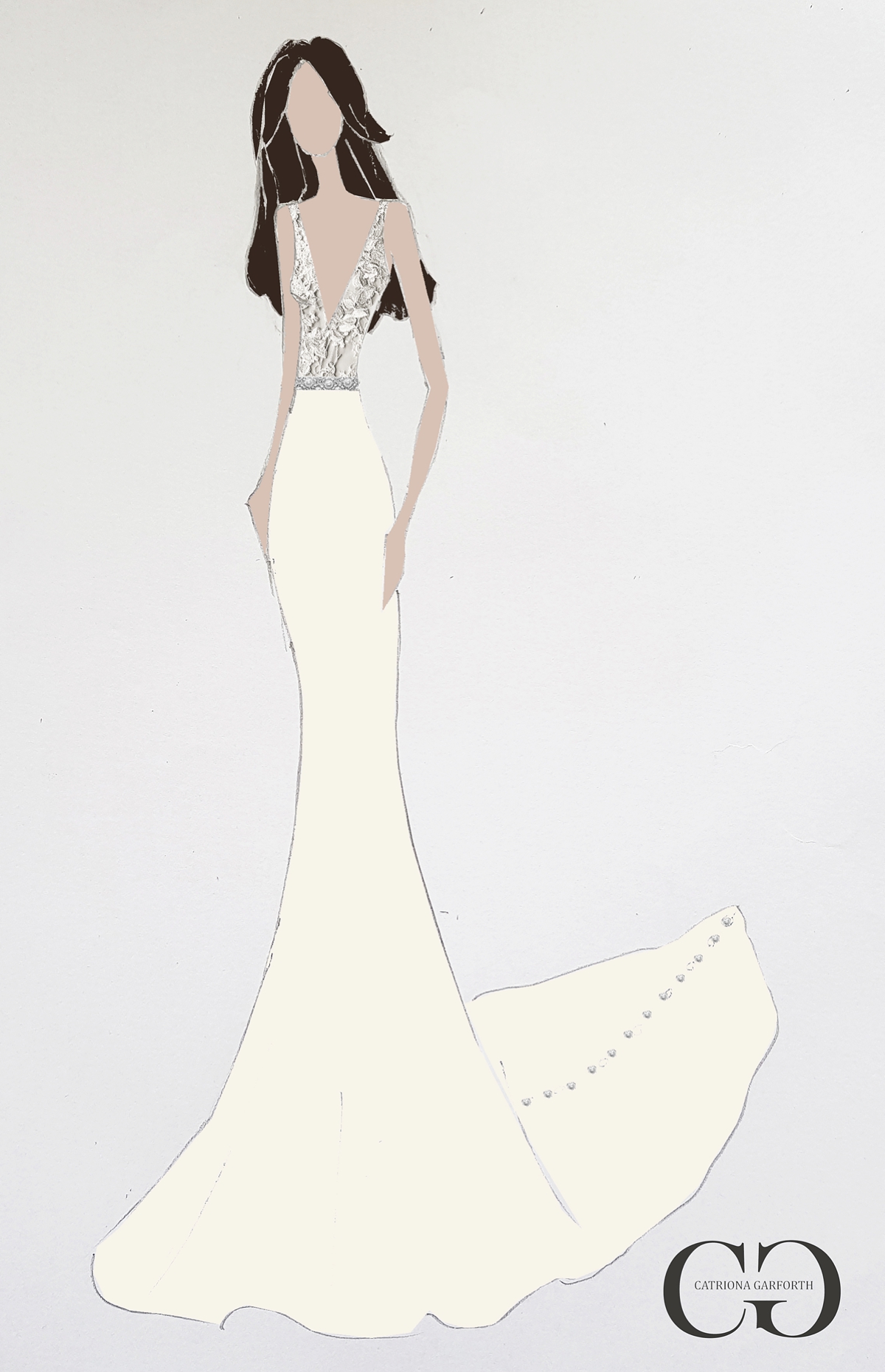 Illustration by Catriona Garforth
Elie Saab or Inbal Dror
I would love to see her in one of my top faves being Elie Saab or Inbal Dror.  I think she will probably get a fashion designer that is not 'bridal specific' to create a one off bridal look for her.  Hints have looked towards the likes of Erdem and J Mendel who I think would both provide a creative yet subtly classic look for her.  Whatever she goes for… I'm sure it will set the trend for the year ahead!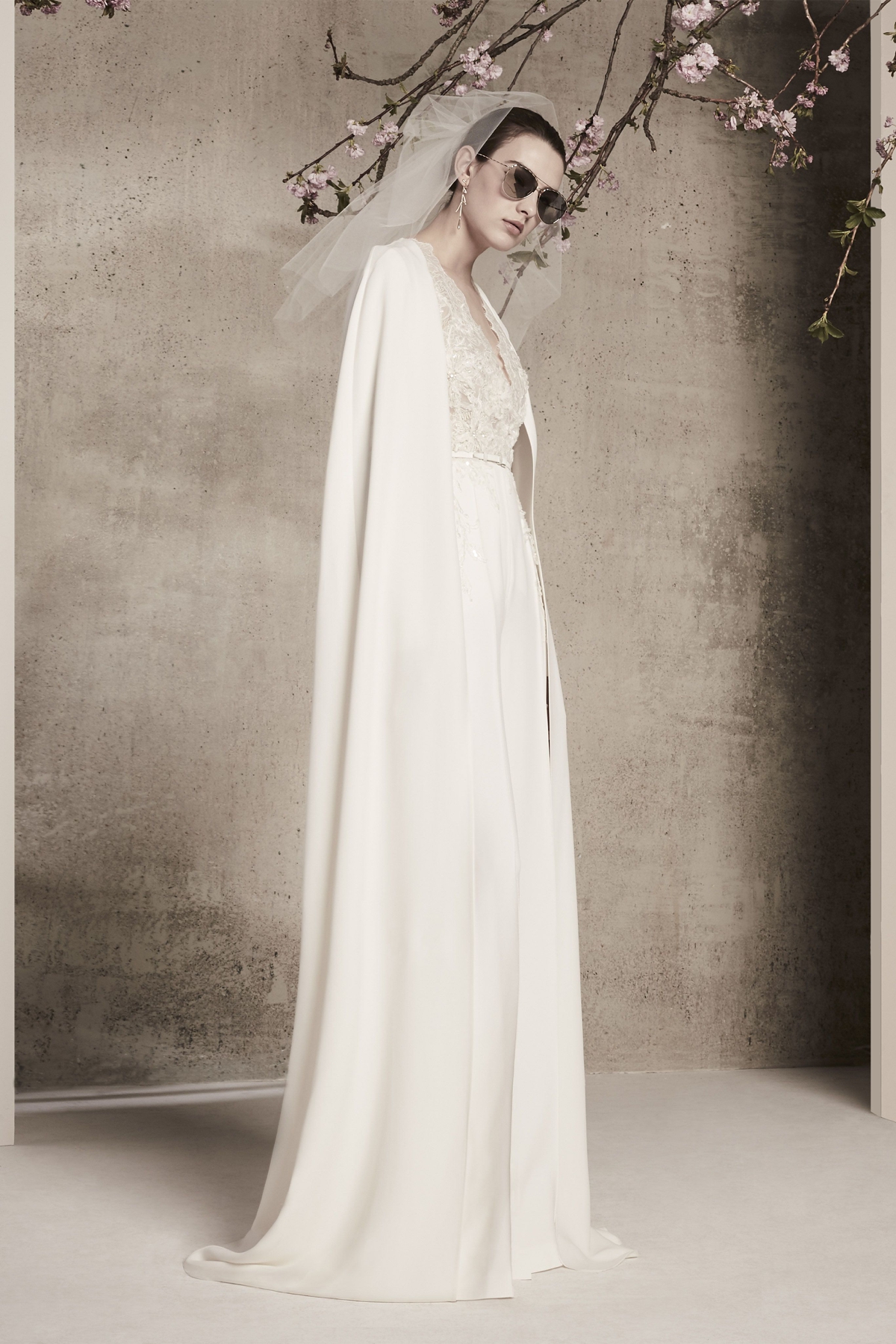 Top, Elie Saab and bottom Inbal Dror
Chloe Jeffs of Black Swan Bridal boutique
Meghan Markle once wrote about focusing "less on glass slippers and more on pushing through glass ceilings," for me that makes her and inspiration and way cooler than Kate.  What Meghan will wear on the big day is without doubt the most closely guarded secret.  Her choice promises to be iconic and whoever the lucky designer is, they will secure their place in the royal history books.
The Internet is awash with people claiming to be 'in the know'.  Will she plunge for a Canadian choice?  Or maybe she'll pay homage to her roots with an American brand.  And everyone has their opinion when it comes to what brides should and shouldn't wear to their second wedding.  At the Black Swan Bridal Studio, we believe that as long as the dress is the gown of THEIR dreams and not someone else, that's all that matters.
If Ms Markle stepped inside our studio and asked what we would style her in, we'd go for something unexpected and modern.  She has the perfect opportunity to bring a totally fresh look to the styles usually favored by our more traditional royal family.
Gemy Maalouf
I would love to see Meghan consider a Gemy Maalouf gown.  Dressing artists like Shakira, Nicole Scherzinger, and Gwen Stefani, Gemy Maalouf is no stranger to styling celebrities.  Her exquisite gowns stand out through their remarkable finesse and intricate details.  Tailored for the unconventional bride, the Gemy Maalouf bridal collection captures a distinct style that's modern and perfectly elegant.
Our choice from our 2018 Gemy Maalouf collection would be the dress we call the 'WOW' dress.  This long, ivory full guipure dress has a dropped V neck line that sits slightly off the shoulders. It's figure hugging in all the right places and the 'WOW' factor is completed with a full voluminous detachable Mikado overskirt, perfect for the chapel at Windsor Castle!
The Gemy Maalouf 'Wow' gown
Alice Temperley
That said, in the interests of diplomacy, I think she'll opt for a British fashion designer.  And Alice Temperley MBE is the pinnacle of British design, embodying craftsmanship, elegance and luxury.  A Temperley dress would be a quintessentially British, deeply romantic and decadent choice.  Temperley is famous for pieces exquisitely executed from the finest tulles, silks and laces and adorned with intricate embroidery crafted and applied by hand.
We would pick Temperley's 'Marcy' dress for Meghan.  A stunning soft tulle bridal gown, the Marcy is beautifully embroidered with a floral contouring linear design inspired by antique lace, and hand embellished with delicate glass crystals which allow the bride to softly shimmer as she moves. Complimented beautifully with fitted three quarter length sleeves, a graceful bateau neckline follows the curve of the collarbone then drops to a stunning deep v at the back of the dress. The skirt flows from the waist into a diaphanous train.  Perfection!
Marcy by Temperley London Bride
Alice once said "I love designing bridal. There is something magical about designing the dream dress for that very important day in a woman's life".  Something tells us this is not only a very important day for Meghan, but for the British Bridal industry.  The eyes of the world will be watching! I'm in no doubt who ever Meghan chooses; she will get the fashion set's seal of approval.
One thing we do know is Meghan will have a small sprig of myrtle in her wedding bouquet.  Myrtle is a flower, which represents love and marriage and has been worn by every single royal bride since Queen Victoria. For now, that's pretty much all we know!
Sanyukta Shrestha
Meghan's humanitarian dedication towards Gender Equality & women empowerment, we feel that our dresses mirror her ethics and so we would LOVE to see Meghan in one of our gowns. These gowns would be perfect for Meghan as they uphold the dedication to the empowerment and equality of women. Each of our gowns are created by hand from start to finish, employing women weavers from the Tulsi Mehar Mahila Ashram, which is committed to helping deprived women of changeling backgrounds in Nepal. Not only do our gowns keep their traditional weaving techniques alive, it also allows communities to grow and develop, ensuring more equality and empowerment from the women involved.
We have chosen three completely different dresses, but we think that Meghan would suit all of them. These gowns all have a very dramatic effects, whilst remaining elegant.
The Calathia Gown, with its bow train, is a show stopper with such elegance, made from hemp silk & organic cotton, allowing the comfort of the gown to make the bride, Meghan, really glow.
The Eartha gowns shows personality and individuality, empowering the bride who wears it to stand out from tradition, but respects the elements of a classicalness and romanticism of wedding gown by incorporating handloomed bamboo with sheer long sleeves and finishing with layers of the hand weaved Chantilly lace.
Our Terra gown embodies the chic and simple elegance, exuding romance and draping the brides in beautiful, soft hand beaded organic cotton lace. Although it has classical elements, the dramatic train allows the brides to make an entrance, and look elegant whilst commanding the space around her.
I think that Meghan is going to wear a gown which truly shows off her own, unique personality rather than going down the traditional route. Despite the expectations on what a royal brides should wear based on past weddings and experiences, I feel that Meghan will represent the modern women. I believe that she will wear something which shows that she lives life on her terms, but equally showing her commitment to her new responsibility as a princess with a new found integrity.
We wish that Meghan's dress designer could be us. But, day-dream aside, due to Meghan's deep commitment towards her humanitarian practices we would hope that she is choosing a designer who produces gowns with a conscience. It will be amazing to see Meghan in 'very individual yet dramatic' Vivienne Westwood, the designer who also supports and respects sustainable fashion.
__________
What kind of wedding dress do you think Megan will wear?