I never made it to Glastonbury in my five years of living and travelling around England and Europe. Every year when they show highlights on TV, my inner hippy aches a little.
Yes, it's not a pleasant feeling to go without a shower for three days and rely on those little hand wipes and mini toiletries from Boots as your main source of cleanliness. But I still wish I'd seen my favourite bands performing on the Pyramid stage, felt the vibe, glamped with my newfound friends, and had a proper festival experience. The gorgeous bride and groom you're about to meet chose a festival-style wedding with all the trimmings to make it a relaxed day filled to the brim with music.
Ric and Lene married on the 13th of May 2017 at Larmer Tree Gardens in Salisbury – which had the most amazing Roman Temple and where they held their ceremony. The bride looked sensational in her Pronovias gown…
"My Pronovias dress, found via Allison Jayne, felt simple and easy to wear and not too fussy. It also suited the venue and theme we wanted to create."
Images by John Barwood Photography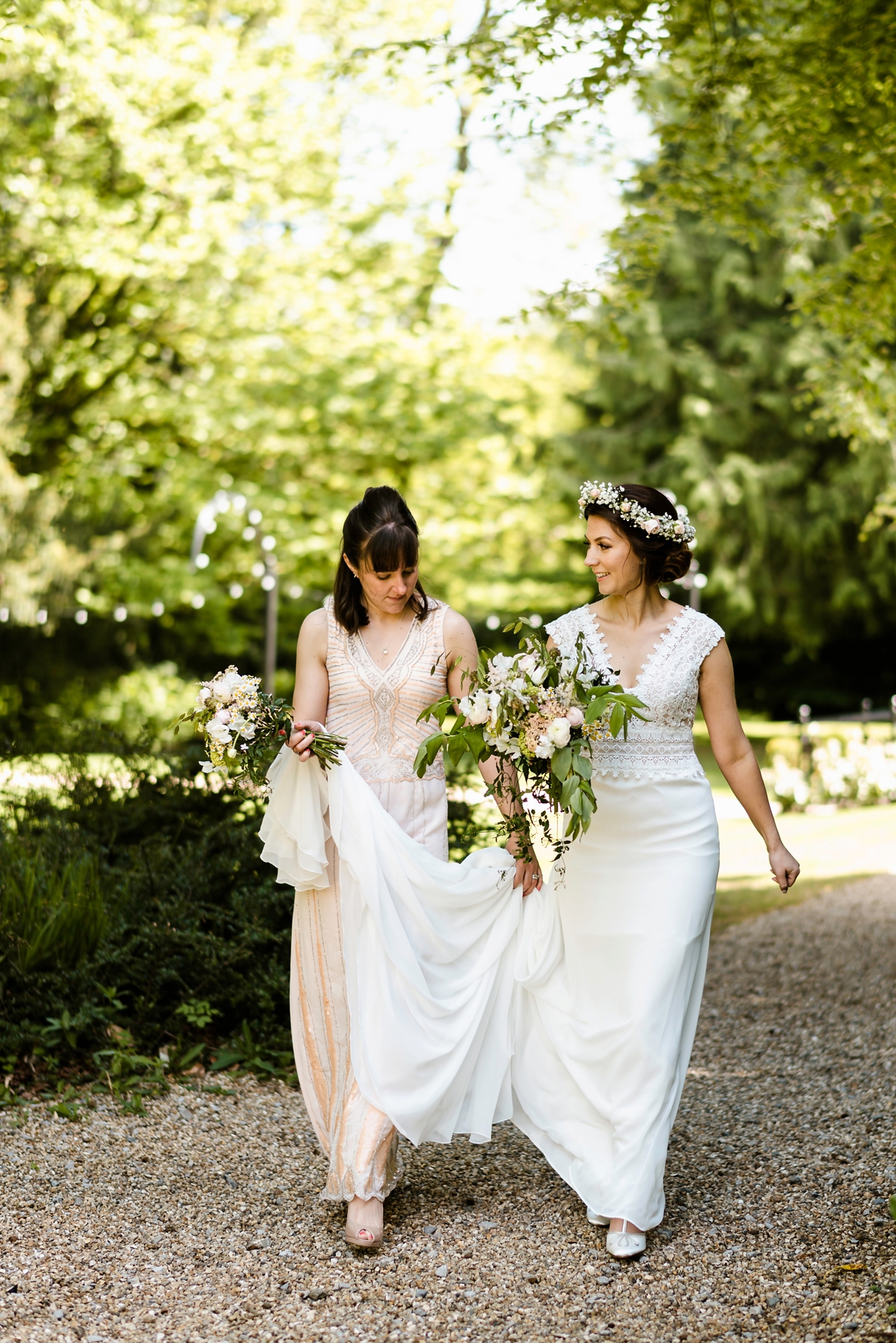 "We wanted to create a relaxed, festival-style wedding with lots of music in beautiful surroundings with all our friends and family. Our wedding was inspired by the Victorian era, especially after learning that the venue used to be used as a Victorian pleasure garden! It also had a gorgeous stage known as the 'singing theatre' and a stunning Roman Temple that we got married in with the guests outside on the lawn.""We met through a mutual friend on a night out in Bristol in 2014. I'm a solicitor and Ric is an acoustics engineer. He proposed on the iconic Clifton Suspension Bridge, followed by a lavish firework display! We got engaged on 11 October 2016 and were engaged for only 7 months before we got married as we wanted a wedding in the spring of 2017."
Lene's heels were via John Lewis and from the'Rainbow' collection. She added a touch of her favourite scent Coco Chanel and pearl earrings via Amazon.  Make-up was by Sally Bracey, whilst her pretty up-style was by Marie from Beauty Call and adorned with a stylish floral crown made by the florist Claire from The Wilde Bunch.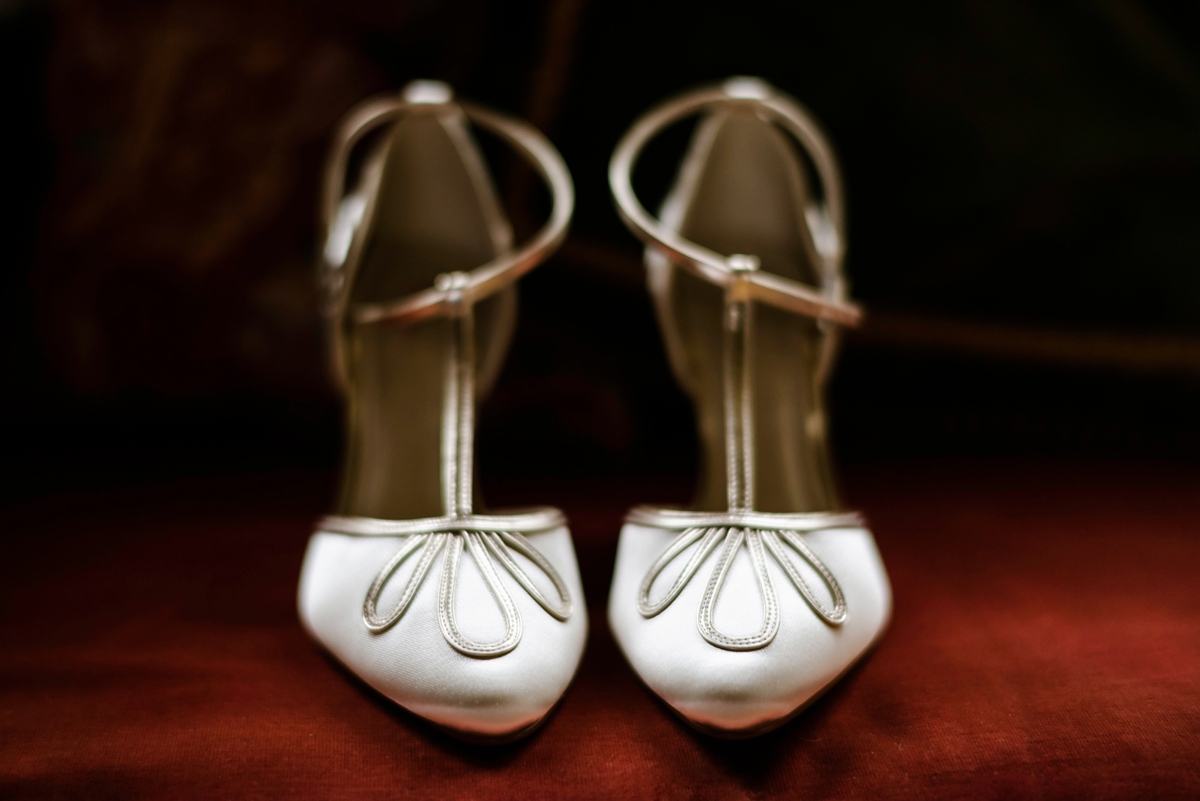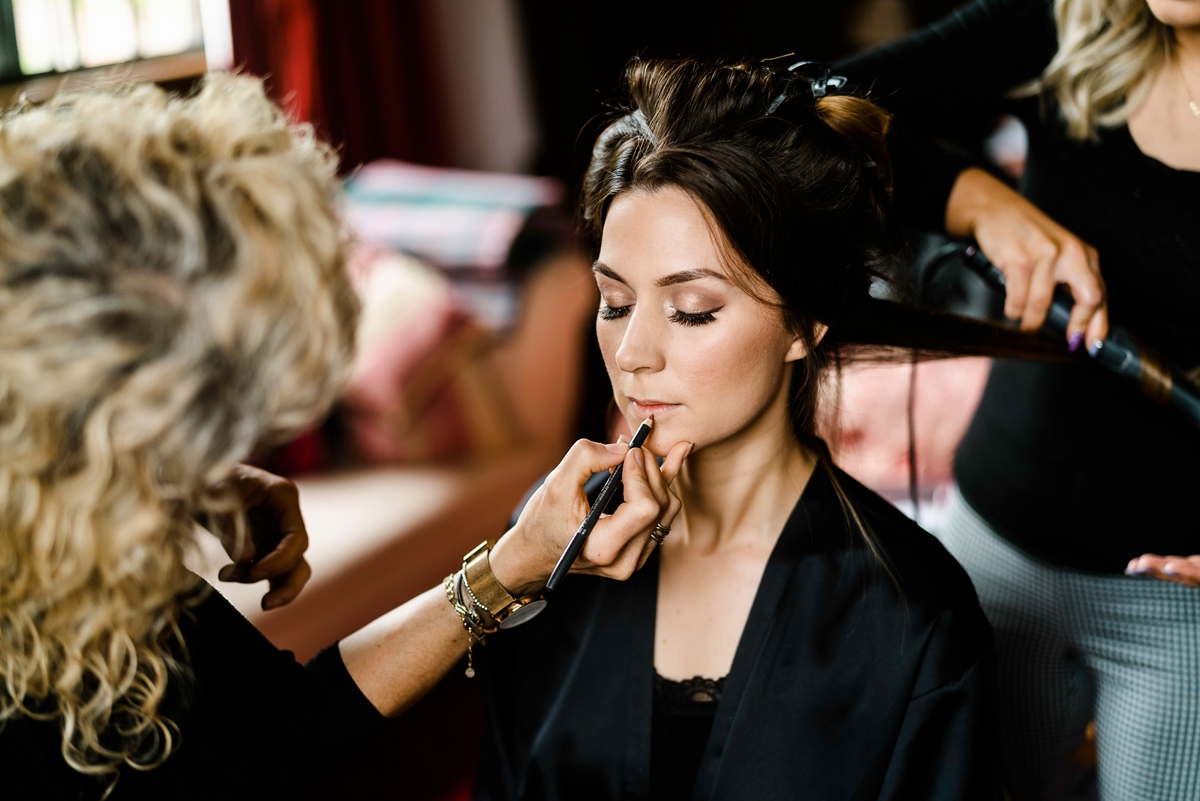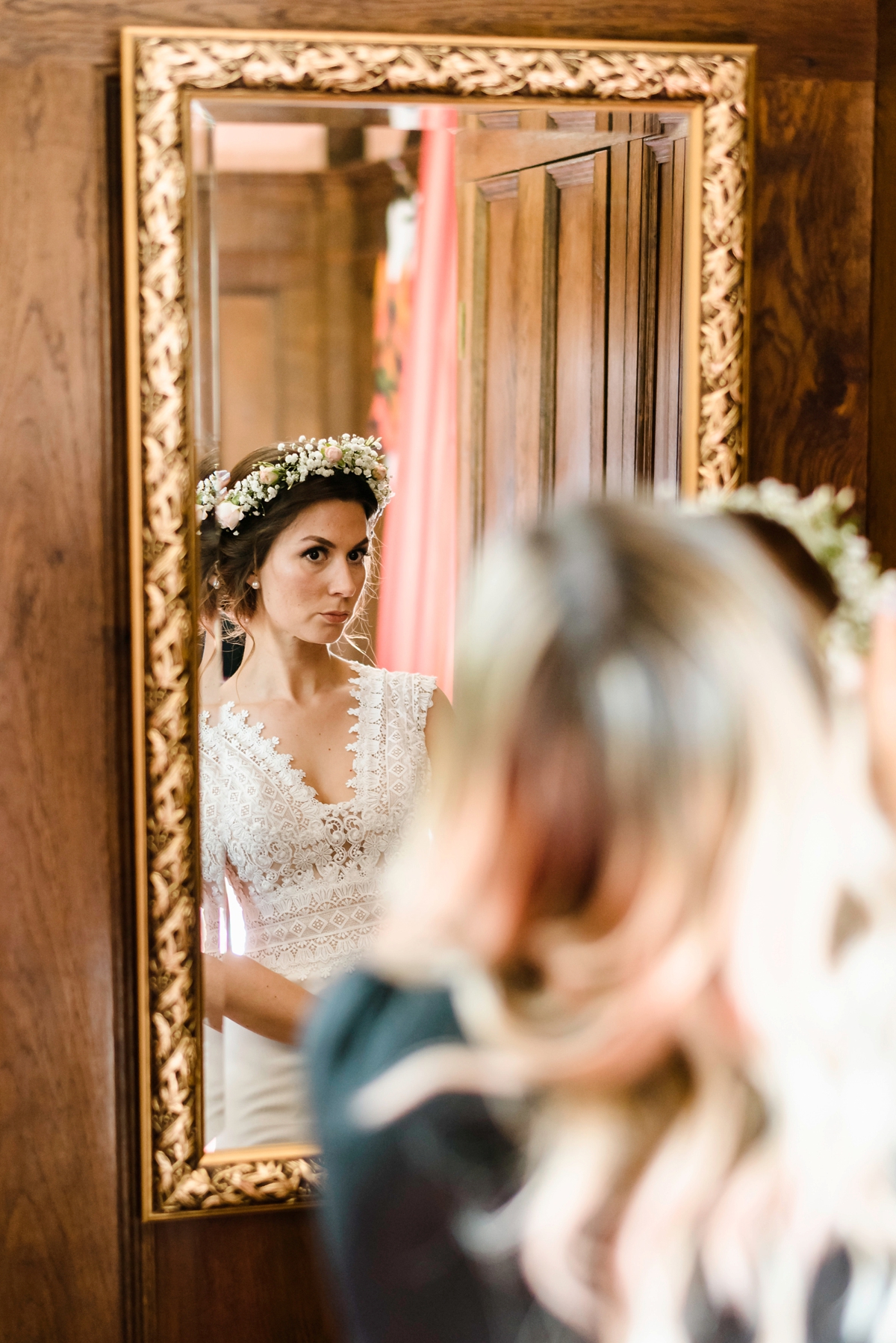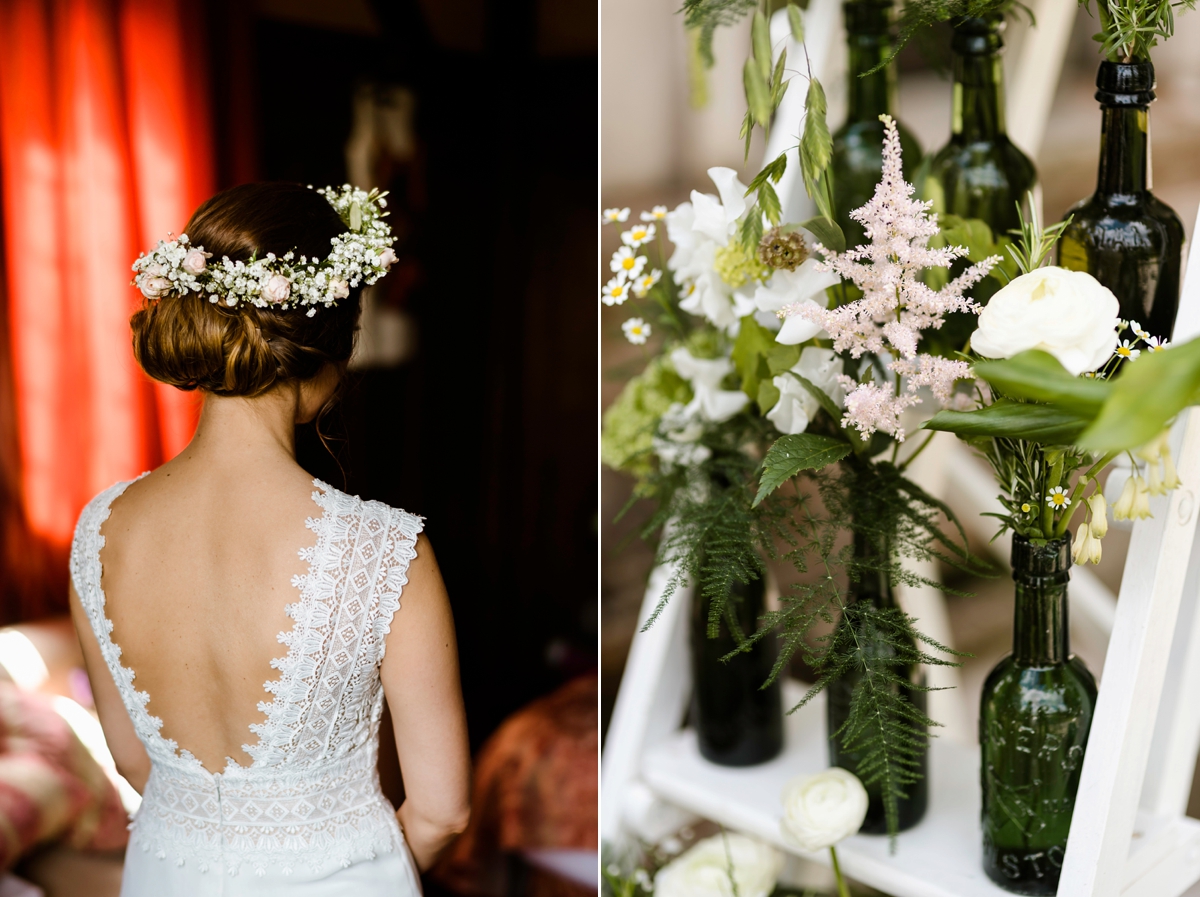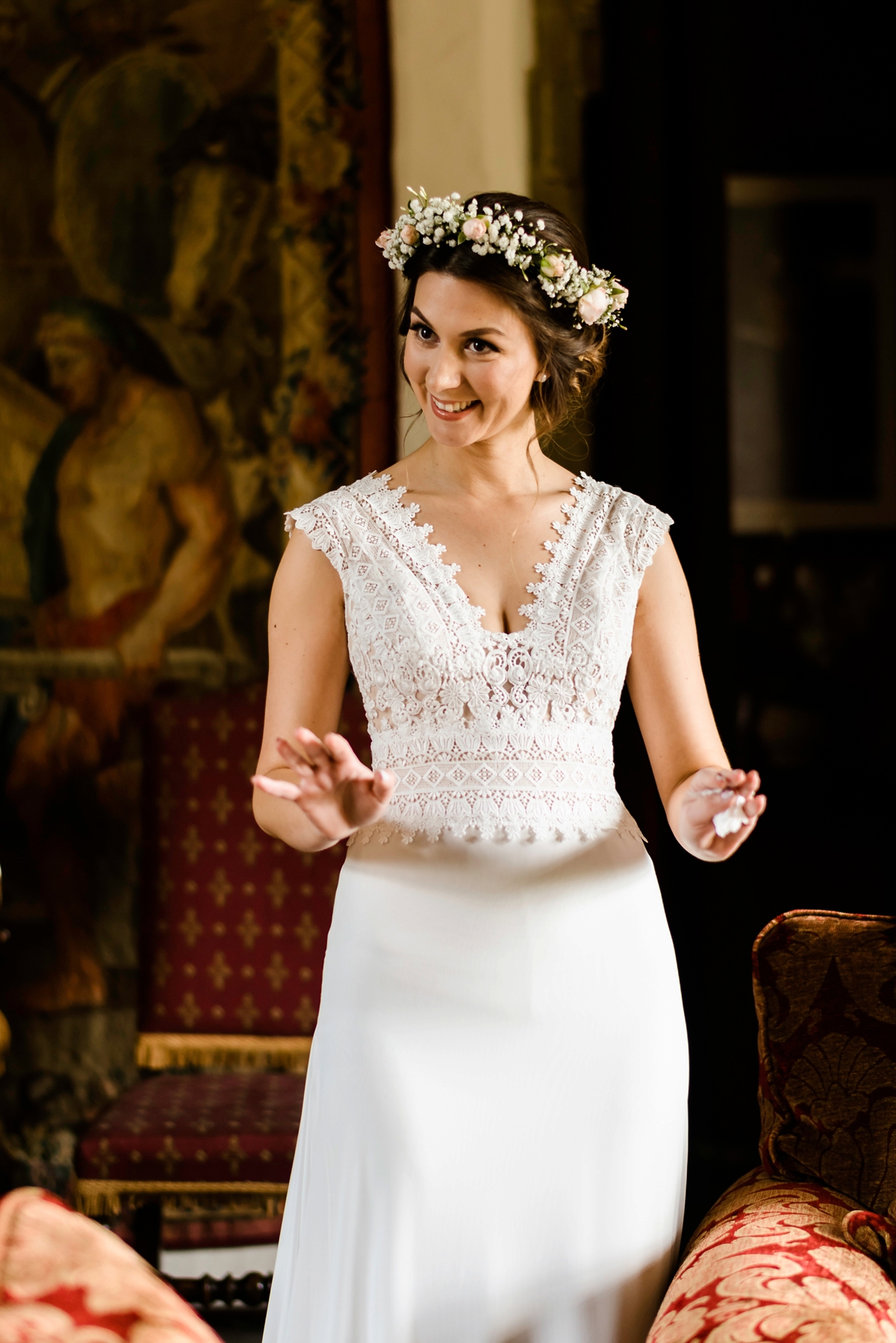 Ric was a most stylish groom in a tweed Marc Darcy outfit complete with bow-tie and even a top hat – and I do love his well-groomed moustache! He had two best men and six groomsmen who were outfitted via ASOS.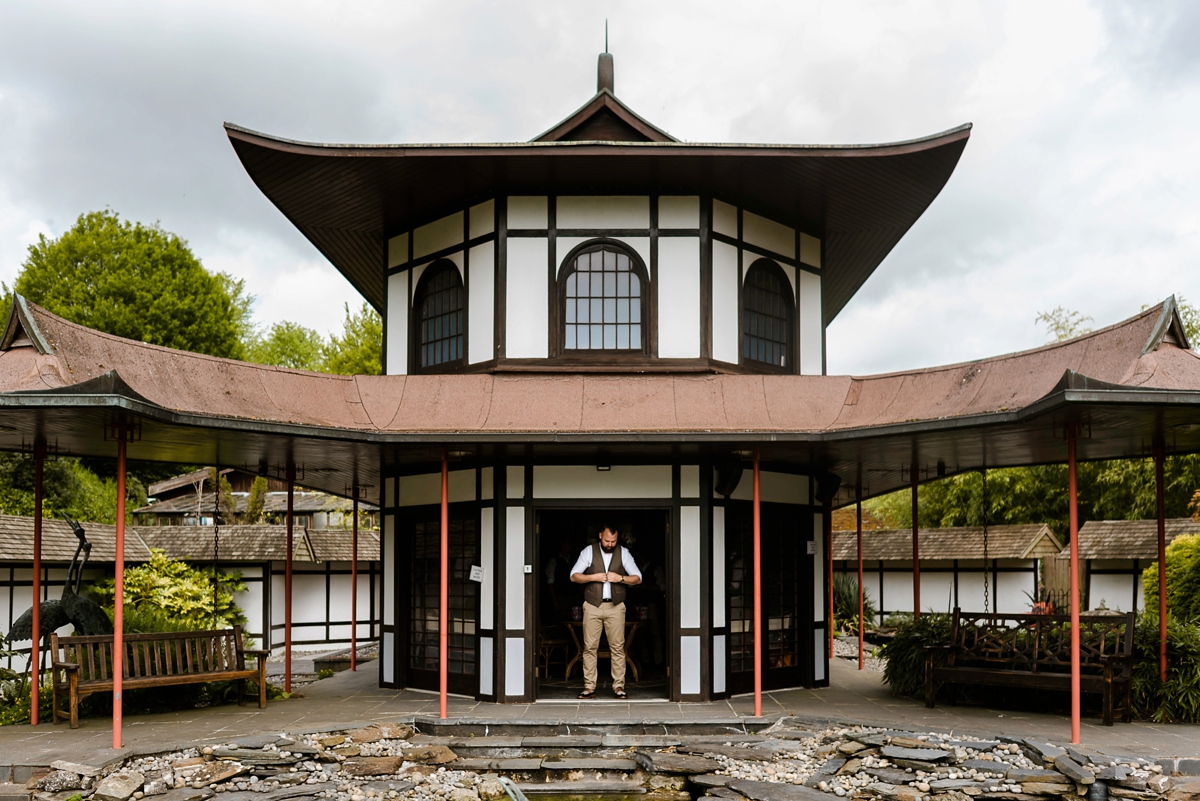 Lene's maids wore the 'Maya' dress in light pink from ASOS, with their own shoes and a personalised necklace (with their initial) from Etsy.
Two of the flower girls wore pretty white Monsoon dresses and the third dress for 1-year-old Ayla was made by the bride's mum, Helen.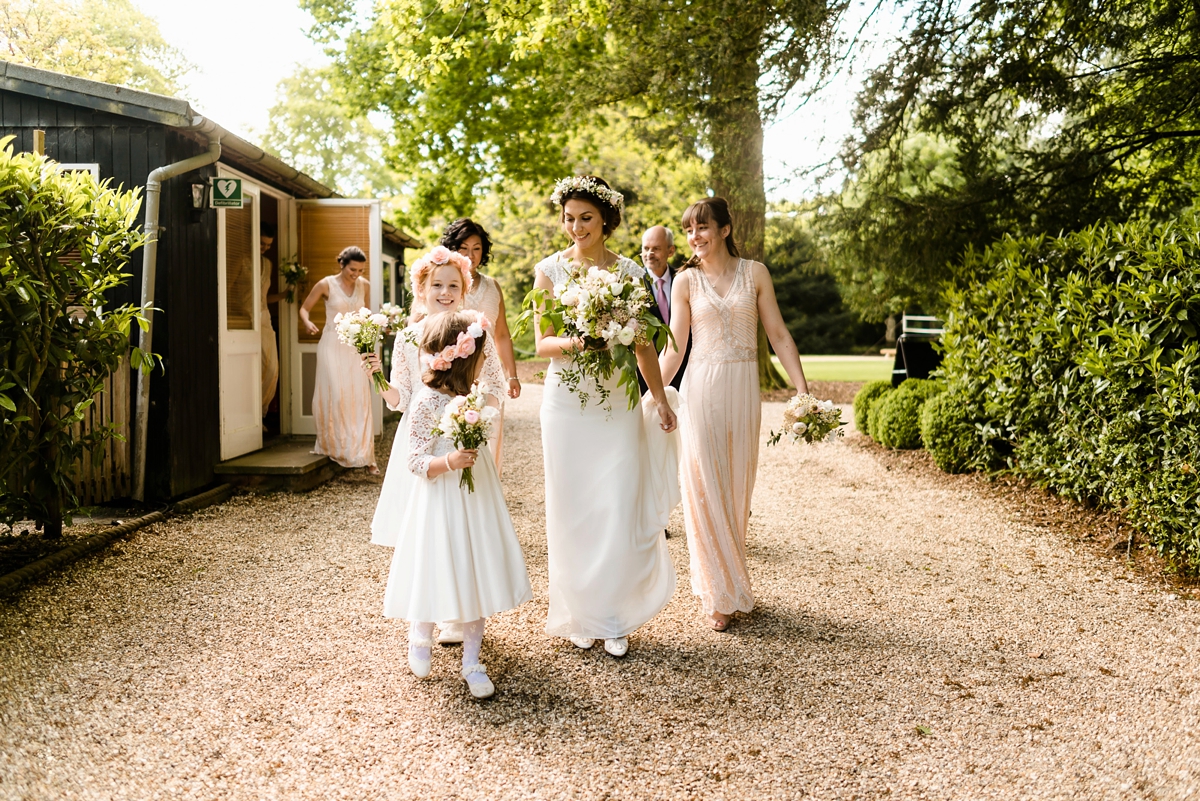 "Claire Nicholson from The Wilde Bunch was awesome! The flowers were relaxed to reflect the surroundings and day we wanted to create. We also wanted to go with a slightly wildflower feel (nothing too fussy)."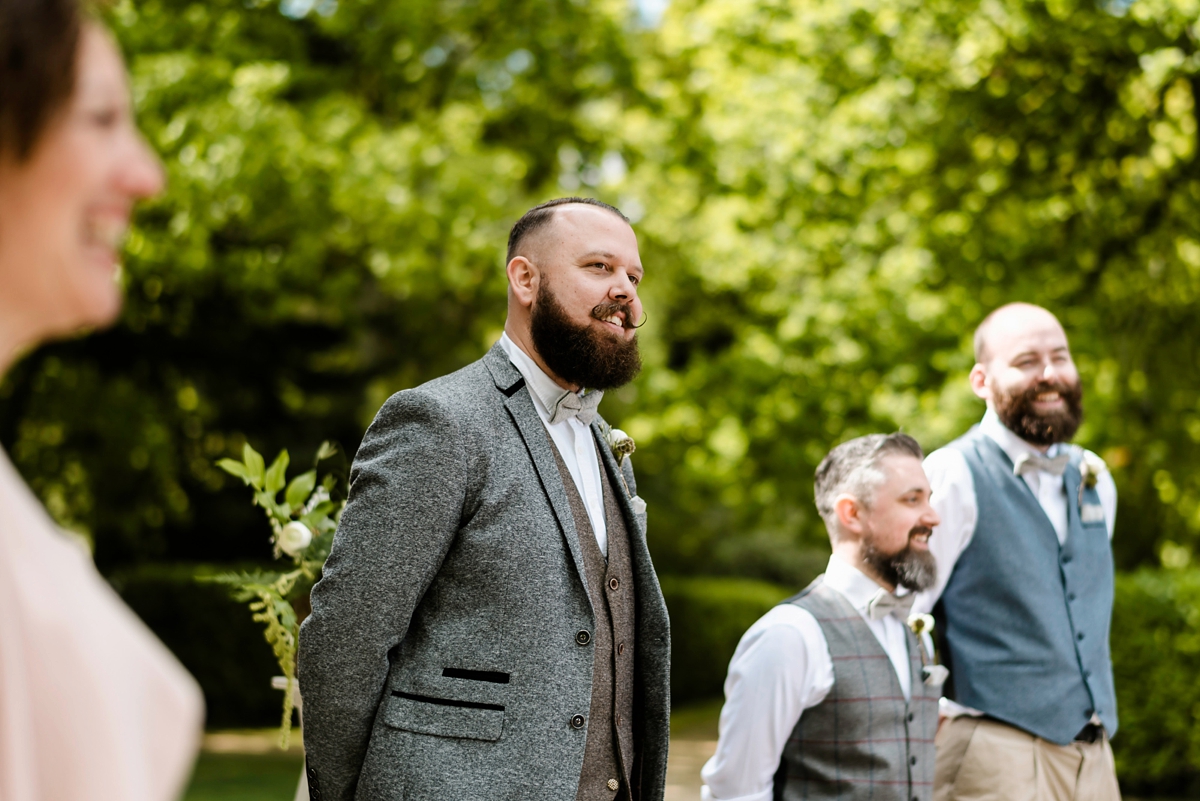 "My dad Paul accompanied me for the aisle walk in the gardens to 'Feeling Good' by Nina Simone. Ric's aunt did the ceremony and married us (after the registrar did the legal bit in the shortest time possible of about 10 minutes!)."
"Our focus wanted to be on family and friends, and Ric's aunt did an unbelievable job. This included telling the story of how we met, our exchange of vows and a 'ring warming' where our rings were tied to pieces of ribbon and passed around all the guests to be blessed before we exchanged them. People seemed to really like this and thought it was unusual and special."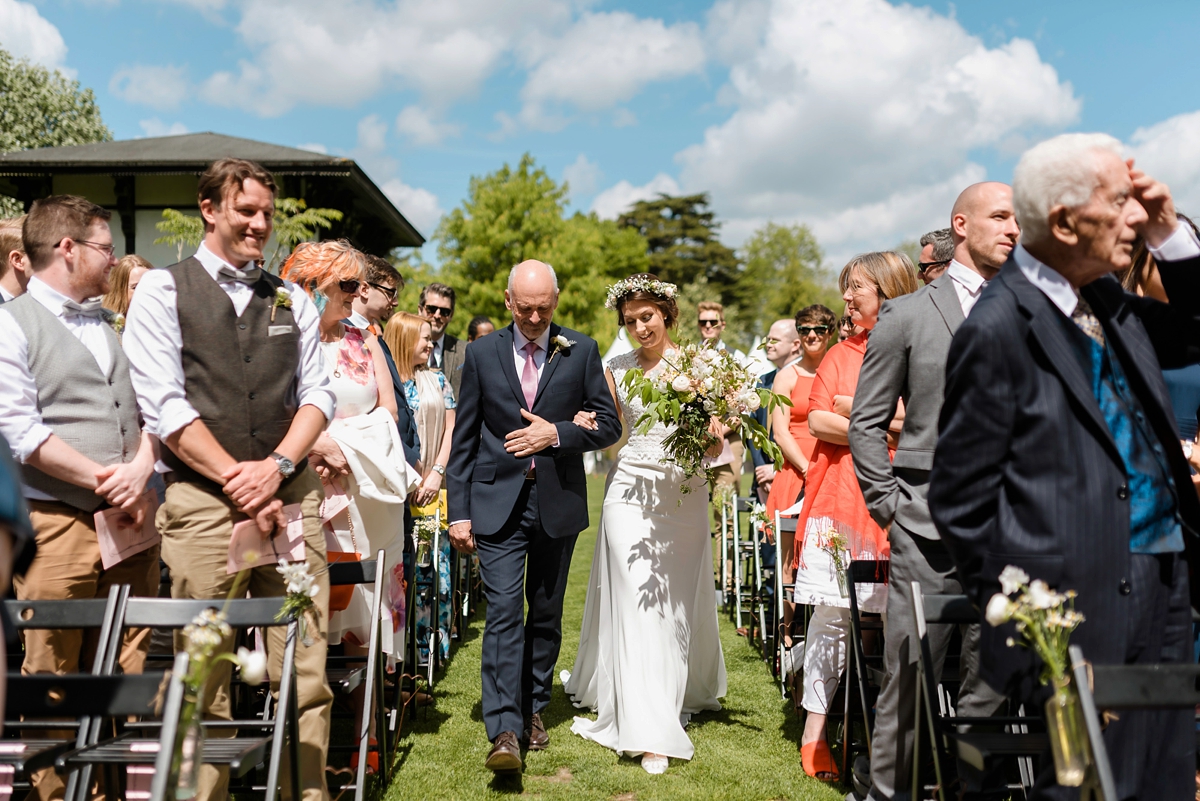 "We wrote our own vows. These were a combination of our commitment to each other, with a few jokey ones thrown in there (e.g. I promise to leave you to poo in peace!)."
"My youngest sister, Bea, did a reading of 'I wanna be yours' by John Cooper-Clarke, whilst Ric's mother also wrote a fantastic poem about Ric and read this out from her iPad outside the Roman Temple."
"My middle sister (Joss) who has an amazing voice (!) sang a couple of songs whilst Ric and I did the 'legal bit' to keep guests entertained accompanied by one of Ric's best friends (Dave) on an acoustic guitar ('Teardrop' by Massive Attack and 'One and Only' by Adele). Ric's two nieces (Vespa and Cadence) sang 'Call Me Maybe' accompanied by their Dad (Ric's brother) Tim on his acoustic guitar."
Lene chose a simple, elegant ring from Clifton Rocks in Bristol, whilst the groom went for an alternative rock vibe with his ring choice from The Great Frog in London.
"Lidia Rodriguez Lewis from Design Studio 88 was absolutely amazing and created our invites and wedding website. People were able to RSVP through the website which really helped. It also contained a map of the venue, timings, what to bring, places to stay and a guest list."
"I don't think there was an overall favourite part of our day. However, the ceremony outside the Roman Temple in front of our closest family and friends was very, very special and was made even more personal by having it conducted by Ric's aunt. The guests seemed to love the personal and intimate nature of the ceremony and the girls' singing had people in tears (in a good way!) and I remember the sun shining brightly throughout."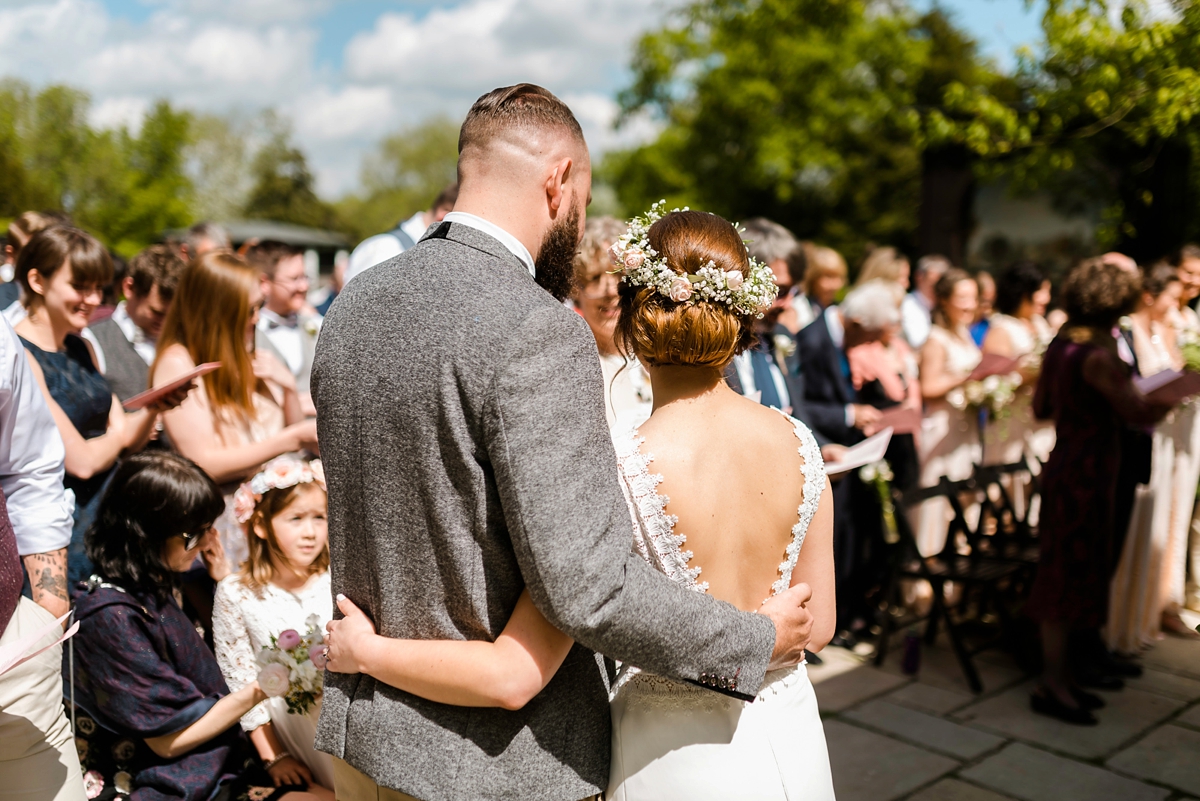 "Our photographers, John and Soph Barwood were absolutely amazing! From planning how the day would be shot, to legging it down the drive to deliver forgotten button holes, and even staying later than usual to capture all the dancing, they were a pleasure to have around and stood out a mile as gifted photographers."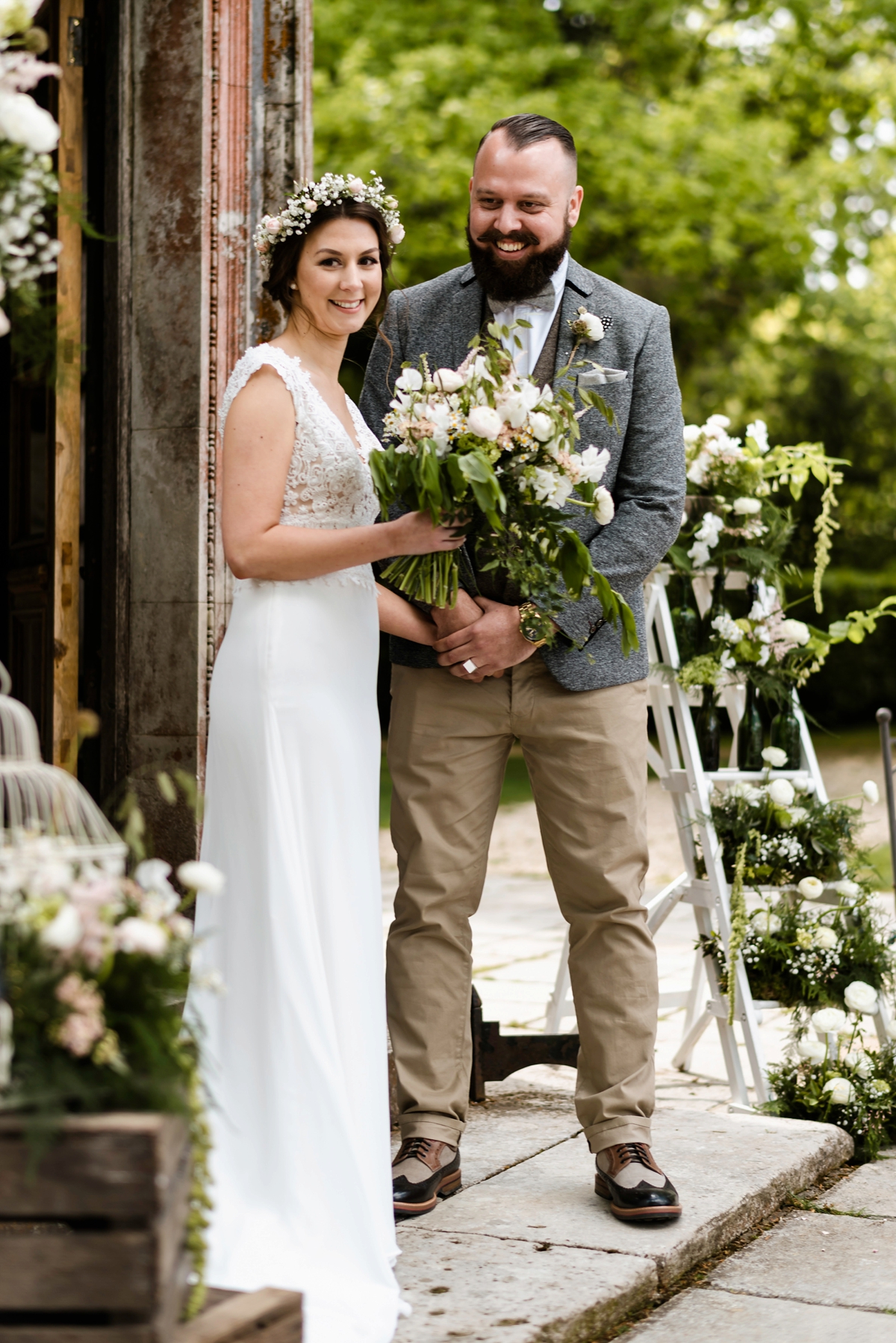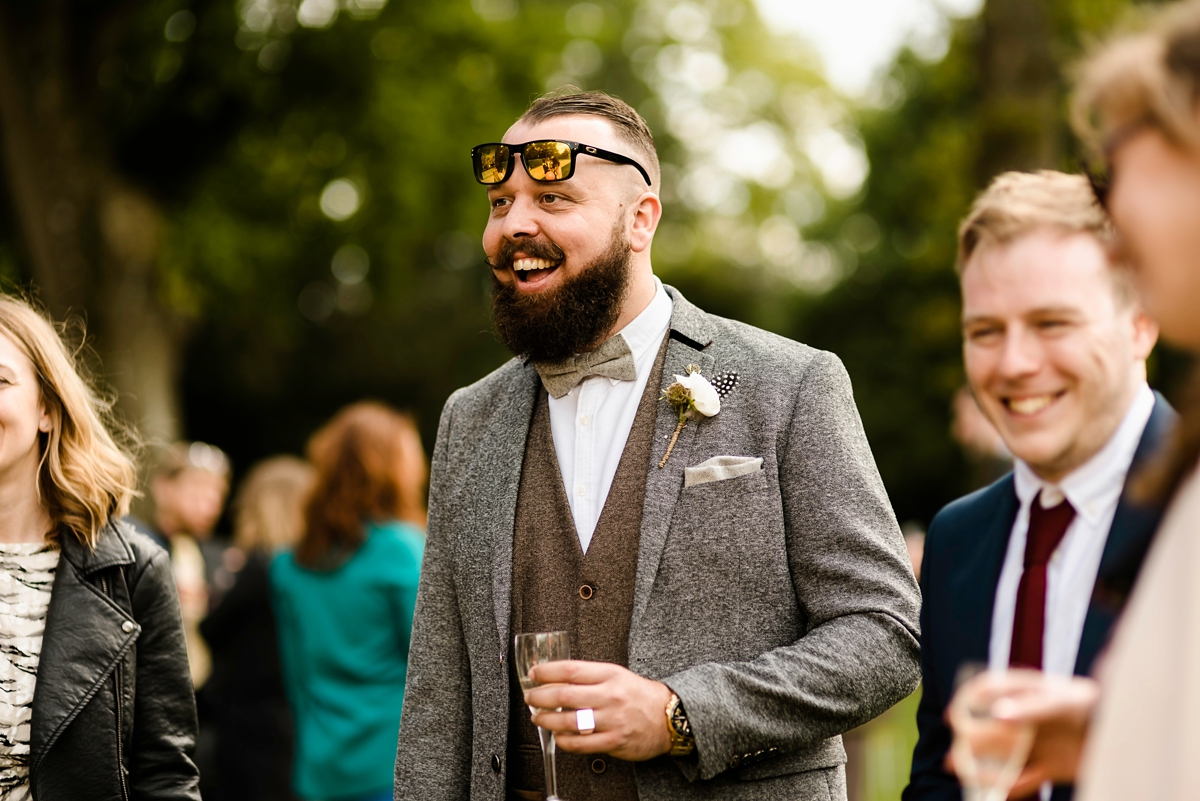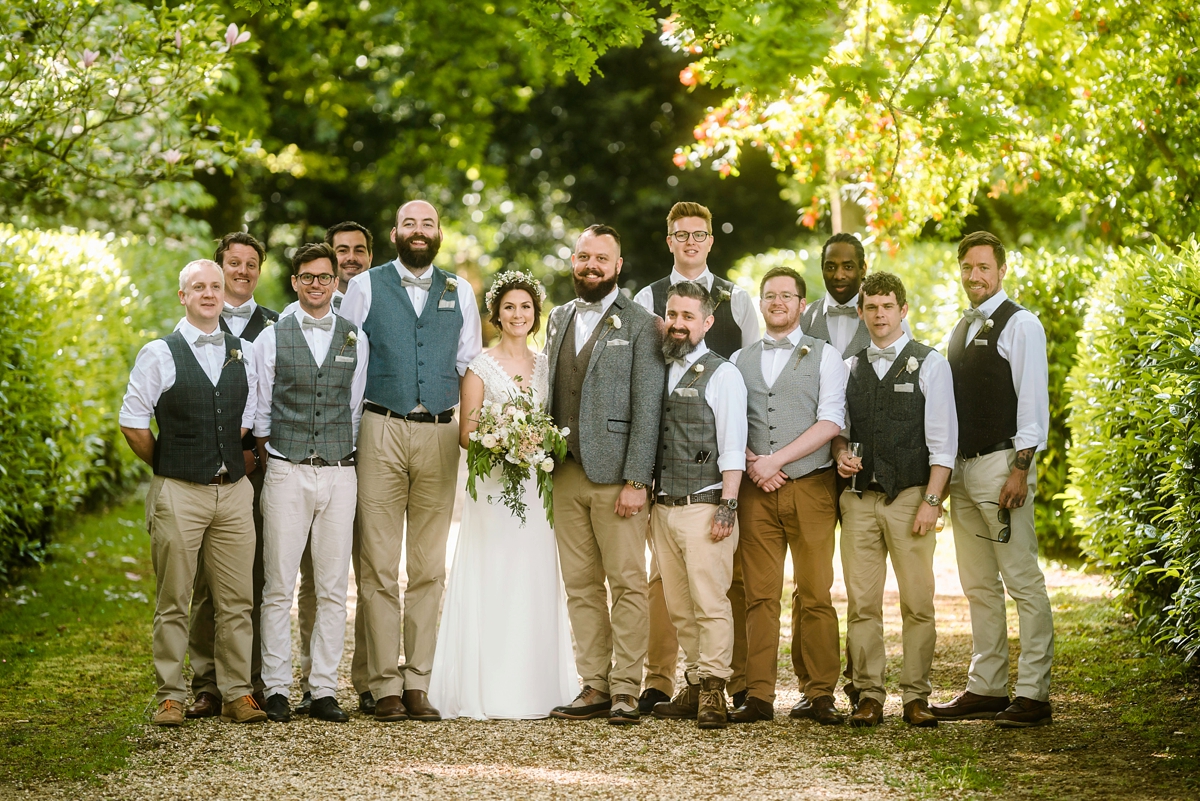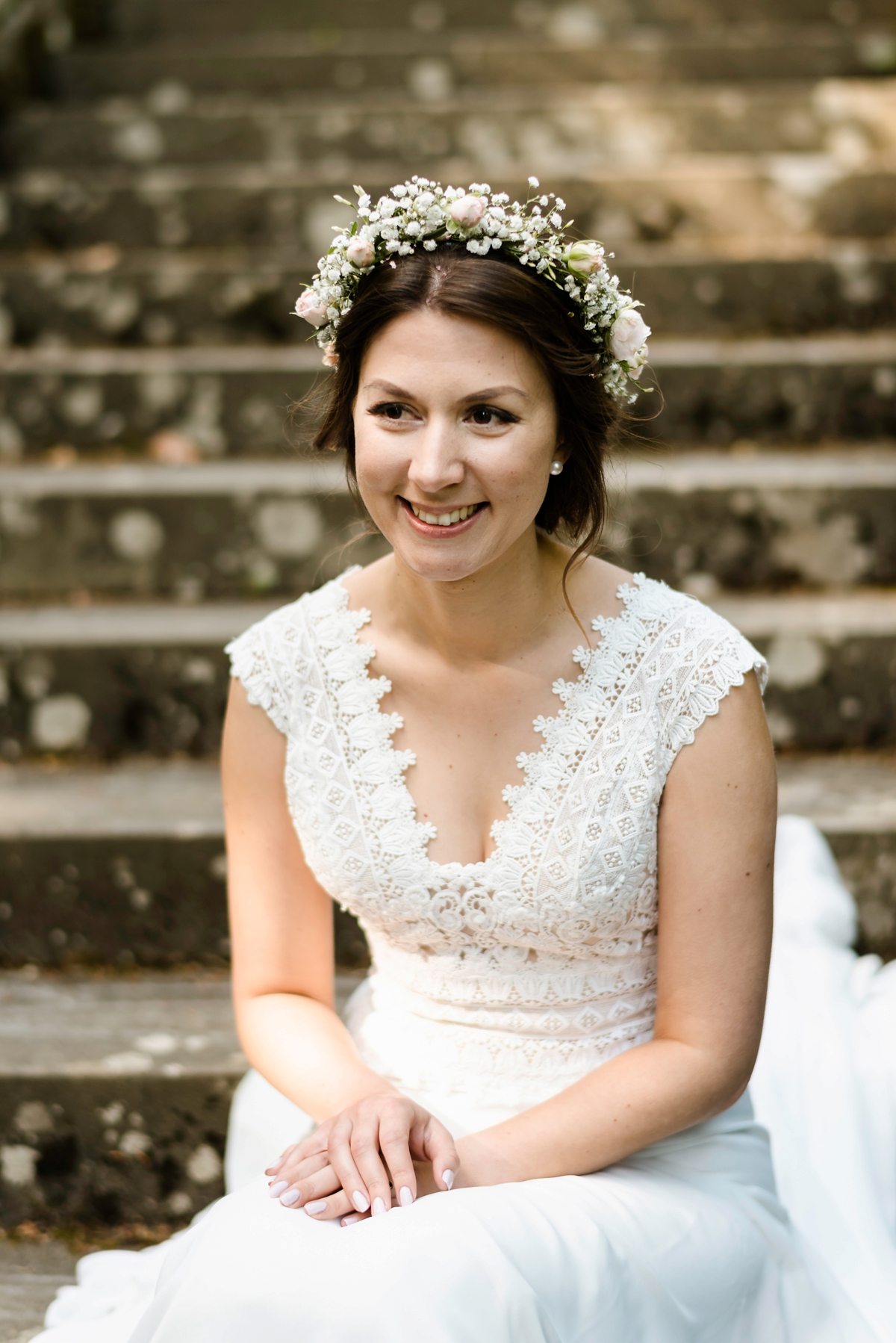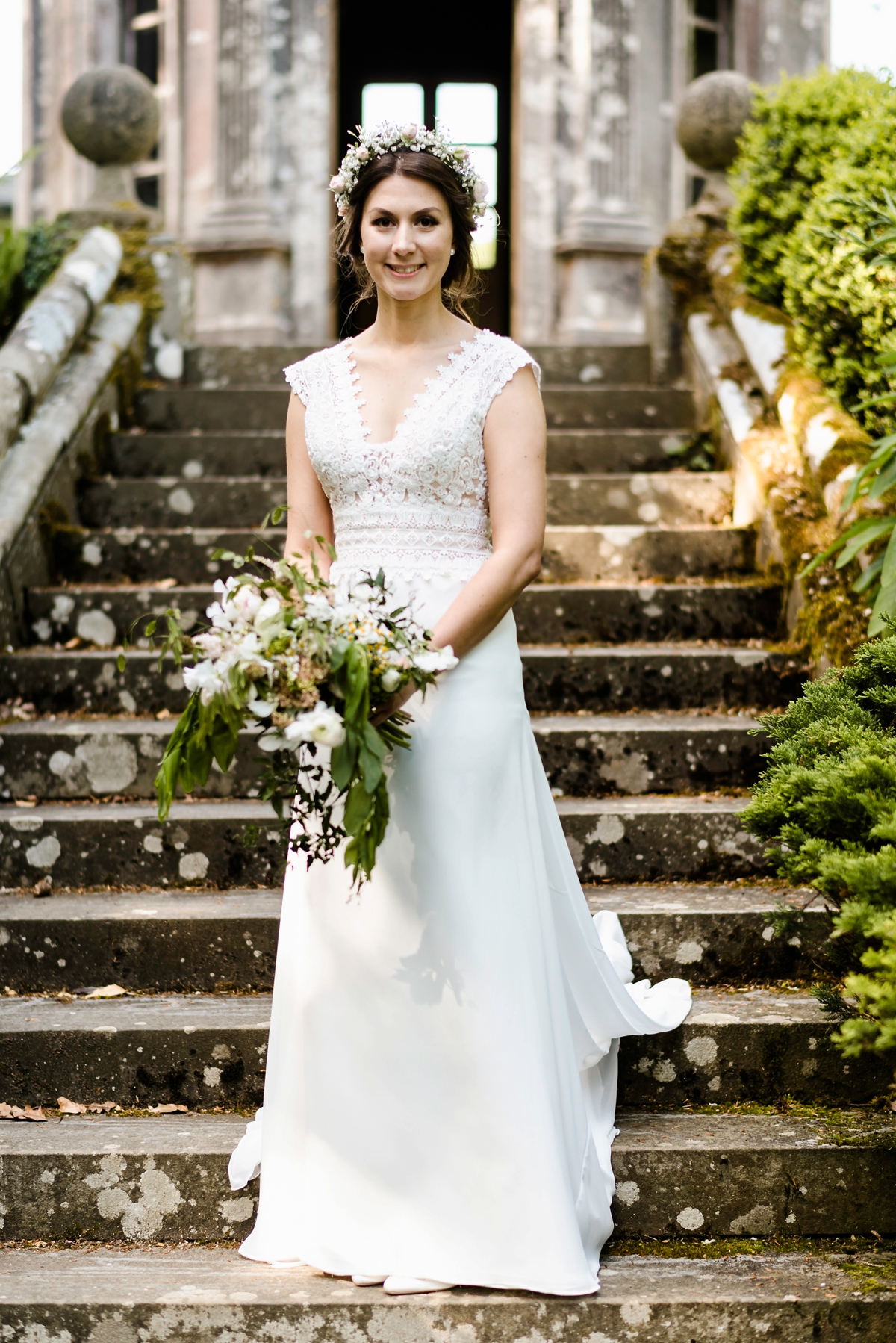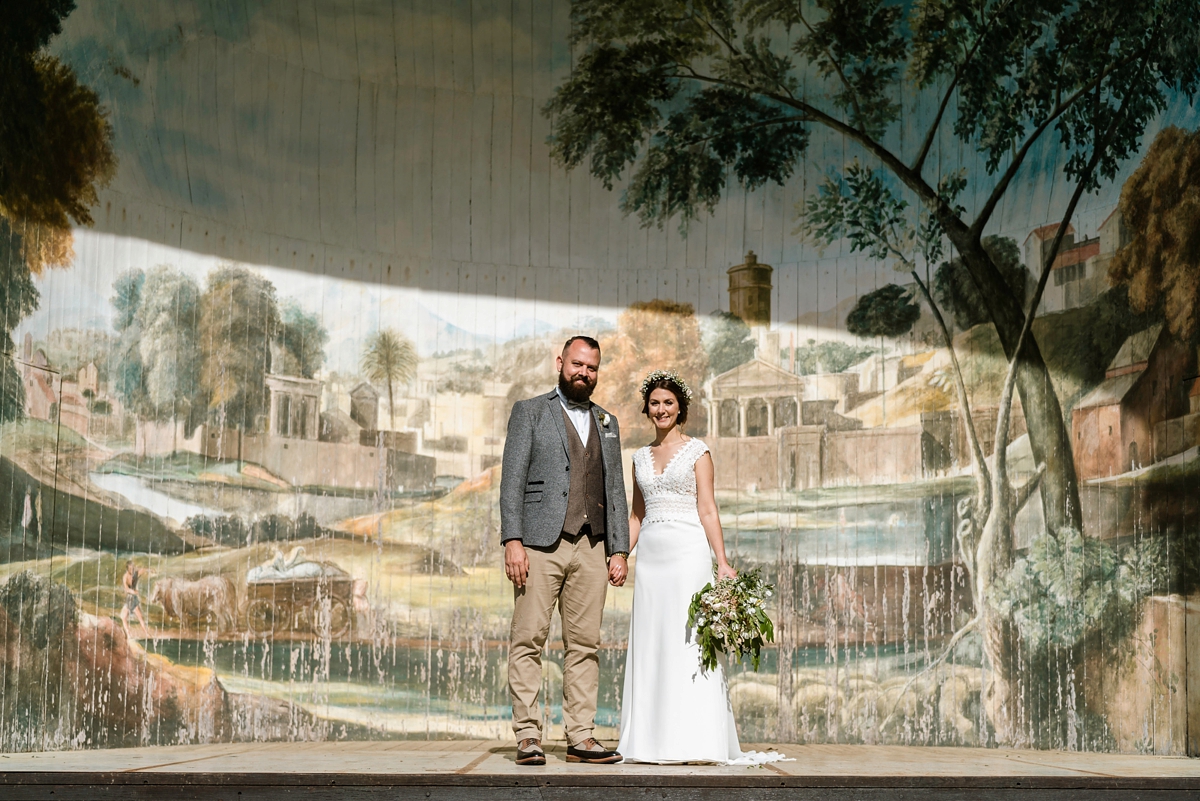 I *love* this idea the couple came up with as an alternative to favours for their guests.
"Instead of wedding favours we bought floating lanterns via Amazon so that everyone could light one at dusk in the Roman Temple and walk down the stone steps to the big pond, make a wish and float them in the water. We liked the idea of giving people something to do and making use of the beautiful surroundings."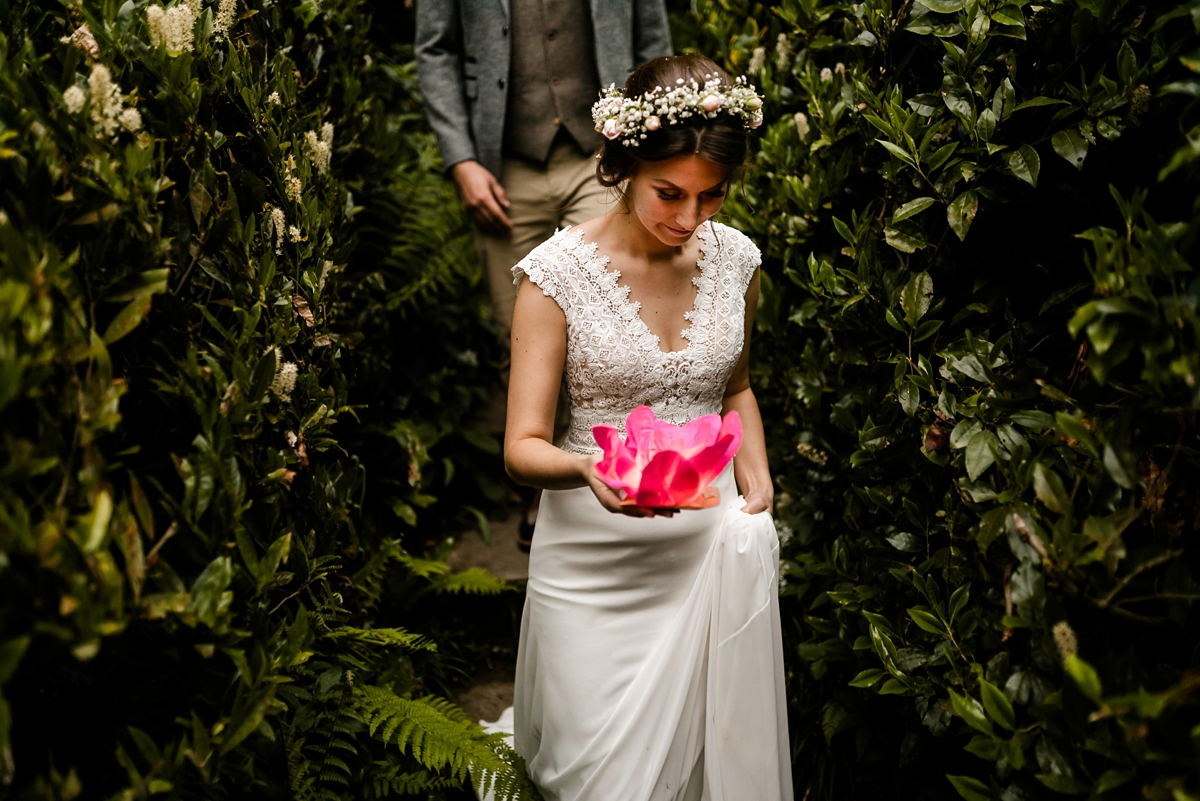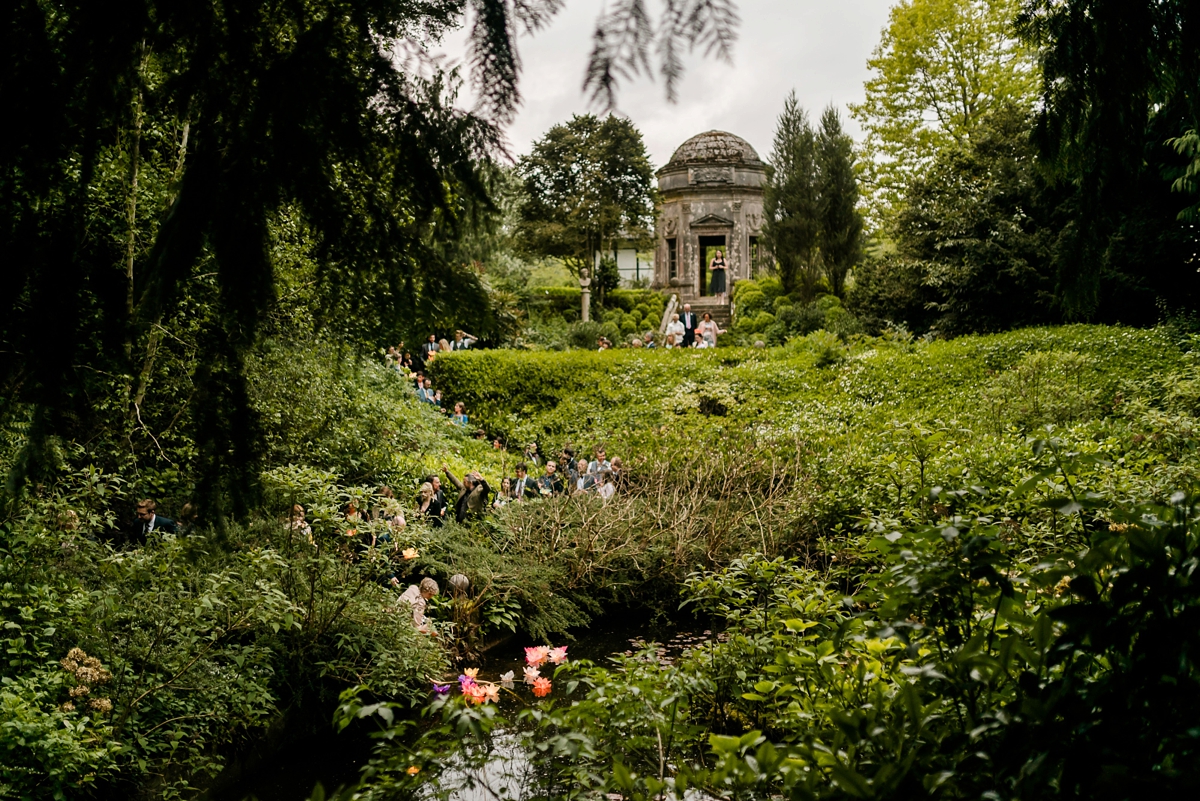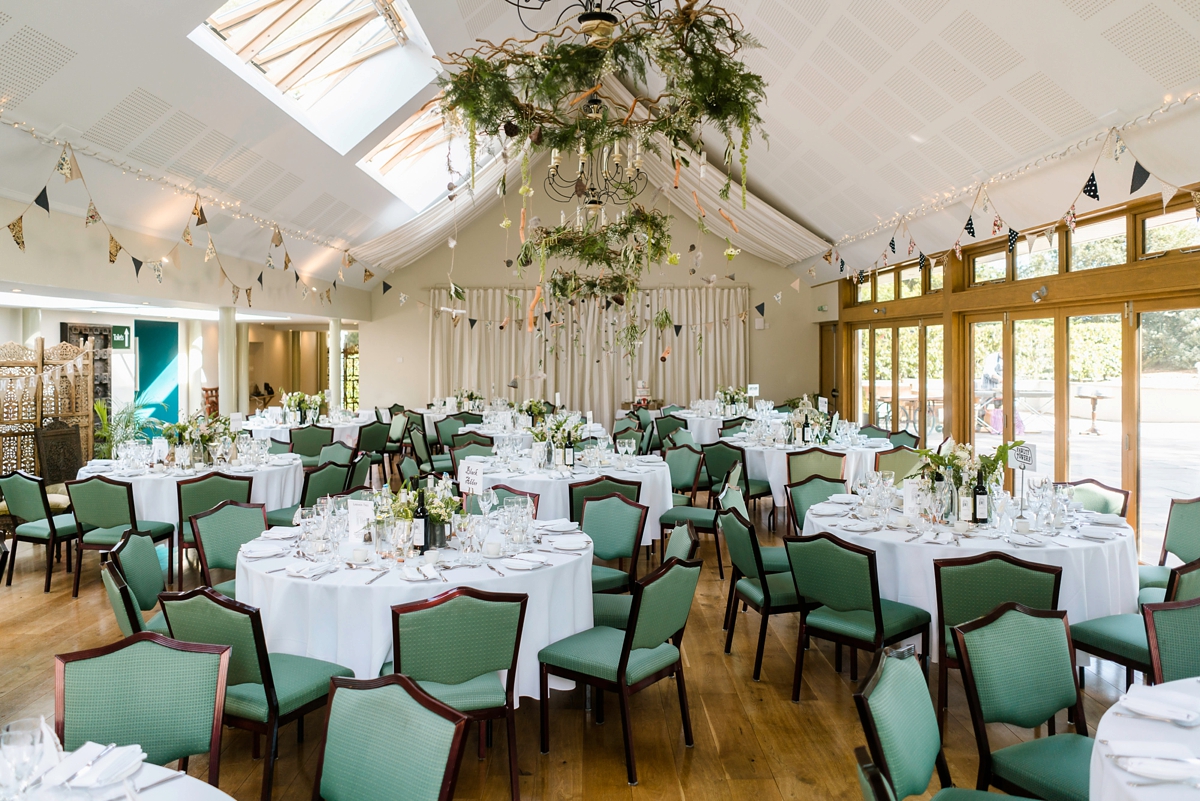 "Our venue decor was nearly all done by the florist. We had flowers dripping from the chandeliers, on the tables and recycled flowers from the ceremony and brought them into the venue for the wedding breakfast."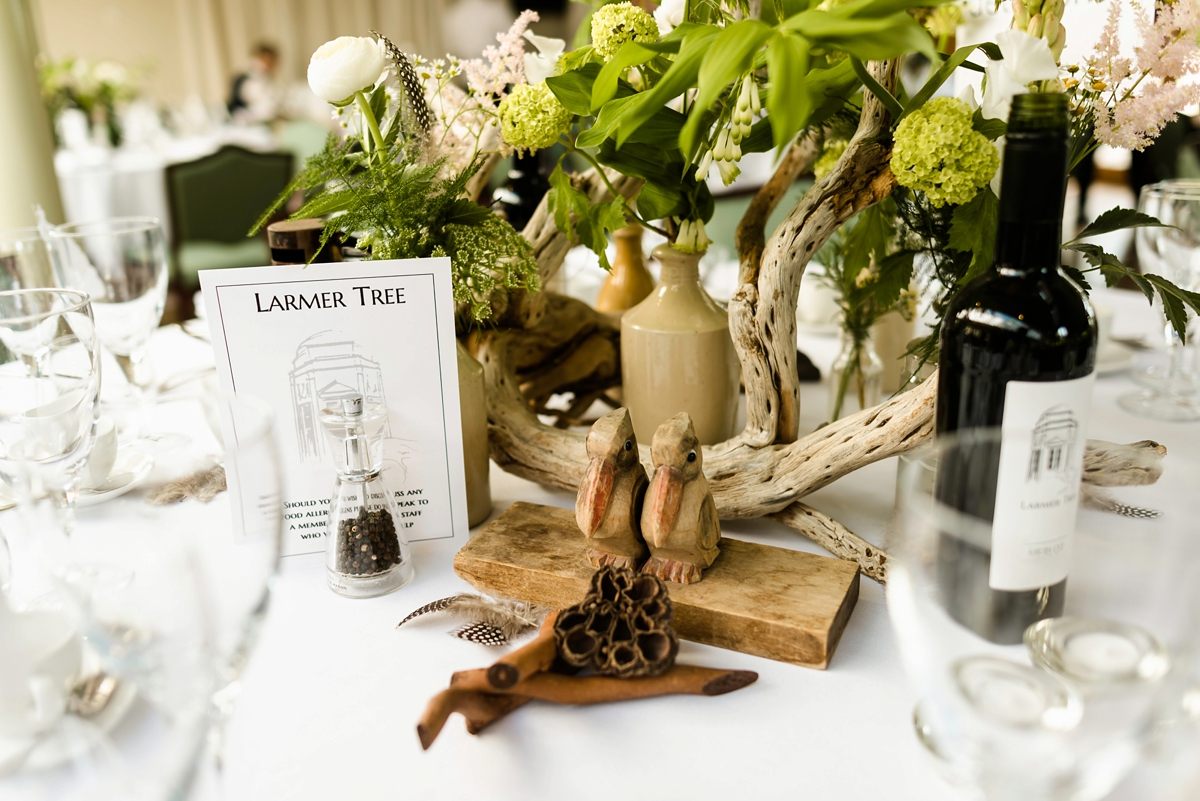 Forking Out, the caterers who came with the venue, prepared a range of tasty cuisine – and the couple's wedding cake by Sweet Serenity was a combination of things they both love.
"We wanted something a bit difference and certainly got that! Due to the groom being a huge basketball fan, coach and player we decided to have a split cake which had his favourite NBA basketball team on one side (Chicago Bulls) and my choice of old school tattoo-themed hearts and birds on the other."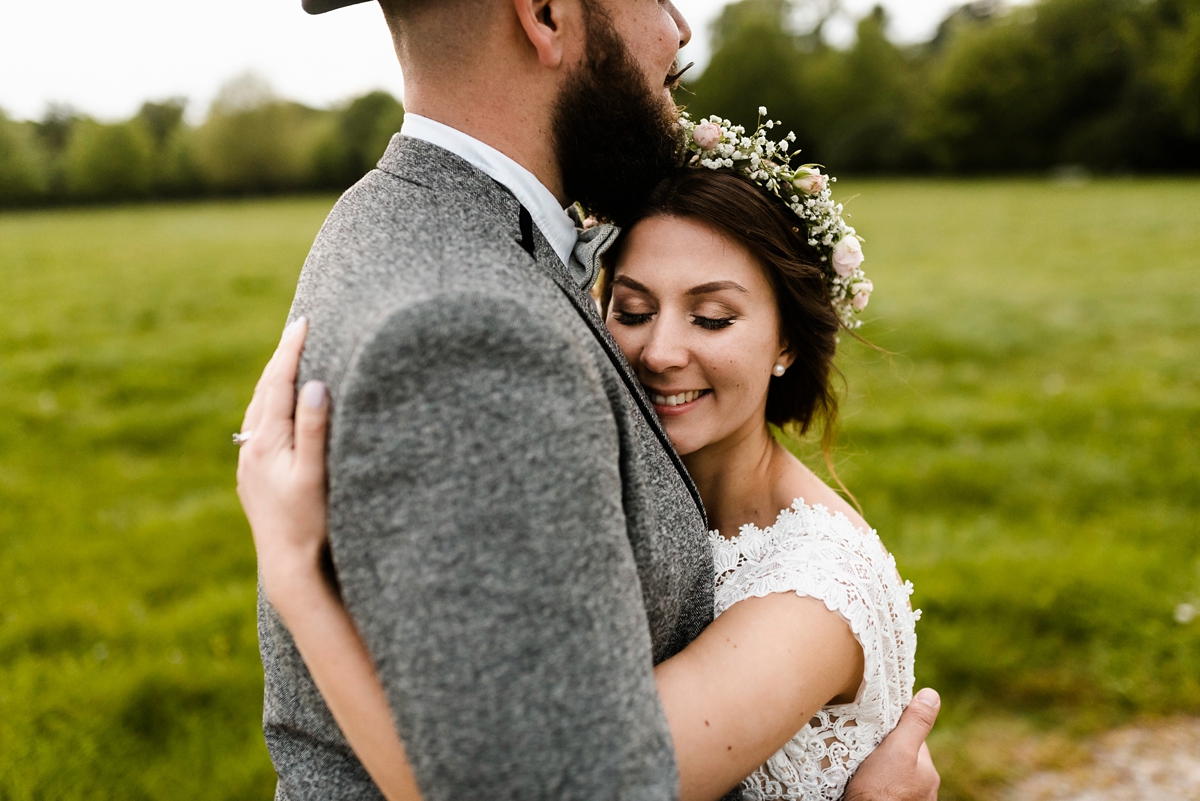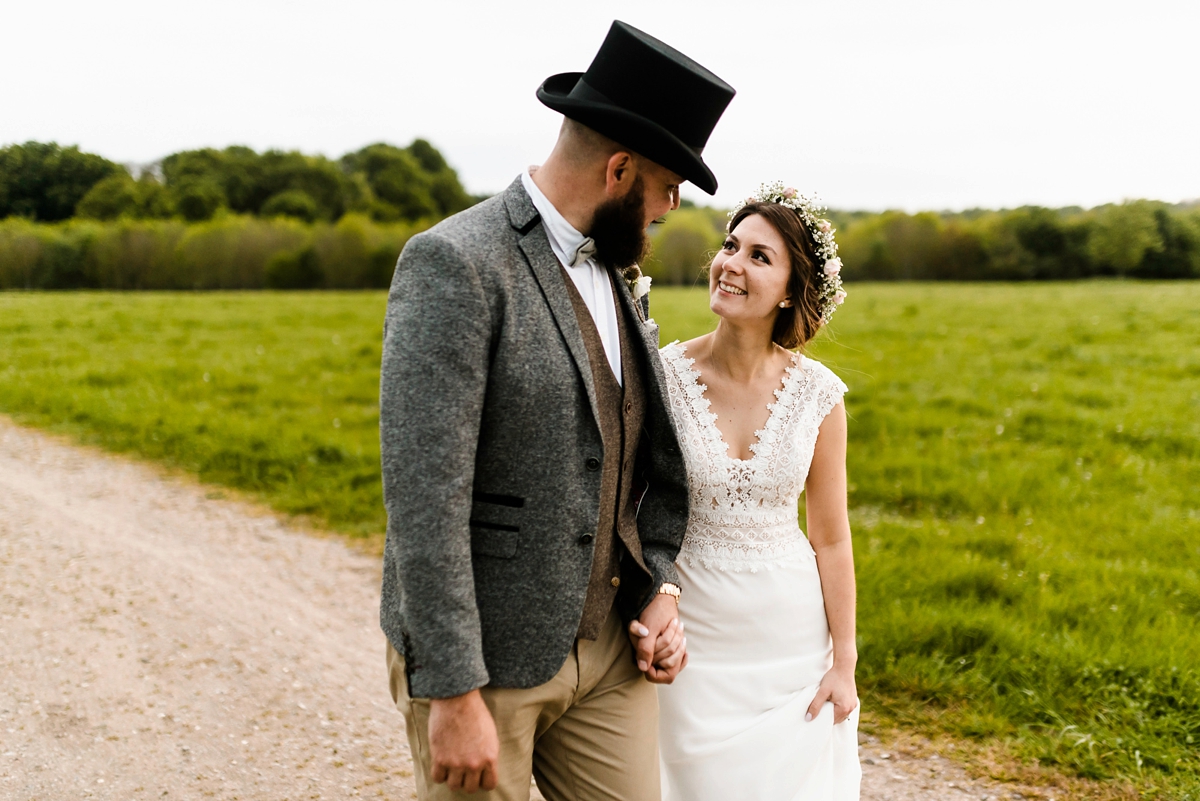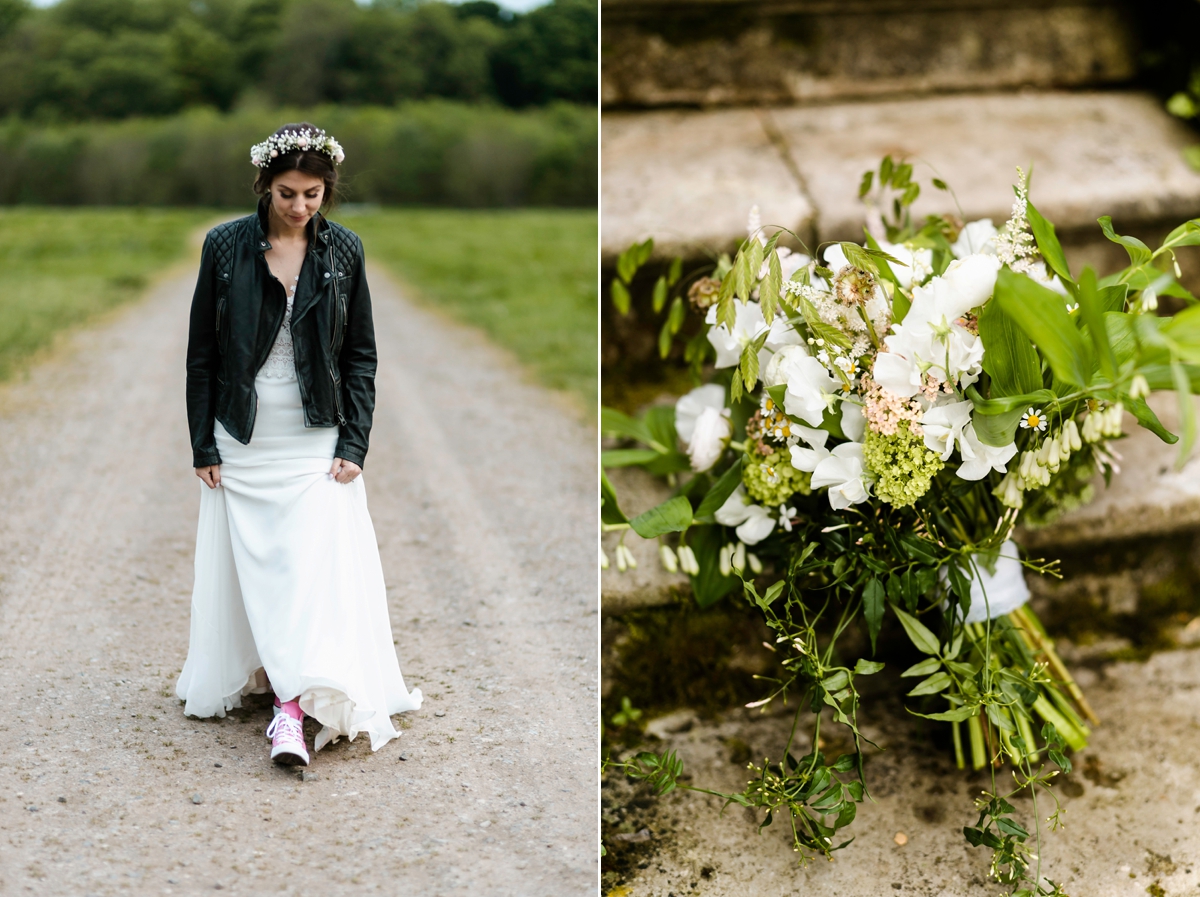 "We had a range of music, include our friend's band Dry Clean Only, our friend Chris Bourne (DJ) and a local Salisbury acoustic trio called Back To The Shack."
"Our first dance was to the theme tune of 'The Detectorists' by Johnny Flynn. We chose this because Ric and I loved watching the series and it's a lovely, gentle song which we didn't think anyone else would have had as a first dance. I still well up every time I hear this song!"

Words of Wedded Wisdom
"Enjoy the process! It can take many months of planning so it's a good idea to create a spreadsheet or to-do list to make it less overwhelming and remind yourself how much progress you've made. Don't get hung up or stressed out on favours, table plans or even what dress to wear. Go with your instinct and what you love. You'll never please everyone but that's not the aim. Have fun with it; it's an amazing experience!"
"On reflection I think I would have had more to drink! I kept being told to pace myself and not drink too much but in reality I could have let my hair down a bit more and got away with it."
"We didn't have a firm budget (not that it was unlimited!) but splashed out on important things like venue, food, flowers and booze, and rained it in with other things like wedding favours and relied on friends to help with the music. We spent approximately £20,000 all in."
If you've fallen for Lene's exquisite gown – I adore the intricate design on the bodice – then you must see these weddings featuring Pronovias brides for even further inspiration. And thank you so much to John for sharing all the lovely moments of Ric and Lene's beautiful sunshine-filled day.
Love Jo -xo-