I've such a beautiful wedding to share right now to take our mind off the weird weather of late (though hopefully many of you are now snow-free over in England?).
Mr and Mrs Hepworth – primary school teacher Liv and Toby, who is director of an electrical installation company – married on Monday the 14th of August 2017 at Itchenor Sailing Club in Chichester, West Sussex. This setting was ideal, as the couple have always loved the sea and being by the seaside – and Liv's family also have a strong affiliation with the sea.
"My father and grandfather were fisherman and my father is now a fishmonger. A large proportion of both our families also live very close to the sea and love all things sea related; meaning that many of our childhood memories include holidays and trips to the seaside. Once we had chosen the sailing club as our wedding venue we needed very little inspiration – it had to have a subtle seaside theme and the colours had to be blue and green because not only are they very much seaside colours they are also both of our favourite colours."
Images by Mona Ali Photography
Liv donned the simply stunning 'McCall' design by Sottero and Midgley, found via Proposals boutique in Chichester. She paired the dress with a cathedral-length in ivory with a silk edge, also bought from this gorgeous boutique.  
"When I saw the dress on the hanger I was instantly drawn to it because of the stunning open back and the beautiful covered buttons that led all the way down the dramatic train. I also loved how classic it felt with the bateau neckline and the A-line structure. The sheer side panels were another thing that drew me to it because they were just a bit different and added an extra little bit of detail.""Once I had it on, and before even looking in the mirror, it just felt right; the weight and feel of the Mikado silk fabric felt incredible. I stepped out of the cubicle and my mum got all emotional and I did too. I knew it was the one and to top it off it had pockets! I know this may seem bizarre to some brides but I absolutely loved this feature and they came in really handy on the day for storing my lipstick, tissues and vows. I also wore a diamante, beaded belt from Proposals to add an extra bit of sparkle."
Liv's rose-gold, glittery pair of heeled sandals were via DÉJA Shoes in Brighton. She added sprigs of flowers from Rococo the florist to her hair and a spritz of Dior's 'Miss Dior Blooming Bouquet' – a subtle scent with sweet floral notes that was perfect for a summer wedding. Annette and Dulcie Bradford of Elegance Bridal Coiffure were tasked with hair and make-up and Liv was so chuffed by the final result.
"My bracelet was from Accessorize with pretty cubic zirconia diamantes and faux pearls. On the morning of the wedding the bridesmaids presented me with a couple of gifts from Toby; one of which was a pair of 9ct white gold cubic zirconia studs from Warren James. They were perfect as I hadn't found anything I had really liked and wasn't sure what I would wear, so when I opened these I was so thrilled and surprised at the same time!"
"We met at secondary school in Year 7, age 11, in our tutor group. We were very young but instantly hit it off because we both made each other laugh a lot! At that time we were just good friends but by year 9, age 14, we began dating as boyfriend and girlfriend."
"In the school years of our relationship we were a little on and off but by the time we had finished college we were in a steady relationship and have been ever since supporting each other through university and starting up a business. We bought our first house together in the childhood village that I grew up in 2013 at the age of 24 and a year later we had our very own ginger fur ball Alvin (our gorgeous cat) who we absolutely adore!"
"We had talked about marriage casually and knew that it was something we both wanted one day but when Toby proposed on the 30th April 2016 it was a total surprise. He had taken me crabbing in Bosham a small village near Chichester – the tide was out unfortunately but the sun was shining on a beautiful crisp Saturday morning and our lines were baited with bacon. I absolutely love crabbing; it is one of my favourite memories from my childhood."
"With a fisherman as a father, I have no qualms about taking the crabs off the line and putting them into the bucket! Toby however is less enthusiastic about this job; he says he doesn't like the way they walk sideways! So to distract my attention he asked me to check his line for a crab and when I turned around he was on one knee with a beautiful ring and said 'Olivia Katherine Johnson, will you marry me?' I was so shocked at first that I replied, "What? Are you joking?" and he reassured me it wasn't a joke at which point I burst into tears and exclaimed "Yes!" We were engaged from the 30th April 2016 until the 14th August 2017."
Toby chose an informal outfit of navy blue chinos, a plain white good quality shirt and an Italian wool blend navy waistcoat with white speckles all of which were from Next, with his comfortable brown leather shoes from Clarks. He added a pale blue bow tie from Mrs Bow Tie – impressed that their products are all made in Britain – and handcrafted fine pewter silver cufflinks in the shape of crabs which were a present from his dad Gary via William Sturt. Toby finished off his stylish look with the spicy, earthy scent of Viktor Rolf 'SpiceBomb'.
The groomsmen wore exactly the same Toby, except their bow ties from Mrs Bow Tie were pale green in colour. As a gift, Toby bought them all a personalised hip flask in a black leather case via Notonthehighstreet, as well a pair of fish-themed socks from The London Sock Company.
Howard of South Coast Executive Travel and Andy from the Itchenor Ferry helped out with travel arrangements for the bride and bridal party.
"A lovely man named Howard, who coincidently used to be the captain of a ship, was my driver and offered the night before to wear his Captain's uniform. I couldn't believe how perfect it was! Howard safely dropped myself, the bridesmaids, my dad and my step-dad to the jetty at Itchenor where we boarded the Itchenor to Bosham ferry. The boat was owned by the local Itchenor ferry man named Andy who was recommended to me by the sailing club. He was really friendly and helpful, communicating with me in the run up via email."
"I was accompanied down the jetty, which was our aisle as we arrived by boat, by my dad, Andy, and my step-dad, Ray. It was really important that they were both with me as they had both played a big part in bringing me up and having them both there was symbolic of the love and support that they have both always unconditionally provided me with. I feel very fortunate to have both these wonderful men and role-models in my life. Also my sister Flo, who was my maid of honour, and my best friends, Rachel, Lucy, Charlotte and Vicky, who were bridesmaids, accompanied me down the jetty. They are all a big part of my life and I have known them for many years having met them all at school."
"We wanted the bridesmaids to feel comfortable on the day and we weren't bothered about them matching or all being the same colour so we decided to just order a few different styles and colours and then invite the girls over to choose the one they liked and felt most comfortable in. All the dresses ended up being from ASOS as they have a really wide selection of bridesmaid dresses and they all ended up with a completely different dress in varying shades of blue and green. They wore their own shoes and accessories and flowers in their hair from the florist."
The couple gifted the bridesmaid's with beautiful jewellery pieces as a thank you.
"We bought the girls each a necklace from Essential Jewellers which was a simple sterling silver necklace with a polo shaped cubic zirconia pendant. I didn't insist that they all wore this as it didn't go with some of their dresses but bridesmaid Lucy, Rachel and Charlotte wore theirs. We also bought the girls and my mum a bracelet from Etsy. The bracelets had a faux leather, cord strap in teal or blue and were adorned with a beautiful piece of frosty sea glass. They are made locally on the Isle Of Wight with sea glass that washes up on the Bembridge beach. I loved that they were handmade from recycled materials and so local (my grandparents actually used to live in Bembridge), plus they fitted in perfectly with our sea theme and the colours of our wedding."
"Our vows were actually incredibly hard to write. How do you decide what you want to say to the person you love and have loved for fourteen years in just a few words? We actually spent ages drafting and thinking about what it was we were promising one another and they weren't complete until a few weeks before the wedding and even then we were changing bits."
"However, it mattered to us both that what we said came from our hearts and was personal to us both. This did make them more difficult to read and there weren't many dry eyes in the courtyard."
"Our rings were from Cred who sell exquisite, ethical jewellery which we felt was important. All the diamonds are from conflict free zones and their employees in South America are well looked after and regularly visited by the Cred employees. I have a platinum engagement ring with three diamonds and a platinum diamond cut wedding band. Toby has a rose gold band."
"We had one reading which was read by my brother. We both felt the words and their meaning were perfectly suited to our relationship, ceremony and also funnily enough to our venue's location:
Time Travellers by Terah Cox
May you take on the world together with all your hopes and dreams
May you be each other's anchor
in smooth or rocky seas
May you bend to the world's winds and brave stalls and storms
May you find common ground
in all its changing forms
May you cross stubborn boundaries and turn many a stone
May you find haven for your souls May you have heart and home
And if some days are gray
and some nights are long and cold
May you be each other's sun and moon as your destinies unfold
And should you lose sight of each other and start to drift apart
May you circle back by following
the compass of your heart.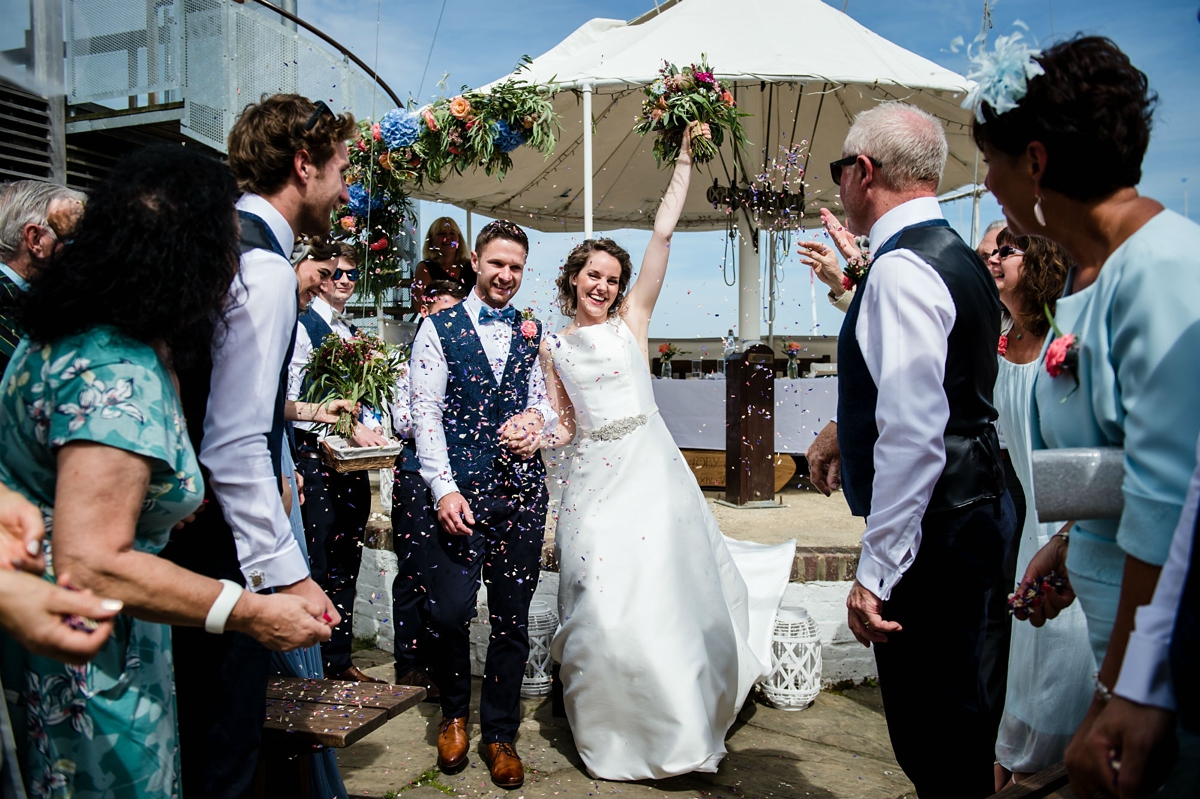 "Our photographer was Mona Ali who was an absolute dream! She understood exactly what we wanted and was so friendly and helpful. Her organisation and timings really helped us to plan our wedding and it meant that on the day everything went to plan and nothing overran or got missed, which was essential as we wanted maximum time on the dancefloor! So many people commented on how hard she was working throughout the day and how friendly she was also. We barely even noticed her which was one of the reasons why we liked Mona's work."
"She takes unobtrusive, natural photos which tell the story of your day without you even realising she is there. When we received our photos from Mona we were blown away by them and how beautiful they were. She took us straight back to our glorious, sunny wedding with all our loved ones and every photo helped us to relive the magical moments from our day all over again. We can't praise her enough for the energy, atmosphere and love she managed to capture in all of our photos."
During the drinks reception, a friend of a friend played the steel pans. The first song they played after the wedding ceremony, while the newlyweds were getting decorated with confetti, was 'Under the Sea' from The Little Mermaid – the perfect, sweet melody to set the ambience for the start of their seaside celebrations whilst the sun was shining.
Laura and Steph and their expert team at Rococo in Chichester prepared all of the stunning flowers for the Toby and Liv's wedding.
"We chose sea holly for obvious reasons as it matched our venue and theme, plus I liked that it had a different more edgy texture to the other flowers in the bouquet. We wanted bold vibrant colours like deep pinks and corals along with bright blues so we chose sweet williams, succulents, love-in-the-mist (Nigella), blue hydrangeas, 'Miss Piggy' coral roses, eucalyptus, and olive foliage. We didn't want them to look too perfect, more of a handpicked, rustic look so they were tied with hessian and gathered in a sort of messy fashion."
"It is so hard to pick a favourite part of the day as for us there are many. One moment had to be arriving by boat – and aboard there were pretty cushions, bunting and Prosecco. Myself and the girls were all so excited at this point and couldn't stop squeaking and cheering and throwing our bouquets into the air. Being with my best friends, sister, dad and step-dad Ray on the most magical summer's day out at sea was like something out of a fairy-tale."
To cut costs, but also help with making the lead up to the big day more enjoyable and stress-free (and maximise their artistic and creative skills), the couple enlisted the services of many of their family members and friends to make the items of decor.
"My mum had a lot of involvement in the wedding which I loved because we are very close anyway as a family and having my mum so involved meant a lot to me. We got together when we could to paint pebbles and I did a few in my spare time. Toby also got involved painting one or two pebbles (literally!). However, the vast majority of the pebbles were collected and painted by my amazing mum. They looked incredible on the day and everyone was amazed by how much effort and love had gone into them. I loved that they were personal, practically free and continued our sea theme. Mum also created reams and reams of bunting to decorate the venue and she loved doing it! "
"Our friends who had recently got married leant us huge amounts of fairy lights, faux flowers, sweetie dishes and much more. One of my favourite parts of the table decorations were the place cards. Toby and I spent a few Sunday afternoons pulling pages out of a book about coasts that we had bought from a local charity shop. We tore, folded and scored the pages into little origami sailboats. My brother's very arty partner then spent an entire Sunday afternoon scribing the names of our guests carefully onto their sails in a black fine-liner. They looked so sweet bobbing about on the tables and again helped to continue our sea theme."
"Toby's mum and grandmother, who is the queen of all things sewing related, created a beautiful ribbon backdrop from scraps of fabric. They had tied and created it in a boho style and adorned it with beautiful buttons, ribbon and beads. Every stitch had love sewn into it and for that reason was an incredibly special gift to us both."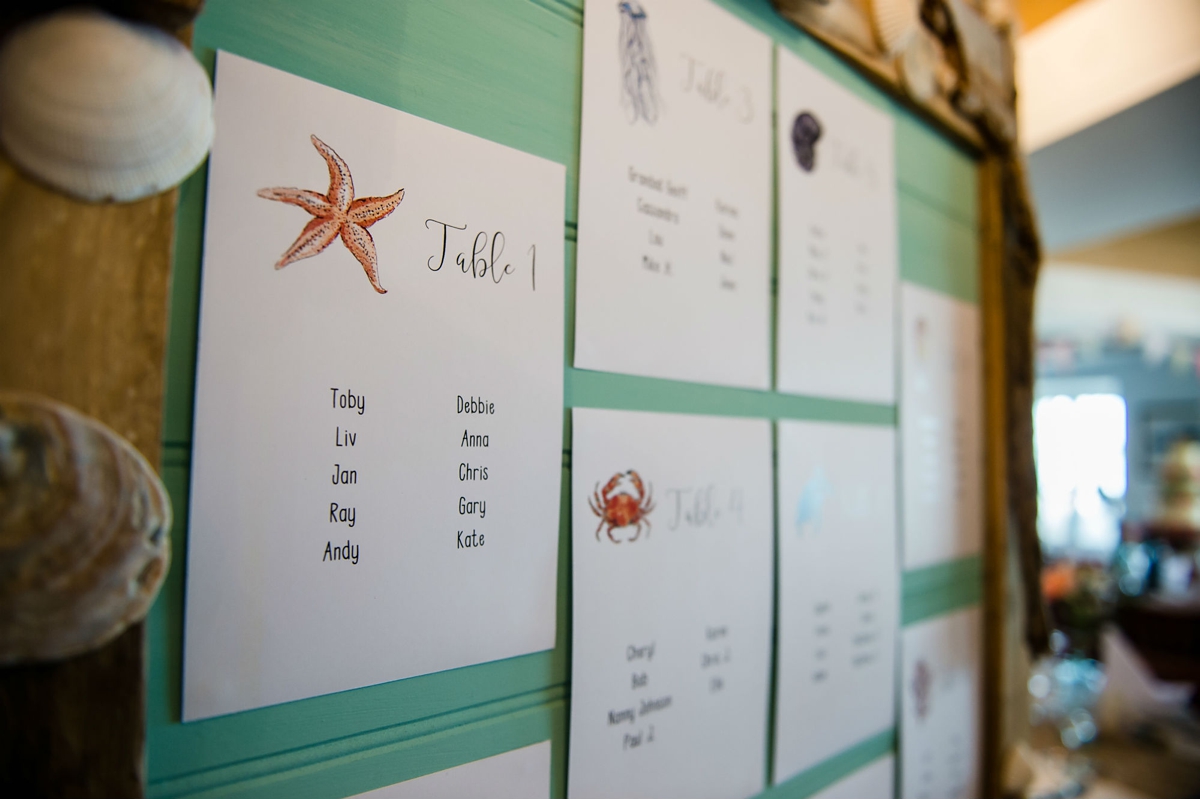 "Our stationery was created by Holly at Little and Large Events. We saw her work at a wedding fayre near Chichester and we absolutely loved the examples that she had out on display. She was so quick to respond to my emails and so friendly. She came to my house to discuss the design and style that we wanted and to find out a bit more about myself and Toby. She then spent a few weeks drawing and sketching the images that you see on our invites and table names. The fact that they are totally bespoke and completely personal to us and our wedding was definitely worth the extra expenditure; being a teacher quality stationery is everything!"
"The table plan, which the table cards were attached to, was made by my very clever and creative step-dad Ray. He spent several weekends collecting driftwood and shells from the beach where they live in Southsea and then attached these to a tongue and groove board which he cut to size and painted in a mint green colour. It was an apt backdrop for our sea creature table cards and we are now going to use it to display photos from the wedding."
The catering team at the sailing club created a delicious Spanish feast and the fish was supplied by JohnsonsEnterprises – Liv's dad's company, which was a lovely touch.
Dessert was their magnificent three-tiered cake made by a lovely neighbour as a wedding gift – and the two anchors that sat on top of the cake were carved by Liv's dad – then in the evening there was a divine treat for all with a cheese and whiskey room supplied by Toby's Mum and partner Chris.
"The band was one of our good friend's brother's band called The Zed Men and they were incredible! The dance floor was alive the minute they started playing which is just what we wanted as we love a good boogie and the dancing didn't stop all night! They told us that they would try to learn as many as they could for the wedding. We wrote a big list of songs that we wanted on our playlist and they were incredibly versatile and played so many different songs from different eras, which appealed to all our guests."
"We didn't want anything too soppy for the first dance as that just isn't us, so eventually we decided on Paolo Nutini 's 'Pencil Full of Lead' and choreographed a short routine to go with it. The track is only a couple of minutes long which helped as neither of us are any good at dancing! I also did a first dance with my lovely Dad. I chose 'Let's Dance' which reminds me of him because he is the biggest David Bowie fan anyone has ever met! I loved dancing with my dad, it was so much fun having those moments together and creating those special memories."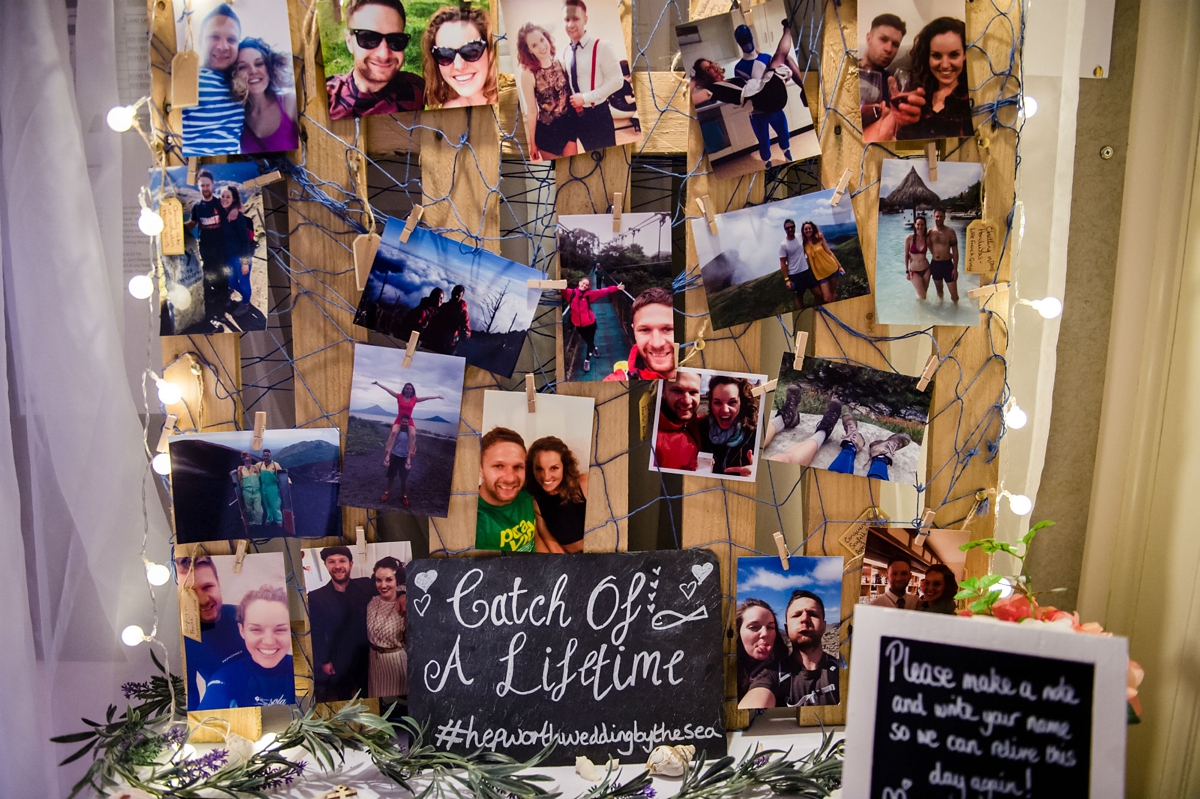 Words of Wedded Wisdom
"My advice would be don't sweat the small stuff. All the little things that you are panicking over or worrying about whether you'll have time to do honestly won't matter on the day. Lots of people had said that wedding planning is stressful, but I think it is only stressful if you make it. I absolutely loved every minute of planning our wedding and wish I could do it all over again.
Try not to compare your wedding day to anyone else's. You want everyone to have a good time and they will – you are basically throwing a huge party and no matter what you do, yours will be unique because it is your day!
Do what you really want to do even if it is a bit out there and don't be influenced by others. It is your day at the end of it and you shouldn't regret anything about what you did. We don't regret a thing!
Enjoy every moment in the run up to the day and obviously on the day. It goes so quickly and before you know it, it has past. It is the most exciting time for you and all your loved ones so maximise on their support and help, it's more fun together!
We ended up using local suppliers for almost everything which wasn't intended but I am glad we did. It meant that a lot of the suppliers knew the venue and it made it really easy when booking appointments to pop in and see them with updates or questions. It was also lovely to know that we were supporting our local community."
"One of the things that made our wedding feel so special was knowing that our family and friends had been involved with the planning, making, borrowing and creating. On the day the venue looked incredible and every part of the day was just perfect to us, it felt like a huge team effort and we loved that!
I visited Pinterest a lot and 'Love my Dress' which I used for inspiration on so many different elements of the day. It was so easy to navigate. I loved looking at real weddings for ideas and I loved how you can refine your search by colour and style. It helps to narrow down your search. I love the way the blogs are written with little quotes from the couple on their day. The layout and ratio of text to image is great and gives you a real flavour of the couple's wedding day. Also it's great that you can also search for things like wedding readings and ideas for suppliers in your area. The font you use and the general look of the website is very high end and is a great platform for showing off people's beautiful weddings."
Liv and Toby – I have loved being tasked with sharing all the delights of your big day. I had loads of adventures during my time in England with my Chichester-based family and fondly remember the sailing club's stunning location, as well as Bosham (yes, our car got stranded by the tide!). The emotions, tears, and joyful faces on the sunshine-filled day were captured so beautifully by Mona – and I just adore how talented your family and friends are with creating all of the incredible sea-themed decor. Such a lovely thing to do and get together in the lead up – these are memories you'll both treasure forever.
For even more inspiration, take a look at these lovely seaside weddings from our archives.
Stay warm!
Love Jo -xo-