Happy Monday lovelies! I do hope you all had beautiful weekends and are ready to sit down with a fresh cuppa to enjoy today's gorgeous wedding. There's nothing I love more than kicking a new week off with an overseas Chateau wedding in the stunning South of France, no less. So let's get to it…
Holly and Max were married on 12th August 2017 at Chataeu de Lartigolle near Pessan, South of France and brought talented British wedding photographer and Little Book For Brides member, Richard Skins along to capture the day on camera.
"Richard was a complete photography superstar. Lovely, professional, seemingly everywhere at once, unobtrusive, with an incredible eye. We have come back to his photo's again and again and keep finding new things we love – little glances he's captured, or moments we had forgotten. Our guests have also been thrilled with how many awesome pictures he's taken of everyone. One of our friends even emailed us to say 'its arrivent a nous rendre carrement plus beaux gosses', which basically means all the photos make us all look really awesome/handsome! Which is true!"
Photography by Richard Skins
"Love My Dress was my main inspiration whilst planning, along with Instagram, but I also spent a huge amount of time on the Love My Dress Facebook group. No question too small, no problem too random for those ladies! It's an incredible space and really helped inspire a feeling of 'let's make this day reflect us'."
Film by Andrew Kelly
"We were looking for somewhere beautiful with a relaxed vibe (no coats of armour allowed!) close to Max's family base in Toulouse. We stumbled across Lartigolle's website early on and it became the benchmark against which we compared everywhere else. The Chateau has been lovingly and stylishly restored, and is grand without feeling cold or too 'castle-y'. You could almost kid yourself you lived there and we totally milked that dream for the time we stayed there."
Once an overseas wedding had been decided upon, the couple enlisted the help of the planners at the Lartigolle to ensure the run up to the wedding and the day itself ran smoothly.
"The wonderful Nick Austin at Lartigolle led our planning, and Emma (who led the styling) and Helen (who kept us sane and managed the day for us) were a real dream team."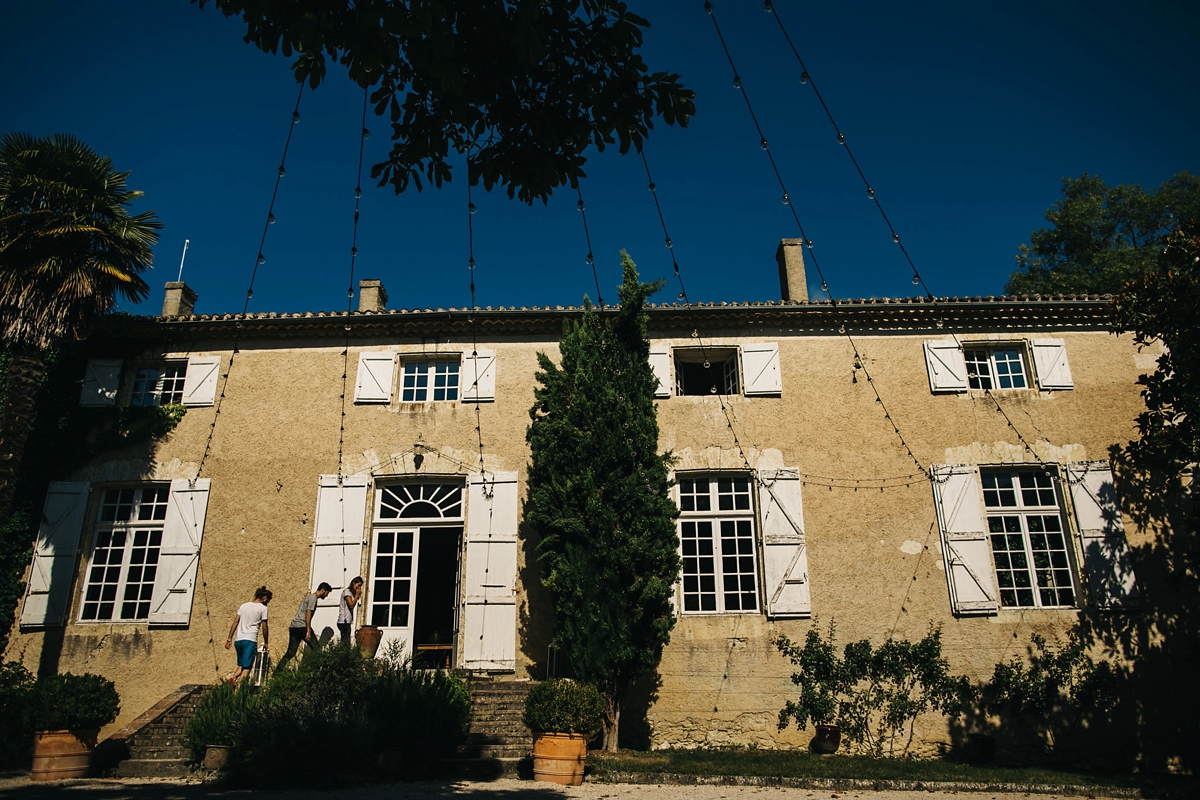 The pair met one rainy London afternoon, and found they immediately hit it off.
"I'm British (half English, half Scottish) and Max is French and he'd recently moved to London for work. We met on a dismal rainy Tuesday for drinks, had too many glasses of wine and hit it off talking about skiing accidents and the wine course I was revising for. And the rest, as they say, is history."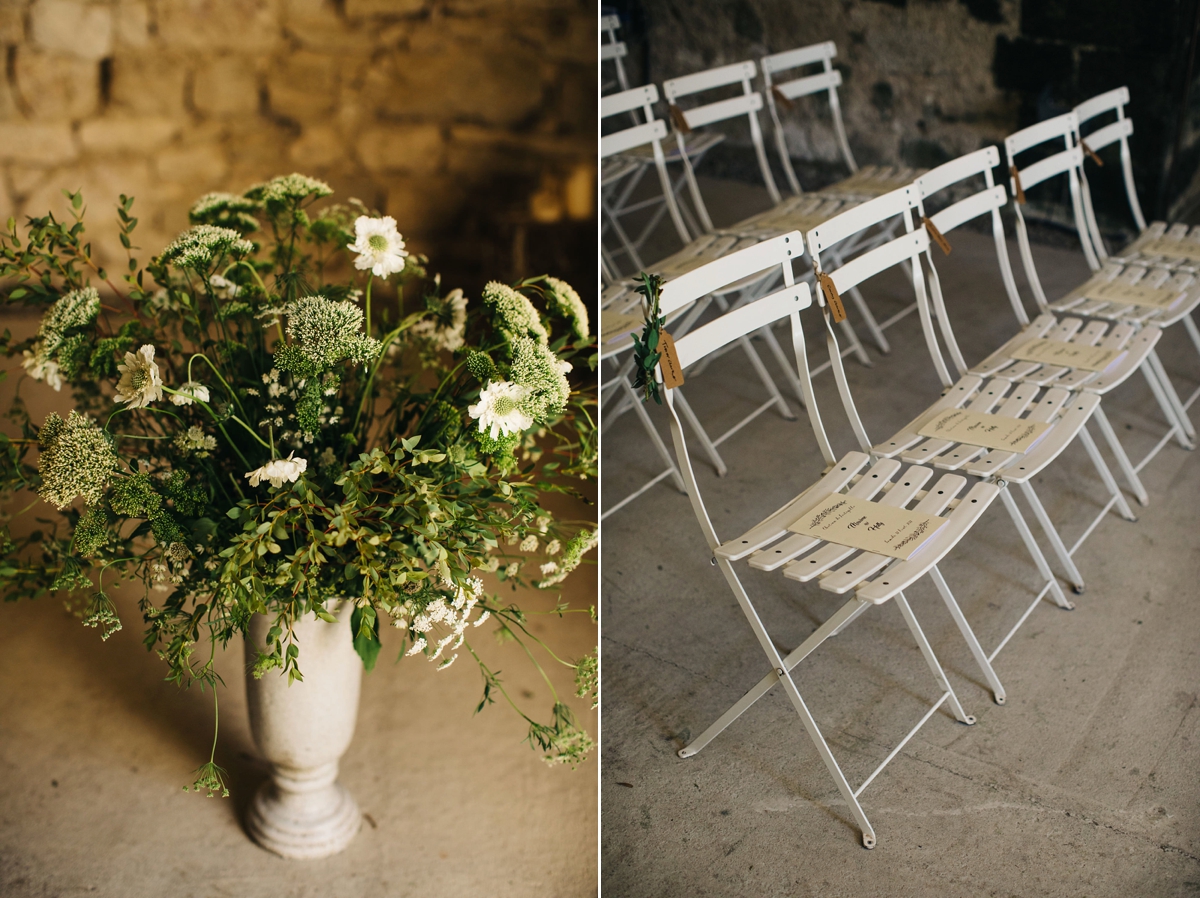 "We really struggled when it came to having a 'theme'. Mainly because we wanted lots of different things because we liked them and not because they fitted into a bigger picture. Full credit to Emma at Lartigolle who managed to craft our rambling ideas of 'green' and 'fresh', 'seasonal' and 'dinosaurs' into a coherent and beautiful result."
"One thing we did incorporate was a nod to my Scottish roots with my family tartan for the flower girl dress sashes, bow ties, waistcoats and father of the bride kilt. Having this tradition crossover both sides of the family was a great way to bring the French and British ideas together in a visual way, which was important to us."
With potential language barrier issues which required both French and English duplications across all their stationery, Holly and Max decided to design and print it all themselves.
"On advice from other LMD Belles (aka, members of the closed Love My Dress Facebook group), we bought a template online which we then tailored to what we needed for the invites and used printed.com to print them. The wedding favour cards doubled up as the place names. The order of service was a real labour of love and team effort, involving help from my French teacher, Bishop William, my parents who helped with the printing and Max, who spent hours sweating over how on earth he could translate 'dearly beloved' in a way which sounded normal to a French ear. It was so worth it, to have everyone able to follow the ceremony fully."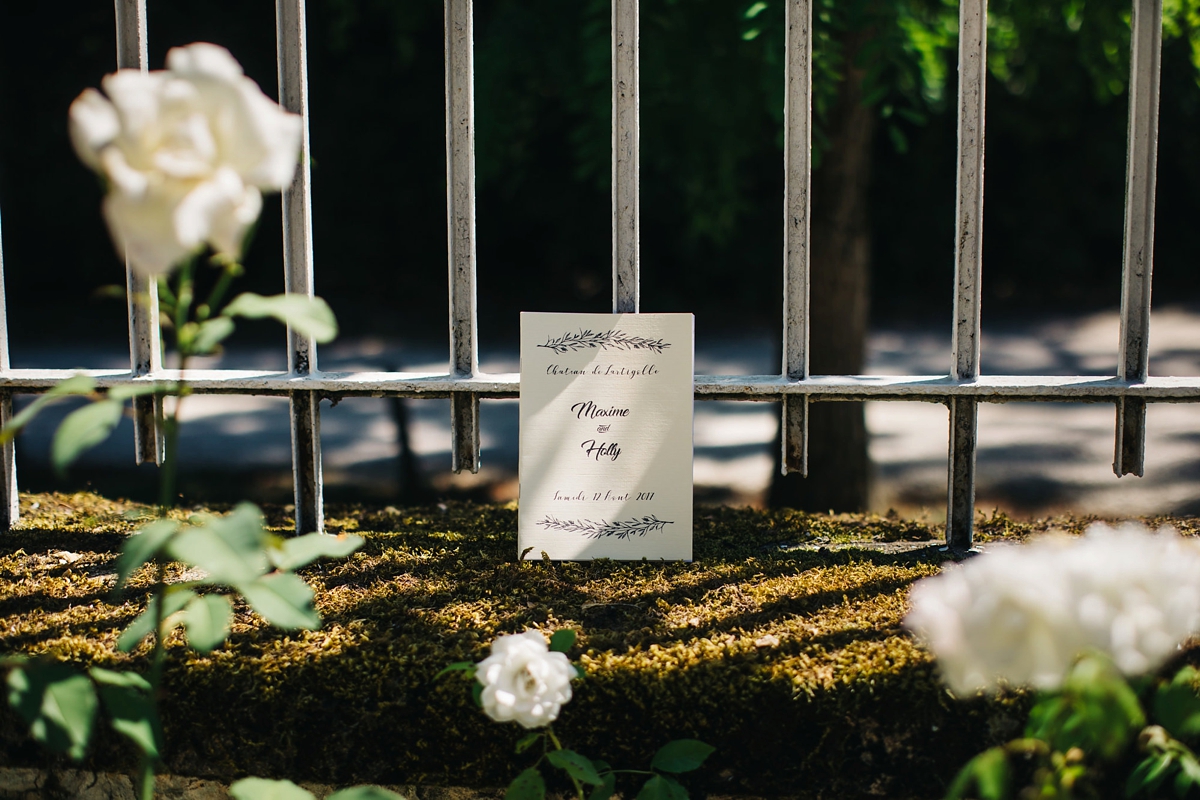 Holly chose one of my personal favourite wedding dress designers Rime Arodaky for her wedding gown, purchased from The Mews Bridal in Notting Hill, London.
"I loved the mixture of modern lace, slightly sixties button skirt and classic waistband and cut. It felt bridal and cool and sexy all at the same time which meant I felt confident in myself on the day. The whole girl power bride, like a boss attitude is really clear on Rime Arodaky's Instagram, feed and I was basically going for that."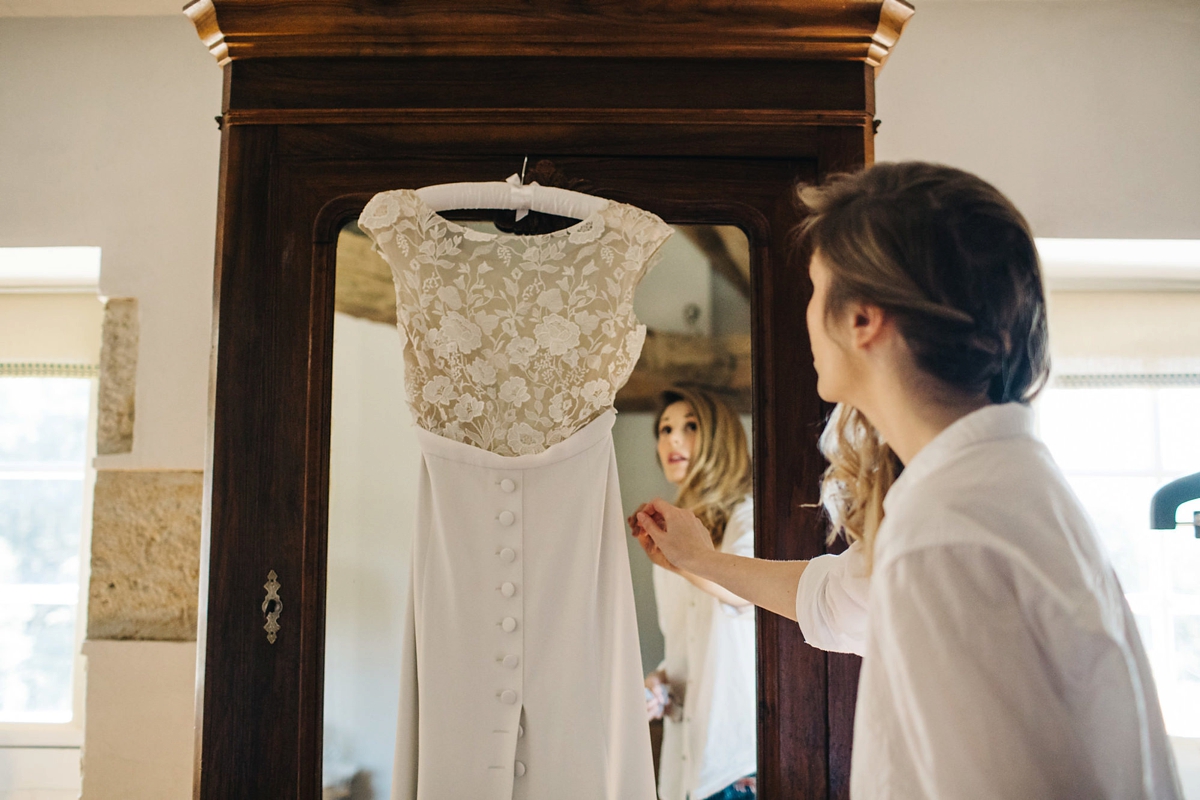 "When we got engaged I brought home the little gratuity bottles of shower gel from the hotel and the scent immediately took me back every time I used it, so I knew I wanted to try to find something special for my wedding scent."
"I have been wearing Le Labo Poivre 23 for years but it is quite a spicy, wintery scent so I went to the lovely ladies at the Le Labo concession at Liberty's to choose something else. After dousing myself in various options and wandering around the haberdashery department for a while, I came away with Jasmin 17 oil, which is lemony and fresh without being too sweet. I have loved wearing it on special occasions since."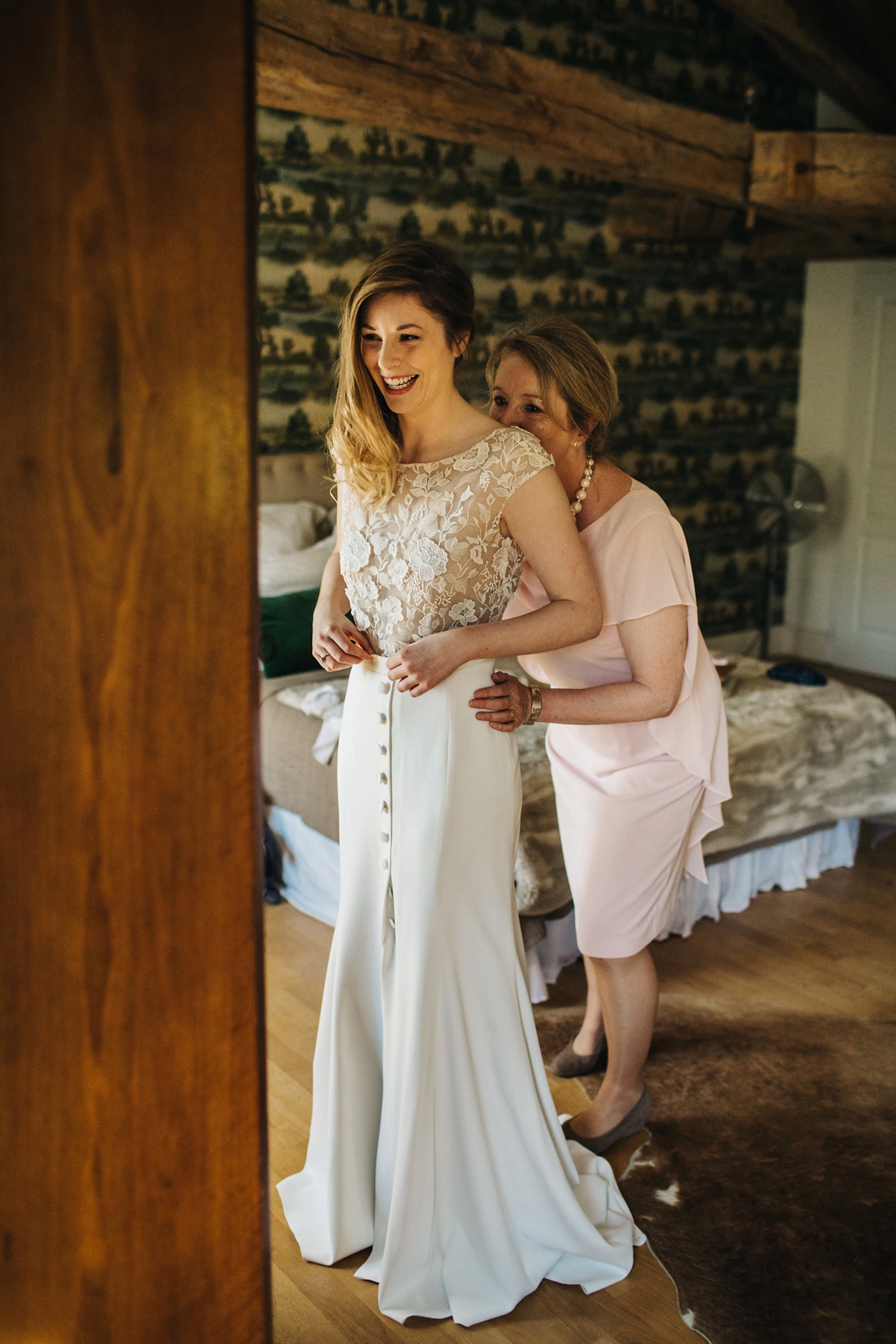 As someone who doesn't wear much jewellery in her day-to-day life, Holly decided against wearing any on her wedding day as she didn't want to detract the attention away from her dress, so stuck to simply wearing her engagement ring, however she did enlist the help of hair stylist Annie Salmon to create her gorgeous down do on the day.  She did however wear a cathedral length veil from Blossom & Bluebird, a supplier she found via Love My Dress, and a pair of rose gold glitter heels from Office.
"They were my 'something old'. I'd worn them to special occasions the year before and knew they were both fun and comfy – the dream combination! When it came to dancing in our 'rave cave' we switched to light-up flashing trainers, which is an idea I totally stole from the Love My Dress Facebook group – thanks ladies! Everyone loved them!"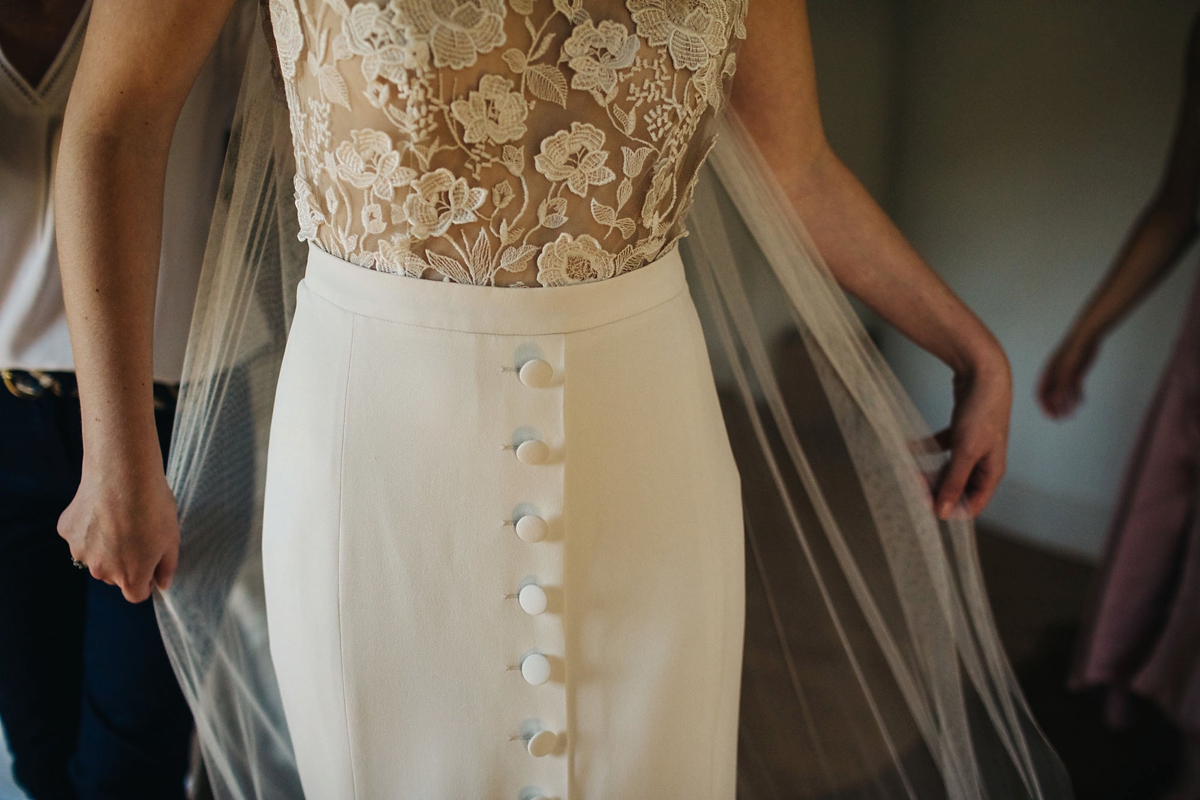 With a bride squad made up of two bridesmaids, four flower girls and three page boys, Holly opted for simple outfits to both match the stunning French Chateau setting, and give a nod to her Scottish roots.
"I wanted the bridesmaids to be obvious but not trussed up in matching formal dresses on a hot day, so I went for floaty ASOS satin skirts with simple white slip tops for each of them. The little white flower girls dresses were by Matchimony, paired with a tartan sash made by Max's mum and silk flower crowns by Elizabeth Rose Wedding Crafts. We also gifted them each a star necklace with their initial on it made by Grace Morgans Designs on Etsy. The little boys wore bow ties from Les Lupins."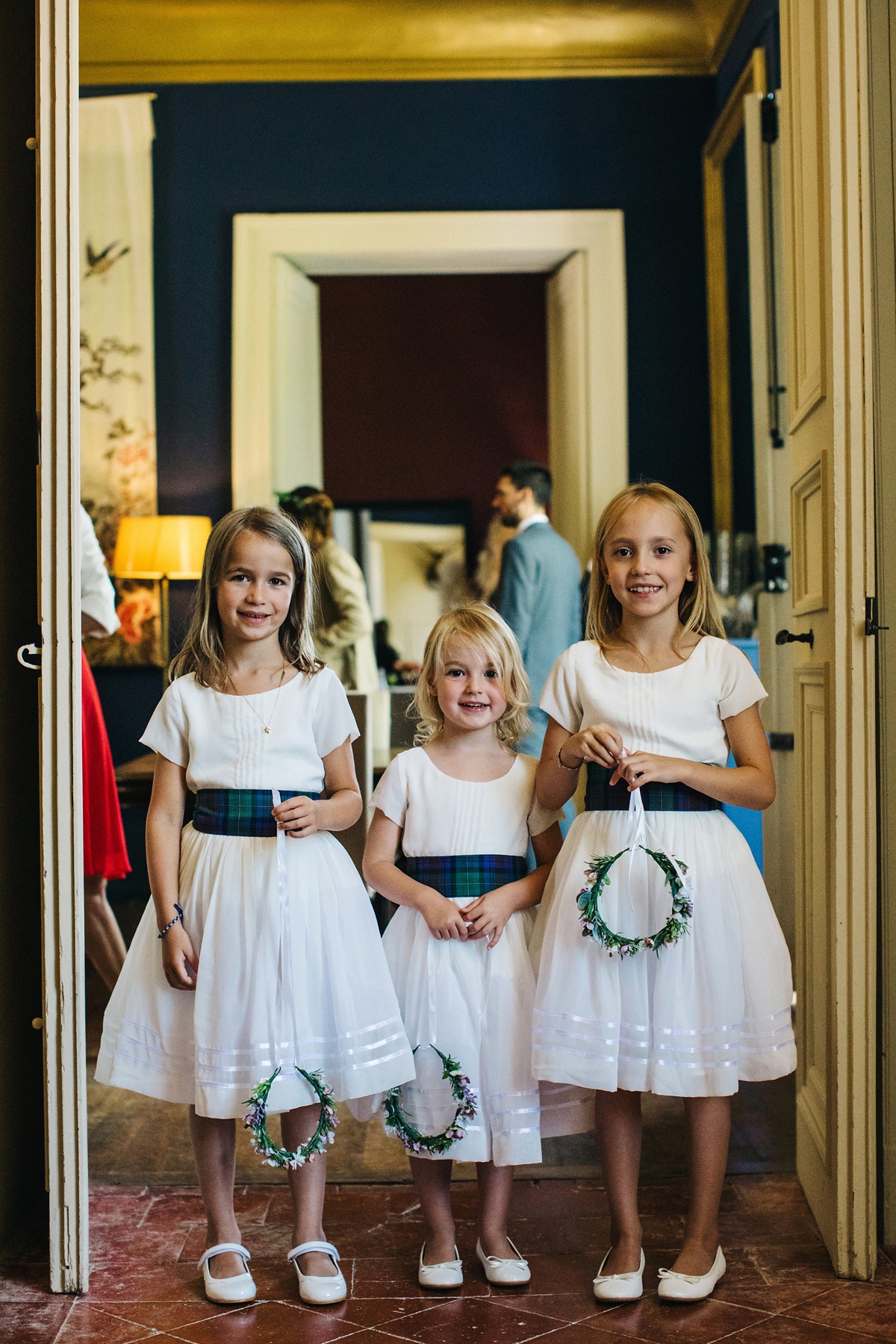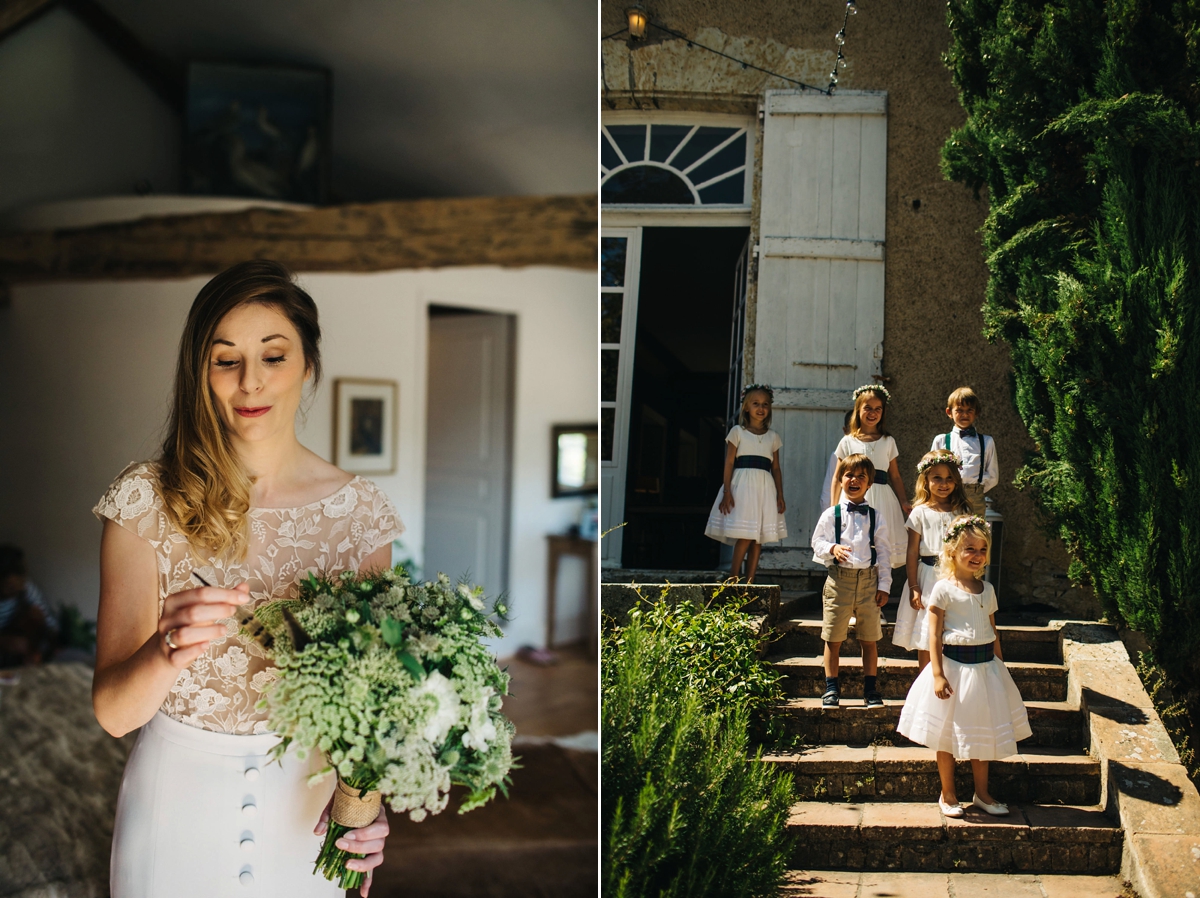 The groom complimented his bride wonderfully in a 3-piece suit with tartan waistcoat from Cad & the Dandy, and accessorised with a bow tie made by his talented friend who runs bow-tie shop Les Lupins.
The ceremony took place at the Chateau and was adorned with simply stunning greenery arrangements by Emma at Lartigolle. Holly's dad walked her down the aisle to Daniel Tritz playing The Rowan Tree on the bagpipes.
"It turns out finding a piper in the South of France is no easy task! But a lovely fellow LMD Facebook group Belle came to my rescue and passed over Daniel's details."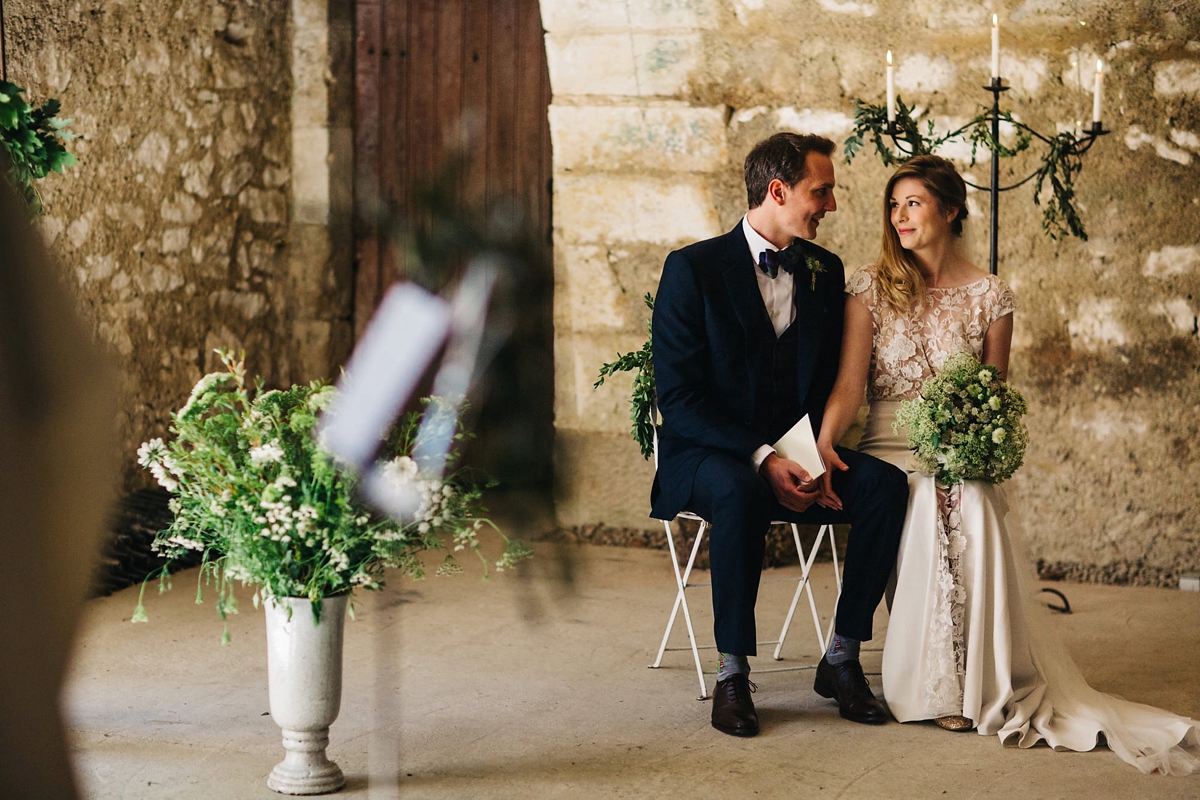 The celebrant, Bishop William Young and his wife Deacon, Catherine Young, conducted the ceremony and the couple chose to repeat their vows and exchange rings in both French and English, so they were both hearing the words as they had imagined growing up.
Readings included The Velveteen Rabbit, read by Holly's cousin Kate, and The Lamp by Saint Mother Theresa, read by Max's godmother Elodie.
"We also had an acoustic arrangement of Home by Ed Sharpe and The Magnetic Zeros, sung by our close friends Laura and Sophie. They had a beautiful guitar backing track made specially and sang it beautifully. We love the lyrics as they really reflect how we feel as a couple."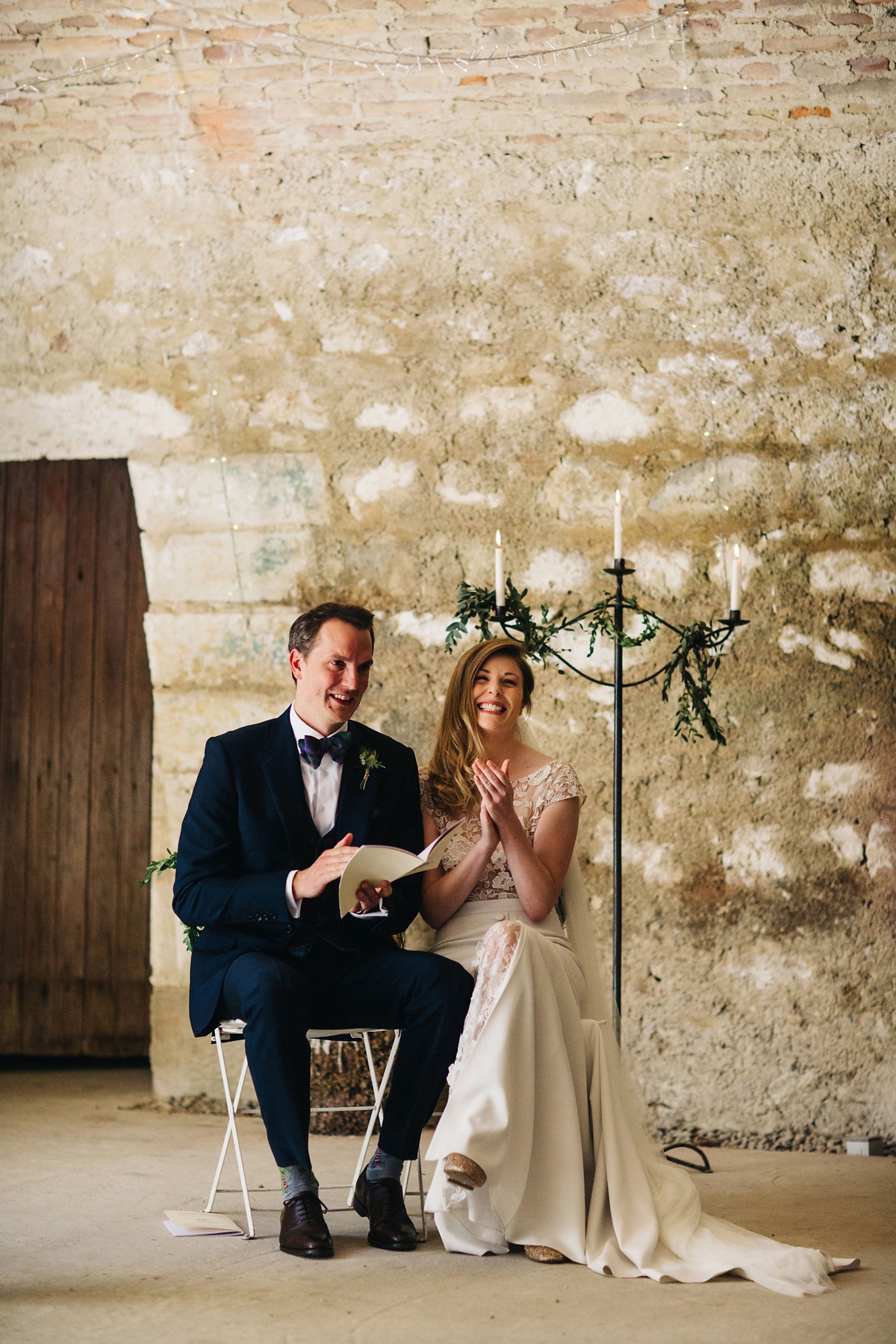 The pair swapped wedding rings made by Max's brother Guillaume using gold gifted by Max's maternal grandmother, then once the ceremony was over, it was time to celebrate their union.
"It was important to Max that we opened the dancing with a traditional French style waltz. I danced with my father first, before switching to Max halfway through, We danced to La Valse a Mille Temps, which has beautiful lyrics about dancing through your whole life with someone. We then had our DJ, Jeremy Delord via Prodj Online, mix the ending into some rock and roll music so that we could get everyone up and dancing together under the fairy lights."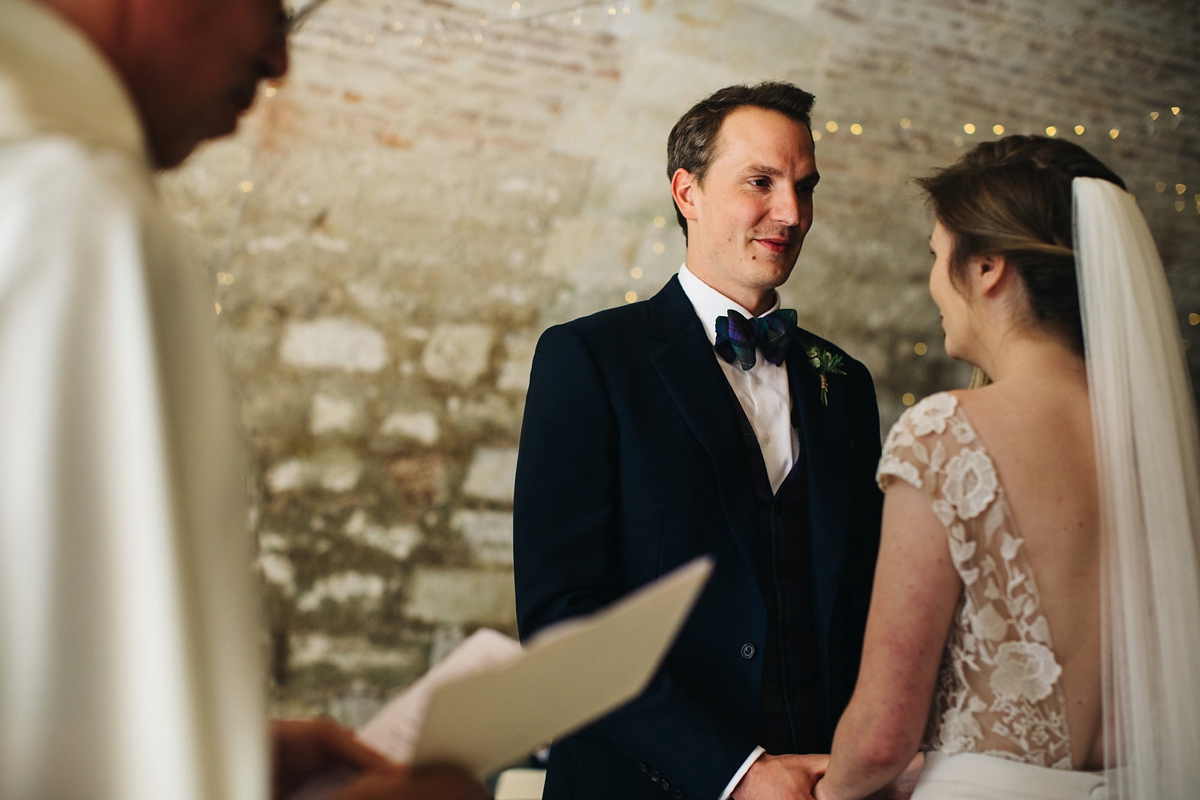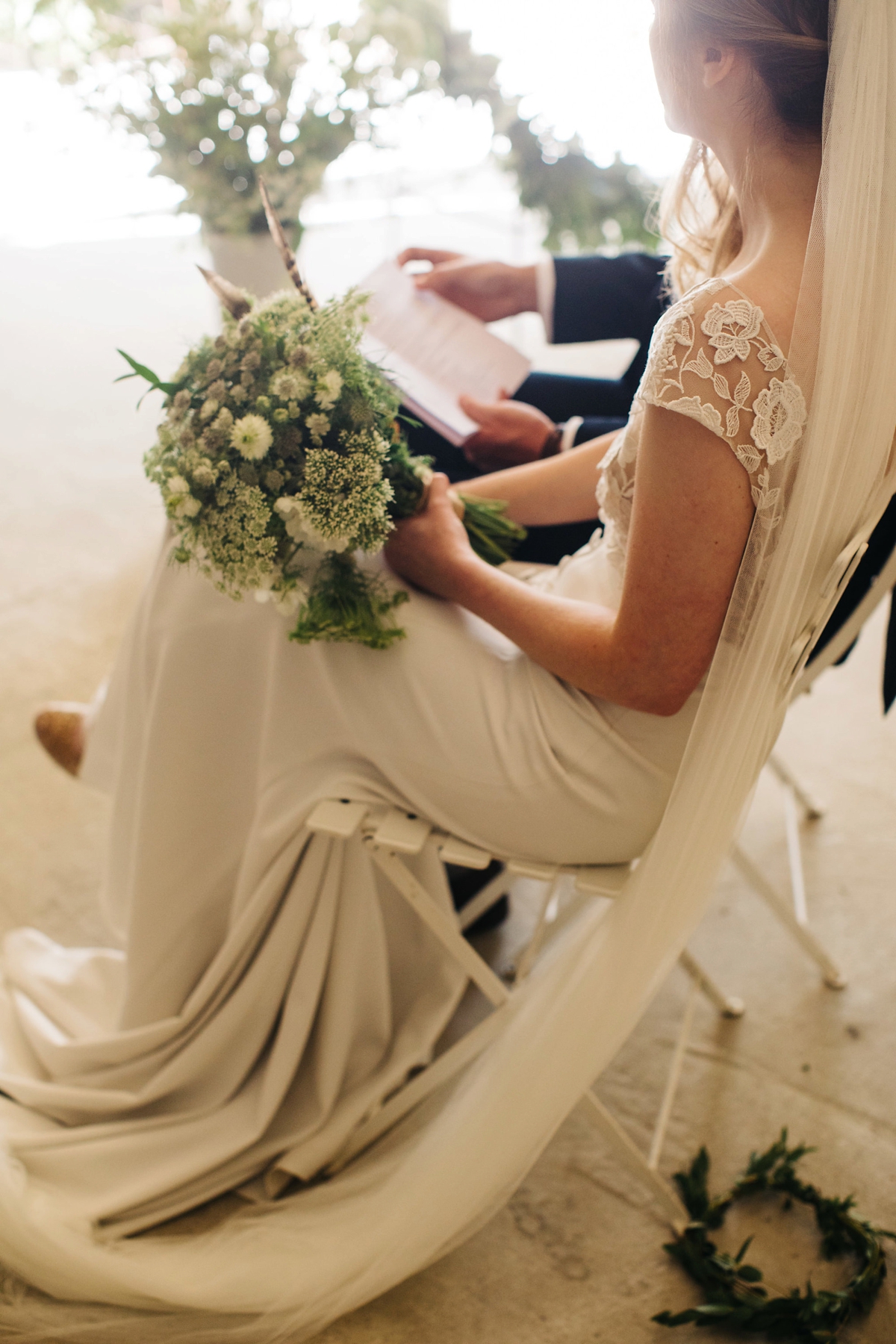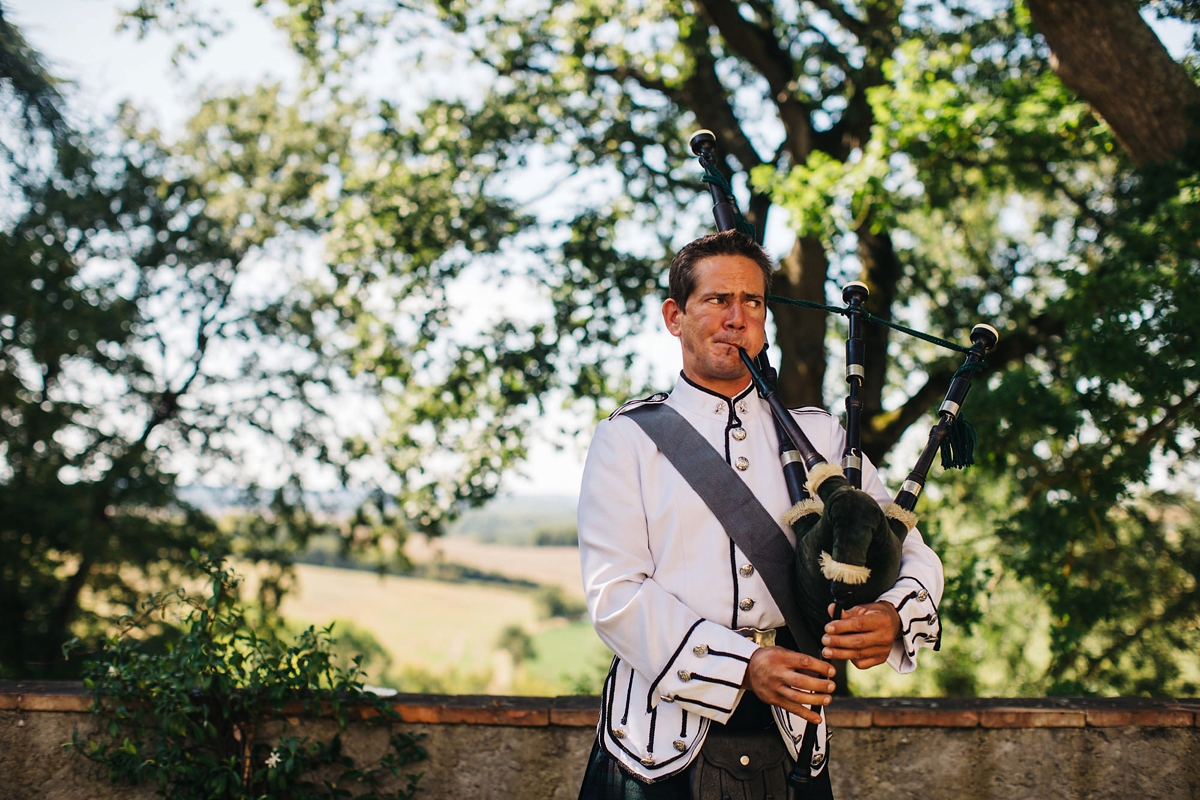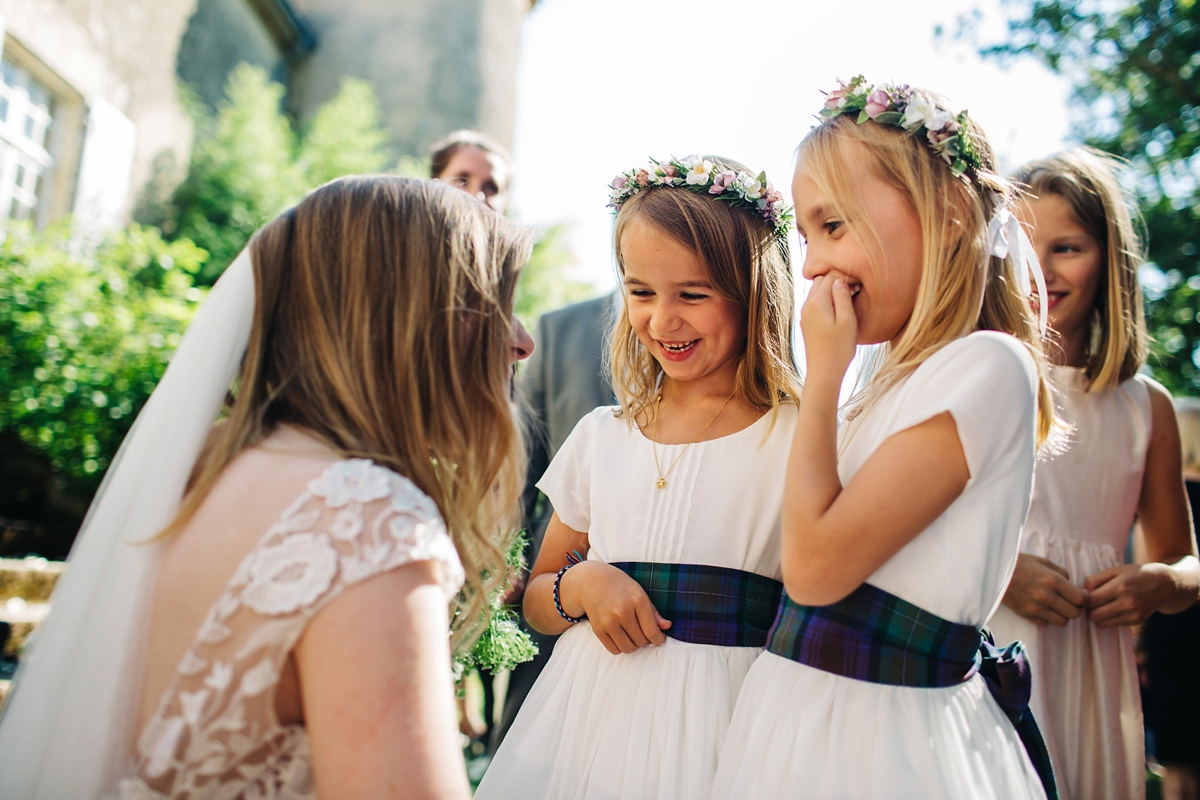 Videographer Andrew Kelly also worked behind the scenes capturing the day on video as another lasting memento.
"Andrew shoots on proper old school 8mm film and creates these dreamy, nostalgic images. As soon as we found him we knew we wanted him to film our wedding. It's such a joy watching it back (and we've watched it back at least 30+ times so far), and we'll treasure his work forever."
=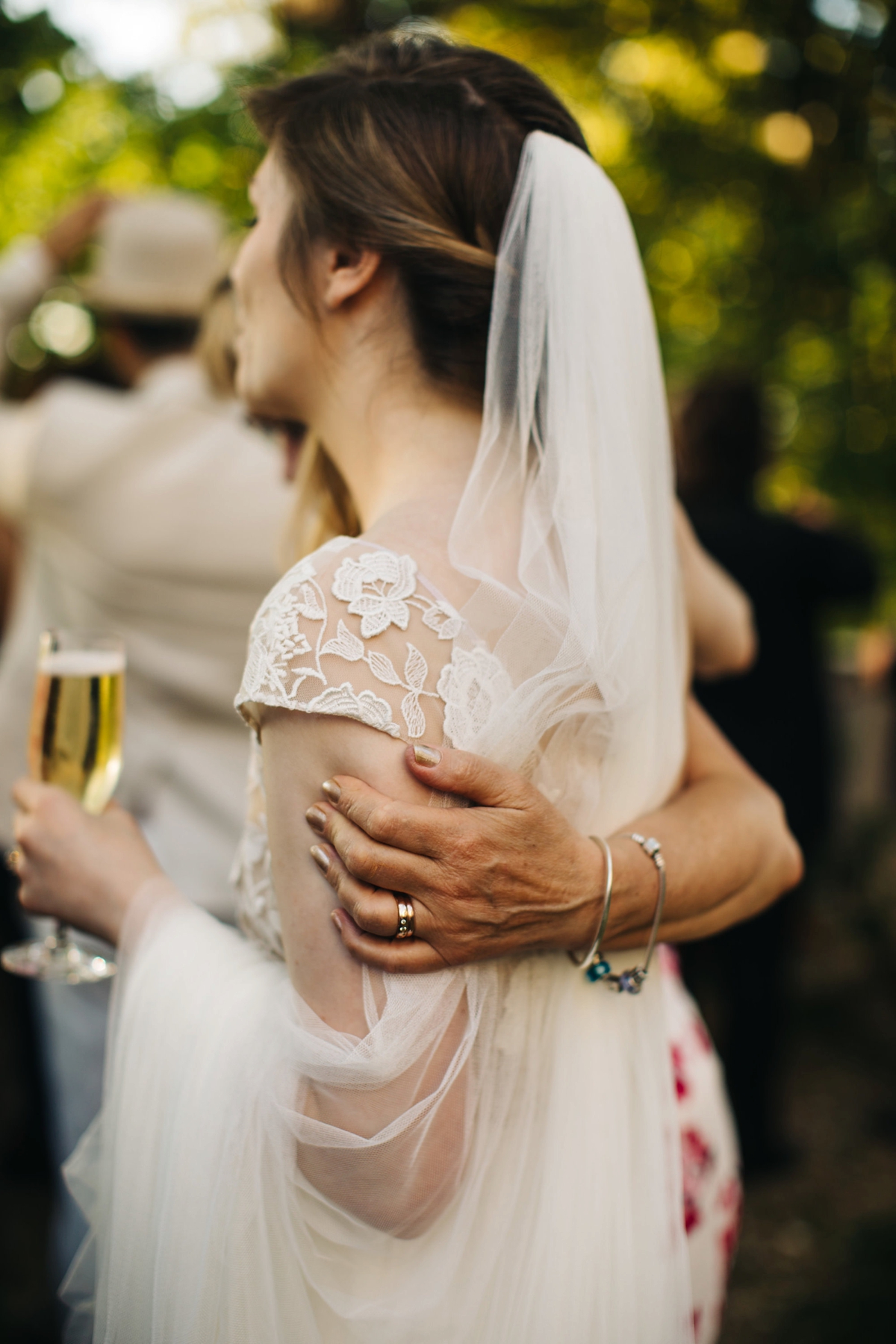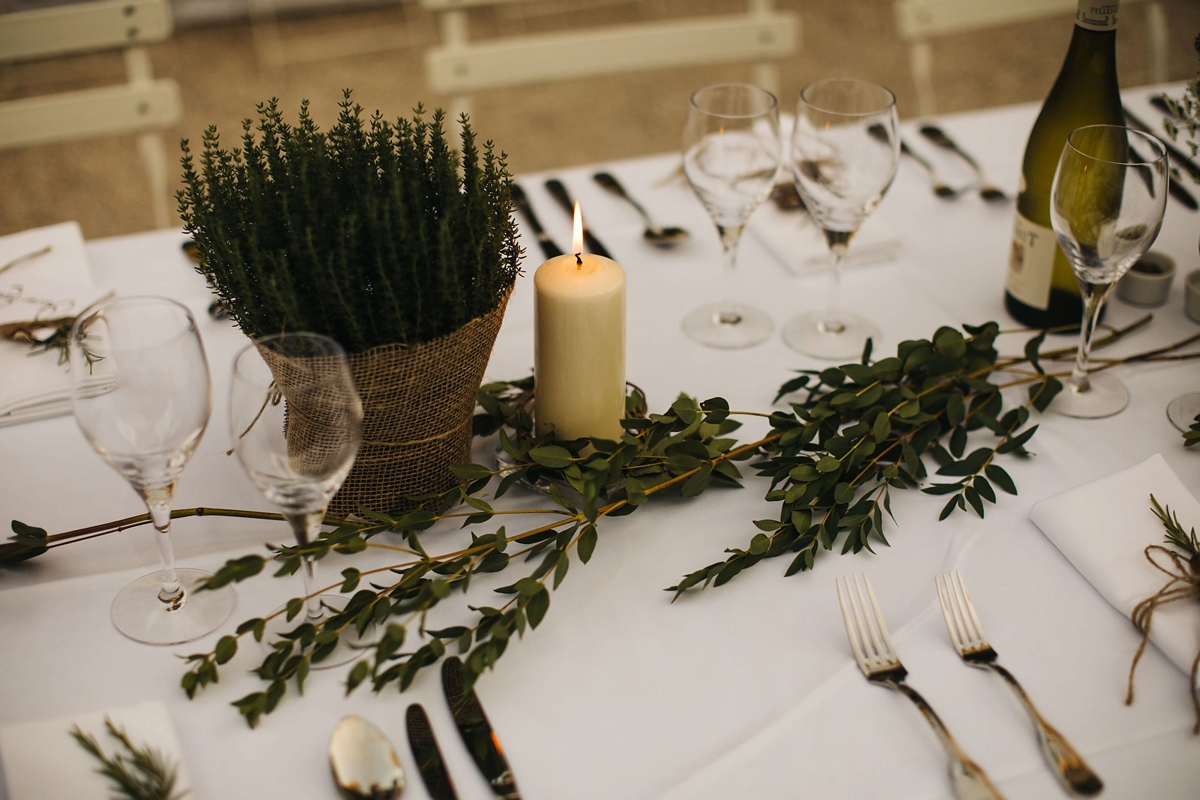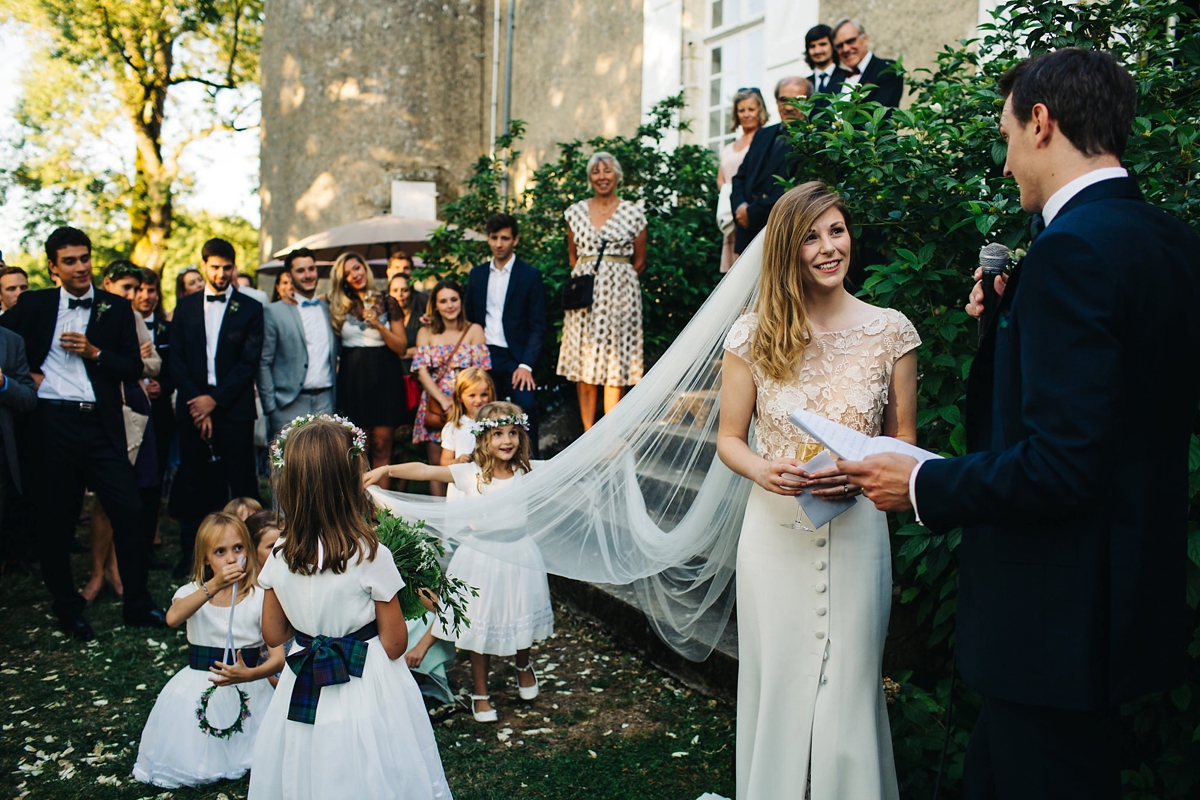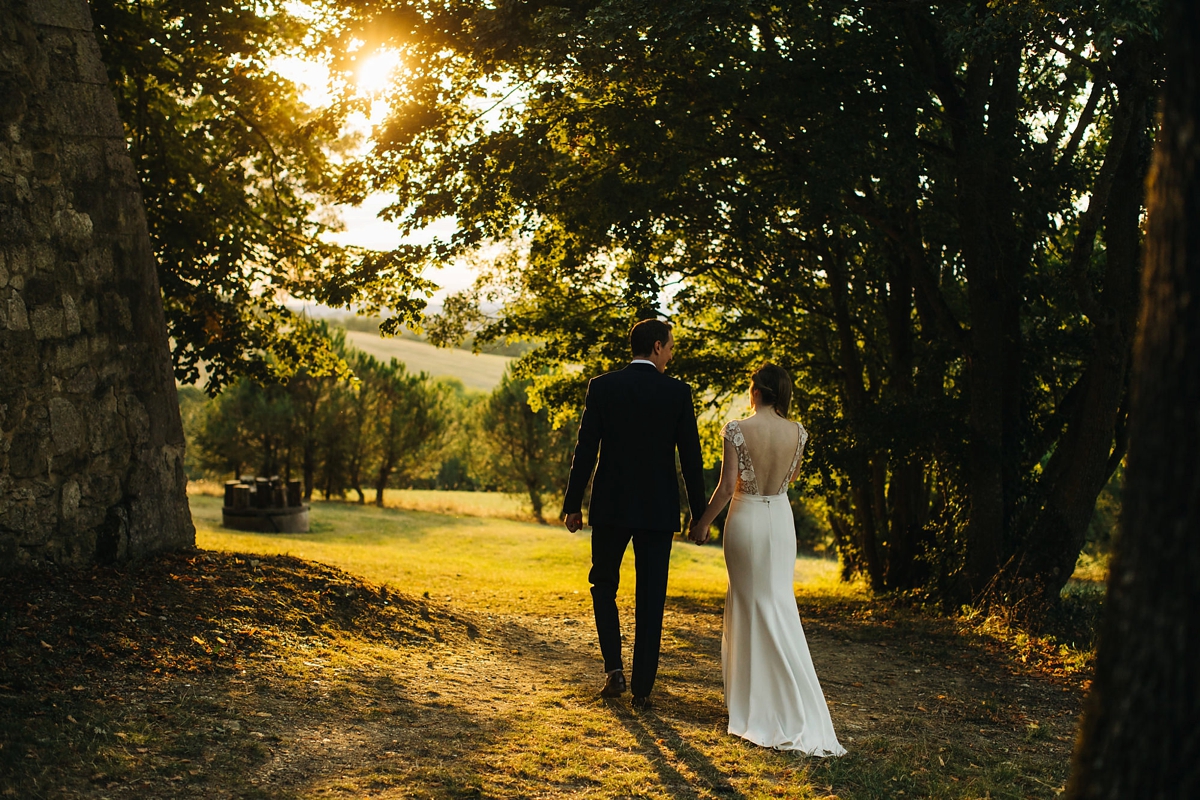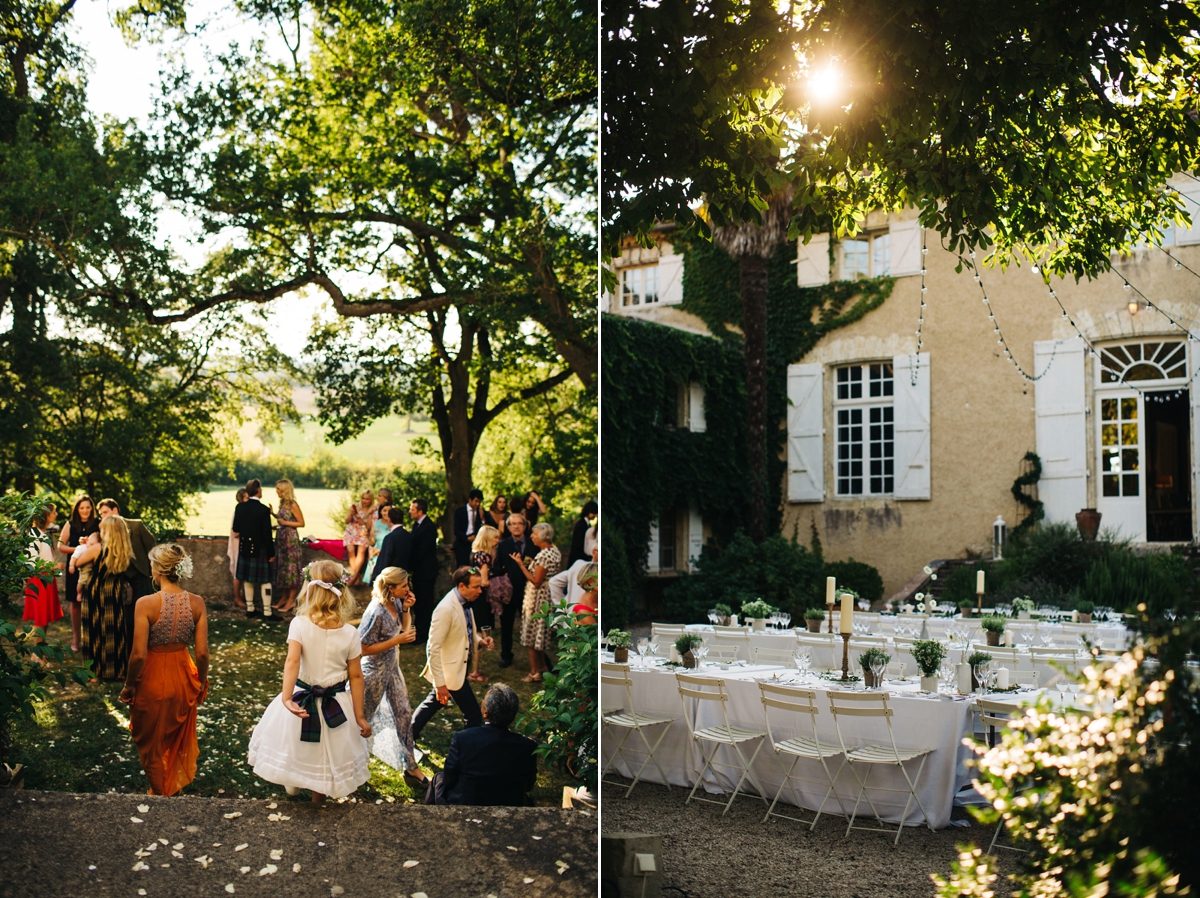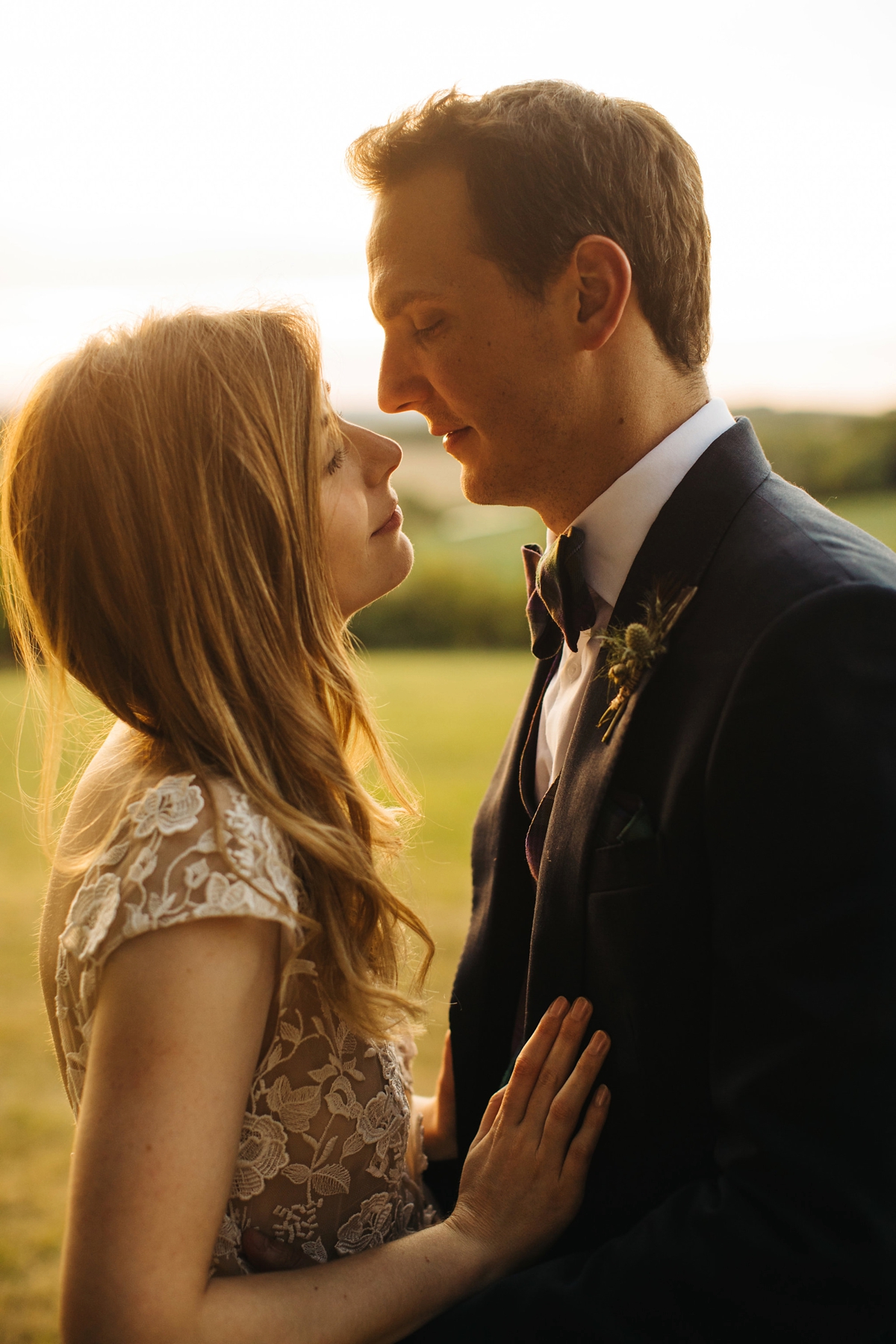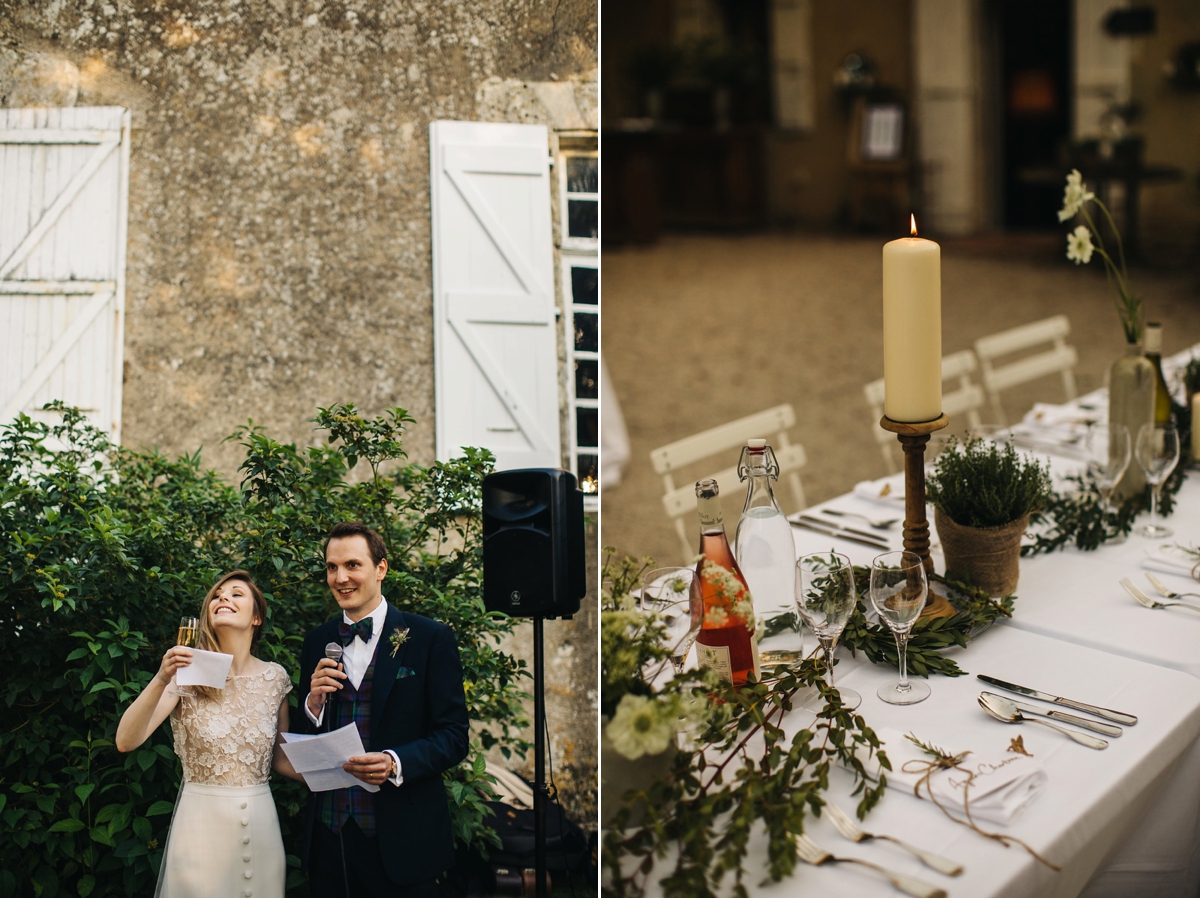 "We felt extremely fortunate to have such amazing family and friends who came to the middle of the French countryside for us so rather than traditional wedding favours, we decided to write individual cards for each guest, telling them how much they meant to us and thanking them for sharing the day with us."
"It was an absolutely mammoth task with 130 guests but so worth it as it meant we got to share some meaningful words with each person, especially as the day was a whirlwind and didn't allow for that kind of communication face to face. Based on feedback from our guests, there were a lot of tears and happy faces so we're glad we persevered and went through with it (even though we only started 3 days before the wedding!)."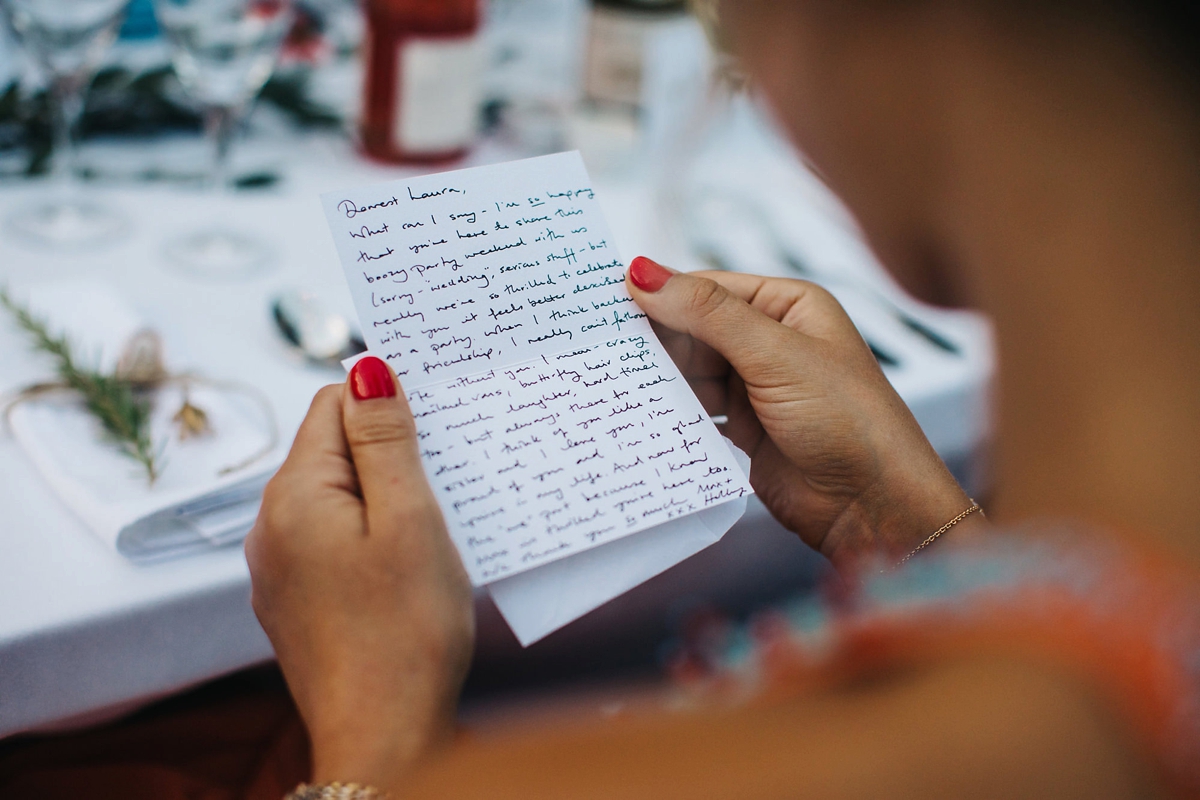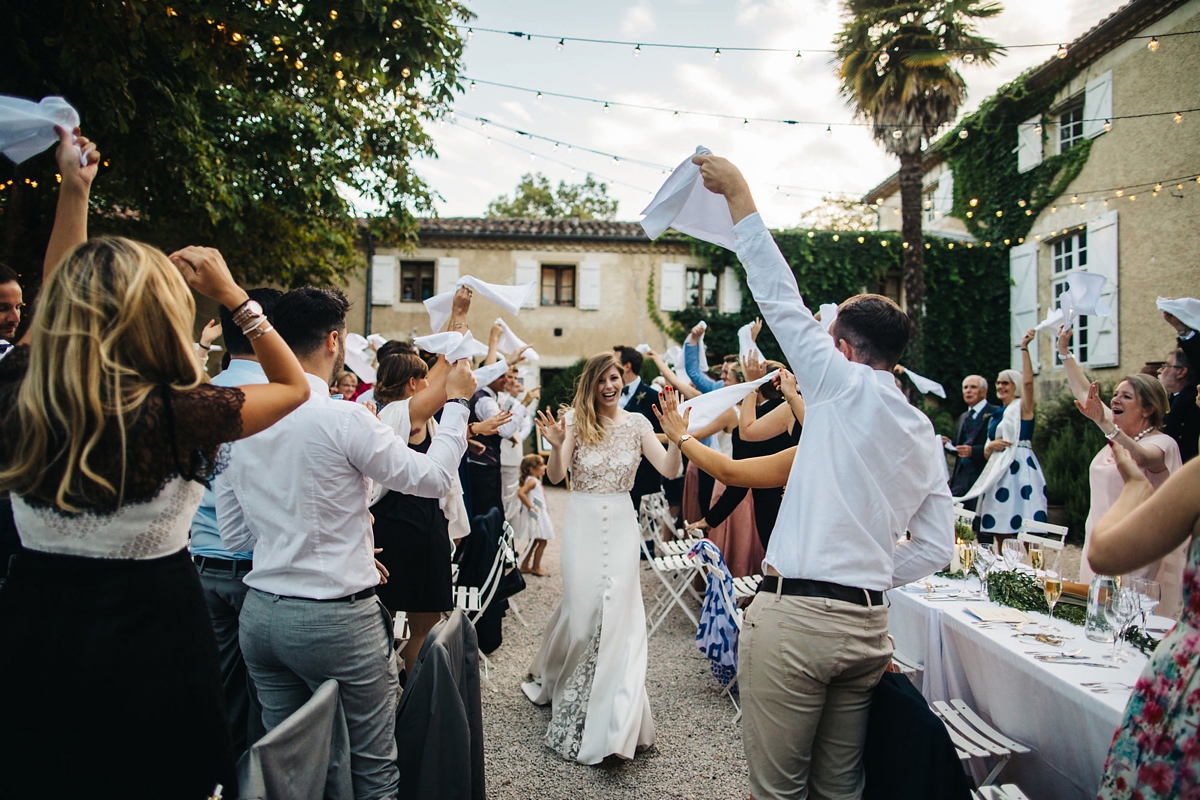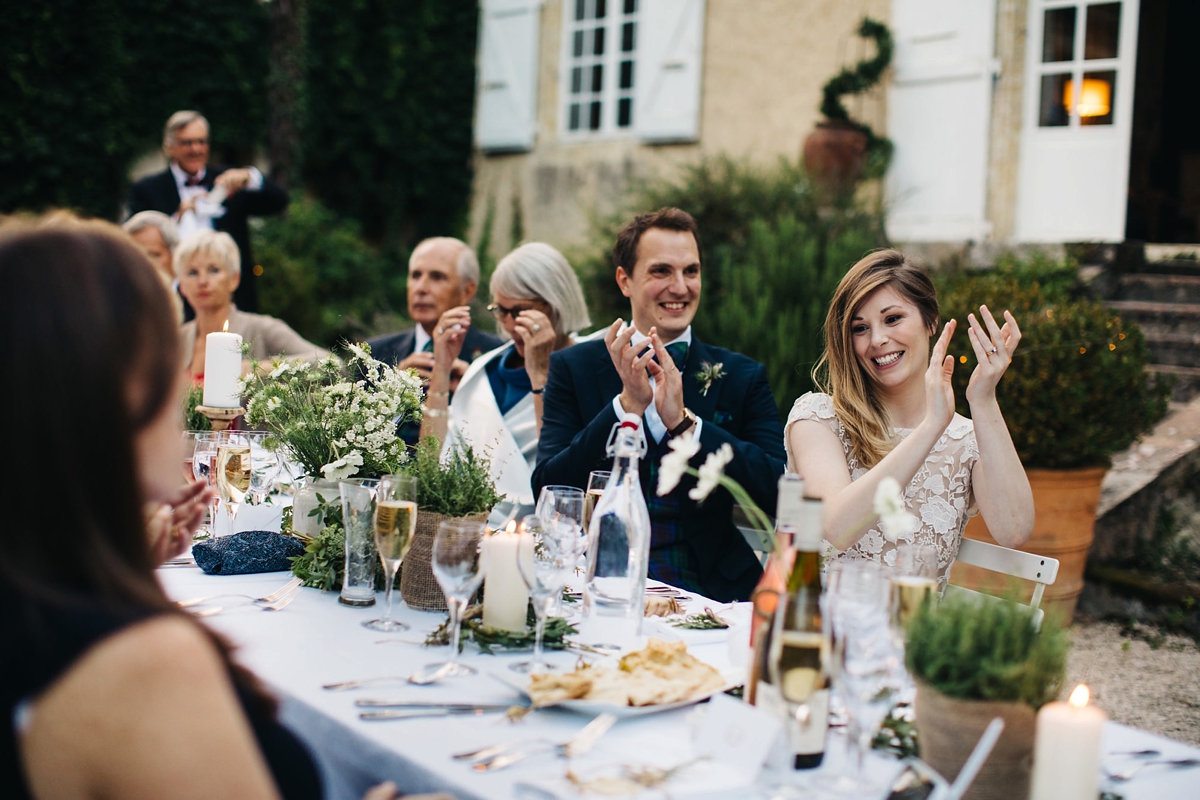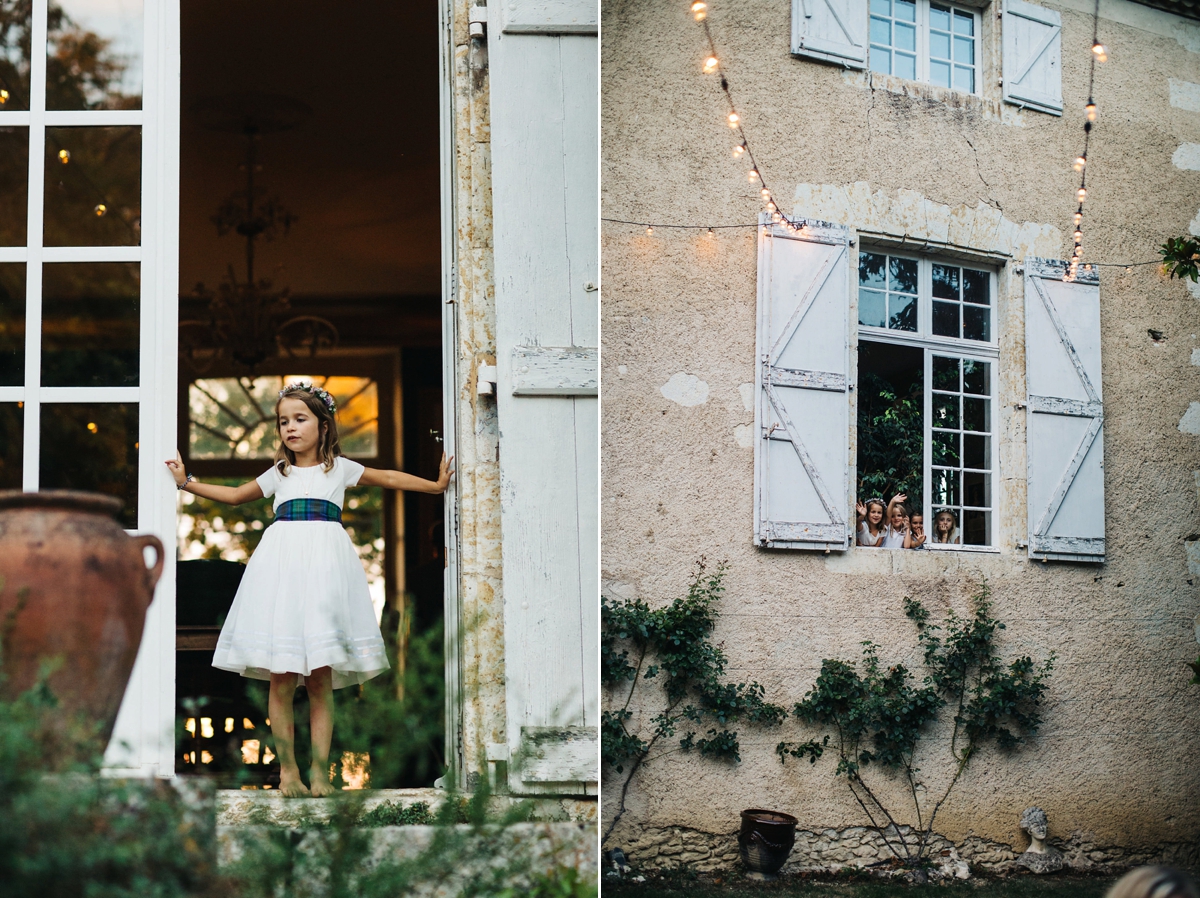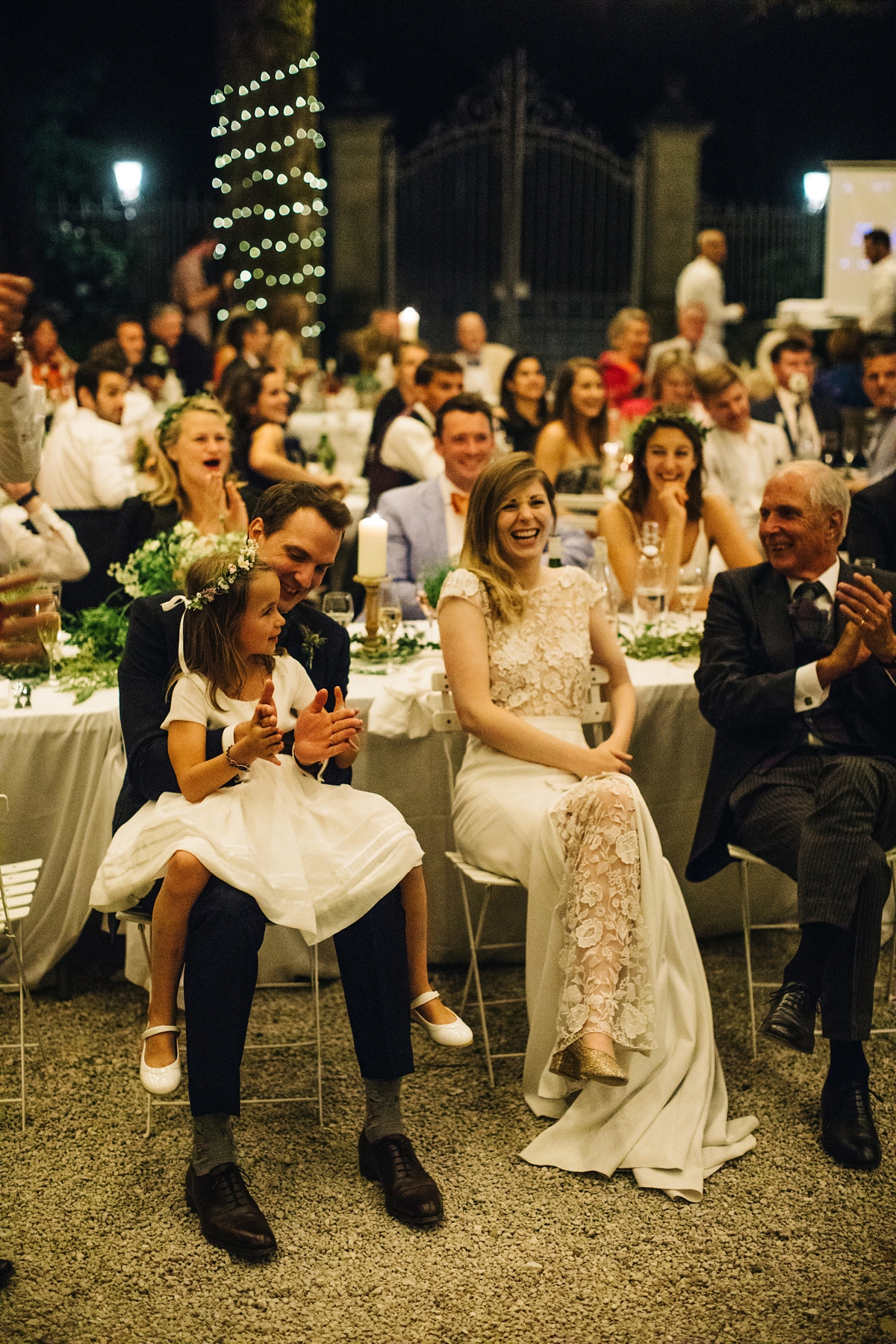 Holly and Max decided to forgo the traditional British wedding cake tradition and instead opted for a traditional French piece monte; a pile of fresh cream-filled choux, made by a local bakery which they served as dessert with strawberries.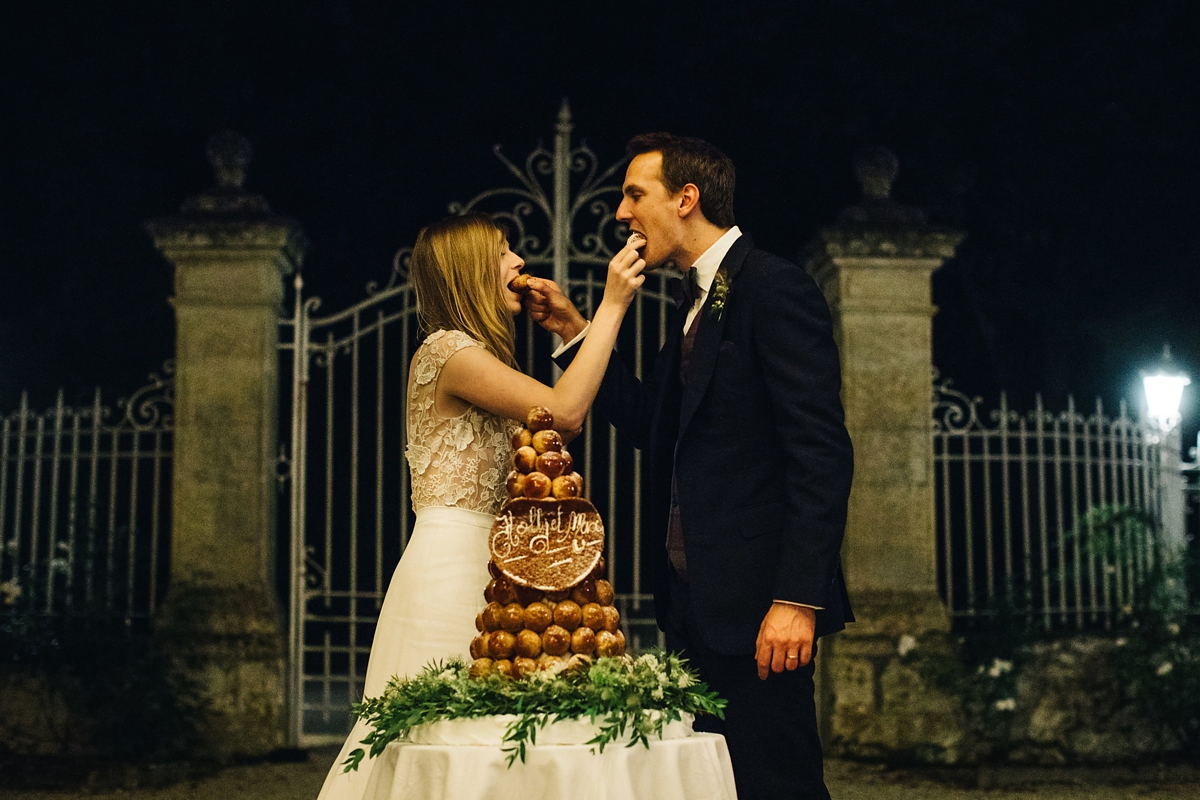 "My favourite part of the day was the ceremony and dancing like crazy in the Chateau's cave (which we renamed the 'rave cave'). We were very lucky to find such a kind and patient man in Bishop William. Both he and his wife Catherine spent so much time helping us perfect the service."
"They encouraged us to make it personal and to include French and English throughout. I don't think either of us expected it to be so emotional on the day, but it was a magical hour!"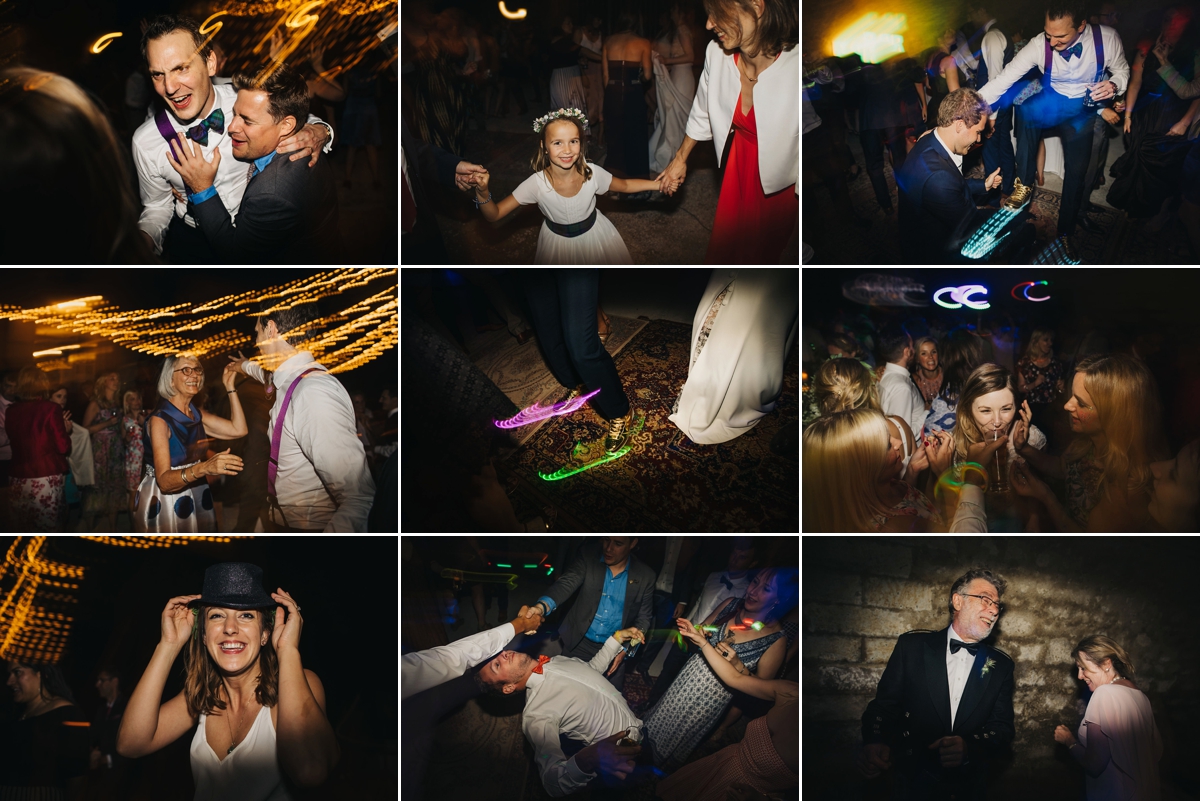 Words Of Wedded Wisdom
"At the beginning of planning we each picked 2 or 3 things we each really cared about and made sure to prioritise these things for each other. We did this mostly because of the French/British culture mix. Both countries have particular traditions and we both had some strong ideas of what we wanted in order to 'feel married'. However it's probably good advice regardless of nationality! Raising the fact that one of you wants to waltz early on, or to say specific vows, it allows those discussions to pan out slowly so that you can reach a place where you're both happy or where a compromise doesn't feel like a big deal."
"You've heard it before and I'm sure you'll hear it again…do a speech! I don't love public speaking but I did love it standing up there next to Max saying cheesy things in front of friends and family."
"Try and arrange something to blow off steam or get out of the preparation bubble in the week before the wedding. You probably won't be sleeping very well because of all the organisation going through your mind but that's OK. Just take care of yourself and give yourself an evening off if you can. We went retro and went to a Laser Quest two days before with some of the family – such a good stress release!"
"Do fun things that feel like 'you' even if they're not 'wedding-y'. We had a glitter bar and neon wristbands which both went down a storm after dark and it's a tradition in France to dance into your dinner to everyone madly waving napkins. It's not a thing in the UK but all of our Brits got stuck in!"
"For any bilingual/mixed nationality couples, don't sweat too much about the language barrier. We put a lot of work into translating things beforehand like the order of service, but on the day, it's amazing what a glass of wine can do for people's language skills! We didn't translate the speeches in the end – mostly the speech-givers did a bit in both languages and it worked out fine. I wish in hindsight I'd not worried about it too much."
"And finally, and to even things out with some wisdom from the groom, Max says flashing shoes and dinosaur deco is all you need!"
What an incredibly gorgeous day by Holly and Max! A huge congratulations (or toutes not felicitations!) to the newlyweds and a special shout out to Richard Skins for sharing his gorgeous images with us.
Until next time…
Much love,
Holly x