Good morning lovelies.  Hopefully we'll begin to see the start of some real summer weather next month but in the meantime, I've got a gorgeous May wedding up my sleeve for you today.
It's a classical and chic affair with a few references to Scotland thrown in for good measure. So let's begin; Accountant Siobhan and Doctor Stuart said their I Do's on 5th May 2017 at Clevedon Hall in Somerset.  The dress was another key piece that needed to compliment the gorgeous and stylish surroundings of the venue, and Siobhan hit the nail on the head in a head turning full-skirted strapless gown by Love My Dress favourite and Little Book Wedding Directory member, Caroline Castigliano, via Sarah Elizabeth Bridal Boutique in Cheltenham.
"I loved wedding dress shopping! I didn't expect to enjoy it so much. My advice would be not to focus on a specific. One boutique actually asked me to choose dresses based on fabric rather than style. They knew they didn't have my dress but by working with the fabric really helped me narrow down styles. She actually sent me to Sarah because she knew my dress would be there."
Images by Belle and Beau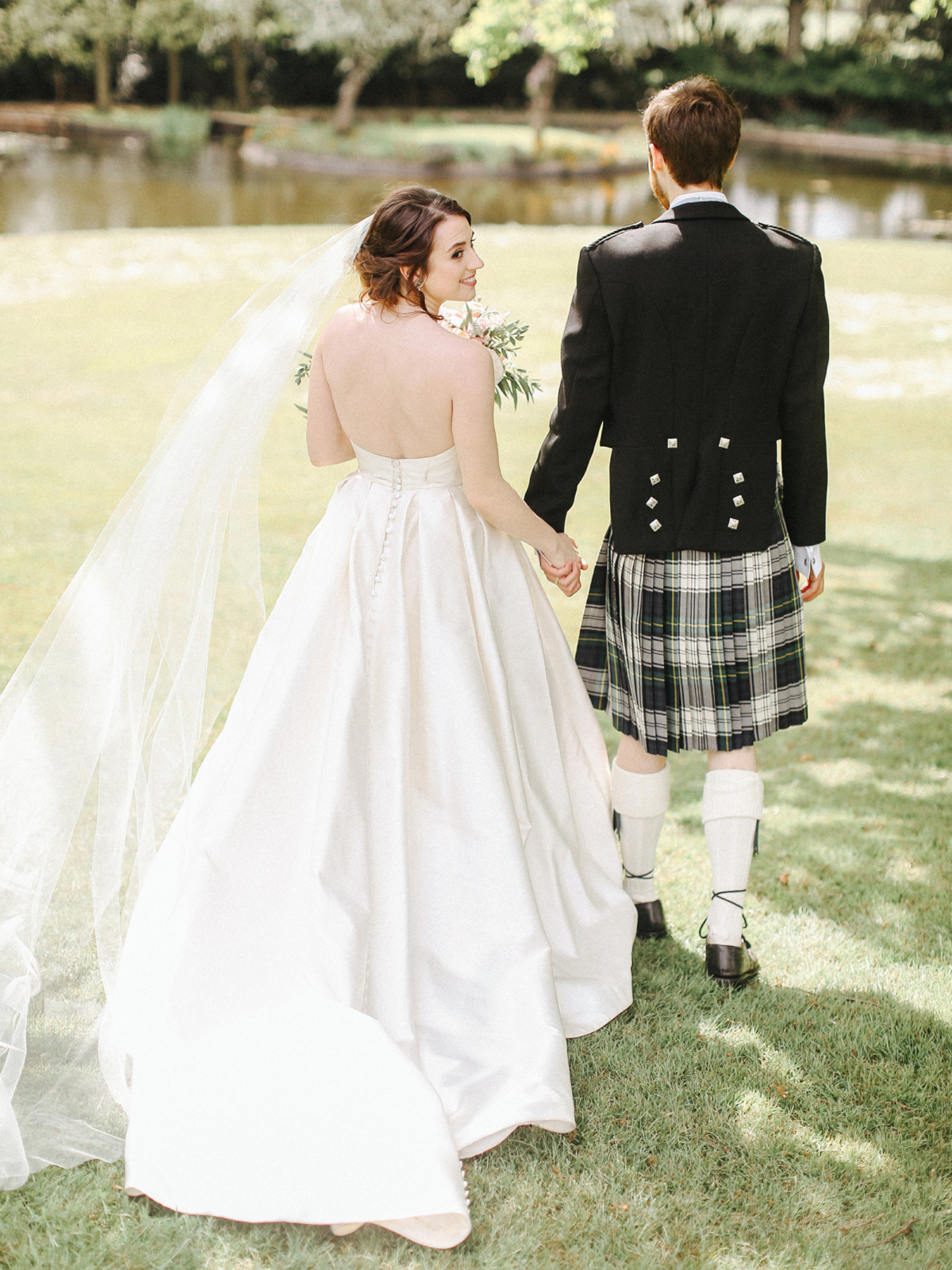 "Originally I though I wanted something fitted, beaded and lacy as I'm very petite. I chose silk Mikado, no lace, no beading and a ball gown style in the end. Once I tried on the Karoline dress, I knew nothing else compared. I loved the structure of it, I felt like an actual princess rather than a Disney one! Plus it had pockets! My bridesmaids all agreed it was completely 'me' and just made sense, but totally not what they expected."
"Sarah at the bridal boutique was wonderful, so honest and reassuring. I had complete faith. I purchased a sample gown and her seamstress Renee did an amazing job altering my dress and sewing around 80 additional buttons down the back all the way to the end of the train. I loved that my dress was different to anything I'd ever seen. It was very simple but striking as a result. Plus, I never found any images of other brides wearing it so it really felt like mine."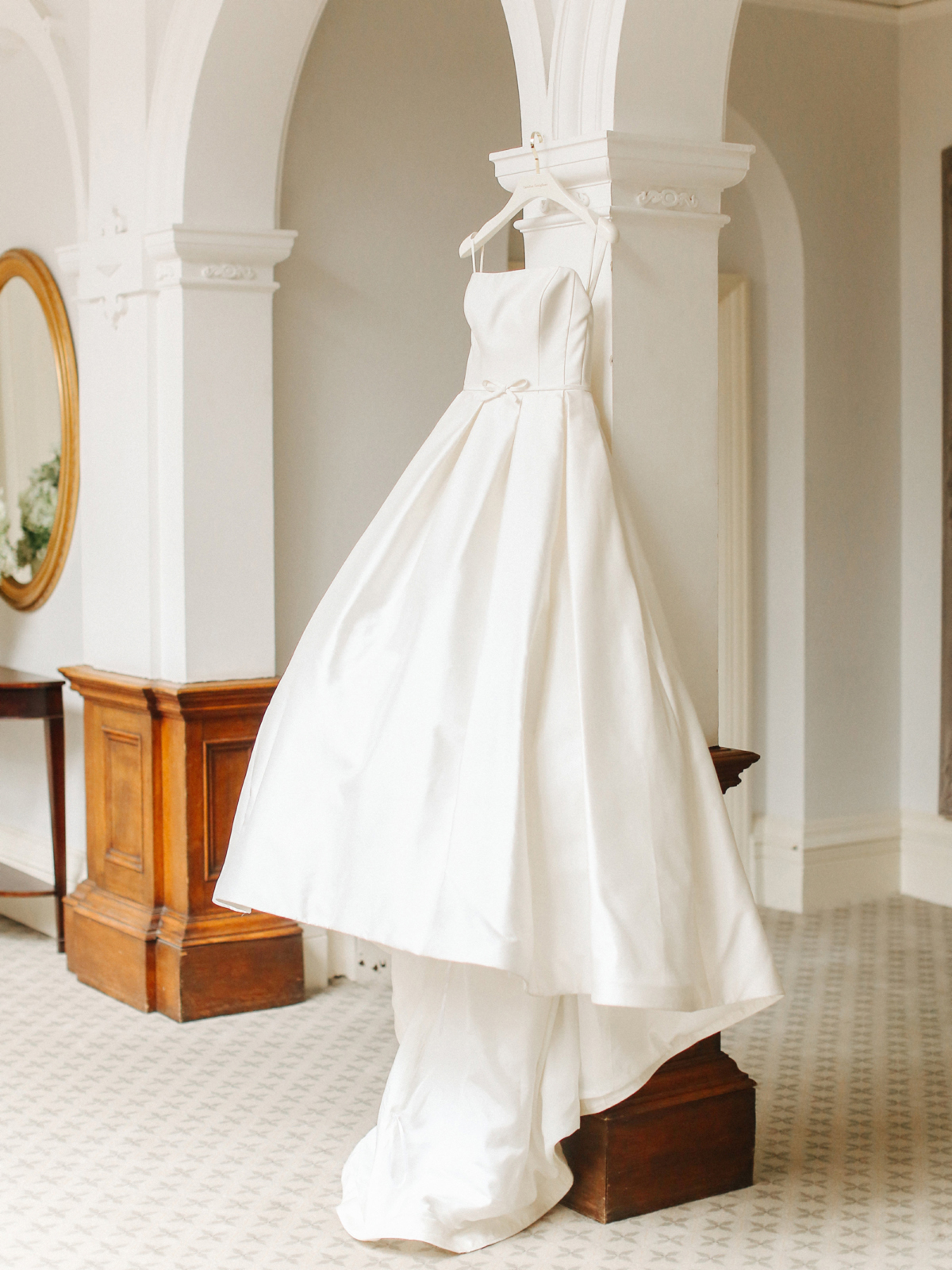 Present on the morning of the wedding was hair and make up artist Leah Toomey, on hand to create both Siobhan's bridal look and her bridesmaids hair styles.
"Leah was amazing. So friendly and easy to have around on such an important morning, and happy to help wherever needed. I would recommend having a hair and make up trial first. Leah got what I wanted more than I did I think, so I left the trial excited for the big day and looking forward to having Leah there. No-one has ever managed to curl my hair in a way that lasted more than half an hour but my hair and make up stayed in place all day and night, despite it being very windy outside."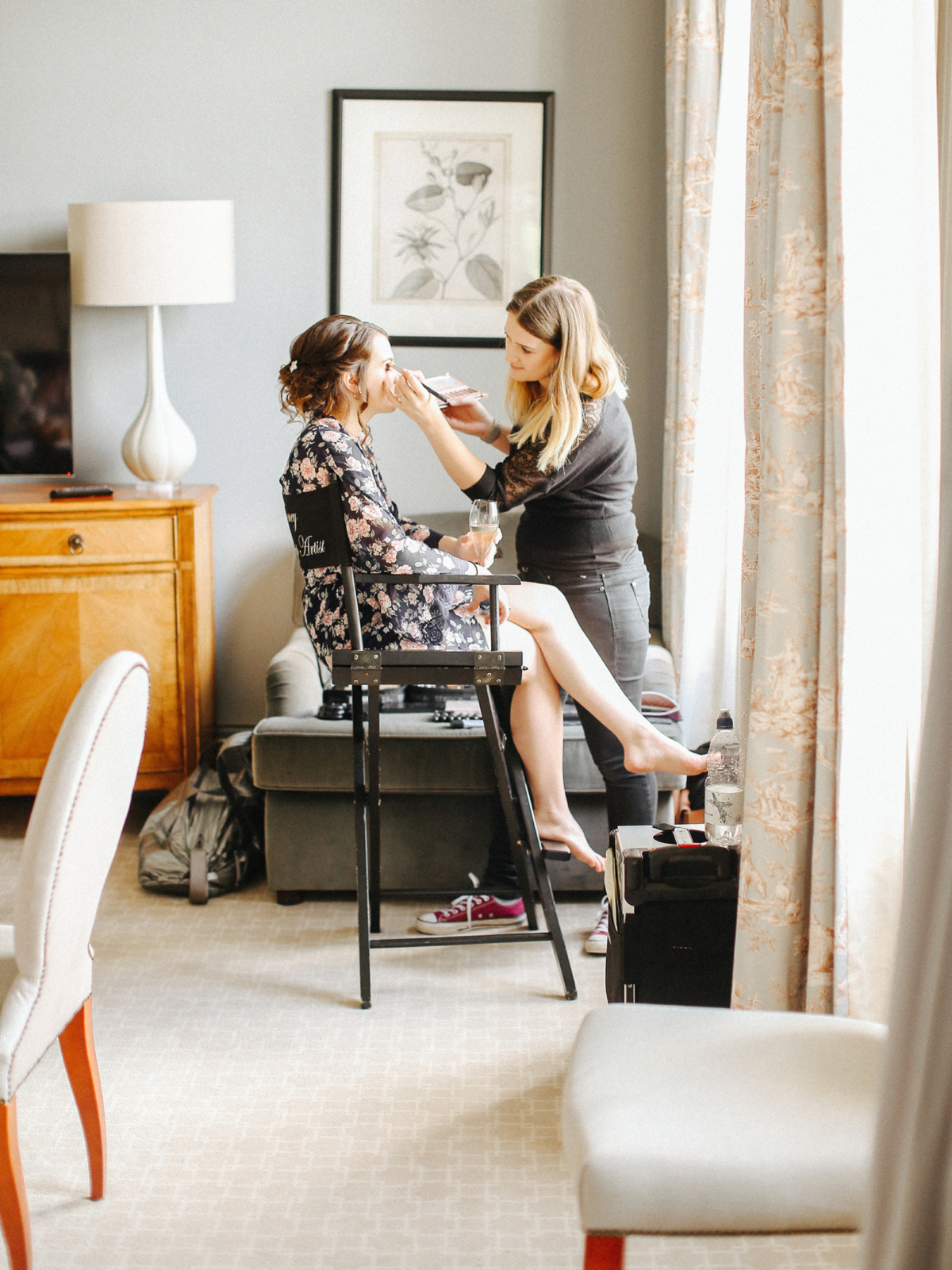 "I originally thought I wanted a barn wedding venue in the Cotswolds, but Clevedon Hall just felt way more 'us'. I attended a wedding fayre there with my mum as Stuart was working and could immediately see us getting married there. We could have exclusive use and fill the gorgeous manor house with all of our close friends and family."
"It would be relaxed but luxurious and much more suited to us as a couple. I rang Stuart on the way home to tell him and he told me to turn around and book it!"
The favours and stationery were a DIY affair, again all made by the bride herself.
"Stuart thought I was crazy but I hand wrote every single invitation, information card, individual menu and place-name and I loved it! I would sit for hours writing them and I was so please with the end result. They aren't perfect but they were truly personal."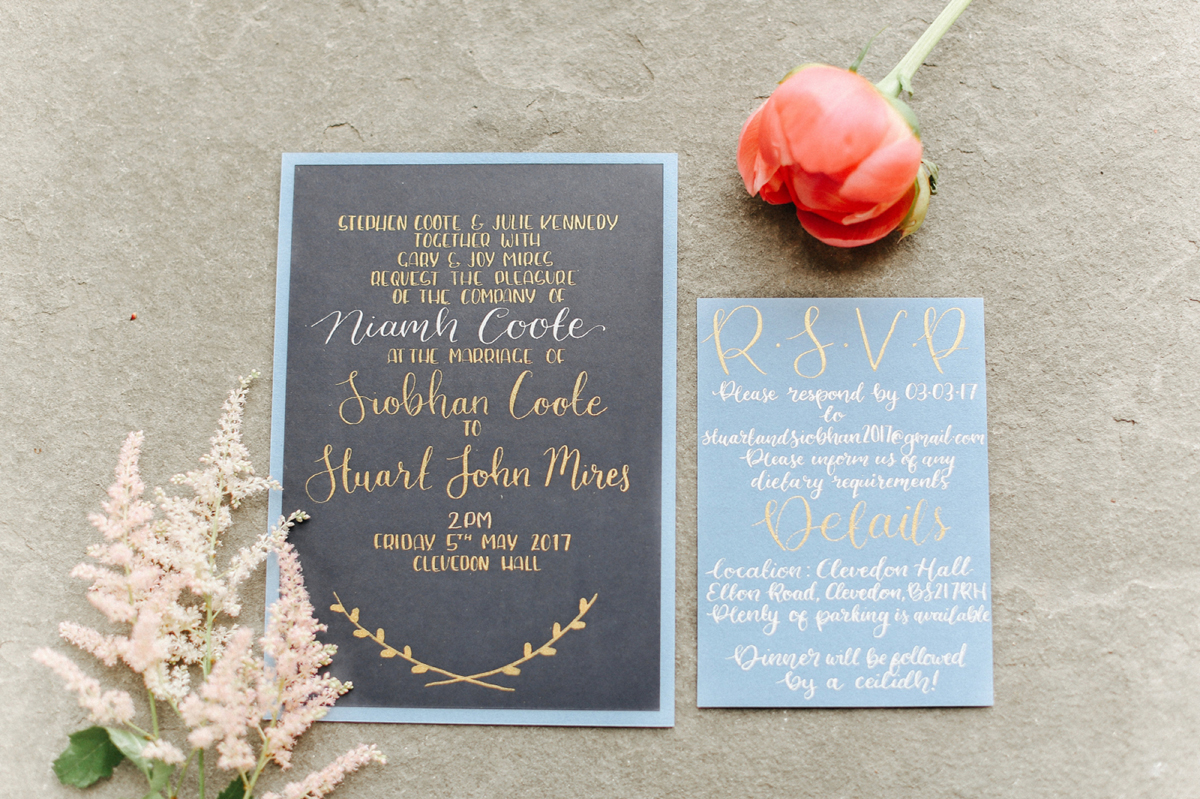 Siobhan also chose her sheer, barely there veil from another Love My Dress favourite Britten Weddings, as well as 3 gorgeous beaded Lena flower hair pins, and her high heels with simple ankle straps were purchased from Dune.
"For my perfume I wore Chanel Allure Sensuelle as I've always worn it. I don't know anyone else who does. I suggested to Stuart that I look for a special wedding fragrance but he was horrified I might not smell like me on such a special day. So it ended up being really important that I wore it."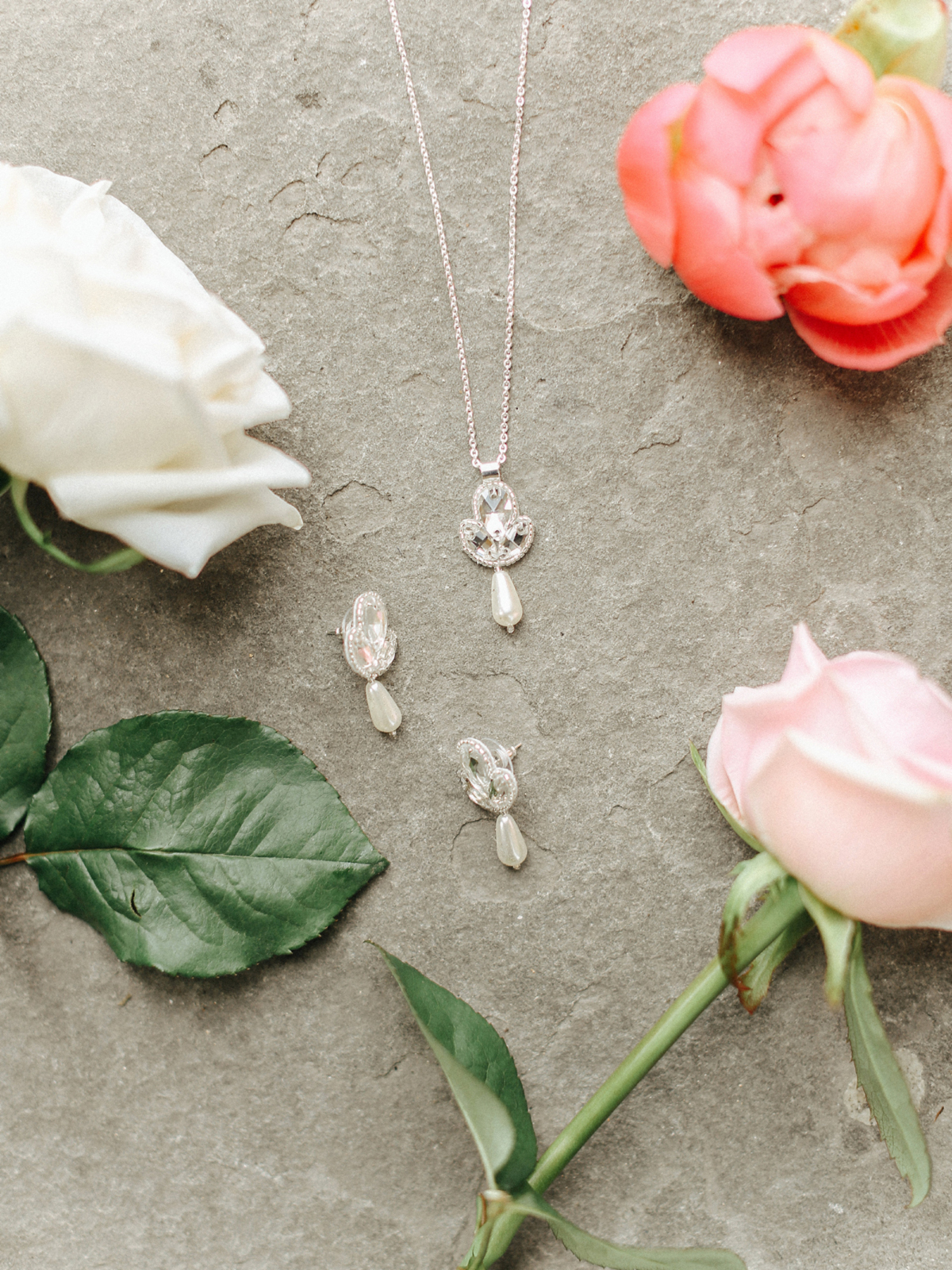 "I also wore a blue and white sapphire ring, a gift from my late grandfather to my mum many years ago. It was my something old, borrowed and blue, though I have been borrowing it for a long time. My necklace and earrings were  from Britten Weddings too."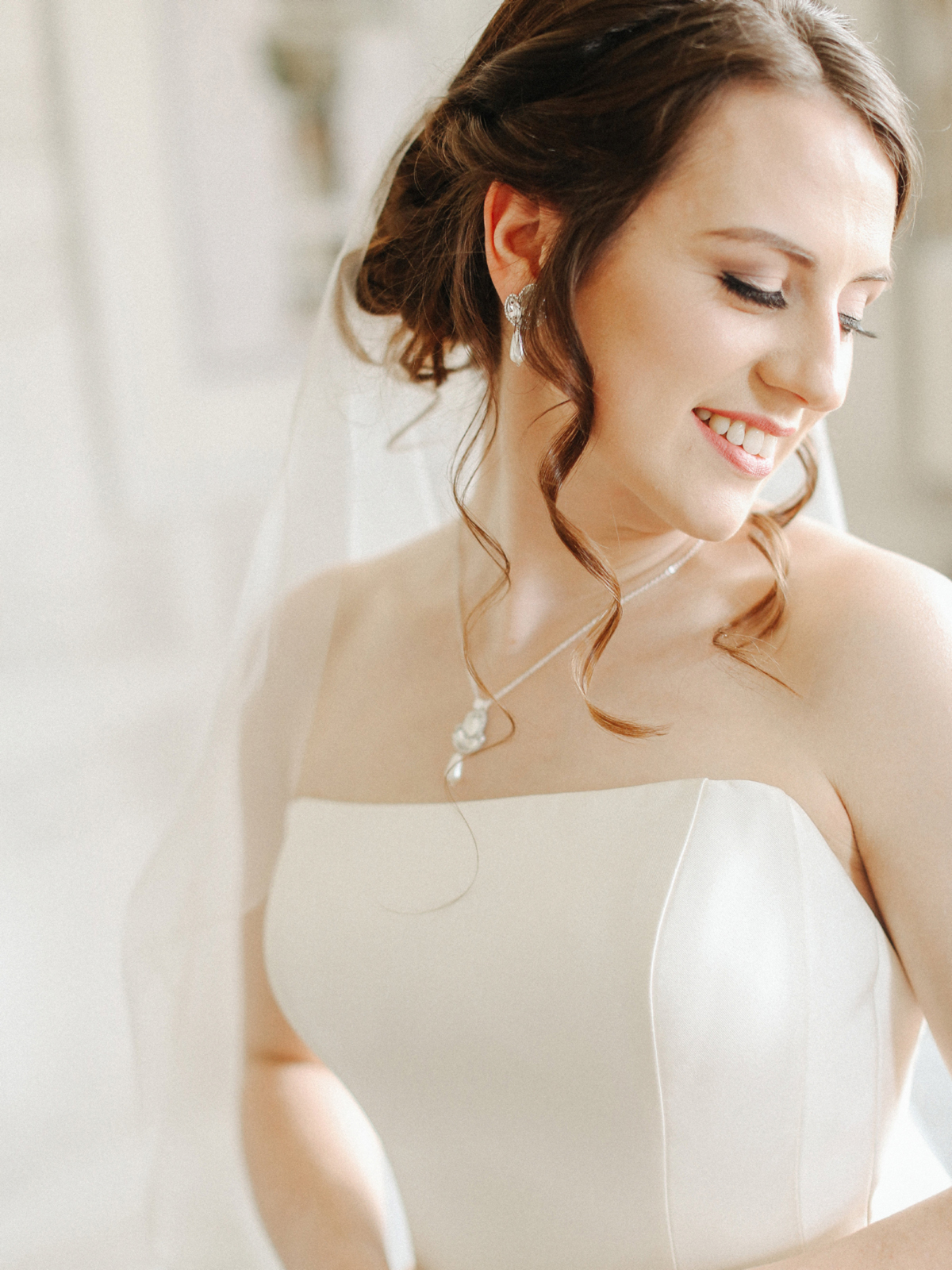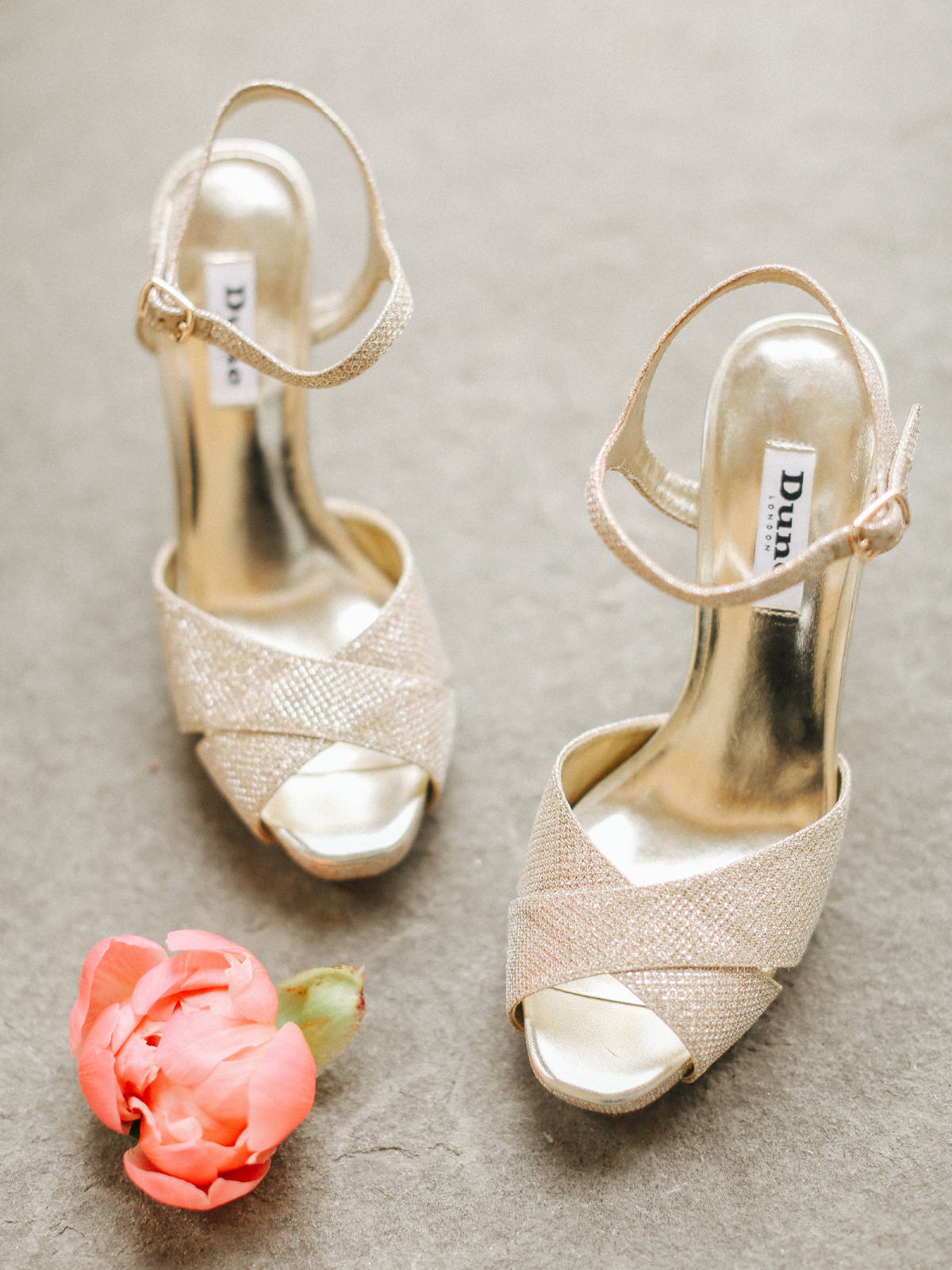 Siobhan's blooms were absolutely stunning and all created by Bristol based florists The Rose Shed.
"When we started planning, I really thought I wasn't too bothered about flowers. Then I found my bouquet of dreams in a photo taken by our photographer at a workshop. I couldn't believe my luck when I found out it was made by Rachel at The Rose Shed who were based in Bristol. If I could have, I would have had Rachel cover every inch of the venue in flowers. You should see her work, it's incredible. Everyone commented on how stunning the flowers were. I left all of it completely to Rachel having shown her the other decorations and wedding outfits."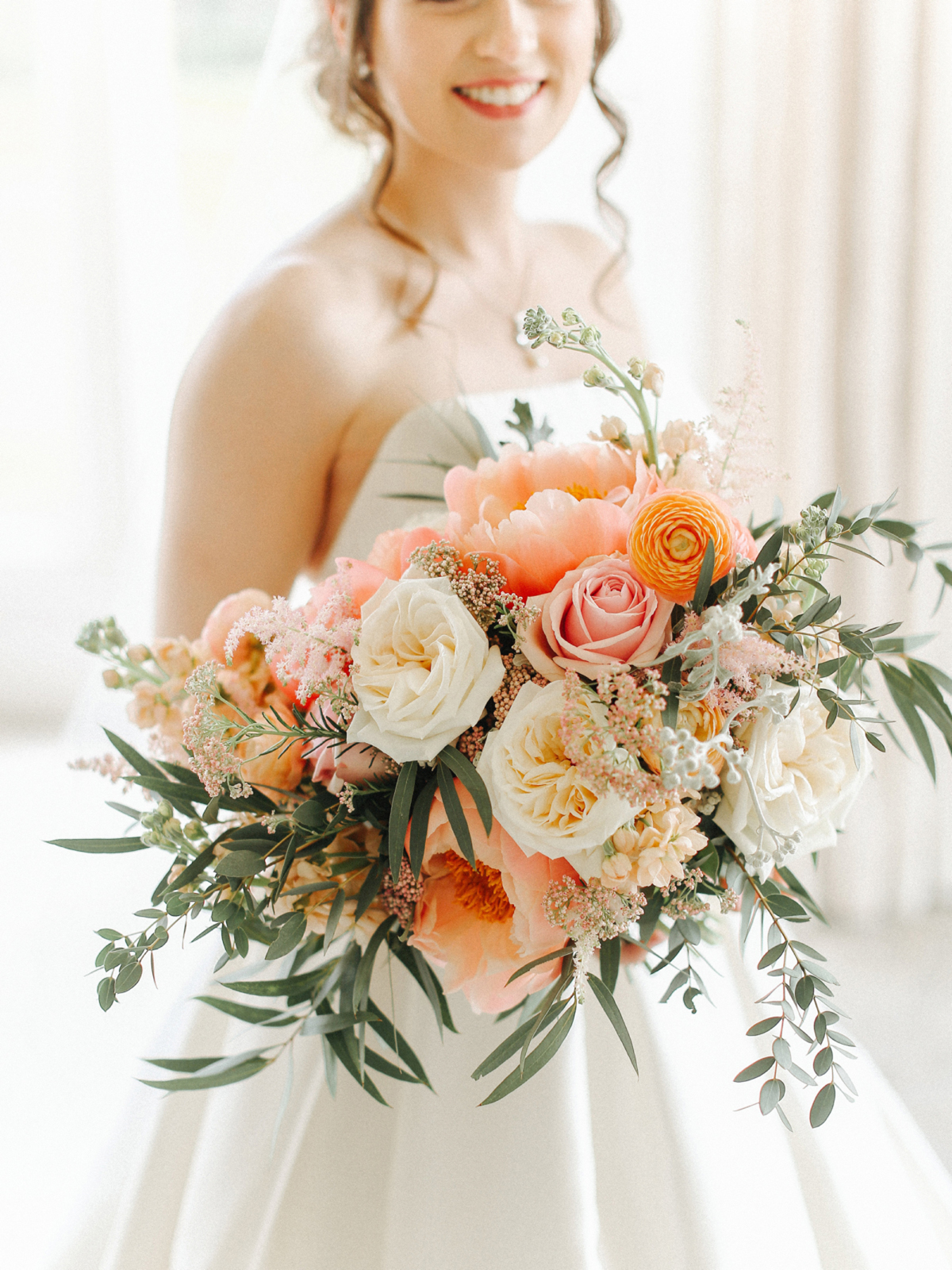 Siobhan and her bridal party spent the morning getting ready at the venue, but spent the night before at another hotel, Backwell House, along with both her and Stuart's families.
"Both of our families spent the night before at another stunning hotel, Backwell House. We took over most of the rooms (again beautifully decorated) and enjoyed dinner with the wedding party at a local pub. I'm so glad we did this. It was so special to be able to enjoy time together and perfect for keeping away any wedding nerves. I'd highly recommend Backwell too. The staff were so accommodating and my dad stayed up late drinking whiskey with the owner. We can't wait to go back."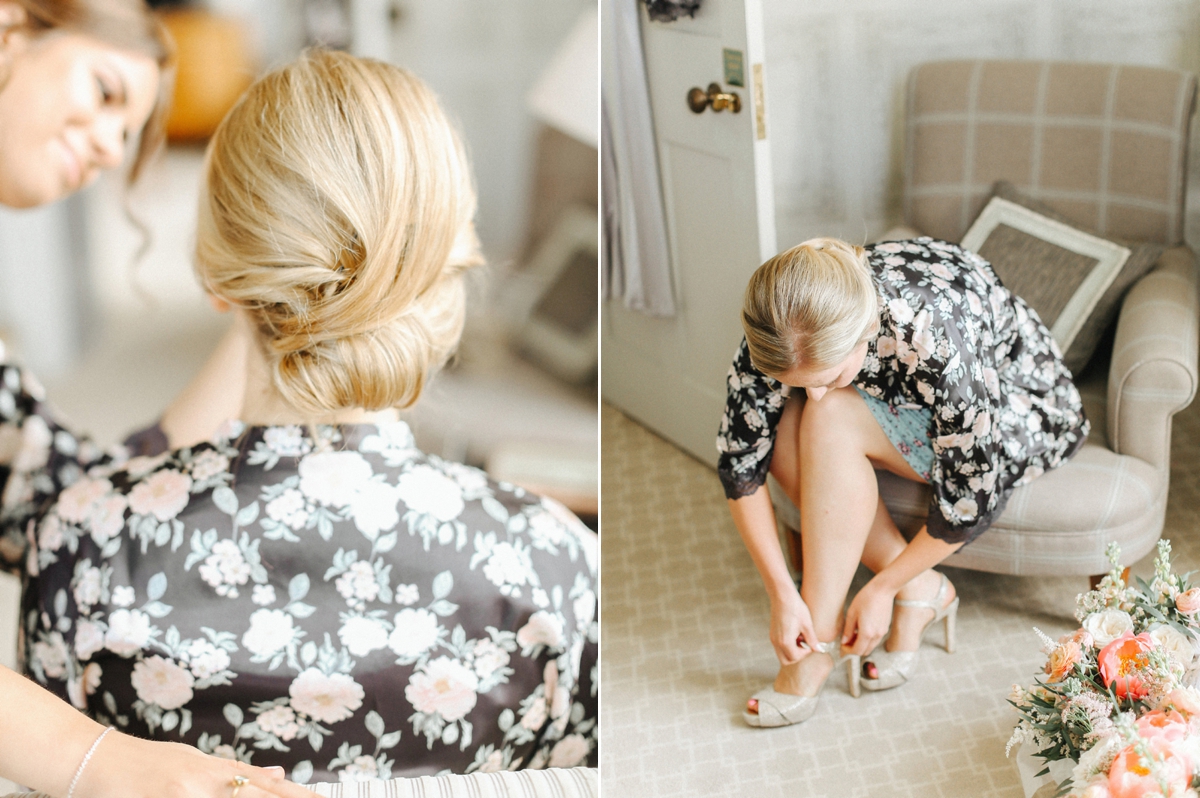 "I spent the morning of the wedding getting ready at Clevedon Hall with my parents, sister and two bridesmaids. It was such a fun morning swanning around the venue in our robes, seeing it being set up around us. The venue provided the most delicious bridal brunch too; pancakes and bacon, fresh fruit, yogurt pots, smoothies and pastries."
"The venue has been recently decorated by Jane Clayton Interior Designs and it is beautiful. The 25 bedrooms are individually styled with incredible bathrooms and talking toilets with heated seats (these were a big talking point over breakfast!). The whole events team were wonderful right through the planning process to coordinating the day itself. We handed over all of our decorations two days before the wedding, confident everything was in hand, leaving us with time to relax and spend time with our families."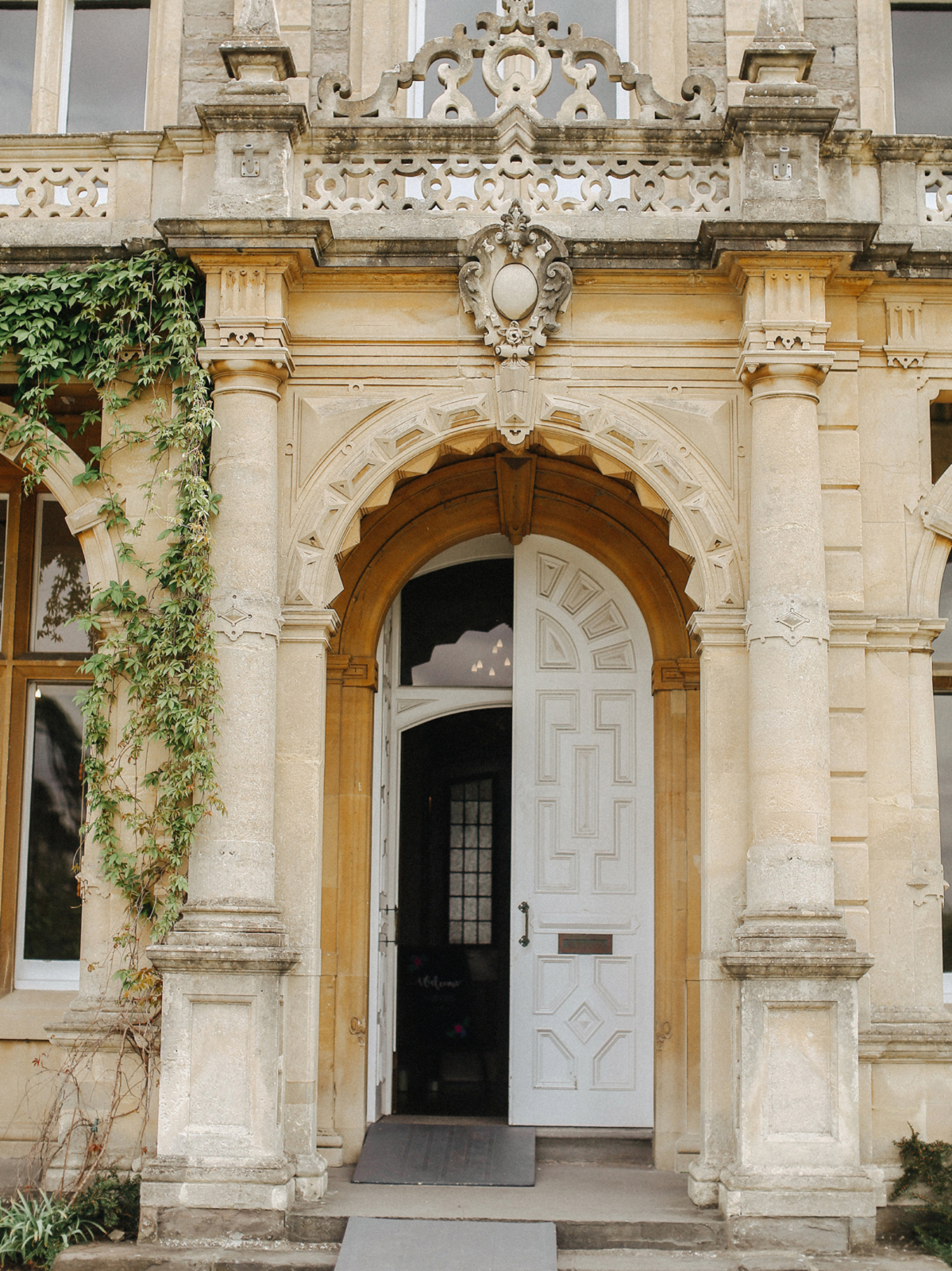 Siobhan complimented the floral arrangements around the venue with homemade welcome signs and chalkboard signs for the table names.
"Clevedon Hall was refurbished during the year we were planning our wedding and the end result was beautiful which meant we didn't need too much extra decor. All the carpets were changed for neutral colours and one wall of the Great Hall had a mural with lots of foliage and greenery in the wallpaper, so we actually did very little to style the venue ourselves."
"When we started planning the wedding I literally wanted to do everything. I could have spent a fortune on luxe decorations but had to focus on what was really important; the guests, food and venue (oh, and the dress!). Stuart is Scottish, my mum grew up in Scotland and we have spent many holidays there as a family, so it was important to incorporate a few elements of Scotland too. We used Kennedy tartan ribbon (my mums family tartan) to decorate both the cake and the favours with, and even my dad agreed to wear a kilt."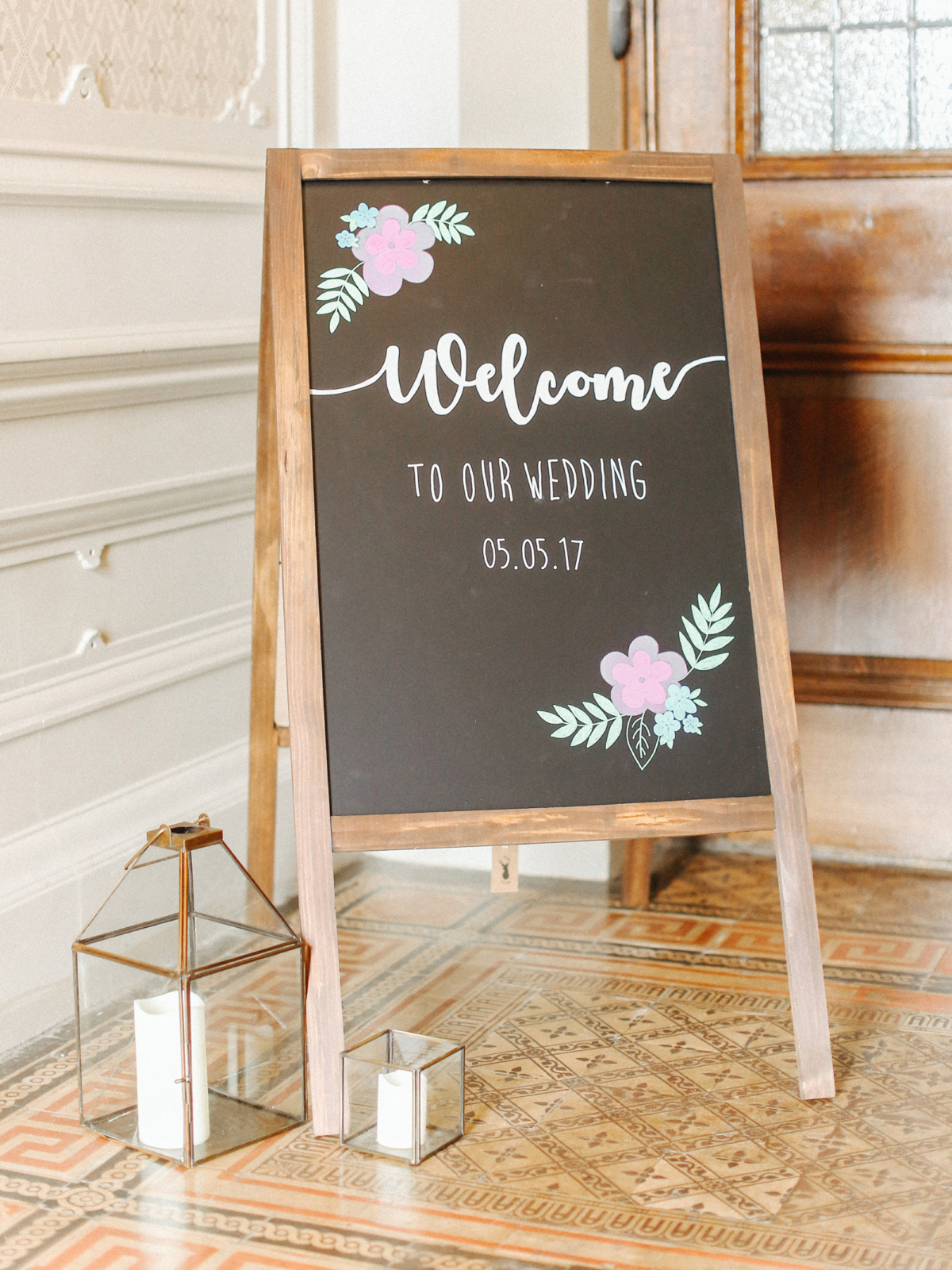 Siobhan and Stuart first met on their first day at Oxford University, becoming friends initially and getting together as a couple a few months later.
"We knew we would get married at some point and Stuart proposed just before my 25th birthday and after 6 years of being together. He chose the perfect ring and popped the question on a country walk near to my parents house, after asking my dad's permission. Stuart had been part of my family for years so whilst he didn't need to ask permission as such, Stuart knew my dad would really appreciate the gesture."
"We took a few days short of a year to plan. For us it was the perfect amount of time. I had my accountancy finals in that time and Stuart had to apply for speciality training, so it was definitely a busy year, but the excitement of getting married carried us through it."
"I grew up in Cheltenham and Stuart grew up in Dundee. We live in Bristol so decided to choose somewhere not far from my hometown but closer to where we were building our life together. We wanted a venue to call our own."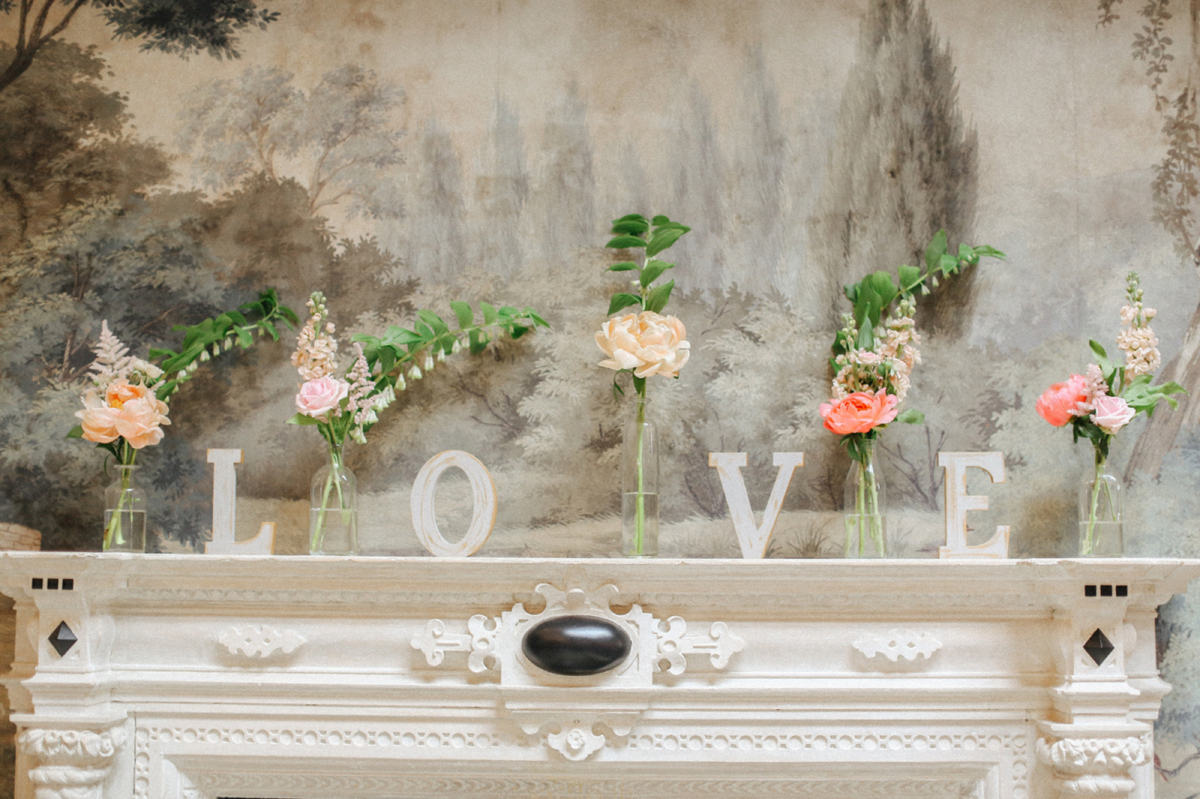 Groom Stuart chose matching kilts for himself and his groomsmen, hired from Slaters, with the best man, groomsmen and the couple's dads all pairing theirs with Prince Charlie jackets.
"Stuart had his own kilt but decided he wanted to match the groomsmen and our dads. Slaters were really easy to deal with and perfect as our wedding party was spread out across the UK so each member could go and get measured separately and collect from their nearest store. Stuart went in with both of our dads and they decided on Dress Gordon tartan together."
"Stuart's parents also bought him a specially engraved Sgian Dubh to wear in his sock and some sentimental silver elephant cufflinks."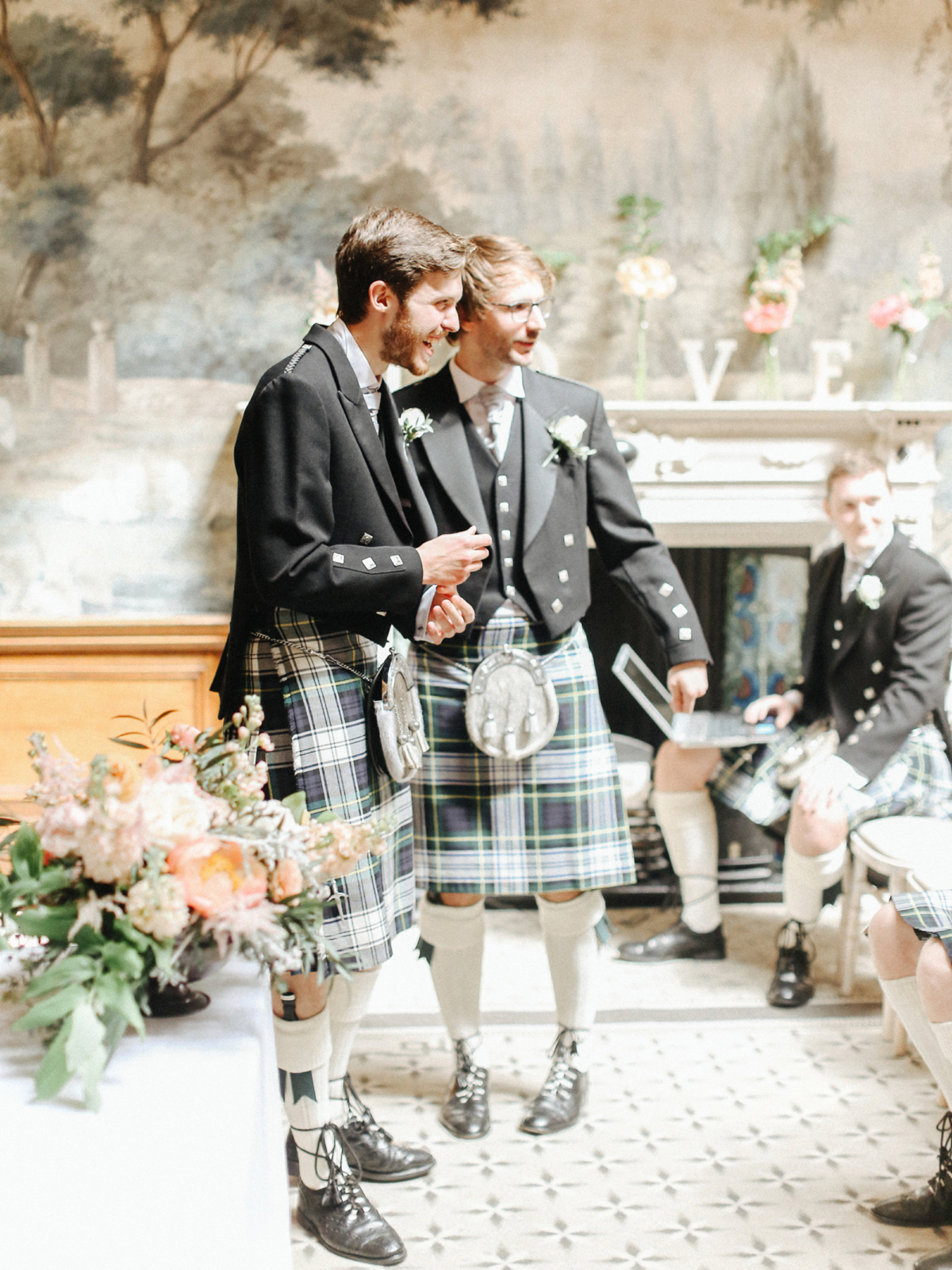 The couple's shared accessories included their wedding rings which were particularly special as Stuart's grandma gave him a gold identity bracelet before his granddad sadly passed away to melt into their rings.
"Stuart doesn't wear jewellery but always wanted to wear a wedding ring so I suggested that we melt the chain of the bracelet down to make his ring. This was such a lovely way to recognise Stuart's granddad on our day. We had matching rings made with the gold overlaid on a wider palladium base to tie in with my white gold engagement ring. I've used RJ Spicer Goldsmith in Cheltenham several times in the past so trusted them completely to make our rings, and we weren't disappointed. Ryan and his wife are so lovely and it was great to support a local business."
For the ceremony Siobhan's dad walked her down the aisle to A Thousand Years by Christina Perri.
"The song is a beautiful one and I much preferred it to anything more traditional. My bridal entrance began with a staircase decent. We practised in my dress on the morning of the wedding before I'd had my hair and make up done. It was surprisingly emotional and made my mum cry!"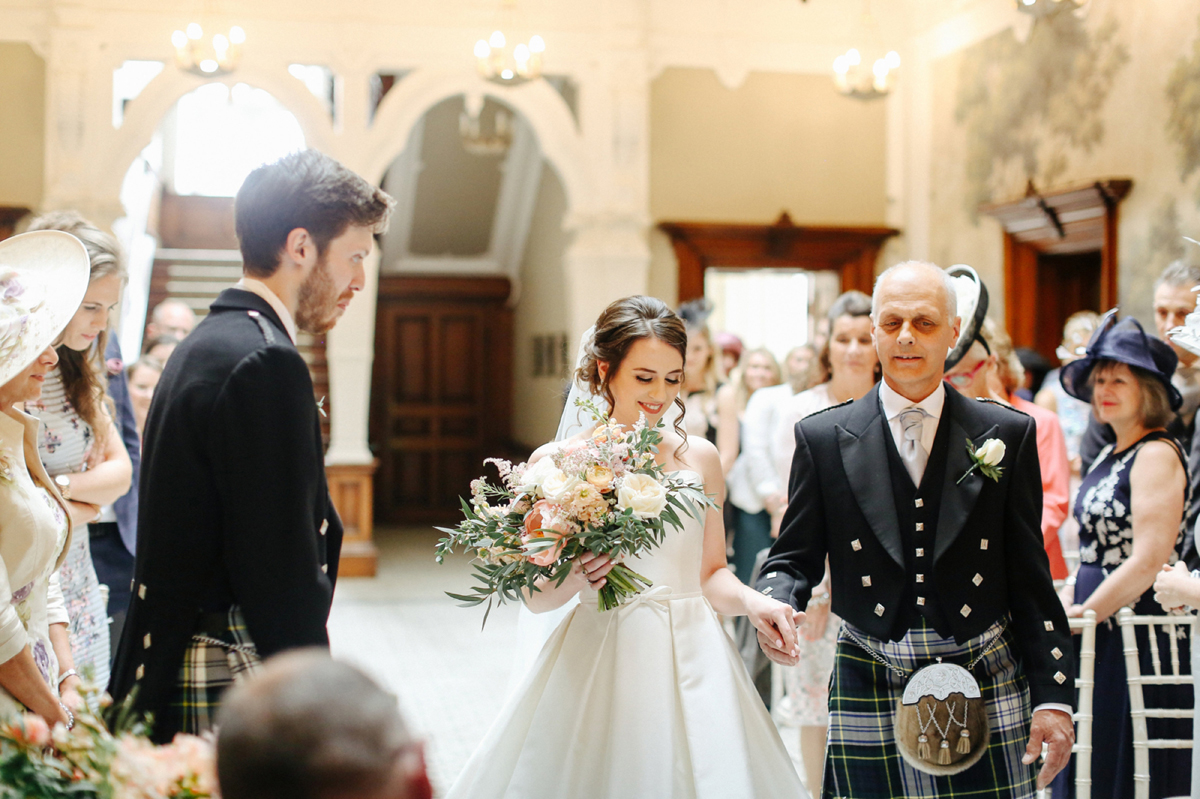 "I was super chilled all morning but as soon as my mum left to go and sit down and the registrars finished their interview with me, I got incredibly nervous. I'm not one for being the centre of attention and walking down the aisle was honestly terrifying. I'm so glad I practised with my dad in the morning as it was a really sweet moment I could enjoy. My heart was racing and I could barely breathe stood at the front of the Great Hall, but as soon as it got to our vows, I was completely calm again. We didn't tailor our vows at all and kept them quite traditional."
"We did have two readings; one by my bridesmaid and oldest friend which was slightly silly but had a really lovely sentiment, and the other read by Stuart's cousin, Union by Robert Fulghum. It felt very apt for us as it was less about starting a new journey (we'd been on ours for many years already) and more about committing to the promises we had made to one another throughout those years."
"Our ceremony was so special. I was quite conscious that a civil ceremony might feel a bit impersonal but our registrar was wonderful. The whole room was laughing together and it just felt so special to make promises to each other in front of everyone who has supported us throughout the years. After the ceremony we went into a separate room whilst our guests filtered out outside for the confetti throw, and we had just a few minutes alone to properly see each other and be excited that we were married!"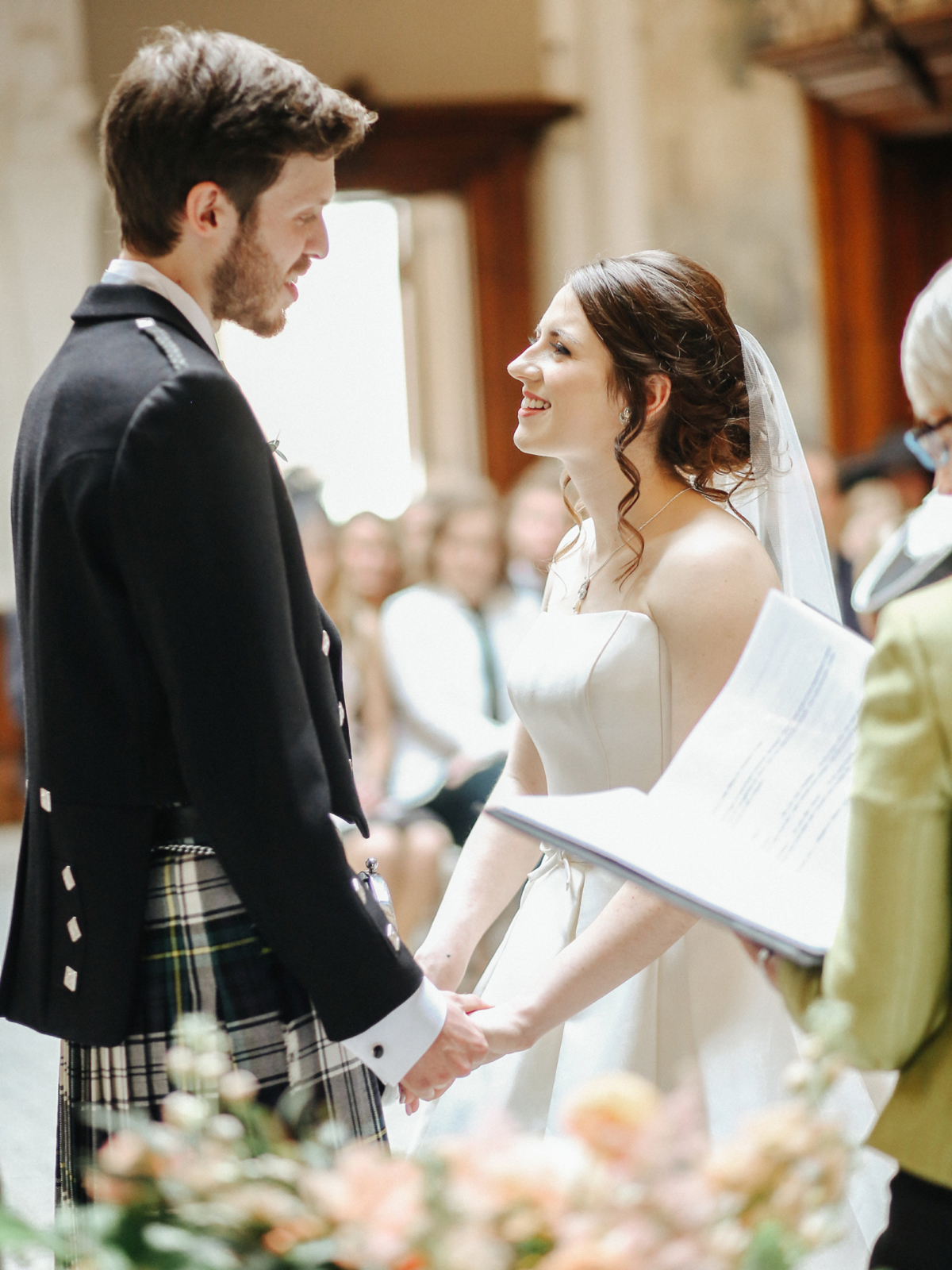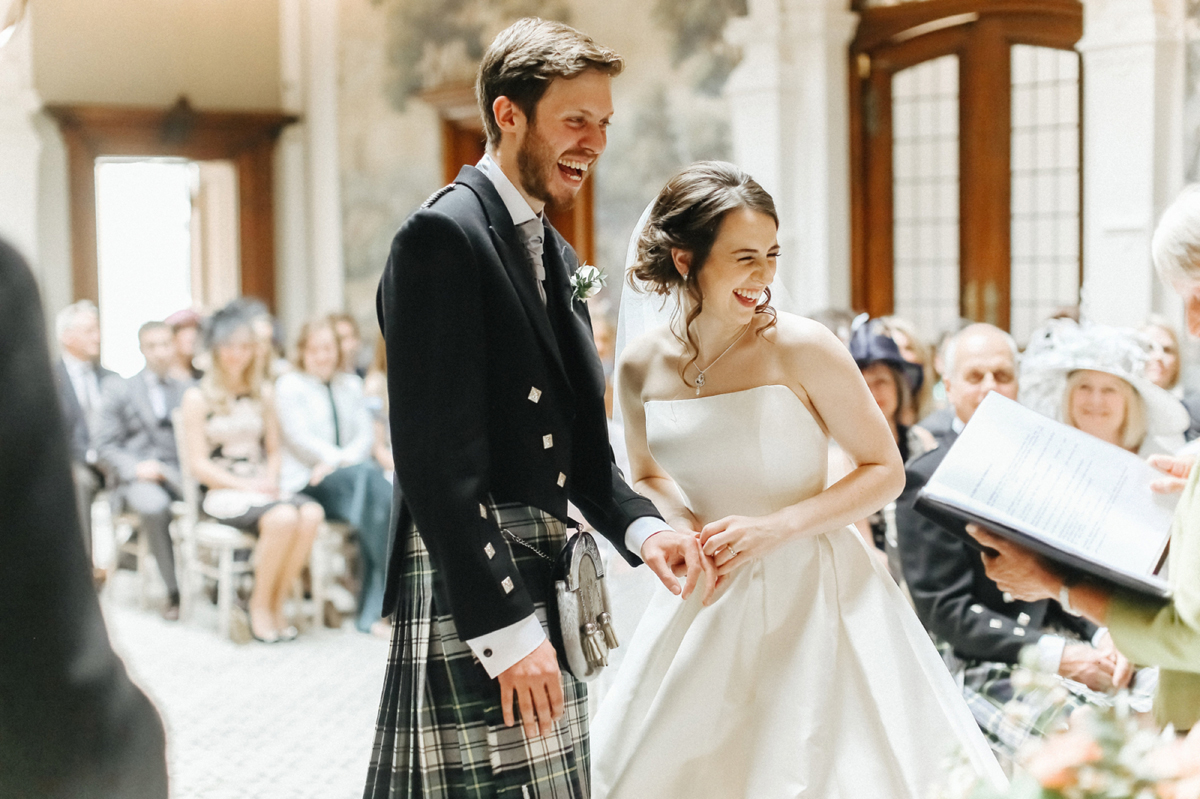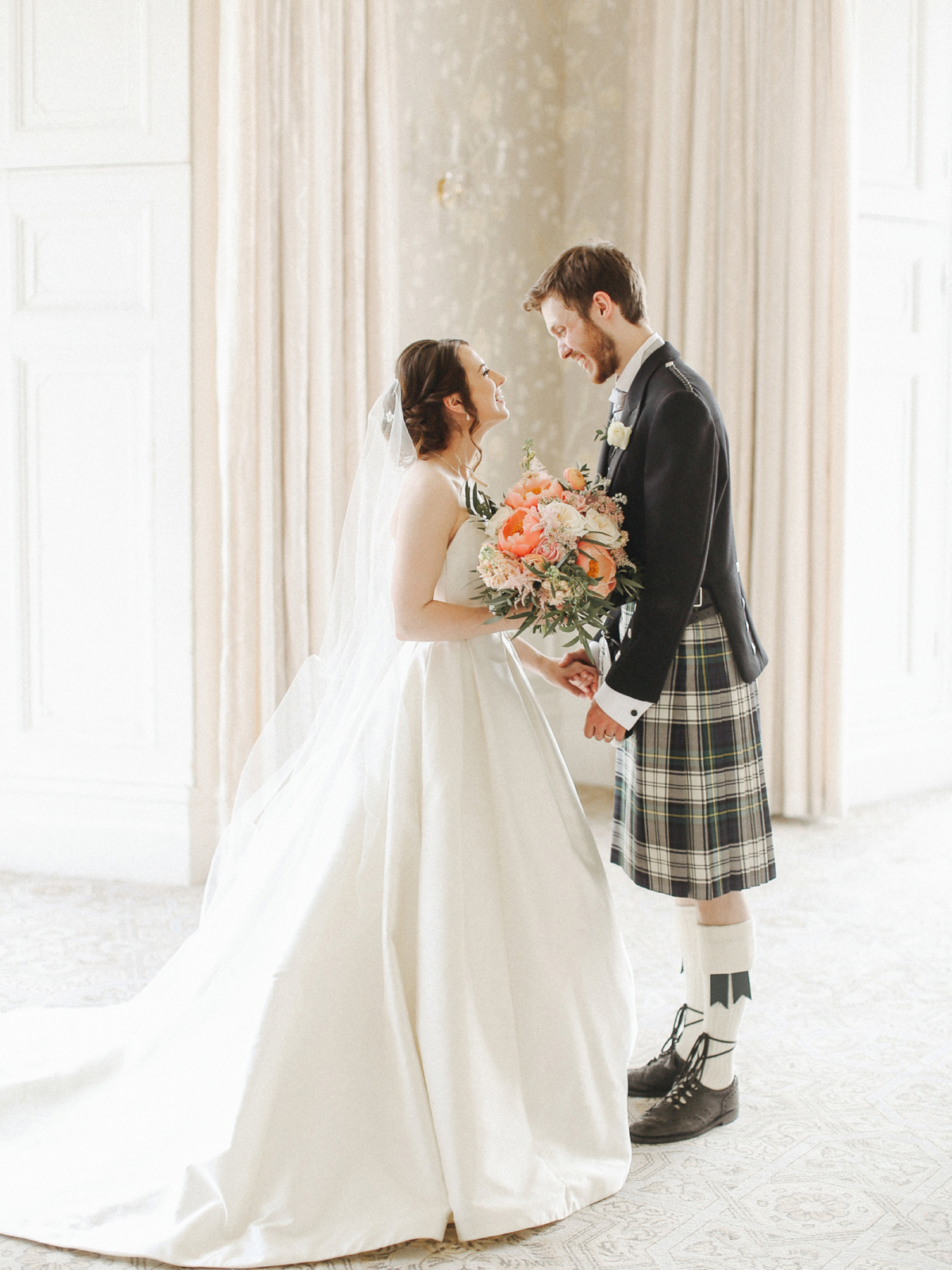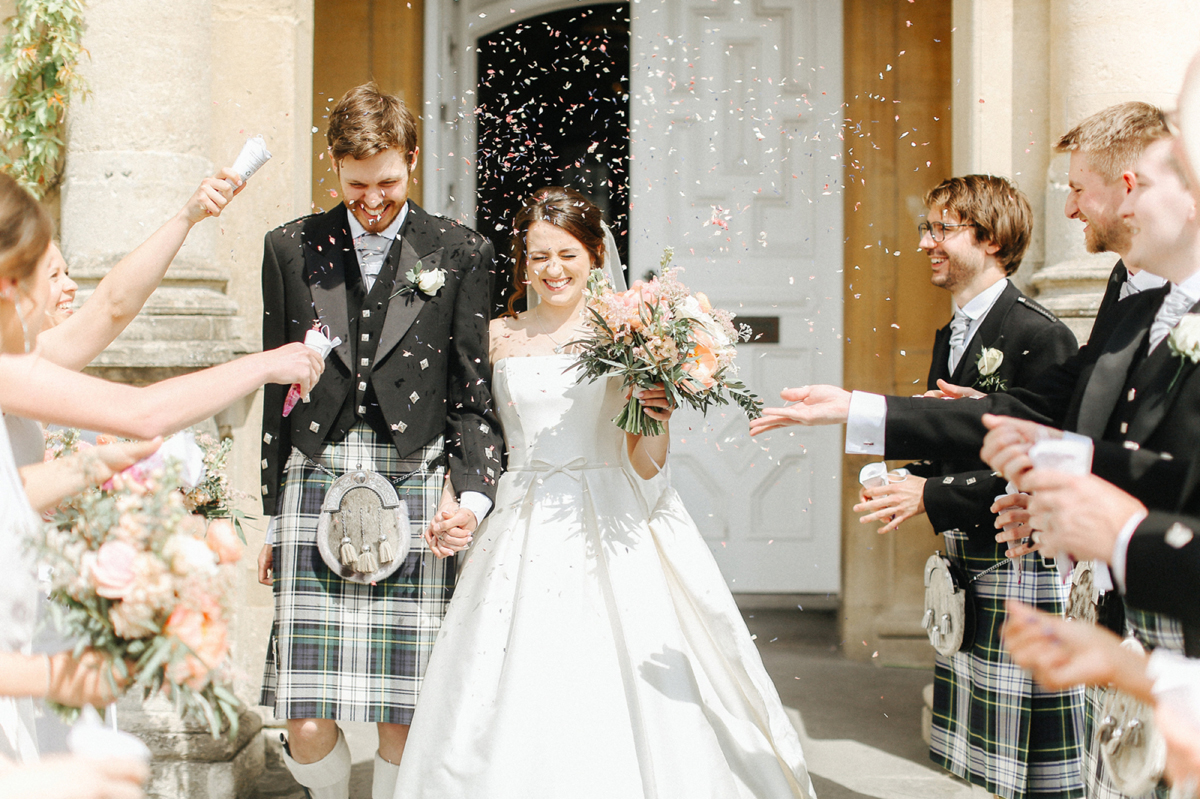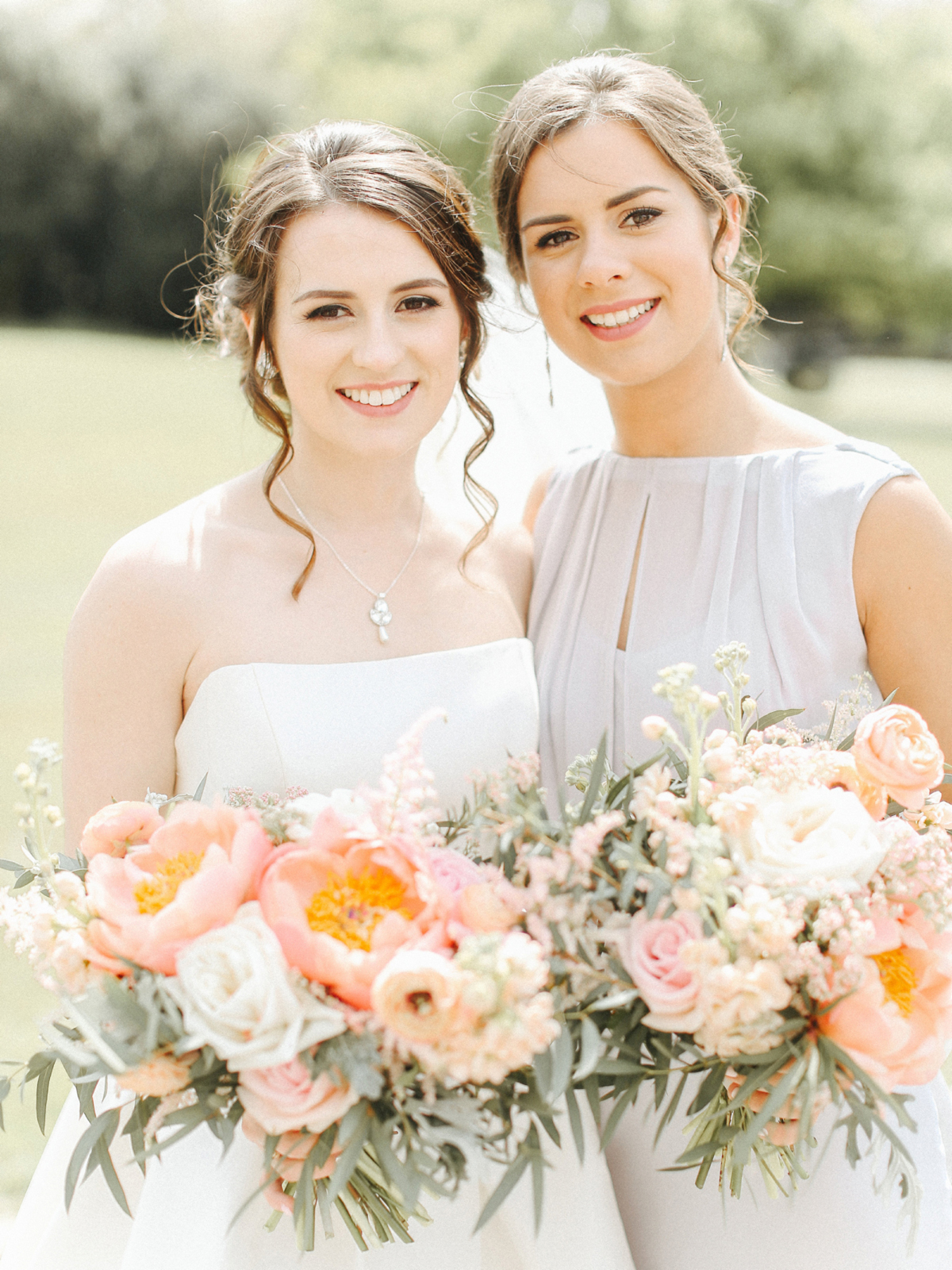 Siobhan's bridesmaids looked stunningly elegant in fitted full-length pale silver Ghost dresses and gold Dune shoes.
"When I got engaged, one of my bridesmaids was living in Thailand working with the UN and the other was living and working in South Sudan. This made bridesmaid shopping somewhat tricky! I wanted them to feel gorgeous, comfortable and glamorous, and their absolute best in their dresses."
"I asked them each to pick whichever style they loved most. In the end they all wore a different dress in silver and they all looked stunning! The colour was chosen to compliment any tartan that my husband might choose for the men."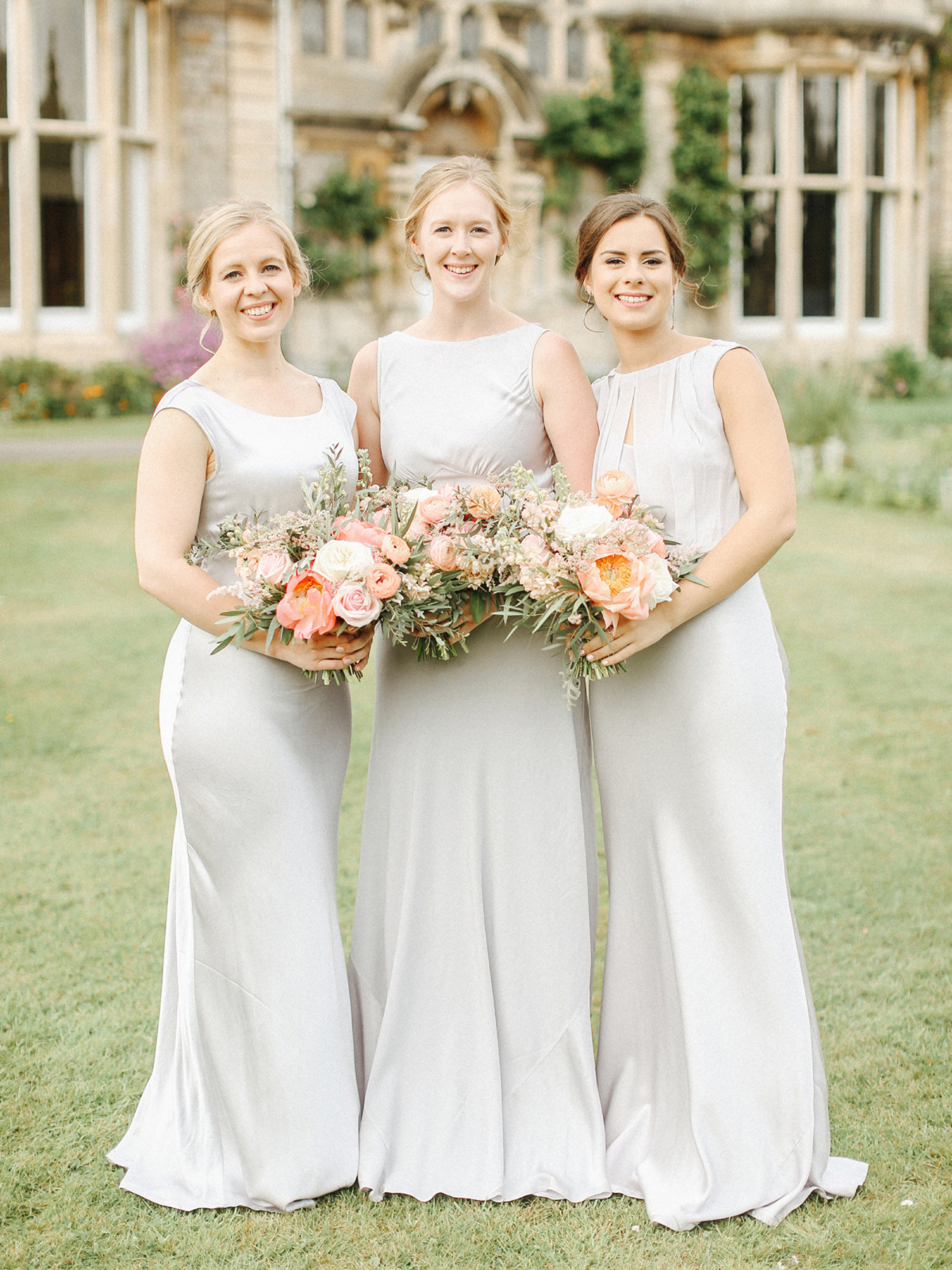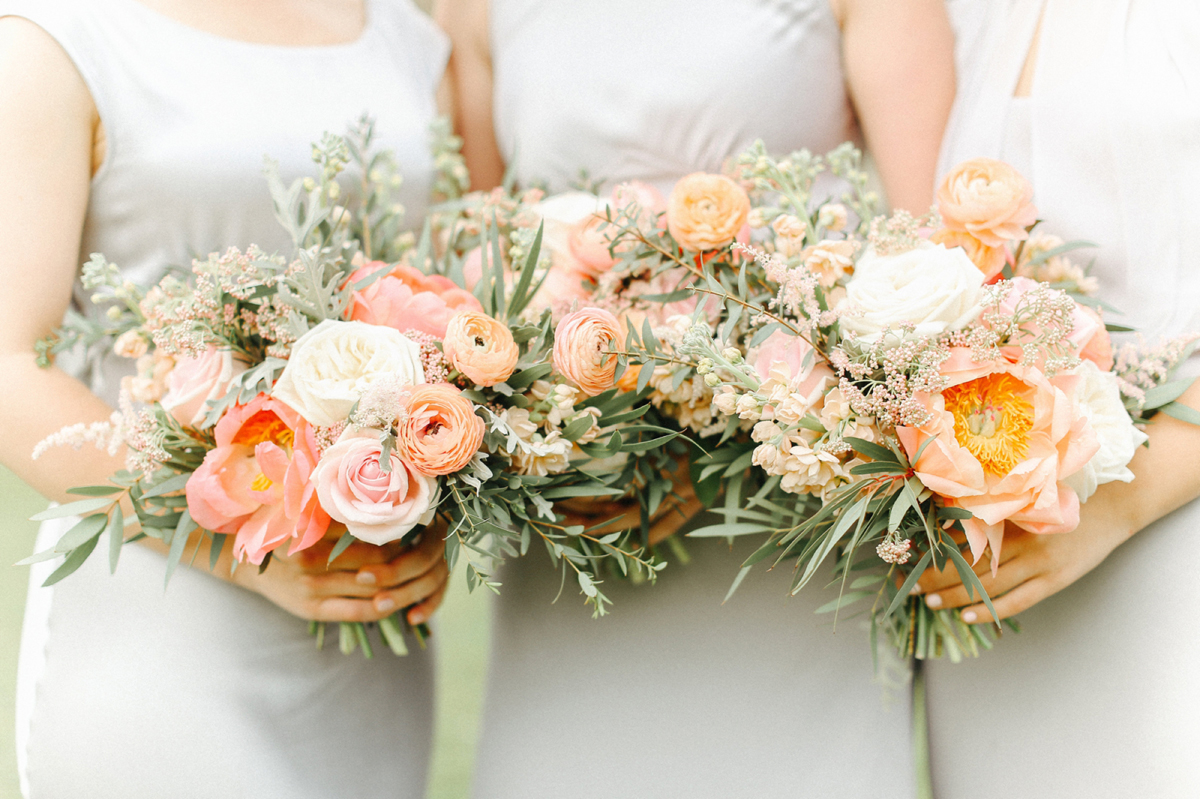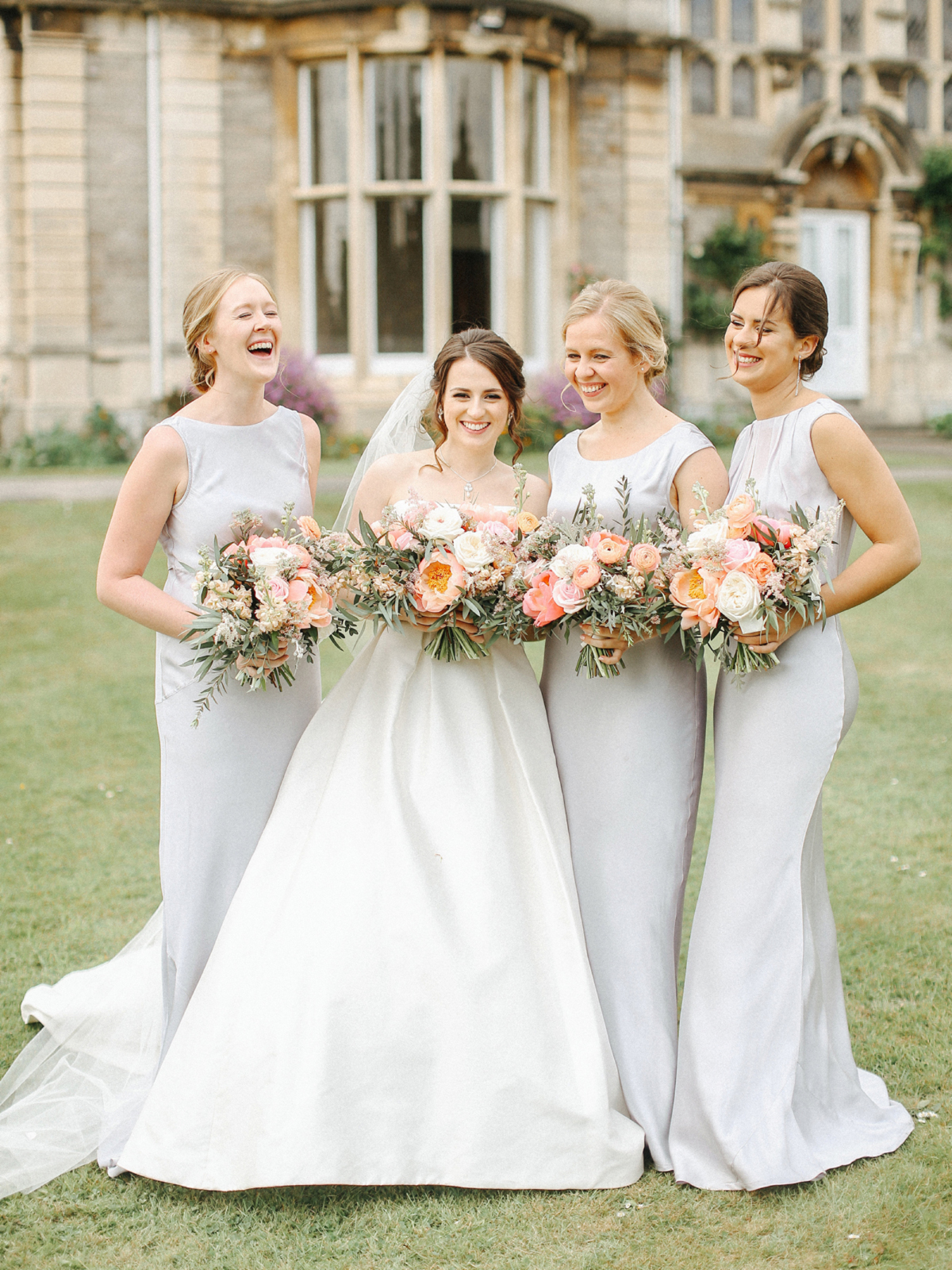 To compliment the elegantly chic style of Siobhan and Stuart's wedding, they hired photographers Belle and Beau to capture the day on camera.
"I knew I wanted fine art images of our day. I love the lightness and softness of this style of photography and I spent a long time researching the right photographer. Belle and Beau were incredible. So encouraging and gentle – perfect for us as we're not confident in front of the camera."
"We had an engagement shoot back in Oxford a couple of months before the wedding and I would definitely recommend one. It was so nice to get to know Holly and Phil and get used to posing in front of the camera."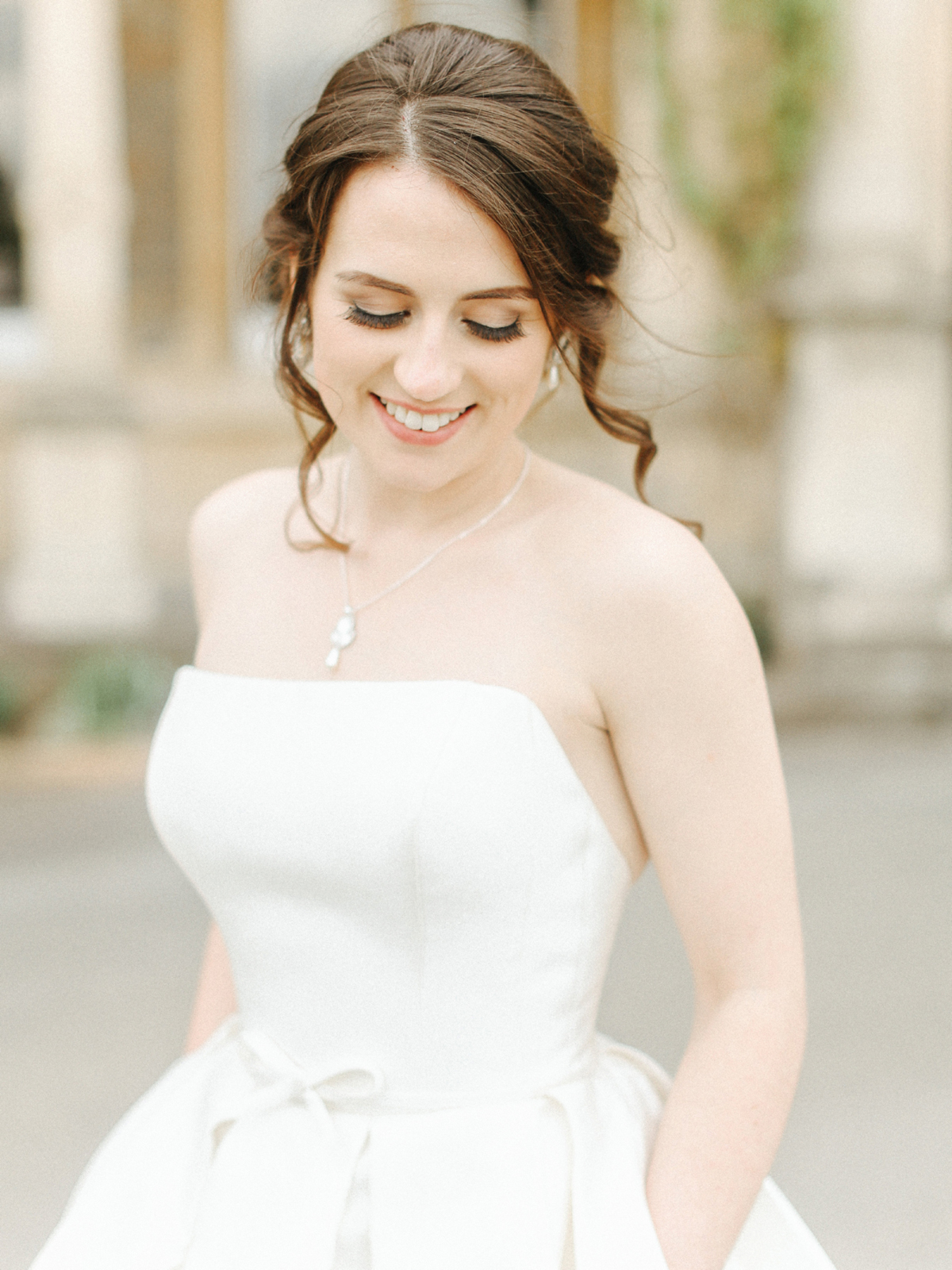 "Holly directed us every step of the way and it gave us complete confidence that the photos were going to be perfect. We now have two sets of photos to treasure. I would whole-heartedly recommend Holly and Phil. Wedding photographs need to stand the test of time as they are such a record of an emotional day. I really feel ours reflect the emotion as well as being beautiful images capturing the details of the day."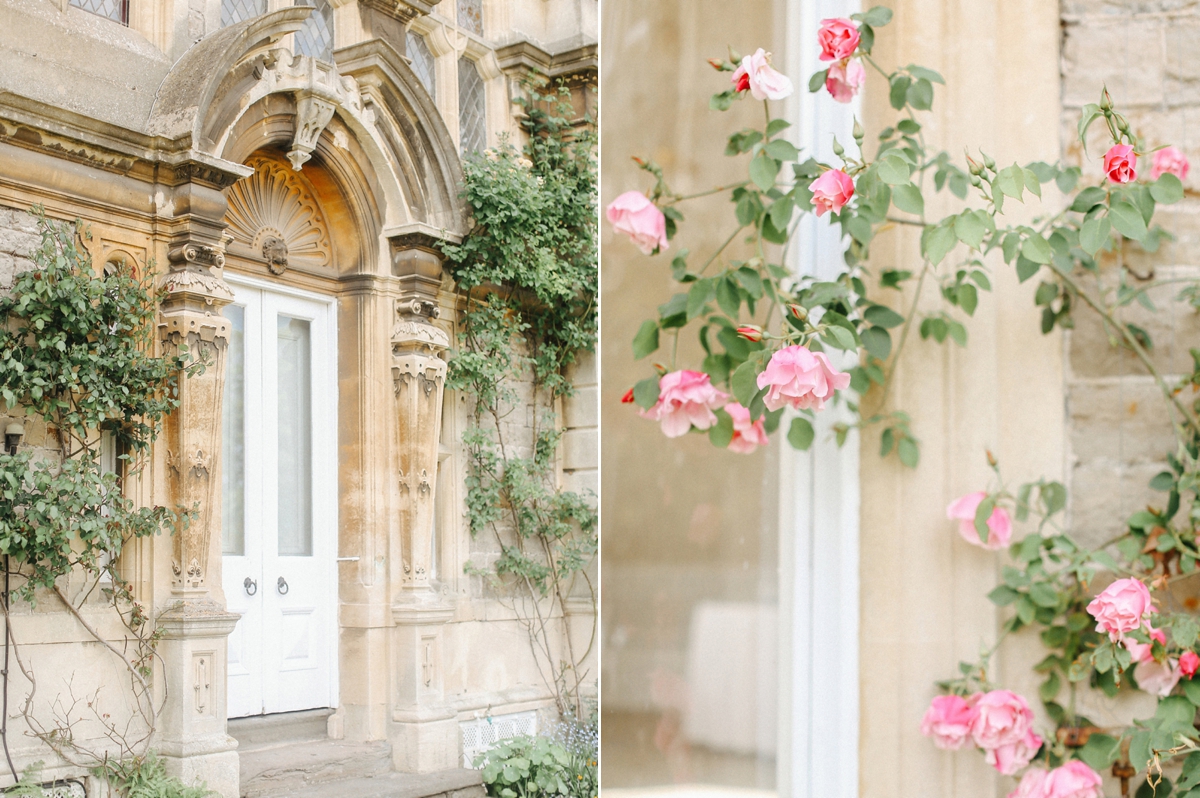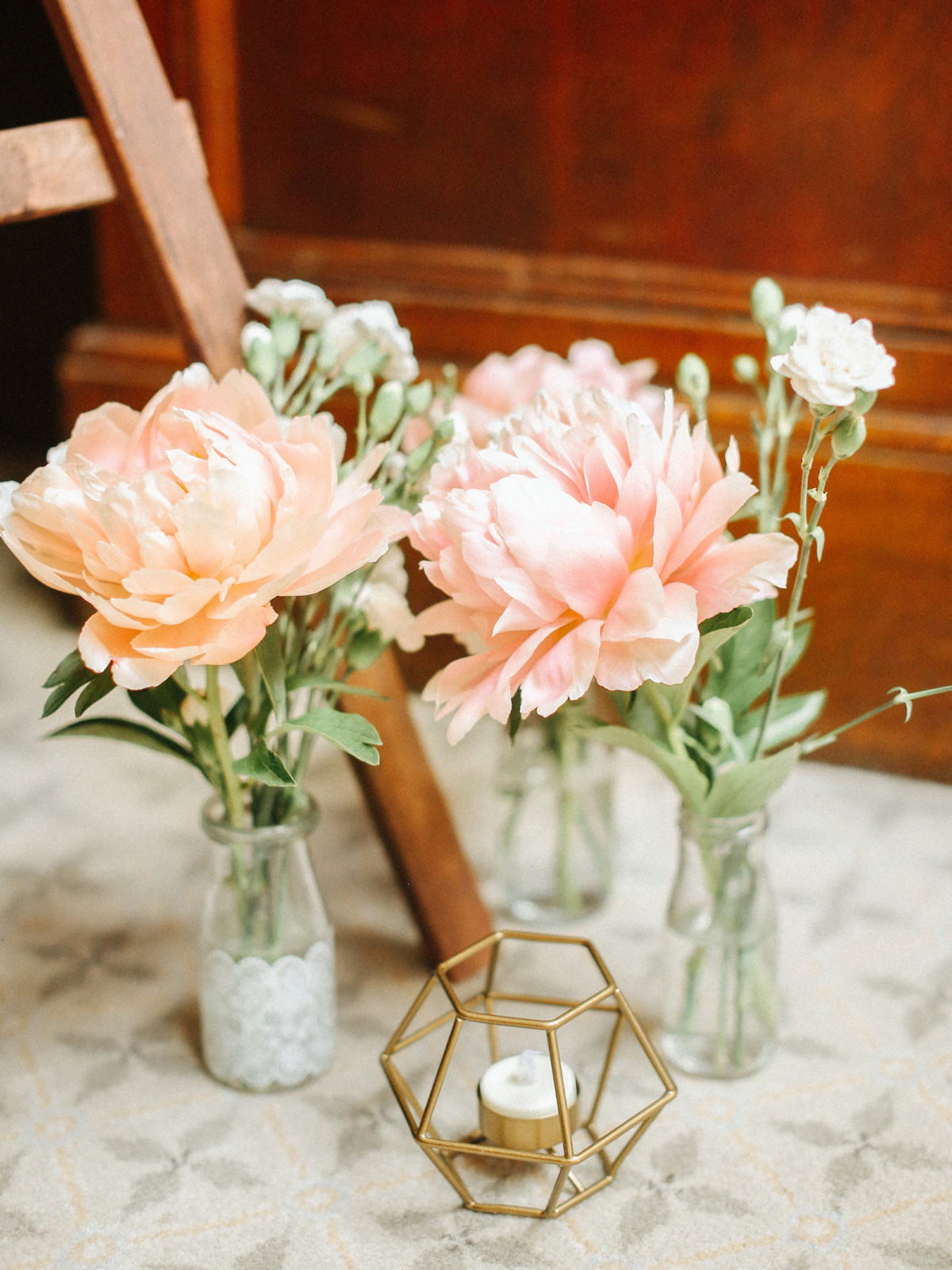 "For the favours we wrapped Kennedy tartan around tiny glass jars filled with jelly beans. I hand wrote name labels to tie around each jar and these doubled up as the place names too."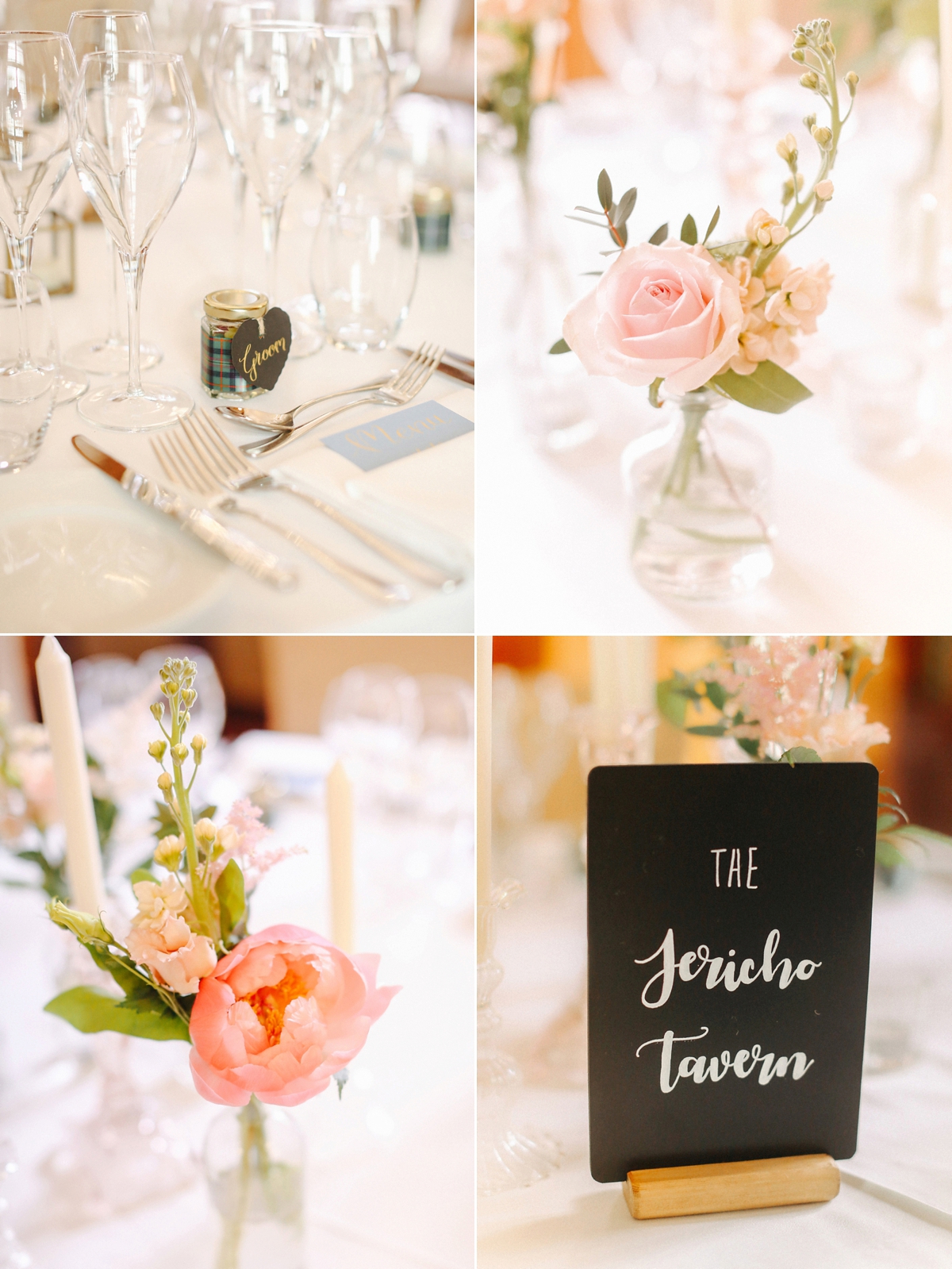 The catering was also provided by Clevedon Hall, who have an amazing in-house catering team with no set menus.
"Food was really important to both of us and the food at Clevedon Hall was exceptional – they were so accommodating. We had a suggested menu to pick our dishes from but could add in and change dishes where necessary. Every detail was considered at our menu tasting, including the presentation of each dish. We've had such good feedback about the food. The fish and chip cones that were served in the evening went down an absolute treat. Waiting staff brought them around on trays so they came out hot and our guests actually queued for them! We only had day guests so I thought everyone might be too full by the time they came out, but the smell of fish and chips even won me over."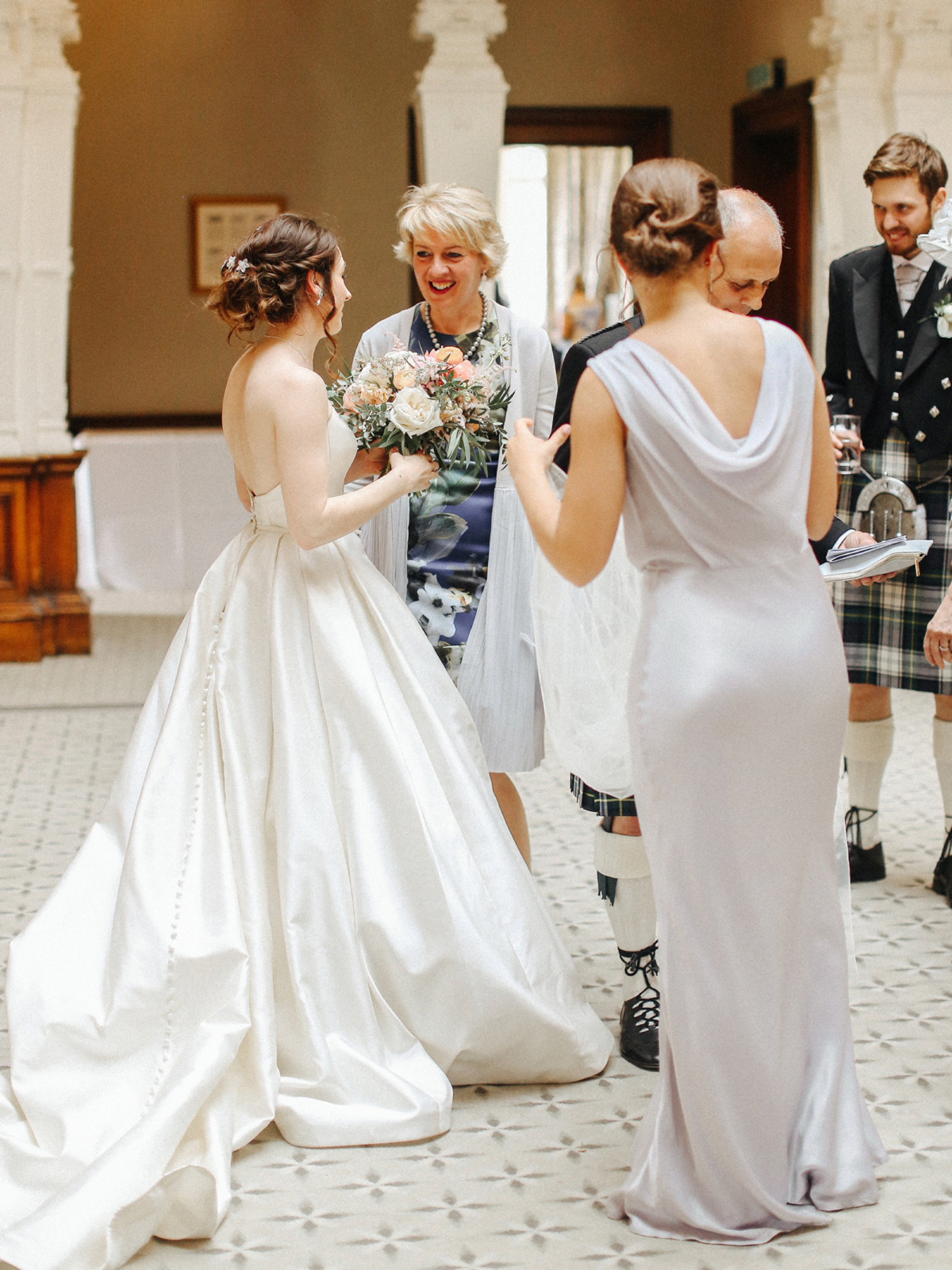 Where she may not have been able to get creative with the decor, Siobhan made up for with the wedding cake, creating the 3-tier fruit cake all herself.
"I actually made my own cake. I've made a few cakes covered in sugarpaste flowers for my parent's wedding, and a close friends wedding, so I knew I would make my own. I hadn't planned on staying up until 3am waiting for it to bake though! Thankfully I made it by using a tried and tested recipe so it could be made and iced weeks in advance. My brilliant mum made the cake topper which were mini figurines of us. She worked so hard on them and they looked brilliant. She'd never worked with modelling paste before!"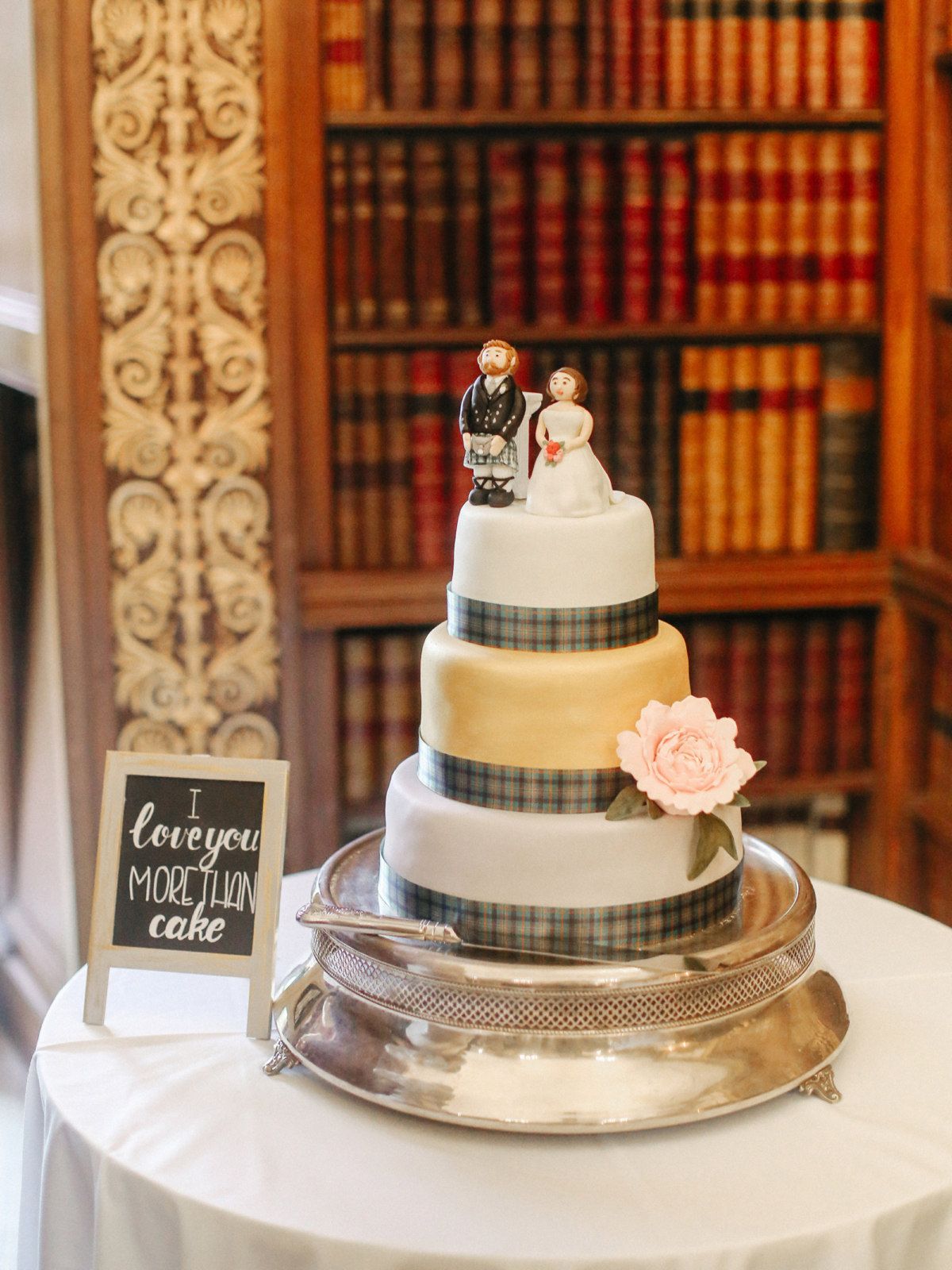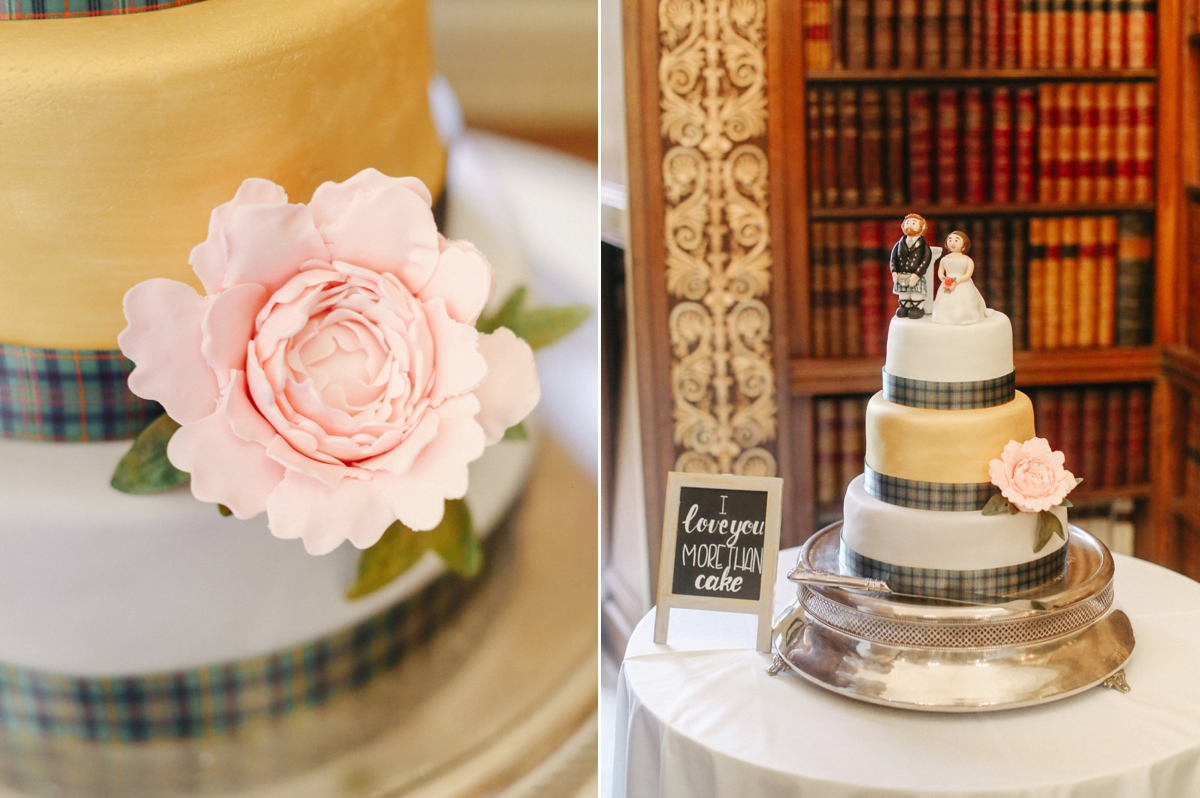 Following the wedding breakfast, Siobhan and Stuart performed their first dance as man and wife to Perfect by Ed Sheeran.
"We'd never been a couple with a particular song and his album was released just before our wedding. We both connected with the lyrics so it was an easy choice and now we do have a song as a couple!"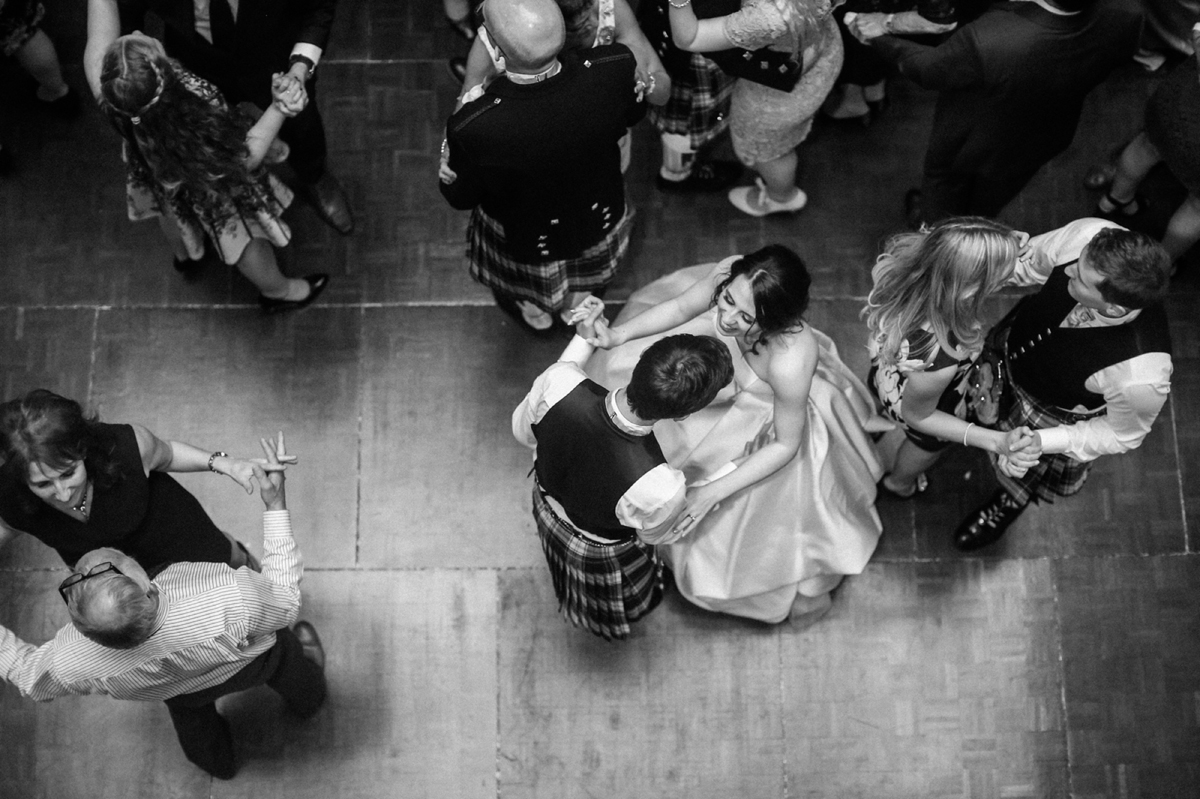 Spill The Whisky, a Ceilidh band in keeping with the weddings Scottish roots, then performed, keeping the dance floor full all night long.
"We knew as soon as we started planning that we wanted a Ceilidh in the evening as we have seen how inclusive they are and how, even those who don't dance, will get involved. Spill The Whiky were fabulous. They walked everyone through the dances and the dance floor was constantly full. I even managed a few dances in my dress!"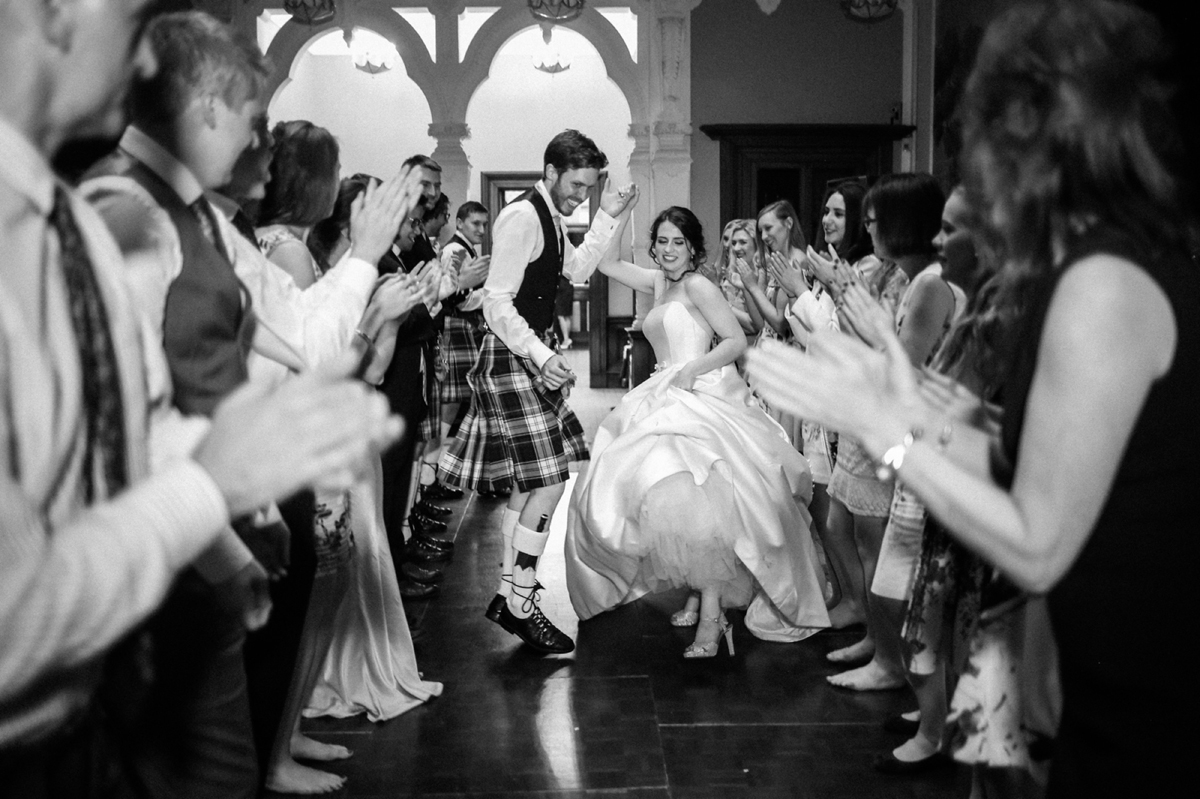 Words Of Wedded Wisdom
"Focus on what is important to you. For us it was spending the day with our guests, adding a few personal touches and getting the right atmosphere. There were lots of times when I wanted to do more or didn't feel we were doing enough, but in the end what we did was enough and was always going to be because getting married and celebrating was the focus. We've had so many lovely comments from our guests."
"We had dinner with family and the wedding party the night before which was such a good idea as we got to relax and chat which prolonged the occasion. It really set the mood and helped us catch up with people we knew we would have limited time with on the day."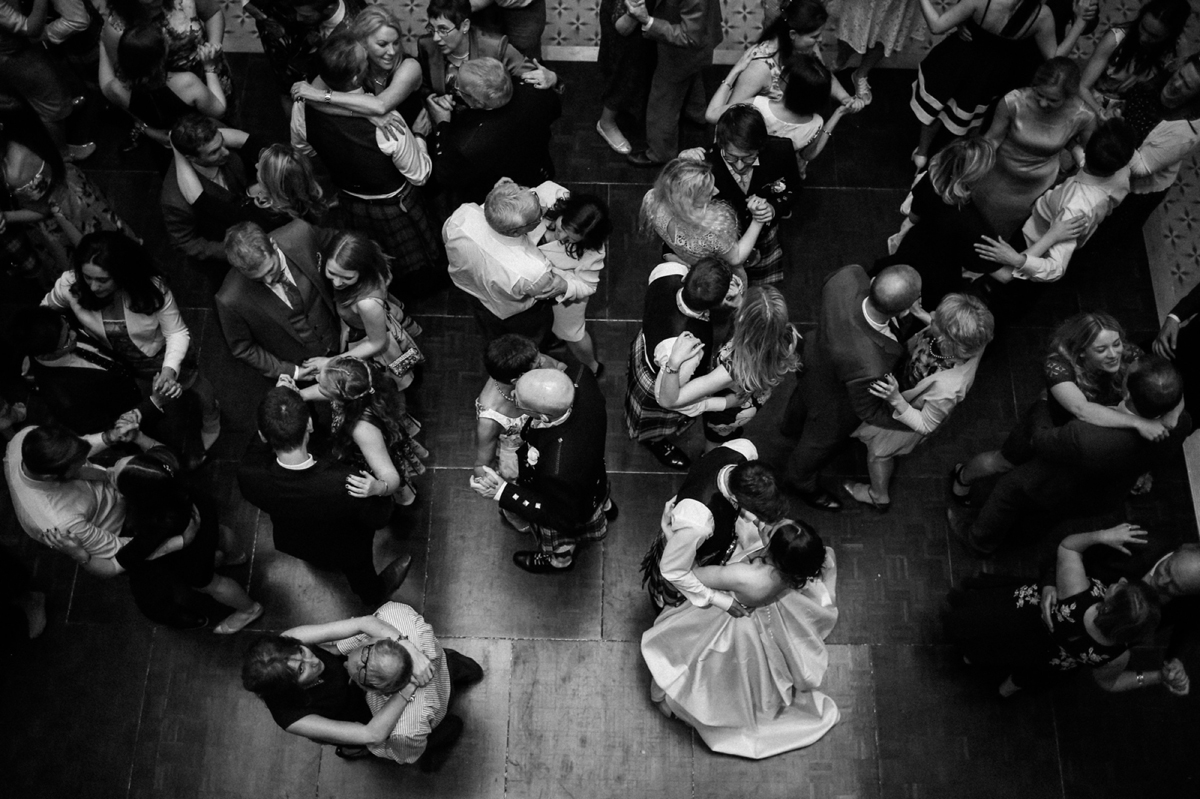 What a breathtakingly beautiful wedding Siobhan and Stuart achieved! A very inspiring day for the classical and chic brides to be amongst us. A big thank you to photographers Belle and Beau for their gorgeous photography, and congratulations to our happy new bride and groom.
Until next time…
Much love,
Holly x