Sit yourself down, make a cup of tea and get ready to enjoy this absolute dream of a wedding. It's such a pleasure to share these September nuptials with you – I defy you not to fall in love with the Cumbrian venue and these divine images.
The bride and groom are Jen, a lifestyle, wedding, portrait and commercial photographer who owns Jenny Jones Photography and Ed, who is a chef with his own business. They wed in a church wedding at St Peter's Church, Askham with a reception next door at the incredibly beautiful Askham Hall, near Penrith, Cumbria on 9 September 2017. The couple were captivated by Askham's unique, timeless and stylish charm, and drew on Jen's childhood in France for their styling – a simple, clean and timeless look with a colour palette of dusty greens, whites, brass and a hint of blush.
Regulars to these pages might recognise the airy, light-infused style of this photography. Melissa Beattie, one of our Little Book for Brides members, was called on by Jen to capture the wedding day, and the result is simply beautiful.
"We always knew it had to be Melissa. Her style and values were very similar to our own with her clean, timeless and organic style. It was equally important for us to have a photographer who was trustworthy, reliable and calm!"
Photography Melissa Beattie
Please do take a look at her Little Book for Brides listing to find out more about this talented photographer, and see more examples of her gorgeous work.
Jen and Ed first met in the Langdale Valley in the Lake District, and stayed local with their selection of venue – Askham Hall, another supplier who we are delighted to list on Little Book for Brides. The couple worked with wedding stylist Tebbey & Co. to enhance the beautiful Georgian architecture.
"Ed and I have very similar passions, dreams and outlook on life which brought us together. We have been together for 7 years and were engaged for two years before we got engaged. Emma from Tebbey & Co. helped me bring my vision to life. My upbringing was in the south of France so an underlying concept of Provence was definitely present. I always knew I wanted to go for dusty greens, whites, brass and a hint of blush. Simple, organic, clean and timeless was so important to us together with a very personal touch and attention to detail with everything we did."
Jen's wedded name is Jenny Jones, so how great is it that her jewellery came from a jeweller with the same name?
"As my newly-married name is Jenny Jones I couldn't believe it when Ed proposed with a beautiful antique box with Jenny Jones written in silk on the inside. SWOON. "
Jen is so elegant and timelessly beautiful in her bridal separates. The full, flowing skirt is a Charlie Brear piece, and the lace top with its deep V-back and delicate cap sleeves was a bespoke piece made just for her. I love the final, romantic touch of the opulent bow.
"I loved the detail, the simplicity and the movement when I walked."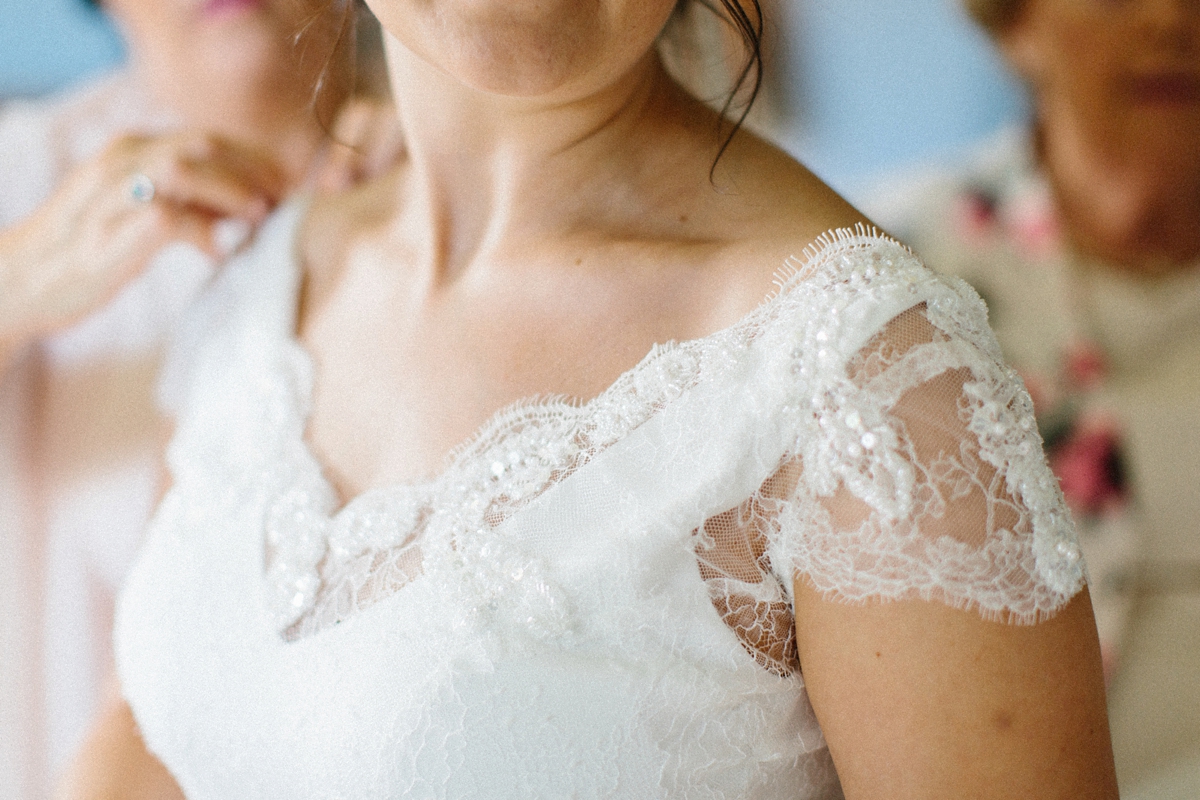 The bride's delicate necklace was also a Jenny Jones Jewellery design, given to her by her mum on the morning of the wedding. Oh and these laser-cut boots in cream? They're Harriet Wilde shoes. You can see more gorgeous designs over on her Little Book for Brides listing.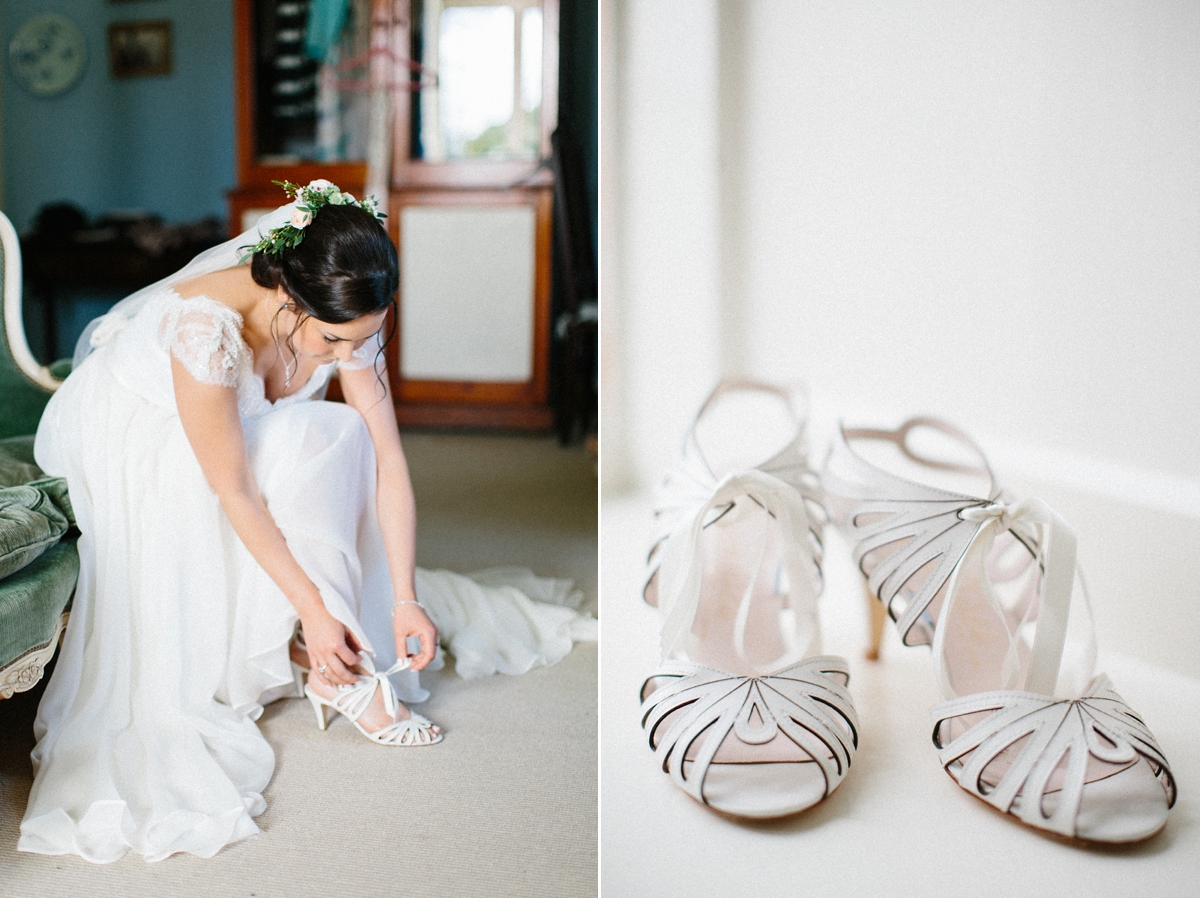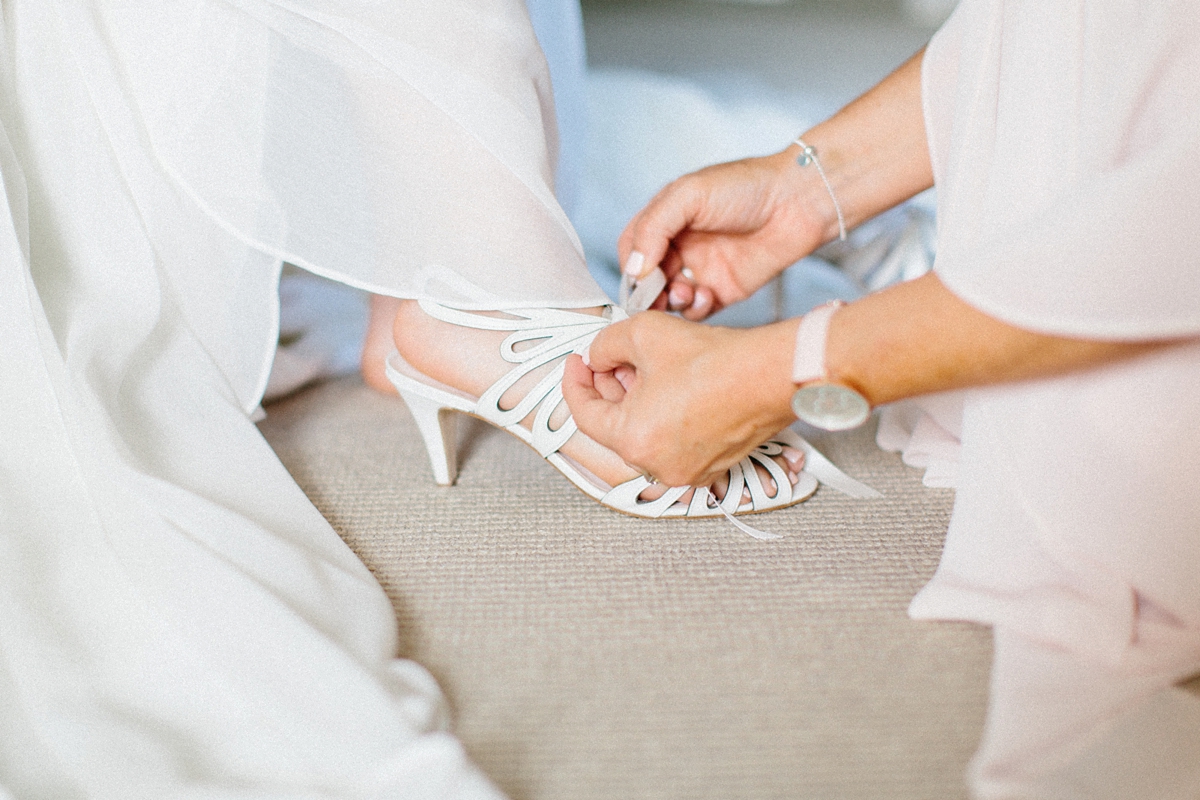 Jen added a long, sheer Italian tulle veil – just dreamy. And to complete her fresh look, her up-do was dressed with fresh flowers. Oh my gosh, I can't tell you how much I love her look.
"I wore Jo Malone Blackberry and Bay as it reminded me of picking blackberries from my childhood."
The bride and her father travelled in to the church in a Range Rover, entering to the timeless tune of Pachelbel's 'Canon in D'. At the altar, Ed was waiting, looking super-suave in a Ted Baker suit and Liberty London silk tie and pocket square.
Their service was a traditional Church of England ceremony, personalised with their choice of readings. The first was 'Song of Solomon', and the second was Richard Bach's piece on Soulmates.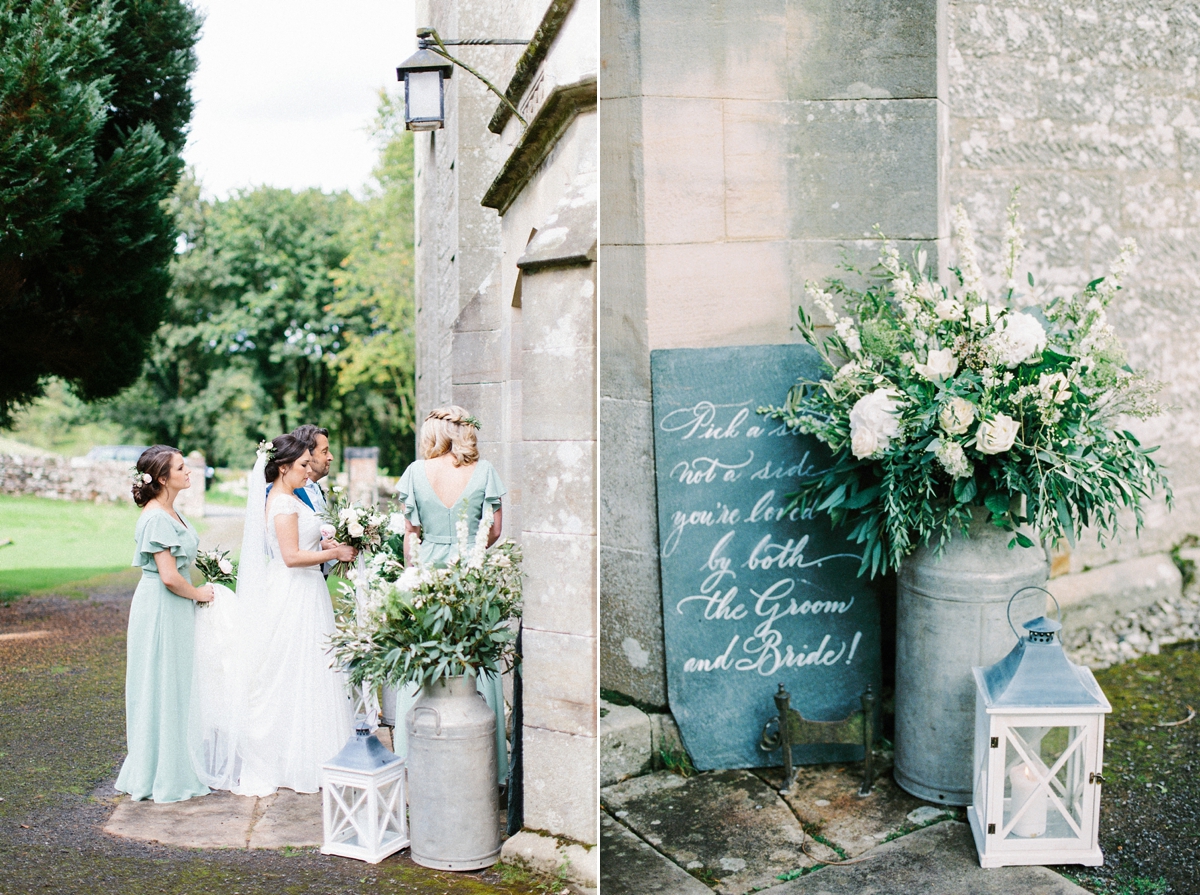 "A soulmate is someone who has locks that fit our keys, and keys to fit our locks. When we feel safe enough to open the locks, our truest selves step out and we can be completely and honestly who we are; we can be loved for who we are and not for who we're pretending to be. Each unveils the best part of the other."
"No matter what else goes wrong around us, with that one person we're safe in our own paradise. Our soulmate is someone who shares our deepest longings, our sense of direction. When we're two balloons, and together our direction is up, chances are we've found the right person. Our soulmate is the one who makes life come to life."
"Our favourite part of the day was getting married. Everyone commented on what an emotional and personal wedding it was so attend. So many guests commented on how much love was in the air. I got very emotional during my vows and there wasn't a dry eye in the house."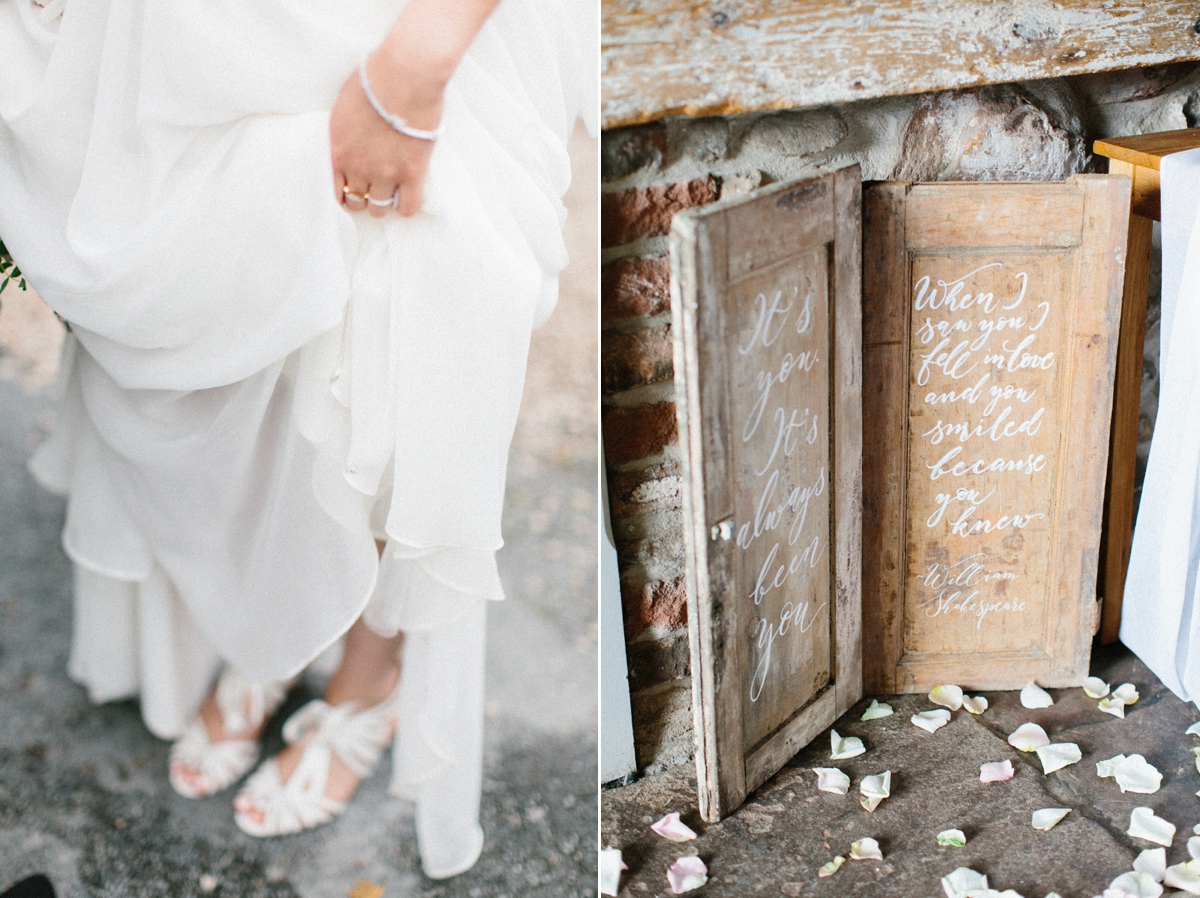 The grounds and gardens at Askham were a beautiful backdrop for the drinks reception – how divine do they look in these images? The wedding breakfast was held in the gorgeous barn – dressed with hundreds of lights, flowers and candles it's just magical. The Askham team served the dinner, and also built a towering raspberry pavlova to act as wedding cake.
"We made the wedding favours ourselves. We foraged for sloes in the Lake District and made our own small batch of sloe gin in beautiful cork-topped glass bottles with each guest's name written in calligraphy attached to the cork."
"Claire Gould from Calligraphy for Weddings hand-wrote all the beautiful statement calligraphy pieces for our wedding day. So talented."
Katie at Made in Flowers put together the wild, organic bouquets – key to the overall look of the day.
"Flowers were so important to me and are a big part of the final feel and style of the wedding."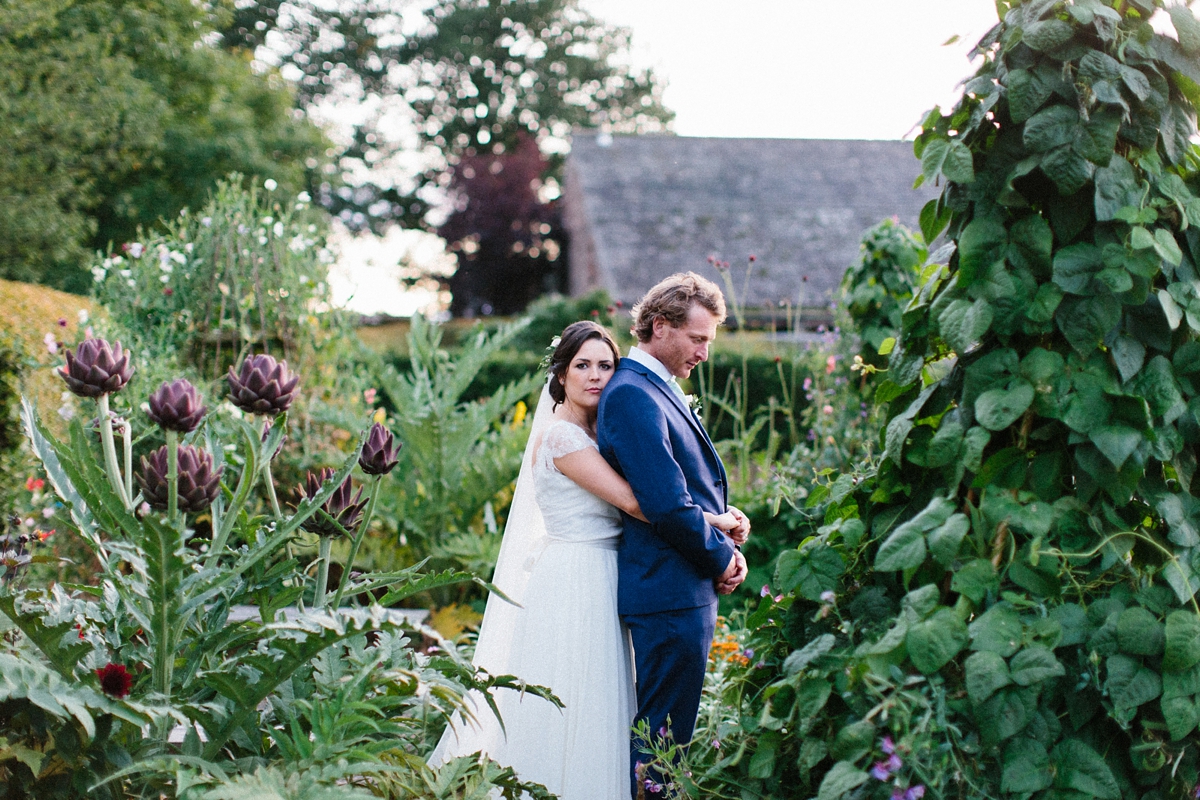 Later on band The Cave, found on Warble Entertainment, were on hand to sing for the evening reception. Warble is a fabulous specialist entertainment resource, listing some fantastic acts. You can find out more on their Little Book for Brides listing and save 10% too.
"The Cave are the best wedding band ever. I have never, ever seen a dancefloor SO full all night at a wedding before. The dancefloor was bouncing."
"Our first dance was 'Call You Home' by Kelvin Jones. We believe that when you find true love the person feels like home and is your home."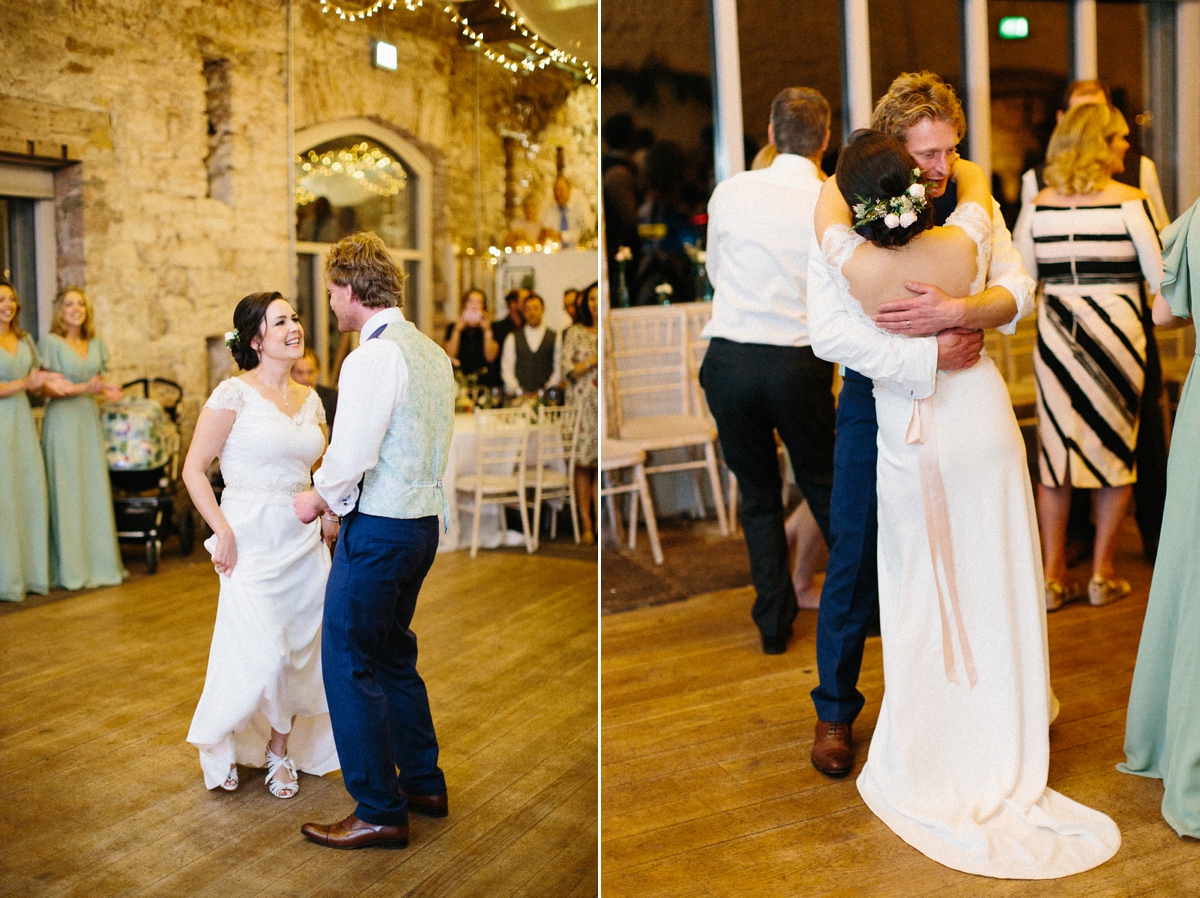 "I wouldn't have done anything differently, we were so chilled and happy and concentrated on the important things and didn't let anything distract us from what was important. It was the best day of our lives and although we planned it for two years to every last detail the day itself still managed to exceed our expectations a million times over."
Words of Wedded Wisdom
"Focus on the important bits on the day like marrying the love of your life. Don't get distracted by minor details that simply don't matter. Stop at least five times throughout the day and take in those moments and they will help you remember."
I think I've fallen in love with Askham Hall, and that glorious Charlie Brear skirt. Thank you so much Ed, Jen and Melissa Beattie for sharing this gorgeous Cumbrian wedding. Sending you so many congratulations.
Ele xx