Hello lovely ones, it is so beautiful over here in Barcelona – a lovely gentle 23 degrees – though I wish I could hang around all day basking in the sunshine! But aside from a few long stints in the hotel room with my trustee laptop, we've been attending all the most important shows here at Barcelona Bridal Fashion Week.
Earlier today we were front row at the Rembo Styling and Marylise catwalk event – you can see images over on our Instagram Stories and highlights. I so enjoyed this show and all it's colourful, youthful vibrancy. Later this evening, we're attending the YolanCris show and I hope to share some of our adventures through Instagram live – keep your peepers peeled at @lovemydress. For now, let us enjoy the utterly wonderful and charming country wedding of Susan and James. The couple tied the knot on 1st July last year at Lemore Manor, a 17th Century manor house nestled within the idylic Herefordshire countryside.
"We wanted to embrace a traditional country affair – James grew up on a sheep farm in a rural hamlet in mid-Wales and lots of his family live in the area – whilst also having our own spin on things. The area very much influenced our style – we kept colours neutral and natural – nudes and greens and wanted our flowers to be full of foliage (which we gathered from the farm with my sister Hazel Gardiner, who is also a florist and gave us the gift of her magic touch)."
Film by Adam Lyduch
"Our videographer was Adam Lyduch – what a guy. Here's Herefordshire based and his wife also does photography. The nicest guy and made everyone feel at ease (and even had a little dance on the dance floor after being dragged over by our friends). So pleased we found him – his documentary style is natural, fun, beautiful and with lots of joy shining through!"
Images by Igor Demba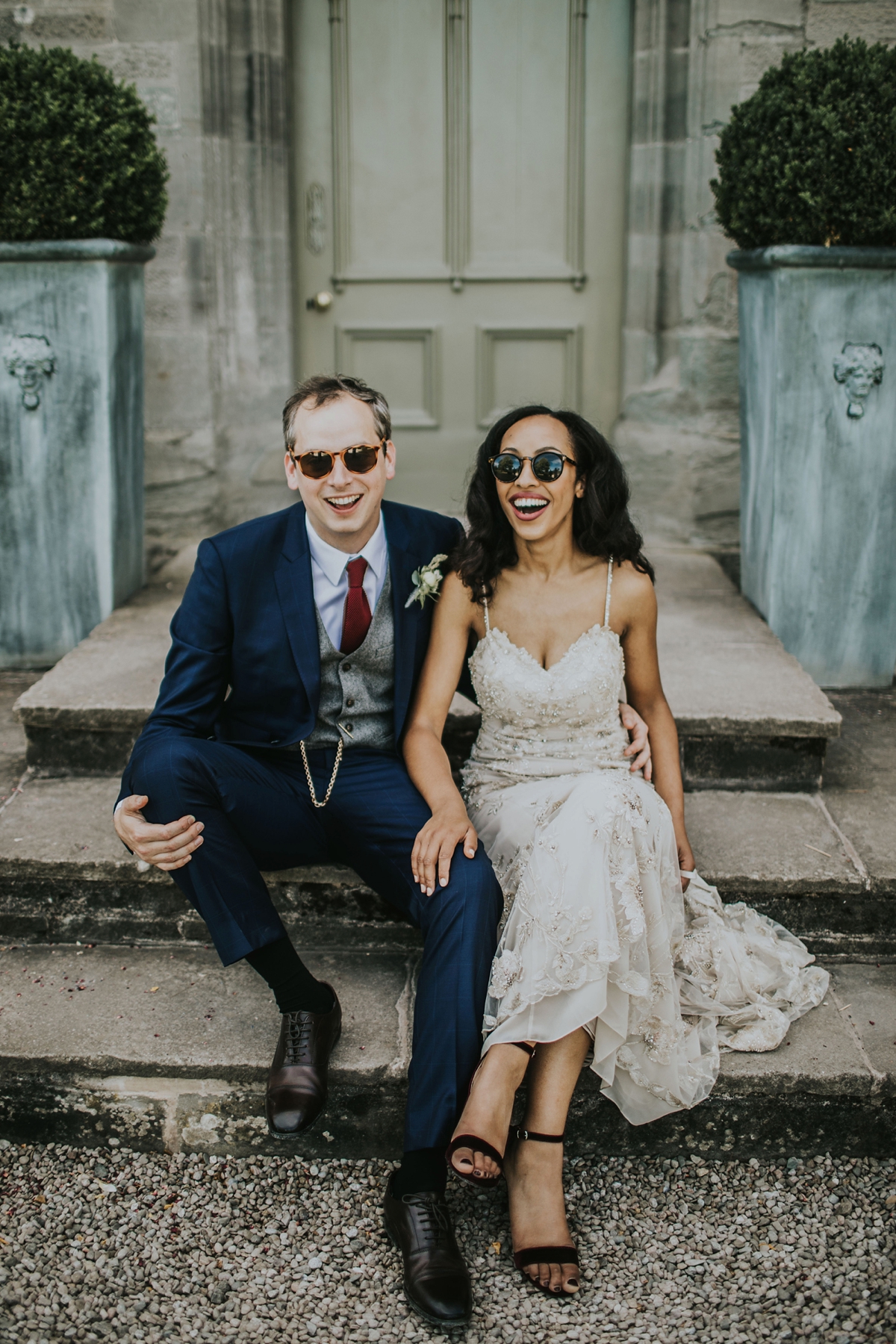 Susan's flattering Enzoani gown was a purchase from Marylebone based JS Couture.
"I really wanted a dress that wasn't white or ivory. This dress is champagne and it was the perfect mix of tradition and sense of occasion glam. I'm not massively into bling but loved the embellishment that set the embroidered flowers off, a few of which had a just a gorgeous hint of a nude-pale pink in them too. I loved the way the tulle layers of the dress fell at the bottom, adding a little romanticism, but that the dress still had a great shape.""I found a lot of romantic/layered tulle looking dresses just didn't suit my bigger bust! I have to mention my incredible dress fitter Munever of Image Tailors in Finsbury Park. The dress was a sample and needed a complete overhaul to fit my curves – she painstakingly took it apart and brought it back together to fit me perfectly. She is an absolute miracle worker!"
"We were so lucky to have my sister do our flowers. She, Hazel Gardiner, is an amazing London based florist and as my sister she knew exactly the look we (I…) was after! We had a selection of white and nude flowers complimented with foliage and shrubs we had gathered from around James' family farm."
"We had a great day cutting chunks out of hedgerows and loved how brambles made it on onto our top table! We wanted lots of greenery to bring the outdoors in and had lots of elegantly draped ivy and willow."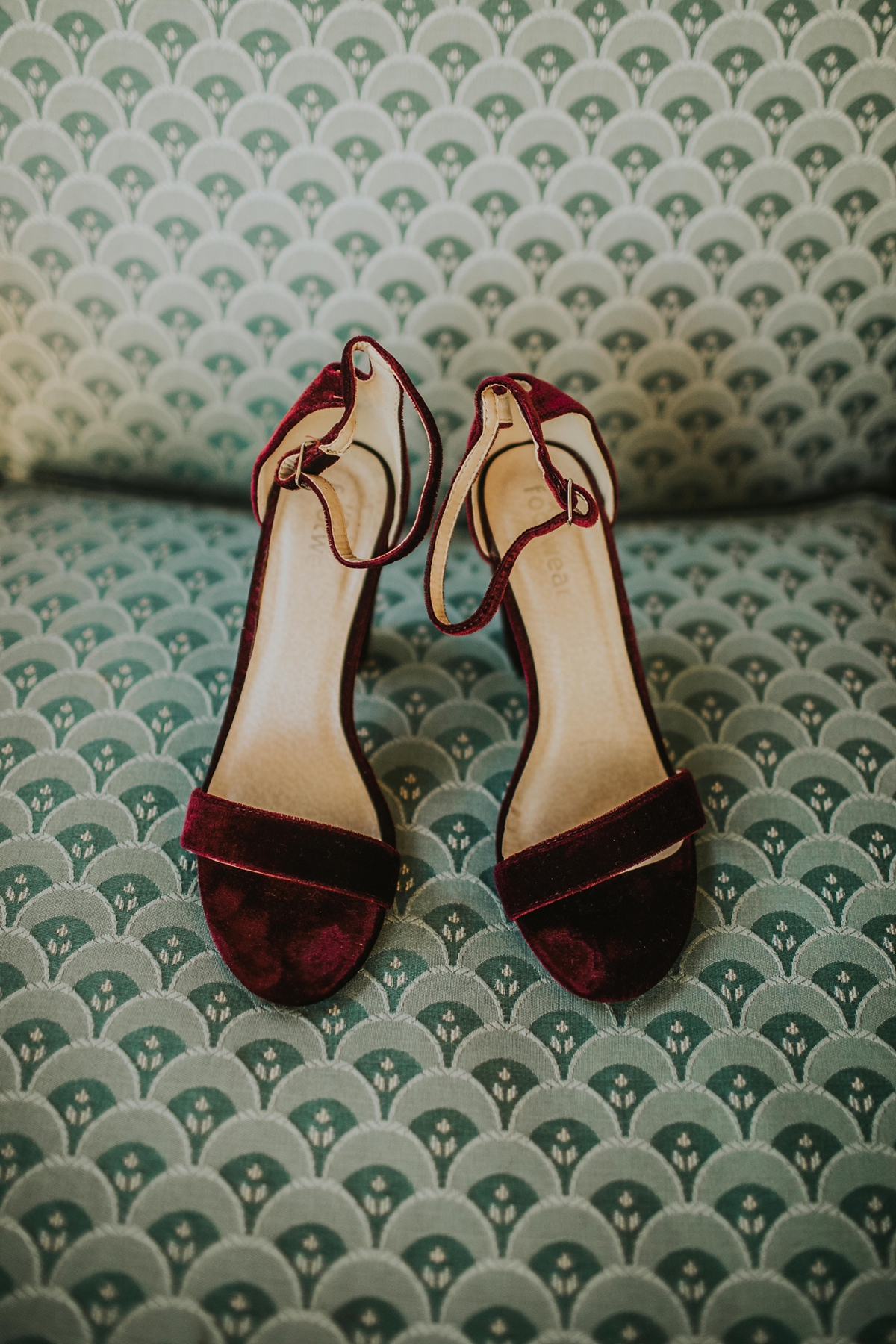 "We did our own hair and make up. We went to Charlotte Tillbury for a make up tutorial before the wedding itself."
"My shoes were an economical Ebay purchase and I wore Tom Ford Noir perfume.  My sister Hazel bought it for me as gift that I opened the morning of the wedding. I love it."
"I had no jewellery outside my engagement and wedding ring. James and I chose my pink tourmaline, grey and champagne diamond ring together from Tomfoolery in Crouch End. It's by Ruth Tomlinson. I knew nothing about jewellery before getting engaged and fell in love with Ruth's inspiration in natural forms and beautifully warm and complimentary tones."
"I made my drop veil myself  with help thanks to this amazingly cool and crafty blog."
"My bridesmaids wore dresses from Maids to Measure and Jarlo London which they paired with their own shoes."
The couple created their own wedding stationery…
"We did this ourselves, with scant knowledge of photoshop and some dodgy drawing of mine!"
"My Dad accompanied me down the aisle to the sound of 'At Last' by Etta James."
"James and I met through our siblings – my sister was dating James's brother's best friend over 12 years ago. She invited me to his brother's birthday party and the rest is history! We got engaged on a vineyard called The Wooing Tree in Central Otago in New Zealand. We both love wine and travel so it was the perfect place. We'd got engaged in April and married in July the following year."
"We kept vows short and sweet and to the civil ceremony script. My brother read a passage of the lyrics to Fleetwood Mac's 'You Make Lovin' Fun' – it really just summed everything up for us."
"A favourite part of the day for me was standing up in front of everyone to say our vows and come together with all of our loved ones present. Nothing can beat that feeling of love and support all in one room – and the joy of skipping down the isle to 'Aint no mountain high enough' by Marvin Gaye and Tammi Terrell."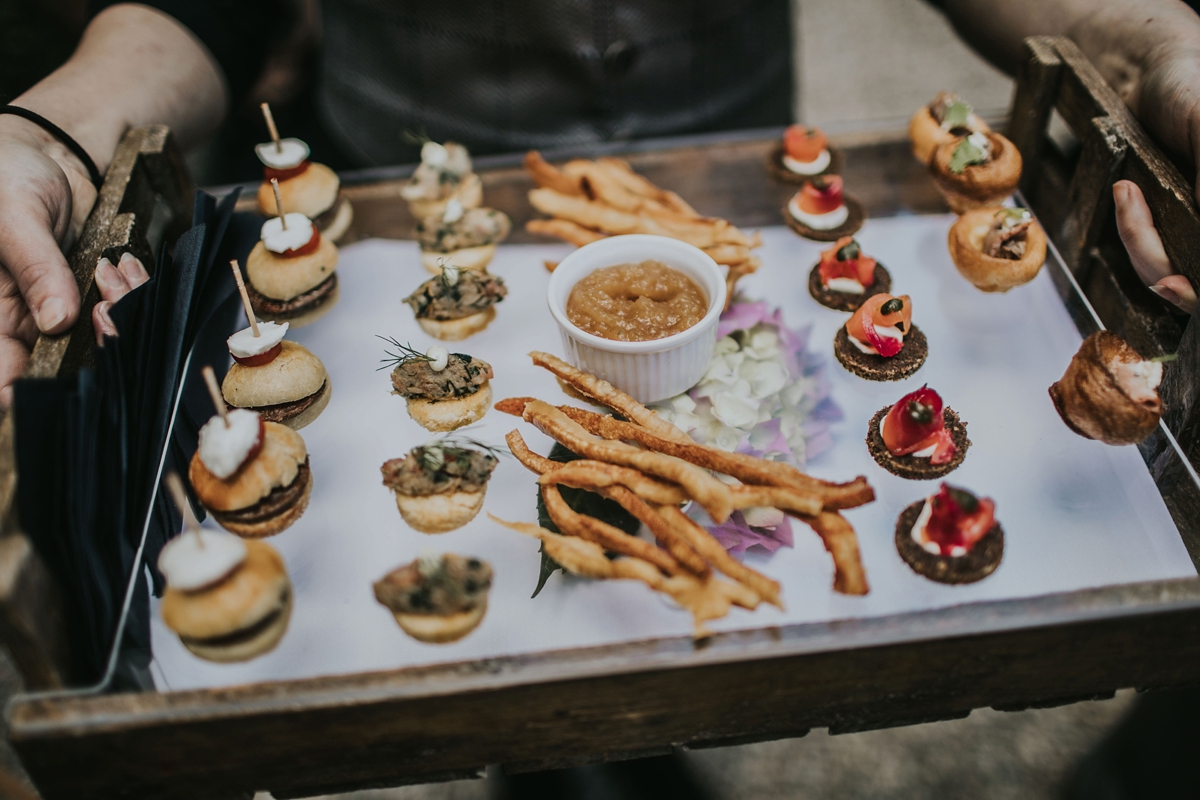 "Our photographer was Igor Demba – what a legend! After a mildly fraught period of researching at over a year in advance and quickly realising how fast good photographers get booked up, we were so pleased that Igor was available. We absolutely love his destination photography and his was my personal first choice."
"His work is so breathtakingly stunning without an ounce of cheese or awkward posing. He makes the most of interesting locations and we both really liked his editorial-meets-docu-style that makes everyone look amazing and like they're having the best time ever! He was also lovely, super friendly and easy going on the day, putting the bridal party at ease and chatting away with our videographer and friends."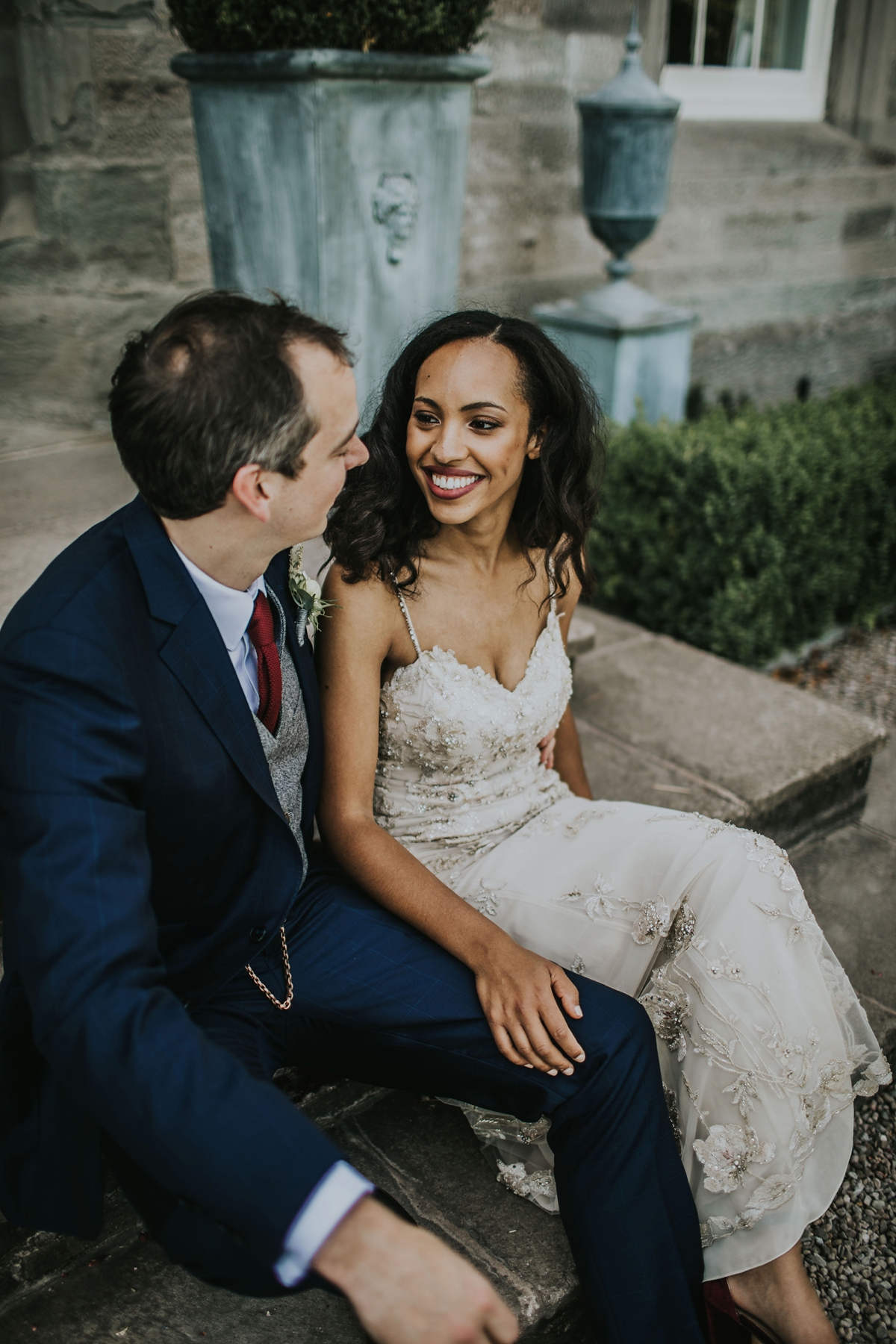 "The wedding party stayed at James' mum's holiday cosy cottages following a boozy dinner of local food and the fantastic local pub, The Harp at Old Radnor, the night before – it has amazing views of the historic Radnor Valley."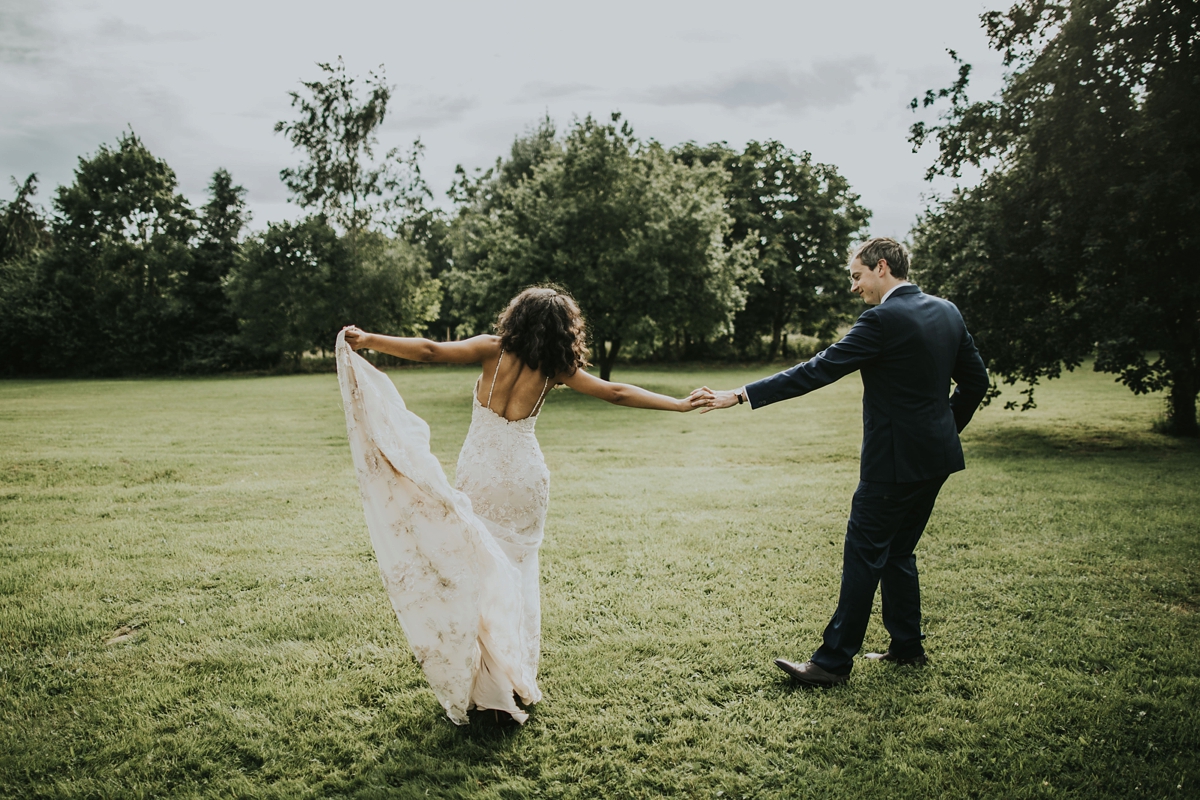 "We made everything ourselves when it came to decor – James made our copper arbour that we got married in front of. We splatted gold paint on linen for the table clothes and did the same for the seating plan and invitations. We were lucky to find a local dairy farmer to loan us beautiful milk bottles and we'd gathered lots of empty spirit bottles over the past year to use as vases."
"We spray painted giant tomato tins gold to use as our centrepiece vases! The only thing we hired were beautiful candlesticks via the lovely Amanda at Vintage Gold China."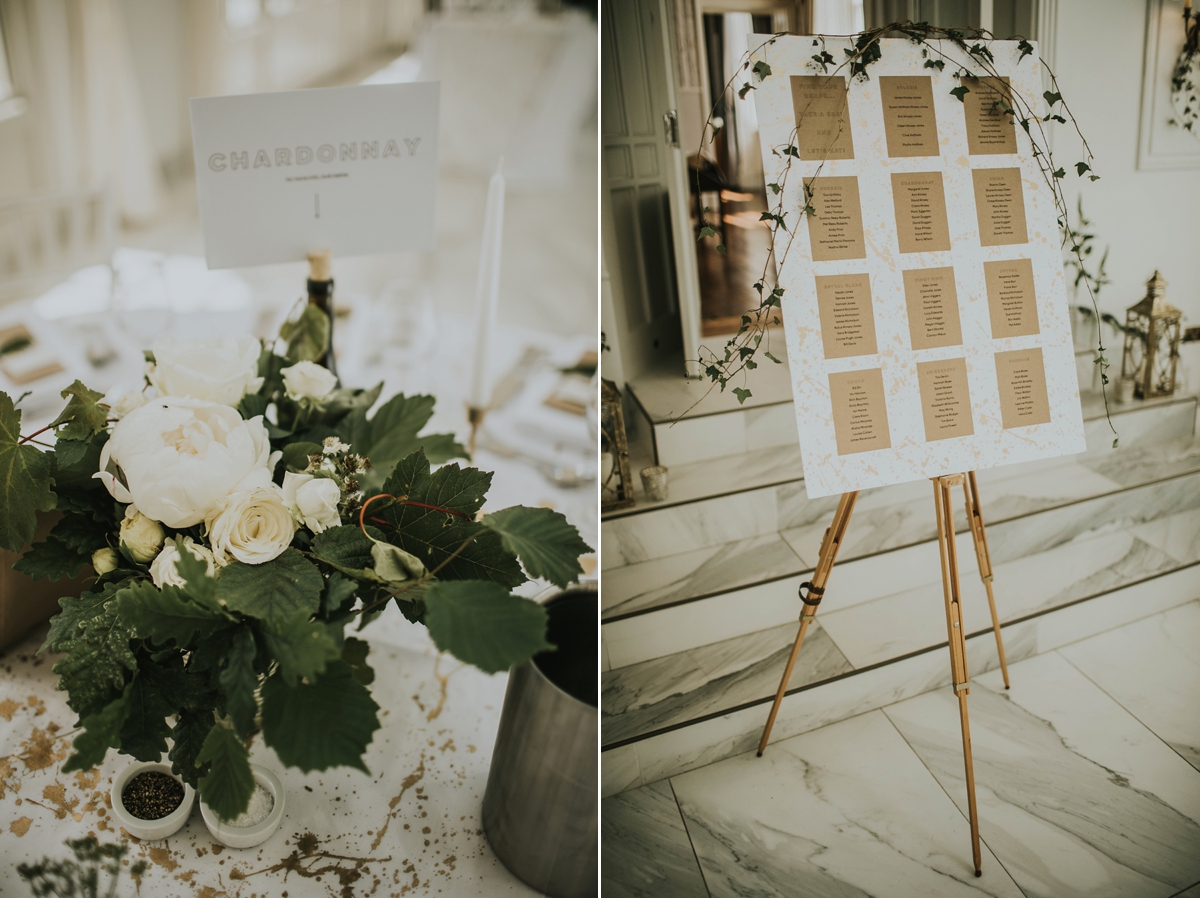 "I've been making cakes for a local café, friends and family for years, so the pressure was on to make my own! We couldn't choose just one flavour (who can?!) so we had a massive chocolate salted caramel cake joined by a two tiered cake that had a classic Victoria sponge with raspberry jam (my personal favourite, some might say a bit boring but if it ain't broke..) on the bottom and a lemon and pistachio cake on the top. Everything was covered in cream cheese icing. Because it's the best. Cheese and icing..what's not to like?! We topped them with fresh flowers and covered the whole cake table with lots of flowers and foliage too."
For favours, the couple provided their guests with sweet packets of seeds from the Wales-Herefordshire borders, which they sourced from Meadow Mania.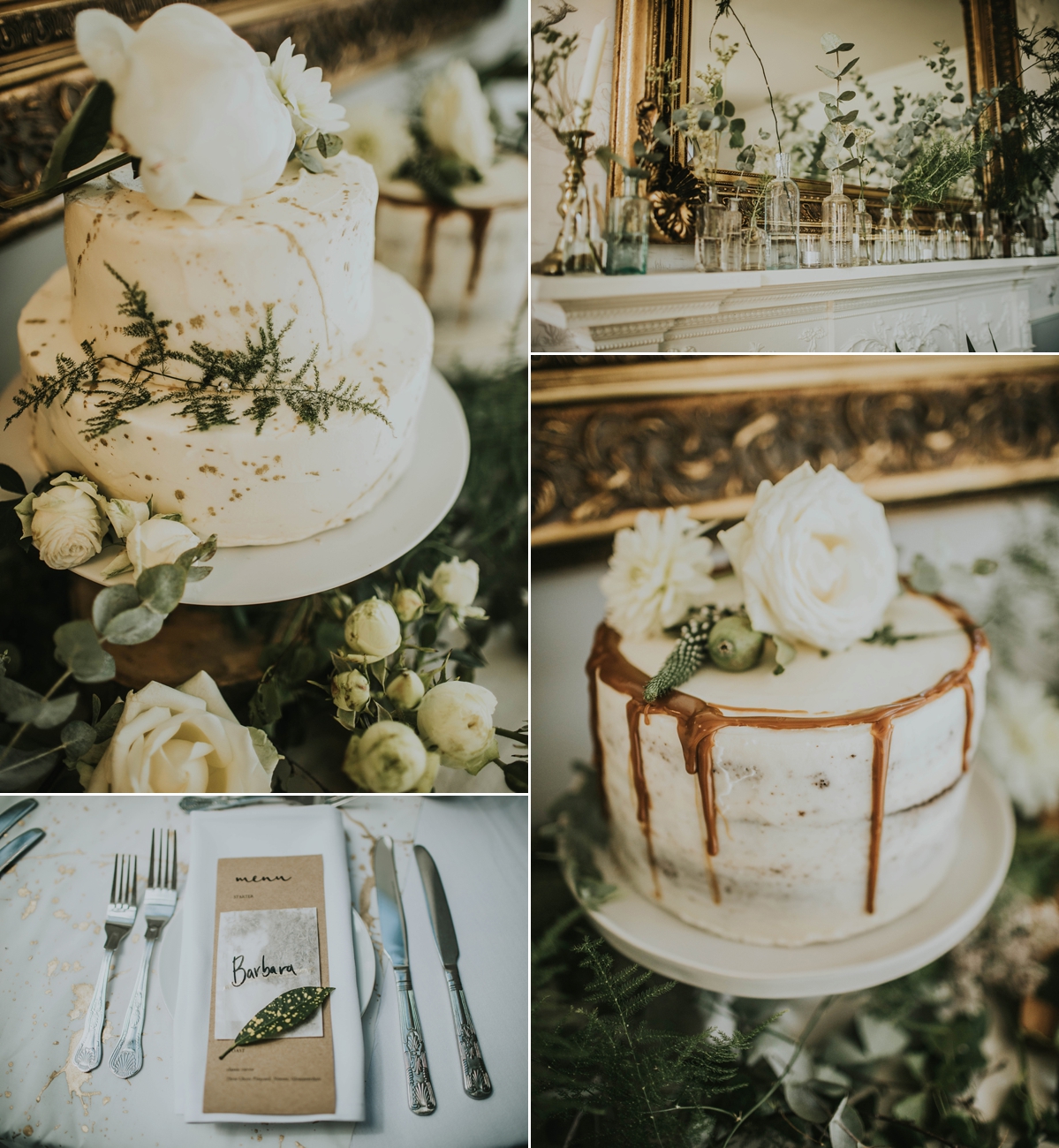 "We rehearsed a dance to Stevie Wonder's 'As'. A colleague at work recommended her friend who is a dancer and who'd choreographed others' wedding dances, so we jumped at the chance and so was thankful to find her."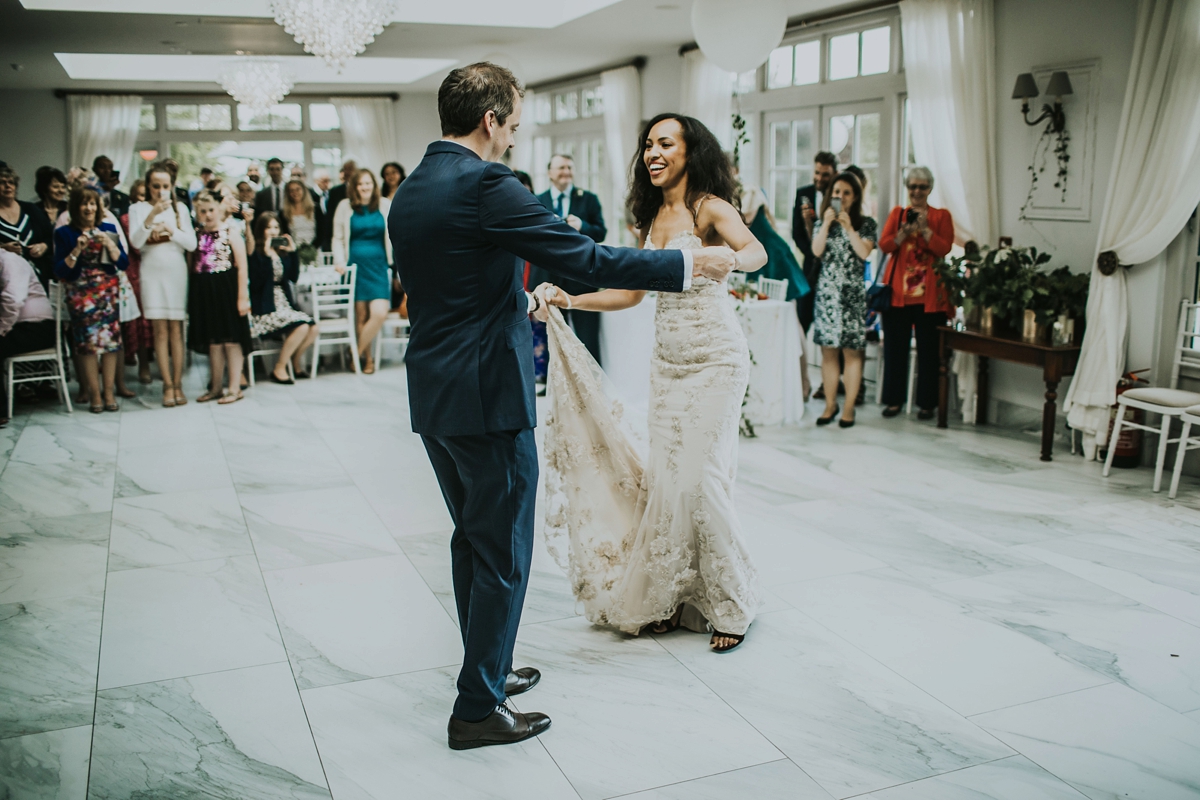 "We love dancing at all of our friends' weddings, so again the pressure was on to deliver something more that an twirl about the dance floor. We had one two-hour session to learn the moves and tried them out in our own time. Rehearsing was fun – if hard to find the time, we didn't quite do it all the way through properly one time beforehand! – but we didn't take it so seriously as to get stressed by it and just enjoyed the ride on the day."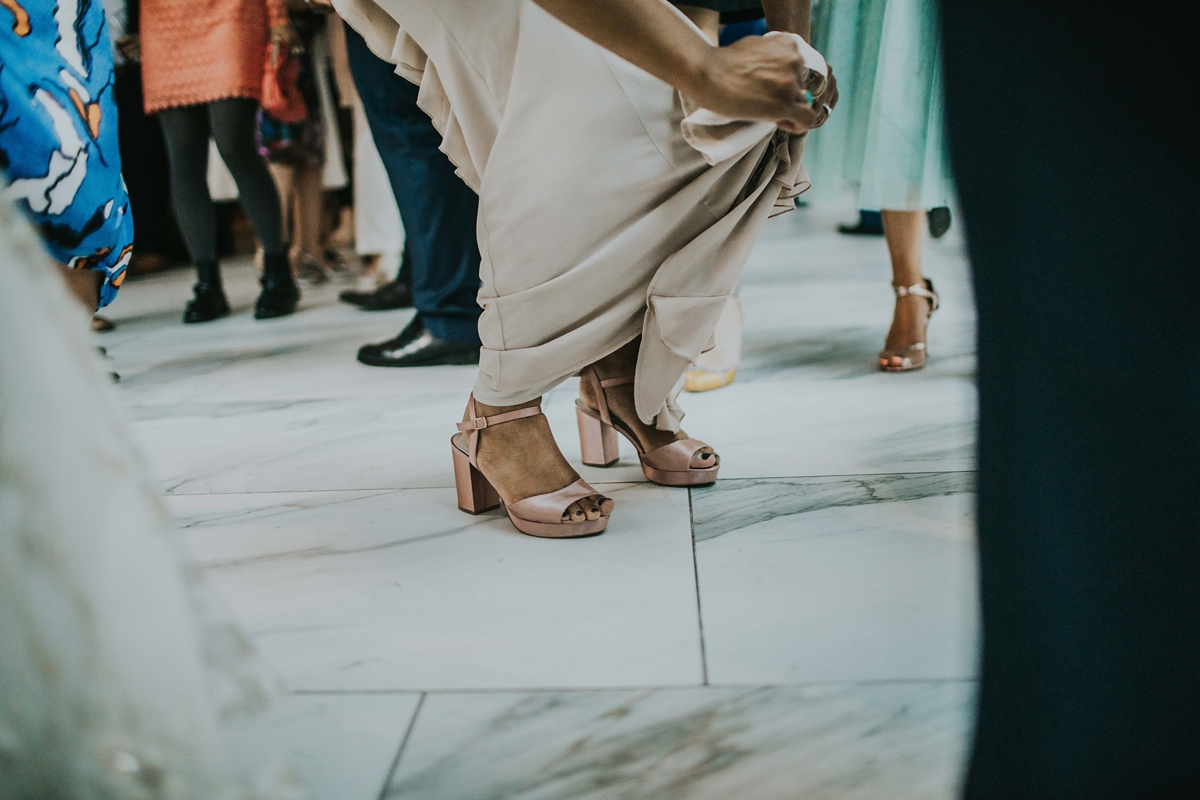 Words of Wedded Wisdom
"Rope your best pals in to help! Don't be afraid to ask/accept offers of a helping hand. You'll be really thankful for it when it comes to tying 150 knots in ribbon as more hands really make light work. Or when you realise you've run out of time to do your make up properly on the day (if doing your own!).
Love my dress was my first port of call! It's great as it showcases a lot of British-location weddings you can relate too. I also found it useful to see how people went into real detail on their suppliers and made ideas seem realistic to achieve."
"Love My Dress is great for getting a range of price points and creative inspiration from a range of different style weddings. Every one has a unique story that you feel you can take something away from, even if it's not your go-to style/location in the country. I can see why the 'words of wisdom' section is a favourite – I would definitely look out for these during our preparations and take them in.
We stuck to our budget, which was somewhere near the national average cost of a wedding."