Hello Lovelies! We're fast approaching the month of May and I think I can almost see summer coming. In any case I have all my fingers and toes crossed that it's on it's way and will be sticking around this year (we can all hope!). On a completely opposite note, I have a beautiful autumnal wedding up my sleeve today; one with fire pits, a delicious feast and a very gorgeous wedding dress, so let's get cracking shall we?
Senior Publishing Manager Kate and Projects Officer Tim said their I Do's on 25th October 2017 at Dewsall Court, Herefordshire. With a good two years to plan the day of their dreams, this gave plenty time for Kate to realise her dream of an autumnal wedding and plan the colour schemes and decor style.
"I wanted to stay away from traditional autumnal colours of oranges, reds and browns, and went instead for a palette of charcoal grey, dusty pink, ivory and gold. It lent an elegant feel to the wedding but still gave it that autumnal vibe. We wanted lots of ivy and candles and lights – sort of like an autumnal gothic fairy forest!"
Photography by Katie Dervin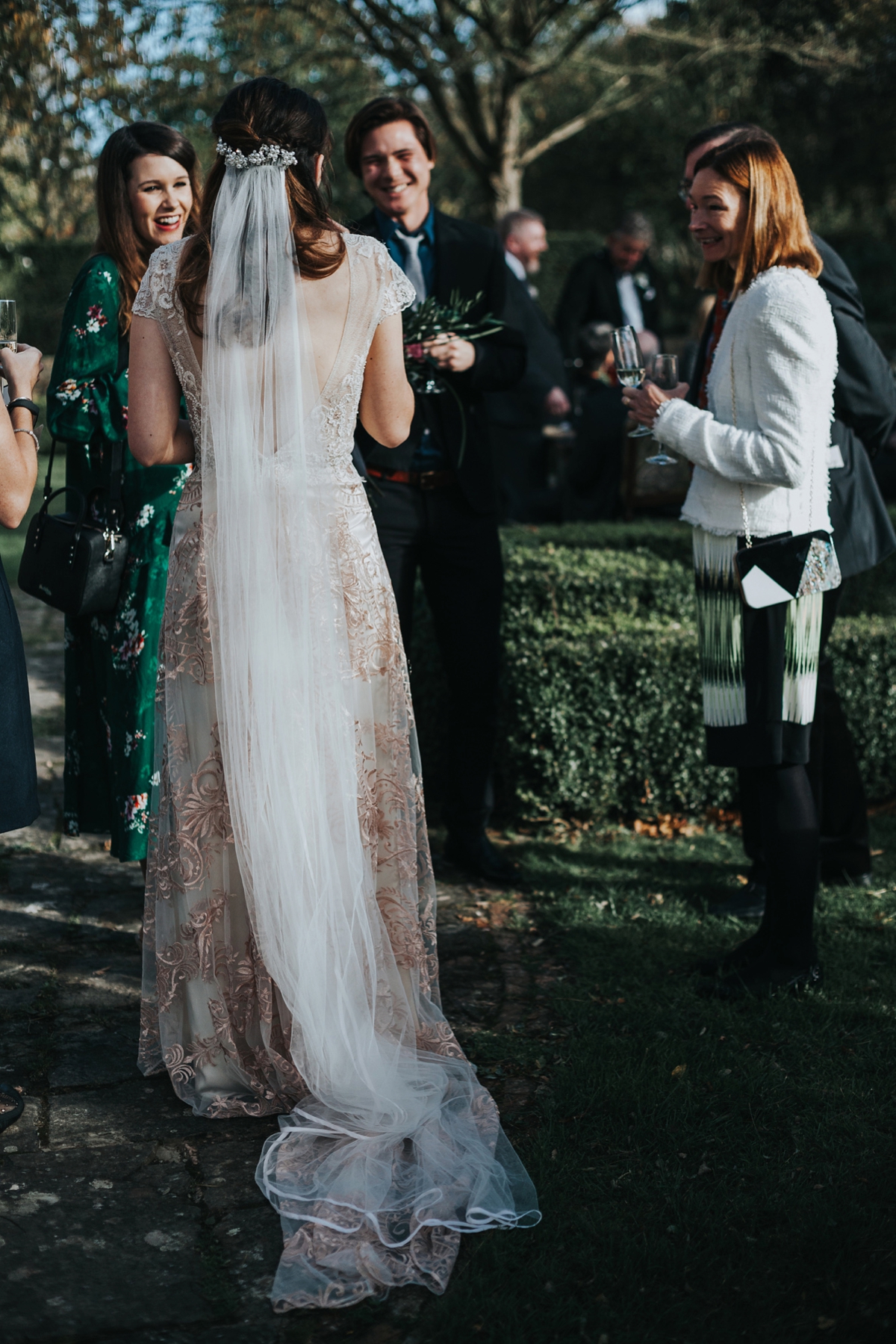 On hand to capture the day in all of its gorgeously autumnal beauty was Manchester based photographer Katie Dervin.
"Katie came recommended by a friend and was worth every single penny – she was brilliant. We loved her candid and natural style that really focused on the people. She captured the spirit of the day so well and, looking through the album, you really get a feel for how fun and intimate it was. Apart from how talented she is, she's also an absolutely lovely person and really good fun! We had a blast with her. She was a huge part of the day and we both had a little cry when we sat down to go through the photos. It was really important to us that we worked with someone we liked on a personal level, and Katie was superb in every respect.""I loved that our venue was owned by a family and that it had retained the feel of a family home. After we'd been for an initial meeting, we just knew the wedding had to be there. It was the only place we went to see! We thought the idea of having the house to ourselves with the bridal party across three days was awesome. Nowhere else was offering that sort of possibility. The owners and staff were so friendly and it's such a gorgeous part of the world. We knew it would look spectacular in the autumn."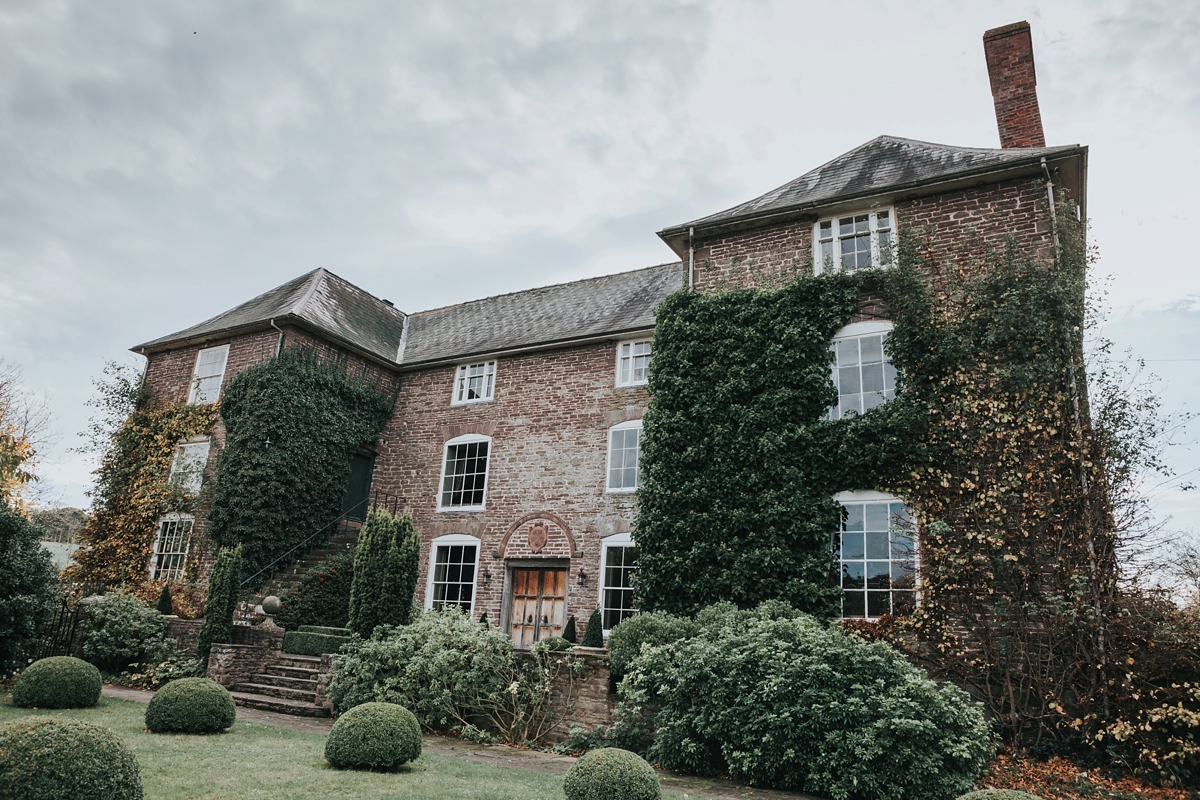 "The venue also provided us with a dedicated wedding coordinator on the day to help with all the heavy lifting etc. Ours was Katherine and she was extremely efficient and very friendly. As far as I could tell, the day went perfectly, testament to Katherine's skill as an events manager."
"Tim and I first met at a party in London. It was eyes across a crowded room kind of thing. We ended up sitting and talking for the whole night until around 4am in the morning. And that was it really! We told our friends within about a week that we'd met the person we were going to marry. Obviously everyone thought we were crazy which wasn't unexpected! We bought my engagement ring together after about four months, but Tim waited almost a year to propose, just to let everyone catch up. It was a slight whirlwind in the beginning but we had a pretty long engagement of almost two years, and have now been together for three."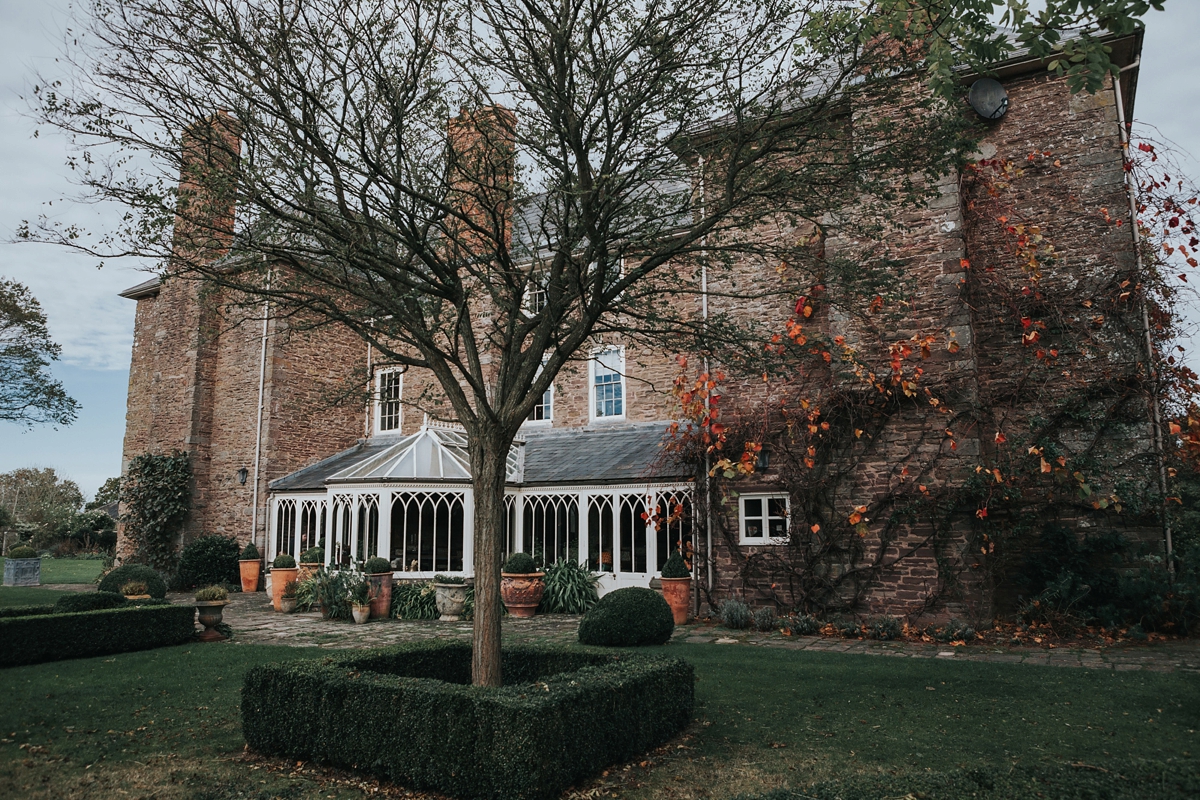 "The style and colour of the dress demanded a shoe that was understated but still pretty and I can't cope with very high heels for a long period. I ended up finding the perfect pair from Pink Paradox London. They were 1920s style gold strappy sandals with a 2 inch heel. The price was amazing too at only £50. I'd been prepared to spend a lot more but they were exactly right. They also had a cushioned sole so I was nice and comfy."
Kates bridesmaids looked absolutely gorgeous in matching but non identical full-skirted separates from ASOS.
"I really wanted separates from my bridesmaids as everyone was different heights, sizes and shapes, so it was important to me that they all felt comfortable and pretty. I found amazing calf-length ballerina skirts from ASOS, each with five under layers with a rose gold metallic layer covered with a soft tulle. The skirts had a lovely shine to them without being sparkly and the colour really complimented my own dress."
"Tops came from ASOS too with each girl wearing a different style to suit them. It meant they didn't look too matchy but were still coordinated. I also found the perfect strappy gold sandals from ASOS to match the girls looks. They had simple ankle and toe straps with a low heel – great for dancing!"
For her special day, the bride chose the simply stunning delicate blush La Belle dress by Claire Pettibone via Exquisite Bridal Couture in Winchester.
"I loved the soft pink colour of the lace overlay, particularly how it graduated from gold and ivory on the bodice, to a rose gold colour around the column of the dress, and then into quite a deep pink on the train. The dress was really simple in structure, made from a buttery soft and quite heavy champagne coloured silk slip, with a lace overlay and cap sleeves. The front had a lovely deep plunge and I really liked the drama of the full open back.
Quite a few people asked if it was an antique dress, I think because of the colours. The bodice was sewn with gold lace and lots of tiny seed pearls. It's honestly the most beautiful thing I've ever worn. It was altered a couple of times, just to lift the shoulders and bring in the waist. The seamstress from Exquisite Bridal Couture also sewed a little blue bow into the inside of the slip, which was a very sweet touch."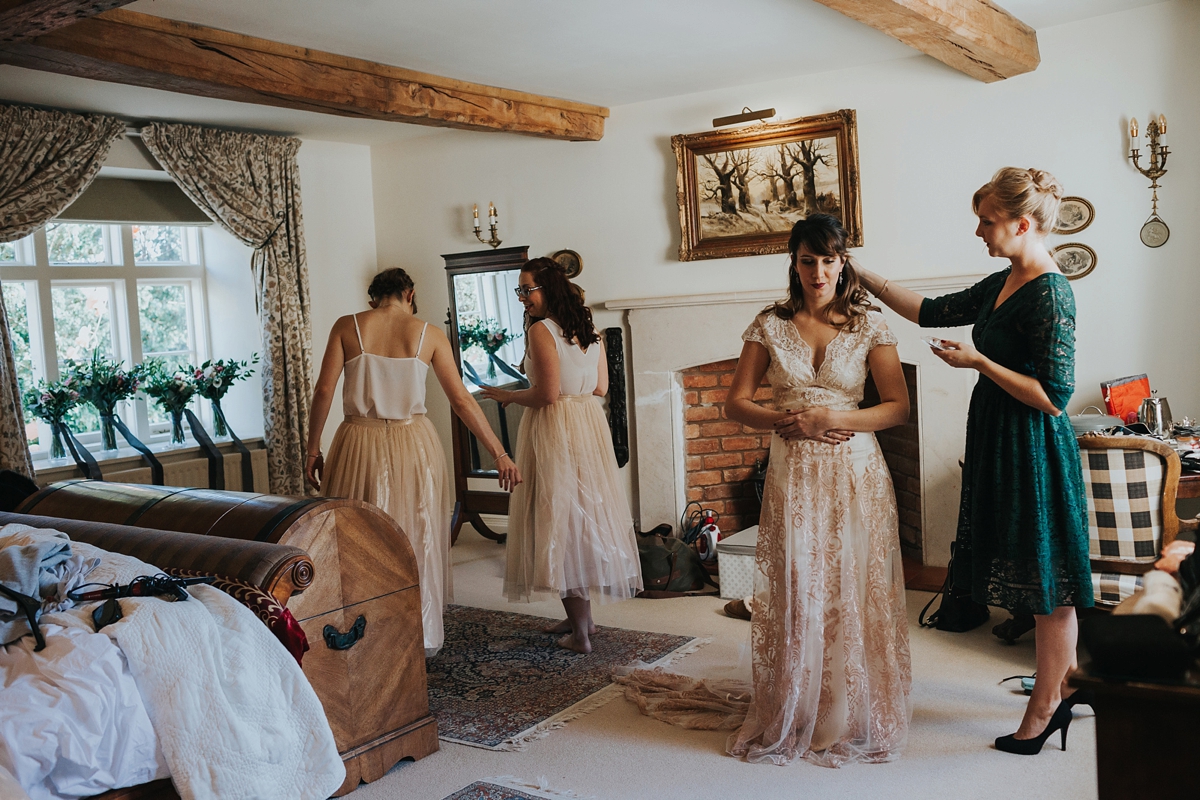 "For my hair piece, I found some really simple jewelled pins from a hair accessories seller on Amazon. The decorative pieces were quite delicate but the actual pins were really sturdy and helped hold the veil well. They were a fairly last-minute purchase and my hairdresser did a lovely comb effect with them."
"I also wore a silver bracelet with an initial charm that my sister had given me for my birthday the year before, and a pair of Victorian diamond chandelier earrings that were provided by the same place we found my engagement ring, DB Gems of Gray's Antiques in London. I kept jewellery pretty simple as there was a lot going on with the dress and veil, plus the earrings were a real statement."
"And finally, I wore Empressa by Penhaligon's as my wedding scent. It's one of my favourite ever scents. It's bright and citrusy without being too sweet, with notes of pink pepper, blood orange, amber and cedar wood. I don't like overly floral or sweet smells and this one ages really well throughout the day. Tim and I almost exclusively use Penhaligon's. He wore their Endymion cologne on the day, which has notes of geranium and leather."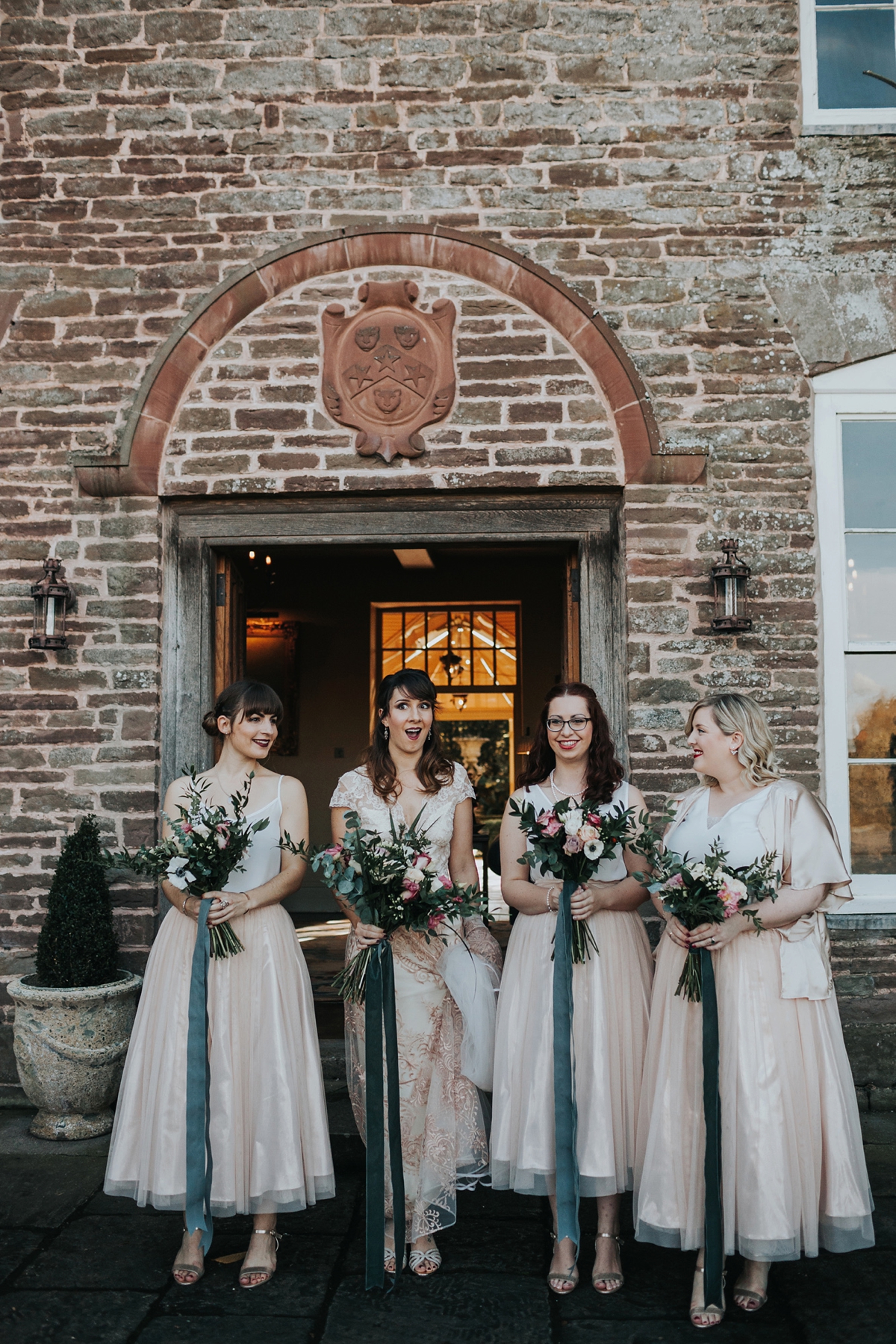 With neither Kate or Tim religious, they opted for a quick, relaxed ceremony officiated by their close friend Sophie.
"We aren't religious and we mostly wanted the day to feel relaxed, happy and fun. We had some readings read by friends and the traditional walk down the aisle. That bit felt really special and from then on, we just wanted it to be really easy and fun. I had my father and my stepfather walk me down the aisle. My stepdad has been in my life since I was about five years old and I'm very lucky to have such a close and loving relationship with both of them. It would have felt wrong to leave one out! Dewsall made sure the aisle was wide enough for 3 of us and it was a really lovely part of the day."
"On the day Tim and I got engaged, we went to a carol concert in the afternoon. Two of my friends, who had been involved in Tim's proposal to me, were singing in the concert and they asked the choir to dedicate a song to us, All Of Me by John Legend. It was very touching and me cry so I also walked down the aisle to the instrumental version of the song. It was the perfect entrance song and a great way to reference the special day we had all shared when Tim proposed."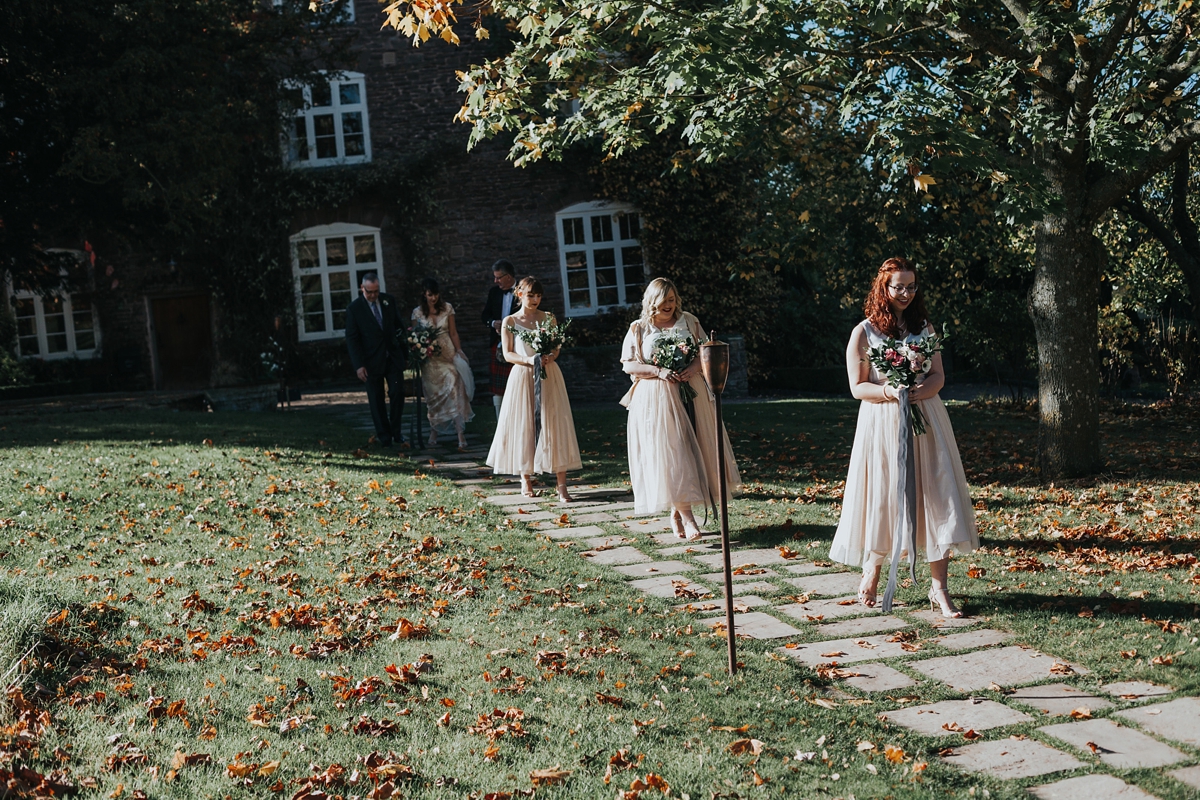 "For the ceremony we each wrote our own vows, and read them out before our officiant, Sophie, did a few of the more traditional bits and pieces. Tim made sure to tell me how precious I am to him, and that he would always be on my team which was really lovely. I've even kept of copy of the vows tucked away in a special place. I made sure to tell him I'd stick with him until the end. Sophie did a brilliant job as our officiant. She's naturally quite bossy so took to her role like a duck to water.
She and I are both huge Friends fans so she worked in a whole speech about having and sharing, giving and recieveing…People who got the reference couldn't stop laughing and our grandparents just thought it was a lovely sentiment, I think. So it worked on many levels!"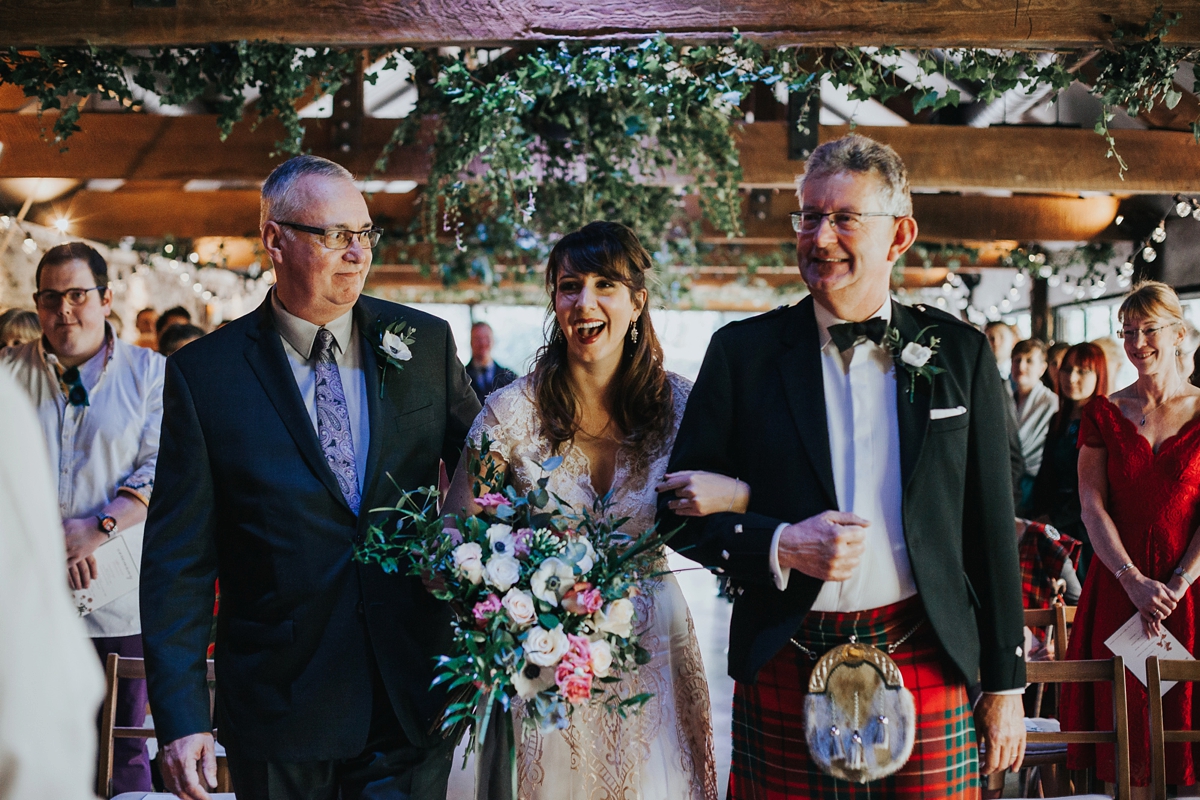 "We had three readings which we also integrated into the ceremony, read by three of our friends. Our friend Charlotte flew all the way back from China where she's currently living to read at the wedding which was very special. The readings were When You Are Old by WB Yeats, Aedh Wishes For The Cloths Of Heaven by WB Yeats and a passage from Thief Of Time by Terry Pratchett. One of the first conversations Tim and I had was about Yeats.
We both know When You Are Old off by heart, and drunkenly recited it together the night we met. On the morning of the wedding Tim sent me a gift via the best man; a restored first edition of Yeats poems, which he's been working on sourcing for a year in secret, alongside an Emeritus Professor of Literature from Oxford who had been helping track it down! The bookseller made a custom case for it and Tim glued a lovely note into the front, which made all the girls cry. Yeats is very special to us."
"I chose the Terry Pratchett reading for my grandparents as they brought me up on all of his books, and we loved reading them together. My grandmother passed away a few years ago but my granddad was there and definitely appreciated the reading, he knew why I'd chosen it. So that was a very sweet and precious moment."
Kate's engagement ring was bought from Gray's Antiques market, off Bond Street, and the wedding rings from DB Gems.
"I had always wanted a vintage ring as my engagement ring as I loved the idea that someone had worn and loved it before me. I found an early art deco platinum and diamond ring that was absolutely perfect. It has lots of filigree round the sides and a large central diamond with six smaller diamonds on the sides. We bought it from Daryl Gigg at DB Gems and he was such a pleasure to work with that we also had our custom wedding rings made through him.
My wedding band is platinum with pave diamonds, shaped to fit underneath my engagement ring, and Tim opted for a wide and heavy solid platinum band with a brushed finish."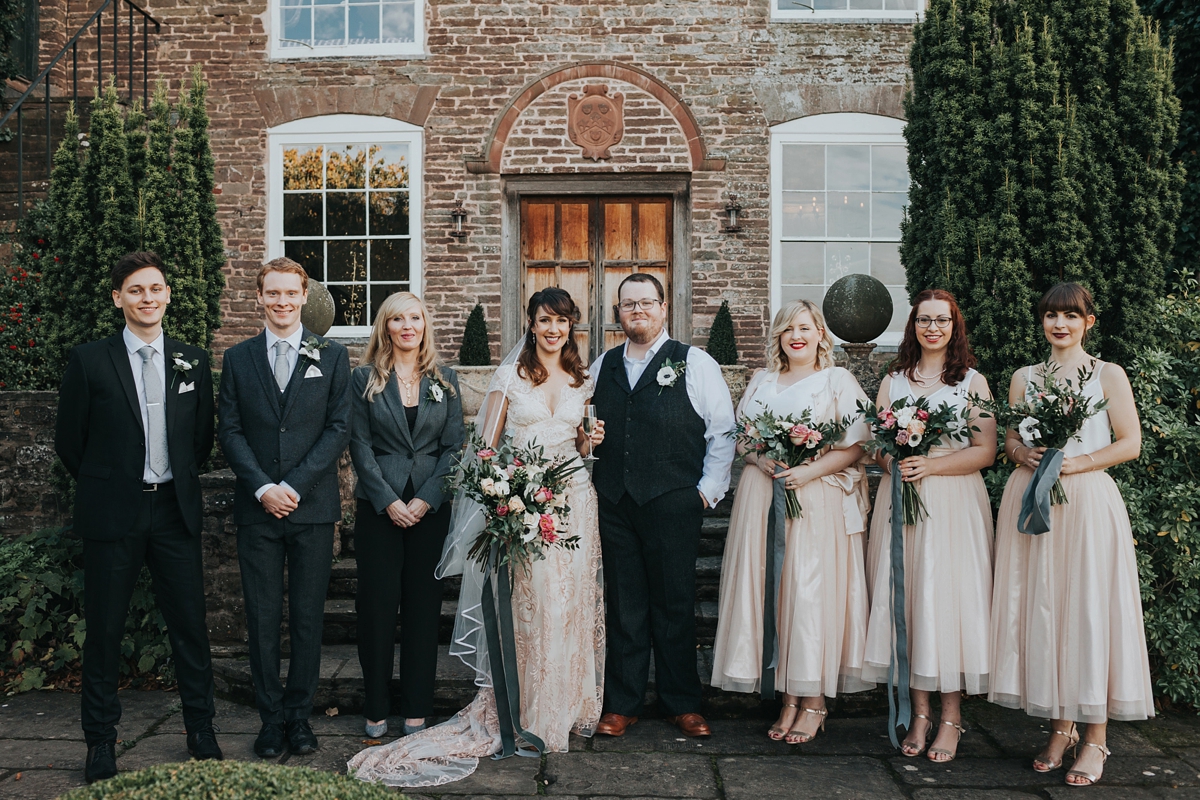 "My veil came from Ellie Sanderson in Oxford. It was a chapel-length one-tier veil in ivory tulle with a satin ribbon border. It was very simple but really added to the whole look – I loved it! For my shoes, I spent nearly two years searching for the right ones! I wanted something with a low heel, an open toe, strappy and preferably in gold, all of which surprisingly difficult to find."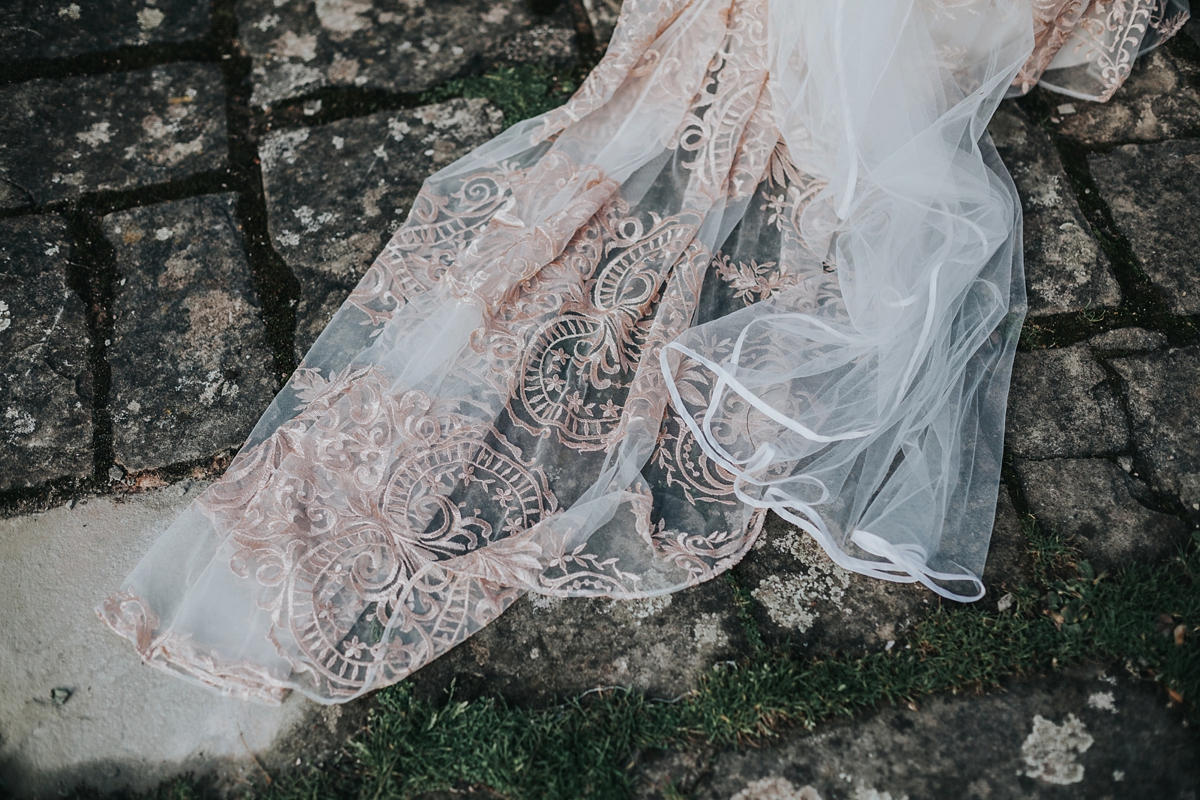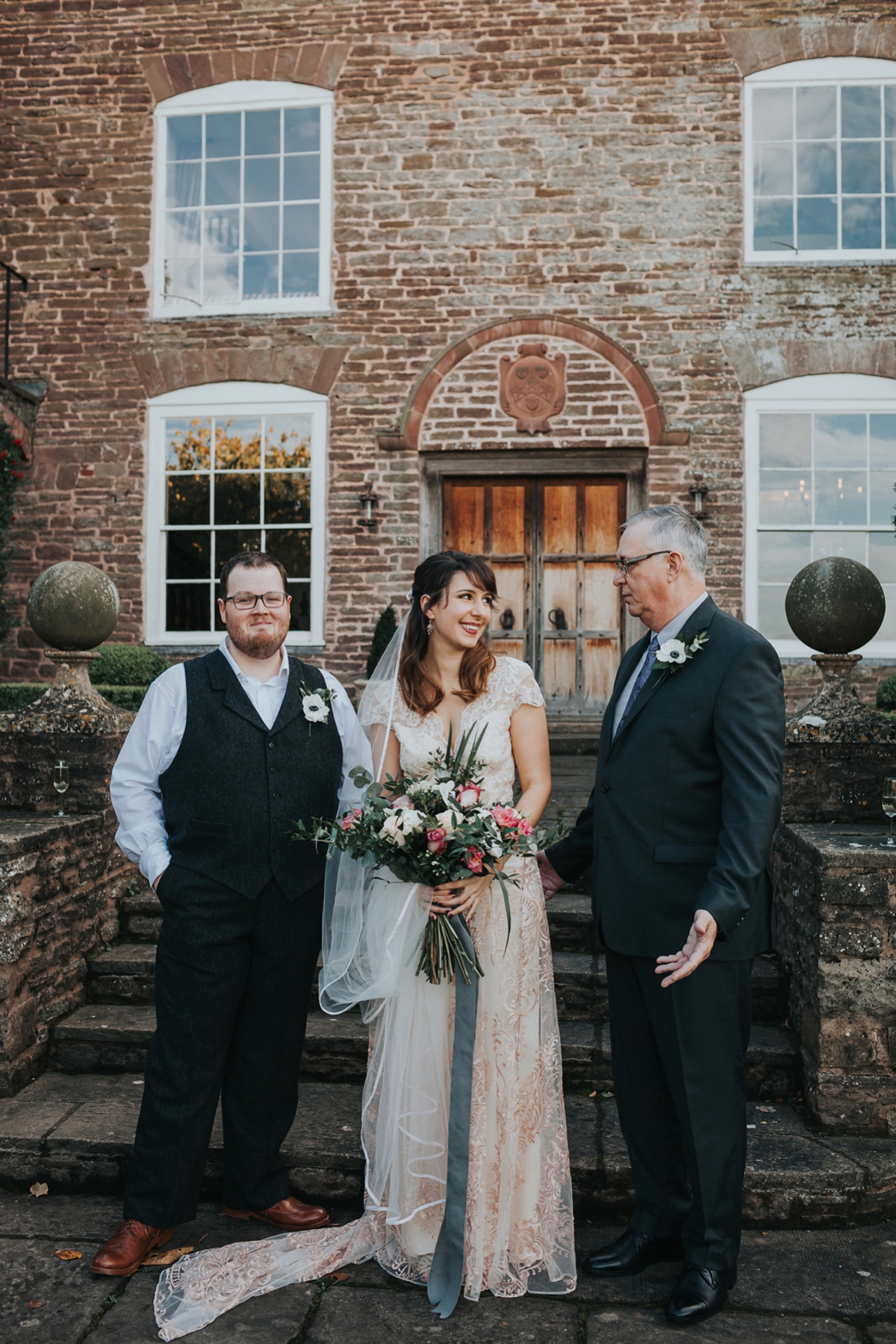 Kate's beautifully curled half up, half down bridal hair was created by hair and make up artist Em, a close friend of the bride.
"I am very lucky that one of my close friends is a talented and professional hair and make up artist working in film and theatre. She created my look for the day and did a wonderful job. I don't think I've ever looked so nice before or since. I usually wear my hair up so we decided to so it down with soft waves, with pinned side sections to create a half up half down style. This made a good anchor for the veil too."
"My make up was quite full on; a smokey eye with a really dark lip. It came out beautifully in the photographs and I loved my lip colour which was a dark berry stain from Dior. I matched my nails with a rich purple colour from Essie."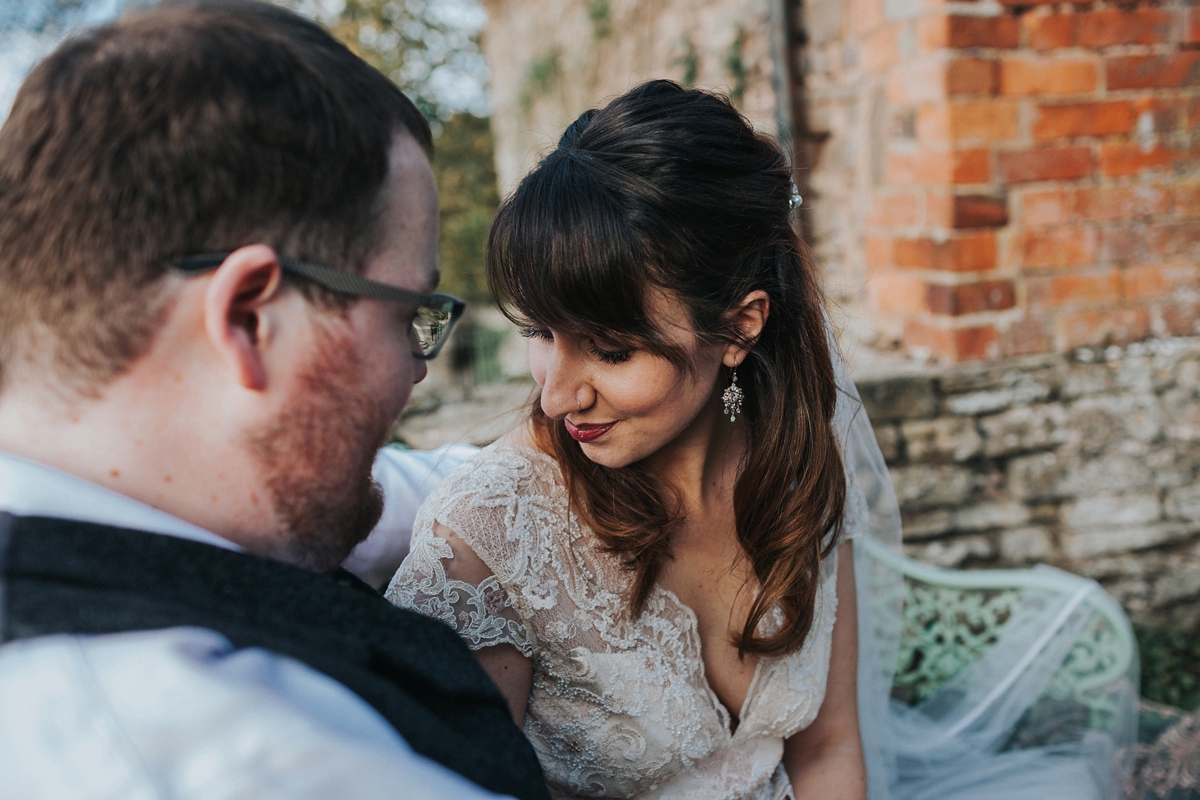 With such a gorgeous bridal party and bride to contend with, groom Tim didn't disappoint, opting for a 3-piece charcoal suit in Donegal tweed from Walker Slater based in Edinburgh.
"The quality is incredible and the fit was perfect. They even altered the waistcoat for him at no extra cost aside from the postage. It ended up being such a warm day that he never wore the jacket. He also bought handmade brogues from a brilliant little company called Northern Cobbler. He said they are the most comfortable shoes he's ever owned and the brown worked really well with the dark grey of the suit. He wore custom cufflinks made from old coins that were a gift from his brother and they worked really well with his herringbone shirt from TM Lewin."
"We asked the groomsmen just to wear a dark suit and Tim's groomswoman, Lisa, wore a lovely grey suit jacket and tailored trousers. The boys got matching grey ties and ivory silk pocket squares with silver tie bars all from ASOS."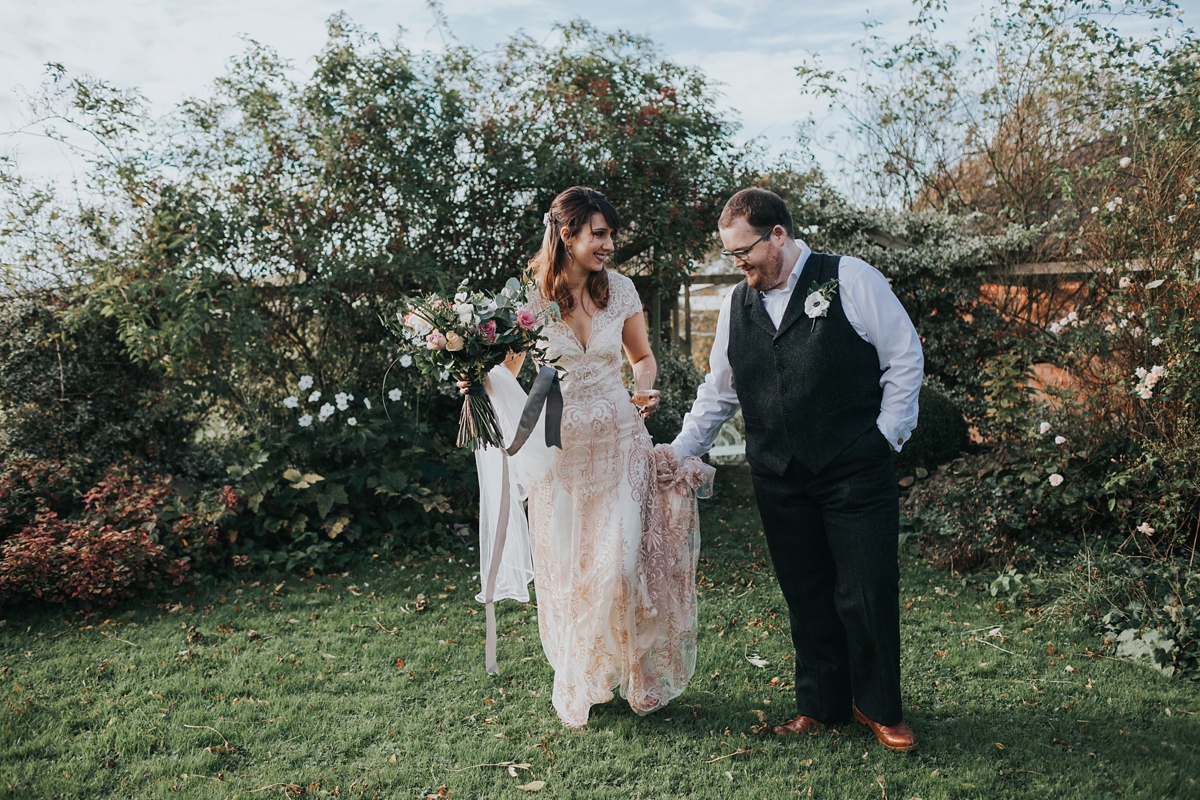 All of the beautiful blooms on the day, including the buttonholes and bridal bouquet, were lovingly created by a talented trained florist and good friend of the bride and groom.
"Her wedding gift to us was our flowers which was such a generous present, not least because it was a lot of work and ever so slightly stressful the day before! I wanted natural hand-tied bouquets for myself and my bridesmaids. The maids flowers were roses in a very dark and dusty pink, a colour called 'sand cream'. Accent flowers included dark pink lisianthus and ivory anemones with a charcoal grey centre. We used ivory bouvardia as filler flowers and the greenery was a mix of eucalyptus and soft Ruscus. Some of the Ruscus still carried its orange autumn berries which was a nice little bonus."
"The bridesmaid bouquets were small versions of mine and all tied with floor-length charcoal grey velvet ribbon. I like the rather dramatic statement it made and it looked lovely against the soft pink of the dresses. Men's buttonholes were anemones and eucalyptus, but we also had backup ones made of roses when the anemones started to wilt a little."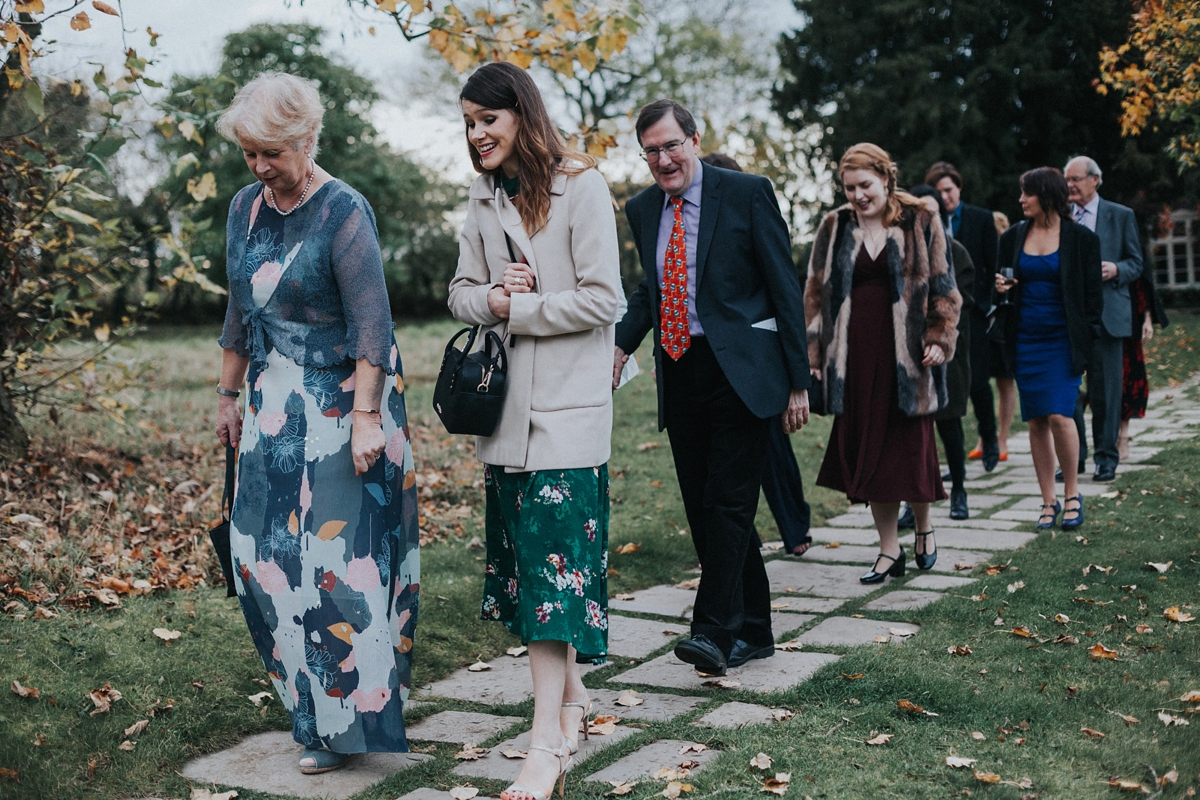 Following the ceremony, the guests were treated to a triumphant feast, catering for both the meat eaters and the veggies amongst Kate and Tim's family and friends, and all provided by the team at Dewsall's and headed up by chef Thom.
"They were absolutely brilliant and we've had so many compliments on the food ever since the wedding day. We chose a fairly autumnal menu based around pork and apple, but in my mind the veggie options were the real triumph. We have lots of veggie friends so we wanted to offer something a bit different to the usual stuffed mushroom. We went with a red pepper and pesto gnocchi dish with blue cheese and basil oil – it was delicious!"
"Lots of people said to us that you rarely get chance to eat the food at your own wedding, but Tim and I made sure we had the time to devour everything. The wine selection was great too. Dewsall provided us with a Claro Reserva Pinot Noir and an Alfredini Garganega Pinot Grigio. I'm a real red wine girl so it was important to me that what we served was good quality and really drinkable."
For the table plan, Kate found a big mirror with a gold frame in a local antiques centre which she then wrote names on with a white chalk pen and provided a great backdrop for guests to take pictures against. Other stationery was also designed and made by Kate herself, including invites, place cards, order of the day and ceremony info.
"I used to do some design work so design everything myself. I used two simple contrasting fonts in charcoal grey on thick cream textured card stock, with a charcoal border. I found some antique flower illustrations and used those as a final touch – a nice nod to out theme and colour scheme. I then used Printed.com to have everything printed and I have to say, the quality was excellent. I saved a lot of money by doing this myself and I was lucky enough to have the skill and software to be able to do it. Wedding stationery can get really expensive!"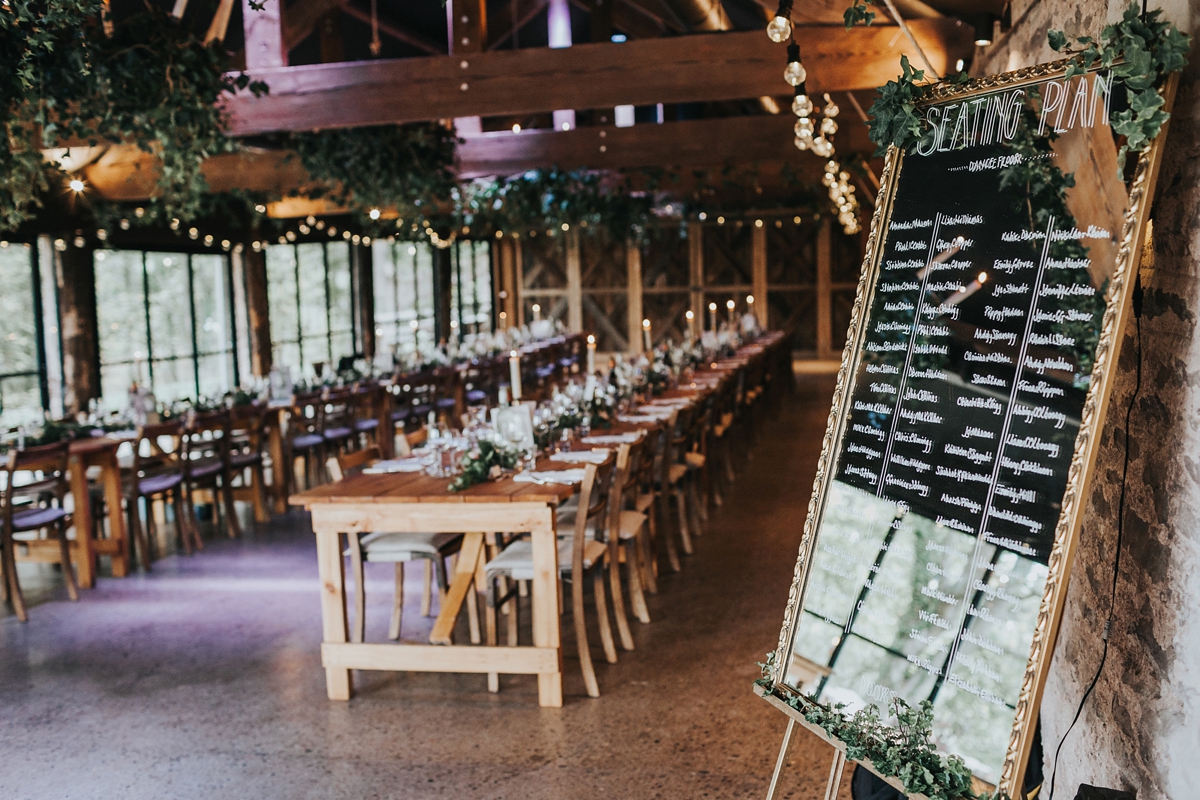 "When it came to favours we decided not to do traditional favours. Instead we laid on decanters full of elderberry port as a tipple to go with the cheese course. That went down extremely well! We felt that favours was an area where we could make our budget work a bit harder, as I honestly cannot recall the favours from most weddings I've been to and we didn't think it was essential to have them."
"With the money we saved on favours, we provided our guests with an extra delicious thing, and we sourced it from a wonderful company called Demijohn. They have four locations across the UK and make all their own gins, liquors, whiskeys, oils, vinegar and cordials. We shop very frequently in the Oxford store and the owner did us a great deal on a bulk order of elderberry port. Dewsall served it in gorgeous cut glass decanters and it was a fab partner to the cheese."
"Tim is a cigar man so we also put out a pretty mahogany box full of a selection of rather nice cigars for people to take. I think we bought 30 and came home with 2 – people really liked them! Dewsall have a big fire pit outside next to the barn, surrounded by benches covered in sheepskin rugs and cushions. The weather was so fine that the evening was quite mild and lots of people ended up sitting around the fire pit with a cigar and a glass of port. We had so many people tell us what a fun party it was, which was exactly what we hoped for!"
"I also put a selection of miniature party games on the tables for people to use as ice breakers. This went down better than we thought it might and a few actually disappeared out in people's pockets. So perhaps we unwittingly provided a few favours after all."
The cake was an easy choice for the couple and also one of the first decisions they made when it came to wedding planning. Forgoing the traditional sweet wedding cake, Kate and Tim opted for a selection of seven wheels of cheese, provided by the Oxford Cheese Company based in the Covered Market in Oxford.
"We both love savoury food and aren't really cake people – plus the cheese cake made for a nice extra course after the dinner. We shop with the Oxford Cheese Company a lot and the woman who runs it is lovely. She did us a beautiful selection and gave great recommendations. We included a Cornish garlic yarg, a Hereford Hop (a nod to our location), a hard sheep's cheese called Tomme, a good ripe Brie called Fougerus, a washed rind Swiss Aberot, an Oxford Blue, and topped it with a little pyramid of Valencay ash-rolled goats cheese." It was decorated with halved figs and lots of grapes. It looked so pretty and went down an absolute storm. We had almost none left to take home! Dewsall provided a great selection of chutney's, breads and accompaniments."
In hindsight, like many of us, Kate credits a bit too much champagne for not being able to remember much past 9pm (a girl after our own hearts, Kate!) and remembers getting ready with her bridesmaids on the morning of the wedding as one of her favourite parts of the day.
"We had a really leisurely morning as the ceremony didn't start until 2pm. We all woke up at the venue together which meant we had tons of time. I had a large suite and it was full of make up and shoes and dresses and music and girls running around. It was sort of like being a student again, getting ready to go out with my friends. The lovely catering manager in the house brought up a delicious breakfast on a silver tray which made me feel rather grand, and they also served lunch to the suite for all us girls. It was just a really fun few hours!"
"In hindsight I think I got a bit too tipsy a bit too early in the evening. I think it was mostly relief and adrenaline and good wine, but I don't remember much past 9pm…There were lots of people I wanted to introduce to one another and just totally forgot! I think it's to be expected, it's such a long and emotional day that once you decide to let go, you really do let go."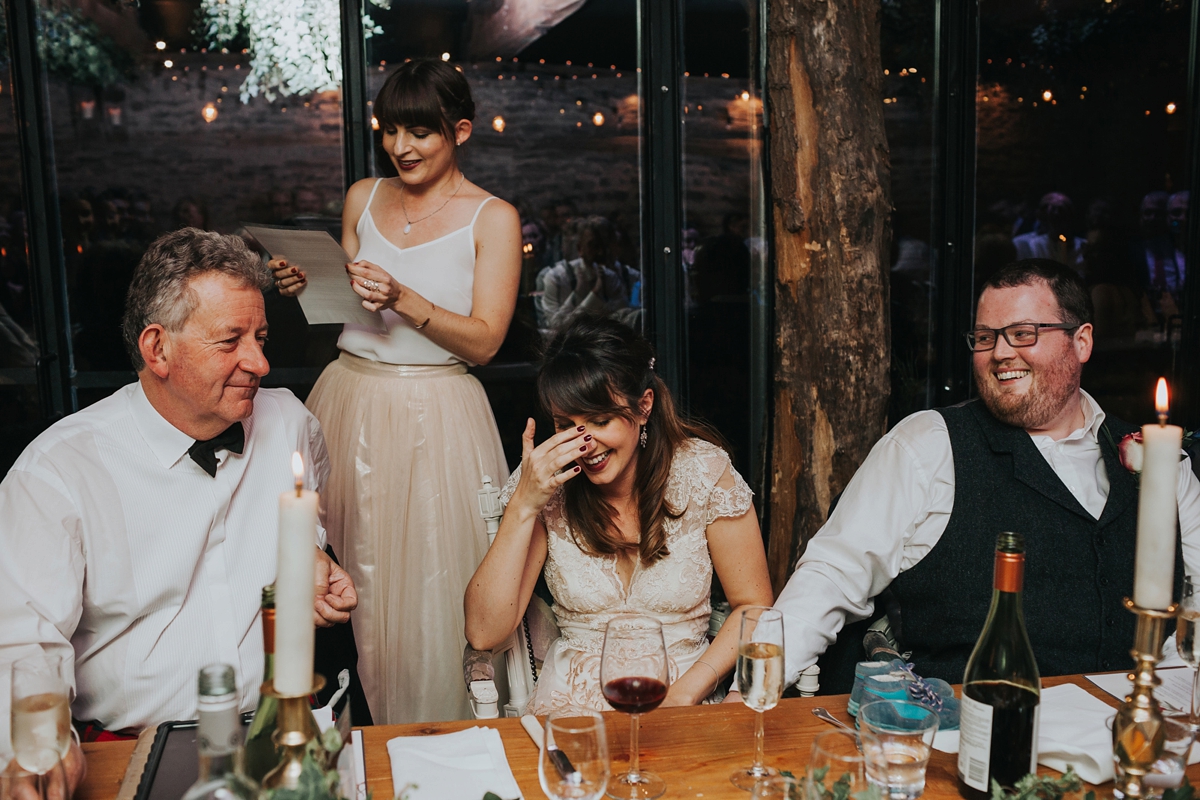 Words of Wedded Wisdom
"Firstly, if you can reduce your work and stress by paying someone else to do it, just do it! Cutting costs by doing lots of things yourself is a great idea at the time, and may work well for a few things, but no one really wants to be crying at 2am the night before while sticking glitter to mason jars. If you can afford it, sometimes it's really worth just paying a professional to do it for you and take that stress away."
"Secondly, pay a proper photographer. Yes it's one of the biggest expenses but it's worth more than almost anything else. You might have a friend who is great with an iPhone but they aren't going to run around making sure they've got a good shot of the cake, or the dress. A photographer will and they're also great at rounding up family members for photos! These are your memories of the day and it will go by so fast. Make sure you've got someone good to catch all the bits you're going to miss."
"And lastly, figure out what's really important to you and spend money in those places. We didn't care about favours, or a live band, or a photo booth, so we could put our budget to work elsewhere. You don't have to tick every wedding box if it's not something that's personally important to you."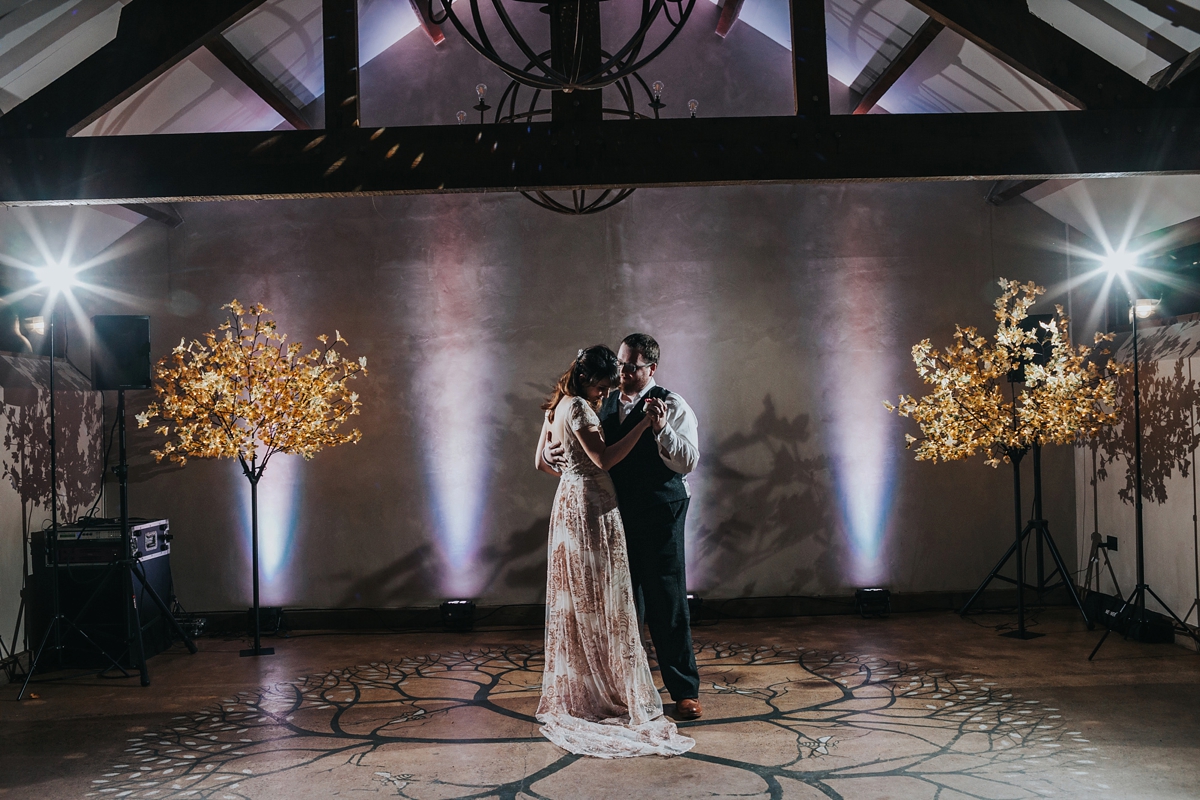 What an absolutely fabulous wedding! And a big thank you to Kate and Tim for sharing it with us in all of its gorgeous glory. A special mention also goes to Katie Dervin for perfectly capturing the mood of the day on camera for us all to enjoy too.
Until next time…
Much love,
Holly x