Hello lovelies, those of you who follow us on Instagram will be aware that we are currently in Barcelona for Bridal Fashion Week – follow our Instagram Stories if you want an insight into all the gorgeous gowns and dreamy dresses we're seeing.
The gowns we're watching on the catwalk now will be the ones making their way into boutiques over the coming weeks – so 2019 brides, keep your peepers peeled for anything you might love and contact us with any questions if you see something you spot, because we'd be delighted to help you find your dream dress.
I sat by the Barcelona beachside today making plans with wedding colleagues, before setting out to prepare this glorious set of images into a feature for you to enjoy. Closing my eyes for just a few seconds transported me from Barcelona to the exquisite Italian environment that played backdrop to this photoshoot. It wasn't hard for those few moments to imagine I was there, wondering through the rural countryside and smelling the roses. My family and I visited Italy last year and I long to return one day. I'm also thrilled that we're getting to share the work of Italian photographer Cinzia Bruschini today – her photography is utterly dreamy and sublime and truly. She's one of my top ten personal favourite photographers in the world, without any doubt.
Images by Cinzia Bruschini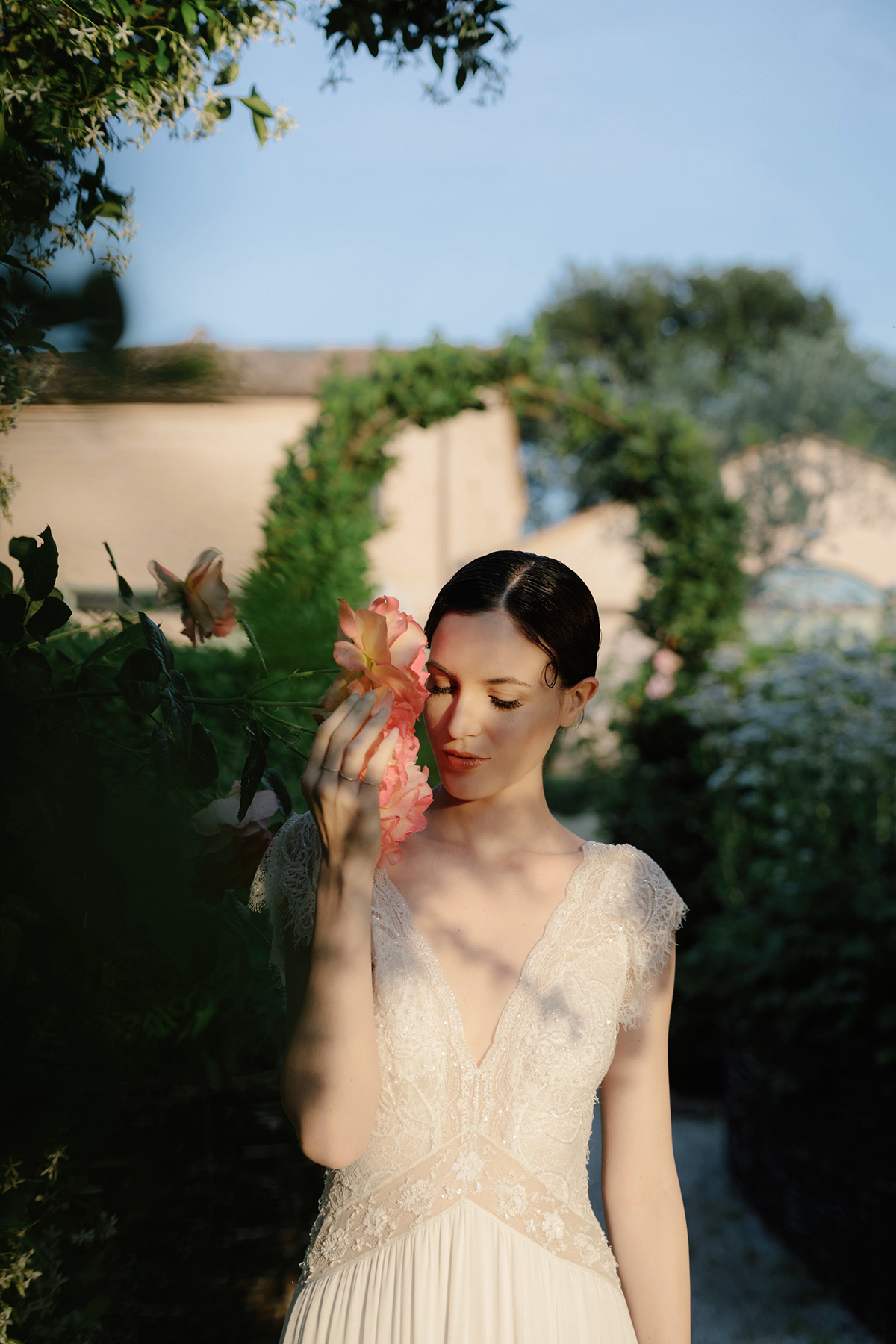 Last May, Elisa Generali of Merry Le Marche teamed up with Cinzia for a photoshoot designed to capture the essence of the elegance of springtime, when the roses are at their most beautiful. The shoot took place at wedding location Tenuta Santi Giacomo e Filippo, located in the stunning, yet not so known, Italian region of Le Marche (hint, dear brides planning a wedding in Italy – you might want to look this potential venue up).
The wonderfully talented  creative team behind these images used Israeli designer Lihi Hod's bridal fashion to bring the images to life. Lihi's design credentials include training alongside John Galliano at Dior. Her designs are highly sought after around the world for their timeless elegance and contemporary, chic silhouettes. Every single gown is meticulously handcrafted using only the most luxurious materials.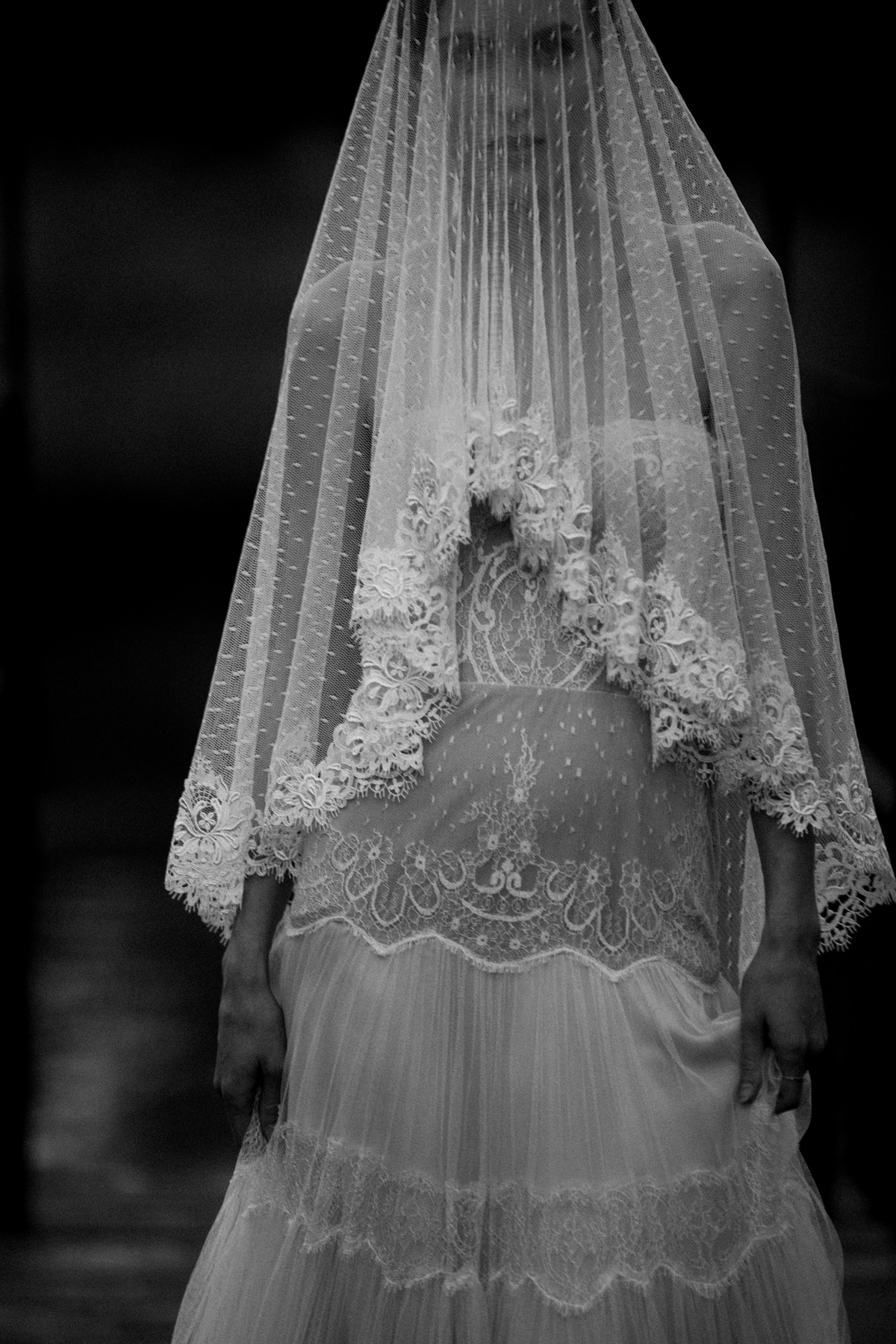 From Elisa; "Our goal was to honour the beautiful area of Italy where both Cinzia and us girls at Merry Le Marche come from, by creating a visual representation of spring and its flowers in bloom, roses in particular: we shot on 22nd May when the flowers were at the peak of their beauty and the air was warm and the light was just perfect."
I hope you will love and appreciate these images as much as I do. British brides, you will find Lihi Hod stocked exclusively at Browns Bride in London. Here polka dot veil below is beyond.
Our love and thanks to Elisa at Merry Le Marche and Cinzia Bruschini for sharing their exquisite work. Please also take a moment to enjoy the following film created by talented wedding film maker Sergio Minnici.
By the way, brides, all the suppliers below come highly recommended if you are considering an Italian wedding. Our advice would be to make your first port of call the wonderful Elisa at Merry Le Marche. As an experienced planner and stylist, she will be able to offer all the advice you need for marrying in this exquisite part of the world.
Love Annabel x