Hello lovelies. We might be headed into summer but that won't stop me from sharing a gorgeous autumnal wedding like today's, set in the gorgeous Cambridgeshire countryside. Think lots of orange blooms, a woodland theme and pigs!
Today's couple, Medical Centre Dispenser Laura and Logistics Drive Rory said their vows on 9th November 2017 at South Farm in Shingay-cum-Wendy, Cambridgeshire. Laura chose to wear the floor length Isabella veil from Love My Dress favourite Britten Weddings, Ruby Shoo shoes and a mini gold leaf vine in her hair, clem earrings and bespoke golf leaf and green crystal bracelet, also by Britten Weddings.
The couple gave themselves two years to plan the day of their dreams and decided on an autumnal wedding with it having always been Laura's favourite time of the year.
"It's always been my favourite season so it seemed the obvious choice for the time of year and theme for the day. I love walking our dog through woodland and seeing the colours of the trees and the wildlife. As Rory's favourite colour is orange, we made this the focus for the flowers and added lots of dark greens, browns and some highlights of gold. All the colours of Autumn!"
Images by Photography by Bea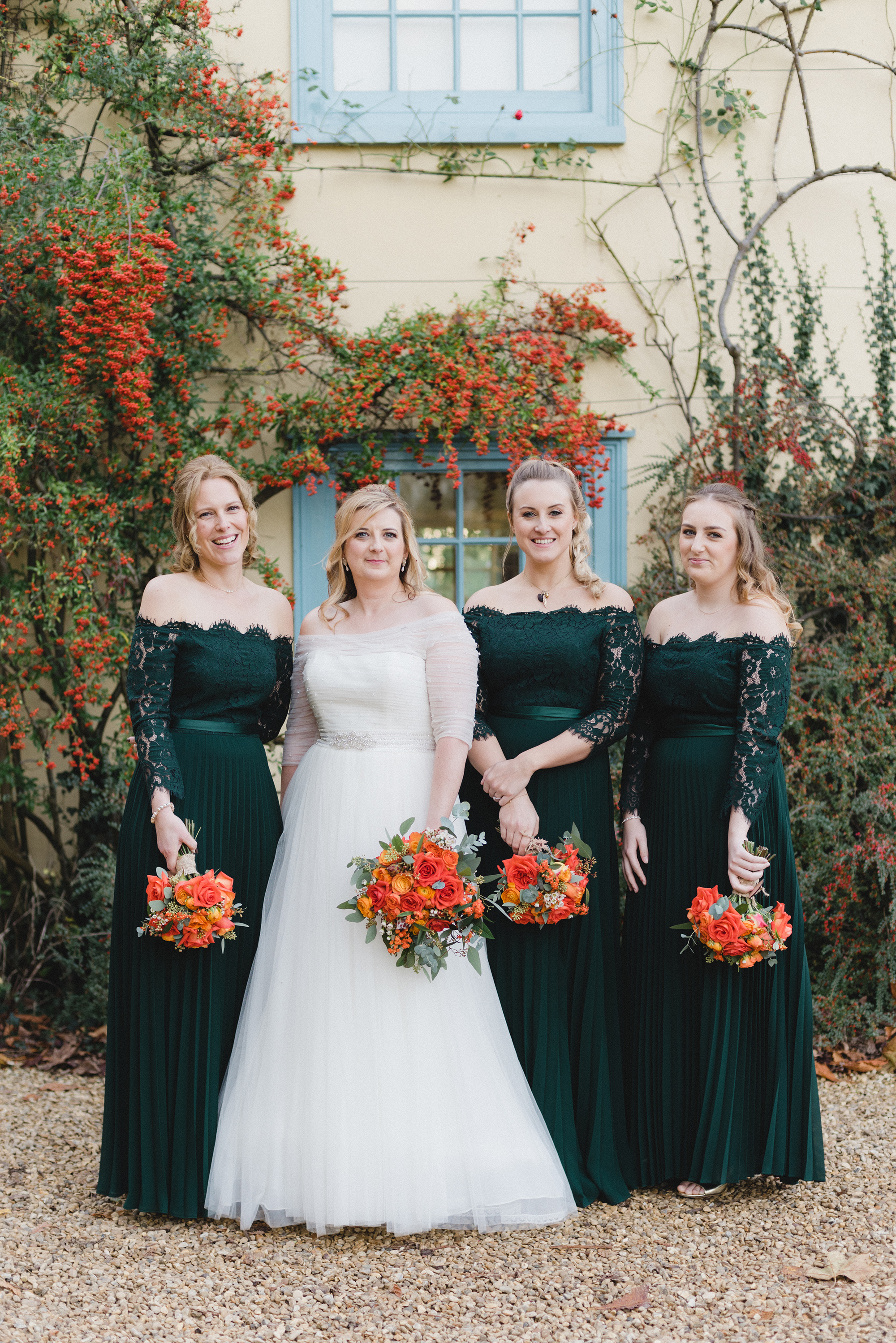 On hand to capture all the spectacular blooms, as well as the beautiful bride and groom was photographer Bea from Photography by Bea.
"Bea was recommended to us by the venue. I checked out her website before deciding to book and could see immediately that her style would suit us. Very relaxed and informal photos mixed in with dreamy and romantic shots. Neither of us like being photographed and it was important to me that Bea knew that. On the day she was very patient and kind and I can honestly say we couldn't have chosen better. Bea was totally unobtrusive which meant we and our guests relaxed and behaved naturally, whilst she was busy collecting memories. I am so in love with our photos and I'll never tire of looking at them."South Farm was the first and only venue we viewed. I looked online at the big country houses and they all appeared too formal for us. I had seen South Farm in photos from another wedding and when I showed Rory he was immediately enthusiastic so I knew I was onto a winner. It had the convenience of being local to us, and they had pigs! I mean, who doesn't want there to be pigs at their wedding?! Quite simply, the moment we turned into the drive we fell in love. South Farm is truly stunning and the fact the whole team there love what they do really shone through. Neither of us had any hesitations in our choice."
And speaking of flowers, all of Laura's beautiful and autumnal bouquets and arrangements were provided by the extremely talented Emily from Tallulah and Rose.
"I wanted our flowers to look wild and rustic with an English country garden feel. I had seen Emily's gorgeous arrangements on Facebook and was determined to have her do our flowers. I asked her for the predominant colour to be orange with lots of big roses and lush foliage. For the guest's tables I had scoured charity and antique shops for crystal vases and Emily filled these with flowers and berries. I was so pleased to see her on the day as she had only given birth a week before!"
Laura's beautiful half up bridal hair style and gorgeous make up was expertly perfected by hair and make up artist Izzy Foster-Wild, who also worked on the bridesmaids and mother of the brides make up, whilst Claire Brookman did their hair.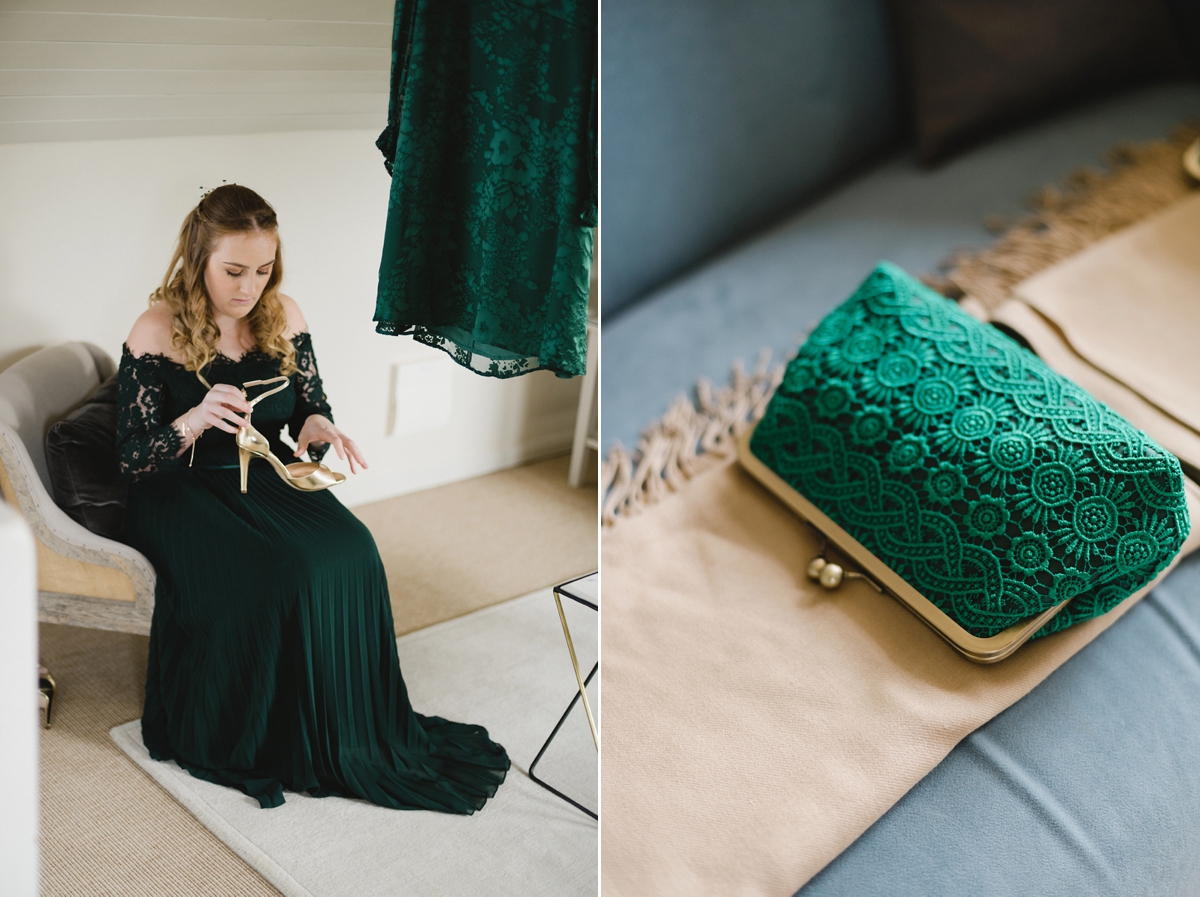 Laura's bridesquad looked fabulous in floor length dark green dresses from Coast and their own gold pair of shoes.
"I knew I wanted dark green dresses and when I found these I was so excited. I loved the fact that they were off the shoulder like my dress. The girls looked absolutely stunning in them!"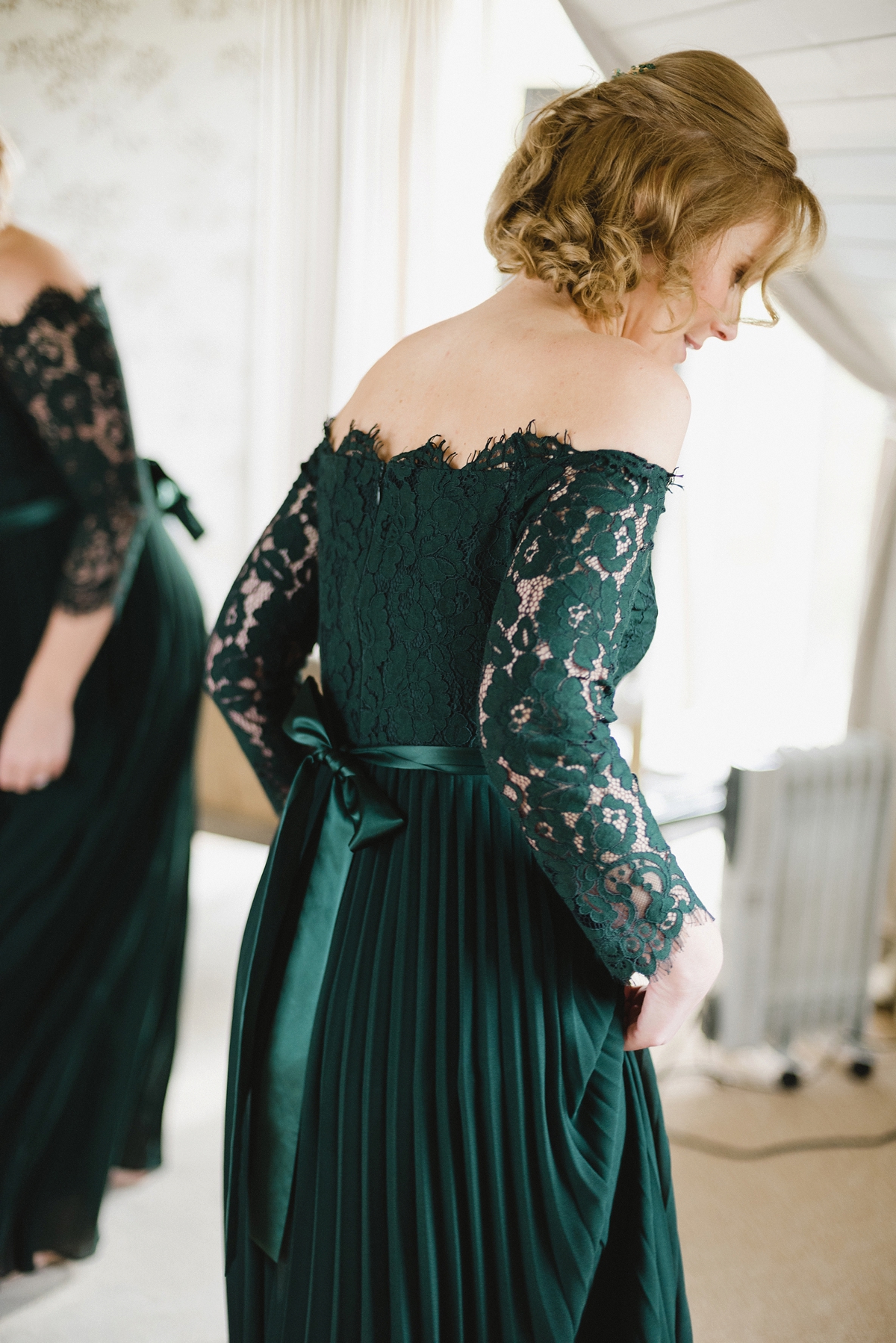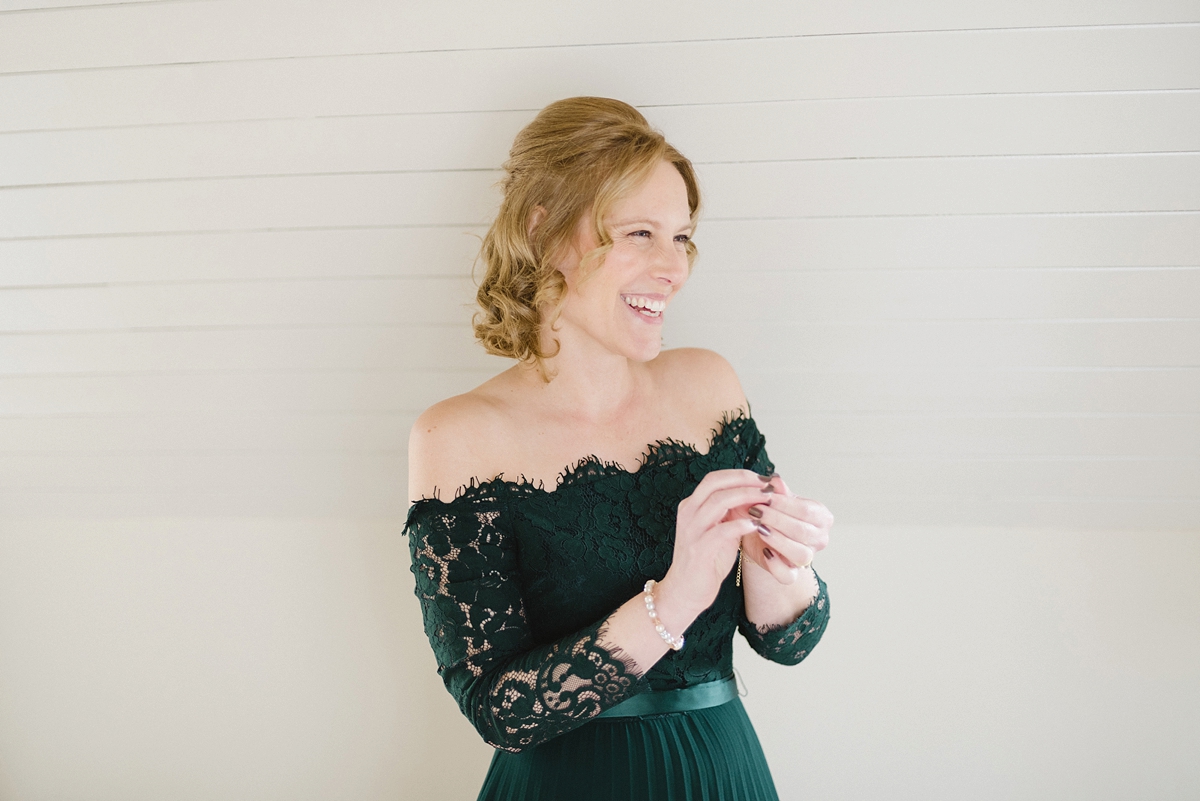 For her dress, the bride chose the Eden gown by La Sposa via George James Bridal in Bedford after first spotting and falling in love with it online.
"I had an online love affair with my dress early on in my search. However it was quite a bit over my budget so I decided it would foolish to try it on. It was always there in the back of my mind though and a year later, having relaxed my budget, I began looking for a stockist. Sadly I discovered that only a few months previously, the designer had discontinued the style. Then, by chance, I found George James Bridal selling their sample so perhaps it was meant to be after all! I immediately got in touch with Nicola who very kindly agreed to put the dress aside for me until my appointment."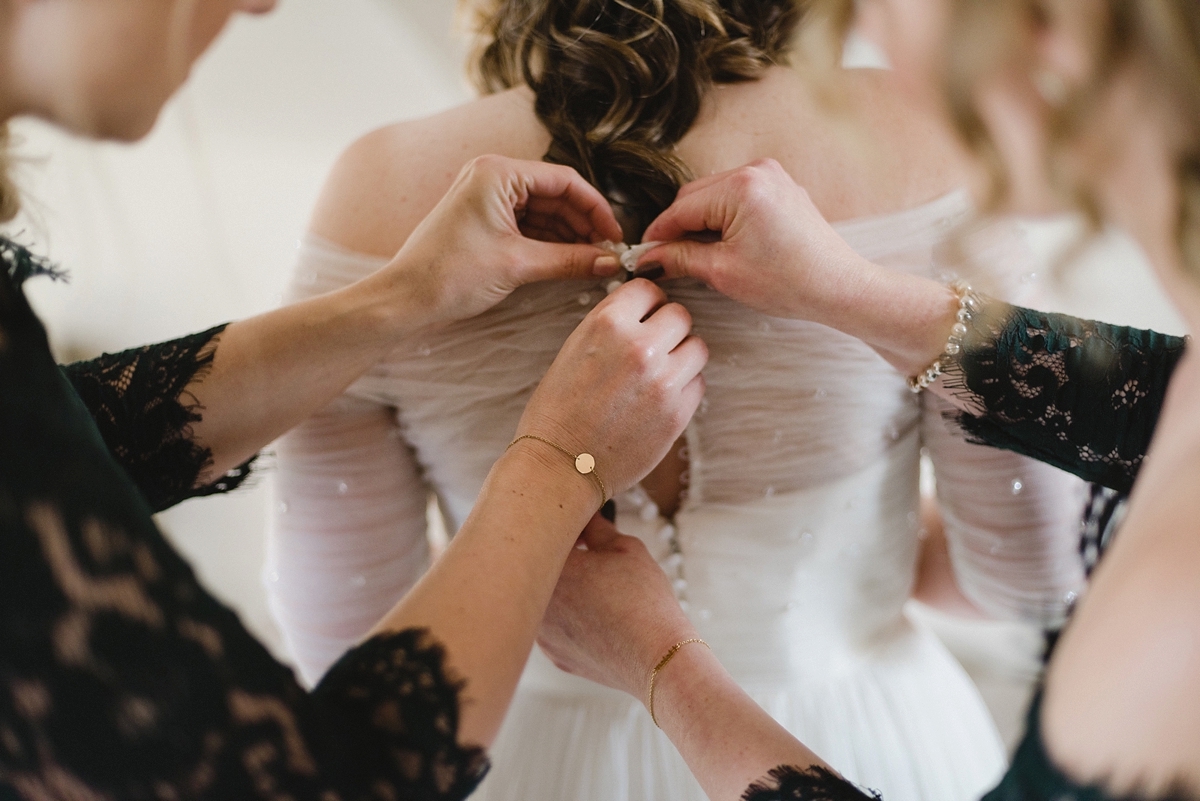 "I was overwhelmed by how beautiful it was. Soft and elegant and, most importantly for me, it had sleeves. The moment I looked at myself in the mirror I knew it was my dress. It fit me perfectly and only needed a few alterations. These were expertly carried out for me by Lisa from Simply Alterations. She deserves a mention for being so talented at her craft and for saving the day with last-minute alterations to my flower girl's dress."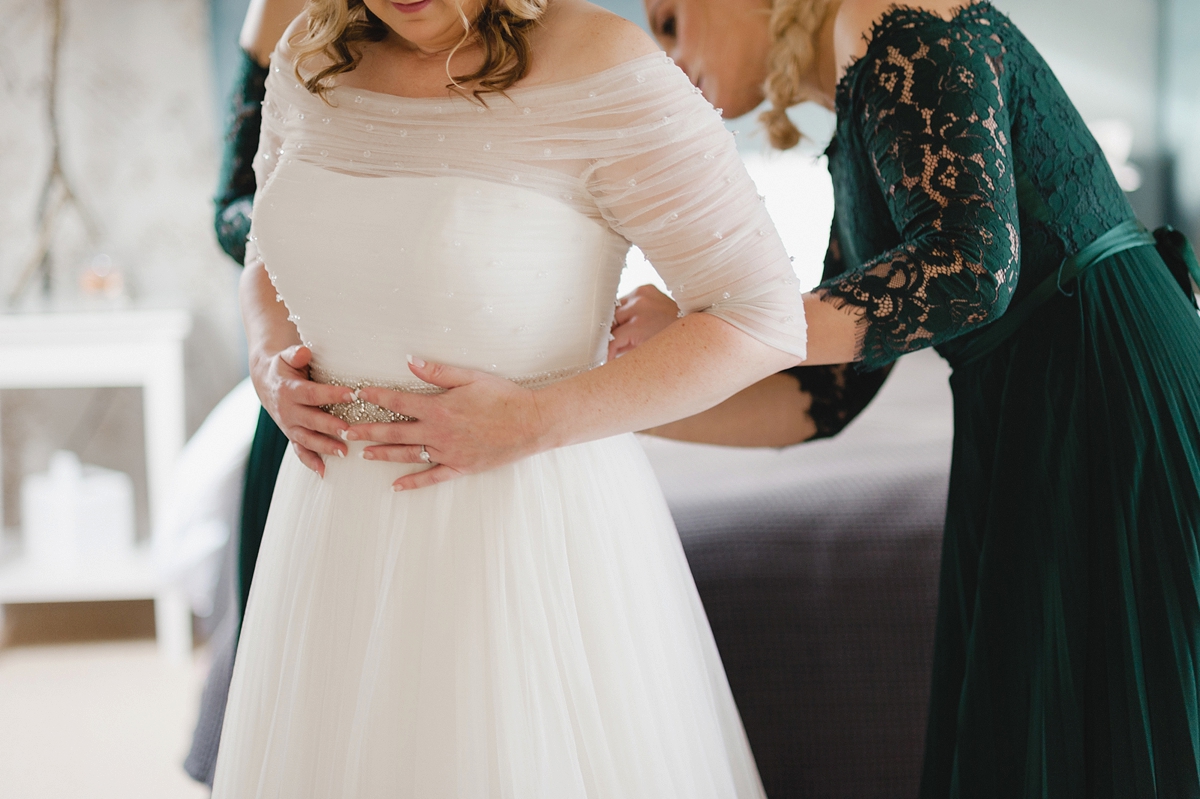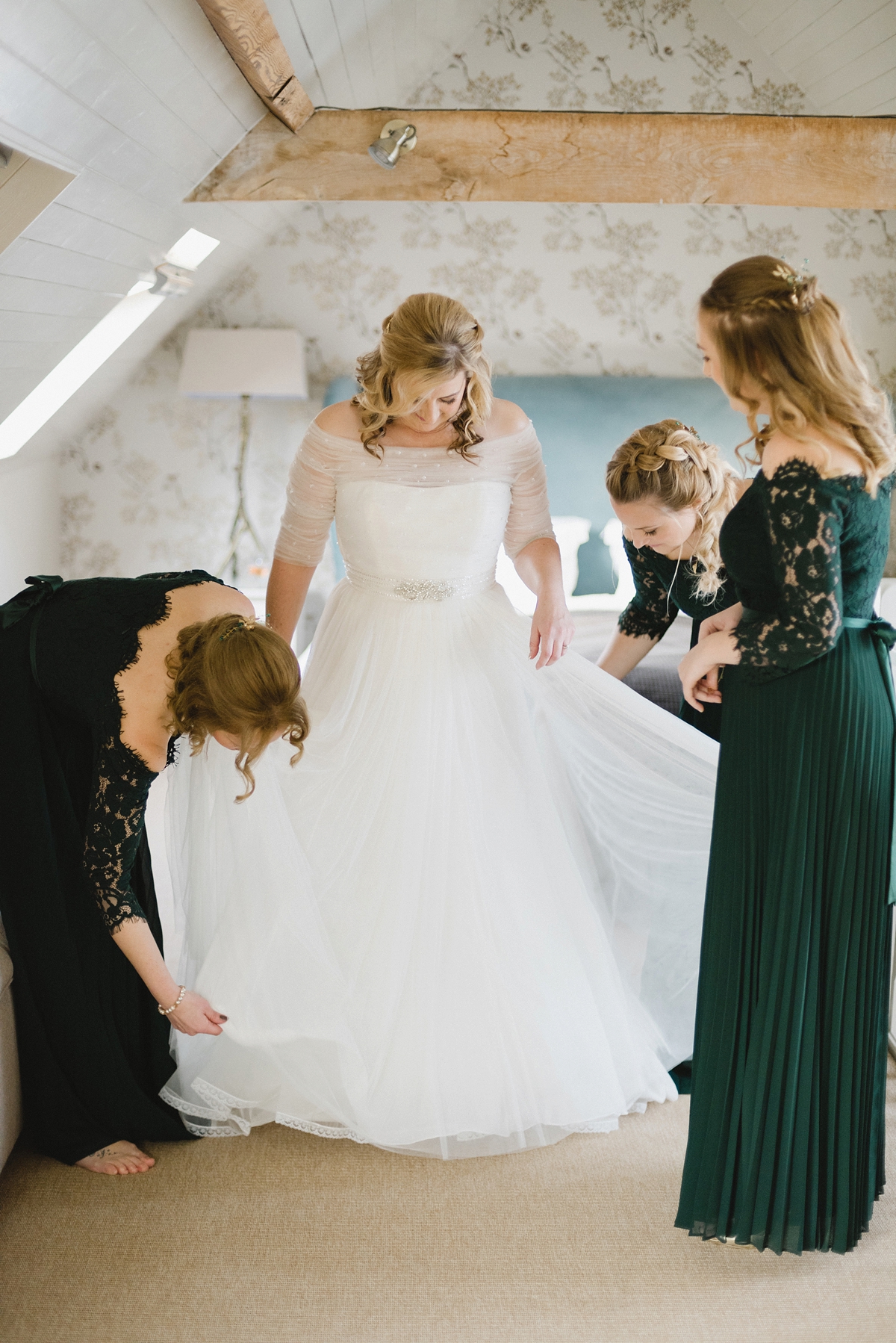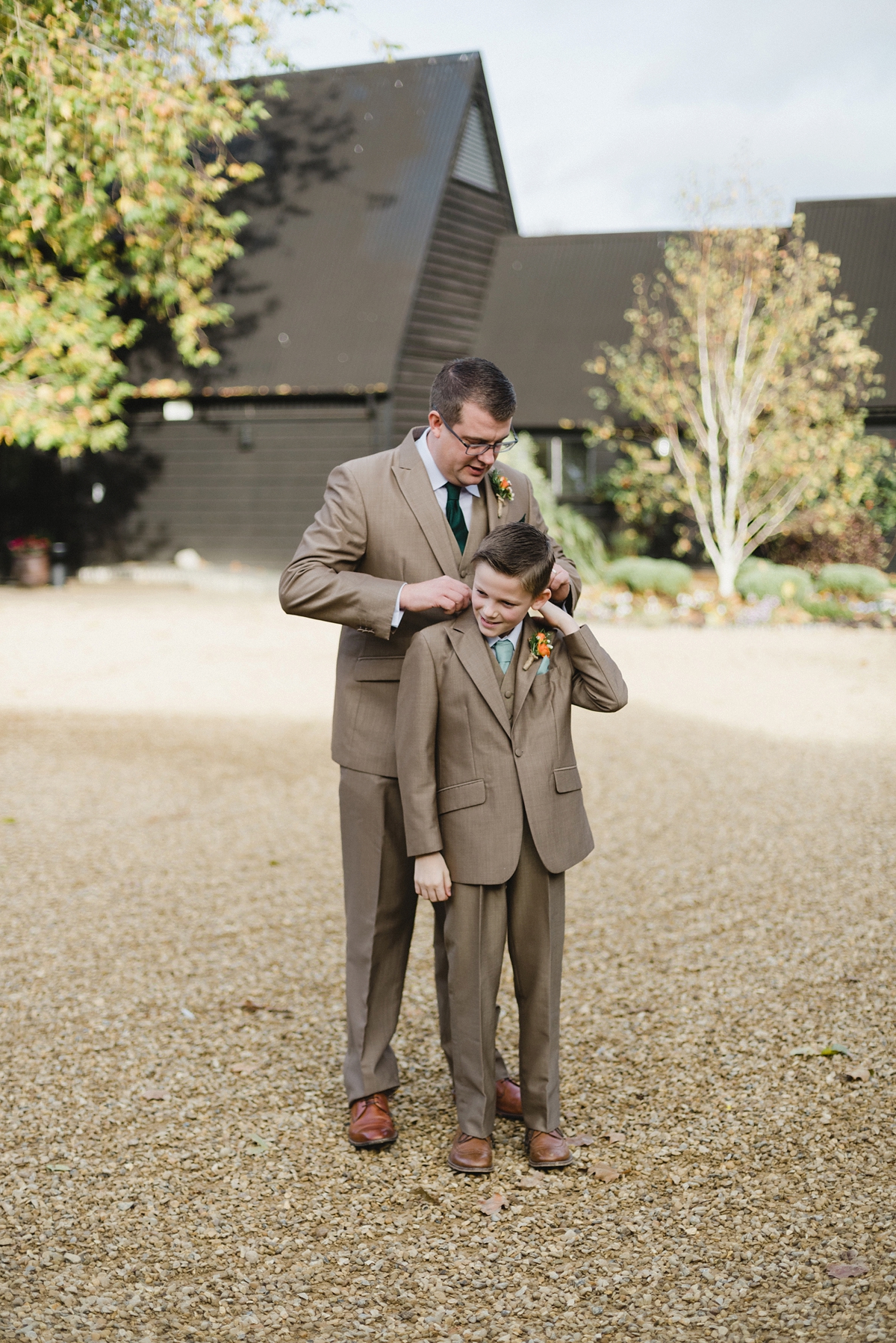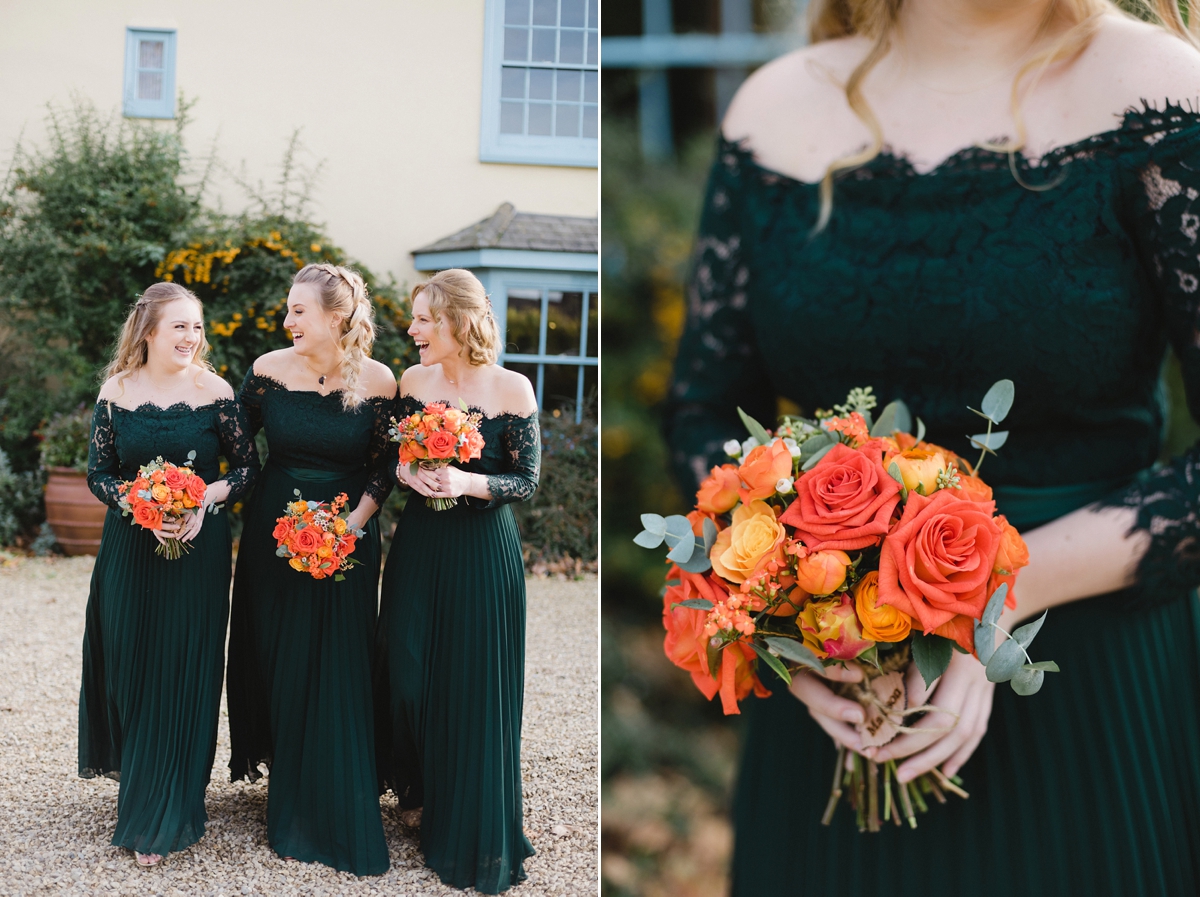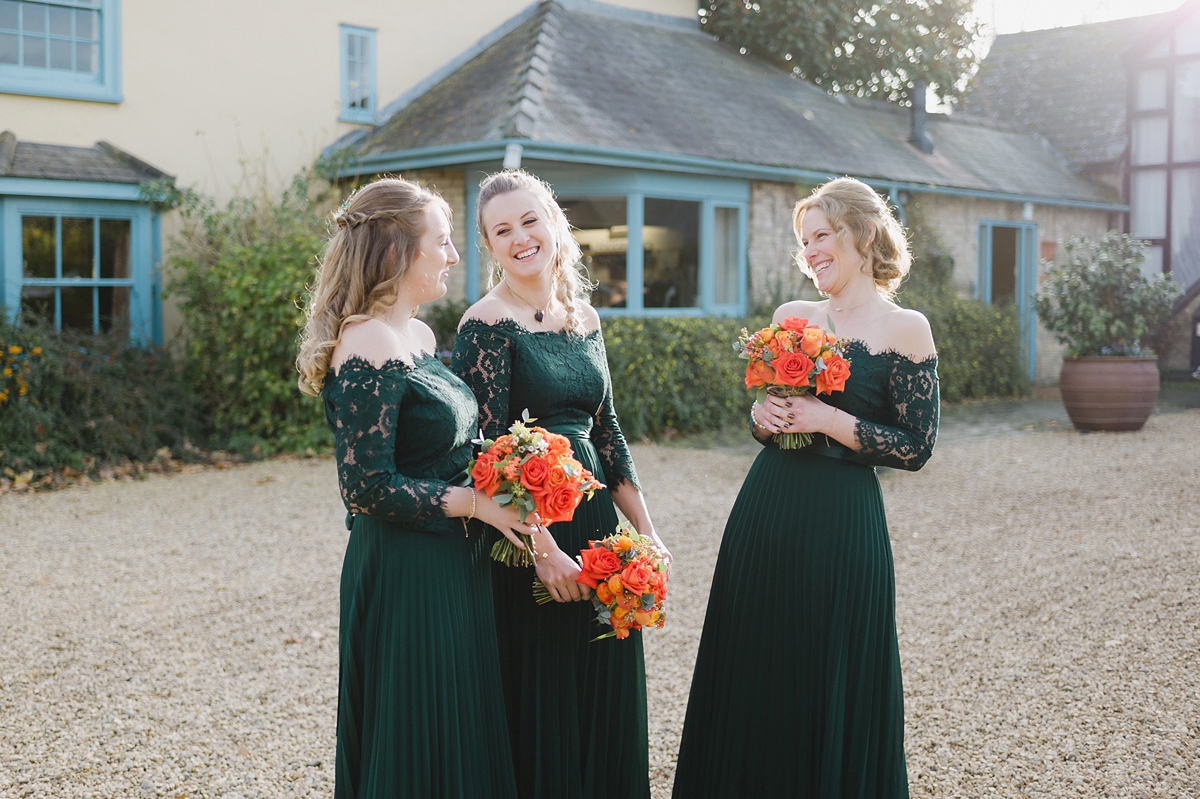 The couples seriously gorgeous flower girl Annie looked like a little woodland fairy in an Emma Bridals dress bought from Harvey's Bridal Boutique in Ramsay, and the page boys looked very handsome indeed in Sandford suits hired from James Cox Huntington to match the grooms own suit from the same place.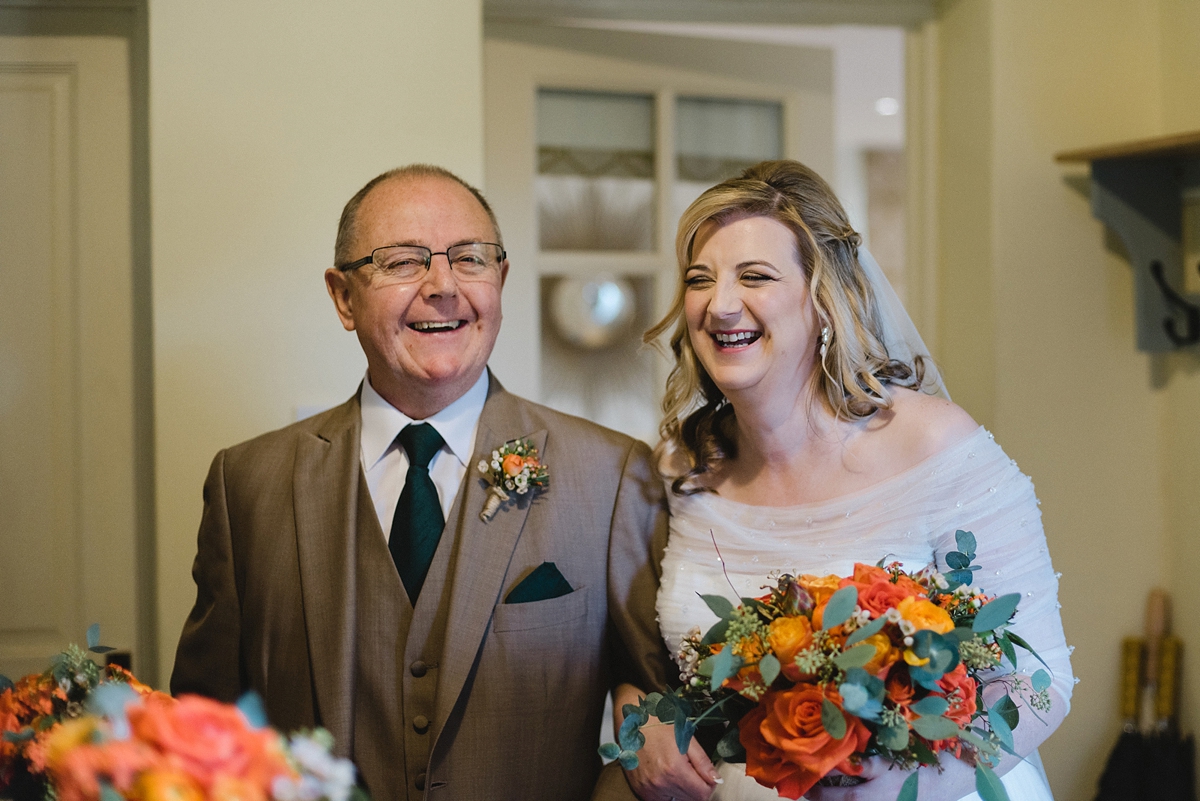 The ceremony began with Laura's dad giving her away and walking her down the aisle to Can't Help Falling In Love by Andre Rieu, followed by a reading by Laura's friend Samantha called Love Monkey by Edward Monkton.
"I spent a huge amount of time researching readings and although I found many I loved, I struggled to find one that really resonated with our relationship. Then I read Love Monkey and it was perfect as Rory and I have both had our share of heartache before finding each other."
"I adapted it read from the female perspective. My friend Samantha bravely volunteered to read it and she did a great job despite Rory chuckling every time she said the words 'Love Monkey'."
"We didn't pen our own vows. Not because we think it's slushy, but more because we didn't think we'd have held it together if we had. As it happens, we spent most of the ceremony laughing for one reason or another which was definitely more us."
They did however exchange weddings rings, Laura's from Fraser Heart, the same place as her engagement ring, and Rory's from Ernest Jones.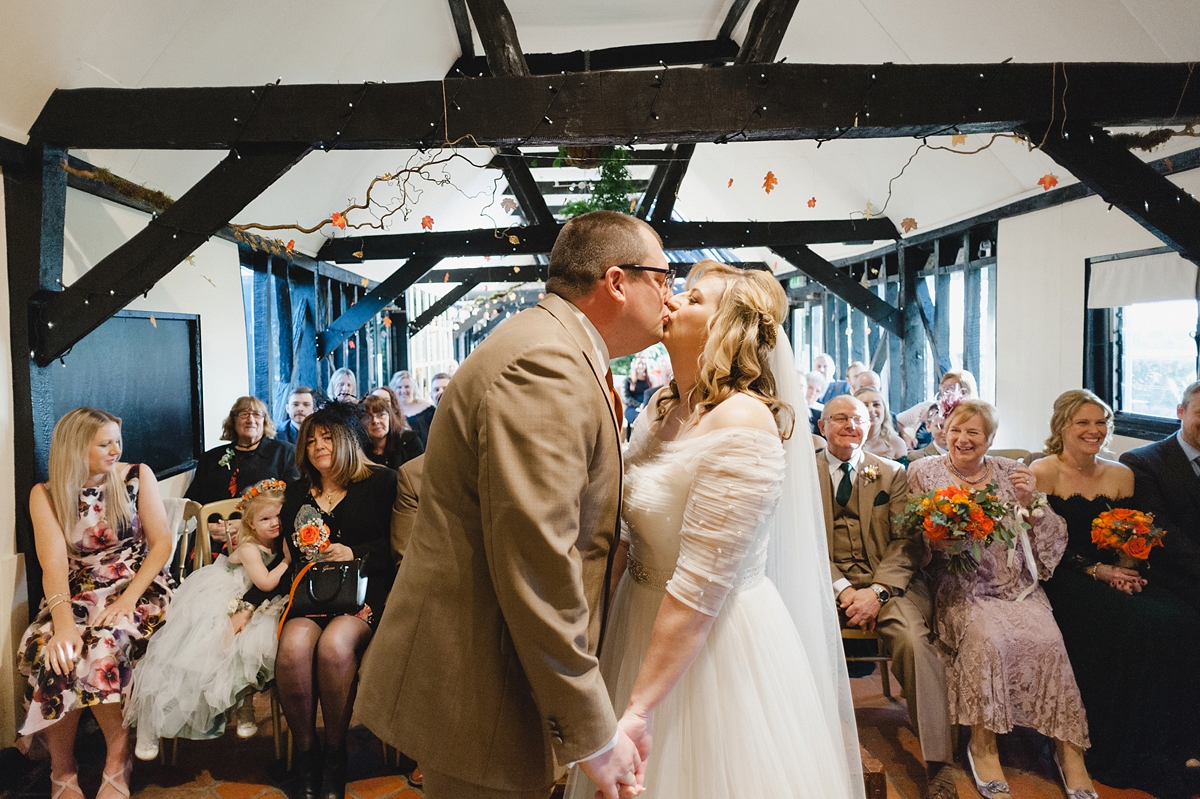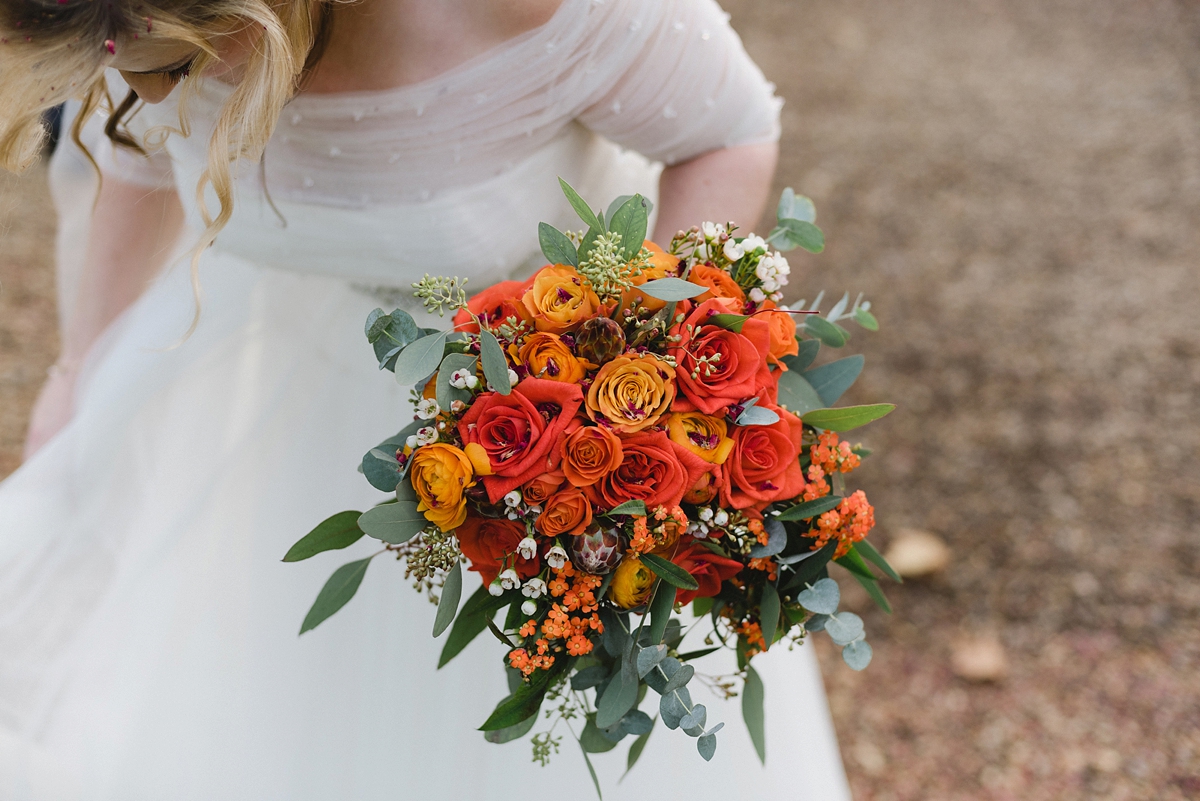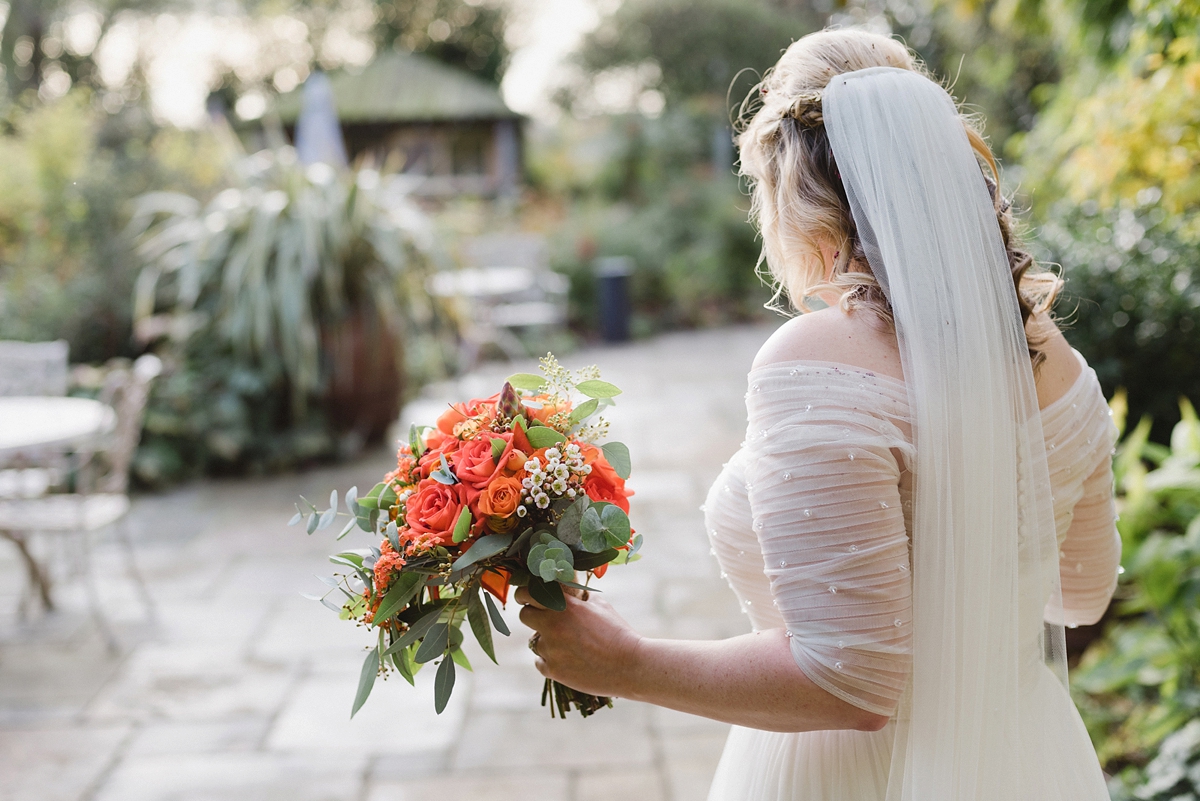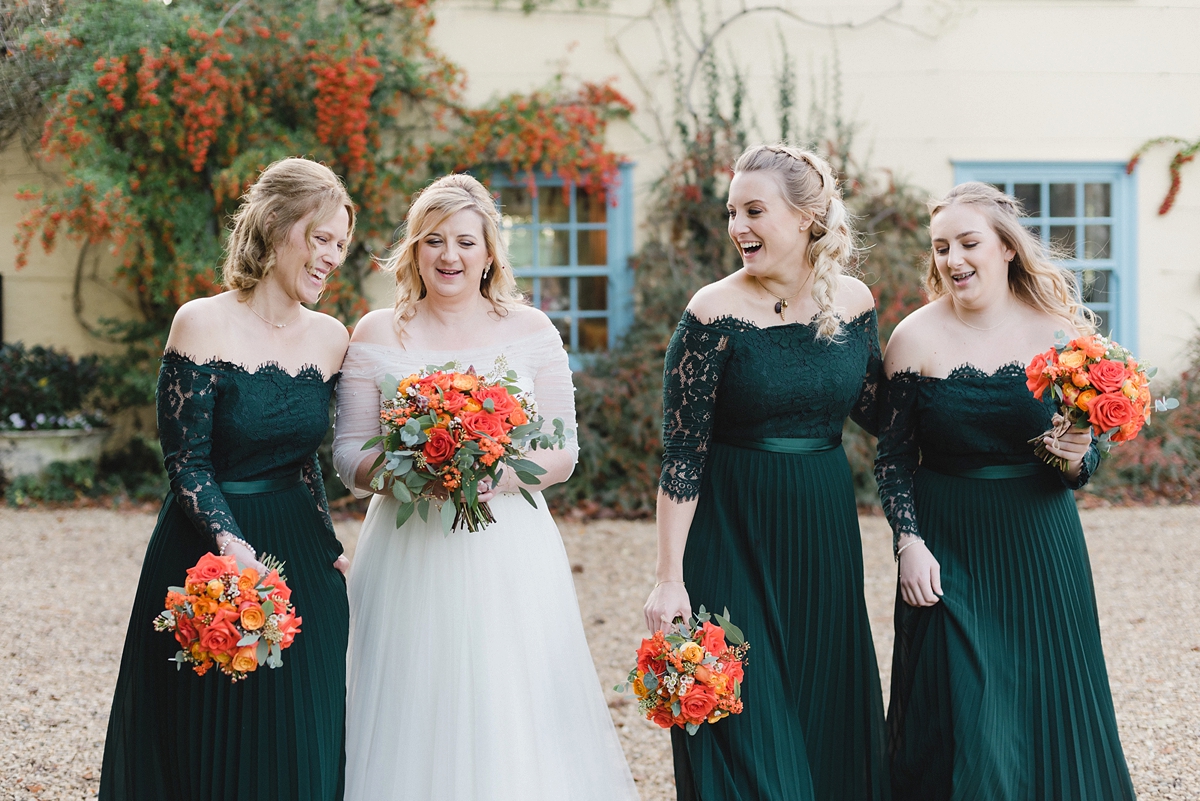 Following the ceremony and a confetti shower, the bride and groom went off with Bea and the bridal party for the photo's within the venue's gardens.
Inside, the rustic venue with exposed wooden beams had been beautifully decorated by Alice from Fleur de Lace who the couple hired to style the day.
"It was without a doubt the best money we spent. I had all these ideas about a stag's head, trailing ivy and hanging hearts but none of the skills required to pull it off, not to mention the time. One of my biggest stresses was how I would manage to get the venue decorated on the morning of the wedding and get ready in time."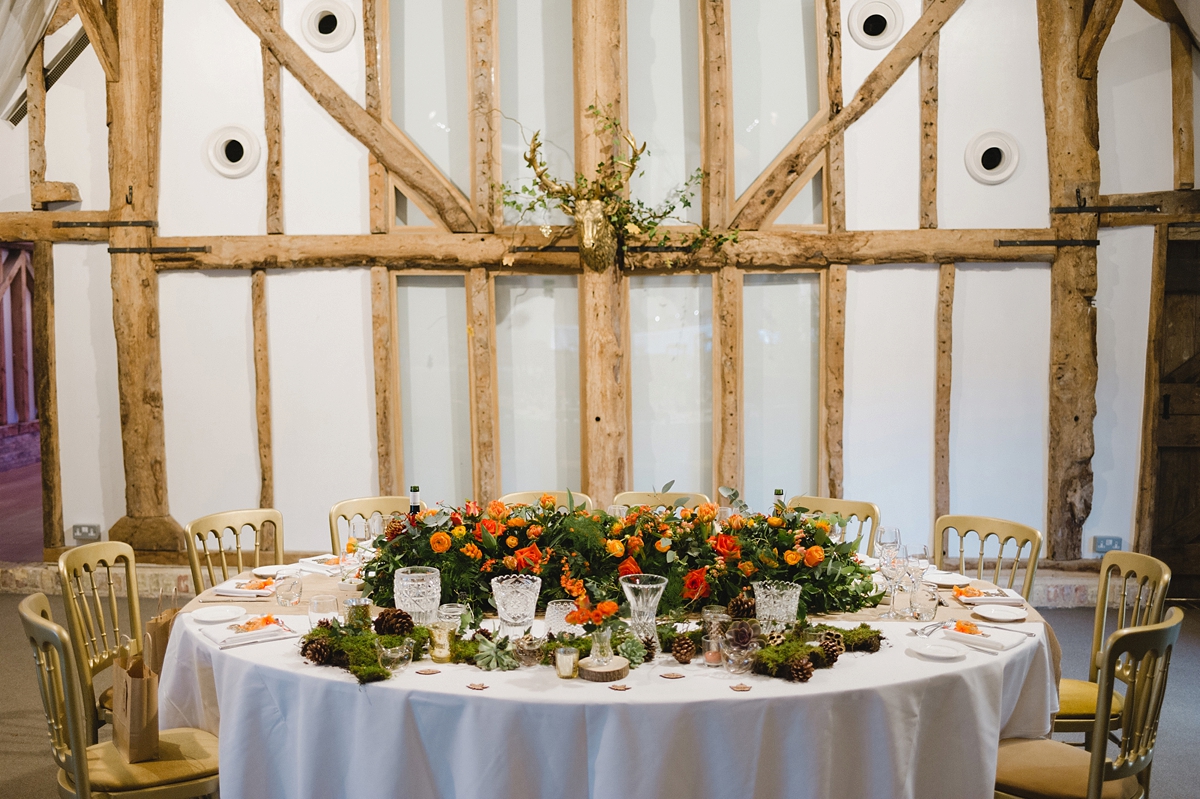 "If I'd had to do it myself, it would have meant scaling back my ideas and that didn't feel like an option. So, I met with Alice and talked her through my woodland vision and thankfully she totally got it. On the day she exceeded my expectations by taking my ideas and putting her own unique stamp on them. I especially loved the walkway of falling leaves Alice created over the aisle."
As guests sat down they were treated to favours of hot chocolate coins from Pip's Real Hot Chocolate Co.
"We wanted our favours to be in keeping with the theme and the idea of cosy evenings in on chilly autumn nights, so we ordered individual hot chocolate coins. Each coin was personalised with our names and wedding date. Our friends Charlotte also made us wine glass charms. Each one adorned with a woodland charm such as a leaf, acorn, rabbit or squirrel."
The food then came, provided by South Farm, which was a hearty feast of stick-to-your-ribs mains and a selection of delicious pies for dessert. The gorgeous brown and orange 3-tier cake with bride and groom toppers was made by Laura's very talented Aunt Maureen, and was decorated with beautiful orange chocolate blooms.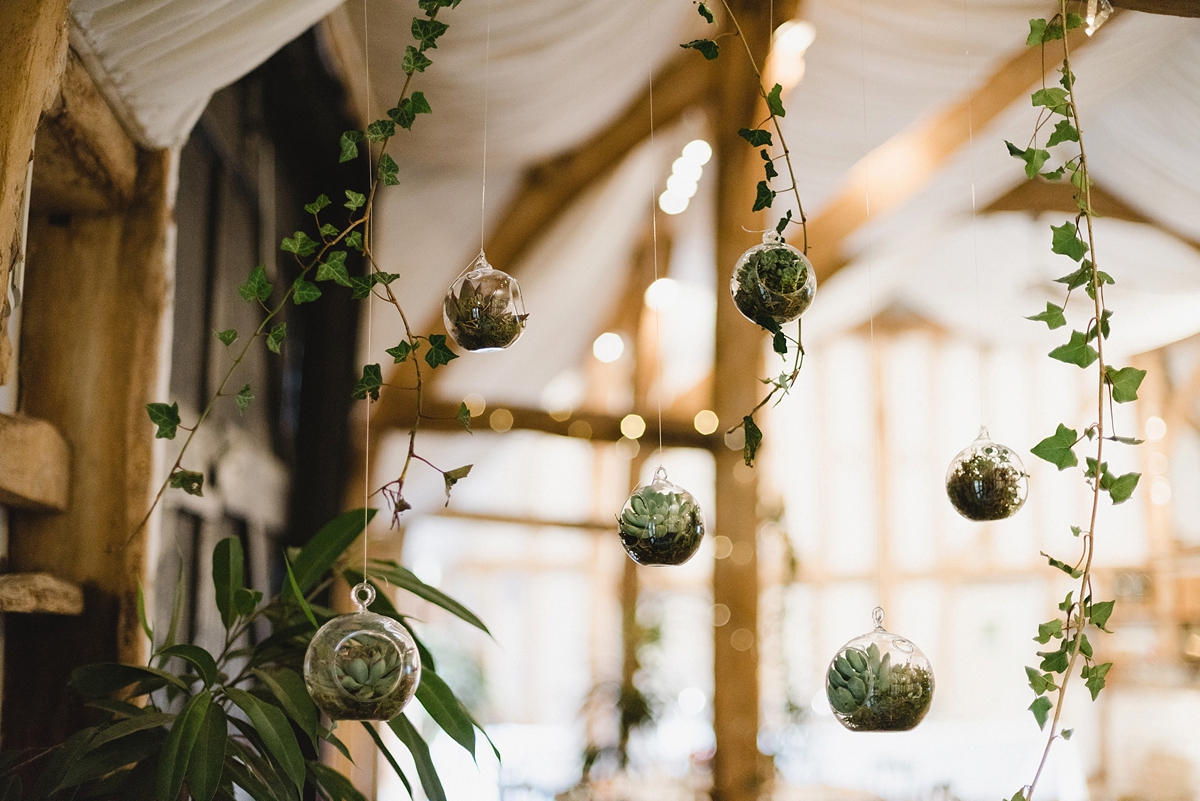 Looking back on the day, Laura was glad she made the decision to stay at the venue the night before the wedding as it gave her chance to enjoy a leisurely breakfast and a bath before the chaos of the day kicked in.
"Waking up alone that morning and having breakfast and venturing outside to say good morning to the pigs was very calming. I was able to greet Emily and Alice and see the venue be set up. This was the quiet before the storm and I'm so grateful I got this time."
"The whole ceremony was another highlight for me. We laughed and smiled all the way through and I certainly think our guests enjoyed the vibe too. It sounds corny but I wouldn't change a thing about the day except that I forgot to do the bouquet toss. My mother in law put together a very pretty throwing bouquet for me and I was so busy dancing that I forgot about it. And it's not like I'll ever get another opportunity!"
Words Of Wedded Wisdom
"Be prepared to blow your original budget. We were comfortable with our final spend but would have regretted spending any more. I think it's important to set your budget and then allow a buffer you can both live with."
"Spend big where it matters; the venue, decor, photographer and flowers were all key for me. Save money where it doesn't matter. 
"Ignore those wedding planners in the glossy magazines. If you follow them they'd have you booking your photographer 3 months before the wedding! My advice is that it's never too early to book. Within 8 weeks of getting engaged we had secured our venue, florist, photographer and DJ. This not only takes the pressure off, but also ensures you get the best. If you know who you want then book them ASAP. Waiting could only lead to disappointment. The best suppliers will be in demand and many will be available to book up to 2 years in advance."
"Above all, enjoy yourself on the day. I know Rory won't mind me saying but I was pretty much on my own when it came to planning. After nearly 2 years of blood, sweat and the odd tear, I was determined to enjoy the party I had so meticulously organised. Remember that your guests are essentially attending a free party with food, drink and entertainment on tap. DO not feel guilty for enjoying yourself. Don't miss out on dancing to your favourite song or forget to spend a few moments with your new husband. Have fun – you earned it!"
Congratulations Laura and Rory and a big well done to Laura for planning such a gorgeous wedding that looked like a lot of fun to be at! Special thanks to Bea for capturing all the memories and the mood of the day so beautifully.
Until next time…
Much love,
Holly x