As soon as I saw today's wedding it gave me goosebumps and had me reminiscing about my own, very similar, wedding back in 2017; a wild and rustic weekend-long affair by the water in the gorgeous countryside.
Oh how I wish I could go back and do it all over again! However looking through these images, it's almost as if I'm there which is the next best thing to the real deal, so without further ado, let me introduce you to our couple.  Scott and Claudia were married on 17th June 2017 at Monachyle Mhor, in Balquhidder, Scotland. The creative team capturing this beautiful wedding in images and film were The Curries and White Balloon Films.
"From the outset we wanted our wedding to be as relaxed as possible and fancied something rustic – a barn perhaps – with beautiful surroundings. My mum suggested having a look at Monachyle Mohr and after asking them if they do weddings, we found out they did! They don't advertise themselves as a wedding venue and only do a handful of weddings a year. My mum, sister and I went to have a look and I fell in love instantly! Everything it could offer was just perfect; the option to be as creative as you wanted to be, and the ability to create a menu personal to you from scratch with fresh ingredients grown on site or as locally sourced as possible."
Film by White Balloon Films
Keeping the couple at ease throughout the day were photography duo Chris and Gillian of The Curries Photography.
"They immediately made us feel at ease. Every shot felt so natural and they were so friendly and open, it just felt like we were having fun taking pictures with our friends. No pressure or nerves at all! Scott absolutely hates having his photo taken and not once did he complain. Quite the opposite actually, he couldn't believe how much he enjoyed it. The photographs are so beautiful, even now almost 6 months on I can't stop looking at them. As the creator of The Wedding Collective, Gillian was so helpful in the run up to the wedding, quickly responding and making recommendations whenever we needed her."
Images by The Curries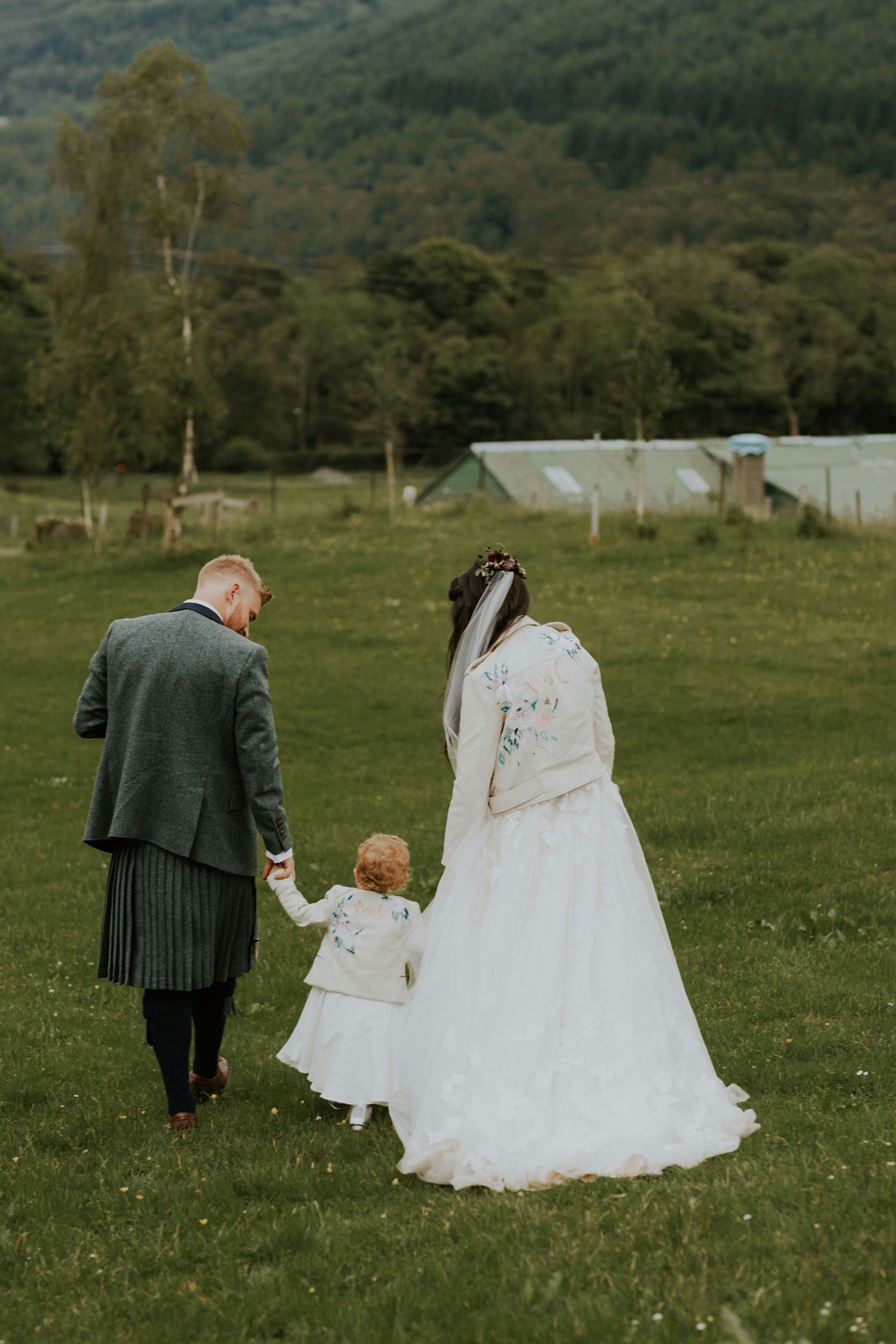 "What White Balloon Films produced was just incredible. It perfectly captures the emotions felt throughout the day. First of all we saw a 3 minute film which was just outstanding, then later we received our full feature film. We couldn't believe it when we saw the videos as we barely noticed they were filming in the background. The only time I remember them asking us to pose was when we were sitting just the two of us, enjoying our champagne picnic after the ceremony and they asked if we would mind lying down on the blanket so they could get an overhead drone shot. And boy did it look incredible!"
Claudia's absolutely jaw-dropping full-skirted two-strap wedding dress was by designer Essense of Australia from Olivia Cameron Bridal in Falkirk and tailored by seamstress Marija.
"In the end my dress looked nothing like it did when I first chose it. I bought it straight from the sale rack and it was a case of 'if you don't buy it today it could disappear'. It was the colour I loved – It wasn't a bright white, but a dirty champagne colour and I could see it had so much potential to be romantic and boho chic. It's so unlike me to make such a rash decision and I had many sleepless nights feeling worried that I'd made a mistake – it was 3 sizes too big! But I had a picture in my head and Fiona (the Owner of Olivia Cameron) and the seamstress Marija assured me it could be done."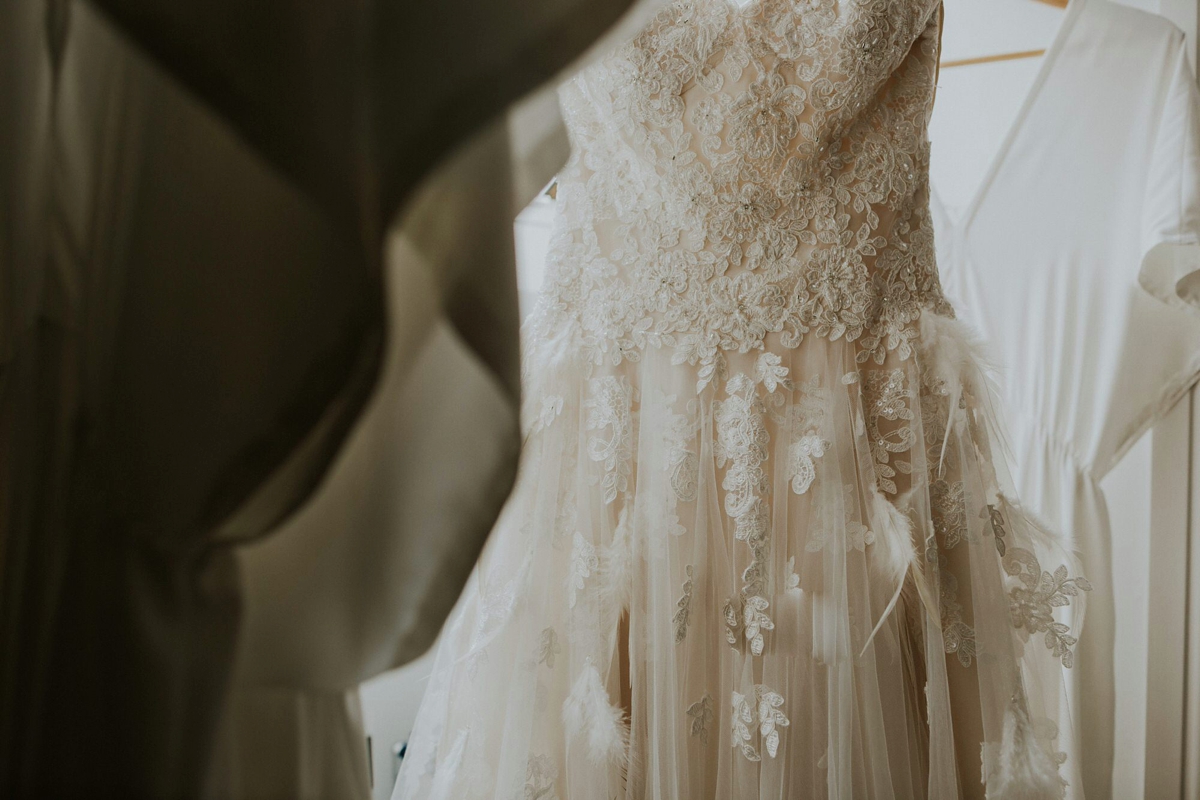 "We ripped off the cap sleeves and added spaghetti straps. We also lowered the back and took out all of the netting in the skirt, leaving a huge skirt with lots of gentle movement. We added loads of extra lace to the skirt that waterfall-ed down from my hips, and lastly we added lots of feathers, again attached softly from my hip downwards."
"Fiona said most brides want to make their hips look as small as possible but I loved the way they poked out giving the dress an extra dimension. On the morning of the wedding my mum sewed on some last-minute strings of beads and feathers which just completed it."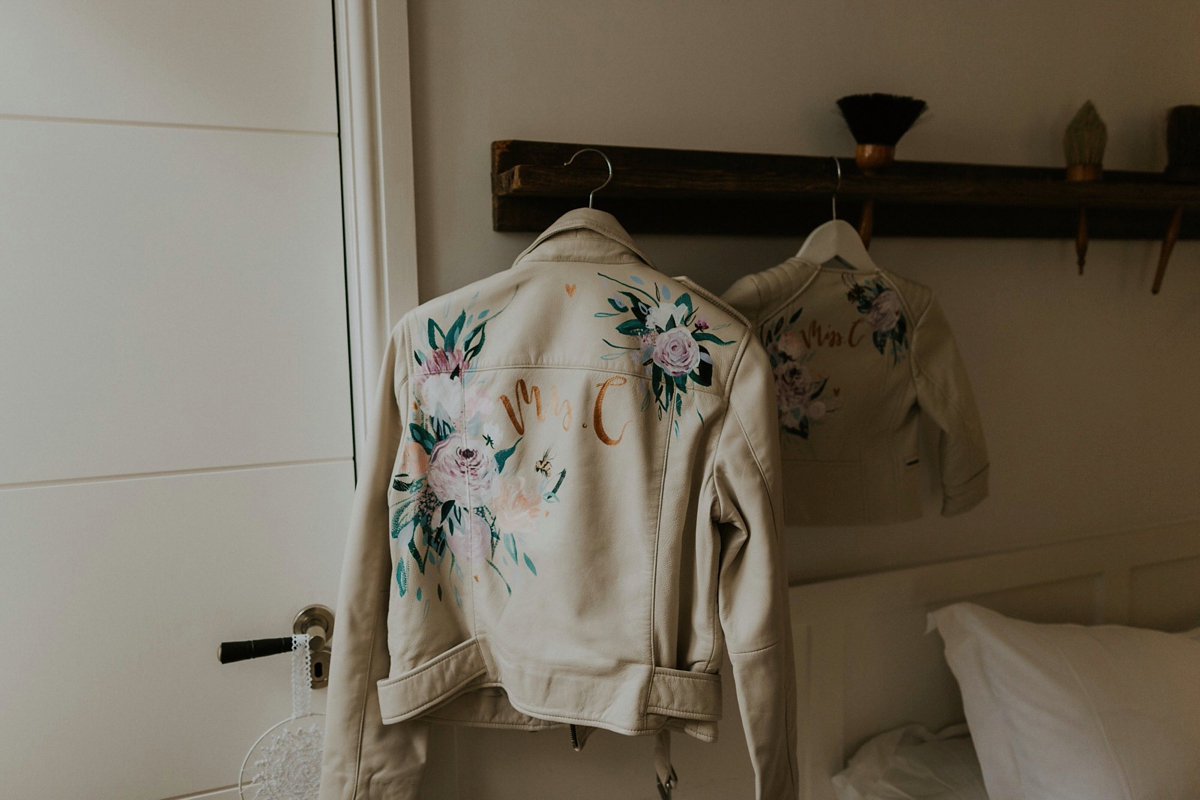 Other accessories included her perfume and sandals, both bought on the island of Capri during Claudia's hen weekend.
"They were bought from a little shop where the man-made your sandals as you waited. My bride tribe and I all wore the same rose gold Capri sandals that wrapped around our ankles."
"In the run up to the wedding there had been so much rain so the ground was so wet and muddy! As we had an outdoor ceremony, as soon as it was over we all changed into out Minetonka moccasins. Mine came up to the knee and the girls had little ankle ones. Perfect to dance the night away in! I also had some little sparkly moccasins that my mum and aunty found in a little shop called the Anniel Shop in Positano in Italy, which I wore on the morning whilst getting ready."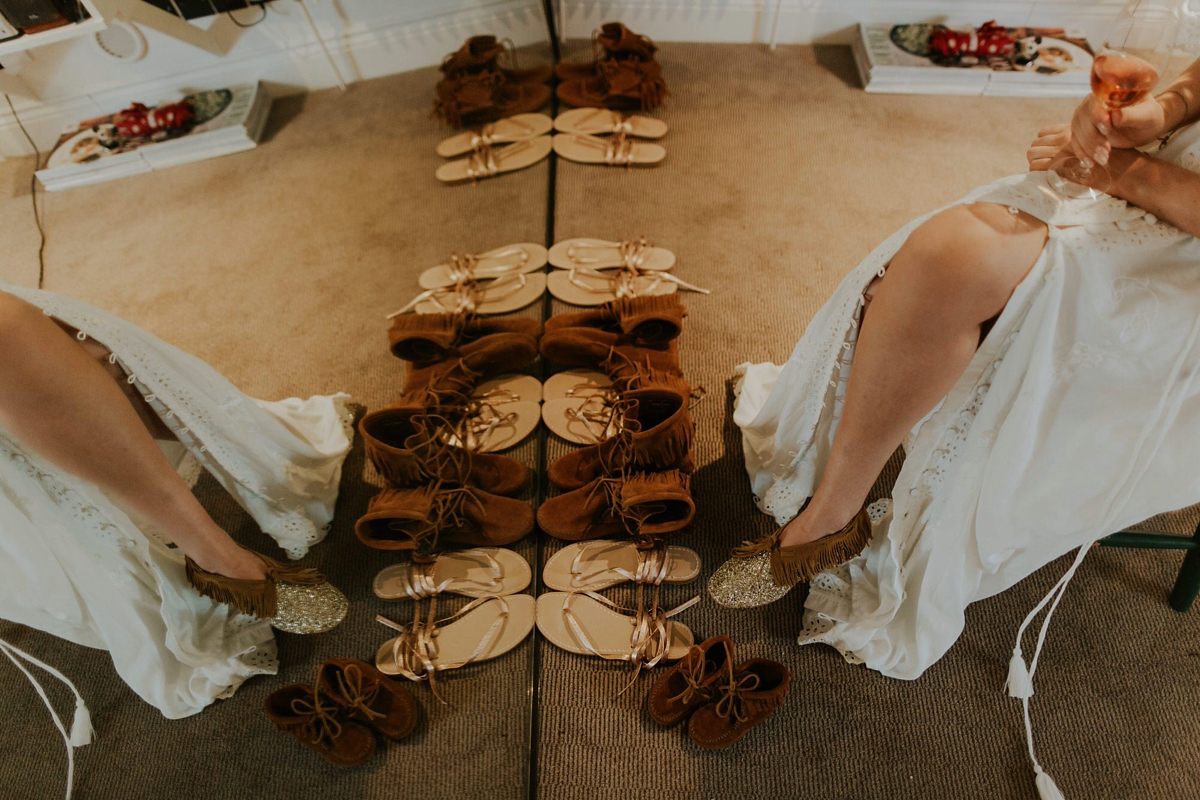 Her headpiece was made by her florist Tupelo Tree and the finishing touches included a bracelet and a hand painted leather jacket.
"I wore a beautiful bracelet by Carolina Bucci that my mum gave to me as a gift on the morning of the wedding. It had a little bumble bee attached to it and when you tie it to your wrist you make a wish. It was such a special gift I will treasure forever."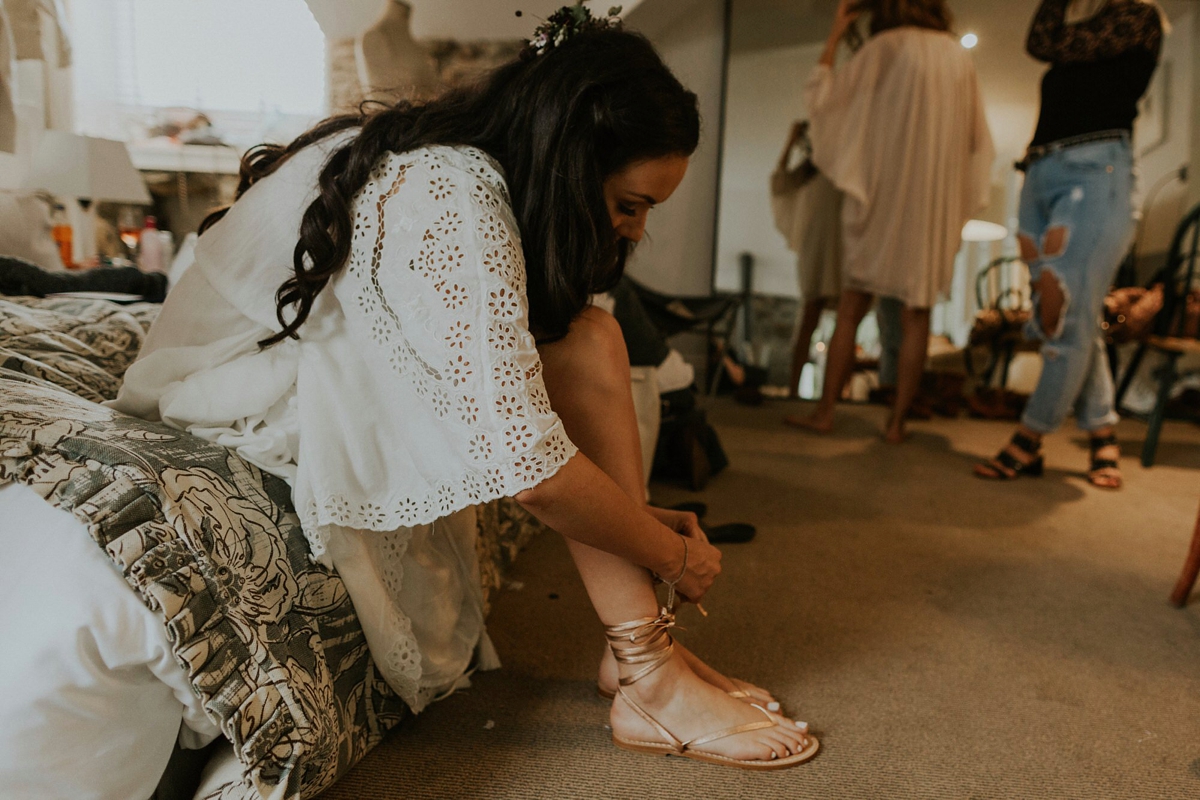 Claudia's veil was a last-minute decision and only purchased the week of the wedding. The bride chose Skylar from Love My Dress favourite and Little Book For Brides member Britten.
We can't recommend Britten Weddings more highly – if you are looking for a beautiful wedding veil, they should be your first port of call.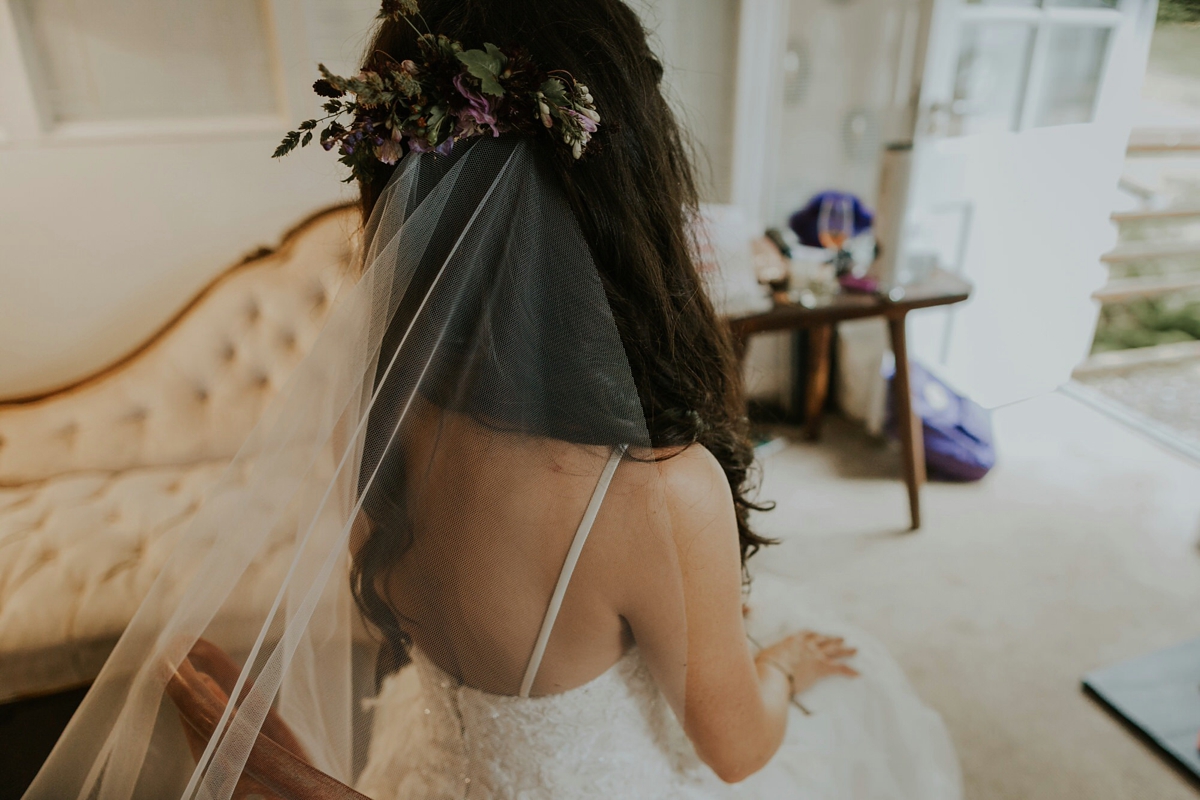 On the morning of the wedding, Claudia employed a full beauty squad who travelled to the venue on the day, including SnoCreation, Laura from Tweedie and Marshall and Lucy from Smooch for make up, hair and nails for her and her bridesmaids.
"I wouldn't have let anyone else other that SnoCreation paint my face. I'm quite a plain Jane when it comes to make up and Sno knows just how far to push me out of my comfort zone."
"Laura has the patience of a saint when it comes to hair. I had no idea what I wanted until the morning of the wedding! She couldn't have done more to help us in the morning too."
"With all the hard work the day before the wedding setting up, we knew we would definitely chip a nail! So we had nails come to us."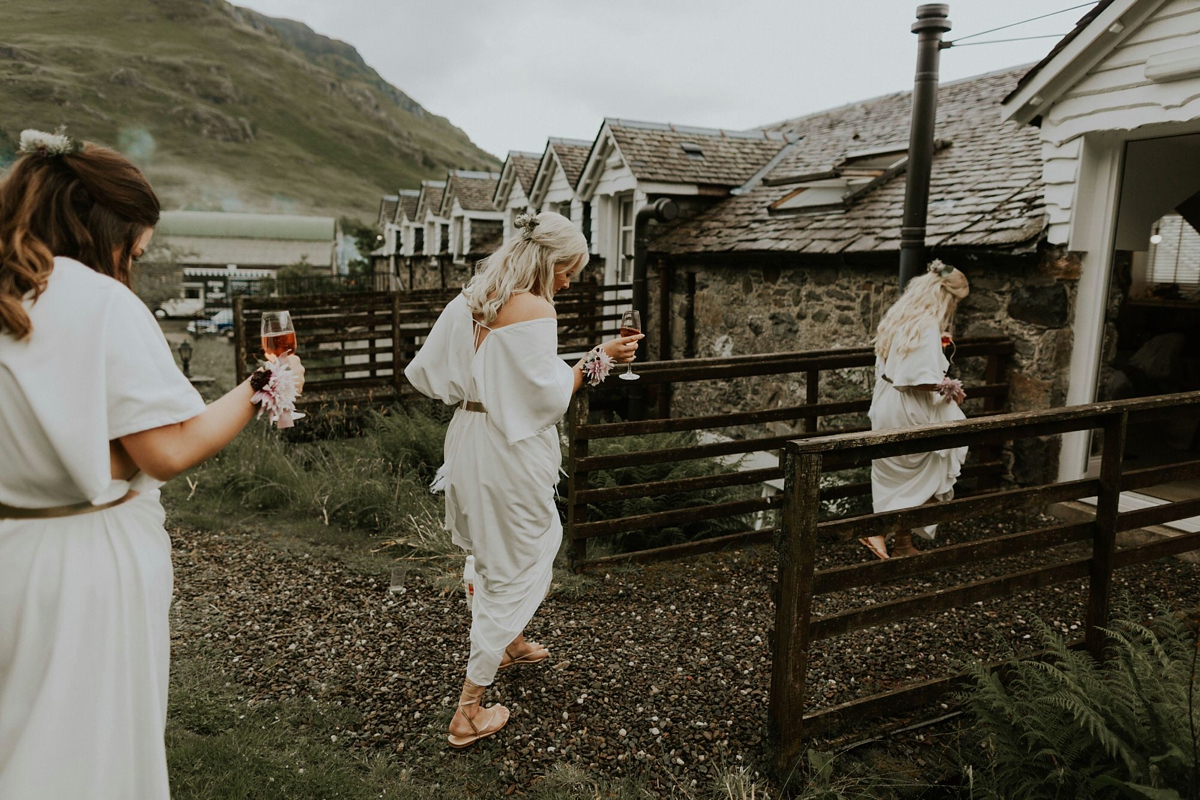 As well as wearing matching shoes to the bride, Claudia's bride tribe ended up opting for boho inspired white dresses from Marija, the seamstress who also altered her wedding dress.
"Oh the hunt for the perfect bridesmaid dress was tricky! If you show Marija a photograph of something you like she can create it for you! I'm so glad we went for white, they just looked so angelic (at the beginning of the day anyway, they were a little muddy by the end!)."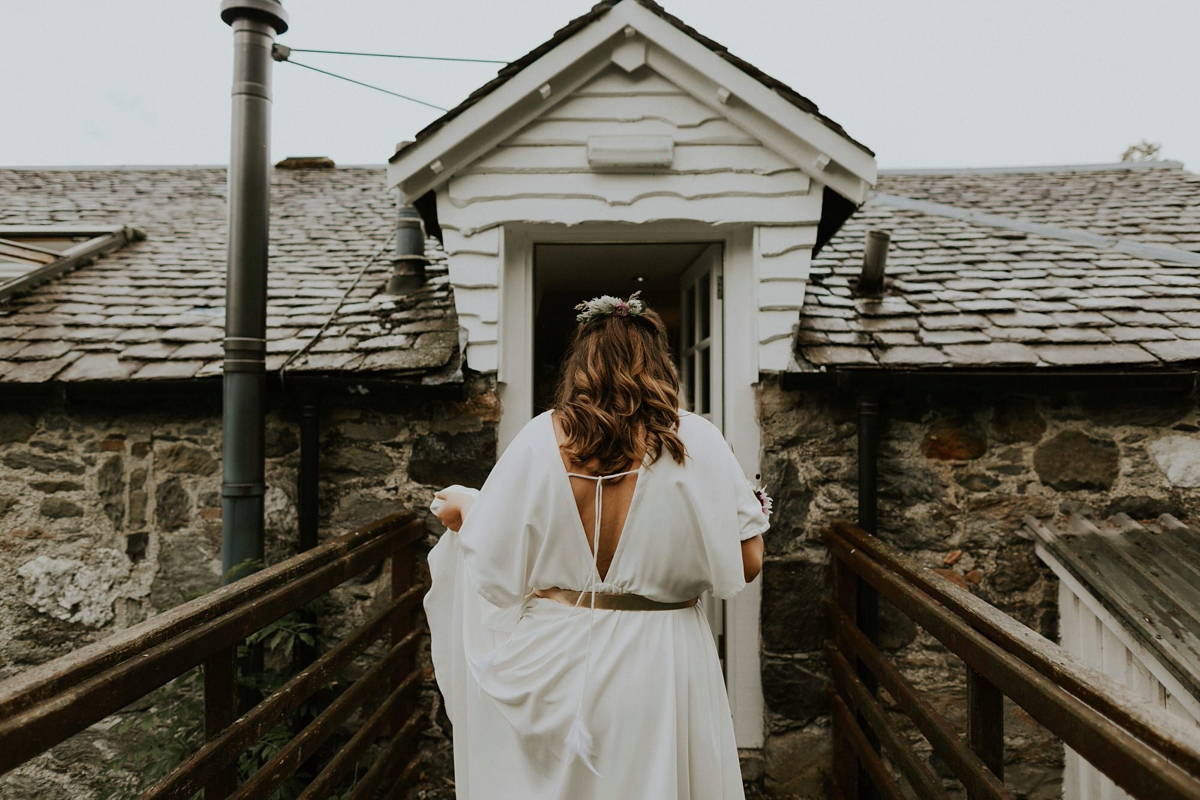 "I gave them gifts of bracelets from Not On The High Street on the morning of the wedding and each bridesmaid wore two necklaces; one chakra necklace from Daisy Jewellery and a rose gold bumble bee with a little diamond from Hot Diamonds. The idea was that they had a flower and bee around their necks. They looked so beautiful and I'm so enjoying seeing them wear them every day now. They looked so bohemian which was exactly what we wanted. The rose gold belts were from ASOS and my mum made the string of feathers and beads and attached them to the belts."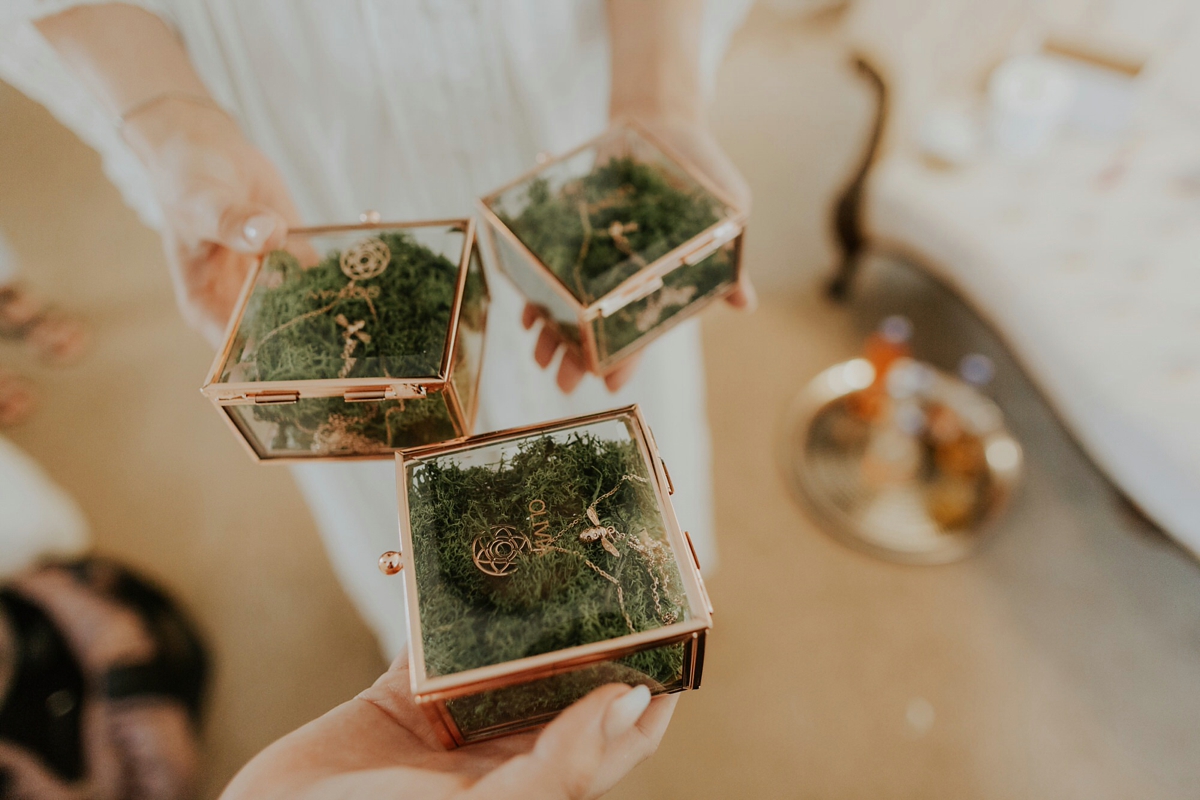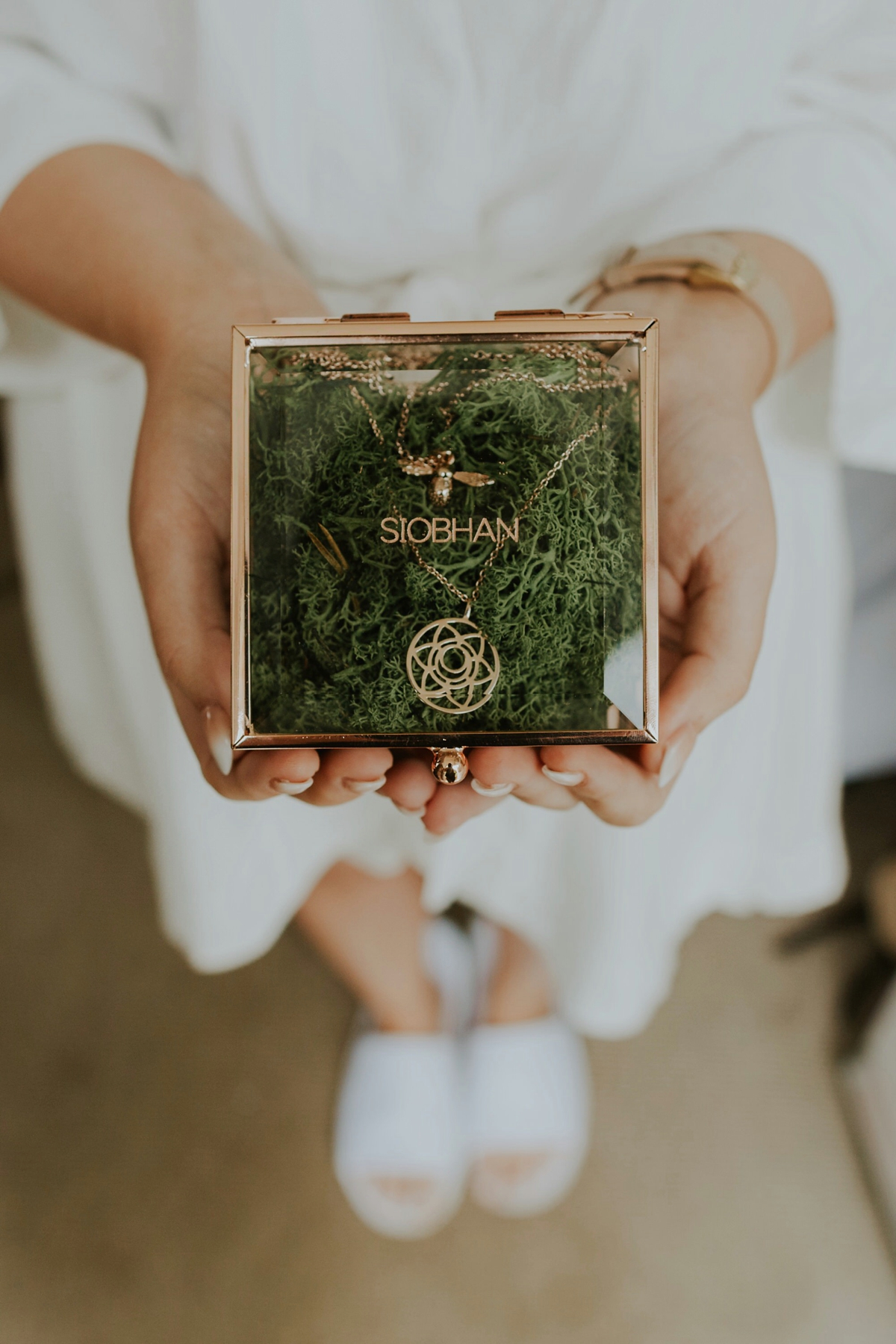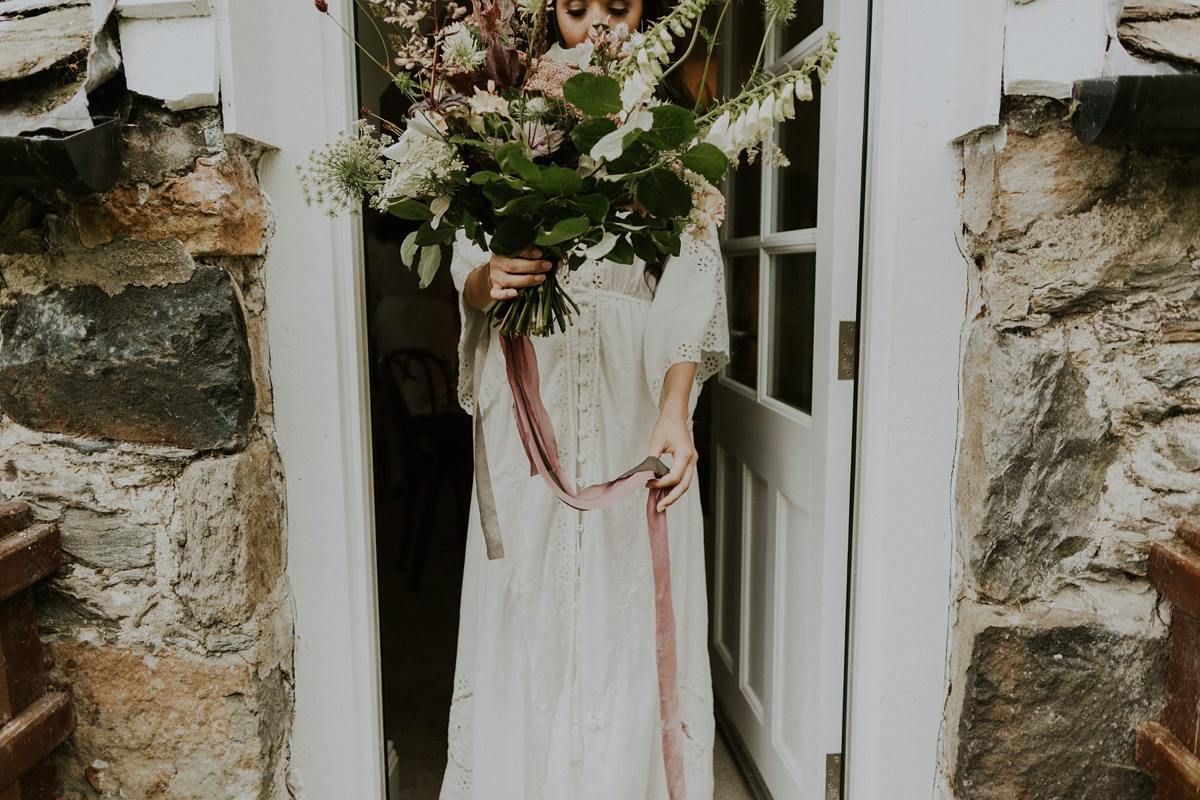 After meeting as teenagers at work, Scott and Claudia's relationship blossomed and they now share son Sebastian and daughter Matilda.
"Scott and I met when I was 17 and he was 19 when we worked together at my parent's business, behind the Wall Bar and Restaurant in Falkirk. We were together for seven years before we got engaged on Christmas Day 2014. We were engaged for two and a half years before we got married. Before we got engaged we had our son and we decided to have another baby before officially tying the knot after growing up together for ten years."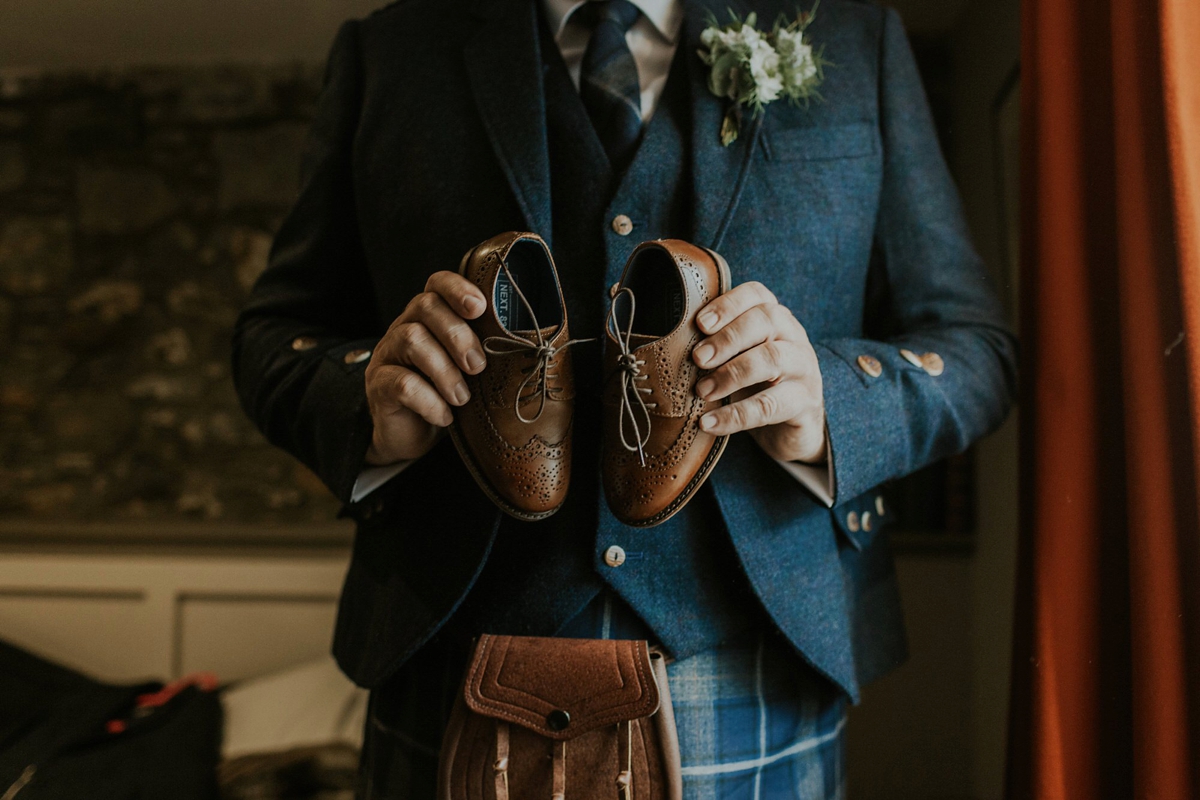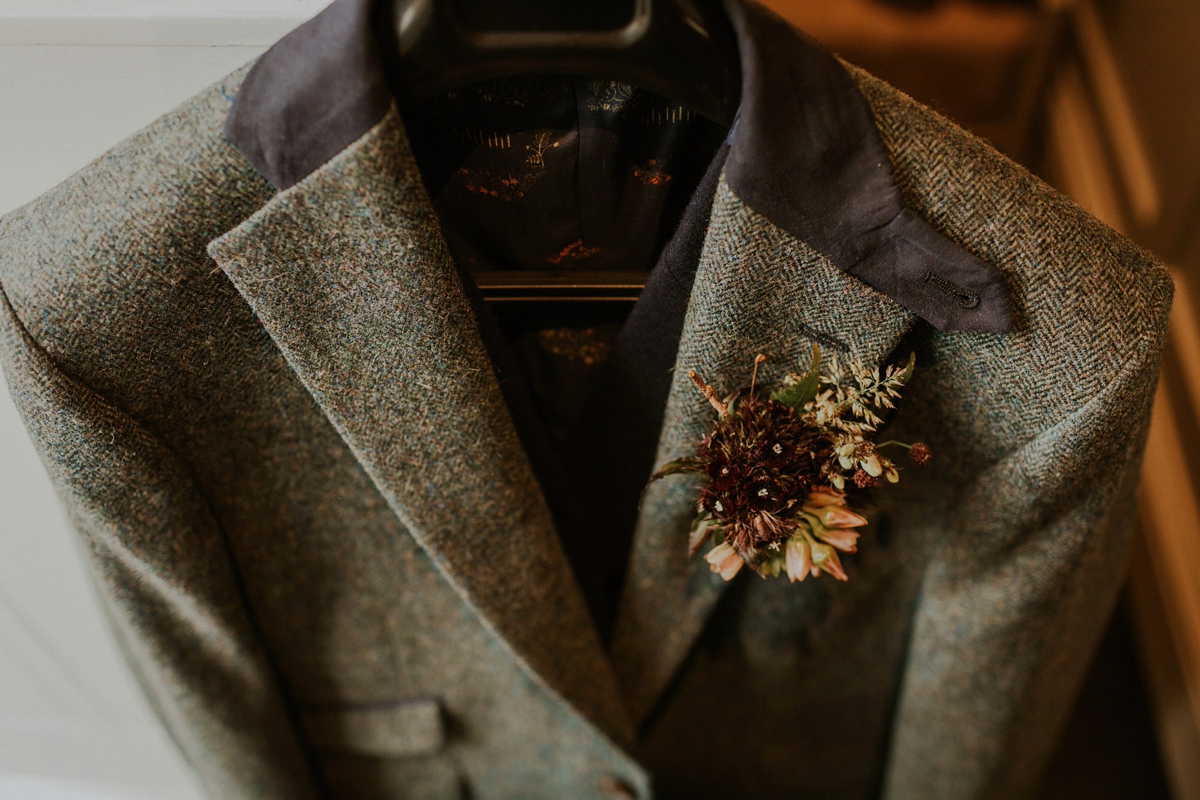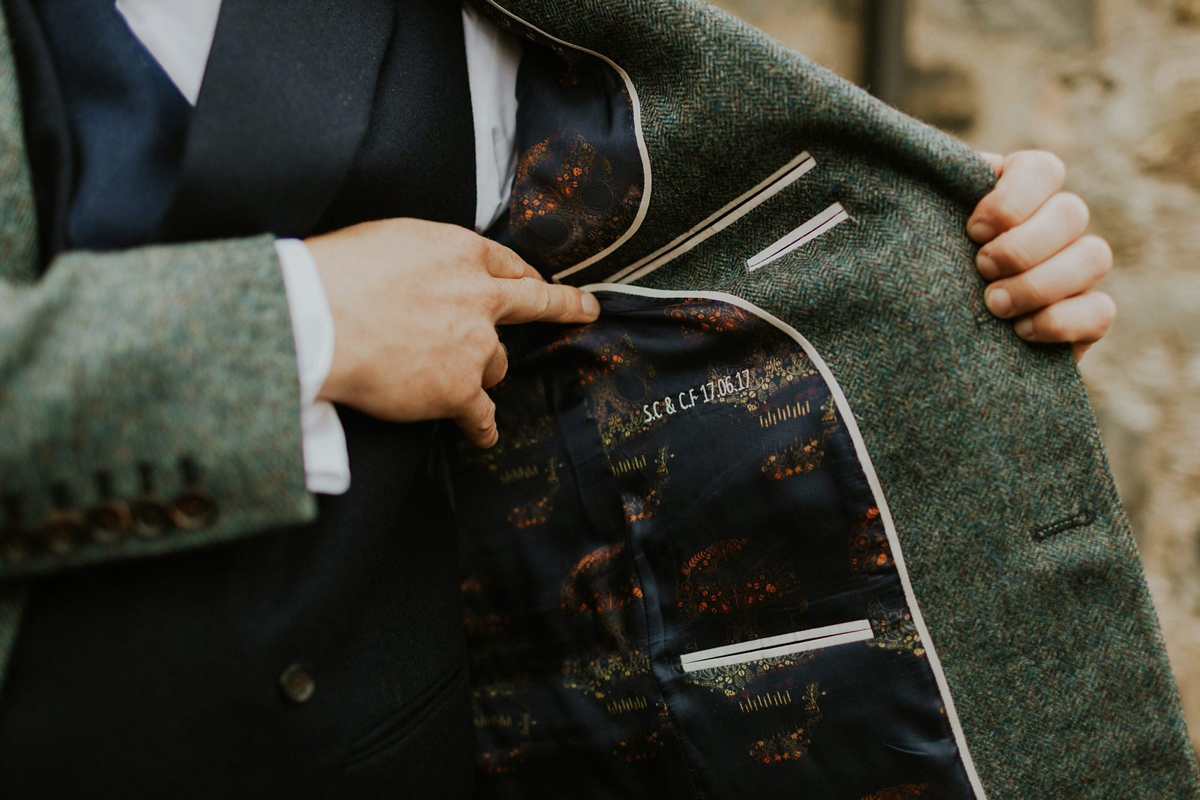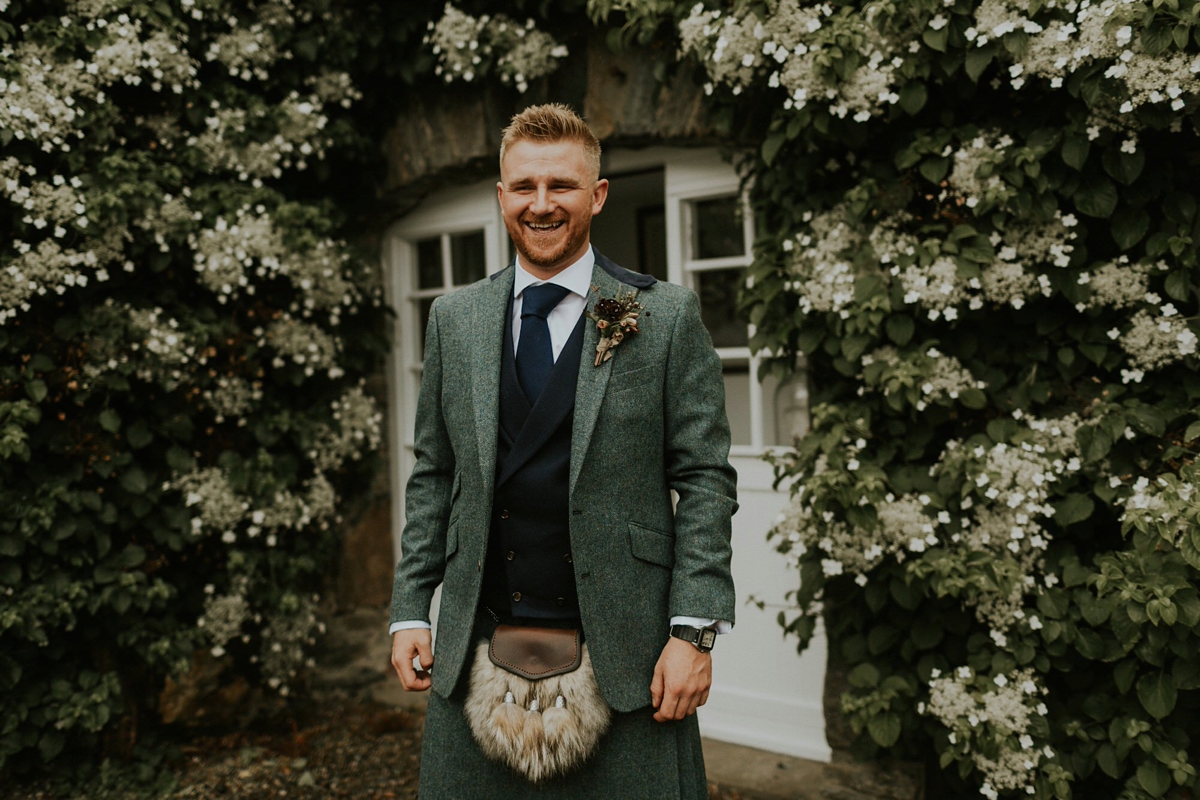 "Scott didn't actually see the venue in real life until six months after we booked it! I love the fact it's a place we can return to with our children and make many more happy memories for years to come. The scenery is just magical. What we also loved about it, and what I would encourage anyone getting married in a similar style of venue do, stay the night after your wedding too and rope in as many family and friends as you can to stay with you."
"It was just the best fun having the day after to talk about the wedding, and it meant we were in our little excited bubble for that little bit longer. The venue hosted a hangover brunch for us on the Sunday, where they served fish and chips from their chippy van!"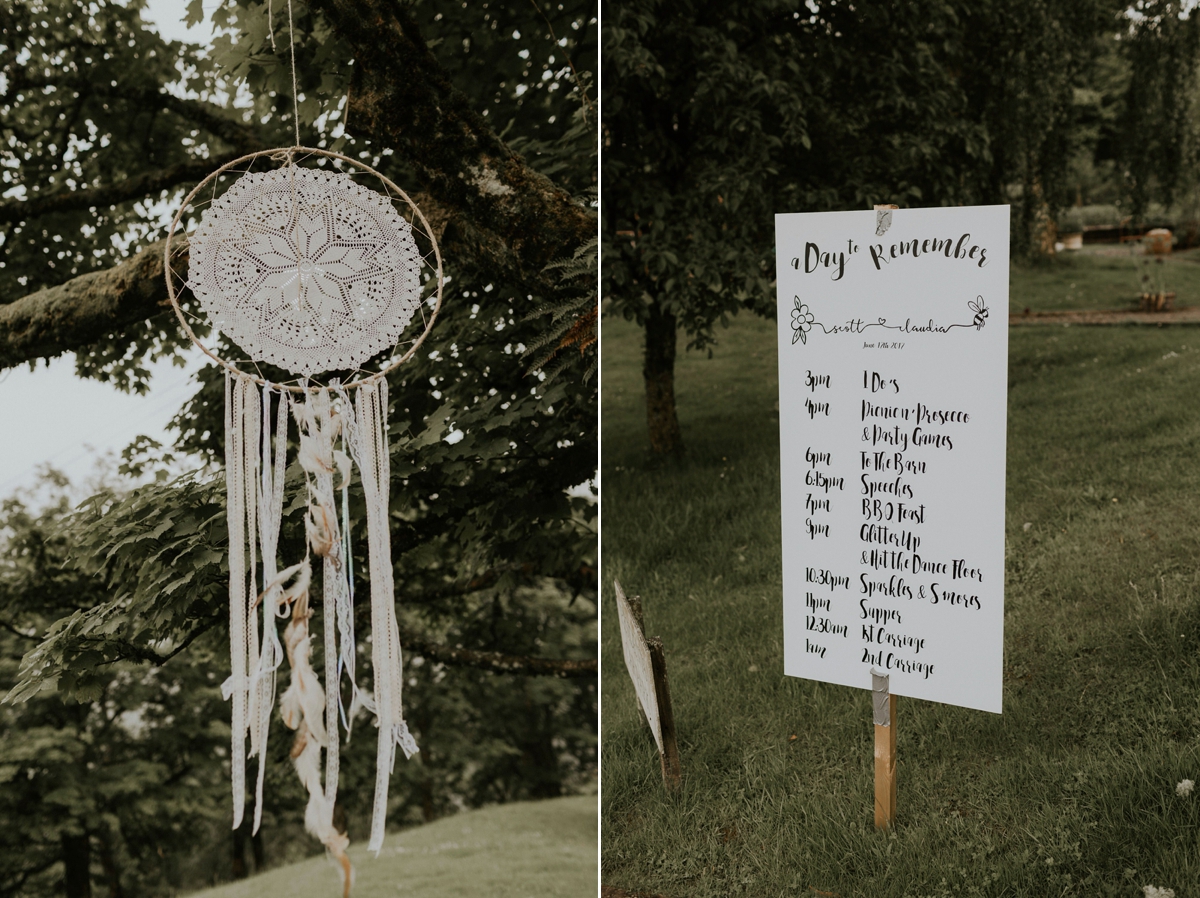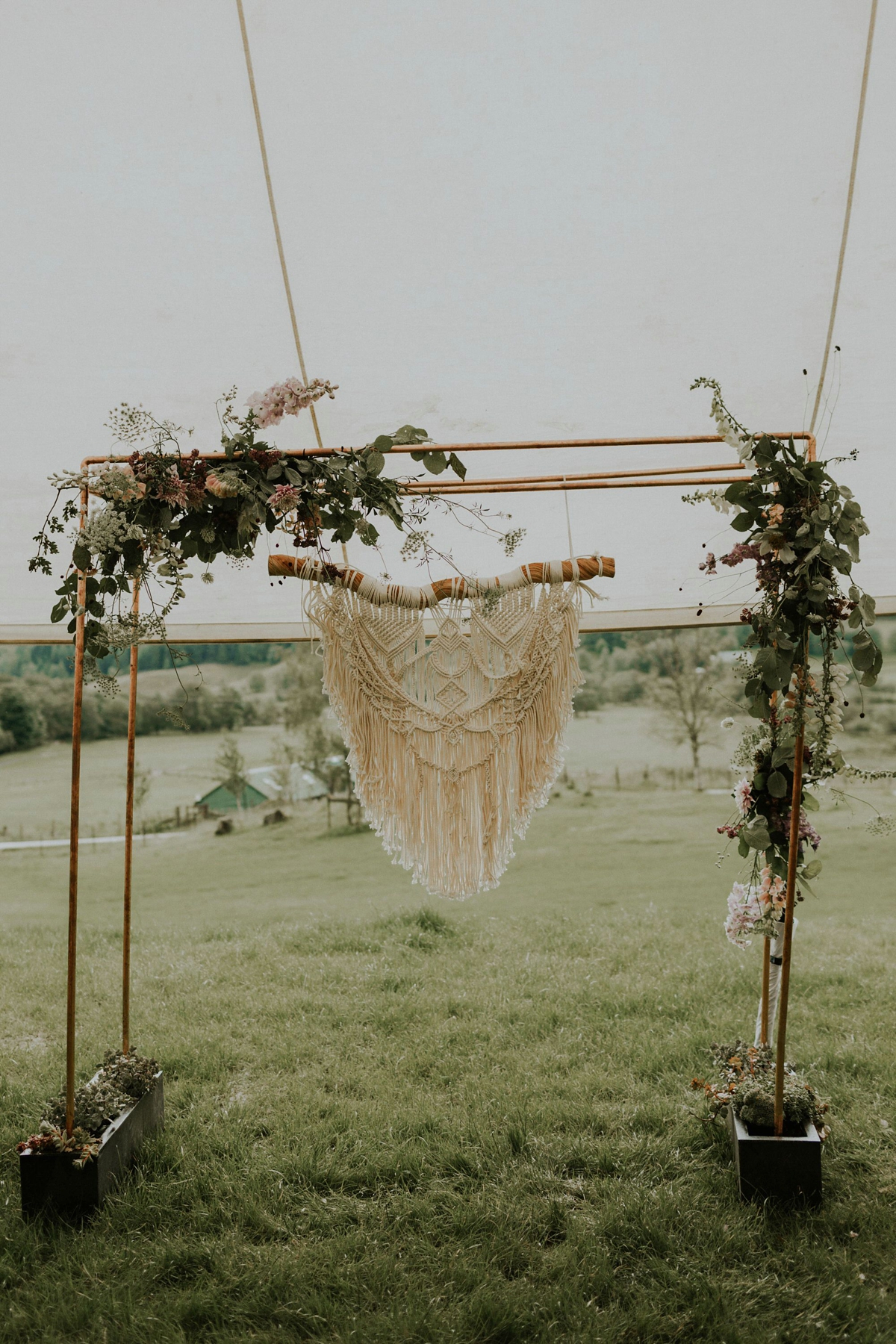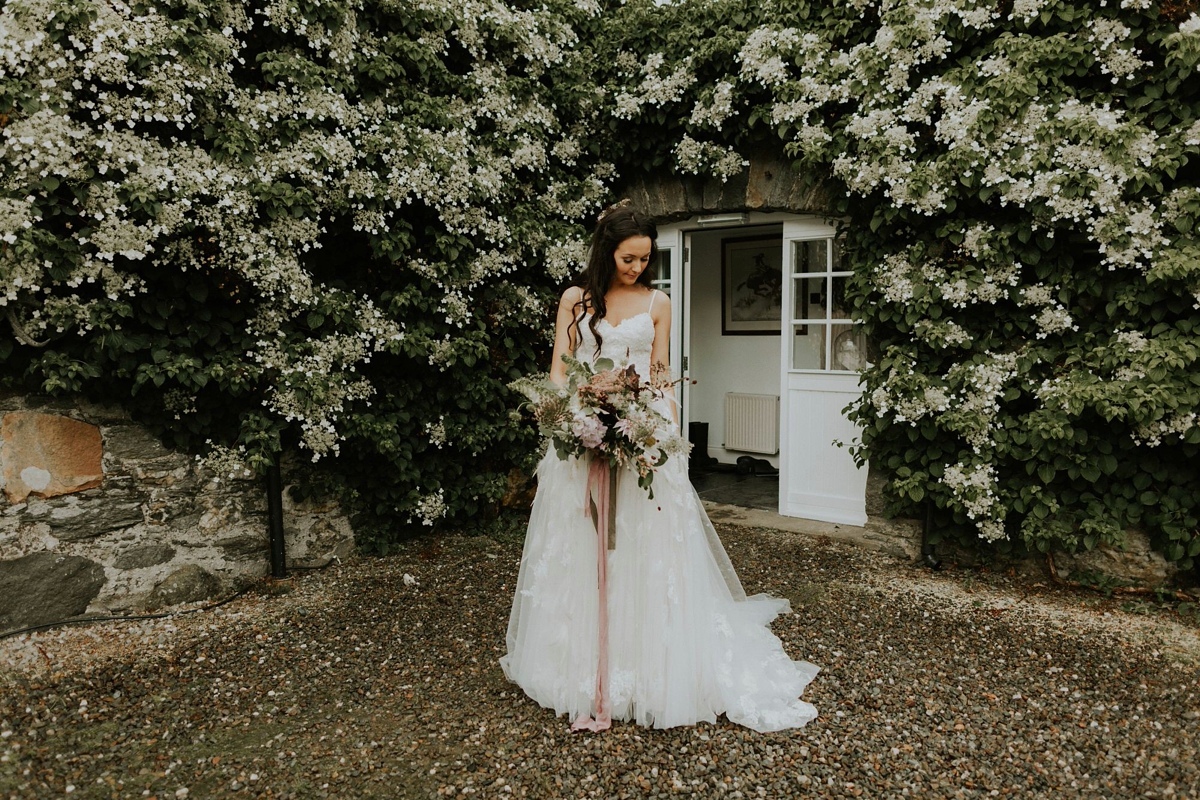 Claudia's dad walked her down the aisle in their outdoor ceremony to Marry Me by Ginny and the Tonic.
"I remember as my bridesmaids left thinking I could just break down in tears, and the butterflies in my tummy as the band began our song were going crazy! When I walked around the corner, all of our guests saw me from the tent and went crazy with their tambourines. The tears were stamped out and I was just absolutely ecstatic to finally be marrying my best friend. I will never forget that feeling. It was an unforgettable moment."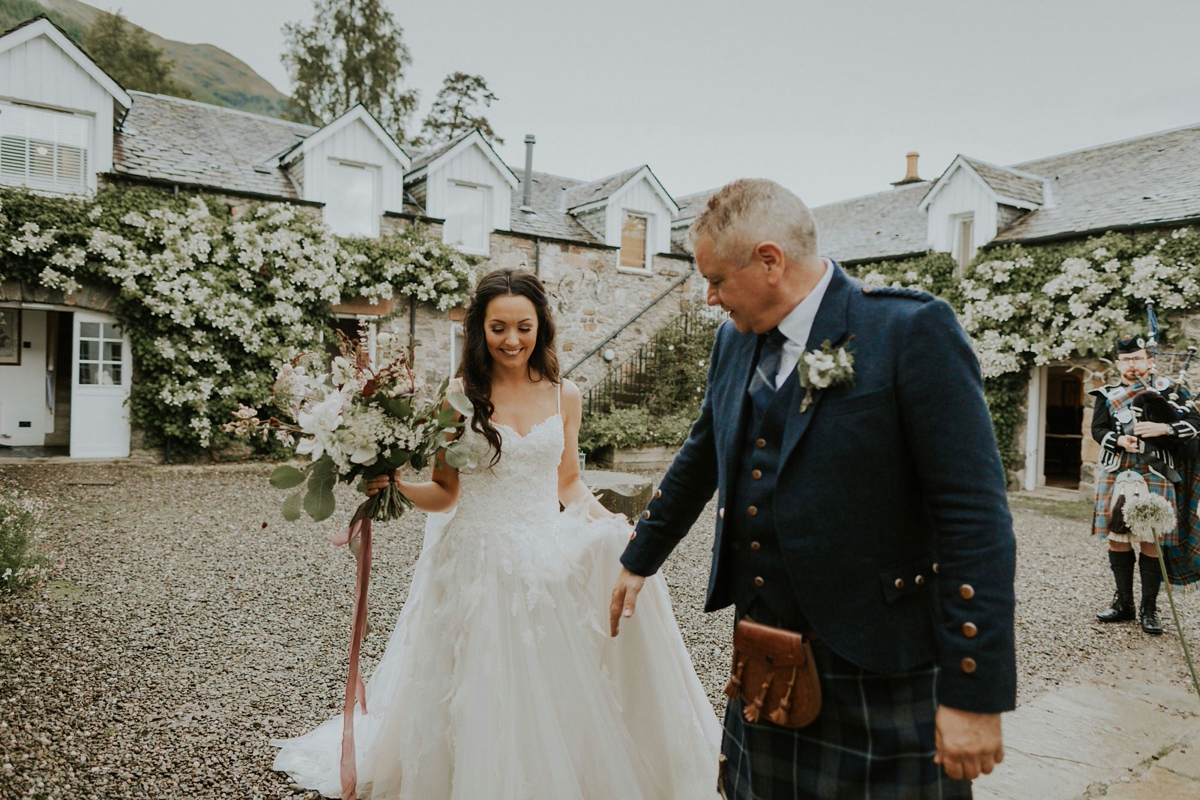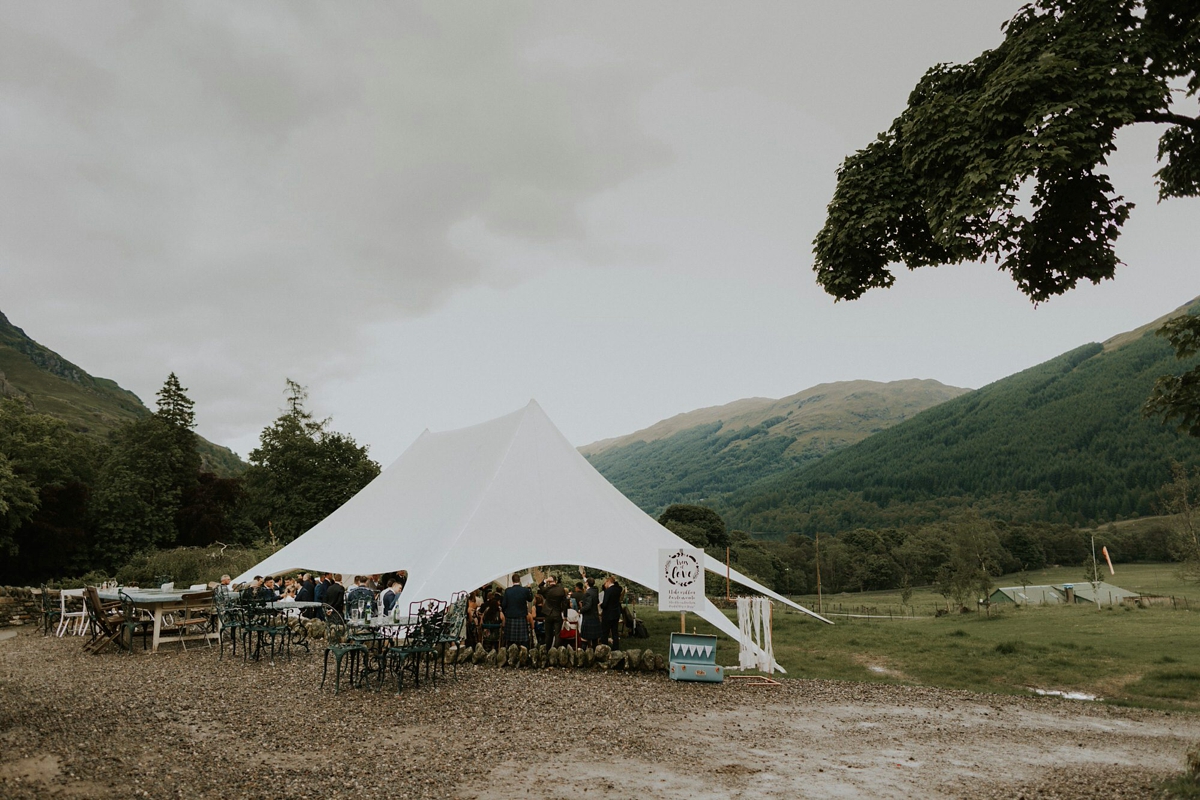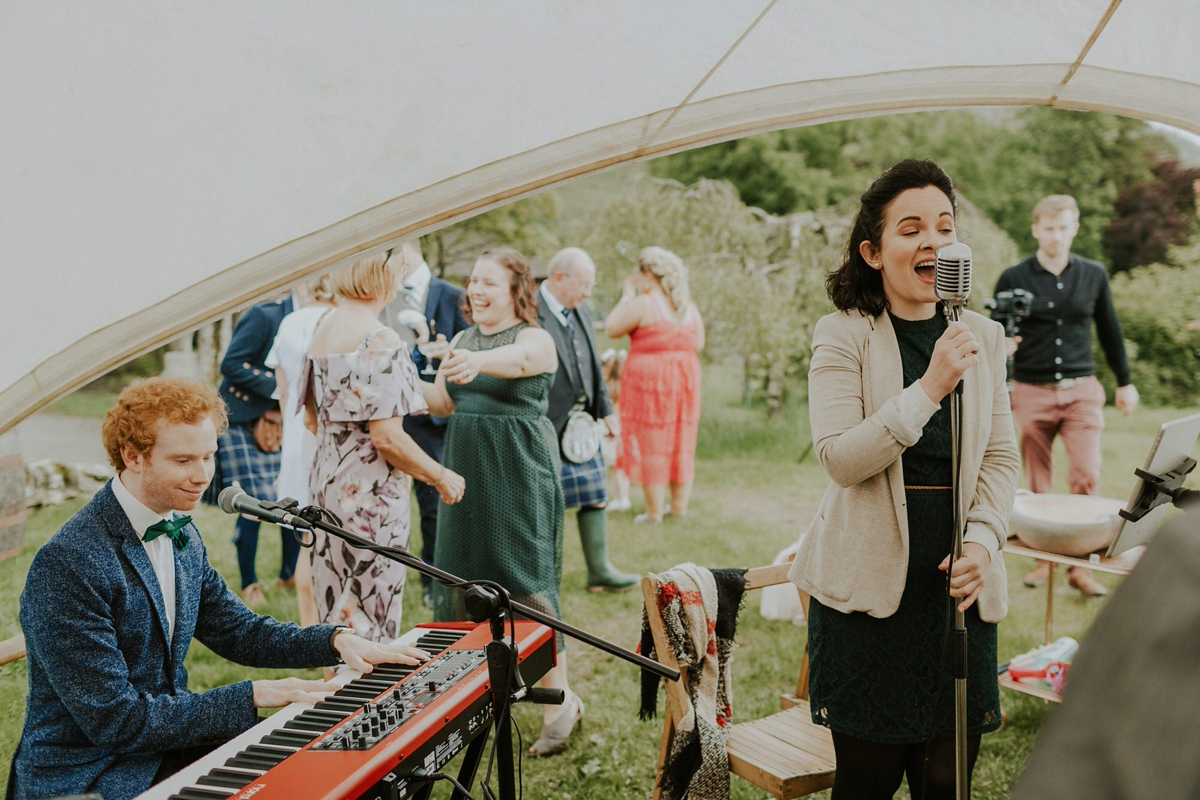 The band also led a full wedding sing-along during the ceremony to Bruno Mars, Just The Way you Are which the bride and groom tweaked the lyrics of slightly.
"It was just so much fun! Everyone was shaking their tambourines and dancing, The finally song of the ceremony was Beyond, Love on Top. We never quite managed to get back up the aisle as our guests swarmed on us and immediately the atmosphere was buzzing. Ginny's voice as we listen back to our wedding video now gives me goosebumps. They really made our ceremony so upbeat and fun!"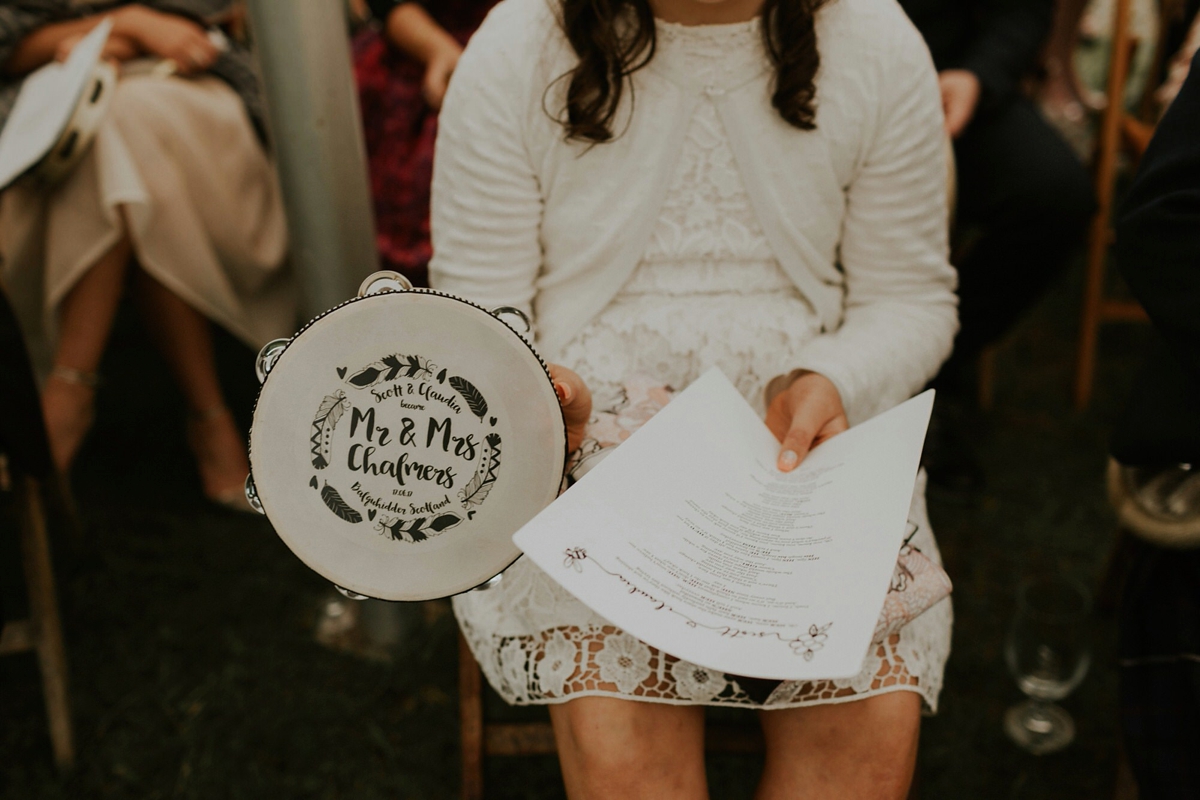 Meeting Claudia at the end of the aisle was the groom and their son, both looking handsome in tweed kilt suits custom tailored by Andrew Brookes Tailoring Edinburgh.
"The bride buys her dress to only wear once so to us it made sense for the groom to purchase his outfit rather than rent it as he'll get to wear it again (so many grooms hire their kilts!). The service Andrew provides is just amazing. The different range of styles he offers is endless and the selection of fabrics he has to choose from is huge. It was such a personal experience meeting with him and designing such an amazing for Scott. His attention to detail is fantastic. He thought of everything right down to the custom embroidery on the inside of Scott's jacket and under his collar."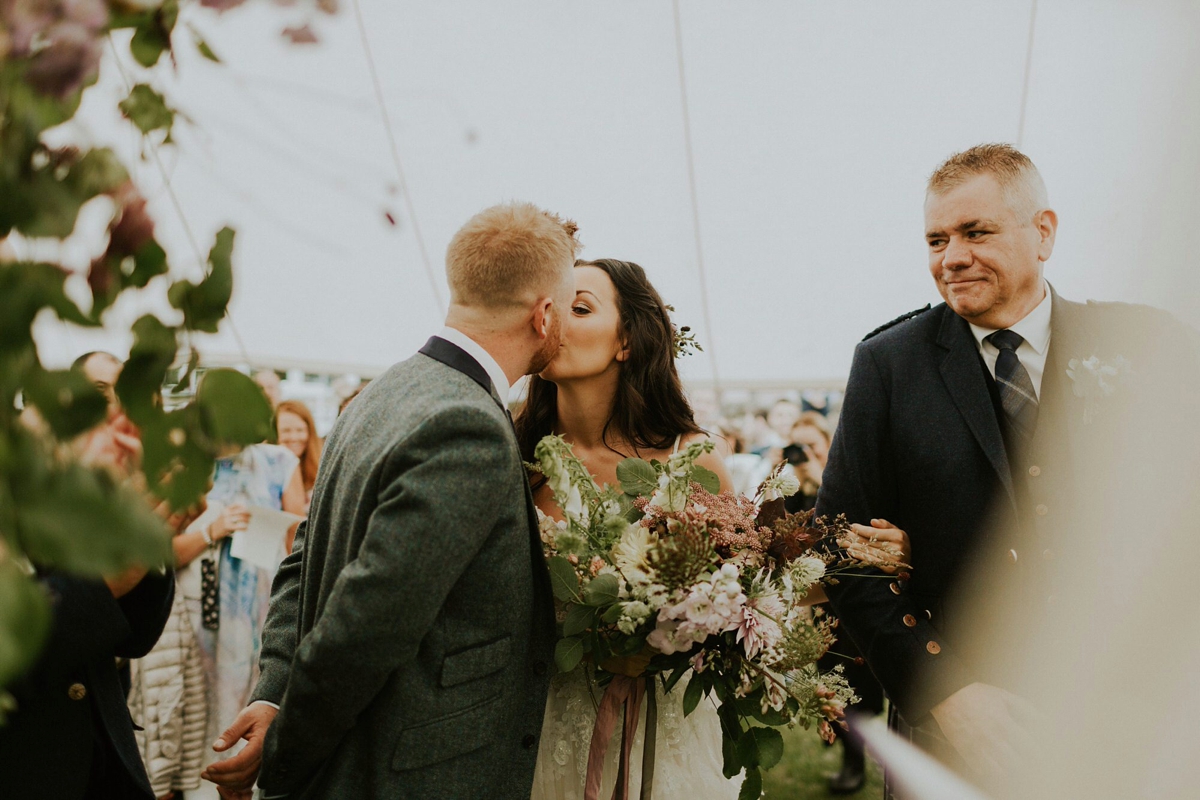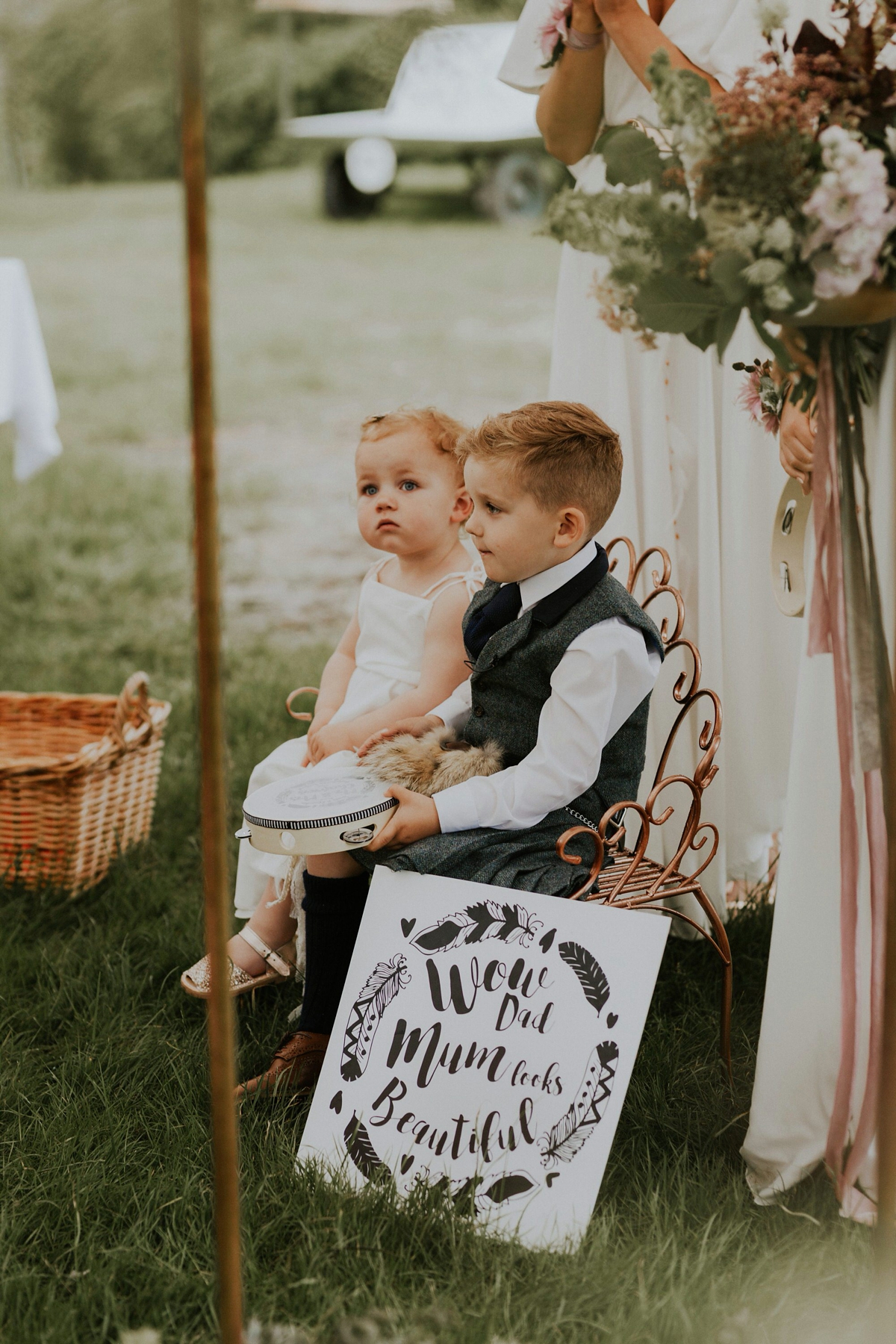 Rather than send out paper wedding invites, Claudia and Scott instead created a wedding website using Six and sent out electronic invited. They also used their website to give accommodation advice and include useful tips to help prepare their guests for an outdoor Scottish wedding.
Each of their guests were then given a custom stamped tambourine, bulk bought from eBay, to use during the ceremony as their favour and use for the sing a long during the ceremony.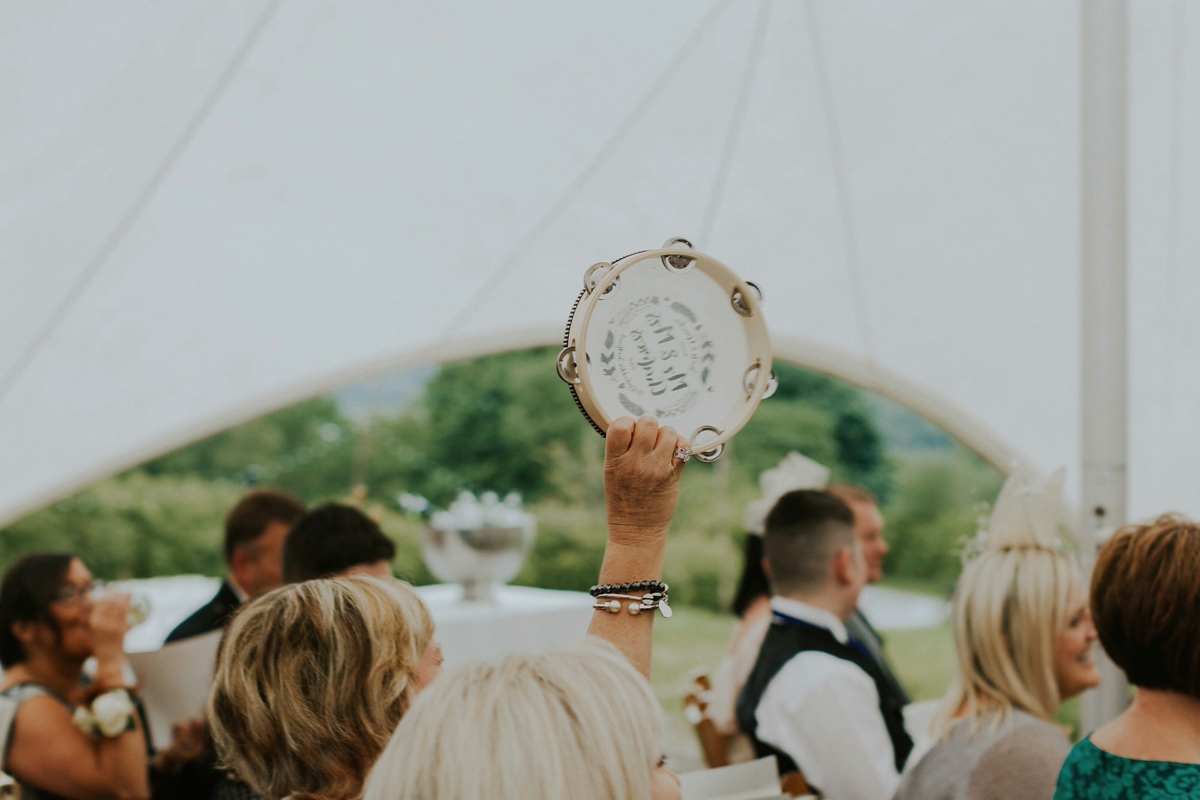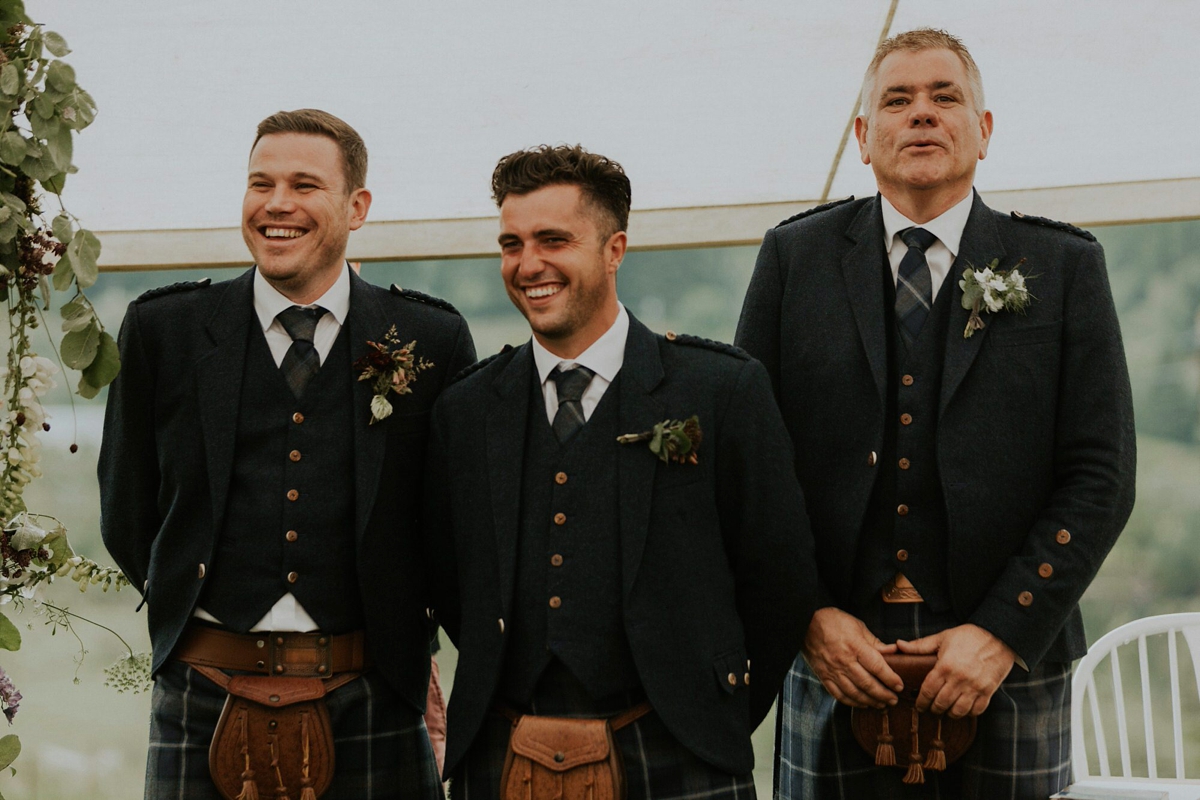 "Scott and Sebastian wore matching sporrans also custom-made through Andrew Brookes, with their names stamped on the back. Scott's shoes were Russell and Bromley and his sterling silver bumble bee cufflinks were found on Not On The High Street."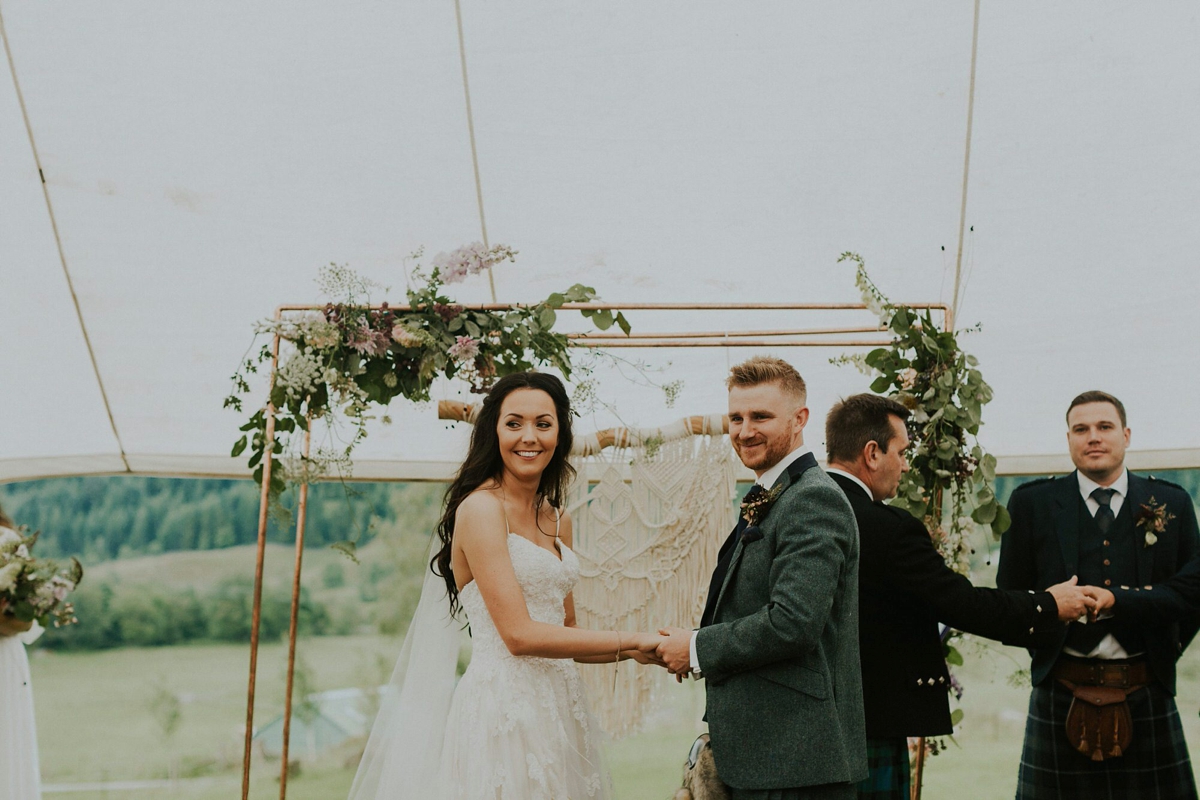 The couple chose a Humanist ceremony with Andy McKirdy as their celebrant. They took inspiration to write their own vows from vows they'd read online personalised to them. Their 4-year old son and Claudia's mum then read a children's story together called Sometimes by Emma Dodd.
"This was just such a special moment. We were so proud of Sebastian and it was lovely to involve my mum in our ceremony in such a special way. The story uses simple words but has a powerful message of unconditional love."
"Andy had originally provided us with a script for our vows but they didn't feel quite 'us'. We wanted our ceremony to be so relaxed and lots of fun and the original script was very formal. I scoured the Internet for days for alternative ideas. Our ceremony also included a ring warming, a hand fasting ceremony and a Quaich toast for our first act together as husband and wife. As we signed the register the staff handed out bubbles so we could all toast together to us signing on the dotted line, and get the party started straight away!"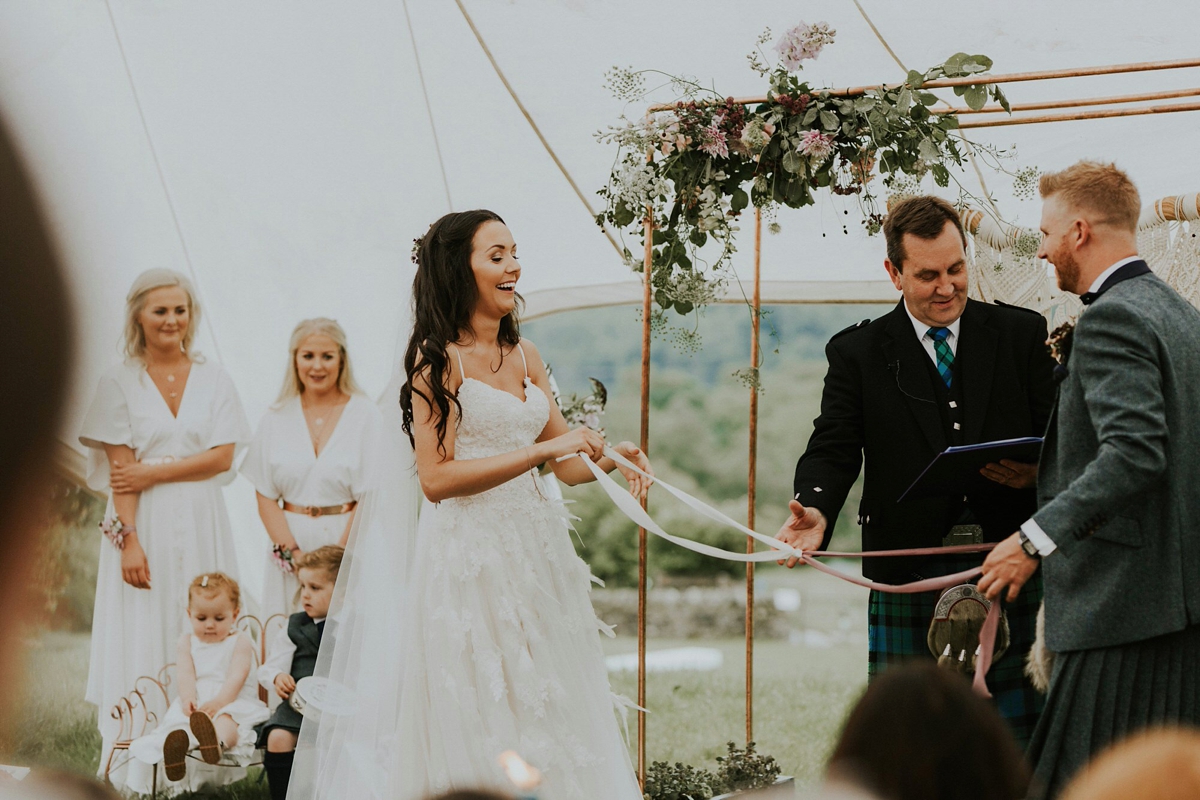 "The beautiful wooden Quaich was and carved by the lovely Catherine from the Object Company – her stuff is amazing!"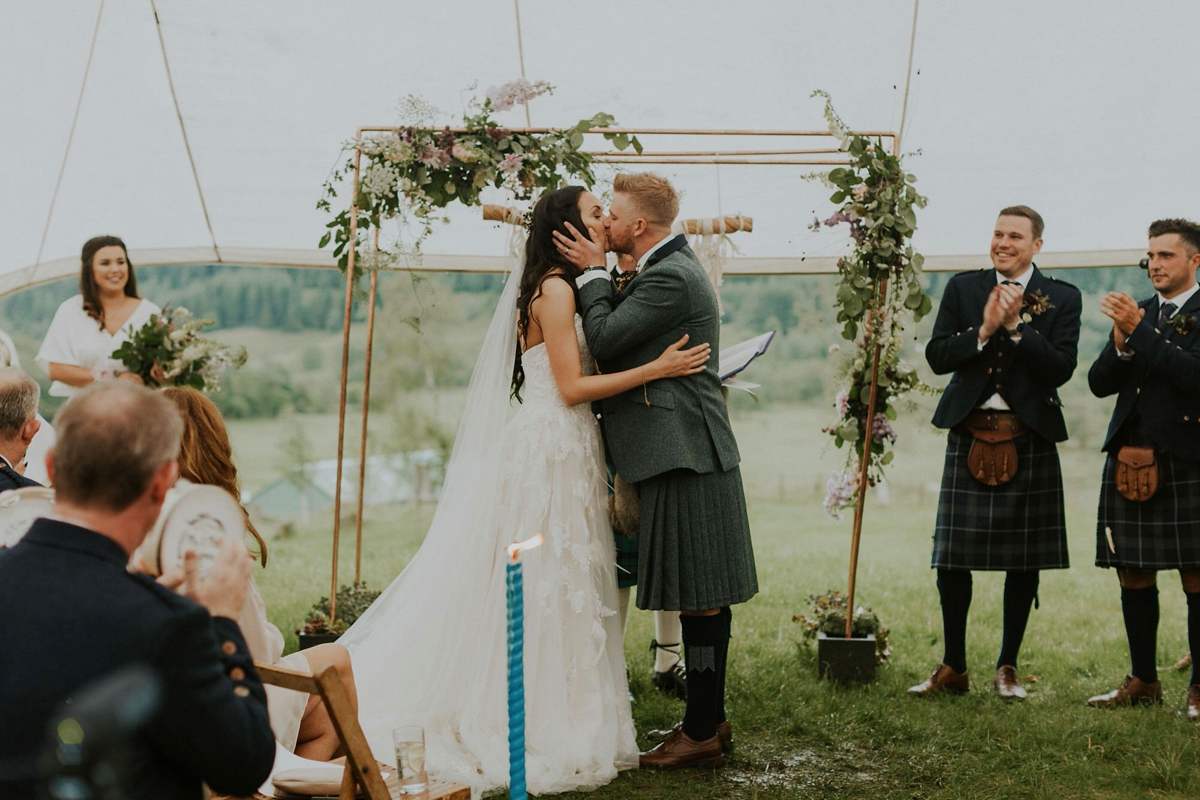 The couple then swapped rings made by Ian Gallagher presented in a custom made terrarium from Haloney Rakia on Etsy.
"The guys at Ian Gallagher created my engagement ring so it felt natural to go with them for our wedding rings too. I had an image of a ring I loved from Pinterest that I couldn't find anywhere in real life and they replicated it for me."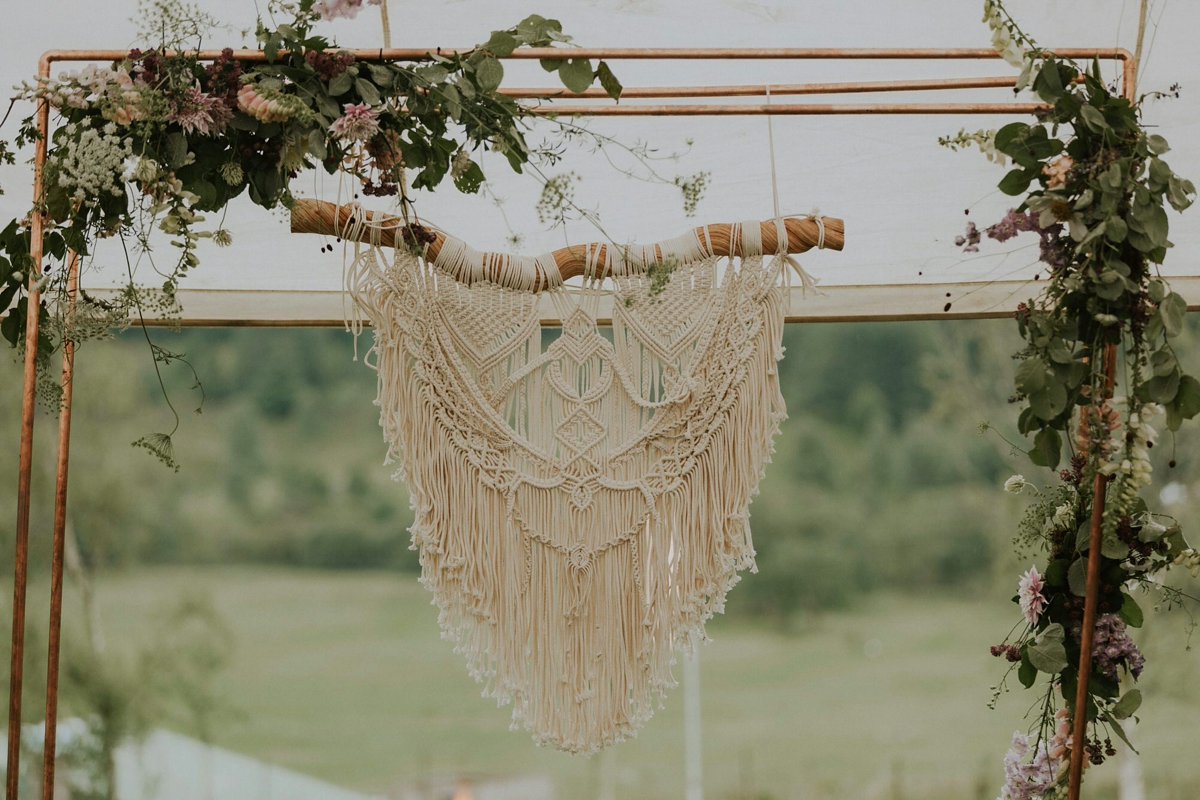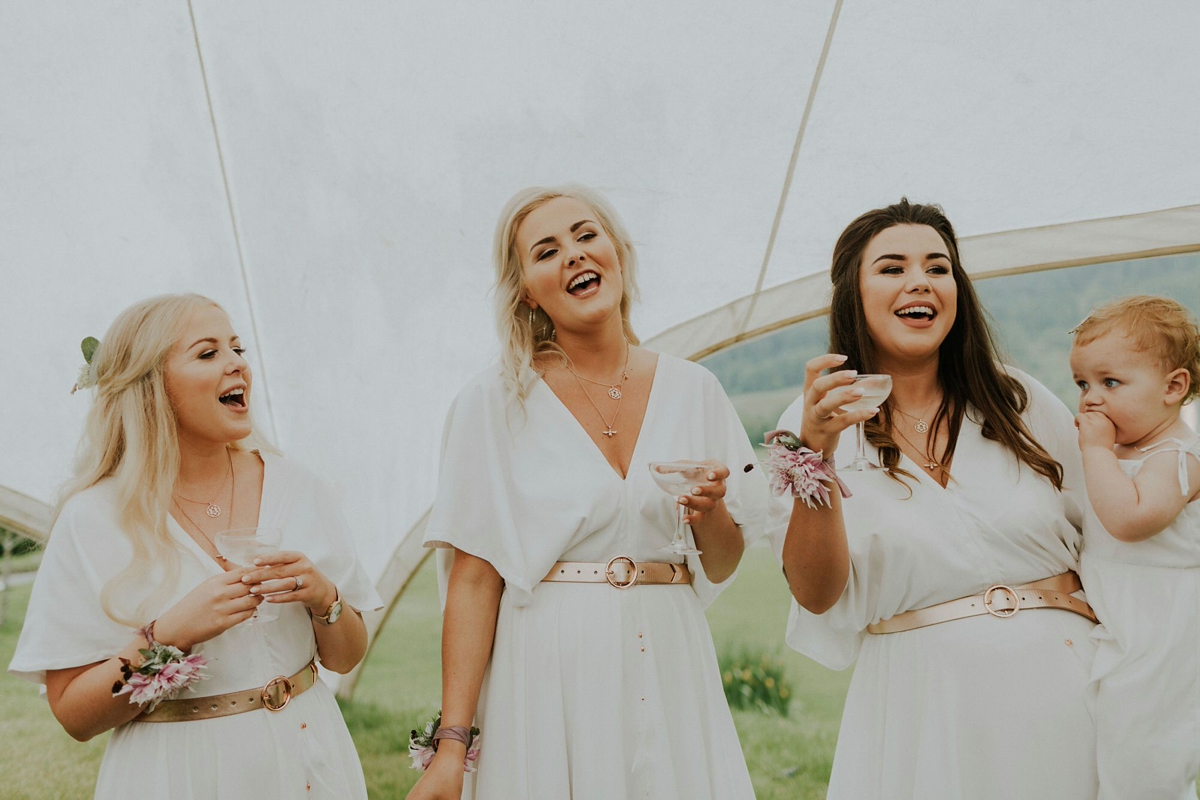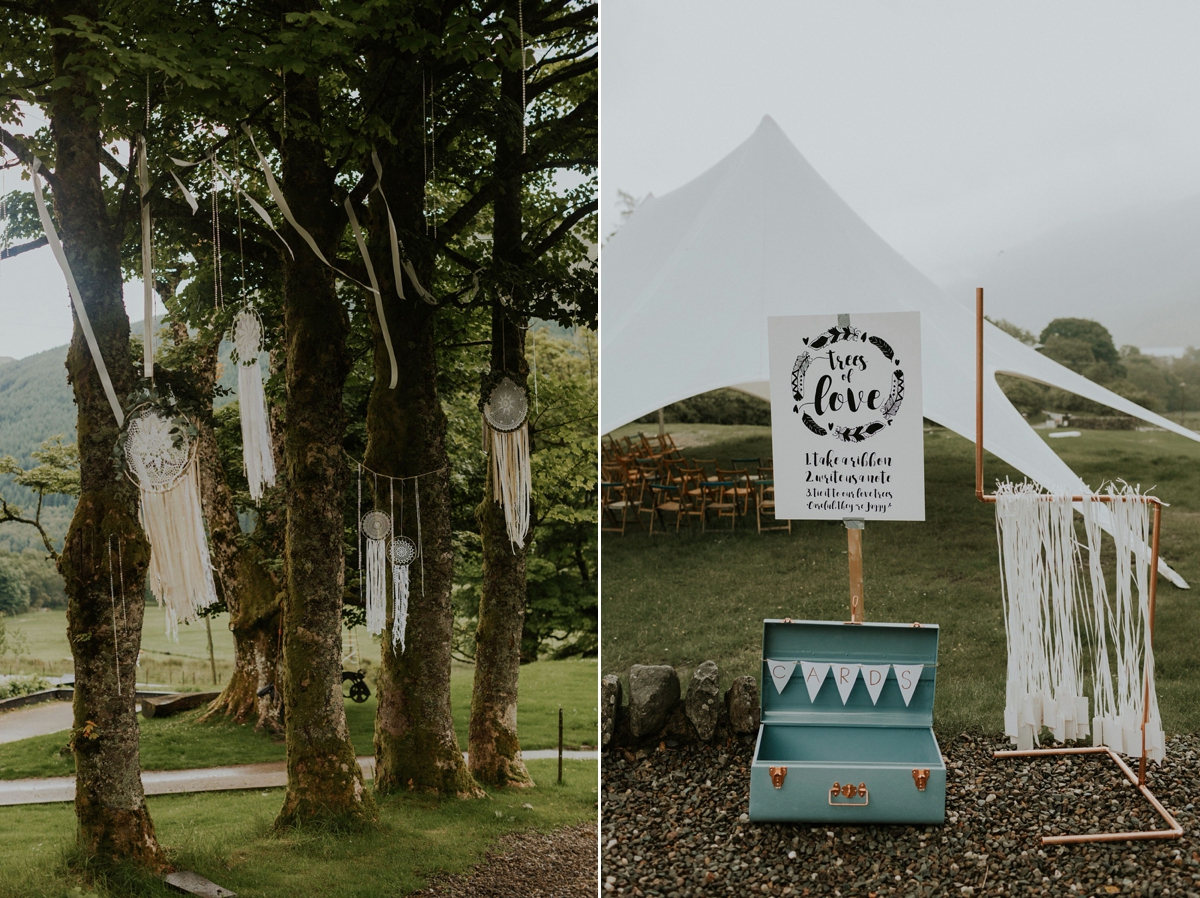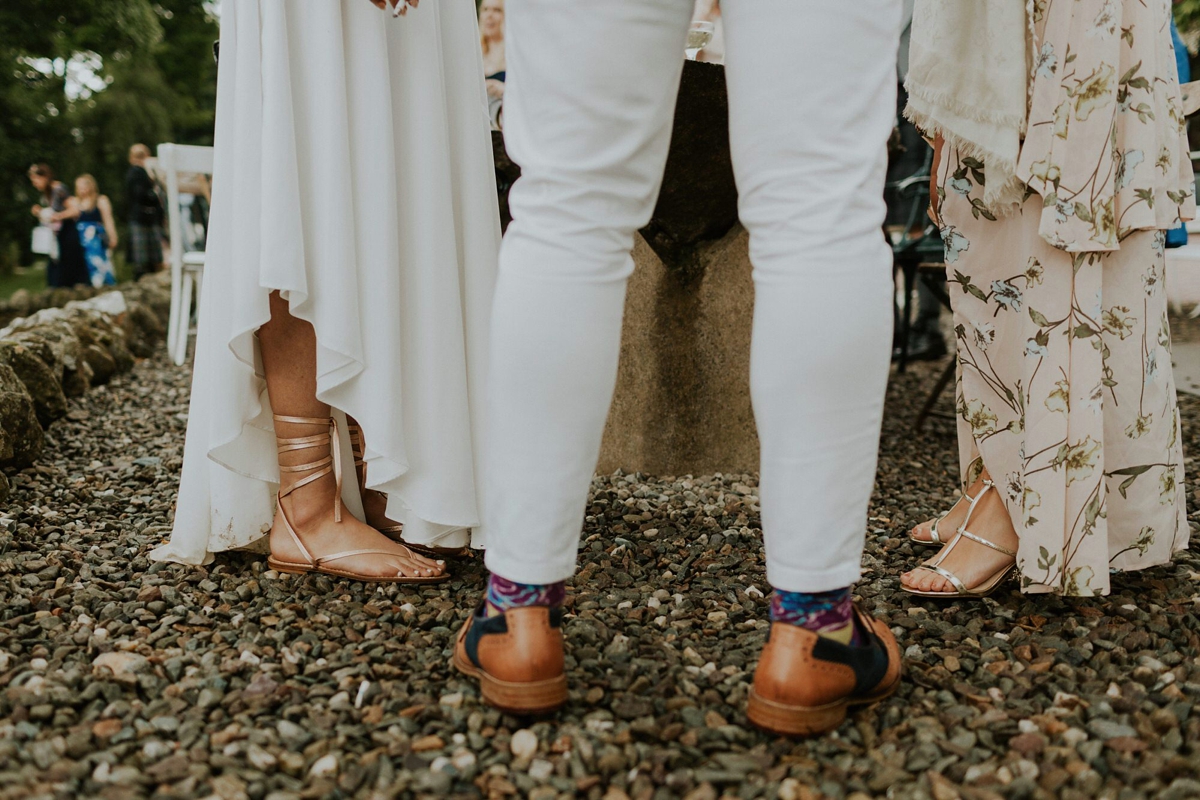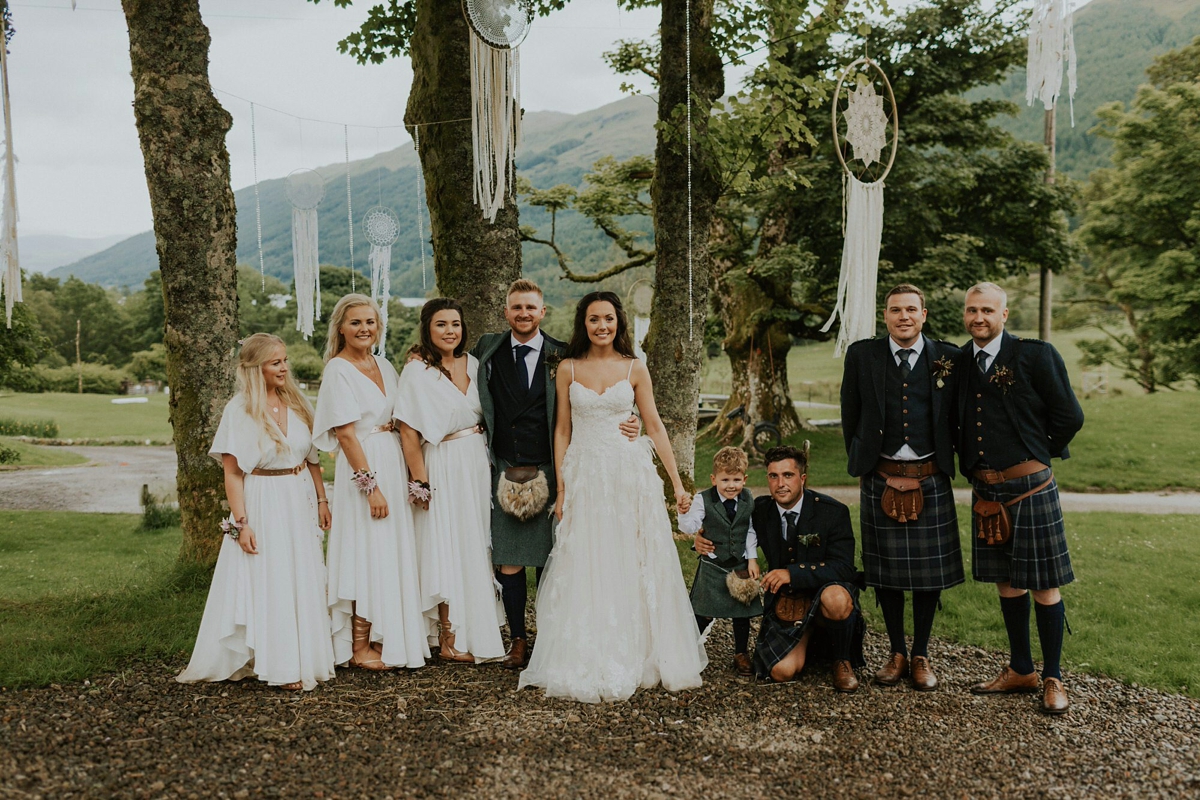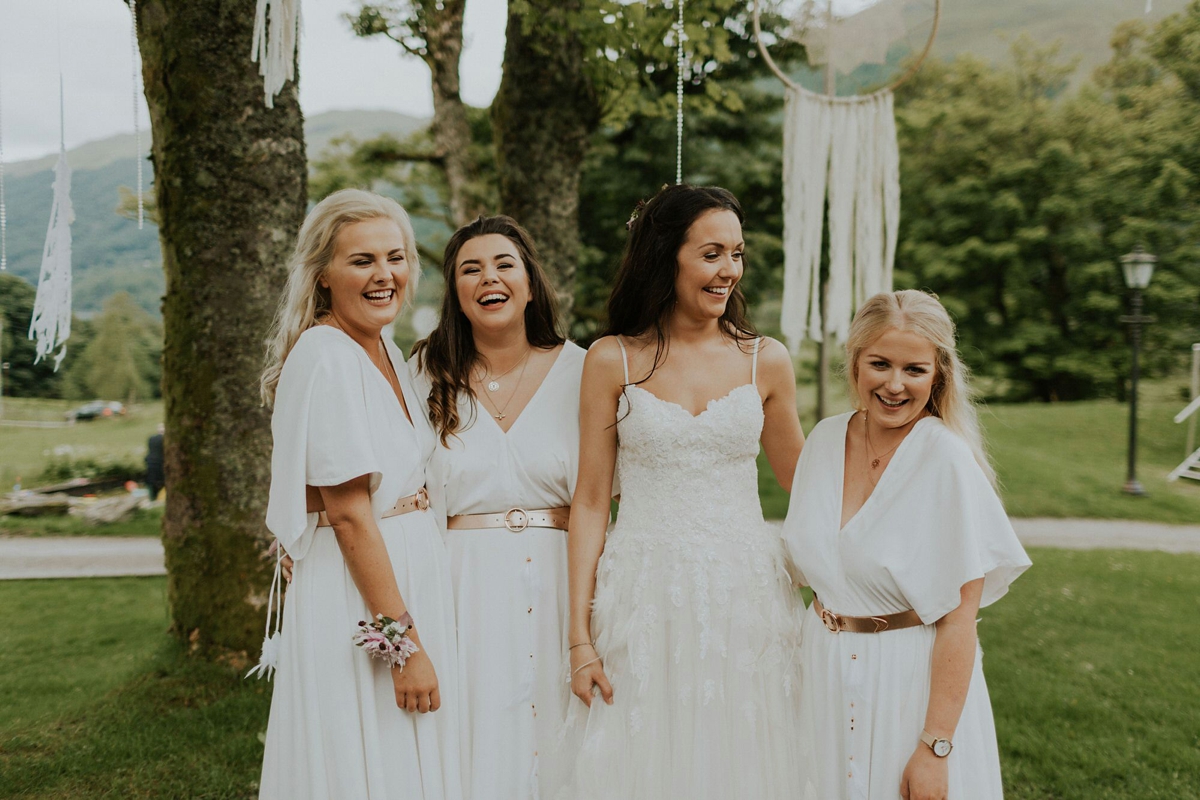 "I think my favourite part of the day was the champagne picnic. We weren't in any rush and it was important that we made those precious first moments alone together as husband and wife ones to remember. We had a special bottle of champagne that we'd been saving for this point in the day. We popped the bottle and sat on our blanket at the side of the loch together and just breather everything in, appreciating such a special moment in time. It was amazing."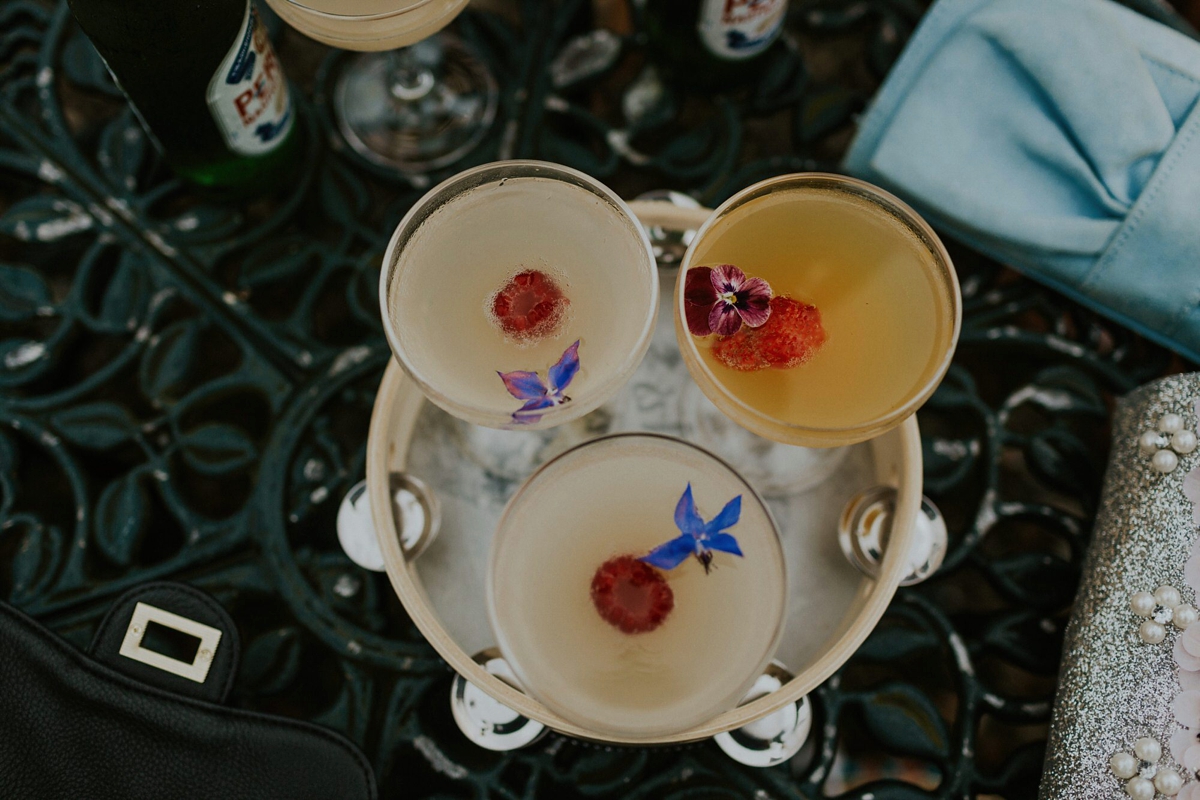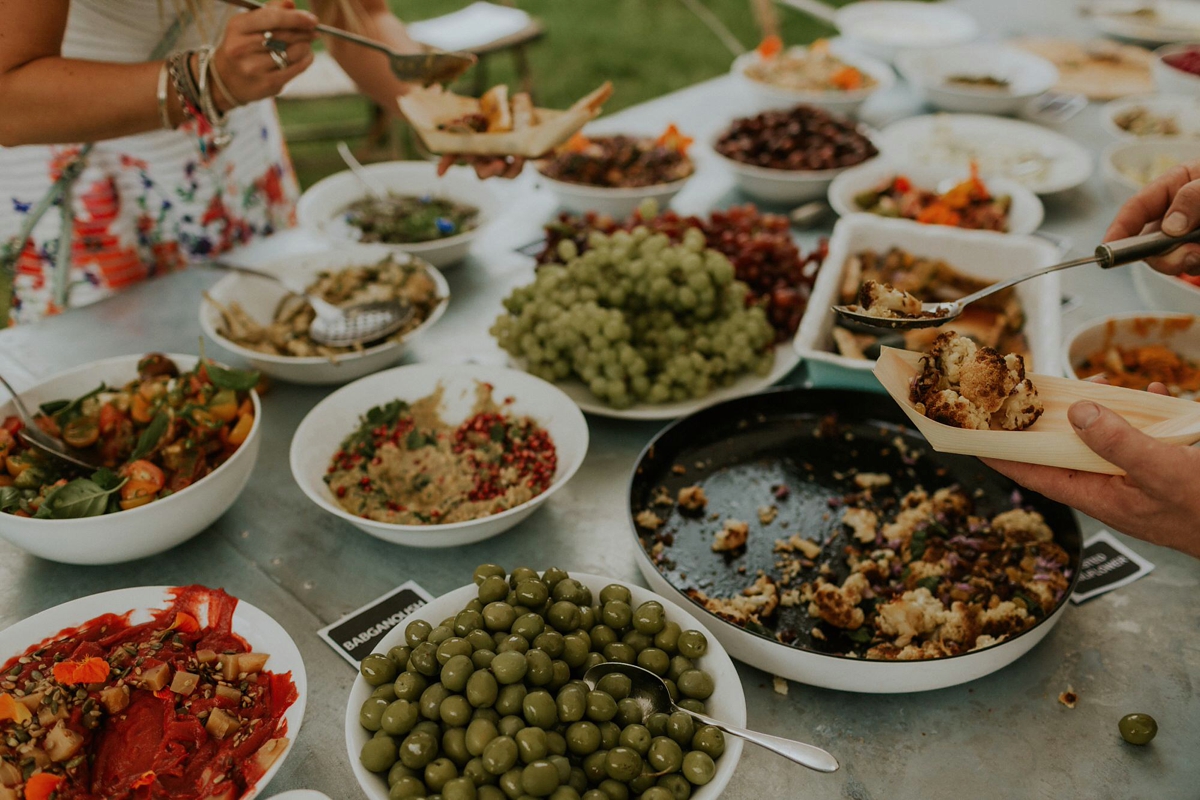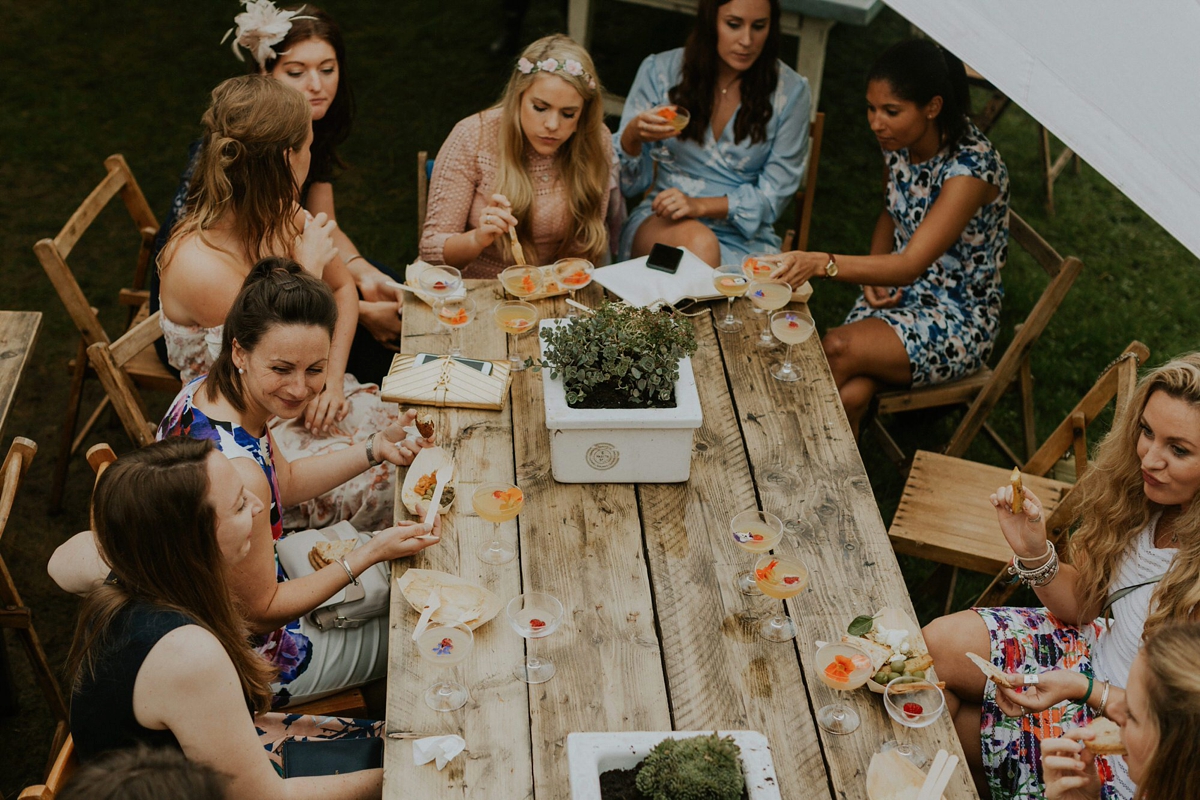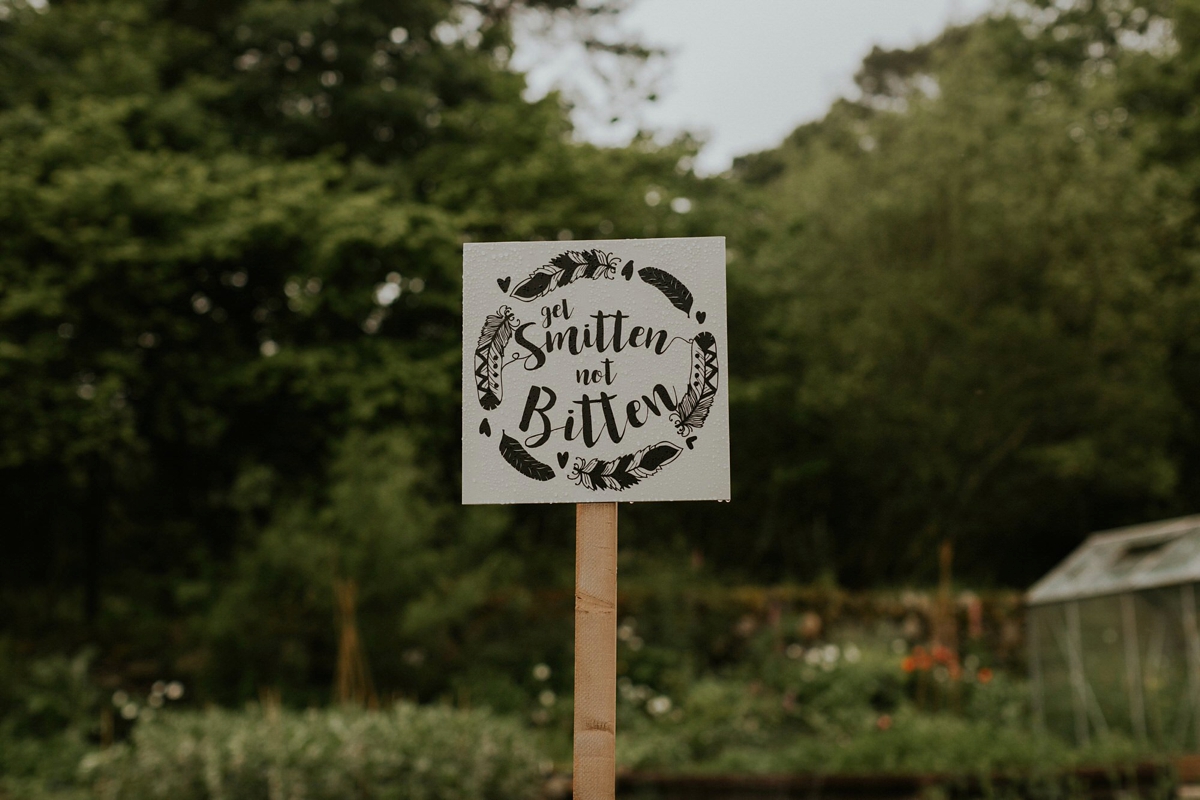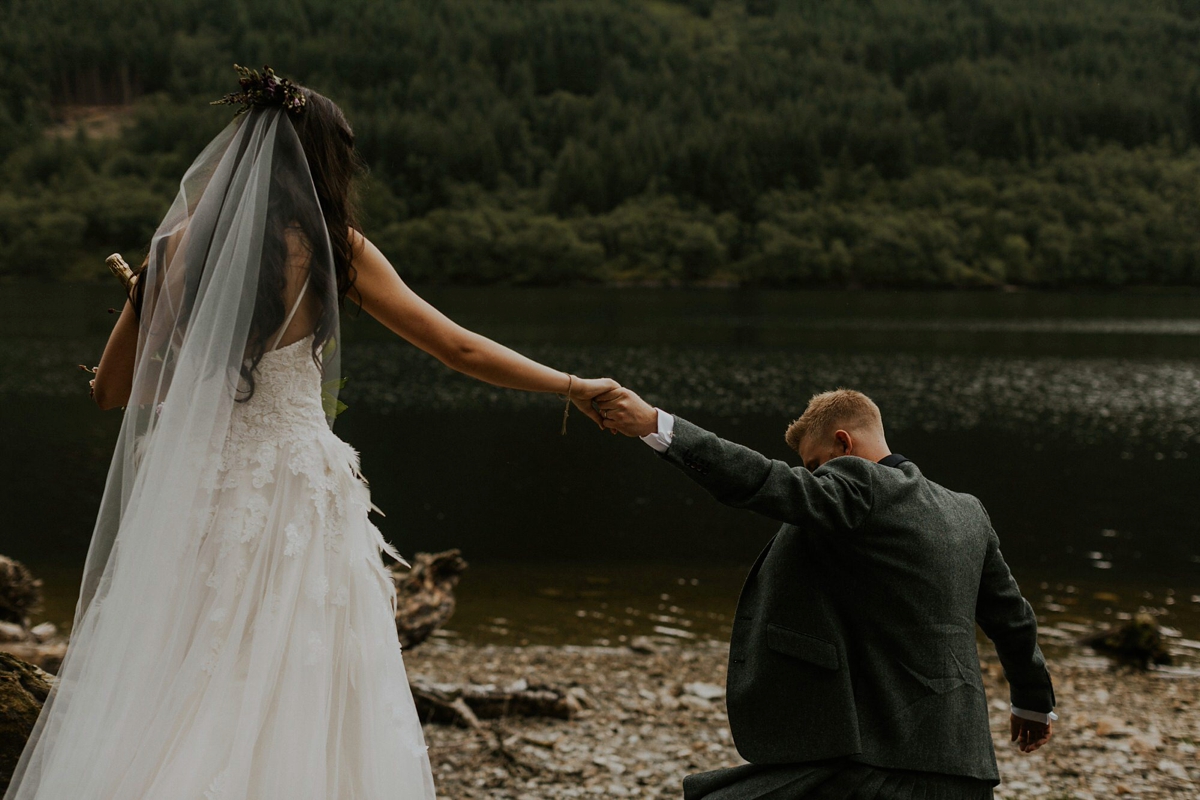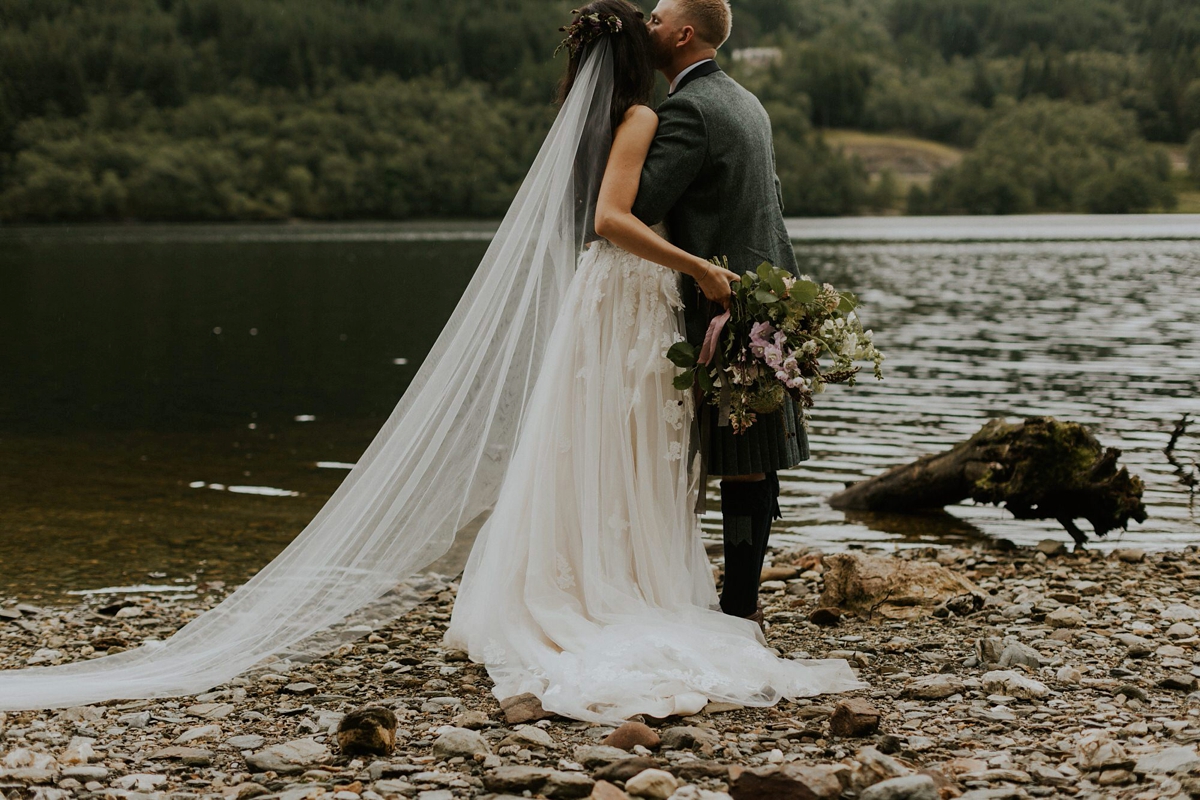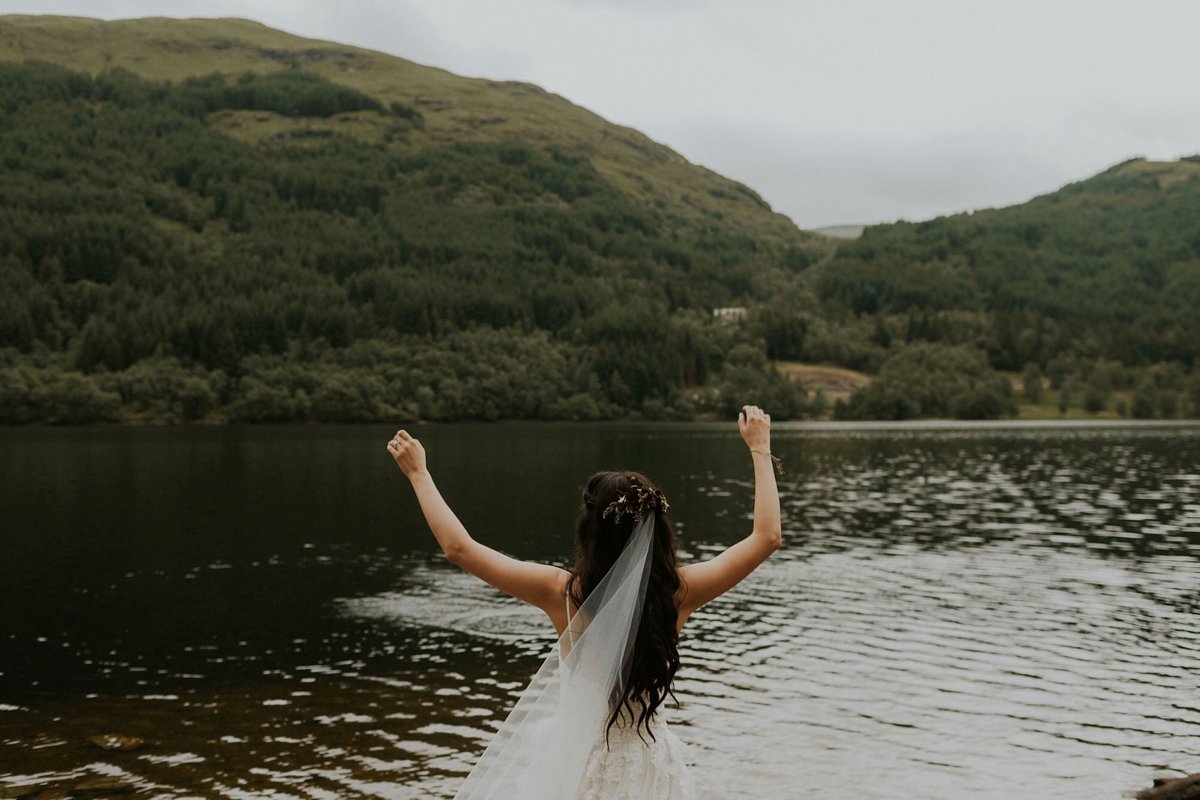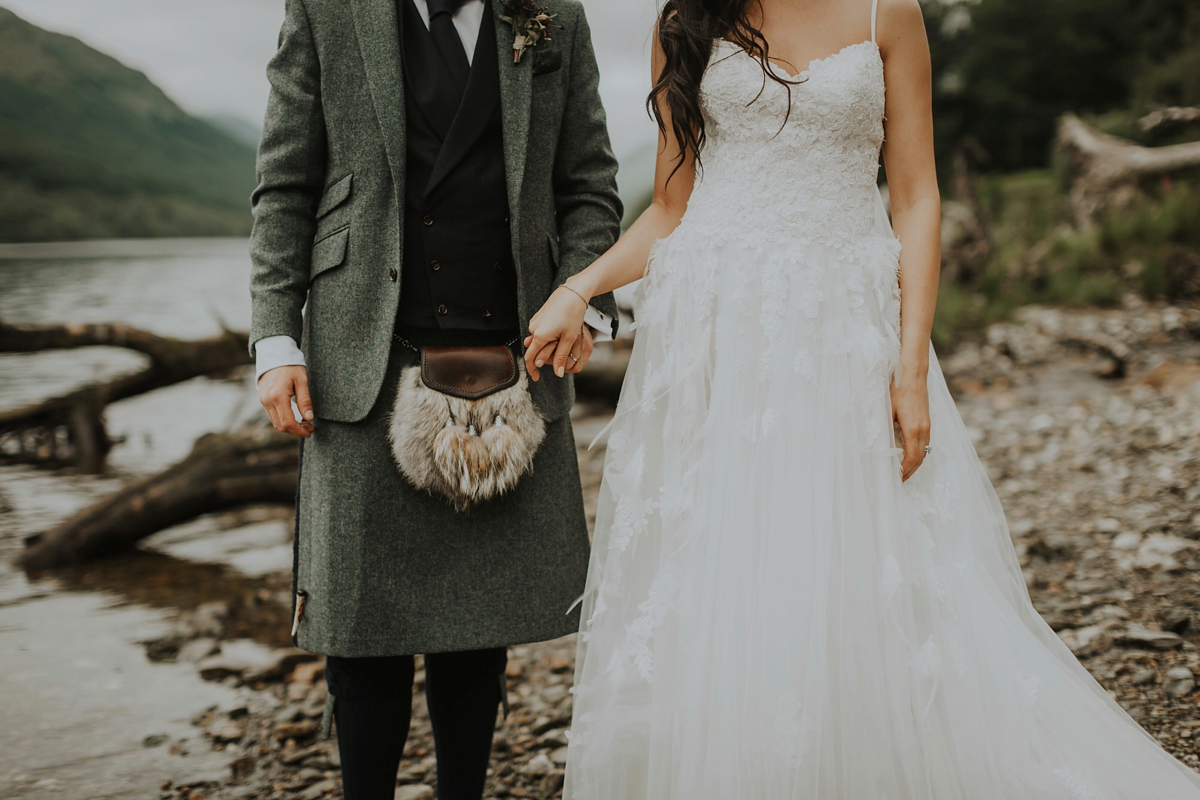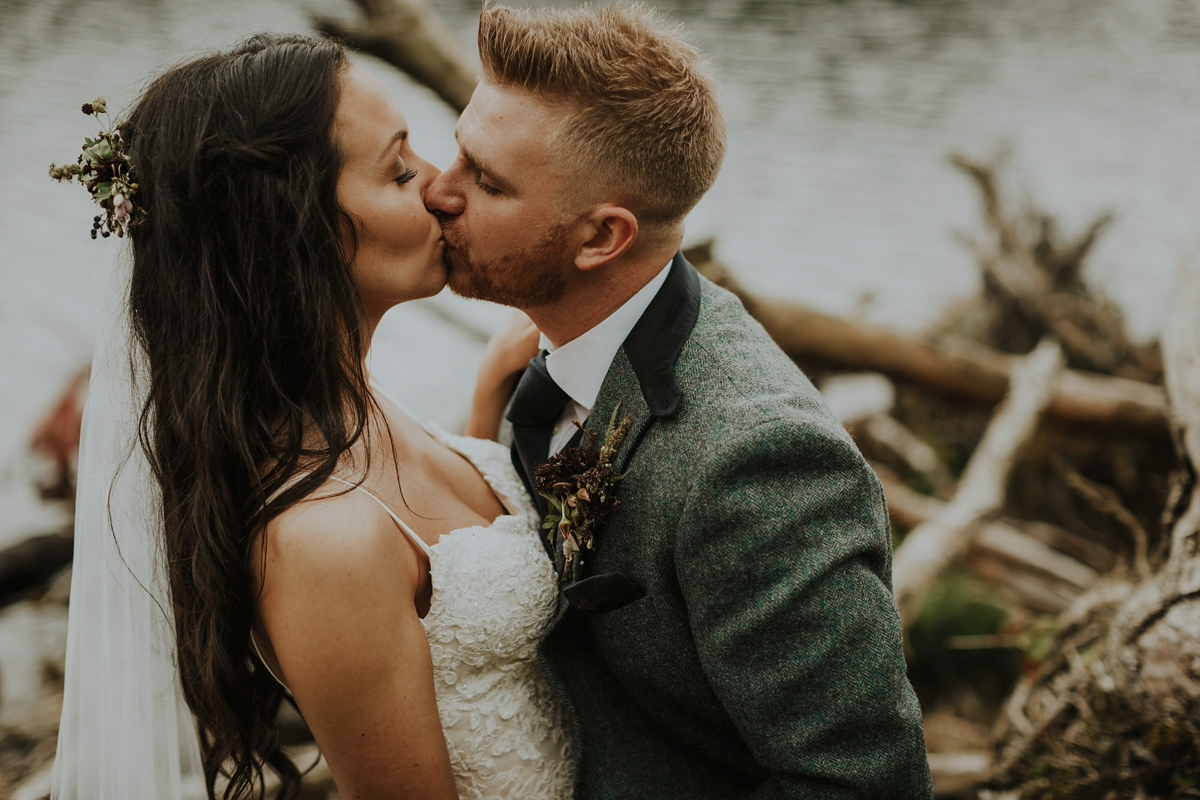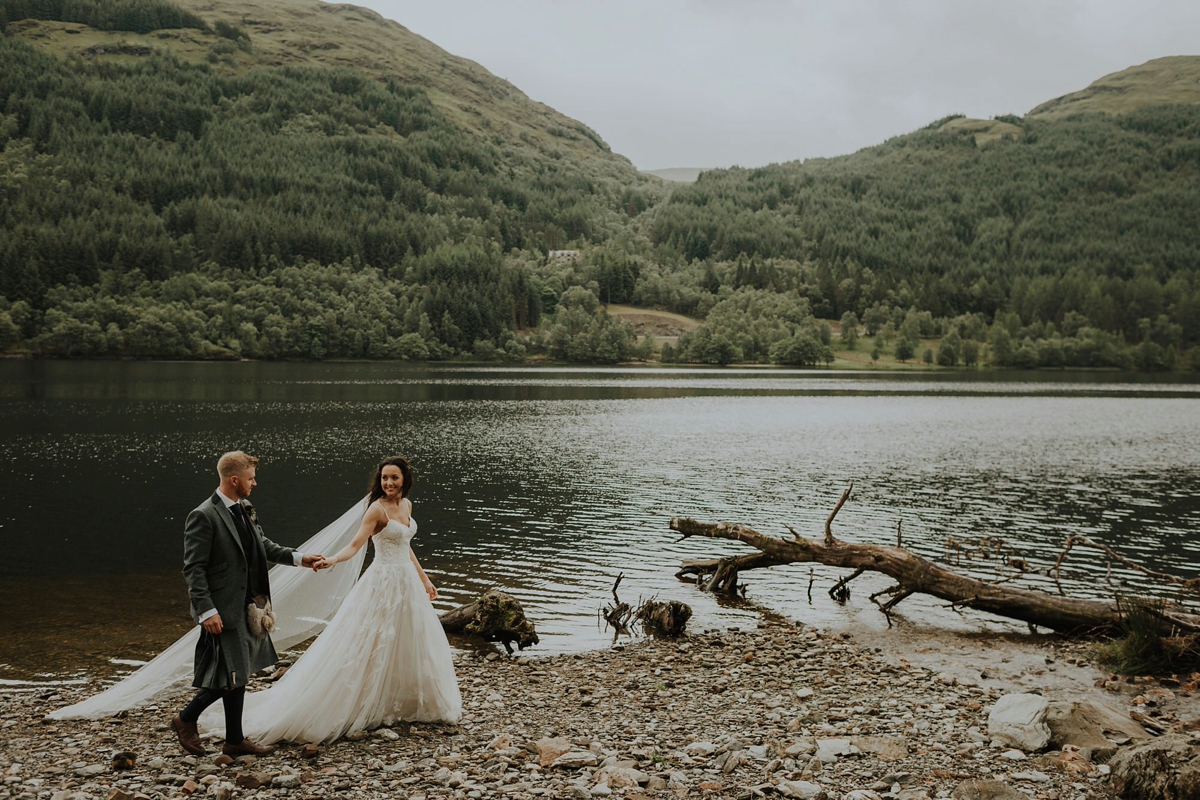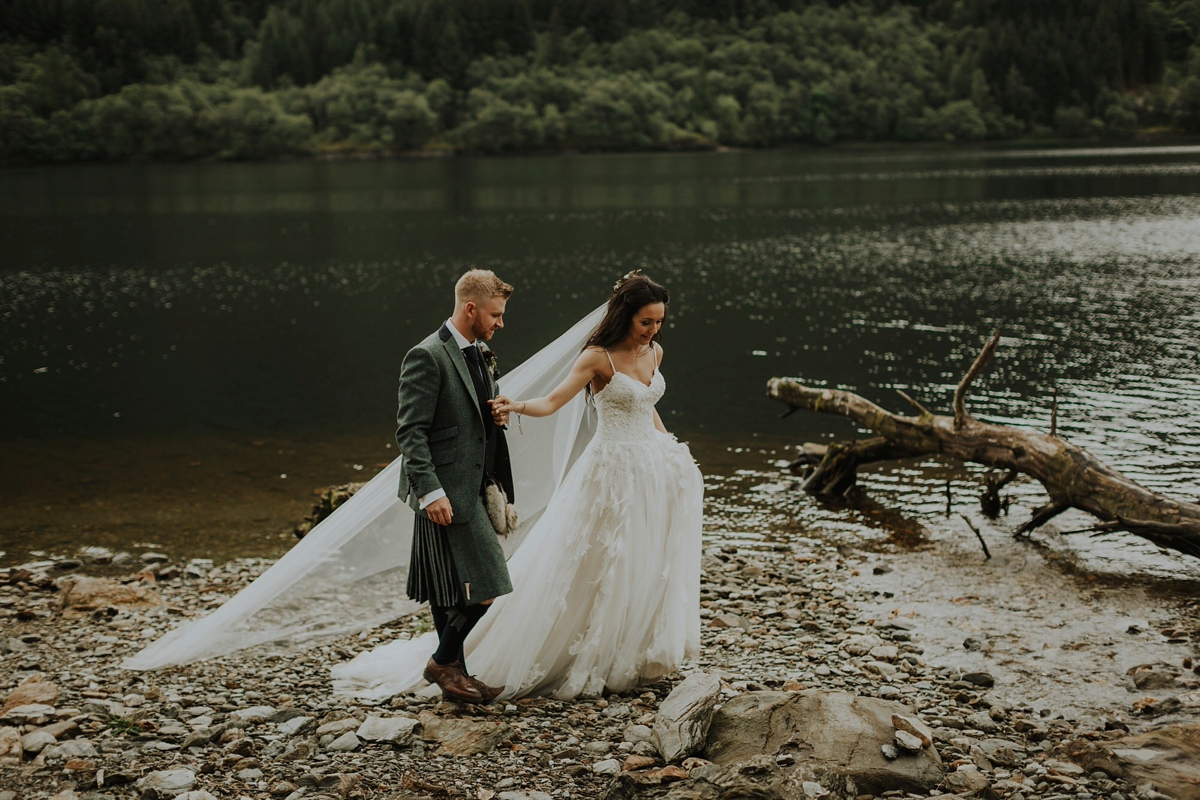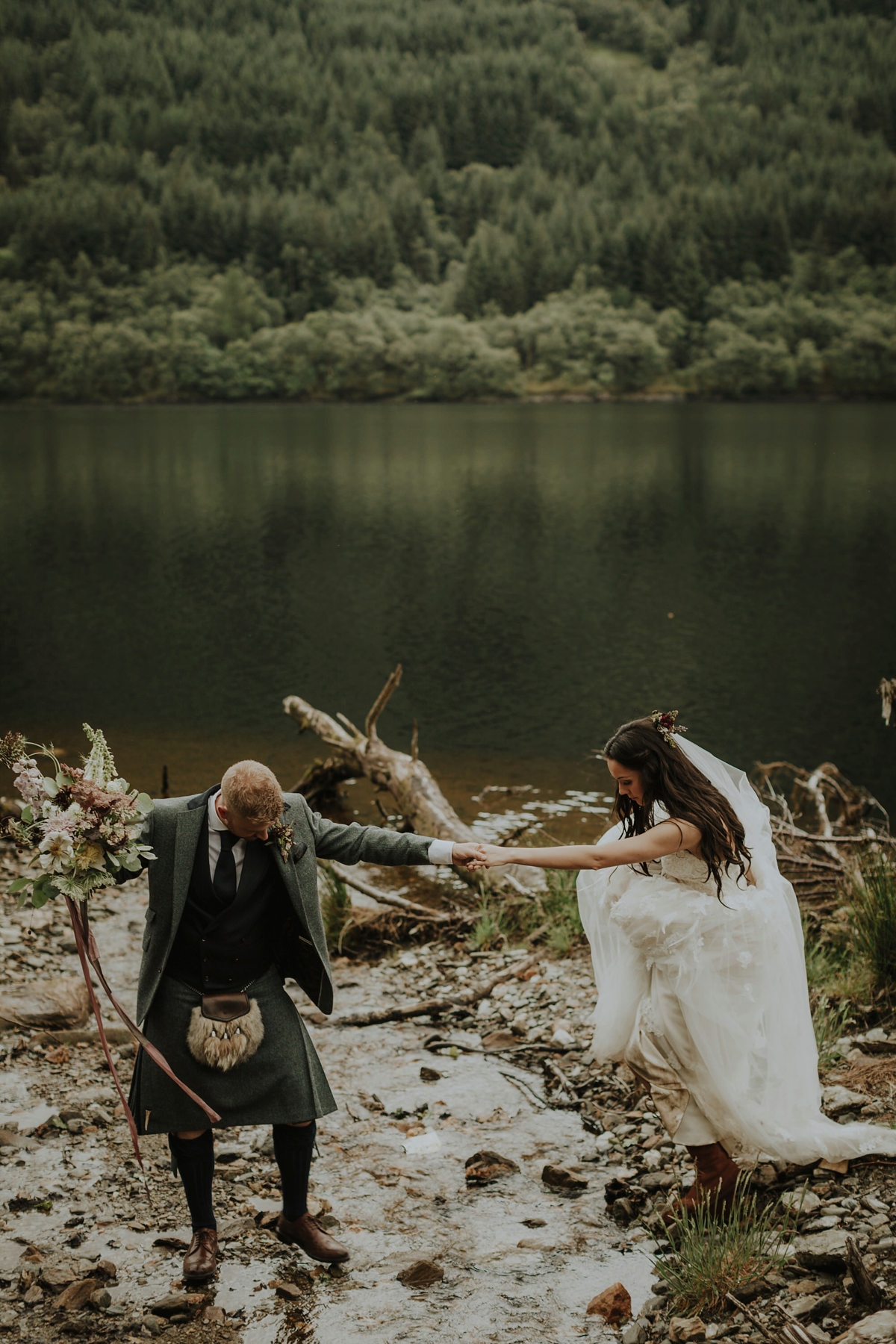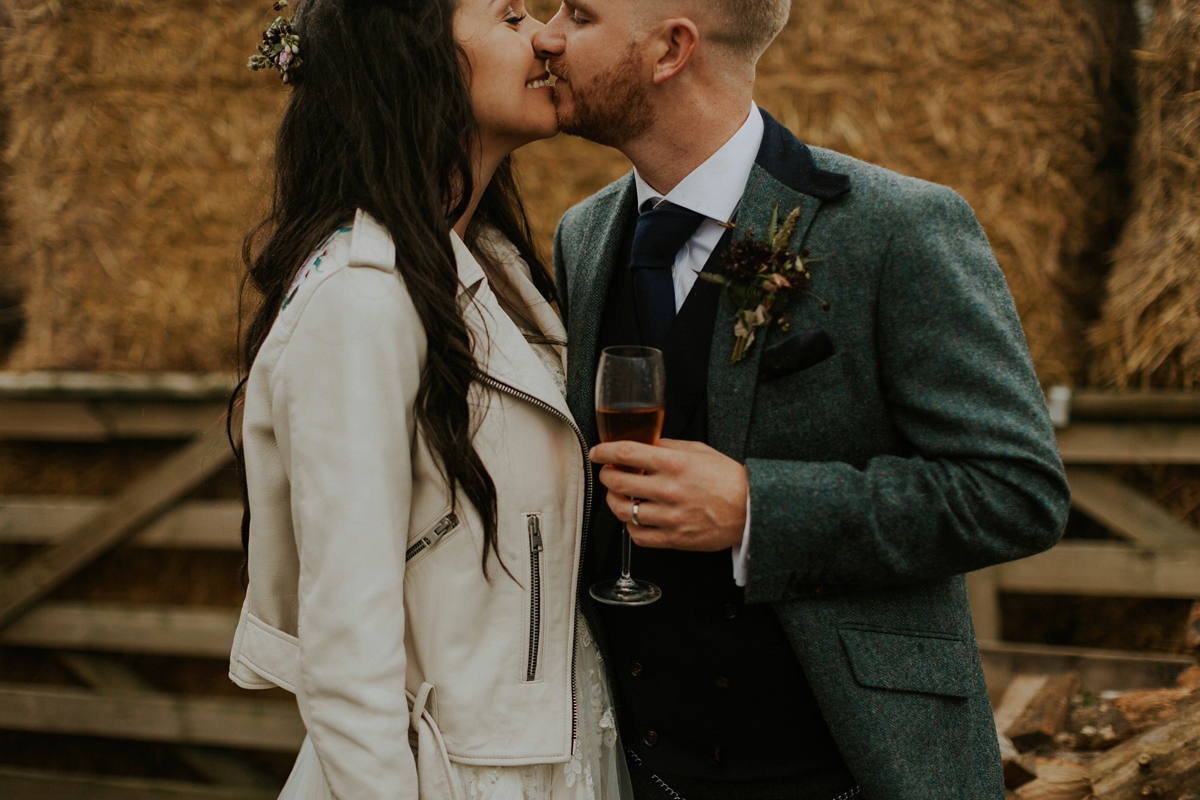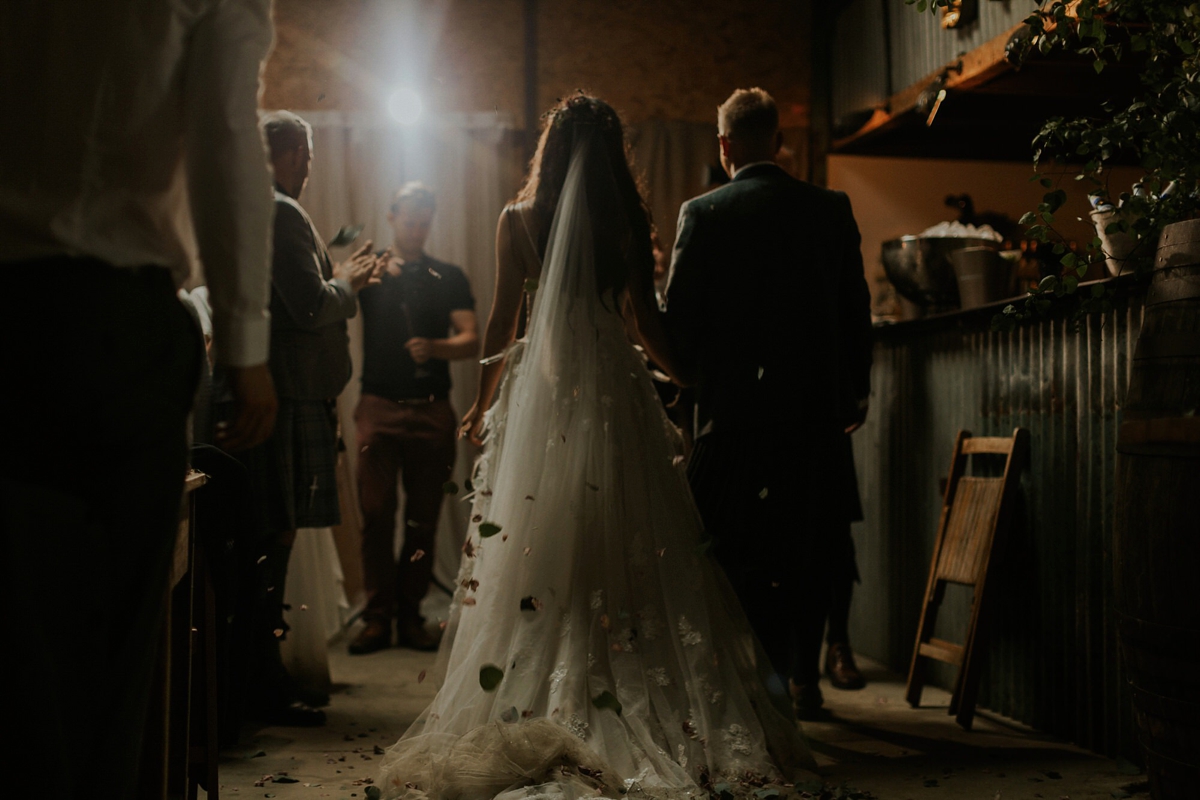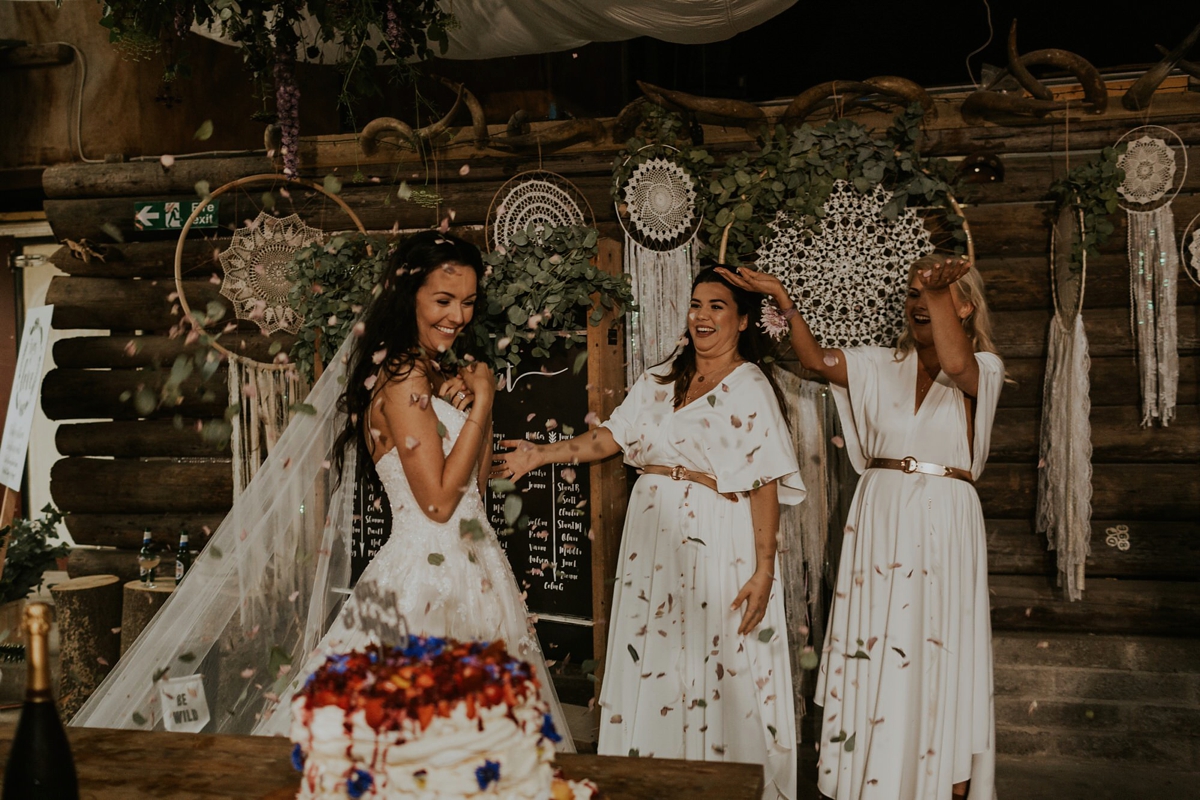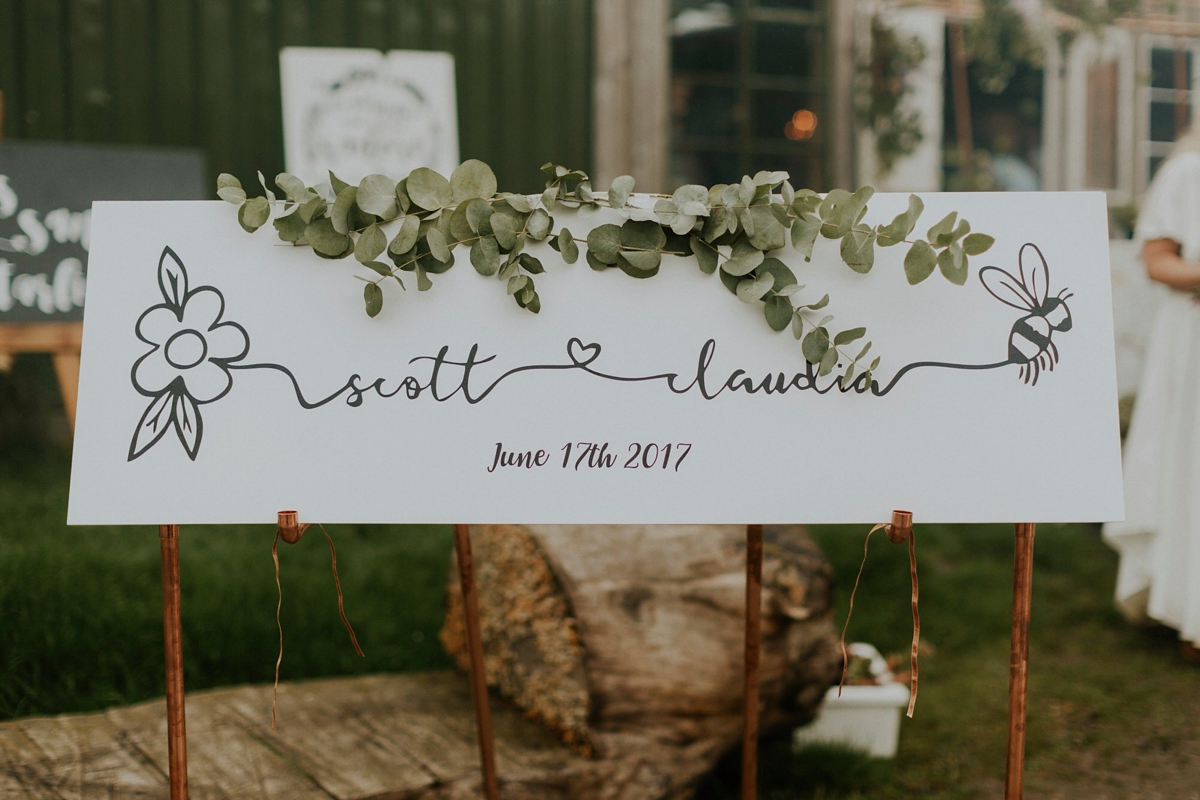 Crediting Instagram and Love My Dress as two of her main sources of inspiration, Claudia's bohemian and dreamy vision was what Pinterest dreams are made of and none of it would have been possible without the help of her bride tribe, mum and florist, Tupelo Tree.
"I love dream catchers and just imagined lots of them hanging in the trees. I used Love My Dress a lot for inspiration – I just love the real wedding posts and seeing how creative other couples have been is so inspiring."
"Most of the decor was created by myself and my bride tribe, including my mum! We spent hours and hours making all the dream catchers together. Materials were bought from various places but mainly eBay and Amazon. The extra-large dream catchers were made from wooden hula hoops from Ikea."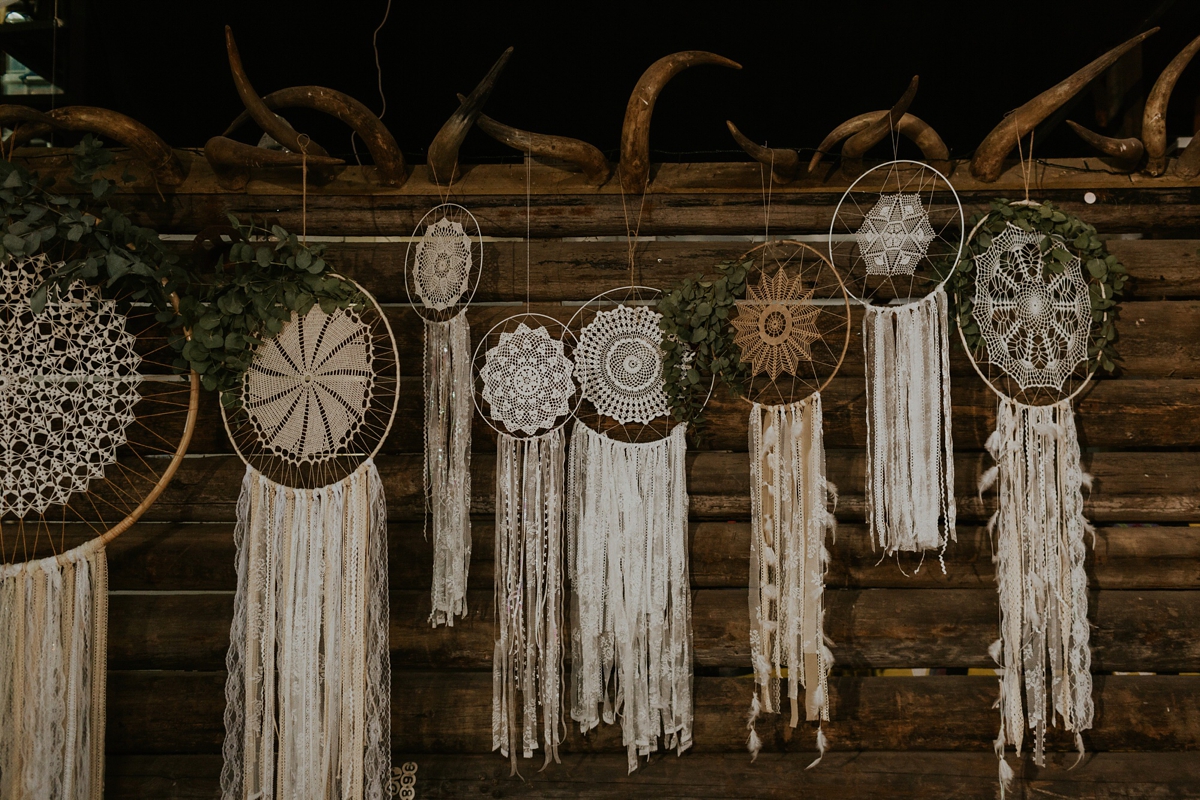 "The centres of the dream catchers are second-hand doilies also from eBay. Some of the doilies in the centres belonged to my granny, which made them very special. The beautiful macrame hanging that was hung on our copper arch where we got married, then moved behind us throughout the wedding breakfast, was made by the lovely Mini Swells who I discovered on Instagram. I loved the idea of buying something really special that we could hang in out home as a memory for years to come."
"We wanted the barn to look magical and we felt the flowers needed to make a big impact as it was such an open space. The canopy lowered the ceiling and made our dinner feel so intimate. The little hanging candles dotted throughout and twinkling were beautiful."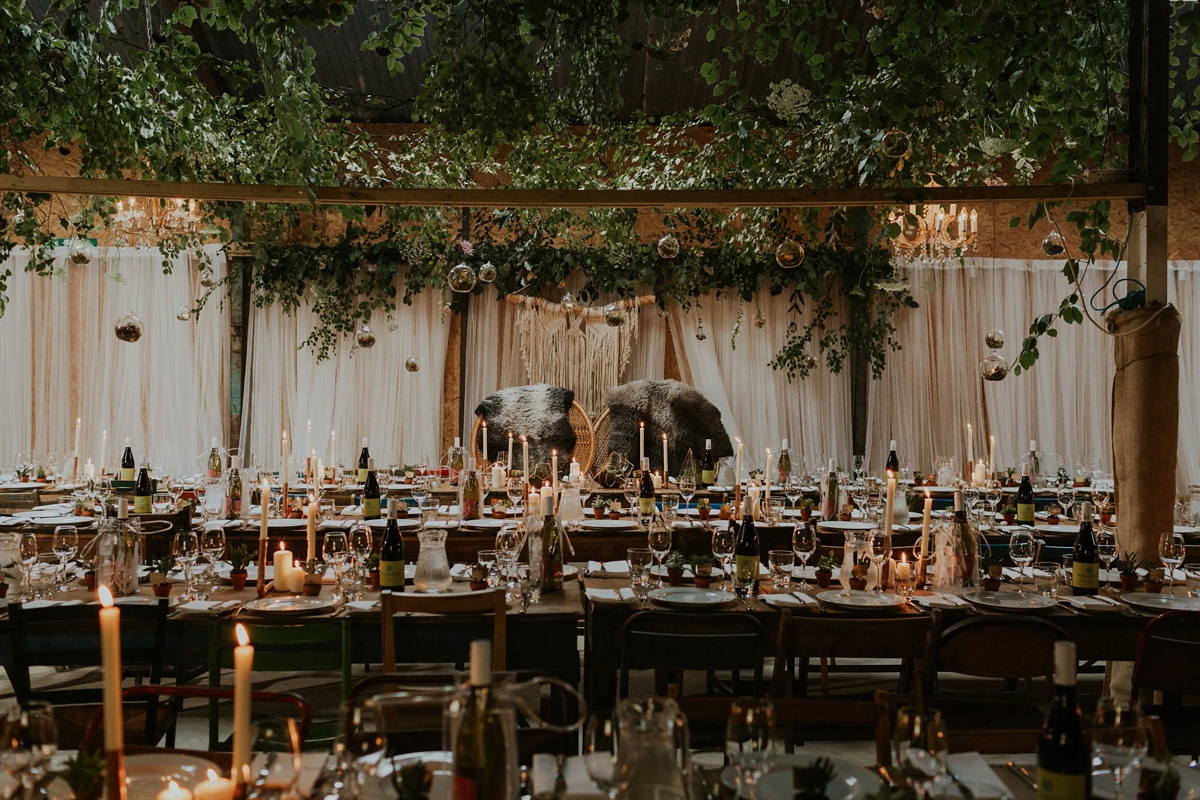 "GO2 Specialist Event Hire supplied our amazing cinema light box signs for the dance floor – they just made the dance floor look fantastic! I also wanted the barn to be full of candles! But boy are candles expensive. The best prices I found in the end were from Candle King. Monachyle Mhor actually arranged to have someone cut up logs for us so we could create the wonderful multi-level pillar candle display which just made the barn look so cosy and romantic."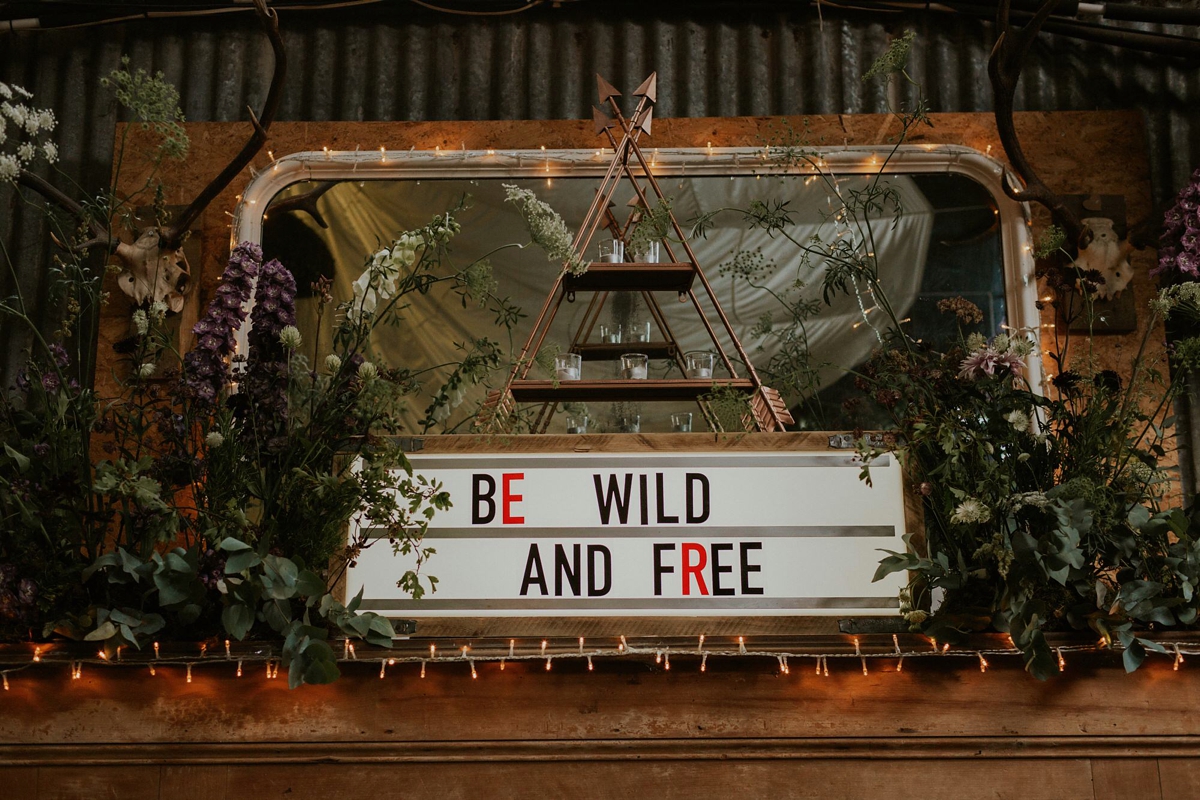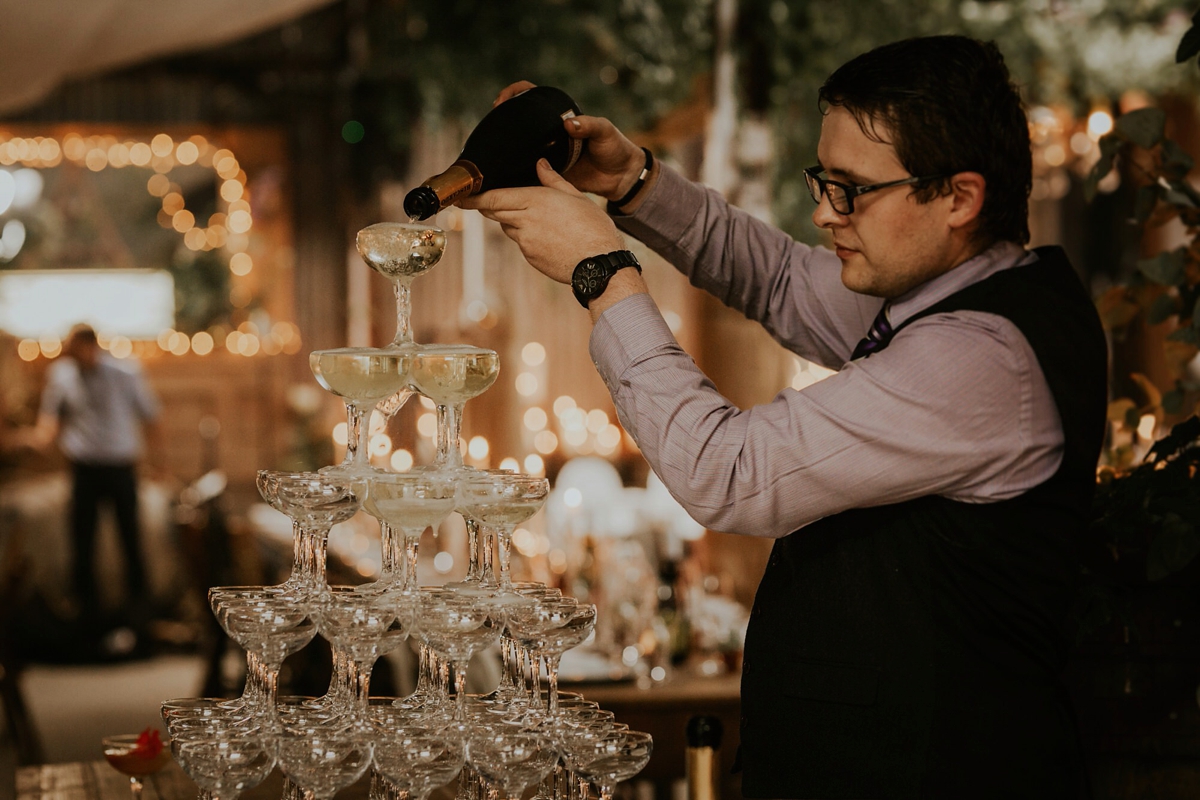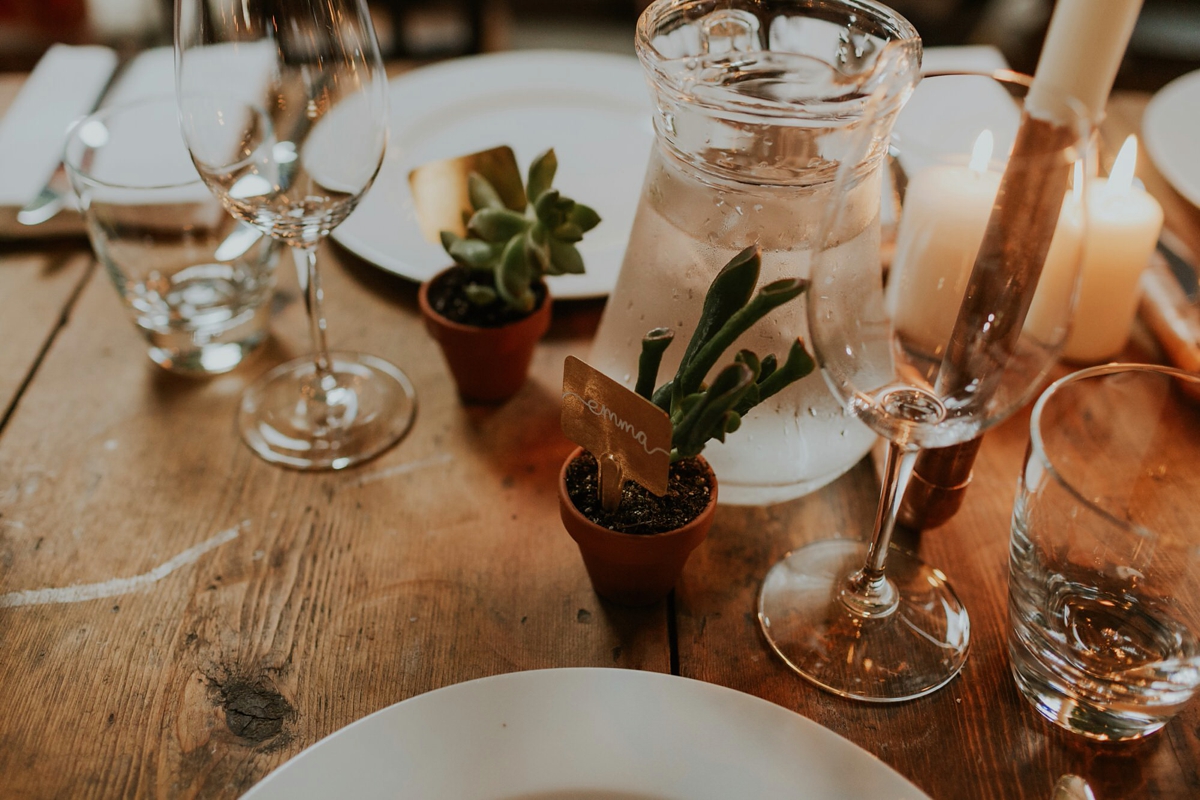 "We had to hire additional chairs and table which we wanted to look as rustic and mismatched as possible from Virginias Vintage Hire. We bought the curtains, which we hung behind our top table in the barn, from Ikea, and we made the copper arch ourselves. I also made the wooden table with copper base for when we signed the register – it really was a DIY wedding! I couldn't have pulled it off without the help of my mum and fabulous bride tribe!"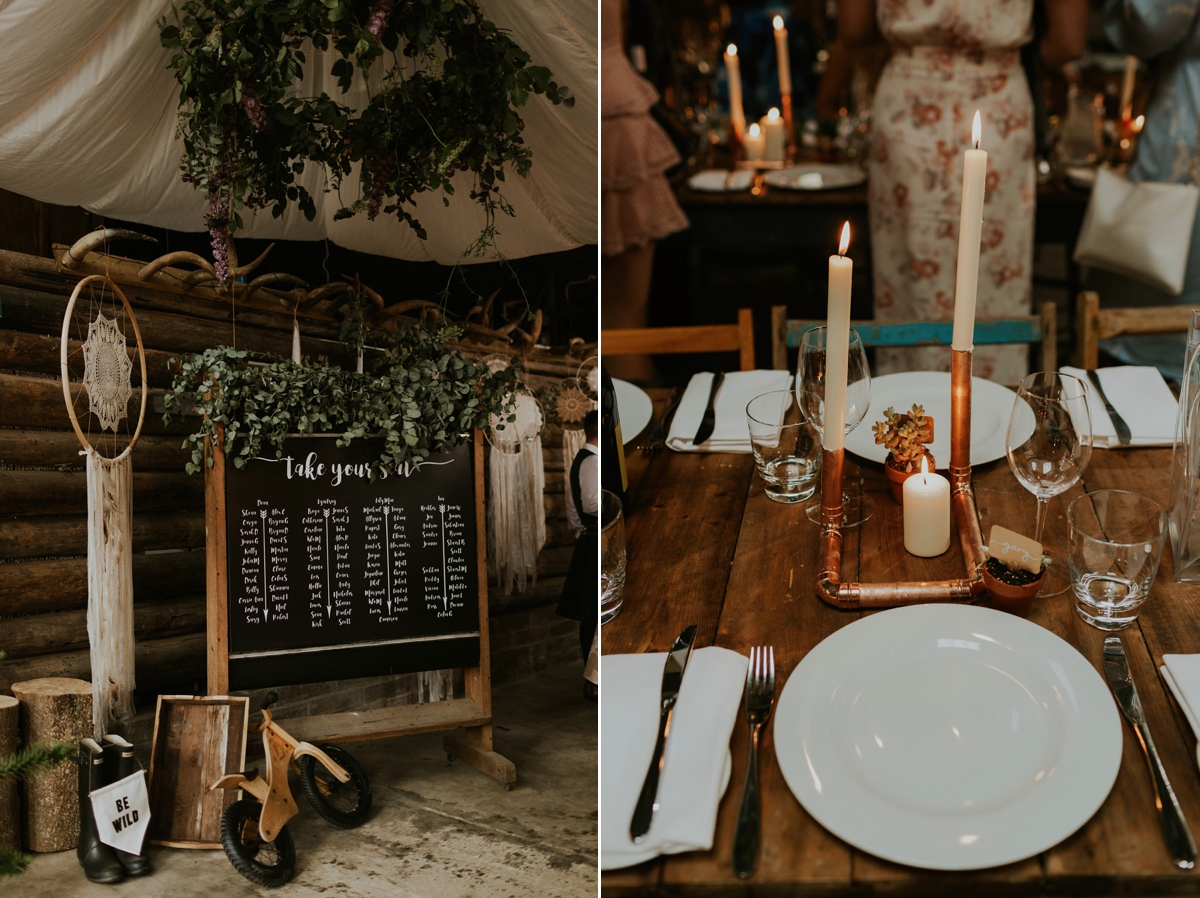 The day's catering was all done on site at the venue and after meeting with the head chef a couple of times previous to the big day, the couple worked with him to put together the menu.
"We really didn't want a traditional 3 course sit down meal. One of my friends had said to me that she always has to take a snack to weddings because she's always hungry by dinner time. This inspired a picnic on the lawn starter as we really didn't want our guests going hungry. We then went for an Ottelenghi style spread which all our guests still rave about now. The main course was BBQ beef, chicken and baby gem lettuce which was made on the venues tractor BBQ as guests were being seated in the barn. Everything was just delicious!"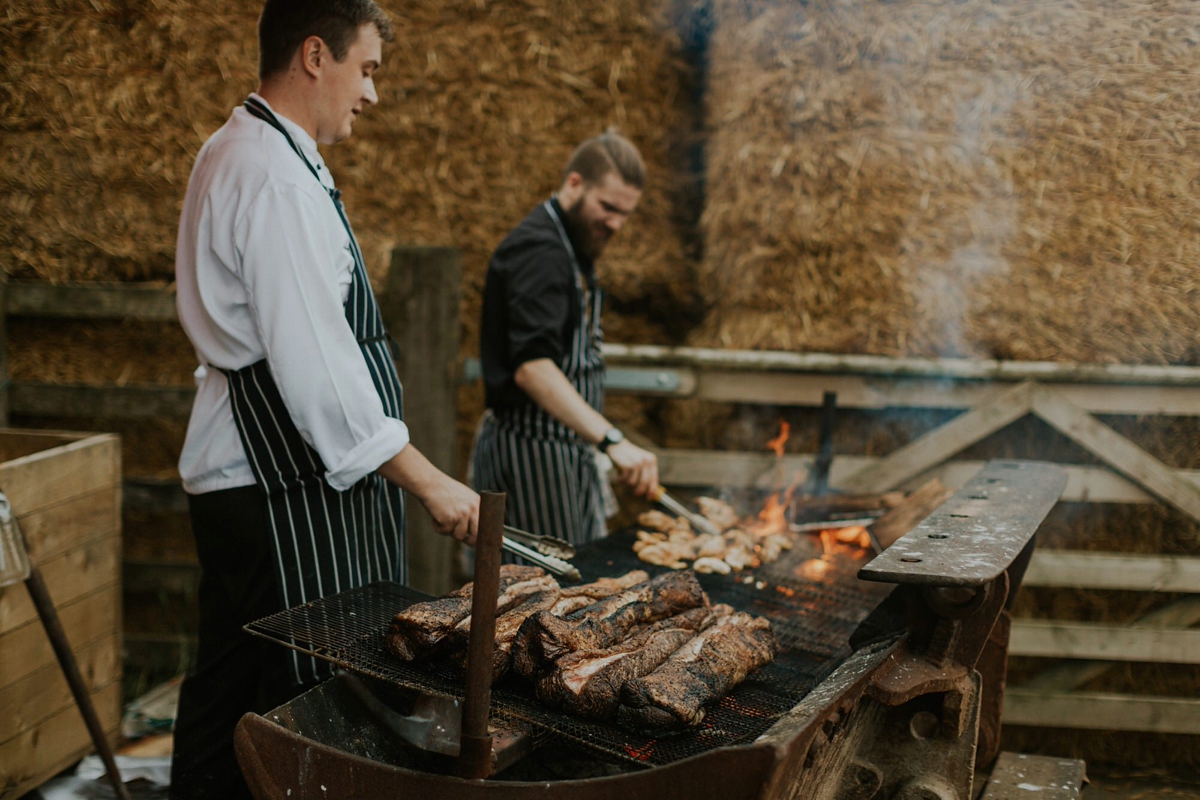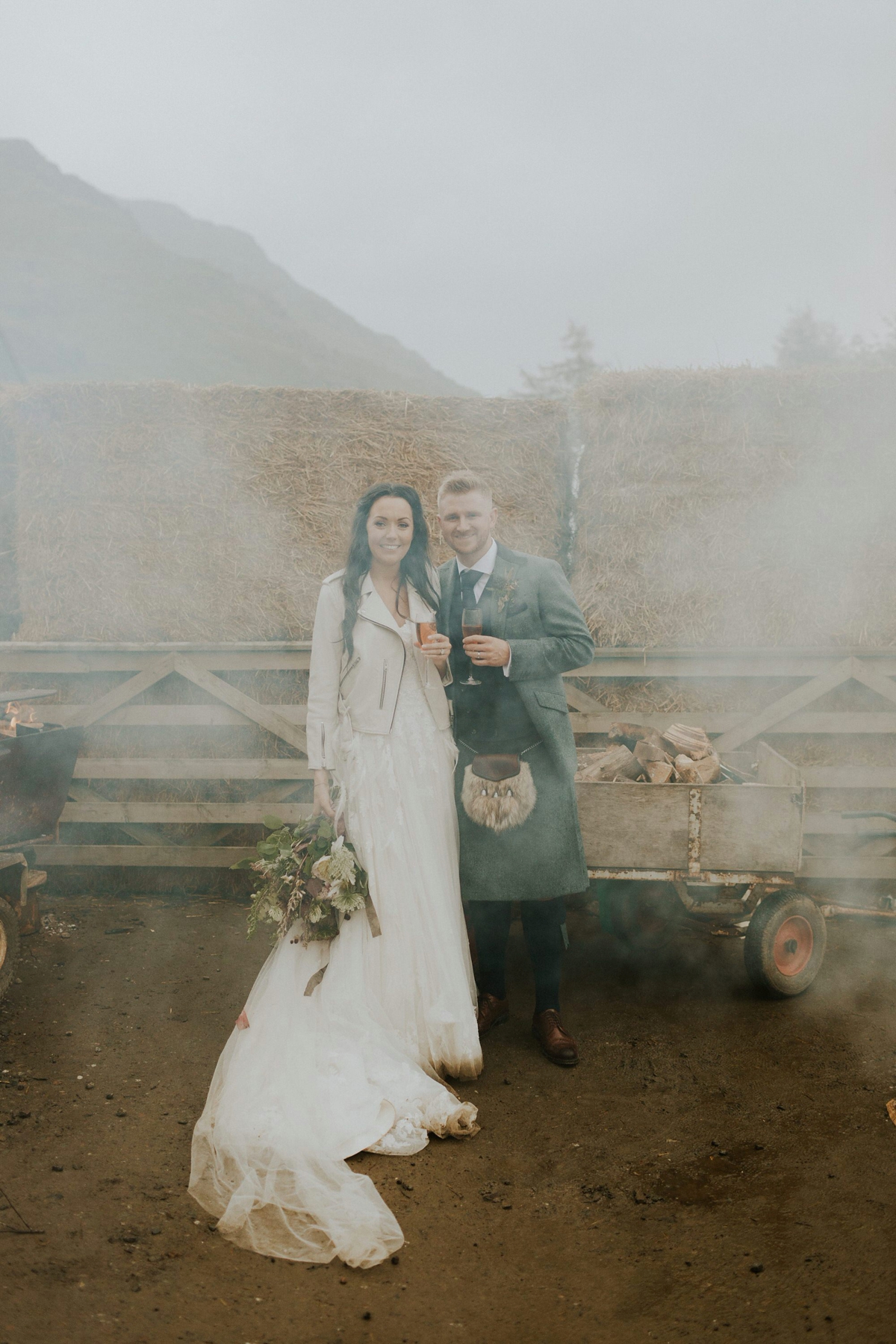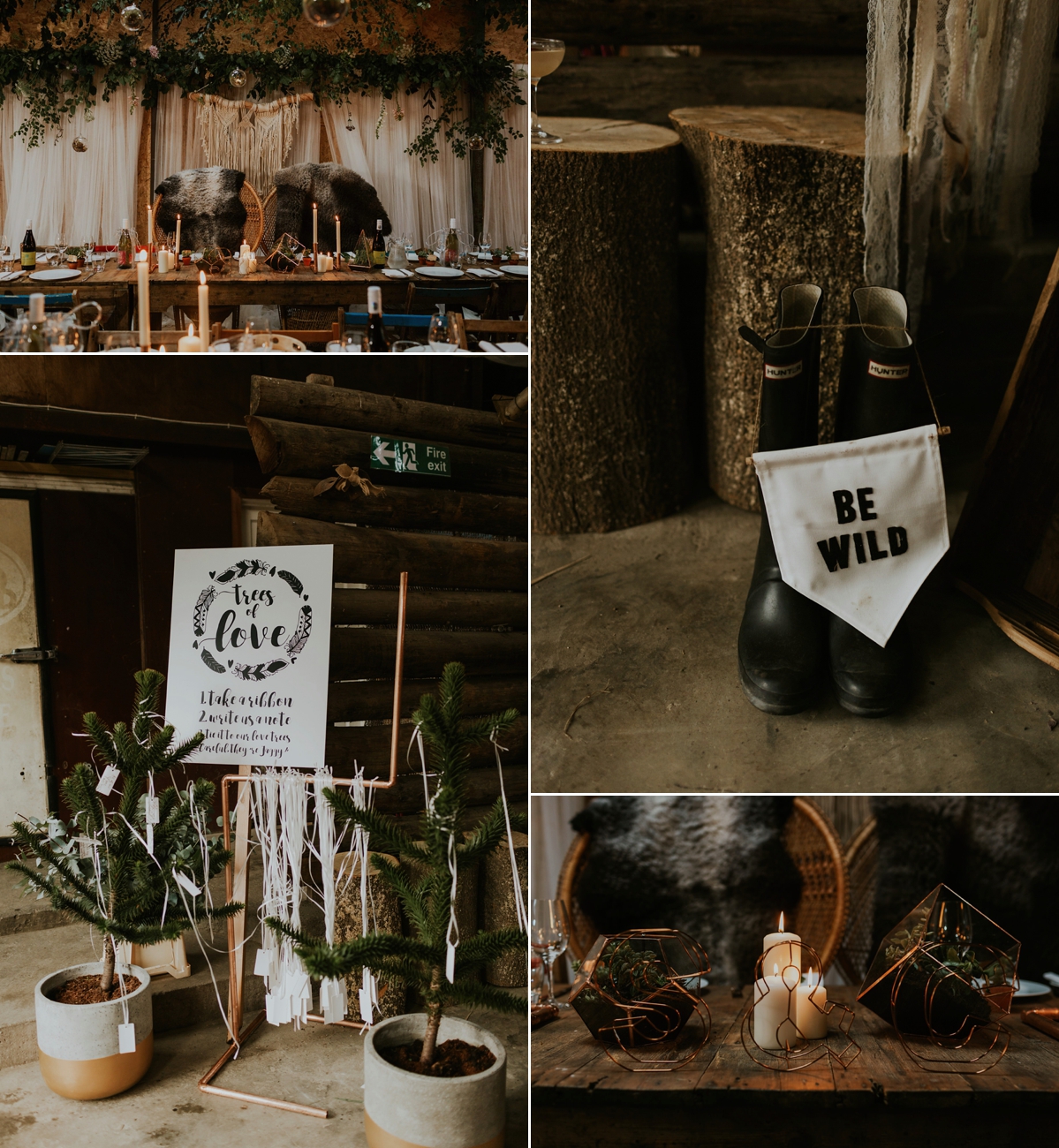 "The venue also made our wedding cake. We wanted something a little different so went for a giant Pavlova which then went on to be served as dessert. It was to die for! So delicious and everything we hoped it would be."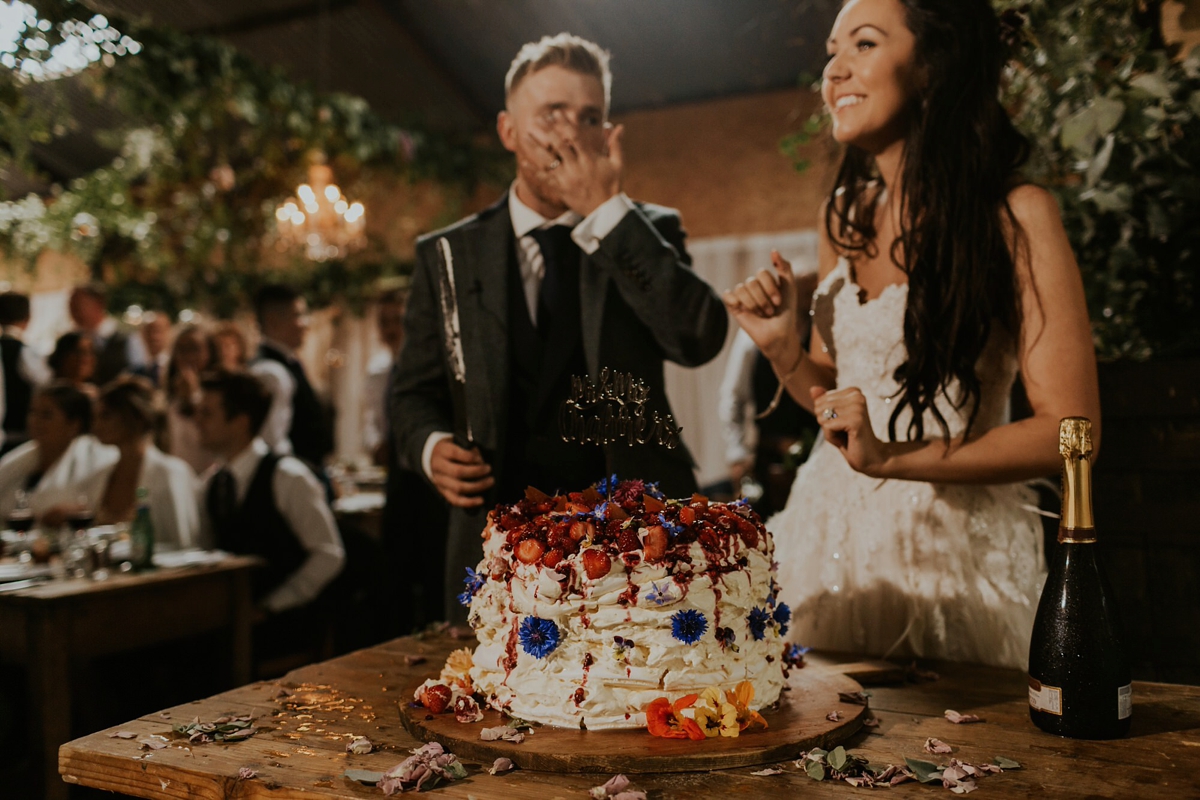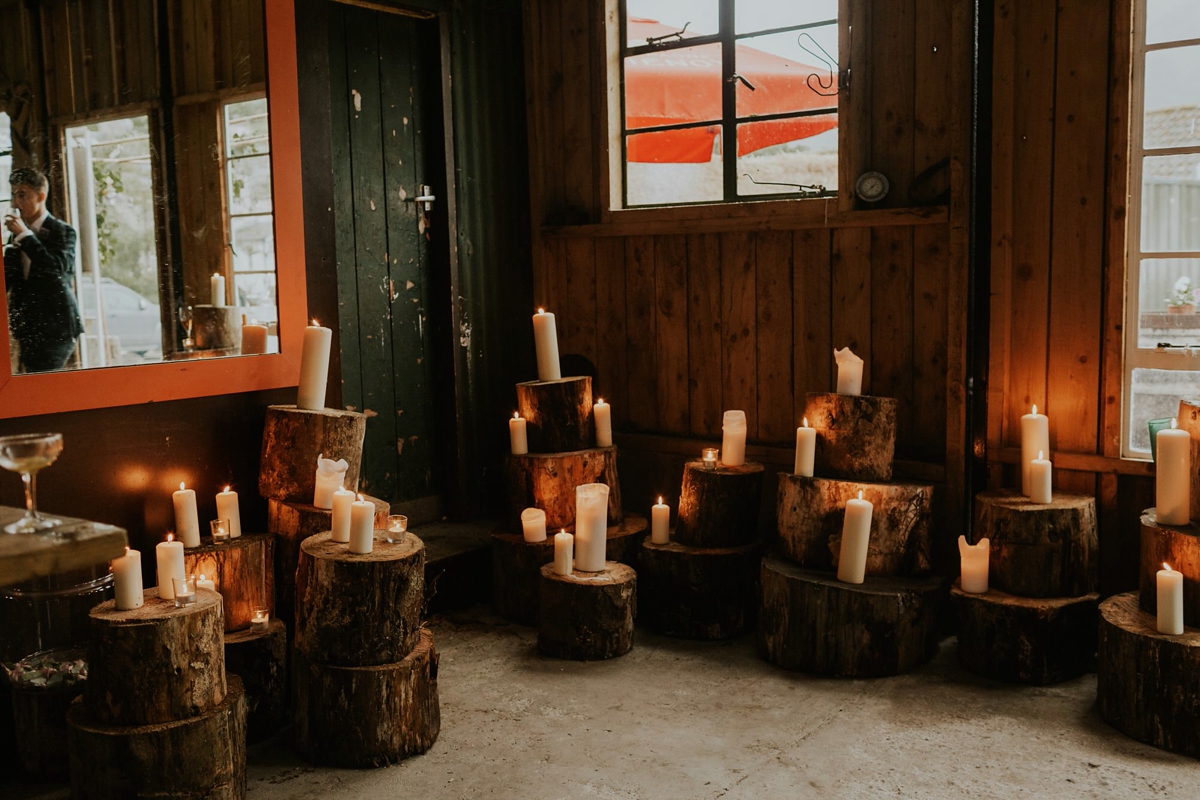 As night fell, the couple hired a trio of entertainment; a DJ, a saxophonist, and a percussion player.
"Wow, they were fabulous! We've had so many comments from our guests about how it was the best evening music they've ever experienced at a wedding. May the Saxophonist from Girl on Sax was right in amongst everyone just doing her thing, and Lashams on percussion was just brilliant. They were unbelievable and made the night. Robin the DJ from Dance floor Couture had half the guests up dancing before dinner had even finished."
"Every Scottish wedding also needs bagpipes and Jonathan the piper from Edinburgh Piper played as our guests arrived, and also piped us into the barn for dinner as Mr and Mrs Chalmers. Another thing I just had to have in the evening was a glitter bar! Wish Upon A Sparkle arrived after dinner to add sparkle to all our guests. The girls were fantastic and I loved being covered in glitter before our first dance!"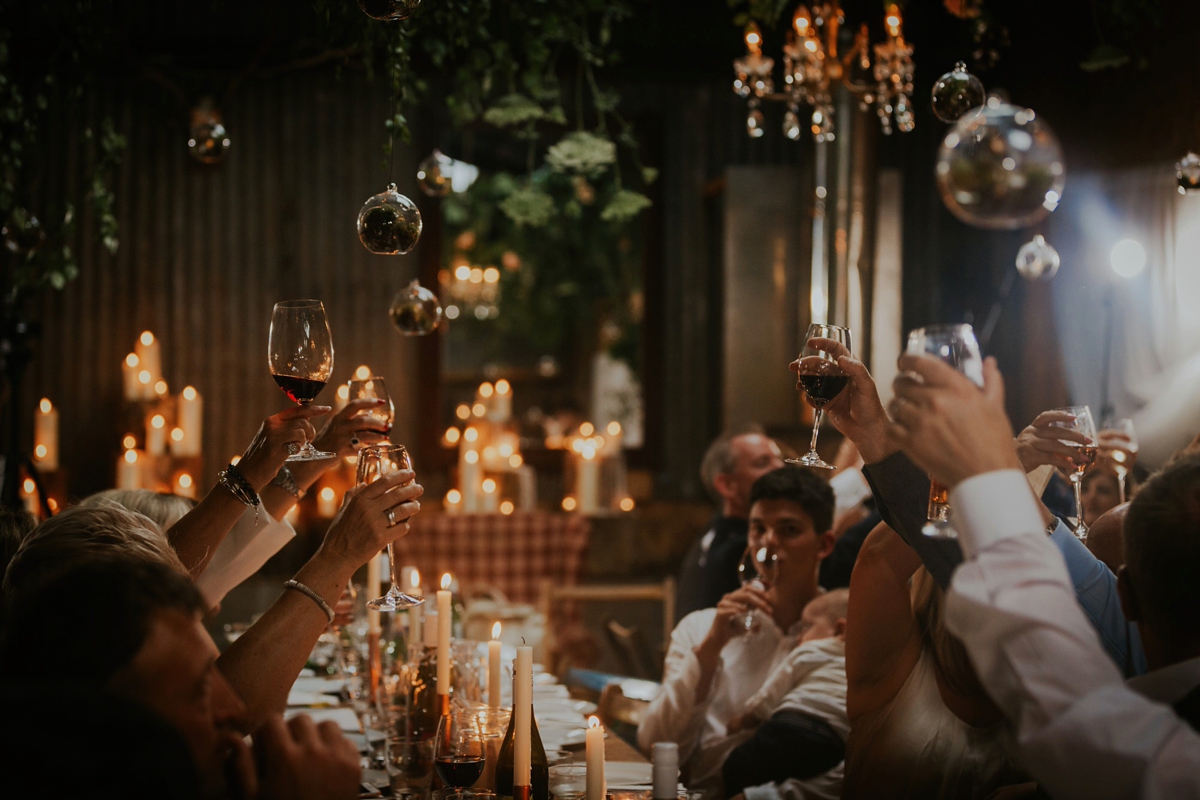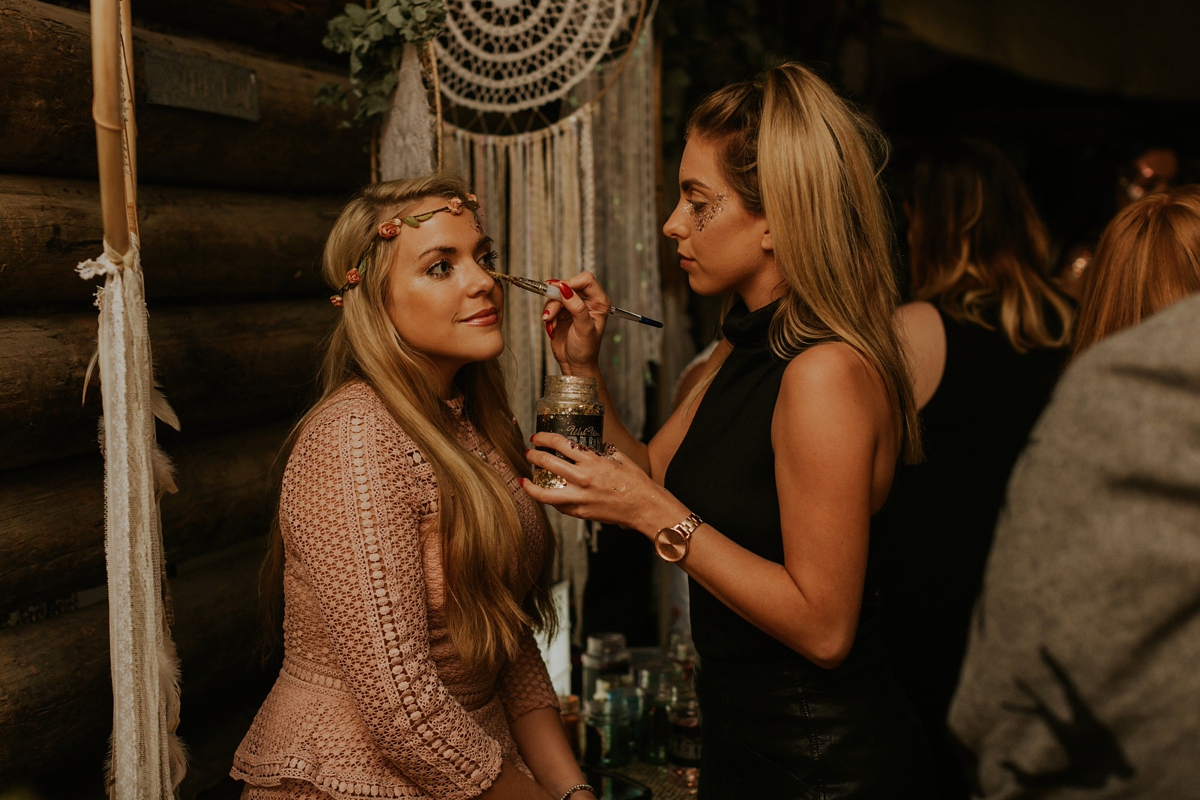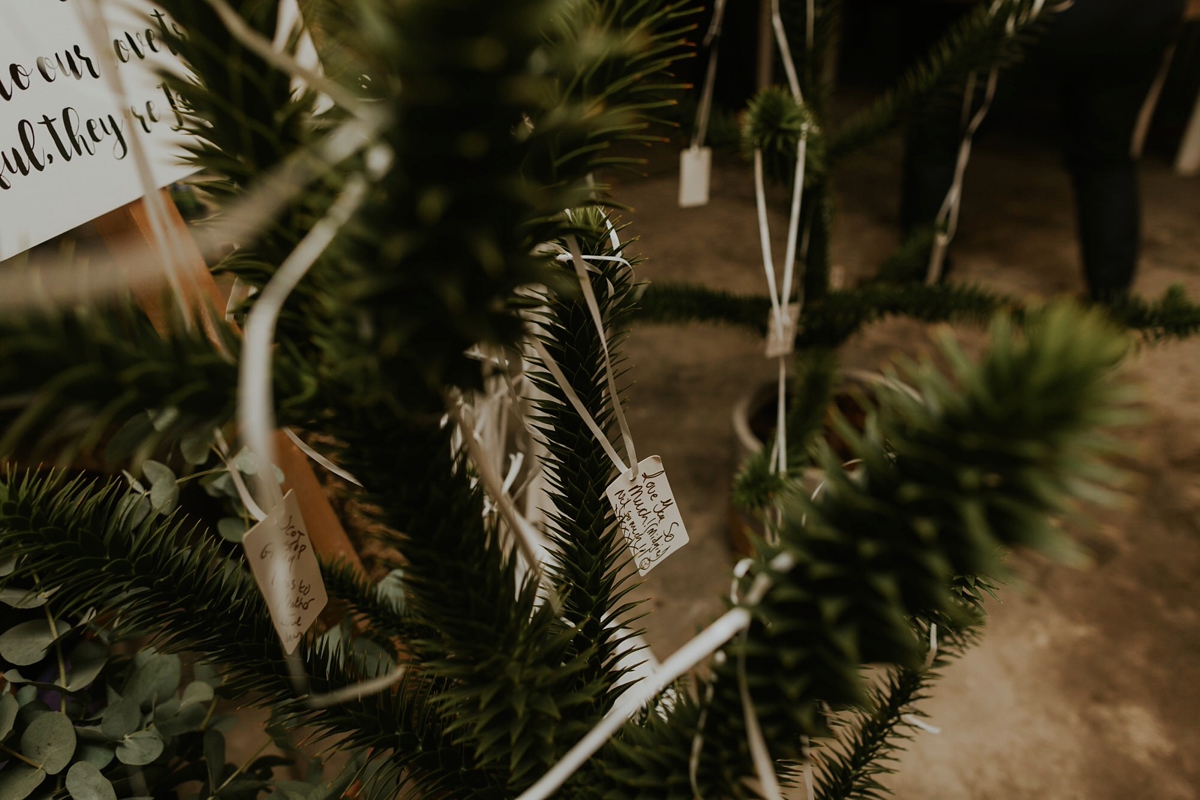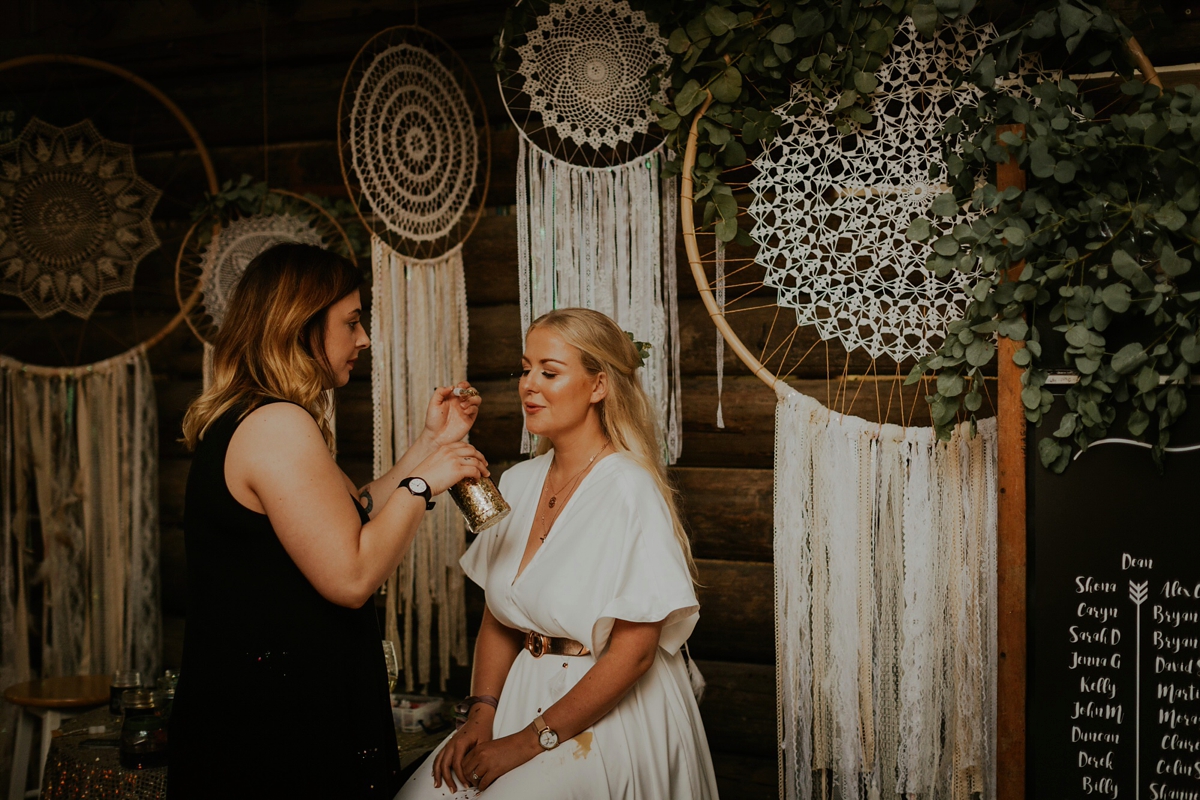 The couple chose Touched by Love by Erin James as their first dance, a song they first heard when travelling Australia together.
"We had some dance lessons in the run up to the wedding to learn a basic routine. Scott and I couldn't dance initially without standing on each others toes so all we really wanted out of the lessons was to learn how not to do that. Rebecca our teacher, who we found through All Steps First Dance, was great and we actually ended up with quite a few twirls and dips thrown in there. Scott who was heavily bribed to partake in the lessons ended up actually getting so much more into it than me."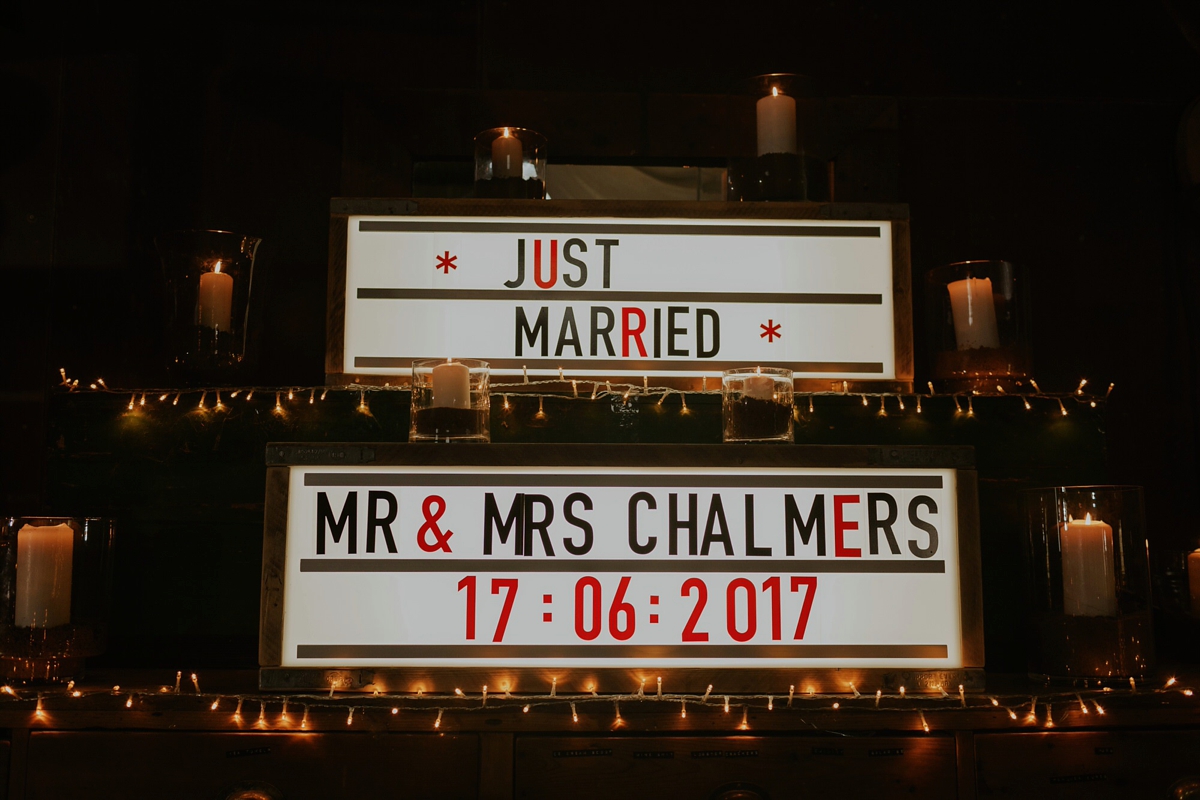 "In the evening we just loved dancing the night away with our nearest and dearest. Seeing our guests covered in glitter was also fab! It was just a party from start to finish. Never before have I been to a wedding where the guests have been up dancing before the dinner's even finished."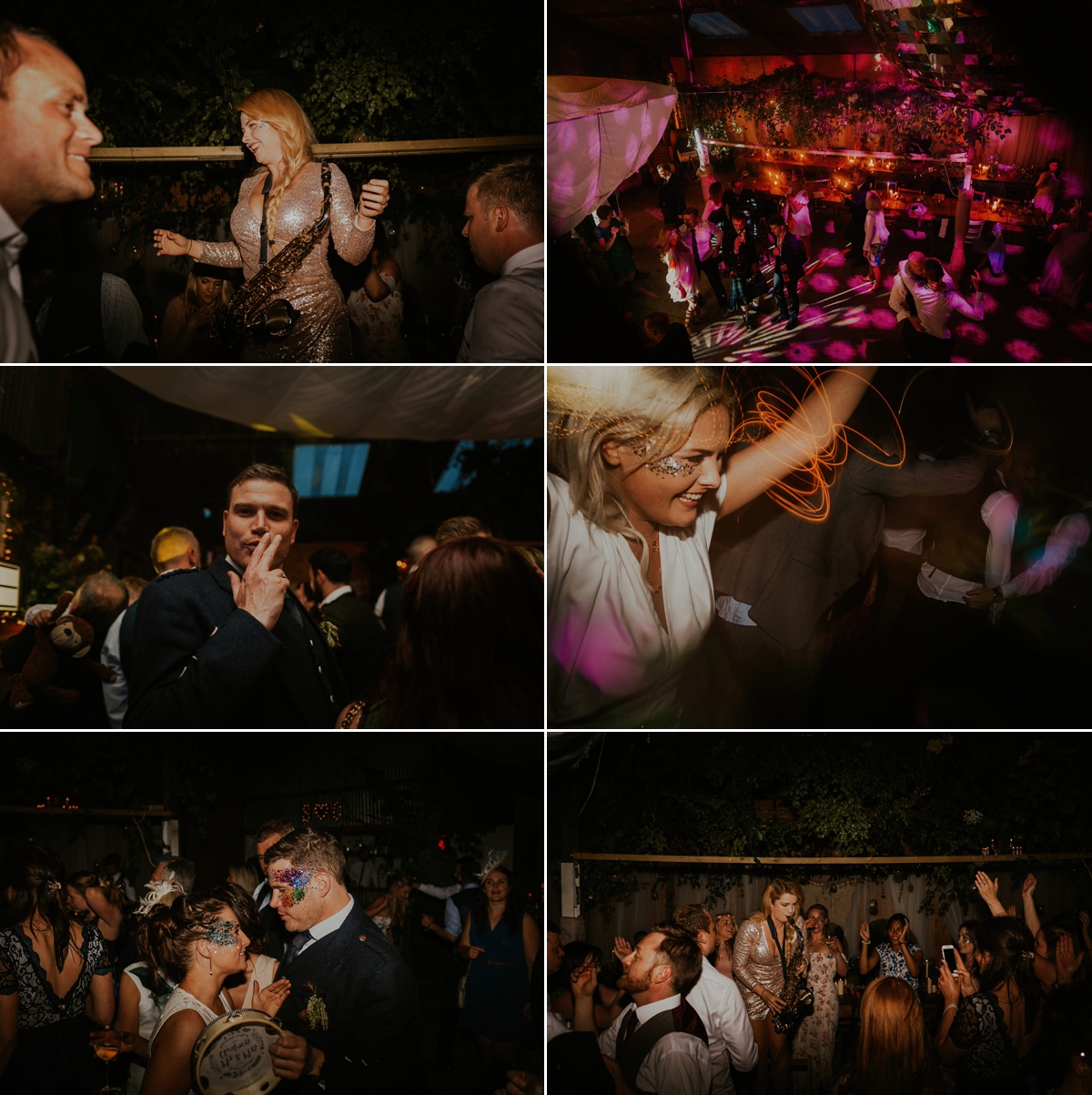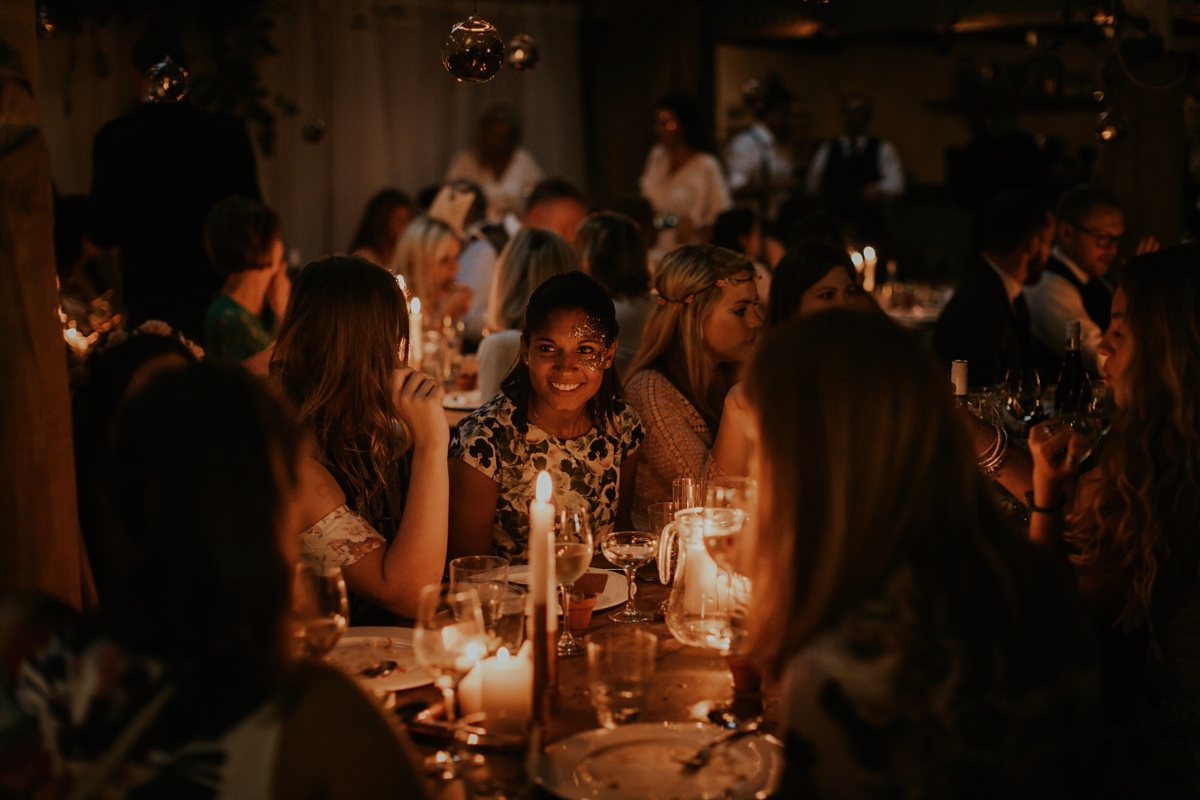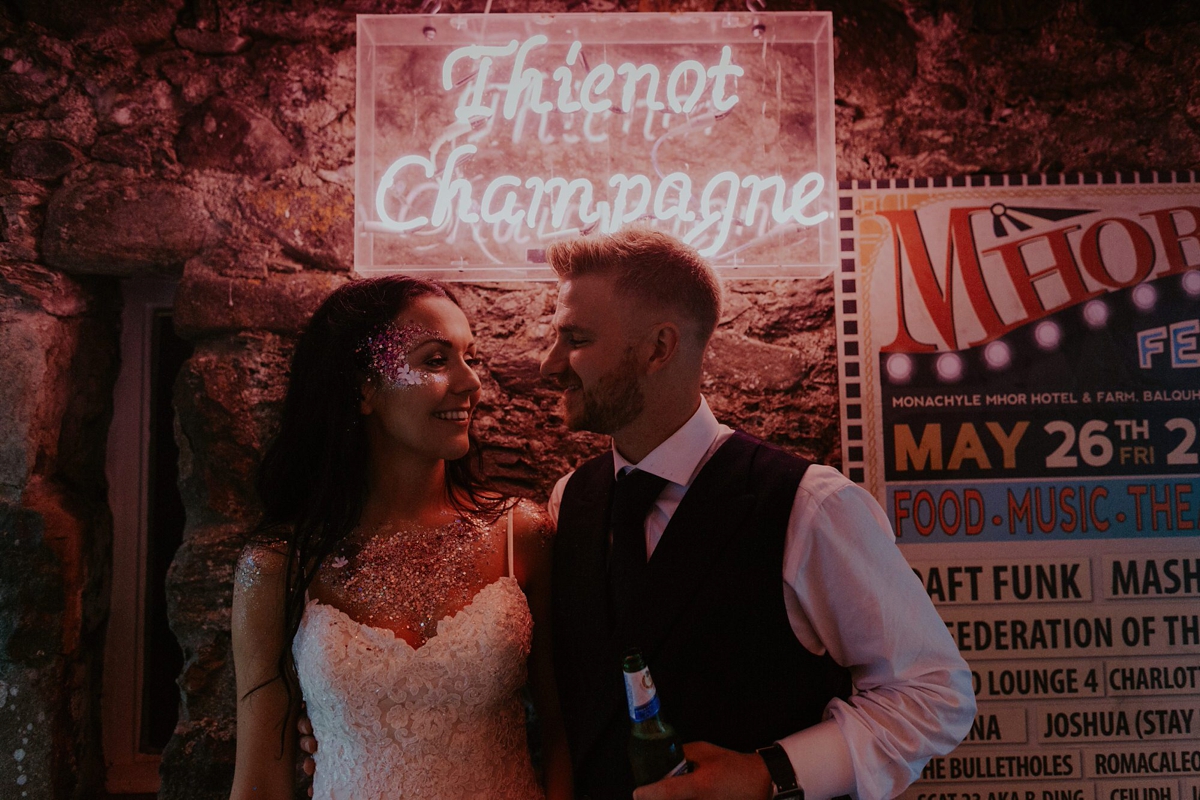 Words Of Wedded Wisdom
"Give yourself plenty of time to dress your venue and prepare as much as you can in advance! The day before our wedding ended up being very stressful. In my mind I would be in bed by midnight for my beauty sleep but in reality we were up until 3am – I just wanted everything to be perfect."
"Also get there as early as your venue will let you so you can get everything done and put your feet up at the other side. There has to be a point where you switch off and accept you've done everything you can, and then hand a to do list to your groomsmen for the morning."
"On the day no-one will notice the little things you were stressing about the day before. And by no-one I mean, neither will you! You'll be so deliriously happy and high on life that none of it will matter. The most important thing in the end is your are surrounded by everyone you love most in the world and you're having a crazy ass party!"
Huge congratulations to the gorgeous Claudia and Scott and to The Curries for sharing their utterly breathtaking imagery with us – it's certainly one wedding I won't be forgetting a hurry!
Until next time…
Much love,
Holly x