Happy Easter Monday lovelies! I hope you're all enjoying some precious time with loved ones right now. It was a chocolate-filled, lazy kind of Sunday in the Beeforth household yesterday – we ventured out late afternoon to highest point in the North Yorkshire moors to dine at The Lion Inn, before heading home for more chocolate, drinking in the spectacular views on the way there and back again.
Last weekend's views were altogether different – Philip (Hubby/Creative Director for Love My Dress) and I were in London to attend White Gallery – the event at which designers launch their new collections each year in the UK (there are similar events in New York and Barcelona each year – we're heading out to Spain for the latter at the end of this month). A number of designers choose to showcase their collections at their own boutiques or in hired spaces in the city during this time too. So, last Sunday, Monday and Tuesday were rather busy spent visiting as many designers as we could.
I really want to say something about this year's events for the benefit of my industry colleagues and any supplier who was exhibiting – we really thoroughly the experience. There was a real vibrancy and energy to White Gallery/our 2.5 days in London this year and we were genuinely blown away by much of what we saw. We came away feeling super inspired and excited to share what we saw with you all. We didn't have time to get around to every single designer that we'd have liked to but I'm pretty confident that we captured the vibe and essence of the show in the 1,600+ images we took, my favourites of which I've selected for you below (warning – this is quite a long/image heavy post – sorry, but there was no way around that!). By the way, the main image above there was taken back-stage at the Suzanne Neville show (all photographs taken by me).
Stand-out Designers
Halfpenny London
Designer Kate Halfpenny of Halfpenny London has absolutely knocked it out of the park with her latest collection. I had goosebumps watching the models glide out onto the whitewashed floorboards at her divine bloomsbury boutique last Tuesday morning. This season, Kate has unashamedly embraced her designer roots, exploring texture and shape in a much less constrictive form.
Each gown is named after an influential male in her life which I actually found quite moving (the James gown below/top was a favourite – named after Kate's husband). The collection is also purposefully full of contradiction, like so many of the beautiful women she dresses and styles – and she has intentionally deconstructed the feminine silhouette, introducing more masculine shapes and lines which give her collection as a whole incredible impact. I already loved Kate but my respect and adoration of this gifted designer took a stratospheric boost last week.
David Fielden
We fell hard for this beautiful and feminine collection of modern, contemporary bridal fashion by David Fielden. The dresses speak for themselves but just like with the Halfpenny London brand, there was such a positive welcome for us when we arrived at this exhibition stand – you can't help but be infected by the aura of energy that surround's designer David's Press and PR manager, Yuri
The sheer femininity of this collection was breathtaking. My very favourite piece is pictured above but I loved David's Princess gown inspired big, tulle skirts and delicate cherry blossom floral detail. Everything here was dreamy – a real stand out for us.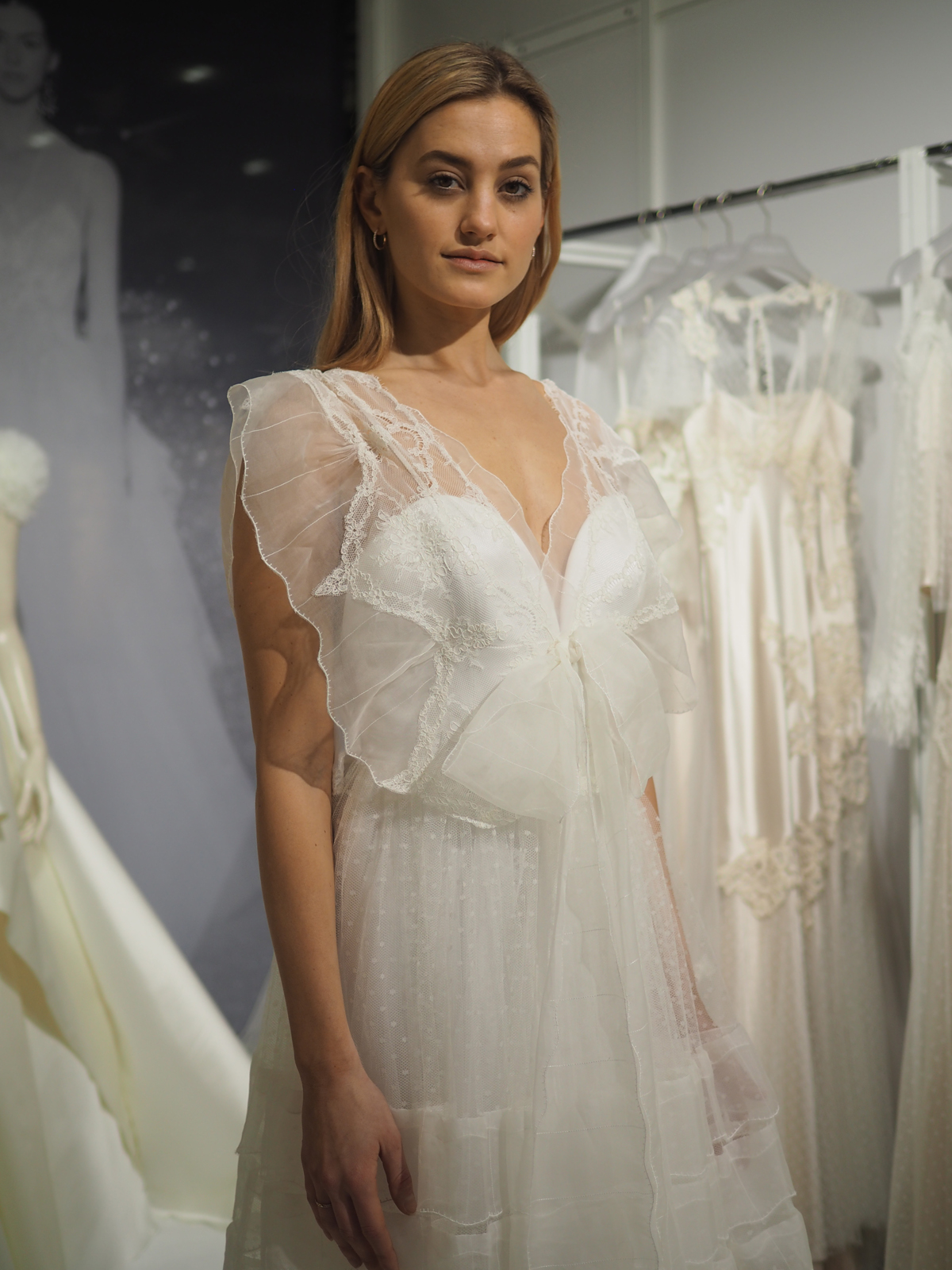 E&W Couture
E&W Couture – open up E&W Couture's beautifully produced lookbook an the first words you will read are 'we believe in a bridal revolution' – a sentence that beautifully sums up the fresh, modern, youthful vibe behind this wonderful independent British label. Based in Wales and lead by designer Sophie, this is a collection for the free spirited bride.
There collection comprises a number of dresses, slips, separates and floral accessories – 3D florals also beautifully adorn these dresses (see the Maya gown below – my favourite E&W Couture piece).
This is an exciting collection that explores colour and texture and for me, really represents the exciting area of young, bridal fashion.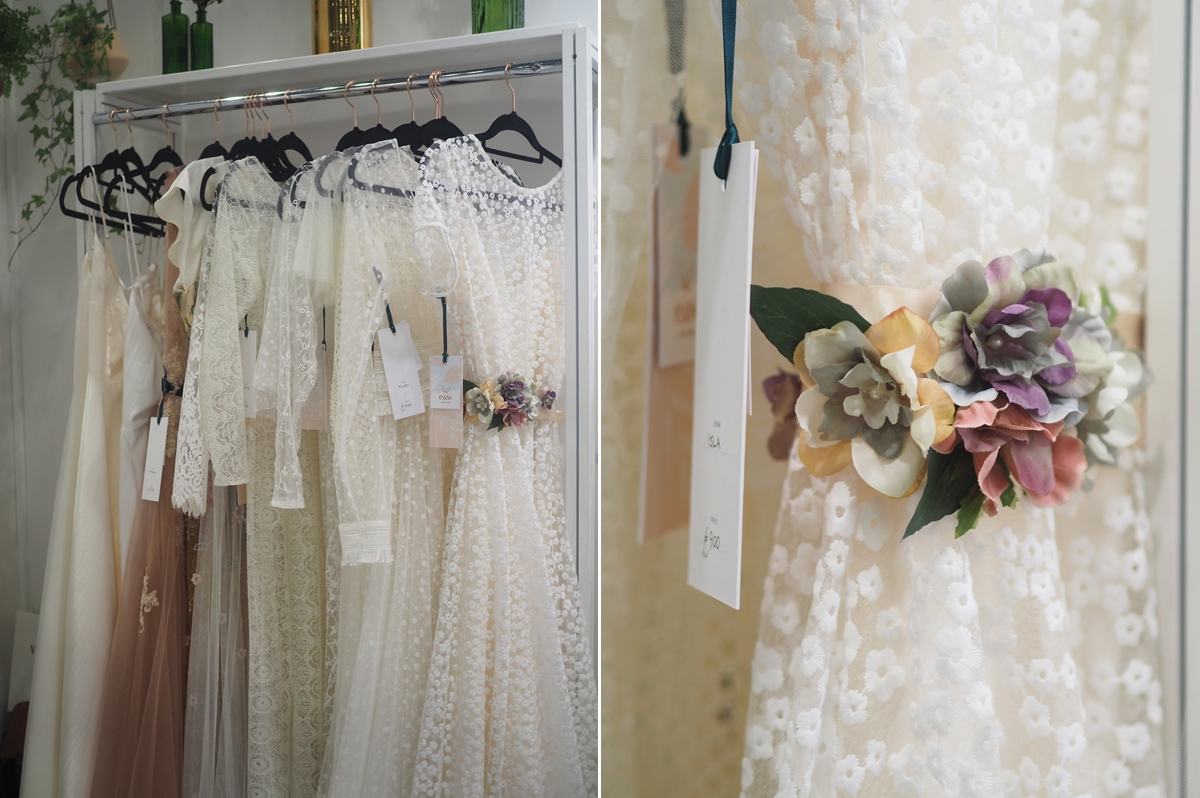 Bowen Dryden
I was particular excited about meeting designer Sharon Bowen Dryden and she was everything I hoped she'd be and more. Sharon's couture bridal brand beautifully embraces a sense of bohemia and free spirit. Colour, floral embellishment and contemporary silhouettes comprising of jumpsuits, crop top separates and full couture gowns make up this collection.
Bowen Dryden claim their unique selling point is that they are "decidedly different" – this is a great example of another brand pushing against the classic/traditional look with something modern, fun and fresh.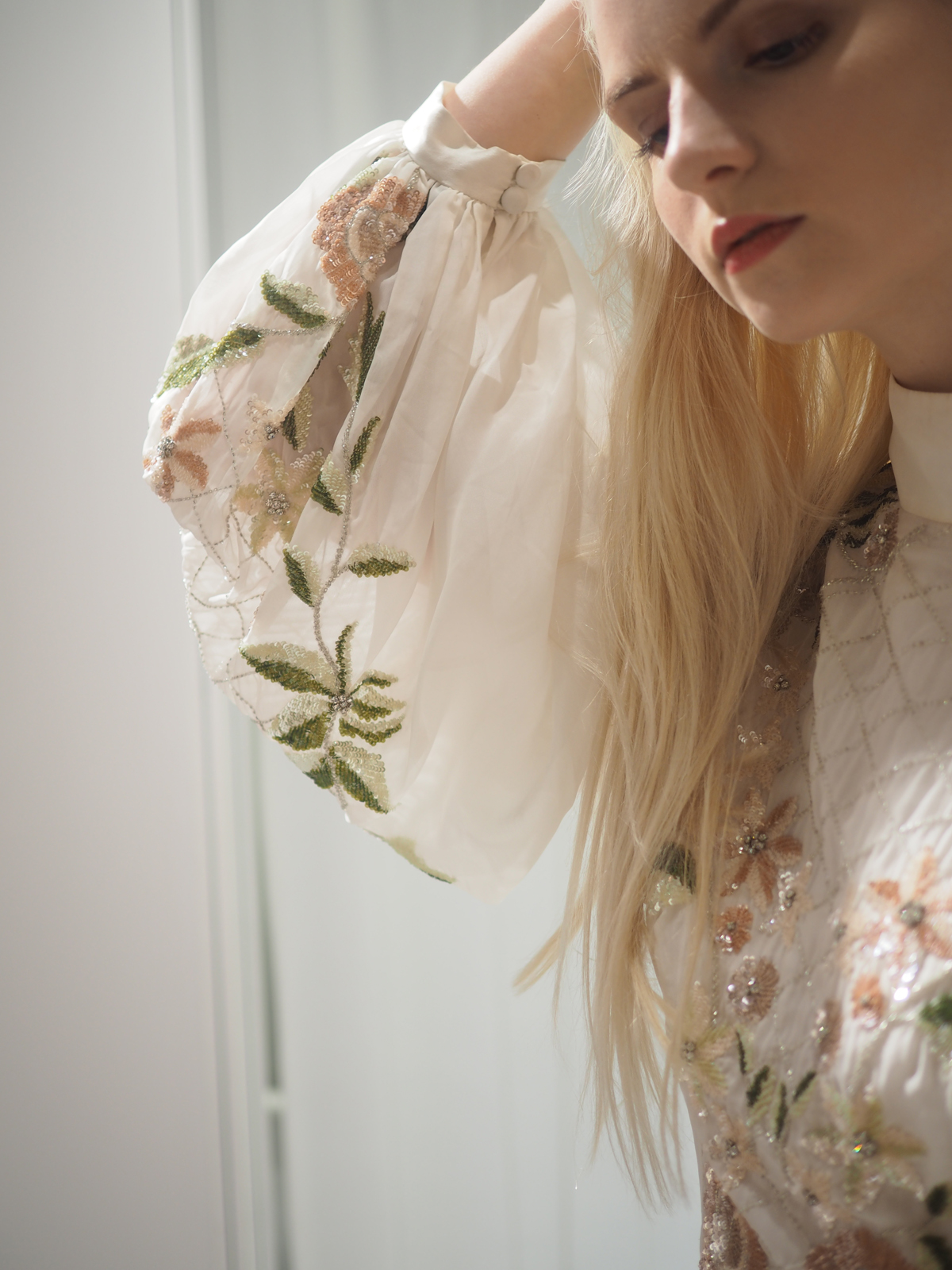 Narces
I was looking forward to meeting Canadian designer Narces – my husband discovered her Instagram feed months ago and so we had her on our list of 'must-sees'.  The stand was very small so it was difficult to see all the gowns as we would have wanted but what we did see told me that this new generation designer is here to make a big, bold, fashion-forward statement in bridal and you had all better take notice.
It's exciting to see that Narces have teamed up with established and much respected London bridal boutique Mirror Mirror Couture for the month of April. Really looking forward to seeing more from this designer. It's just so good to see new names entering the arena and shaking up the status quo.
Elisa Hameau
Elise Hameau is a chic French designer who again, we struggled to see much of due to very limited exhibition stand size, but we adored this cute little number (it was so beautifully cut) and utterly loved the fabric and textures in this collection. We can't wait to see more.
Sun Yu Hong Atelier
Another newcomer (as far as I'm aware) was Taiwanese designer Sun Yu Hong Atelier. I know little about this brand – by the time I got around to the stand it was late and the designer was busy – but I loved what I saw. These beautiful, strong, contemporary silhouettes really stood out for me.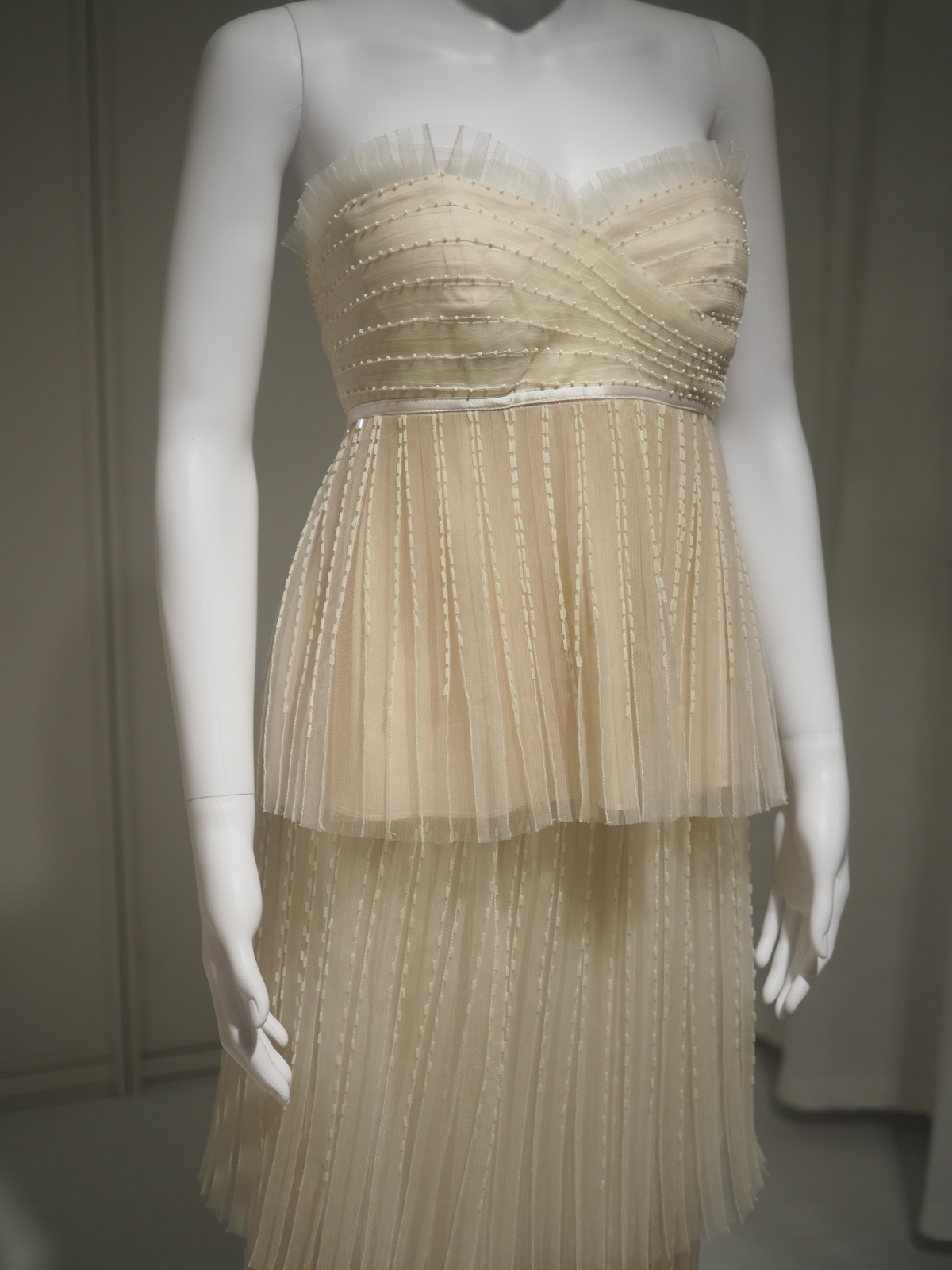 Shoes & Accessories
We only got around to seeing two shoe designers; the wonderful Harriet Wilde and Charlotte Mills Bridal. Having very recently become a first time Mum, Charlotte was absent from this year's event but it was a delight to get to meet her mum and see some of her latest fun and playful designs for the modern bride.
We spent quite some time chatting with Ruth, the designer behind Harriet Wilde – who told us that more of her brides than ever are going for a more chunky block heel, a design Ruth has embraced this season, alongside her exquisite embellished high heel signature look.
Lastly, it was a real pleasure to meet the Halo & Co bridal headpiece and accessory team. I was really pleasantly surprised to see how modern and fresh these creations ….
The classics
Jenny Packham
We recently shared images from Jenny Packham's 2019 catwalk show at The Ritz and you can find them here.
Sassi Holford
What a pleasure it was to see Sassi Holford and her husband/business partner Martin – Sassi alway hires a great space at White Gallery which enables you to get a really great 360 degree view of her designs. The whole collection felt so modern and cool. The appeal behind Sassi's brand only seems to increase in strength season on season. She knows just how to balance all the right elements of glamour, elegance, modernity, texture, youthfulness, playfulness and  sophistication. It was the perfect collection for me and I adored every piece.
Caroline Castigliano
Caroline Castigliano's stand is always ridiculously busy with buyers so it was difficult to get a clear shot of her gowns. What we saw however completely epitomised high end bridal couture – every gown hand-stitched to absolute perfection. Caroline always has time to chat with us and this year, we had a very interesting discussion on the influence of print media versus digital media.
Caroline's pieces ooze sophistication and glamour. One of our most popular Instagram images this year featured a bride in one of her sensational backless gowns.
Trends we Spotted
I spotted a lot of pearls this time round (see the Rasha London images in the gallery at the end of this page), feathers, sheer capes, tailored and leather jackets, 3D florals, colour and a more modern version of bridal sparkle. Below are some of the images that best capture the trends we saw emerging from our few days in London.
Jackets, Capes, Coverups
Spotted at Jenny Packham, Suzanne Neville, Sassi Holford and Eliza Jane Howell.
3D Flowers
The designers who did this best were E&W Couture, Narces, Harriet Wilde, Bowen Dryden and Savin London.
Tiers
A design detail inspired by 1950's silhouettes and one I have always adored, it was great to see a variety of tiered silhouettes over the 3 days we were in London. Tiers spotted at Narces, Sun Yu Hong Atelier, Katya Katya London, Sassi Holford and Watters.
Modern Sequin & Sparkle
Portrayed best in this brilliant gown by Narces (can you tell I'm just a little bit excited by this label?)
[instagram url=https://www.instagram.com/p/Bg6NRqZlYqI/?taken-by=mirrormirrorcouture hidecaption=true]
Colour
A number of designers we spoke to said they are selling more colour gowns than ever before. Think pale blues, nudes and metallics rather than block colour though. These were subtle and elegant colour statements.
I've included a gallery of images below for you to enjoy – hover over or click on each image to find out the designer. You can also see more on our Instagram Stories Highlights.
Anyone who knows me will knows I'm a loud vocal advocate of our brilliant British wedding industry. What I've seen this past week tells me that the designers who make up such an important space in this industry are on top of their games right now. I'm absolutely loving seeing so much innovation and creativity. I hope you see something you like in these images too.
Enormous congratulations to everyone who exhibited at and during White Gallery – we realise it was no easy feat having to get your collections completed two months earlier than usual this year, but you all did *brilliantly*.
Annabel x