A friend's sister gets married this year and she and her husband to be will be bringing together their fabulous mix of Indian Hindu and Liverpudlian atheist backgrounds in one massive celebration.
I absolutely love a day which brings together such disparate elements and yet creates something utterly wonderful and today's glorious fusion wedding is certainly one of these.  Readers, brace yourselves, because this is an absolute beauty. Sapna, an IT resource manager, married Joe, who works as a supplier manager, on the 28th of August 2017 at Elmore Court in the Cotswolds, in a breathtaking feast of colour and style.  The day boasted two ceremonies (one Hindu, one civil, both beautiful) and of course, two dresses and was planned by Jane Riddell of Planned for Perfection.
Film by OffBeat Films
Sapna describes their wedding style as 'colourful fusion and relaxed ethereal garden elegance' and I really don't think I could have put it any better than that.  The day is absolutely bursting with colour and detail in parts and in others, is dreamily soft and delicate- its the most wonderful combination.
"We wanted to have the legal ceremony and the Hindu ceremony on the same day, so chose to marry at Elmore Court in their beautiful hall, followed by a garden ceremony underneath a bespoke birch mandap, which was dressed in colourful flowers."
Photography by Matt Willis
Lucky Sapna not only got to marry her love twice in one day, but got to wear two fabulous gowns to do so- celebrating both East and West.  For the civil ceremony, Sapna wore a delicate Needle & Thread gown, which she purchased from NET-A-PORTER.I love its simplicity and 'Midsummer Night's Dream' feel, as well as the beautiful beaded bodice, so characteristic of Needle & Thread dresses.  For the Hindu ceremony meanwhile, she chose an intricately patterned gown in shades of red and pink, which she bought from Onitaa in Chelsea.  I really couldn't pick between the two gowns personally, so its perfect that she was able to wear them both and all in the one day!
"My wedding dress for the civil ceremony was floaty, unfussy and cascading.  Its beautiful simplicity built up to my Indian dress, which is what I wanted because the traditional dress for the Hindu ceremony was not a traditional colour palette for an Indian wedding dress.  The stunning colours, modern cut and contemporary feel balanced with the traditional embroidery and the detail on the dress was extraordinary."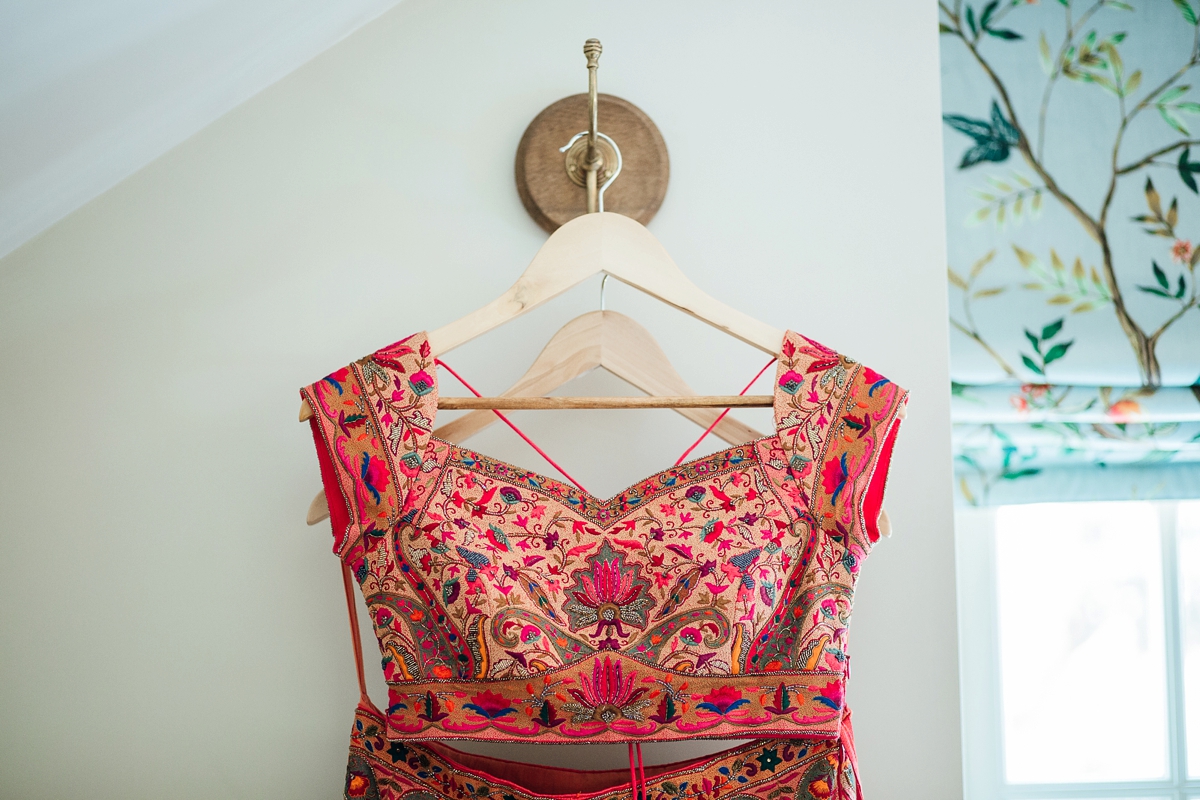 On her feet, Sapna wore a pair of silver LK Bennett shoes, while for scent she chose Coco Mademoiselle by Chanel.
"Its my favourite perfume.  It makes me feel like me plus an added bit of va-va-voom!"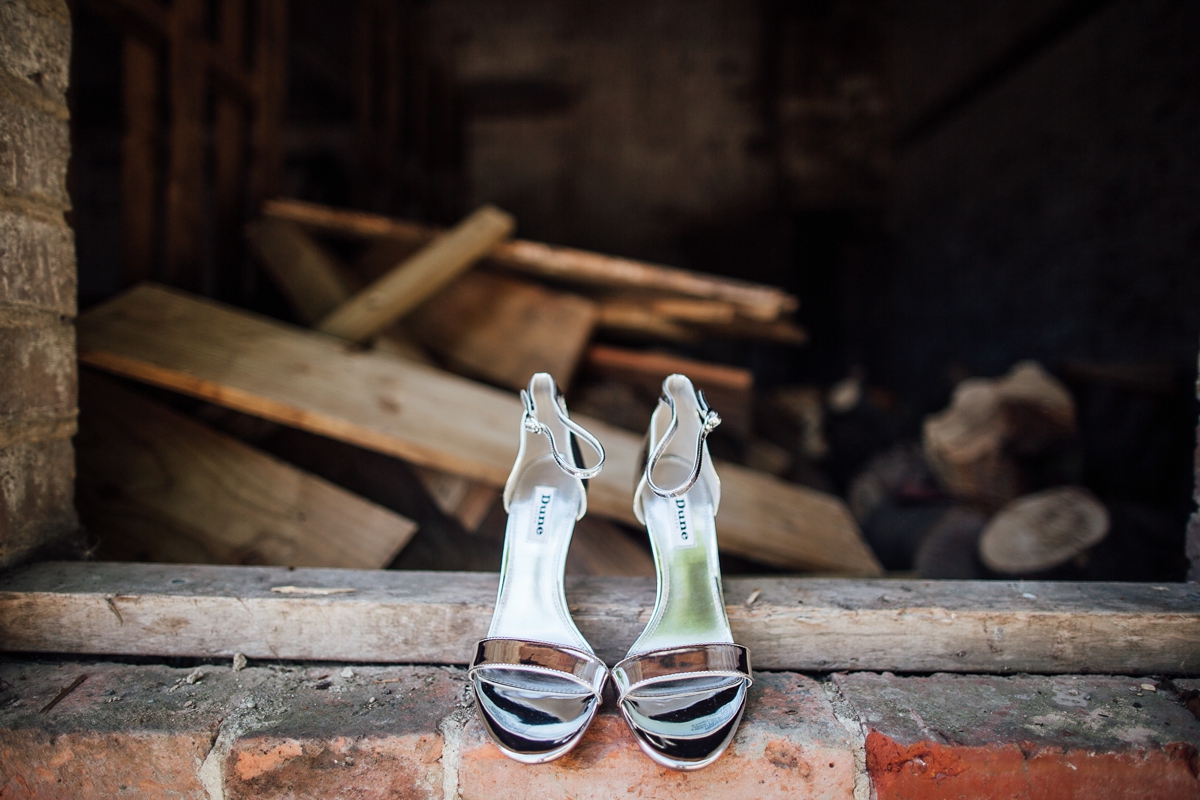 Sapna kept her accessories to a minimum with her Needle & Thread gown, but fully embraced them for her Indian outfit.  All her Indian jewellery was bespoke and purchased from Kyles Collection in London.  For the finishing touch she had her skin decorated with beautiful mehndi patterns (a traditional form of body art).
Mehndi is a tradition dating back thousands of years to ancient cultures where the bride would be entrusted with the secrets to a joy-filled marriage by all her closest female friends and family; the symbolism of this is just beautiful, don't you think?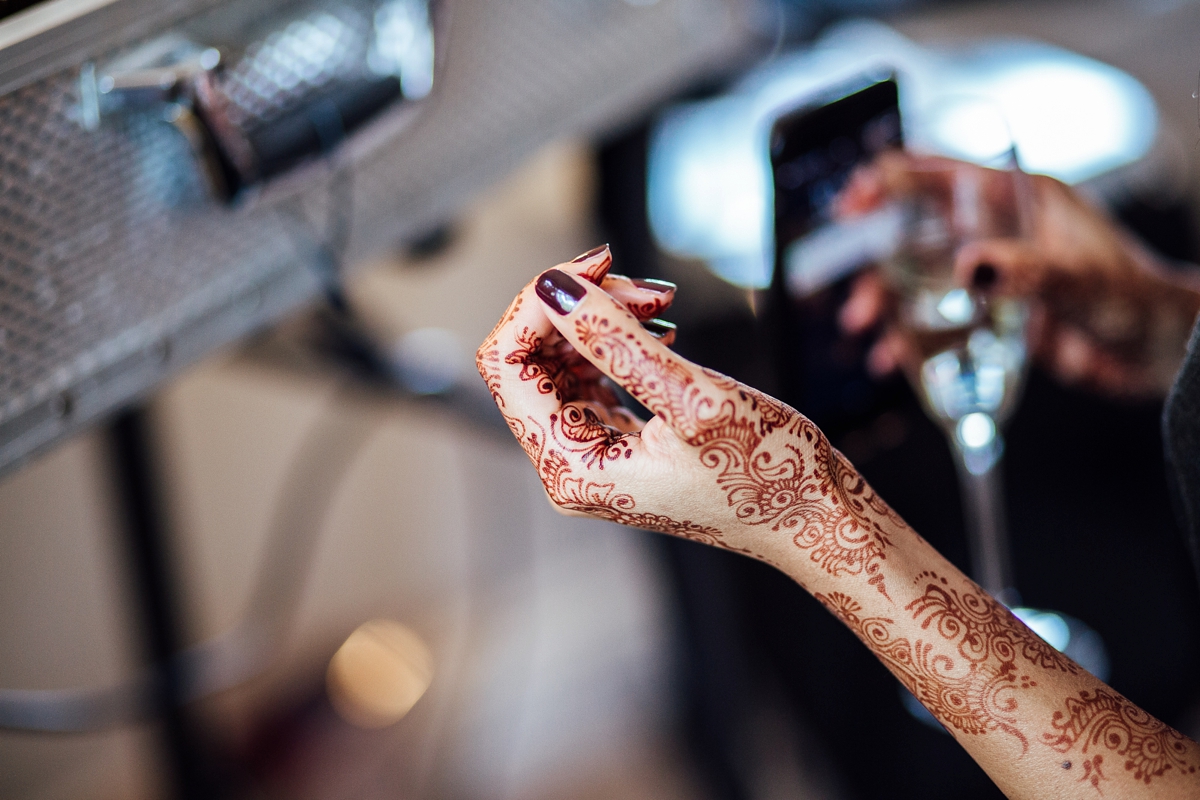 Sapna chose to wear her hair down, with sections pinned up at the back for volume and texture.  She kept her make up soft, with just a hint of pink on lips and cheeks, which echoed the pinks of her flowers and later, the rich colours of her Indian wedding gown.  Both hair and make up were the work of Diana McDonald.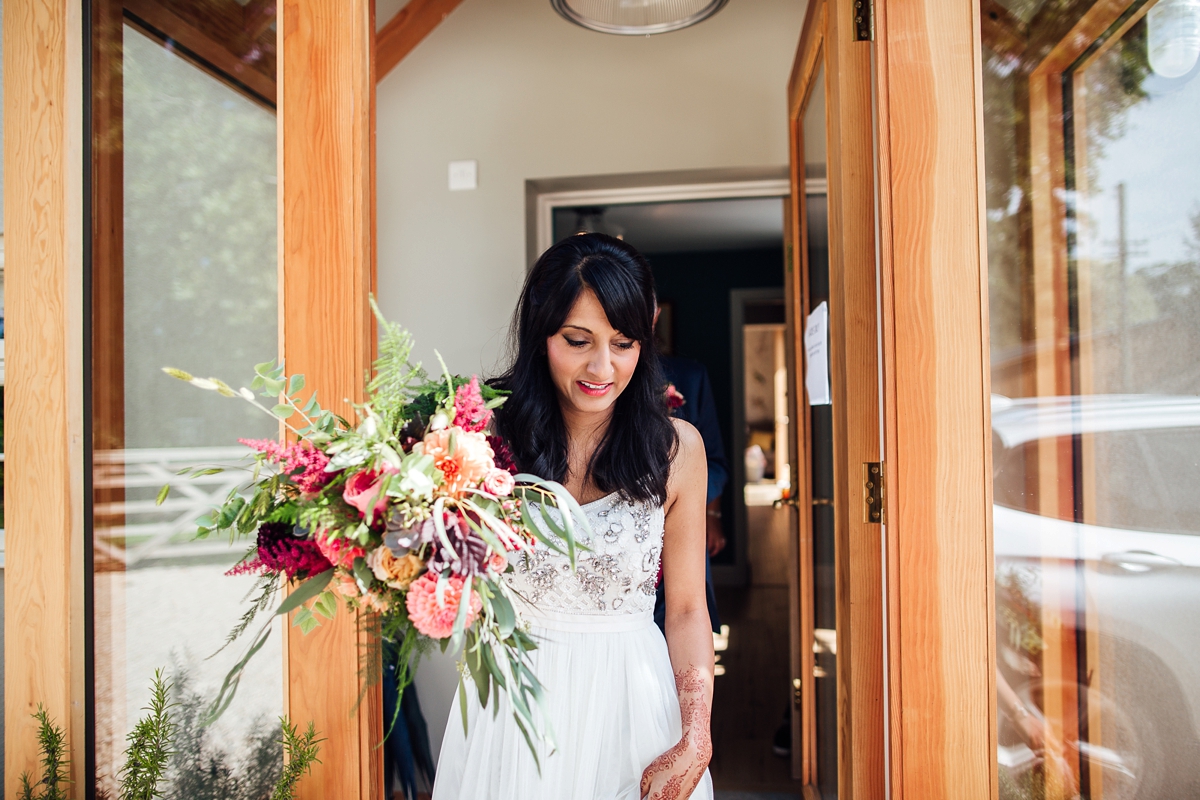 The spectacular flowers were the work of The Rose Shed and I really am quite overwhelmed by the amazing colours, shapes and textures florist Rachel has created here.  From the beautiful reds, pinks and corals of the bouquets to the lush foliage of the table decorations, these flowers are an absolute feast for the eyes.
Sapna was accompanied down the aisle by her father.  For the civil ceremony they walked to 'Baby I Live Your Way' by Big Mountain, and for the Hindu ceremony, to 'The Sun Won't Set' by Anooshka Shankar.
Gloucestershire registrars oversaw the civil marriage, while for the Hindu wedding service priest Chandra Vyas led the ceremony, under the flower laden mandap, made by Toby Edward.
"We tailor-made our own vows that were special and personal to what we think a good marriage looks like."
Sapna told us that her favourite part of the day was the feeling of being married, and I think the photos from the ceremony (both of them) make this perfectly clear.  I just adore the photos of their first married kiss.
Rings were bespoke and purchased from Diamond Heaven.
"We worked closely with our wedding planner to create our wedding day vision in the fabulous Gillyflower at Elmore Court."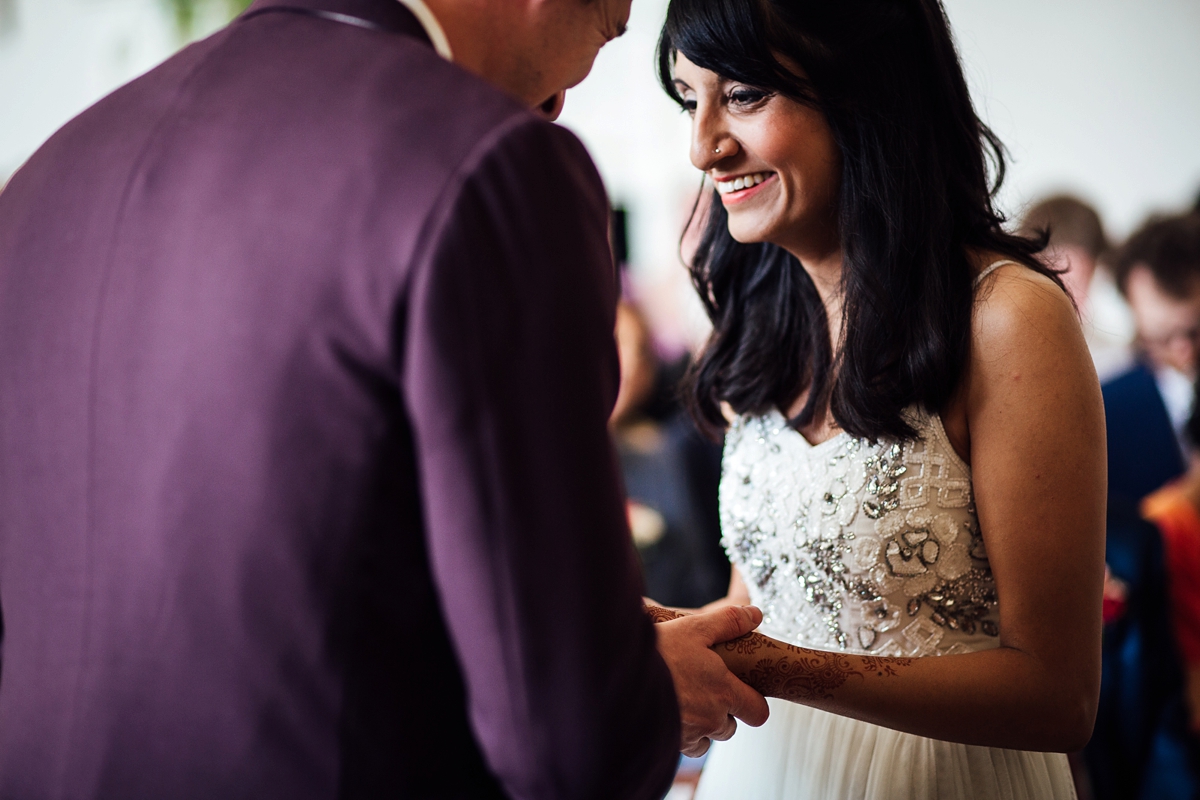 Joe looked positively regal in both of his outfits- the first, a three piece suit with plum jacket and trousers and checked waistcoat from Paul Smith, and the second, the most beautiful blue, red and gold coat (which I believe is a sharwani, if I've researched correctly), gold trousers and blue shoes, all from Cuckoo Fashion in Whitechapel.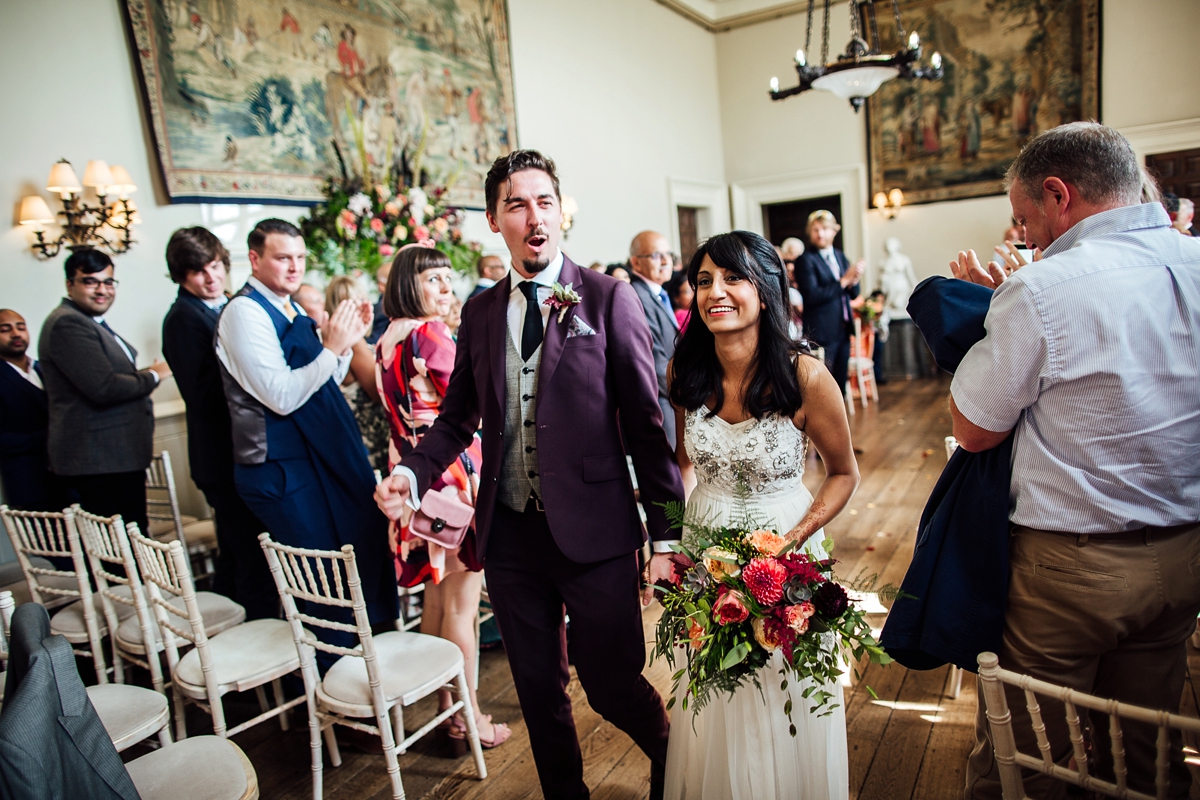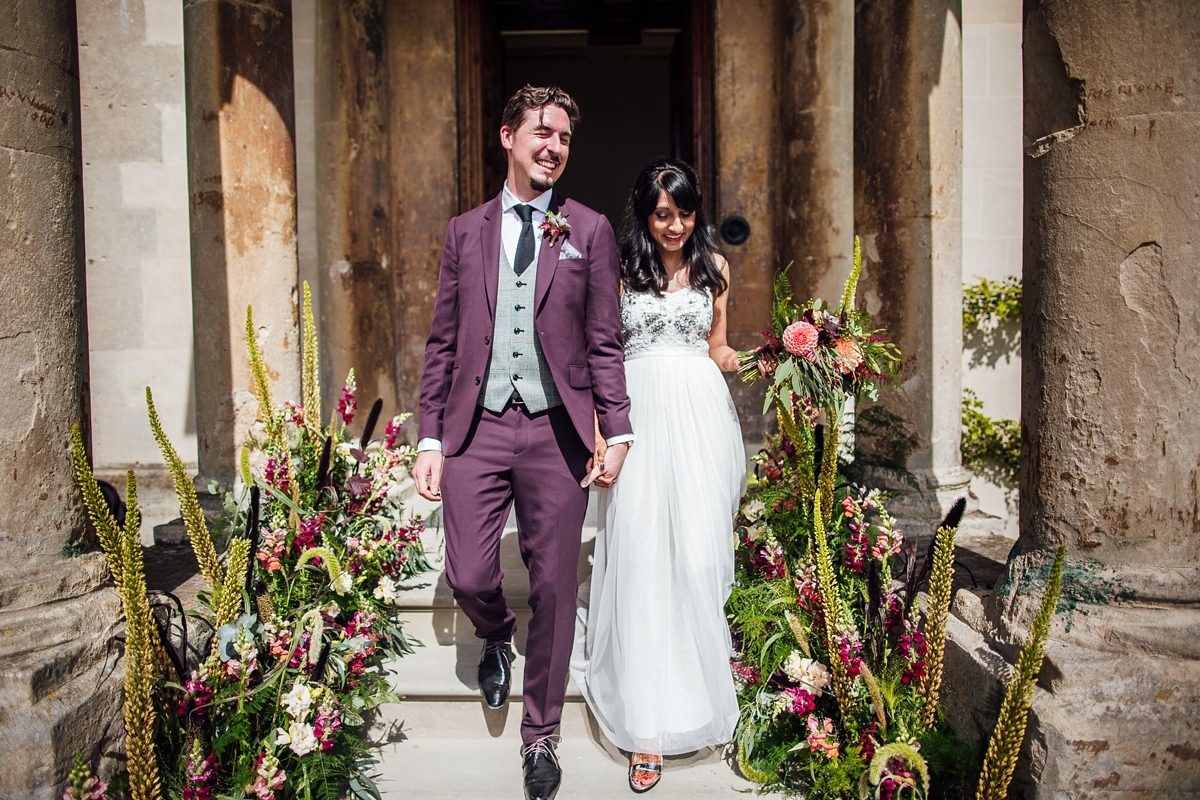 For the civil ceremony the bridesmaids looked lovely in pale pink gowns from ASOS, while the little flower girl wore a dress from Monsoon and acessorised with a pretty flower crown.
The small usher also wore Monsoon (who we are very proud to say are members of our Little Book for Brides directory) and looked proud as punch to be preceding Sapna down the aisle.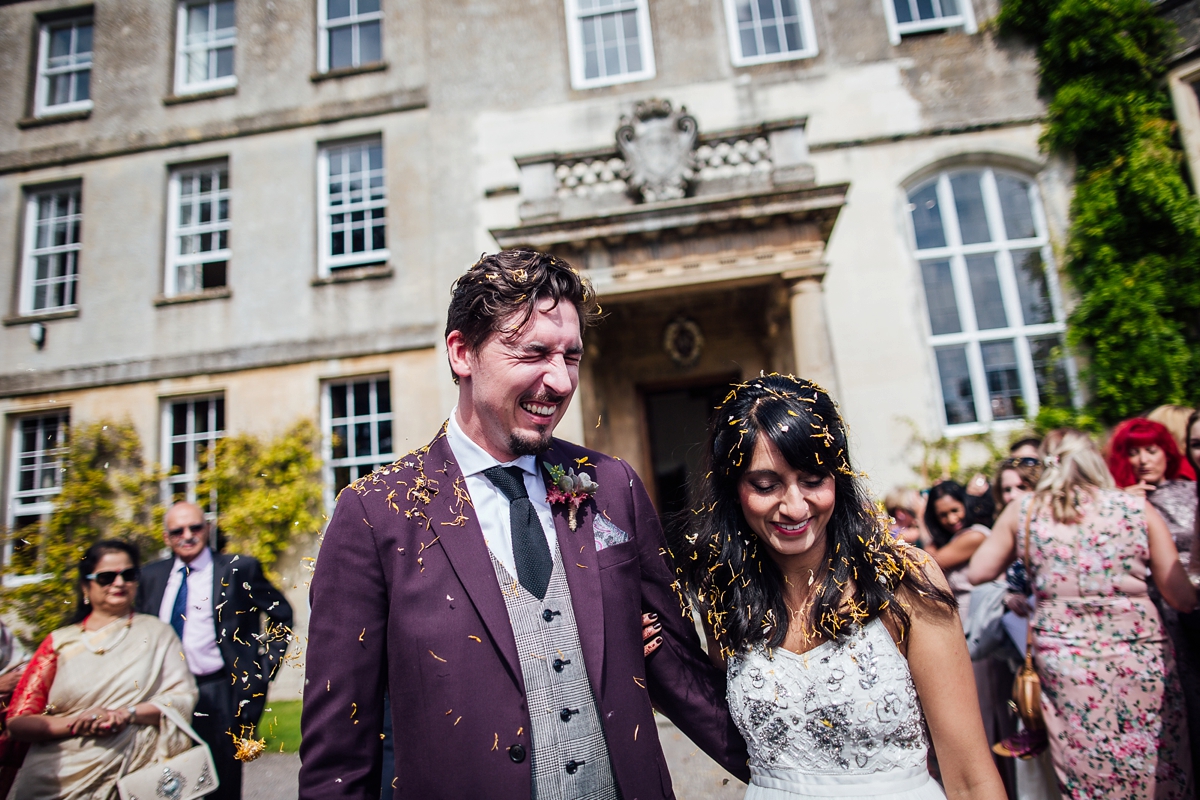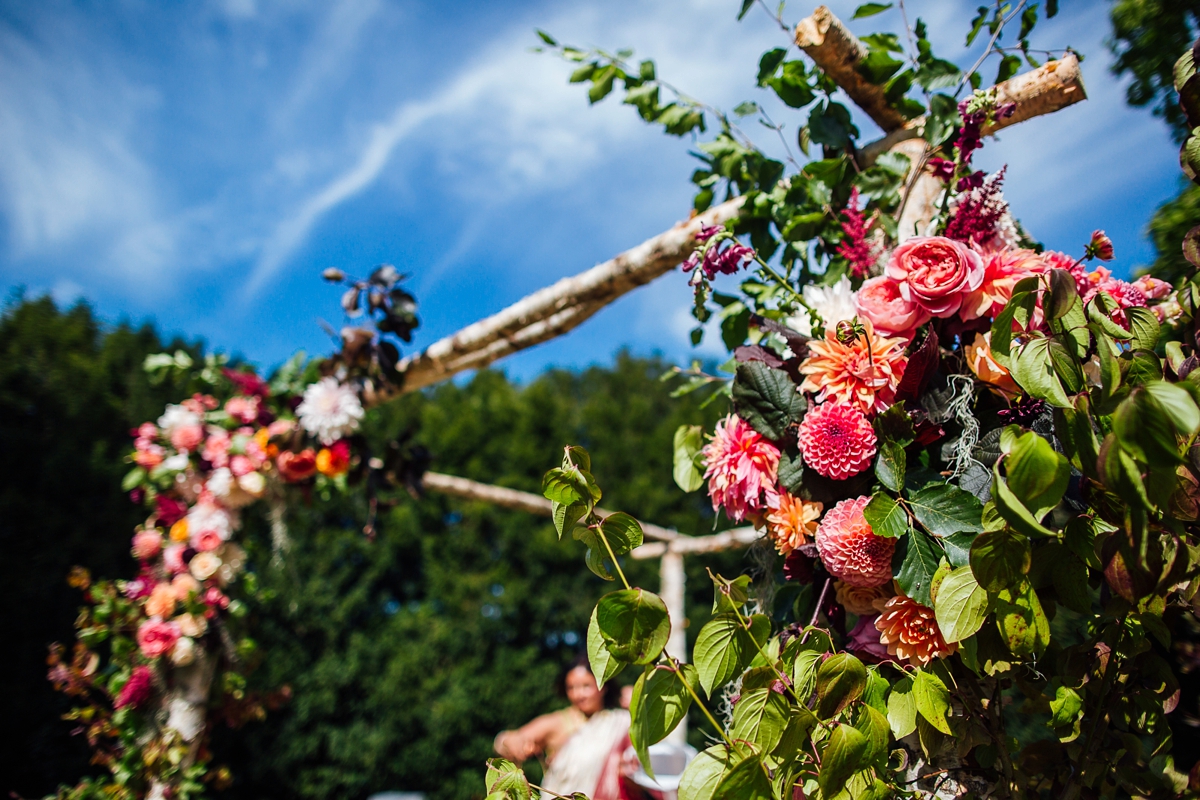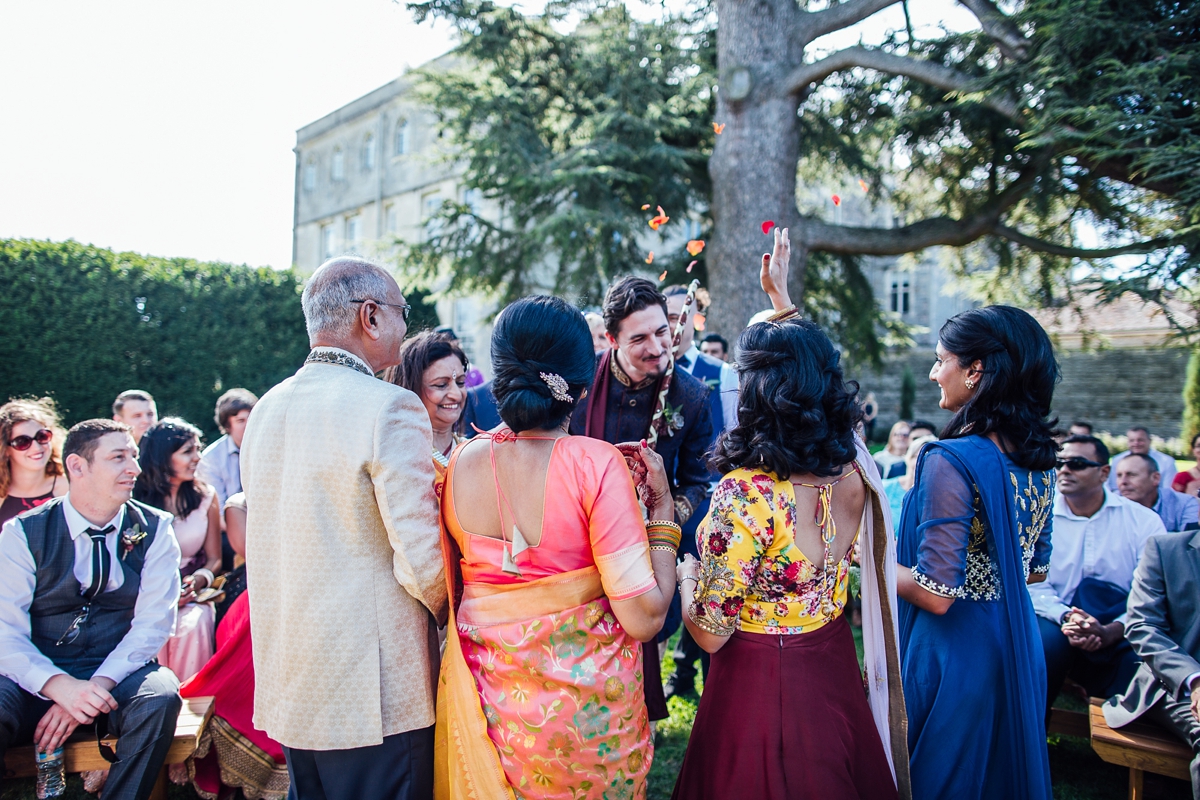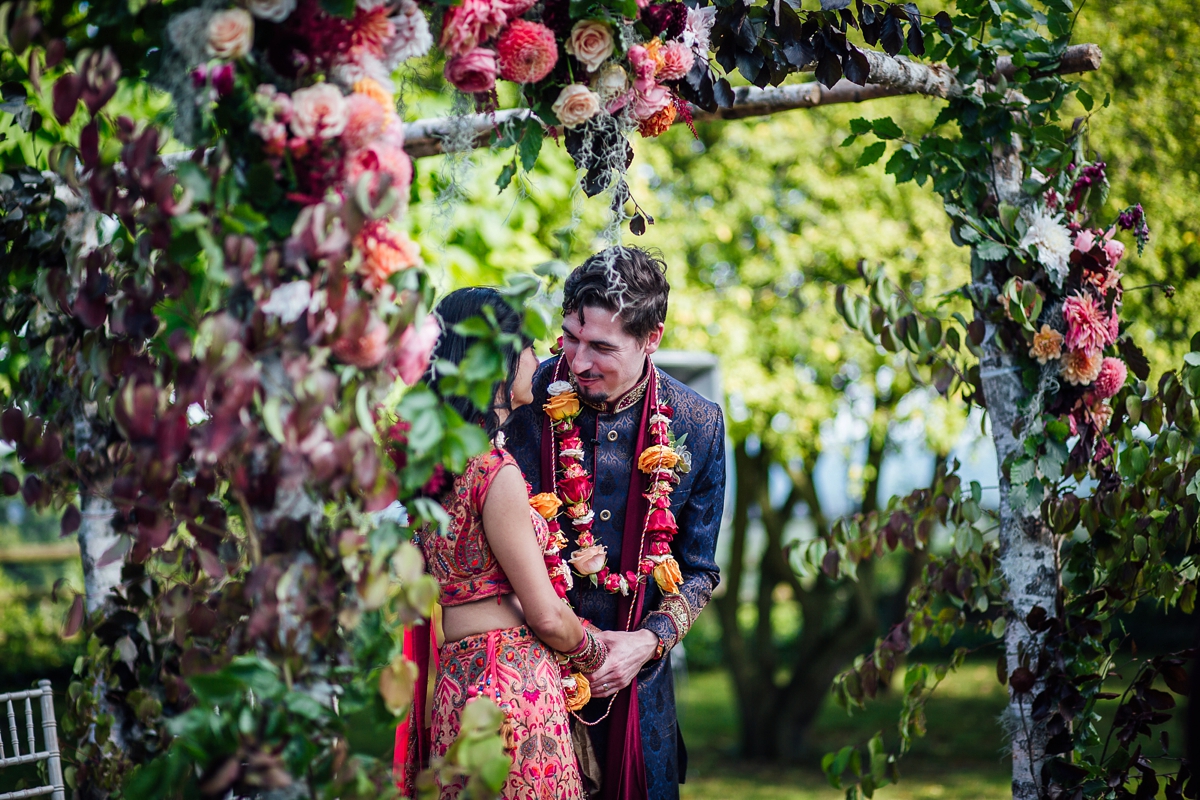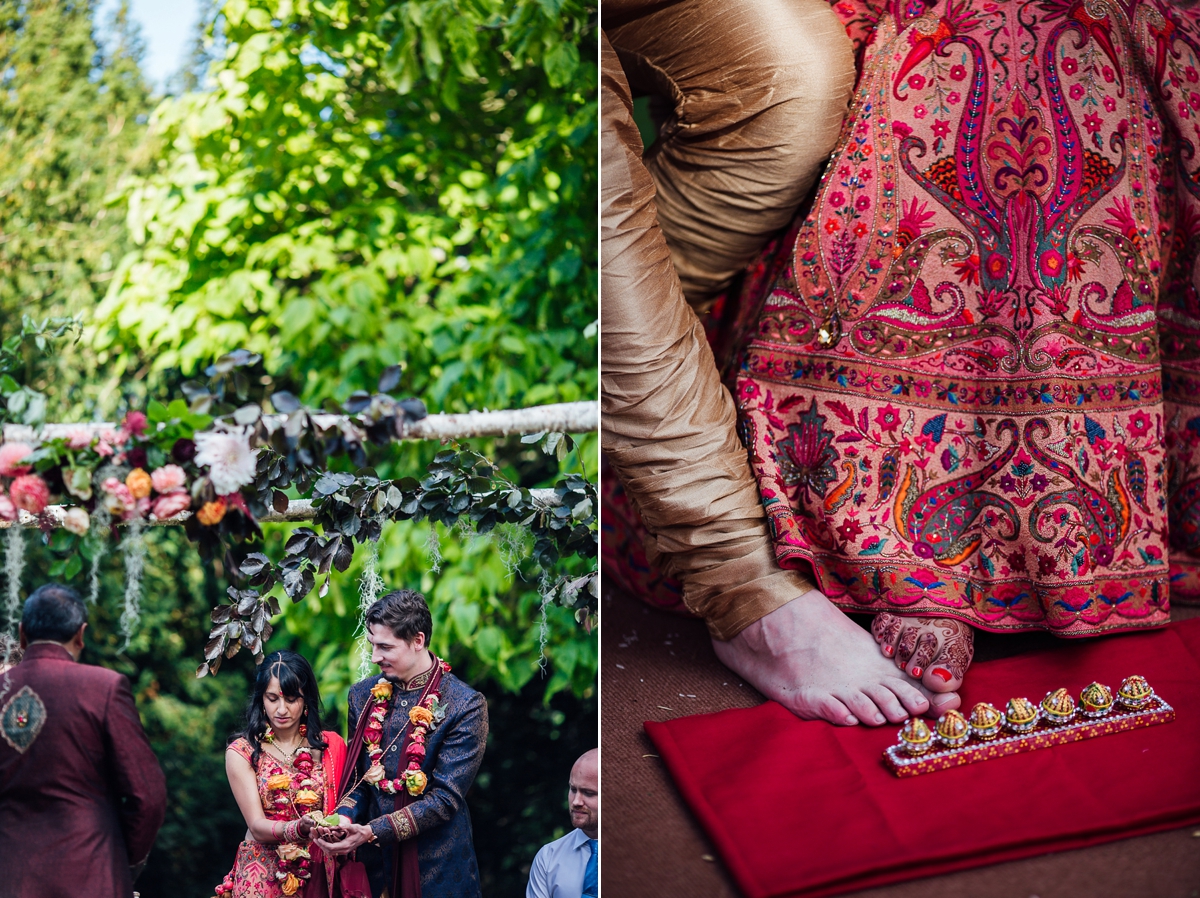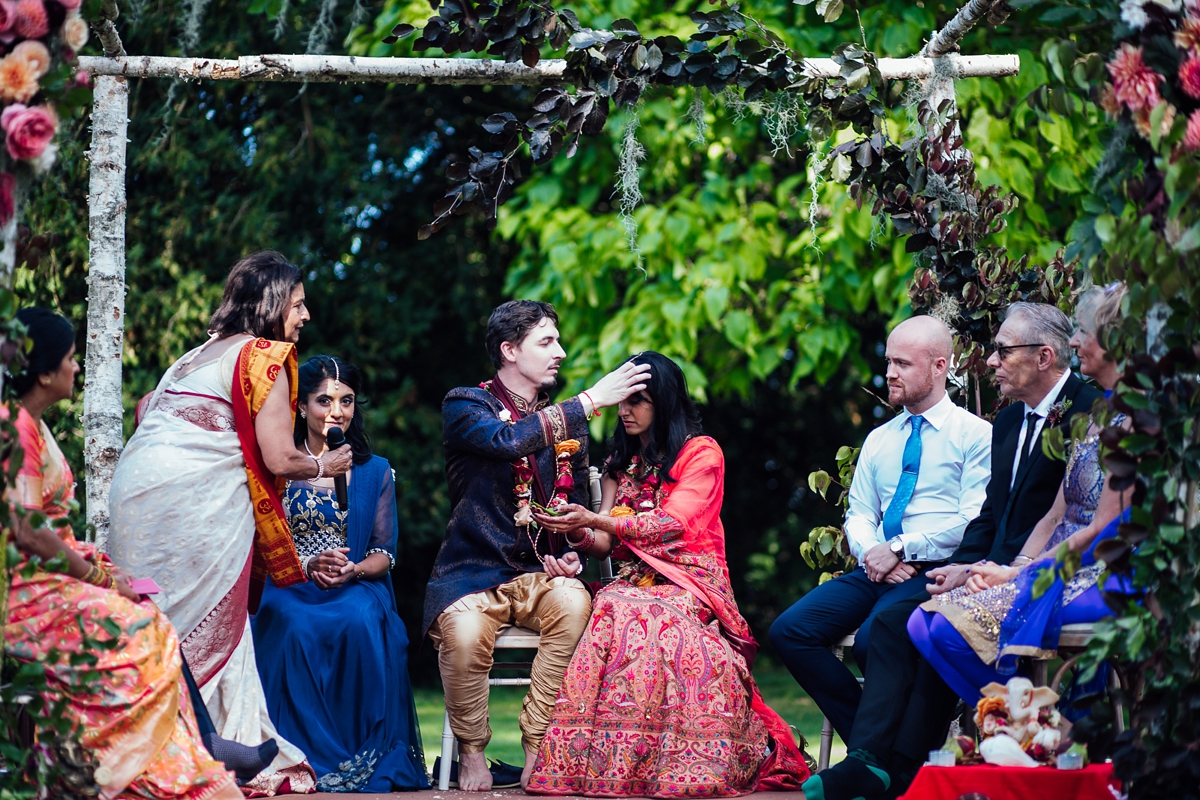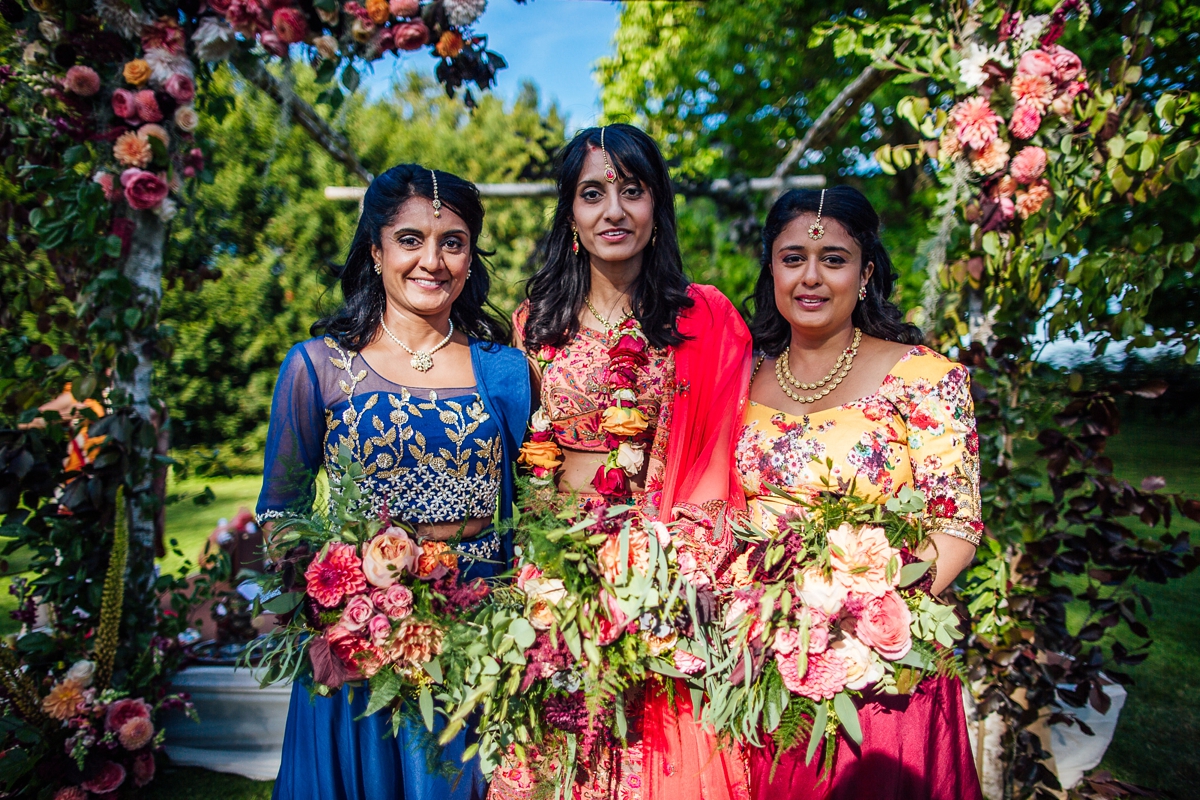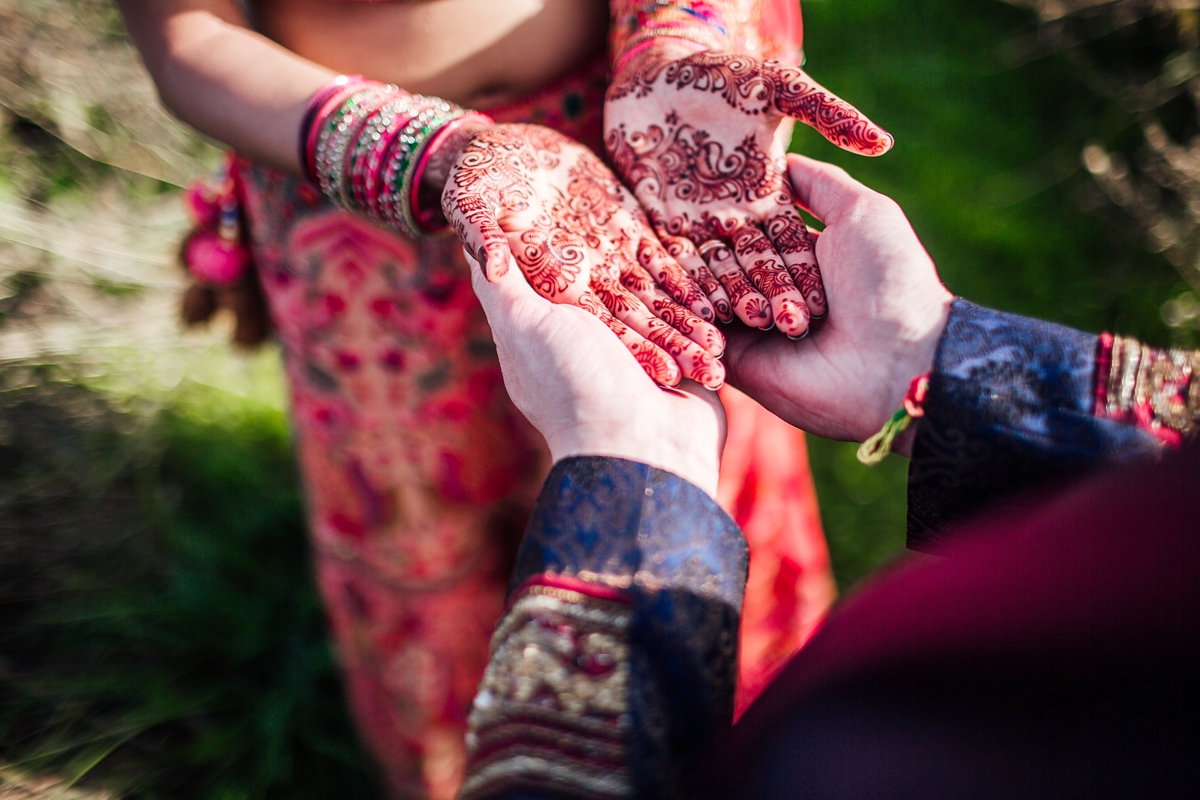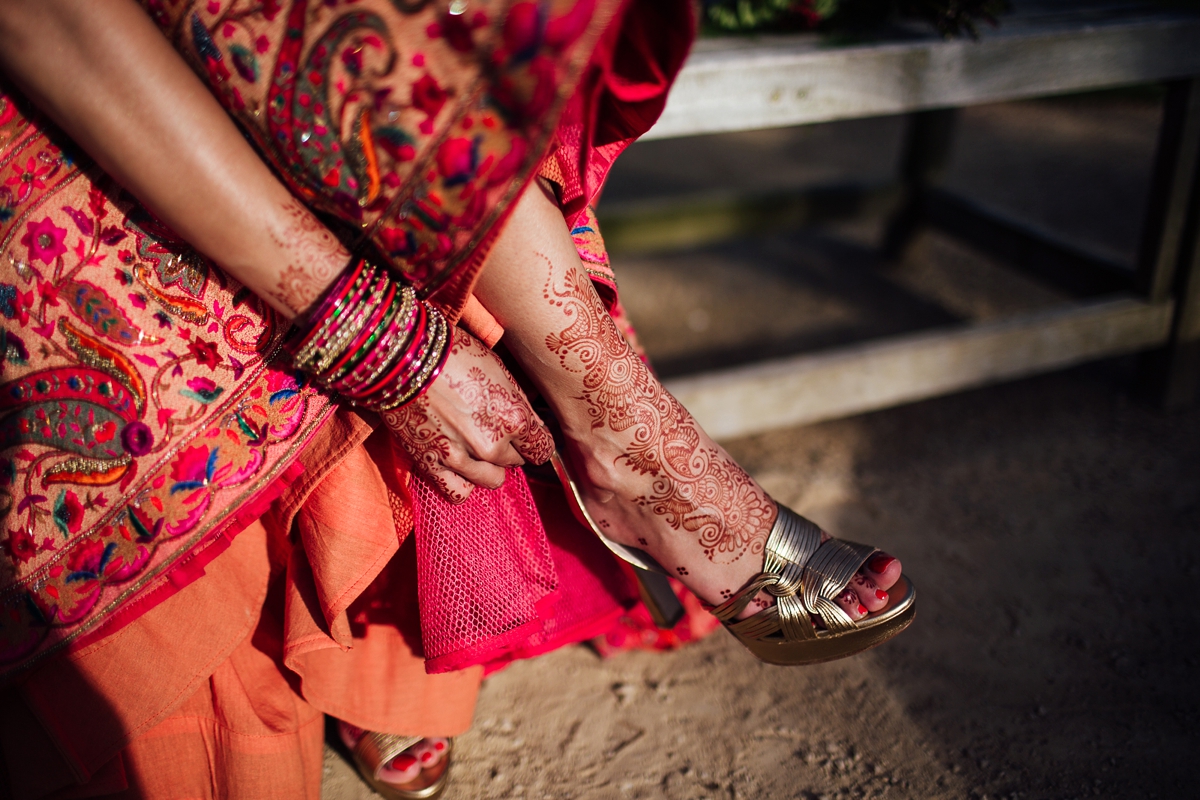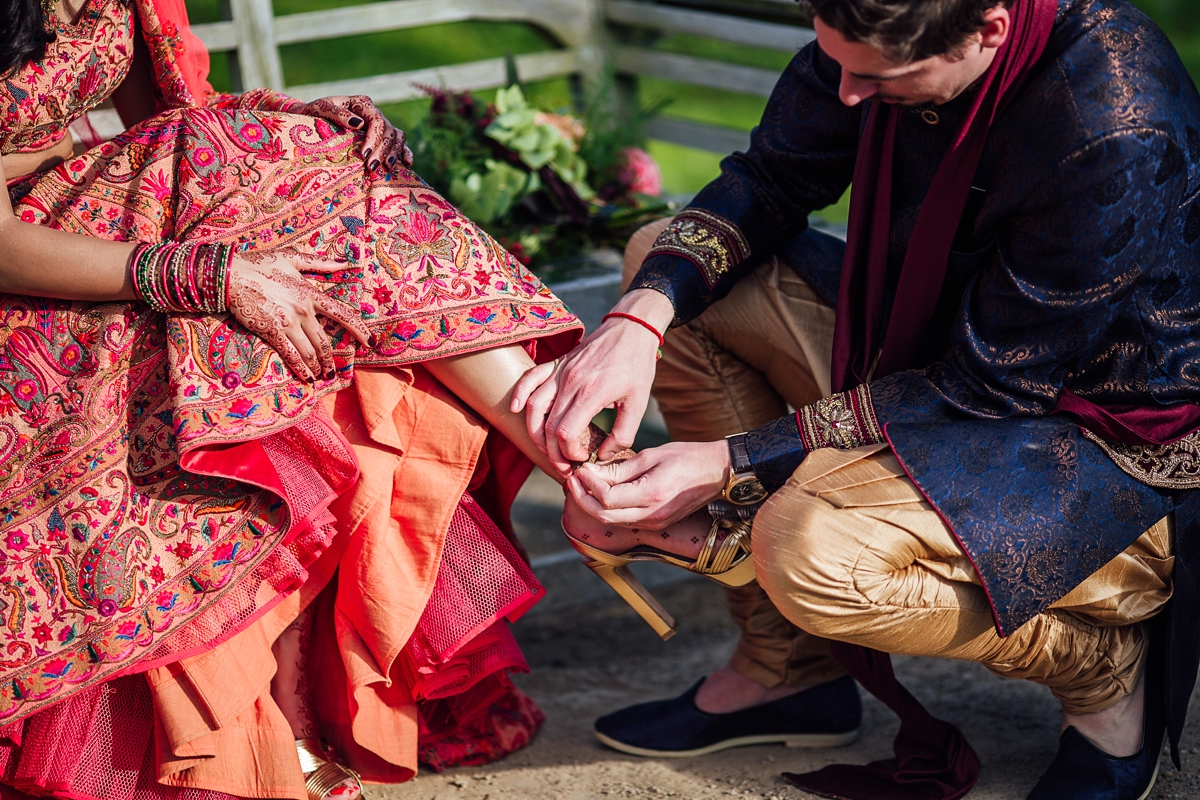 Today's fabulous photographs come to us courtesy of Matt Willis Photography, who captured every moment of this beautiful day on camera.  I just love the mix of close up and distance shots, the mix of angles and the abundance of colour in every frame.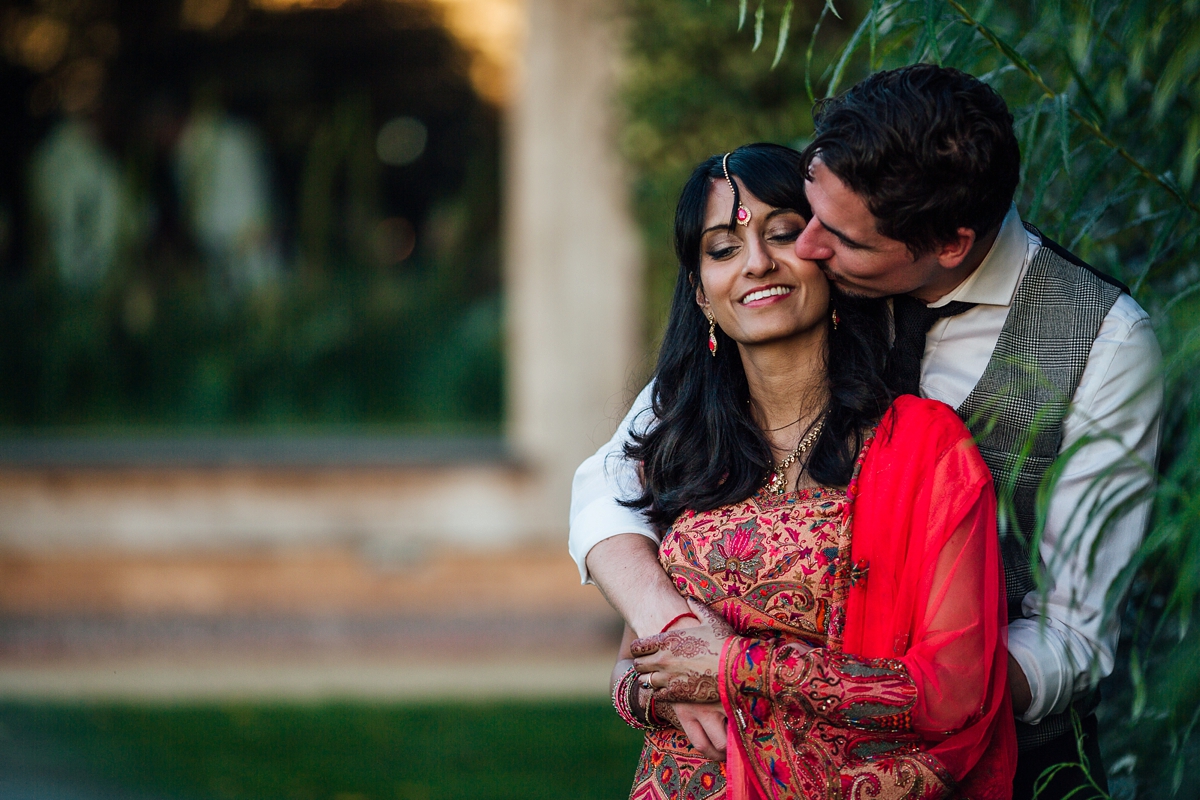 The Gillyflower (described as "future-rustic" by Elmore Court) is an amazing space.  It was built with earth and timber from the estate, boasts a meadow roof and huge windows and is both sustainable and contemporary- quite stunning.  Sapna and Joe made the space theirs with an abundance of floral arrangements by The Rose Shed, light up table numbers from Lighthaus Events and gold accessories to create an even more sumptuous feel.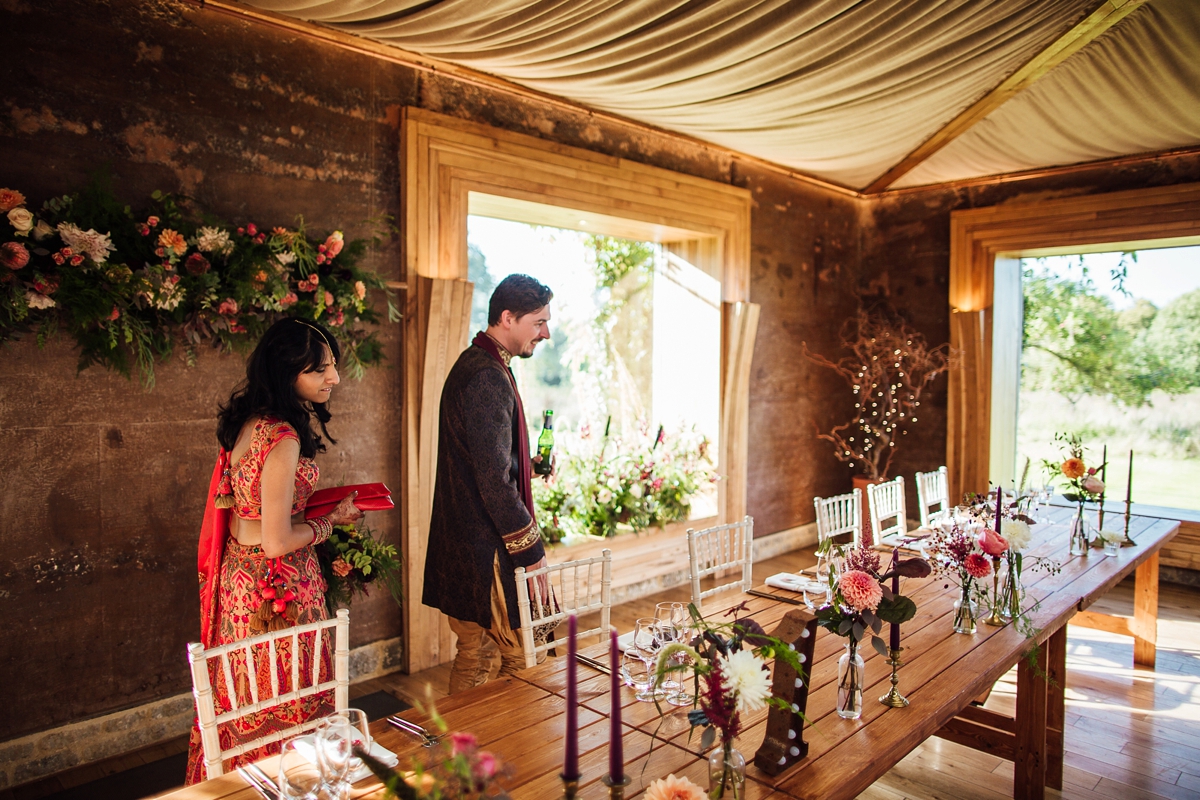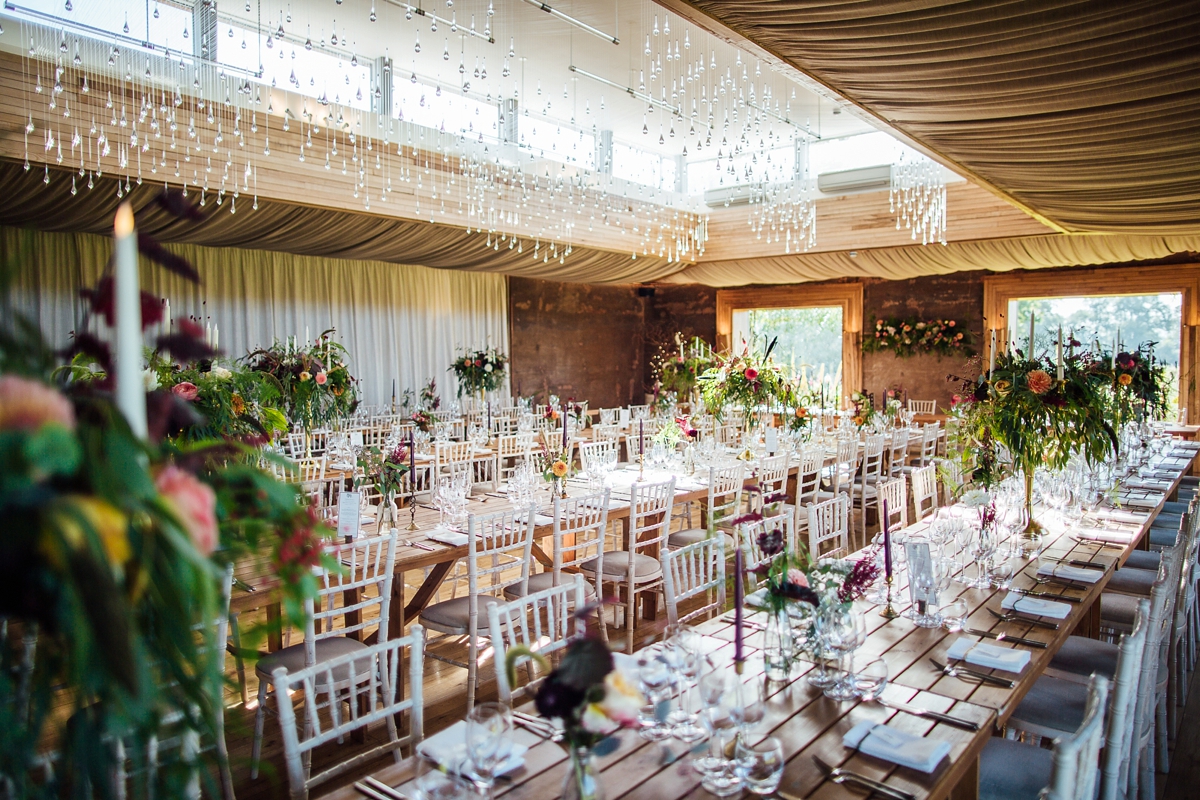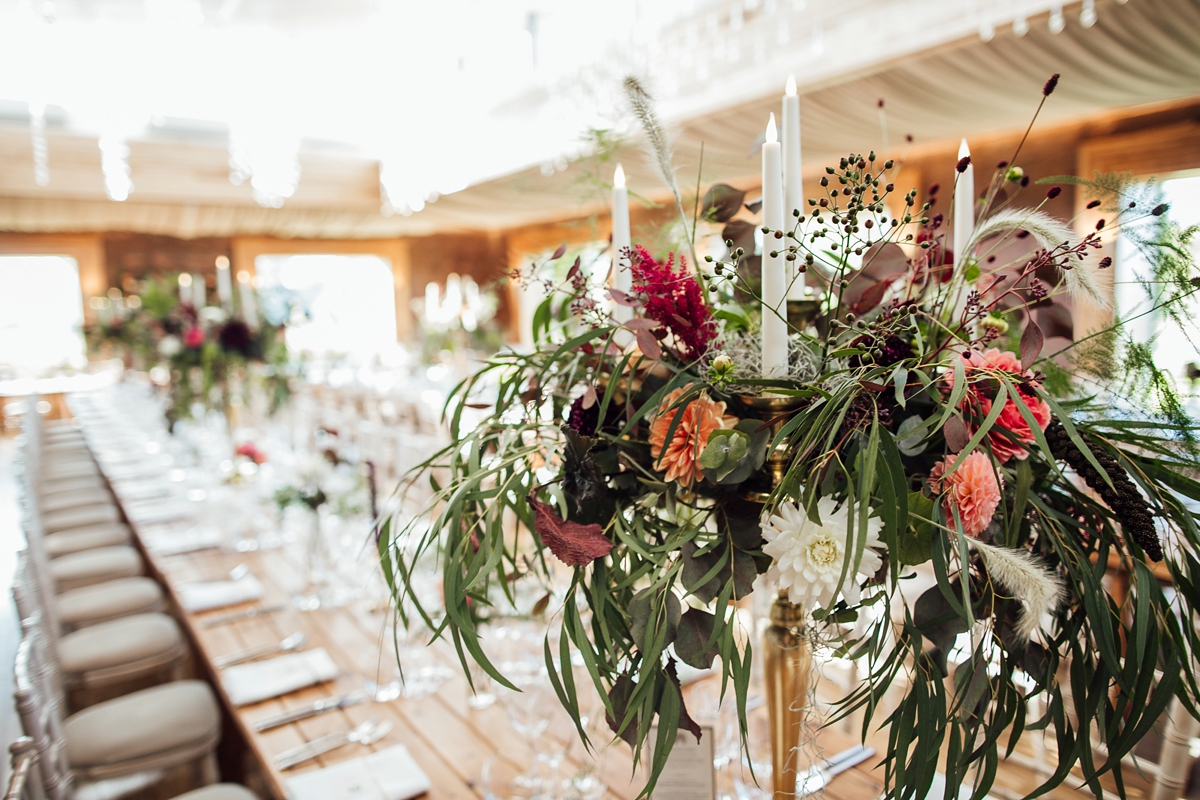 The three tier cake, iced in cream and decorated with brightly coloured flower petals, was by Vanilla Pod Bakery and looked completely delicious.  The rest of the day's catering was by Saffron Culture, who provided the wedding breakfast, and Pizza Monkey, who provided the evening food.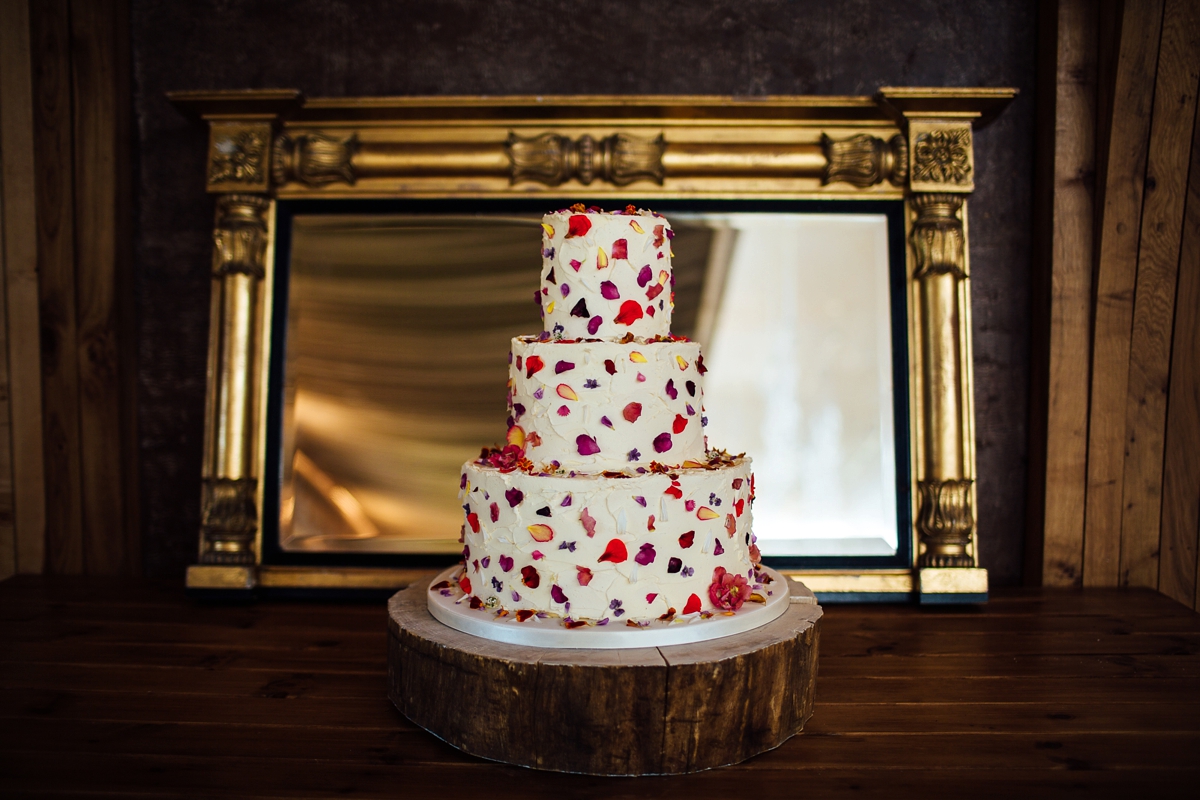 For entertainment, Gloucestershire Magician Richard Parsons performed for guests and in the evening, Deckstar Deluxe made sure the dancefloor was never empty.
"Our wedding planner tried to keep us within the given budget, but towards the end of the planning process, we may have gone slightly over to ensure we had exactly what we wanted!"
Words of Wedded Wisdom
"It's about you as a couple, don't forget that!  There are so many people involved in your wedding day and some things may not go exactly as you had envisaged, but that's human nature, so just smile, enjoy the day and know that your wedding planner has your very best interests at heart and will sort everything out."
"Hire an experience wedding planner, we hired Planned for Perfection and know that she worked tirelessly to ensure the very best day for us throughout our entire planning journey, which culminated in the most wonderful wedding."
So many thanks to Sapna and Joe for sharing this utterly wonderful day.  Thank you too of course to Matt Willis for the beautiful images.
For more fabulous fusion style, why not spend some time looking through a few past Love My Dress weddings?  There are such a gorgeous mix of people, places and cultures to celebrate and admire- these are genuinely some of my favourite weddings on the blog.
Much love,
Shona x