My husband and I planned a small wedding, although it quickly got a lot bigger…  I love an intimate ceremony though and today's bride and groom perhaps had the best of both worlds with a small and select ceremony, followed by a party in the woods bursting with tropical style and packed with their family and friends.
Marie, a social media manager and part-time make up artist and Chip, a fire engineer, married at Portsmouth registry office on the 25th of August  2017 and celebrated with a reception at the unique Tournerbury Woods Estate, Hayling Island, Hampshire. More on that beautiful Grace Loves Lace gown soon.
"After putting our daughter to bed one night we decided to sit outside in the garden and have dinner and a few drinks.  We were just chatting about life, marriage and all sorts, then he just asked me to marry him.  I don't think he knew he was going to and I didn't believe him so he asked me three times! We wanted the day to be as informal as possible as we are both very relaxed people.  I love flowers and plants and just wanted the venue to look as green as possible so gave the florist total control."
Images by Through The Woods We Ran
"I saw some pictures by Through The Woods We Ran on Love my Dress and fell in love with their style.  Nothing else compared.  I scrimped and saved to have them, as photography that suited us as a couple was so important.  They were incredible on the day, made us feel so relaxed and half the time we didn't know they were snapping away.  Everyone has commented on how amazing the pictures are, perfectly capturing the laughter, love and amazing group of people we were celebrating with.  I couldn't recommend them highly enough."Marie wore a drop-dead gorgeous, full sleeved gown from Grace Loves Lace which she purchased at a trunk show.  As ever with GLL gowns, I just love the fabric, as well as the cut out back which compliments the geometric patterning.
"It was the first dress I fell in love with but I never thought I'd be able to have it as it was from Australia.  I found out last minute that they were doing a trunk show in London and I went up alone as I didn't want anyone's opinion to sway mine.  The last dress I tried on, the Soho, was the one.  I loved how my arms were covered and the geometric lace was so stunning and unique.  I didn't want a traditional dress, but still wanted to feel like a bride and I just adored it."
For the ceremony Marie wore a pair of blush pink velvet sandals, then slipped on some fuchsia pink velvet sliders from River Island for the rest of the day.  For scent, she wore L'air de Rien by Miller Harris–  a gift from a generous bridesmaid who knew that it was her favourite.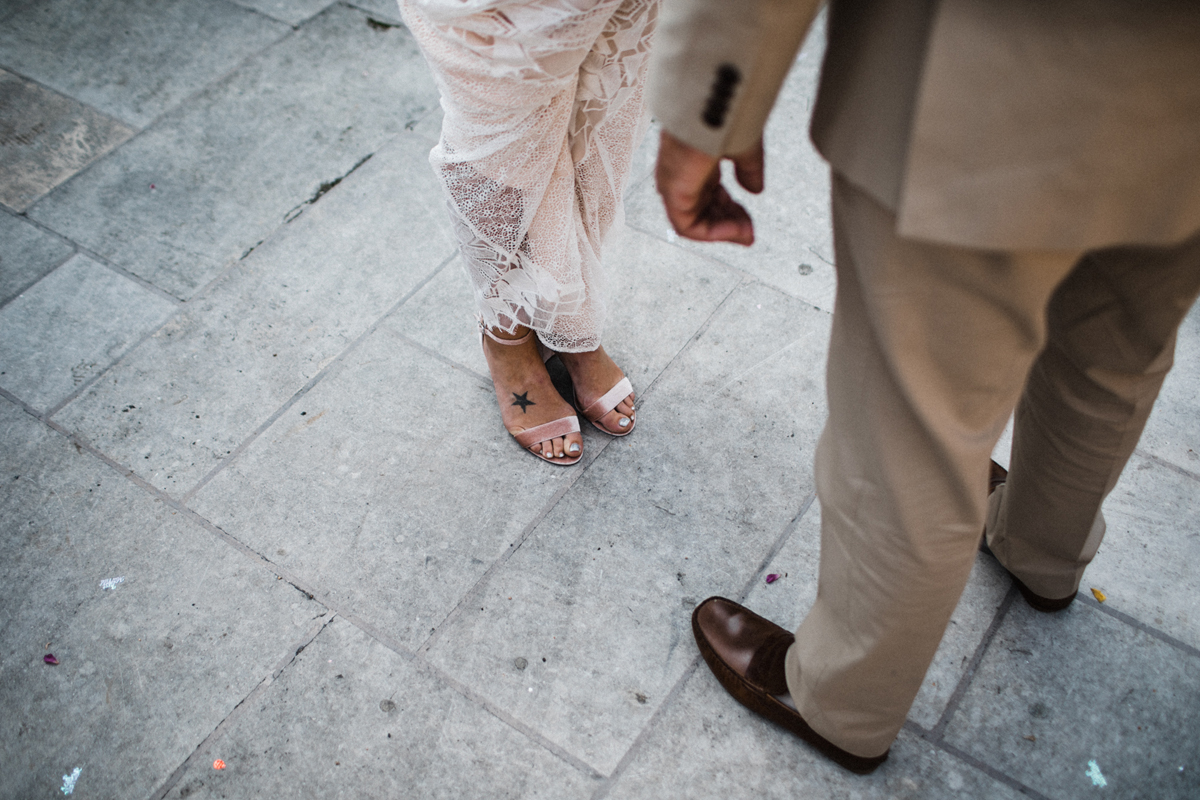 "Nia of Luv Shifting florists is a friend of mine and I trust her completely.  I gave her a very short brief- lots of colour, greenery and as tropical as possible- so obviously she made mini palm trees for table decorations!  She blew me away with every detail of the flowers, it was just stunning to look at.  My mum (a keen gardener) also grew lots of dahlias which Nia placed on the tables."
"My florist made flower crowns for my girl tribe and my daughter and I.  Throughout the past ten years Chip and I have been to lots of festivals, he always liked them when I wore them then and said in the lead up to the wedding he thought I'd be in one!  It was fresh green foliage and went from ear to ear, I loved it."
Marie chose to wear her hair in a loose high bun, with soft tendrils framing her face.  For make up she chose a deep, sophisticated red lip and I absolutely love the photo of her and Chip in the VW campervan while she's touching up her lippy.
"I have been a make up artist for over ten years and have done over a hundred weddings myself, so I did my own make up and hair and was really happy with it."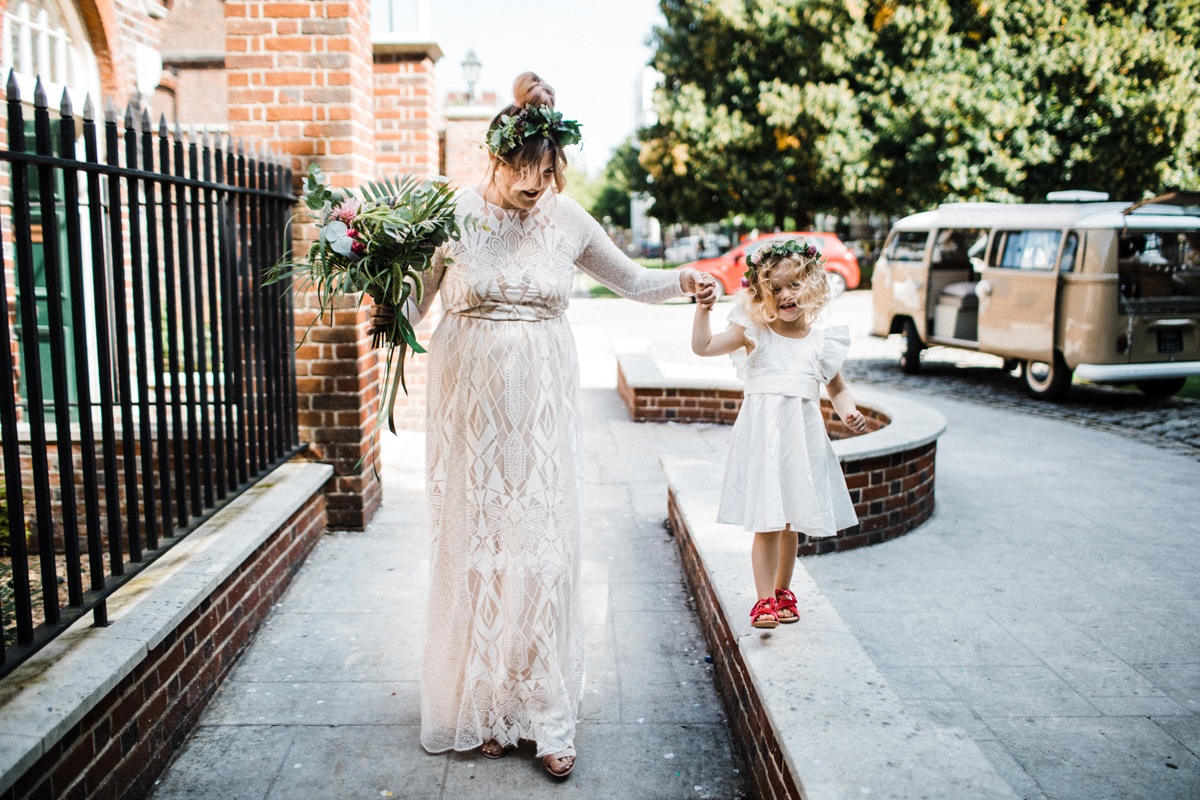 "We decided to have a small ceremony with just close family.  We were originally going to get married at the reception venue in front of all ninety guests, but we both got a bit anxious, so decided to have a small ceremony at the local registry office with just twelve people."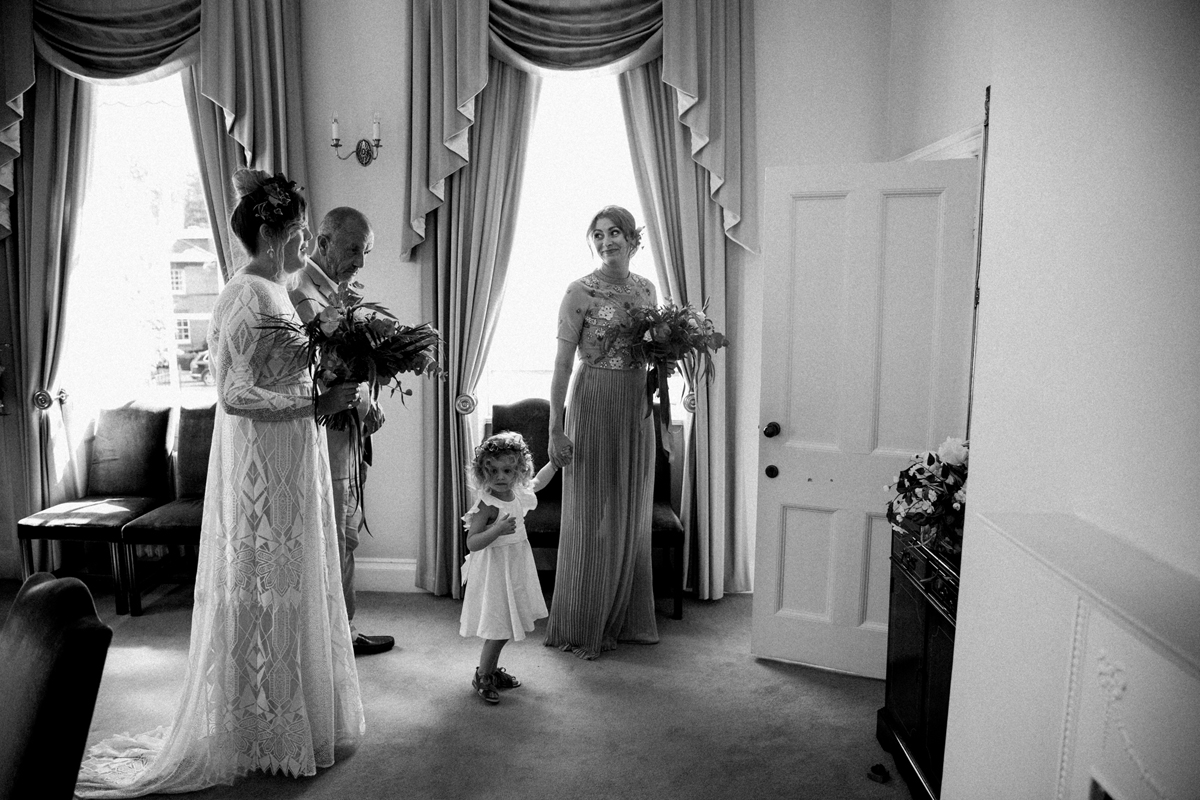 Chip wore a three-piece navy suit worn with a floral shirt from Ted Baker and a deep red buttonhole which matches Marie's lipstick shade.
Marie walked down the aisle alongside her dad, to 'Starlings' by Elbow, a special song for her and Chip.
"We wanted the ceremony to be as quick as possible, so we opted for the shortened ceremony with us just saying 'I Will'.  For us it was all about the afternoon with our family and friends."
It may have been a short ceremony but doesn't it look the sweetest?  I love that there are smiles and laughter all the way through.
"My earrings were a gift from Chip a few days before the wedding from Zoe and Morgan, a brand I've always loved and he has bought me a few precious pieces from before.  They were crescent moons over the top of a geometric star shape (always moons as a reference to our daughter's name).  I also wore a solid heart signet ring on my little finger from The Great Frog."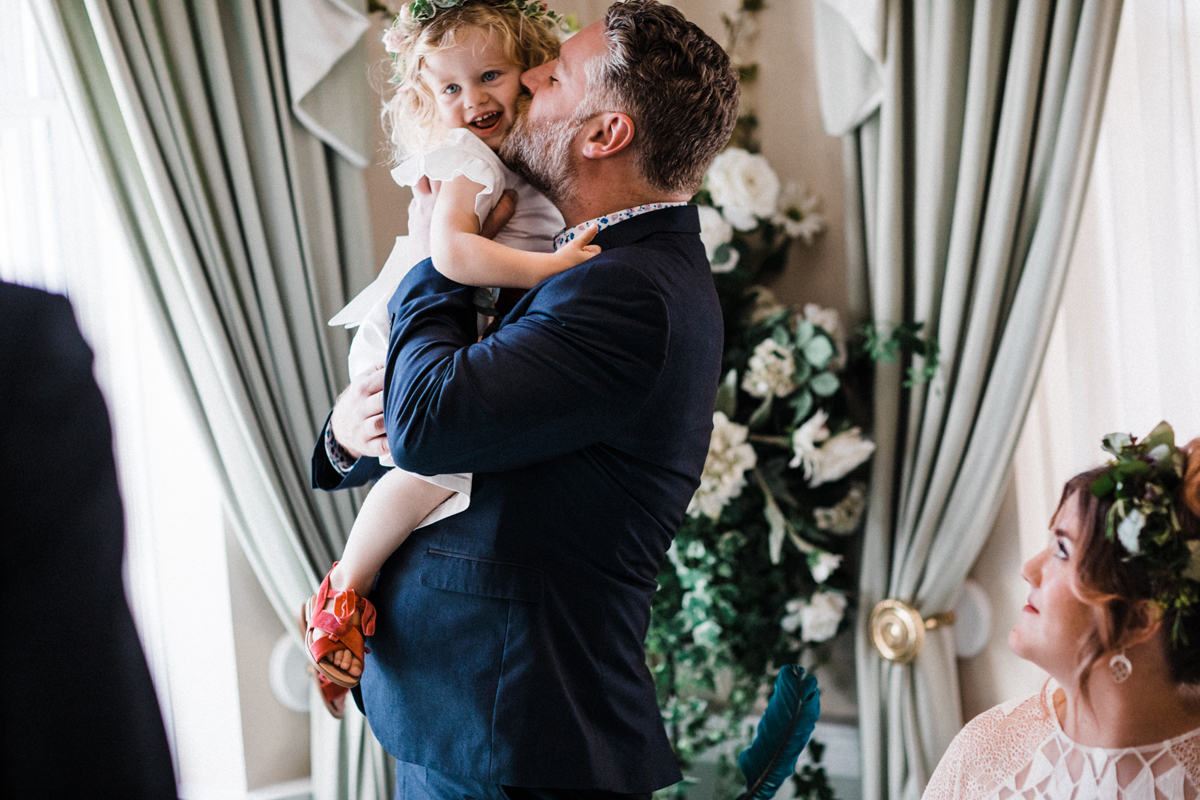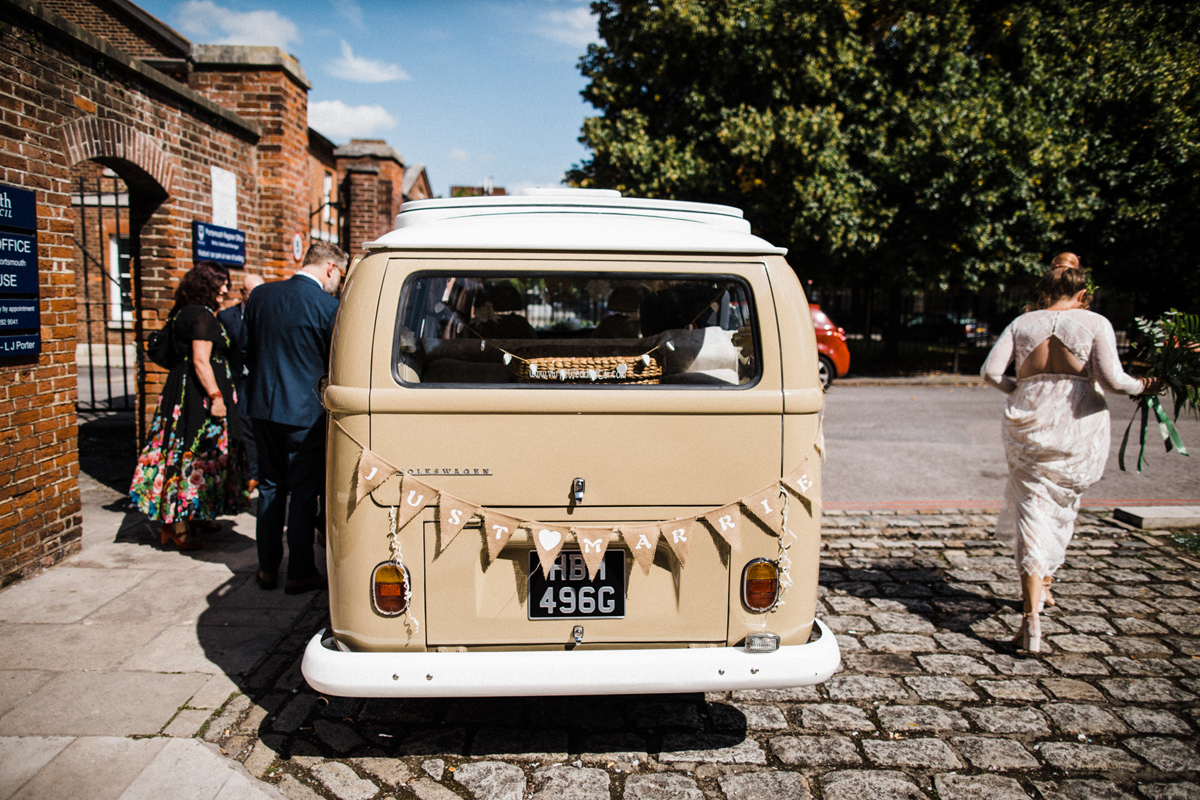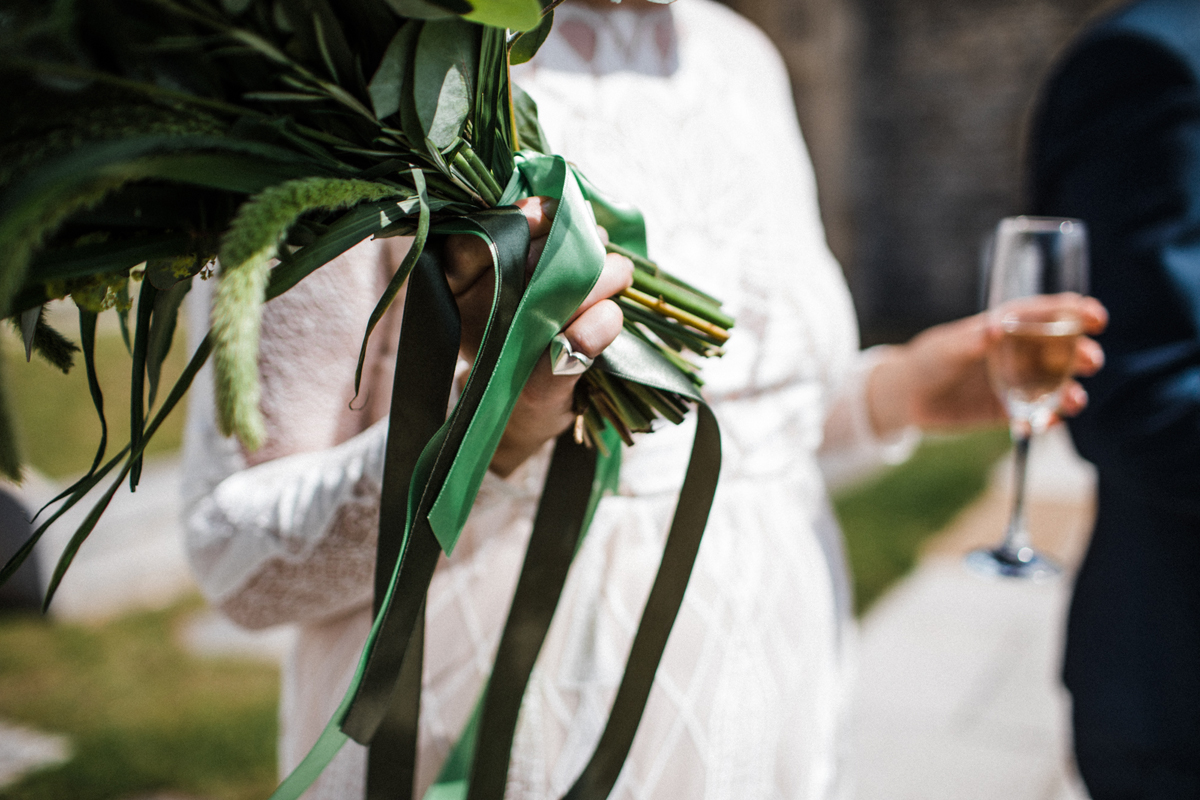 After the ceremony Marie and Chip spent a little time together by the sea drinking champagne and having some portrait shots taken before heading to the reception venue in a classic VW campervan, hired for them by Marie's parents as a surprise (no details).
"It was amazing arriving to all the people we love."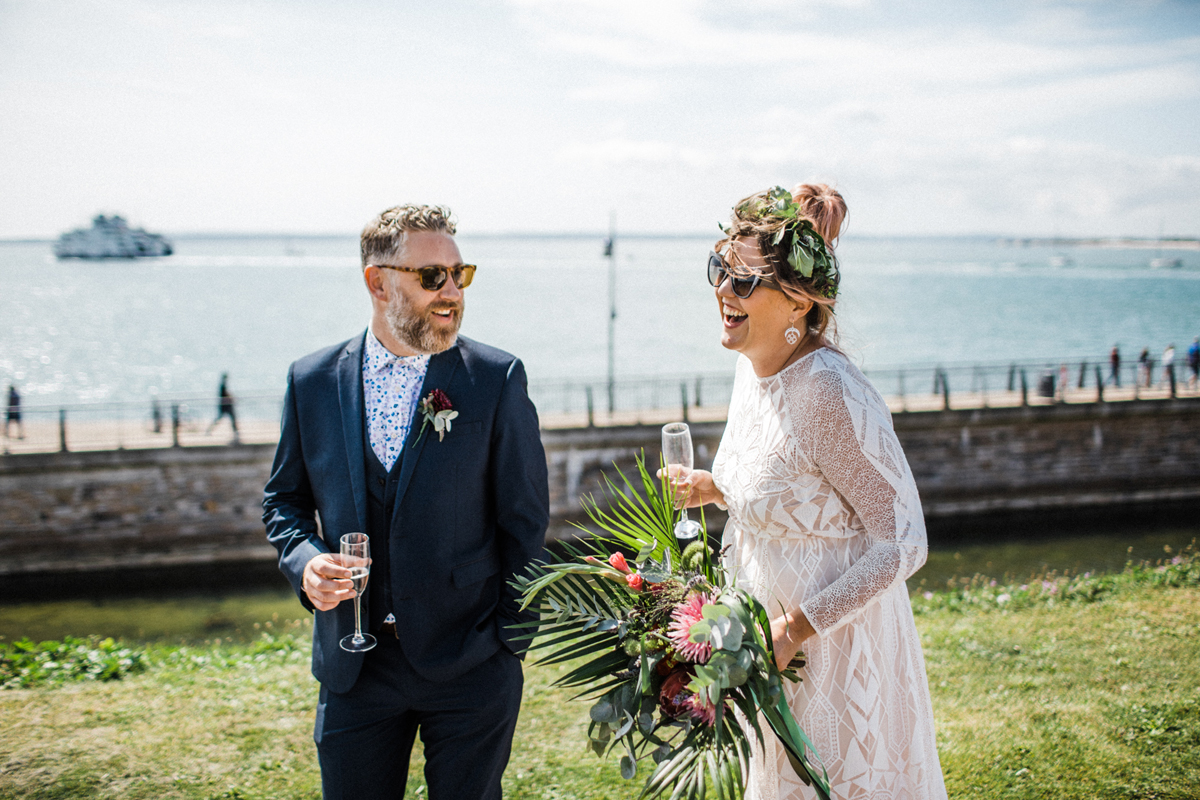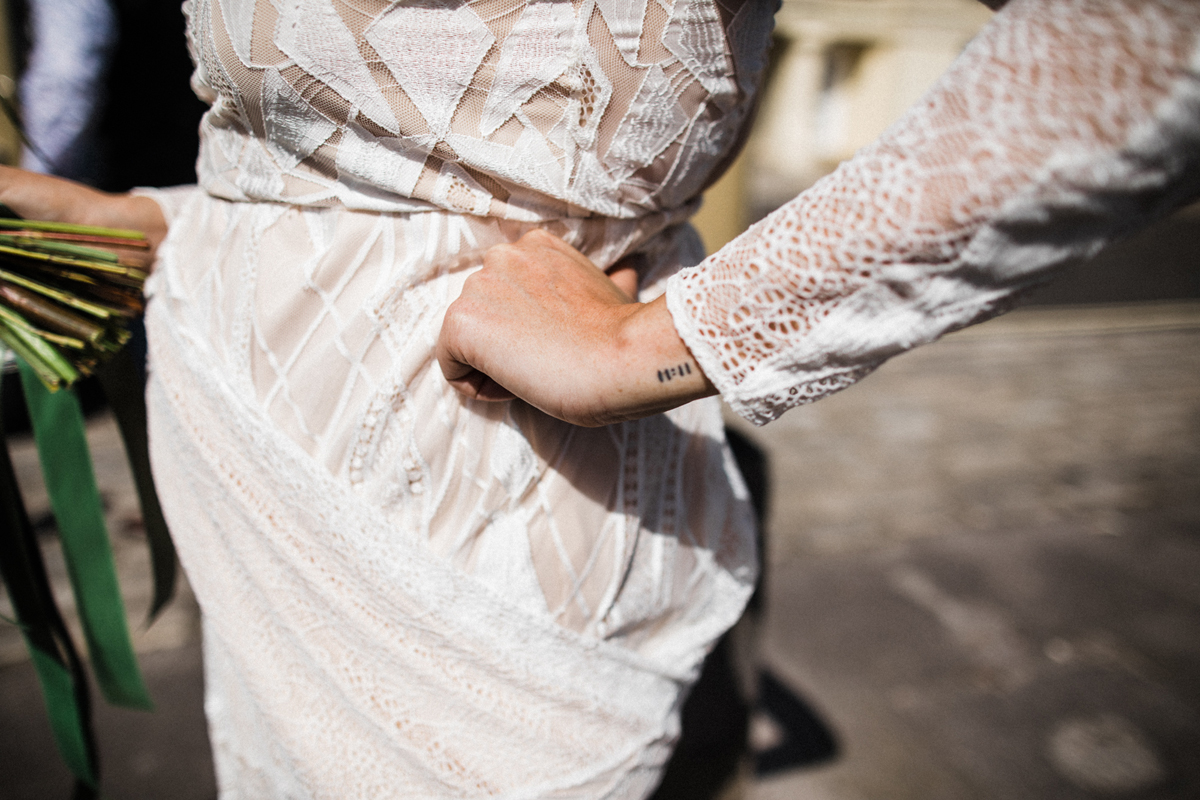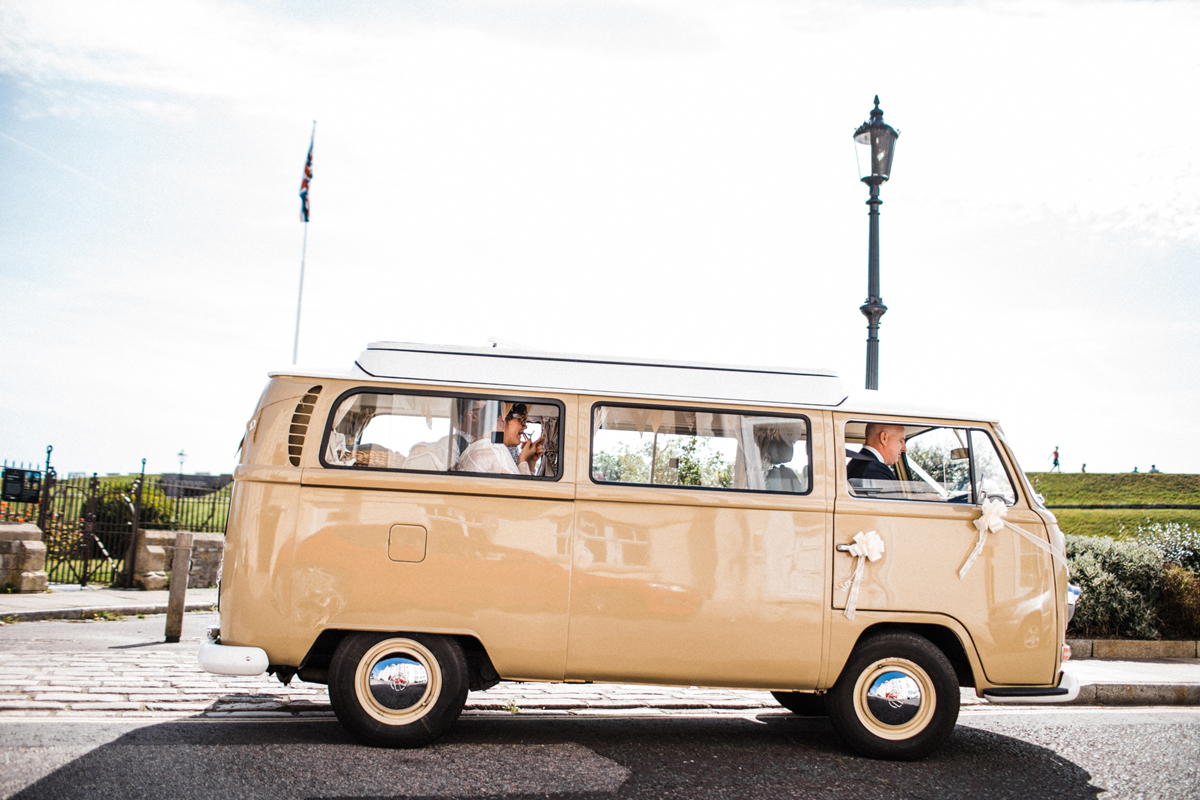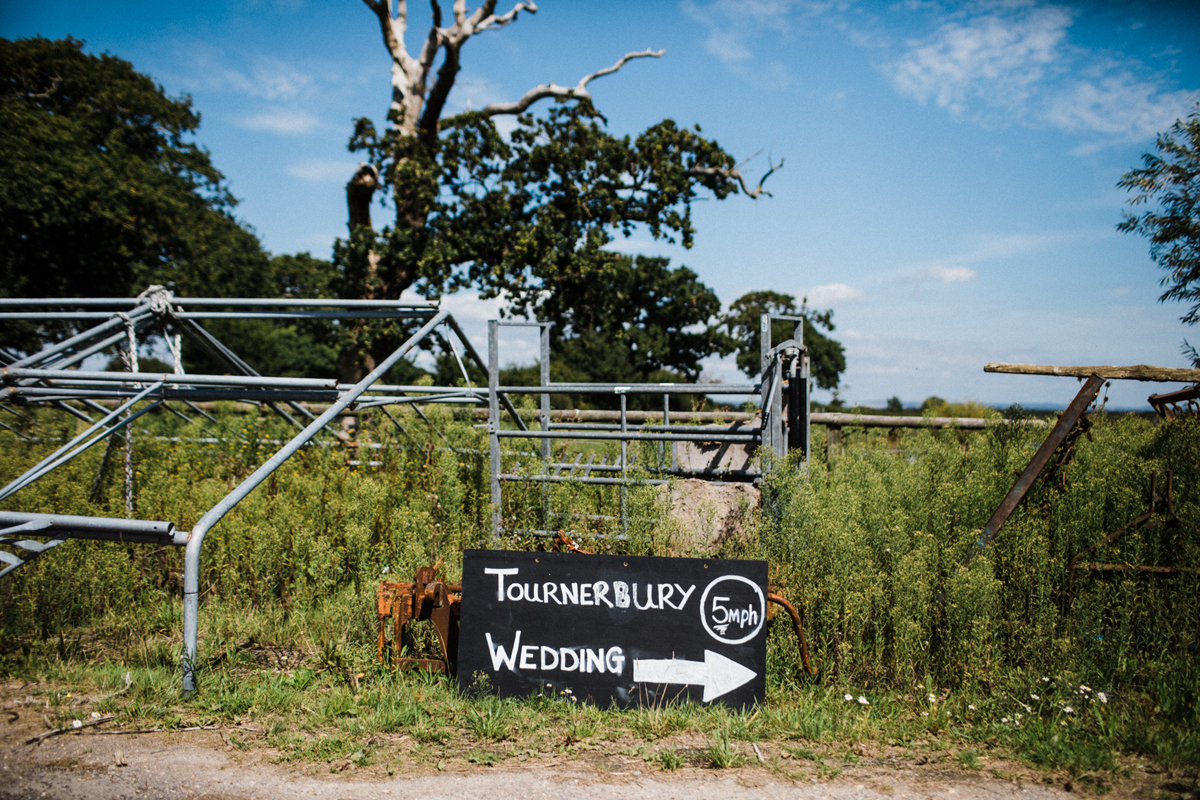 The bridesmaids looked wonderful in mismatched dresses from Rixo, Phase Eight, ASOS, Topshop and River Island, worn with shoes from ASOS, Topshop and Kurt Geiger.  The little flower girl looked just adorable in a white dress from La Redoute, worn with Zara shoes and of course, all the bridesmaids and flower girl also wore a flower crown.
Marie gifted her bridesmaids with either a necklace or bracelet from Estella Bartlett with a personal charm chosen especially for them, ranging from an owl to an all-seeing eye and each perfect for its owner.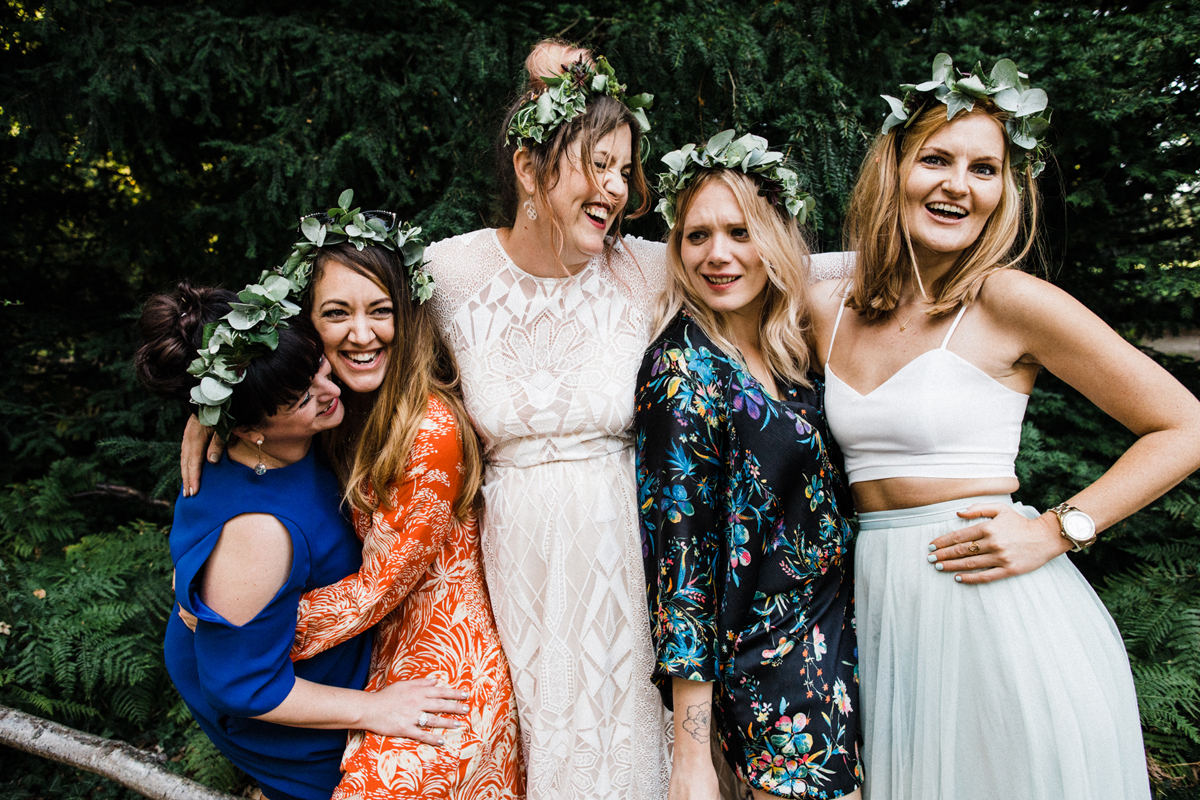 "I work part time at a creative company and my amazing bosses made our table plans, menus and DJ poster- I was so pleased with them."
"My friend designed our invitations and for place names I printed off a polaroid-style photo with the person in it (with me and or chip with that person if possible). It was a really fun task getting all of those together."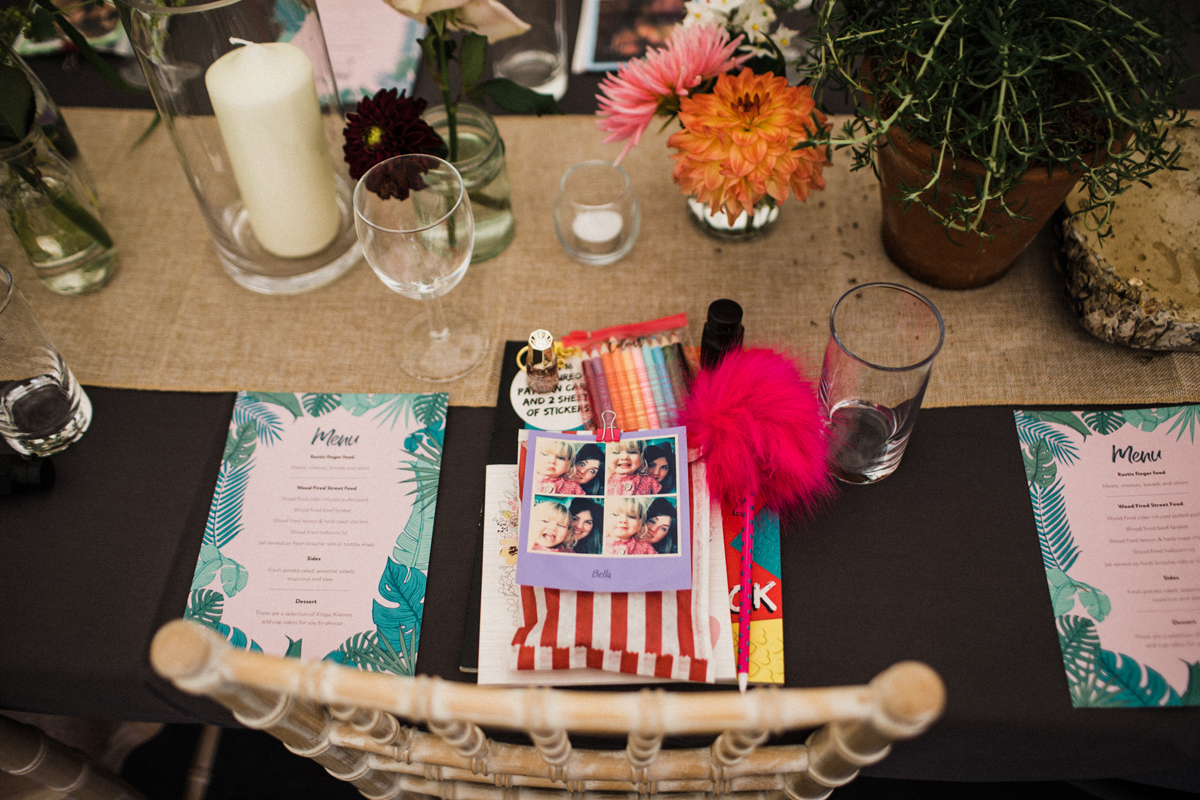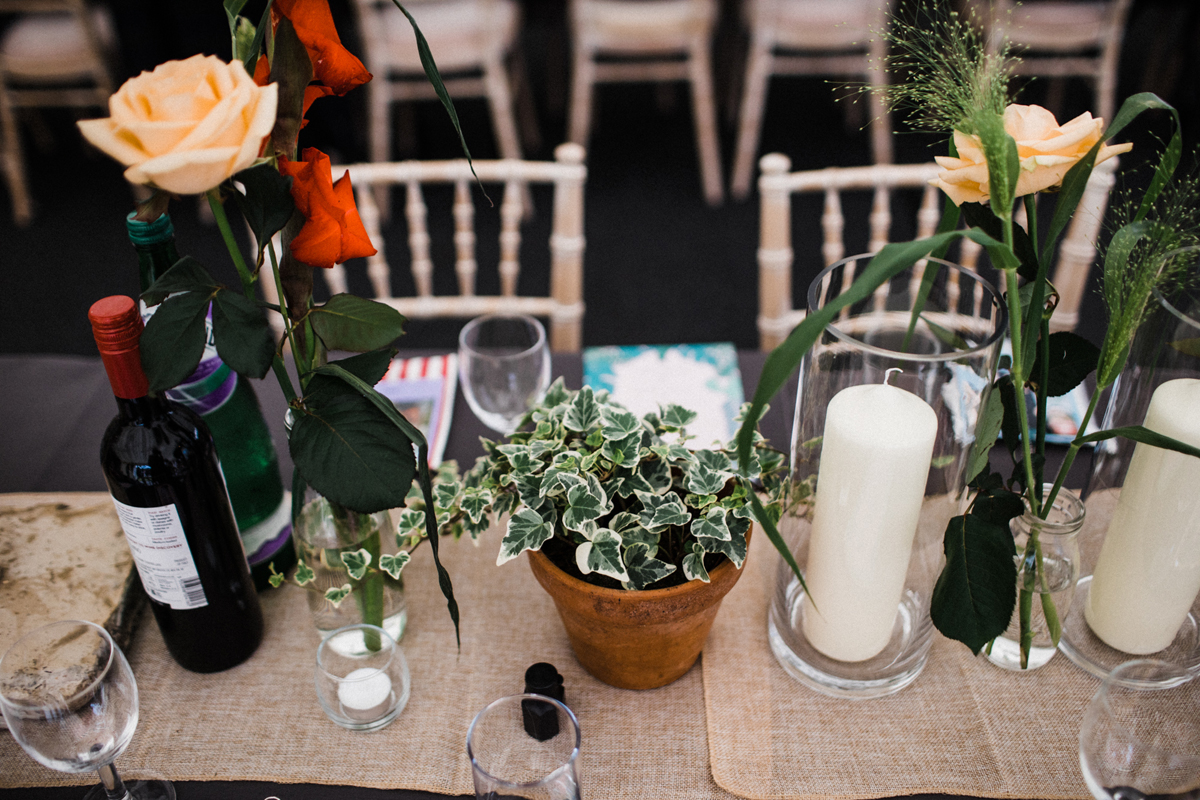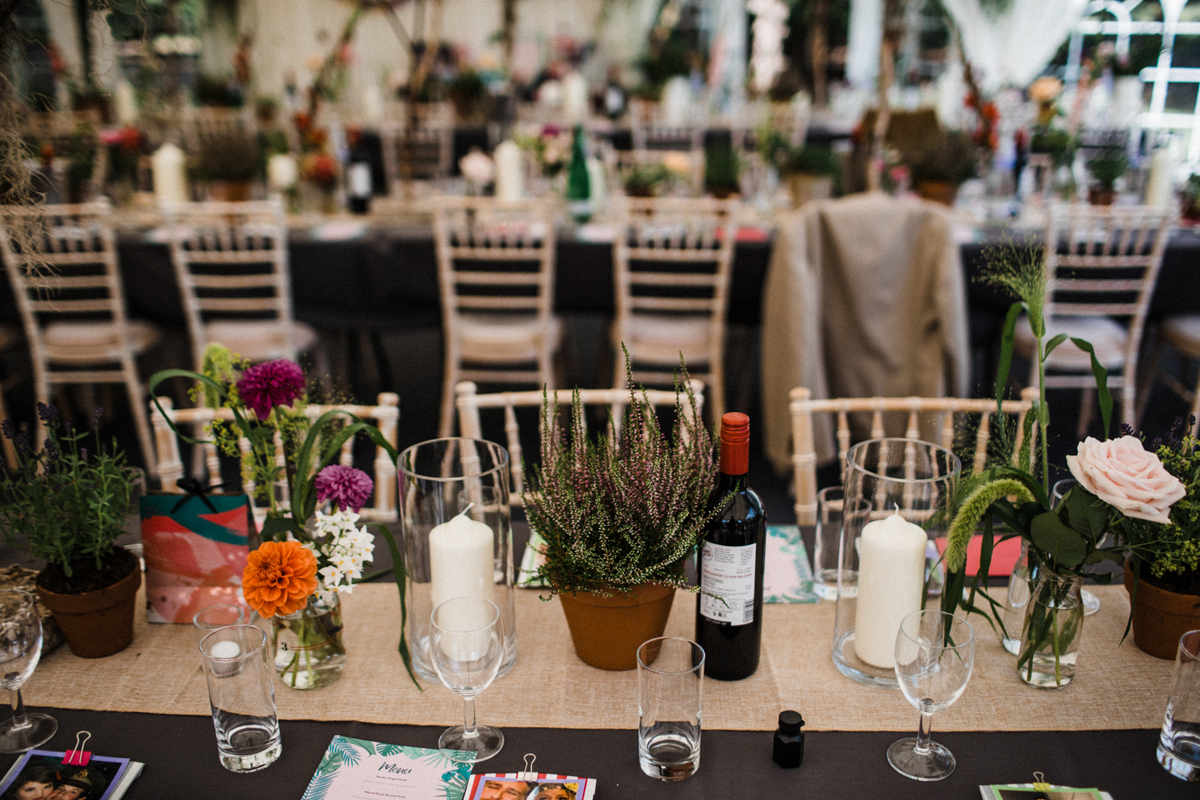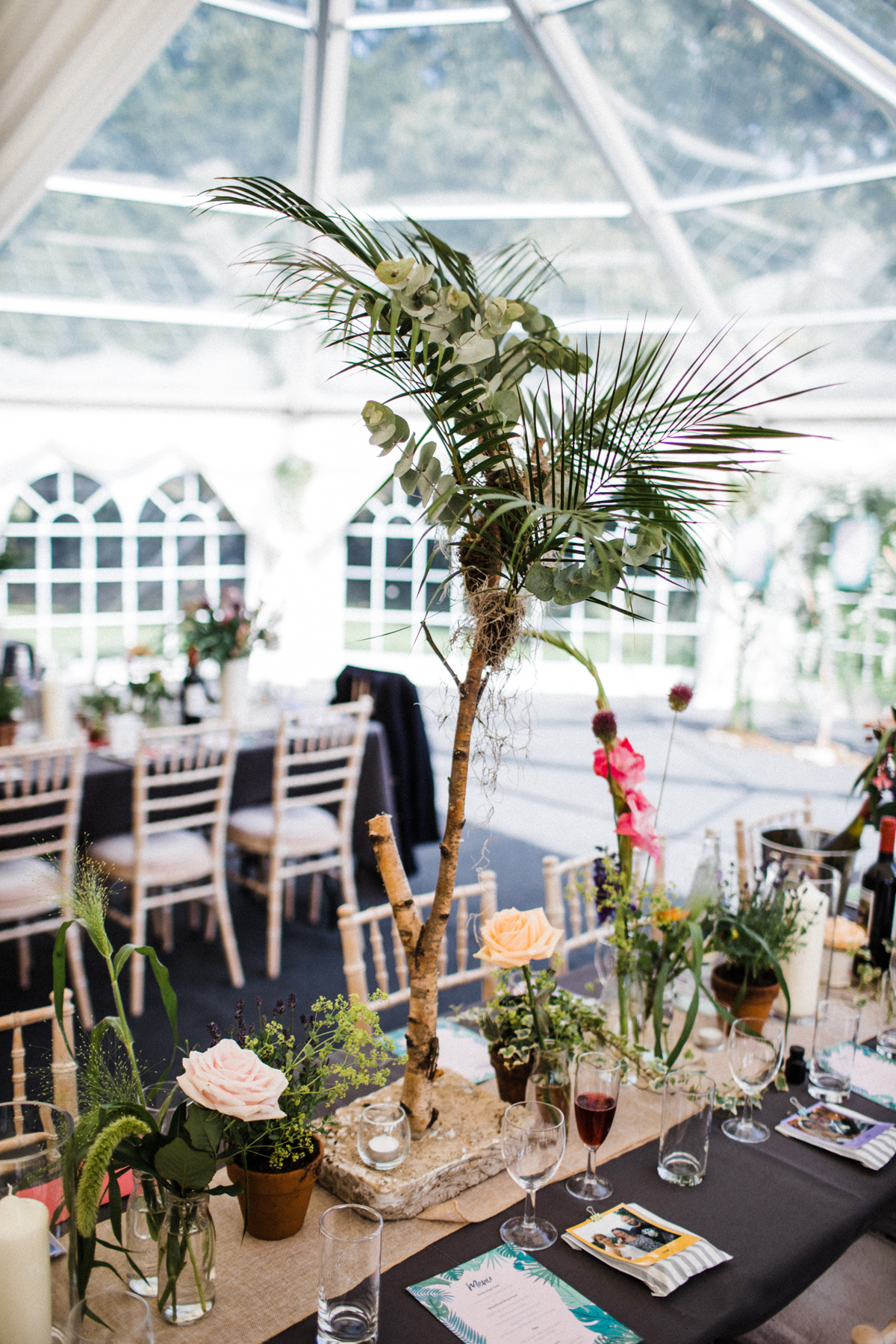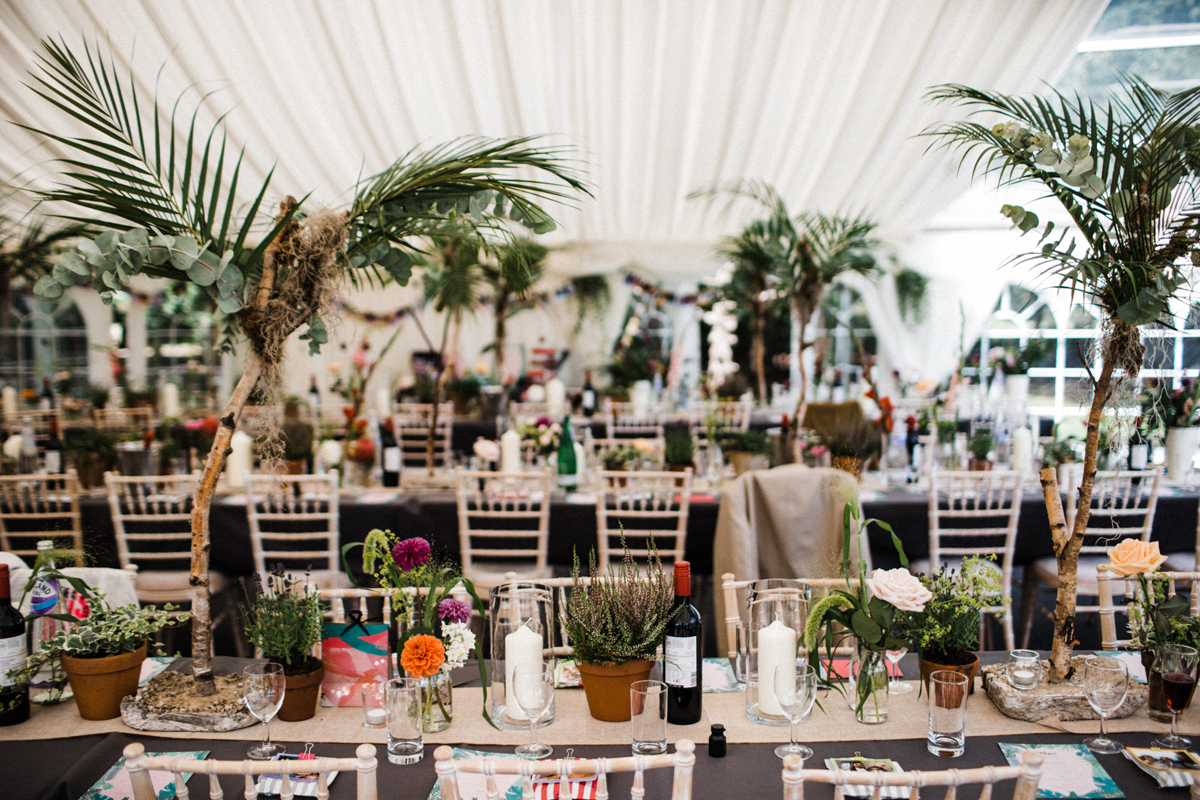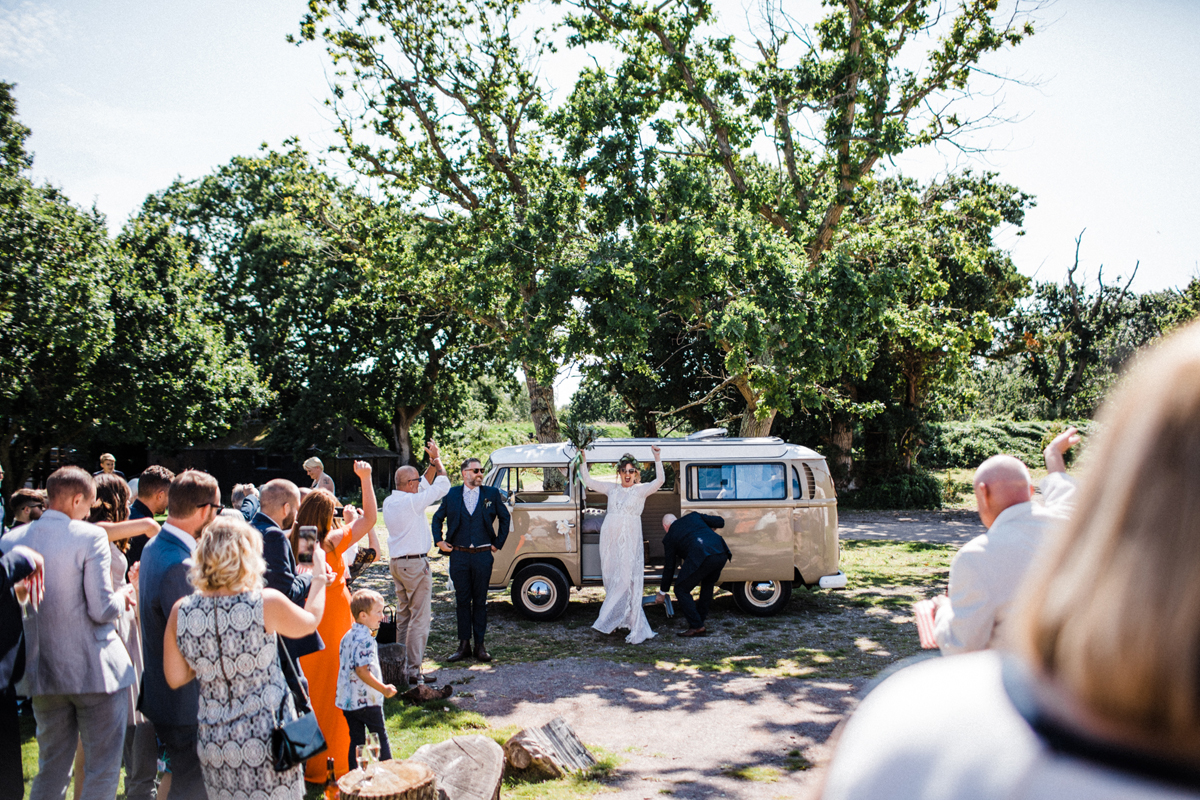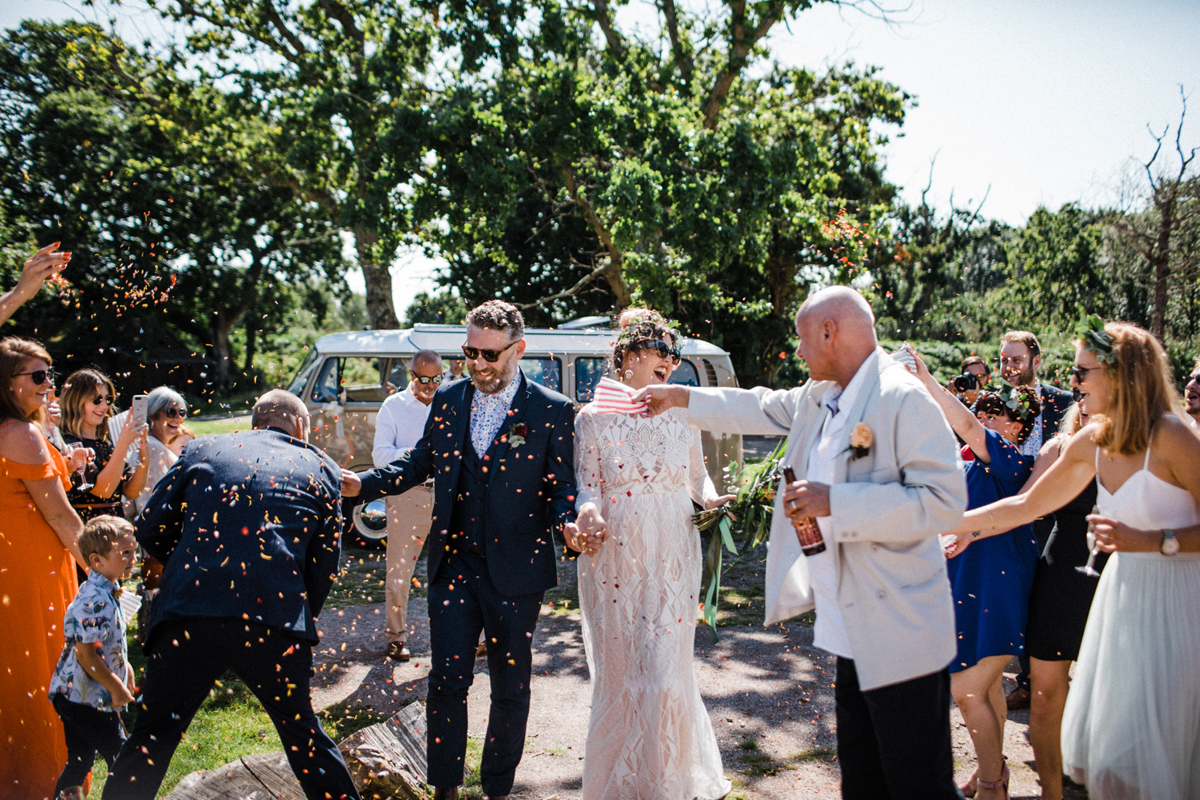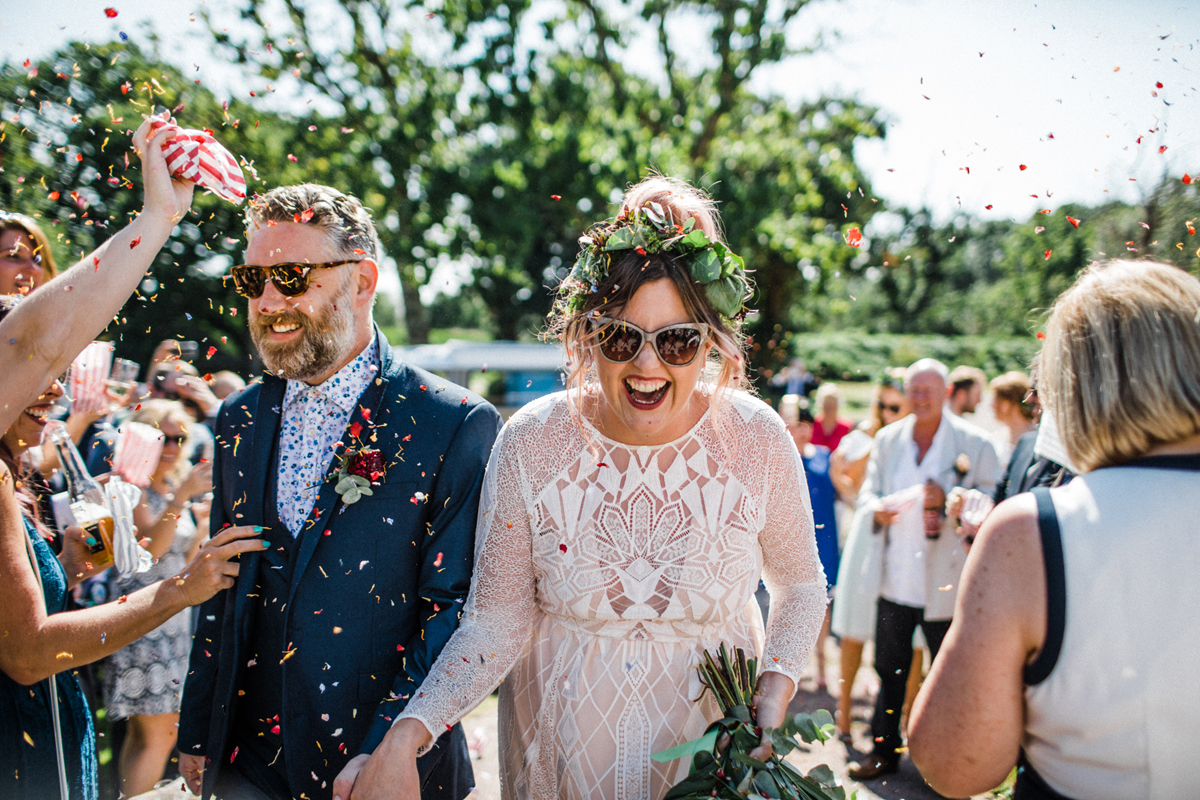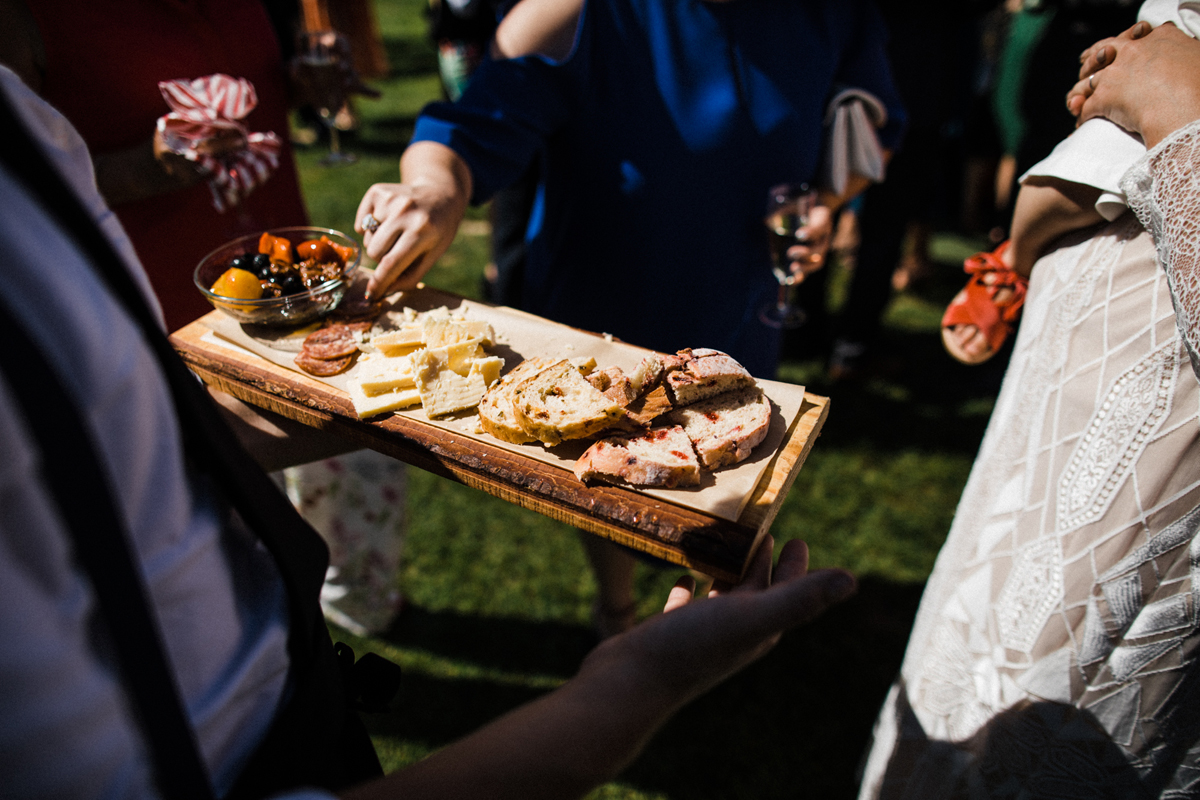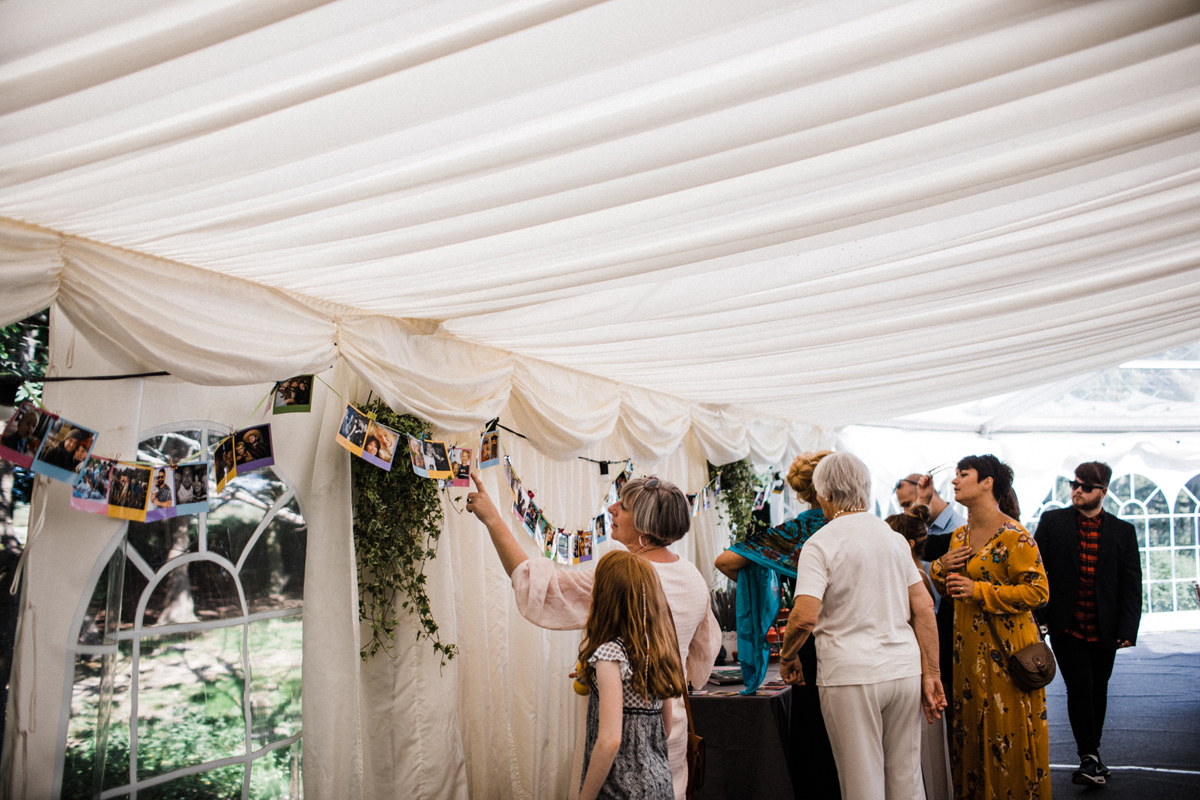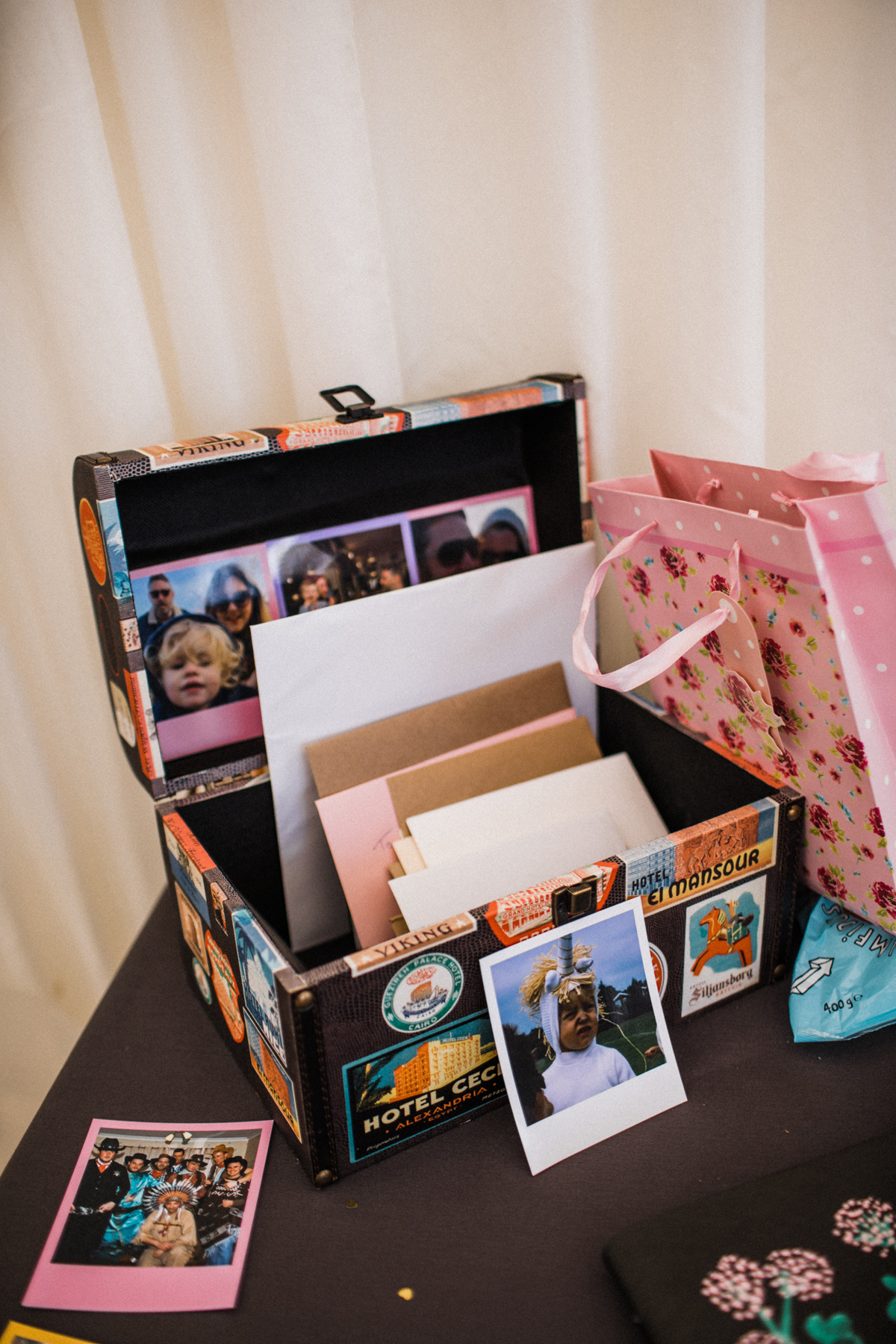 "We got table cloths and runners, then left the rest up to Nia and the flowers.  We had a string of photographs around the cards/dessert table which was a great focal point."
Catering was the work of Savage and Bean who produced the most delicious looking burgers and salads, while for cake, Marie and Chip opted for cupcakes made by a family member and boxes of Krispy Kreme donuts.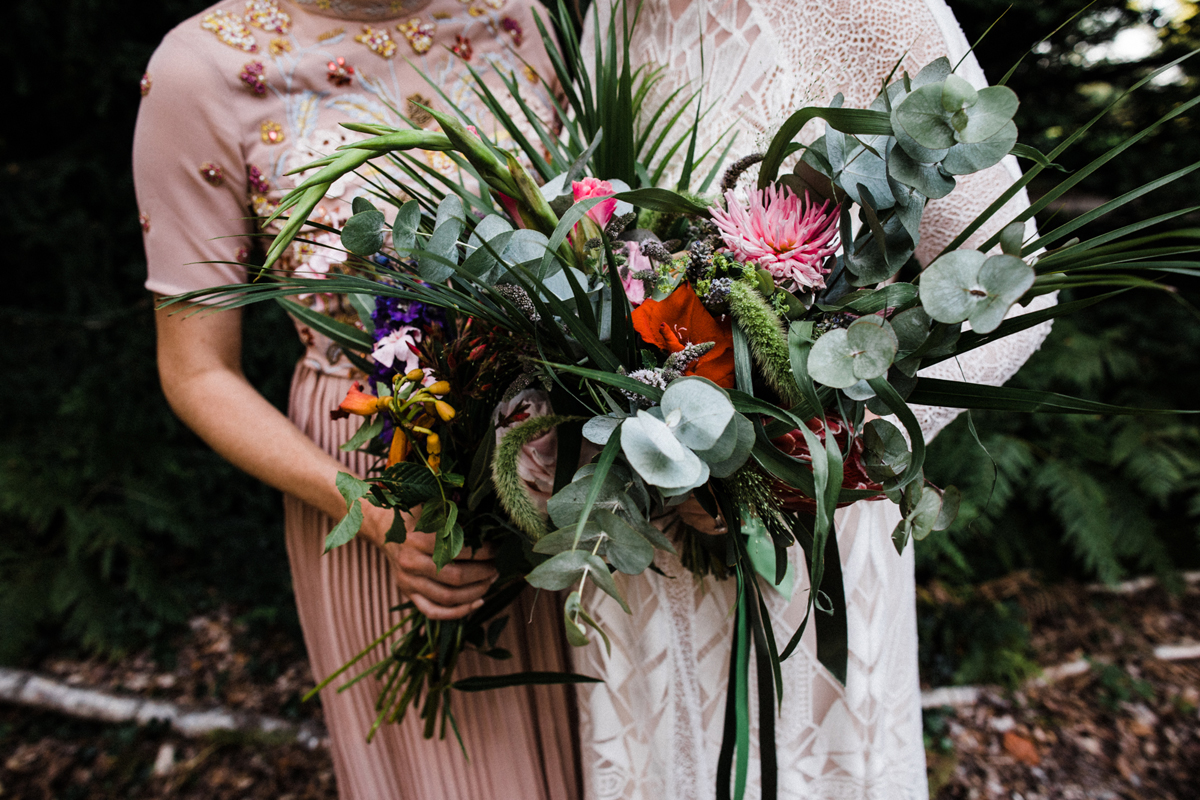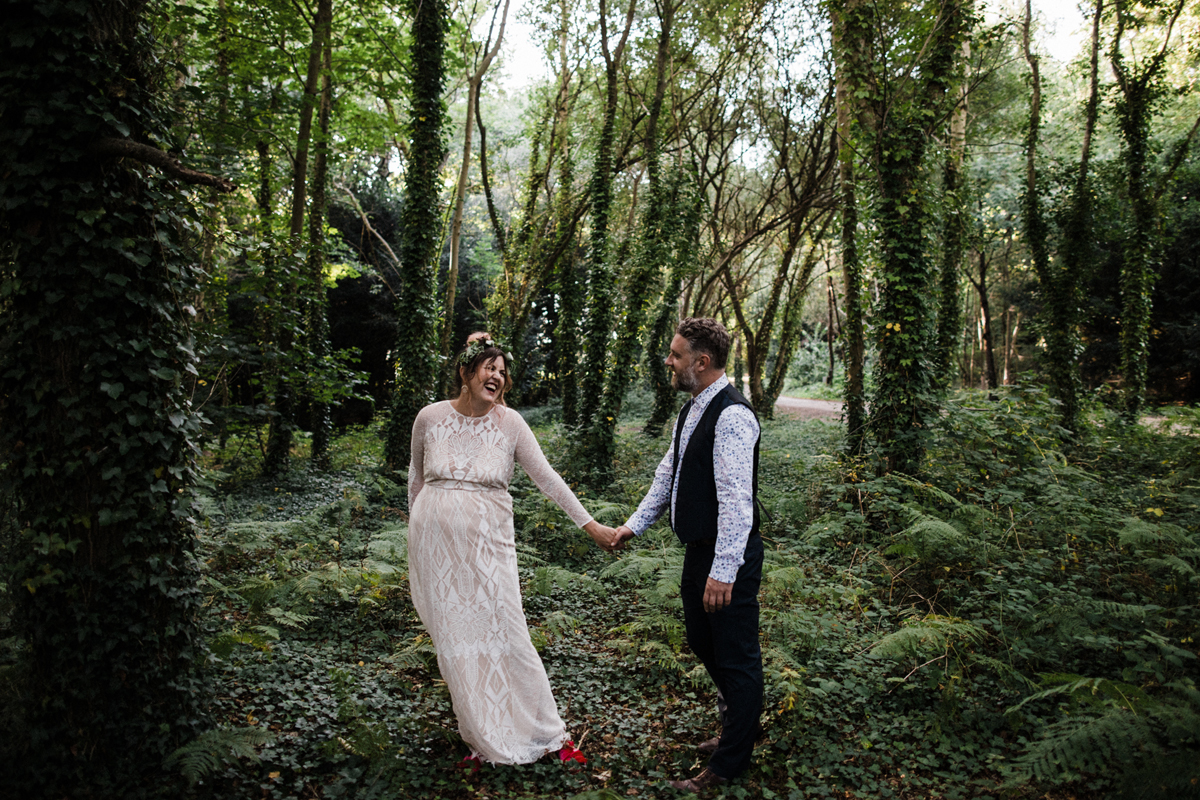 "The speeches we are all so great, funny, clever and emotional.  They made me love my brother in law, husband and dad even more."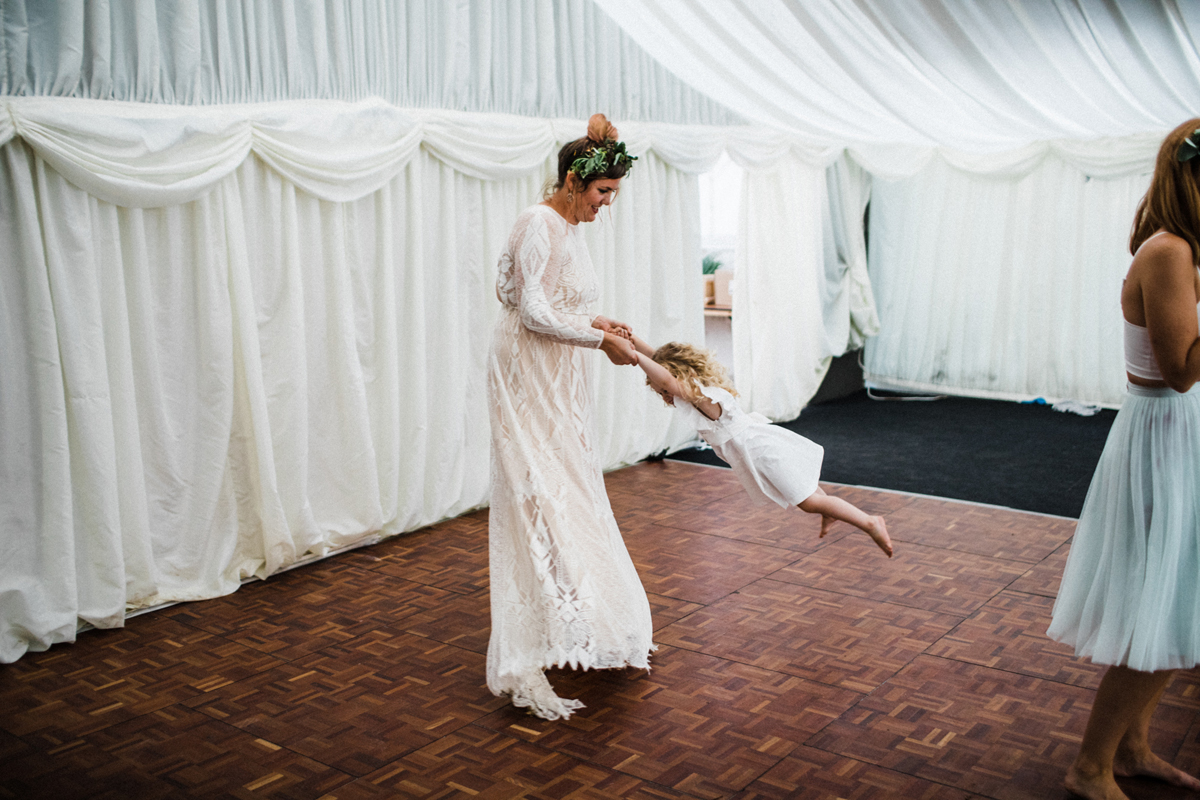 Guests relaxed outside by the fire and later, five of the couple's talented friends took it in turns to DJ throughout the evening, keeping the dance floor full and the music going late into the night.
"I just loved it all, it was so relaxed and sunny, there was no lull at any point throughout the day and everyone looked so happy.  To us, it was perfect."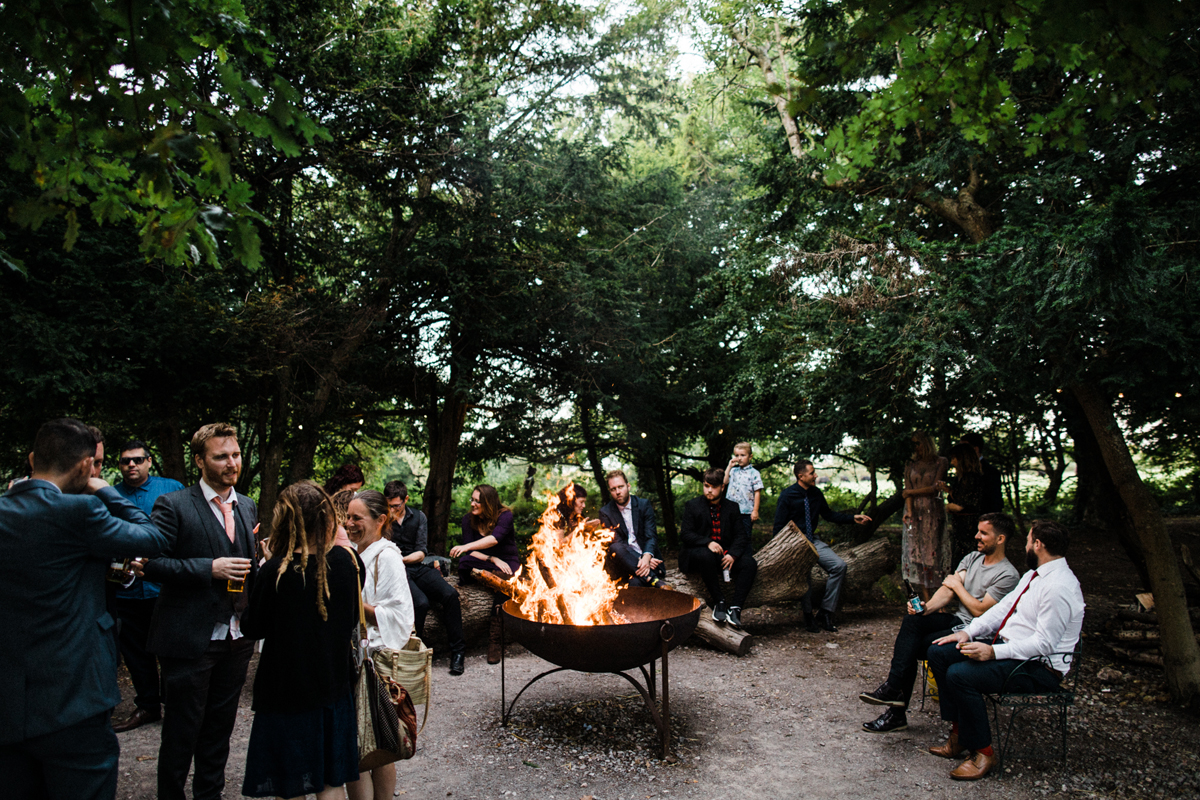 Words of Wedded Wisdom
"Soak in every moment as it's over so painfully fast.  Take time to be with your husband/wife and don't feel bad for not talking to everyone, it's such a whirlwind.  Enjoy it!"
Huge thank yous to Marie and Chip for sharing this most lovely of happy days.  I know a lot of our readers are Grace Loves Lace fans, so if you have a little extra time today, do have a browse through our back catalogue of Grace Loves Lace brides.
Much love, Shona x