Well, lovelies, I hope you're having a wonderful weekend so far. I have a feeling it's just about to get a little bit better, as today I have the pleasure of sharing the coolest winter wedding with you, utterly beautiful with the bride's modern gown, luxurious floral crown and the abundance of foliage and greenery.
I'm a big fan of crisp clean style with botanical touches, and Mel and Craig's wintertime wedding epitomises this perfectly. Mel is an HR business partner (and a wonderful member of our Love My Dress Facebook group) and Craig a mechanical engineer, and they drew on their love of Christmas to create their festive celebration. The wedding was held on 29 December 2016 at St Mary's Chapel in Glasgow, with a reception afterwards in the splendid surroundings afterwards at nearby Boclair House.
Mel grew up attending mass at St Mary's and had originally planned a small, home-spun wedding. However, they opted to go to the newly-refurbished Boclair House. Its sumptuous interior in deep green, reds and golds lent itself perfectly to a winter wedding, and they could rest assured that all of their guests would be comfortable in the cold season and have lots of fun too. The festive season inspired every part of the day.
Photography John Elphinstone Stirling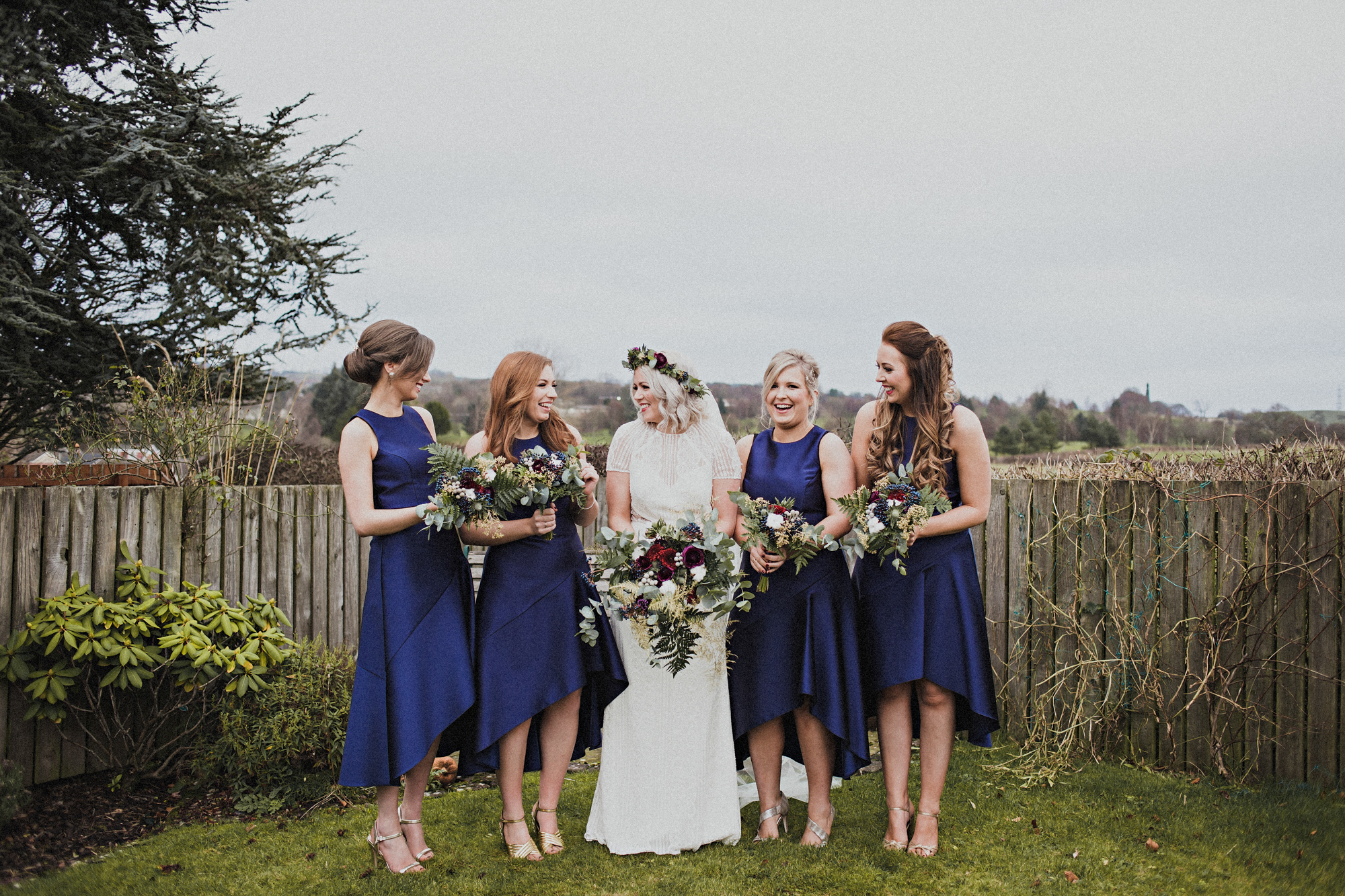 I love that Mel made Love My Dress her go-to website on her lunch-breaks for winter wedding inspiration. She also picked up lots of tips from our Facebook group (go join it, now!).
"I was a regular visitor to Love My Dress. My favourite thing about it was that I could filter by 'winter weddings' to get inspiration from weddings at the same time of year as myself. I would also search for church weddings to find inspiration for readings. I really loved being part of the Love My Dress Facebook group and got so many ideas from there. ""We both love everything about winter – the style, the weather, the cosiness, a roaring fire, Christmas drinks and the coming together of family and friends around Christmas time so that was our inspiration for every aspect of the wedding. There was a lot of gold and dark green and then after choosing the bridesmaids dresses there were touches of navy here and there. I wanted everything to look like we'd put some effort into it but not to feel overly-styled. We wanted everything to feel festive and fun and first and foremost for our guest so to have a brilliant time."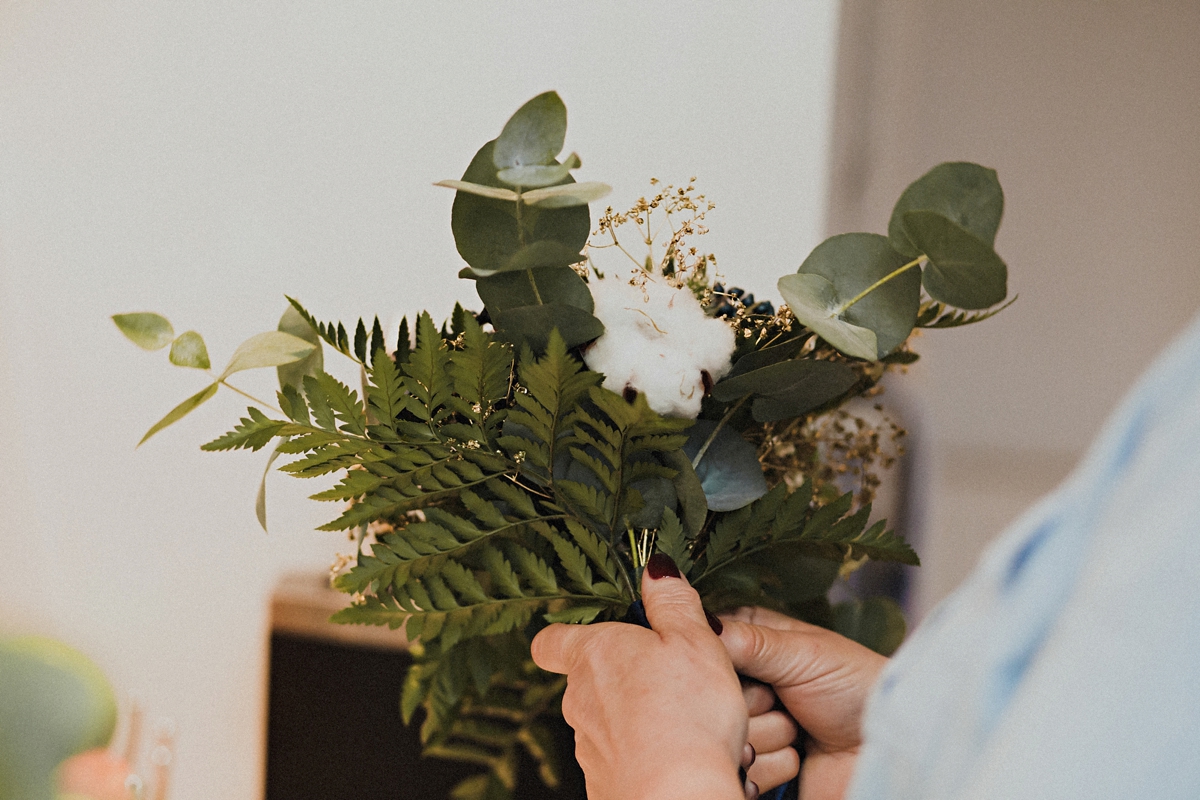 So many brides find a special scent for their day, and Melanie is no exception.
"Craig and I were Christmas shopping a few weeks before the wedding when I picked up Jo Malone Limited Edition 'Orange Bitters'. I loved it as it was such a festive scent and I started using it from that day on. What I love is that when I spray it now, it doesn't just remind me of the wedding day, it reminds me of my hen party and the whole excited run up to the wedding."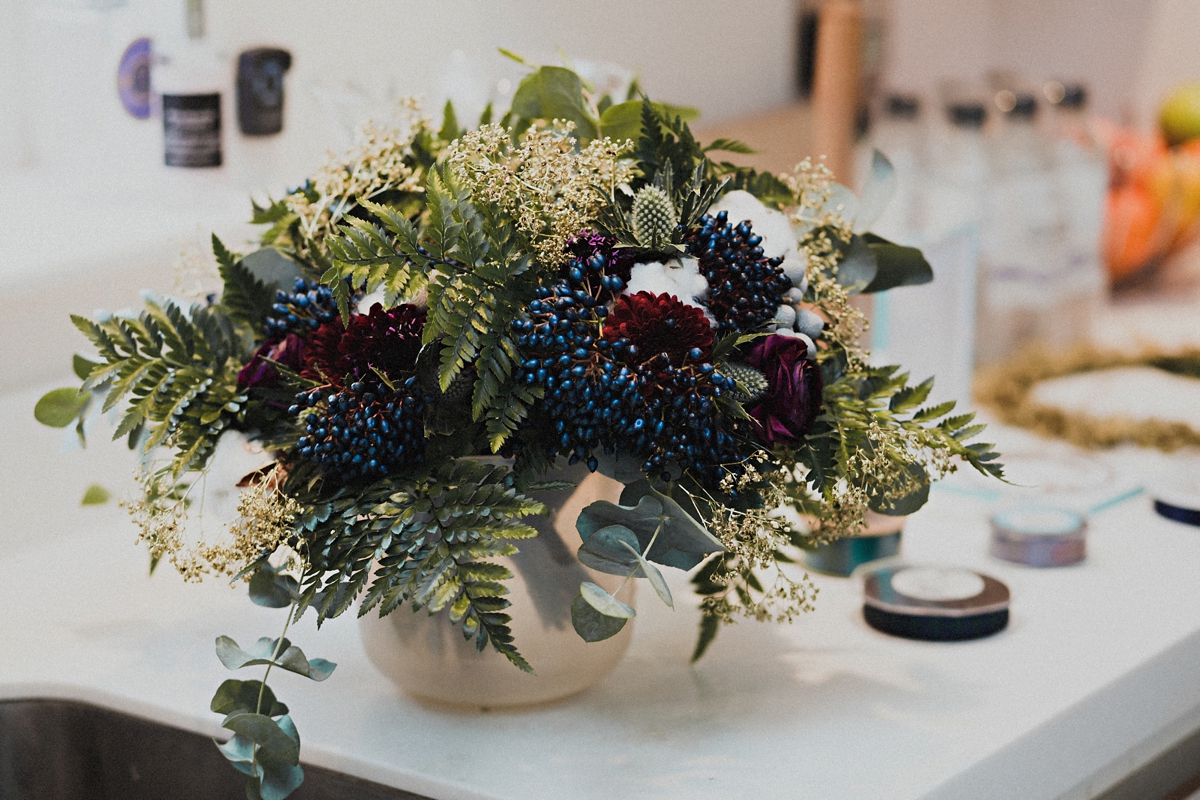 Melanie's mum is super-talented, and created the floral crown and other bridal party flowers herself. What a lovely way to make the wedding personal.
"My flowers were done by my amazingly talented mum, who (as it became apparent throughout the wedding planning) can turn her hand to anything! I ordered a huge selection of flowers from the flower market and on Christmas Eve Craig and I were at the market at 5am to collect a van full of flowers. The total flower bill was £600 and that did five bouquets, my flower crown, button holes, a tonne of table decorations and displays for the church."
"We kept the flowers in my mum's garage until the day before the wedding when she worked her fingers to the bone creating the five bouquets. I literally could not believe my eyes when I first saw them. They were exactly what I wanted and the colours and textures were a dream! I stayed overnight at my parents' the night before the wedding and about 9pm started to worry that I hadn't thought about my hair enough . My ever-resourceful mum and I armed ourselves with a bottle of Champagne and layered up in fleeces to go out into the freezing cold garage to attempt to put together some kind of headpiece. Together we created my flower crown which I loved and for me was what pulled my whole look together. I wish I had more opportunities in life to wear a flower crown."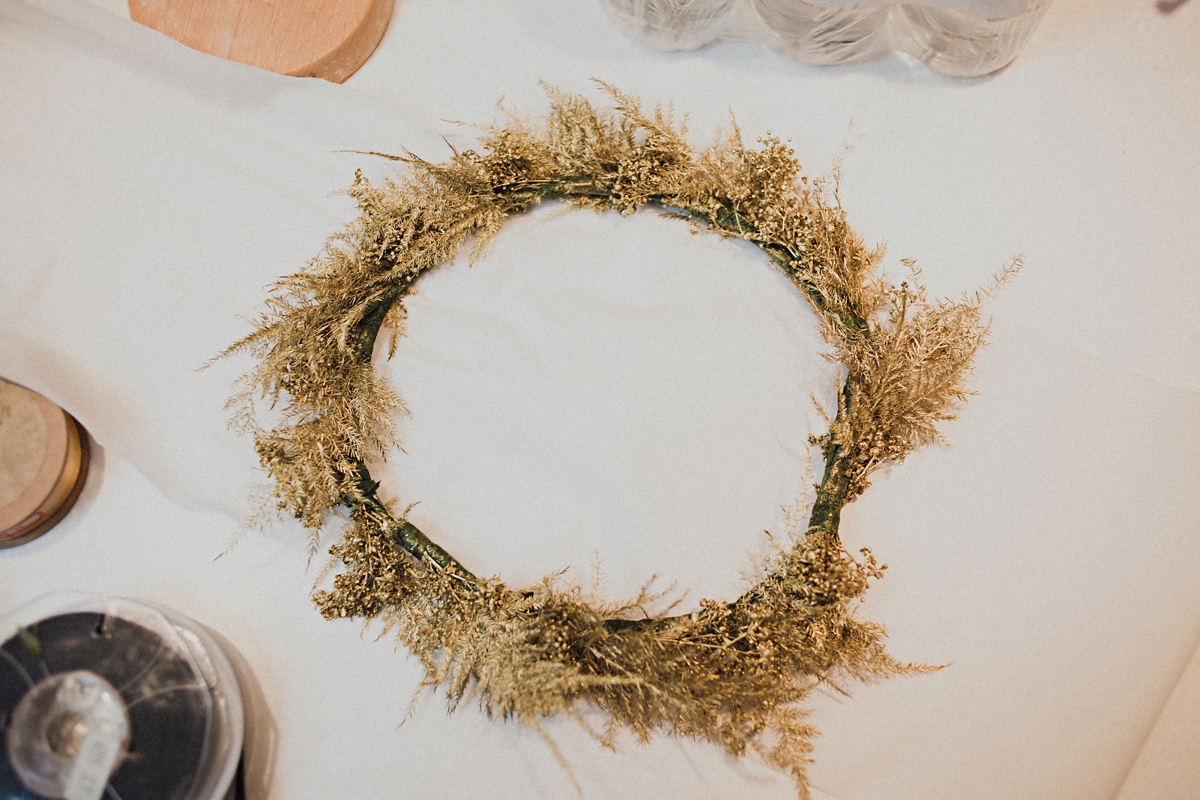 On the morning of the wedding, family friend Lorna was on hand to style the bride's hair. Mel opted for a relaxed, down-do with natural waves, topped off with her divine flower crown.
"I had no plan whatsoever for my hair. I was so determined to not have fancy bridal hair as it is just so not me that I just neglected to think about it at all. I think my plan was to put it in a relaxed pony tail but as I then decided to wear a flower crown last minute I wanted my hair to be down."
"Lorna arrived on the morning to do my mum's hair and I kind of sprung it on her to ask her to curl mine too. She did a great job and I felt so me having relaxed curls and waves. My bridesmaids ended up with four completely different hairstyles, two up and two down. Their hair, along with accessories reflected their own style which I was really happy with."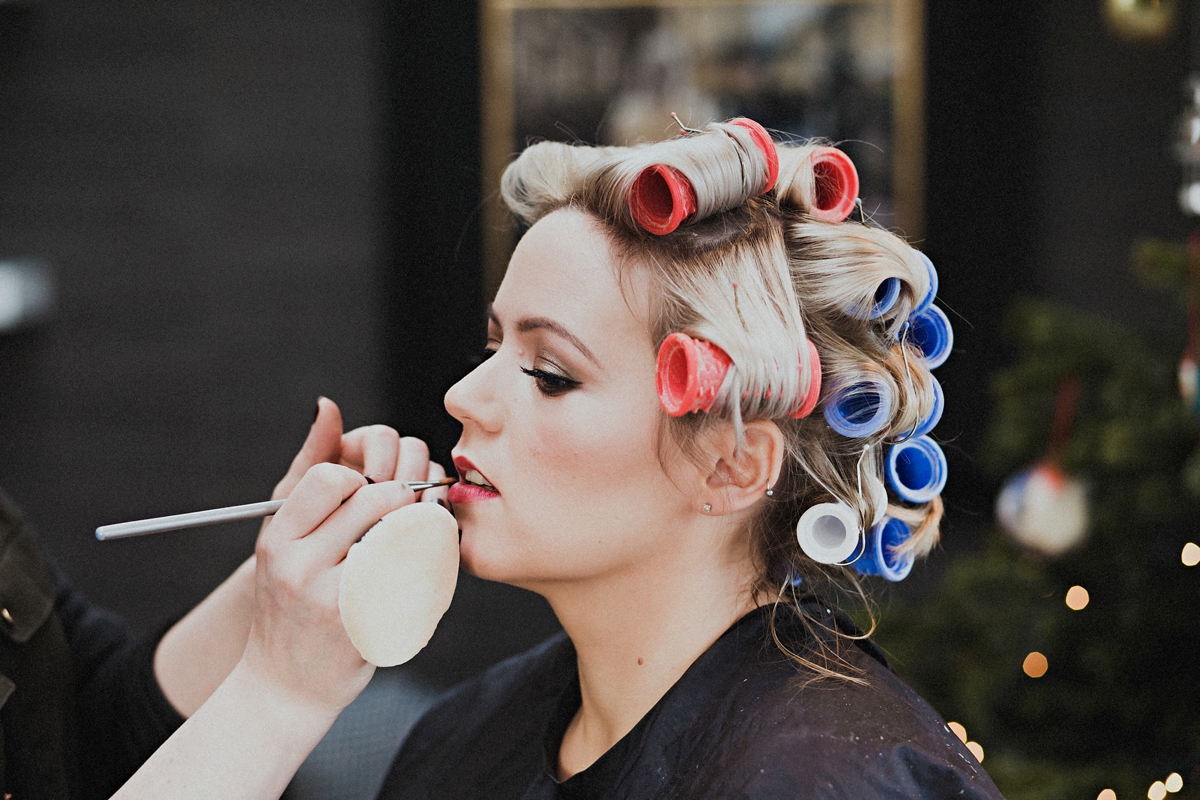 Melanie has some lovely words to say about her make-up artists, Mitchell + MacInnes, who created her bold, dramatic look.
"I was lucky enough to stumble upon the loveliest girls of Mitchell and MacInnes Makeup at the one and only wedding fair I went to. It was their personalities that told me they were right for me, before I had ever seen their work. Rhona and Sarah Jane just felt like friends straight away and both my mum and I agreed after talking to them that they would fit right into the 'bride tribe' on the morning of the wedding and that was really important to me. They were fabulous and definitely contributed to the fun but calm morning we created in my mum's house."
"I was over the moon with my make up. I love make up, but hate to look too made up, and they achieved what I wanted perfectly. I went for quite a bold, wintery lipstick which is very 'me' and I had the same colour on my nails. We have kept in touch since and a few wedding guests have since had their make-up done by Sarah Jane and Rhona. I will book them again for anyt other wedding I go to as a guest in the future. I cannot recommend them highly enough to any Glasgow/west of Scotland brides."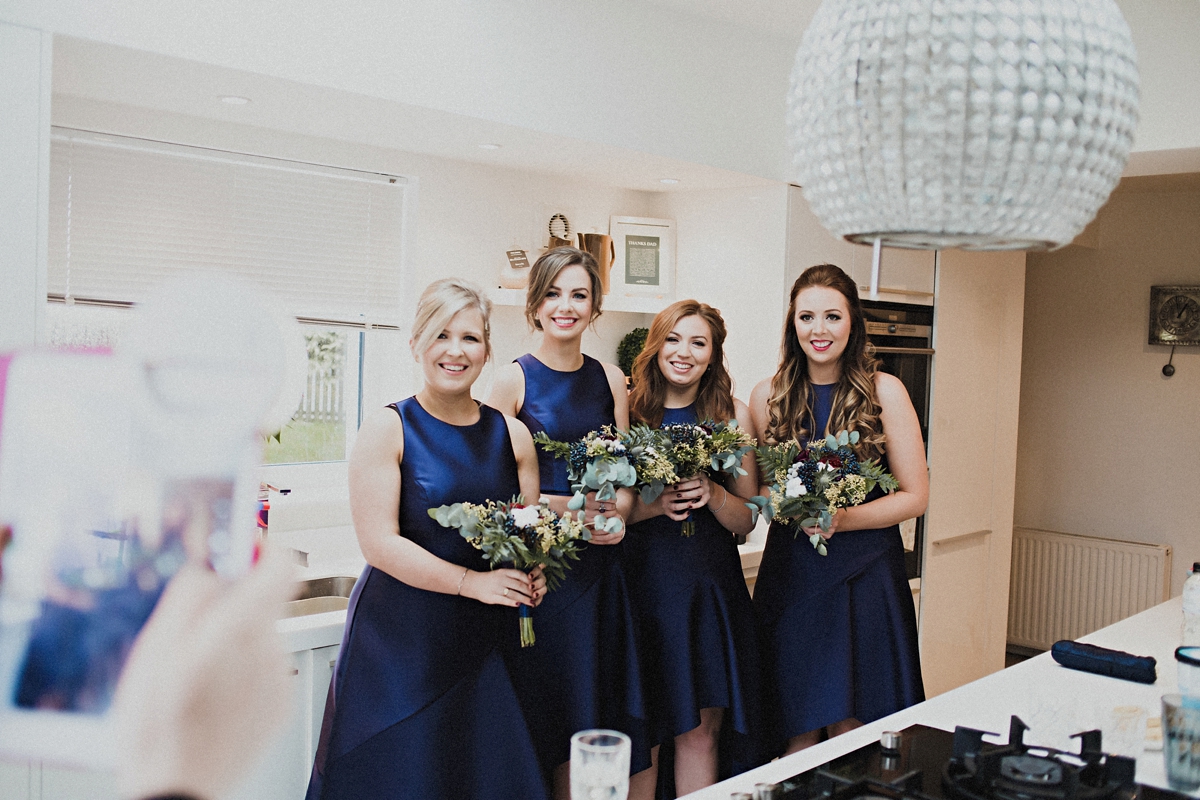 Mel's beaded gown is 'Lenora' by Watters, a last-minute purchase from Anne Pricilla Bridal in Glasgow. I adore its contemporary feel, modern lace design and crisp pure white – just gorgeous with the deep florals and foliage which she chose. She cleverly chose a simple veil which really sets off the look and shows off the keyhole back and cutout detail.
"What a saga my dress hunting experience was. Everyone who knows me knows how passionate I am about clothes and fashion. I therefore expected to love the dress shopping experience but it wasn't a positive experience for me at all. I think I went to every dress shop in Glasgow and the west of Scotland but just couldn't find anything that I felt 'me' in. I am not fussy but I know what I like; clean, structured clothes with minimum fuss and I don't like looking too put together. I found that most wedding dresses were the complete opposite of that."
"Many times my mum and I went back to the drawing board and sketched out what I envisioned. She was considering making it at one point. I ordered pretty much every white dress I could find online, both designer and high street and sent them all back again. I was oddly relaxed about the whole thing knowing that the wedding would be going ahead regardless (obviously) and I would have to be wearing something!"
"It got to the October and I still had nothing to wear. Anne Priscilla in Glasgow had been my favourite shop that I had been to and had dresses most similar to what I was looking for. I went back for another appointment with my mum and pretty much picked out three dresses that I would be able to get in on time."
"When I walked out of the changing room in the Lenora it was the only dress that made my mum cry. I didn't allow myself any time to pick faults in it, I decided then and there to go for it . I loved it and felt good in it but it still wasn't exactly what I had wanted and I still had doubts so ordered a few slightly more informal outfits as backups. On the morning of the wedding I had a white jumpsuit, and a white skirt and cashmere jumper combination as back ups! When I saw the whole look put together with my flower crown, veil and make up I was happy."
At the moment my friends and I are on the hunt for bridesmaids gowns suitable for wintertime, and I now have my eye on a design similar to these dresses from Coast. They look so special in their luxurious deep blue satin and the high-low hem is just gorgeous – classic with a modern twist.
"I had four bridesmaids: my sister, my cousin and my two oldest friends. They are four very different girls in terms of style. For example, one of my friends is like Audrey Hepburn, always impeccably put together and doesn't even own a pair of jeans or trainers, whereas my other friend is a total rock chick! I had assumed that they would need to wear different dresses as I wanted them to be happy in what they were wearing. I walked into Coast one day on my lunchbreak and this dress was hanging there."
"I instantly loved how it was dramatic enough to make an impact but it was a far cry from a traditional bridesmaid dress. They were the thickest, richest, navy satin and I went back to my desk and ordered four immediately. One of the loveliest nights of wedding planning was when all four girls and their mums came to my mum's house for a night of cheese and wine and to try on the dresses. I cried when they tried them on. The angular style and cut somehow suited each one of them in a different way. They were perfect and I couldn't believe how easy that process was."
The couple's wedding fell on nearly the same date as when they first met in 2011 – introduced by mutual friends.
"We went on our first date on 30 December 2011 and so began our tradition of Christmas time being 'our time' of year. We got engaged in December 2015 and married in December 2016, so we were married almost exactly five years to the day from our first date."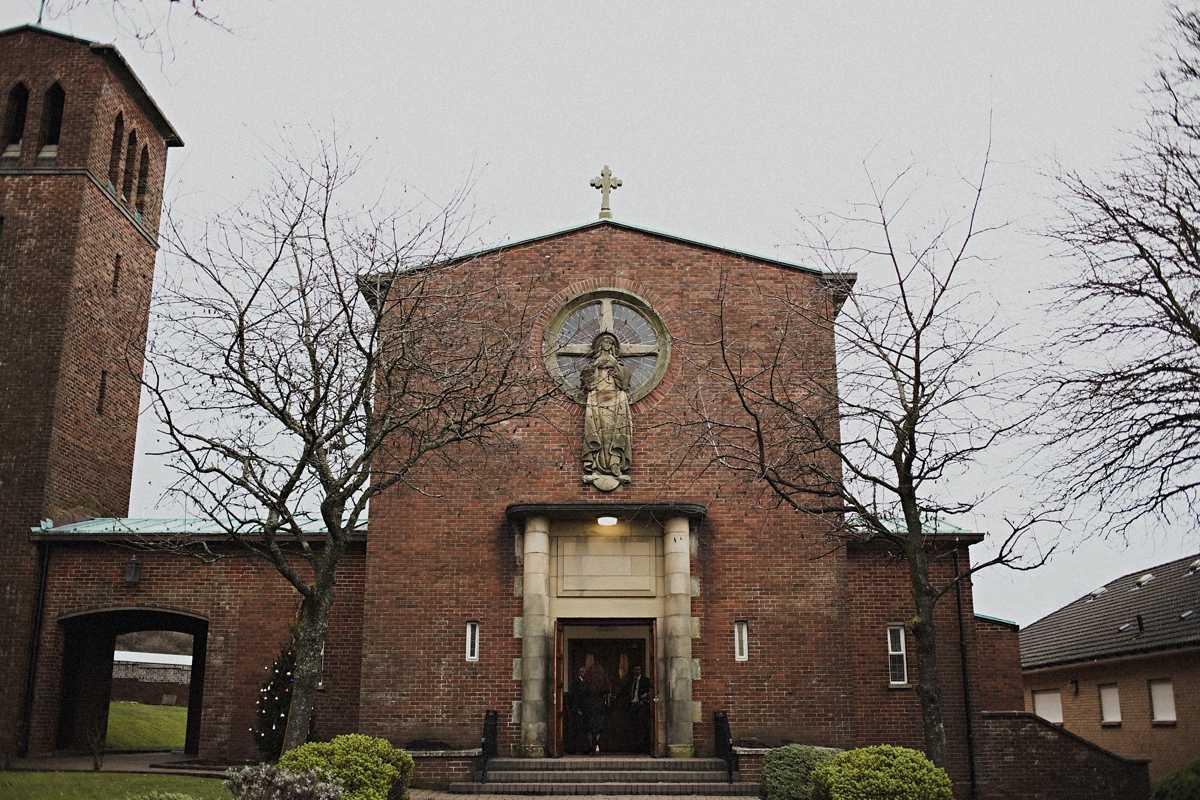 With such detail on the dress and her passion for crisp styling, there was little need for many other accessories, just simple and meaningful additions.
"I wore my engagement ring and another couple of rings and a little delicate bracelet. In my ears I wore very simple white gold diamond studs that my aunty had bought me for my 21st birthday. I wore a traditional garter that my gran of all people bought me to wear. Oh and I had a silver sixpence stuck to my shoe!"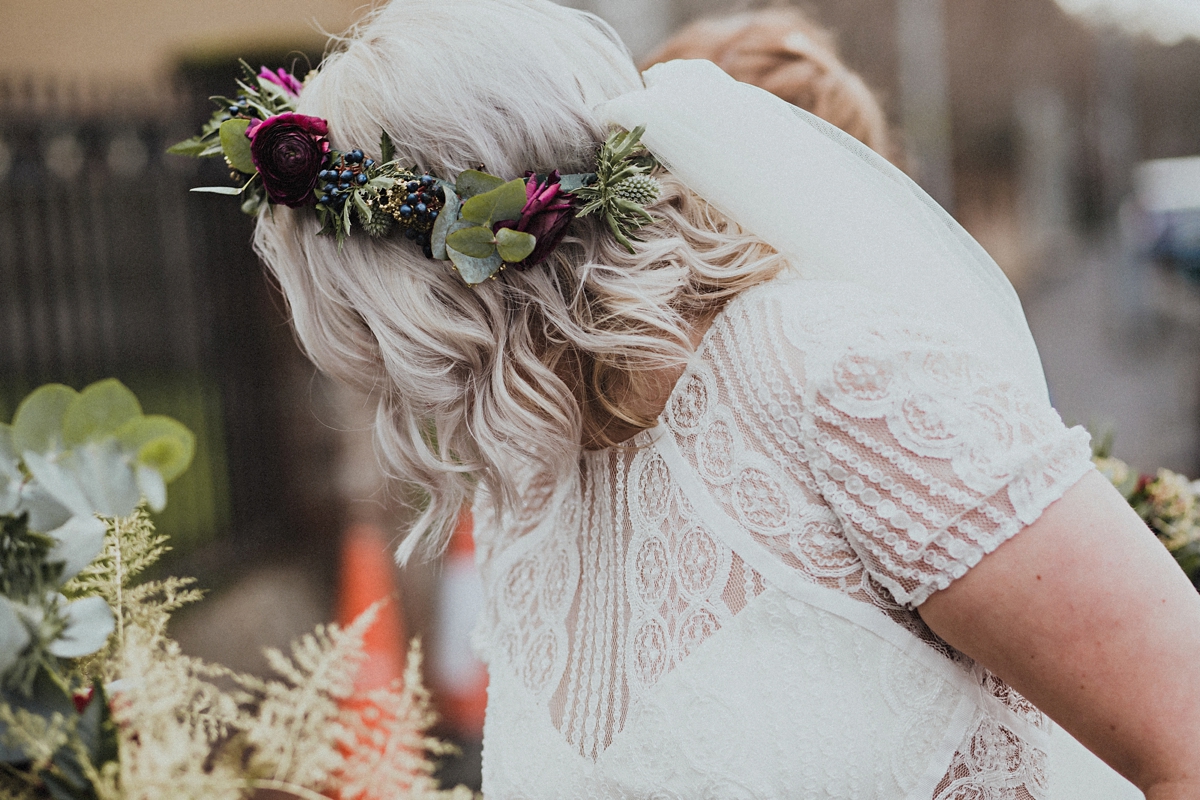 The church was only five minutes from the bride's parents' house so Melanie and her dad hopped in to her mum's pale blue Nissan Figaro for the short journey.
"My dad accompanied me down the aisle. Right before we start walking he said, "Right, let's do this. It'll be the best day and biggest party you'll ever throw in your life so just go for it and enjoy it!". This and saying my vows in front of everyone were the only parts of the day I was nervous about. I am an emotional person and kept welling up at the thought of it in the weeks before the wedding. So many people said to me that my nerves would all disappear when it came to it and I didn't believe them. However it was so true. The nerves go and you are just so excited and happy and keen to get the show on the road!"
The traditional Catholic ceremony was led by priest Father Joseph Mills, who Mel has known for years. The simple, yellow gold weddings bands that they exchanged were found at Barclays Diamonds.
"I walked down the aisle to 'Highland Cathedral' playing on the bagpipes. All the woman in my family have a tradition of going to the local town hall's Christmas Concert together each year. At the end of every concert the whole place goes quiet and 'Highland Cathedral' begins to play on the bagpipes. I have tingles going down my spine even writing this! It hadn't even crossed my mind to walk down the aisle to this until my mum suggested it one day and there could have been nothing more perfect. In the run-up to the day I listened to the song A LOT to get myself used to it so that I wouldn't get so emotional when I heard it on the day. Craig used to laugh that it was a bit dramatic (which it was!) and that it sounded like I was going to ride into the chapel on a white horse – but hey, if you can't make an entrance on your wedding day when can you?"
"As it was a Catholic ceremony, we had two biblical readings.  I spent a lot of time searching for readings that felt relevant to us. Craig's sister Claire read a reading from the Book of Tobit (8:4-8) "Allow us to live together to a happy old age" which we chose because of the last line in particular, "Grant that she and I may find mercy and that we may grow old together".
"My aunty, who is my godmother, read a reading from the Colossians (3:12-17) – "Getting the perfect relationship" – which is lovely.  We were able to choose the Gospel which was John 15:12-17 , "There is no greater love than to lay down one's life for one's friend". We both value our friendships so deeply and are so lucky to have the most amazing friends in our life, which was why this felt so right for us.  The last line is simply "Love each other"."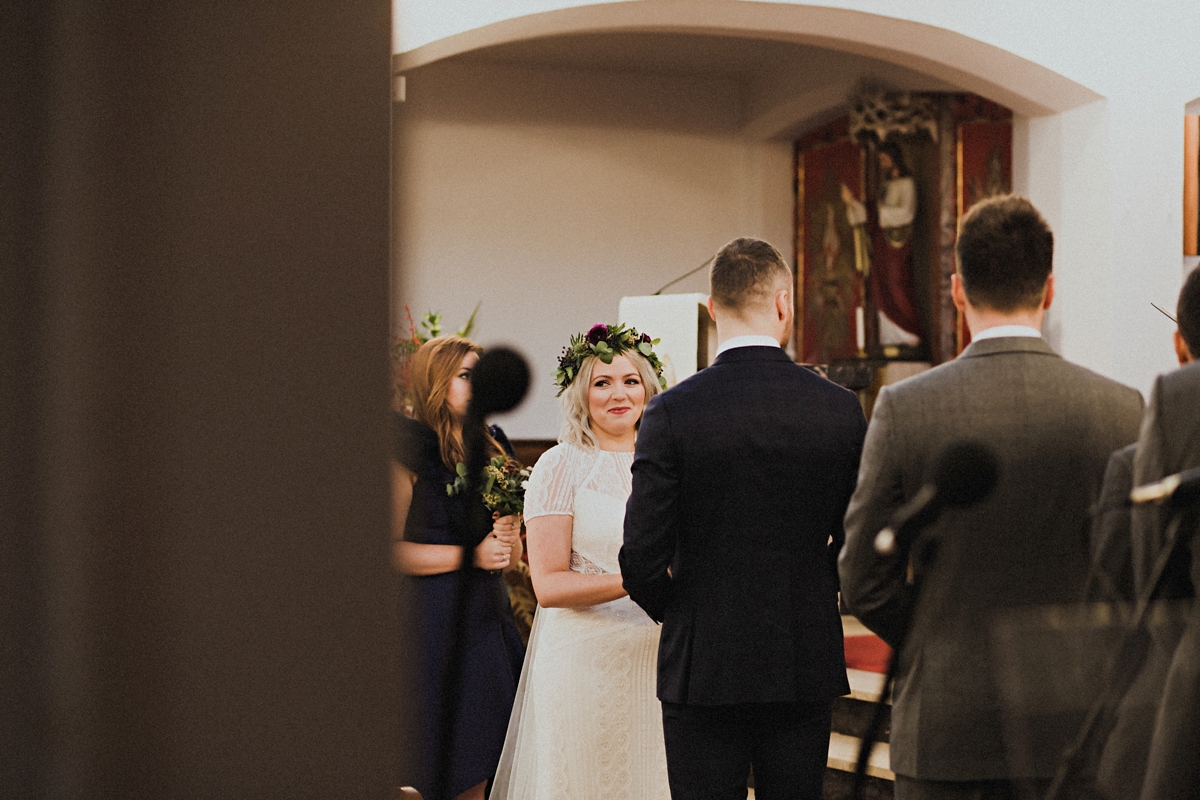 "My aunty kindly offered to buy my wedding shoes. I searched high and low to find something that I would be able to wear again and that were comfy enough to dance the night away. Unbelievably, I found the perfect pair in Quiz (a shop I haven't shopped in since I was about 15) for £21.99! They were gold and had a good chunky heel and most importantly, I will wear them again. My aunty couldn't believe it when I told her my perfect shoes were 20 quid!"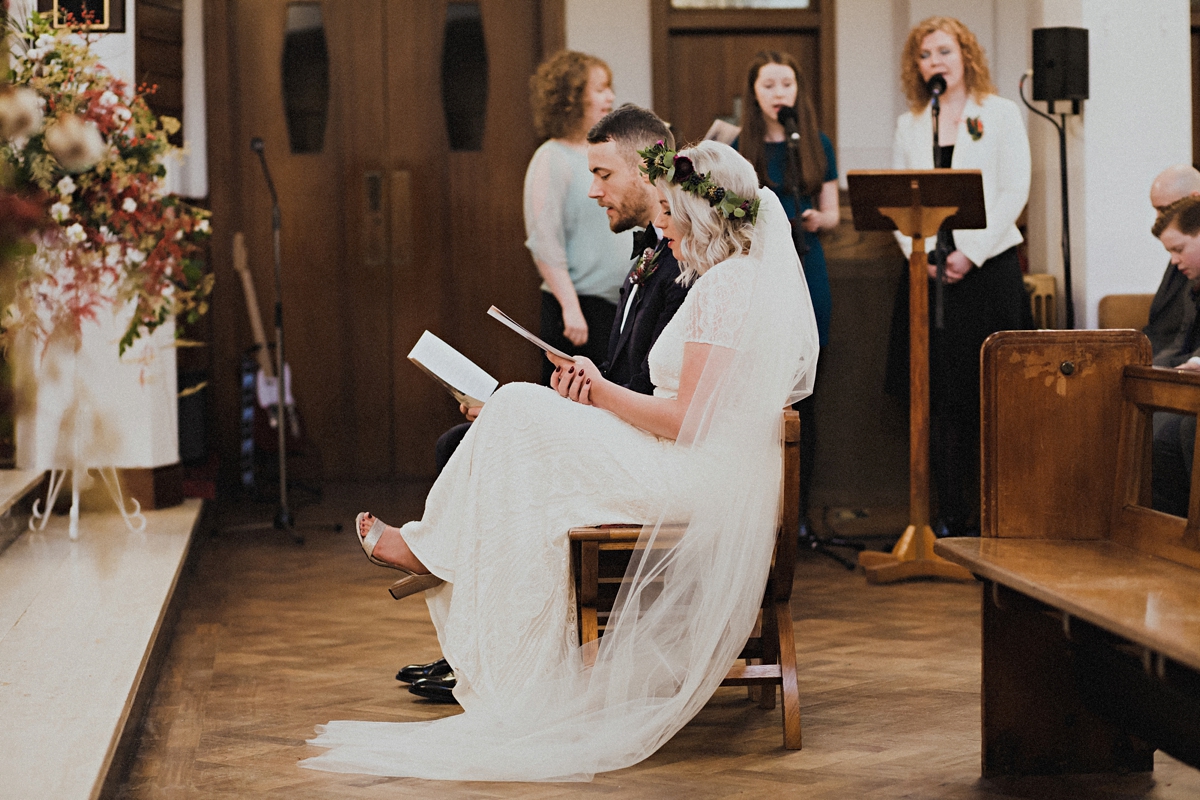 "We said the traditional wedding vows. Neither of us had any desire to personalise them, even if we had had that option as we are quite a private couple in that sense. It was also really important to us to be saying the vows that have been said for thousands of years by thousands of people, including our parents and grandparents."
"I spent a lot of time with a family friend Suzanne who helped us choose the music for the wedding mass. We choose Christmas hymns and had a choir sing them a cappella. It was just gorgeous. My good friend Sophie who is an amazing singer/songwriter sang 'Scottish Magnificat' which is an adaptation of the Scottish song 'Wild Mountain Thyme' whilst we signed the register and then sang the original version as we walked back down the aisle. It was absolutely stunning and spine-tingling! The lyrics as we walked down the aisle were so sentimental; "Go lassie go, and we'll all go together".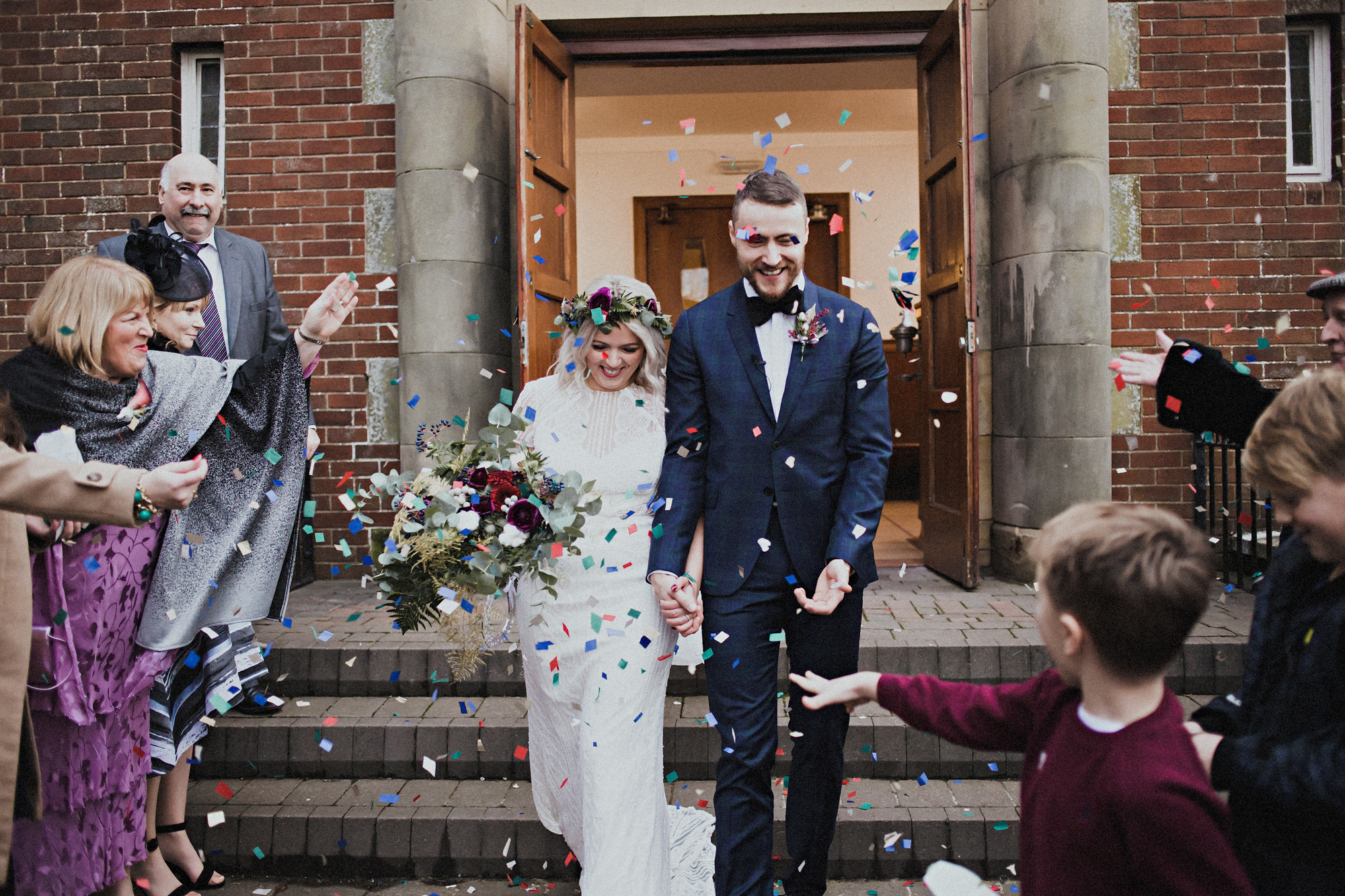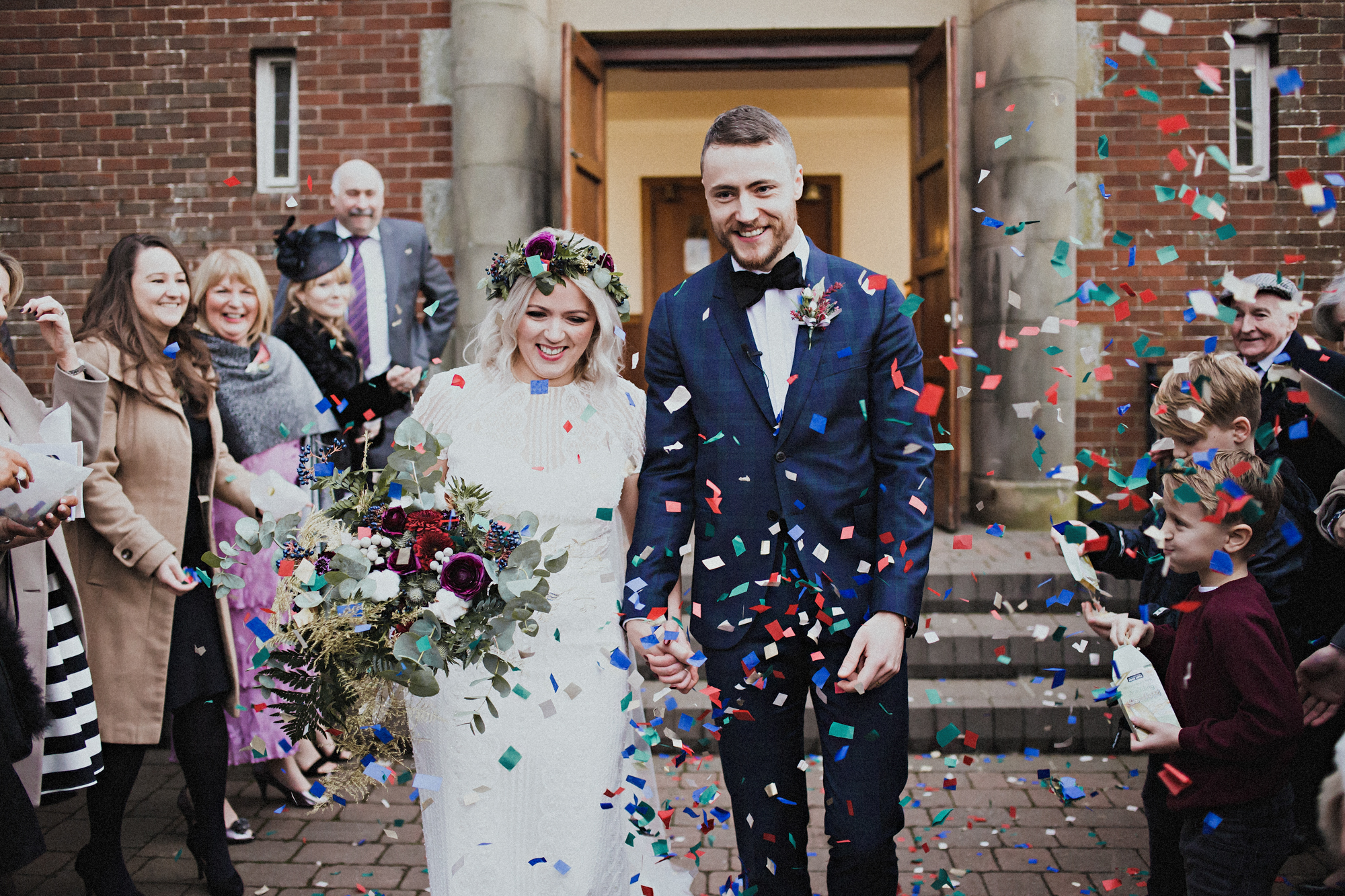 I love how Craig's style mirrors the bride's – clean, sharp and simple.
"Craig decided to break Scottish tradition and not wear a kilt. He chose a cool, smart tartan suit by Paul Smith. The navy and dark green tartan tied in beautifully with so many aspects of the wedding. At the last minute he decided to wear a bow tie and the whole look was super sharp and stylish."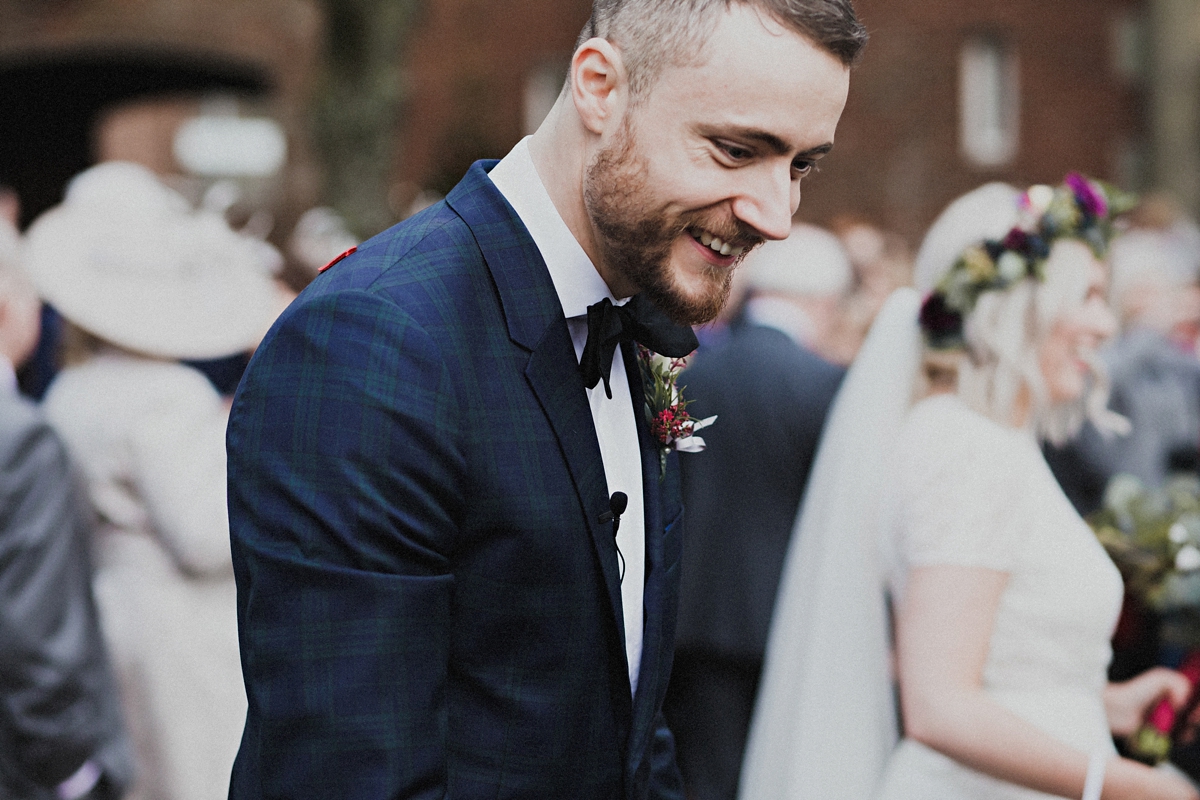 After the ceremony, the newly-weds got back in to the Nissan, now decorated with a hand-made 'Just Married' sign by Mel's auntie, ribbons and tin cans to drive to Boclair House.
It's time to shine the spotlight on photographer John Elphinstone Stirling, whose crisp photographic style captures the detail, intimacy and joy of the day so well, all with a very natural take.
"We found John whilst searching for blogs of Glasgow weddings to find a local photographer. We instantly loved his style and the real texture and colours of his images. The candid, not-too-posed look was exactly what we were looking for. I sent John an email one morning and from his first response we knew he was right for us and that feeling continued throughout the whole process. One night in December we met John and his wife Emma in a pub in Glasgow to put name to face and we clicked straight away."
"We knew they were the kind of people you would be happy to have as part of your special day. They felt like friends on the day and John managed to capture so much without us having to be away from our guests for too long as this was really important to us. We wanted to be part of the party enjoying the mulled wine and canapes rather than posing for photographs! We absolutely love our photographers and will cherish them forever. We couldn't recommend John enough."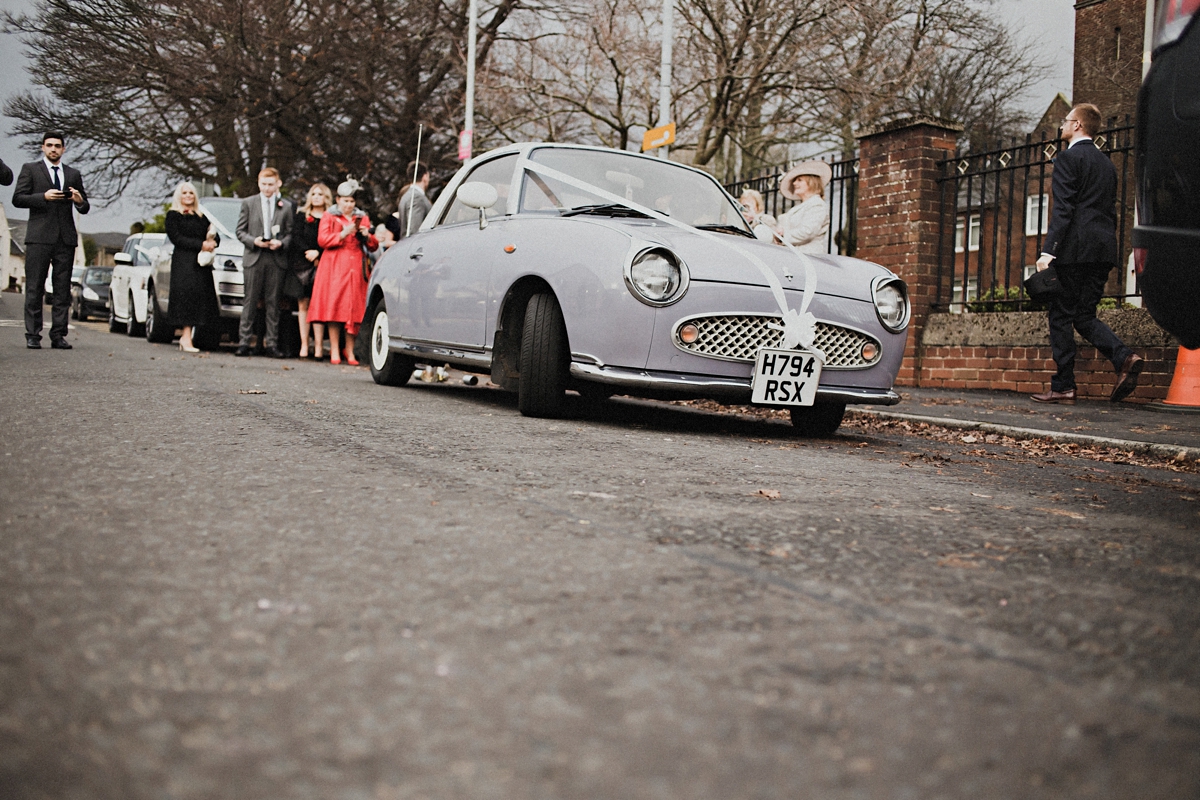 The day was documented on camera by Lovelock Films. Like many couples, Mel and Craig were unsure whether to book a videographer or not but are so happy with the result.
"We couldn't make up our minds about having a video or not. In the end we decided that we wouldn't regret having one but we might regret not having once and we are so glad we decided to go for it. I'm not ashamed to admit I watch our video at least once a week (the highlights is only thirteen minutes long!). The quality of editing and sound is incredible and I love it more than words can say. The speeches were my favourite part of the day and to have them captured in the video is just priceless."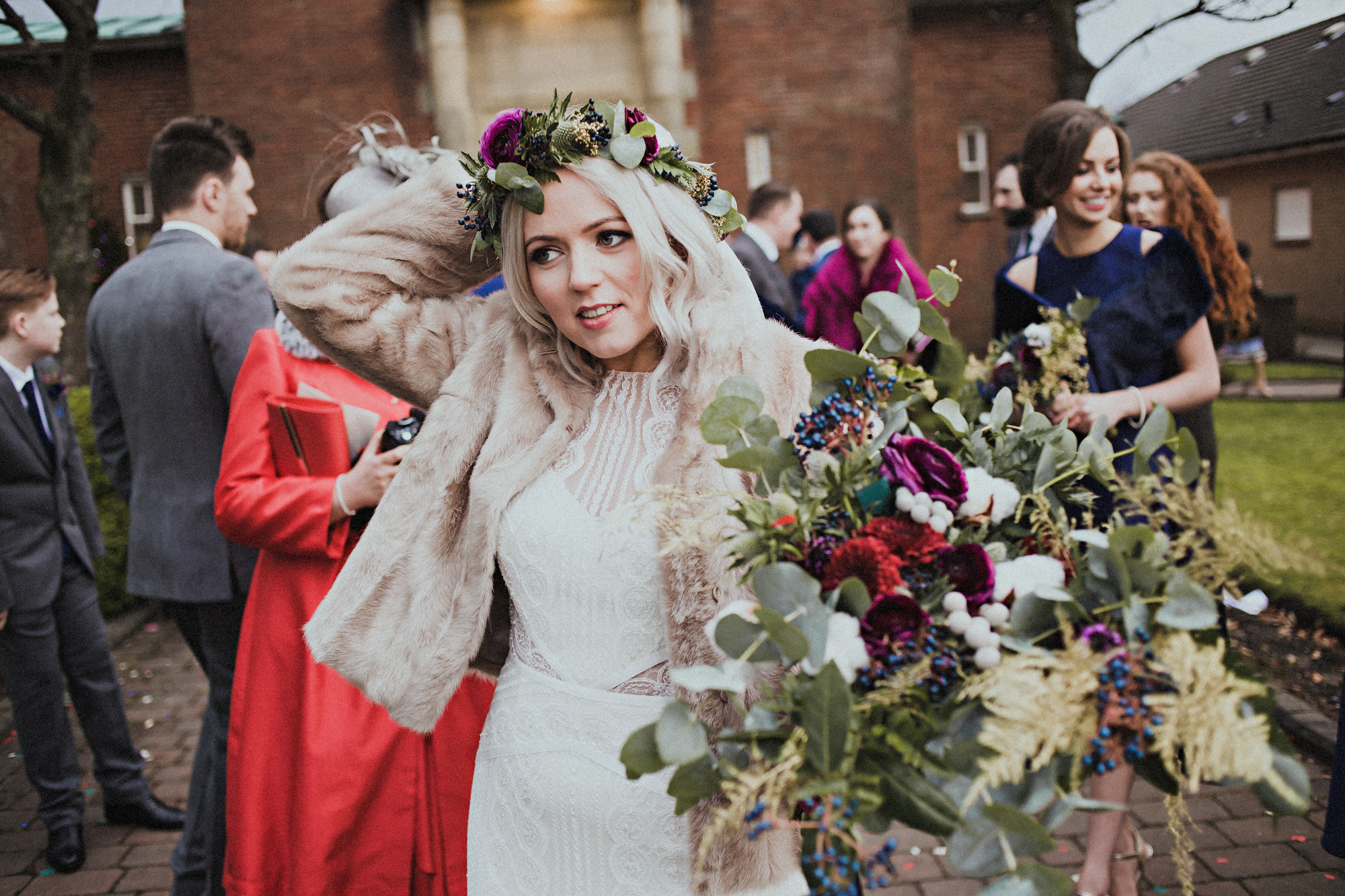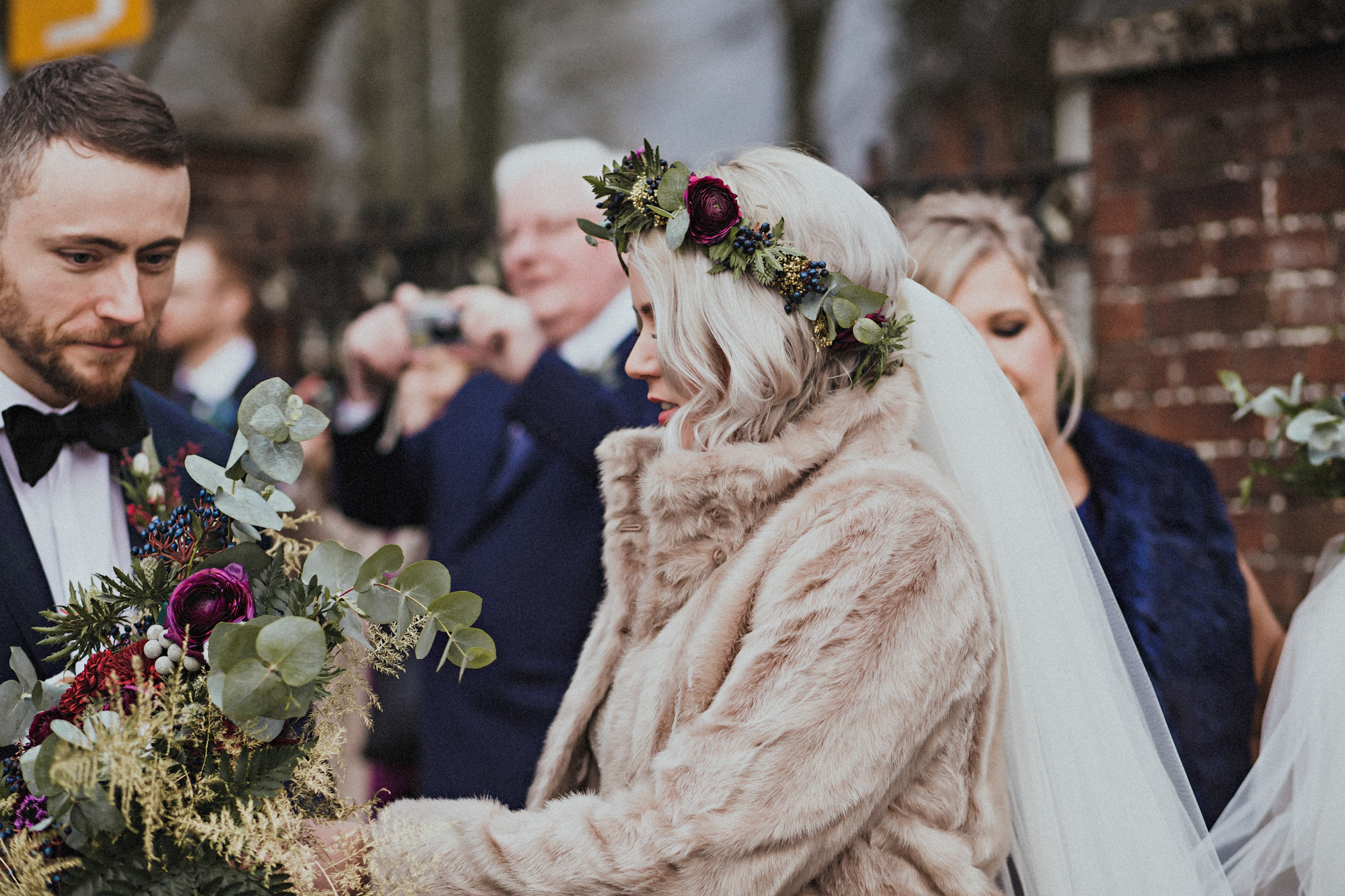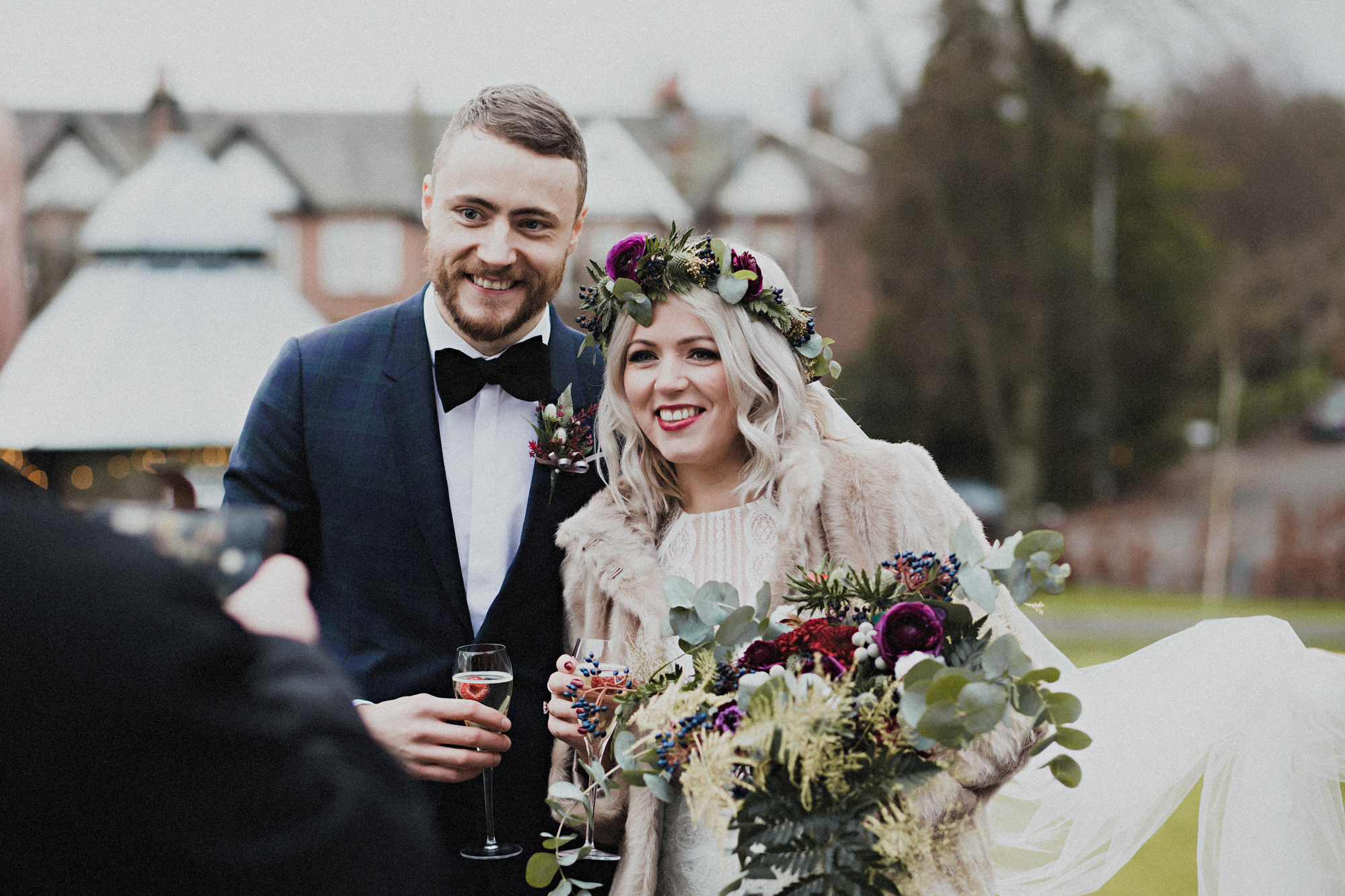 "Boclair House was not what we had in mind at all when we first started wedding planning. Our intention was to have a much smaller wedding in a local village hall. We started planning and were astounded at the prices and logistics of hiring tables, chairs, catering, a bar etc so we started to think about having a hotel wedding which meant we wouldn't have to organise so many individual elements. Hats off to anyone who does the village hall-style wedding as it takes a lot of work to achieve that effortless, thrown-together wedding look."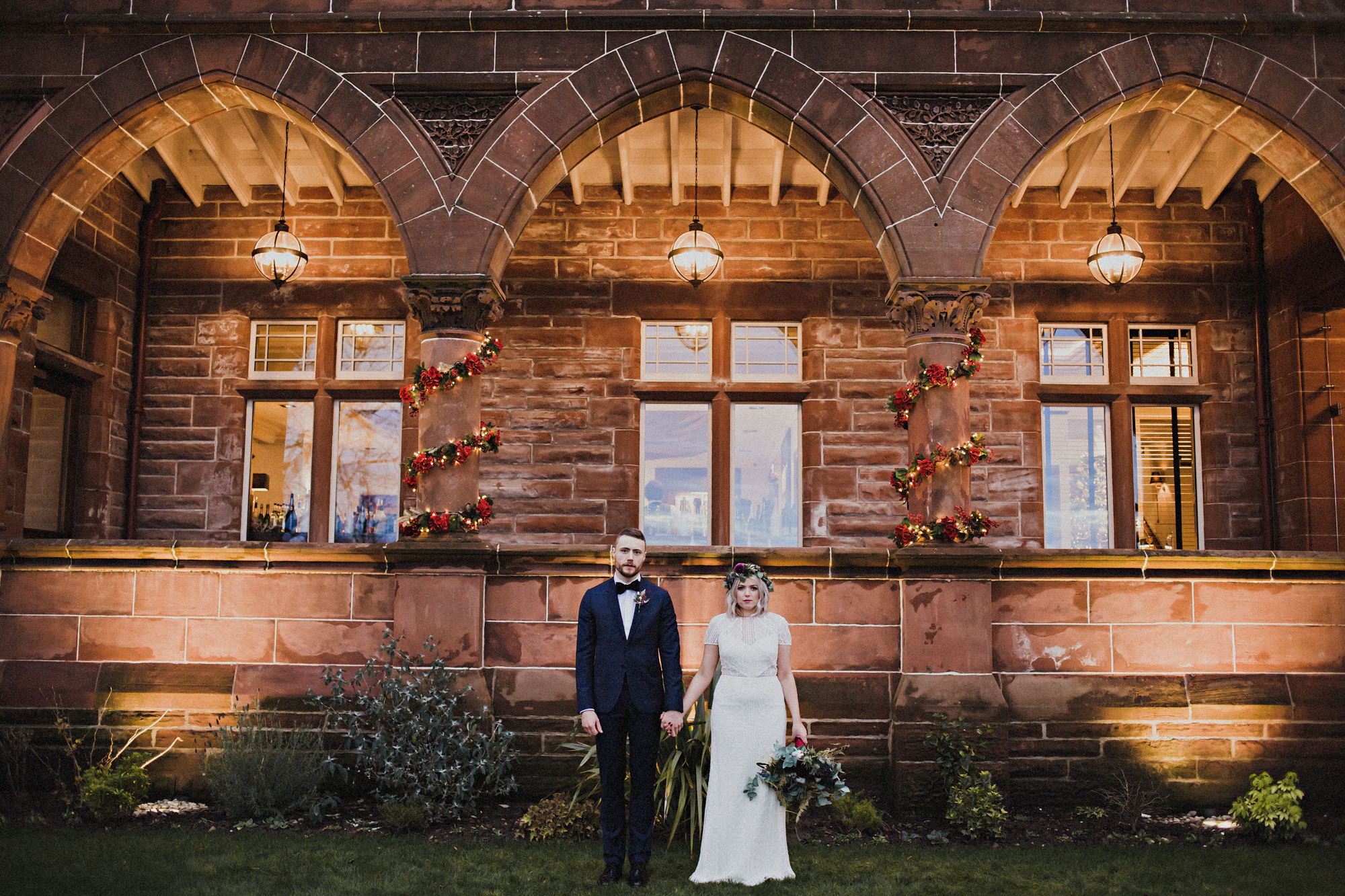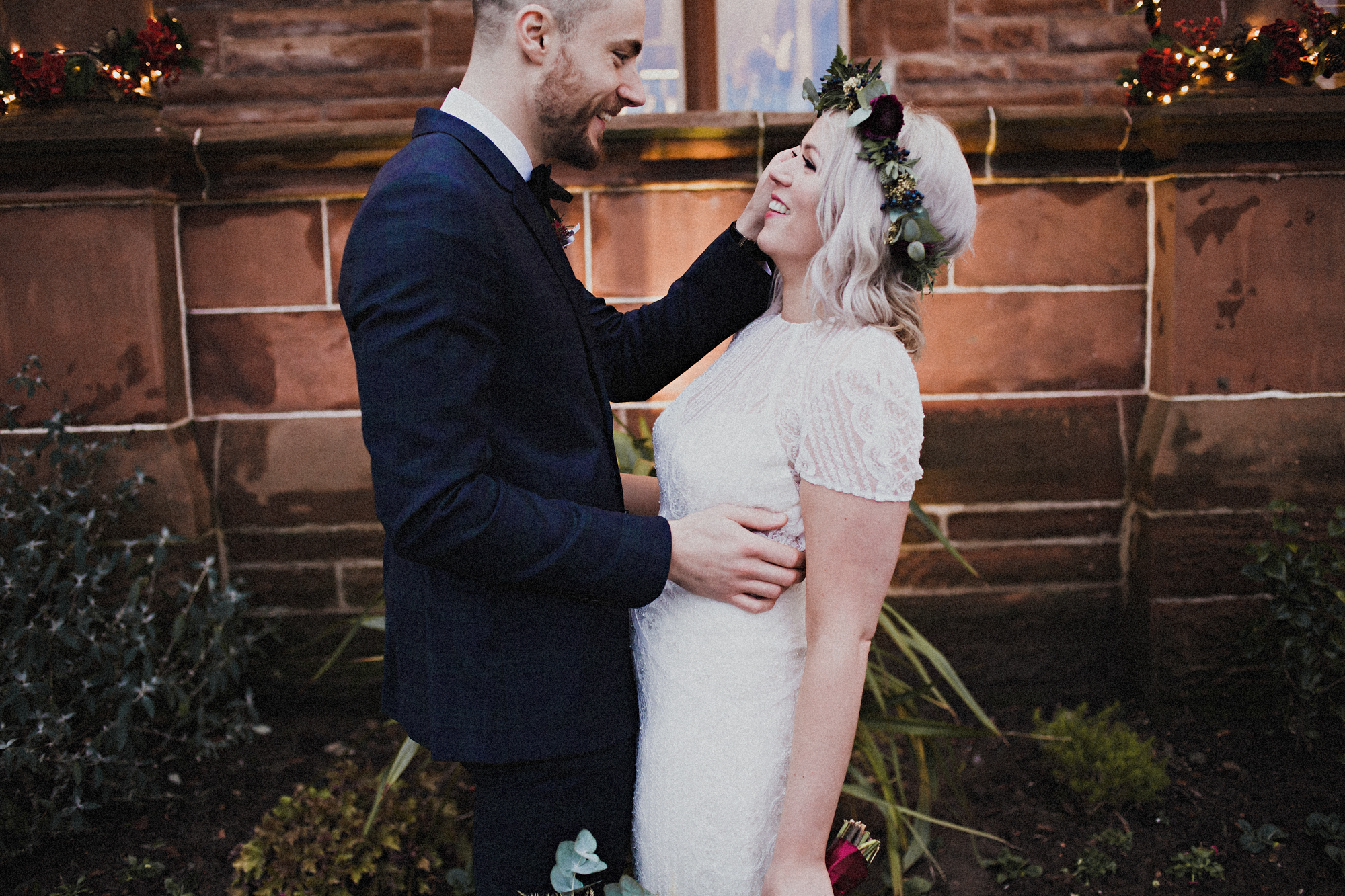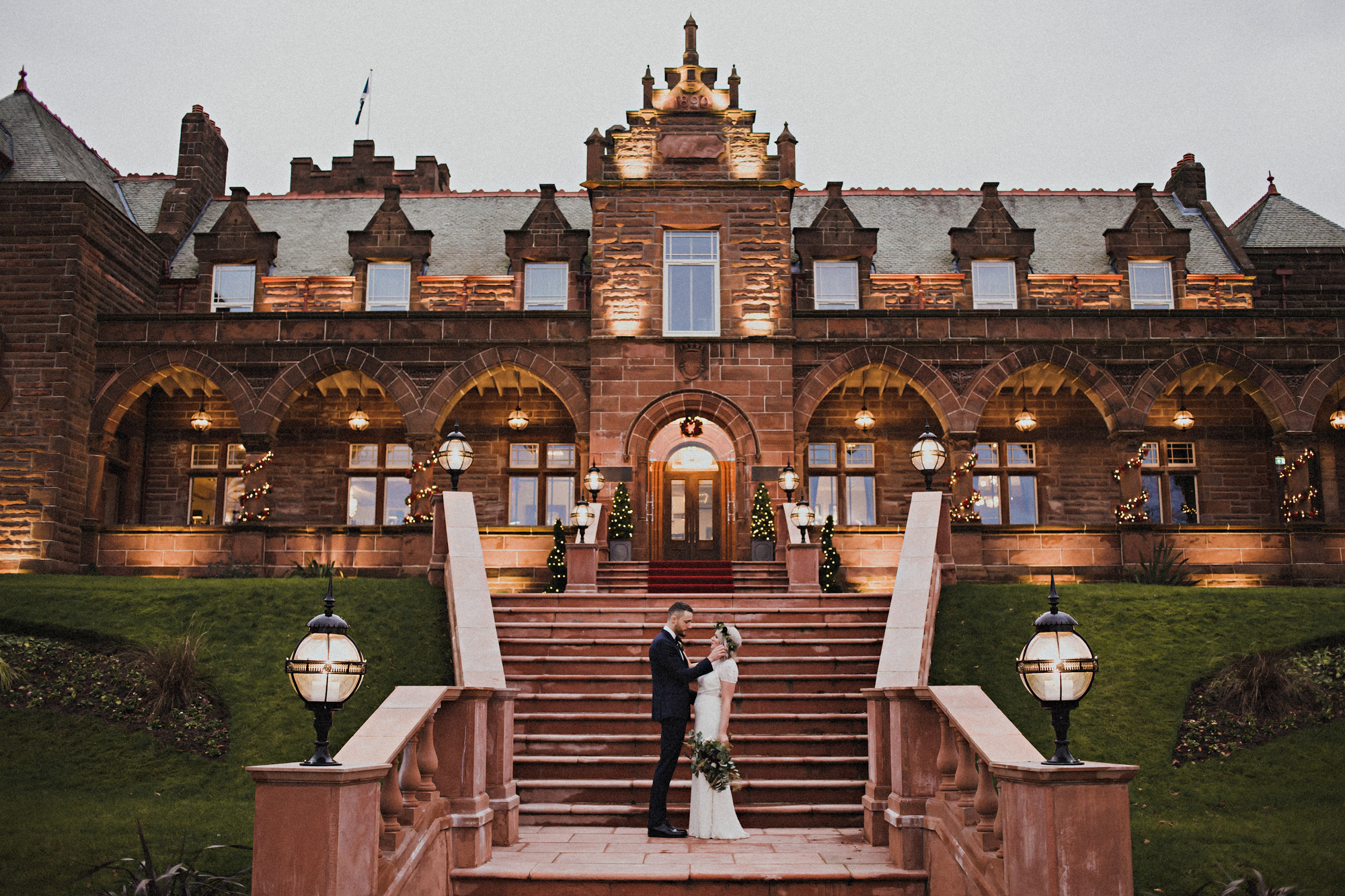 "Boclair House is a red sandstone Gothic Tudor mansion which until recently was used as a council building. It was being developed into a hotel at the time we were planning our wedding. We loved the idea that we would be one of the first weddings to be held there, and none of our friends or family would have been before."
"We booked it without having seen inside as it was still a building site but we had seen enough of the plans and drawings to know it would be amazing. We were blown away when we first saw the inside, it is incredible and is was what I would call a 'fancy' hotel wedding, the complete opposite of what we had originally planned, but just perfect."
"Another reason for choosing this option was that the comfort of our guests was a top priority for us. We wanted to ensure that our older guests were warm, comfortable, and that there would be plenty of seats for the drinks reception. It made sense therefore, to have the reception in a hotel."
Before the wedding, the couple added simple embellishments to Boclair House to suit their own style. I love the idea of creating a certain scent in the room.
"The venue was beautiful and quite ornate so we didn't do very much décor wise. We collected a lot of wine bottles from our booze loving friends, spray painted them gold and filled them with flowers and candles. I am obsessed with scented candles at Christmastime so I collected loads of festive scented candles and had these put all over the tables. The smell was incredible when you walked in the room."
"All the food and drink was provided by the hotel. We are both major foodies and spent a lot of time selecting the menu. It was important to us that everyone was well fed and watered! Each guest was given a menu to choose from on the day rather than having to select in advance which I liked. We got great comments from guests on the food. When our guests arrived at the reception venue they were offered mulled wine which went down really well!"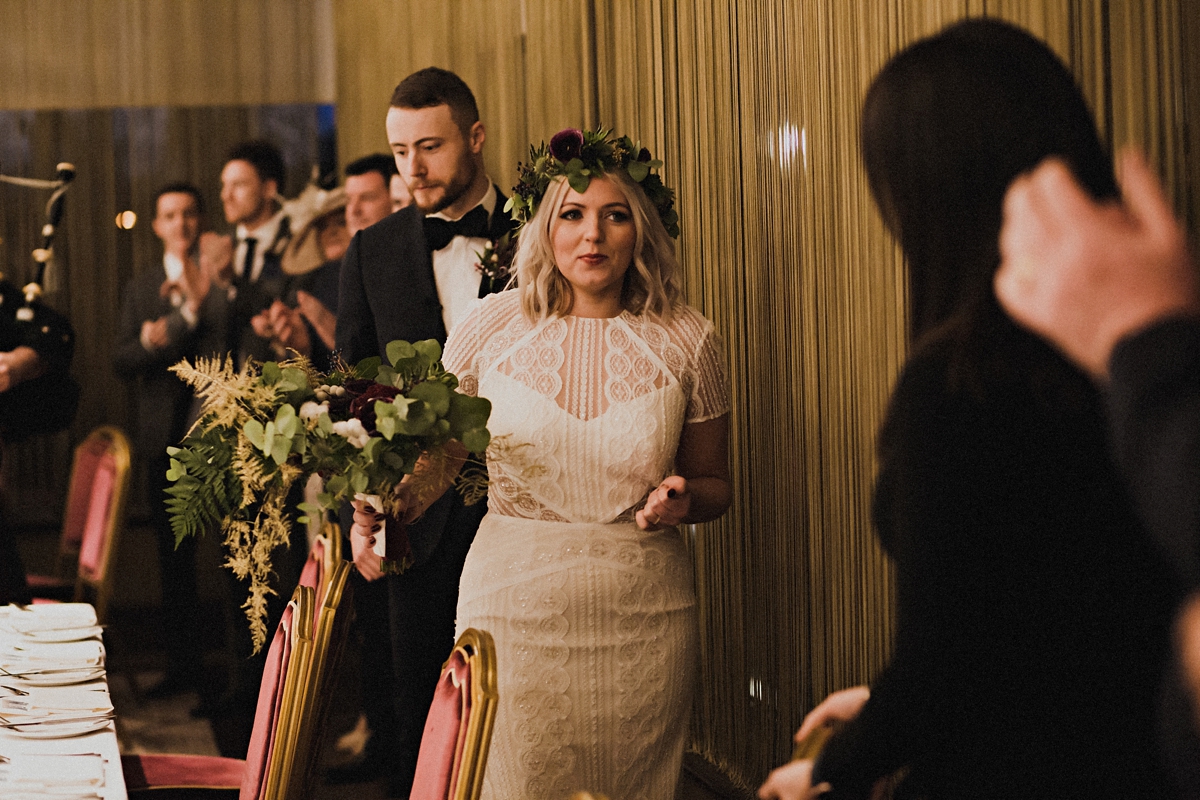 "We weren't too fussed about having a wedding cake, I always feel it goes to waste. However, an email popped into my mailbox one day that 3D Cakes in Glasgow were doing an offer on three-tier wedding cakes. As it was such a reasonable price we decided to go for it. We ordered three differently-flavoured tiers (carrot, red velvet and lemon) and asked for it to be completely plain. I bought some festive bits and pieces on Amazon and a lovely girl at the hotel put them on the cake for me the morning of the wedding. Considering that we weren't bothered at all, we were really pleased with how it turned out in the end."

Mel has chosen to share three moments of the day which really stood out for her.
"Getting ready with my friends and family on the morning of the wedding.  I was so relaxed and we had the nicest morning." 
"Walking back down the aisle at the end of the ceremony was the happiest moment of my life."
"The speeches. We had speeches from both our dads, Craig and then the two best men did a speech together.  They were the best speeches ever, such a perfect mix of hilarity and emotion!  Craig completely blew me away me by delivering his speech as a poem which he had written about our life together. I had no idea he had such a talent.  It was absolutely incredible and people still comment on what an amazing speech it was!"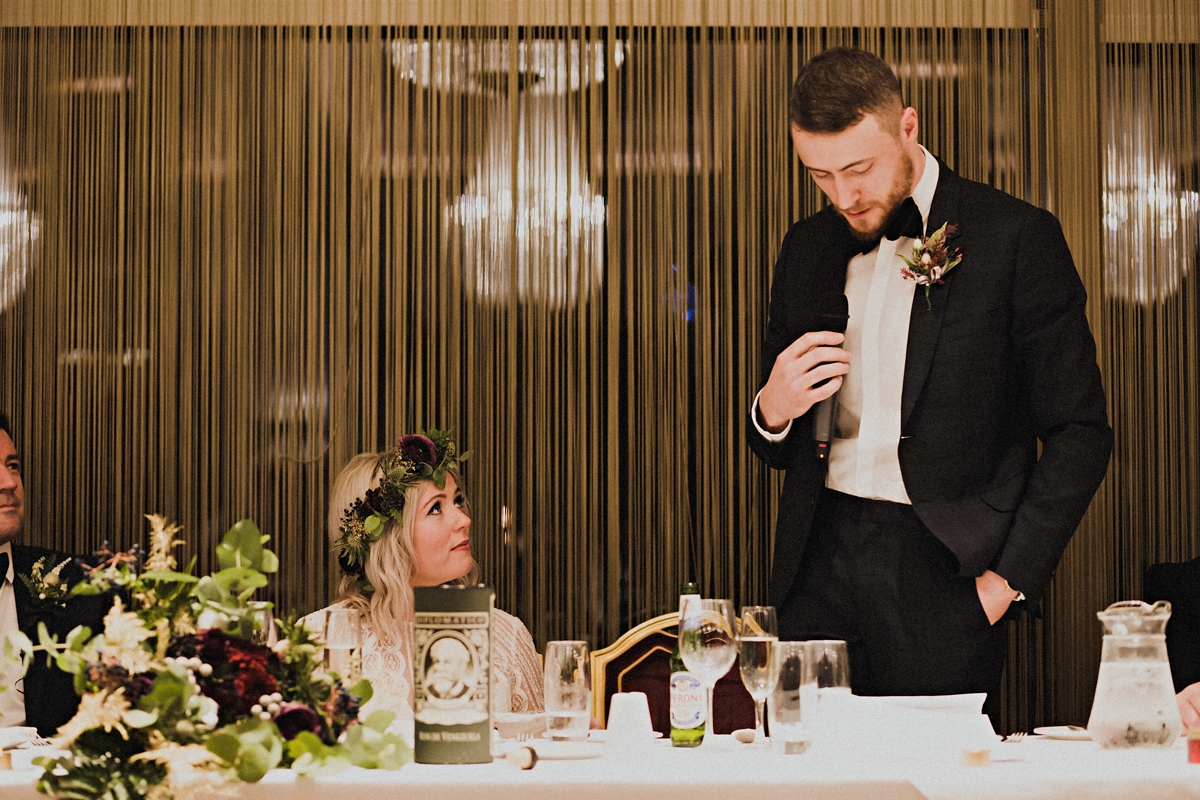 The party really got started in the evening, with live music from Sneaky Treacle.
"Many guests commented that they were the best wedding band they'd ever heard. The dance floor was absolutely packed all night, although that might have been partly due to the free bar!"
"Our first dance was 'All Comes Down' by Kodaline. There was no question about this; it's a band we both love and a song that means a lot to us.  I got quite emotional as the dancefloor started to fill with all our friends and family.  We also had a last dance.  The traditional Scottish song for Hogmanay is 'Auld Lang Syne' and given that our wedding was on 29 December it felt really appropriate.  It was the most incredible moment dancing together in the middle of a circle of our friends at the end of the night."
Words of Wedded Wisdom
Finally, Melanie has some really thoughtful words of wisdom and reassurance to share. Her experience of a winter wedding is invaluable.
"It's not all about you! I don't know how many things I read, or advice I was given which said it's all about you, and your day your way. We found, however, that for us that wasn't the case.  This may be controversial but what we felt was that there may be certain things you'd not necessarily want to do but actually if it makes someone else happy and you still have the day you want then you should do it.  It was really important for us to consider other people both in the planning and on the day itself and ensure that our guests had a great time and felt included and I think that paid off."
"Don't feel your wedding has to have quirks and tricks and 'break with tradition'. You read so much about skipping tradition and having a wedding that's different to the norm. You start to feel that you need to break all tradition and make your wedding unique but what I kept coming back to was that actually weddings are not unique, they have been happening for thousands of years and some traditions are traditions for a reason and they're lovely. Make your wedding feel as 'you' as possible but don't worry about trying hard to be different or having an alternative wedding. People love weddings and they will love your wedding."
"Consider a winter wedding. People were so full of festive cheer and in the mood to party that the atmosphere was lively all day and night."
"Make sure you keep some keepsakes.  I kept a copy of each piece of the stationery, a bag of the confetti, candles etc. and have kept them in a special box to look back through."
"Get as organised as you can in advance so that you can really enjoy the last few weeks before your wedding day. I found the last few weeks so exciting. People start to really look forward to the day and there was a real buzz about my house. I had everything organised by about a month before so that in the run-up we just chilled out and completely enjoyed ourselves."
"If you can afford to, have a free bar. We were conscious that our wedding was in between Christmas and New Year which is an expensive time for people. We cut costs in other areas and my family were very generous so allow us to put on a free bar as we always feel that the two things which make a great wedding are a great band and booze flowing! The evening reception was bouncing so it worked!"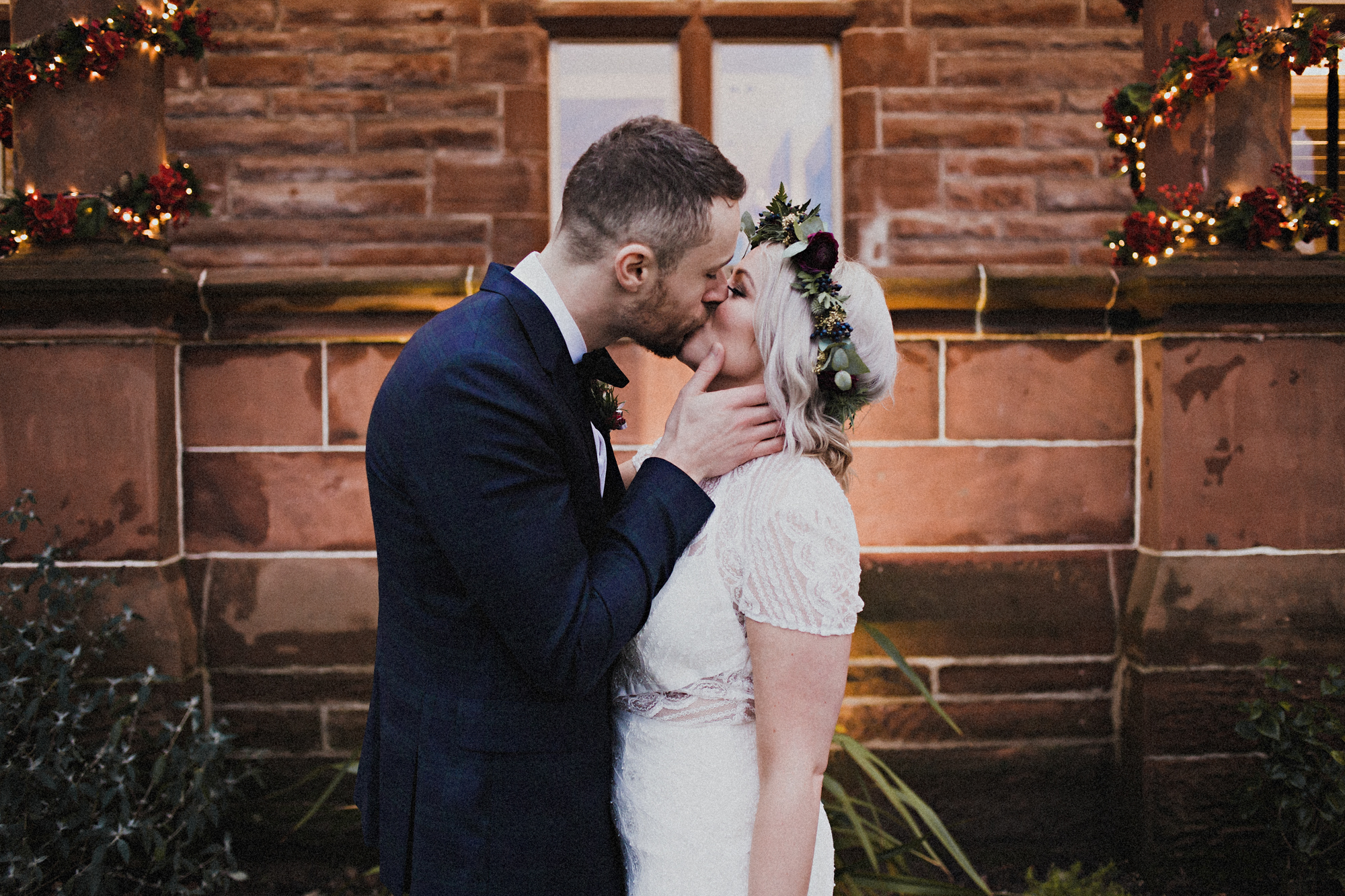 Wow Melanie and Craig, what a beautifully festive day you've created. I love the idea of celebrating between Christmas and New Year, and the look you created is just so magical. I'm sending you so many thanks on behalf of Love My Dress for sharing all the details behind your choices. Thankyou also to John Elphinstone Stirling for sharing your work. For more gorgeous wintertime celebrations please take a look at these Love My Dress weddings.
Ele xx