Dear Readers, I've got such a beauty of a wedding to share with you today; soft, summery and romantic. Not only that, it's a wedding that is a true celebration of family and of faith, set against the backdrop of a stunning Northern Irish castle. If this all sounds like your cup of tea, then grab one and read on!
Medical student Victoria, and Jason, who works in electronic sales were married at their family church, Waringstown Presbyterian, followed by a reception at Lissanoure Castle, Ballymena on the 1st July 2017. Rather than deciding on a colour palette early in the planning process, Victoria and Jason chose instead to focus on the kind of atmosphere they wanted to create.
Film by Ball and Wolf
"We picked words like 'joyful', 'meaningful', 'fun', 'relaxed', 'family orientated', and looking back I'm glad we thought about it this way rather than focusing on the aesthetics, although I had fun doing that too later down the line."
Photography by Epic Love Photography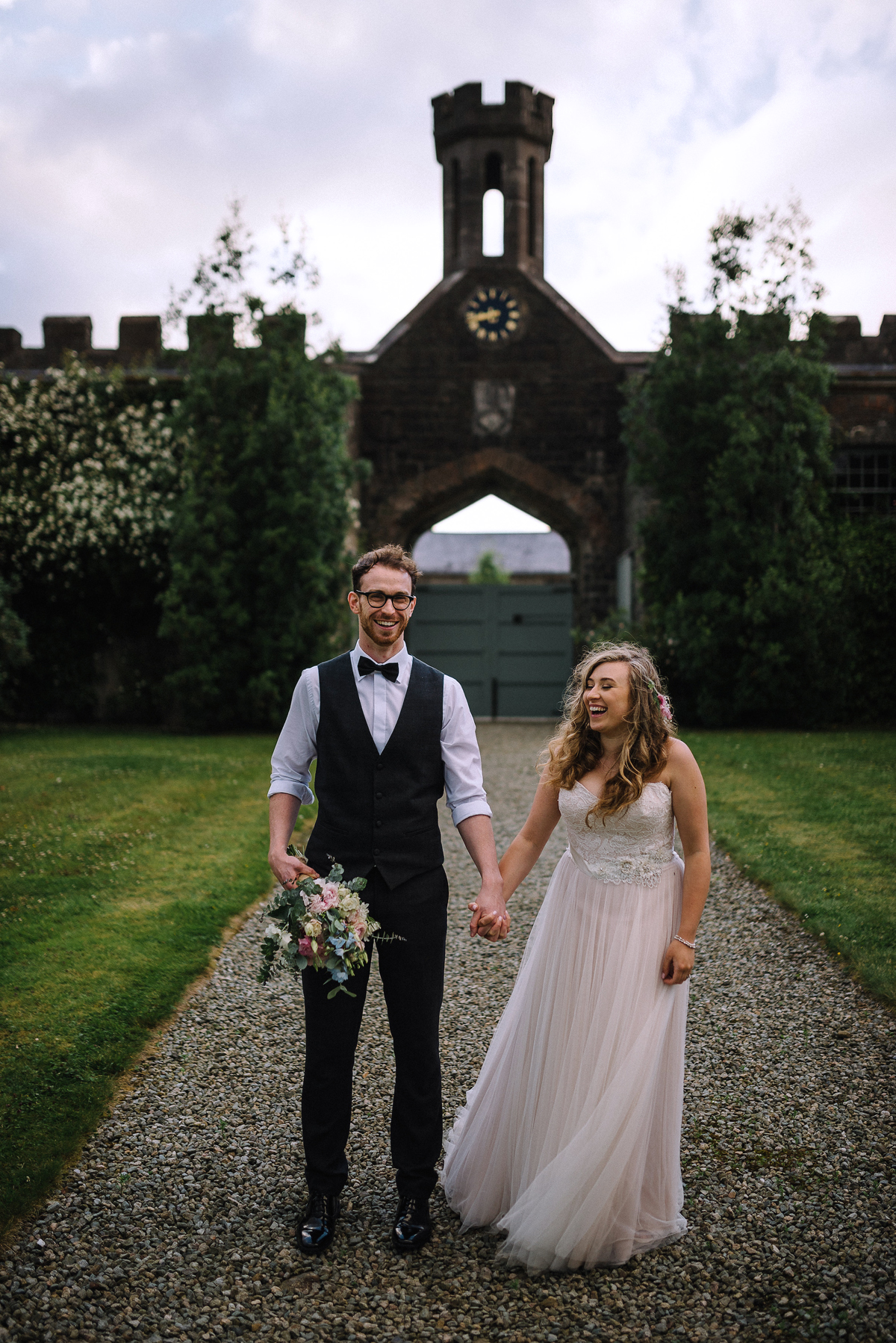 "We started dating in March 2010 and we daydreamed from a young age about getting married one day, and knew that͛s what we wanted to do in the future when the timing was right. Jason has been my best friend since I was 14 years old, we have grown up together, changed so much but been each other's constant, he's my rock, he gives the best hugs, tells the most ridiculous jokes and makes me incredibly happy.""Jason and I met at church over 10 years ago; I was 11 and he was 12. We were helping at a children's event and over the course of a week became great friends, he even told me I could sit with him on the bus because I was starting a new school that September. He is a year older than me and so two years went by until, after nurturing a bit of a crush, my friend (who was one of my bridesmaids!) gave me his number."
"We got engaged in September 2015 and set our date for 1st July 2017, choosing those few years so we could have time to save and because I would be balancing studying and placement alongside wedding planning. It was a long wait in some respects but I loved the planning process, following blogs and designers on Instagram and having the time to choose what I really wanted for the day."
The bridal party's hair was beautifully styled by Julie-Ann Magee and Kelly Hylands, with pretty, candy-hued make-up by Louise Gardiner. Victoria's amazing, tumbling locks were topped with an arrangement of fresh flowers worn at the back with a simple veil from Richard Designs.
Ingeniously though, the flowers served double duty, being turned around and worn as a flower crown for the reception – such a brilliant idea!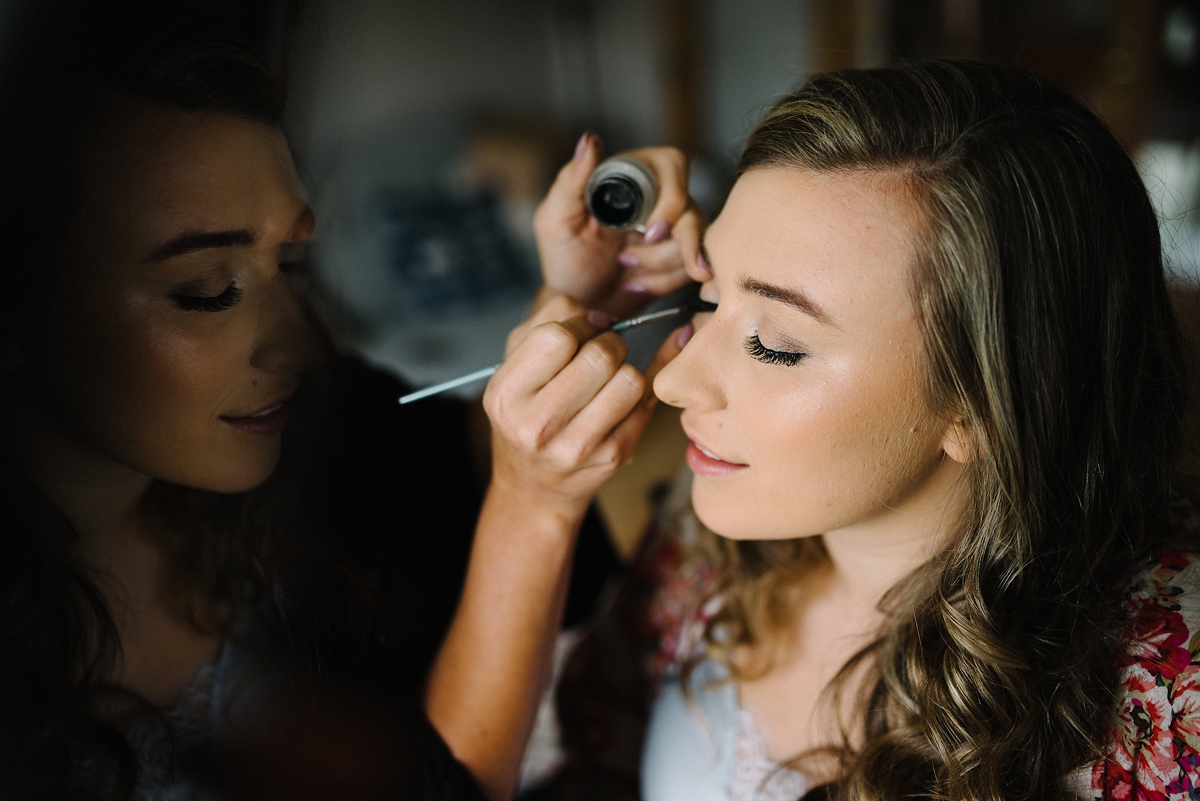 When deciding on the look of the day, romance was the real byword, with a soft and pretty palette of blush pink and dove grey. Nowhere is this more stylishly embodied than in Victoria's choice of bridal gown, 'Rorain' by Willowby by Watters, from Divinity Bridal in Lisburn. We've featured many brides in Willowby by Watters dresses; always elegant and romantic while being relaxed and easy to wear. Victoria's gown is a gorgeous confection of blush pink tulle and lace, and her shopping experience was a happy one involving family.
"A week after we got engaged we went to the Quirky Wedding Fair in Belfast. At this point dresses weren't really on my radar but I loved one particular dress so much that I took a photo of it and it was a Willowby by Watters dress at the Divinity Bridal stand. It was soft and pretty… It was exactly what I imagined myself picking. I started following Willowby by Watters on Instagram and fell in love with their dresses."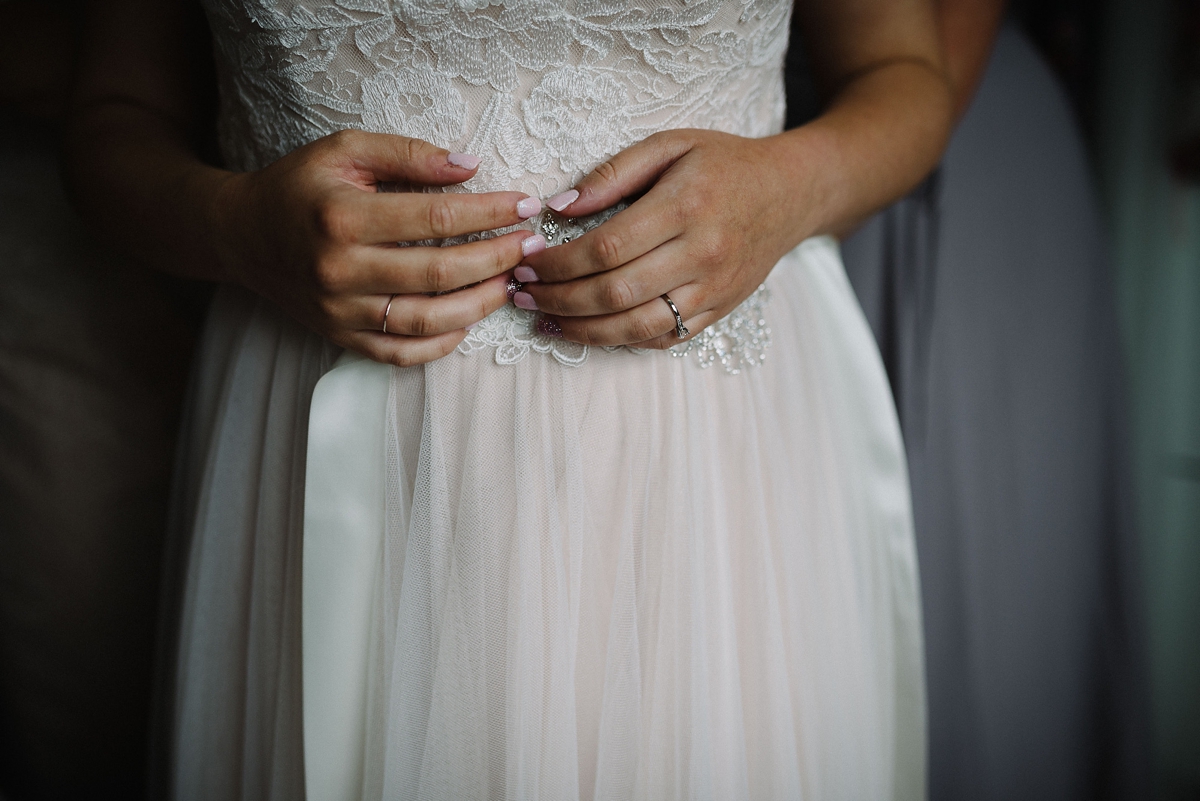 "I went to Divinity Bridal as my third appointment with my mum, sister, mother-in-law and nanny! I brought all the people I wanted to share the process of finding my wedding dress with. At this stage I had a bit more of an idea about what I liked and what I suited and I was so glad that they were all there when I found my dress! If you have family who will be honest with you but also respect your style and will encourage you to buy the dress you love then the more the merrier!"
"I tried on a couple of the dresses I'd picked out which weren't entirely right for me. I was picking parts of each dress that I liked and describing what I would change and the wonderful shop assistant Vicky said she would bring a dress in that she thought sounded like what I was describing. It was perfect; I loved the tulle skirt, the subtle blush colour…and I just felt so comfortable in it. I was dancing about and twirling in the changing room and was assured that was a very good sign!"
As an accent, Victoria added a pretty embellished belt with ribbon ties from Richard Designs, and stunning shoes from the inimitable Harriet Wilde, a highly valued member of our Little Book For Brides. Harriet's botanically inspired Peony design is so striking and unusual.
"I wore a white gold thin Nikki Stark band on my right hand, it's the ring I wear day-to-day as a wedding ring on placement. I also wore two bracelets: a pearl Tiffany bracelet that Jason gave me and a Fossil bracelet that my sister gave me for my 21st birthday."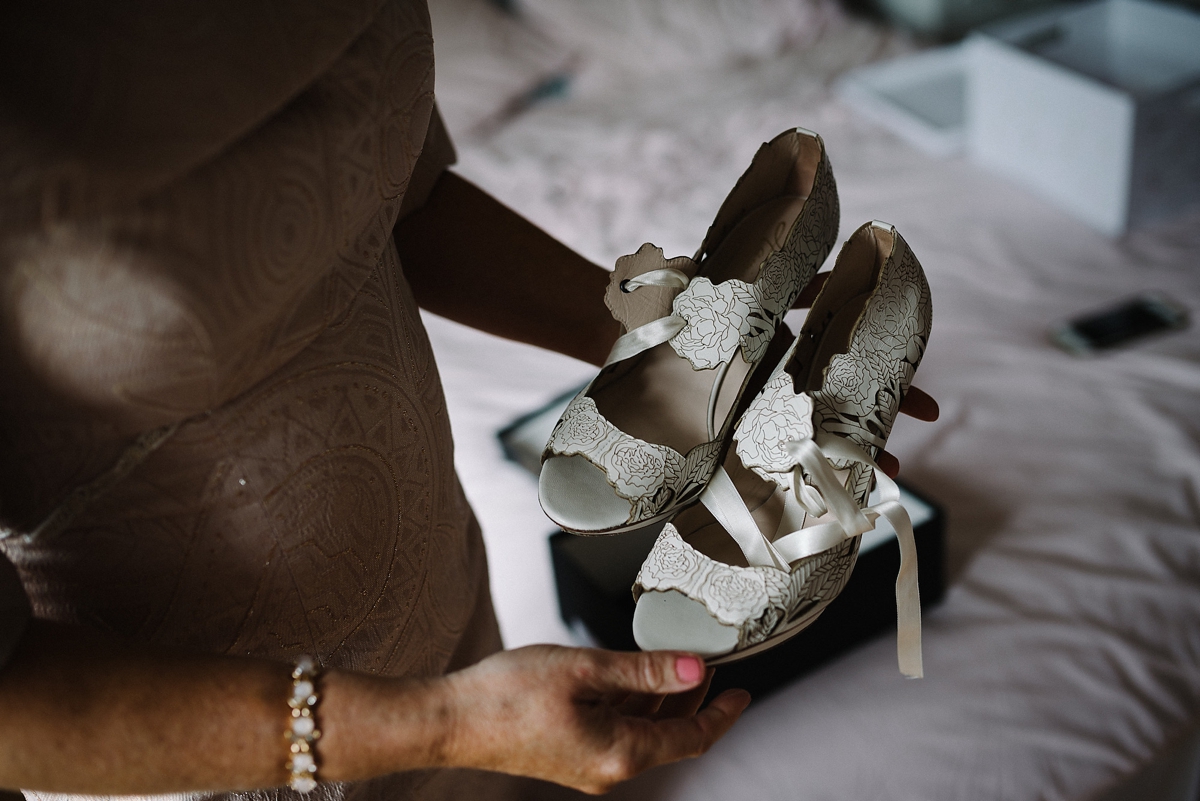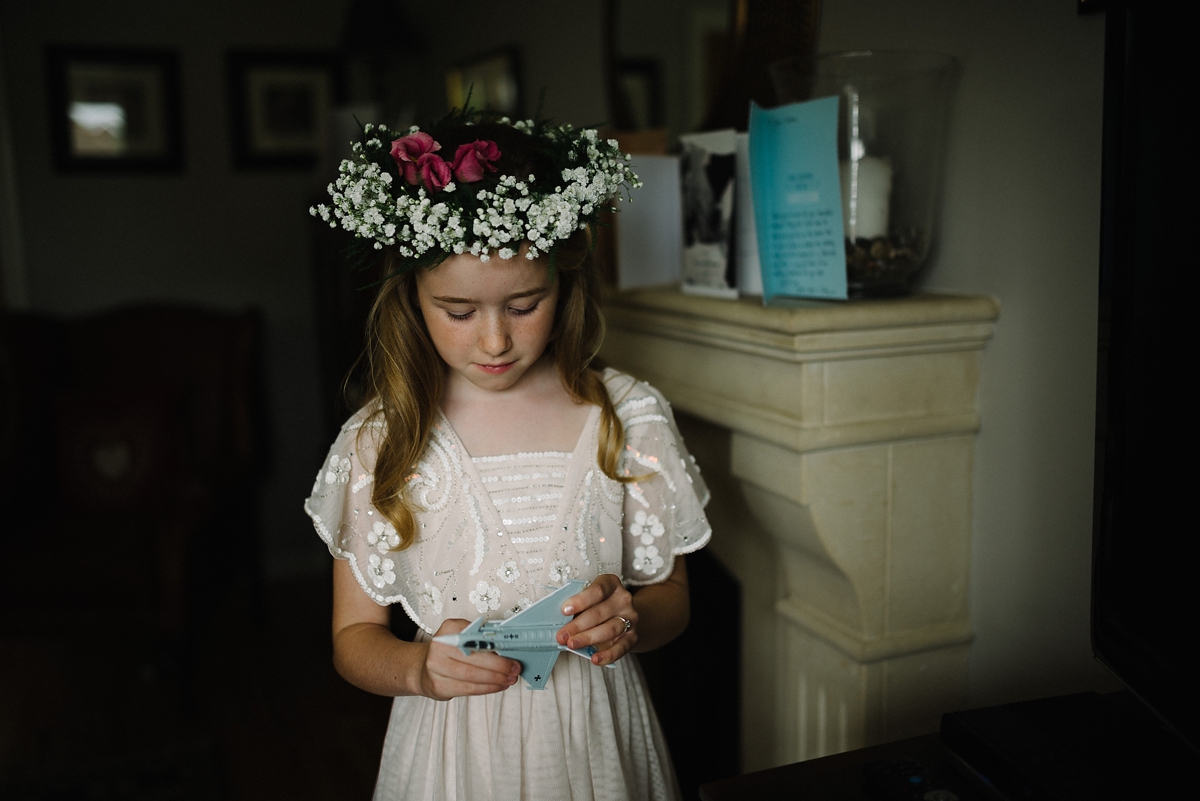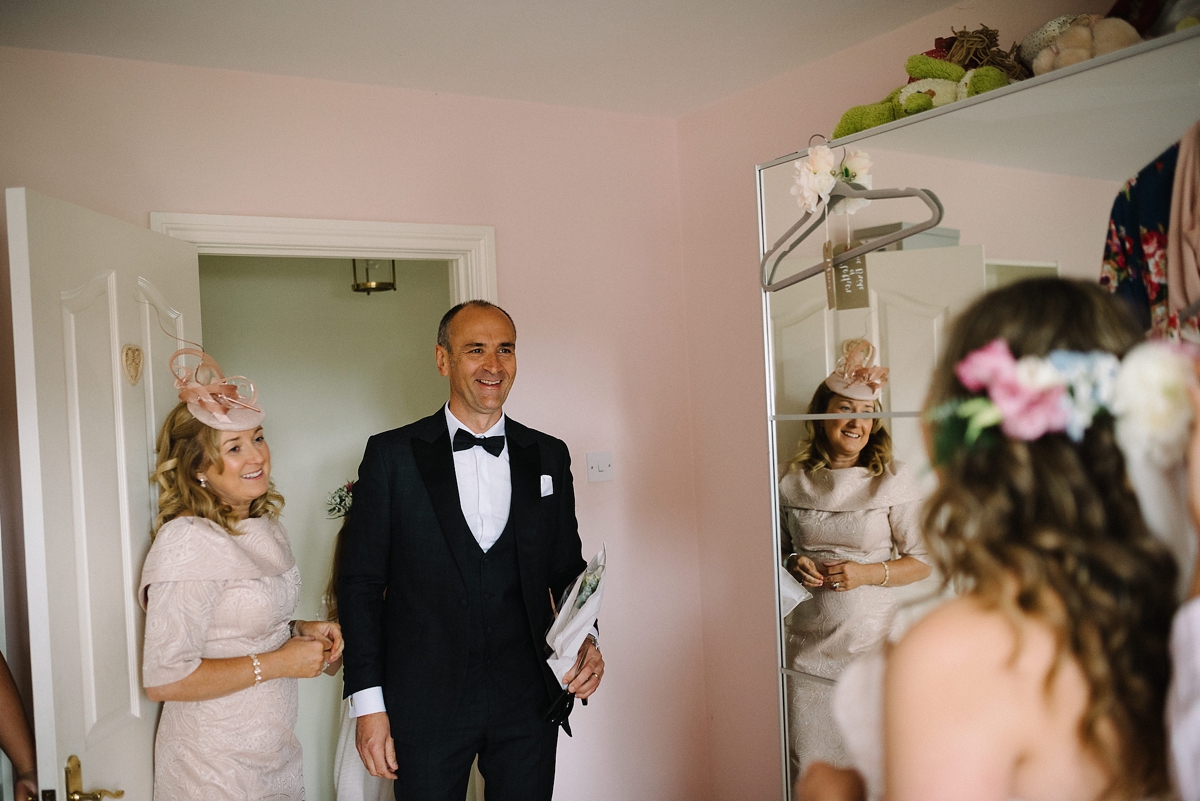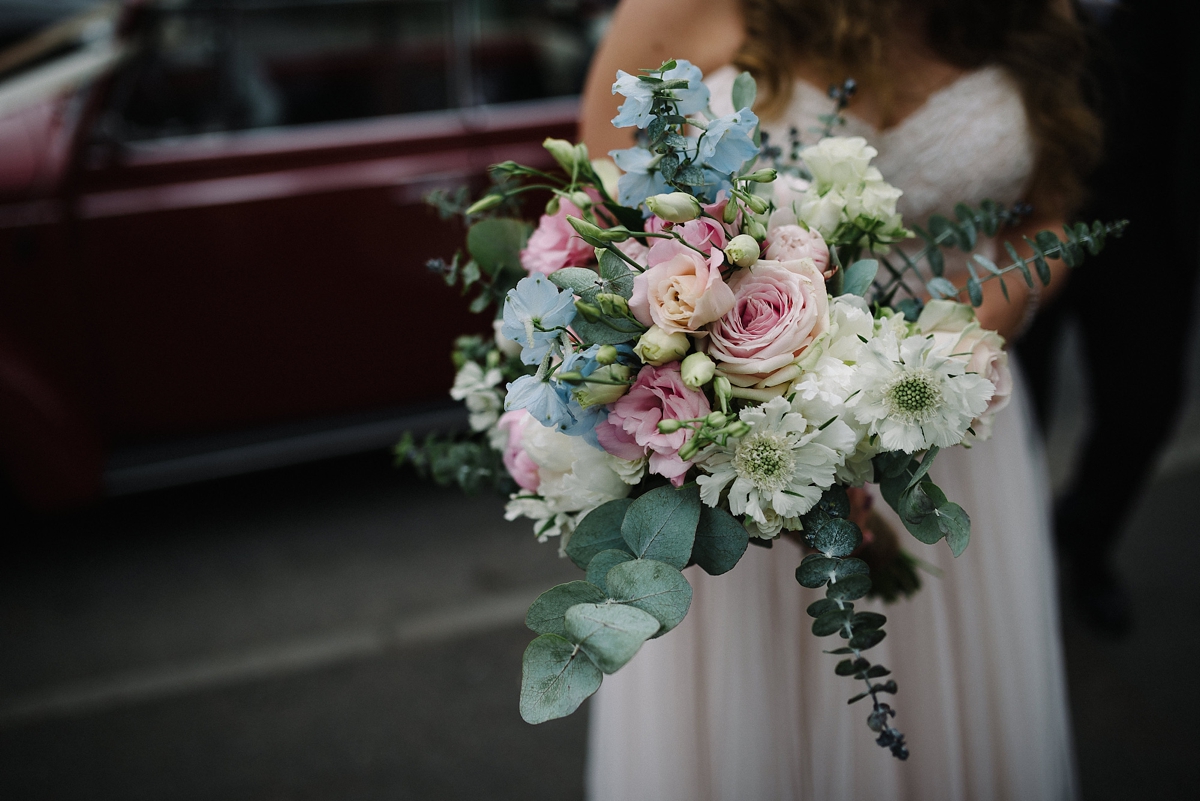 Victoria's bridesmaids looked wonderful in classically elegant dove grey dresses from Rewritten, with shoes from Dorothy Perkins, and I particularly love the sense of movement in the fluttering sleeves of the dresses. Victoria's cousin was flowergirl and wore a gypsophila crown and a lovely tulle dress from Monsoon.
"My dad walked me down the aisle and gave me away. He was also so excited and nervous but made sure we had time for a quick selfie before we walked into the church! We finished it off with a hug at the top of the aisle before he took his seat in beside my mum."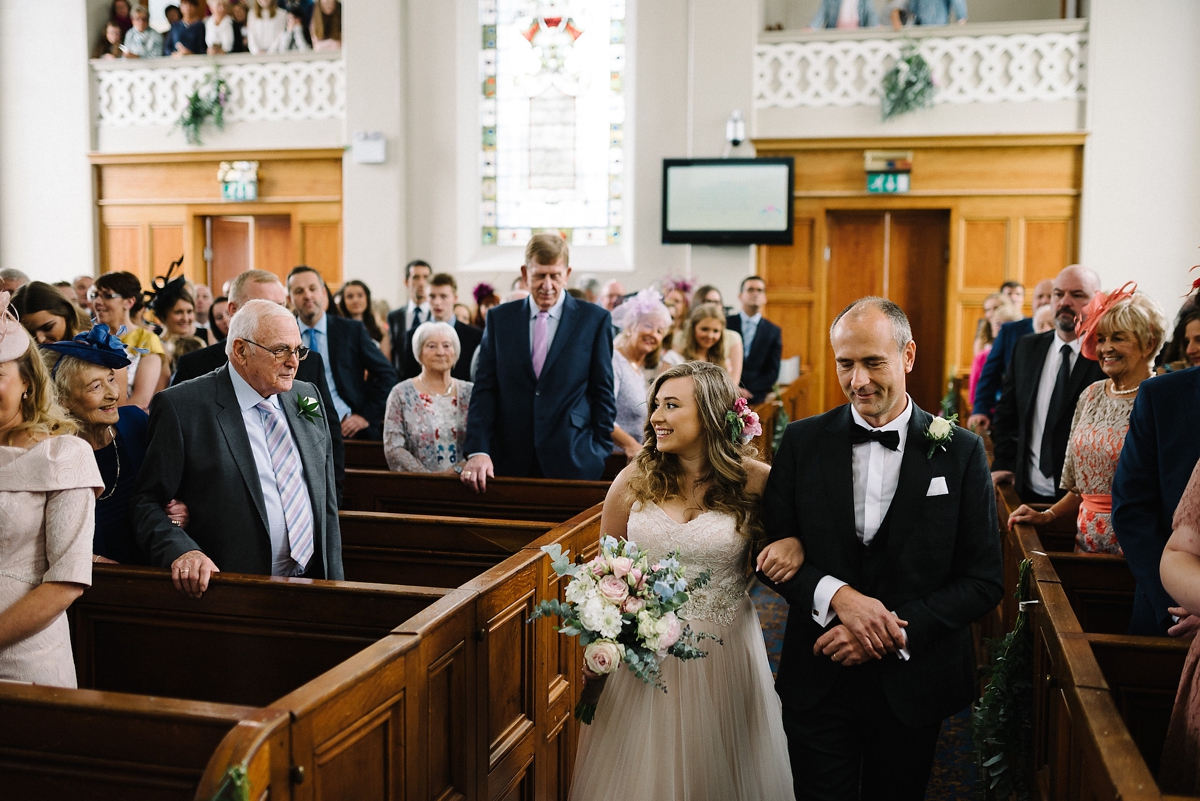 Groom Jason wore a seriously smart tuxedo from Red Groomswear, with his groomsmen and the father-of-the-bride in matching suits – such a classic look.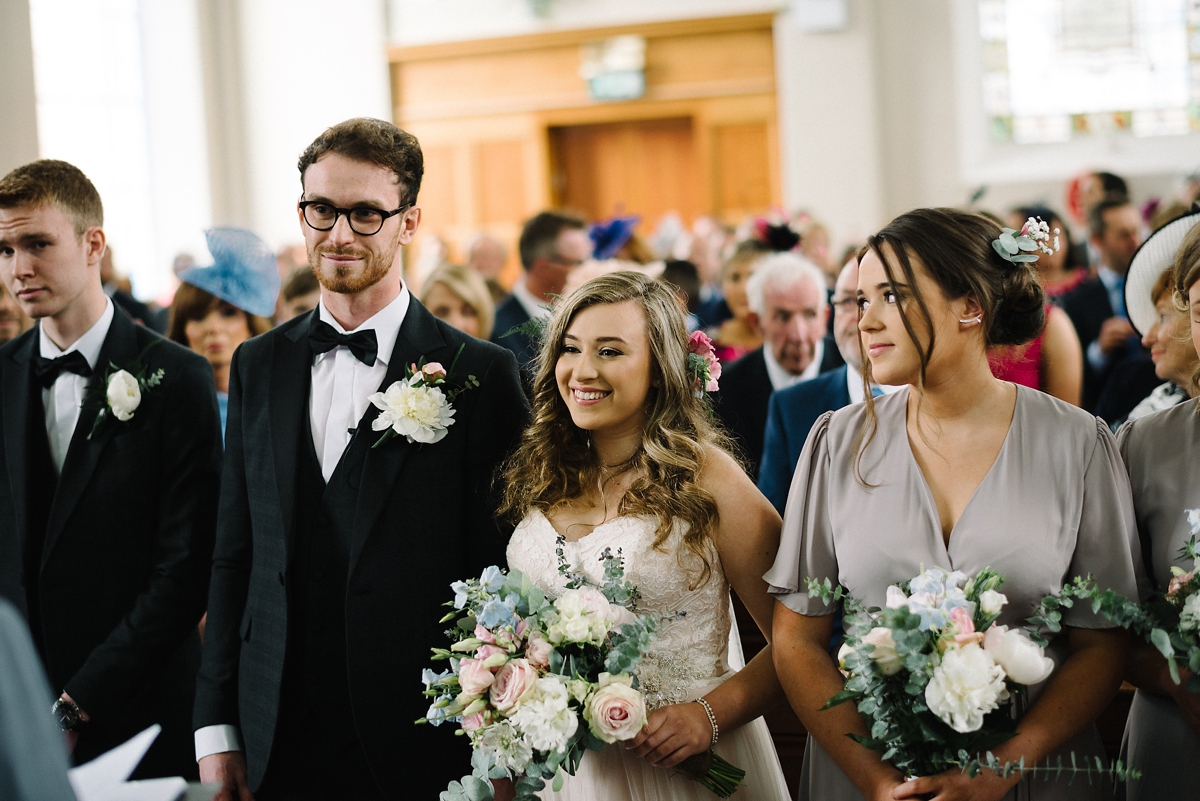 Victoria and Jason chose to say traditional church vows to one another, and exchanged rings from H. Samuel, with bride Victoria's coming from the Emmy London for H. Samuel collection. We featured this exquisite collection back in February, and have in fact shared many of Emmy's beautiful designs in our lunch time blog feature today. It's wonderful to see these pieces being treasured.
"We wanted our Christian values to be central to the wedding day, and our ceremony was so important to us. We wanted what was said and what we sang to set the tone for the day. Marriage is so important to us because of what we know the Christian meaning of it to be. Although we wanted to have a beautiful wedding day with family and friends we wanted everything to point in this direction and show that there was a greater purpose for our marriage than one day, no matter how special it was.
"Our minister read 1 John 4:7-12, a beautiful passage from the Bible about love. After our vows a family friend prayed for us and then Jason's friend read Ruth 1:1-18. These verses were the basis for the sermon which was given by one of our friends."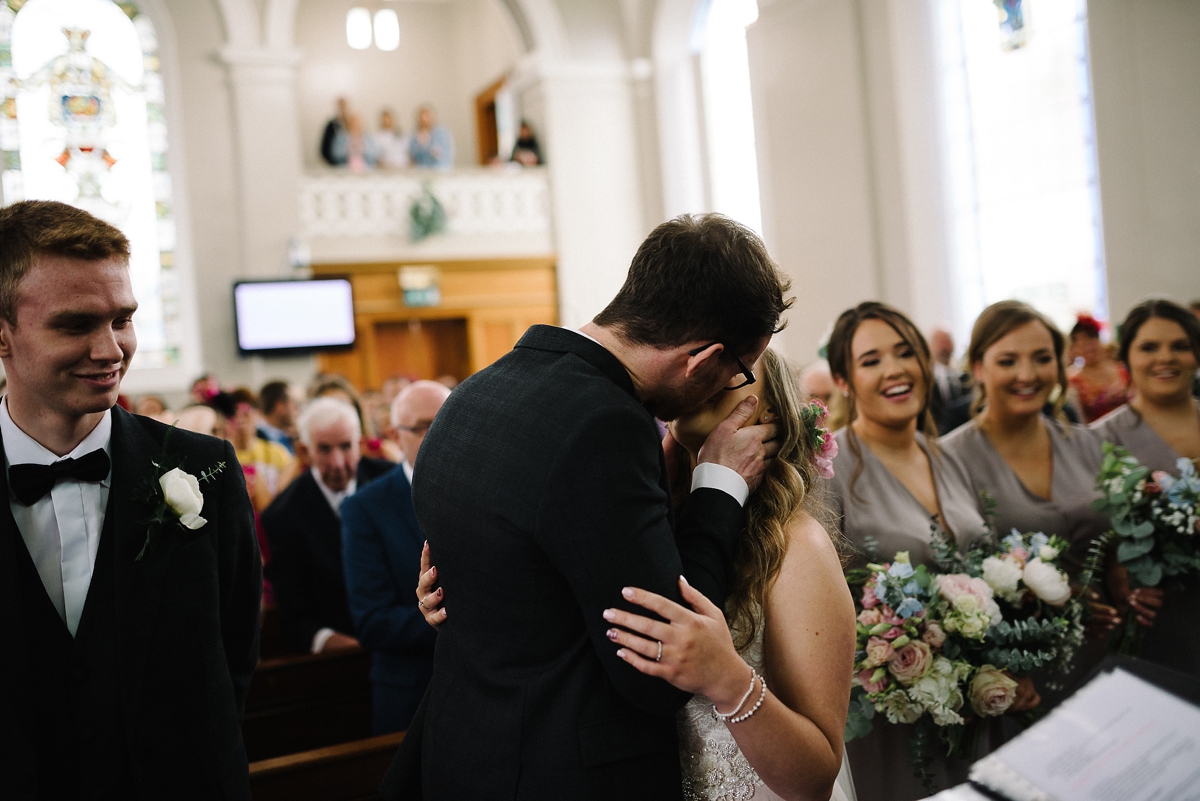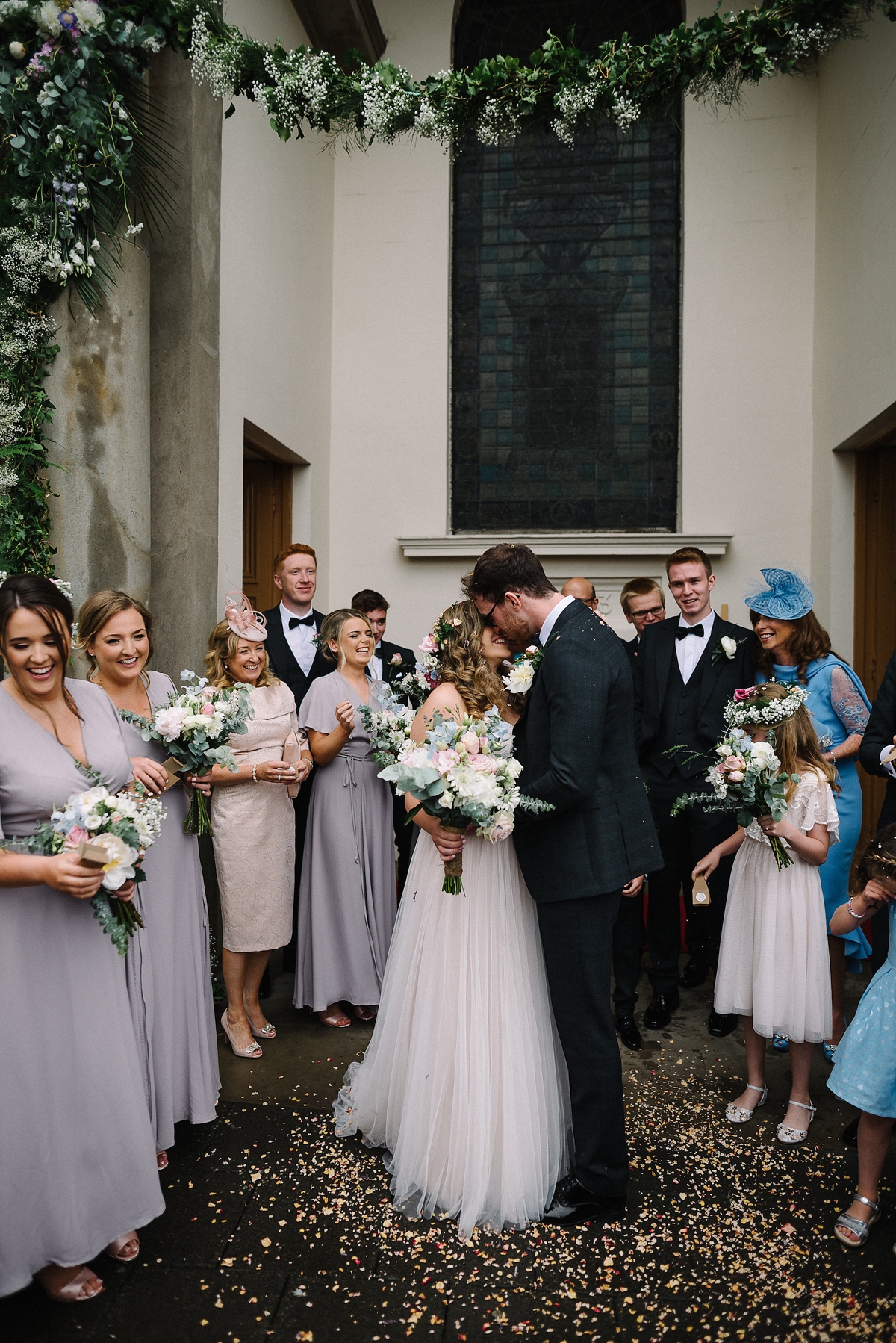 We have Rob of Epic Love Photography to thank for these charming and joyful images of the couple and their day, and Victoria is full of praise for his work.
"I had been a massive admirer of Rob's work since he photographed one of Jason's relative's weddings a few years ago and booking him was one of the first decisions we made. As well as being an incredibly talented photographer he is a really lovely guy and such a pleasure to have around on the day."
"We had an engagement session, which was a brilliant decision; it was so great to meet Rob and start to feel comfortable and natural in front of a camera,especially because Jason really doesn't like having his photograph taken. I can't describe how much I love our photographs, I love the natural style and the fact that they perfectly capture the excitement and the emotions we were all feeling fills me with so much joy."
"The central focus is on the people in the photograph; us with our family and friends sharing beautiful moments over the course of the day. During the ceremony in particular there are photos of us saying our vows but the focus is on our parents in the background, with their faces beaming with pride."
"On top of this of course he perfectly captured all the details of the day. I know his photos will form the basis of treasured memories we will hold for a lifetime. I can't thank him enough."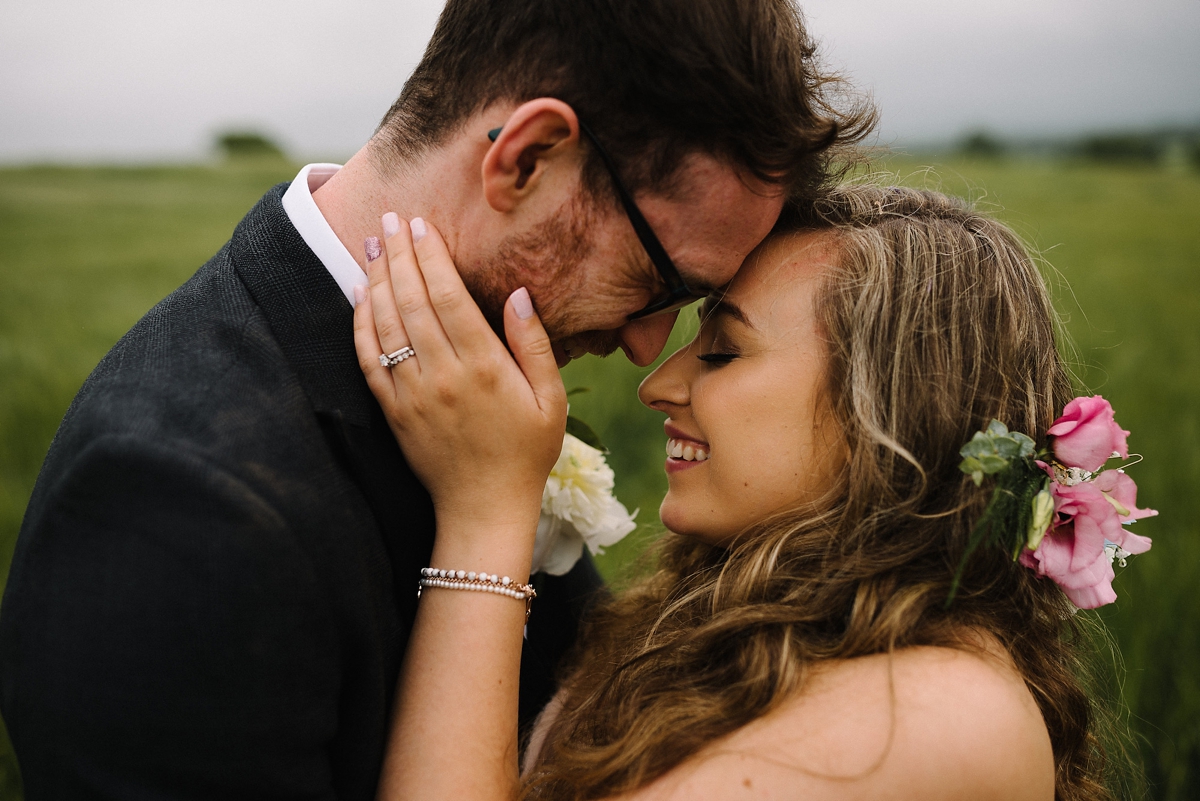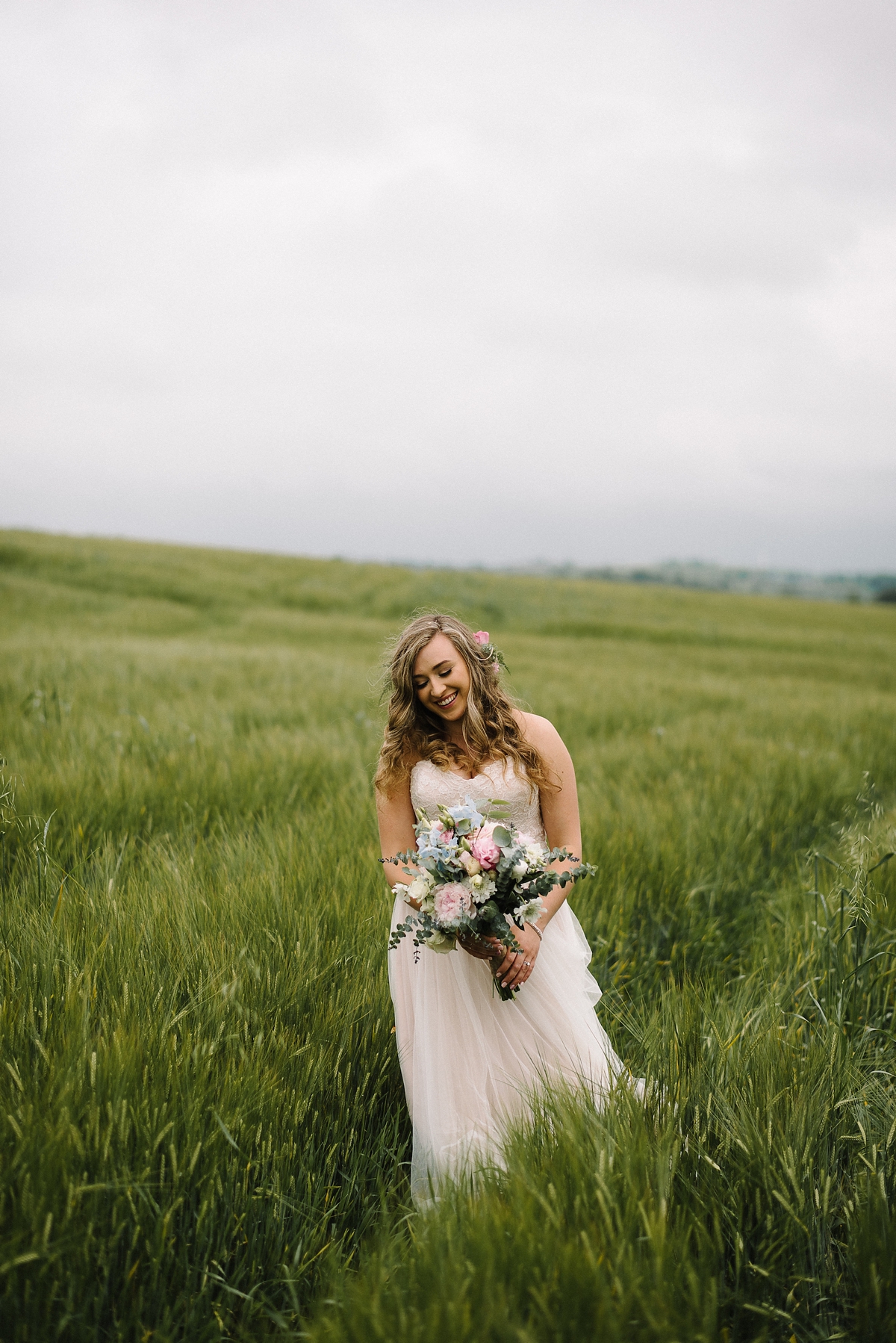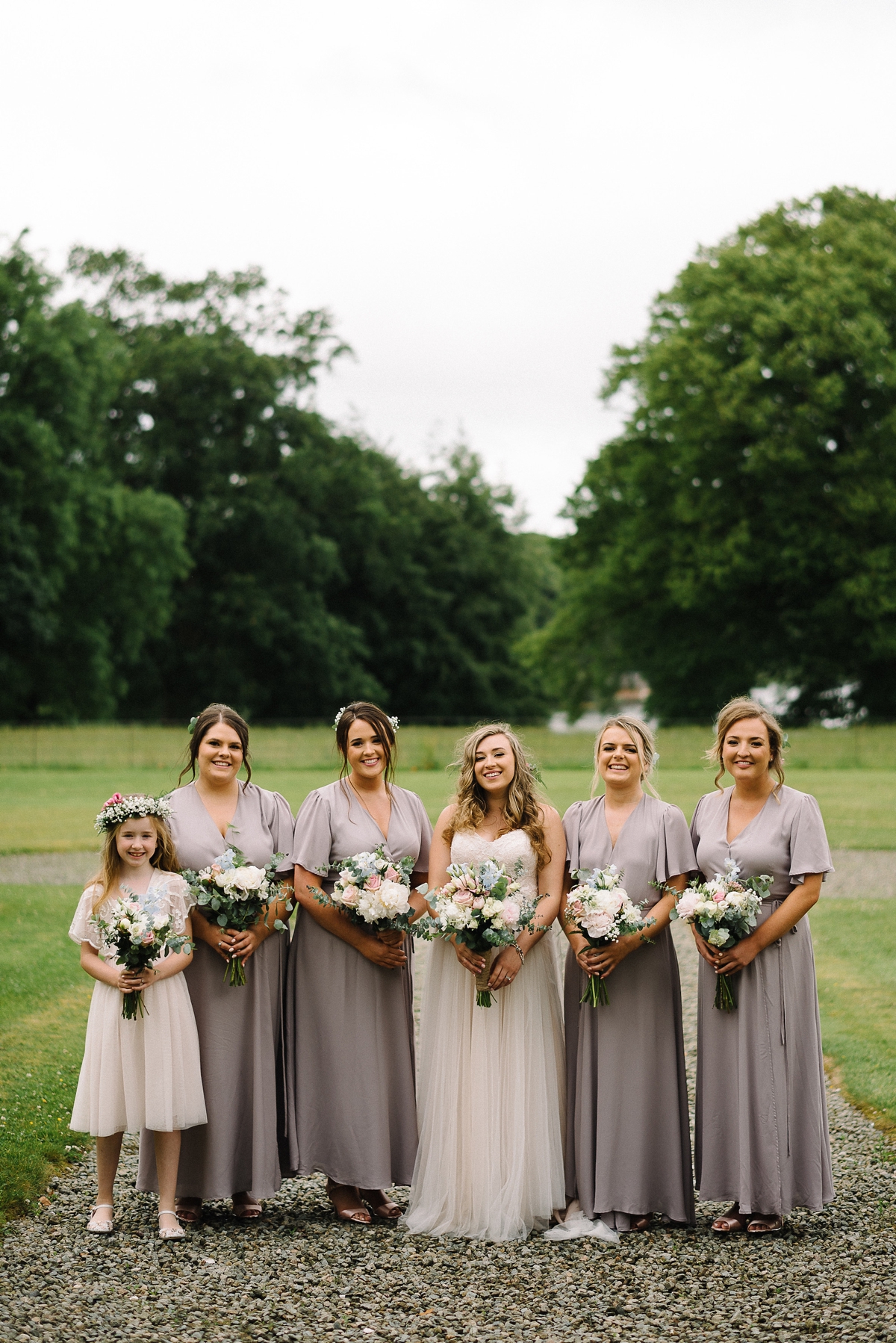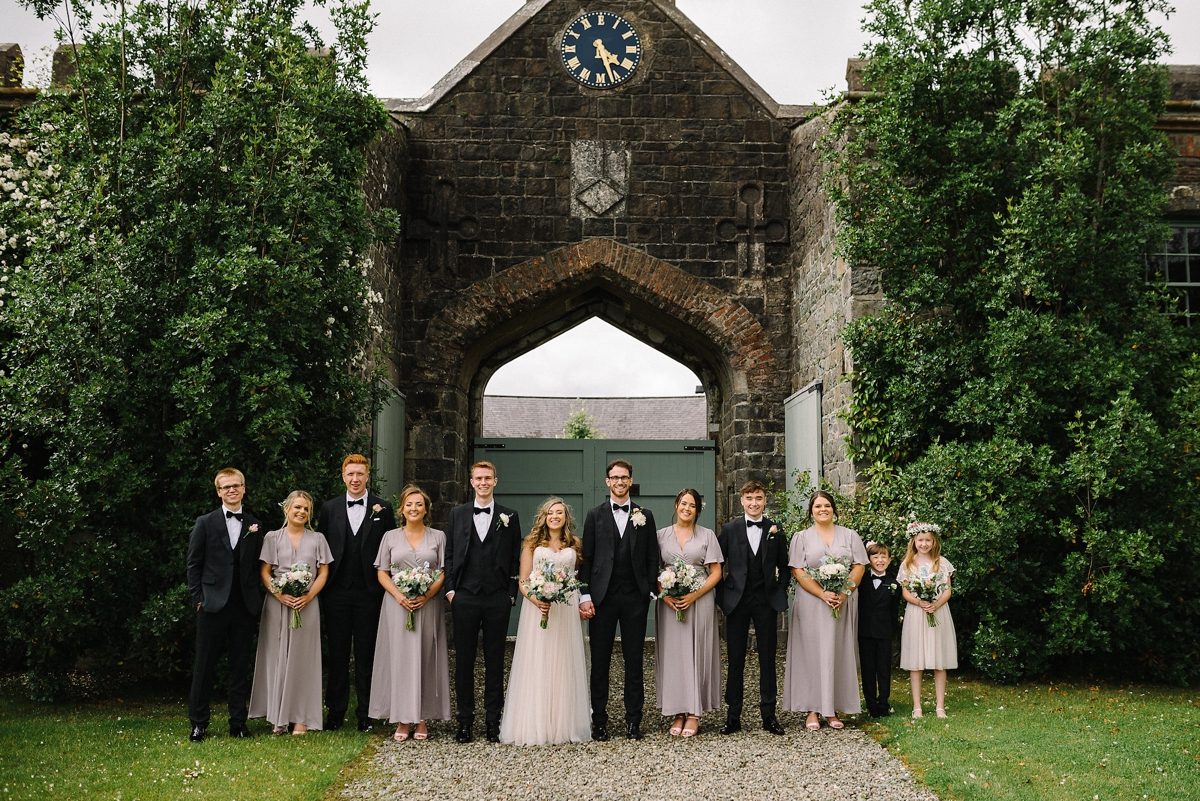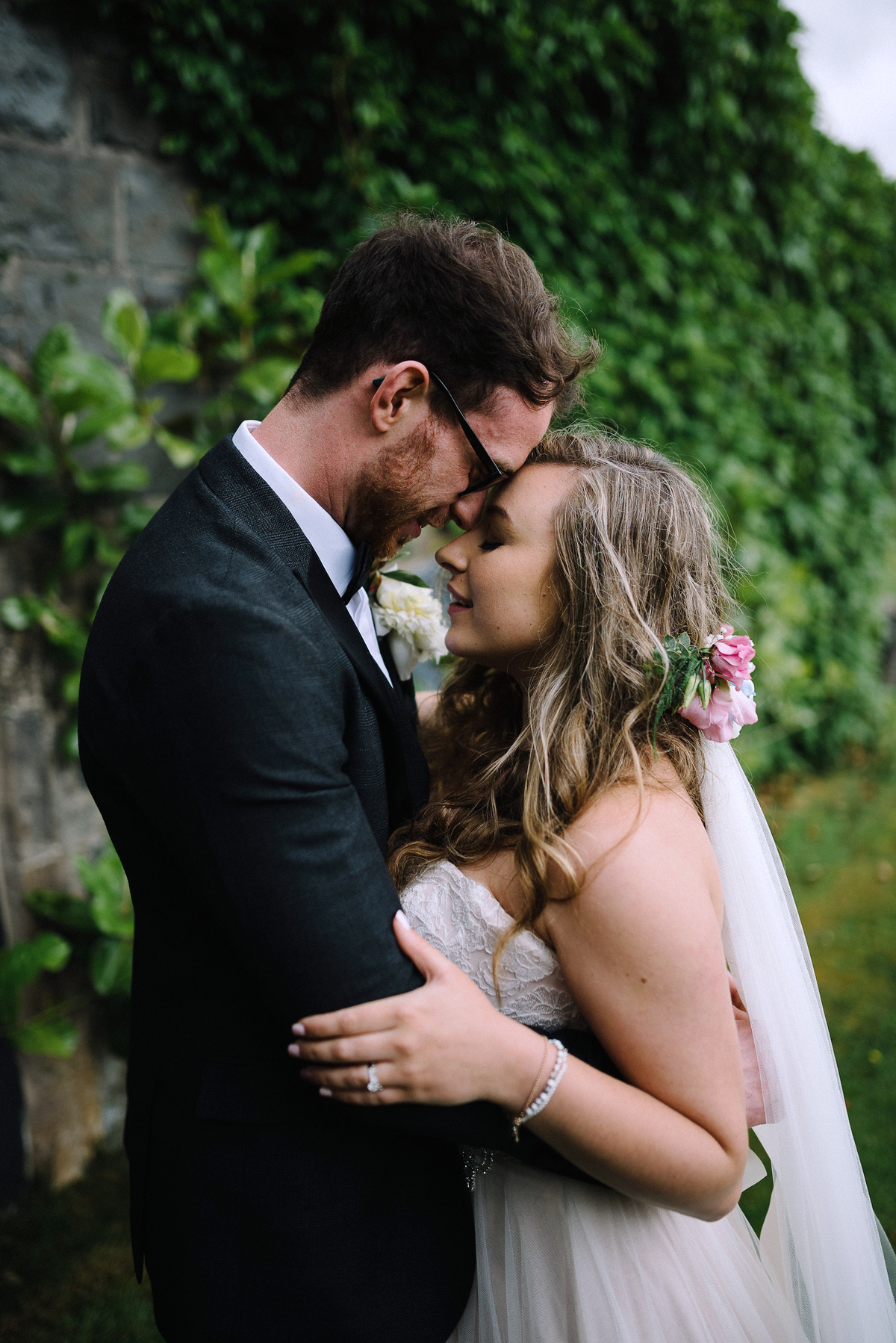 Both the church and Lissanoure Castle were decorated with breathtaking flowers, all the handiwork of  the groom's grandfather and uncle, who run Lamont's Flowers in Lisburn. The garland hanging across the entrance to the church can only be described as epic, and bride Victoria was keen that flowers were also the focal point of the reception decor. I adore the delicate and muted pastel palette chosen for these decorations, and for the bridal party bouquets.
"Jason's Grandfather and Uncle own and run a flower shop so we knew we wanted to ask them to create our flowers. I wanted lots and lots of flowers for the church and the venue with lots of greenery, and David had brilliant ideas for the church and the venue."
"He created the breathtaking garland that was outside the church, which was then used for the top table at the venue. I love peonies so I asked him for a big bouquet with peonies, eucalyptus and other soft-coloured flowers, and for a smaller version of this for my bridesmaids. My little cousin was my flower girl and she had a sweet baby's breath flower crown."
"Flowers made up the main décor in the barn at Lissanoure Castle, Lamont's flowers also arranged the table centrepieces and the flowers for the cake. Our flowers turned out so beautifully, they were a big talking point and received so many compliments."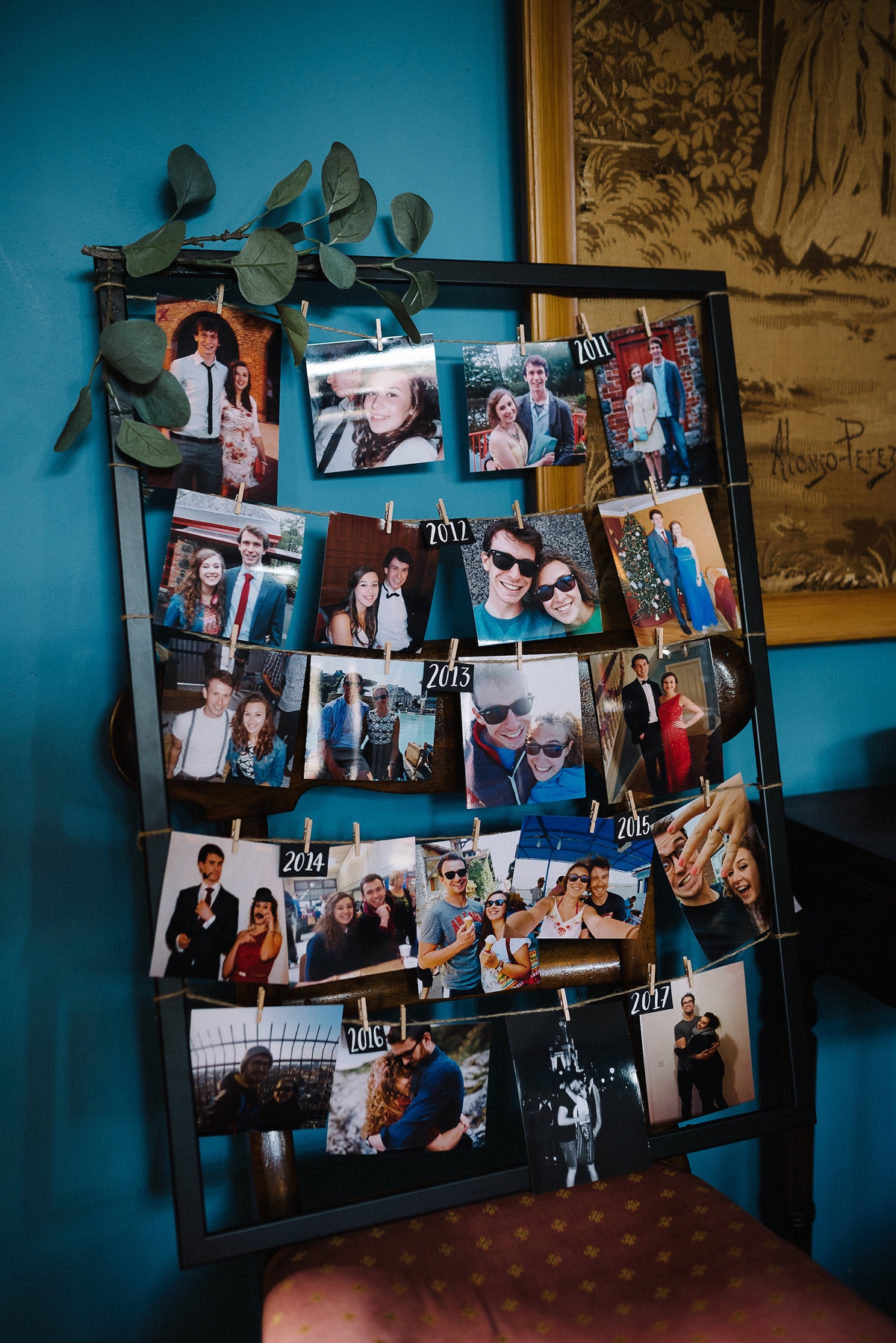 The historic Lissanoure Castle was the venue for their reception, which manages to be dramatically beautiful and cosy and welcoming all at once.
"Our reception was at Lissanoure Castle. The old stables have been converted into a beautiful courtyard where we had our drinks reception and the meal and dancing took place in the barn. Lissanoure Castle was the first venue we visited and we both loved it; we loved the décor, the grounds and the atmosphere. It is beautifully furnished with comfy sofas, decorated with antiques, and there are stoves and open fires which were lit throughout the day making the barn and courtyard feel very cosy."
"The staff were incredible the whole way through our planning process and they really encouraged us to make the wedding day our own and helped with our preparations and setup. It was the perfect setting for the relaxed day we wanted to create."
Caterers Challas Roast provided a wonderful feast for everyone, while Nic from Baked Blessings made a three-tiered cake decorated with buttercream, flowers and sweet peg people painted by Victoria's sister.
"Nic of Baked Blessings is local to us and I came across her cakes on Facebook. Jason and I went to meet her a year before the wedding and that͛s when we found out she makes THE BEST chocolate cake I've ever tasted. I got inspiration for the design from a wedding cake featured on Love My Dress which was buttercream with foliage and flowers loosely wrapped around it. The flavours we chose were vanilla, chocolate and salted caramel."
"We had chocolate cupcakes with salted caramel icing at the top table and they were so delicious. Jason and I made sure we got a piece of the cake each, I've heard so many people saying they didn't get to taste their own wedding cake but I didn't want to miss out on my favourite chocolate cake especially not on our wedding day!"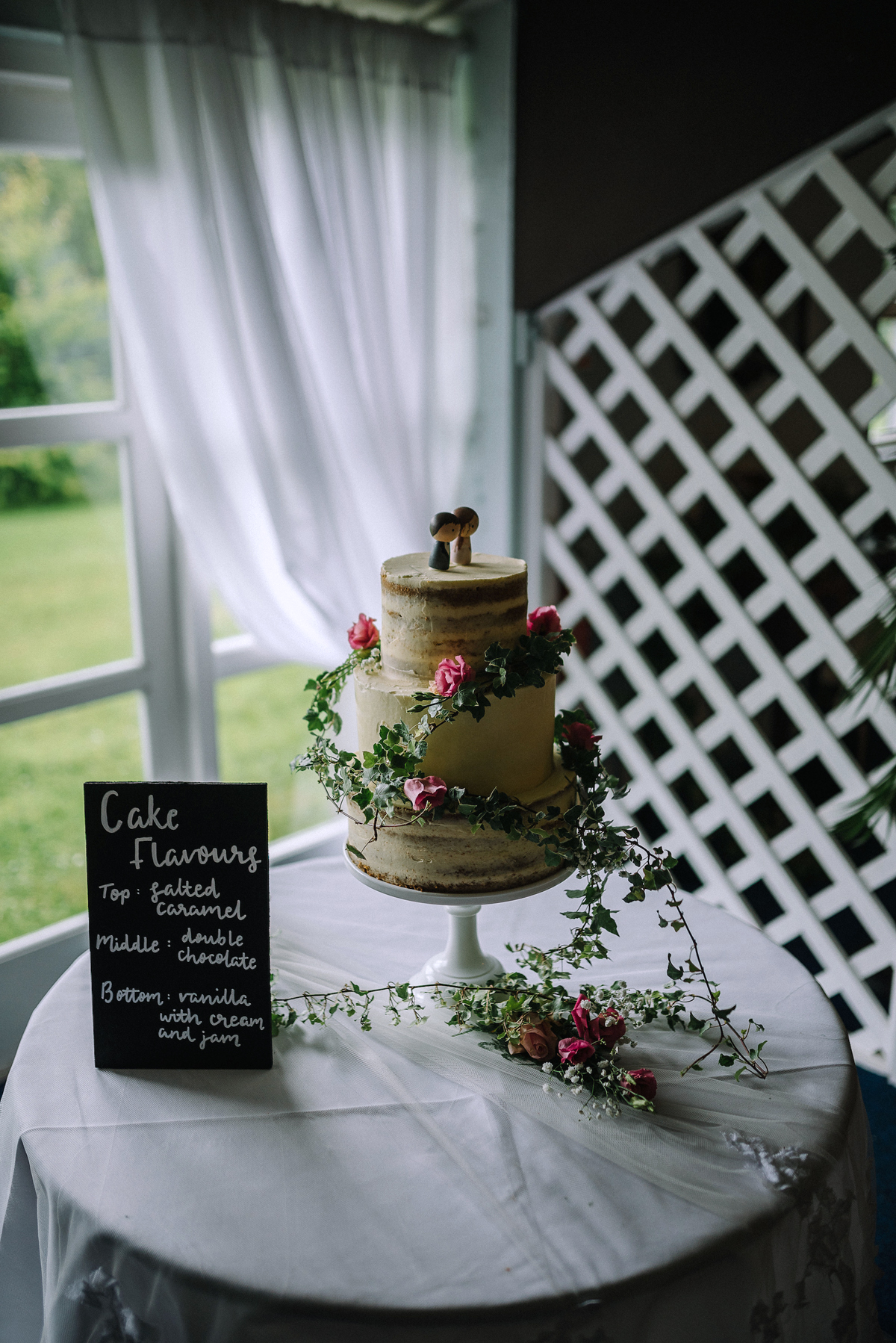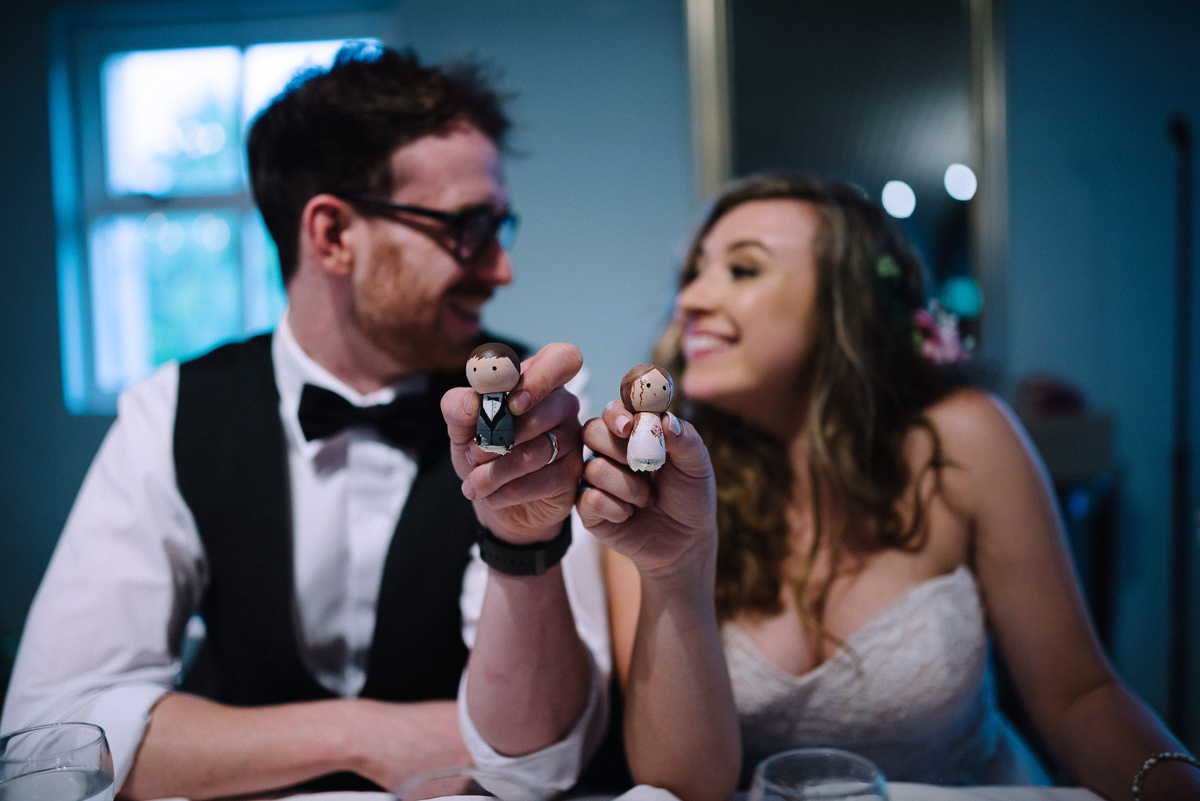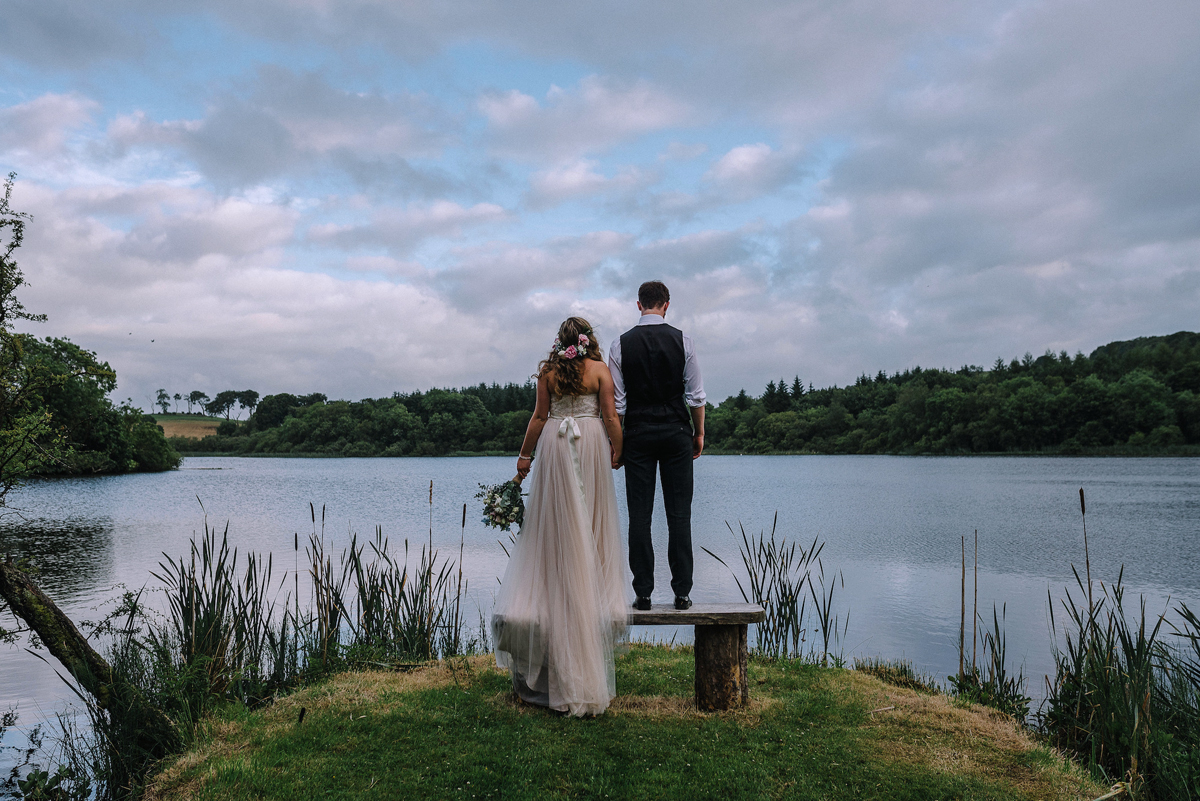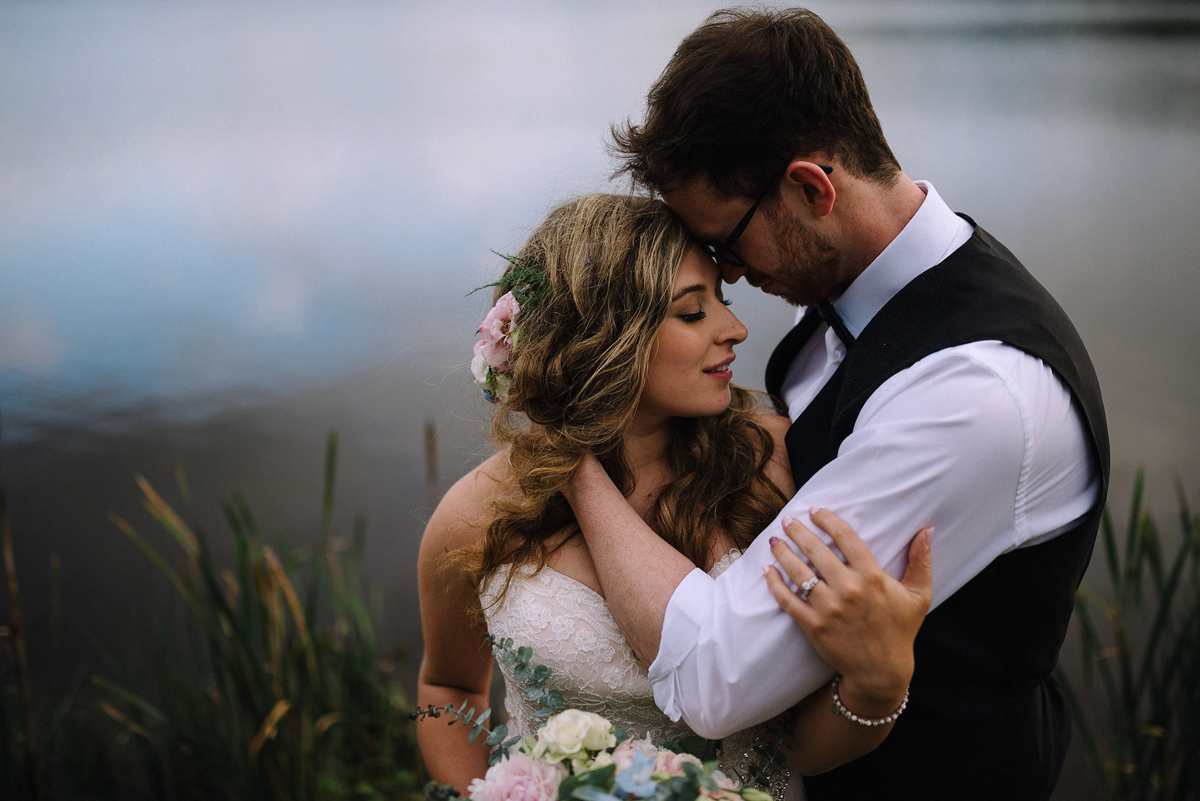 The Fabulous Al Bennett Band provided live entertainment for the evening, and Victoria and Jason's first dance as a married couple was to Guiding Light by Foy Vance.
"We really struggled to agree on a song for a long time but the week before the wedding, still undecided, we were painting together in our new house and decided to take a break and dance along to the playlist we were listening to in the background, just as Guiding Light came on. It made sense then to choose it, it's a beautiful song by one of our favourite artists and so in the end it was an easy decision we made that evening."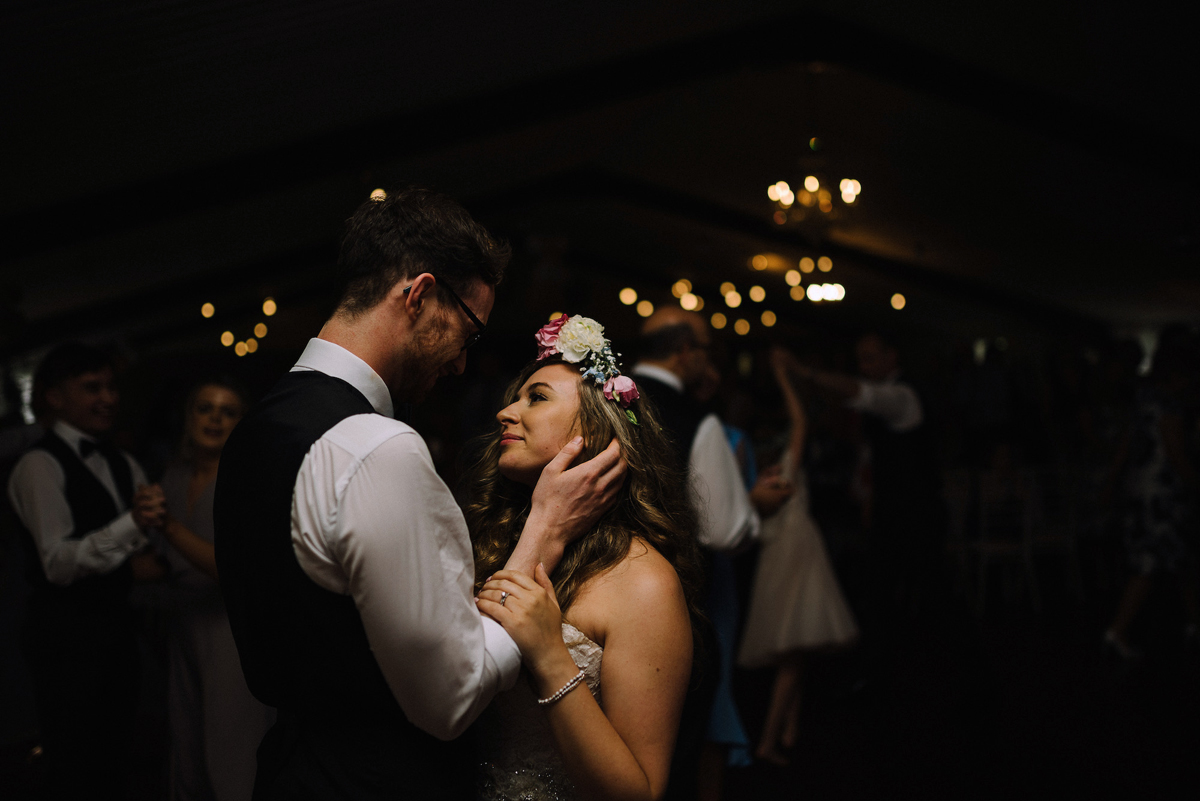 "I don't necessarily have a favourite part of the day but two moments particularly stand out in my mind. The first being sitting down at the table after the speeches and just before the meal, looking out over the room together realising we were with our family and friends who had come to celebrate with us and that we had created the beautiful, family orientated and relaxed day that we had been dreaming of for the last few years."
"The second stand out moment was our first dance. I was apprehensive about it in the weeks before the wedding because were not spectacular dancers and we didn't choreograph a routine but on the day I felt so in the moment and felt so close to Jason, and totally unfazed by the onlookers. It was a very special moment."
Words of Wedded Wisdom
"Our top piece of advice is to stick together and don't lose each other among your guests who are waiting to speak to you. At our engagement party we didn't spend a lot of time together, we ended up talking to friends and family who had travelled to celebrate with us and by the end of the night we found we had very separate evenings."
"We wanted to make sure that on our wedding day, although we wanted to spend time with our guests and enjoy the special day with our family and close friends, we wanted to do this together. So we mingled together, danced together, crashed out on the sofas and ate cake together and it was just the best day."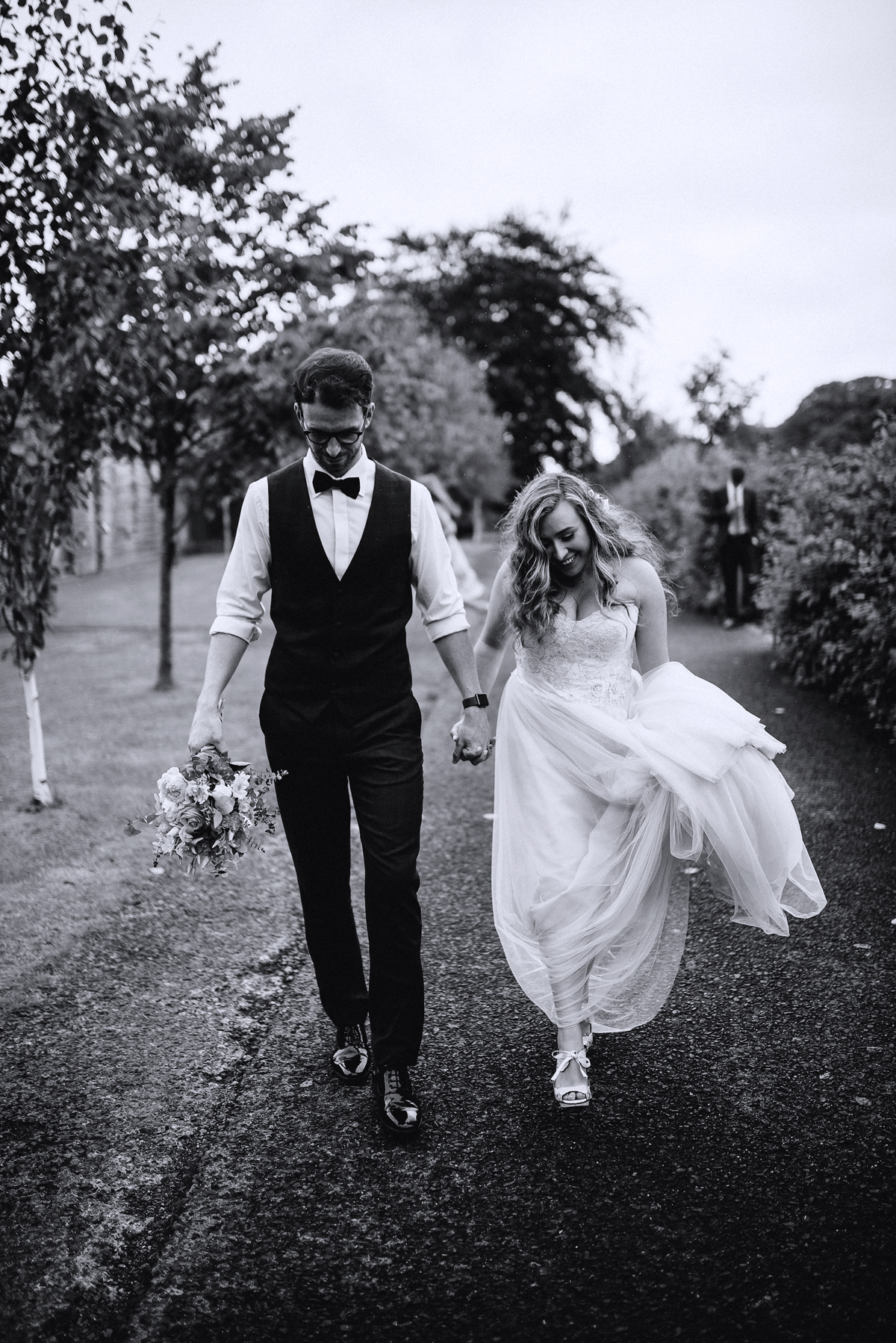 Thank you so much, Victoria and Jason, it really does sound like the best day filled with meaningful and personal touches, and thank you Rob at Epic Love Photography for capturing all these special details. You can see more gorgeous castle weddings here, too.
With love,
Laura