Readers – a very happy bank holiday Monday to you! I have just the loveliest of days to share on the loveliest day today.  Meet Lois, who teaches horticulture, and Ash, a manager for Grenson shoes, who married on the 9th of September 2017 at Crockwell Farm in Northamptonshire.
The couple's shared love for music played a key part in their day and their happiness just shines through.  Lois was one of our wedding 'Belles' (a member of our secret Love My Dress facebook group for brides- come join us!) throughout the planning and its a real pleasure to feature her wedding today.
"We were put in touch with our videographer Hannah by our florist.  As soon as I spoke with Hannah, I knew she would be perfect. She is so lovely we've become friends and stayed in touch ever since.  Although this was her first wedding she filmed I think she did a fantastic job and we are so pleased we have the film to look back on for years to come."
Film by All of My Days Photography
The day was captured on camera by the talented Matt Brown Photography, and also recorded on moving film by Hannah of All of My Days Photography.
"Matt was amazing on the day and made us feel so relaxed but managed to capture some amazing shots.  His experience shines through and he's incredibly talented."
Photography by Matt Brown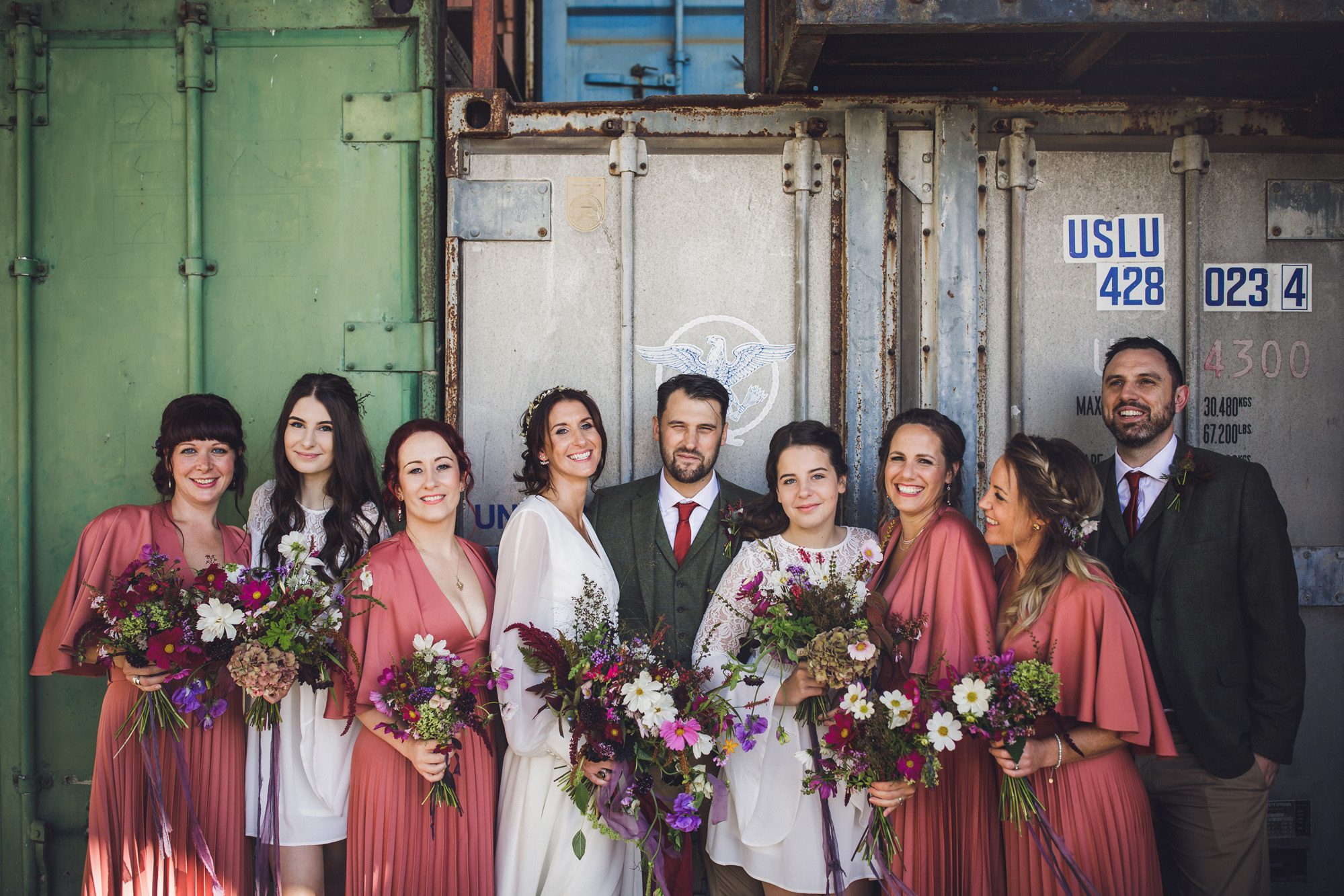 It's wonderful to learn that this couple met online – we have a whole special section on our site for couples who met over the interwebs ladies and gents, take a look here. It's been completely fascinating to see how the number of couples finding each other this way has increased so much over the past few years.
"We met online and chatted for a couple of weeks before actually meeting face to face.  We met up in person on the Wednesday and ended up going to an amazing Foo Fighters gig together that weekend.  I already had two beautiful girls from a previous relationship but Ash quickly bonded with them both and before you knew it we became a wonderful little family unit and bought a house together."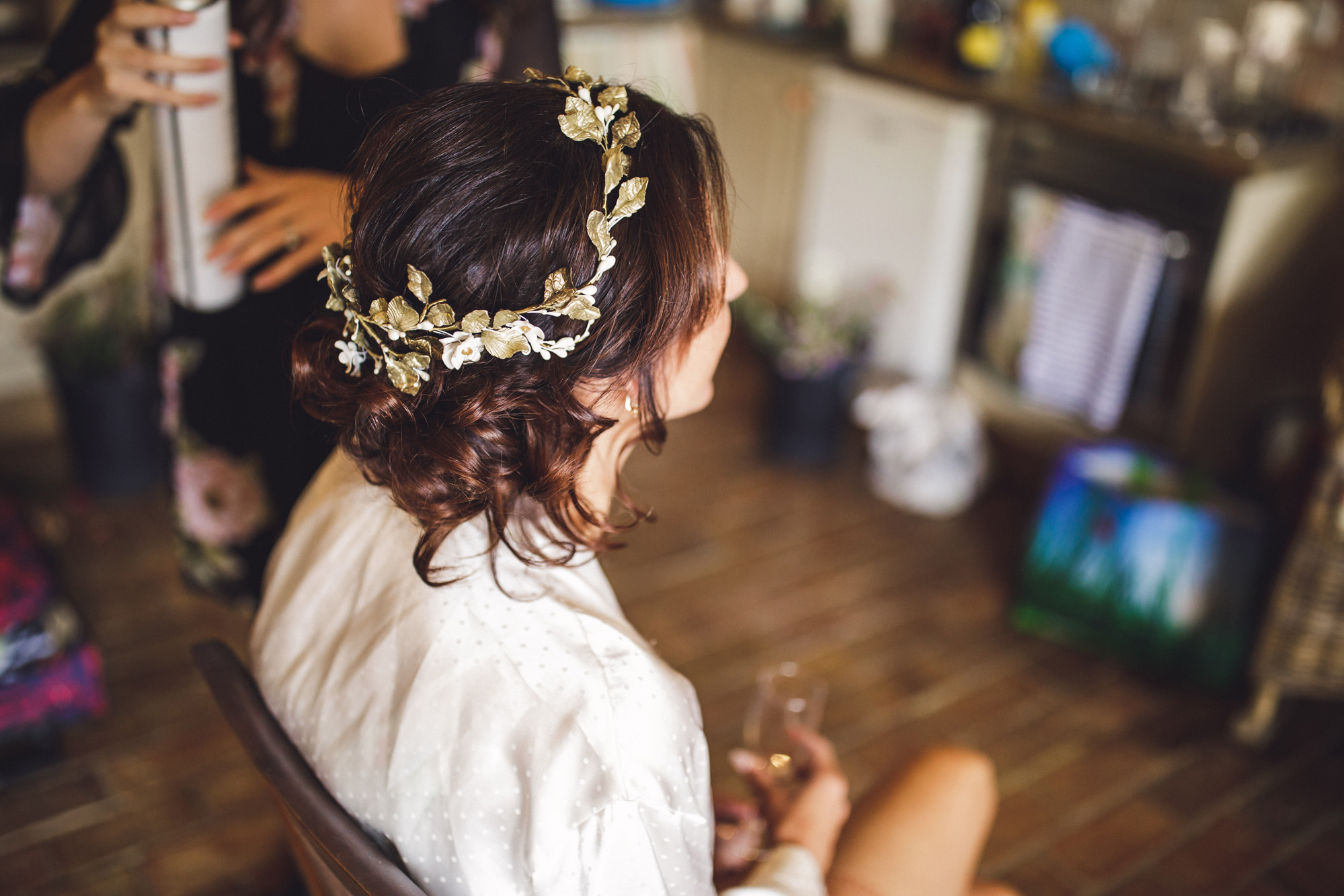 "We got engaged in February 2016; it was something we'd talked about together for a while.  There was no romantic proposal, we both had some time off work and Ash took me to Birmingham Jewellery quarter and bought me a ring.  It was totally authentic and lovely and the fact it was his decision to whisk me off to buy a ring there and then meant the world to me."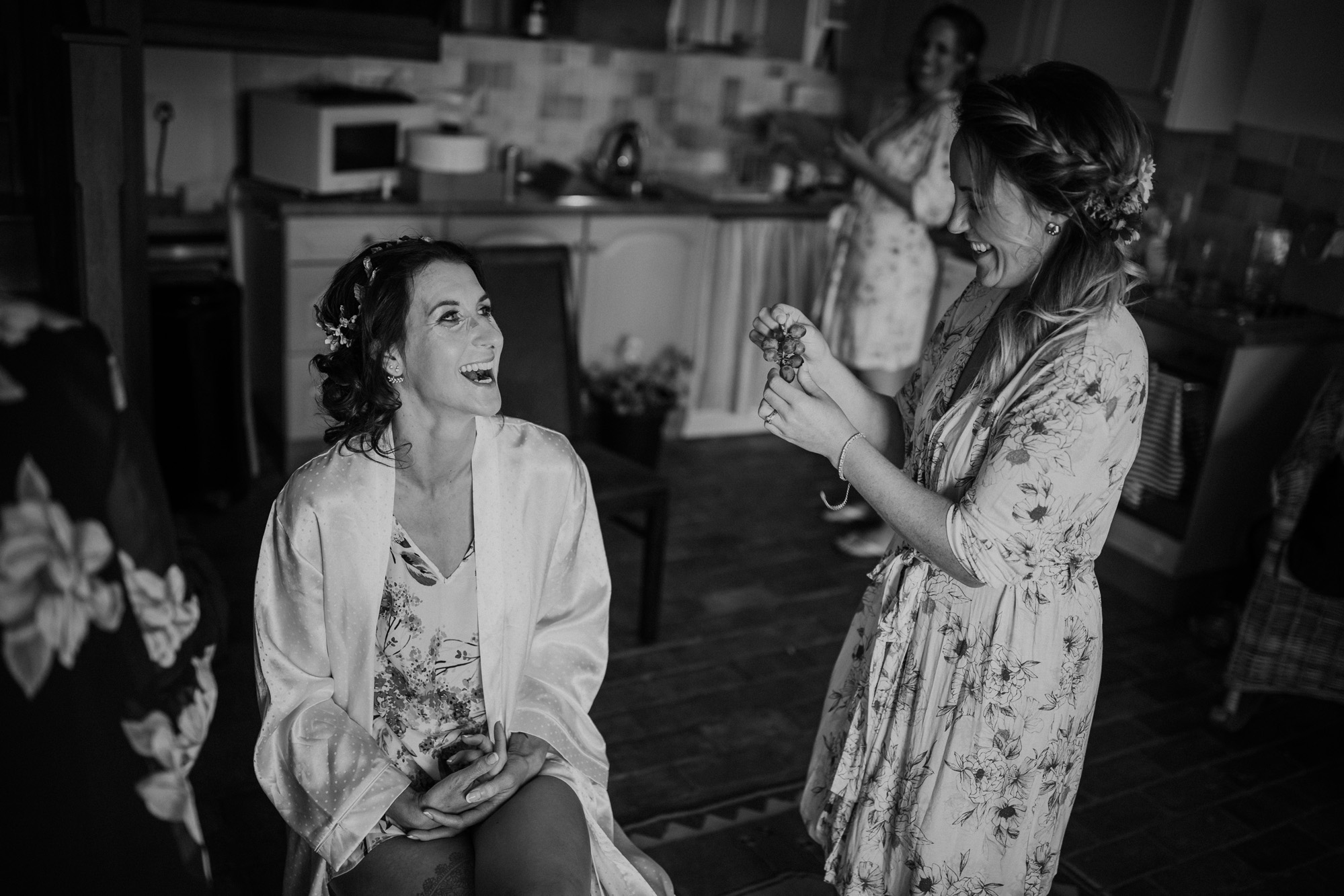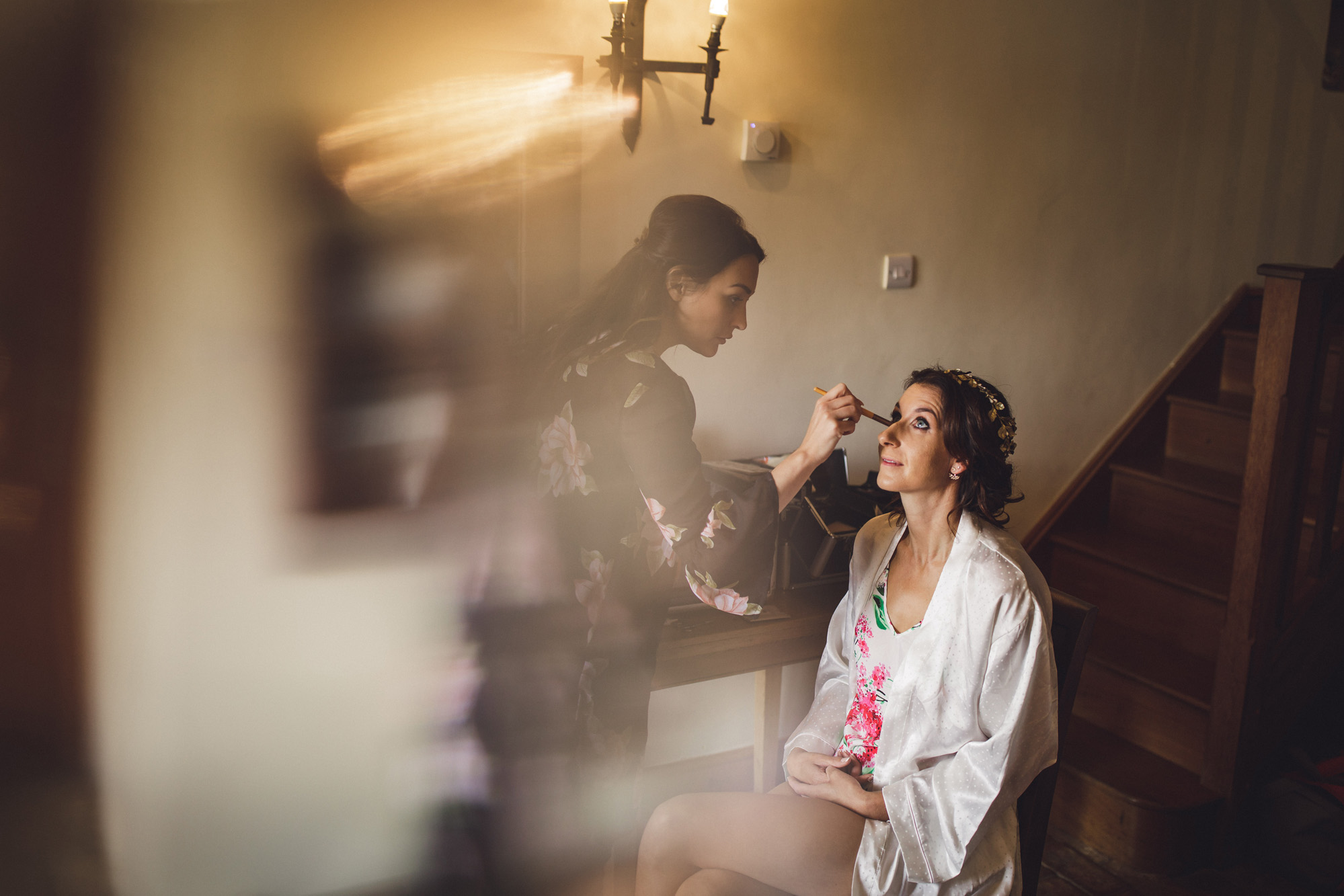 Lois chose to wear her hair up, in a soft pinned style, with natural make up and a pink lip, all of which was the work of stylist and make-up artist Kerstie-Ann.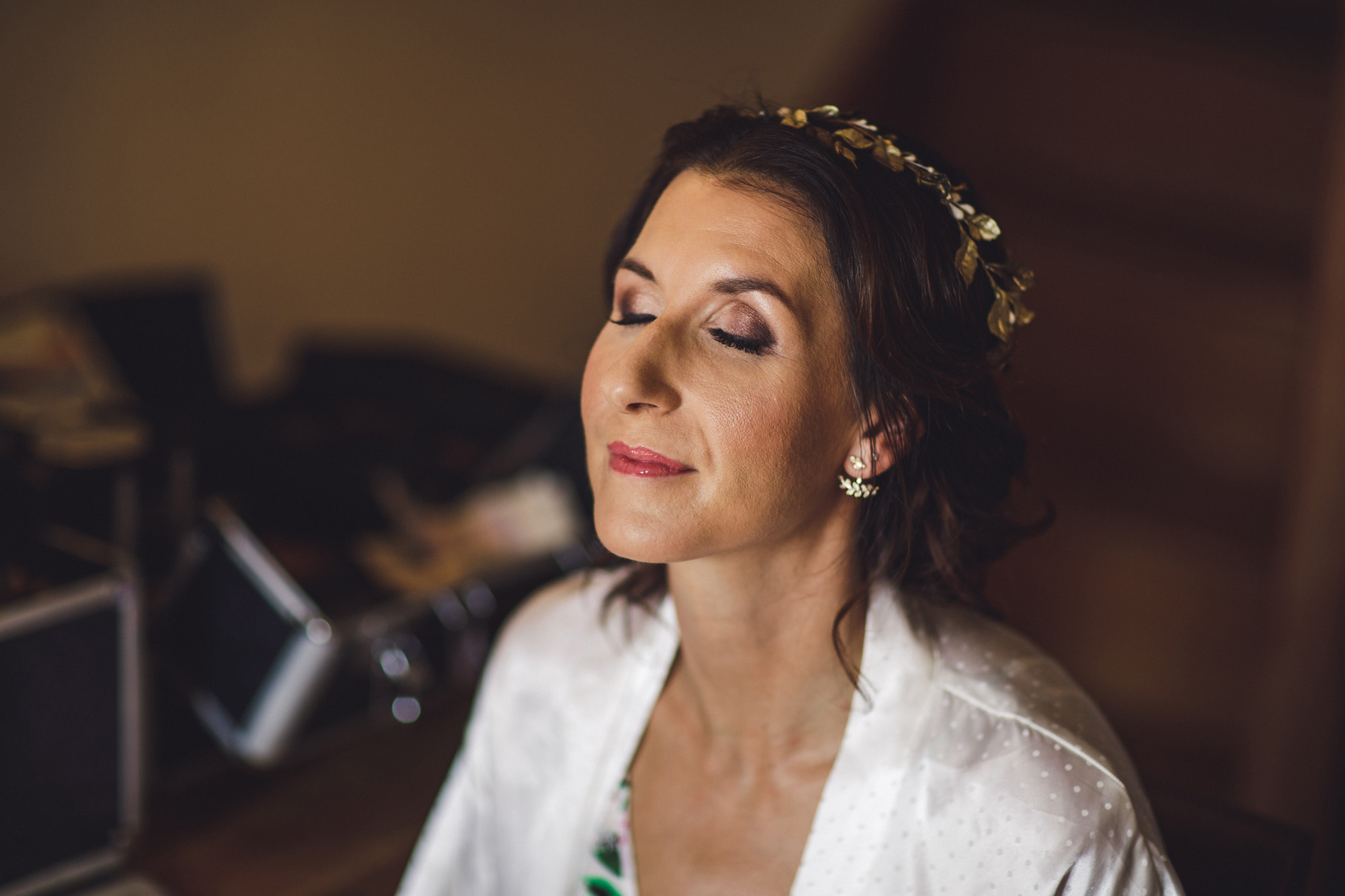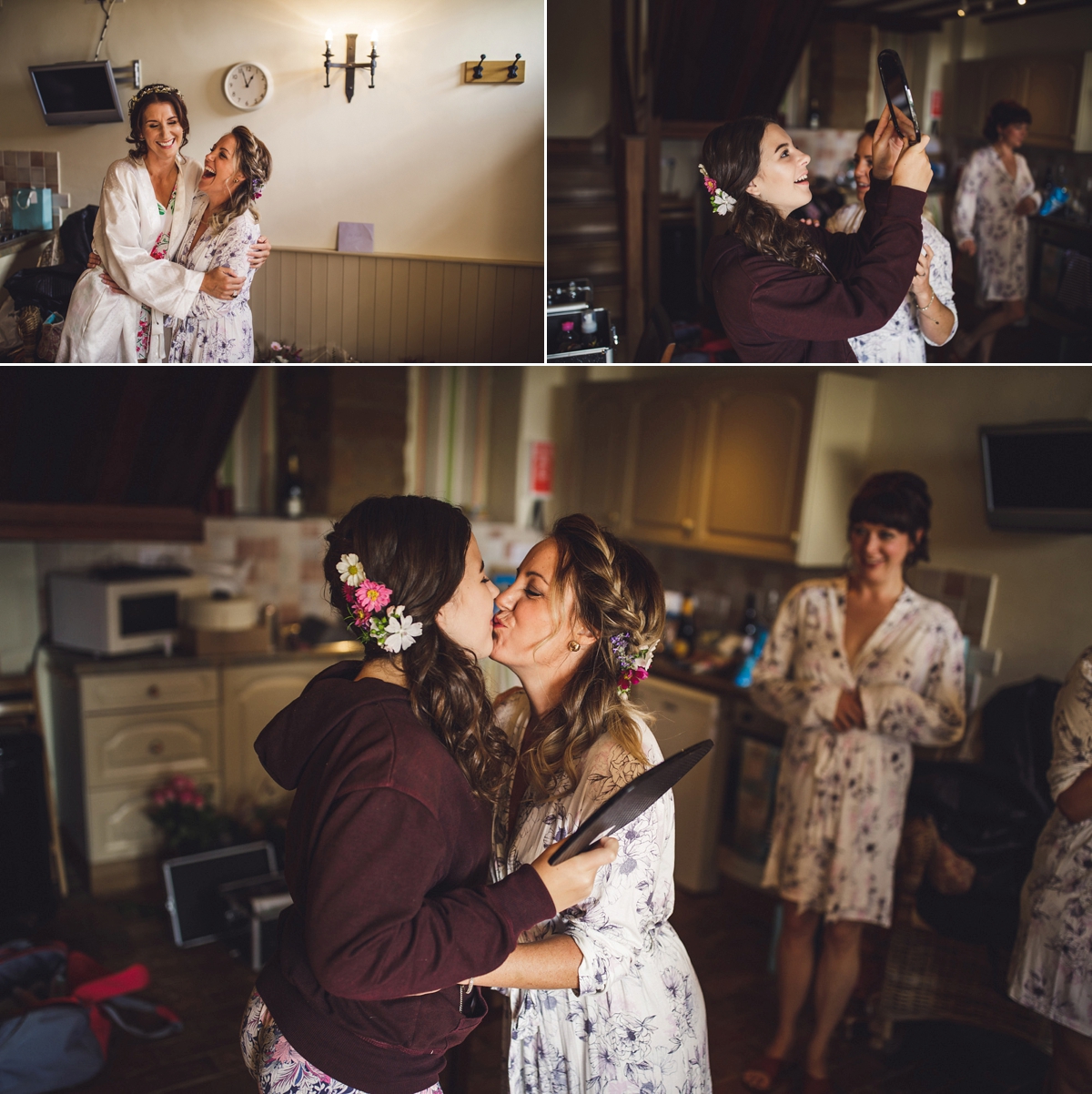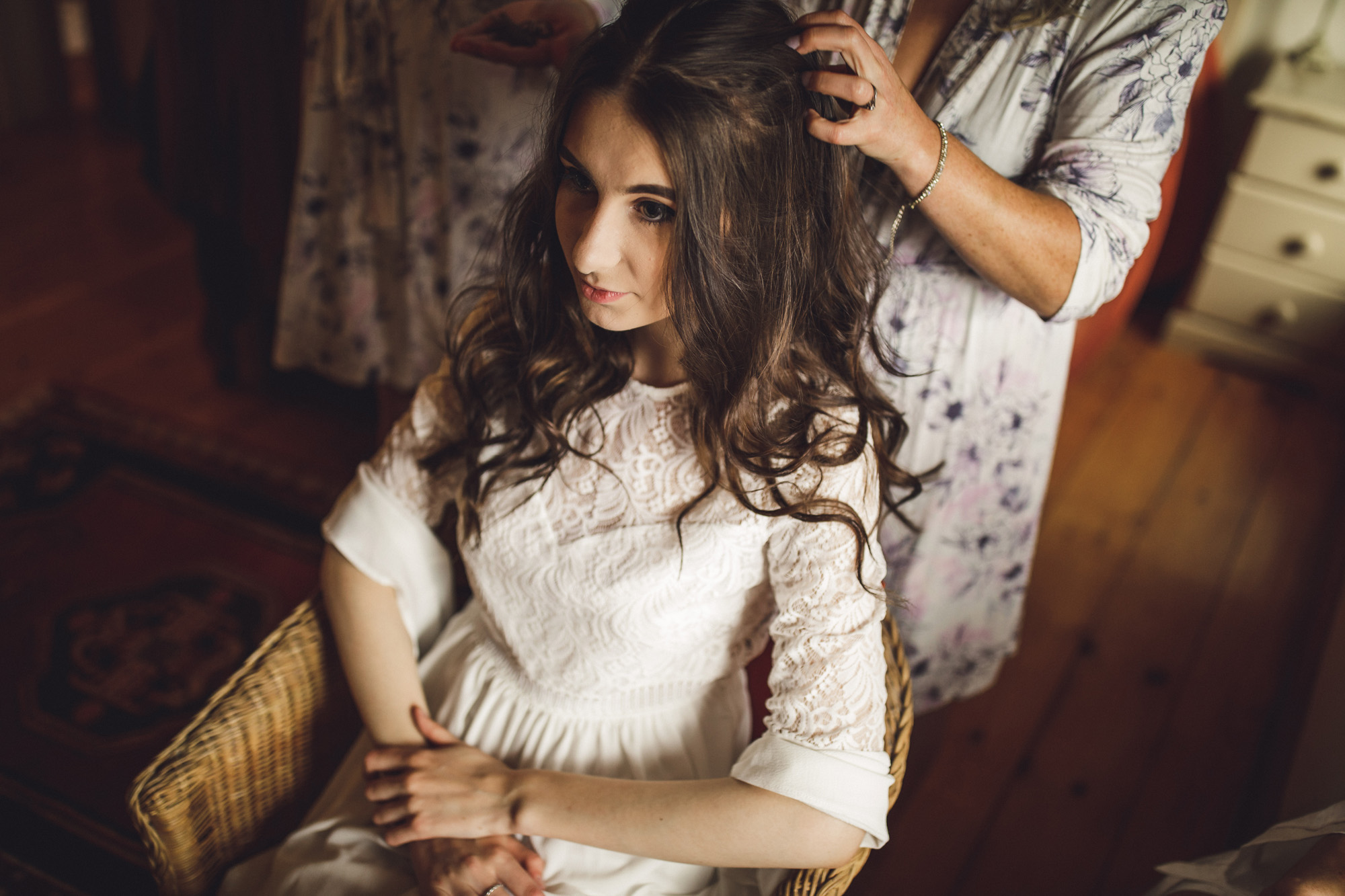 On her feet Lois wore a pair of sparkly sandals and then for the evening she changed to heels from Dune, worn with a white jumpsuit.  Her hair accessories were from India tiaras y tocados (I am so in love with this crown), while her earrings were a last-minute purchase from Accessorize.   For scent she chose her favourite Stella by Stella McCartney.
"The only other jewellery I wore was a tiger's eye ring that was my granddad's.  He gave it to me while he was still with us and I love it.  I had my Nan's ring on one hand and his on the other, which was so important to me as I felt like they were part of the day."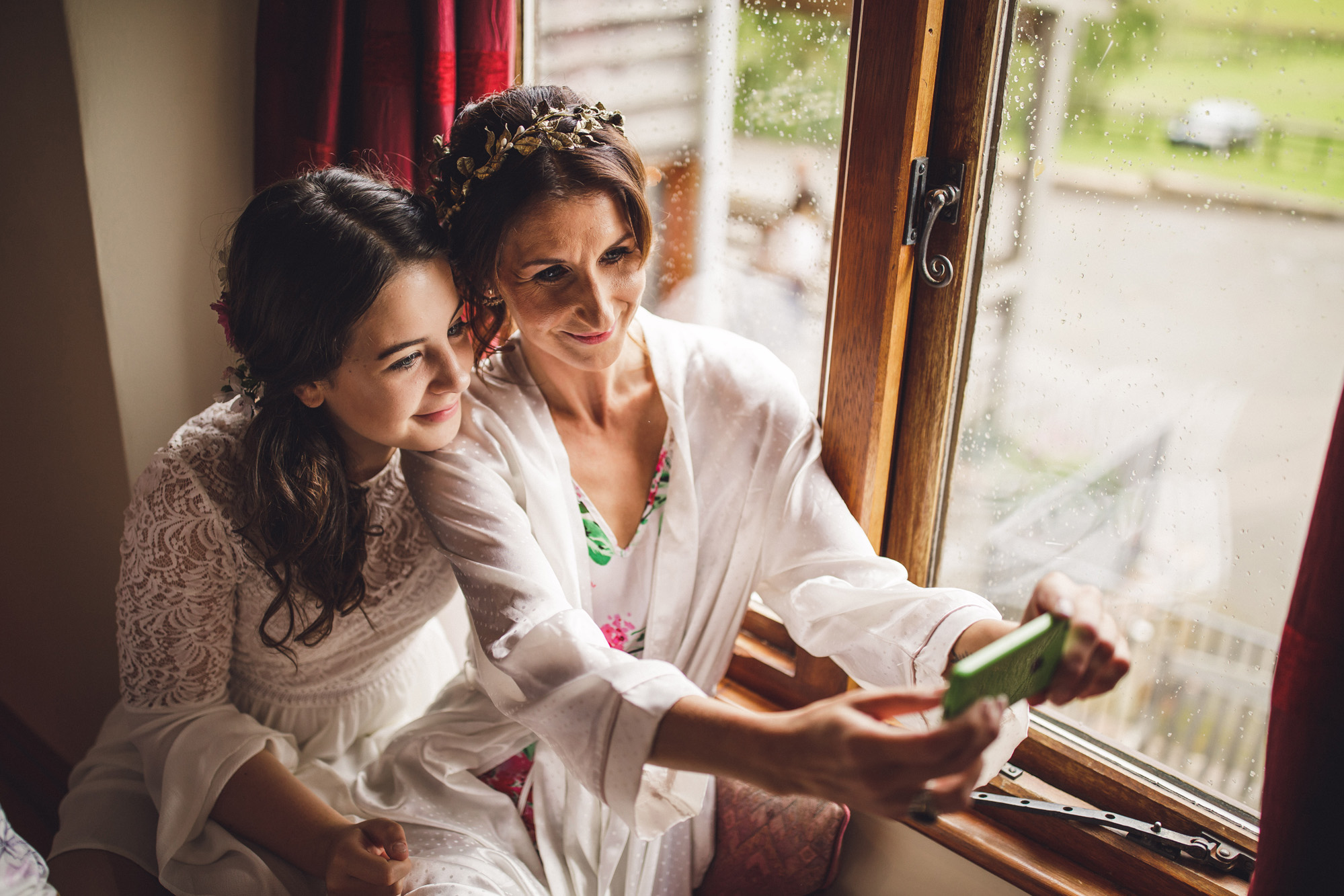 Lois looked utterly drop dead gorgeous in a bespoke dress by Rachel Lamb Bridal Design…
"I had my dress custom made as I realised I wanted an Ossie Clark-style dress but wanted it to fit me perfectly, rather than having a original vintage one that would probably be too short.  I never dreamed I could afford a custom-made dress but found Rachel worked her magic to make my ideal dress come to life."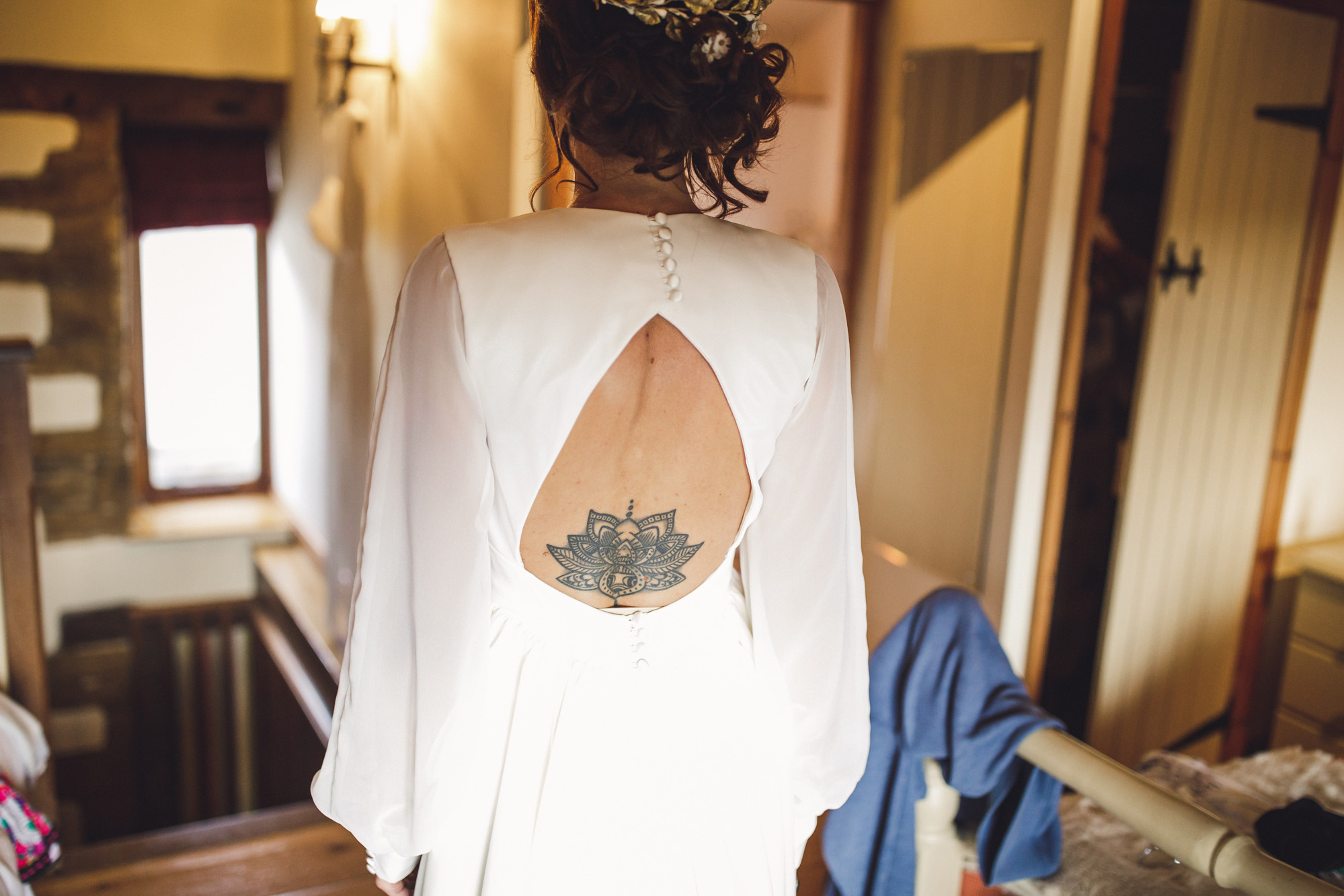 "She completely understood exactly what I wanted and pulled in the design elements I loved (such as the balloon sleeves) to make a simple and stunning dress that I never wanted to take off.  Every step of the process was a delight and I would recommend going down the custom-made route to anyone who is considering it.  It's so exciting to see your dress develop over the fittings."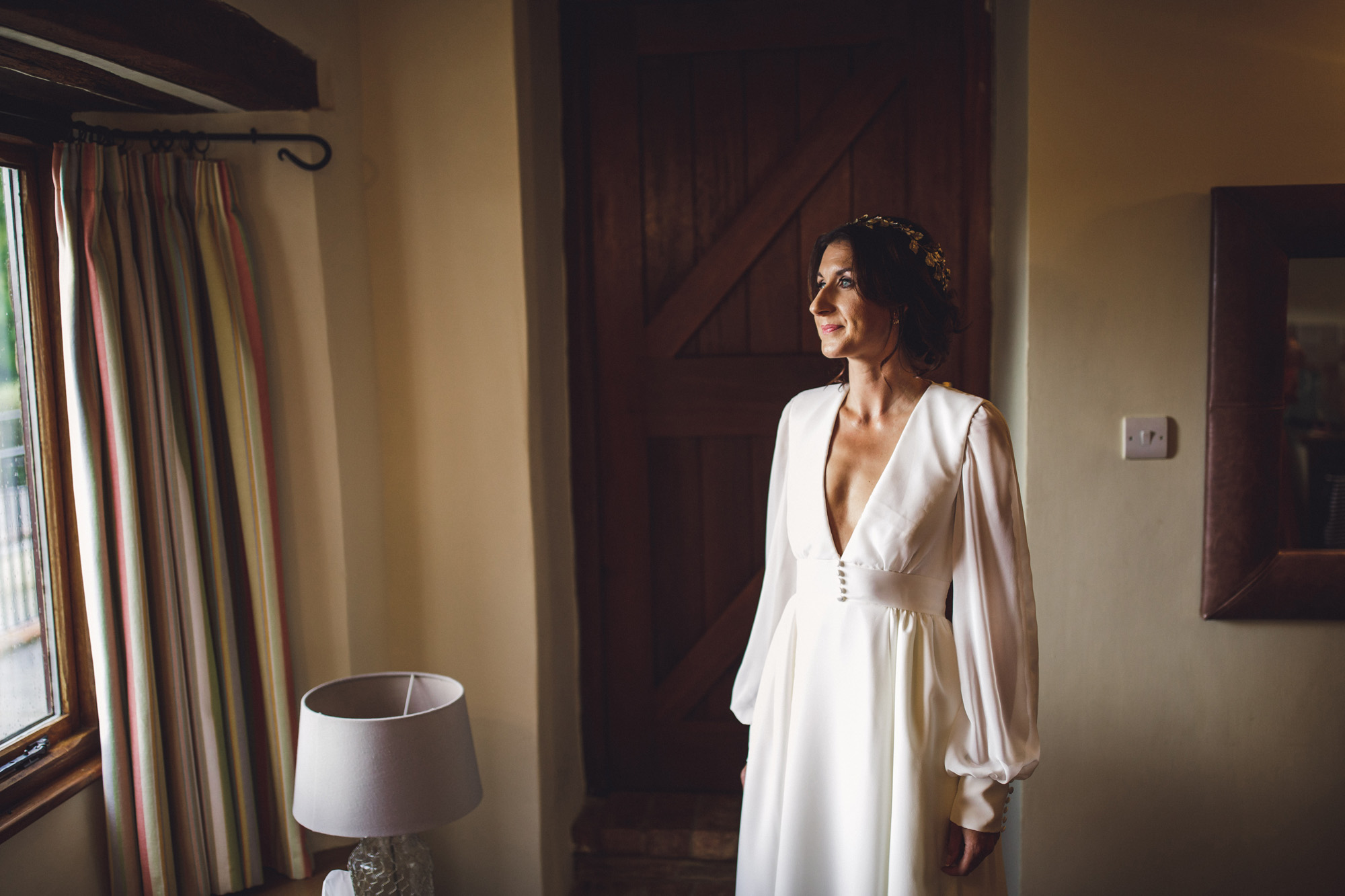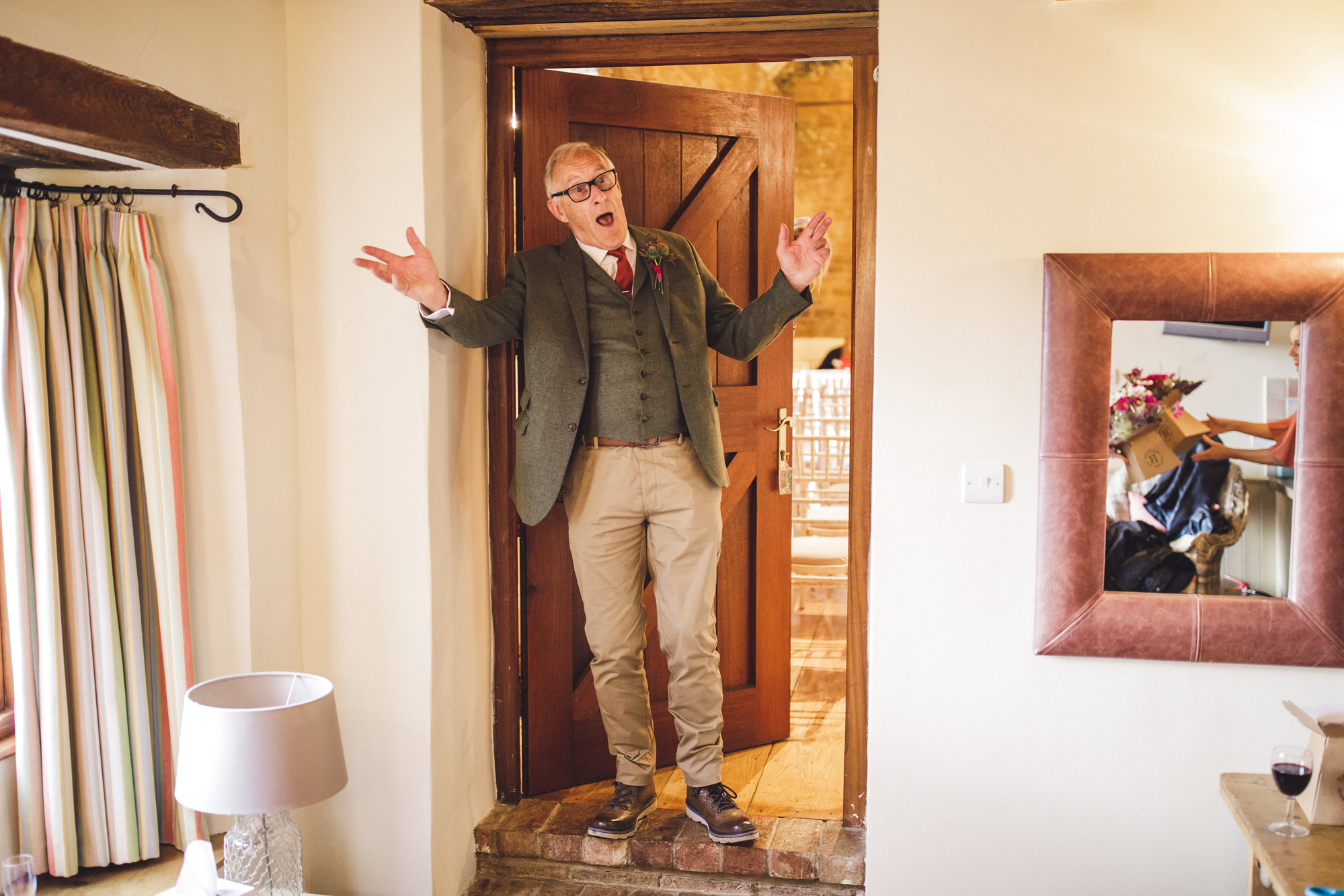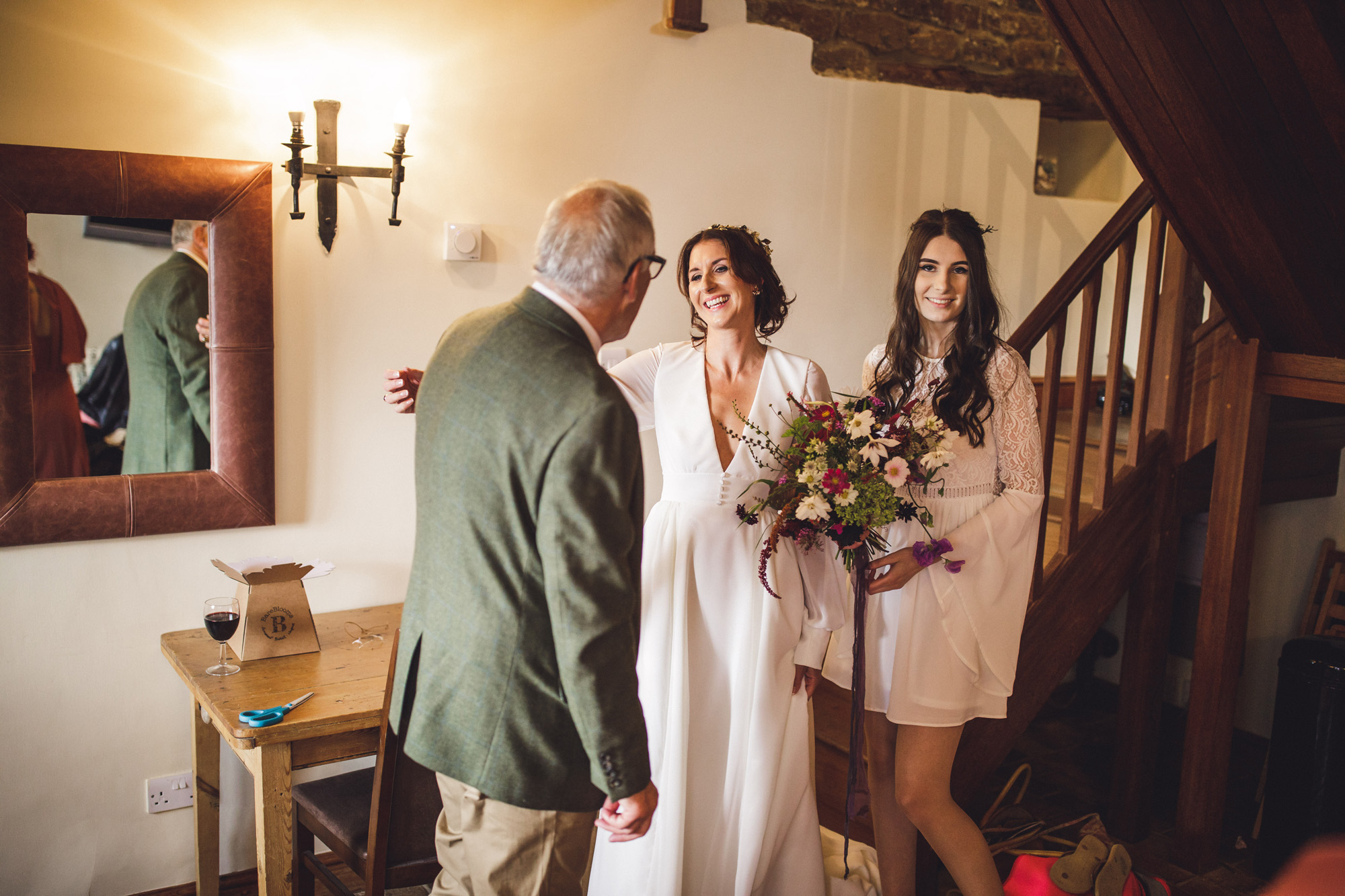 "We instantly fell in love with the beautiful views at Crockwell, it's a working farm venue with rolling fields surrounding it and has a very homely feel as the owners live there too."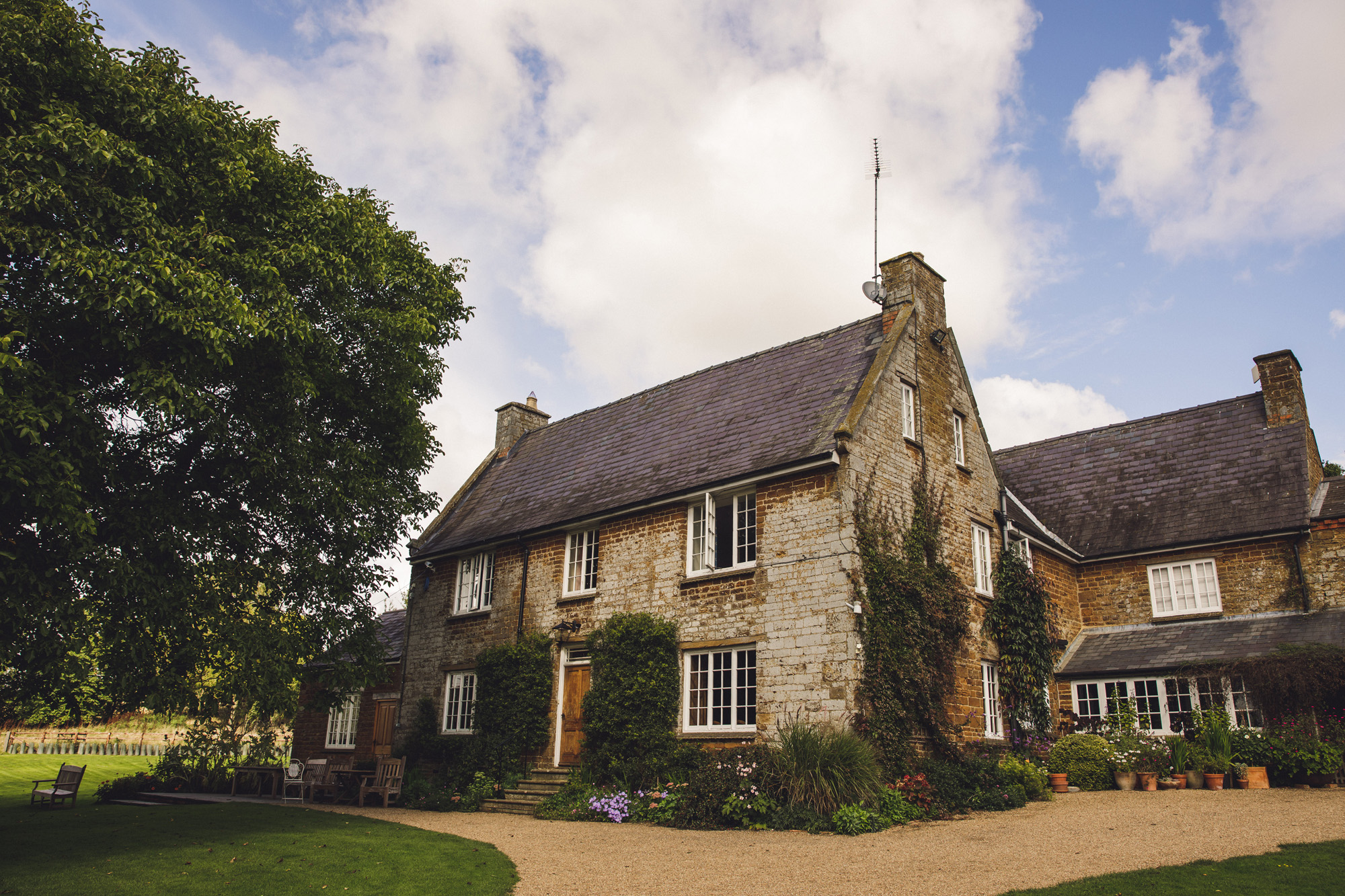 The bridesmaids wore dresses from ASOS and River Island in shades of coral (which echoed the 1970's style of Lois' own gown) and white lace, worn with their own shoes.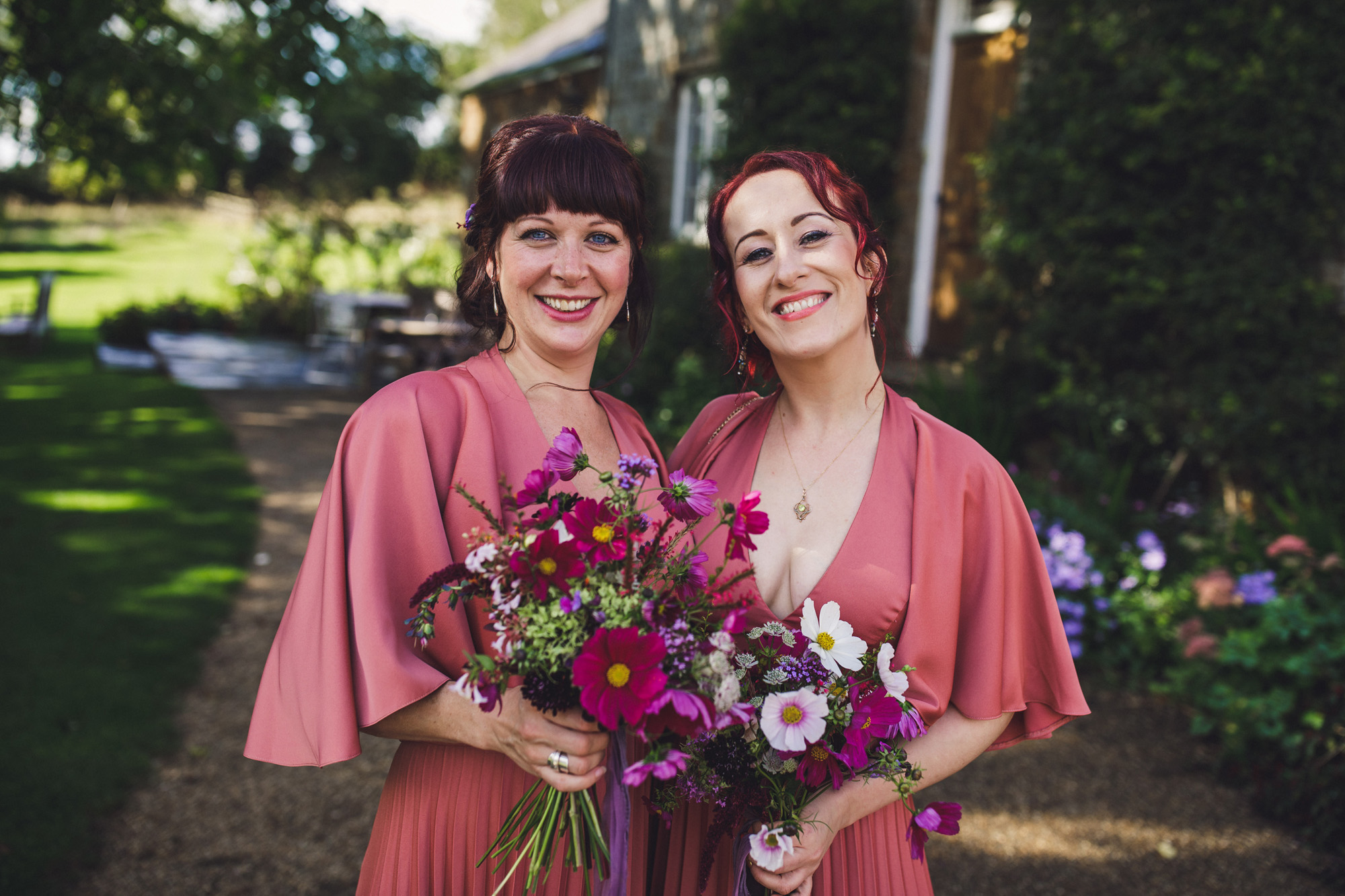 The fabulous flowers were the work of Chloe at Bare Blooms and I'm especially smitten with Lois' amazing bouquet. Working in horticulture, the flowers were understandably a big part of the day for this bride, and Chloe stepped up to the challenge with flair.
"Chloe was local to our venue but also used seasonal British blooms from a local cutting garden and her own lovely garden.  I wanted flowers that had a bit of a wild look to them and looked like they had been gathered from gardens and hedgerows.  After meeting Chloe  I knew she would deliver exactly what we were after and I was over the moon with what she produced on the day."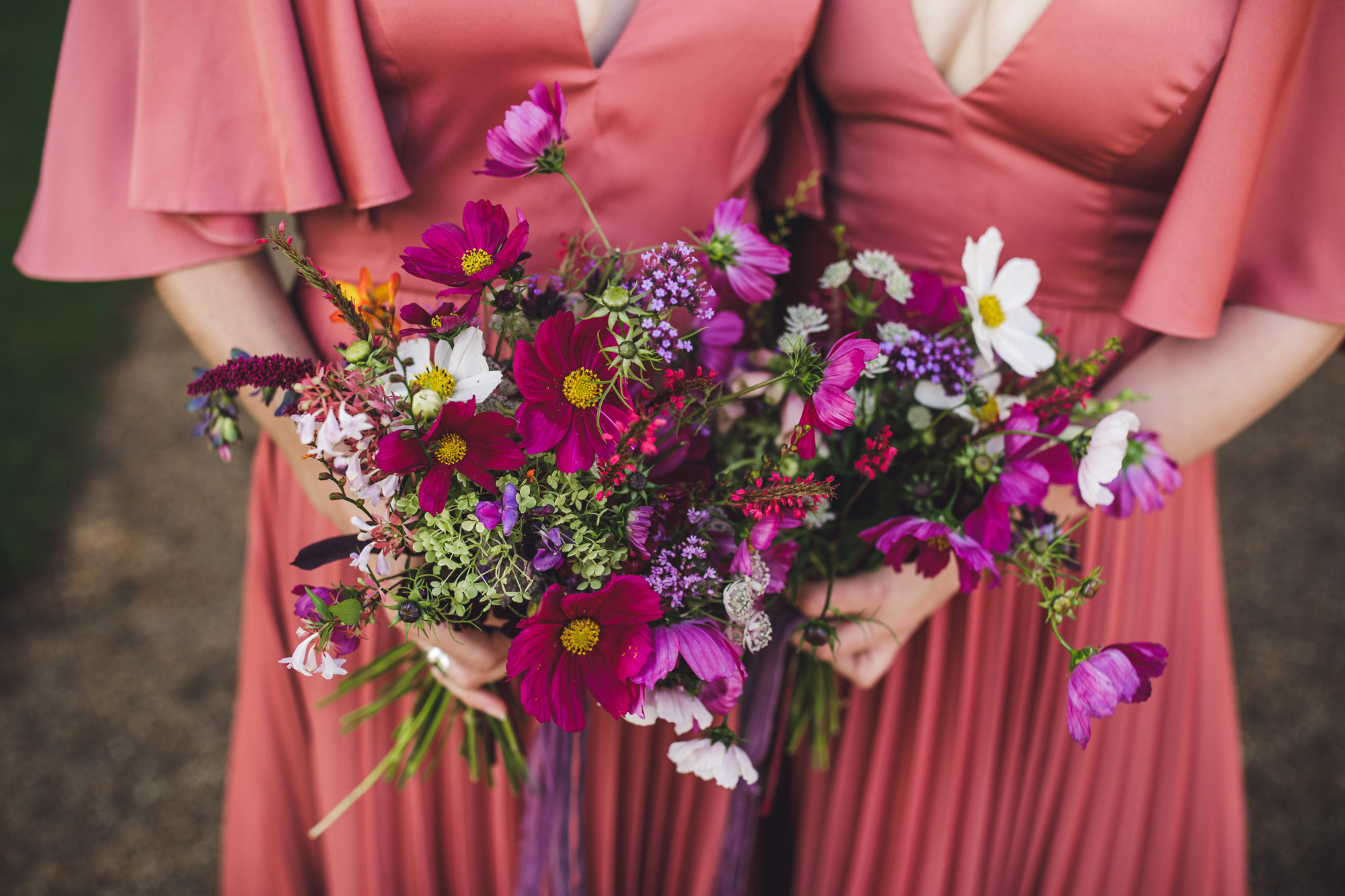 Ash wore a green tweed jacket and waistcoat from Racing Green Menswear, paired with trousers from River Island, a red tie and a pair of beautiful shoes from Grenson.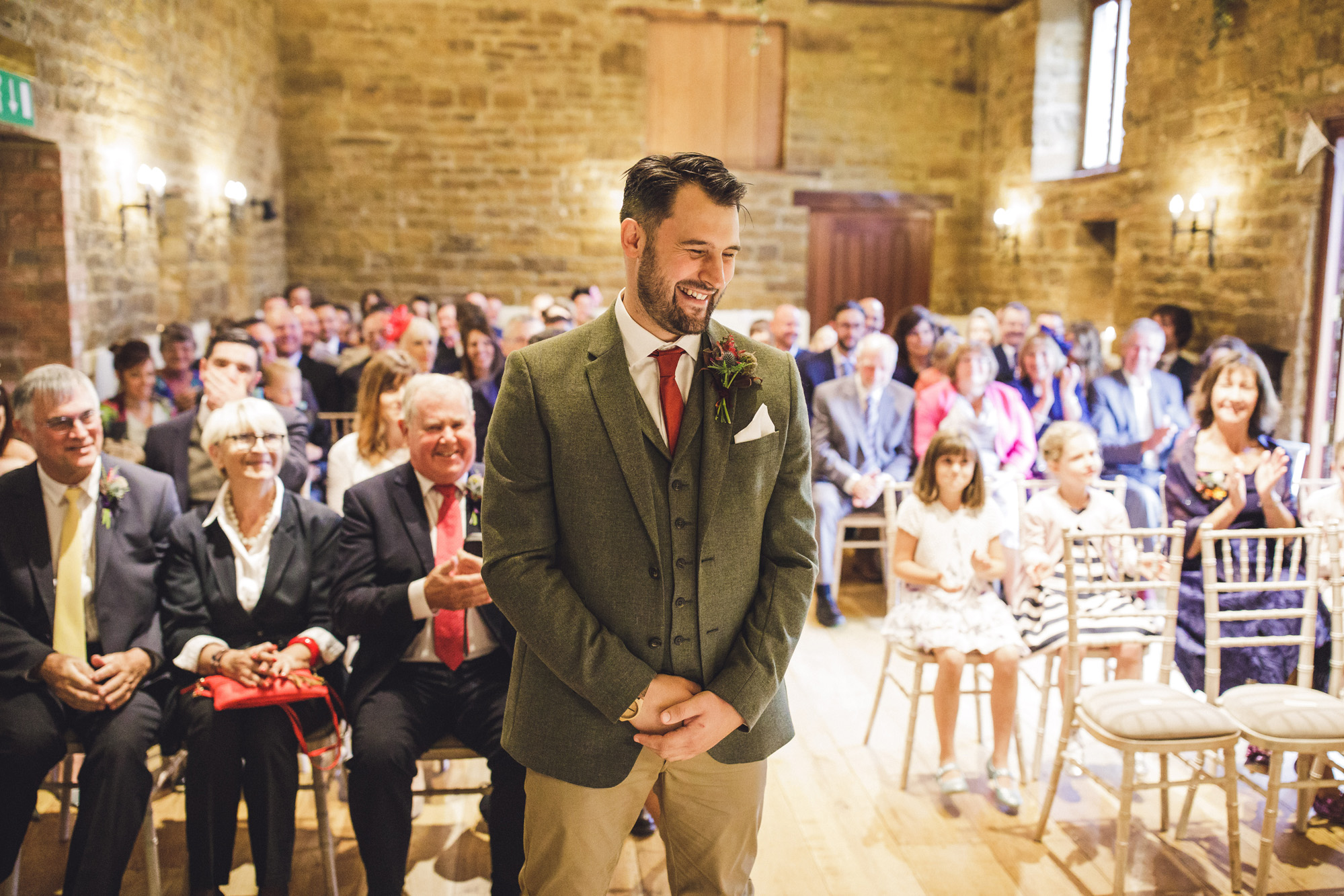 "My dad accompanied me down the aisle and this wasn't an easy thing for him as he struggles to walk because of a rare neurological condition.  It meant a lot to have him by my side."
"We walked in to 'Stand By Me' by Florence and The Machine, which give me goosebumps."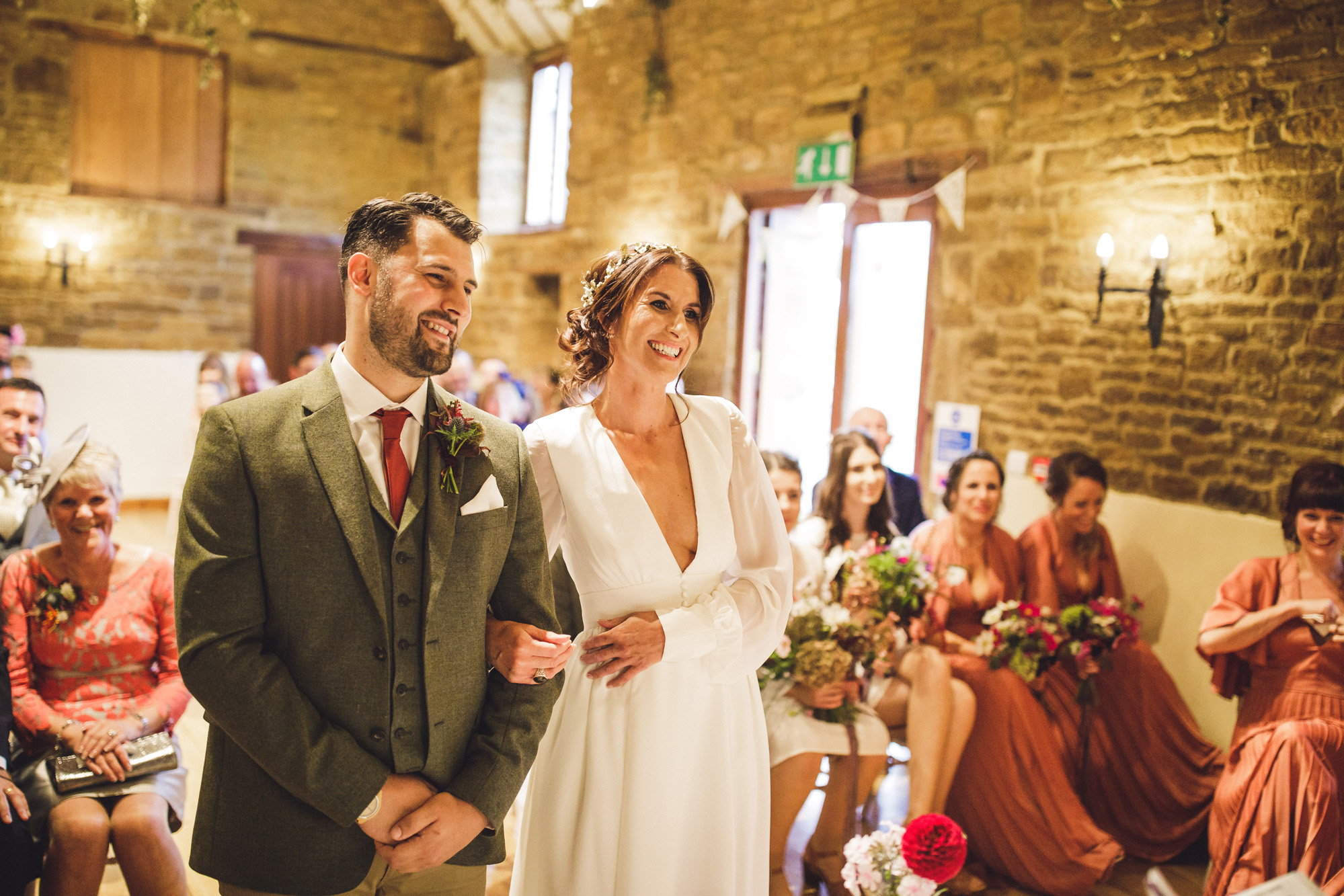 Lois and Ash chose a reading each- Ash picked 'He's not perfect' by Bob Marley and Lois chose a paragraph from her favourite books 'The Amber Spyglass' by Phillip Pullman, which begins: "I will love you forever; whatever happens."
"This passage always has me in tears reading the books and this was the only part of the day where I struggled to hold it together."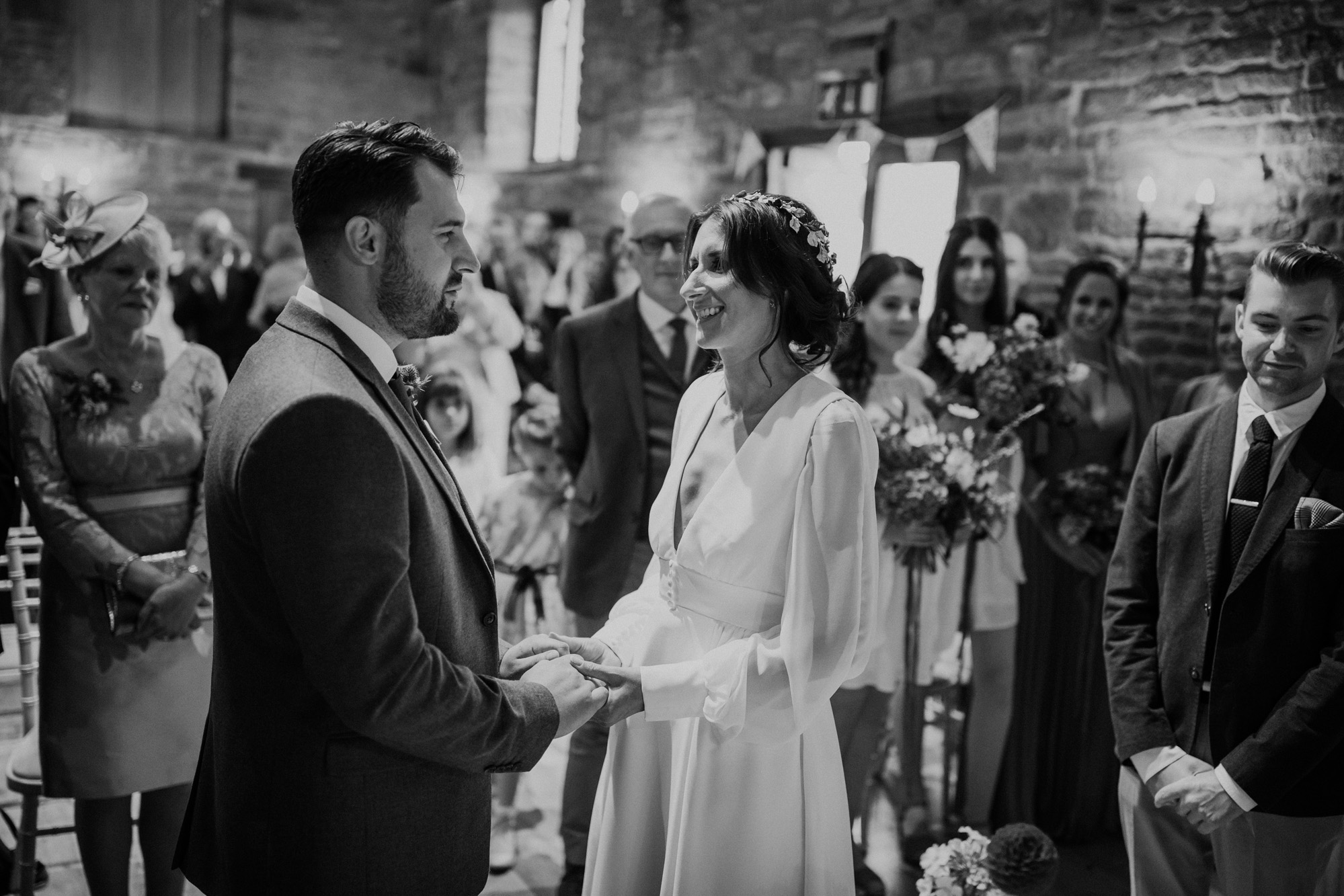 "Our favourite bit of the day was definitely the ceremony.  Making that commitment to each other in front of our family and friends was so special."
"My wedding ring was my late Nan's and it means so much to be able wear her ring everyday.  Ash's ring is a plain palladium band from Goldsmiths."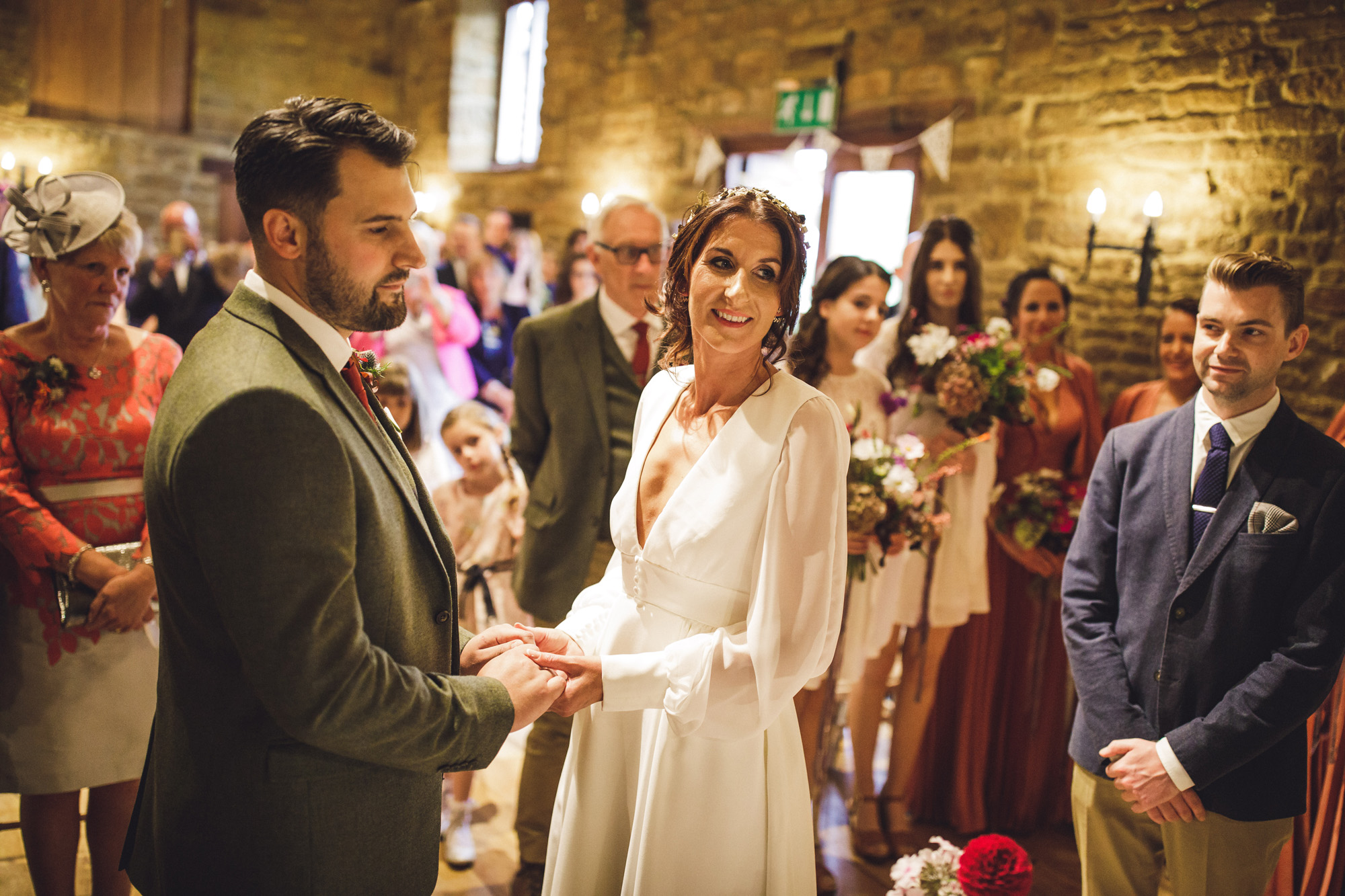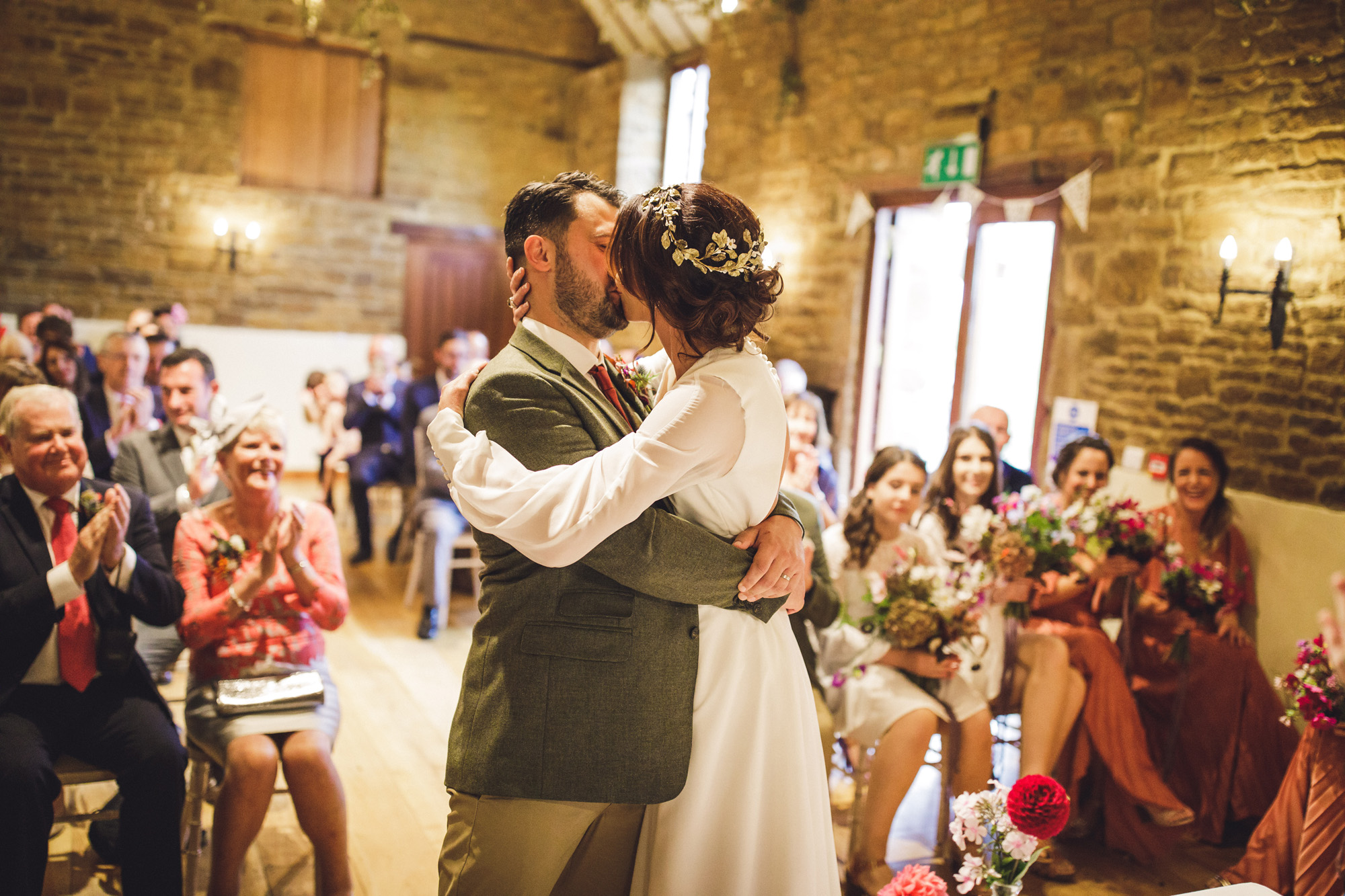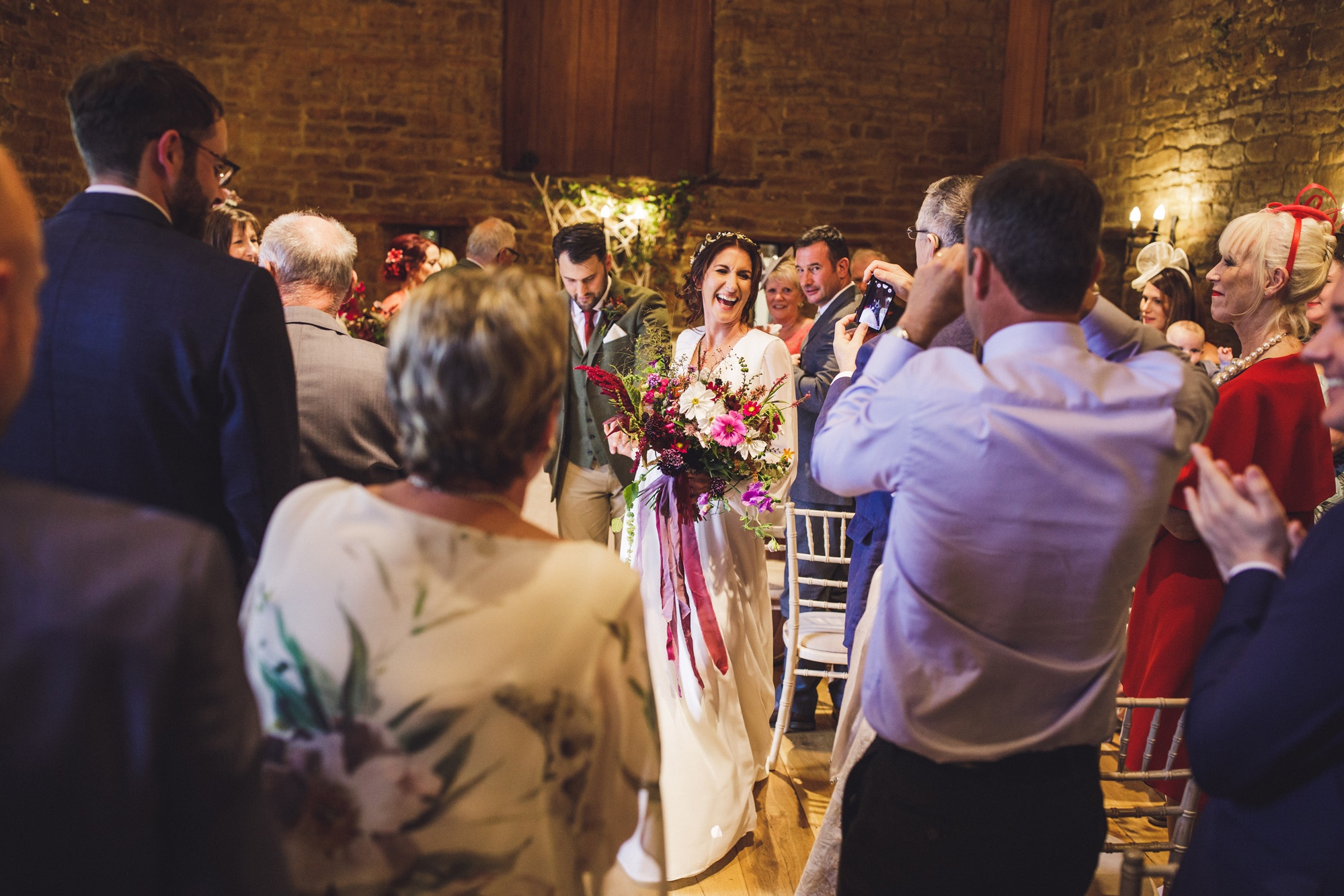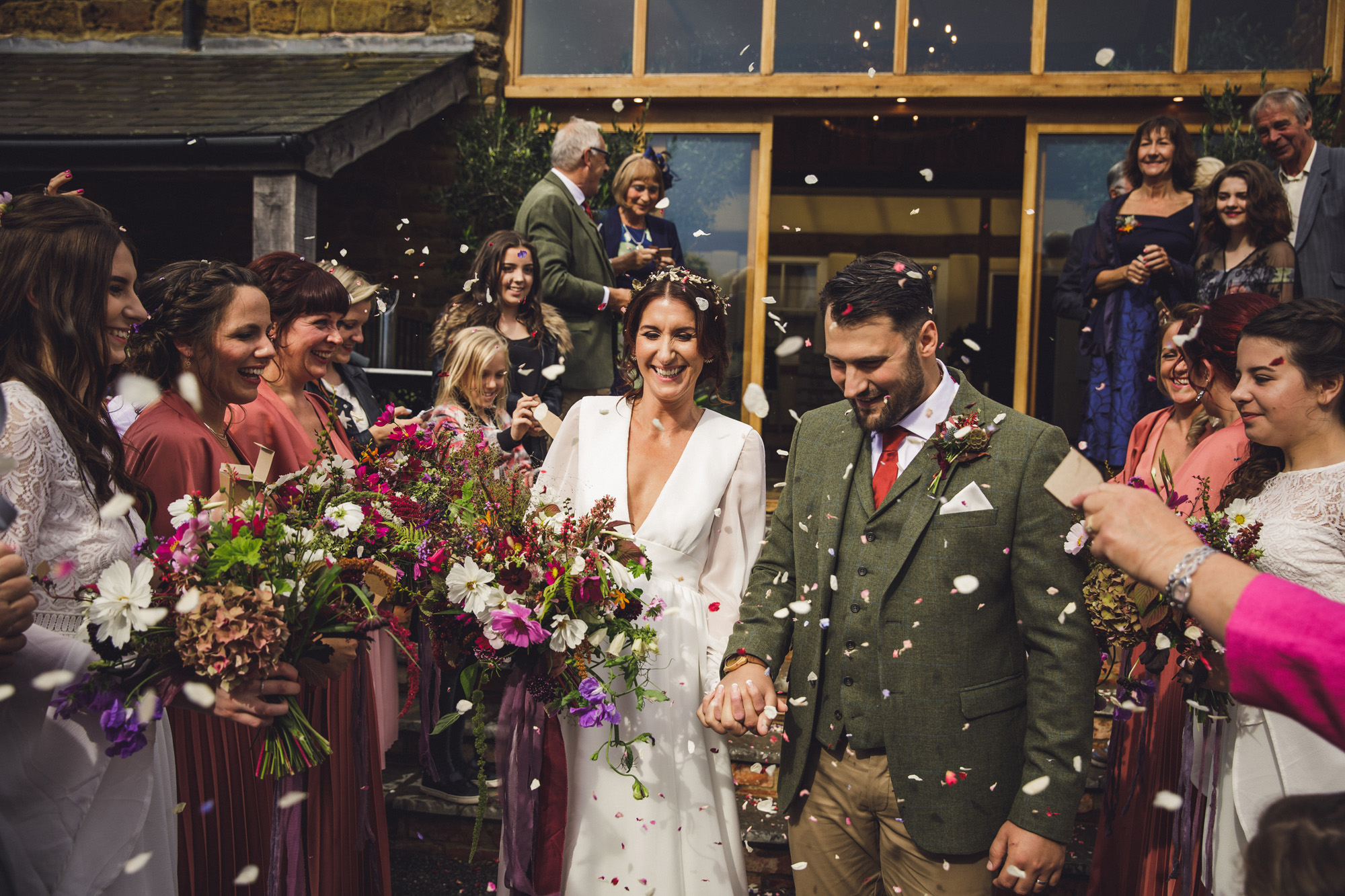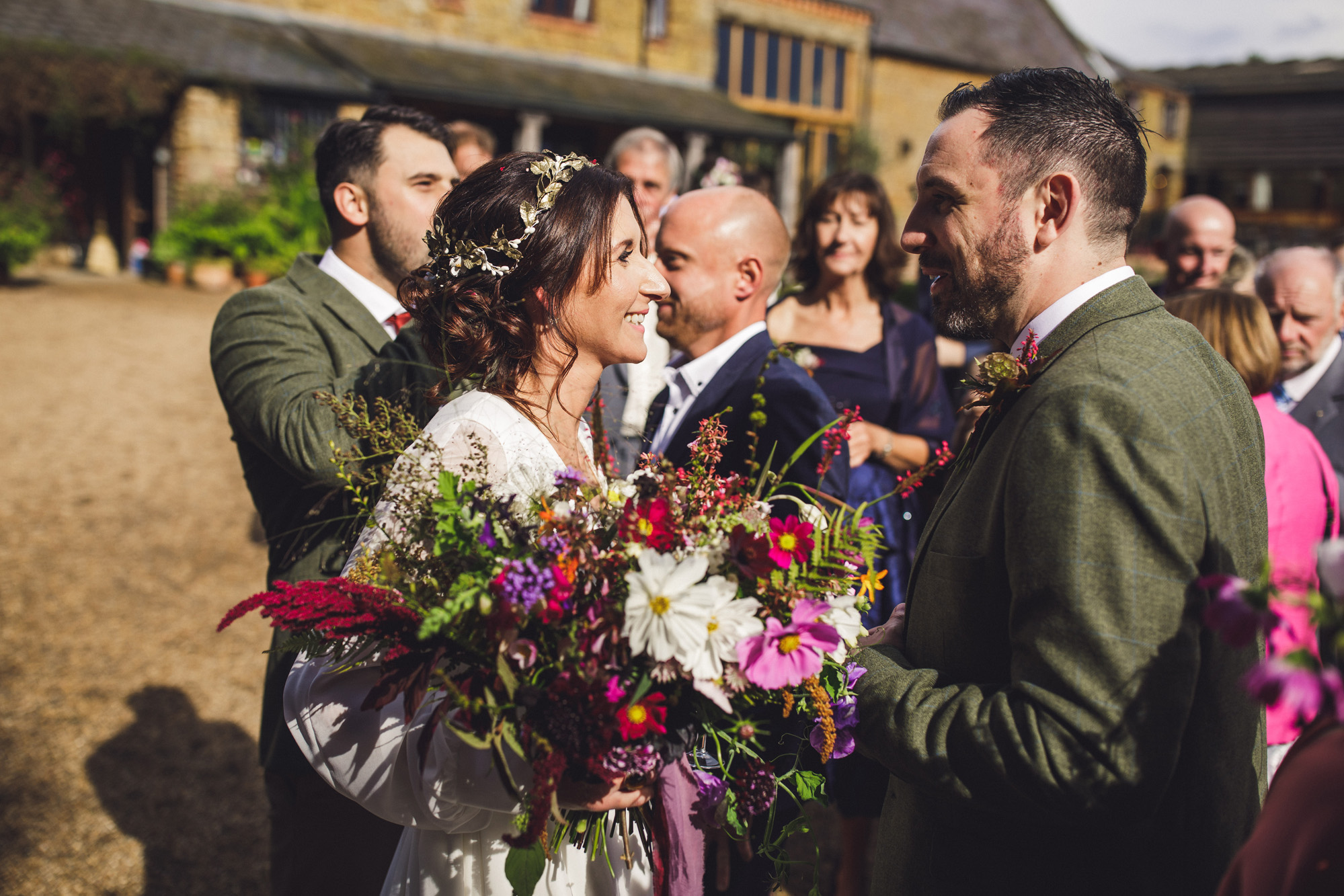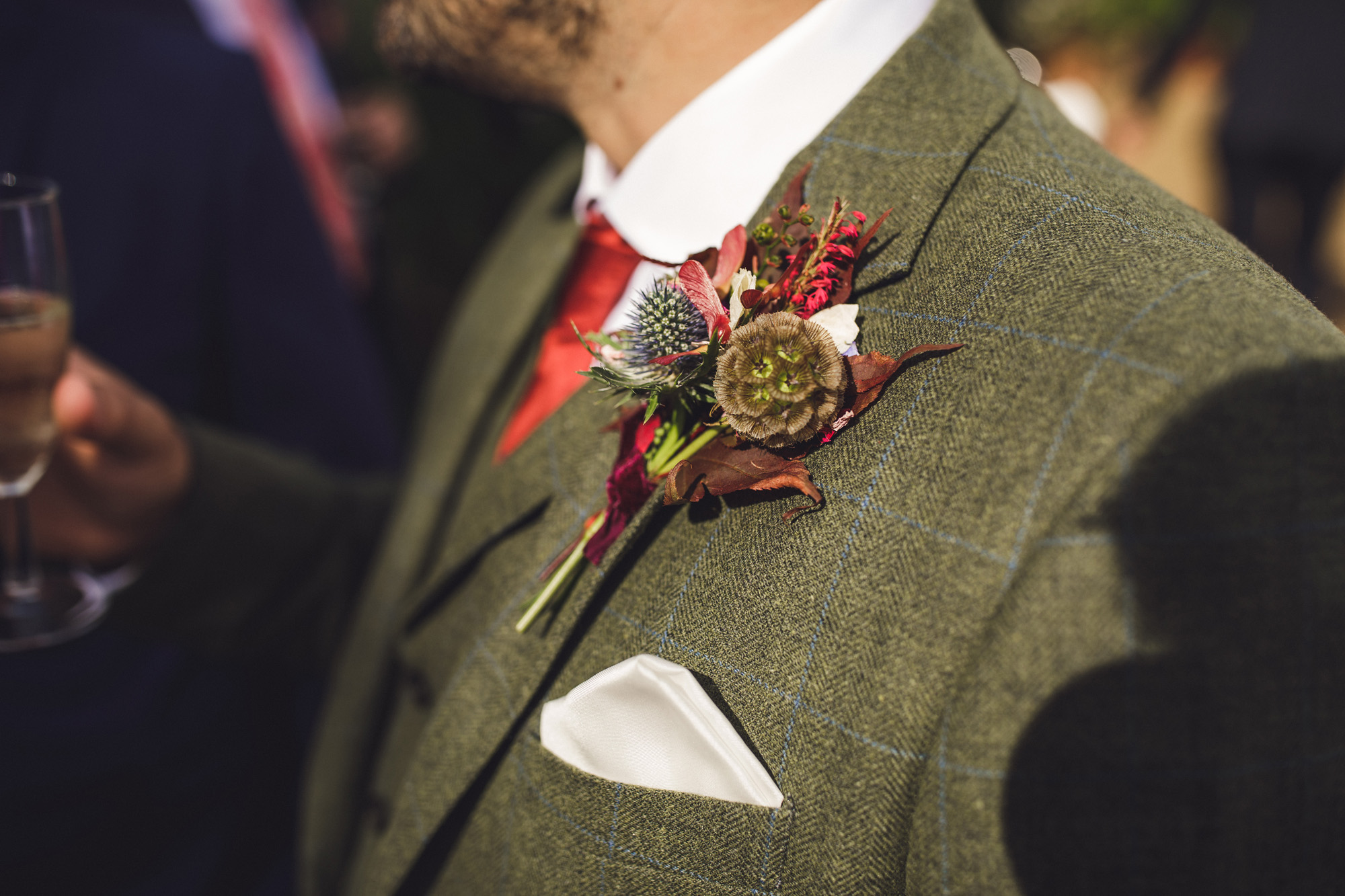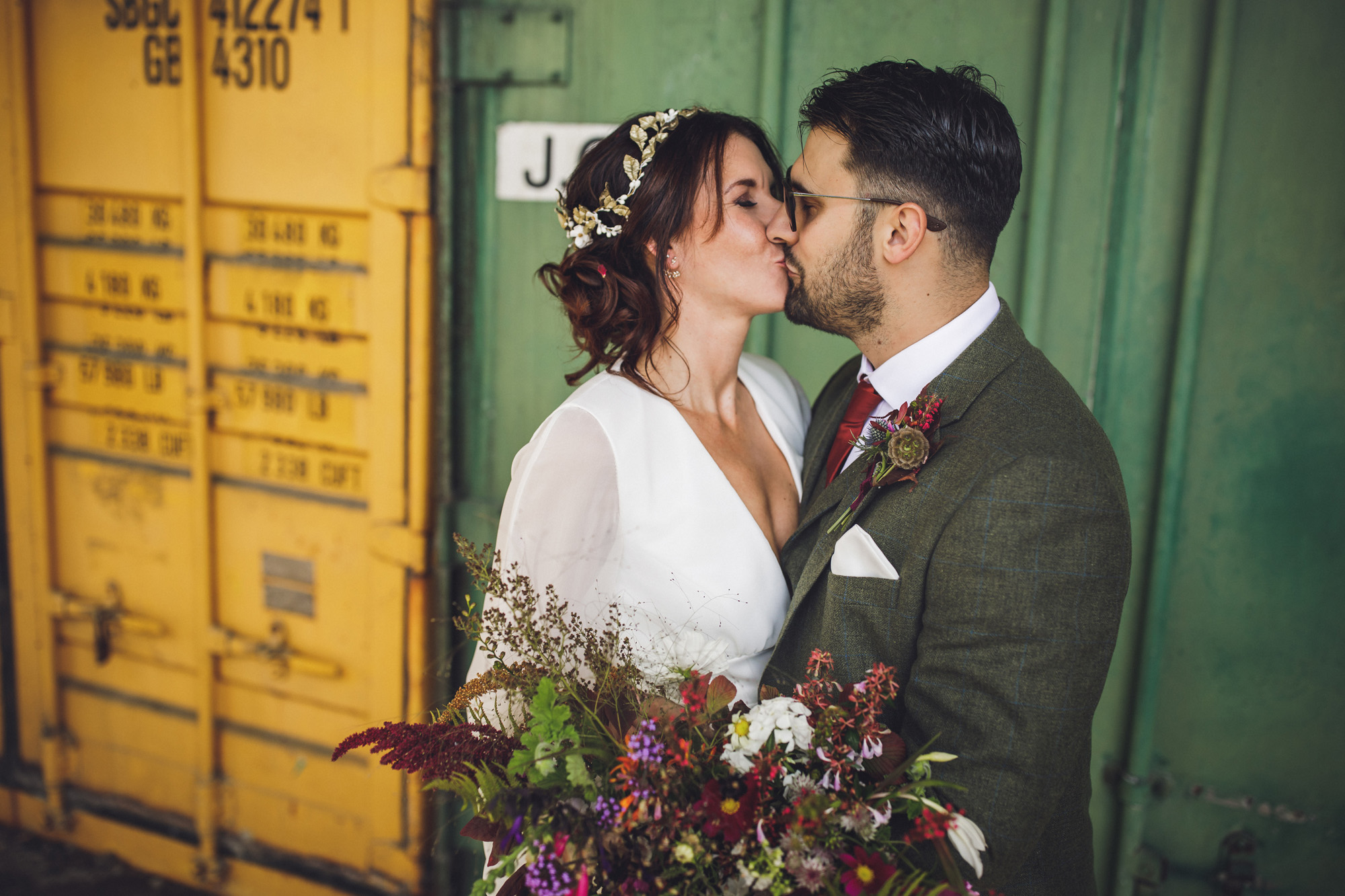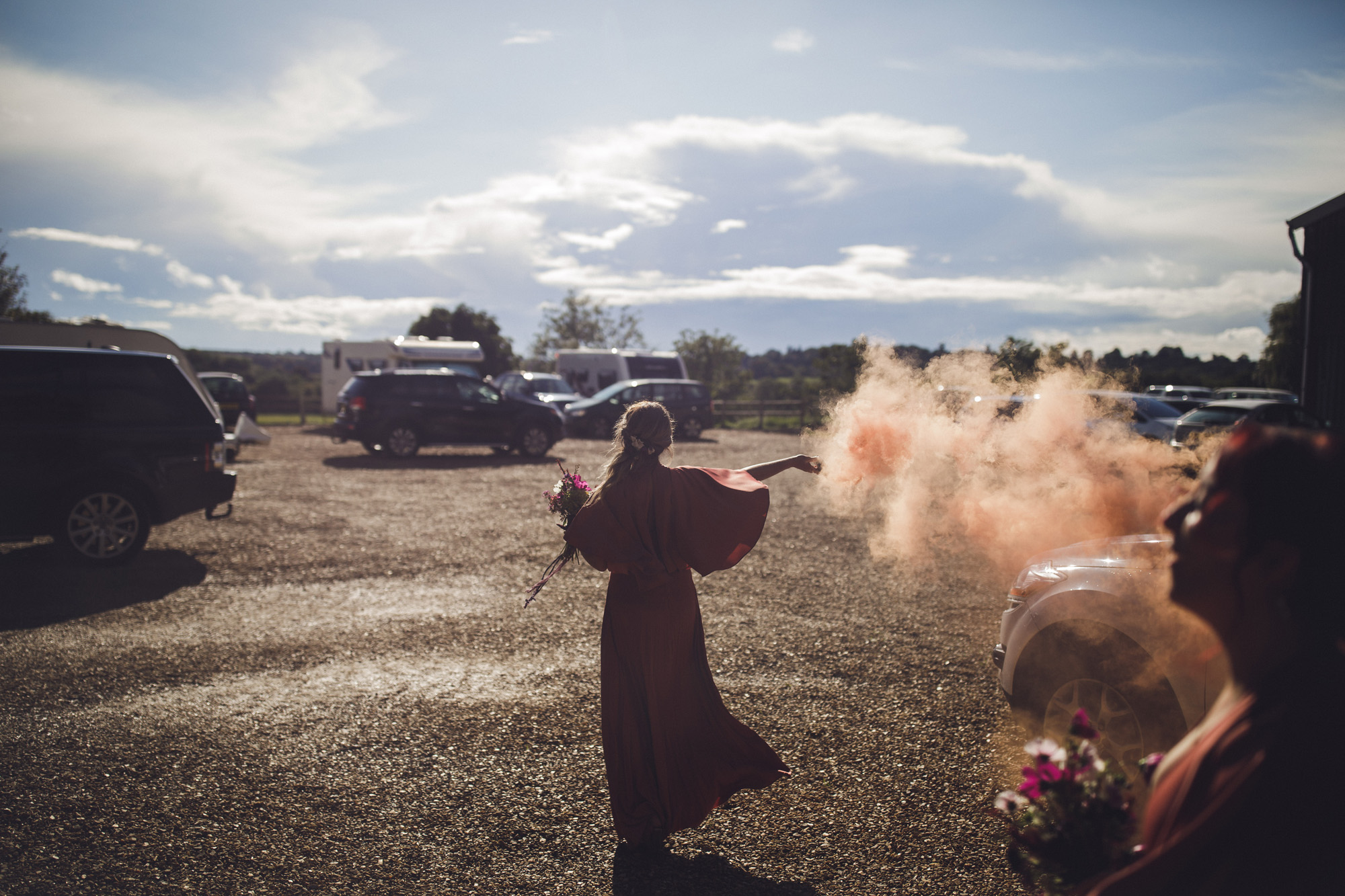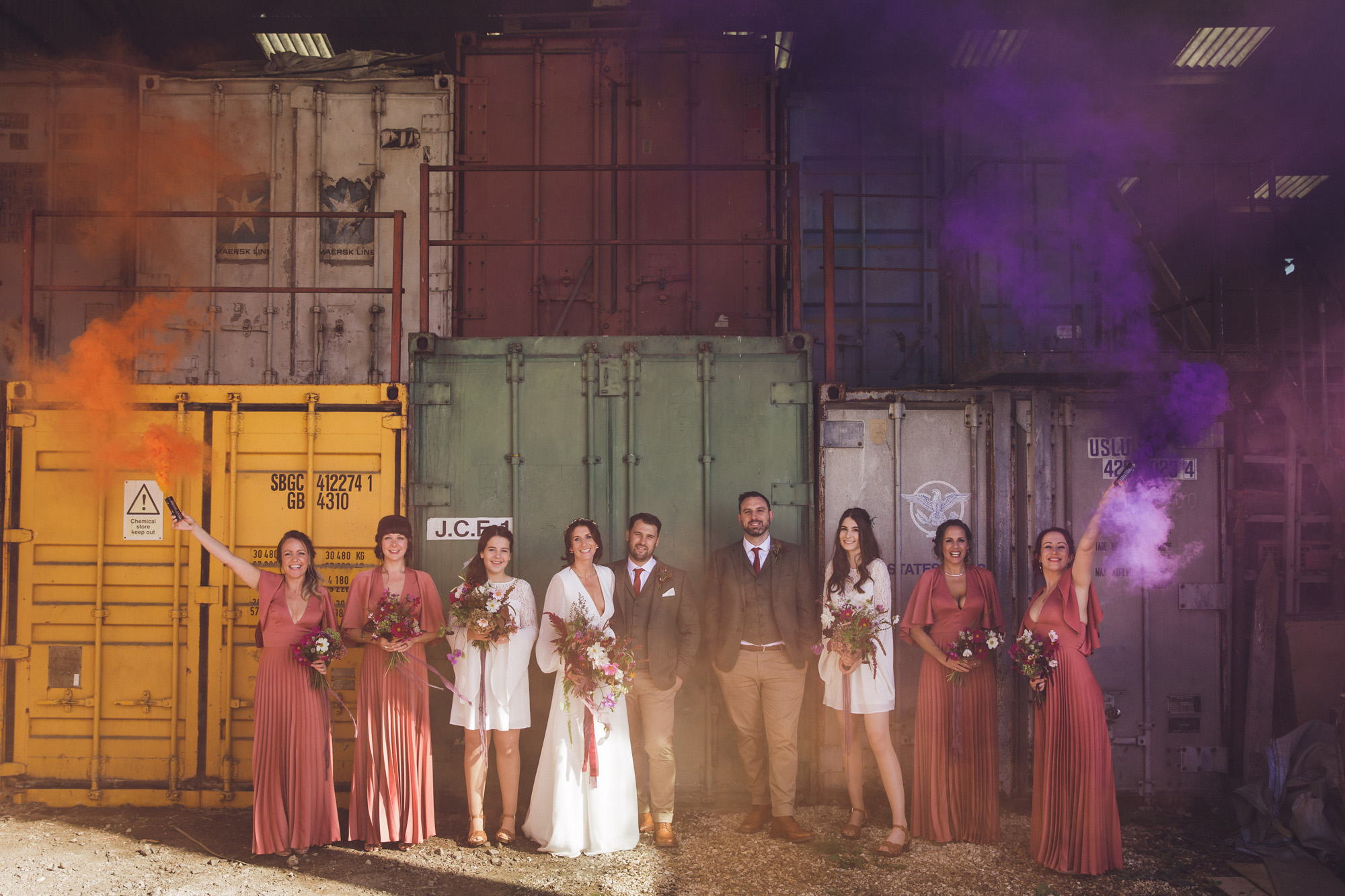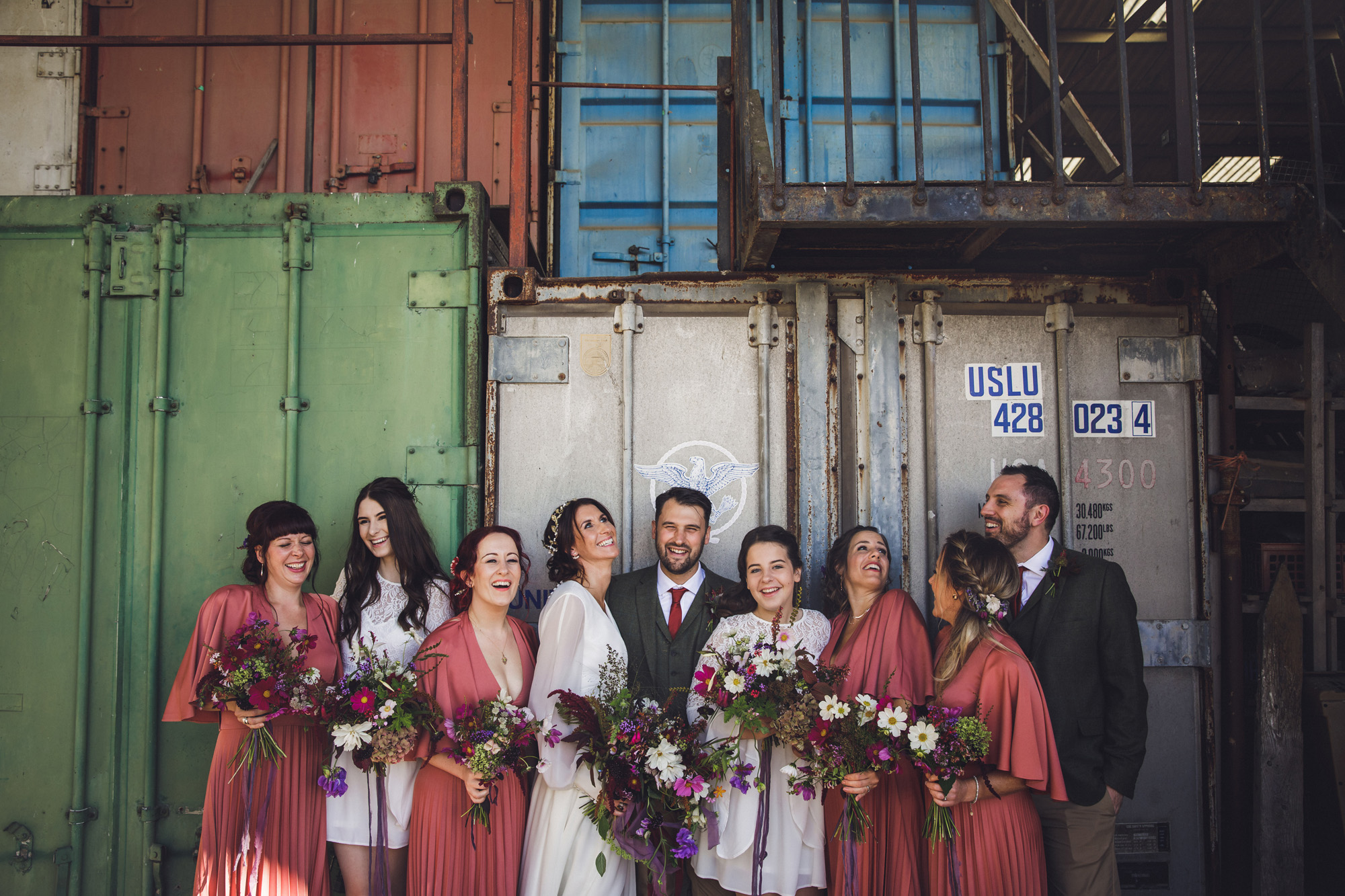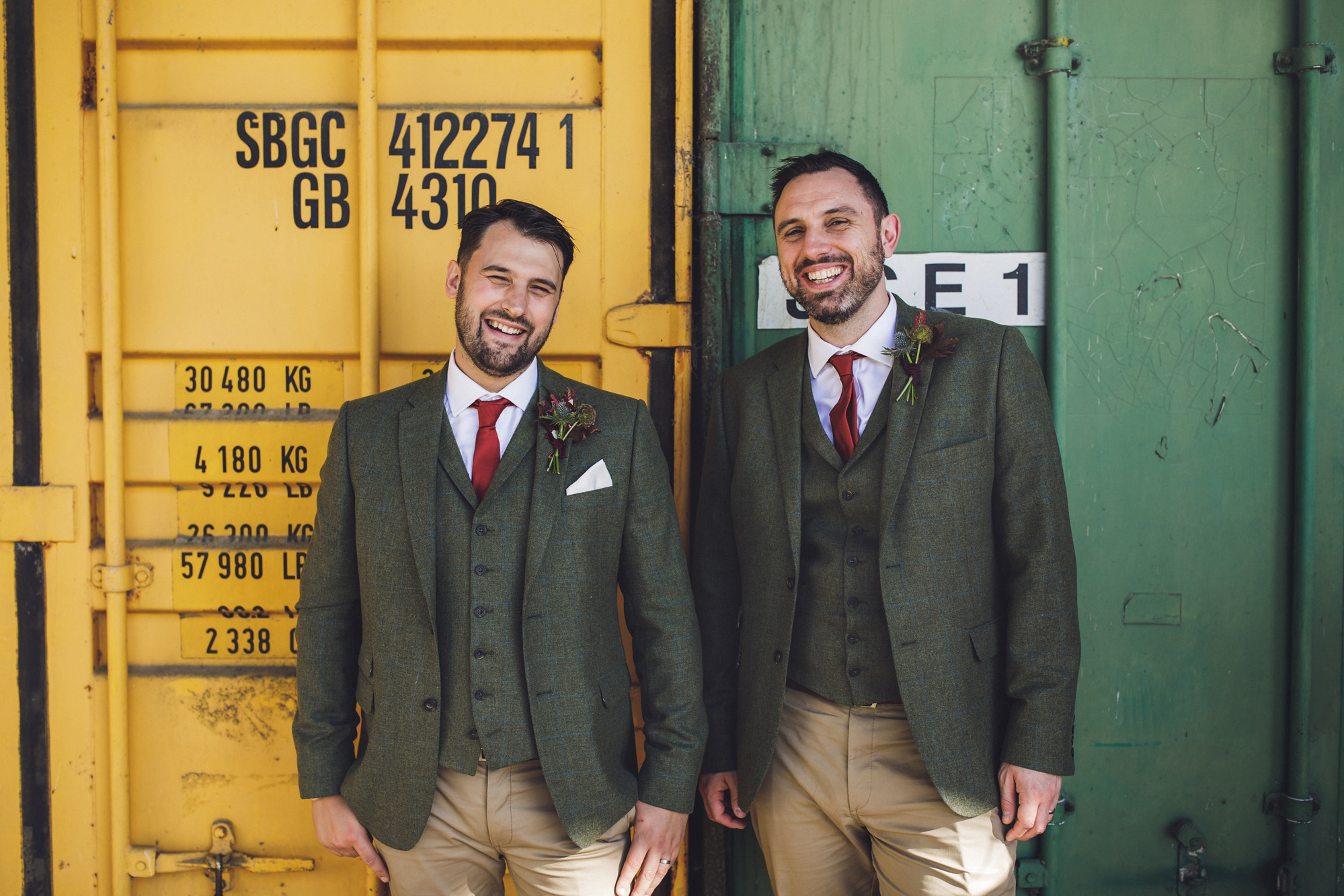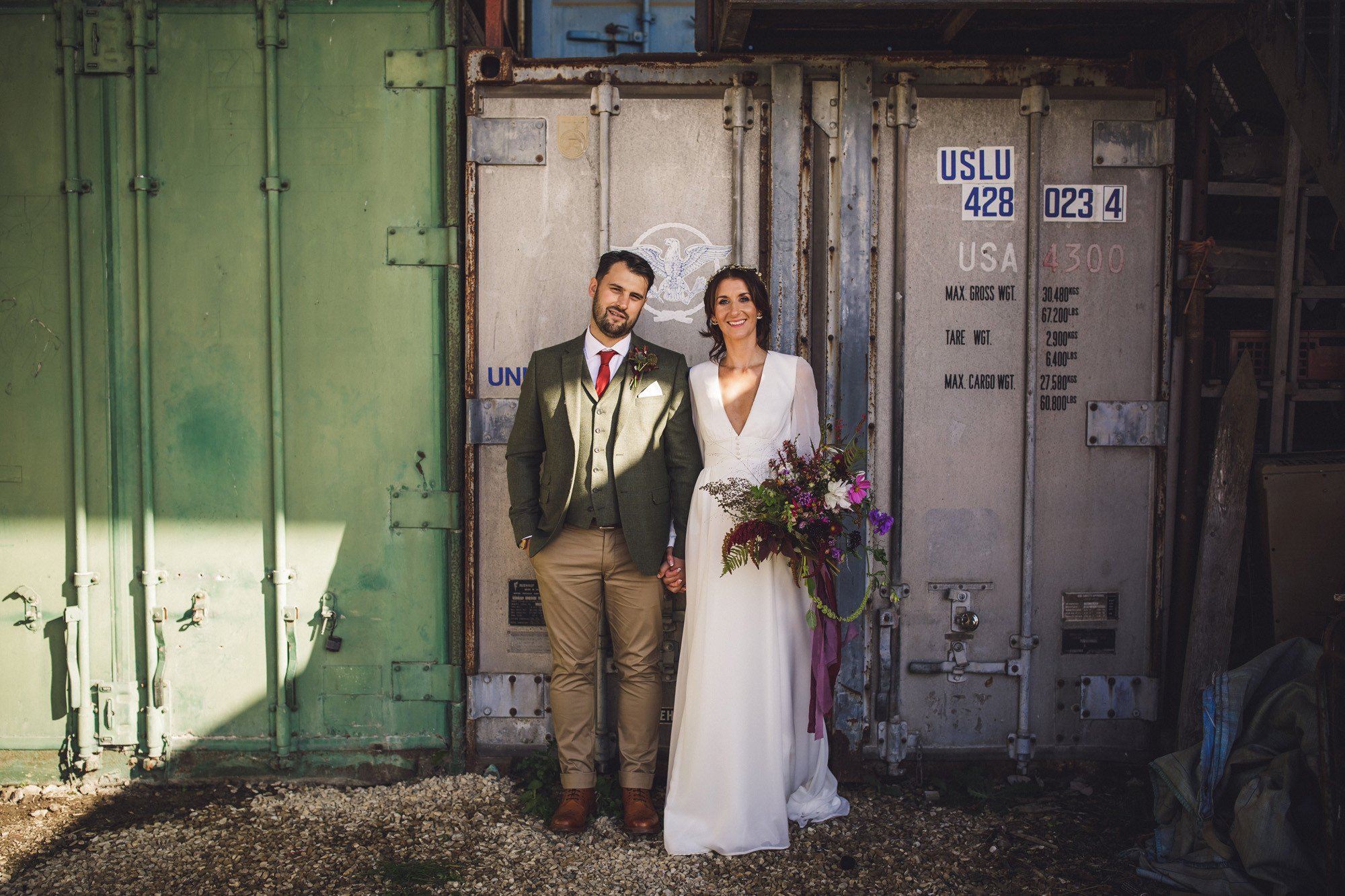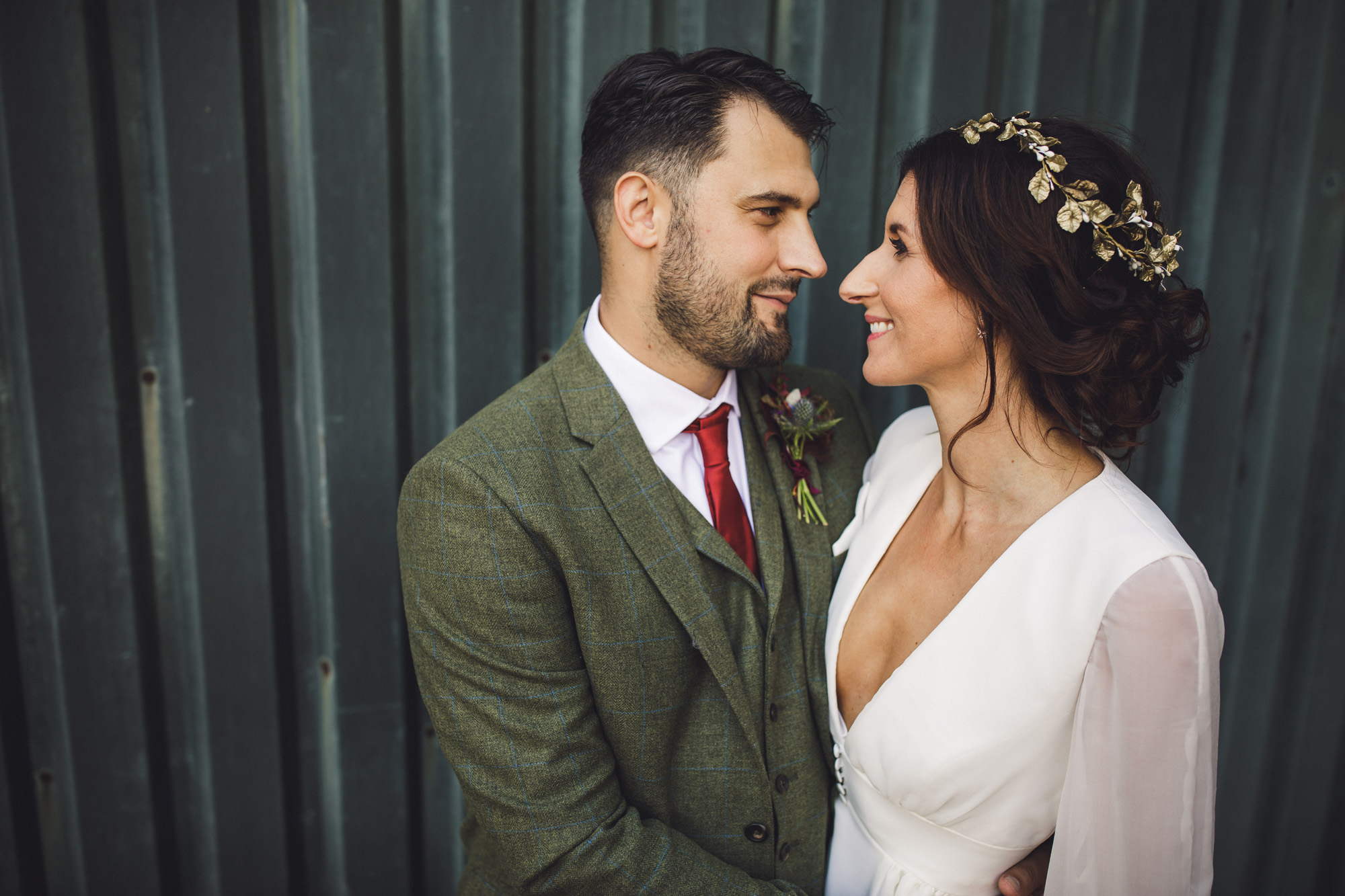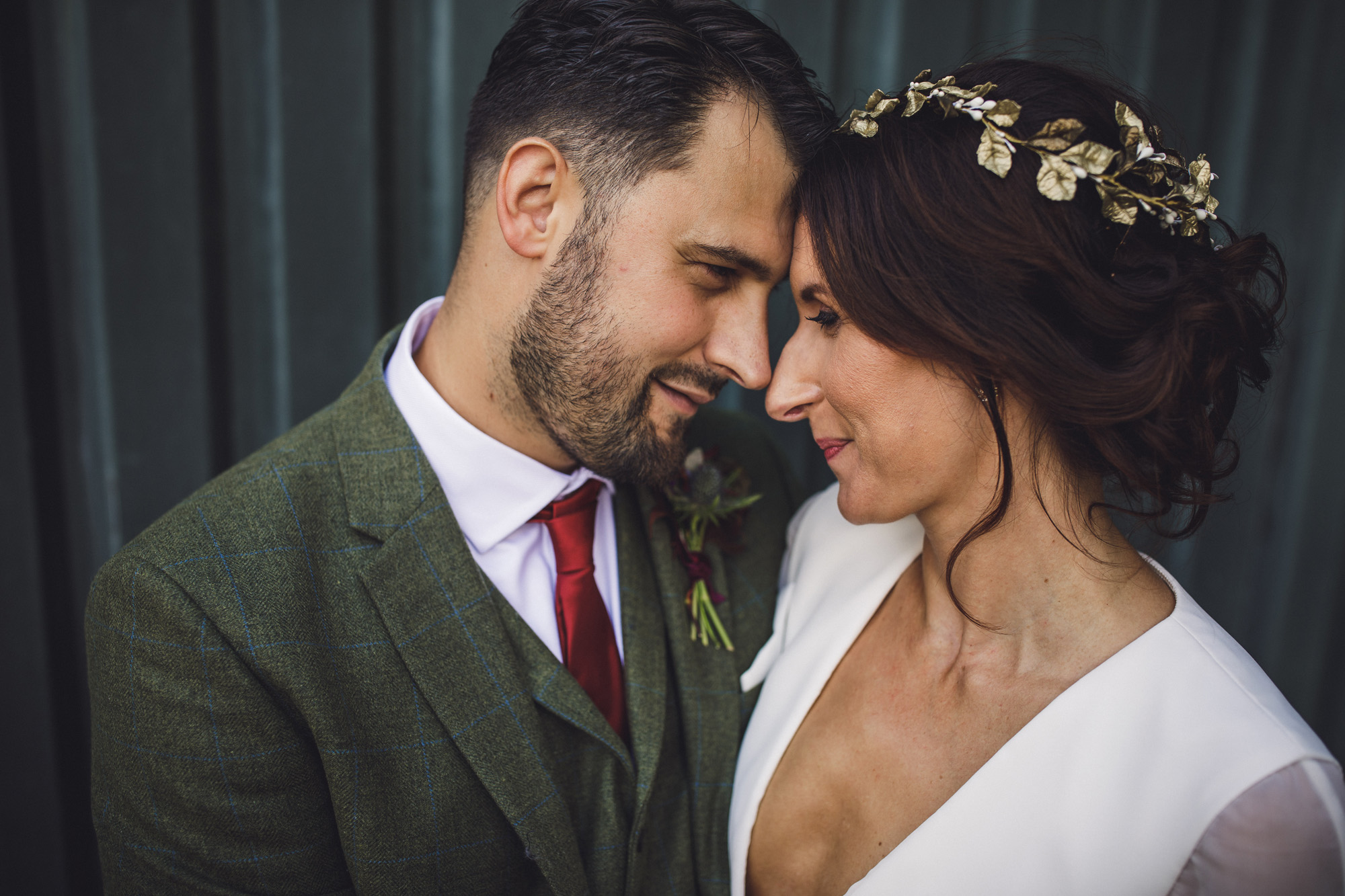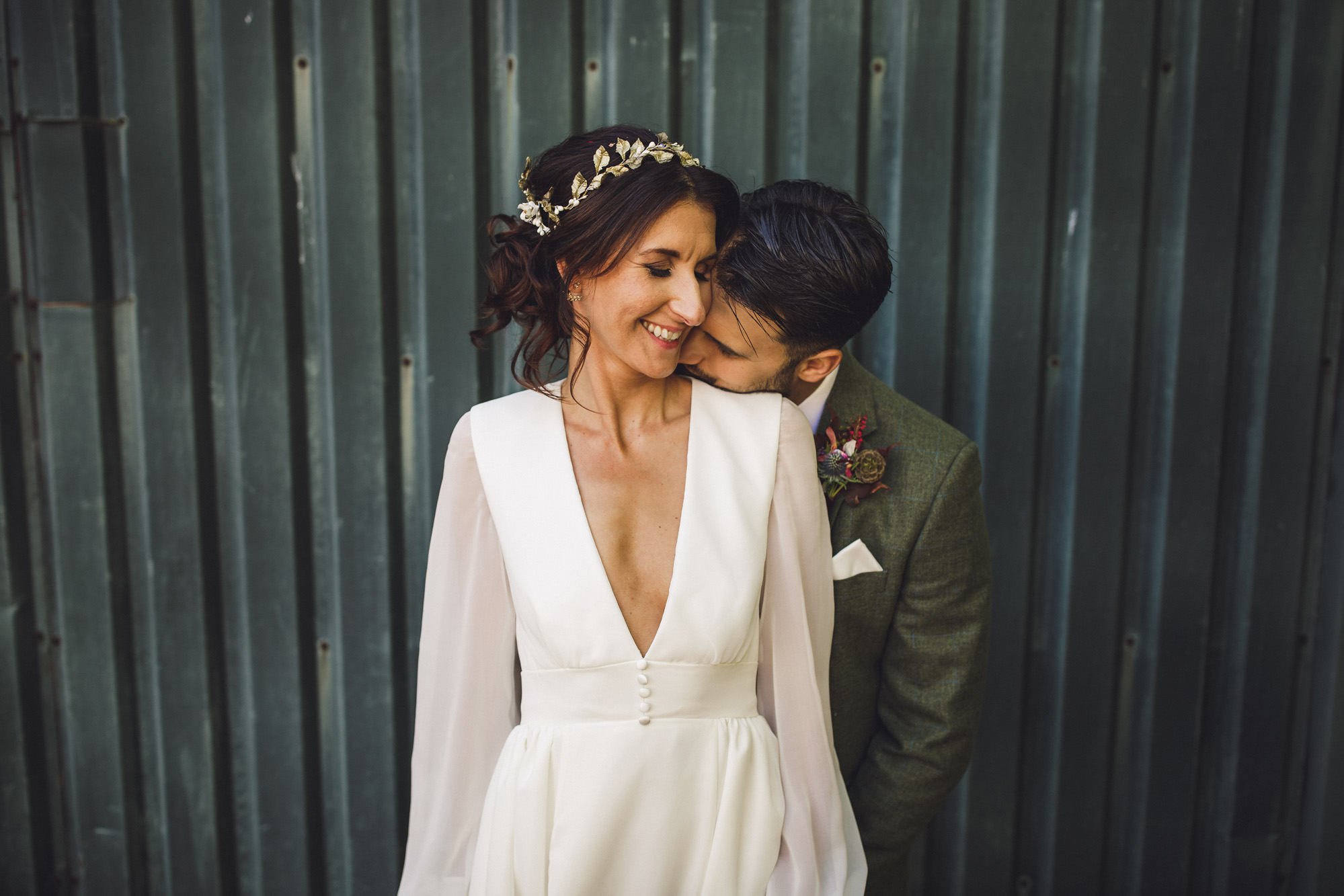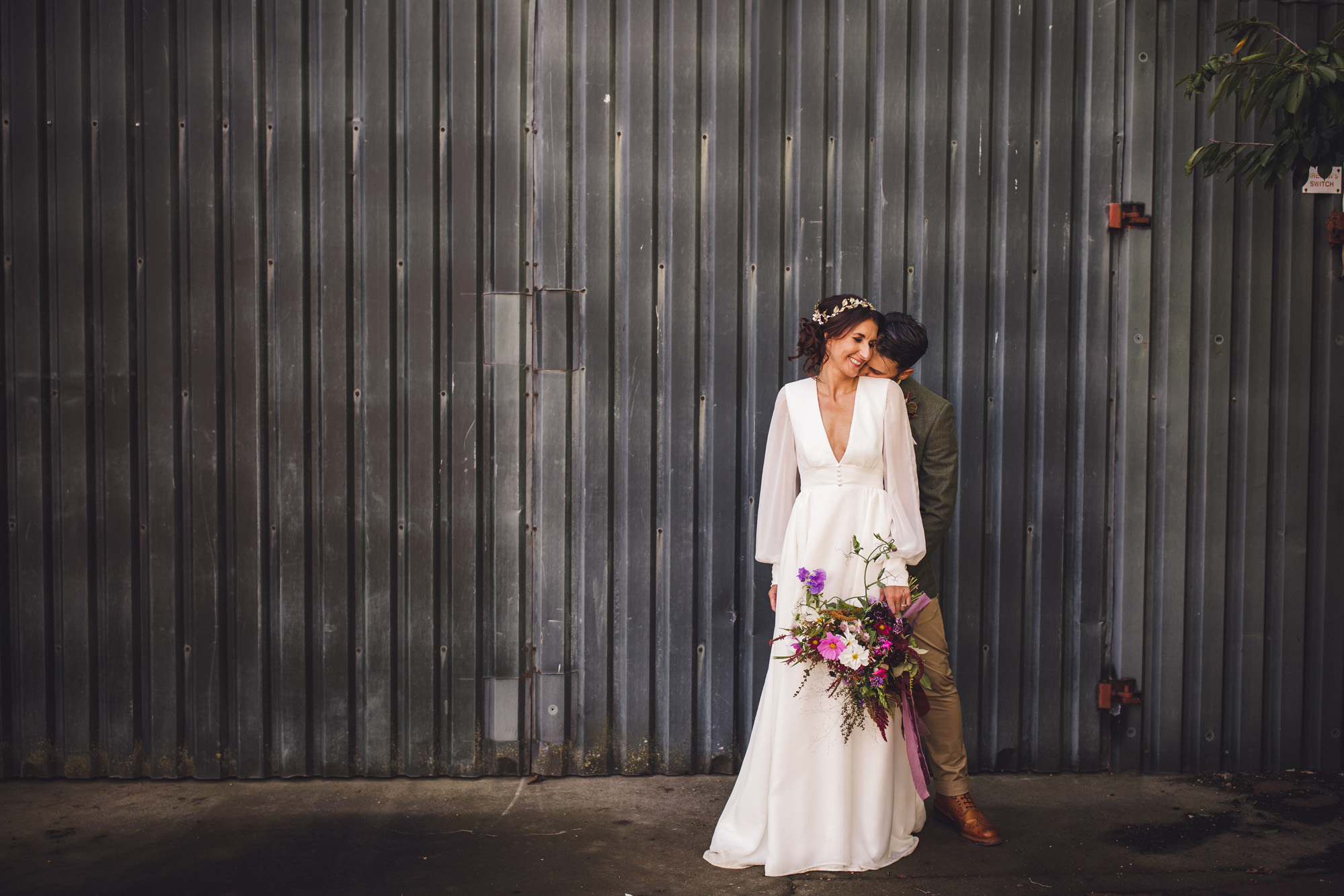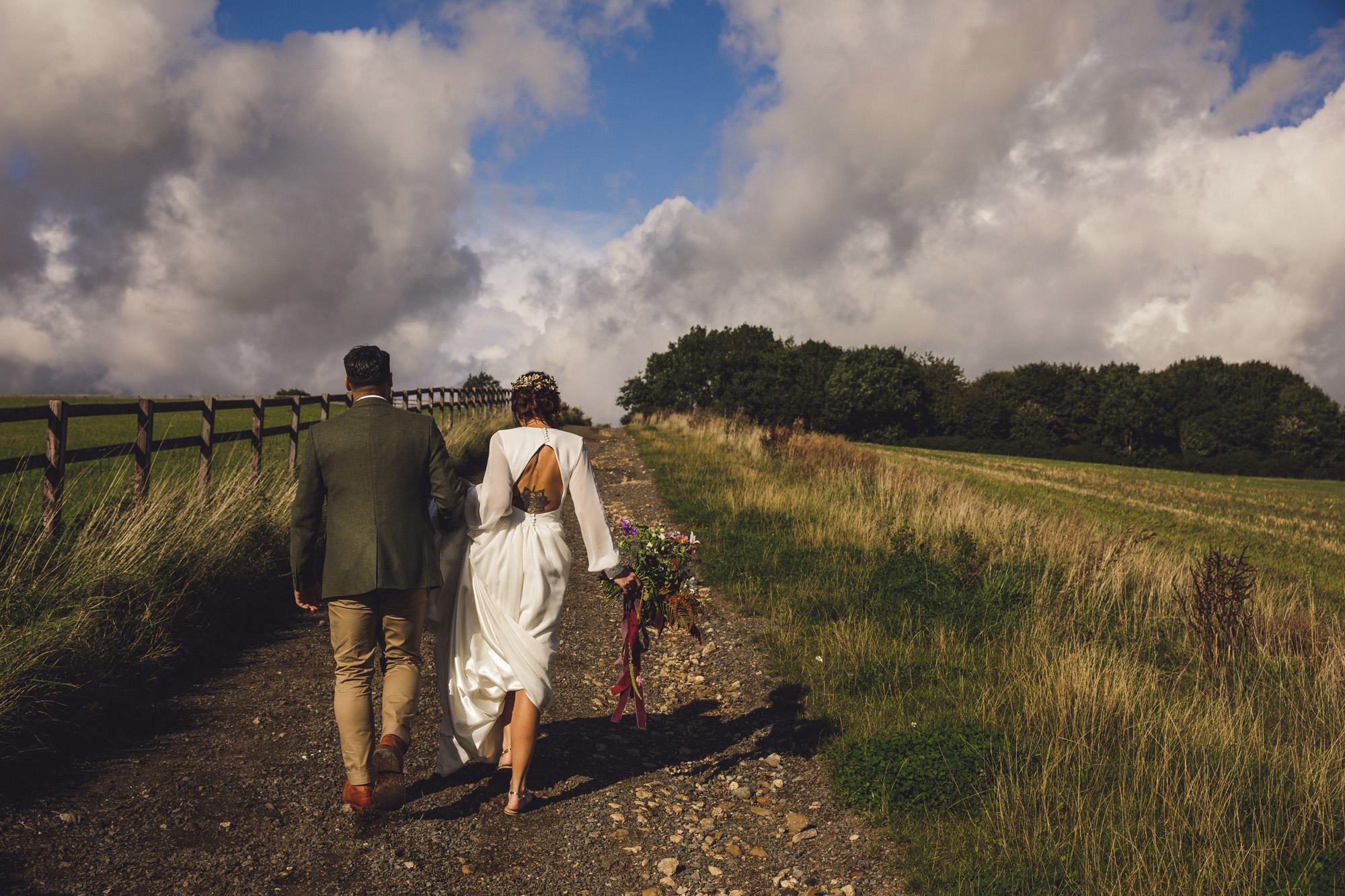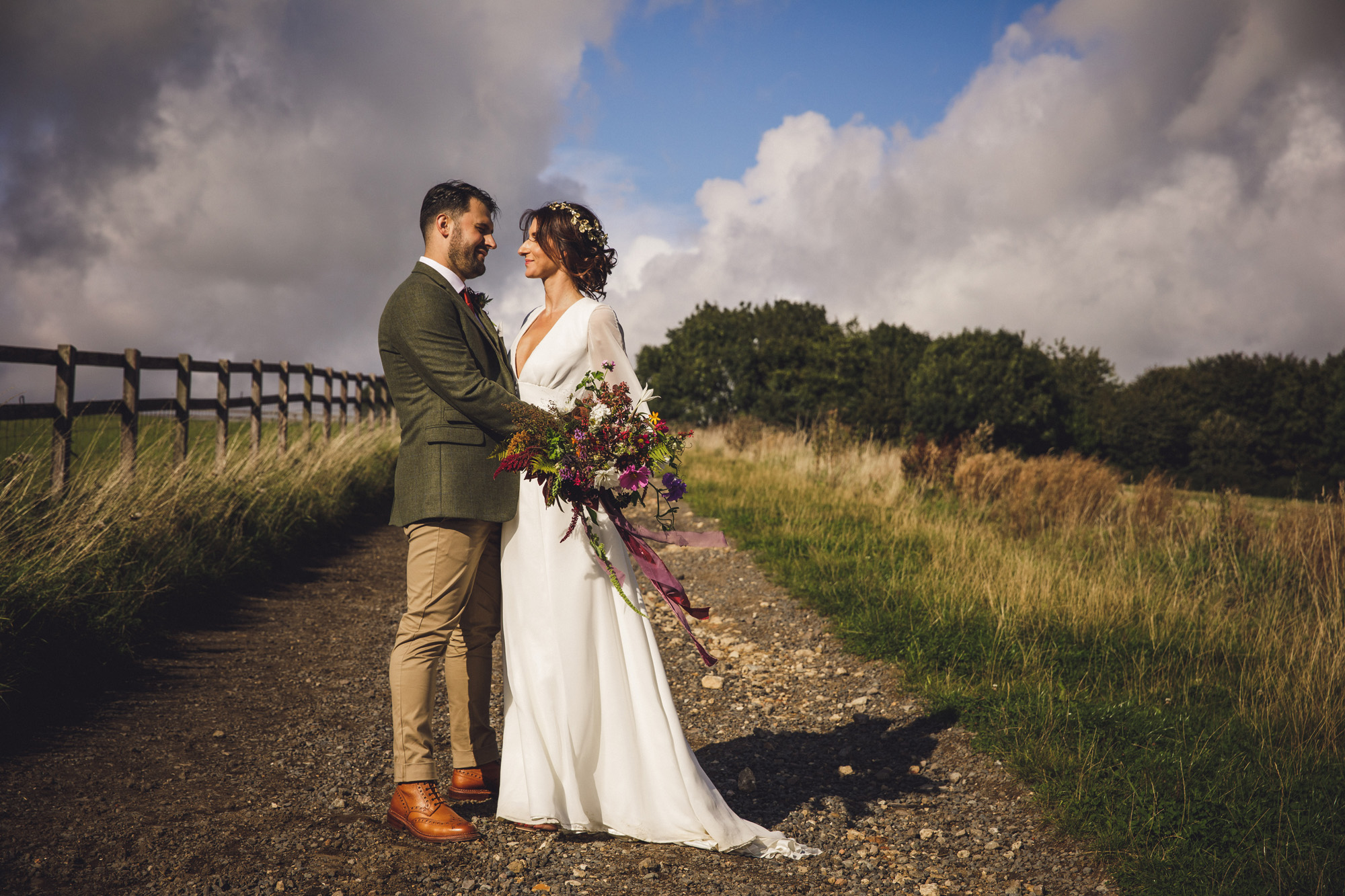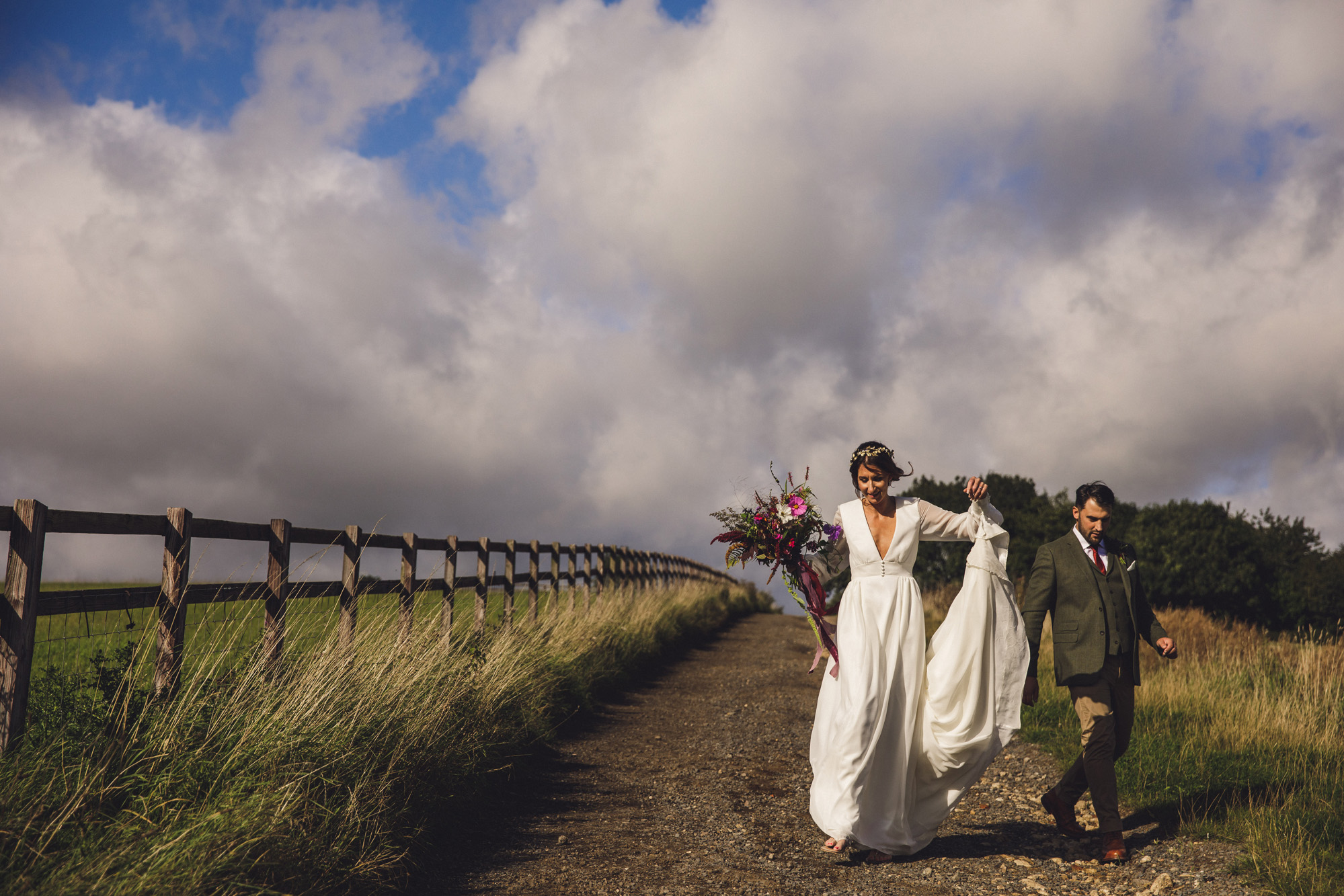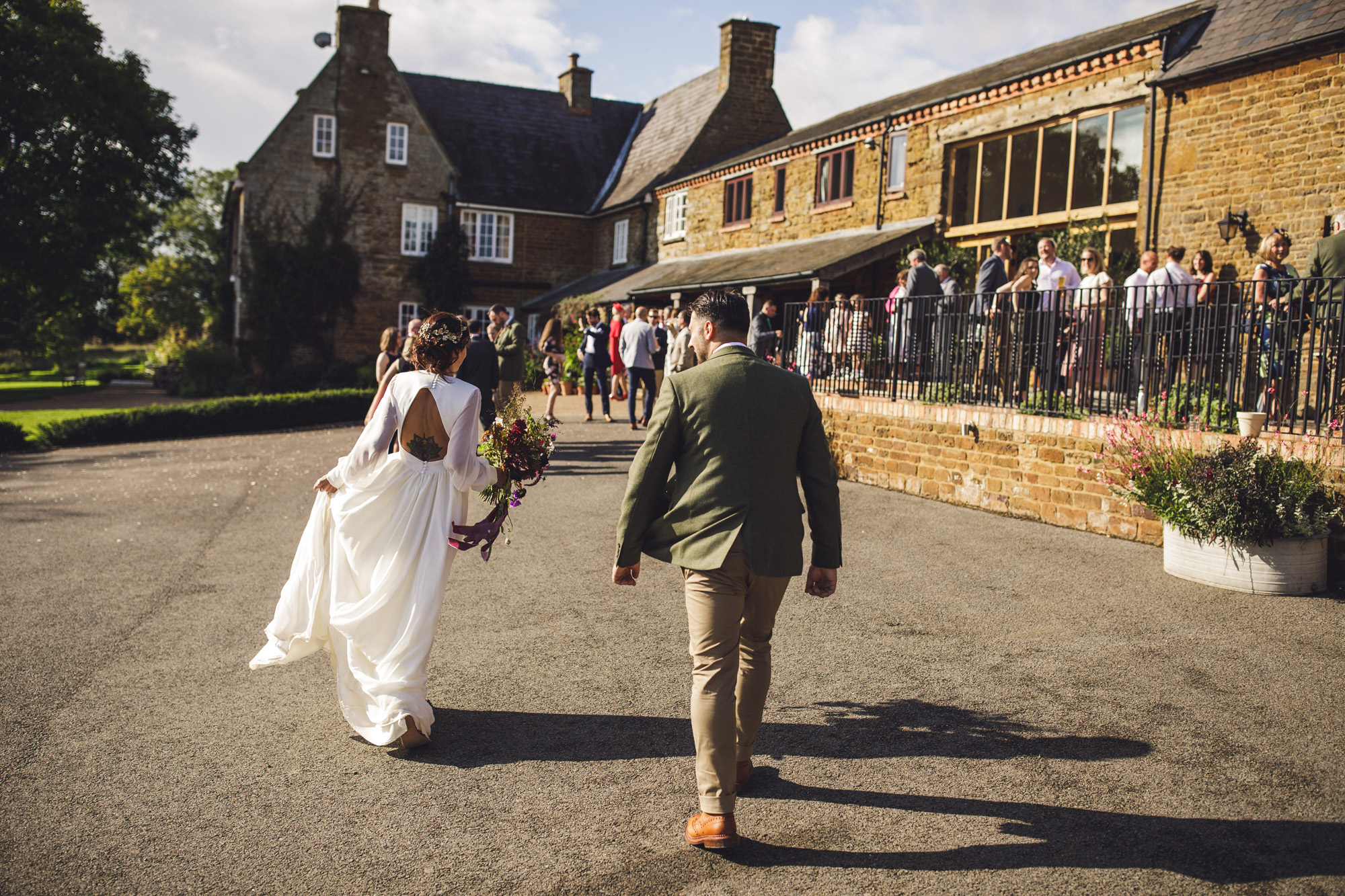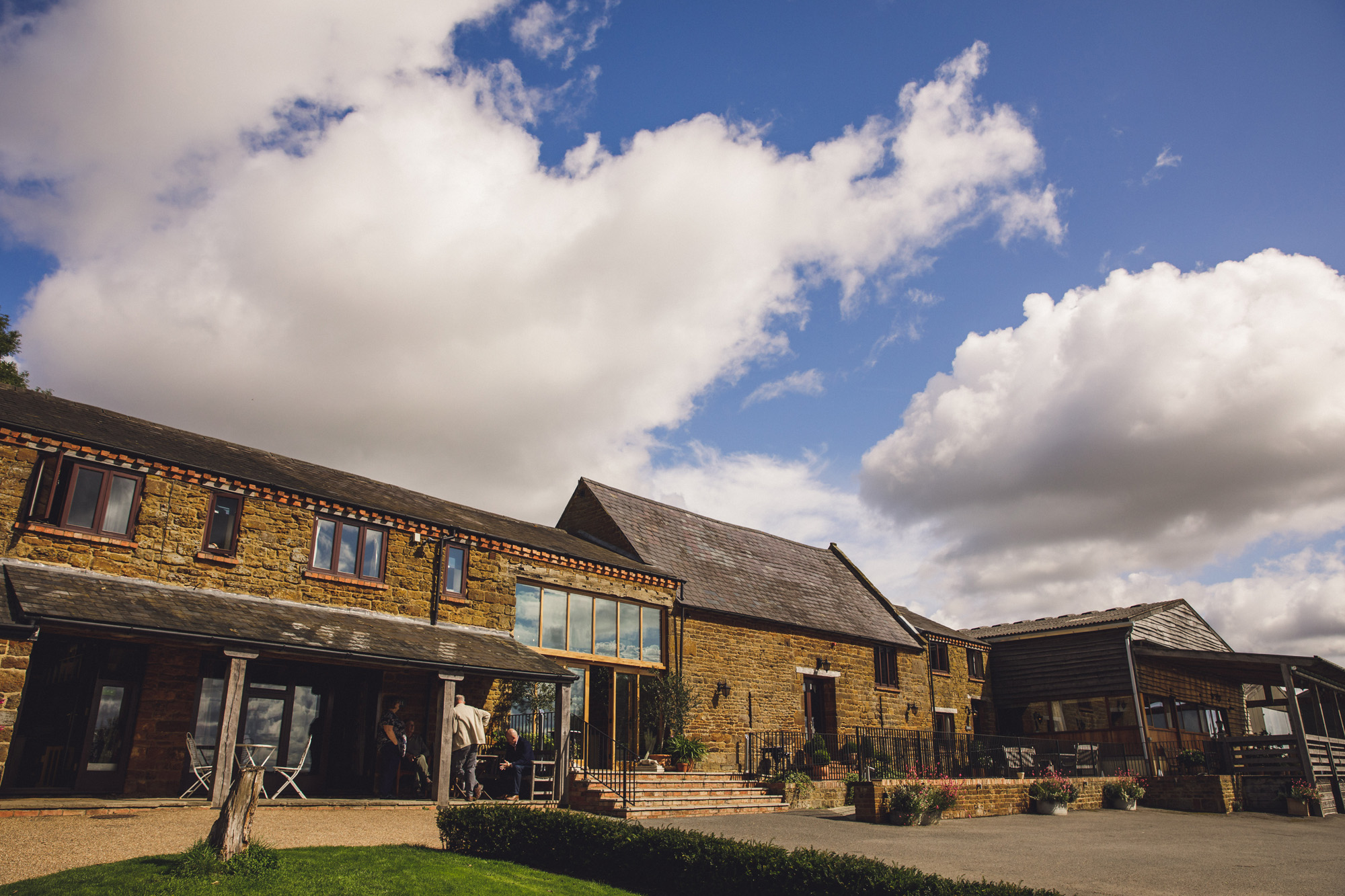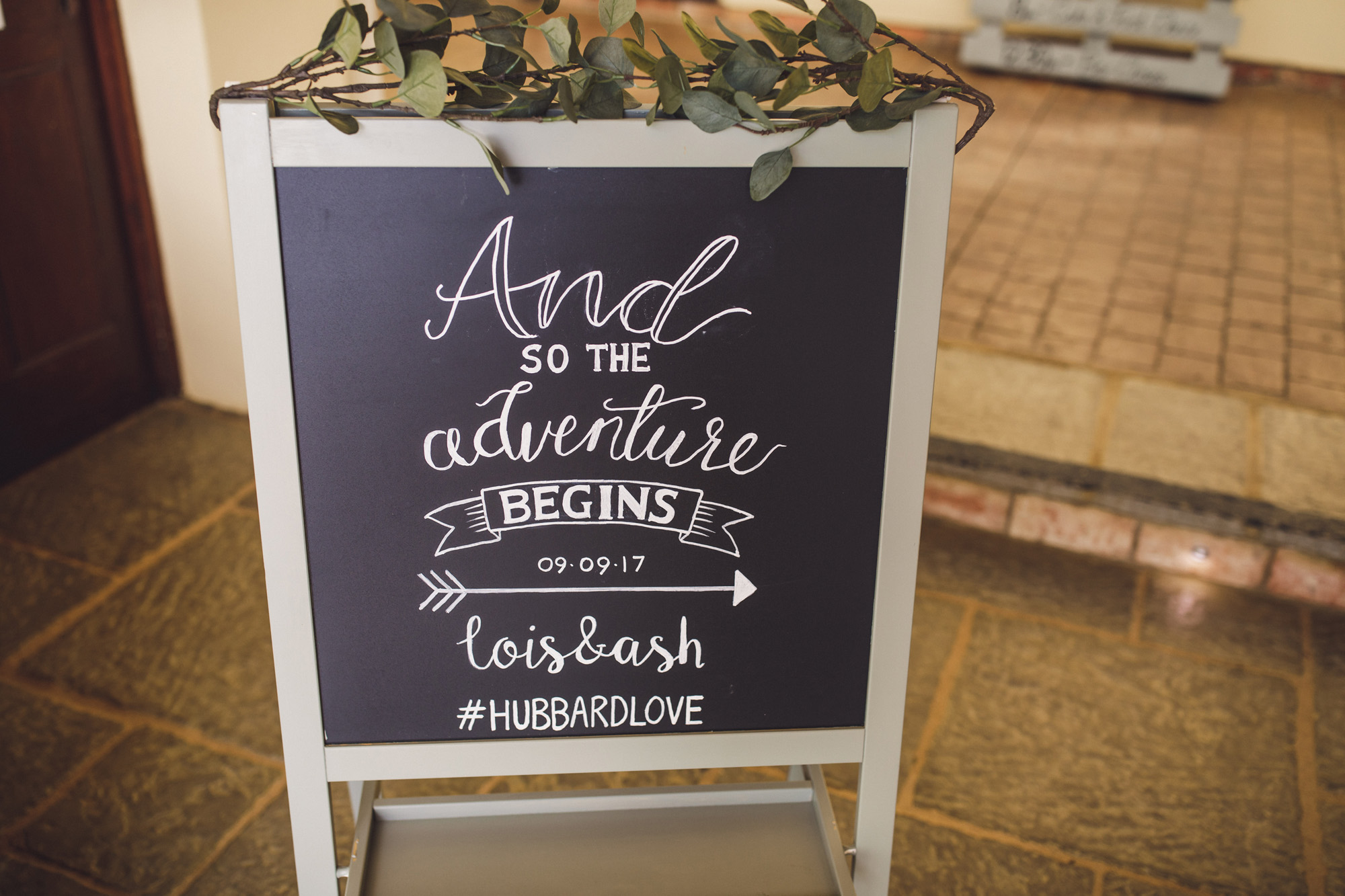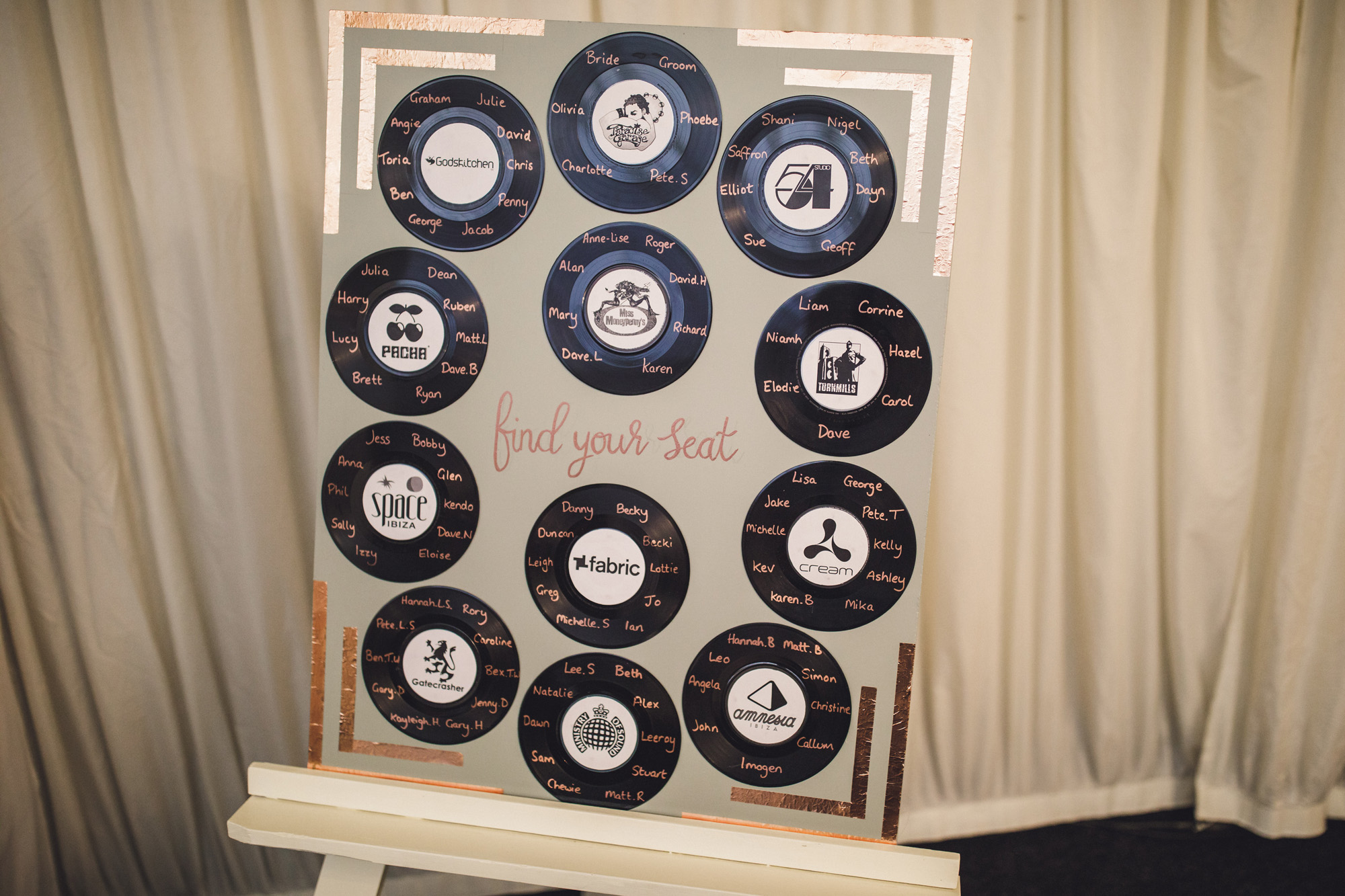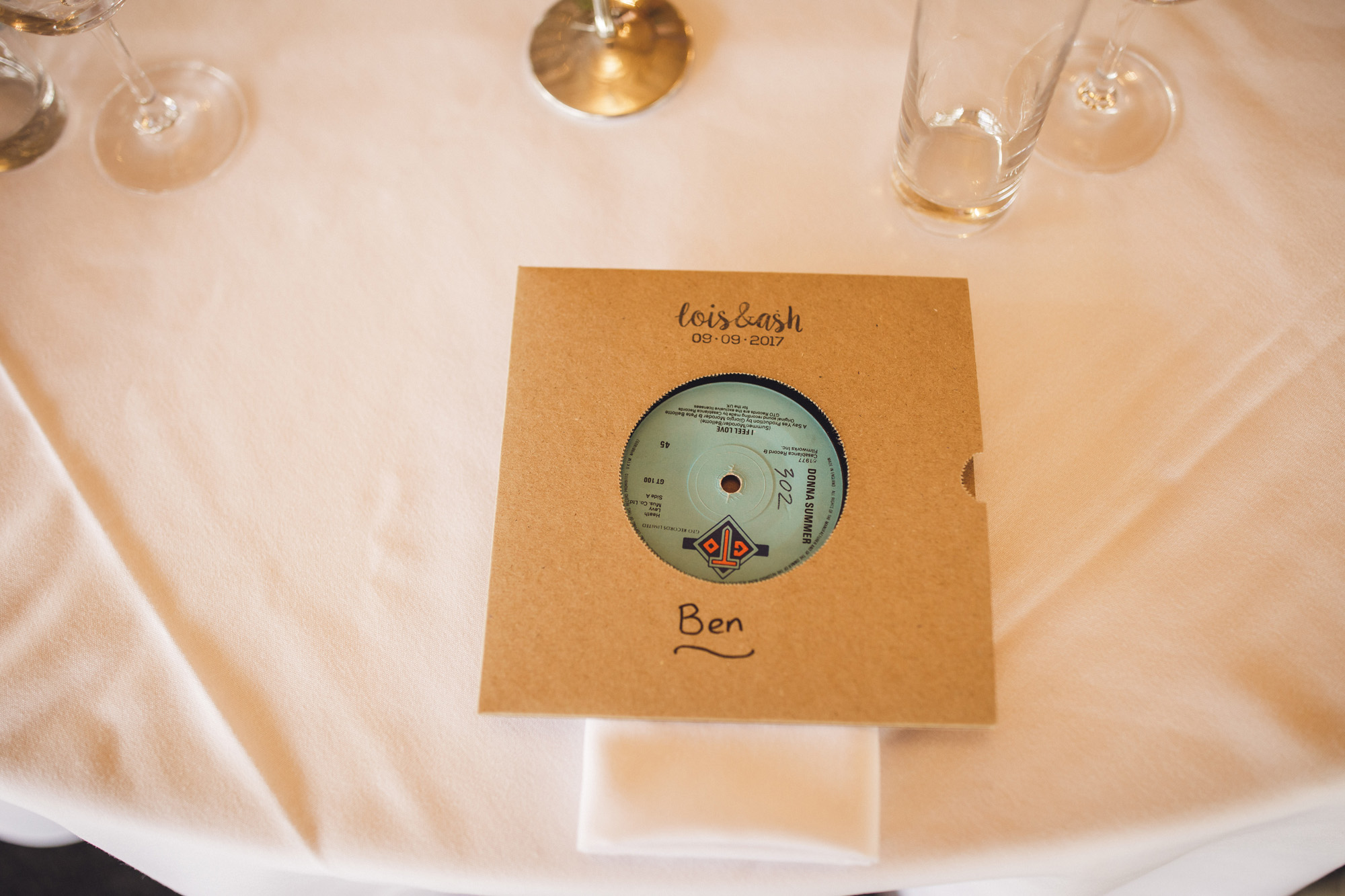 The majority of the decor was by Lois herself, including the fabulous table plan, which goes beautifully with their favours.   Invitations were designed by bridesmaid Michelle, while Lois and Ash did the menus and record sleeves, which doubled up as place-cards.  Guests were also invited to spread glitter far and wide!
"Our wedding favours were a real labour of love.  With music being a mutual passion of ours we decide to give 7" records as favours.  This developed over time as we then decided to hunt down records that reminded us of each guest and then at the last minute we bought a suitcase record player to use at the venue.   After wondering whether we could pull it off, it was one of the best parts of the day as everyone was queuing up to play their records!  It was a great talking point and made our meal very informal and relaxed with everyone milling about and getting up to spin their tunes."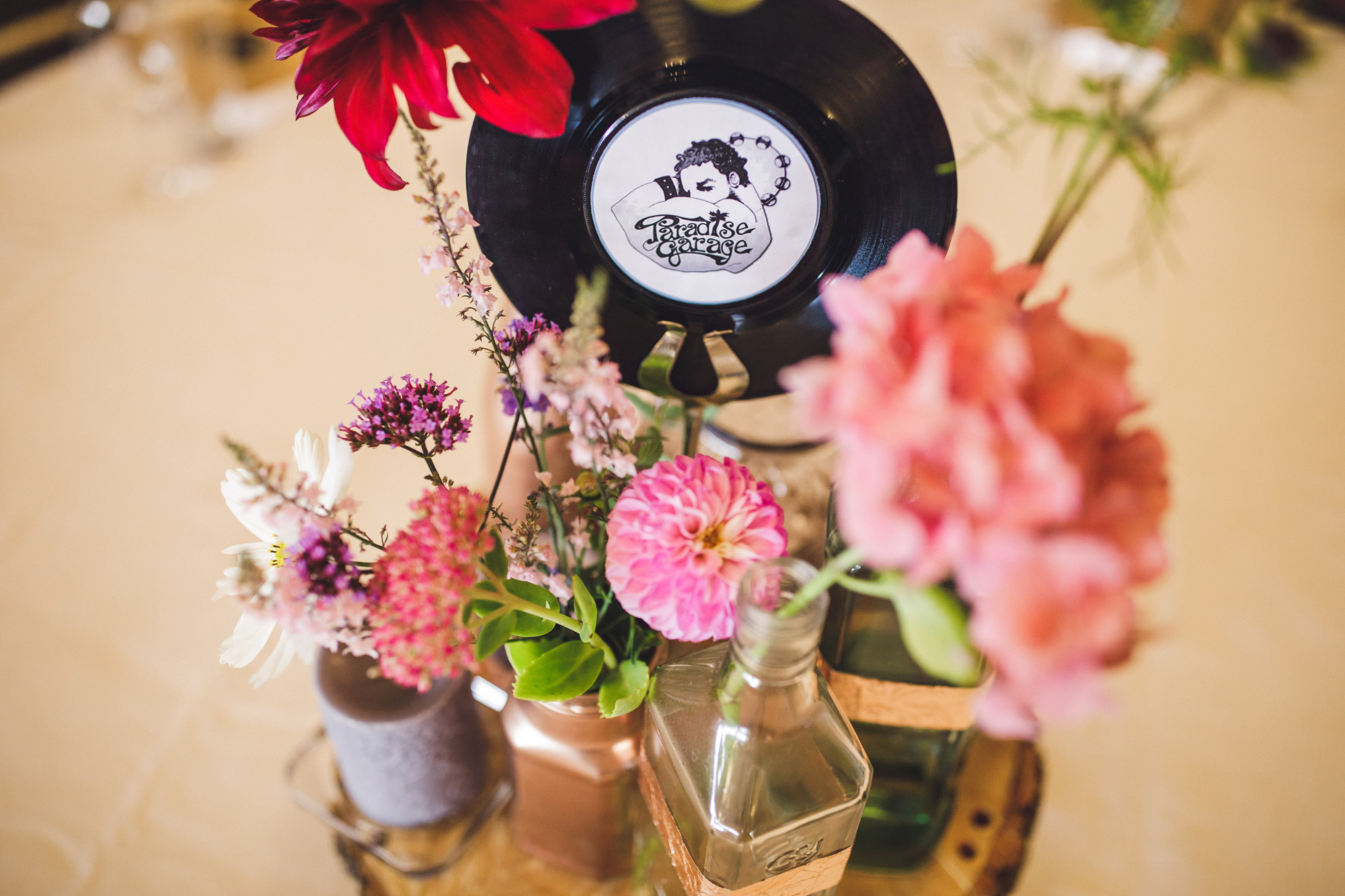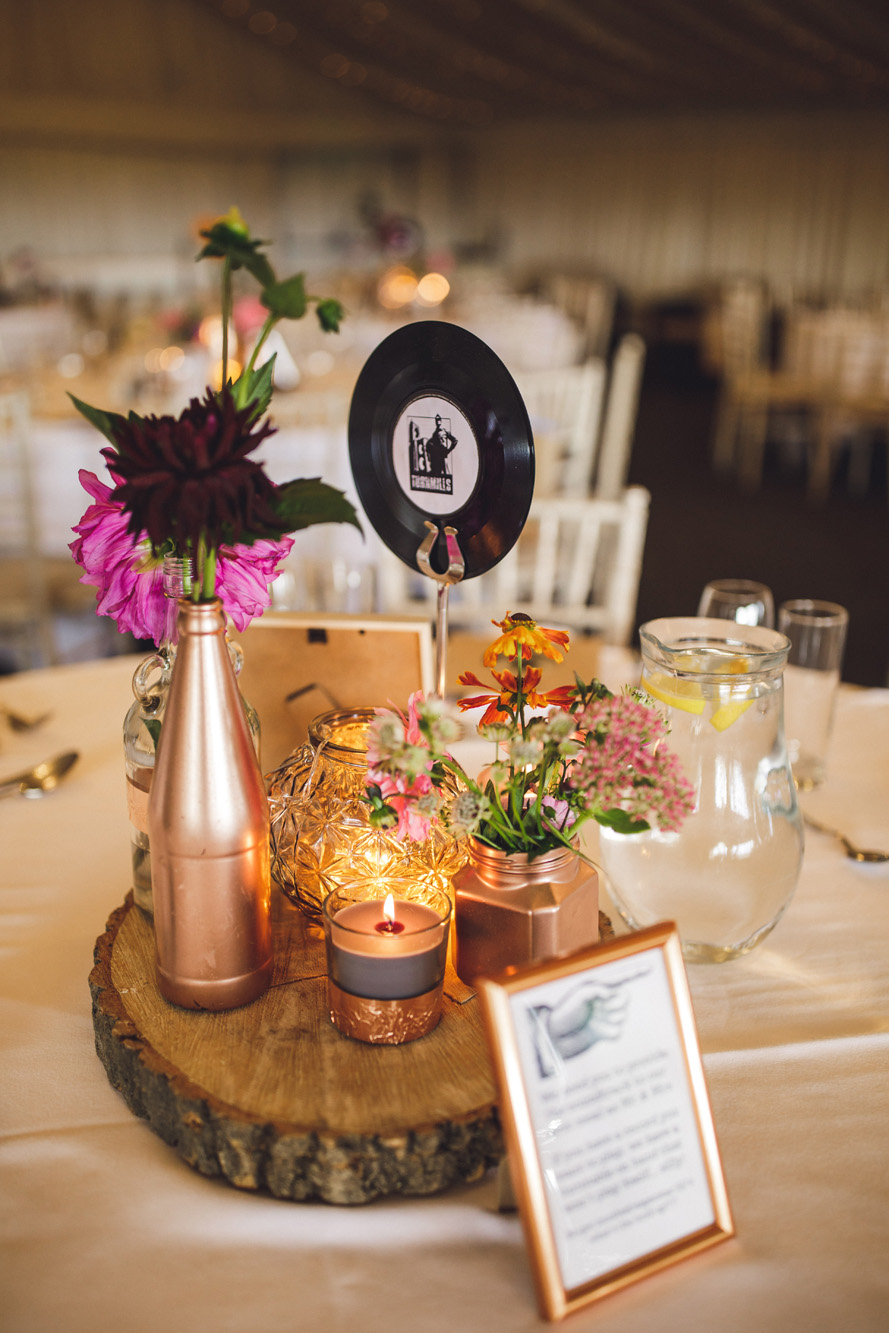 "Our cake was made by Ash's mum and was a lovely way to include her in the planning.  It was a three tier sponge, decorated with fresh fruit and flowers and topped off with Star Wars figures as we are both fans of the films."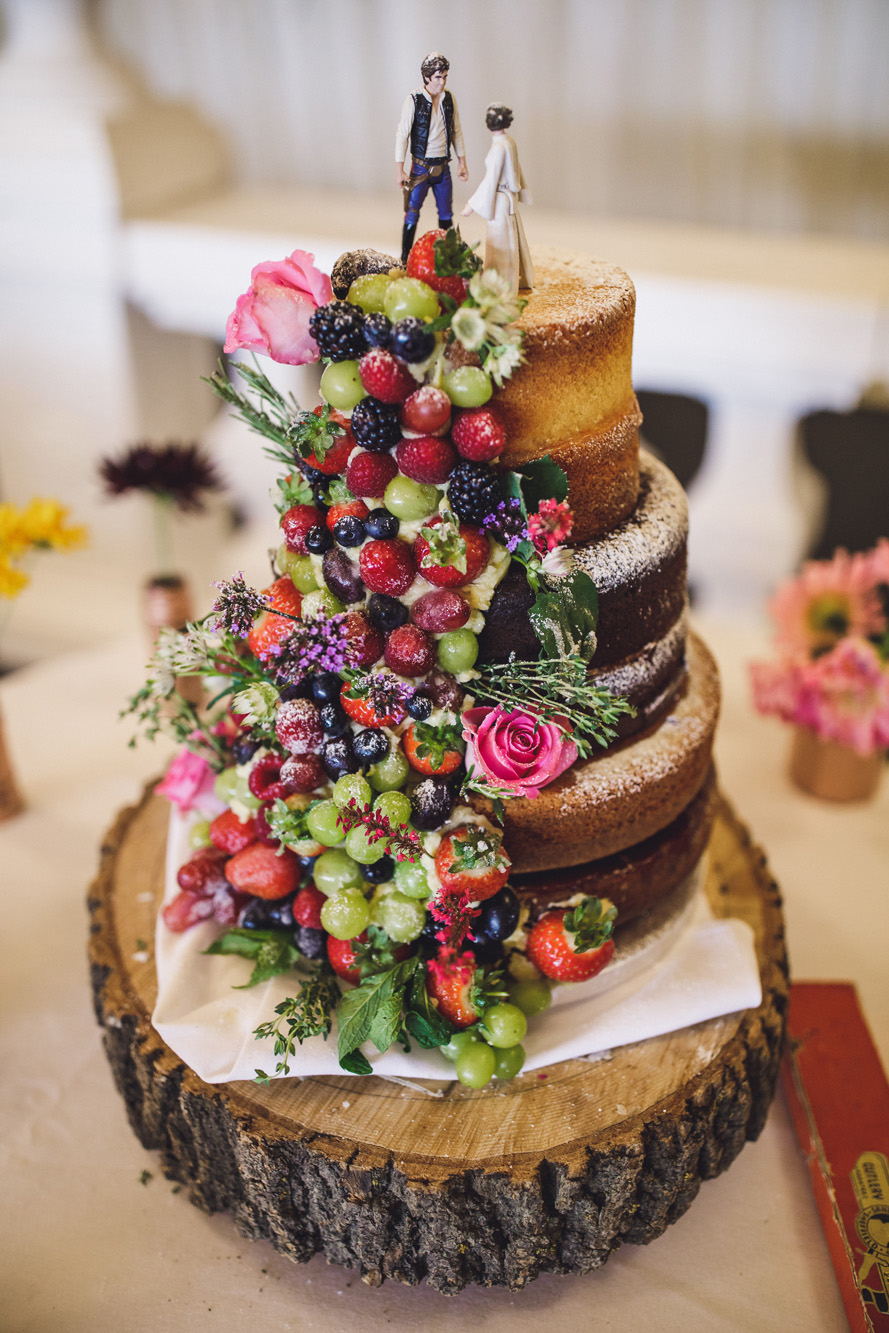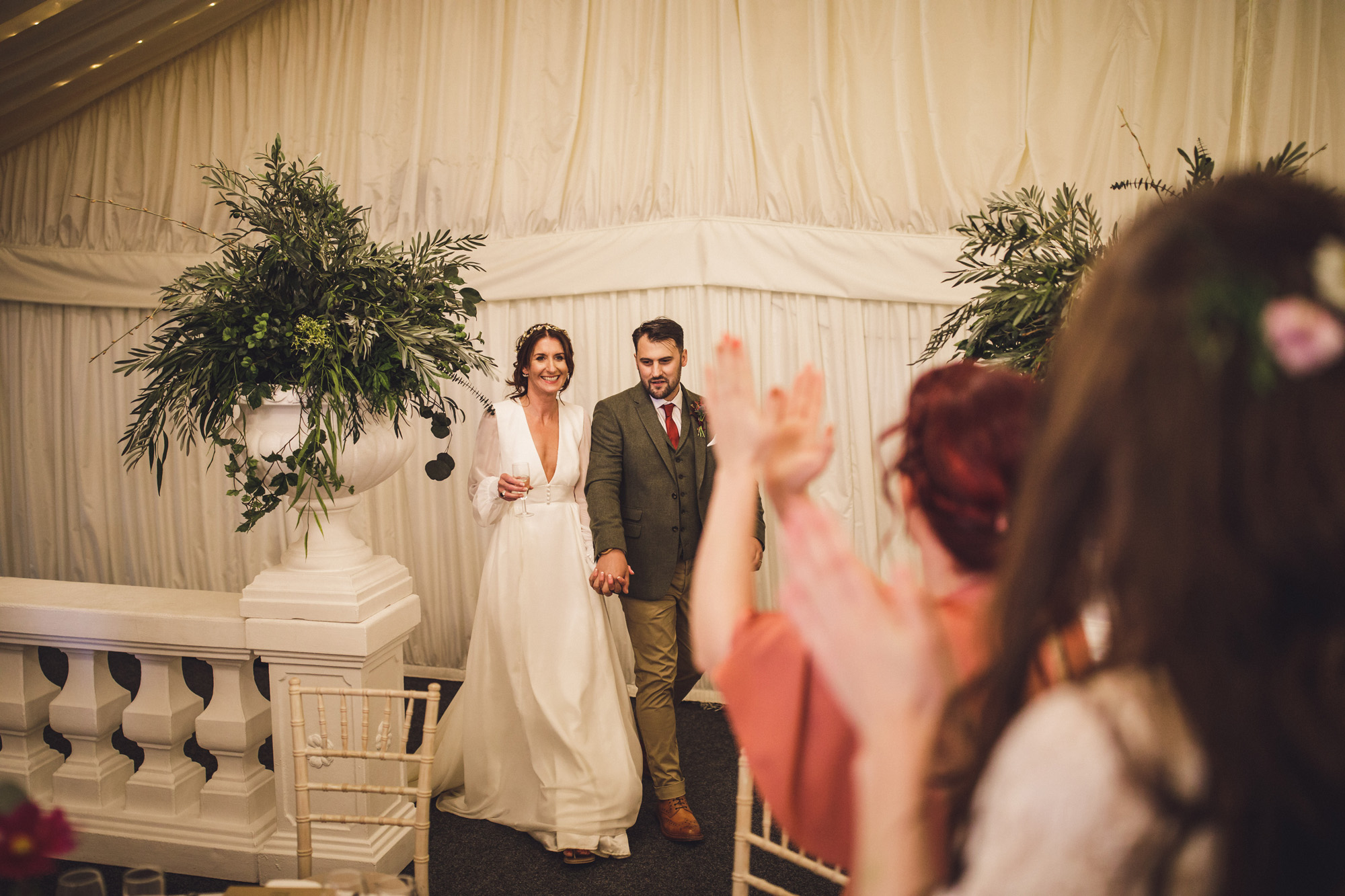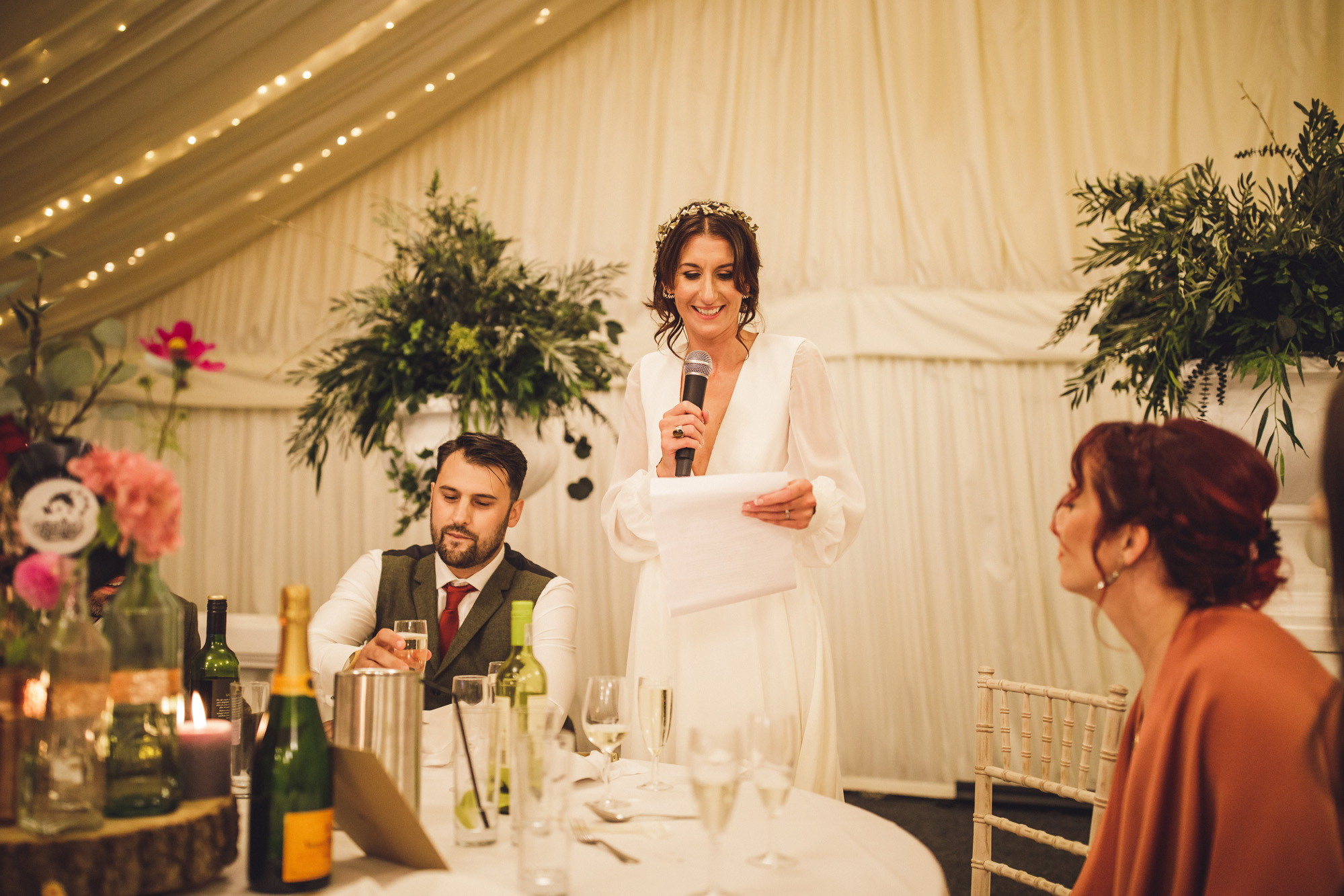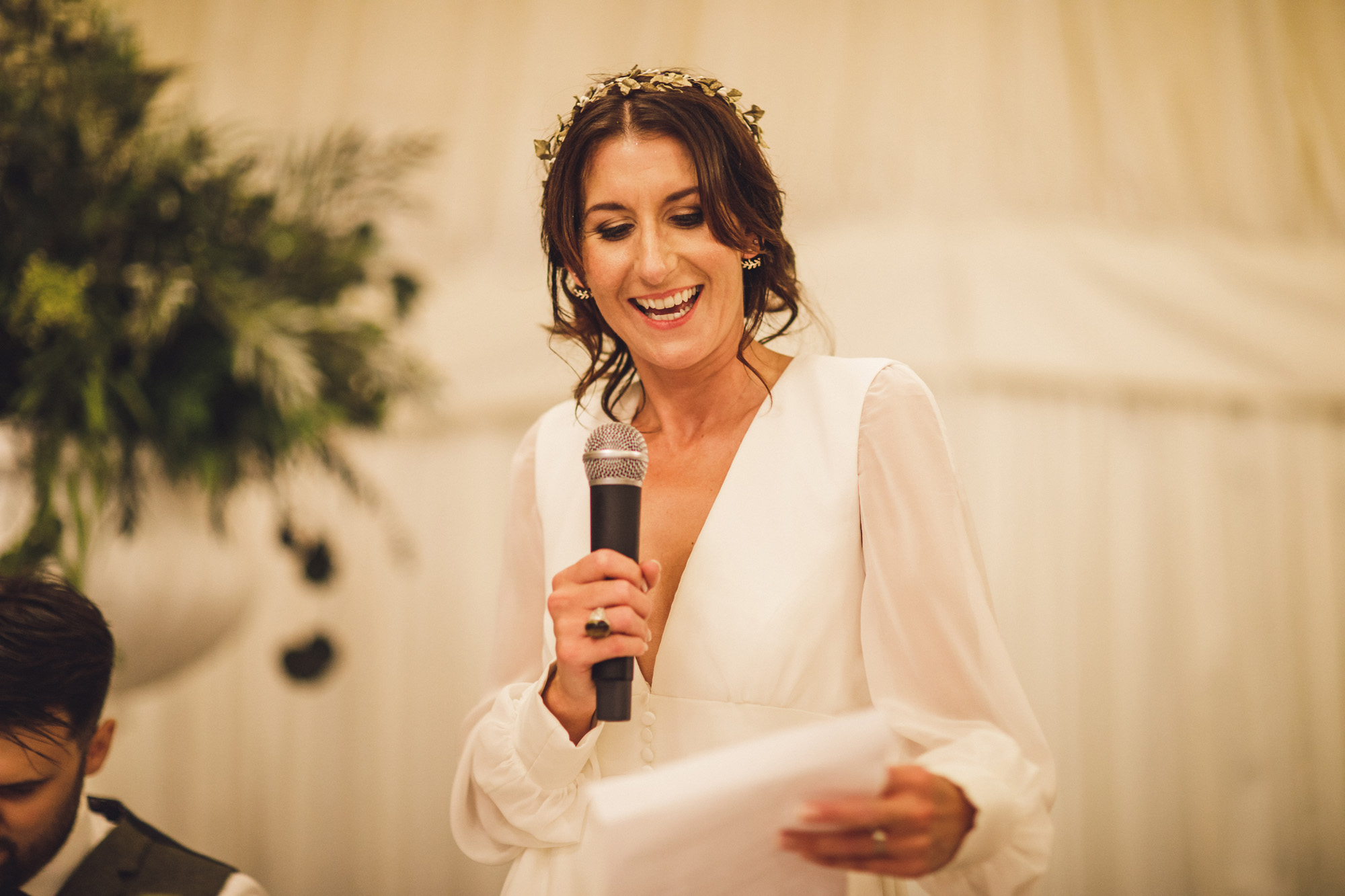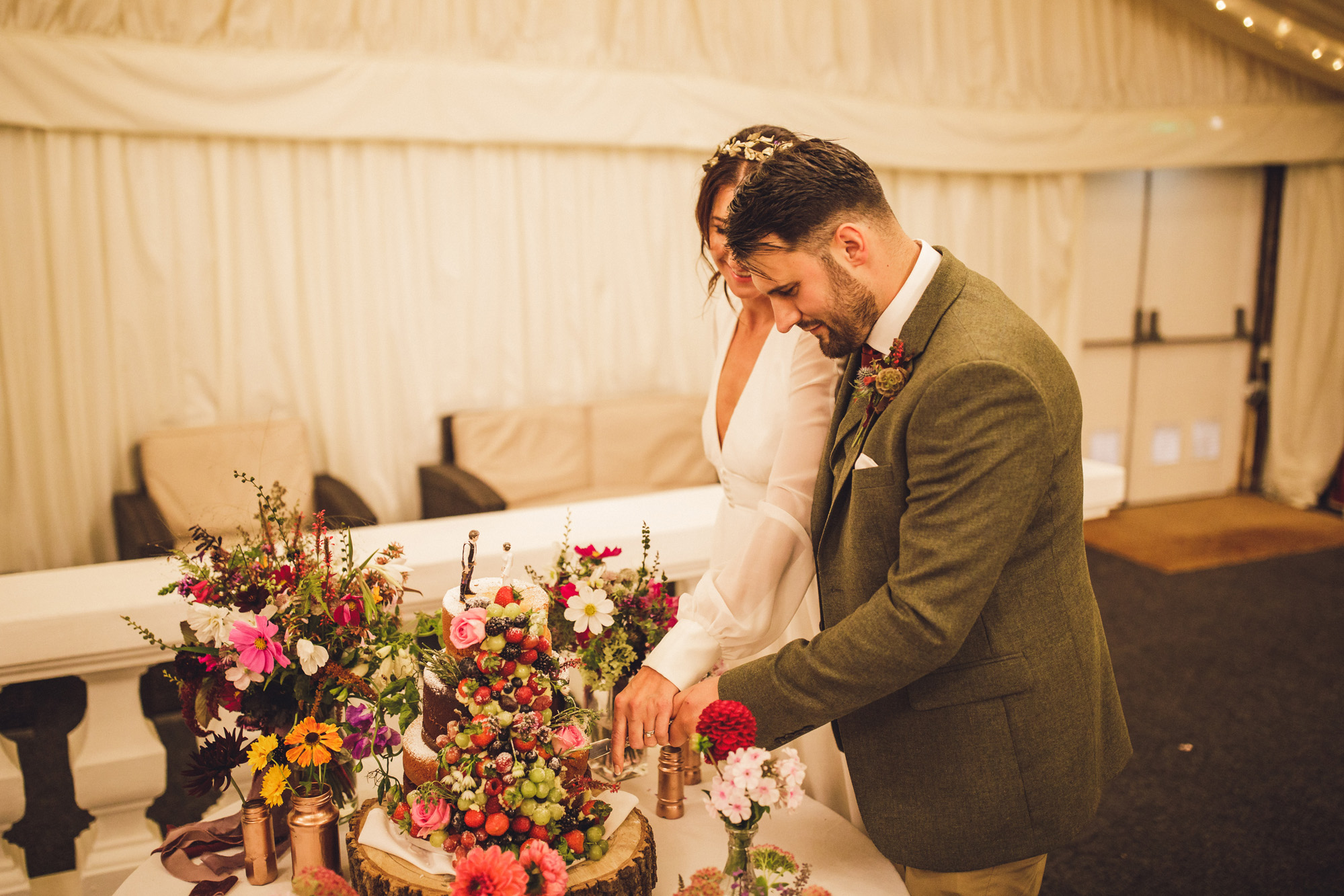 "We had so many compliments on our DJ, Discowed (who we found through Love My Dress).  As we are both avid gig/festival goers they seemed like the perfect choice.  They even managed to incorporate a Drum & Bass half hour and lots of Ibiza classics and the dancefloor was packed all night."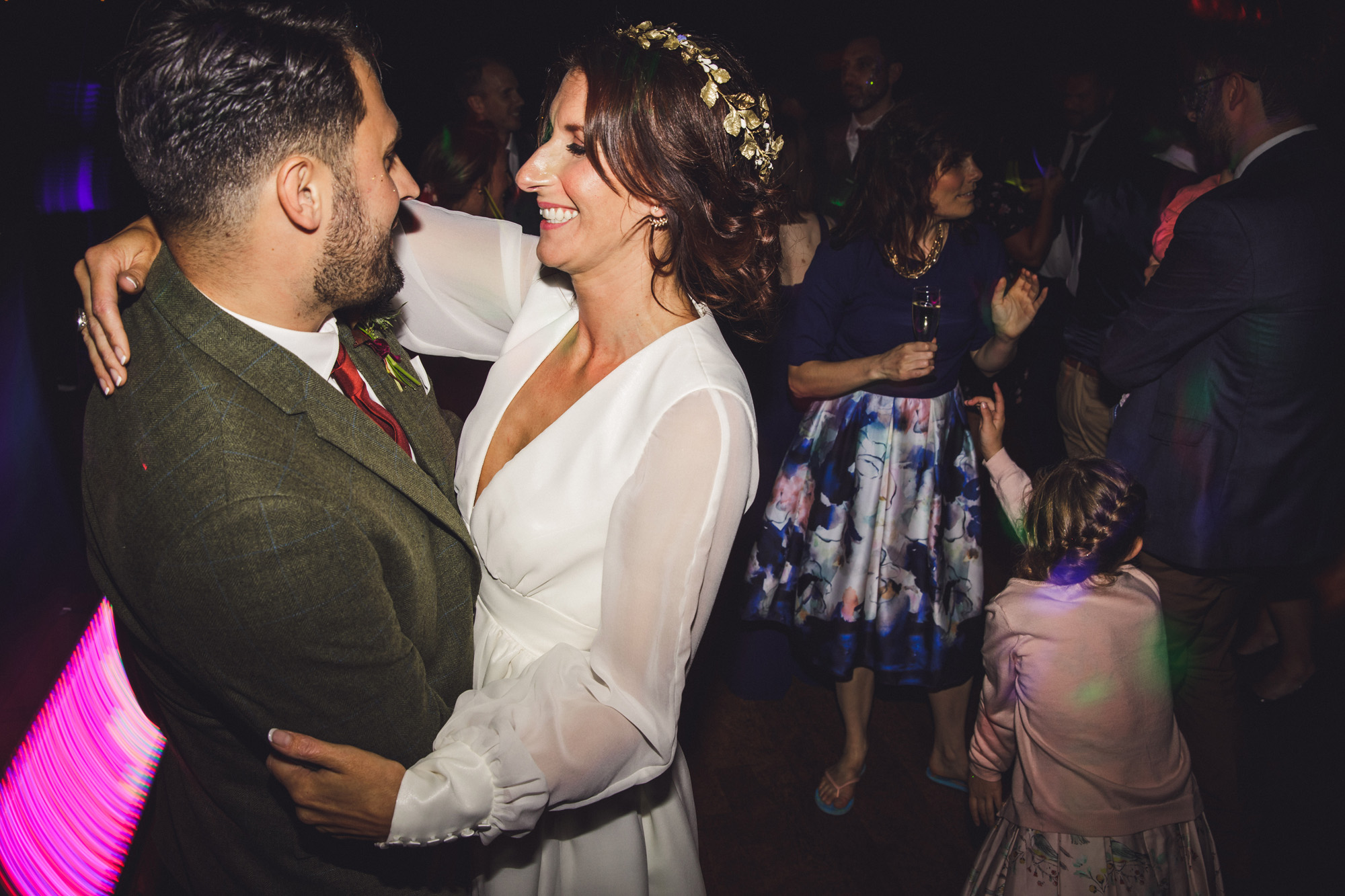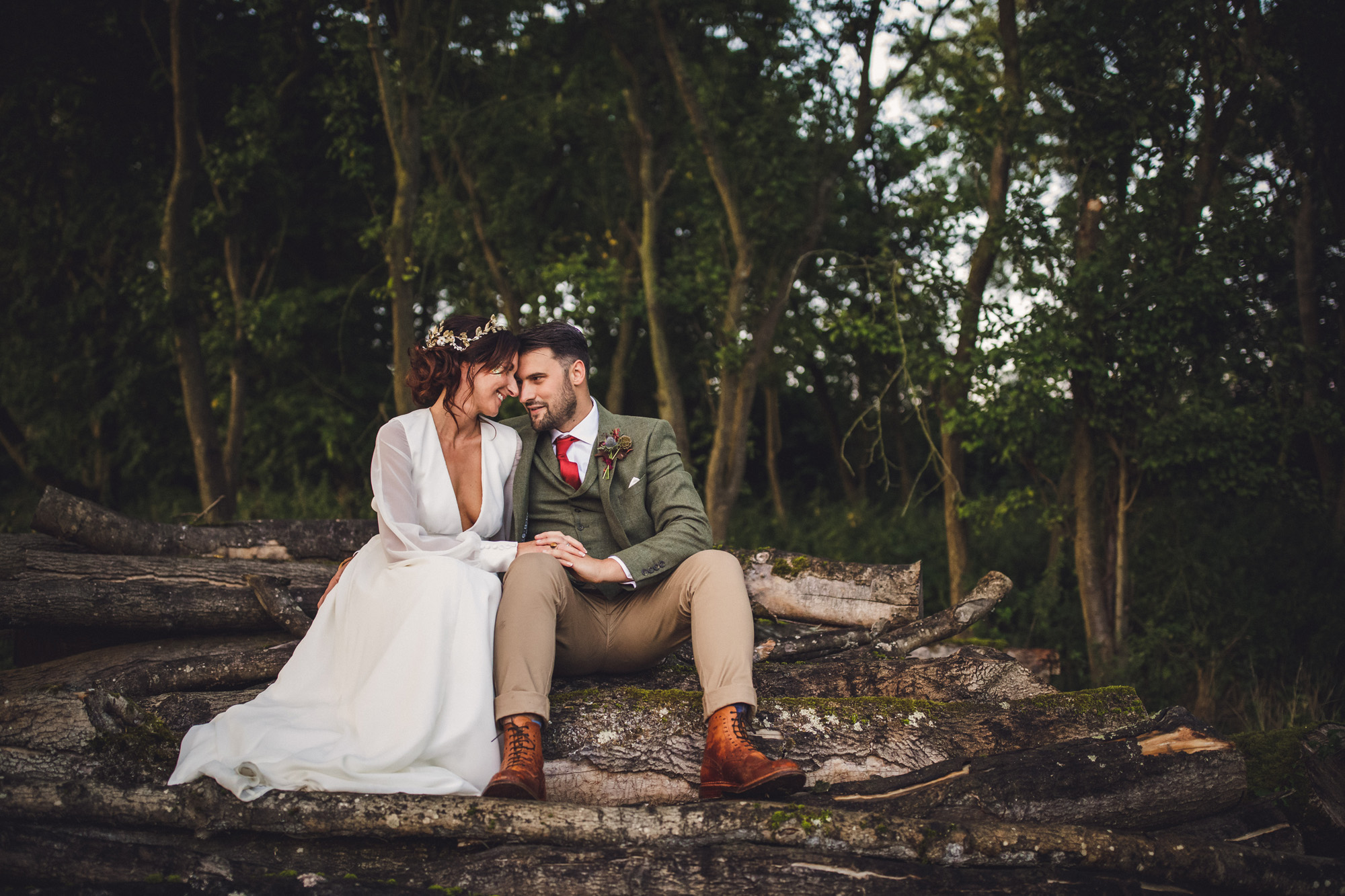 Words of Wedded Wisdom
"Stick to your gut feelings.  I had so many doubts along the way, the vinyl wedding favours was one of them. I worried our guests wouldn't really get it but everybody loved it and they really appreciated the thought we'd put in to it.
Stay true to your personalities.  As long as you have a ceremony and get married the rest is up to interpretation so don't feel pressured to stick to traditions if it isn't you."
"Make it fun.  Guests really appreciate your efforts in making it personal to them and we found that having a more informal day really worked.  Looking through our pictures and seeing smiling, happy faces is the loveliest feeling.
Don't scrimp on your photographer.
Lastly, do a speech.  This was the only part of the day where I was really nervous and I remember my hands shaking so much I couldn't read the paper.  I'm so glad I did it though and it was very well received.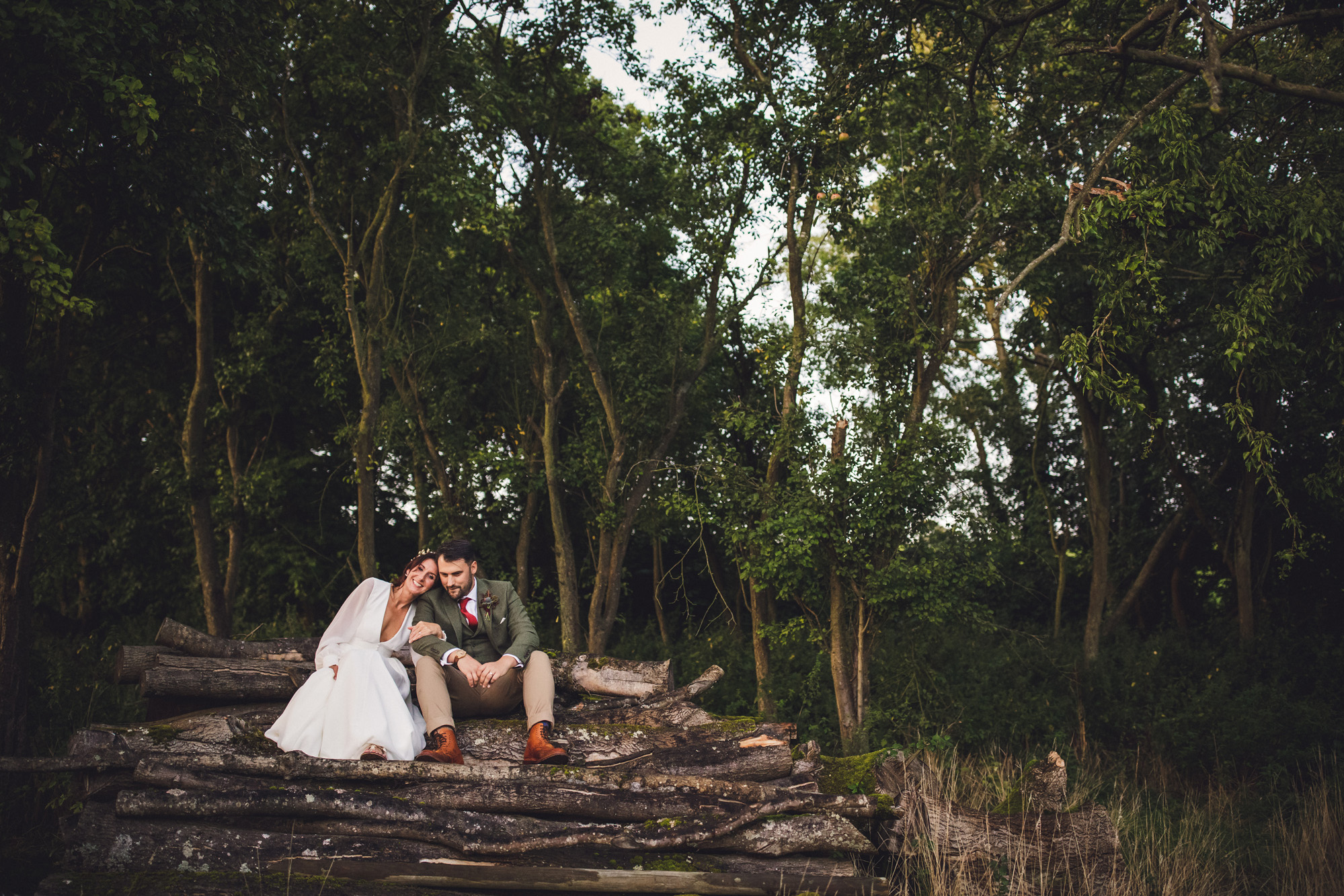 So many thanks to Lois and Ash for sharing their beautiful day, I hope you love it as much as I do.
Much love,
Shona x