Good morning lovelies! Today's wedding is a real treat and was hosted in the couple's own home no less. It's one of those weddings where every time you look through the images, you notice something you hadn't spotted before.
It's a gorgeous mix of wild blooms, vintage touches and personal preferences and is a real inspirational day for any vintage bride-to-be's who want a truly personal experience with a mix and match vibe. So let's get cracking, you may want to grab a cuppa before sitting down for this one. Today's bride and groom Amanda and Ed said their I Do's on 26th August 2017 at their own home; a baronial mansion in the Argyll countryside, Scotland called Drumhead Estate.
With the roaring success of their own wedding day and it going without a hitch, the pair have now decided to start hosting others weddings at Drumhead Estate too. A beautiful and sprawling mansion, it boasts gorgeous surrounding fields of wheat, as well as woodlands and land large enough to host tipis and marquees; the perfect Scottish wedding retreat.
"In 2013, after 20 years in London, we moved up to Scotland. Ed is Scottish and we wanted our little girl Gracie to grow up in the countryside. Always up for an adventure, we took on this incredible house that needed a lot of work with lots of plans in mind, including the idea of hosting weddings. So when Ed proposed, the choice of venue was obvious. For us, getting married at home also made the wedding incredibly special and intimate."
Images by Steve Fuller

Amanda recruited hair stylist Alanna Gemmel from Anais Bridal to create her gorgeous soft waved up do and friend Fiona for make up.
"Alanna was absolutely lovely. We did two trials to get it right, the second time using a few hidden extensions which I never thought I would have used. I wanted a relaxed up do, not too 'done' and no backcombing! My friend Fiona used to be a make up artist and I really wanted a natural and fresh feel. I don't wear much make up normally and we also did a trial."
"We were married in the morning room in our house, had an oyster bar in the old servant's kitchen, a champagne reception on the lawn, and a traditional pole marquee with wooden floor in the garden. As we have a bit of land, including a beautiful walled garden, quite a few of our guests stayed here in camper vans, tents and the gate lodge."
The couple first met when Amanda hired Ed on a TV job in London 15 years ago. Ed eventually proposed whilst making a film on Everest via a call made from the summit in May 2016.
"Getting married had never been a big deal for us but after having our gorgeous girl and buying the house together, it felt like the time was right and that celebrating our relationship and new lives here would be a lovely thing to do."
"We could also do things very much our own way. We had the perfect venue and we could get legally married at home (which you can't do in England)."
"Ed is an adventurer and documentary film-maker, so it was very fitting when he called from Everest to propose."
Amanda and Ed once again got a little help from their talented friends when it came to the wedding stationery, as well as using Feel Good Invites via Etsy to make their cream and gold invites.
"A friend made the beautiful hand-drawn map for us and we had these printed up on cream hand-made paper at our local printers. We folded and tied them with gold thread and finished them off with a gold wax thistle seal. Ed suggested printing the RM Rilke poem on the back, which we'd considered as a reading but couldn't find a place for in the ceremony. We wrote the place cards in gold pen on brown luggage tags and threaded them through twine on linen napkins, which we finished off with herbs from the garden!"
With a vintage style dress in mind for the day, Amanda researched into all of the vintage wedding dress shops in the country but after discovering there aren't that many, with most in London, she focused her attention there.
"The first shop I went to, House of Vintage Bride in Clerkenwell, was where I found my dress. I tried on four or five dresses but the lady there saved the best until last. I was on my own and was worried it was too early in my search to make a decision, especially without anyone else seeing it too, but I couldn't get the dress out of my head. On reflection, I can't believe I ran the risk of losing it by not snapping it up there and then. I kept tabs on it and went to a few more places just to be sure. Luckily Marcia still had it two months later. It's a 1930's silk brocade and lace dress that Marcia found in France."
"Trying on wedding dresses can be quite daunting as you've nothing to compare to, so I couldn't quite work out how I felt about it at first, hence the delay. However, I spent a lot of time on Pinterest and I soon realised that all the dresses I loved had lots of things in common; soft skimming lines, unstructured, lace detail, puddle trains, cap sleeves, and I definitely wanted the colour cream which I know suits my skin tone."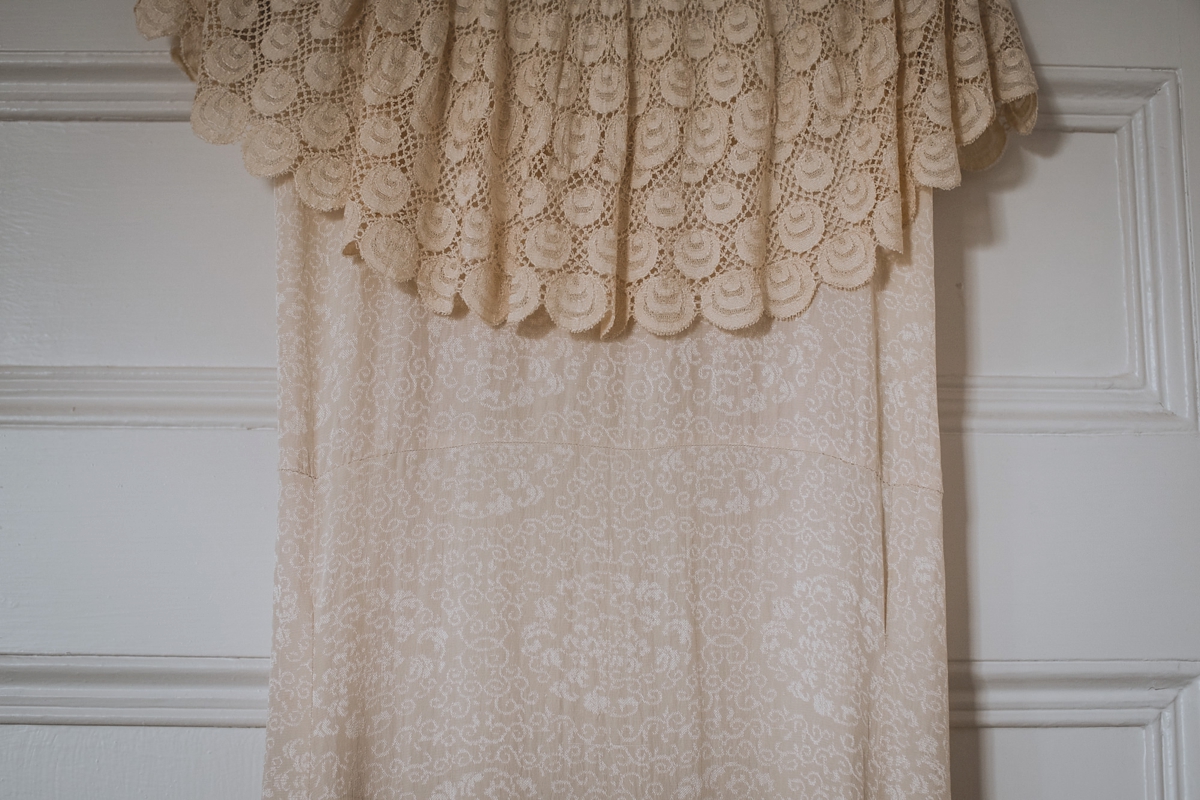 "This all rather brilliantly came together in the dress I found. The lace top was flattering and also created a capped sleeve look over my shoulders. The back which is obviously to die for, was also high enough to wear a bra, and gave the dress the kind of wow factor you can only dream of."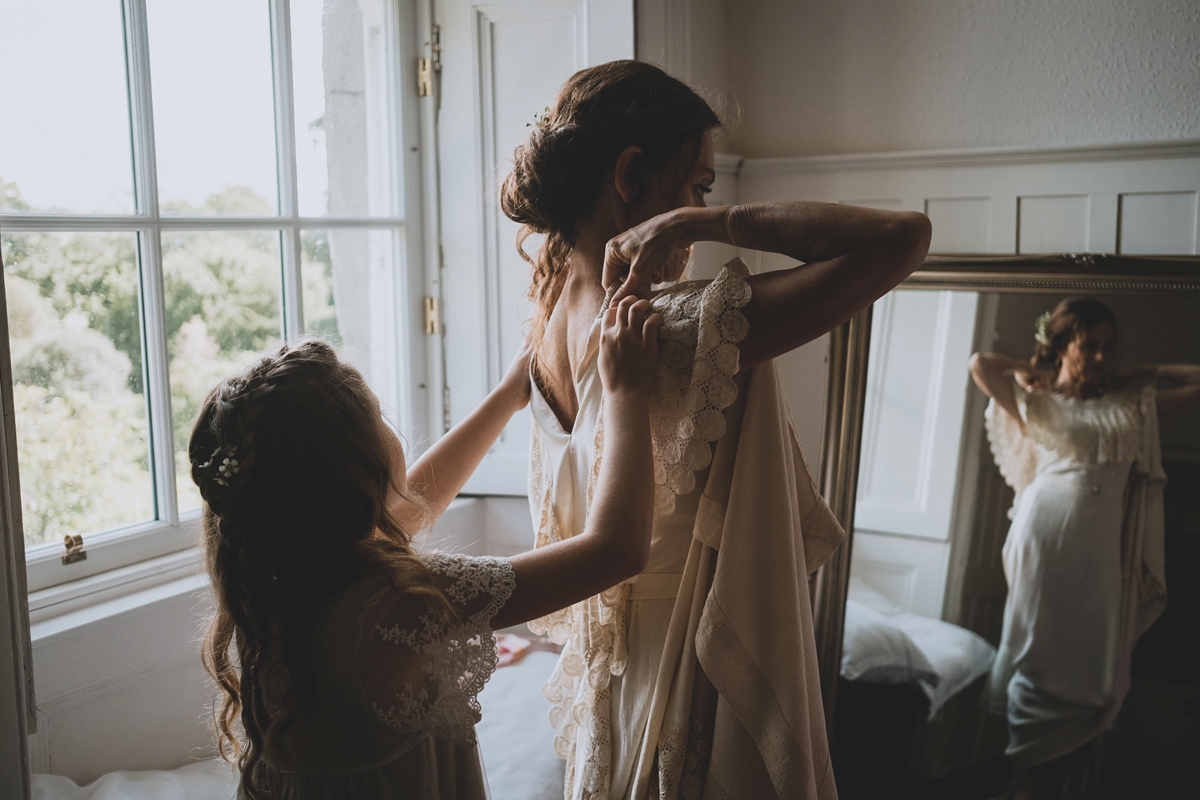 "It was taken up and taken in slightly for me. The clasp on the material belt didn't work properly either so I replaced it with a vintage diamante clasp that I found on Etsy. It cost a third of the price of all the new dresses I'd considered!"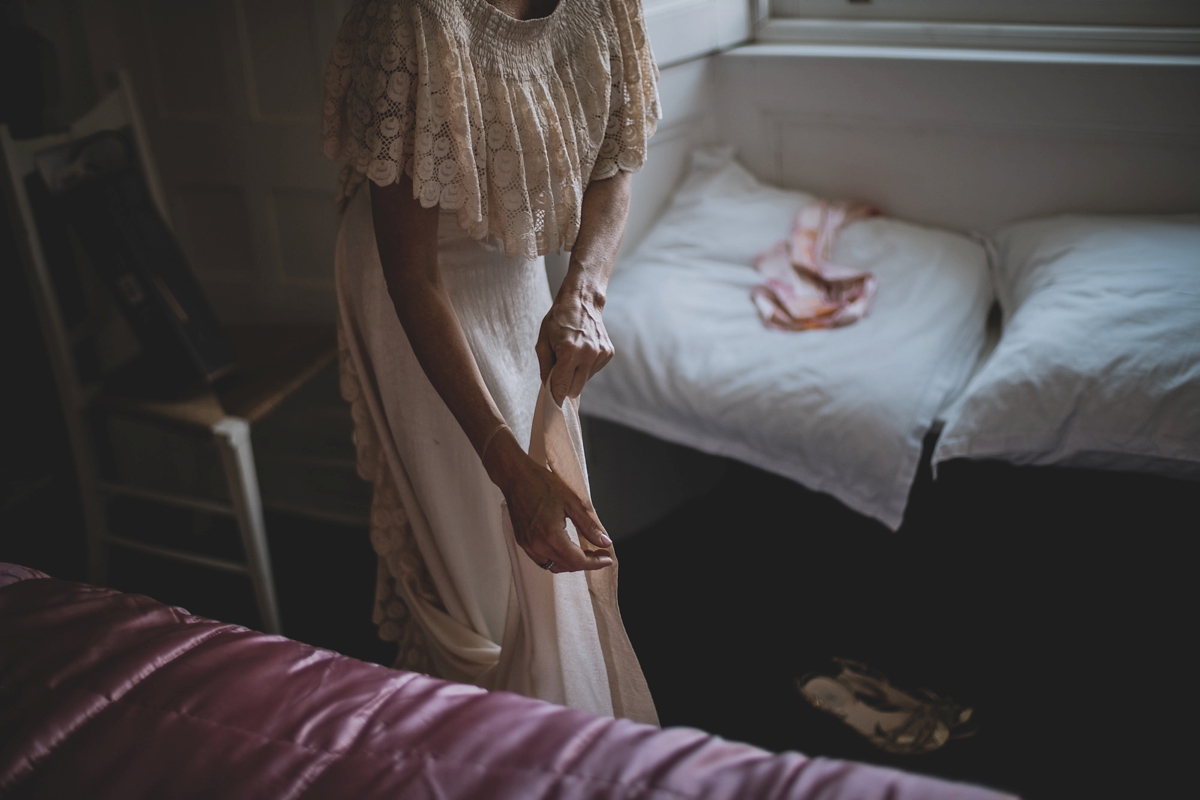 And to finish off her bridal look, Amanda spritzed Nectarine Blossom by Jo Malone just before walking down the aisle.
"I normally mix this perfume with another but it felt fresh and appropriate for the day so I wore it on its own. I actually totally forgot about perfume until the morning of the wedding!"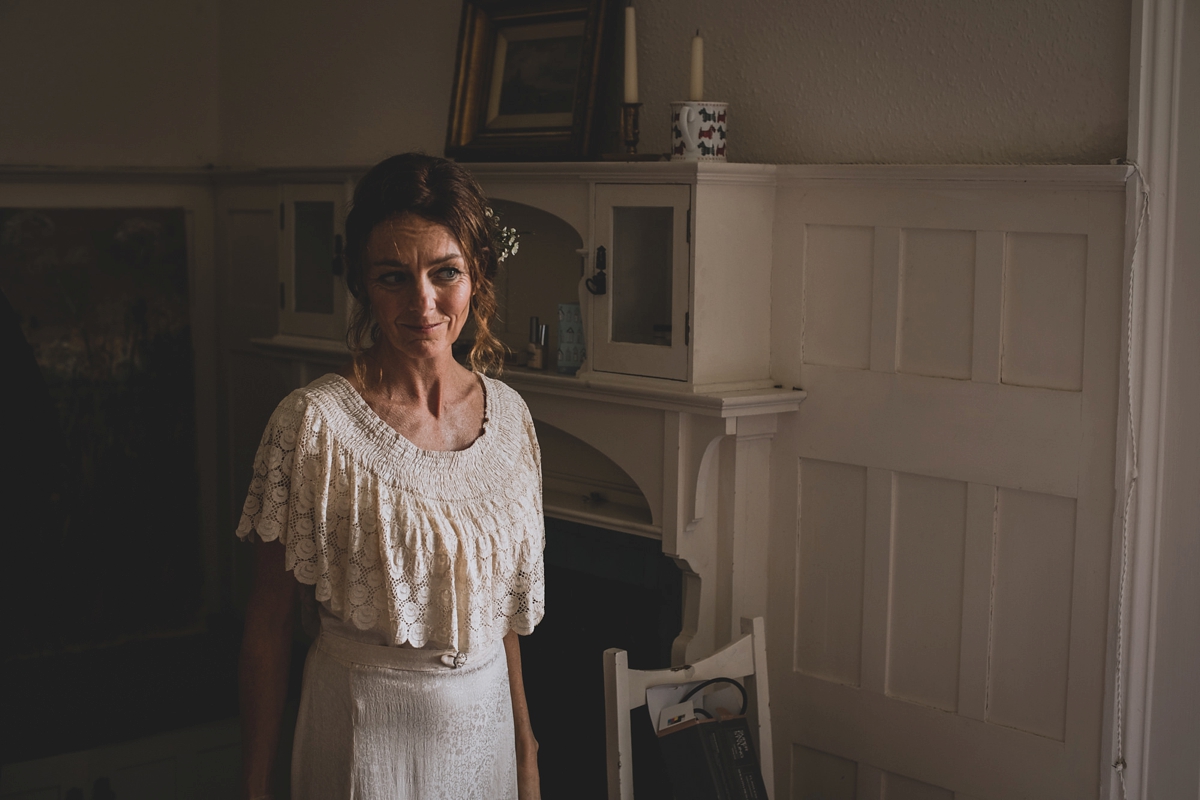 Amanda's shoes were second-hand gold Prada sandals found online following an incredibly long search for the perfect pair.
"I've got very small feet and I initially spent a lot of time ordering shoes from bridal shoe designers but their smallest sizes were all too big for me which was very frustrating. I didn't want an all out vintage look which felt a bit 'dress up', so I was really hoping to find some new shoes, but the delicateness of the sandals and their old gold tone were the perfect match in the end."
"I actually had another pair of vintage gold lame sandals I'd found on Etsy first with a lower heel, which I kept as a back up in case my feet hurt, but I didn't feel the need to change, apart from into wellies for the muddy bits for our walk! For the Ceilidh in the evening, I changed into a pair of flat gold roman sandals that I already had."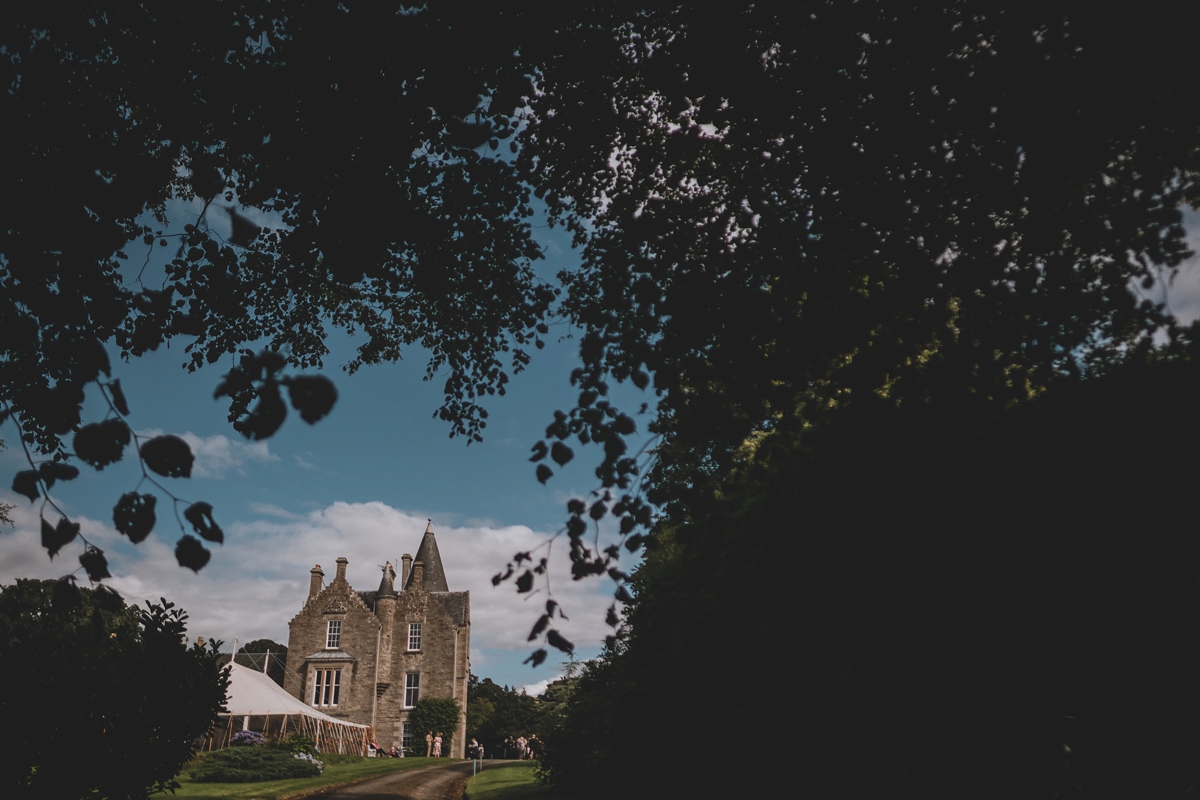 "For our rings, I found mine on Etsy. It's a vintage 22ct gold band with an art deco orange blossom design, and Ed chose a simple court shape 22ct gold band. Also vintage and found on eBay."
The beautifully wild blooms were provided by Ed and Amanda's neighbour Liz from At The Paddock who had recently started to provide flowers for weddings.
"Liz's style is natural and wild. She created the garland for the marquee, all the table flowers in jars, a fabulous wild hedgerow look for the top of the mantlepiece in our ceremony room, my bouquet and the hair pieces and button holes. We used a lot of green foliage and herbs with a base of creams, including hydrangea, ammi and feverfew, and set off the orange flowers like California poppies, marigolds and Calendula with some very dark browns like chocolate cosmos."
"One of my friends Louise, who is a designer, came up 5 days before the wedding to help me decorate the house. She did an incredible job marshalling jobs for everyone who arrived in the run up, and took charge of all the extra flower arranging we'd planned. She collected the ivy for the stairs, the wild heather and honesty for the chairs, and the wild crocosmia and greenery for jars which we placed all over the house and outside the marquee."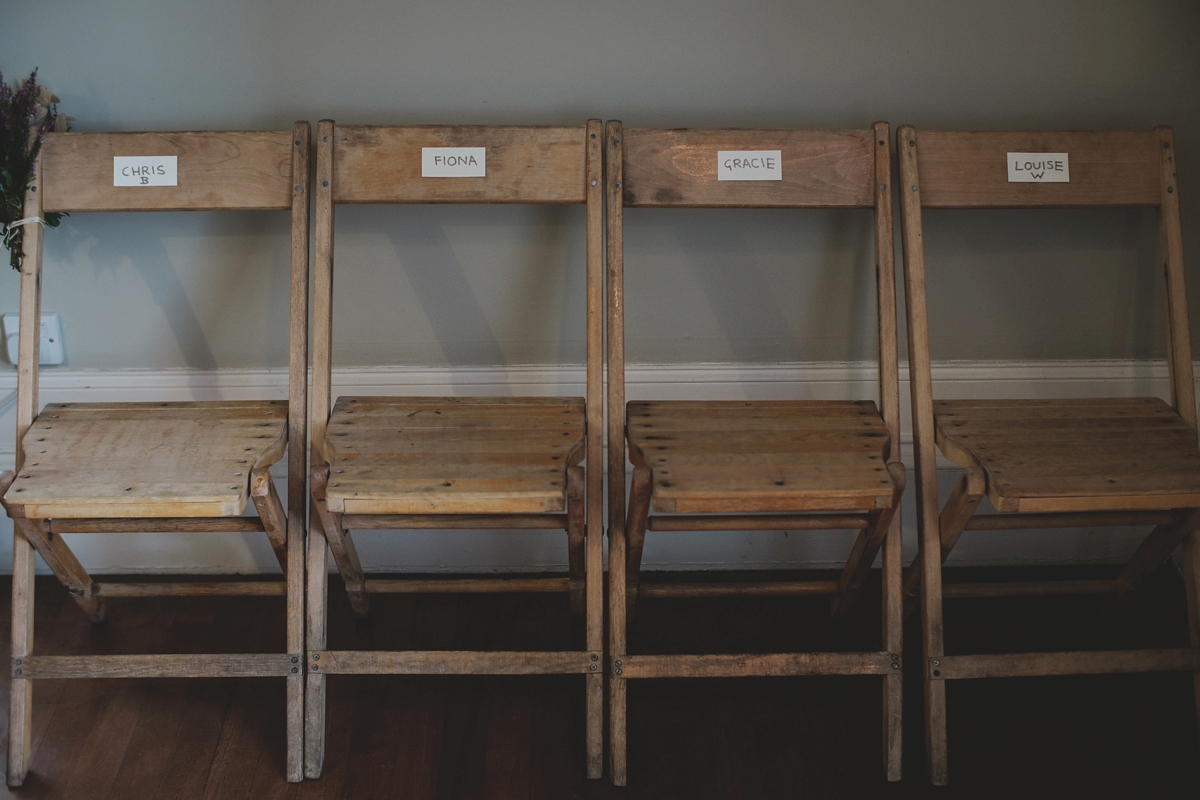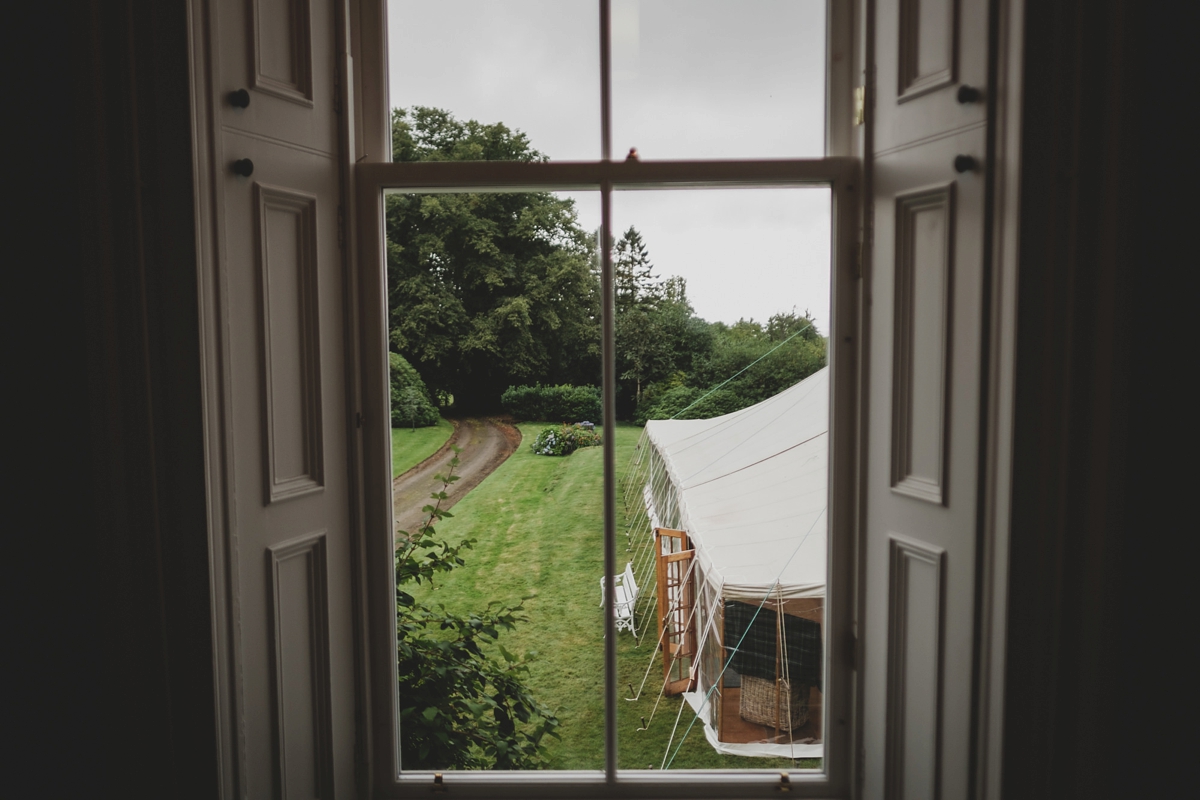 Groom Ed opted for a made to measure kilt in his family tartan by McCalls of Glasgow, Ghillie Brogue kilt shoes by Cheaney and a second-hand Kinnlock Anderson jacket from eBay.
"Ed spent a lot of time finding all the right bits to pull his outfit together which I totally loved. He wanted a less formal wedding look and more of a country look. He also found a light grey waistcoat in a second-hand shop in Glasgow and already had the gold tie he wore. He did buy a new white shirt and socks though!"
"His accessories included a silver hare brooch for his jacket pocket, a silver pocket watch and chain that had belonged to his grandfather, flashes on his socks from Kinloch Anderson, a celtic knotted silver Sgian Dubh (a present from me a while back), and a vintage sporran from the Ministry of Tartan."
"Ed's button-hole was made with sea thistle, rosemary, chocolate cosmos and cream wax flowers wrapped with twine. I wanted cream sweet peas in my bouquet in memory of my grandma but there weren't quite enough so we supplemented them with a single large cream rose, along with lots of foliage and herbs, also wrapped in twine."
Ed asked one of his oldest friends Jessie to be his Best Woman and support him on the day.
"She came up from London the evening before and I'm not sure how she managed it, but she laminated our speech that morning as we were doing a 2 hander as well as her own! Ed slept in a different room in the house the night before and the next morning she made sure we didn't bump into each other by taking him everything he needed including breakfast and champagne! I also had two best women who also did a 2 handed speech and everyone loved the fact that the speeches were all by women for a change."
The couple decided on a humanist ceremony, wanting the day to be chic but as relaxed as possible. Amanda's brother Chris walked her down the aisle and Helen Singleton from the Humanist Society officiated the wedding.
"We wrote our vows ourselves and had two readings. We thought about getting married outside in our tumble-down walled garden, or under the giant lime tree on the lawn, but in the end we wanted to use as much of the house and land as we could, so we decided to get married in our lovely morning room, which was filled with beautiful light on the day."
With her dress having enough of the wow factor for Amanda, accessories were kept very minimal with Amanda choosing to wear just a pair of art deco cream and gold sheen glass pearl earrings found on Etsy.
"The dress didn't need anything, just earrings as I was planning to wear my hair up. They came on a modern setting I didn't like so I changed them into simple gold hooks. I wouldn't normally wear pearls but the dress needed something simple and the colour was perfect."
"Our first reading was by our daughter Gracie and Ed's sister Louise. It was the Velveteen Rabbit and both read different parts. Gracie loves this story and rabbits in general, and we wanted to involve her as much as possible. She can be shy though, so we weren't sure she was going to do her bit until the day but she did it wonderfully. It was light-hearted and perfect for Gracie and her Aunty. The words were very appropriate on lots of levels, not least that we were getting married later in life than most."
"Our friend Fiona's reading was very moving. I'd heard the poet Imtiaz Dharker talking about it on the radio – she'd written this poem for her own wedding – and it just hit the right note for us."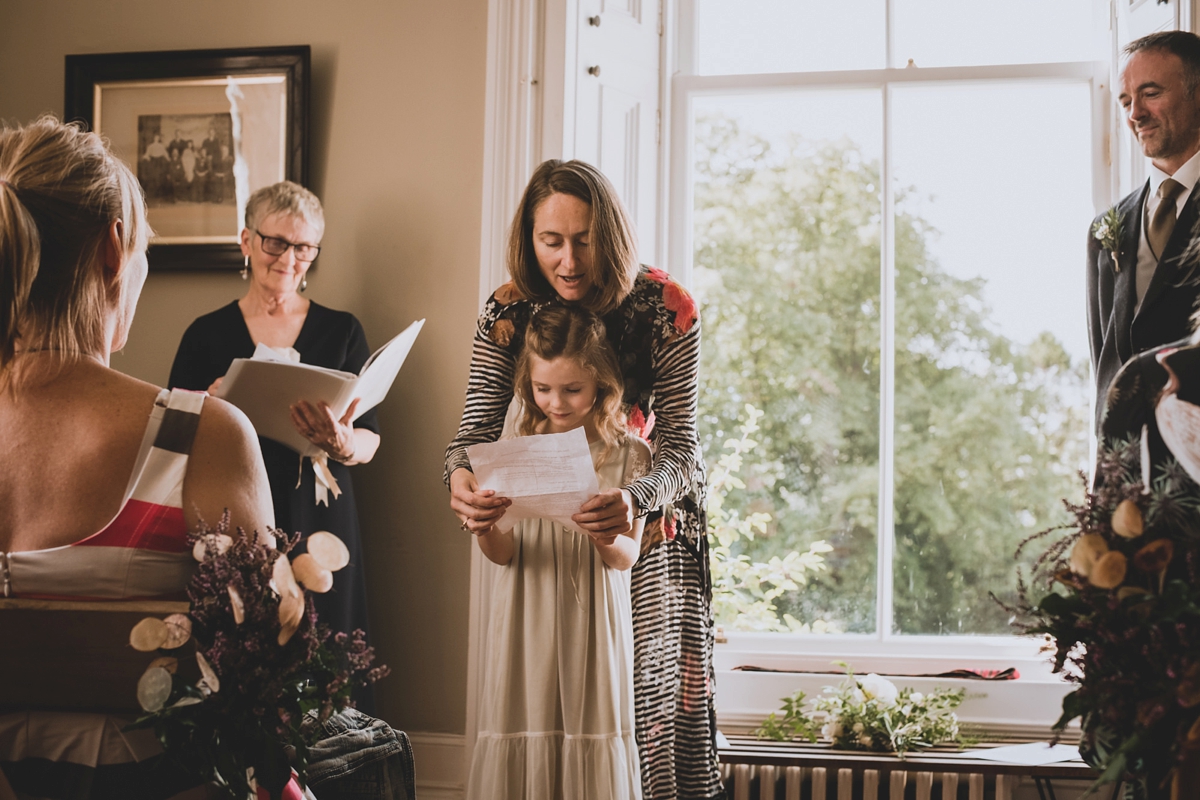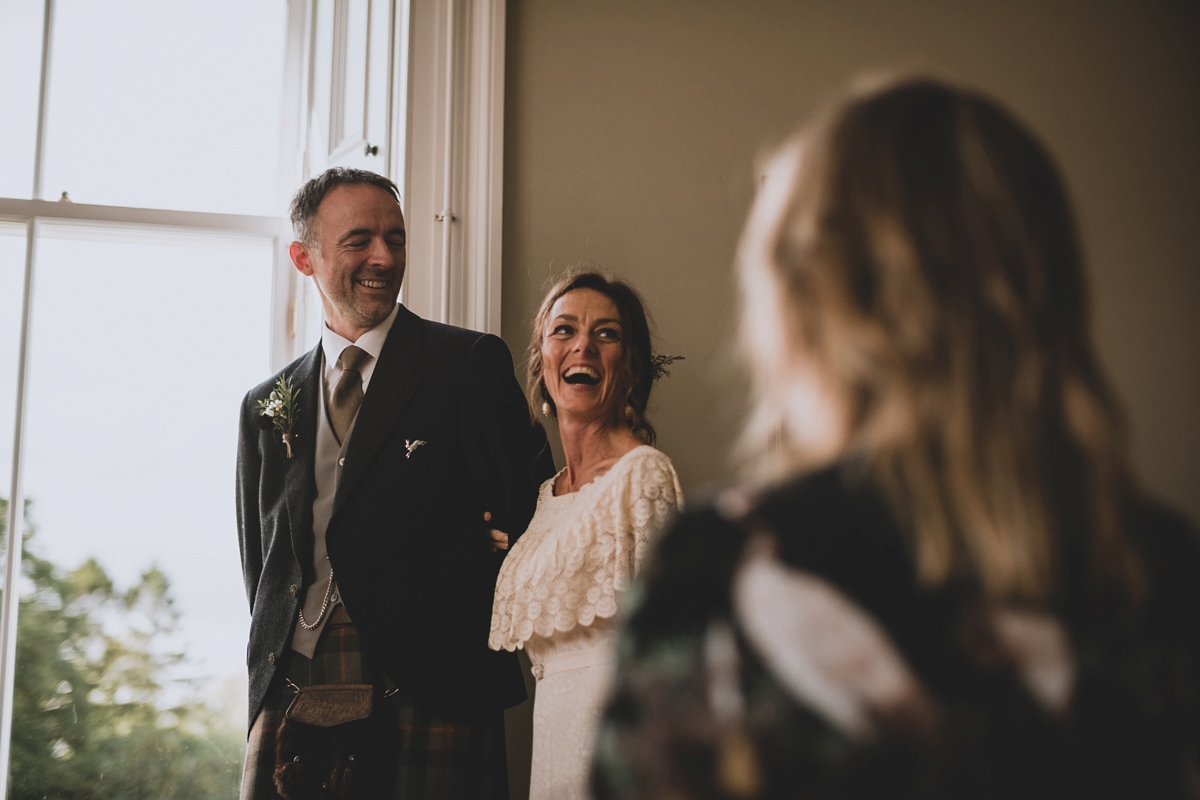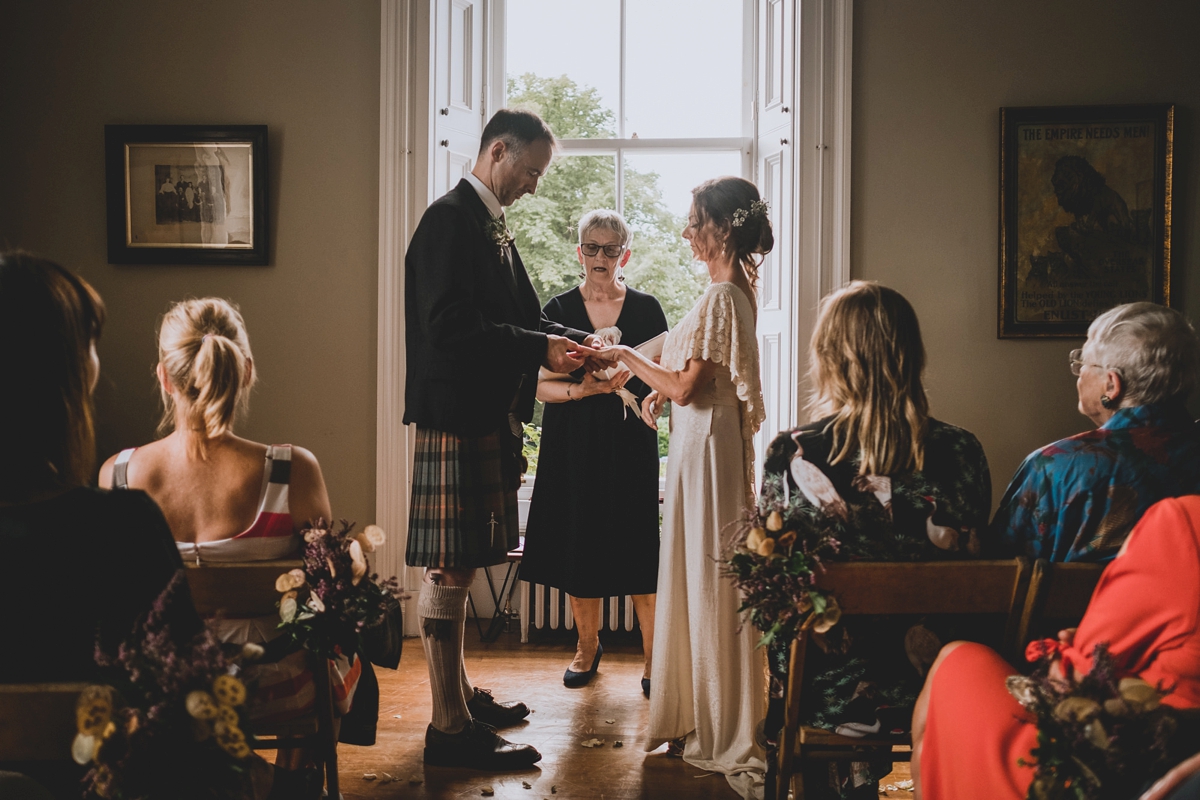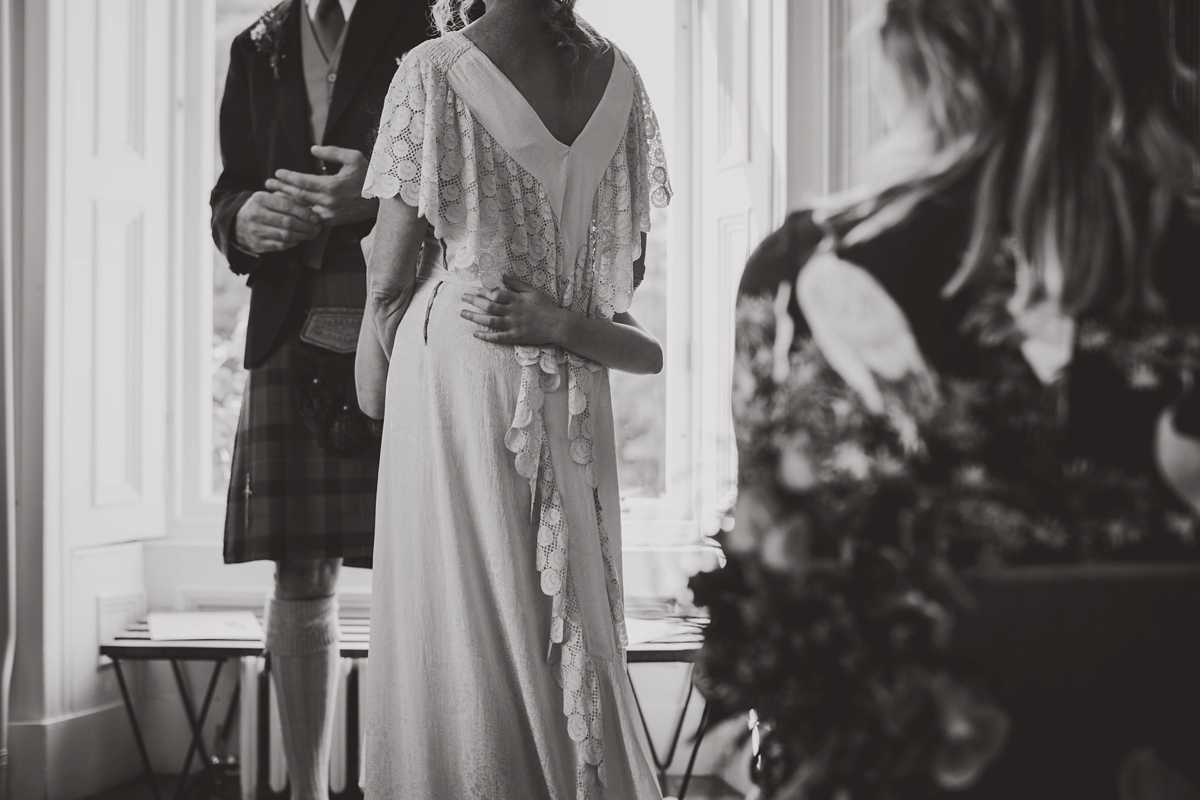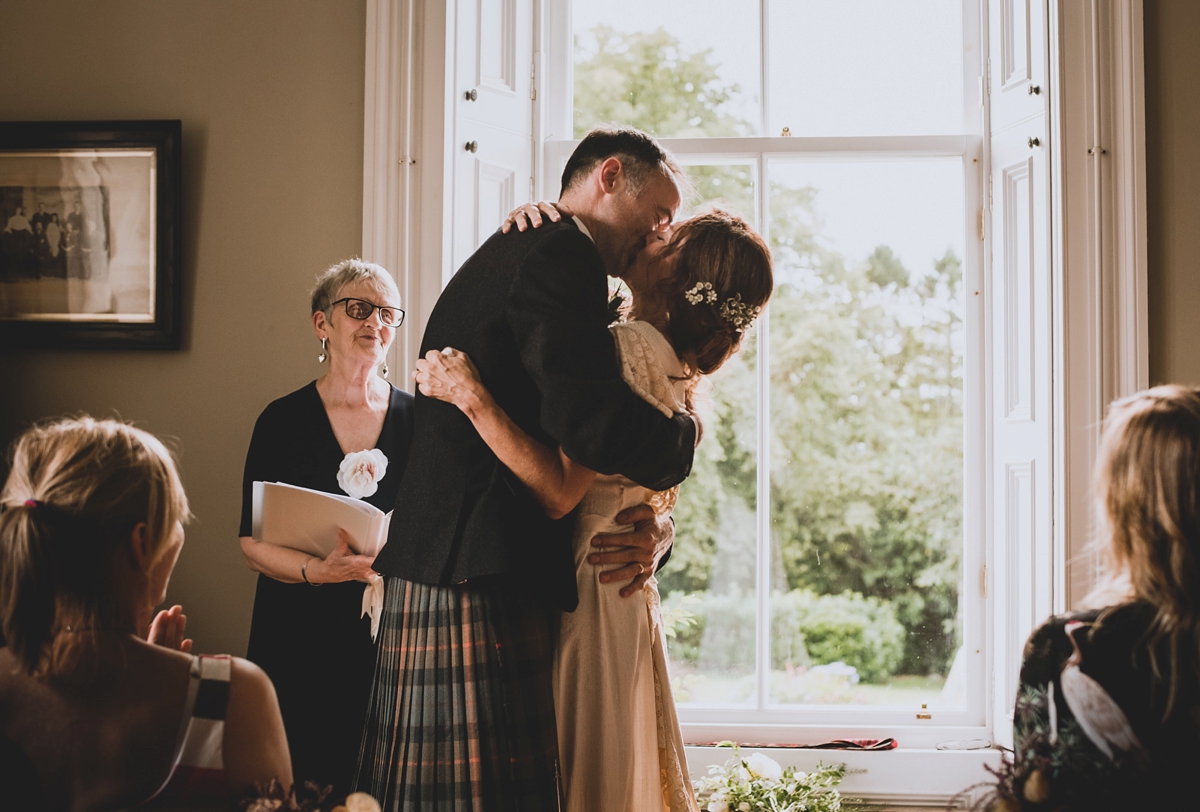 As a lot of the couple's friends work in TV, they agreed to film some wedding footage for them in place of hiring a videographer.
"A couple of them agreed to film some Super 8 for us and one of them had a camera. You need a lot of daylight so we were lucky when the sun shone all day. Super 8 is much more simple, as you only shoot a small amount on film and there's no sound to record. It also has a lovely nostalgic feel to it."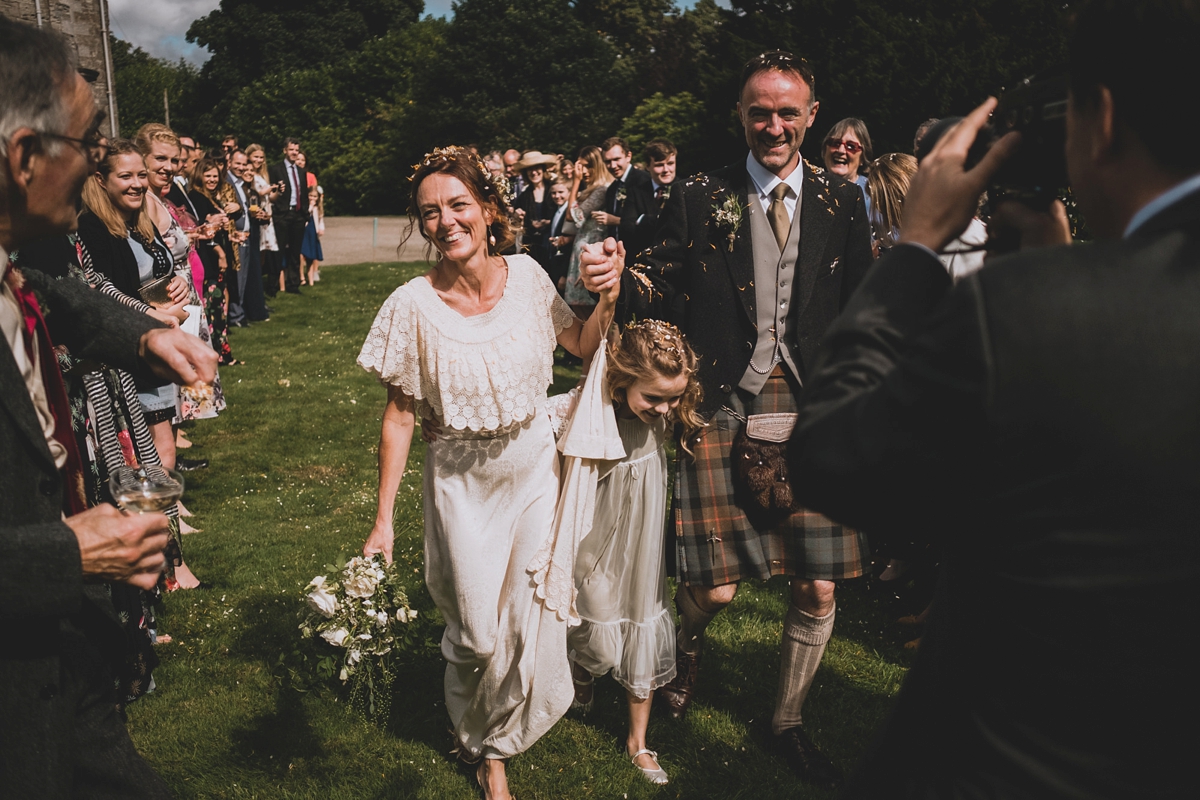 "We haven't seen the results yet – they are currently cutting it together using a Scottish acoustic track that we'd considered for walking down the aisle to, but didn't use in the end."
Readers – if you are considering your own videographer, you must check out these pages in our Little Book Wedding Directory.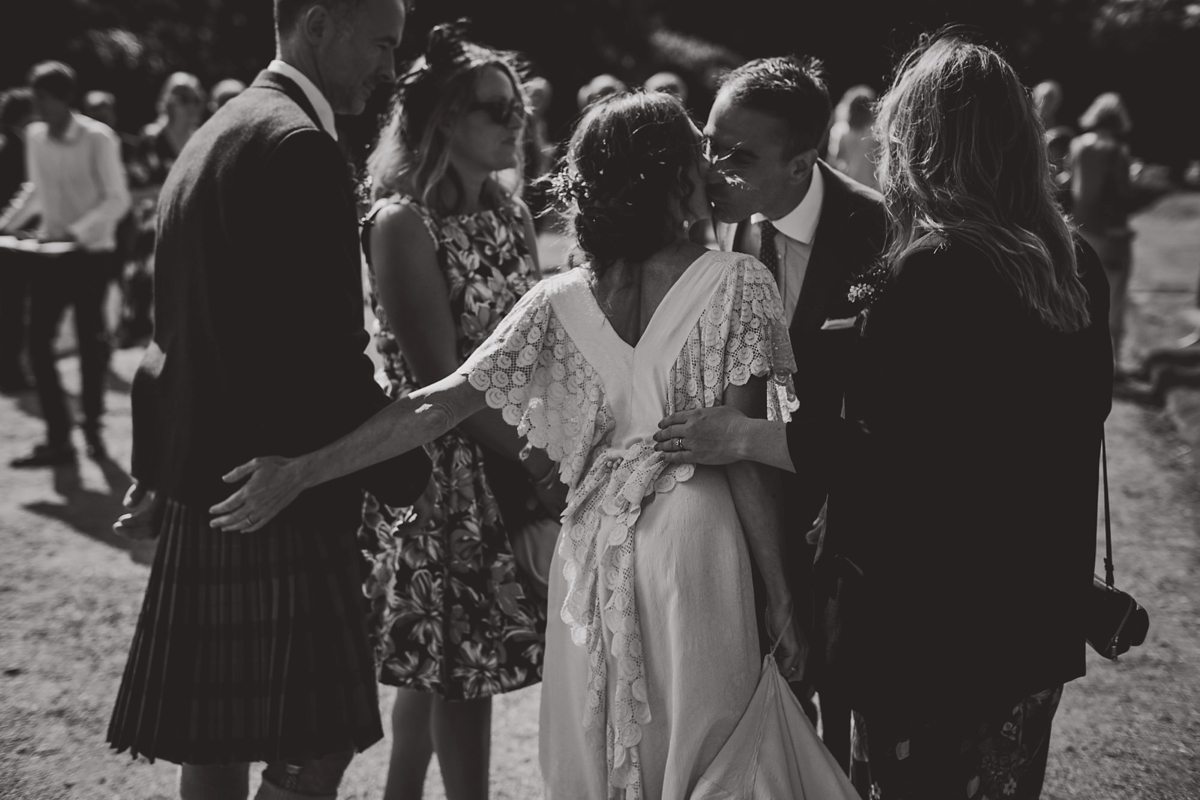 There to capture everything on camera was Steve Fuller who filled in after the couple had been let down by their original photographer.
"By then, as all the rest of the photographers in Scotland we'd considered had been booked, I had to widen our search to all over the UK. It took a long time and was very stressful but in the end we were incredibly lucky to find Steve two months later."
"Steve immediately understood the relaxed, reportage feel we wanted from our photo's. We didn't want anything formal and Steve's photo's beautifully capture the magical feeling and emotion of the day. We also hardly noticed he was there. It's also worth knowing that a lot of good wedding photographers don't charge extra for travelling a long way."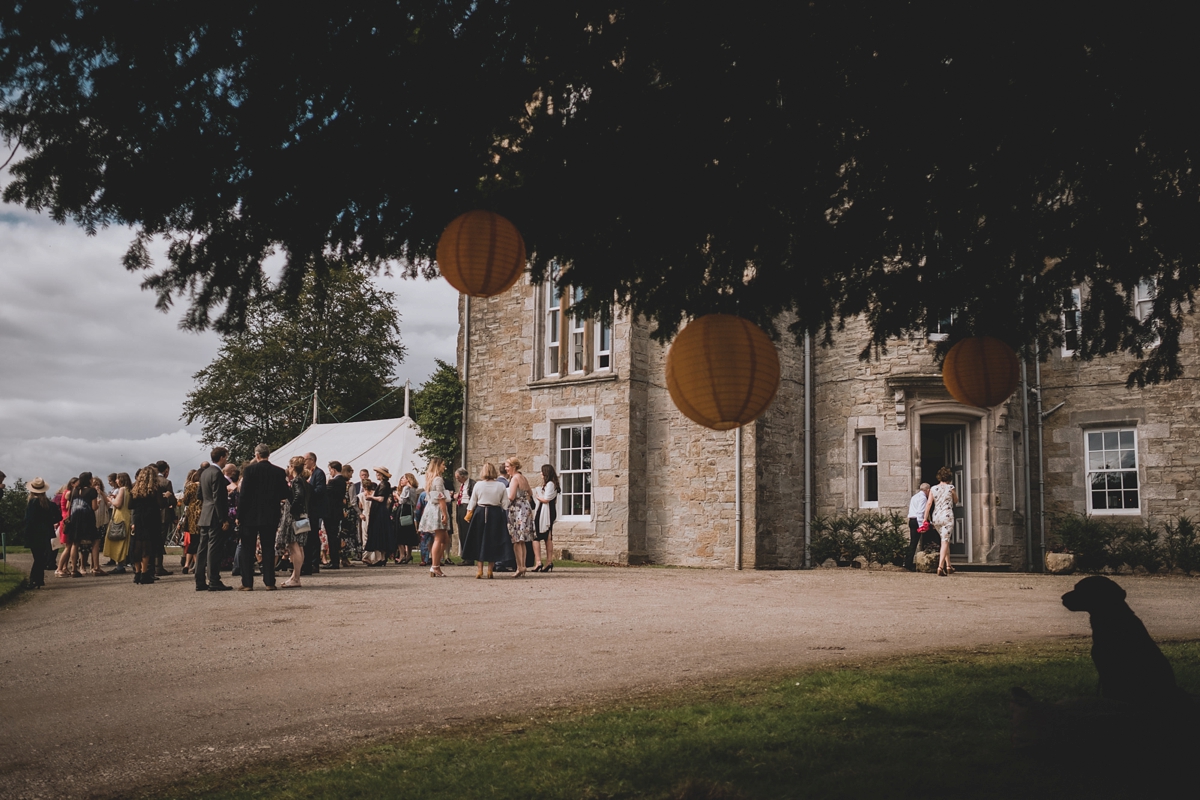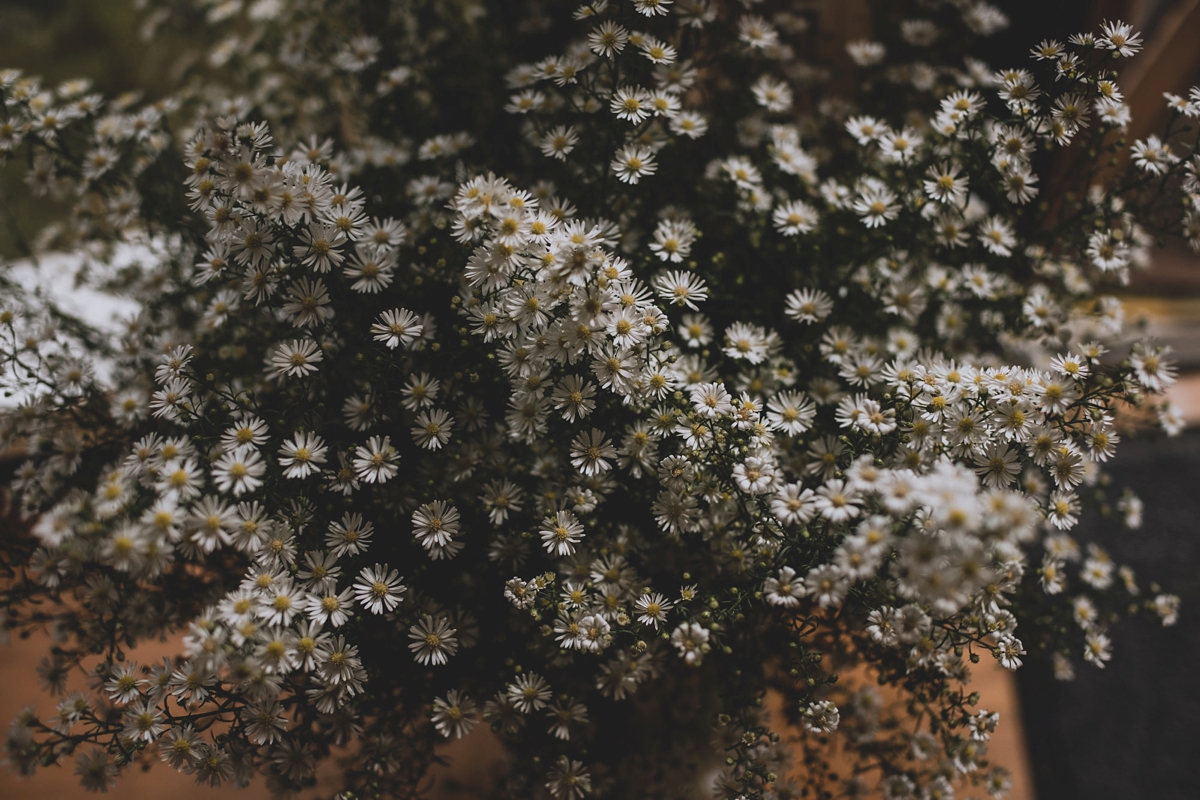 The blooms and decor, all expertly and beautifully arranged by Amanda and friends, complimented the boho-vintage-shabby chic feel the couple hoped to achieve, and which I think you'll agree they did with incredible style.
"We love all things vintage and I also collect vintage crockery. I wouldn't say we had a vintage wedding exactly, we just put together a day that felt unique and right for us. The colours accidentally came together once I'd found my dress and we wanted the flowers to be seasonal and as wild as possible. It was late summer and lots of orange crocosmia grow everywhere. I also wanted to avoid girly pastels so orange, sage green and cream, along with some gold touches, became our simple colour palette."
"Quite a few of our family and friends came up in the week running up to the wedding and helped us decorate which was a really wonderful time. We used bits of our own furniture including a vintage laundry basket and our own blackboard for the table settings in the marquee, and a dresser for serving dessert."
"We also used lots of candles, lanterns and fairy lights everywhere. We collected flowers and greenery to decorate the banisters with and in the months running up to the wedding, I'd collected lots of different sized glass jars; half for flowers and the other half for tea lights. A friend also helped me make the green, orange, gold and cream ribbon garlands for the marquee, and we hung cream bunting in the rhododendron bushes along the driveway."
"Lots of the decor was very last-minute. With our fingers crossed for good weather, Louise brought some exterior Chinese lanterns to hang in the trees and I supplemented her cream ones with a few new orange ones.
I bought the paper lantern candle bags just a few days before and we found some old garden flares we'd never used that we put around the edge of the lawn that morning. The trestle tables and folding wooden chairs came from Virginia's Vintage Hire in Scotland."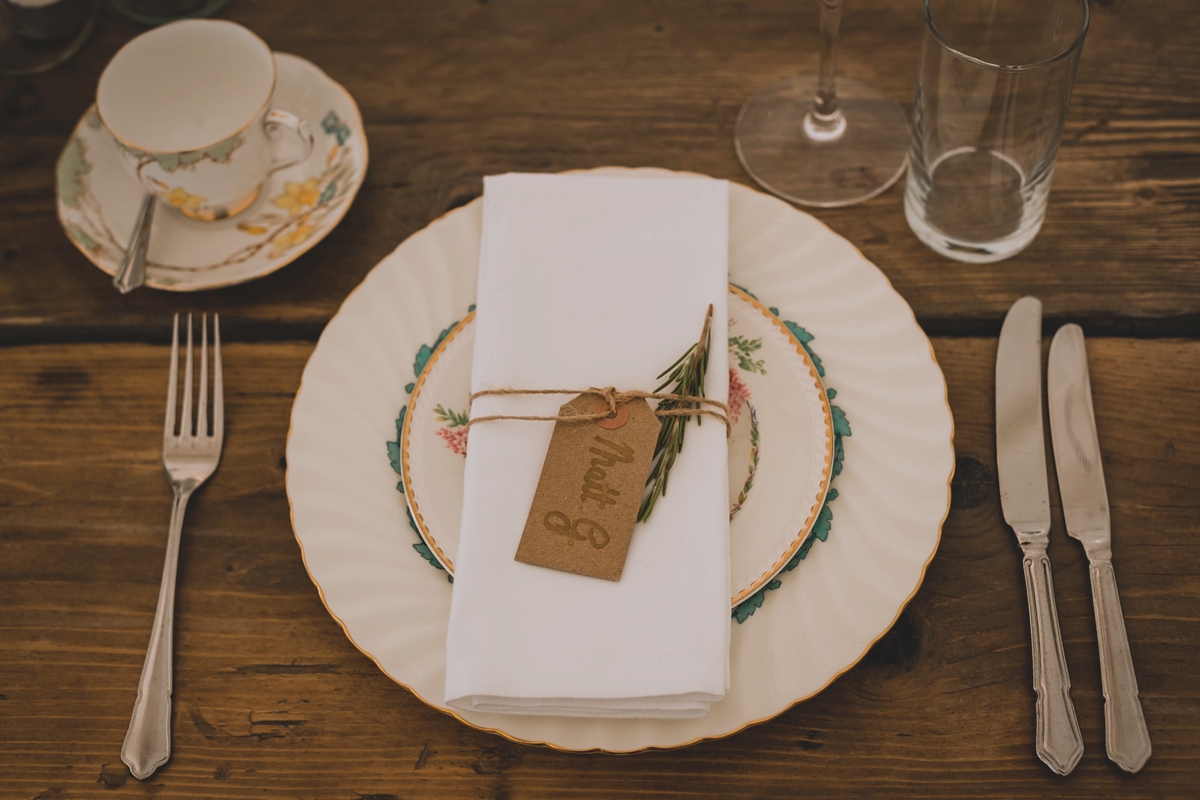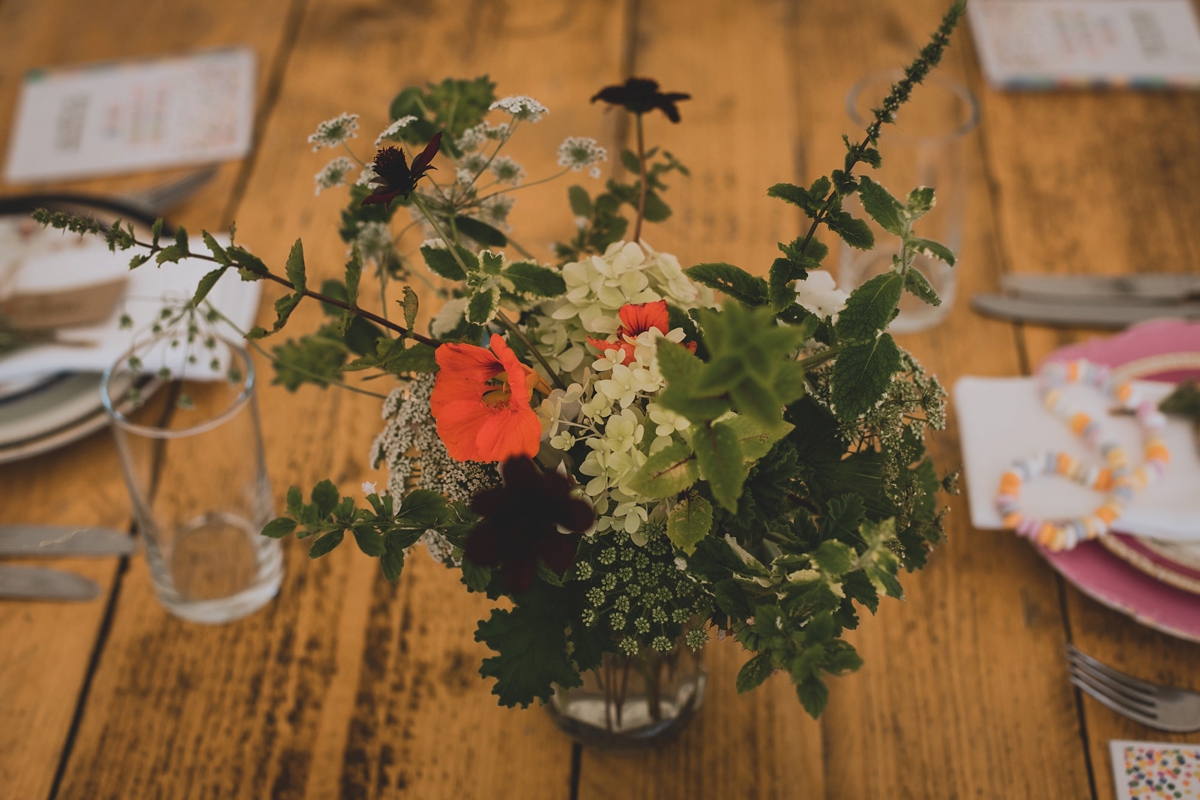 The wedding breakfast was served in the marquee and provided by Mhor to Your Door, with Amanda providing the mix and match crockery herself.
"We supplied our own alcohol and kept the food and drink classic and simple. We had a champagne and oyster bar then for the mains we served wooden platters of warm pan seared Shetland salmon, roast Blairgowrie beef and roast corn-fed chicken with dipping sauces and lovely fresh warm and cold salads. Everyone commented on how amazing the food was by the chef Simon. We including red and white wine on the table and a help-yourself bar in the evening."
"We didn't have a wedding cake as I'm not really into cake and didn't want to go overboard with the amount of food we had (which can often be too much at weddings). Instead we had our caterers make a single summer berry Pavlova for dessert which was served from a tiered cake stand."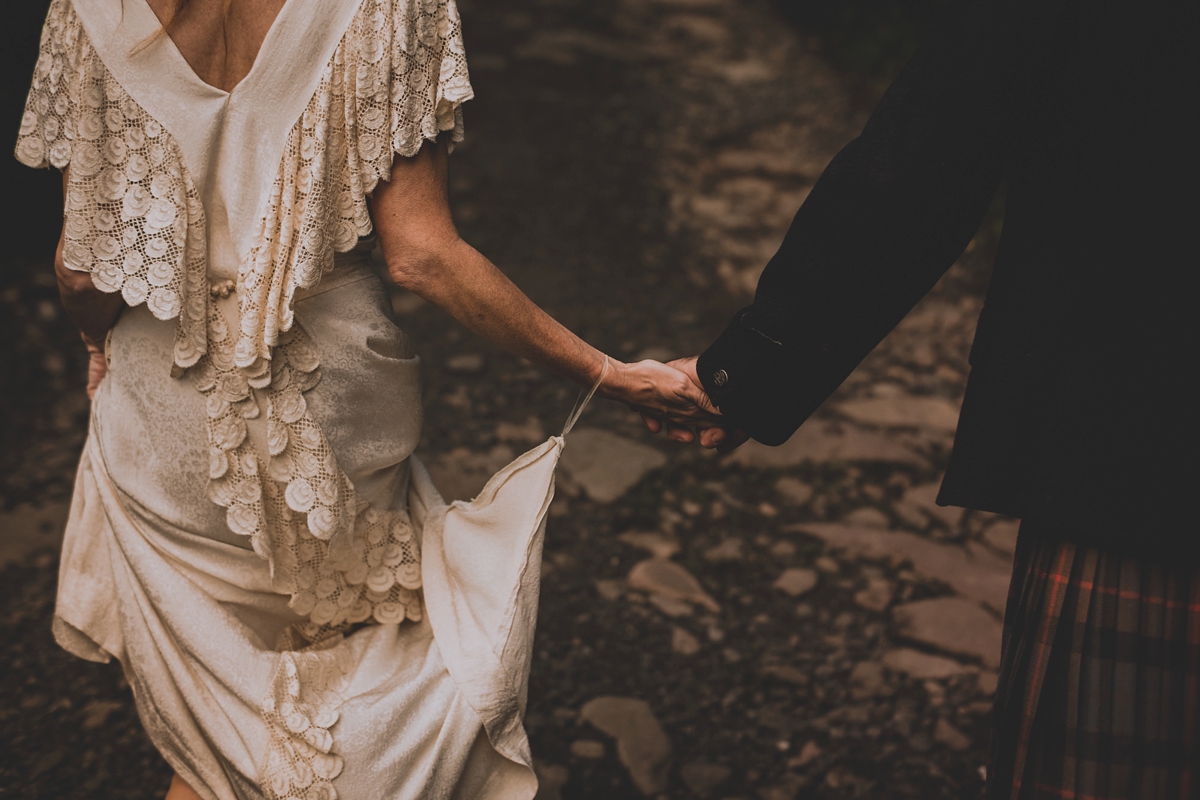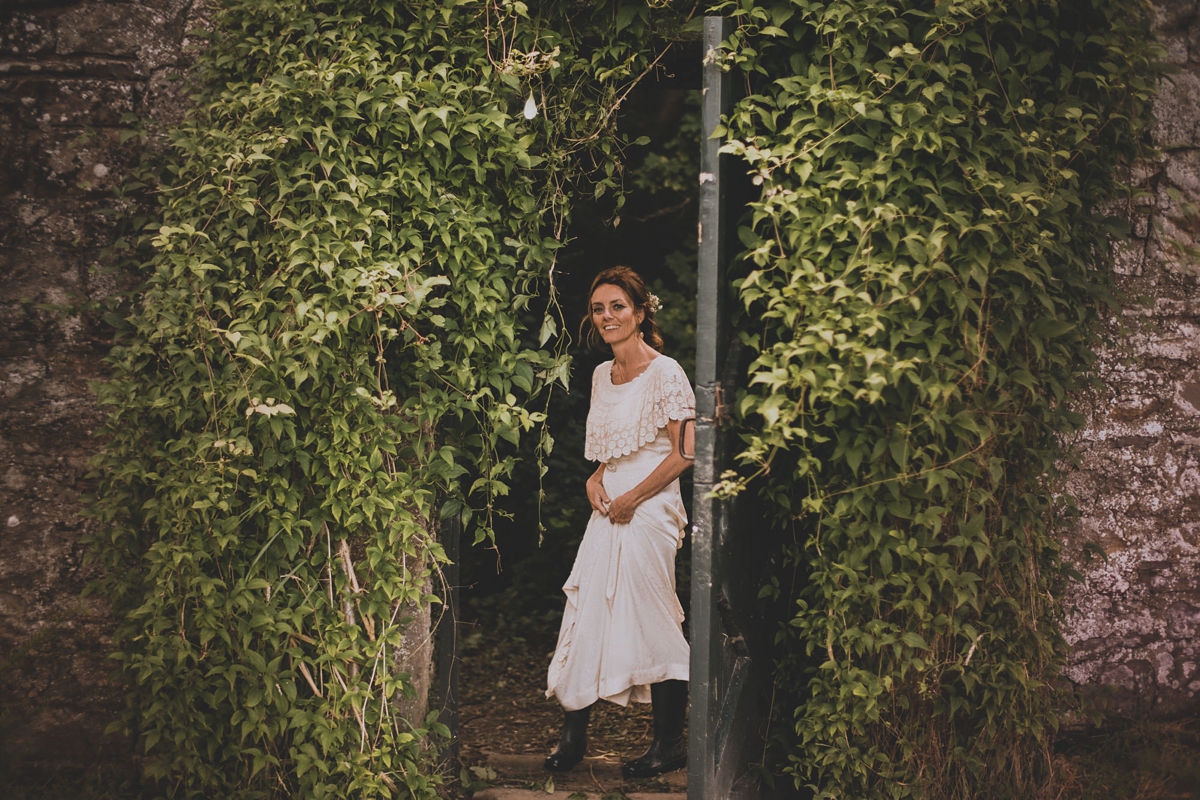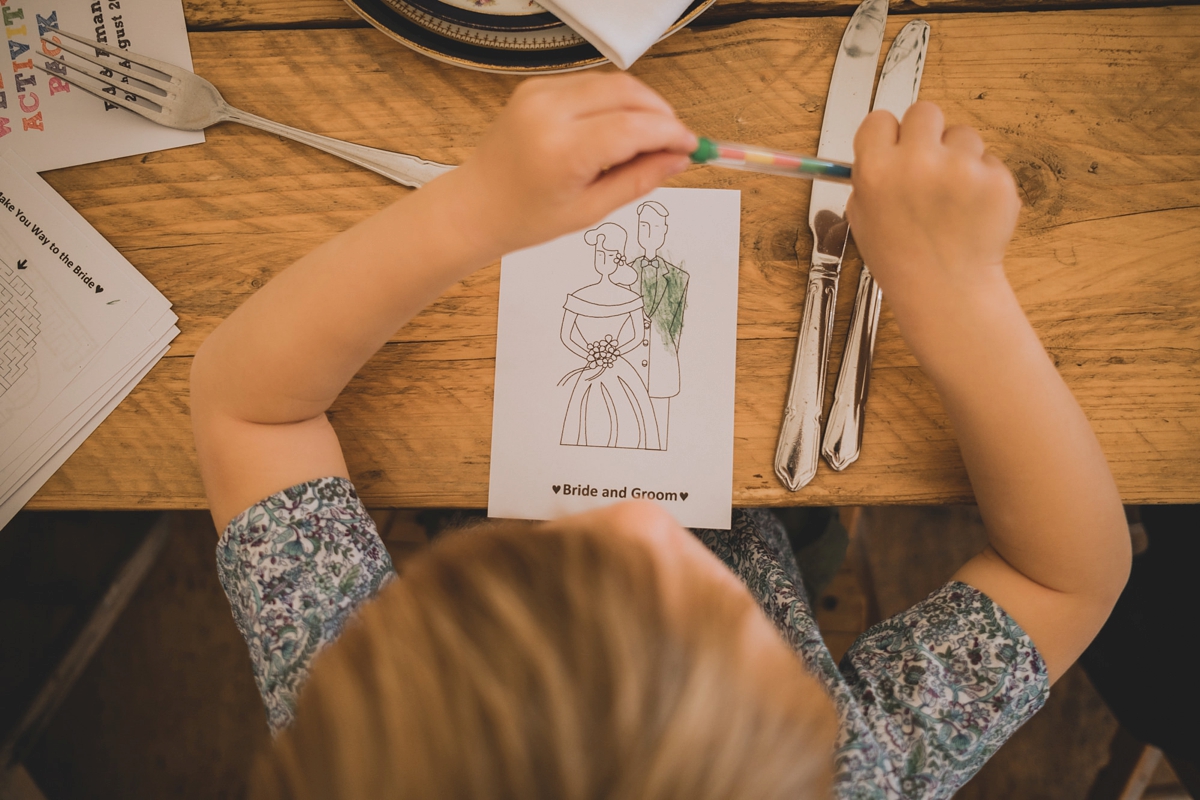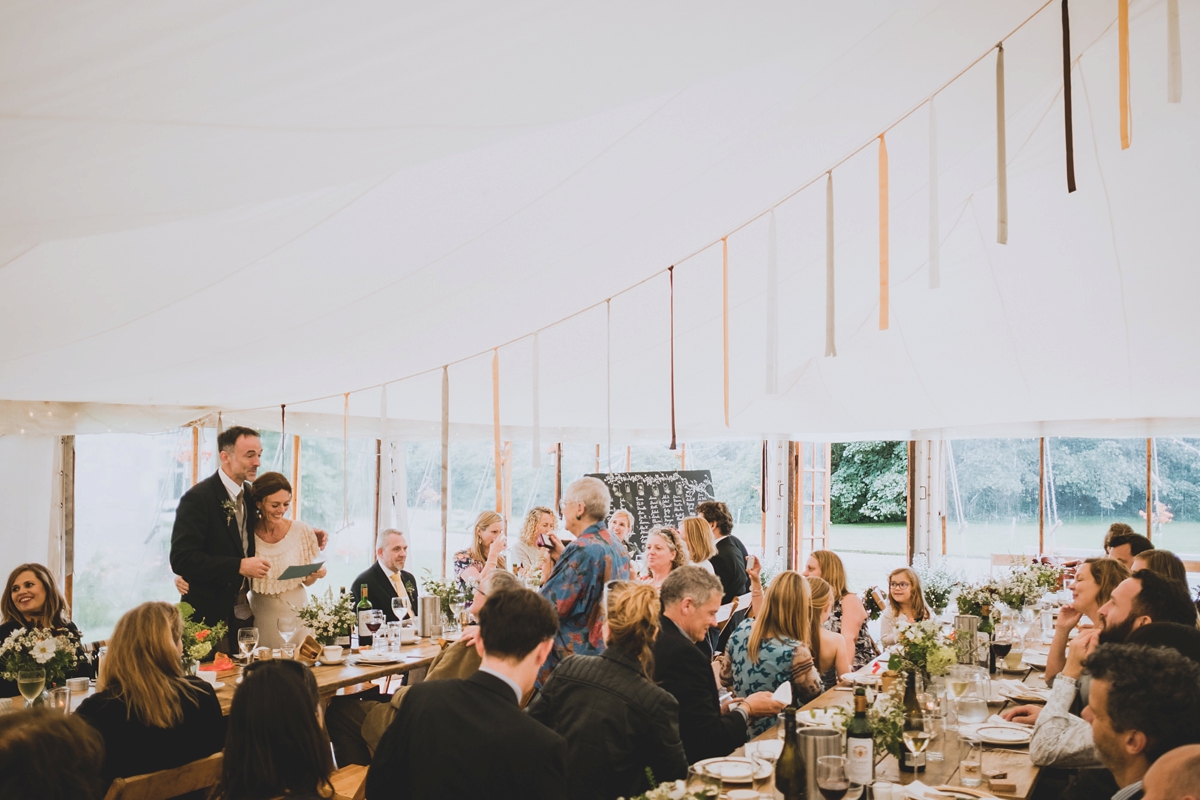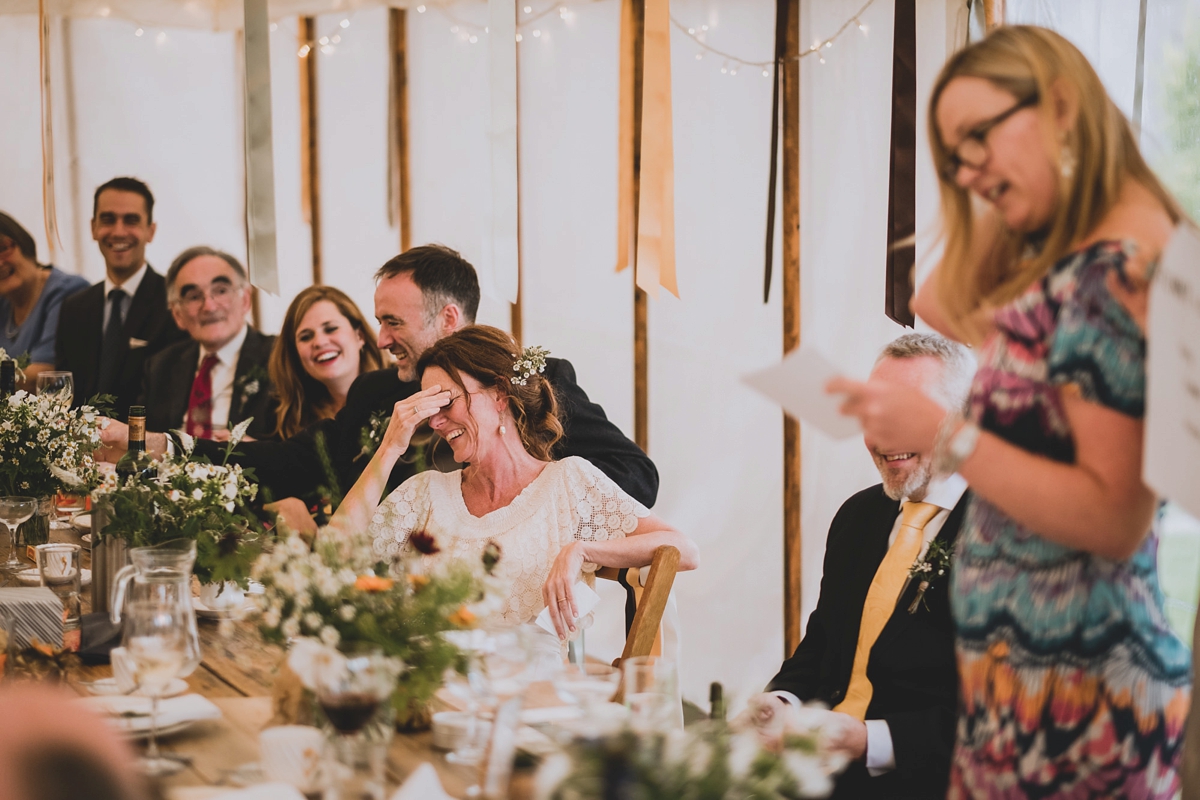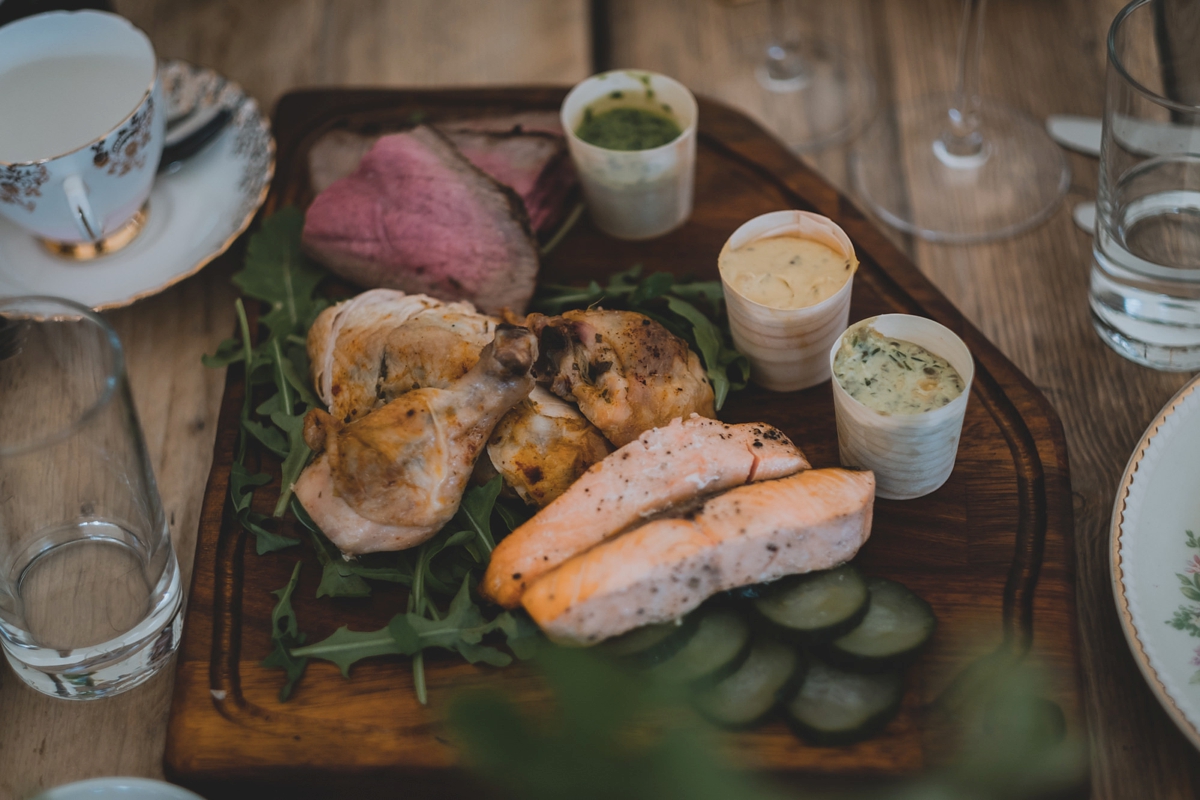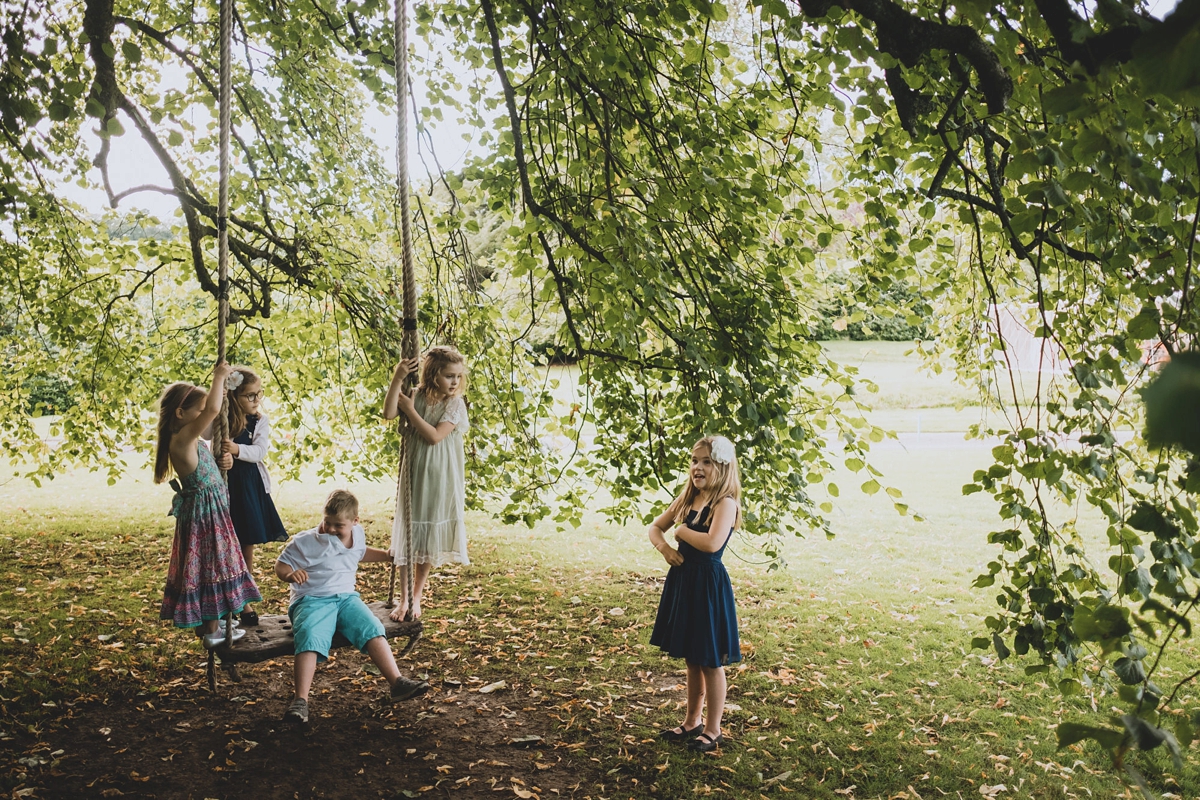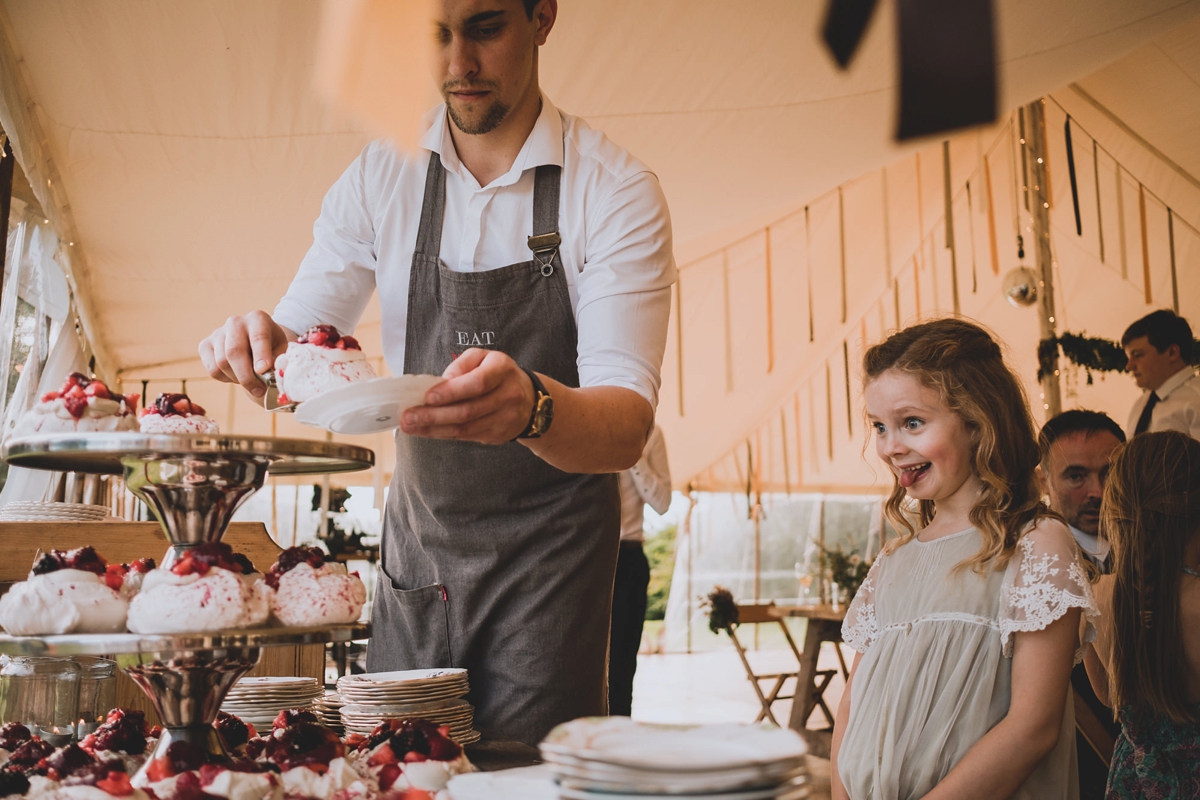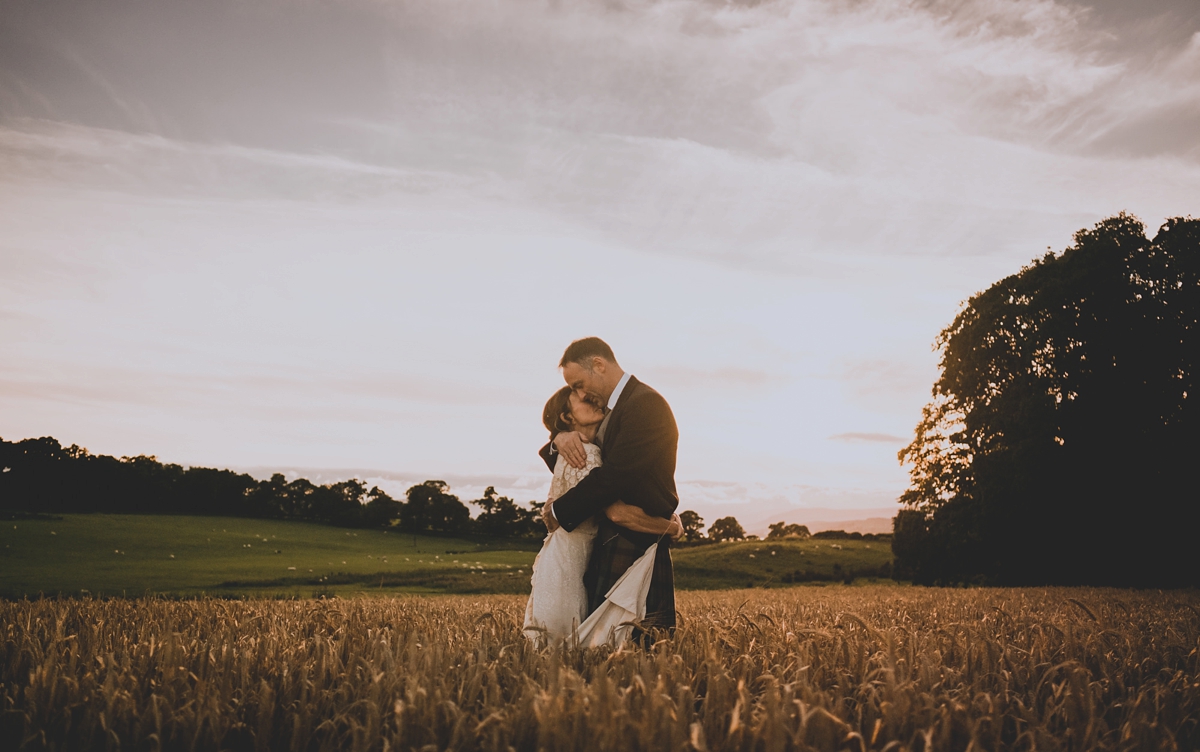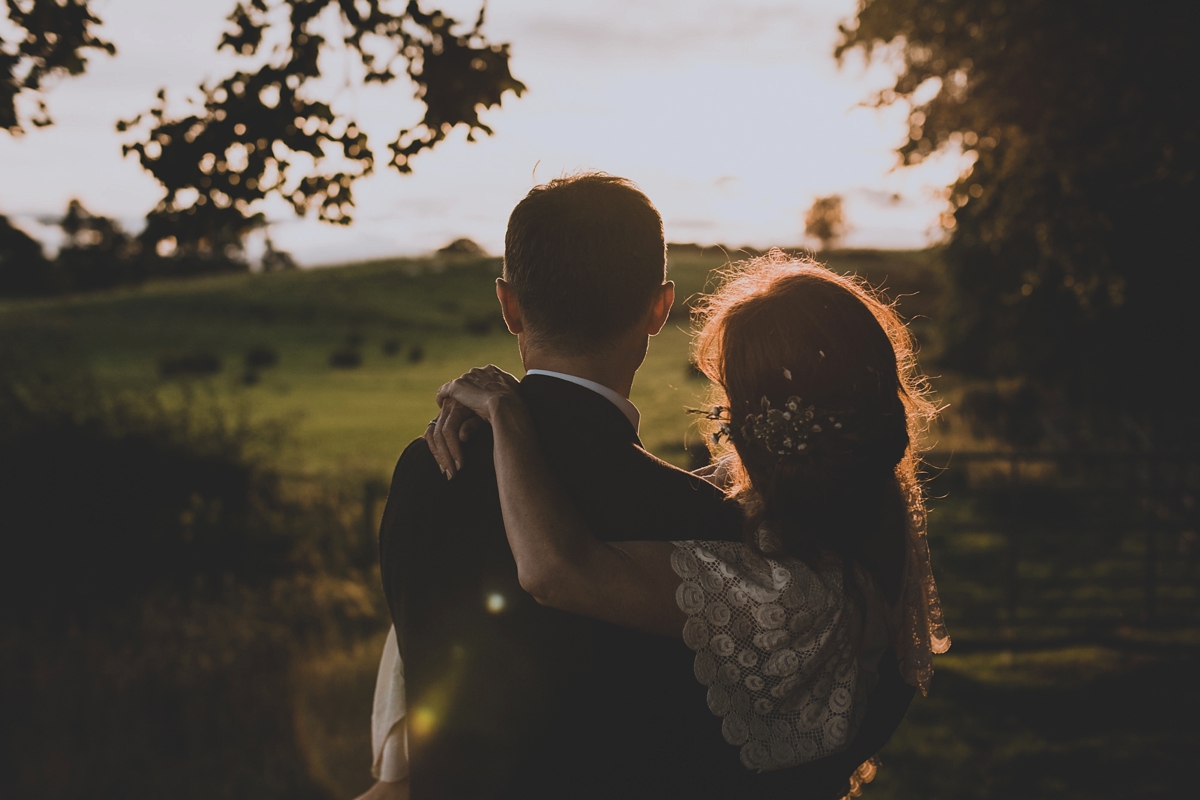 Daytime entertainment saw Drams Ceilidh band perform a young and modern line up with Border pipes, guitars, the fiddle and drums and Amanda's friend Stevie kicked off the night-time entertainment with a funk and soul DJ set.
"Stevie used to do all my house parties in London. He also brought a bubble machine to the wedding which he and Ed got working through the first floor window during the champagne reception too, which was pretty magical!"
"In terms of a first dance, we wanted to avoid doing anything just for the sake of it and a first dance just didn't feel right for us. I did take a few ceiiidh lessons though to get up to Ed's standard and we kicked off with the Gay Gordon's, which is danced in couples and everyone got up to do it with us."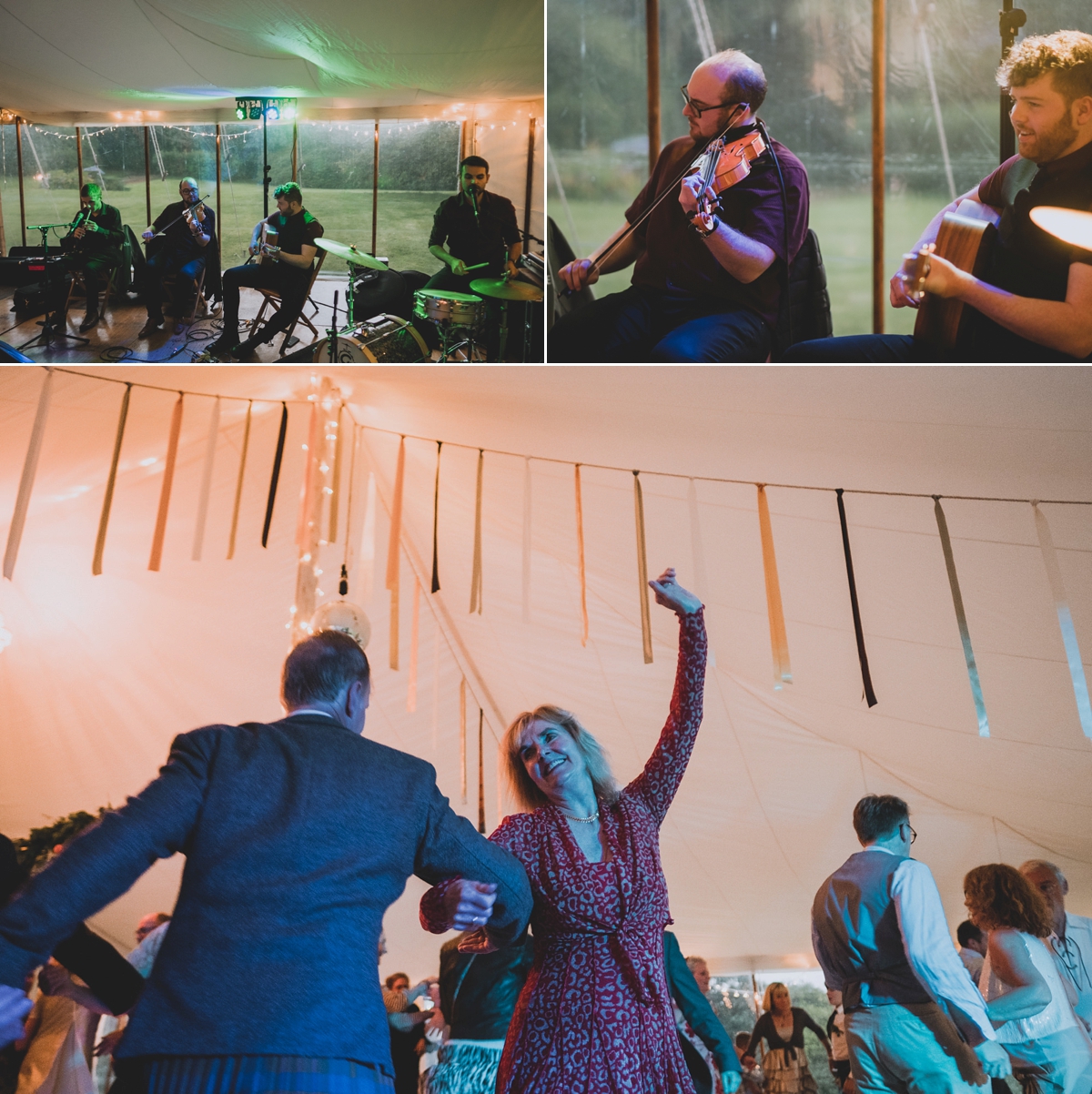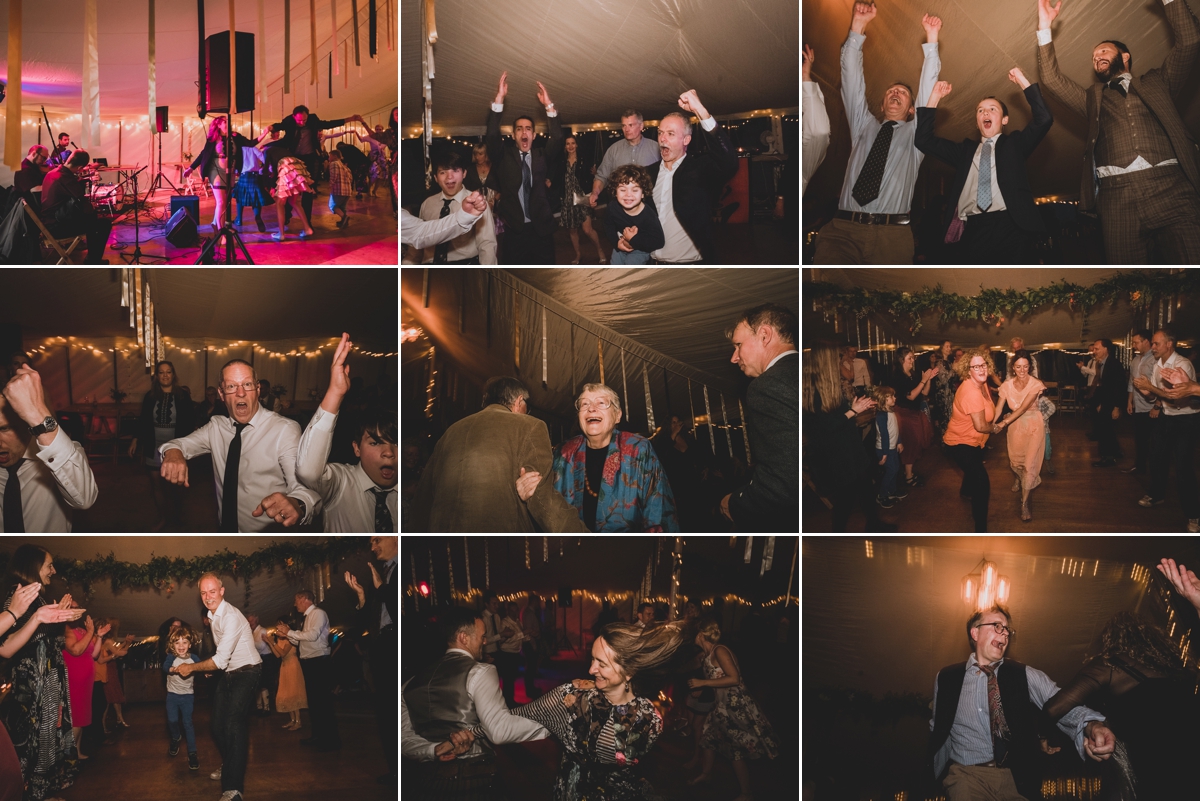 "In the evening for the Ceilidh band, to avoid my dress being torn, I changed into a tea dress from Intropia. This was a bit of a last-minute decision. I'd already bought it earlier in the summer, I just hadn't worn it yet, and it happened to be orange."
Amanda and Ed put their all into the wedding day of their dreams and their hard work and enthusiasm for all things vintage really came together to create a really gorgeous day. They also took full advantage of the benefits hosting your wedding in your own home, extending the celebrations to the lead up to the day too.
"We loved the week running up to the wedding as much as the day itself. It was really wonderful and an unexpected joyful part of the whole experience. Everything went exactly to plan on the day, not one hiccup! Even the glorious sun came out just as everyone was arriving. It's quite a bit of pressure having the wedding in your own home and as with most things, there's never quite enough time to get everything done."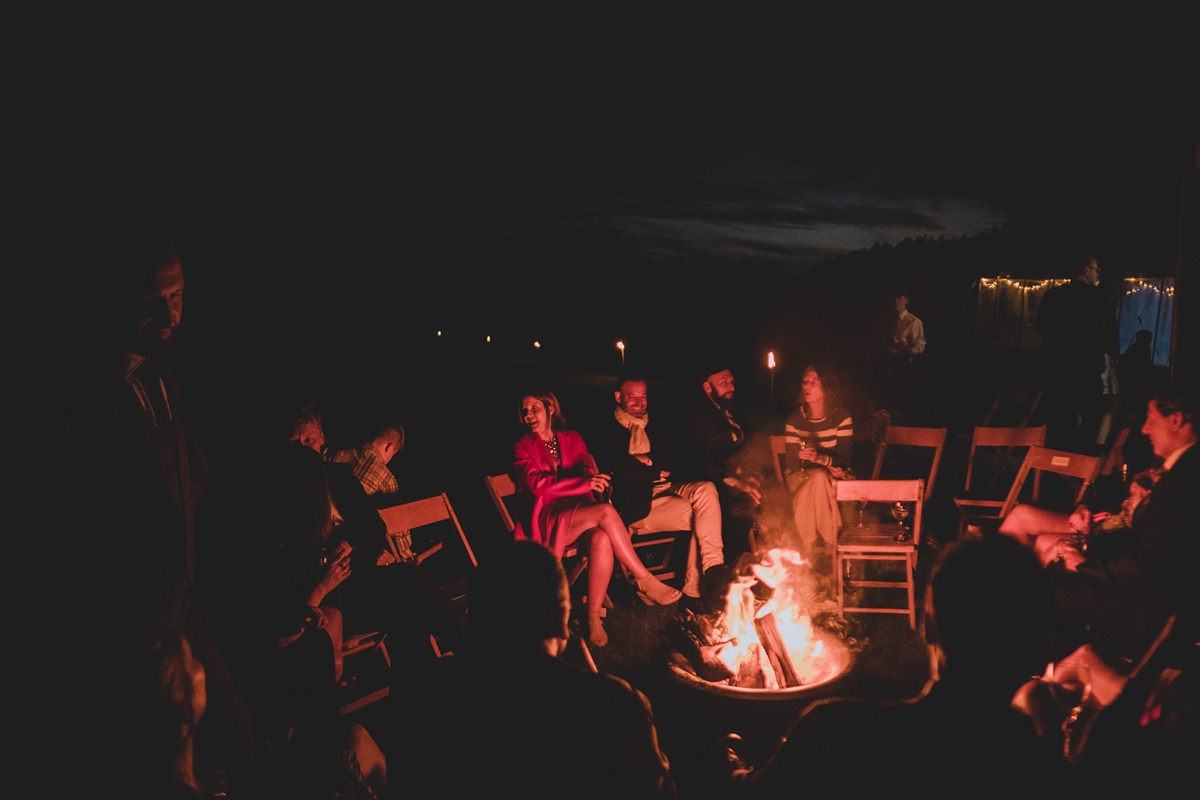 Words Of Wedded Wisdom
"Get your family and friends involved in the months and weeks running up to the wedding! Whatever is most important to you, make sure you book it ahead of time and make sure you draw up contracts with all your suppliers as soon as possible."
"All the wedding advice I read said book your caterer 6 months in advance but even a year in advance where we live wasn't long enough. Scotland is a popular wedding destination!"
"Pinterest, Etsy and eBay are your friends. Doing all that research and finding creative ways to make your day unique is part of the joy of planning. And finally, do what's right for you. We kept the bits we fancied and ditched the rest."
What a truly unique wedding and wonderfully personal day! Congratulations to Amanda and Ed for pulling off such a triumph. If you would like to hire Drumhead Estate for your own special day, you can find out more about this unique Scottish mansion here.
A special thanks also to photographer Steve Fuller for not only coming to the couple's rescue at the eleventh hour, but for capturing the day so beautifully too.
Until next time…
Much love,
Holly x