Happy Sunday lovely ladies! Today I've got a wedding with a bit of a rock 'n' roll vibe to it up my sleeve, featuring a motorbike-loving couple who have a penchant for the non-traditional and a love for dancing.
I've also fallen head over heels with the dress; a one-of-a-kind 70s vintage lace number. Have I got you wanting more yet? Then we better get to it. Travel Writer Jacob and Media Strategist Morgan were married on 7th October 2017 at the HTB Onslow Square church in South Kensington, followed by a reception at the Londesborough pub in Stoke Newington. Being the non traditional types, Morgan and Jake wanted a relaxed, non-traditional wedding above of all for their day, with a vision of DIY touches and a mixed colour scheme.
Film by Irene Piera Films
https://vimeo.com/238793763
"We didn't have a specific vision for the day, other than wanting it to not feel stuffy. We tried to overcome this with lots of DIY; handmade paper tassels, glitter bananas, spray painted toy dinosaurs bought from eBay and an origami crane mobile made from recycled embroidery hoops and nylon wire. The design touches were eclectic, but we tried to tie them together with a colour scheme of gold, burgundy, cream and pops of periwinkle. "
Images by Ellie Gillard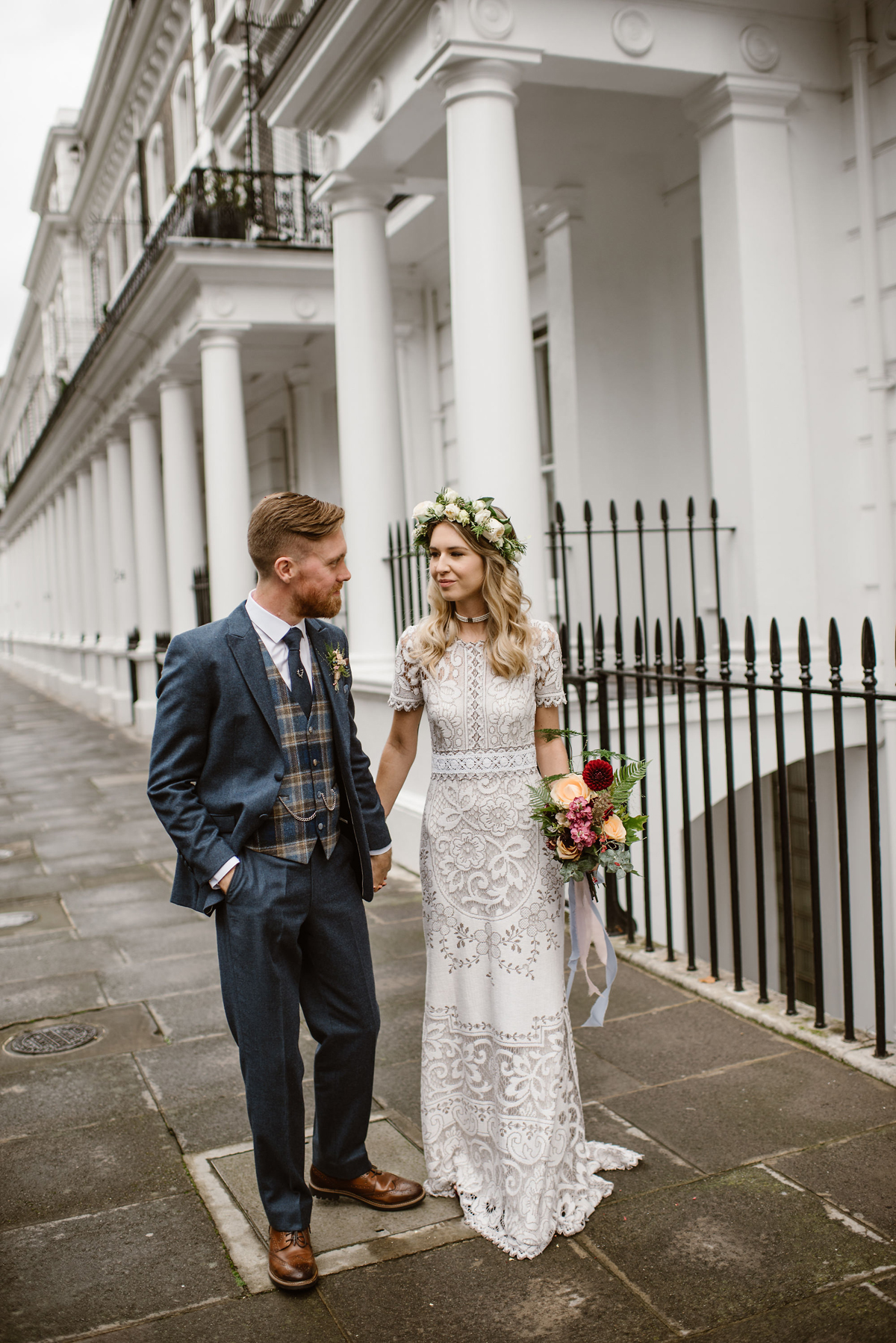 The photo's capture the non-traditional city vibe perfectly and were taken by the fabulously talented Ellie Gillard.
"Ellie came recommended to us and we quickly realised why. We instantly felt relaxed with Ellie during the engagement shoot and were so happy with the results too. On our wedding day Ellie fit in brilliantly with the wedding party and she worked so quickly and efficiently, making the most of every location and any lighting situation. This meant we could just relax and enjoy our day knowing we were in great hands."
The pair also opted for videographer Irene Piera Films who Morgan first came across on our very own The Little Book For Brides to capture their memories of the day on video.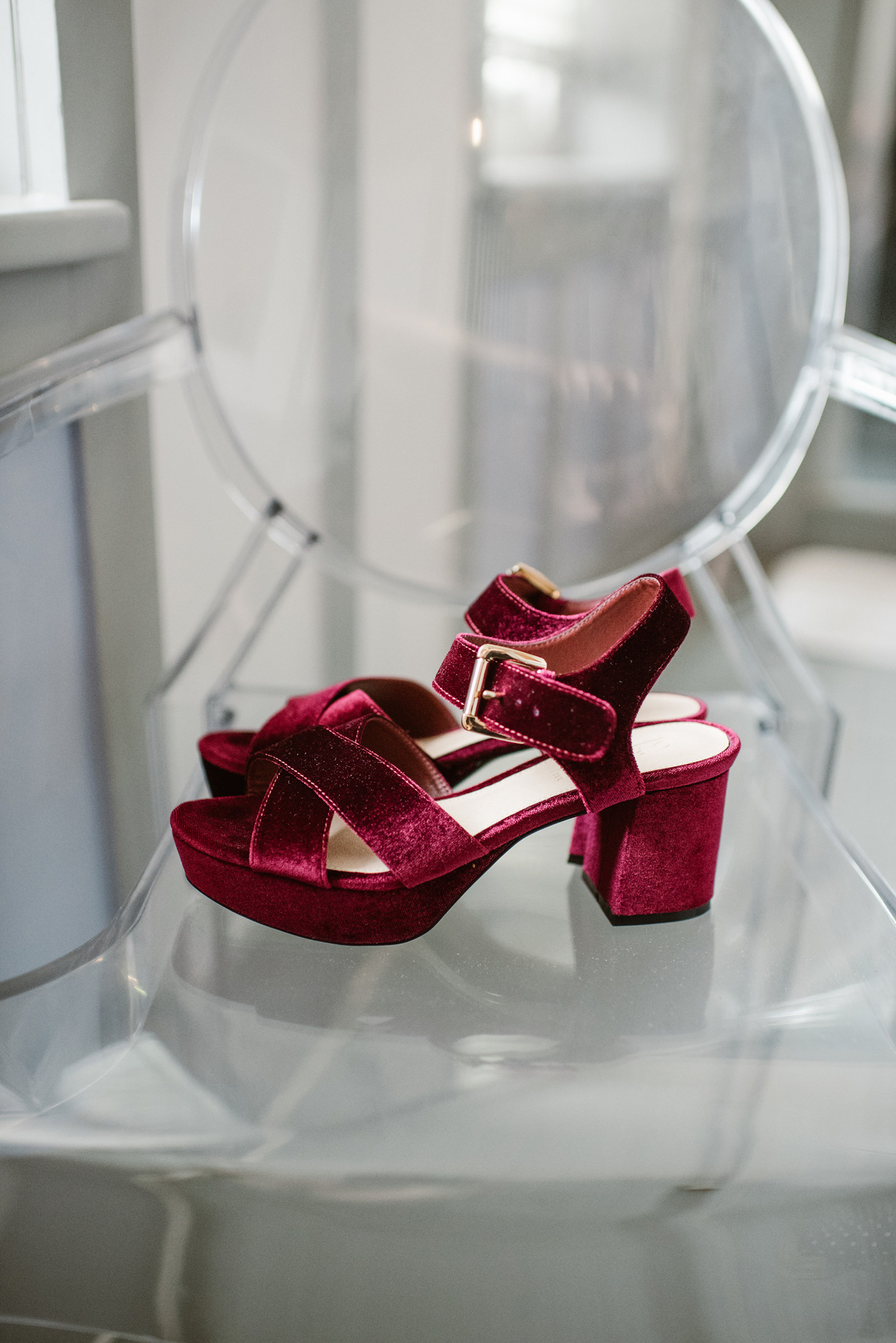 Each groomsman wore a buttonhole and each bridesmaid held a bouquet, all lovingly created by London-based florists Grace and Thorn who also worked their magic on the reception venue.
"One of the first bouquets of flowers Jake sent me when we first started dating was from Grace and Thorn, so it felt right to include them in our day. Not having a green thumb myself, I knew I could leave them with our colour scheme and trust them to do what they do best. They did not disappoint and created beautiful arrangements which completely transformed our venue space."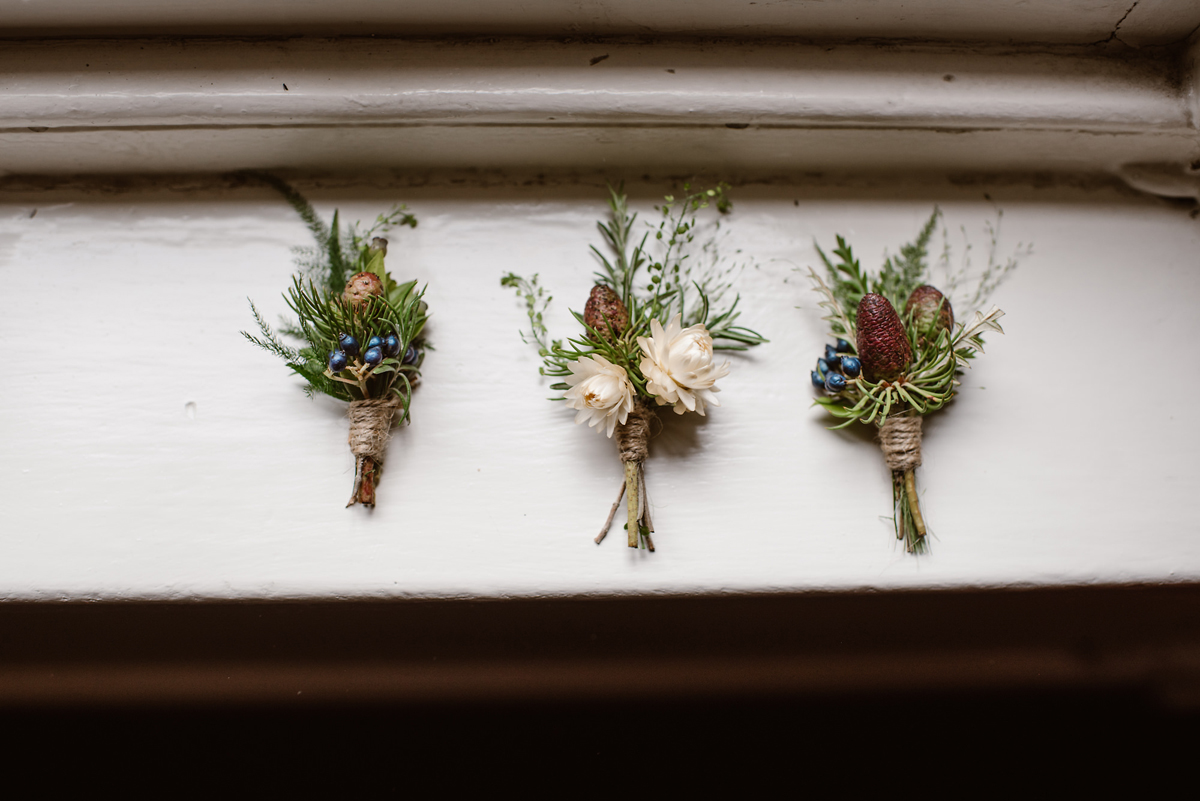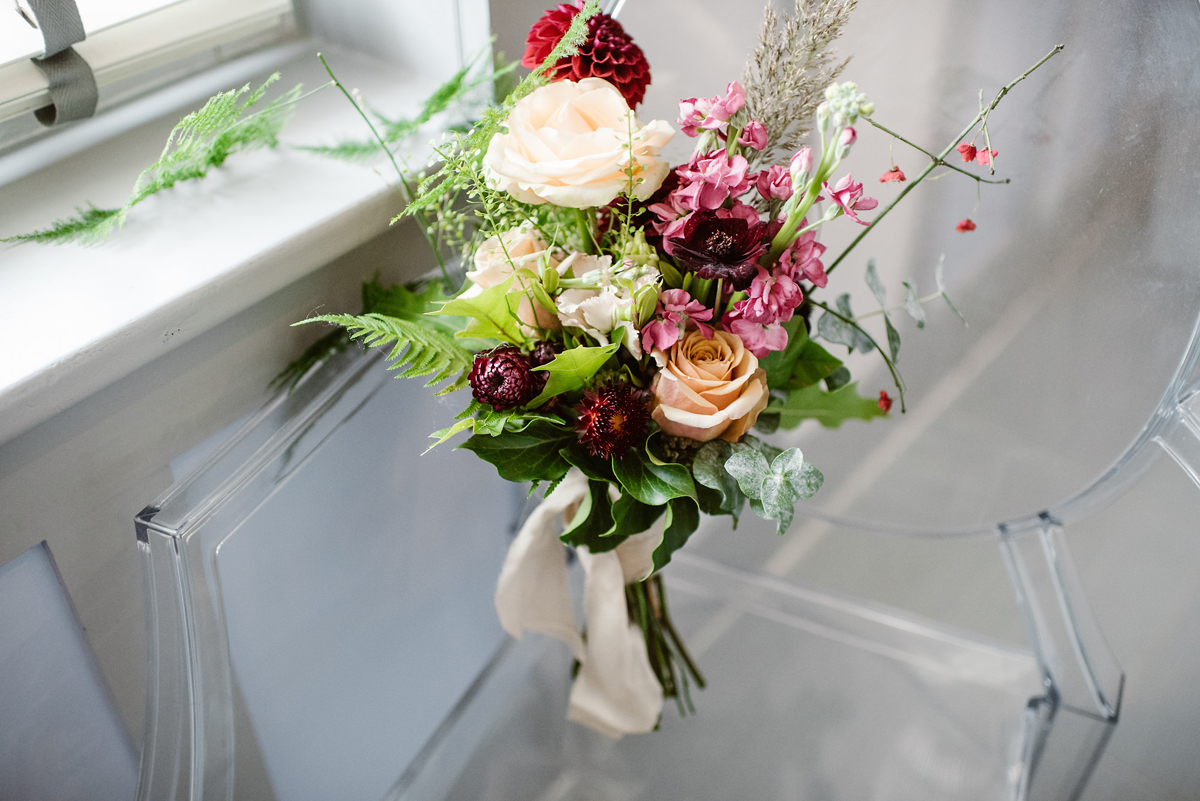 To compliment her 70s-esque dress, Morgan chose soft waves to wear beneath her flower crown, styled by hairdresser Aria at Laura Anne Hair and Make up who also perfected her bridal make up look.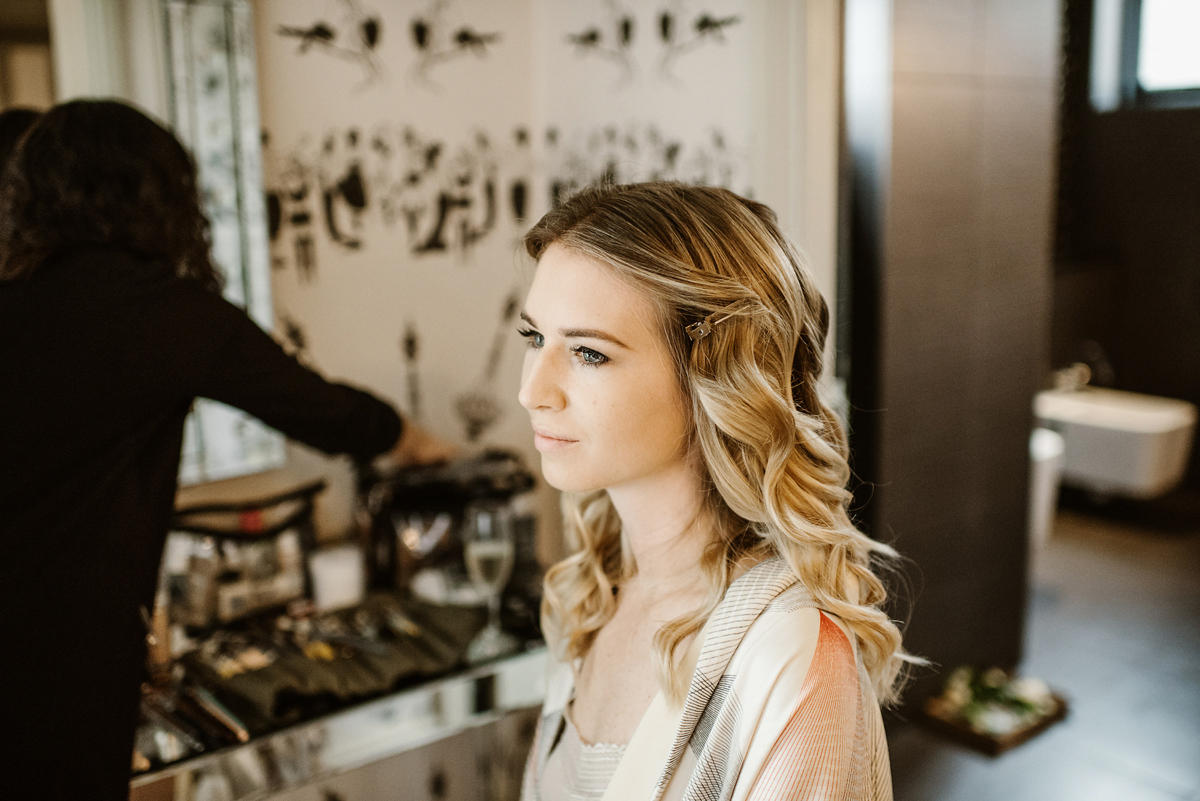 The divine gown was from Saldana Vintage.
"I wanted a dress with a 70s bohemian flair that would somehow translate for an autumnal city wedding. I found Saldana Vintage on a blog and fell completely in love with their dresses."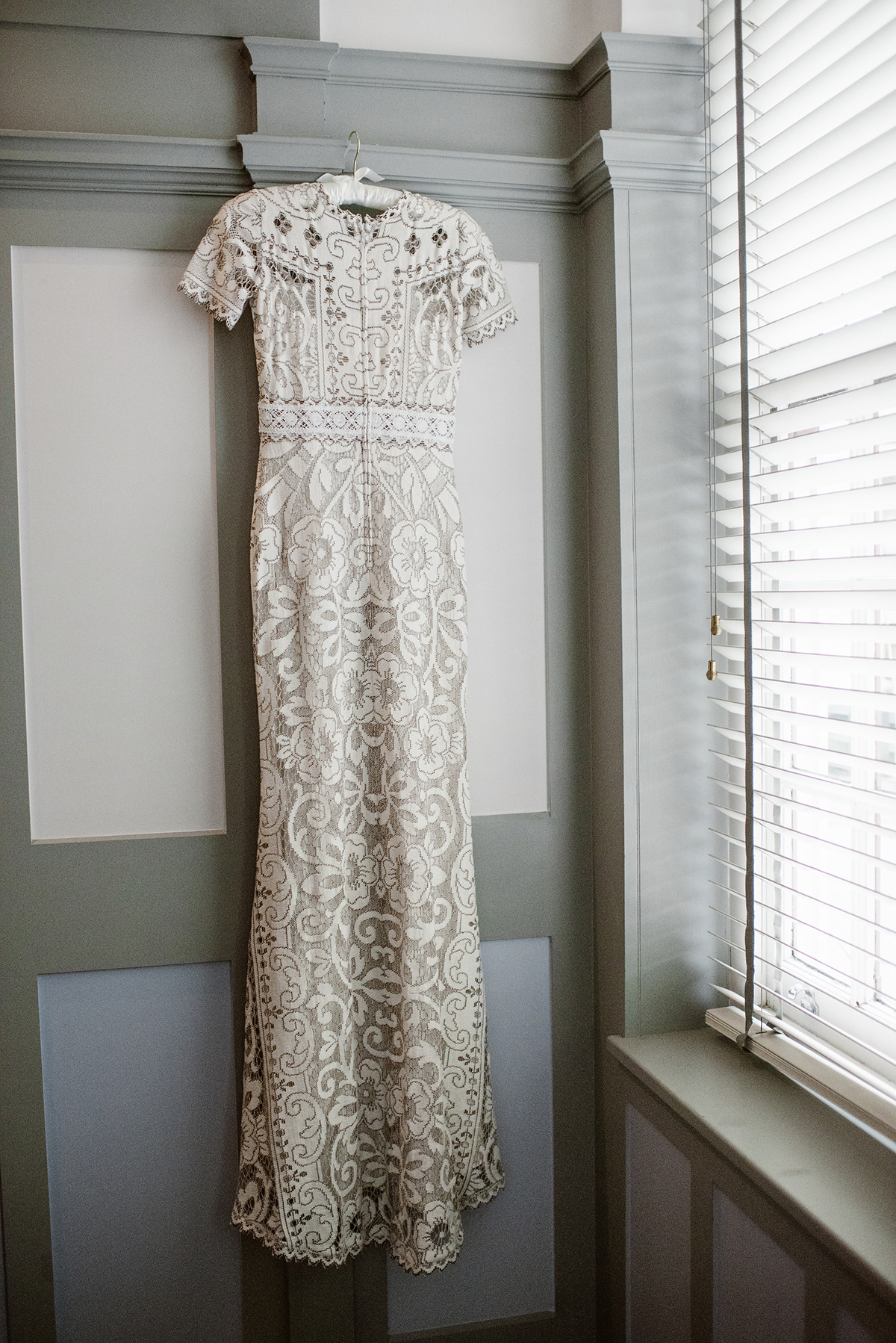 "Each dress is completely unique, made from repurposed vintage lace. I loved the idea that the dress was sustainable, affordable and unlike anything I'd ever come across before."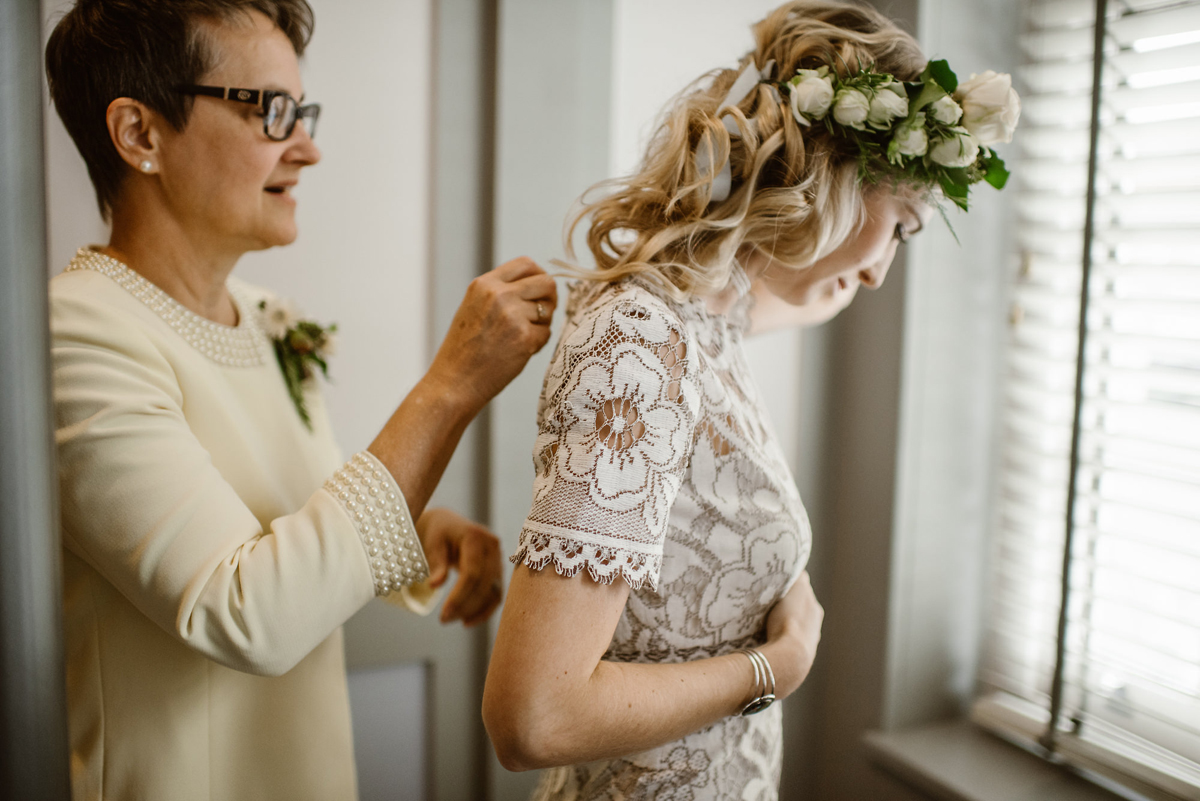 "My accessories included a pearl choker found in a vintage shop in Chicago, my Oma's sapphire and cameo flip ring and two silver bracelets; one gifted to me by Jake from our time in Arizona before our engagement. I completely forgot about perfume and it ended up being a blessing in disguise as everyone kept saying on the day that I smelled of fresh roses and rosemary from my flower crown by Grace and Thorn."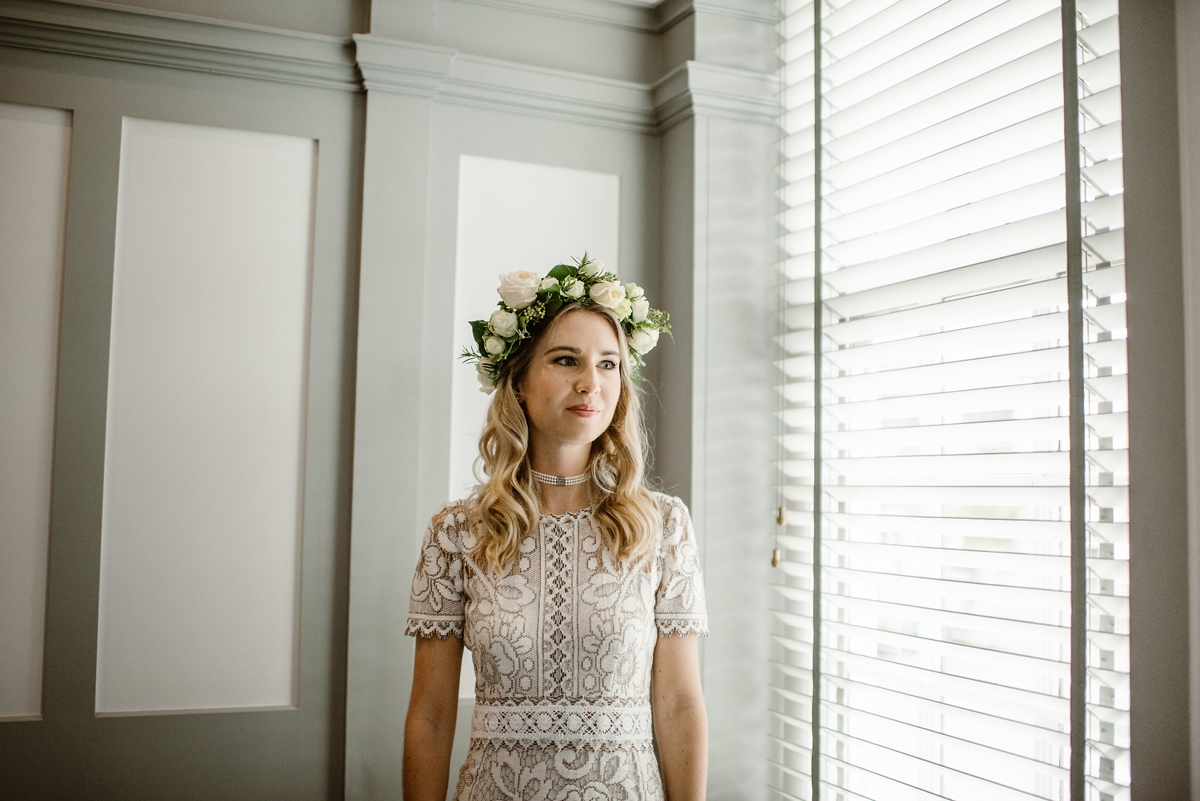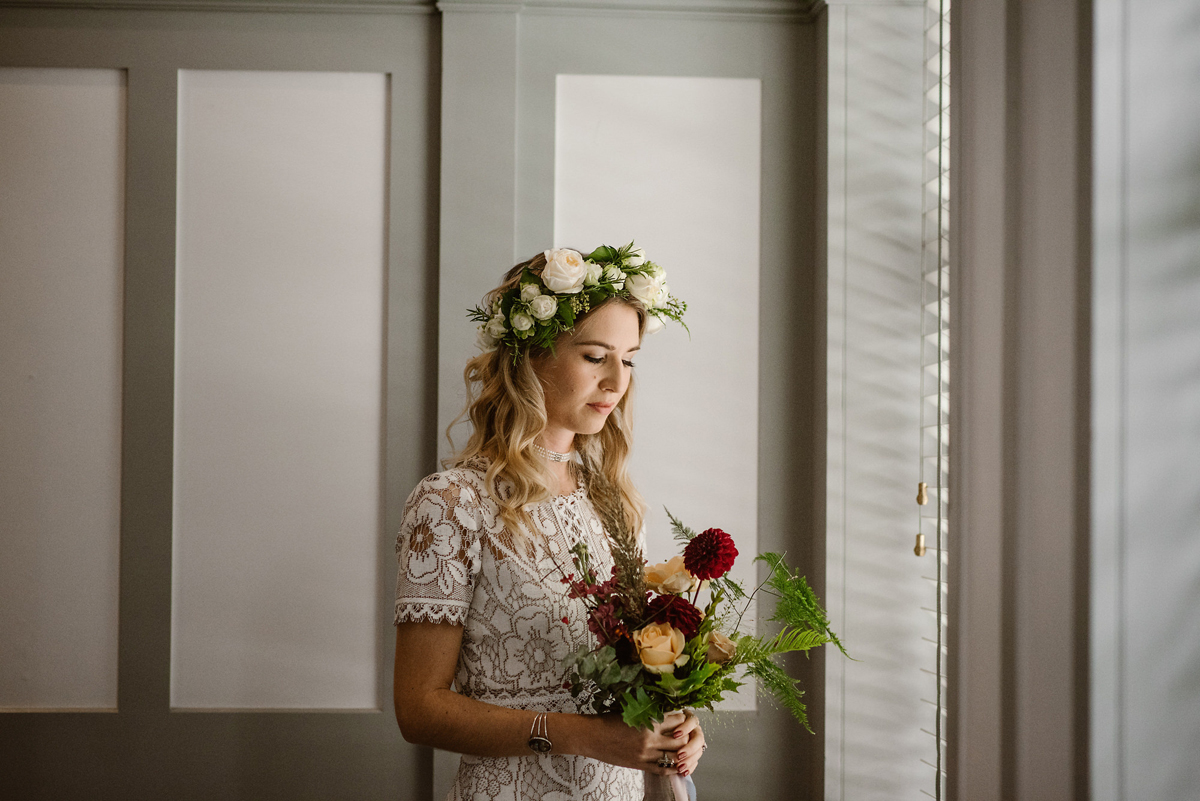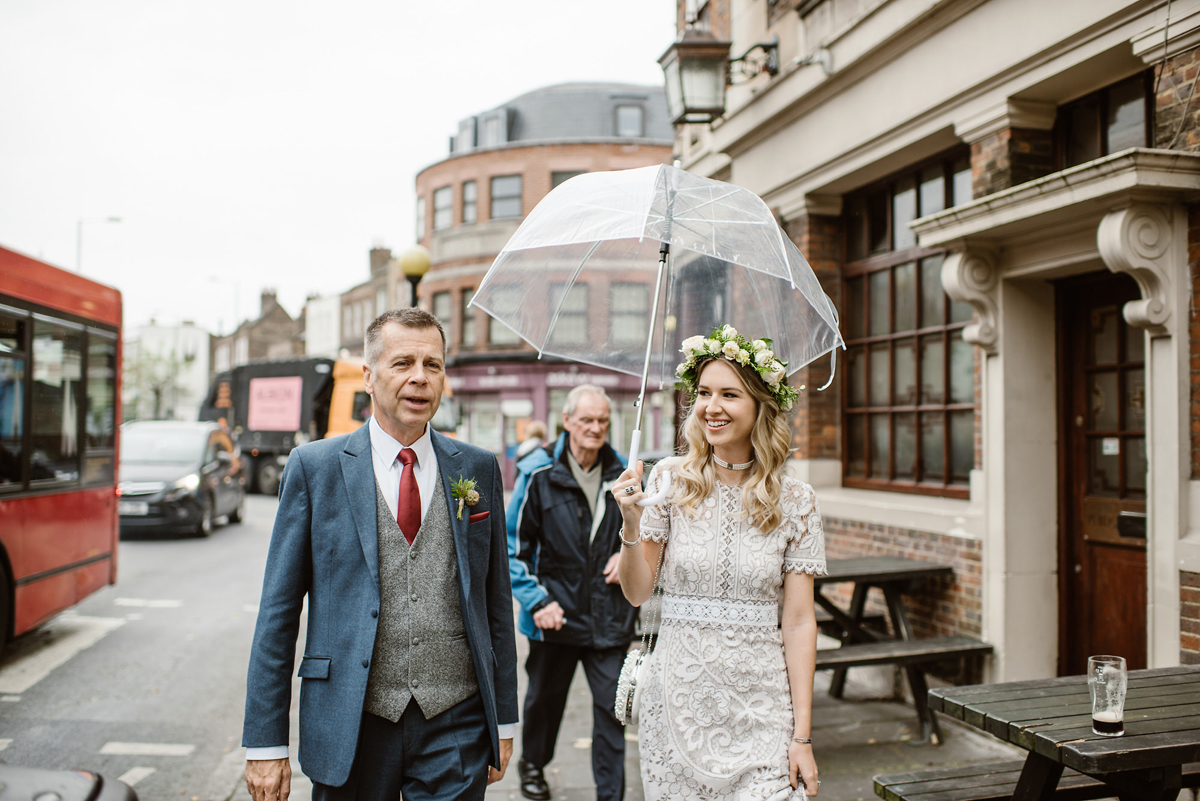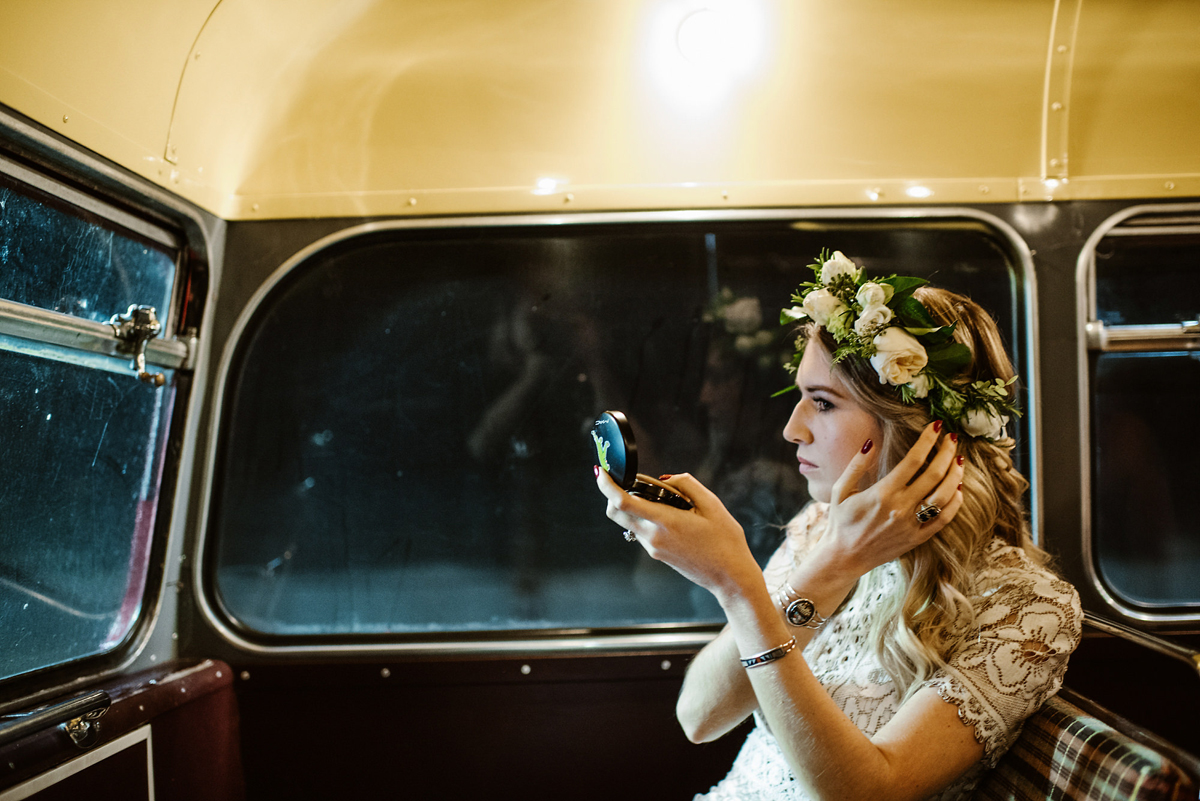 After becoming inseparable after meeting on a motorbike ride out in the Cotswolds, Jake ended up proposing in the desert in 40c.
"When we met, we were both nursing hangovers and nearly didn't turn up. I'd been set up on something og a blind date with another rider and Jake had been set up with a girl he didn't know to ride with. Throughout the day however, we kept gravitating towards each other, mainly through a series of bad jokes and semi-delusional laughter. By the end of lunch I decided I should be the one to ride back with him to London. We've been somewhat inseparable ever since."
"Our engagement took place as part of a three and a half week motorbike tour across the US from Chicago to LA. Towards the end of our trip, we planned to stop off in the Mojave National Preserve to take a photo together. We were riding a very heavy Indian Roadmaster with all of our luggage and when Jake pulled the bike over to the side of the road, it sunk sideways in the sand. Jake laughed it off and was weirdly calm the entire time."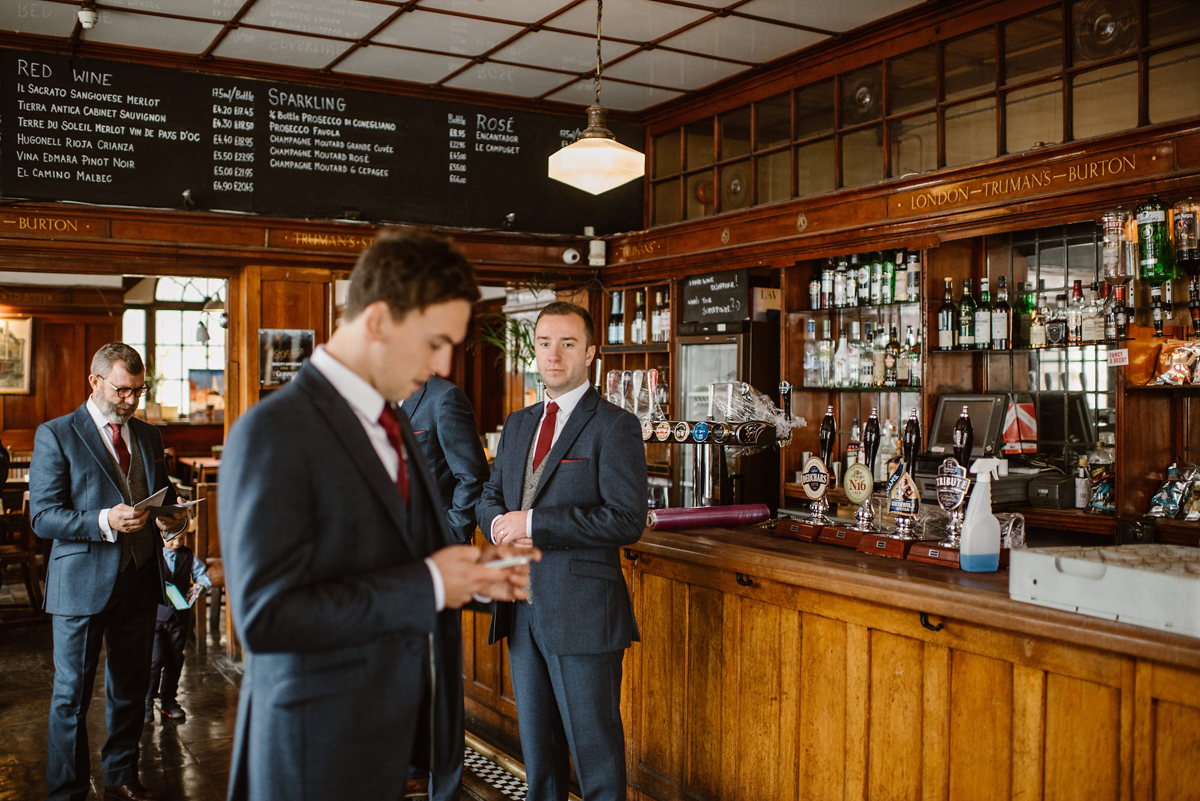 The couple hired a double-decker bus from Red Route Buses to take the wedding party from the church to the pub; an hour-long journey in which they kept guests entertained with a pub quiz, homemade biscuits, bags of crisps and lots and lots of Prosecco.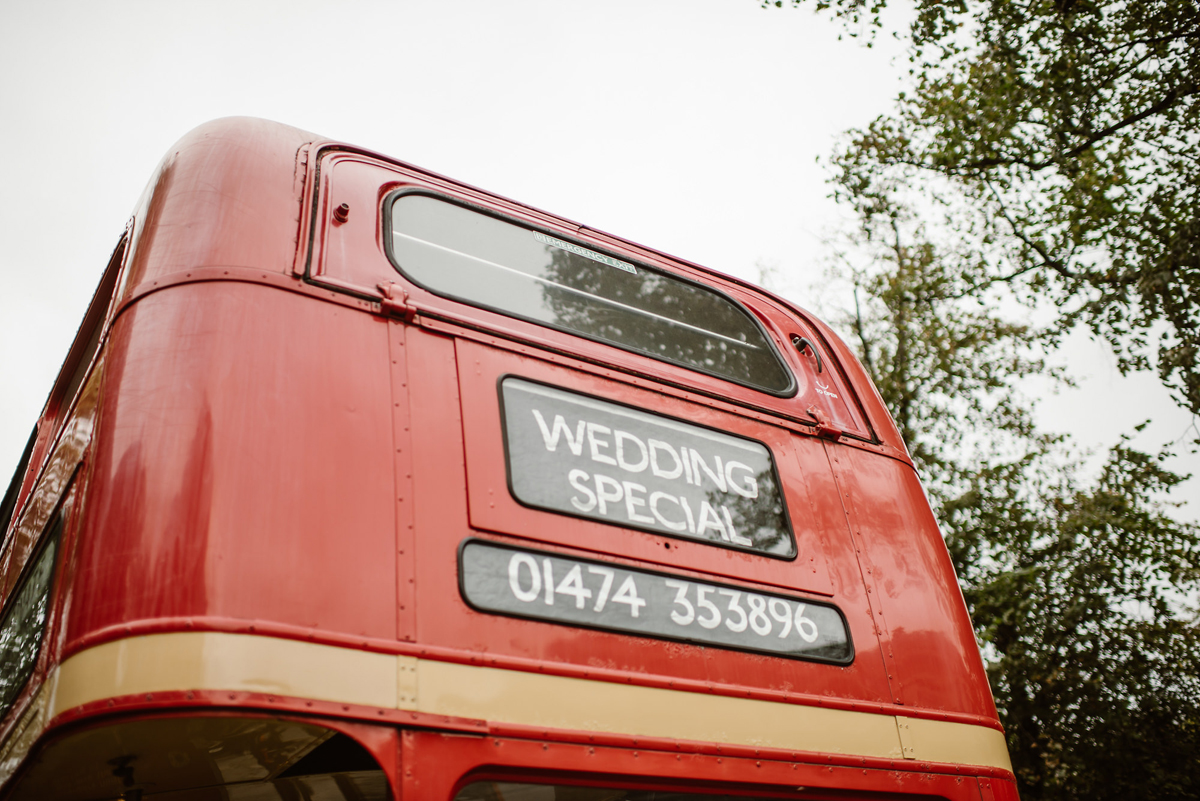 Jacobs 3-piece suit came from Jack Bunney's and to stand out from his groomsquad, opted for a contrasting tartan waistcoat which he accessorised with one of his granddad's pocket watches gifted to him by his dad.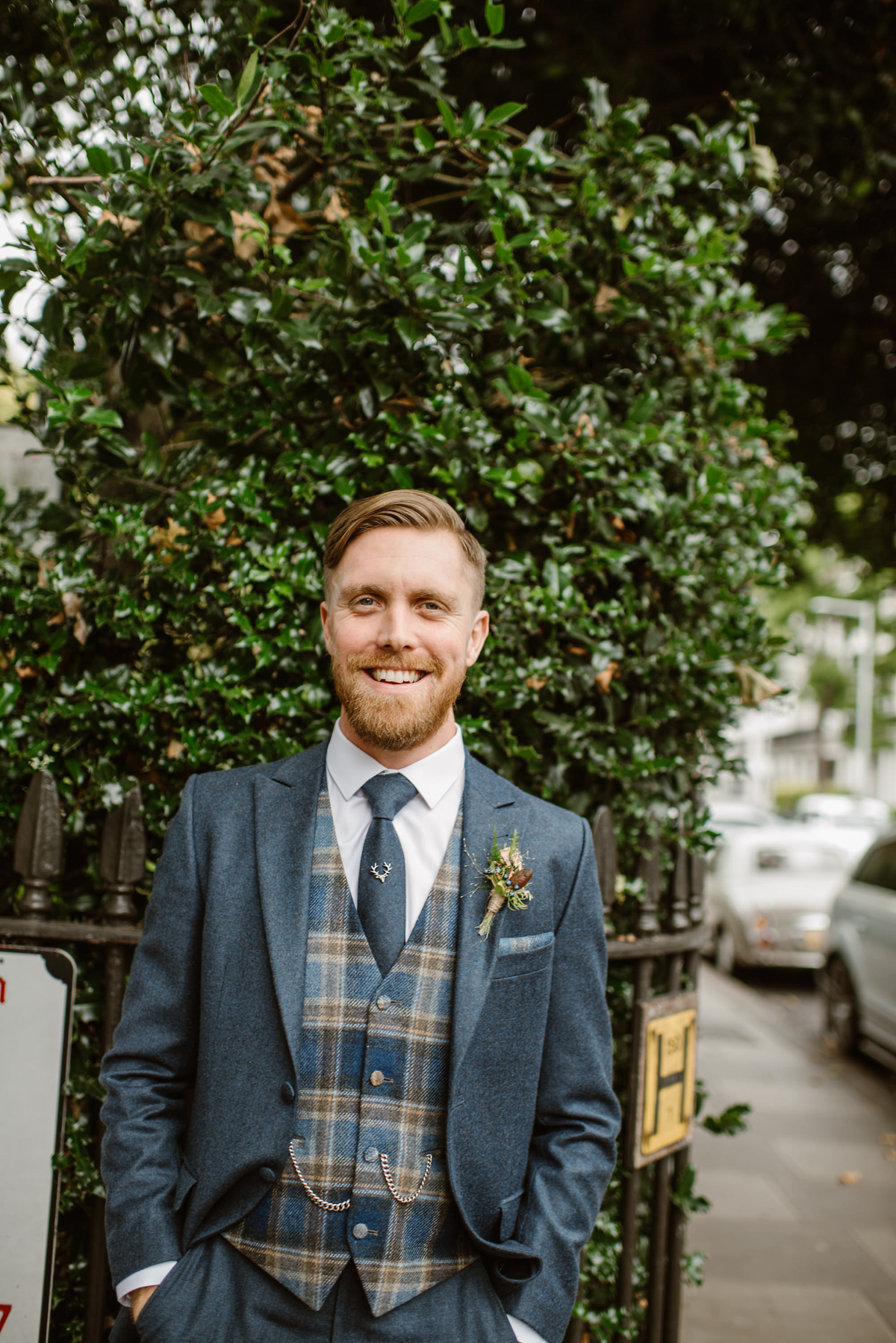 "The temperature in the desert that day was reaching over 40c so, in full survival mode, I unpacked our luggage from the bike, rolled up my sleeves, and attempted to push the bike out of the sand whilst Jake revved the engine. Luckily we did it and went on to set the tripod up to take the photo. Little did I know that Jake had put the camera on video and while posing for what I thought was a photo, Jake got down on one knee behind me and asked me if I would marry him. He later joked that pushing the bike out of the sand was the final test before he proposed. We were engaged for a year and two months before we got married."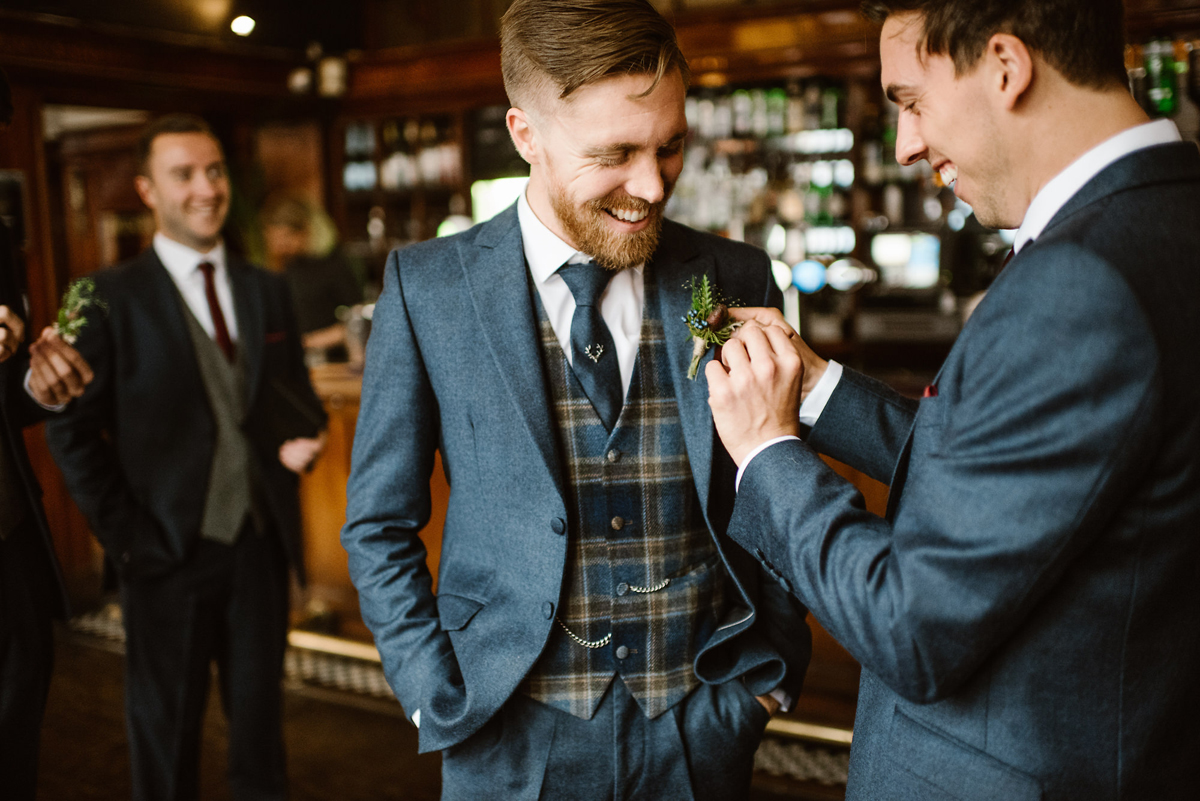 The stationery was a mix of DIY and invites from Child Paper Company.
"The order of service was drawn and designed by myself. The table plan was a DIY project done by attaching gold party animals on sticks to painted wood numbers, and the place cards were attached to the origami cranes we gave as our guests as favours."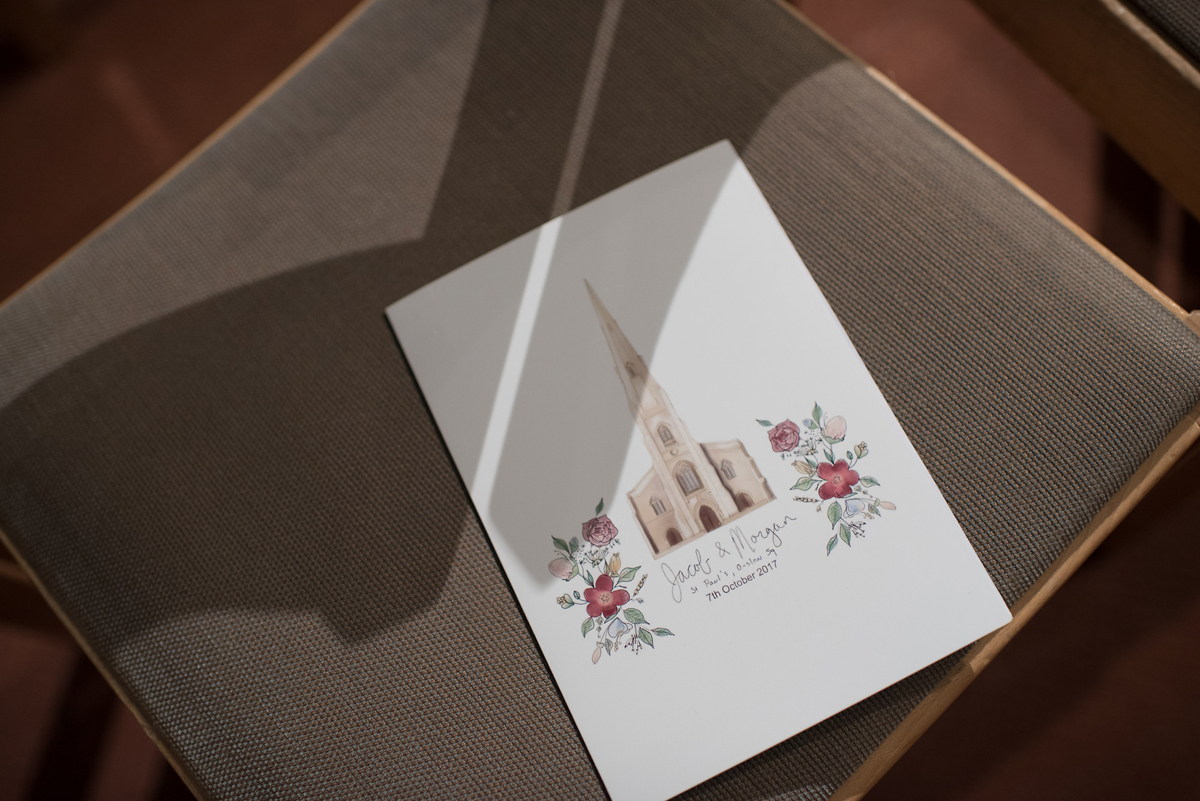 Morgan walked down the aisle with her dad to an instrumental version of Here Comes The Sun by The Beatles.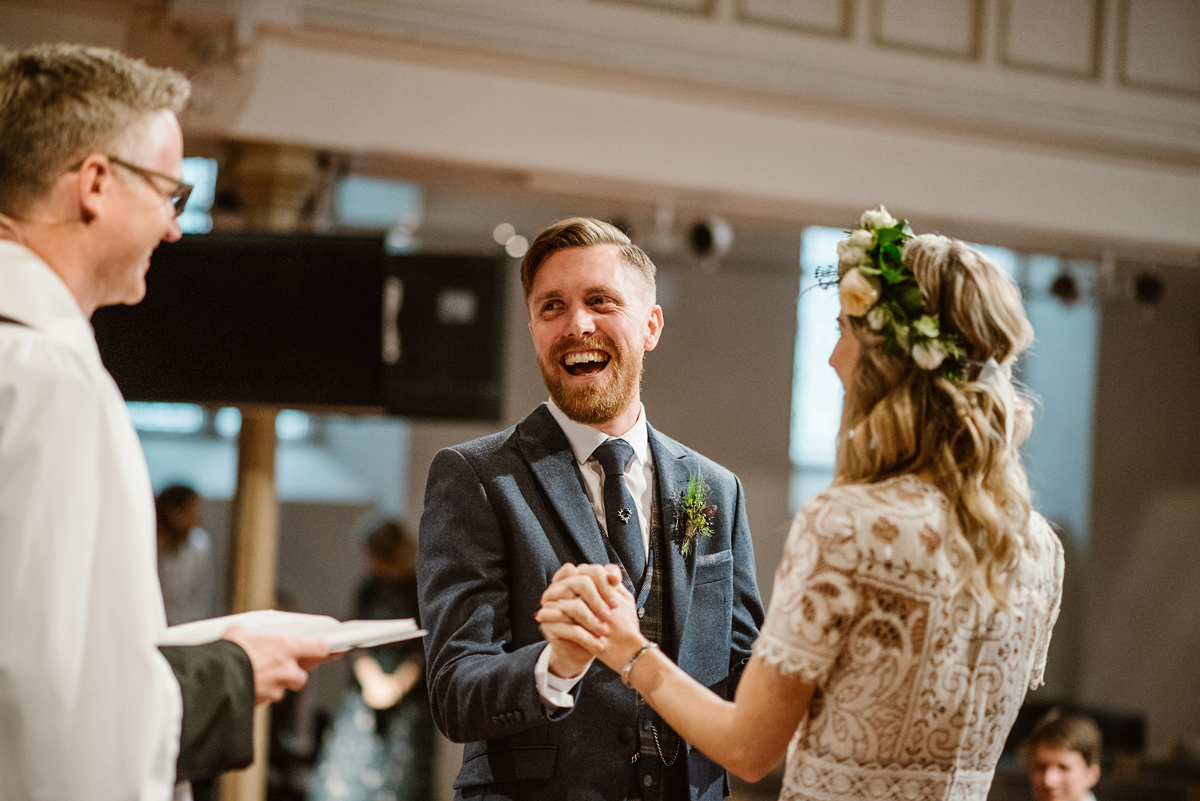 "We love the inclusive ethos at HTB church and how down to earth the team there are. A great example of this is our wedding pastor Paul who had everyone doubled over with laughter as he spoke frankly about the trials and imperfections of marriage and life. Sharing with us that these could be overcome through love, faith and compassion for one another. The band at HTB are also incredible and really took the ceremony to another level. Our guests are still saying how it was like being at a Radio 1 Live Lounge."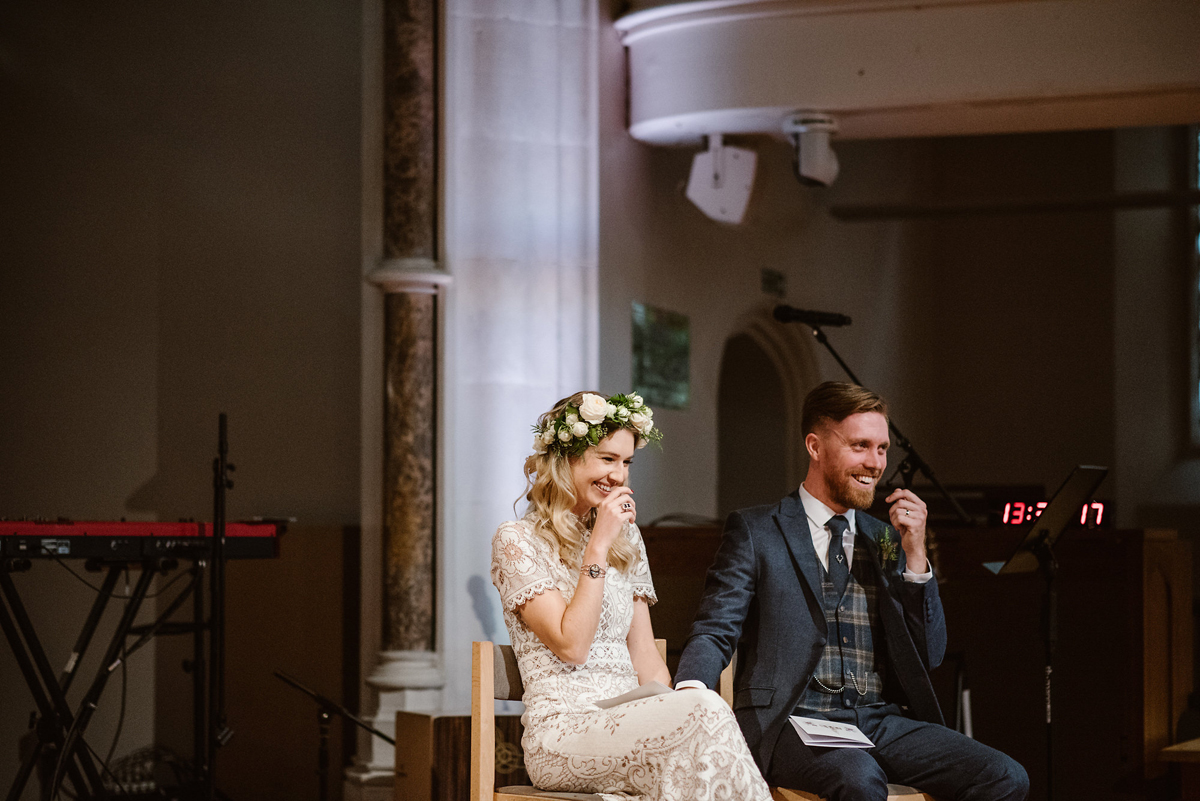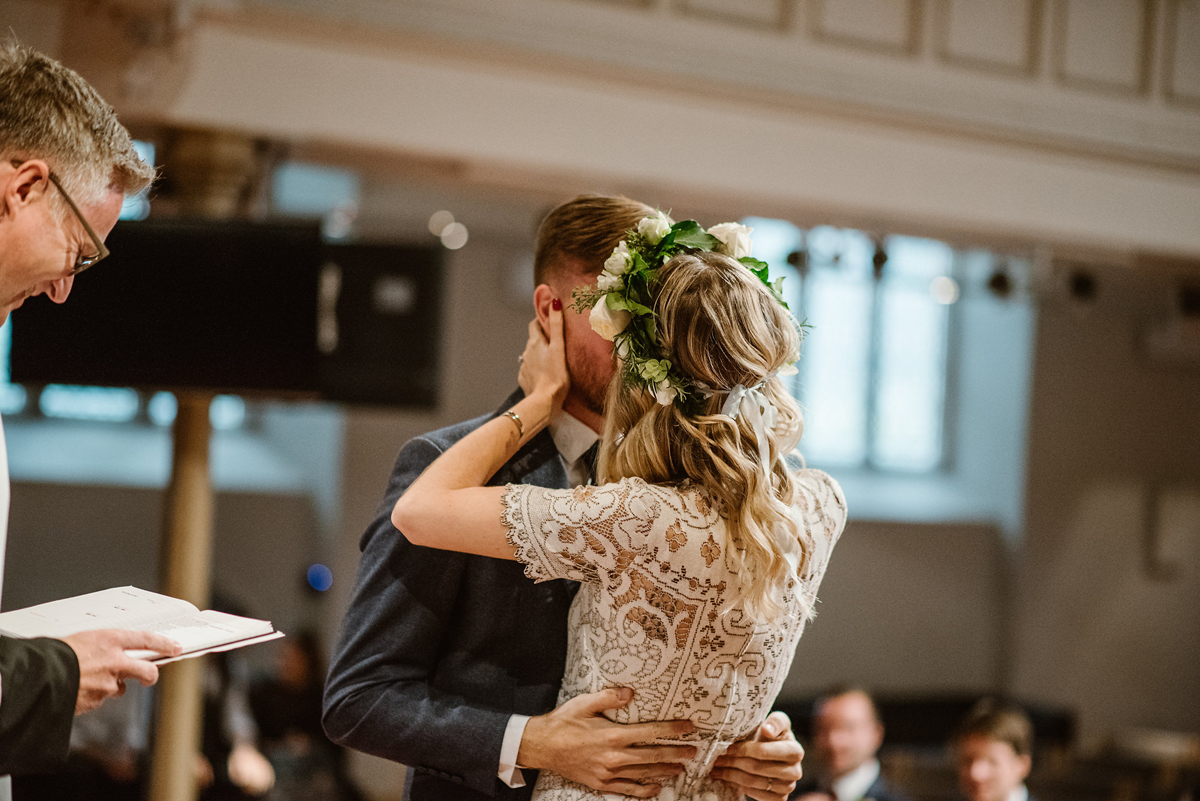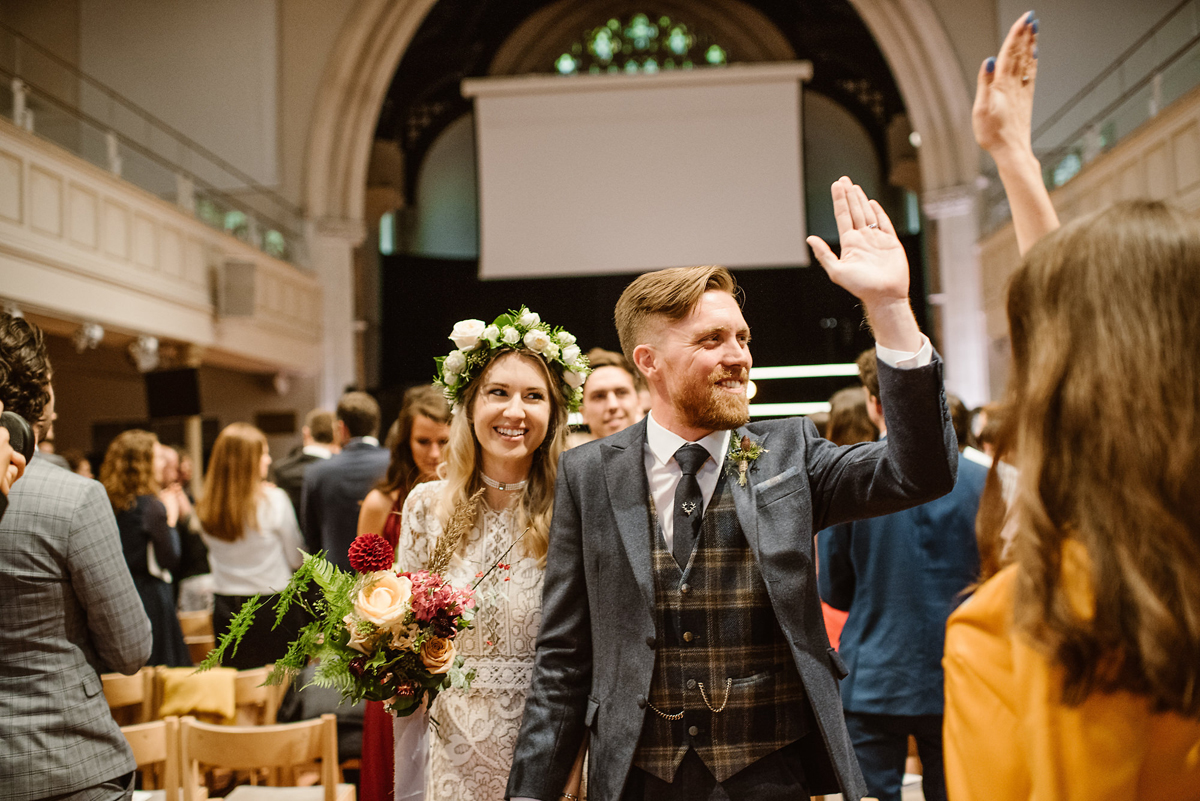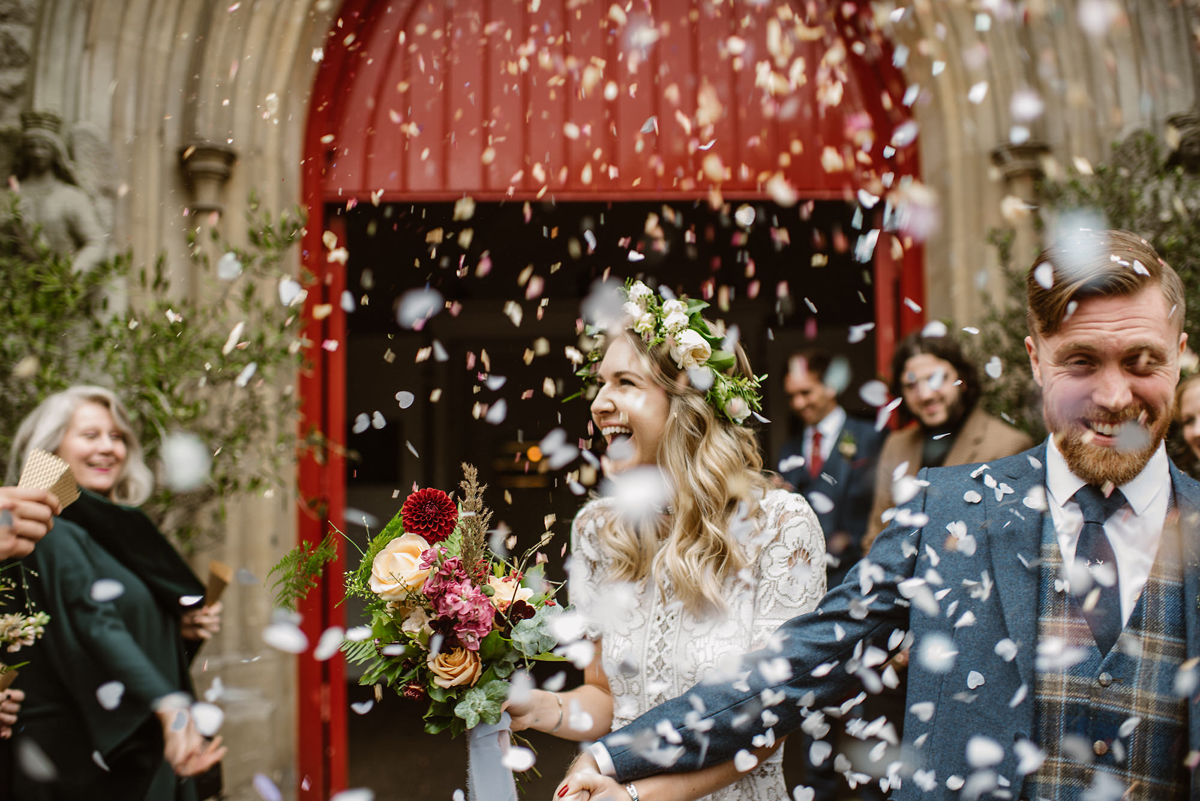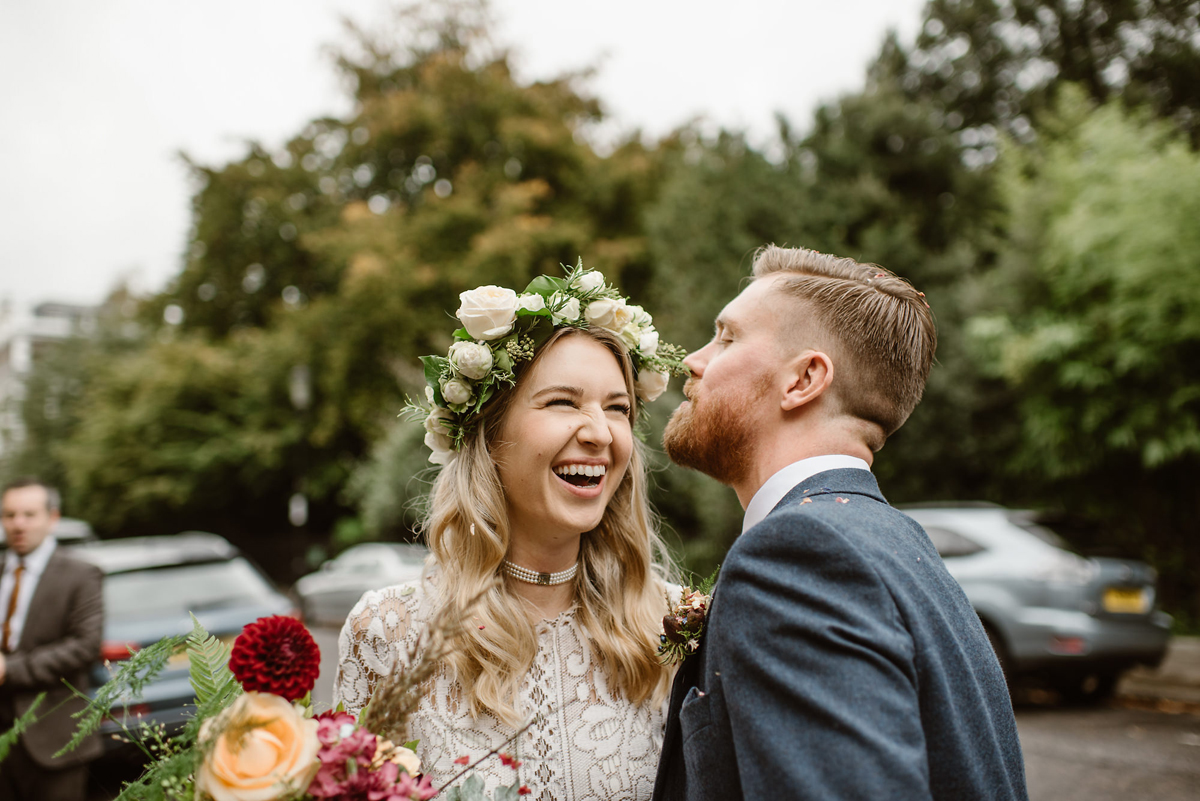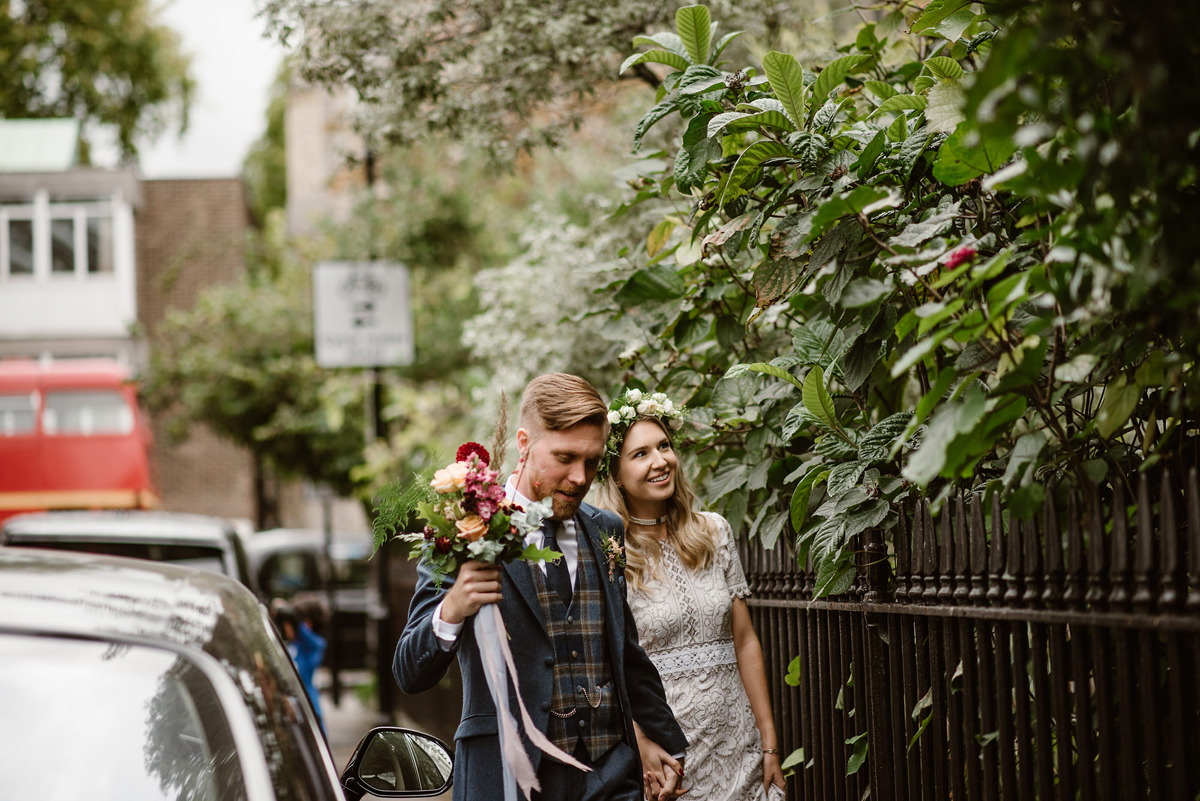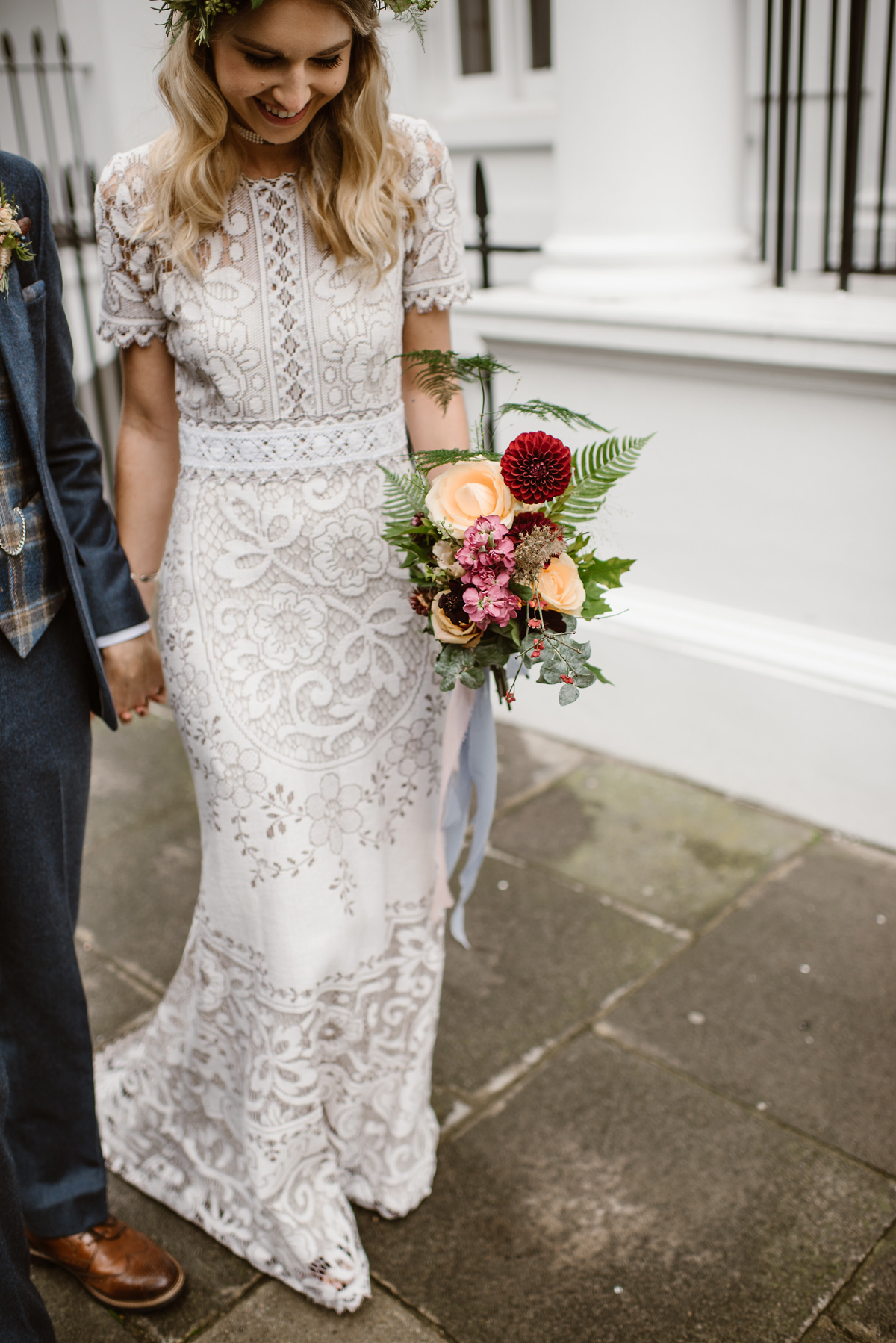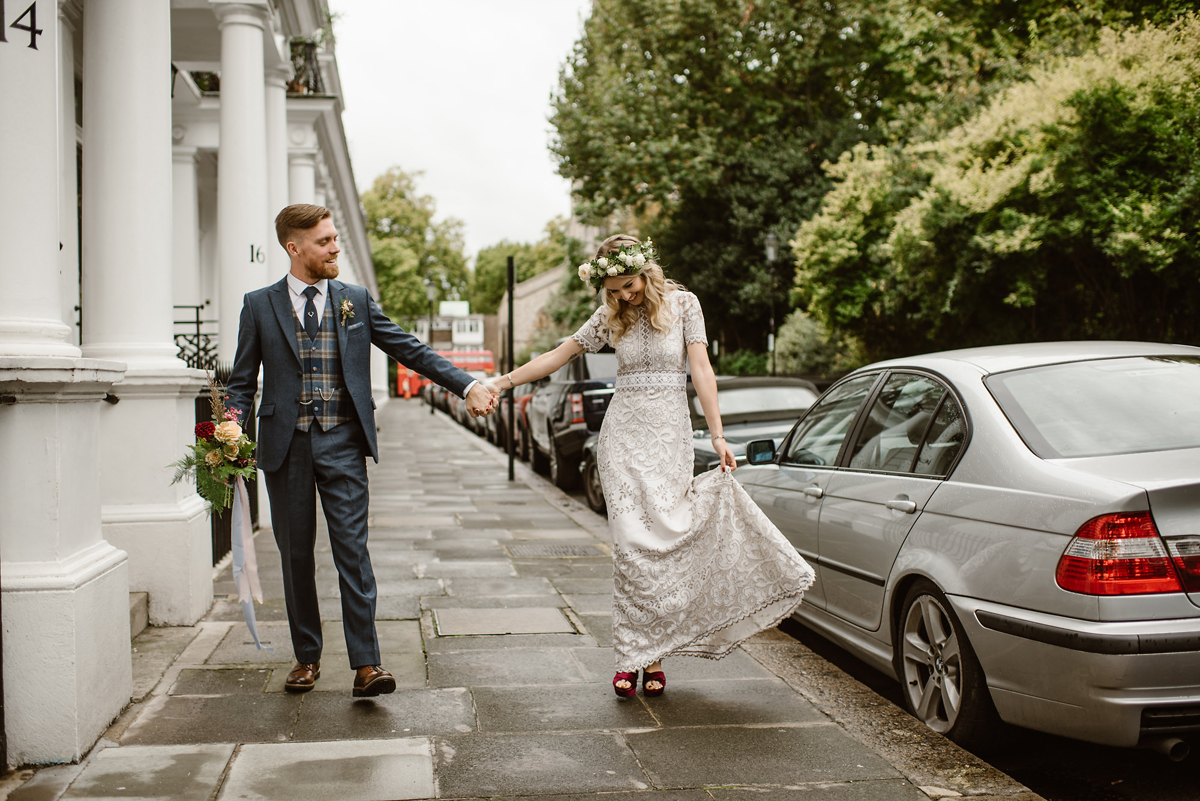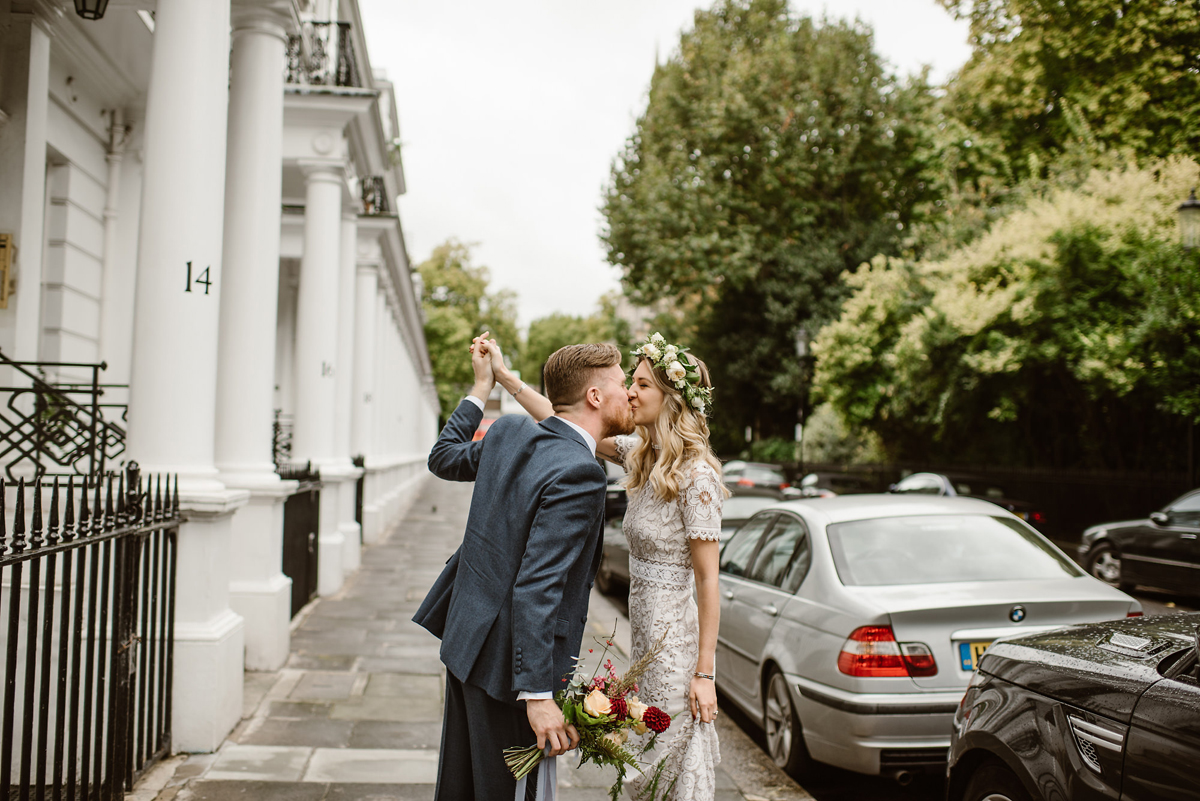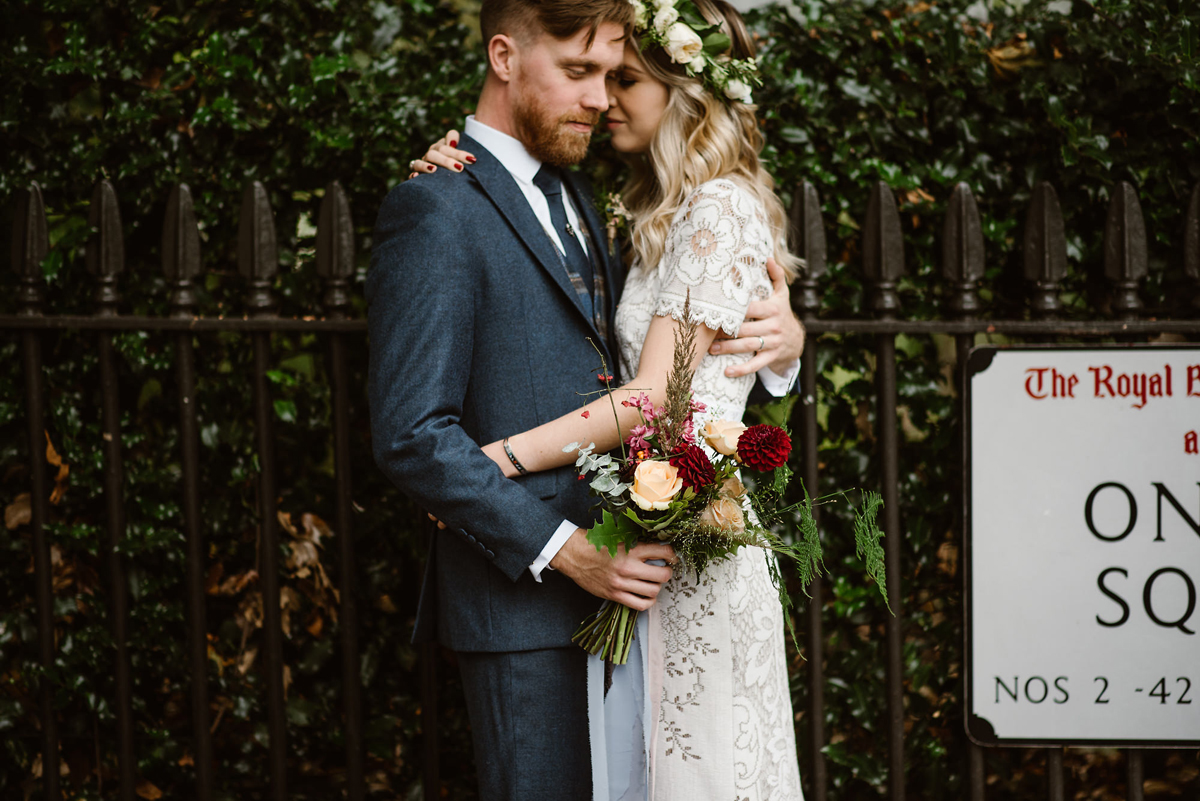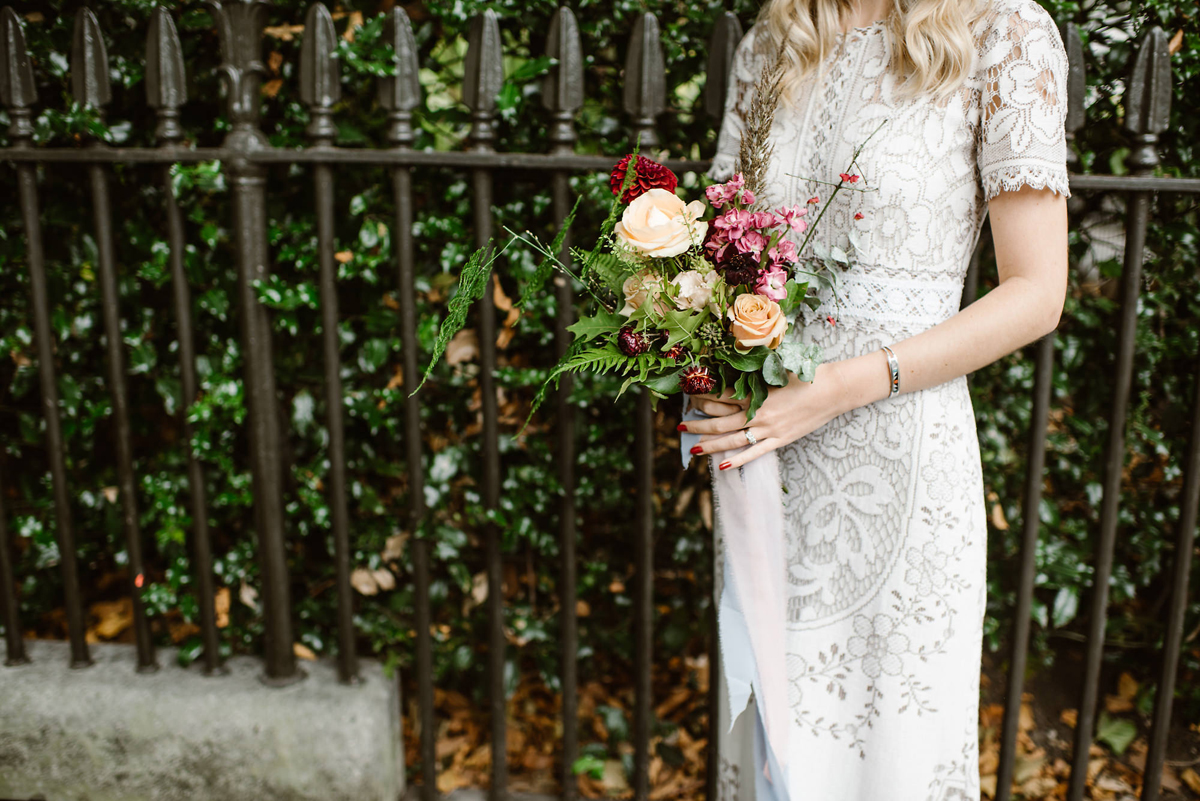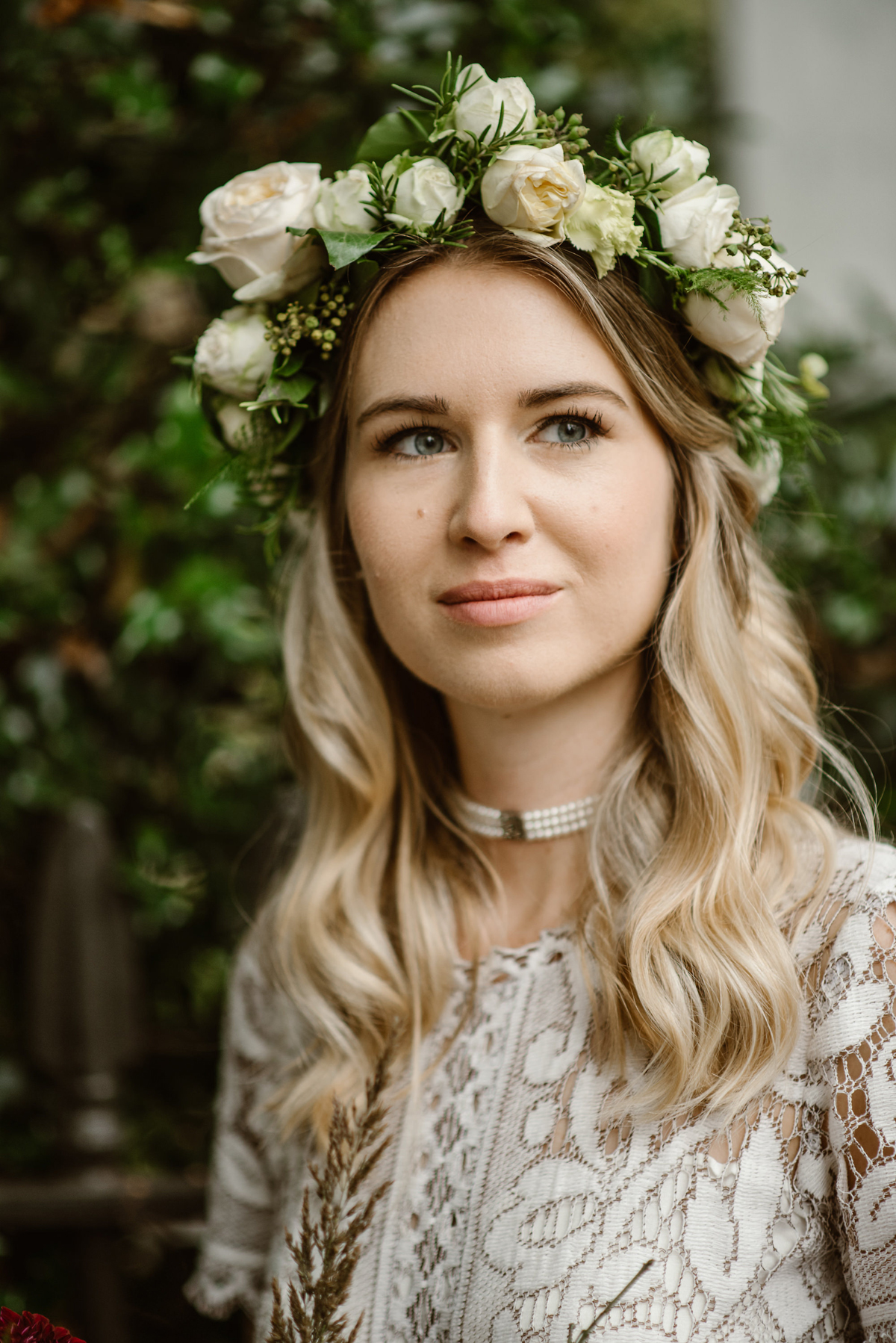 The bridesmaids looked beautifully autumnal in full-length berry coloured dresses from Debenhams and the groomsmen matched the groom in 3-piece blue suits with a grey waistcoat and berry coloured tie.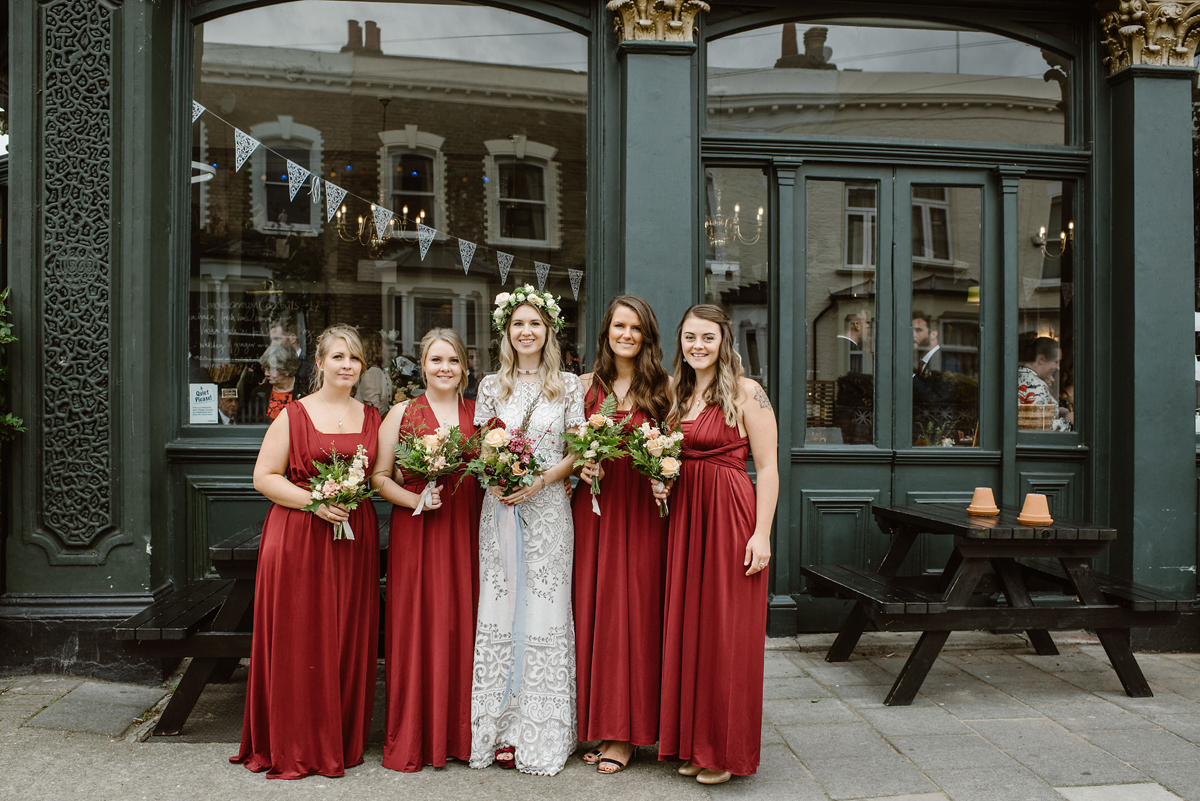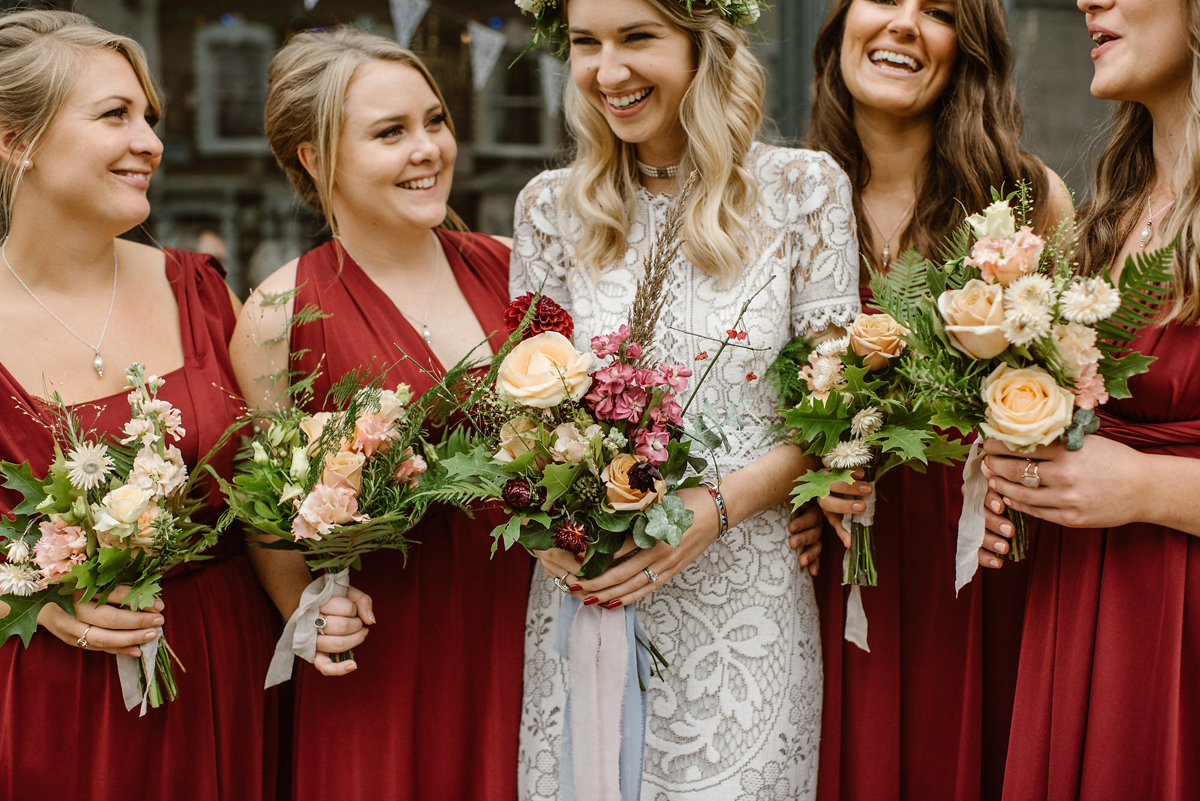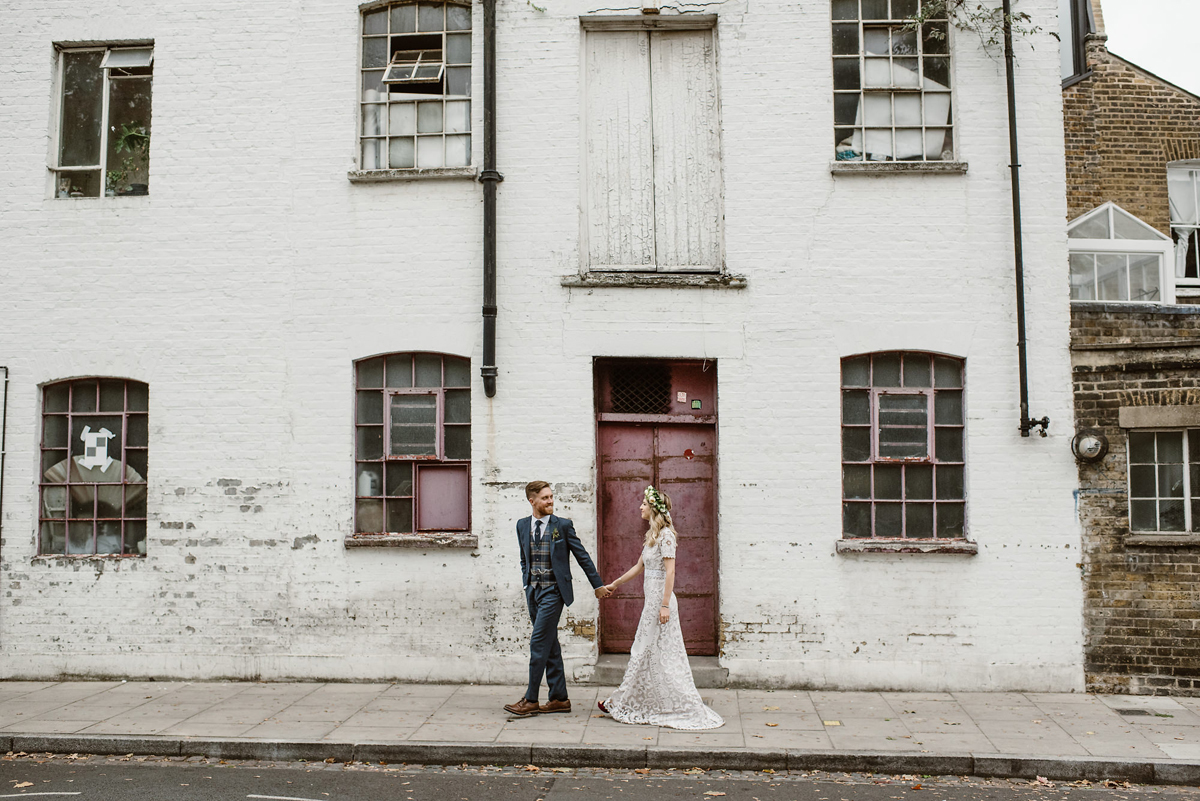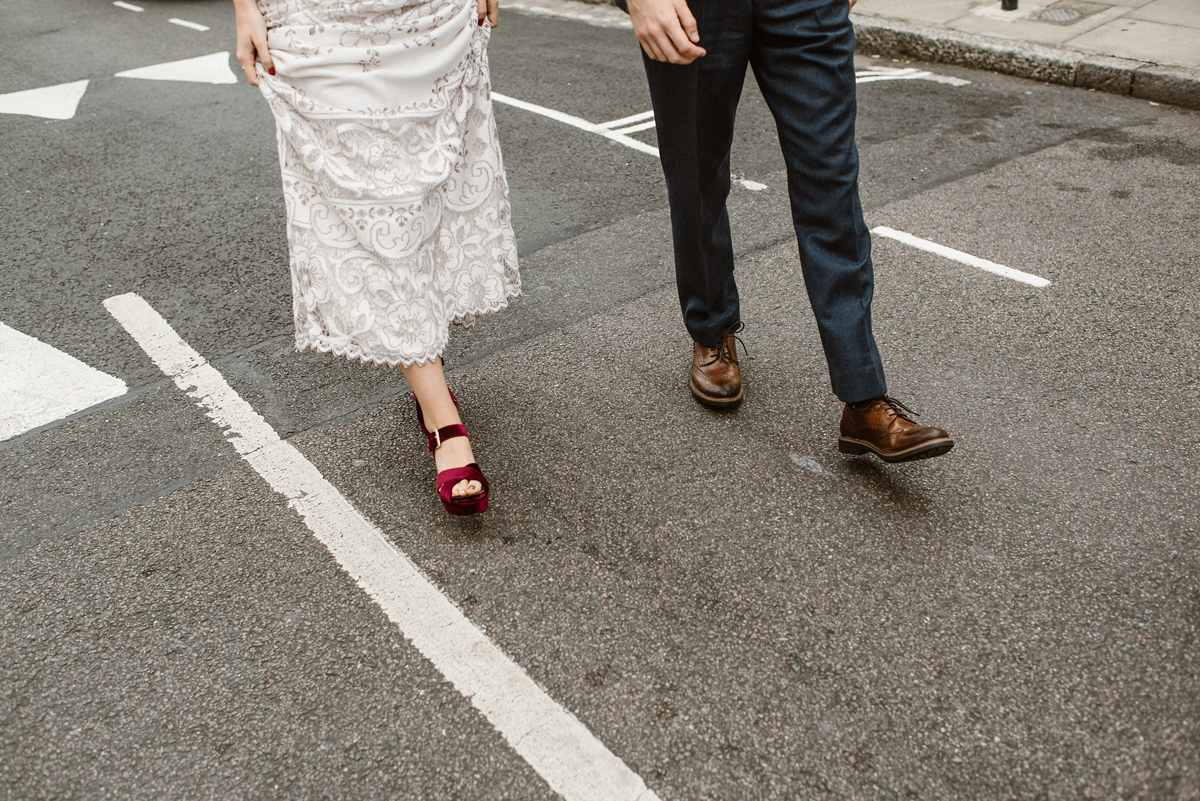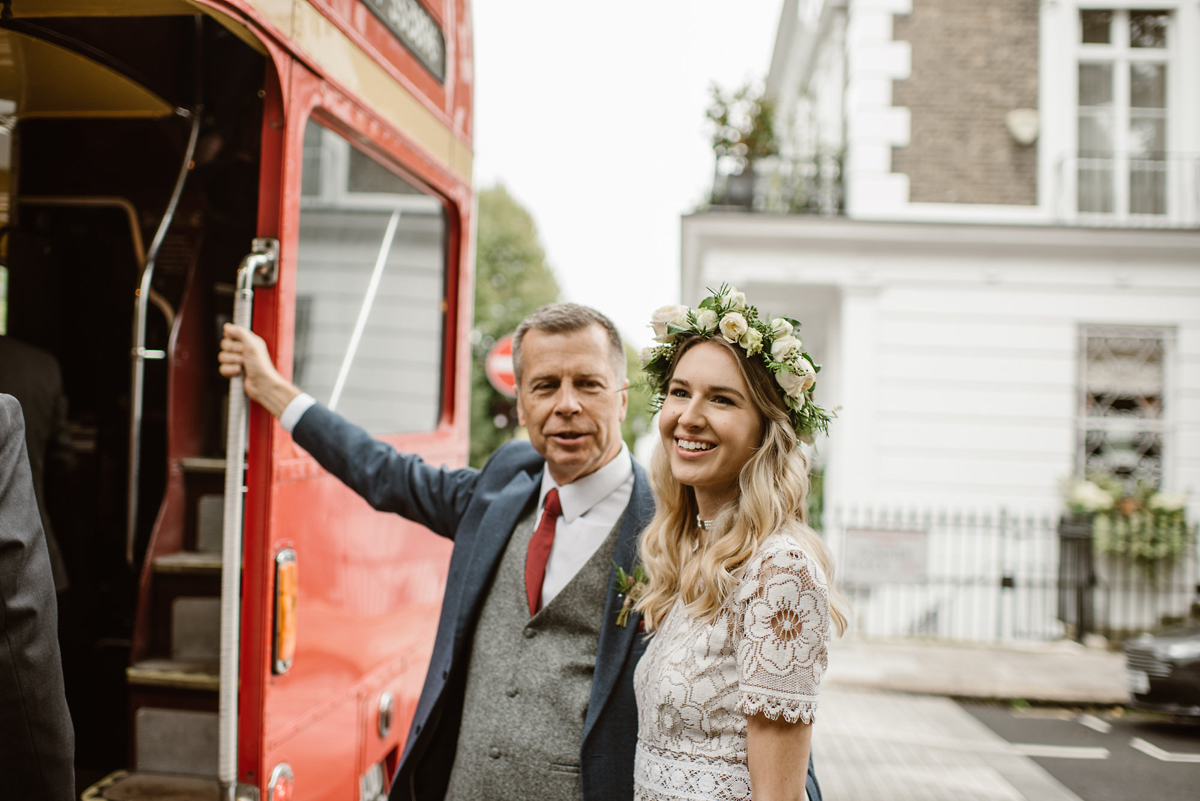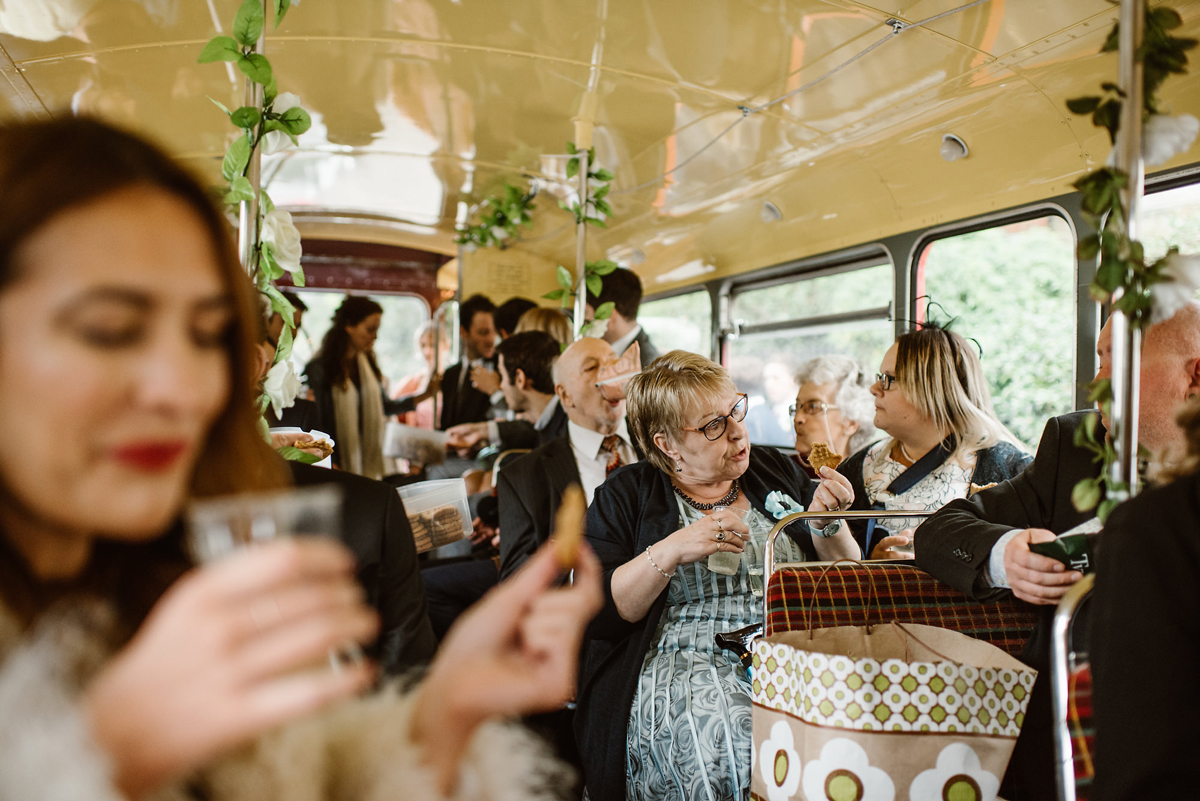 Once everyone had arrived at the venue, Morgan and Jacob went with Ellie for their couple's portraits, before they and their guests were all served with fabulous pub grub by the Londesborough Pub. At each place setting was a DIY favour which also doubled up as a place name.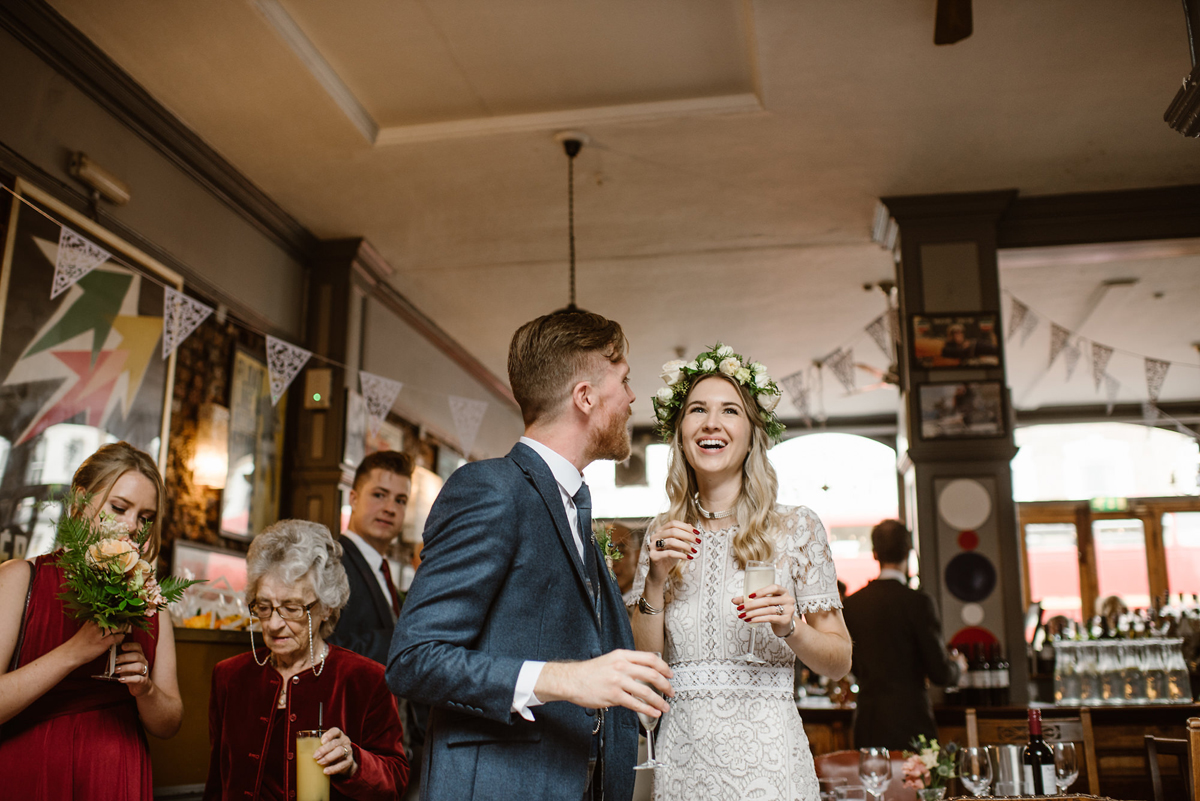 "For our reception we wanted a relaxed, intimate celebration with everyone we love. A London pub felt like the perfect place and we knew my American friends and family would love it. I'd read great reviews of the Londesborough and it was the best decision we could have made. I can't emphasis enough how incredible the team there were. From start to finish they made us feel like we were the only wedding on their roster. The day went off flawlessly and all of us are still raving about the food."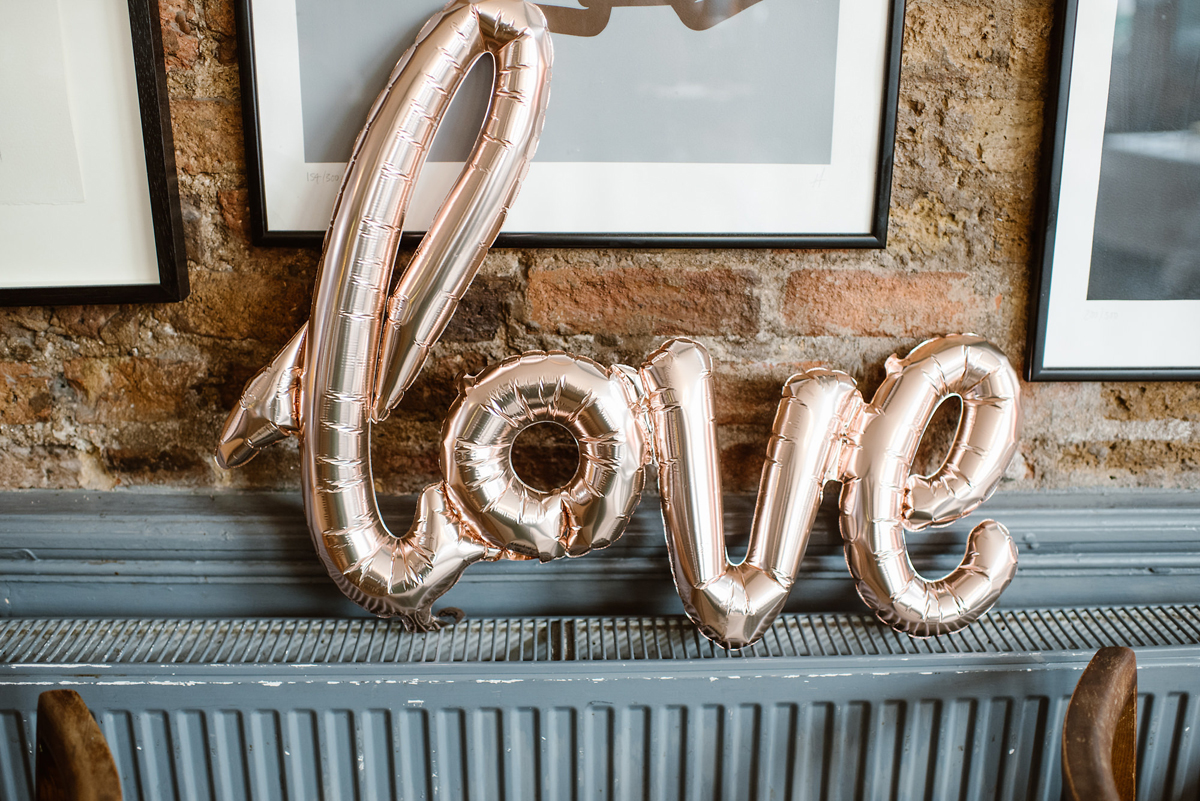 "They were origami cranes made with paper from Lavender Home. Jake used to live in Japan and we'd recently visited together right before the wedding and wanted to include a small reference to it in our day."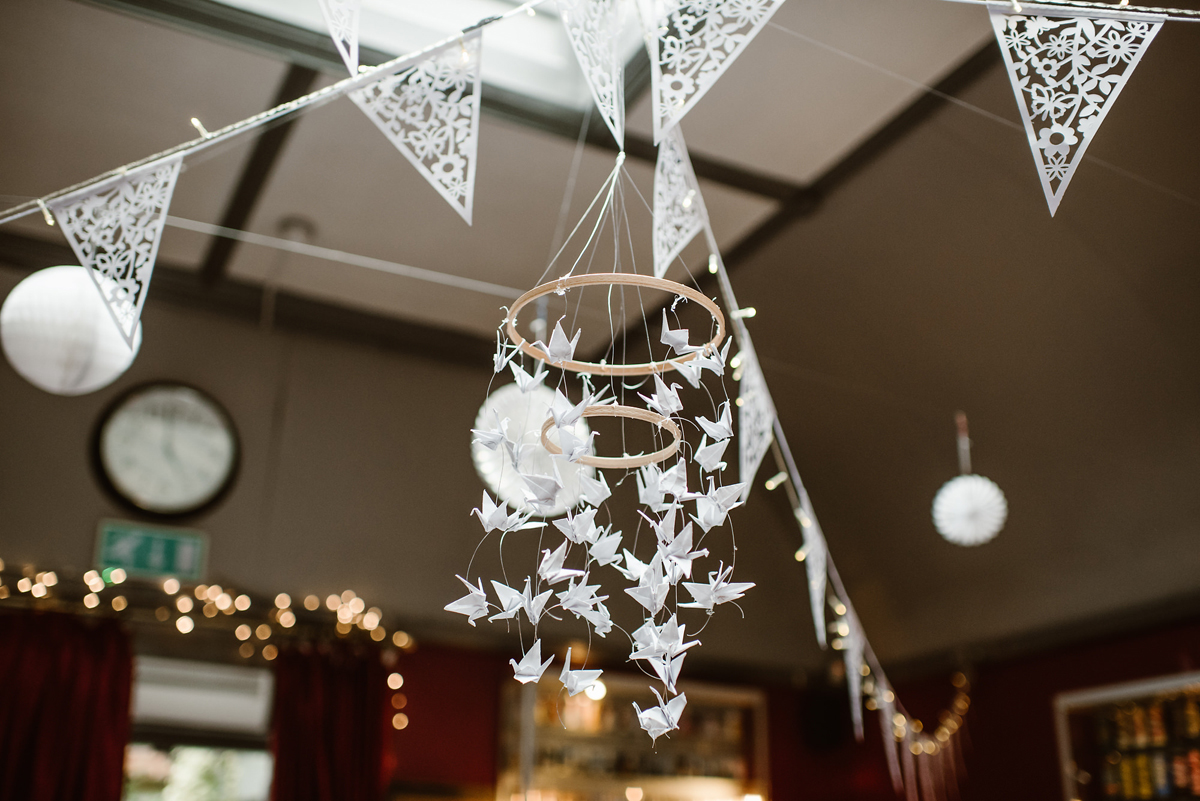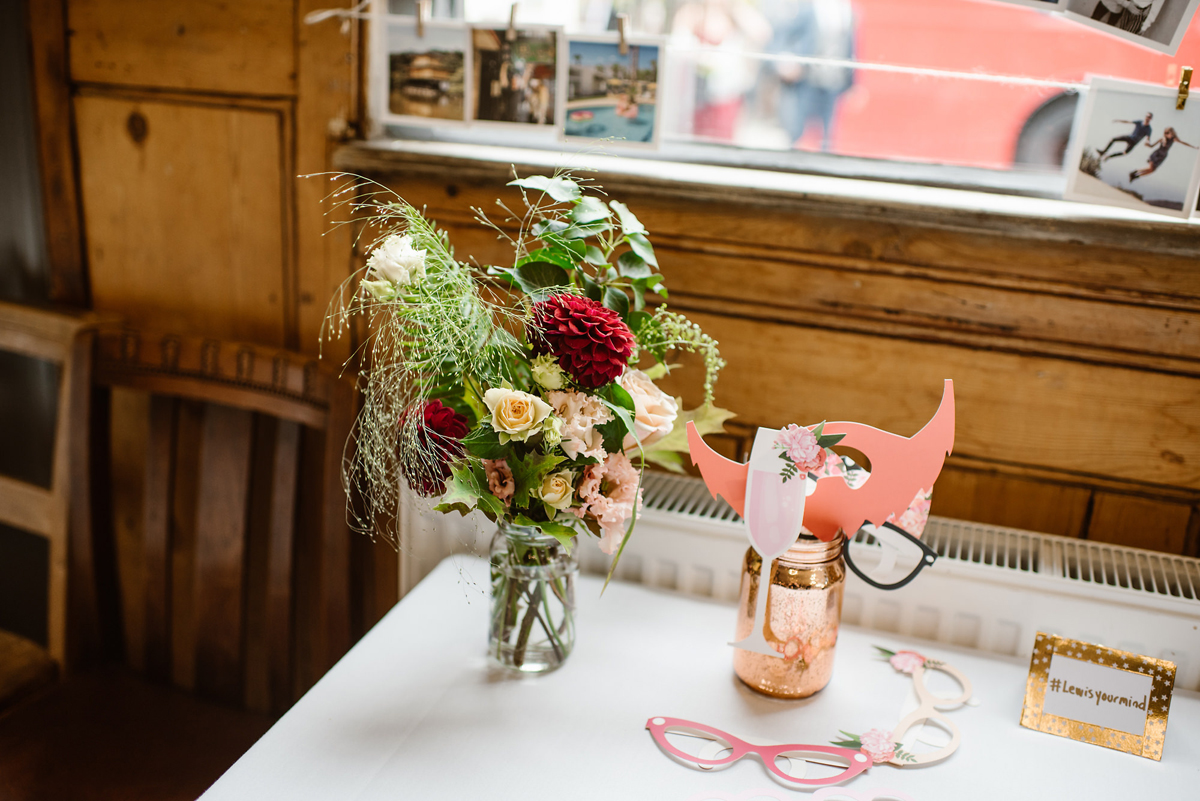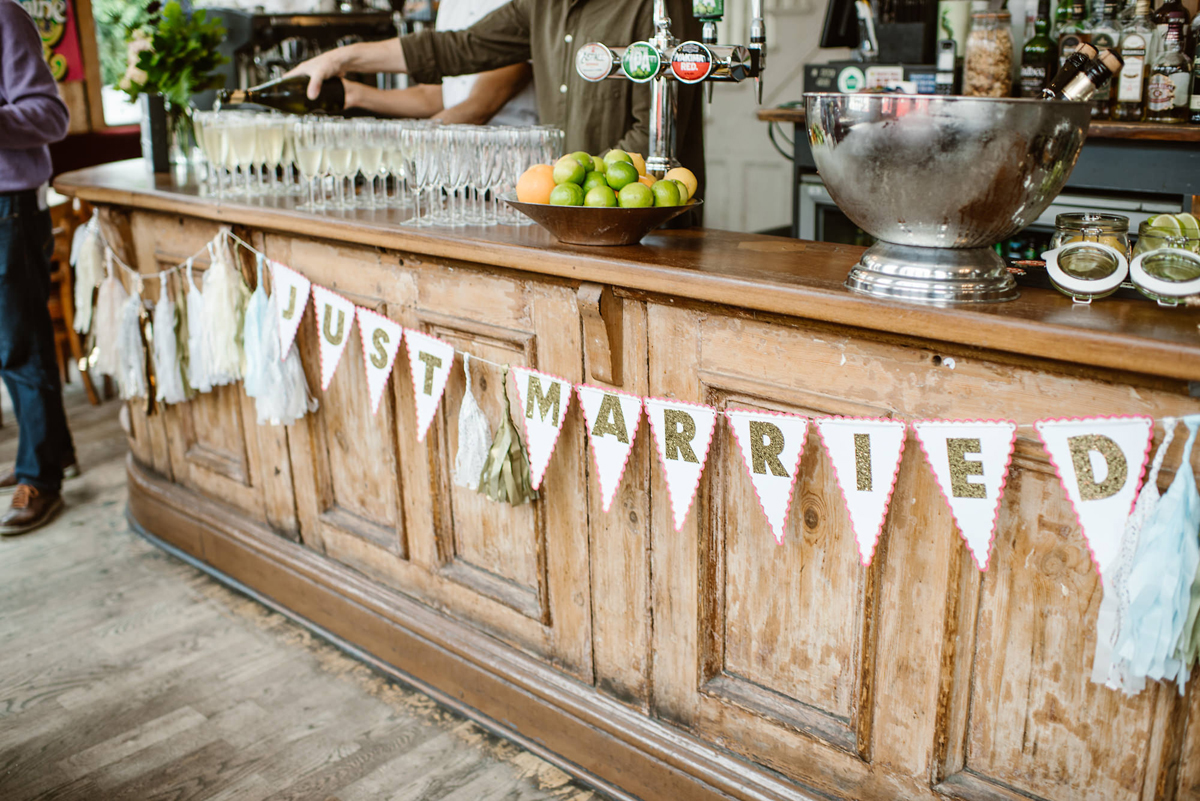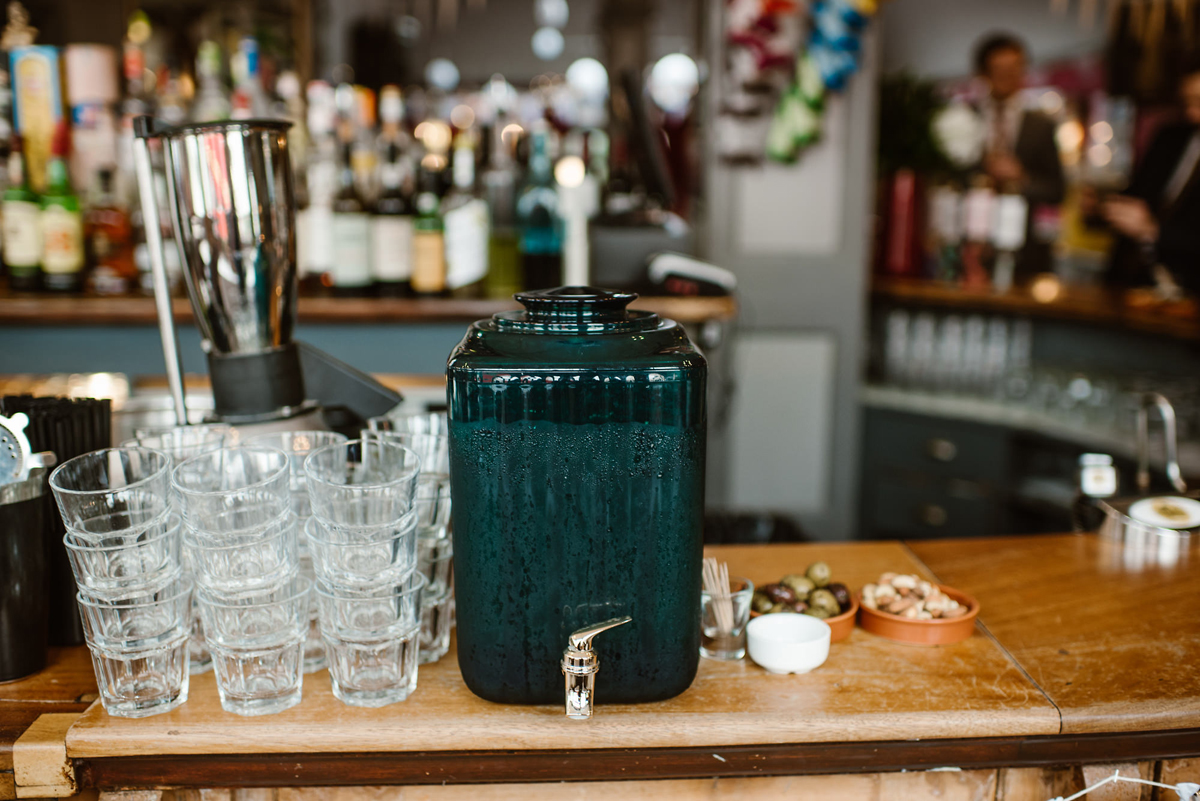 Morgan and Jacob decked the pub out in eclectic style using paper tassels and just married bunting hung below the bar, an oversized rose gold love balloon floated against the exposed brick walls, and tables adorned with glass jars filled with beautiful blooms.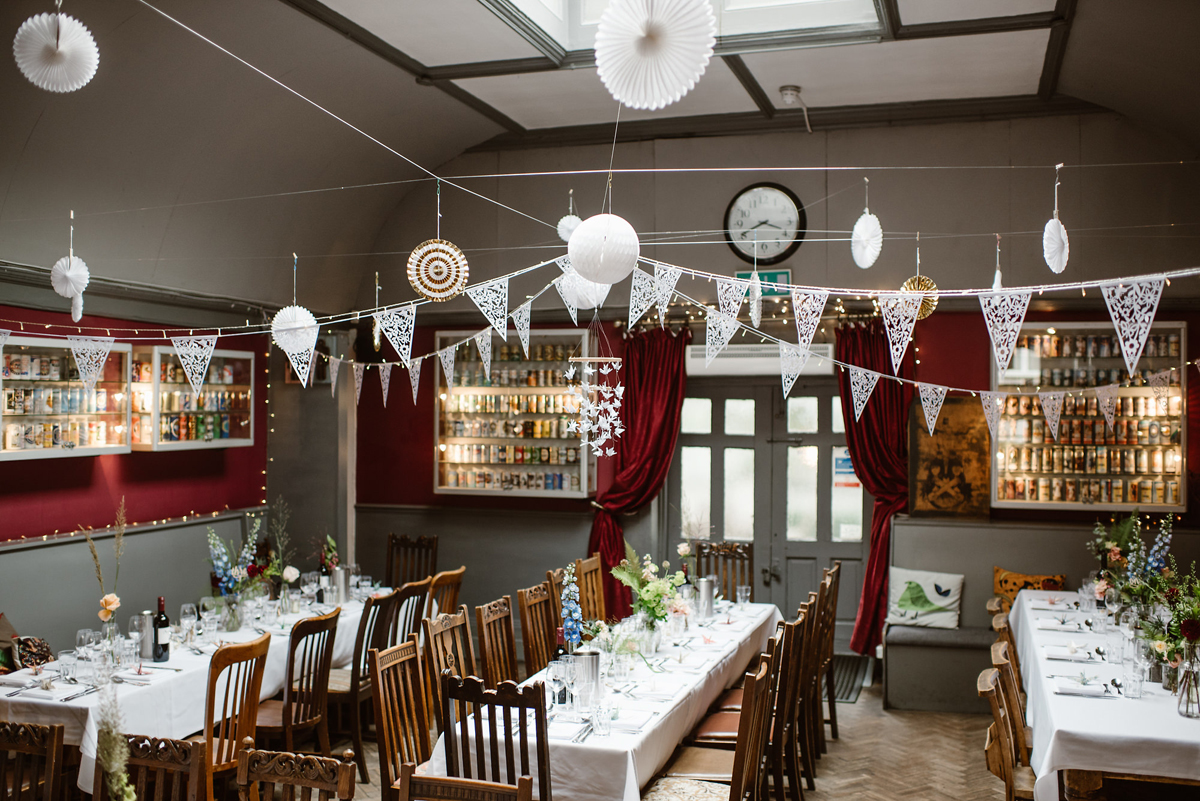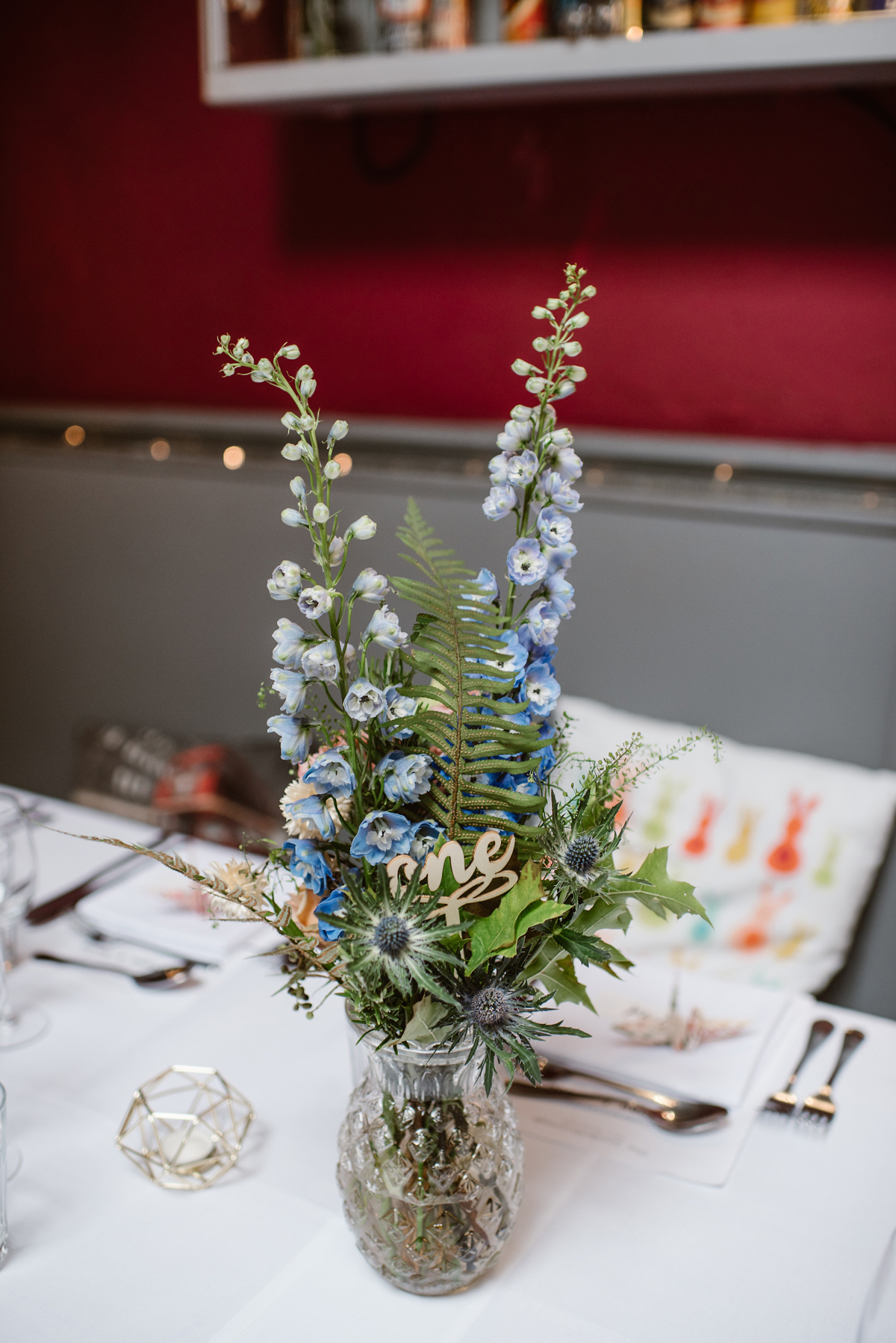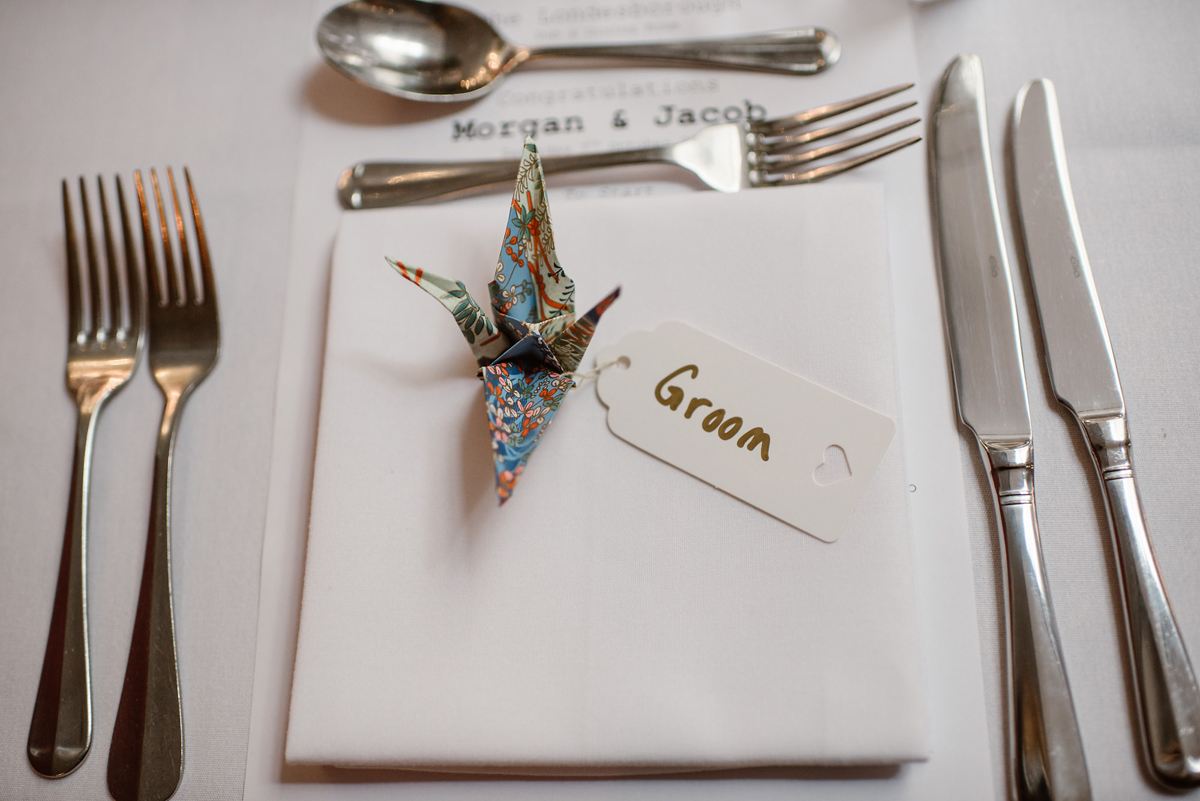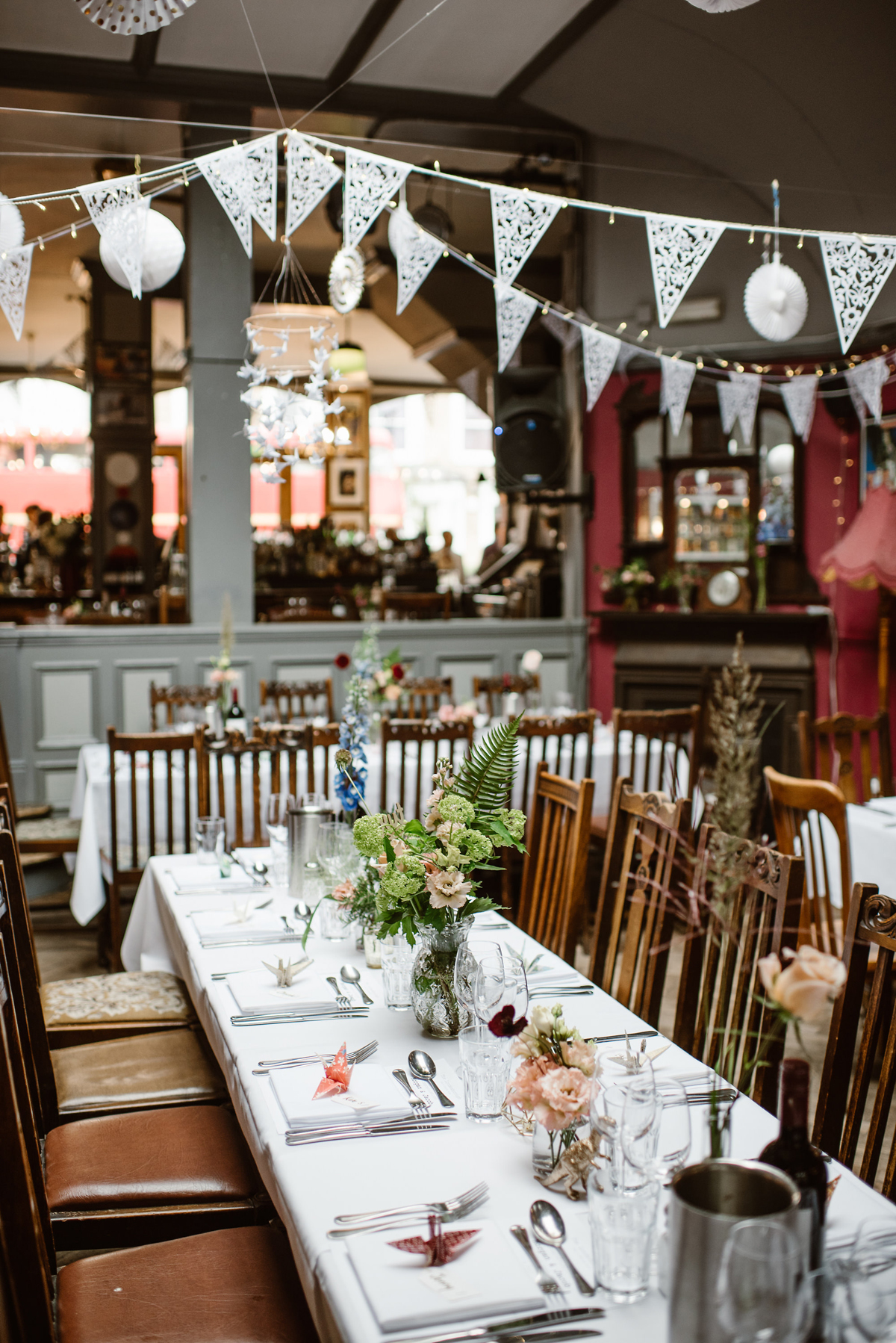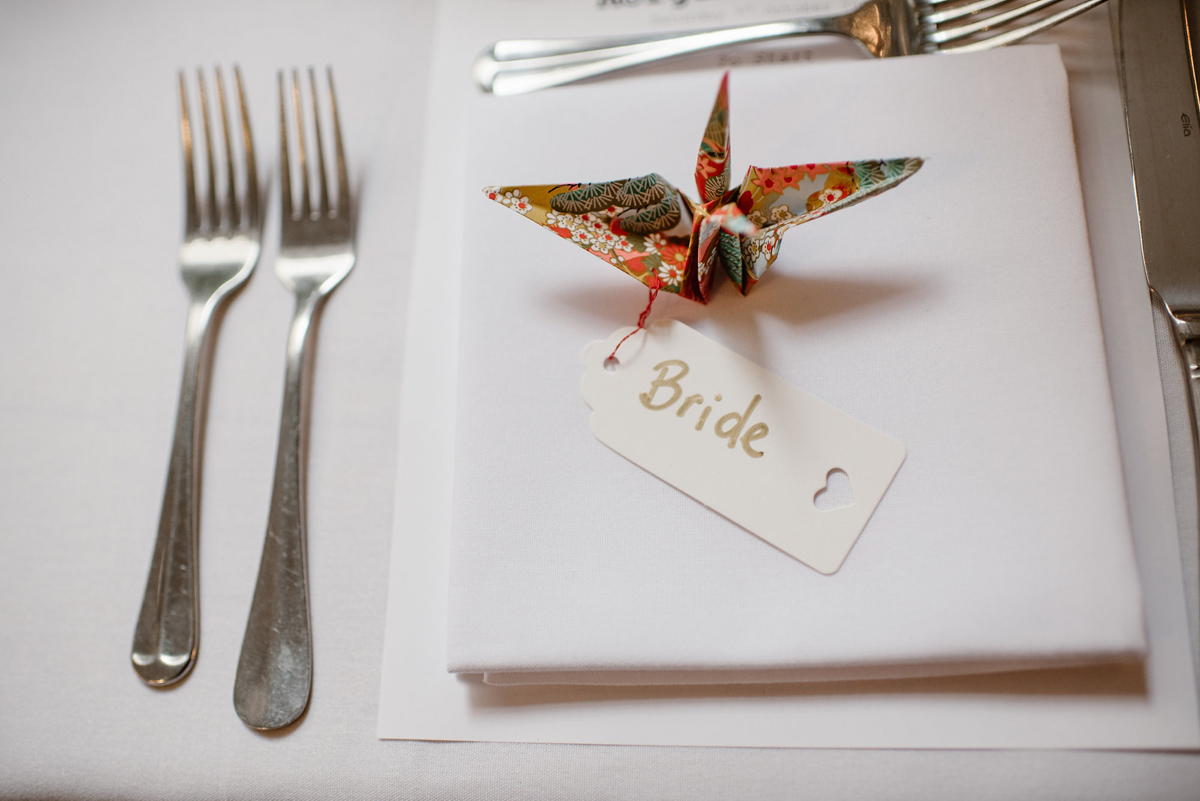 The 2-tiered wedding cake stayed in keeping with the time of year and featured decorational berry coloured and cream blooms, made by Morgan's very talented maid of honour Vicky.
"Vicky made our cake as a wedding gift. It was one of the best surprises of the day and something we continued talking about long into our honeymoon (and wishing we had more of it!)."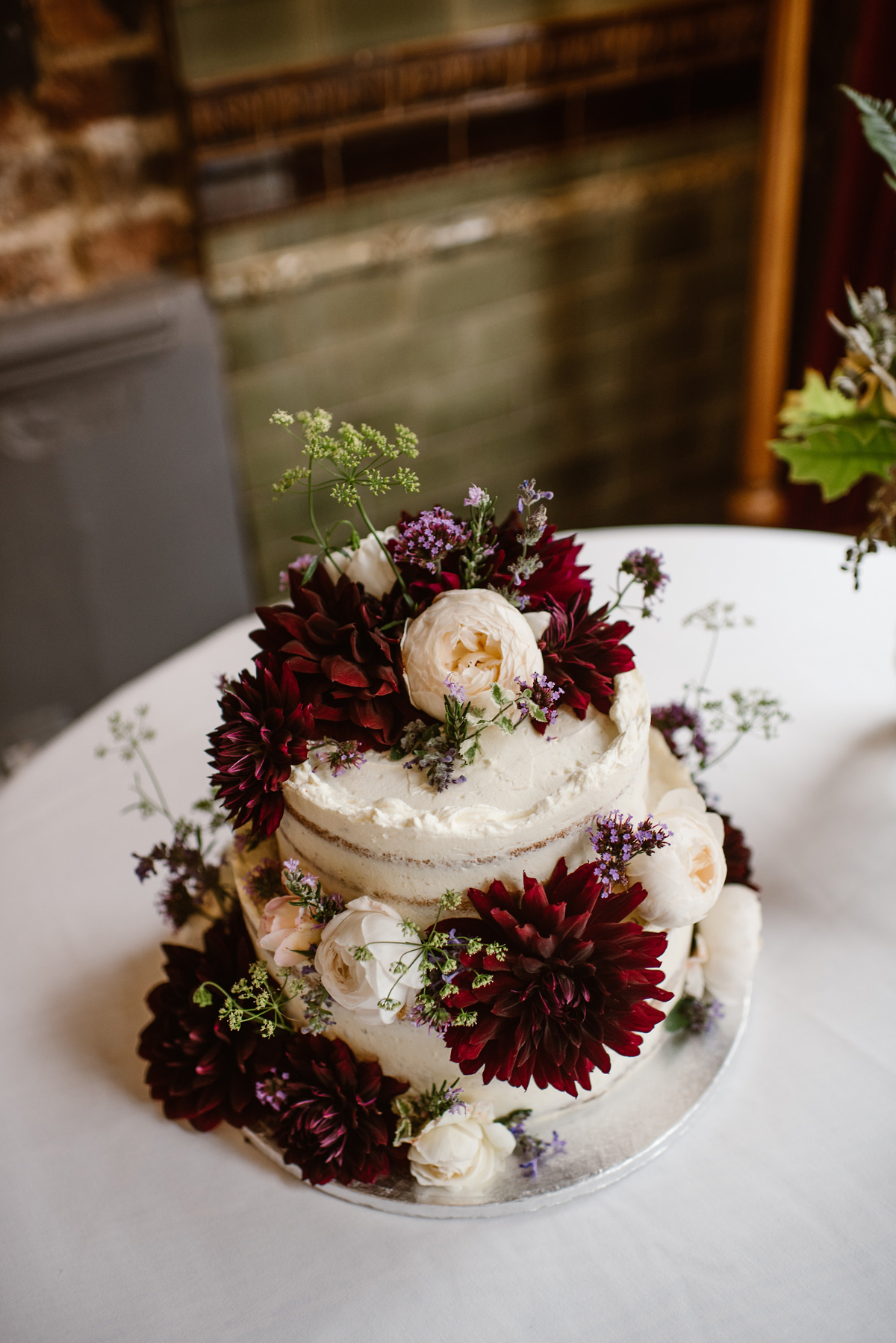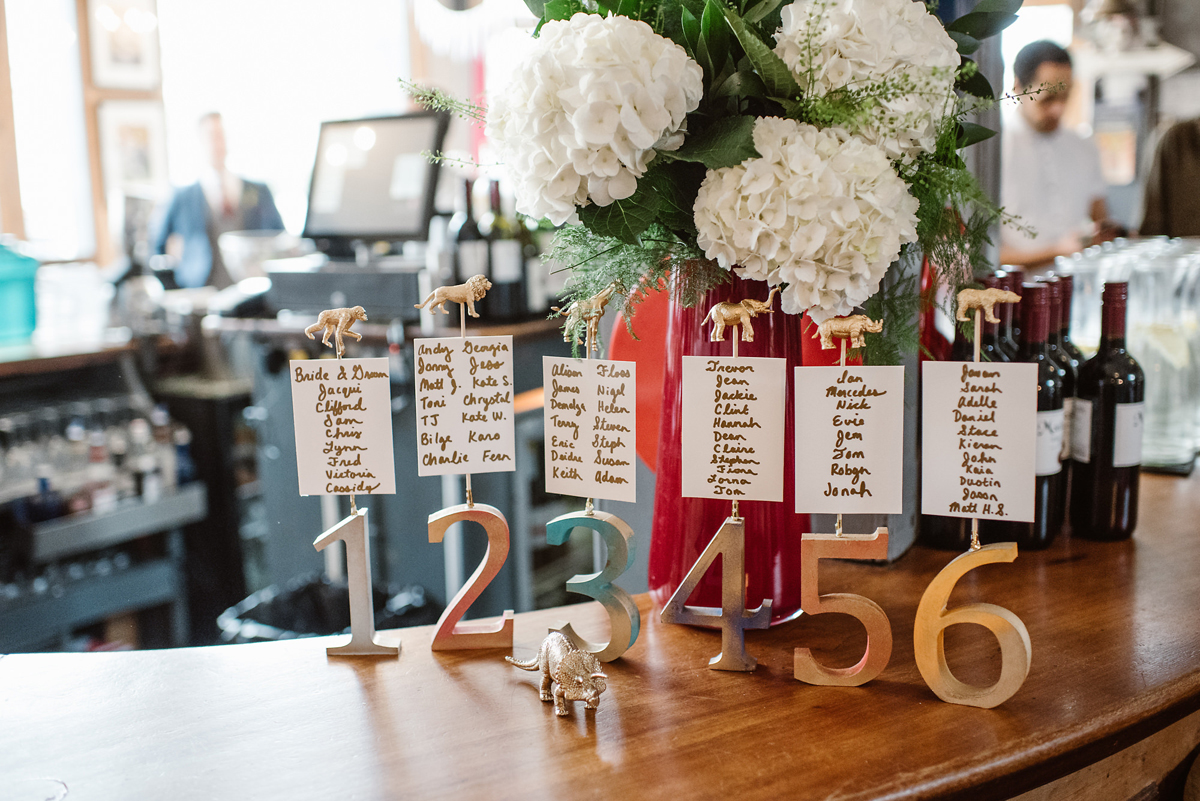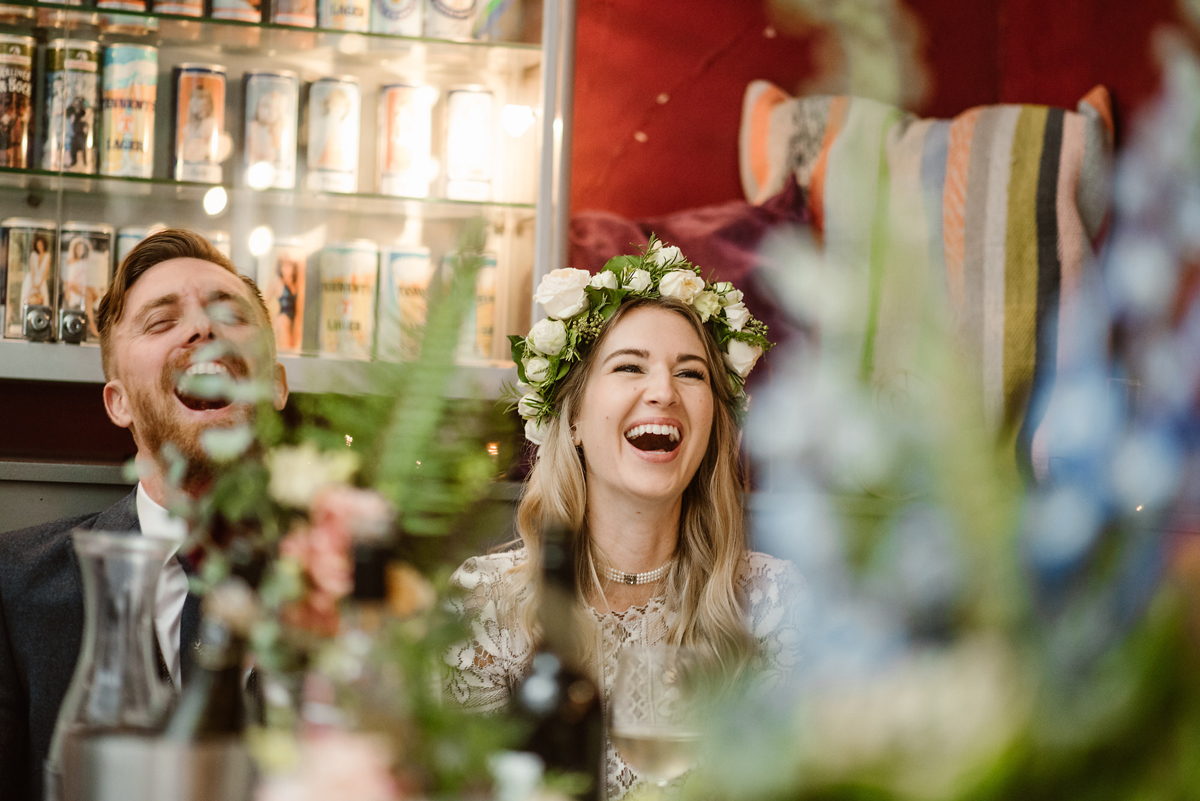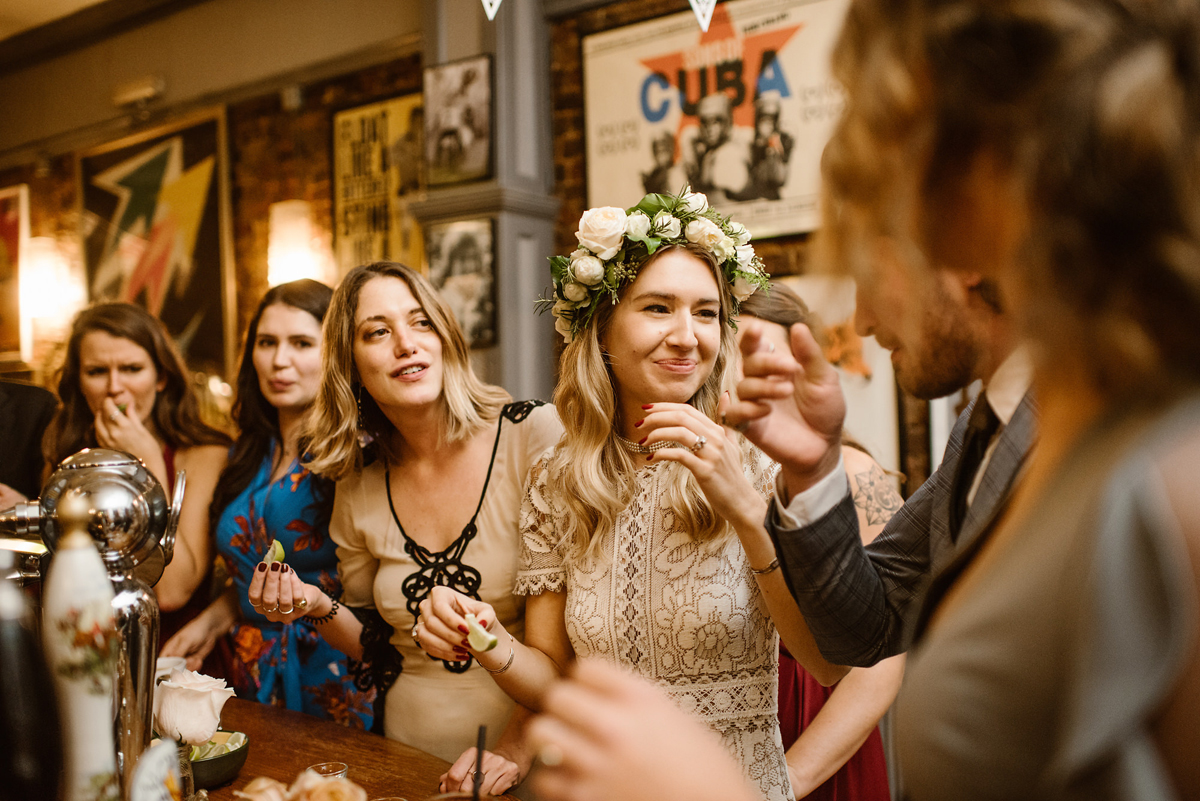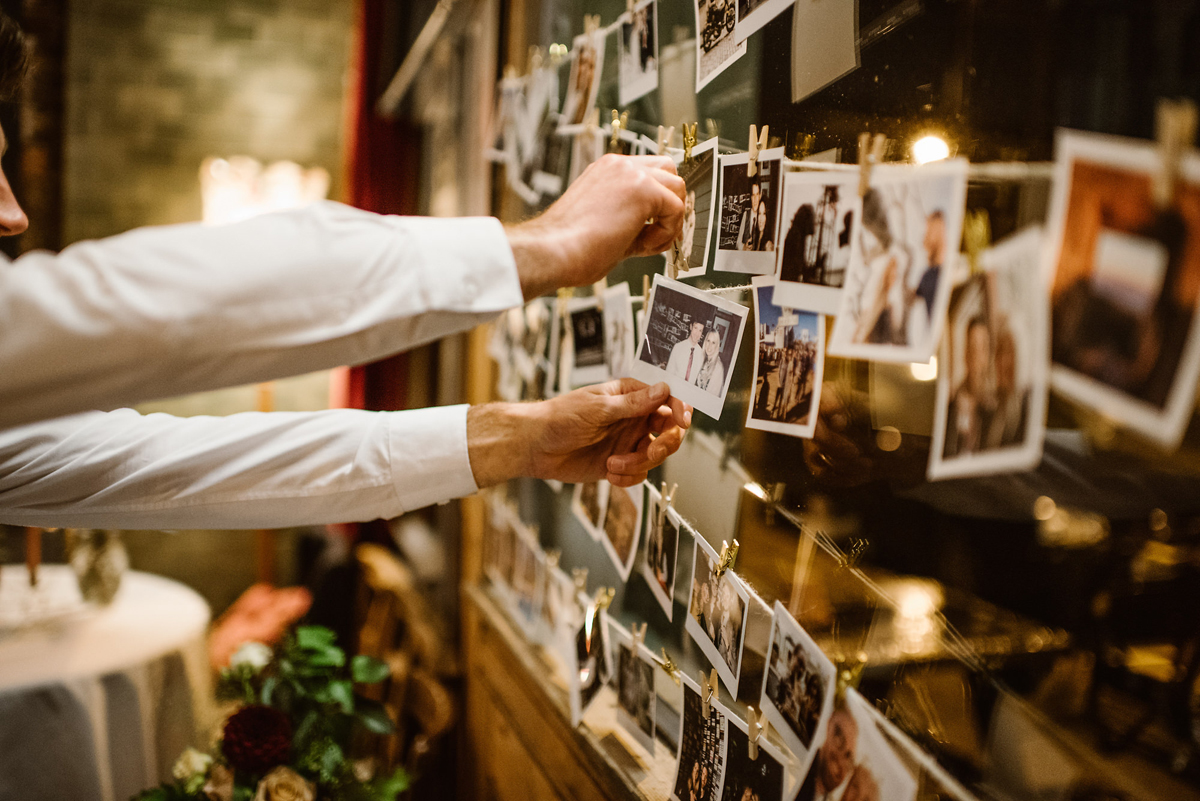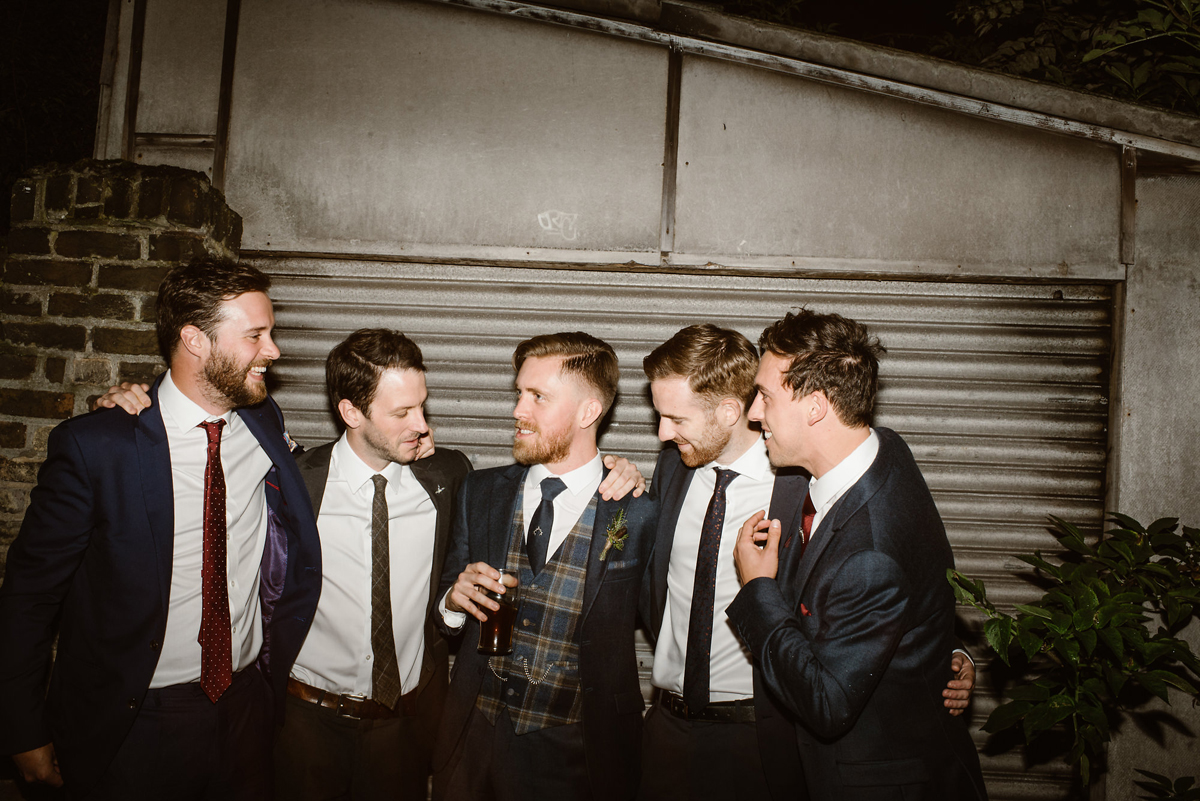 The evening was then kicked off with a bang with Jacob and Morgan performing their first dance as husband and wife to a recorded cover version of Home by Edward Sharpe and the Magnetic Zeros.
"Jake's cousin, who has an incredible, ethereal voice, recorded the cover for us which we kept a secret until the day. It was an amazing gift as we now have our very own wedding song."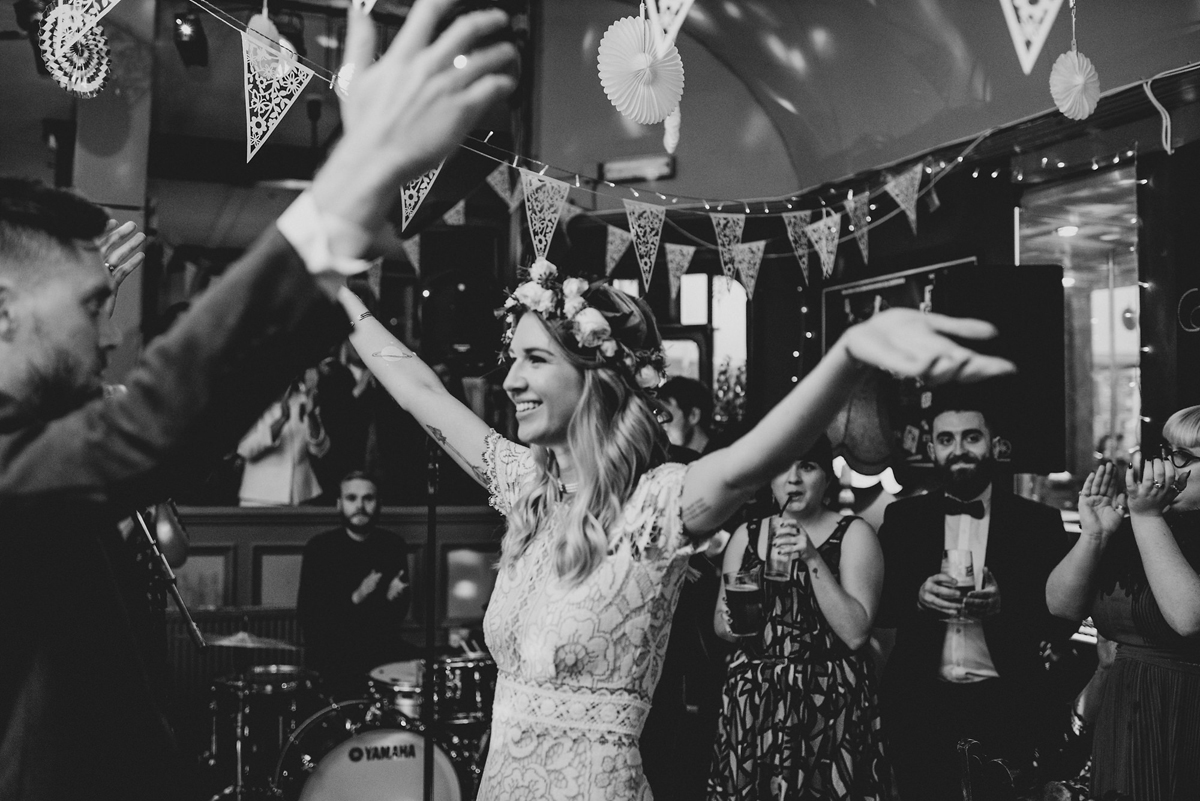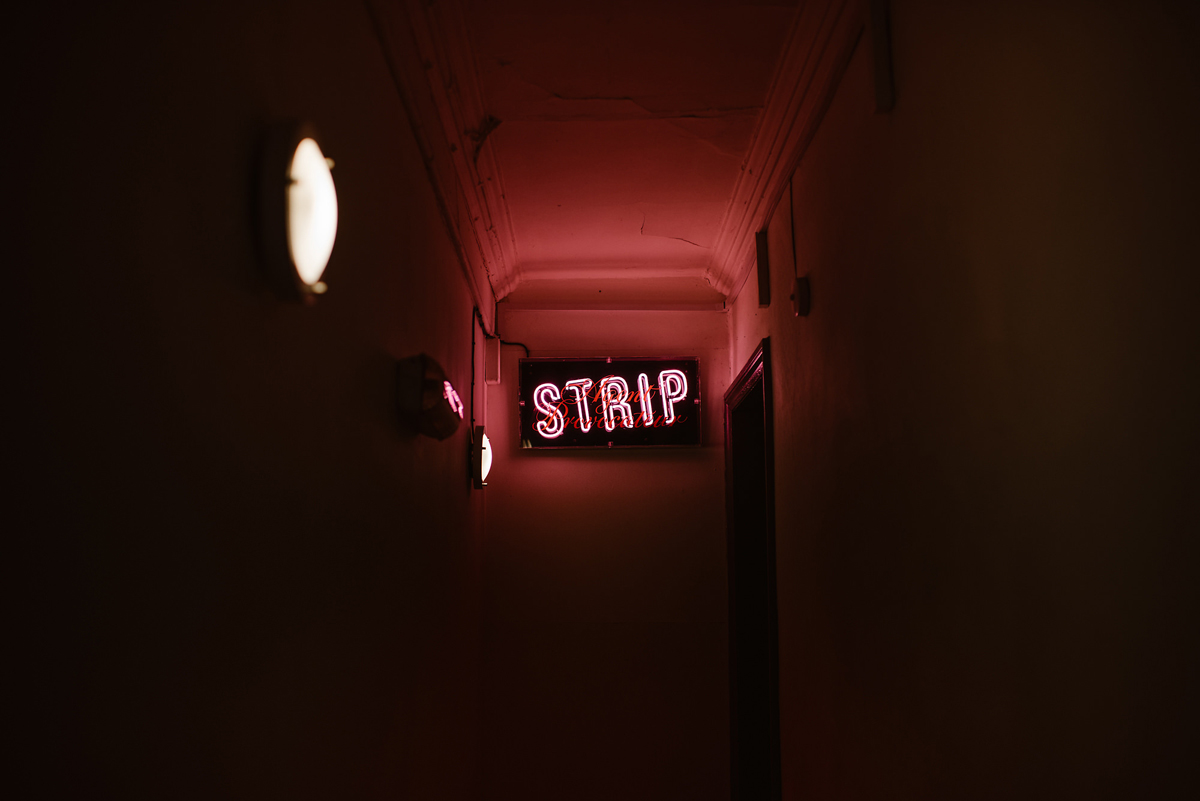 Agent Smith, a Manchester based wedding band, then took over, performing requests and a set list keeping guests partying until the early hours.
"We can't recommend Agent Smith enough. They were one of our absolute favourite parts of the wedding They took requests from us beforehand, artists like Blink 182, Queen and Jimmy Eat World, and created a brilliant set list accordingly that had everyone singing their hearts out on the dance floor."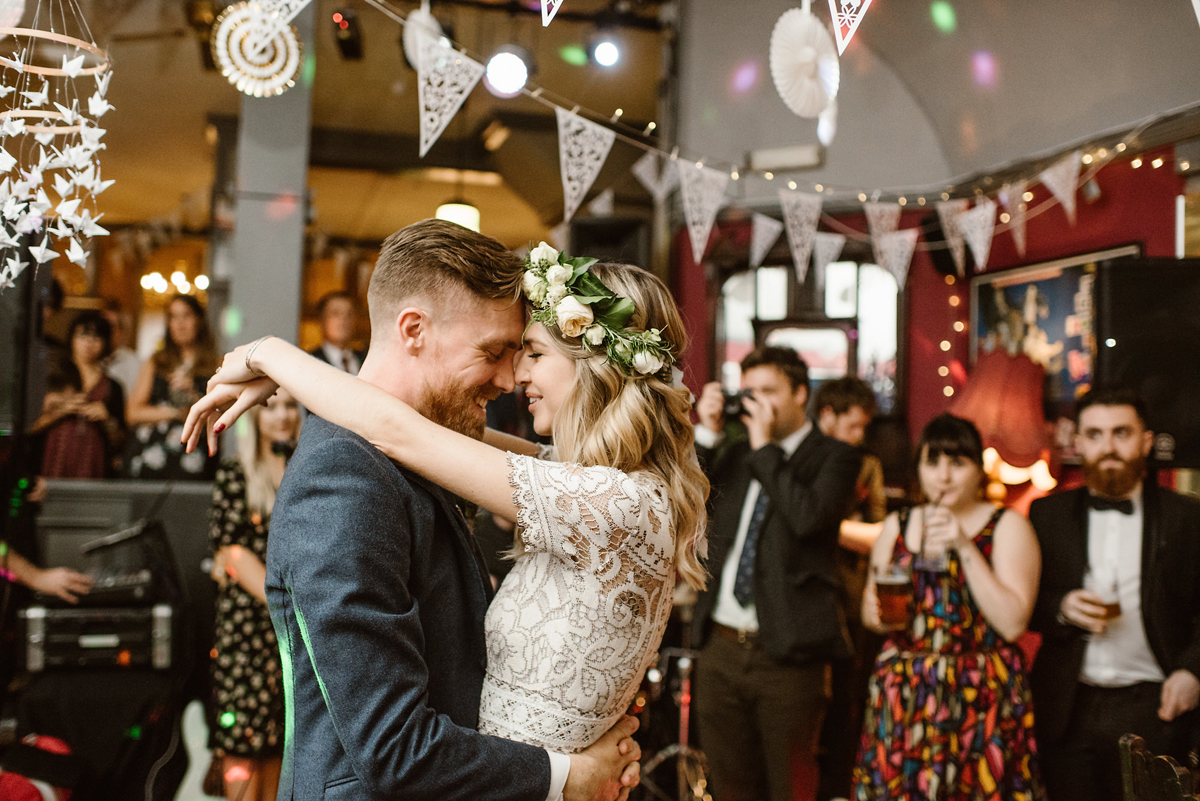 "Our favourite part of the day was when the band began to play after the first dance and the pub turned into one big dance party. There was a point during the song Teenage Dirtbag by Wheatus where I accidentally head banged my flower crown off and a few minutes later Jake and I were crowd surfing across the pub. It couldn't have felt more true to us, it was the best night ever!"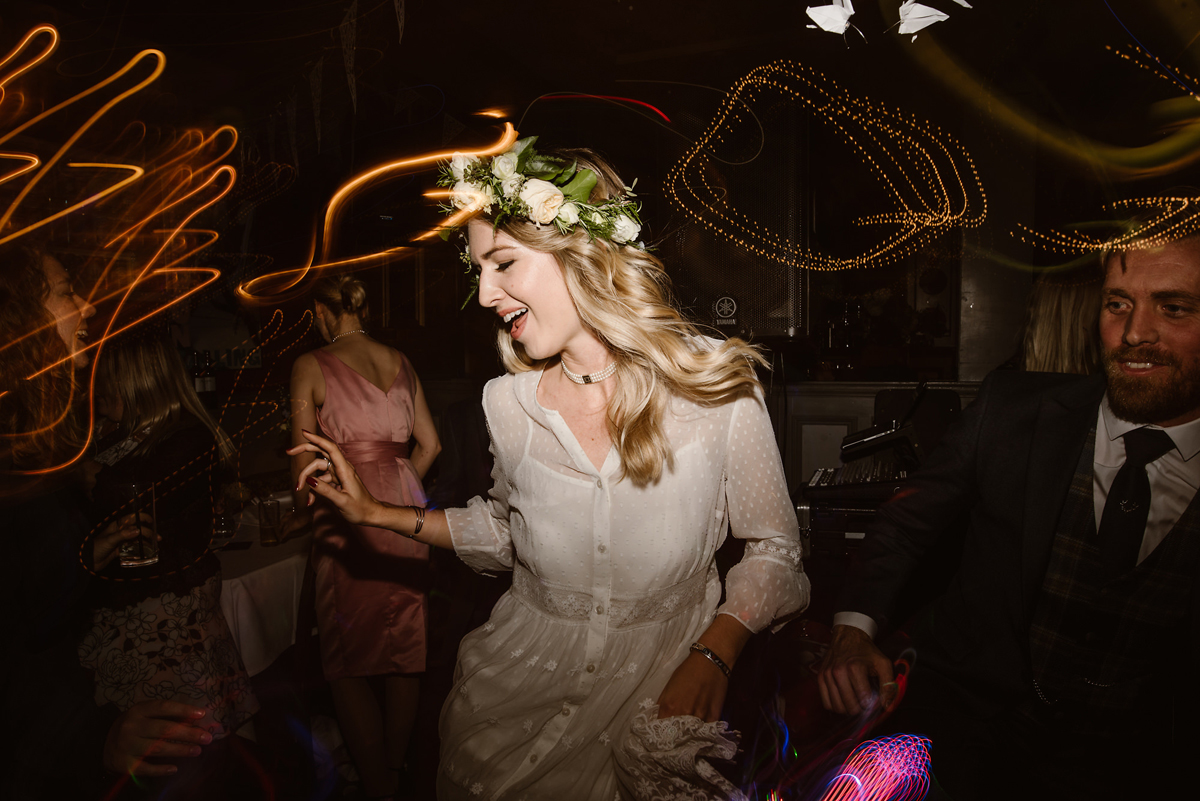 Words Of Wedded Wisdom
"There are often a lot of well-intentioned voices weighing in on what they believe you should and shouldn't do with your day. Don't be afraid to stick to your guns on breaking with traditions or doing what feels right for you and your fiance. There are plenty of times in life where it's necessary to make arrangements to please other people, but your wedding day shouldn't have to be one of them."
What a super cool couple! I'm so in love with Morgan's one of a kind dress too. A big congratulations to the happy couple and a big thanks to Ellie Gillard for capturing it all so well on camera.
Until next time…
Much love,
Holly x