Well hello again dearest readers and I hope the sun is shining brightly with you today. I have the most perfect Monday treat for you right here so, take a little time out and just enjoy this.
Renowned bridal designer, Caroline Castigliano, recently hosted an exclusive salon-style catwalk show at the stunning Goodwood House and in this feature, we take you behind the scenes to view Caroline's stunning Celebrating Romance collection and the Knightsbridge collection that's available exclusively at the London flagship store. Enjoy…
We just adore Caroline Castigliano here at Love My Dress. Not only has she been designing luxe bridalwear for almost three decades but the structure and construction of the dresses, along with their deliciously feminine lines, create collections that are confident, seriously stylish and absolutely wonderful at enhancing your figure.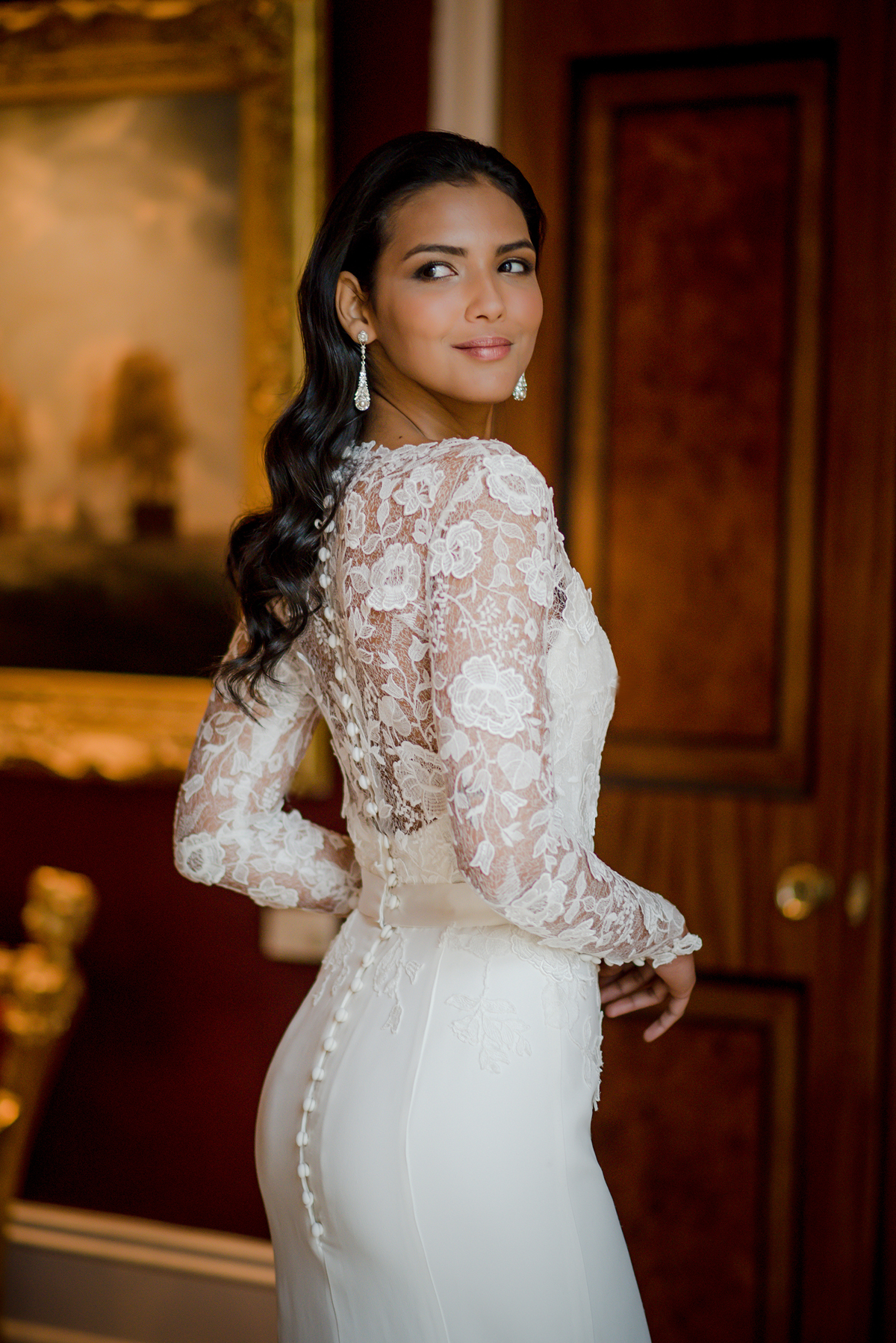 Not only that, but every dress is handcrafted here in the UK and the flawless, meticulous craftsmanship makes each gown a triumph. I love Caroline's choice of fabrics, her use of corsetry and the timeless yet modern styling of the dresses themselves. These wedding dresses are works of art.
So, there wasn't a more fitting backdrop for Caroline's event than the spectacular Goodwood House and oh my goodness, guests were indulged from the moment they arrived. Lashings of champagne, served by Goodwood's butlers and exquisite nibbles were all on offer before lucky guests made their way to the ballroom for the salon-style show.
"We showcased a broad spectrum of dresses so I choose a selection of simple, very understated dresses perfect for a wedding taking place at a vineyard along with dresses that are absolutely perfect for brides getting married in a castle or having a big cathedral wedding," says Caroline.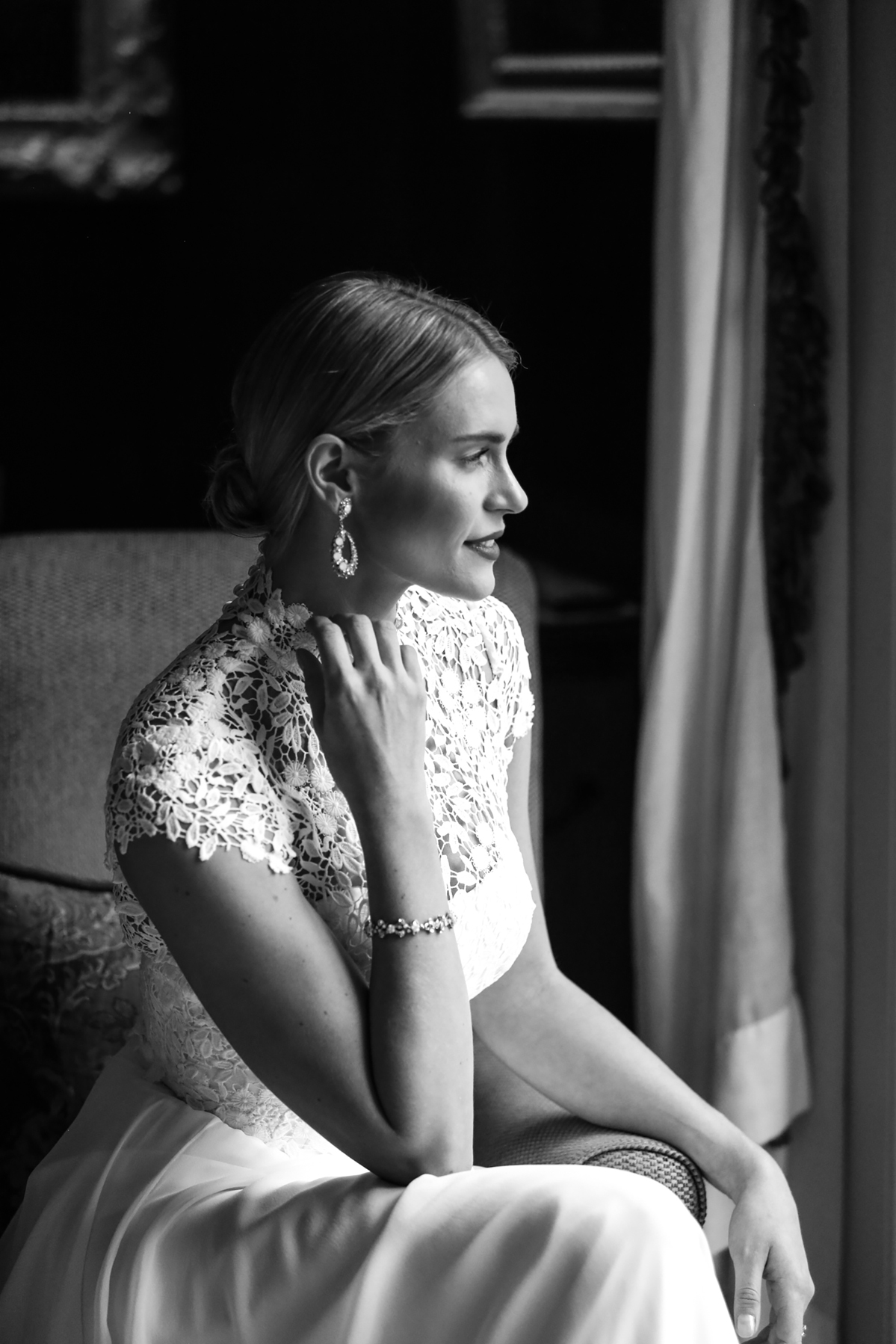 "Our look is really understated and glamorous. Our gowns stand out because of how they are cut. The architecture of a gown is so important, the foundations have to be right and then we can create movement. Nothing is more stunning than a gown that moves and dances and then, finally, the luxurious fabrics bring the designs to life. That's what makes a Castigliano dress really special."
And actually, 'really special' is a huge understatement. Whether you choose In My Dreams, that combines a full silk Mikado skirt with a delicate camisole top or the understated glamour of Manhattan with its chic off-the-shoulder neckline and fit-and-flare skirt, these are simply the gowns that you've always dreamt of wearing.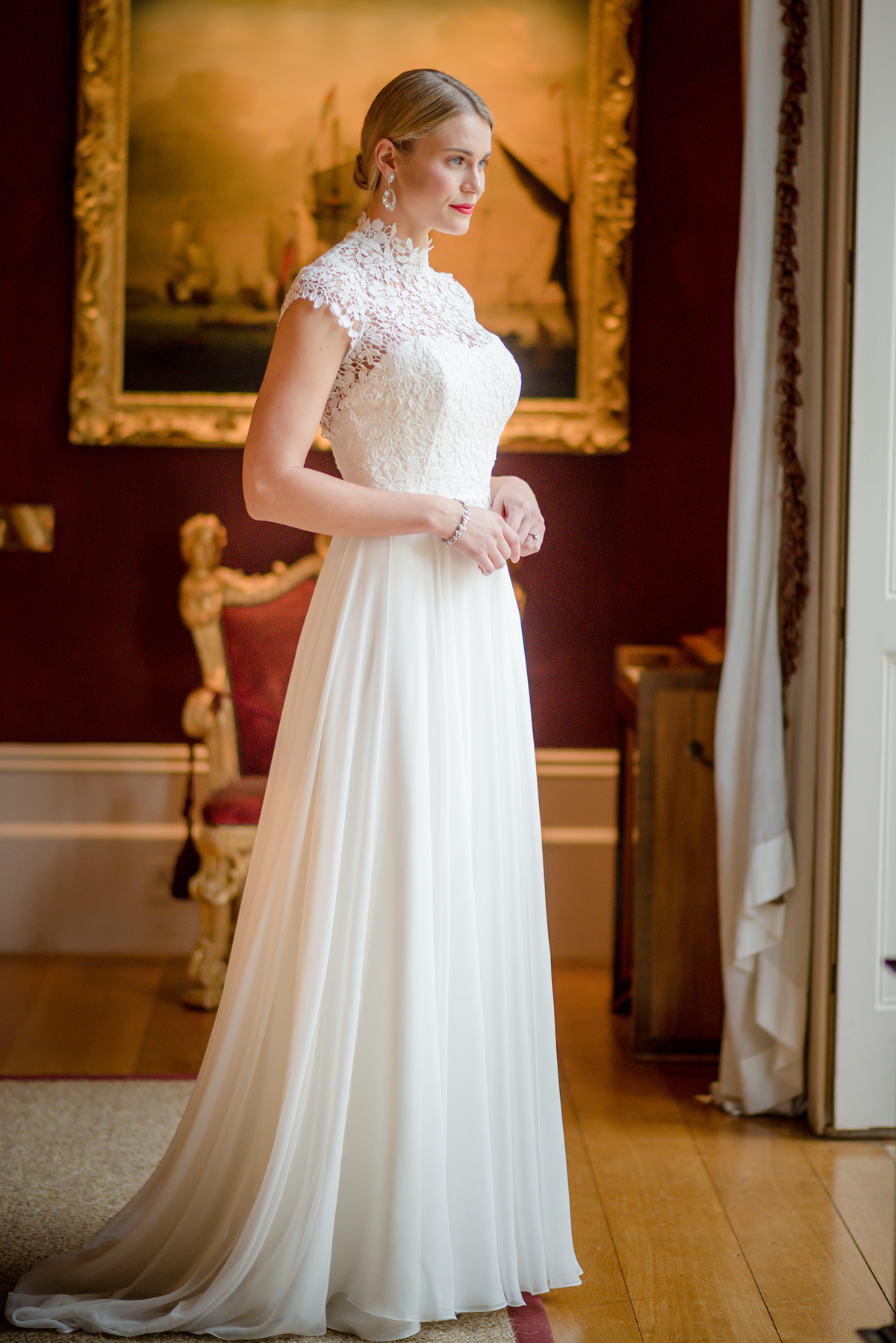 I also adore the classic strapless cut of Charmed that's accentuated with a feminine, flowing silk georgette skirt and Simplicity in fluid stretch crepe that also features a drop-in corset that epitomises the ultimate female silhouette. I'm also a huge fan of the capes too – Juliet in beaded tulle just makes me sigh with happiness.
"We really work on understanding our brides and the dreams she has in mind so when you visit us, we can use our expertise to create that vision for you. Choosing your wedding dress is one of the most special days of your life and our flagship store offers bespoke couture and made to measure gowns in an intimate and friendly environment."
"When you arrive for your initial consultation, you will be welcomed by one of our trained bridal experts, your stylist will have a chat with you and introduce you to the collection so you have a full understanding of the signature look of the brand and how the gowns are constructed."
"When you have made your final selection, the bridal couture process begins. You'll meet our head of fittings, who will take around 20 of your body measurements so a pattern can be created and tailored specifically for you. You'll be on an exciting journey and you'll be looked after every step of the way."
And guests at Caroline's Goodwood event were most definitely looked after. Brides-to-be had the opportunity to meet Caroline and expert wedding planning Bruce Russell not to mention Sophie McMullan of Beautisserie who was on hand to offer her expert bridal beauty tips and SHOW Beauty who created stunning hairstyles for the models.
All in all, it was an unforgettable event, absolutely fitting for a brand that's also truly memorable.
If you would like to view the Celebrating Romance collection, this is offered through a number of exclusive stockists across the country. To find your nearest stockist, just click here.
To find out more about Caroline Castigliano, do view the website or, to visit the flagship store, please request an appointment here or call 020 7590 9120.
Love,
Tamryn x