Recently on Love My Dress we've had the pleasure of sharing some wonderfully unique weddings, with brides daring to rock their own style and reflect their true personalities in their choice of gown. I have a feeling you're going to be well and truly inspired by this bride who looks utterly fabulous in her bright red structured gown.
Please meet Lauren, head of English at a state school and Edward, who works in finance, who married on 26 October 2017 in the unique surroundings of Asylum, Peckham, London with dinner and dancing afterwards at Hoxton restaurant Beagle. The couple wanted a cool ceremony venue that would suit their requirements of an October half-term wedding, and found the Asylum online. As keen foodies, a delicious dinner for their seventy guests was a top priority, and Beagle came to their rescue after their original choice cancelled just two weeks before the wedding.
Photography Joasis Photography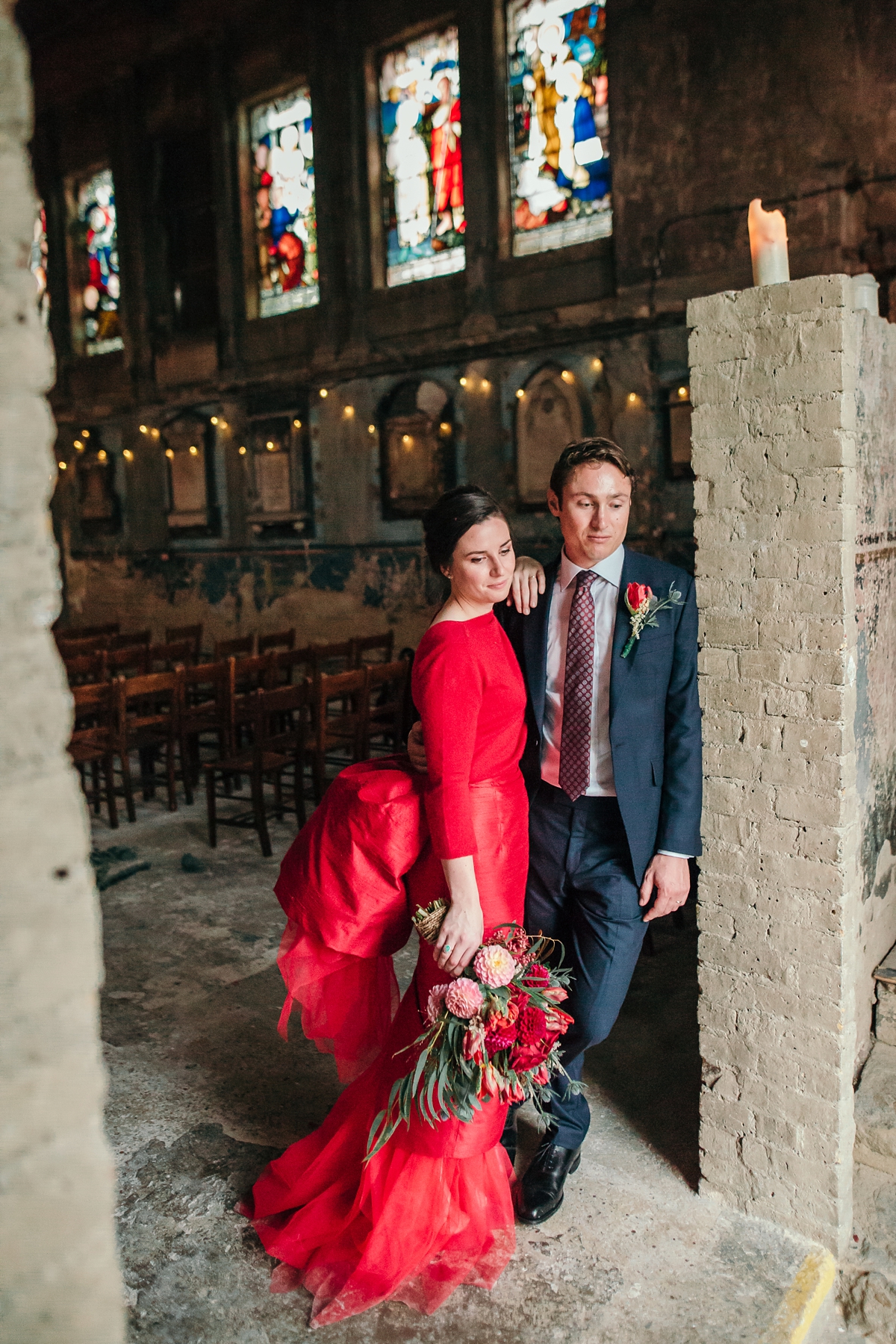 The bride and her family created the bouquets and floral displays themselves, making an early morning trip to New Covent Garden Flower Market a few days before the wedding and getting creative to put together these really lovely arrangements.
"We spent just under £500 all in – vases (which we now use in the garden), candles, wire, a whole host of flowers, and some excellent foliage.""We spent the day arranging and were blown away with our creations – and had a great time in the process, with much tea prepared by the groom and a hearty breakfast to get us through. Our usher-extraordinaire came around on the morning of the wedding to pick up the arrangements and take them to the venue in his little Golf and they did a stunning job at whacking it all together. The end result was beautiful."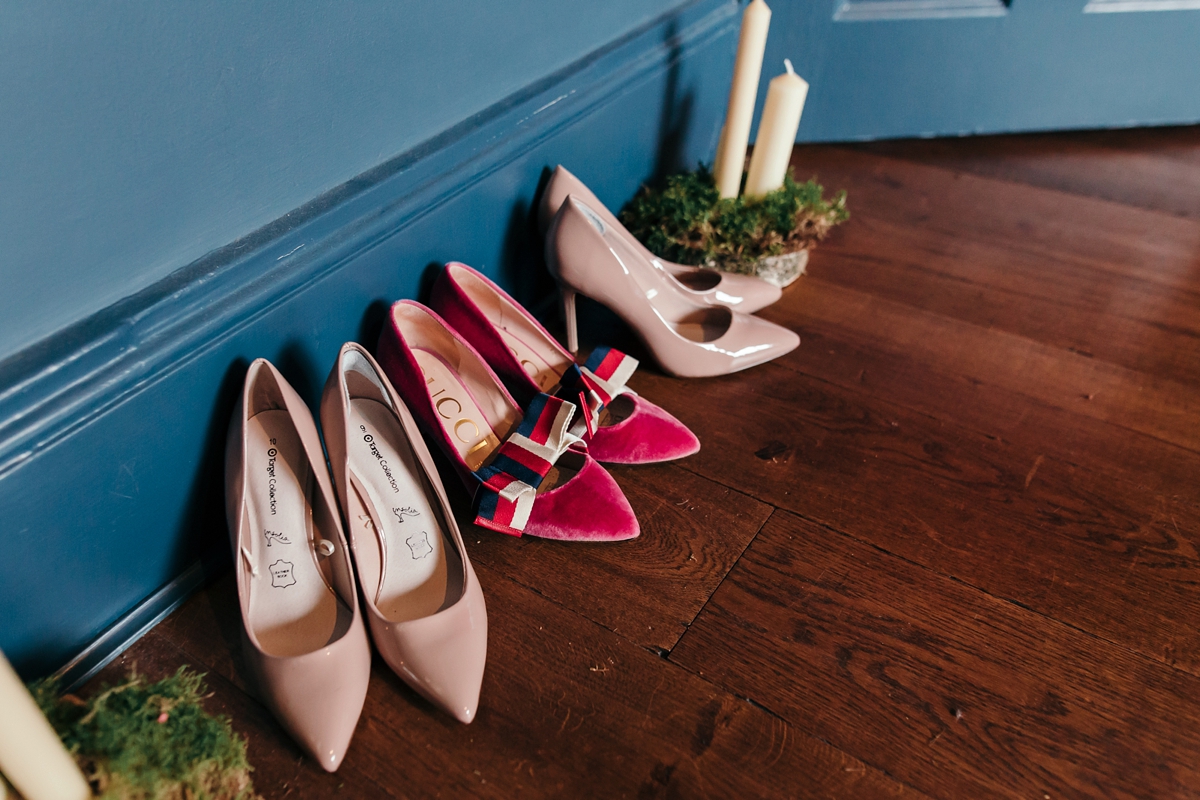 The bride wore vintage diamond earrings that her aunt, cousins and grandma bought her for her 21st birthday, an Annoushka pearl and diamond necklace given to her by Ed one Christmas. She also wore her engagement ring, designed by Ed and made by Hofer & Co. Lauren styled her own hair and make-up, setting off the look in a wild and natural way with a cluster of thistle and feathers.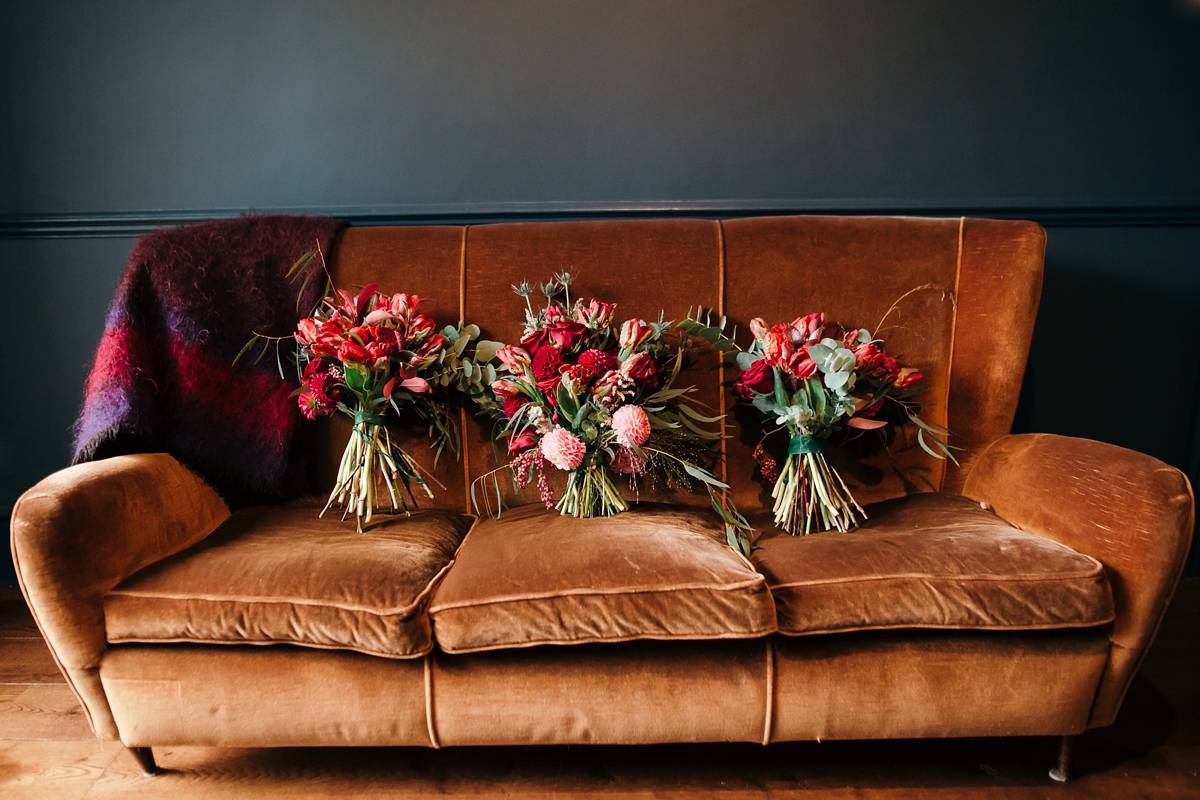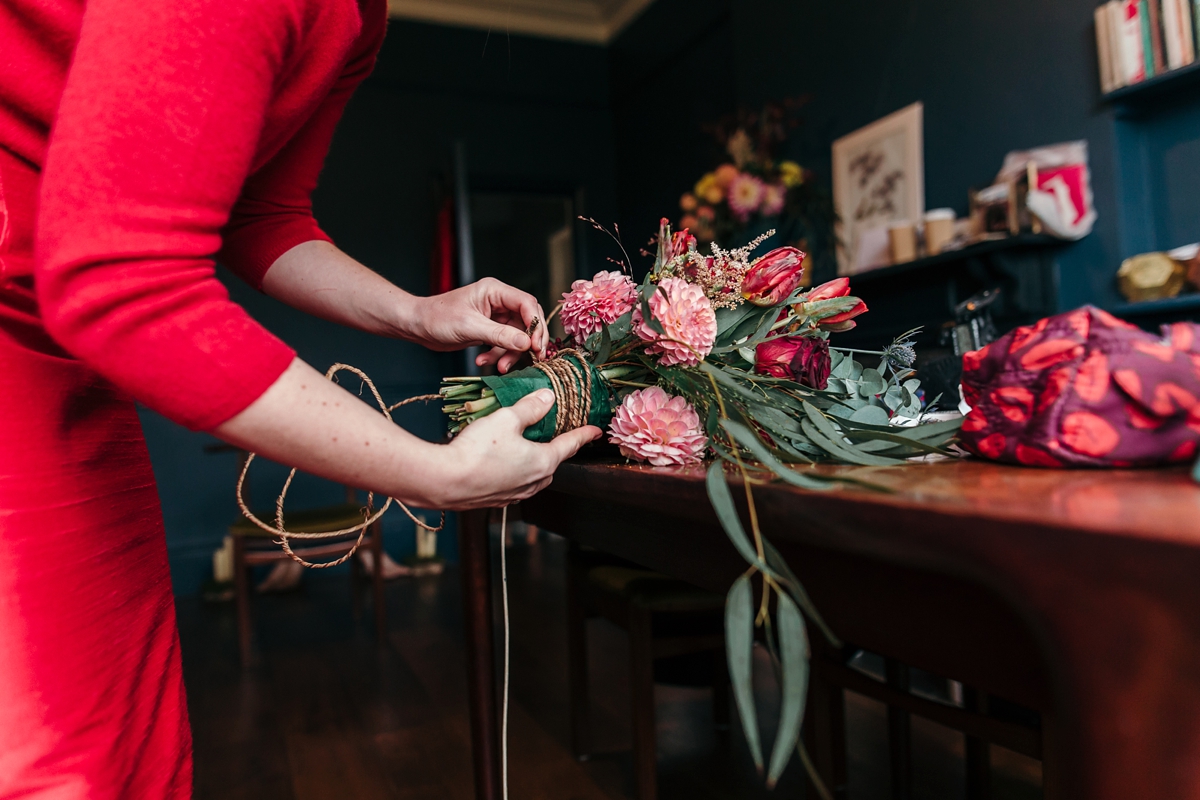 I'm sure your attention will have been grabbed instantly by Lauren's show-stopping gown in that lavish poppy red. It was custom-made by Beau Monde to the bride's own design. The detachable bustle is so unusual and eye-catching, and I love that she can wear the separate pieces again and again.
"I went straight to Liberty, a design refuge in high street London, determined I was going to find something that actually suited me, that I could wear again. I found the most divine red lace Valentino gown. Alas, it was over £8,000 – definitely not my 'sherk the wedding industry' budget. But, it started the idea that red was the colour."
"One afternoon I stumbled across some images from the Comme des Garçons exhibition showing at The Met in New York. I saw a painting of a skirt and knit from their Autumn 1995 collection and thought it was just crazy enough to work."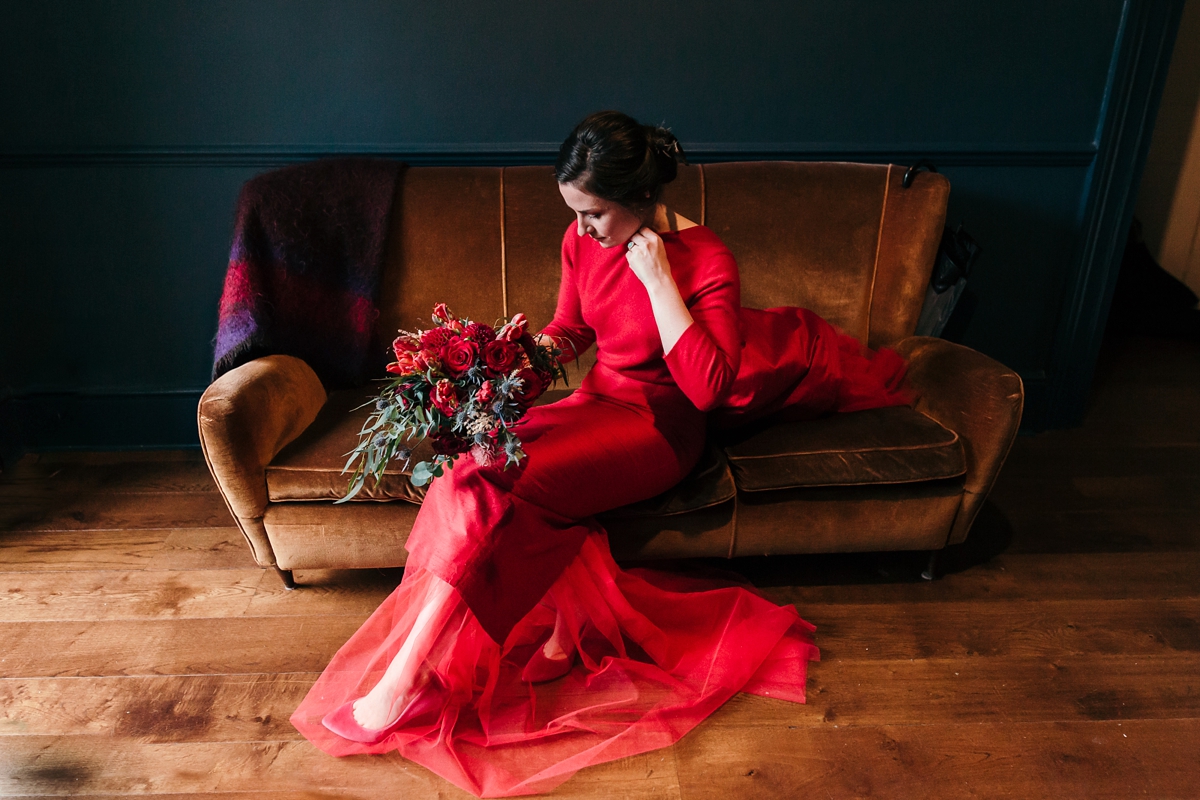 "They were a brand I love to wear and do fantastically quirky and modern things. The skirt was humorous, adaptable and something I thought would make my grandma, a model and seamstress with great style, laugh. The assistants at the Berwick Street Cloth Shop pointed me in the direction of Sylvia Young, owner of Beau Monde, as the ideal dressmaker for the job. When we met, I knew she was perfect and got what I was trying to achieve.
The rest fell into place and my outfit, set off by some great pink velvet Guccis and sentimental jewellery, came together exactly as I wanted. And best of all, it's all separate pieces and reduces to a suit I can now wear to work."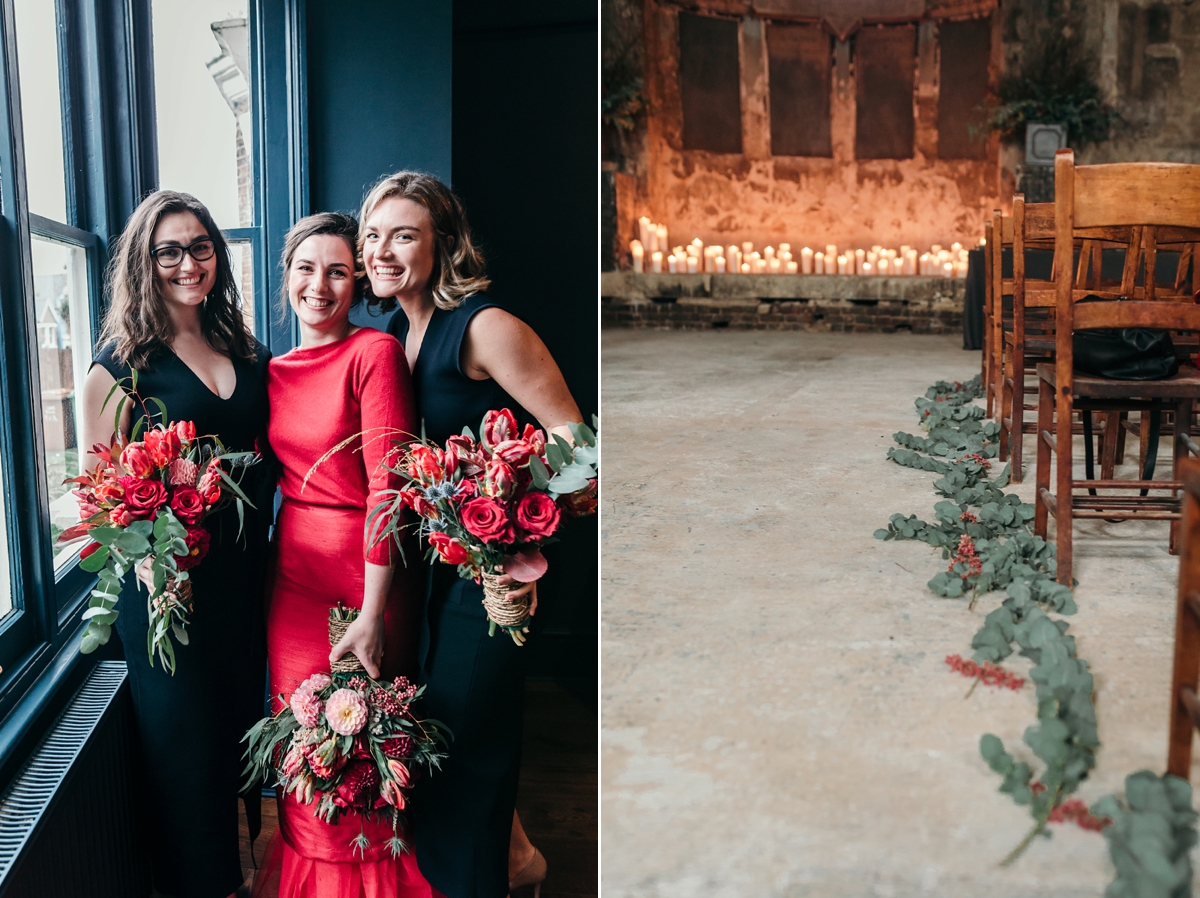 "Being Australian, there wasn't anywhere in London that was particularly sentimental as a venue and Ed didn't have anywhere significant to him he felt urged to book, so we set to Googling cool venues."
"We wanted to avoid the more traditional locations and do something that was a little more us, and when we saw the Asylum we thought, 'Hey, we live near by, why not make it a local wedding'. They were all booked up for the weekend we needed for my half term, so booked the Thursday somewhat unconventionally."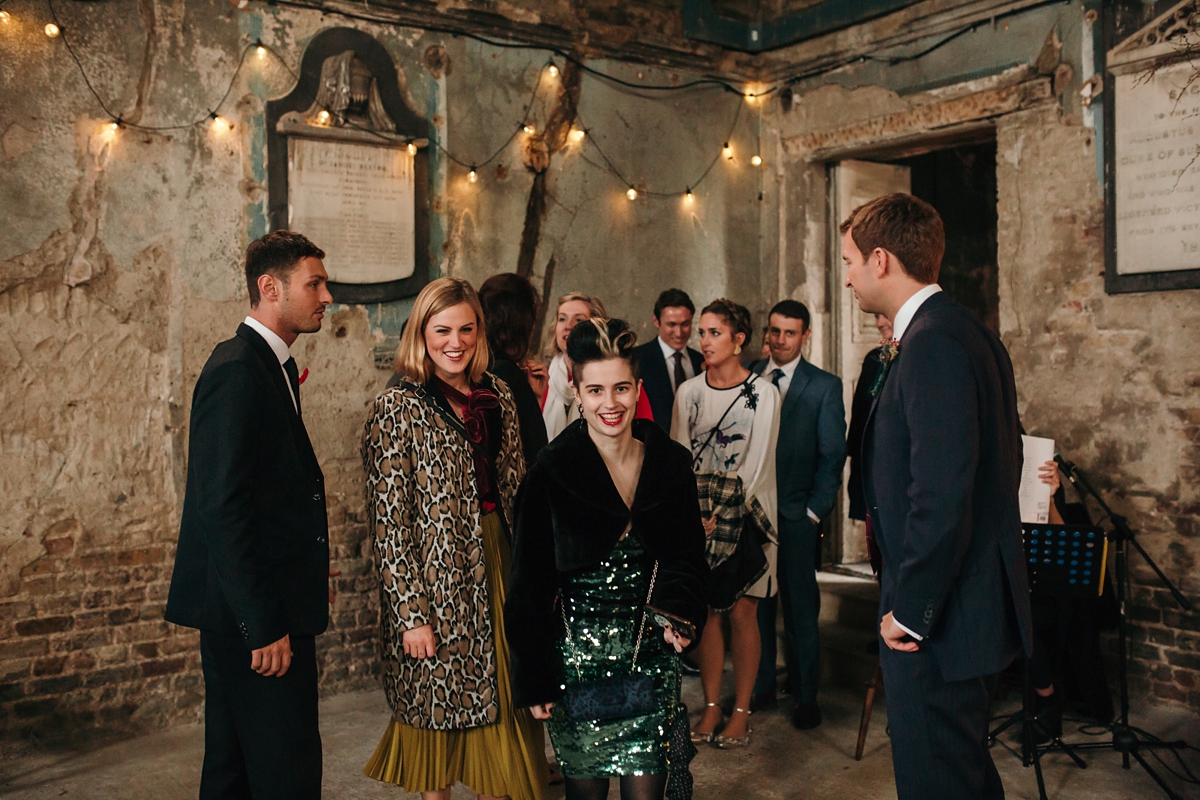 During the ceremony, harpist Iona Thomas played.
"I was coaxed into attending the National Wedding Show by a friend also getting married. We both found the show pretty hellish and not really to our style, but I did hear Iona Thomas playing harp and thought it was divine, and somewhat appropriate given my surname is Harper. I booked her and she played beautifully without much direction. She even kindly smiled when a friend tripped over her harp which kicked her in the head."
The Asylum really is a breath-taking venue, made even more so by the addition of hundreds of candles and greenery which created a really intimate, special atmosphere. They worked with the in-house co-ordinator to style the day.
"There was someone on site for the day. Frances Marden was an absolute superstar and a real steady pair of hands in the lead-up."
"We had simple lichen, gum leaves and pepper corns at the Asylum and ivy and candles along the tables at the Beagle. I think simplicity is best. I remember overhearing some women talking about their table centres, like it was the finer aspects of some international trade agreement. I laughed thinking I couldn't remember any of the details of centre pieces at any of the weddings I'd been at. It's the overall impression that people remember, the atmosphere and hospitality, not the minutia and the myriad of layers of complexity you can add to the event."
"Then we set to finding a local venue and settled on an Italian restaurant with great food unfortunately they cancelled on us two weeks before the day. With some very focused Googling, we emailed any restaurant that sat seventy in the South/East London area and Daniel at Beagle in Hoxton came to the rescue. He was the most professional and calming person to deal with and the total antithesis of our previous venue's management. It worked out beautifully and the food was unbelievably tasty."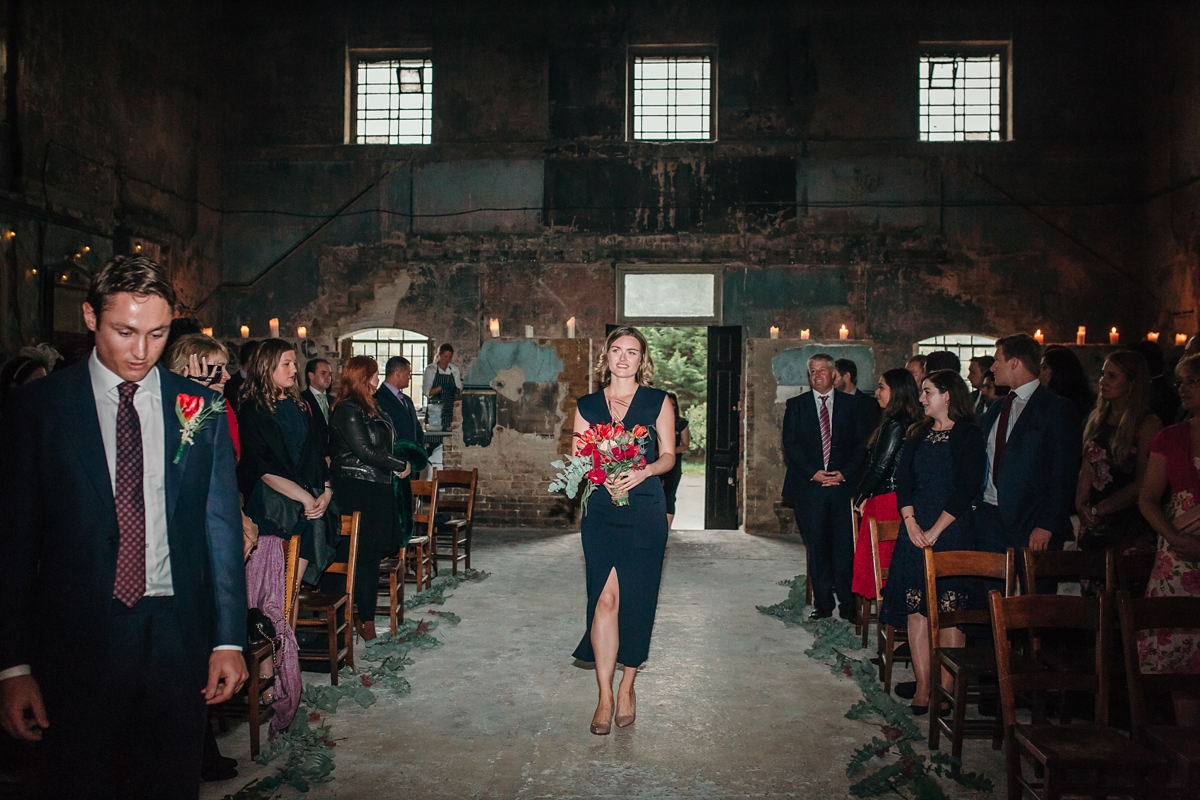 The service was led by Ricardo at Southwark Registrars – a celebrant who made the ceremony as unique as this couple are.
"We only met our registrar the day before the wedding. If it's not clear by now, we weren't the typically pressuring couple who saw this as the one big day in their lives – we definitely did things to the beat of our own drum sometimes to our advantage, sometimes not.
Ricardo was introduced to me by Ed as 'the love doctor' (my one moment of extreme panic when I pictured some Adam Sandler, Deuce Bigalo Male Gigolo type character, marrying us). All alarm was eased through when we met to go through the process.
We knew it would be a different kind of ceremony as he had spunk, something we were pleased with which greatly put us at ease. When it came to the day, he certainly pulled it off with aplomb, getting some great laughs in and bringing his signature style to make the 'dull formalities' much more engaging for us and our guests."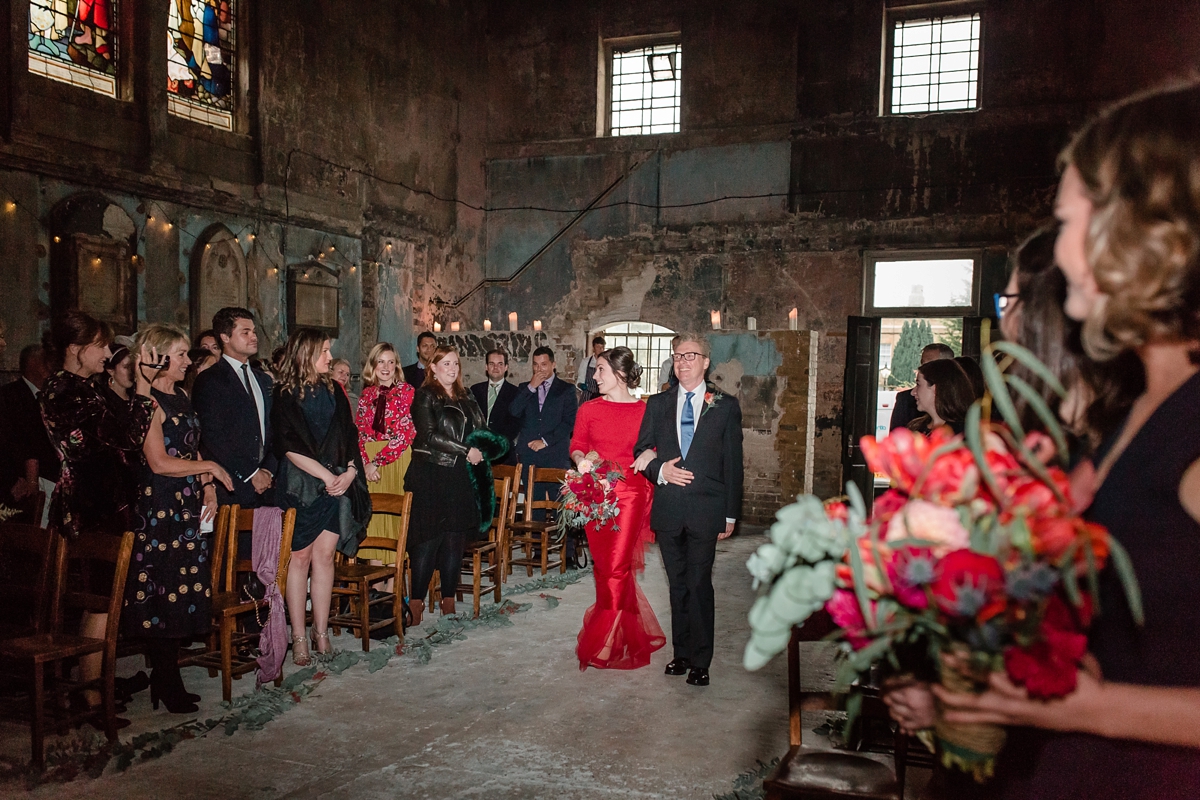 Ed's dapper suit was tailor-made by Shoreditch-based designers Fielding and Nicholson.
"They made a killer suit, in good time. They didn't faff about, the owner wasn't too big to get involved in the sale and produced a suit well worth the investment."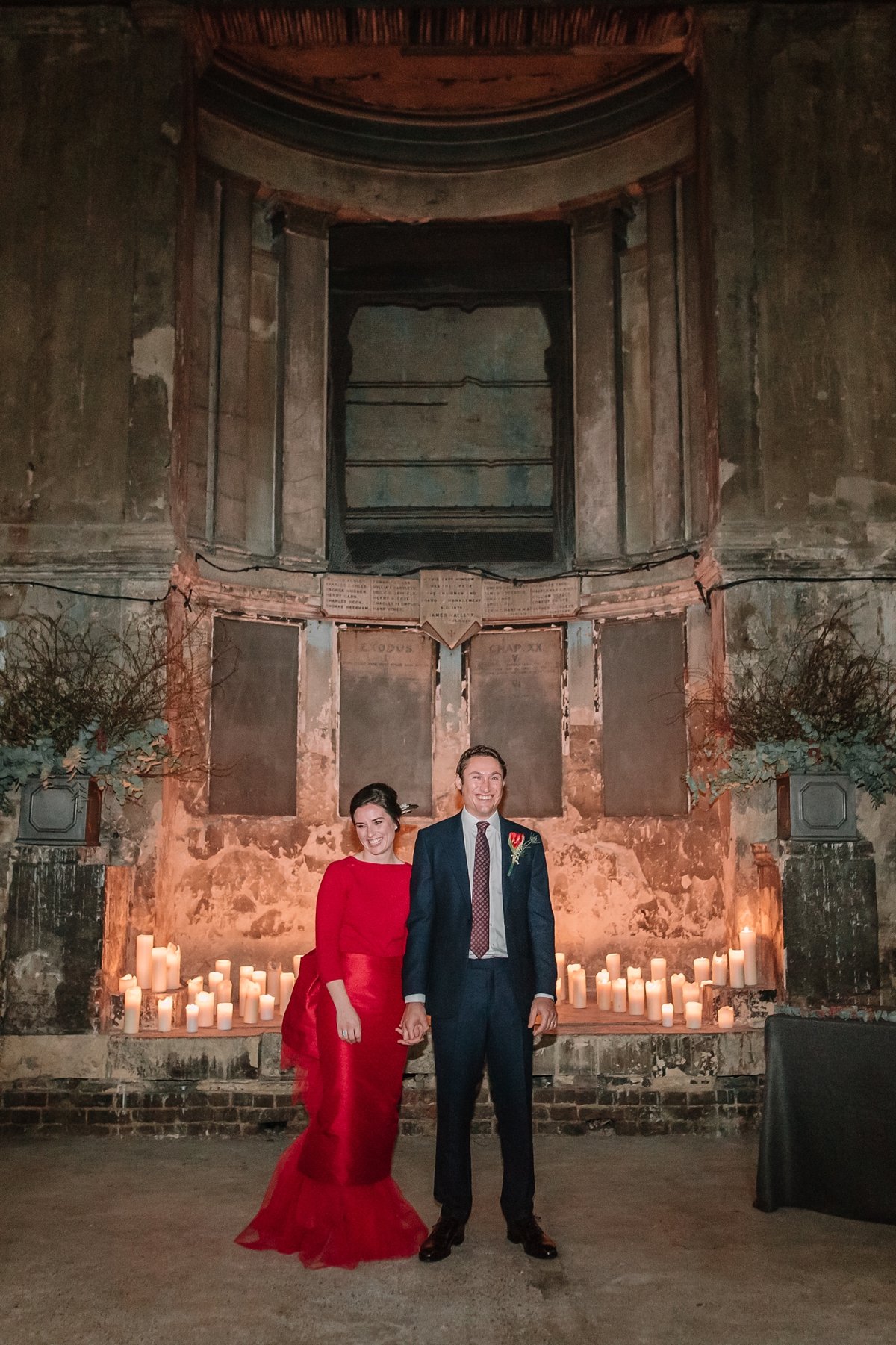 "We had three readings; 'Let Me Put It This Way' by Simon Armitage; an extract from 'Jane Eyre' by Charlotte Bronte and 'Valentine' by Carol Ann Duffy. Each looks at love through a witty and pithy lens.
Each was pulled off spectacularly by our usher, my aunt and my brother, whose Australian accent and dry delivery only added to the poem by Armitage. I love the poems and excerpt; it was profoundly moving to hear them delivered during the ceremony and nice to think they will always hold a personal significance for us."
The couple first met in Lauren's native Australia whilst Ed was teaching cricket there on his gap year after leaving school.
"We became acquainted again when I moved to London when I was 23 and started going out soon after. Five years, a house and ginger cat named Genghis later, Ed proposed just before Christmas on a walk through Hyde Park and we went to one of our favourite restaurant afterwards to celebrate."
"Over Christmas we decided we wanted to have a relatively short engagement to avoid the hype and pressure of the wedding industry and thought October would be the best time as autumn has always been my favourite season and the practicalities of being a teacher and Ed having work commitments meant we needed to do it in that half term."
These photographs of the venue, and Lauren as she walks down the aisle with her dad, really are something else. They are the work of Joasis Photography, a professional whose work we are always so privileged to feature on these pages.
Jo is also a valued member of Little Book for Brides – head here to find out more about her modern approach.
"Jo was superb. We wanted images not just to record the memories, but to stand alone as art in themselves, and that's exactly what we got. Her style and confidence delivered exceptional images, and every shot we imagined we'd want of the day, and those we hadn't even thought of, were delivered."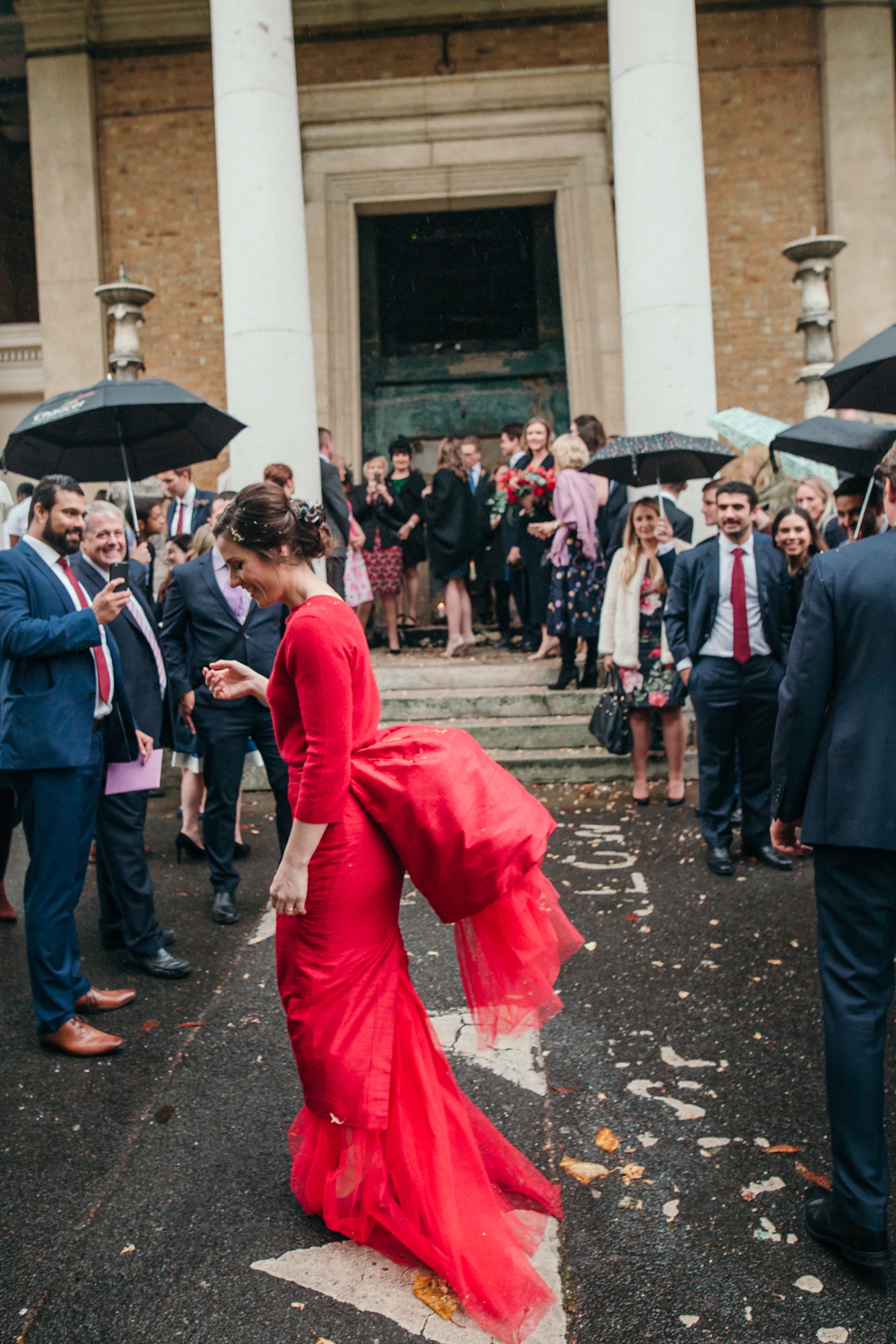 "All communication was exceptionally professional and the service she provided really stood out from the crowd. She wanted to meet in person to ensure we vibed, she offered a free engagement shoot – which was the most beneficial thing ever, as it turned out I was supremely awkward when being photographed – and delivered over 200 images more than we'd paid for, in addition to some lovely freebie prints and magnets. She was such a joy to work with."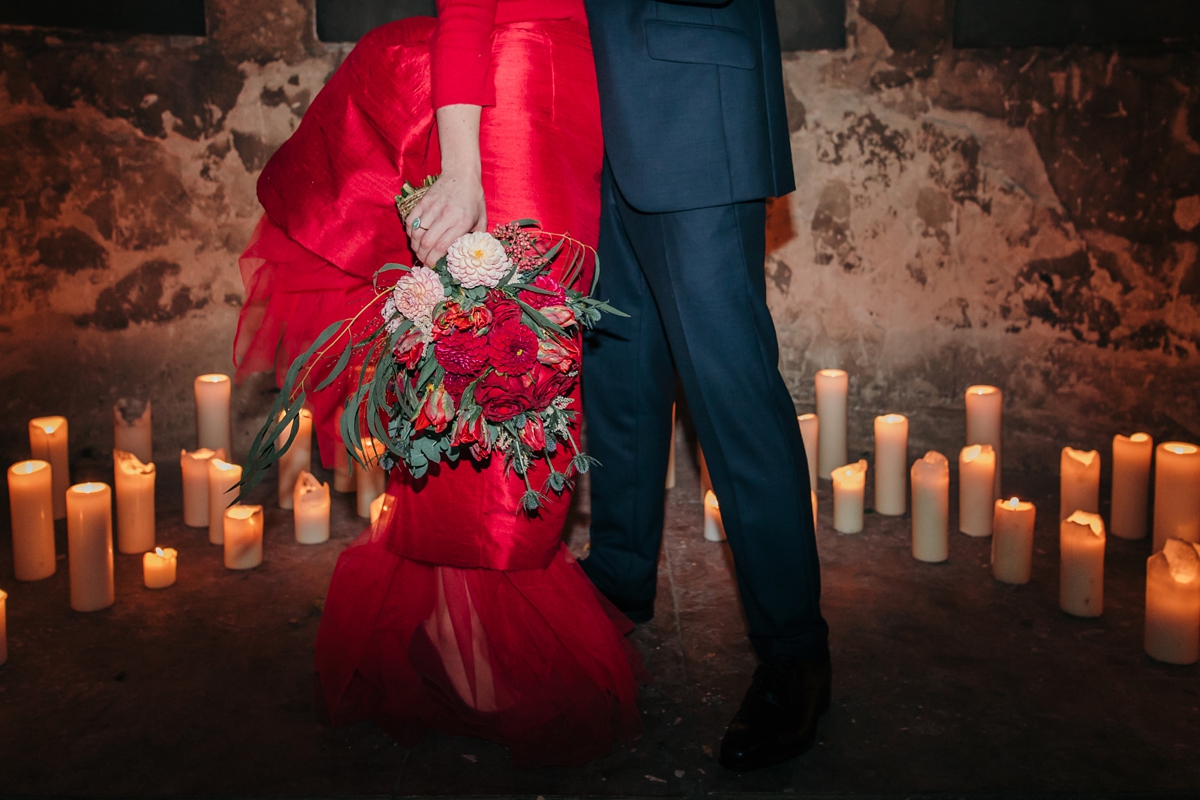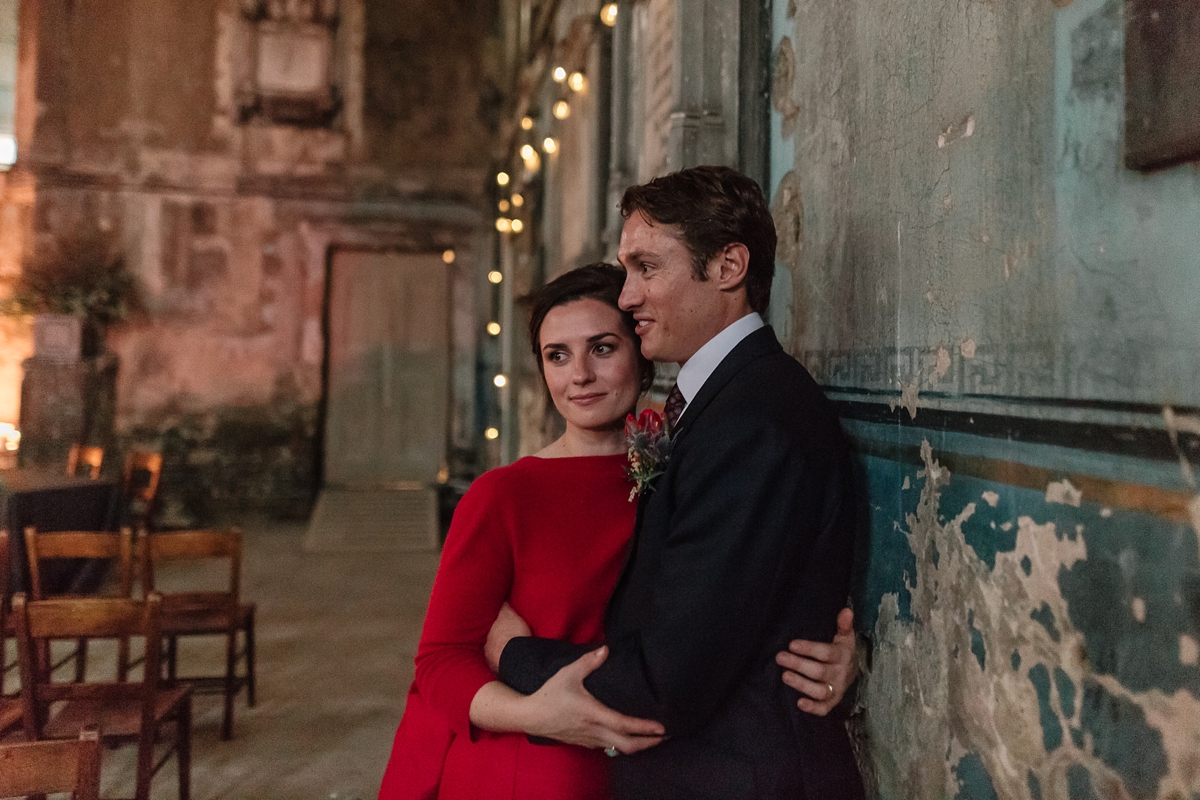 The couple had booked London Retro Bus Hire to transport the guests from ceremony to reception, and they kindly changed the destination at short notice with no fee.
"They waived any extra cost when we had to change the destination venue out of sheer good will. It worked out beautifully as we ended up going over London Bridge with a gorgeous view of Tower Bridge and all of London lit up at night for all our guests to revel in."
At the restaurant, a plentiful British feast awaited the guests. Kicking off with canapés and post reception drinks catered for by Anna Caldecott, Lauren's account of the dinner and party sounds like the Beagle offered a wonderful celebration venue that suited the couple's vision to a tee.
"For us, the most important element for the reception venue was delicious food, as it's what we spend our weekends seeking out. We didn't want the standard wedding food – dry chicken or limp fish that comes out at all different temperatures."
"We wanted London at its best and Beagle delivered; beef that was rare and seared to perfection, served in the cast iron pans it was cooked in; duck like any French restaurant worth their salt would prepare; cauliflower cheese of dreams that never ended, green beans with actual flavour and the most heavenly crumble and sticky pudding for dessert."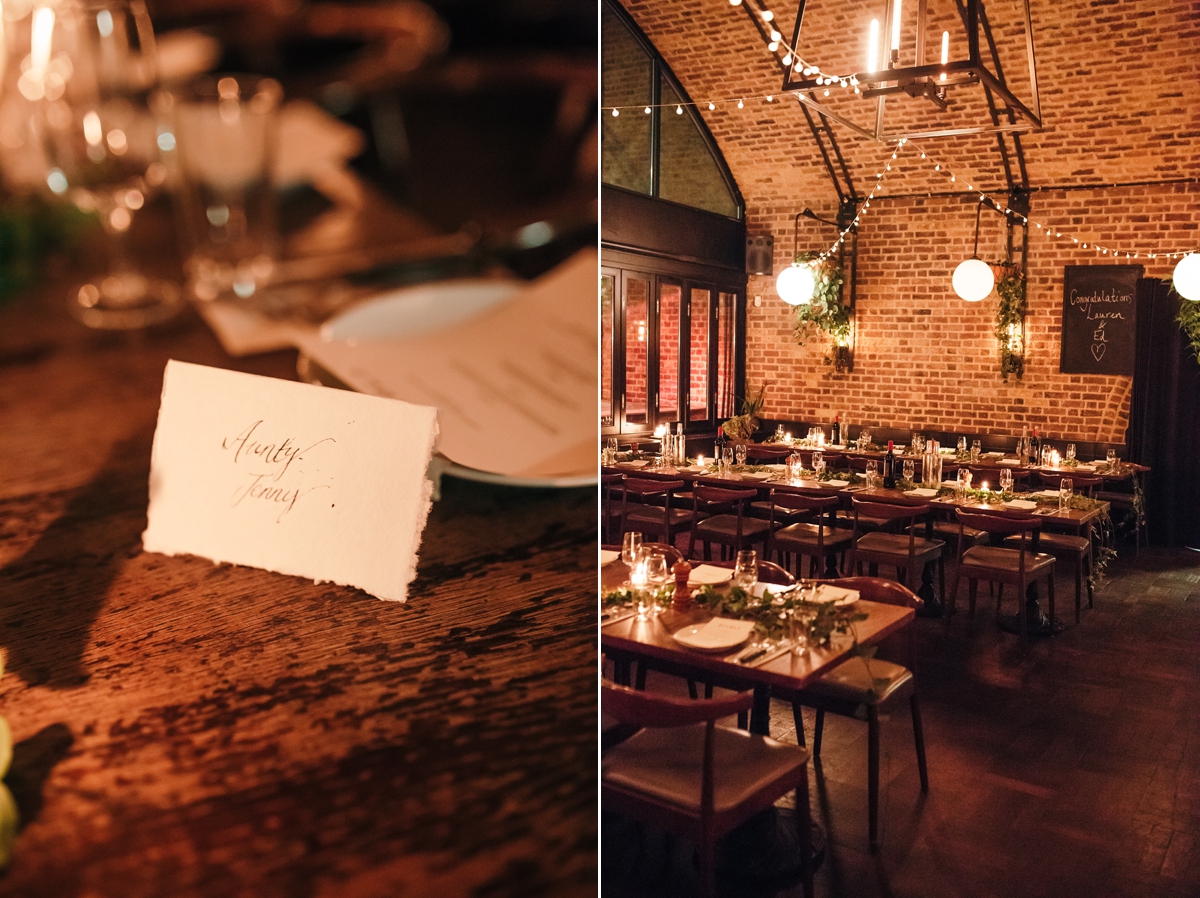 "It was unbelievable and our guests were awestruck that they were served such tremendous food at a wedding. The most surprising part for all was that there was such an abundance of it. There was actually food to spare, which brilliantly was sent straight to the bride, who was not 'so busy I didn't even get a bite or drink all night'."
"We had the place till 2.30am and danced the night away under the arches. Guests mingled under the outside heaters sipping espresso martinis which seemed to be the flavour of the night, with the bride sipping hot toddies with whole cinnamon sticks, lemon and honey to aid in voice recovery, kindly offered by Daniel when he realised I was struggling. It was perfect, impressive and oh-so-seamless."
"One of Ed's work colleagues makes the most incredible cakes – some of her designs are more like works of art. She was more than happy to whip up her divine chocolate Guinness cake for the day which looked spectacular!"
"Ed's not the most skilled of formal (or informal) dancers, but again, seeing the costs of lessons, my Year 9 ballroom dance classes were going to have to pull us through. We wanted something that wasn't too cliche, had a bit of old school charm and wasn't too long. We settled on 'Somewhere Over the Rainbow' by Israel Kamakawiso'ole on ukulele and spent a few hours in the month before practising. We wanted to have a decent crack, rather than shying away and calling others to the floor after ten seconds, and I think we did an okay job of it. Even if we didn't, I think we were giggling more than those watching."
"The whole thing from start to finish was a joy. But the speeches, food and readings were some of the most outstanding points of the day."
Words of Wedded Wisdom
"Know what you want to produce and don't mortgage your house to fulfil society's stereotype. Do what you want, not what those around you think you should do. Speak to each of your guests and for God's sake, eat and drink the food you picked. And give Ricardo the Love Doctor a call!"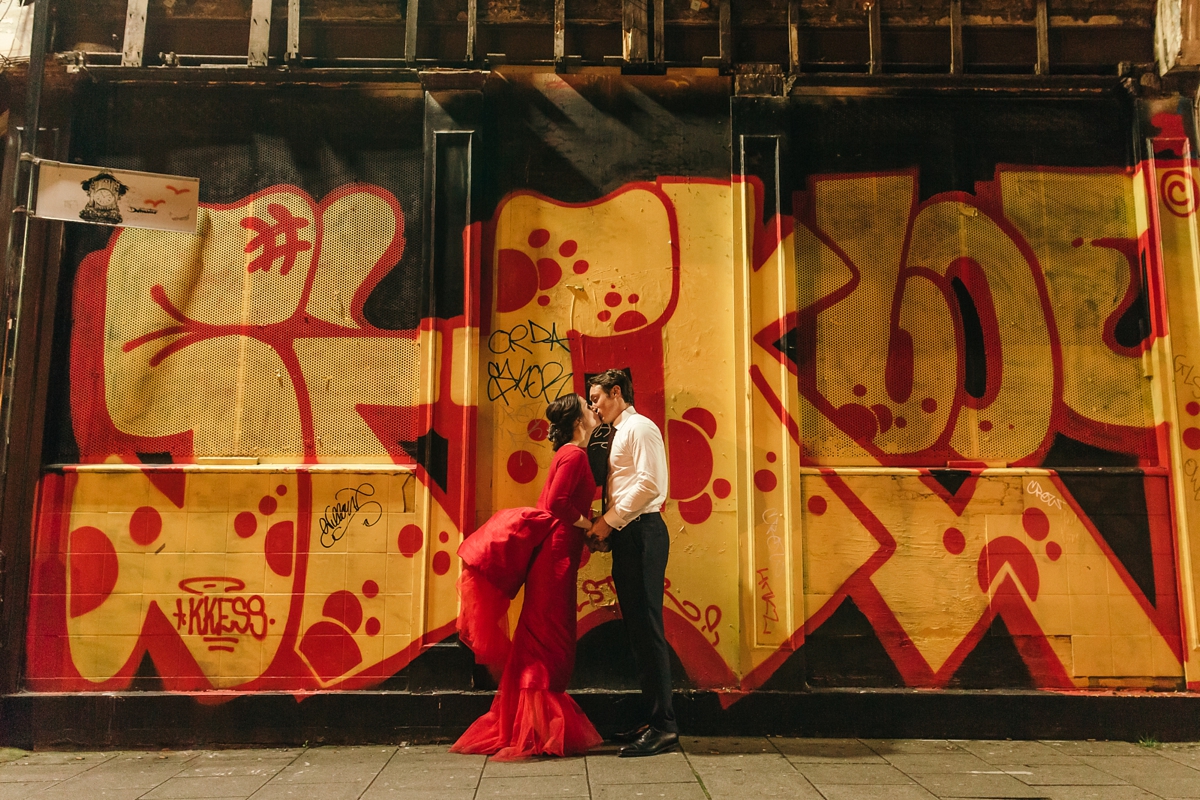 I've really loved sharing Lauren's refreshing, no-nonsense approach today, and her incredible red dress. I hope that reading about last-minute venue changes and how this can often work out even better than imagined has given you some confidence in planning your own day. Remember too that our Love My Dress Facebook Group is an awesome place to share your anxieties – you can join it here. Oh, and for more cool, modern wedding inspiration have a peek at these Love My Dress weddings here.
Ele xx