Hello lovelies! We seem to be travelling to Scotland quite often with our recent weddings which I'm loving as it's such a gorgeous country, providing stunning wedding backdrops. Today's couple had been together a sweet 18 years before tying the knot and opted for a gorgeous country house to make their union official once and for all. So, shall we get introduced?
Product Developer Alison and Office Manager Chris were wed on 8th October 2017 in a gorgeously autumnal wedding at Dumfries House in their home county of Ayrshire.
"We went around many venues in Ayrshire however Dumfries House has always had a certain allure to me. It was the more expensive option but by the time I'd calculated how much we would want to spend on styling and transport at all the other venues we considered, it made more sense to have the wedding at Dumfries House."
Images by The Gibsons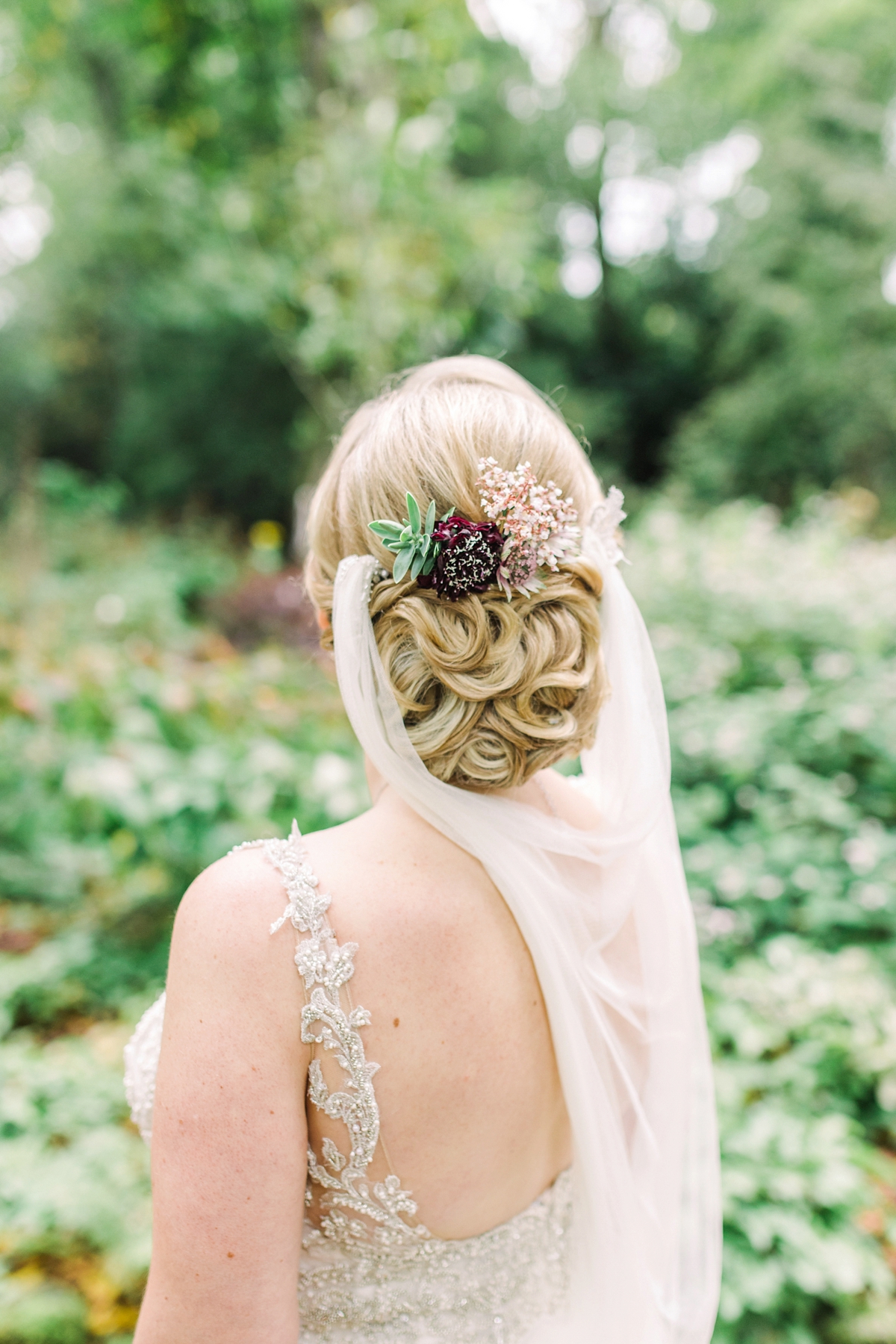 After doing their research and whittling the photography option down to four photographers they liked, Alison and Chris eventually settled on The Gibsons due to their soft, romantic and brightly lit style of photography.
"We found the 4 photographers we initially liked by looking at Ayrshire venues on Pinterest. In the end the budget partly dictated the decision. We knew we didn't want a videographer so felt we could therefore spend a bit more on photography. The idea of two photographers, like with The Gibsons, was also a big bonus point for us. It wasn't until our engagement shoot that I really knew for sure that I had picked the right people for the job. They immediately put us at ease and it really felt like we were out for a walk with friends. It's the relaxation in the both of us that ultimately contributes to the success of the engagement and wedding photo's.""Chantal is the most romantic, sweet and friendly person I know. This, combined with her creativity gives you the perfect photographer. The boys said they don't know hat they would have done without Scott. helping them get ready by attaching the buttonholes and advising them how to wear a kilt."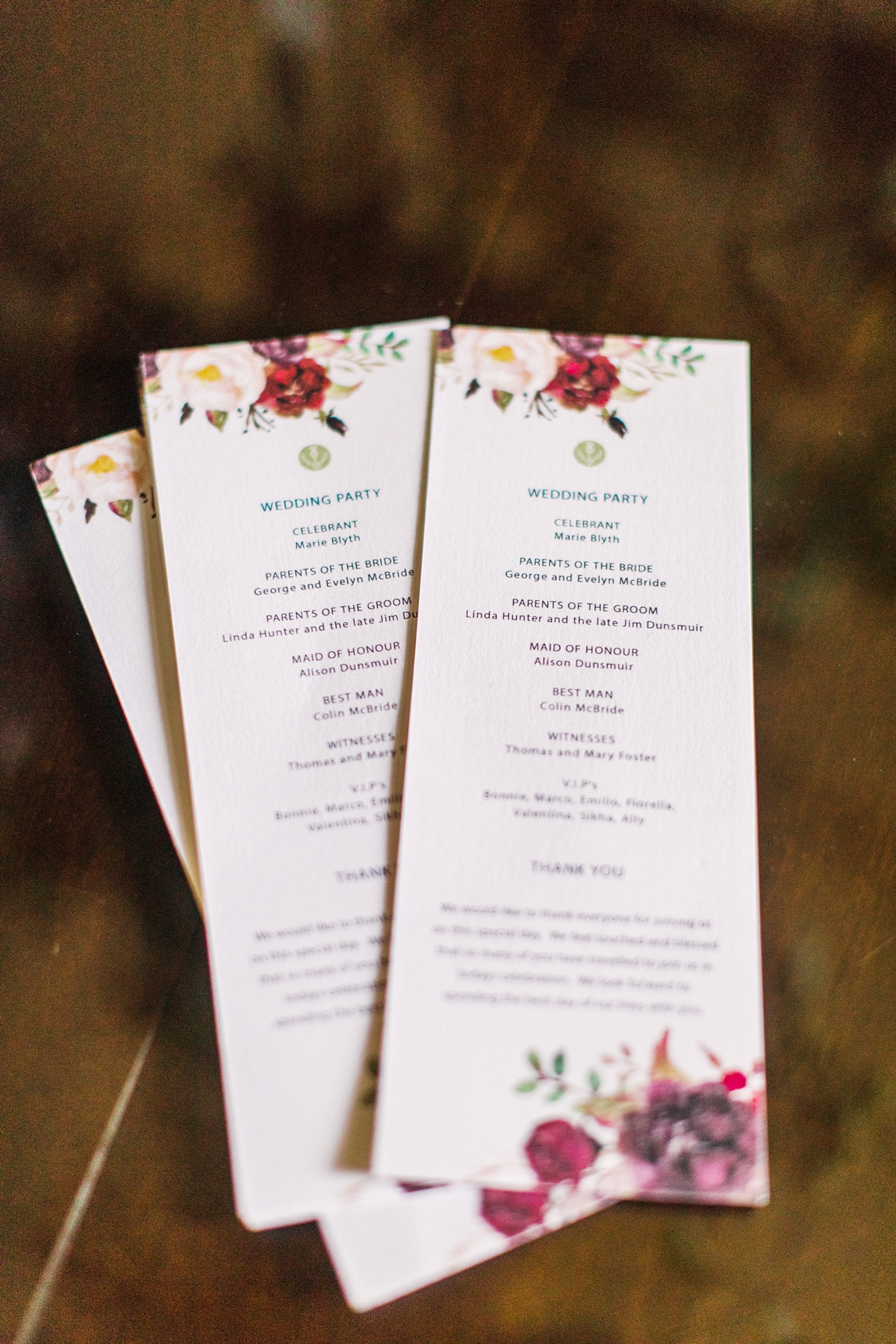 "The editing of the photo's is also fantastic. On both our engagement shoot and our wedding, it was overcast yet the colours that Chantal has brought remained fresh, bright and natural – just stunning!"
"I really can't praise The Gibsons highly enough. We're over the moon with the images and are currently trying our best to select photo's for the albums, however we're truly spoilt for choice!"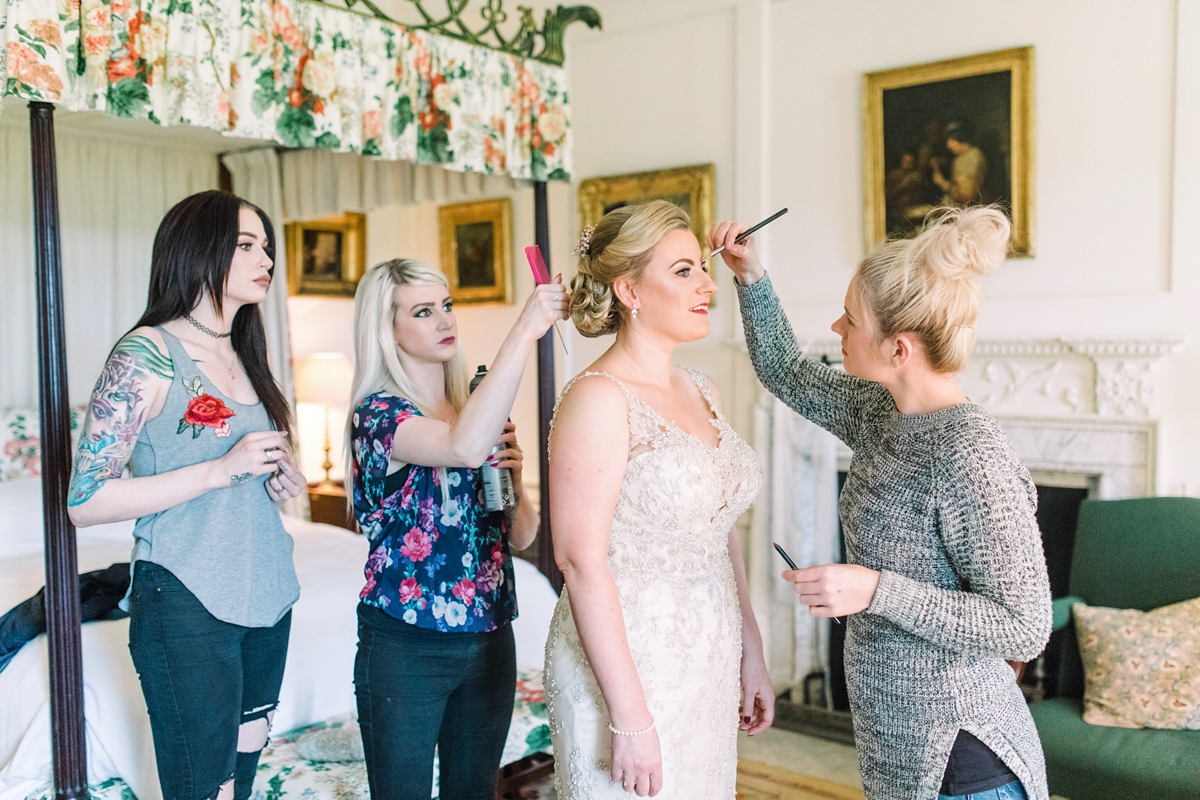 Alison also chose a pair of gold suede shoes from La Redoute at a bargain price and wore fresh flowers in her hair. Jewellery was kept simple with a necklace and earrings from Lovett and Co, a brooch of flowers borrowed from her Great Gran and a spritz of Chanel Mademoiselle, bought as a gift by her mother in law.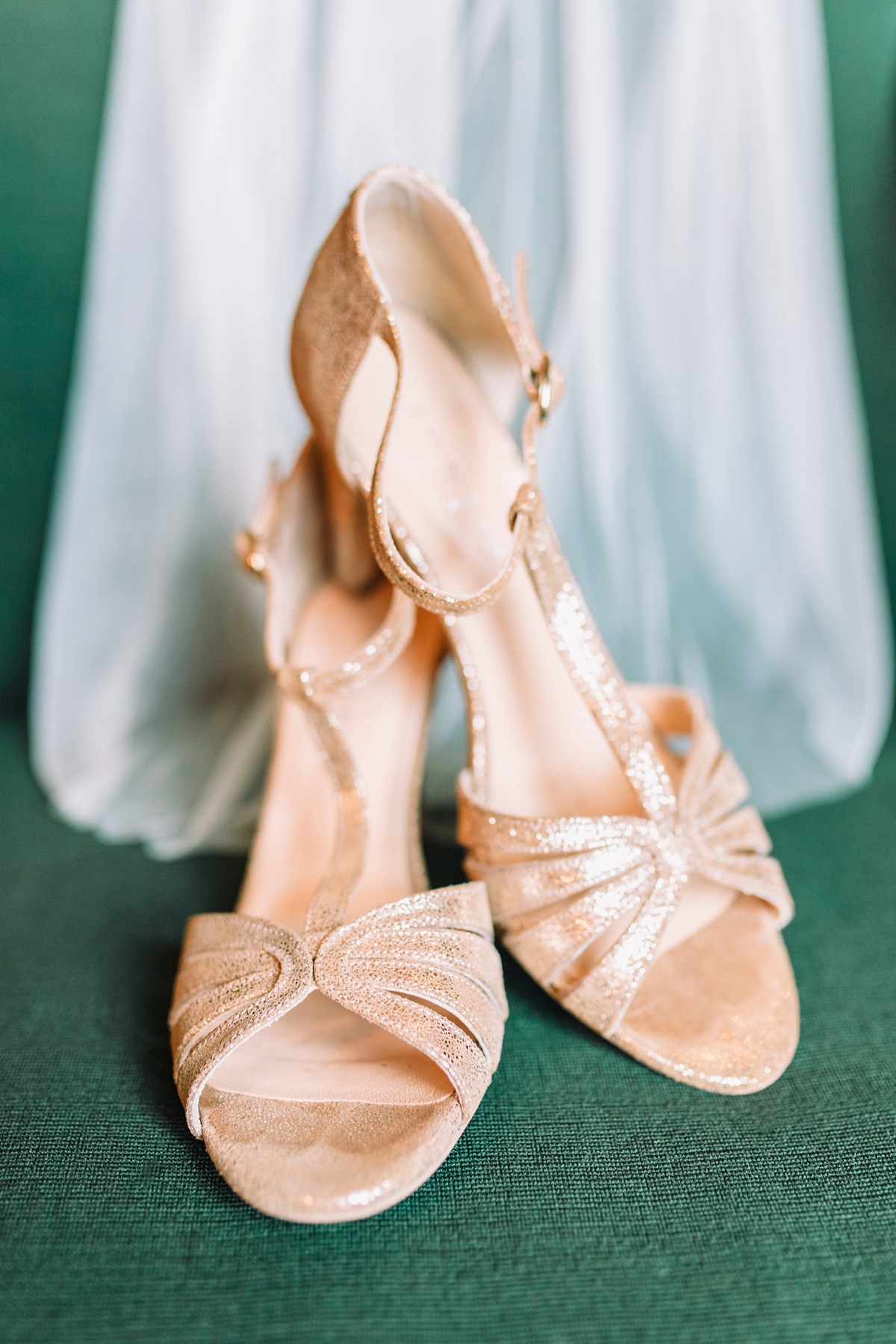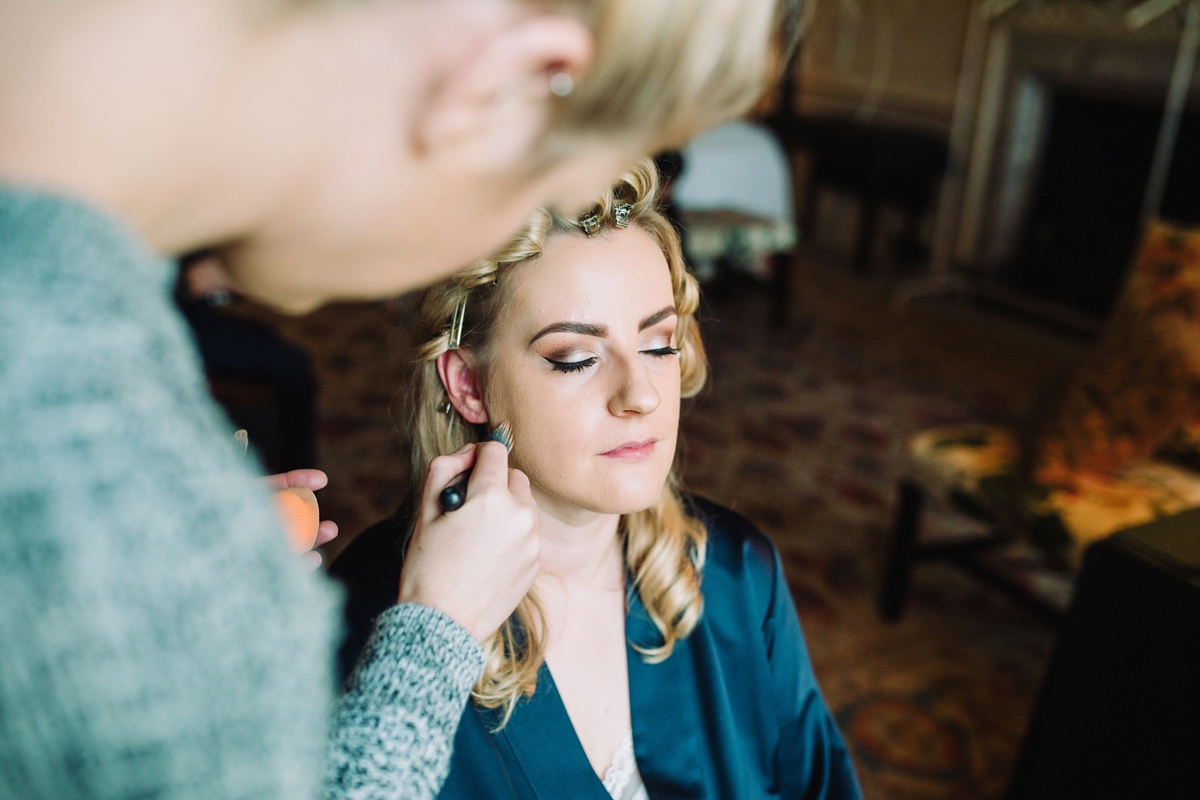 With the wedding taking place in October, blooms and foliage were kept quite autumnal with a wild and rustic feel to them, all created by the talented ladies at Myrtle and Bracken.
"I knew I wanted my flowers to look seasonal and wild. I saw their work on a wedding blog and fell in love. I expected the company to be based in Cornwall or somewhere like that but was over the moon to discover that, not only were they Scottish, but local to our venue! I liaised with Diane via email and gave her access to my Pinterest boards. I had one face to face meeting with her and that was it. Myrtle and Bracken only use available seasonal flowers so I didn't really know what I was getting. I was blown away with my flowers on the day. I couldn't believe how well Diane had interpreted the brief. My flowers exceeded all my expectations and they were high!"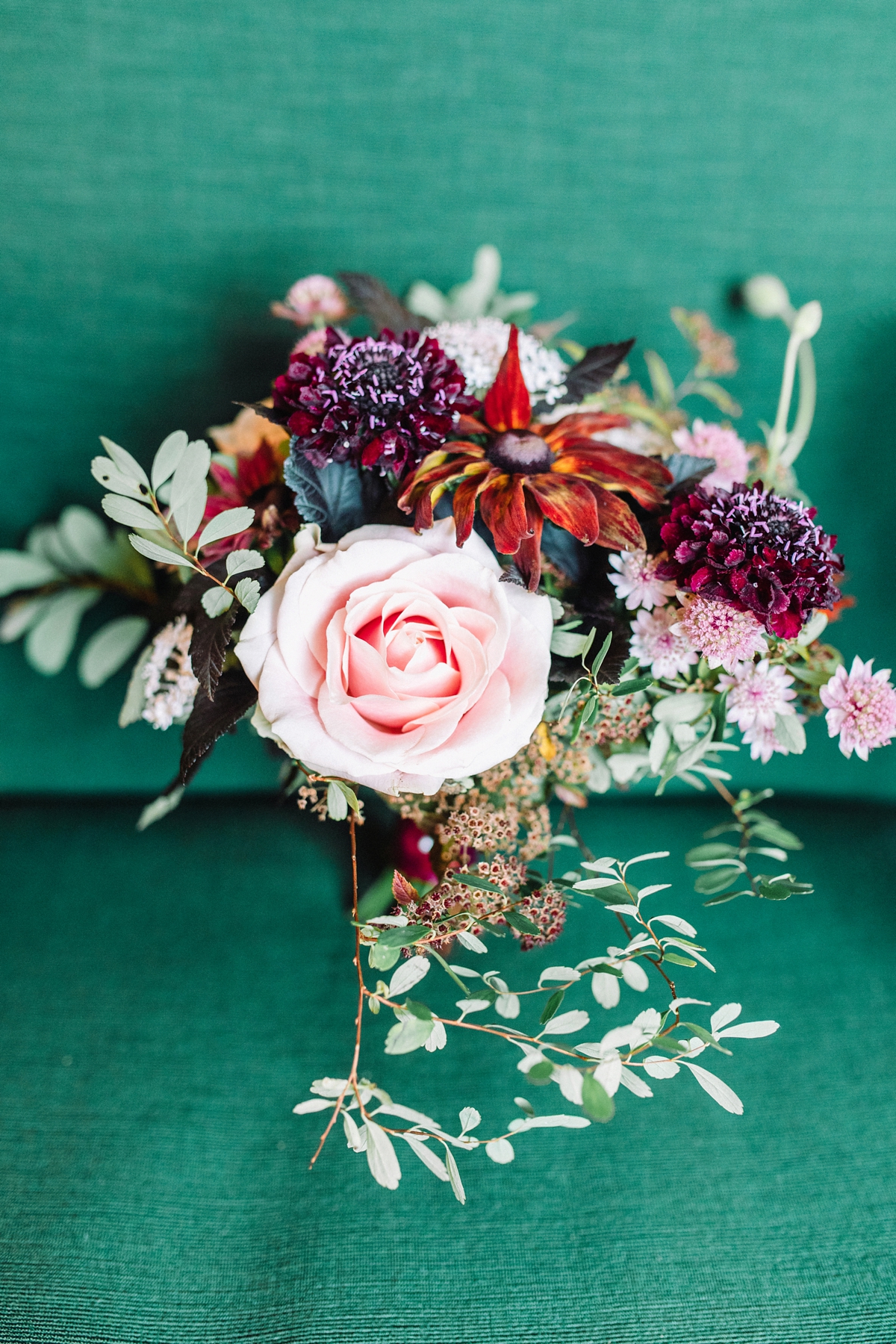 In keeping with Alison's love of vintage, she chose the vintage style Greer gown from Maggie Sottero, bought from Brides and Gowns in Derby.
"I saw the dress on a mannequin at the Brimingham Wedding Show and as soon as my mu saw it she knew and once I'd tried it on, I knew too. When I saw myself in the mirror I can remember thinking 'is that really me?', followed by the wedding flashing before my eyes. Yes, I really did have that cheesy wedding dress moment!"
"I love the vintage look and feel of the dress. It really does look like it could be 100 years old. In terms of style and shape, it was exactly as I had envisaged. More importantly, it highlighted my best features and disguised the areas of my body that I'm not confident about. I felt beautiful in the dress, not something I'd say I've ever really experienced as an adult!"
"I never wanted a veil but the dress said differently! I didn't want anything traditional but I saw a veil on Pinterest that I liked. I contacted the designer, but as my dress was such a particular colour of antique cream, I had to source the tulle myself with the help of a friend, Suzie at Susanna Greening Designs. We found the right weight and colour of tulle at James Hare and created a pattern. My mum then attached the hair slides and pieces of lace from a lace pack I bought from Maggie Sottero."
Alison and Chris first met at high school with an unexpected proposal following 16 years later.
"Chris proposed unexpectedly in Cuba on a sunset cruise. It sounds very romantic but it turned out to be more of a party boat and our first dance was the Macerena! We then took 2 years to plan the wedding."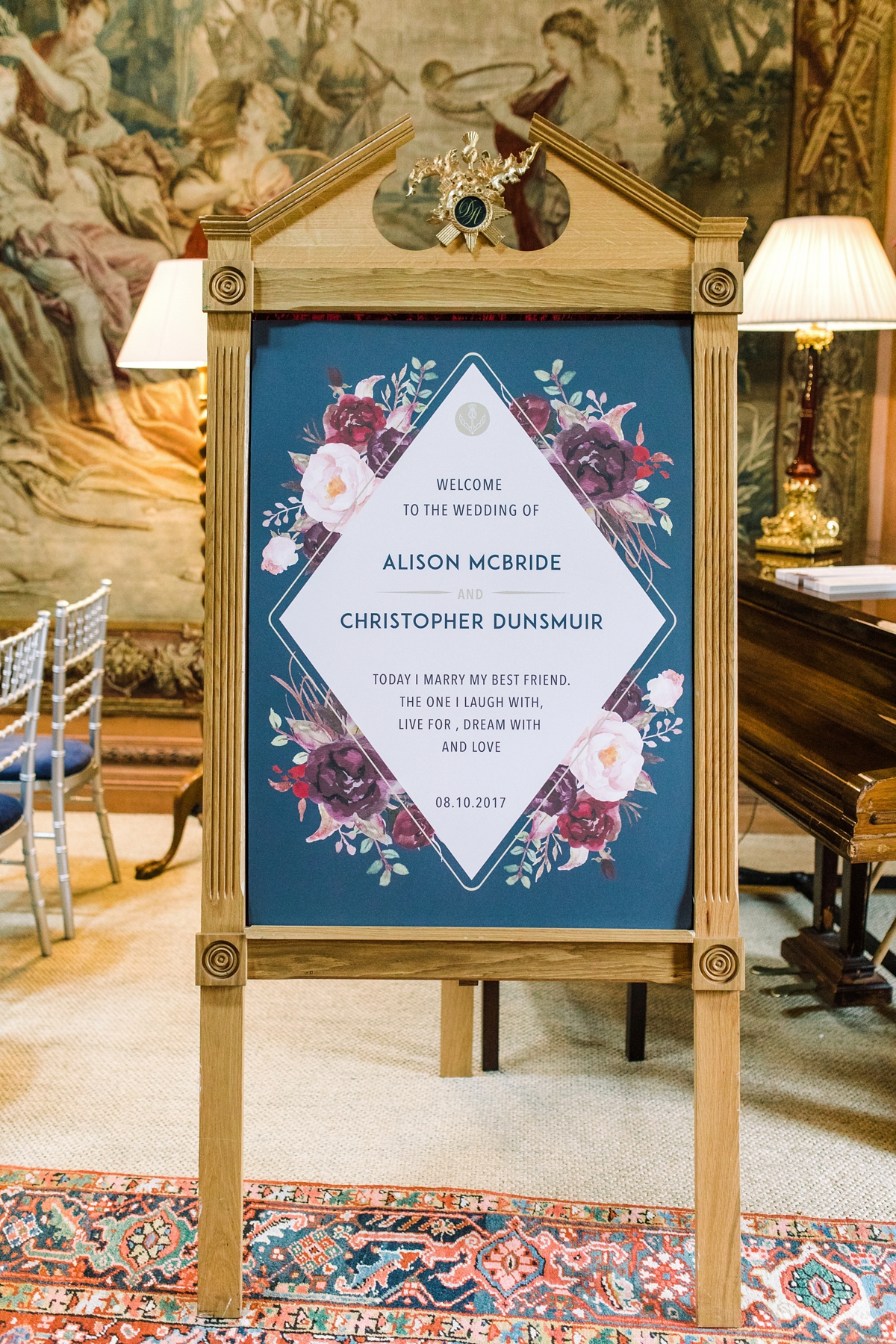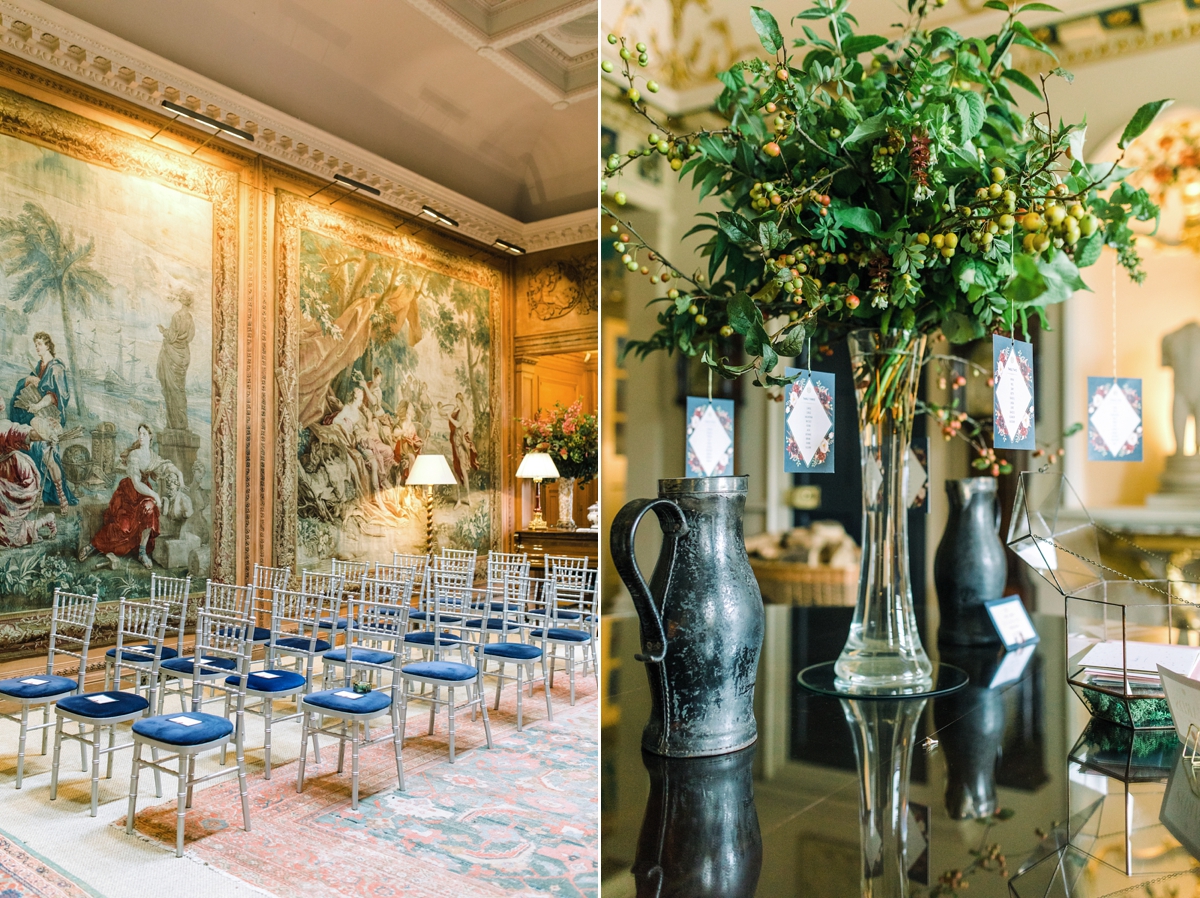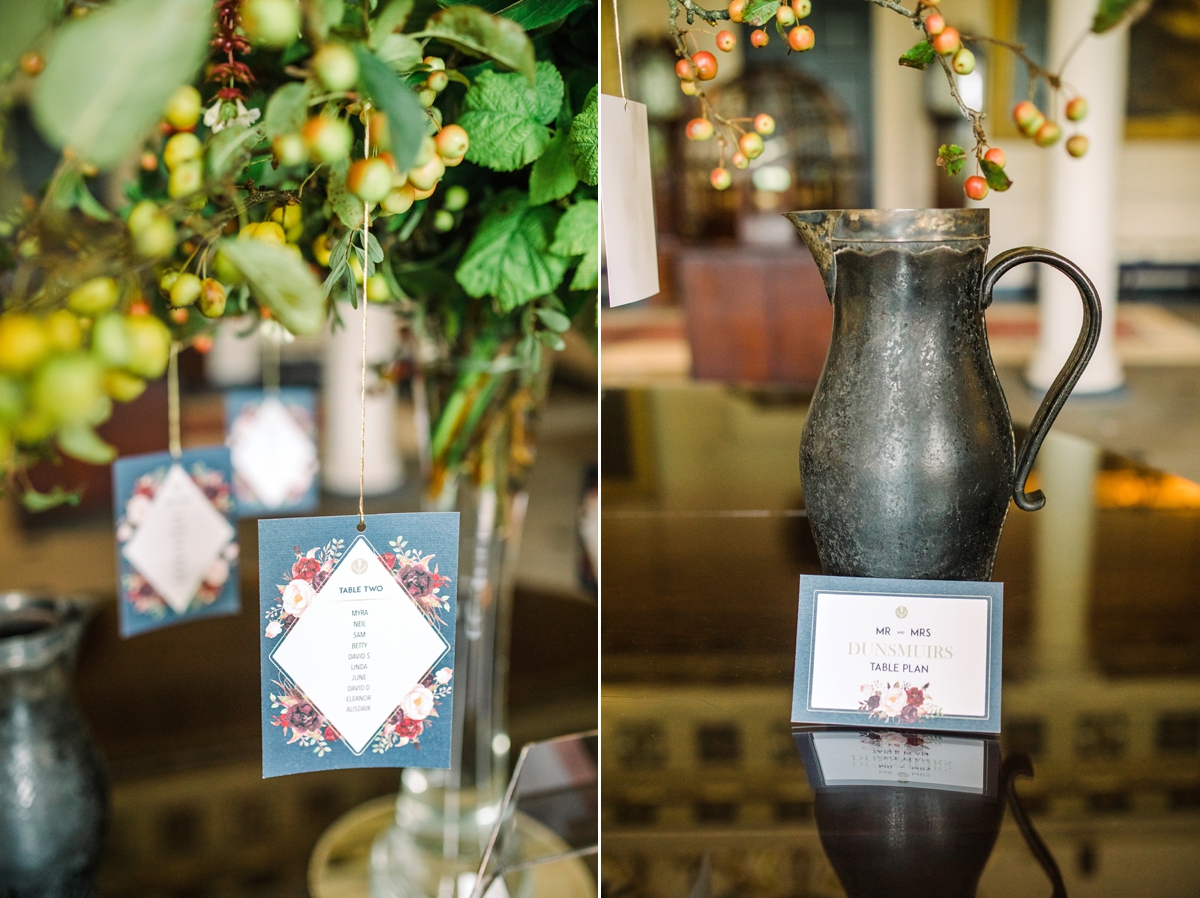 The bridal party and the groom coordinated in deep blue colours including the flower girls in gorgeous mix and match midnight dresses from monsoon and page boys in kilts from Kenny's Kilt Hire in Cumnock.
Ed also stayed true to his Scottish roots in a blue tartan kilt from Slaters kilt hire, accessorised with Paul Smith brogues and Aspinal London cufflinks.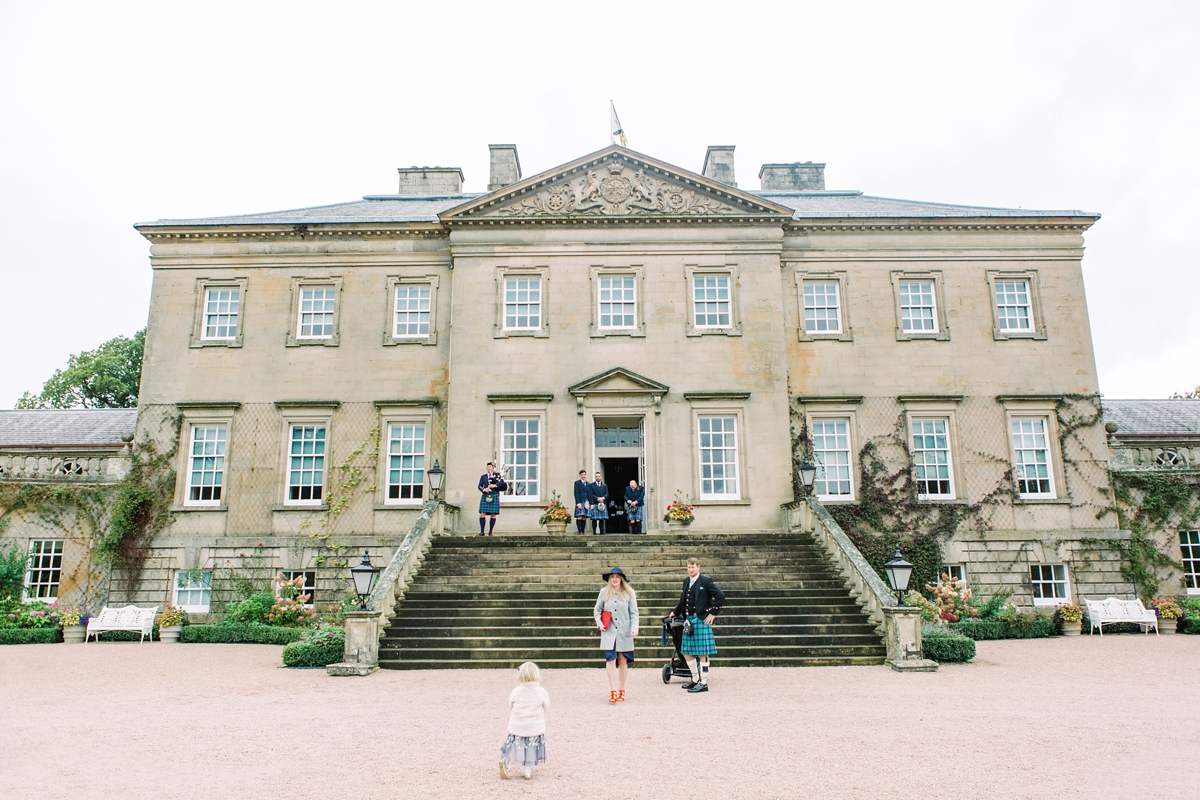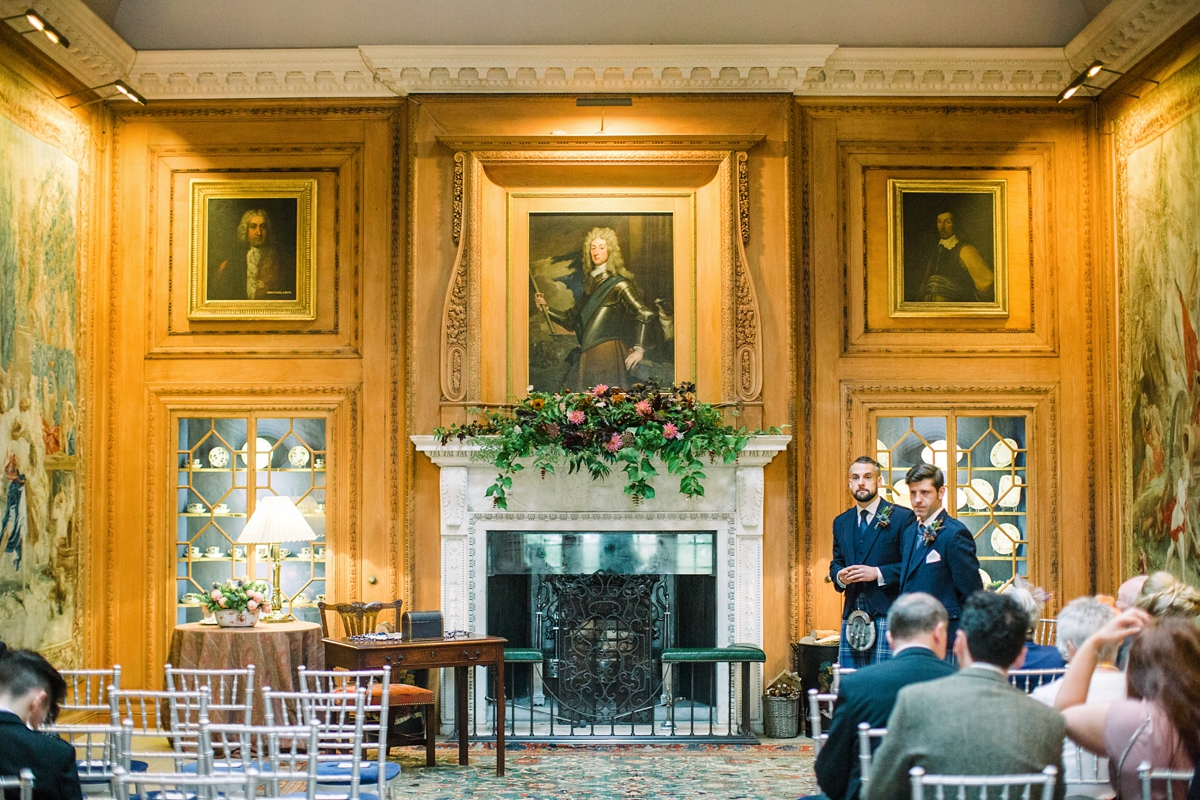 Alison's dad accompanied her down the aisle to Highland Cathedral played by local piper Liam Rodgers on his small bag pipes. Creating an ethereal sound for the start of the ceremony, it was the perfect opener for an intimate wedding ceremony. Marie Blyth from East Ayrshire council then officiated the wedding, offering the couple to alter their vows if necessary.
"The council were really accommodating and made sure they could see us when we were in the area (as we now live in Nottingham). Marie emailed us her exact working for the ceremony, and we were able to add in or take away what we wanted. We also opted for the traditional Scottish hand tying ceremony and my mum made our cord. East Ayrshire council allow you to select from three vow options. We combined a few of them to create our own, selecting verses that resonated with how we feel about one another and where we're at with our relationship."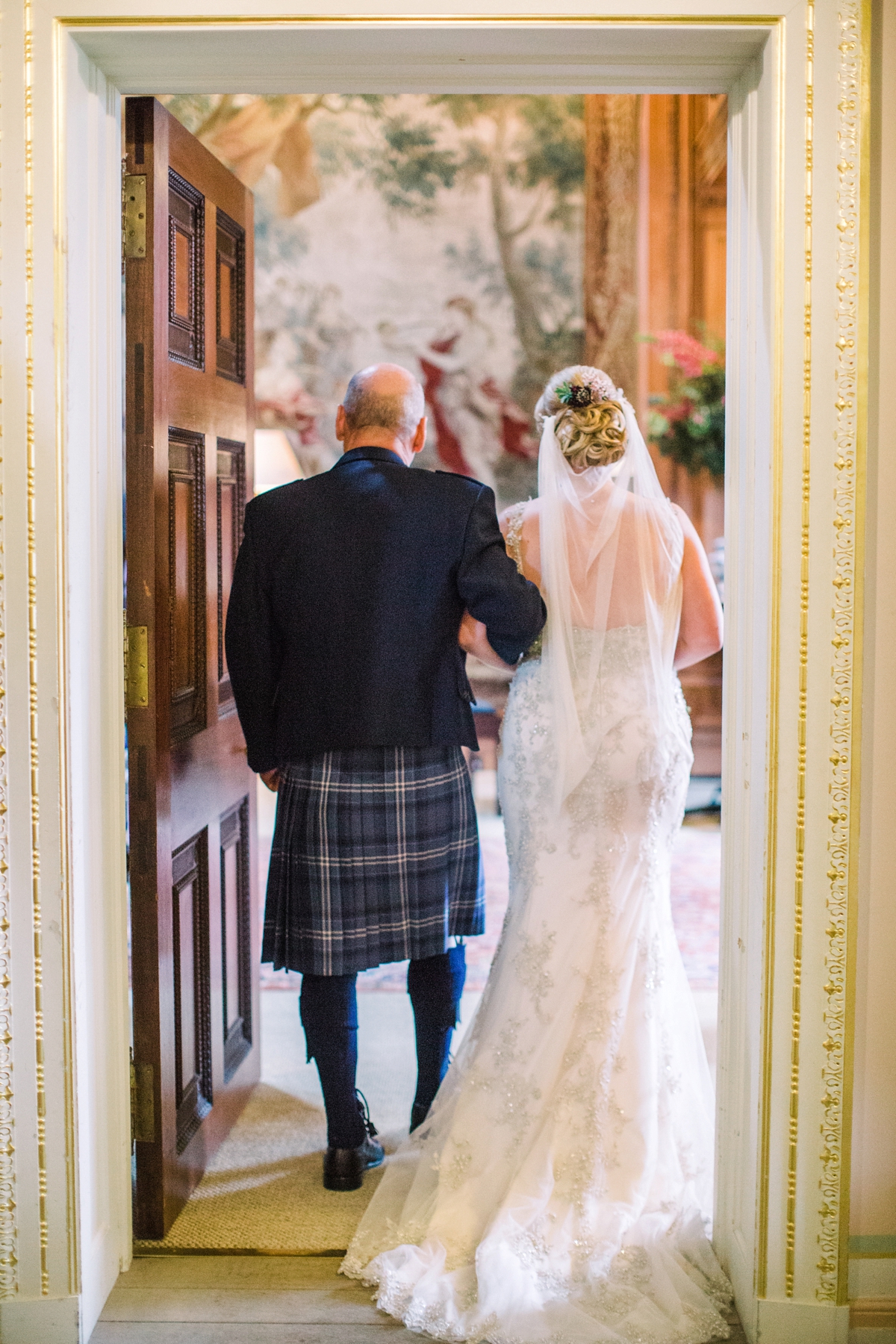 "For the readings we were again given several options from the council, so we selected ones that felt special to us. The poem True Love really stood out for us as it summed up our relationship. It speaks in gentle tones and hears with gentle ears. After 17 years together, we're not about PDA's or telling one another we love one another or lavish gestures. We show our love and respect we have for each other in the everyday small things we do for each other instead."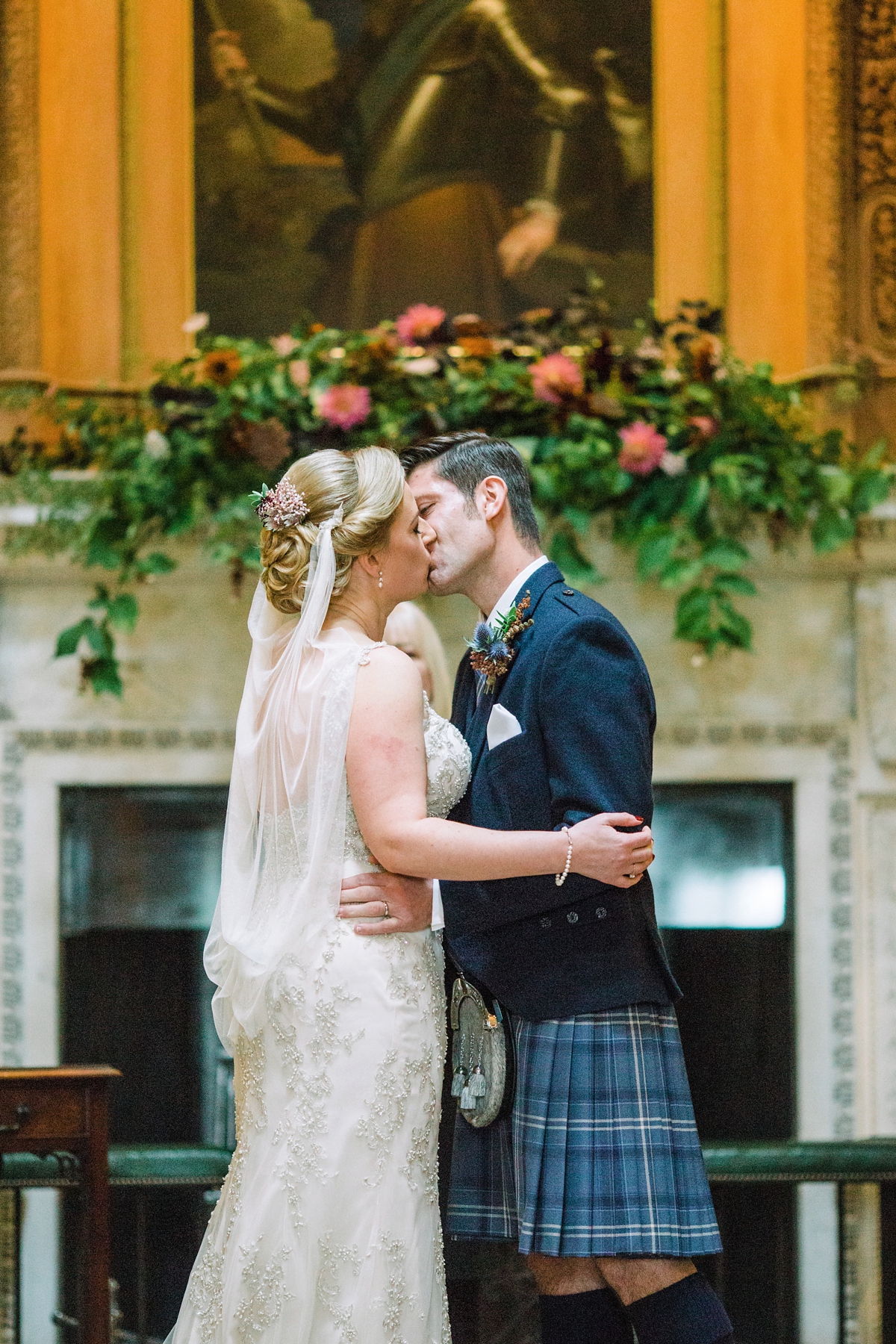 "One of my favourite moments of the day was signing the registry. Finally this man, who I've loved for 17 years, was my husband. I'm really interested in family history and the idea of having a piece of paper for future generations to wonder over really excites me. Above all I loved that my gran and granddad were here to experience the day in good health. We had them as our witnesses as I wanted them to know just how special they are to the both of us. Their signatures are now forever on our marriage certificates."
The couple finally swapped rings from Trinity Jewellers in Nottingham before heading out into the grounds of Dumfries House with The Gibsons for their couples portraits.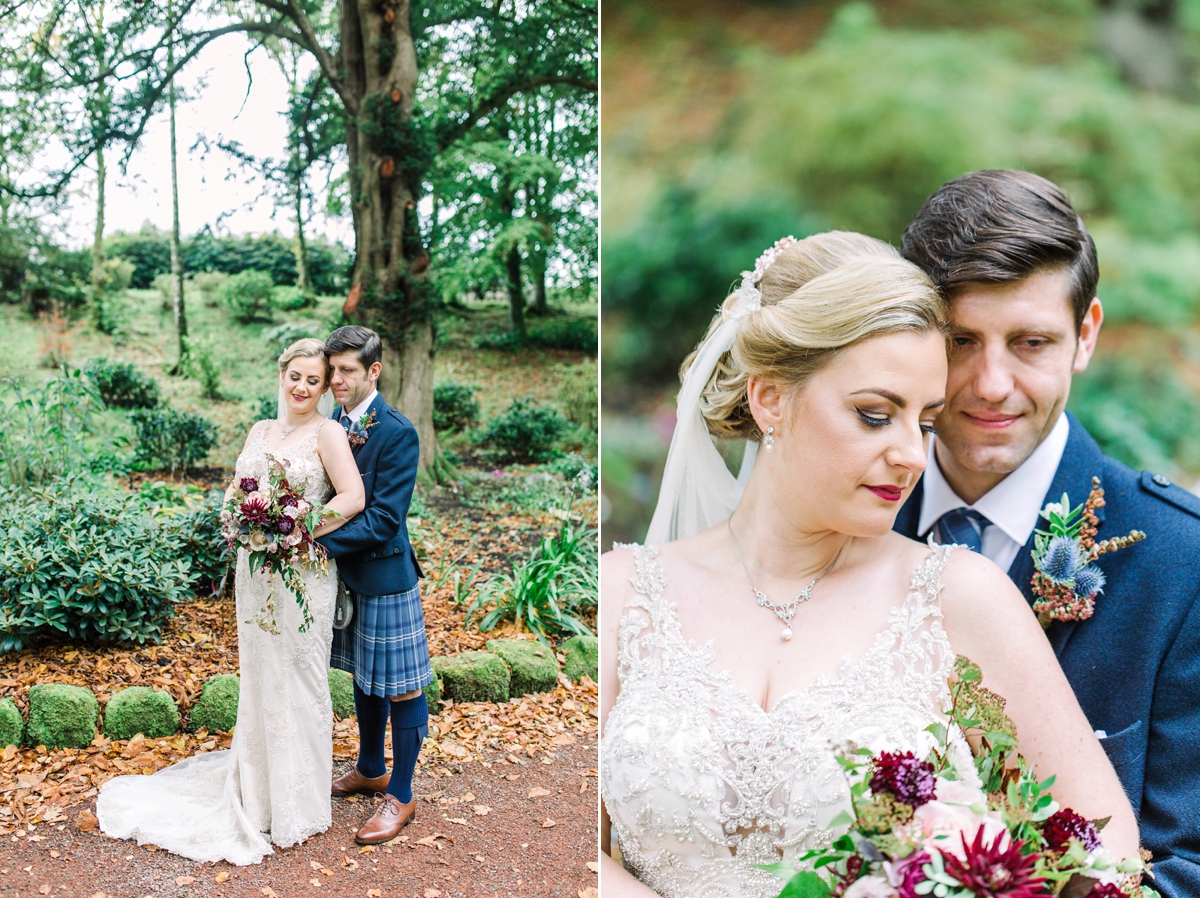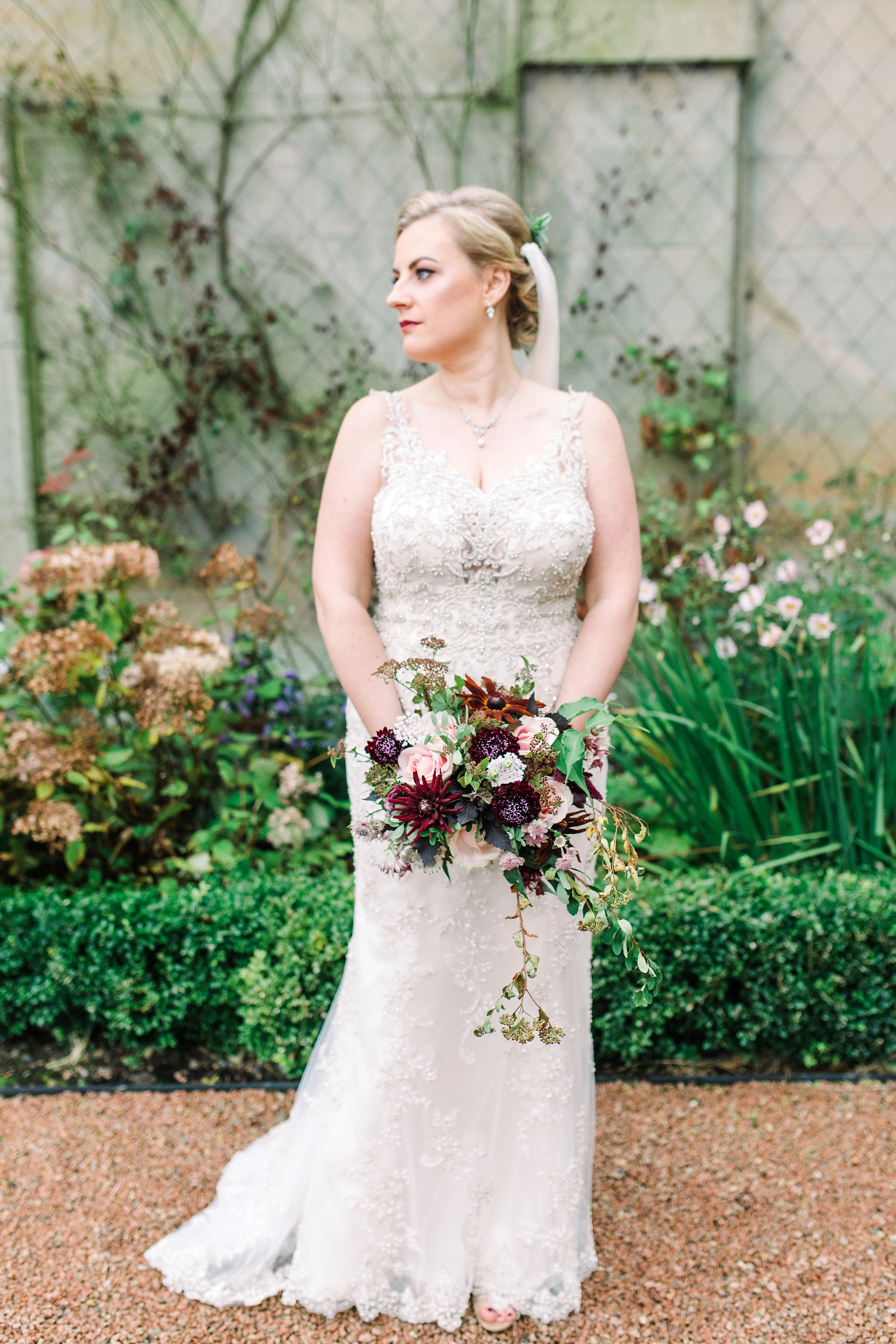 Alison did most of the styling of the wedding herself, with a little help from Evan Samson at Dumfries House who helped guide her through the whole process. Alison began with the theme of tartan which everything else then led organically from.
"Like all girls in a long-term relationship, I already had a Pinterest board of wedding ideas. But in reality, the wedding venue, season we were married, my love of all things vintage and flowers led to most of the decision we made in terms of the styling and decor."
"We used candelabra's hired from Cover the Big Day, brass plate stands bought from eBay for the table numbers, embroidered hoops (held by the children to walk down the aisle with) made by myself using the tartan I bought  and a glass card folder my mum bought for us. I think the glass card holder was the most extravagant item bought for the wedding but I loved it and still have it sitting in our hallway."
Guests were treated to a sit down wedding breakfast provided by Dumfries House in their stunning House Pavillion and laser cut wooden place names supplied by Mad Philomena as their favour.
"I also gave homemade traditional Scottish Tablet boxed in a simple navy pillow box with a thank you sticker, which I designed myself then got printed."
"Our cake came from Aileen at Lovely Little Cakes who was brilliant! Again, due to us being based in Nottingham, we worked quite closely via email. We wanted a naked cake as we felt a lot of people don't eat the icing and it can be a bit too sweet. Aileen used my granddad's homemade raspberry jam for the middle."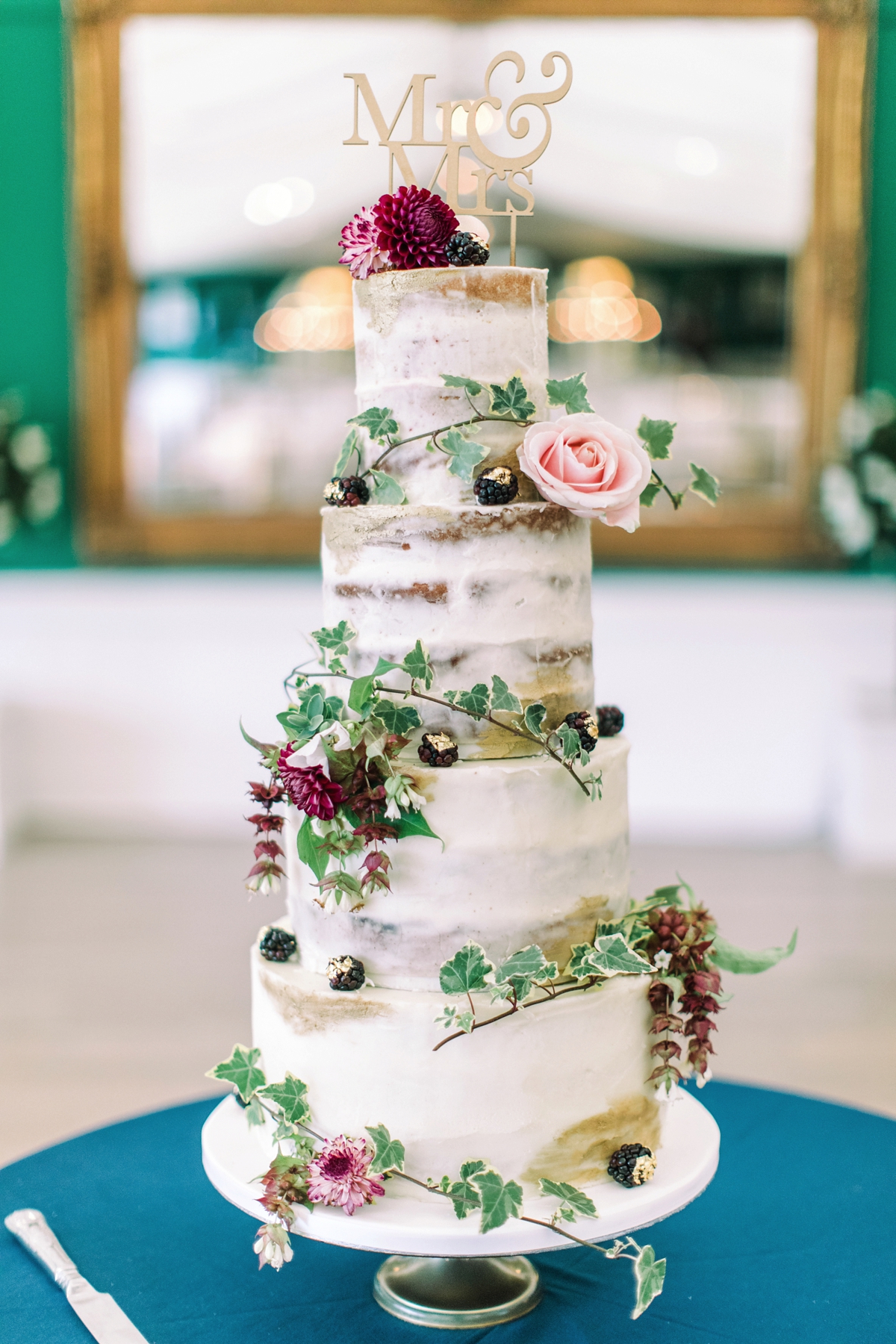 "It was important to me that this was used as I'm quite close to my granddad and have lots of fond memories collecting raspberries with him when I was little. We decorated the cake with lots of natural flowers and berries. Our cake topper was made by Mad Philomena and we used a cake stand that I already had. We then staged the cake on a navy table-cloth to bring the overall look back to our initial invites."
Following the wedding breakfast and speeches, the couple kicked off the evening entertainment with a first dance to Slide Away by Oasis by hired wedding band Studio Wedding Band.
"Christopher is a massive Oasis fan and their songs remind me of him and the early days of our relationship at school. I wanted Chris to choose the song and the lyrics in Slide Away are beautiful and definitely tell our story. The band were great and learned the song for us, performing the stripped back version we wanted."
On reflection, one of Alison's favourite moments of the day, as well as the ceremony, was getting ready in the morning with all her girls around her.
"I love all that girly stuff and it was so relaxing! It was made even more special when Evan, our wedding coordinator, brought through my signature cocktail, which I have to say was up there as the best porn star martini I've ever tasted!"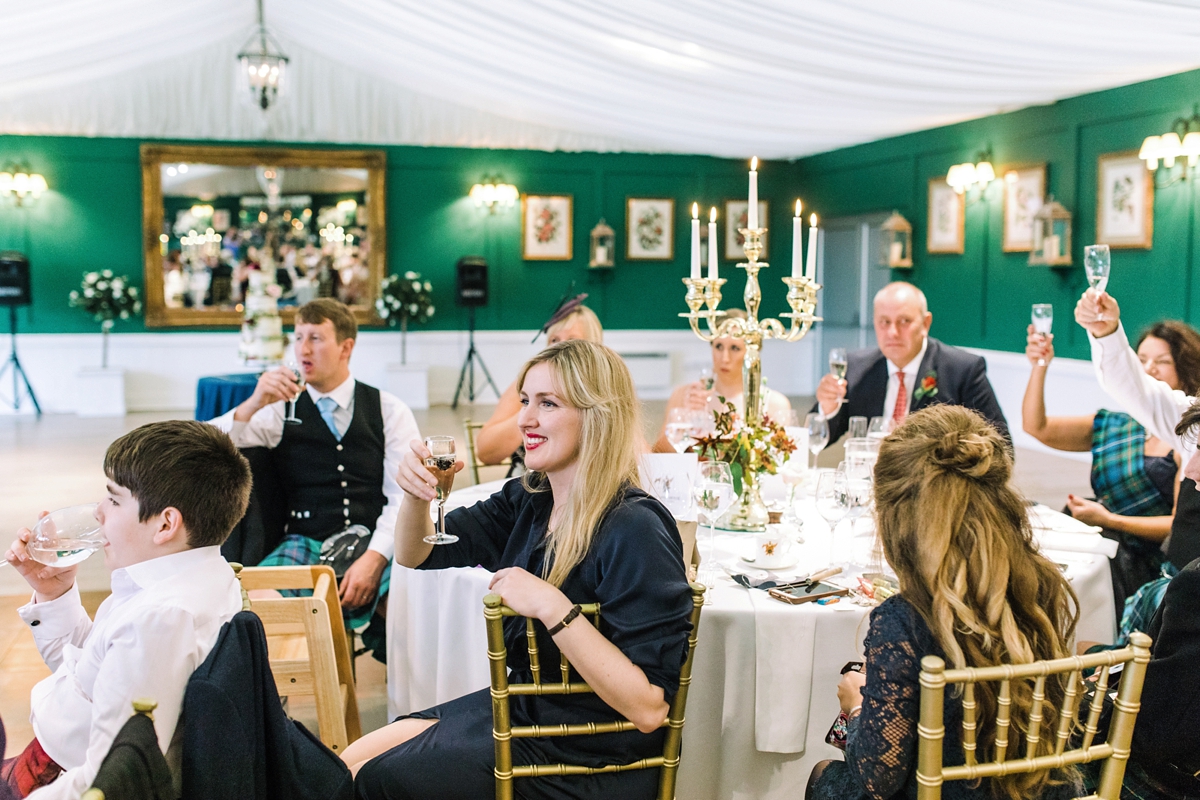 Words Of Wedded Wisdom
"My words of wisdom for brides-to-be would be to trust your instincts. Get organised and enjoy the process. The more organised you are, the less stressed you'll be. Also don't do everything yourself! I agreed with my husband that I would do the majority of the aesthetic planning and budget control and Chris dealt with the payment of suppliers, organised the honeymoon, created the music playlists and dealt with the legal side of things. We delegated according to our strengths and it worked for us."
"When selecting suppliers, pick people who already work in the style you want so that they work at the height of their creativity and enjoy working on your wedding. I don't think you get the best out of people if you want them to conform to another style. Finally, listen to your suppliers as they know best. You are paying for their experience."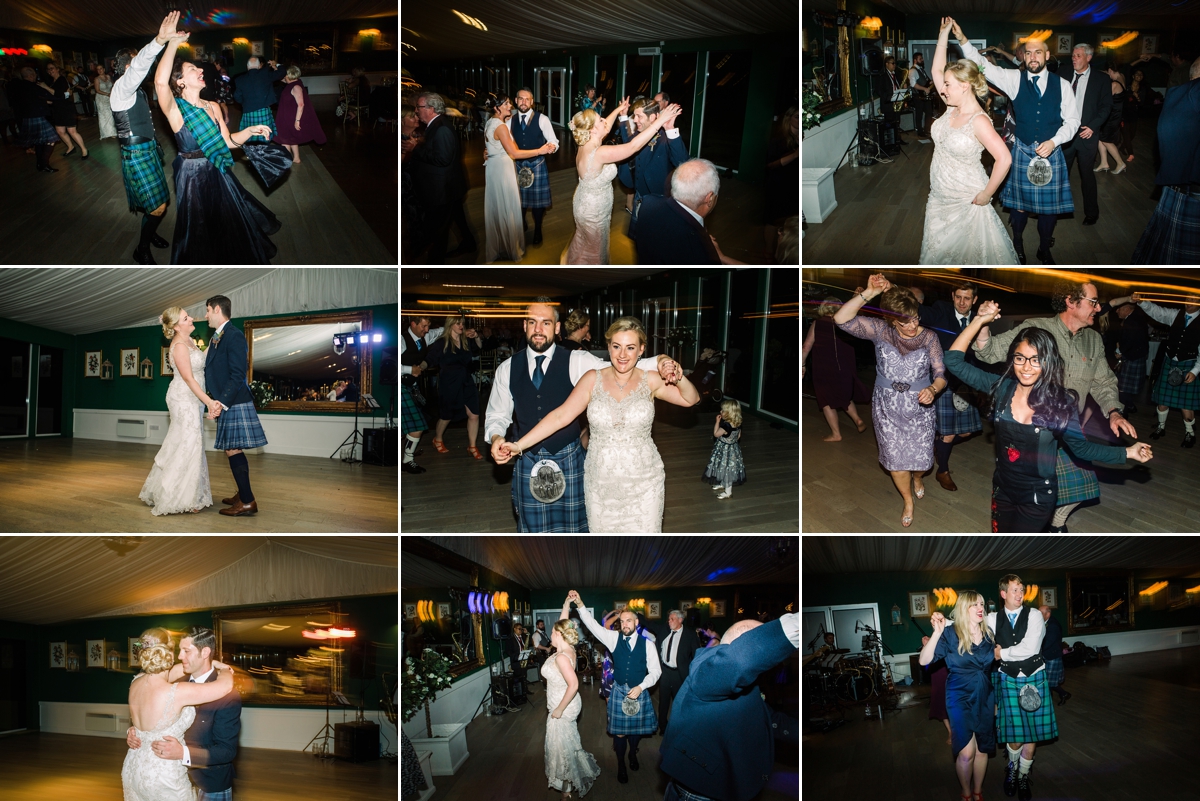 What a gorgeously traditional Scottish wedding! A big thank you to Alison and Chris for sharing their special day with us, and to The Gibsons for doing such a fabulous job with the photography.
Until next time…
Much love,
Holly x