I just love it when a wedding is impossibly glamorous, yet at the same time so relaxed and down to earth that you think perhaps the bride and groom wouldn't have minded you just popping along to join in the festivities.
Today's beautiful Irish wedding is most definitely on of those, and I can't wait to share.  Meet Leanne, a teacher and Nathan, a bricklayer, who married on Saturday 8th July 2017 at Ballymagarvey Village, Co. Meath, Ireland.
"As soon as we saw Ballymagarvey Village, it was everything we had envisaged so we used it as our muse.  We adored the relaxed atmosphere, style, decor, homely feel and picturesque grounds. We instantly fell in love."
Video by Soul and Rise
Leanne wore a lace gown with matching lace-edged veil, both by Liz Martinez, which she purchased from The White Gallery in County Down.  The lace is just gorgeous and the material flows beautifully, while the cathedral-length veil adds an element of drama and fun to the photos.
Images by Hannah McKernan Photography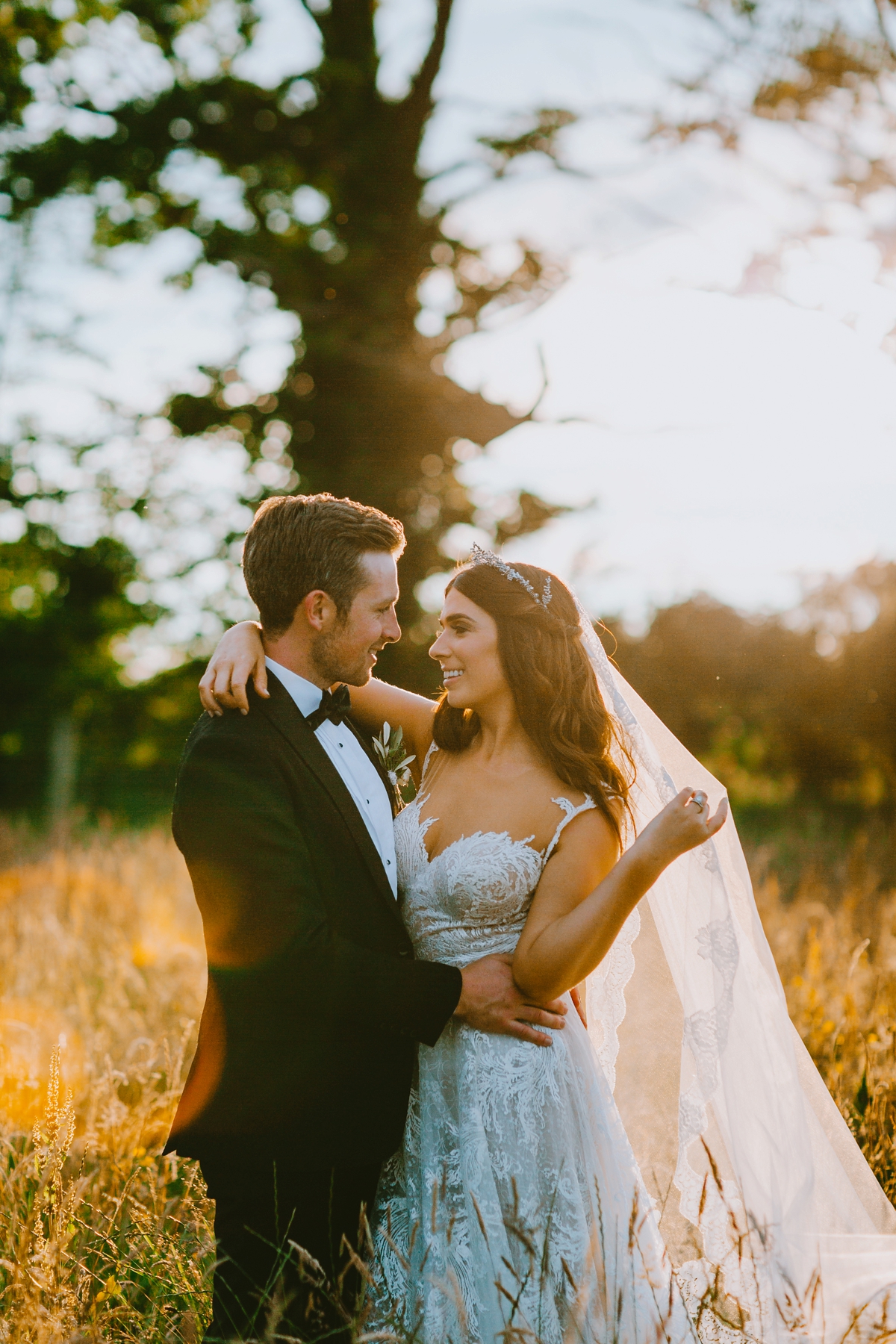 "From falling in love with all their Instagram pictures, I always knew that I wanted to go to The White Gallery for my wedding dress and it didn't disappoint.  It was a truly wonderful experience that I will never forget.  Liz Martinez was actually there for a trunk show the day I chose my dress and it was quite surreal receiving her opinion on which style suited me best.  Luckily we agreed on 'the one'; it was exactly what I pictured myself wearing."Nathan: "We met in Hagan's Bar, a local bar in Dungannon. Neither of us intended going out that night but you could say fate ensured we would meet.  Leanne approached me claiming to have lost her drink which was on the bar where I happened to be standing. She was the most beautiful girl I had ever seen so, as a gentleman I offered to replace her drink with a new one. We talked the entire night about lots of different things and left together hand in hand for a romantic meal of curry and chips.  I went home that night smiling ear to ear."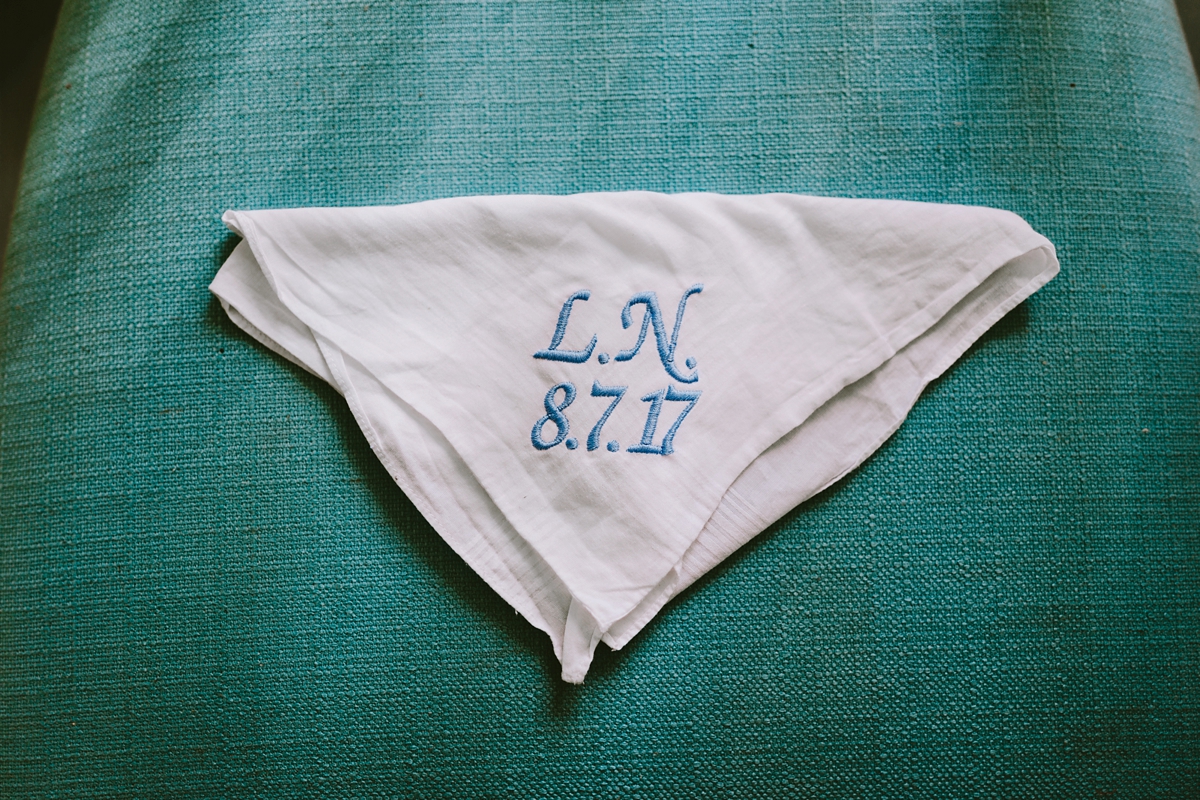 Leanne: "Christmas 2015 was the most magical Christmas we've ever experienced.  Nathan suggested we do something nice on Christmas Eve as we would be spending Christmas Day with our own families.  I very rarely get surprises as I always manage to suss out what's going on but he made sure I was clueless about the plans ahead and I was thrilled to hear we were going to Belfast Castle.  Off we went on a romantic stroll as Nathan lead the way.  When we reached the fairytale steps, Nathan took me by the hands and told me he'd something important to say.  I couldn't believe what was happening and I think I said yes before he even got to asking me to marry him."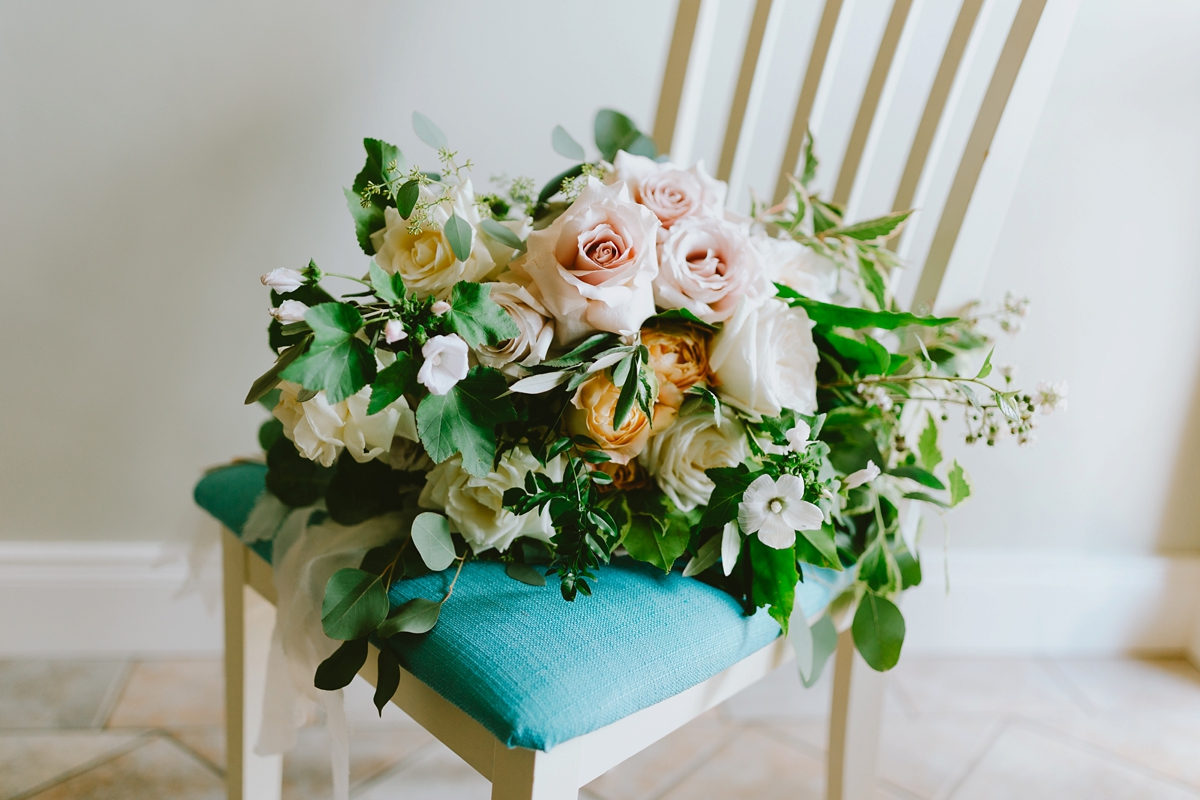 On her feet Leanne chose a rather spectacular pair of 'Chiara' winged gold heels by Sophia Webster, to help her fly down the aisle.  For earrings she chose a pair by Pandora, while for scent she chose English Pear and Freesia body creme and Wild Bluebell perfume by Jo Malone.
Hair was the work of Lorraine and Amanda from Surgery Hairdressing and Leanne opted to wear her hair down in romantic soft waves. For makeup, she chose a soft natural look, with pink lip, which was brought to life for her by makeup artist Ellen Lunney.
"After deciding to wear my hair down, I visited the super talented. Lori Muldoon Millinery to create a head adornment to complete the look.  It was such a magical moment when my hairdresser placed this on my head along with my veil."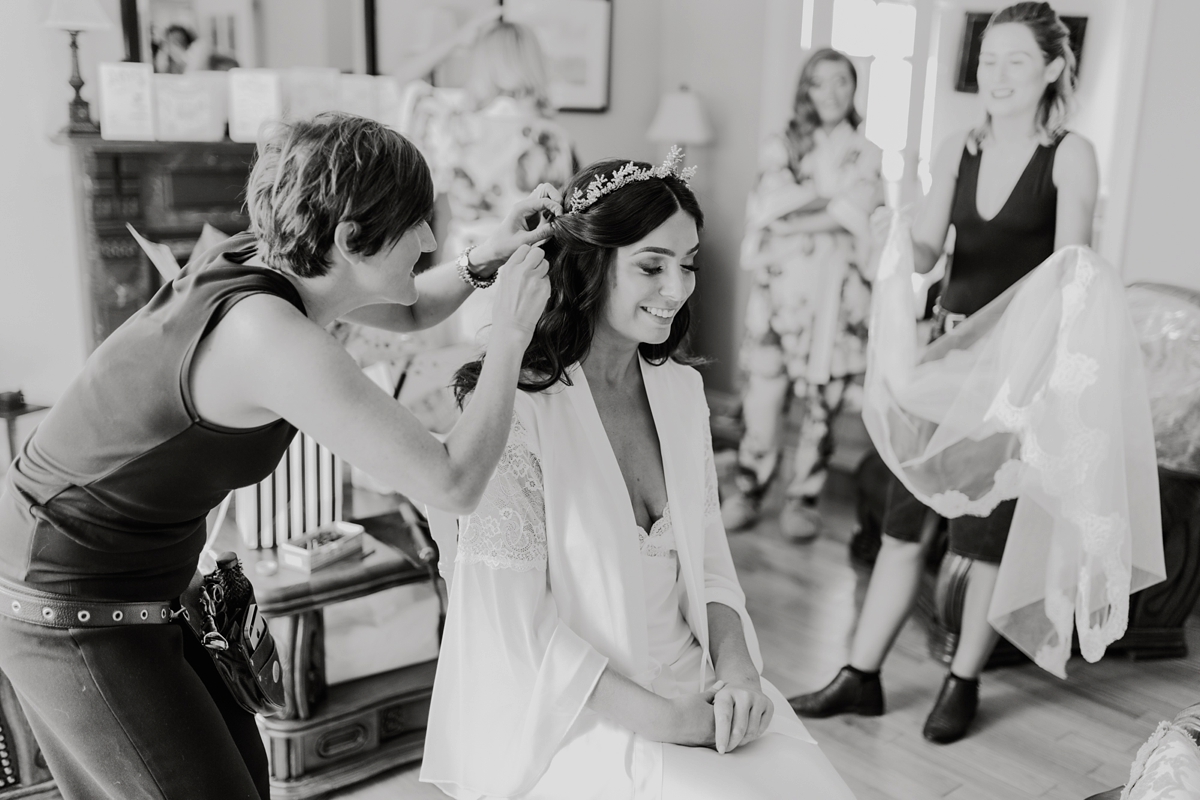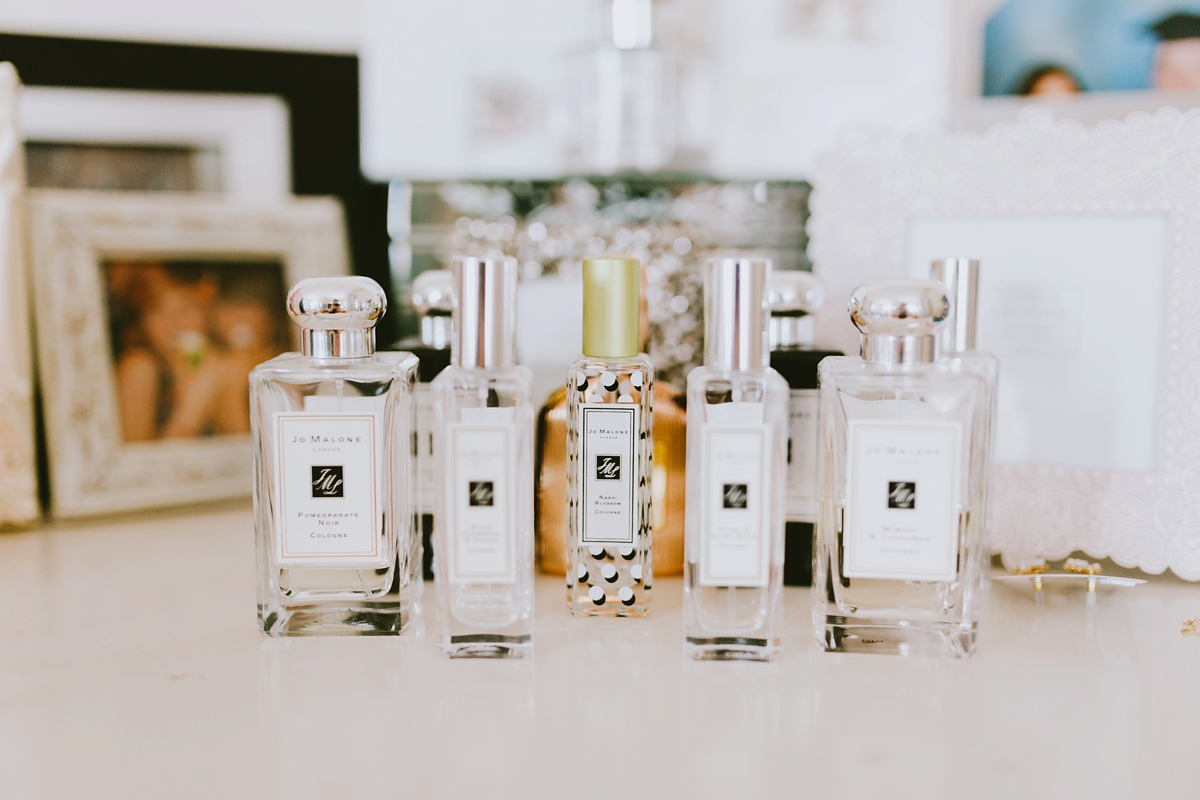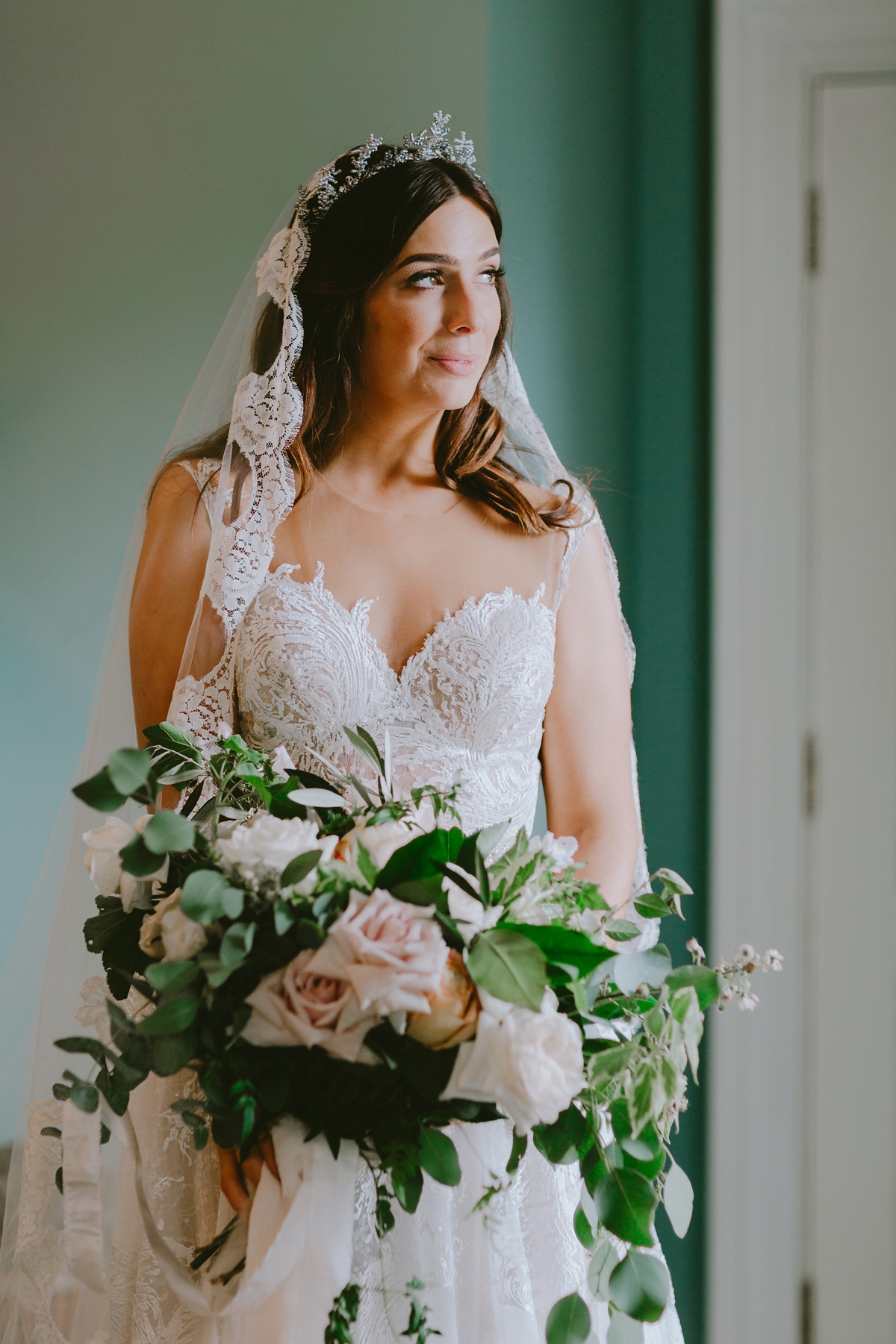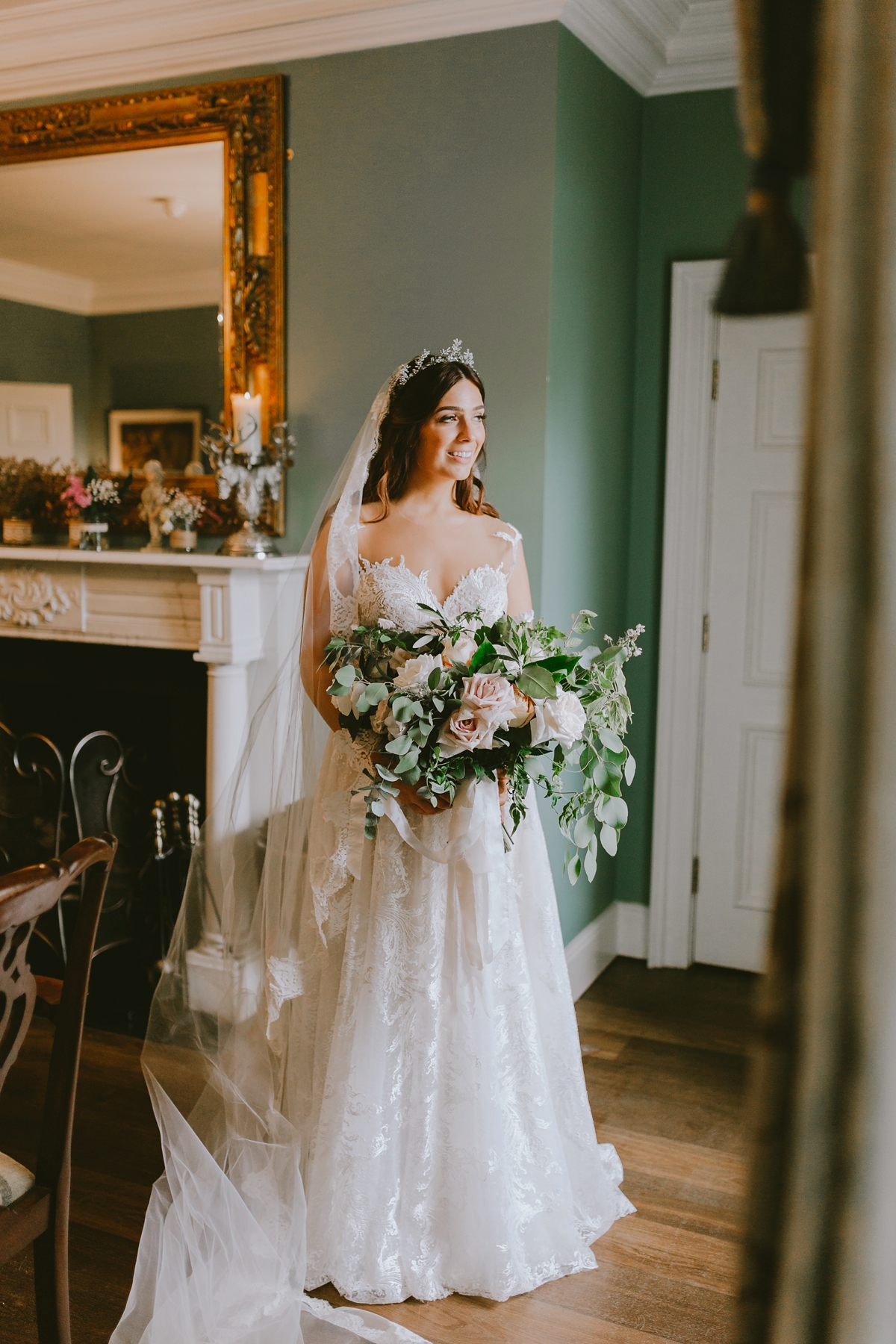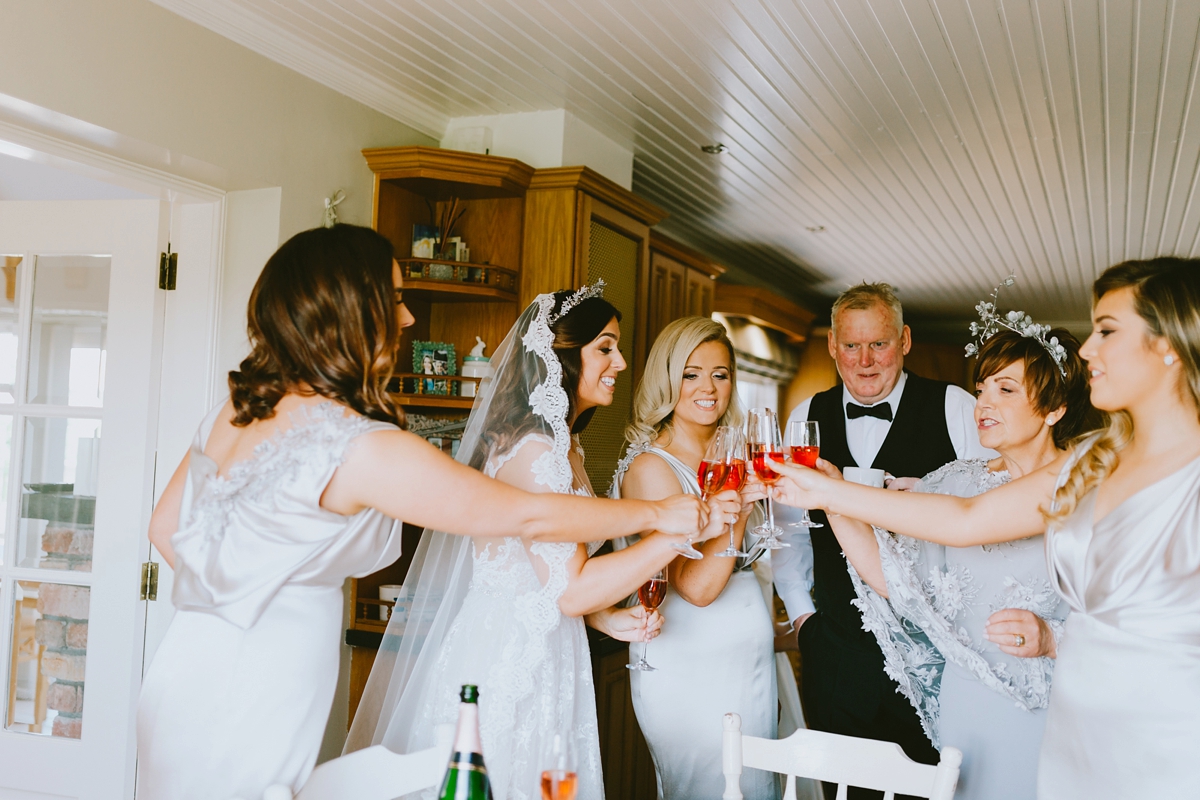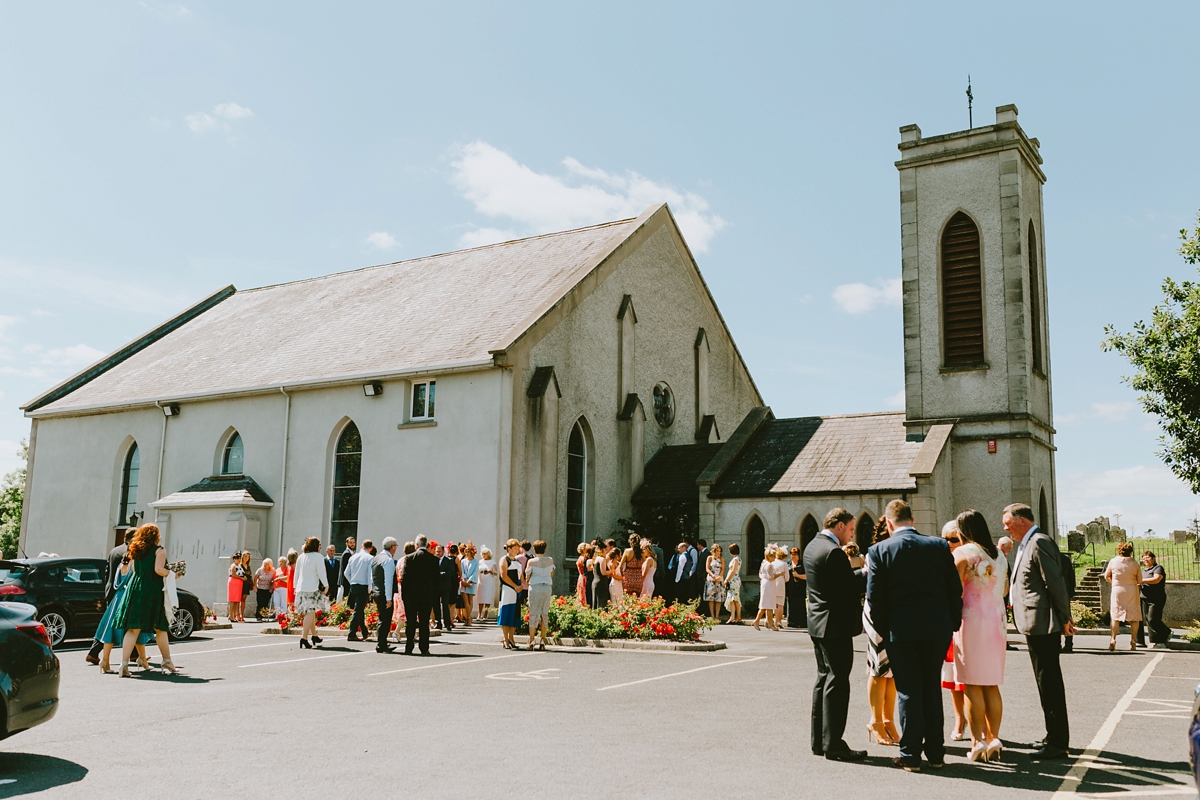 "Having been a bridesmaid four times, I understand how important it is to feel comfortable and look like yourself so I worked alongside the girls making Pinterest boards to decide on a style that would suit all of them.  I made an appointment with Una Rodden Couture, Belfast to show our ideas and she got our style immediately.  I was thrilled with the girls' custom-made gowns."
The three flowergirls wore white dresses from Nicki Macfarlane via Petticoat Lane Bridal, while the page boy outfits were purchased from Next.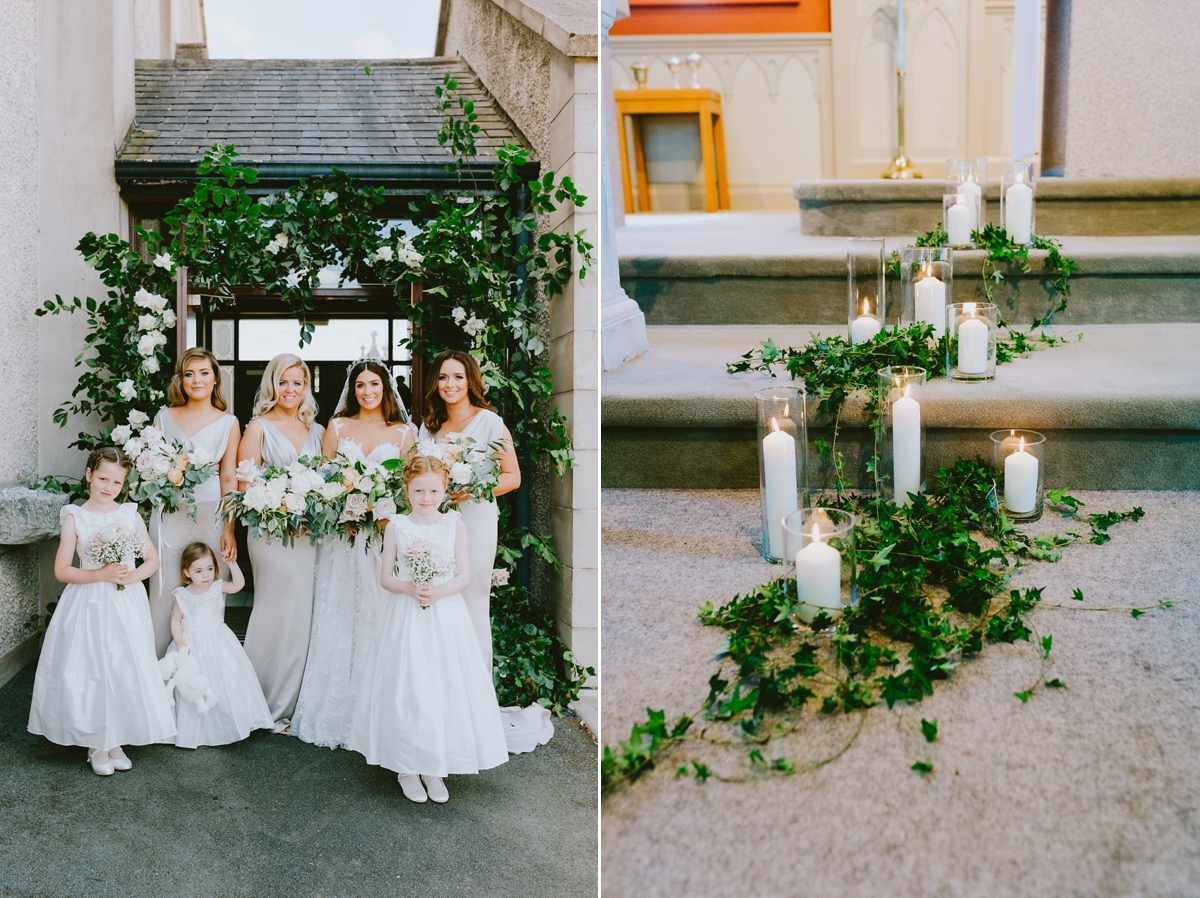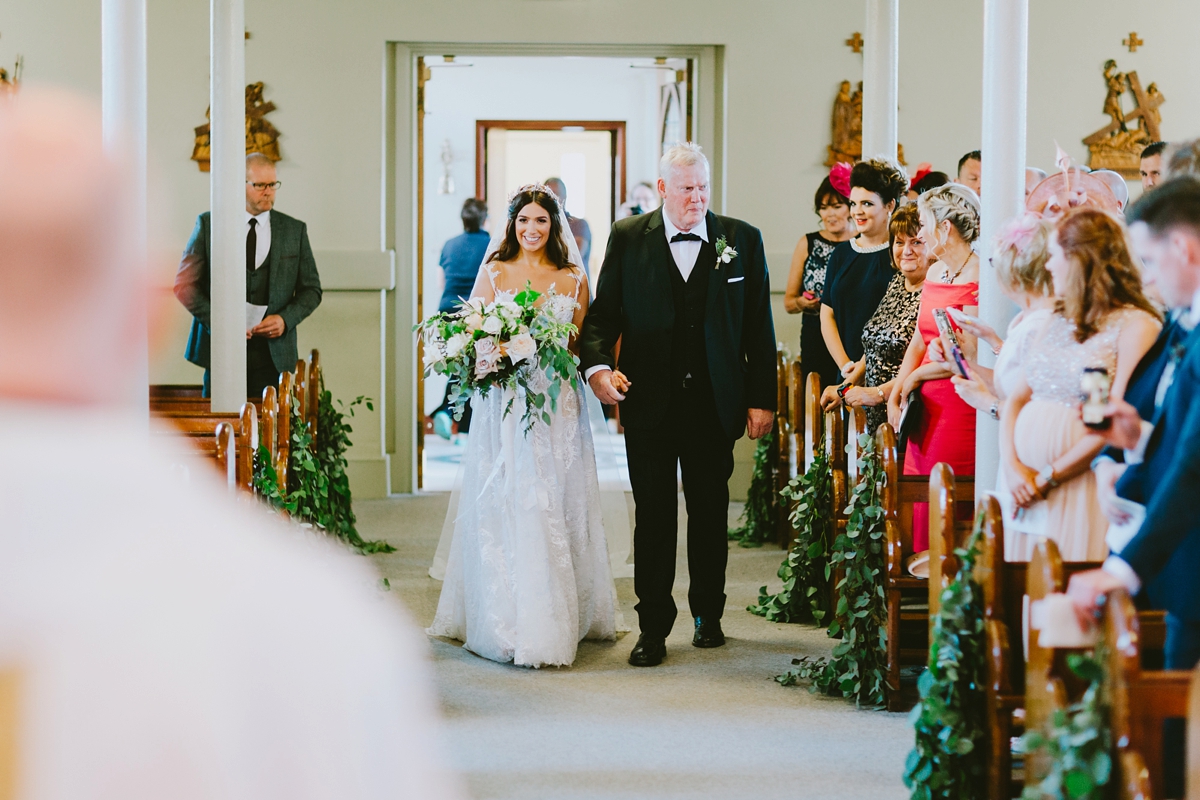 Nathan wore a custom-made tux designed by Dee Graham of Dee Graham, Tailor Made in Dungannon, which he wore with his late Grandad's cufflinks.  The groomsmen hired their suits from Red Groomswear in Cookstown.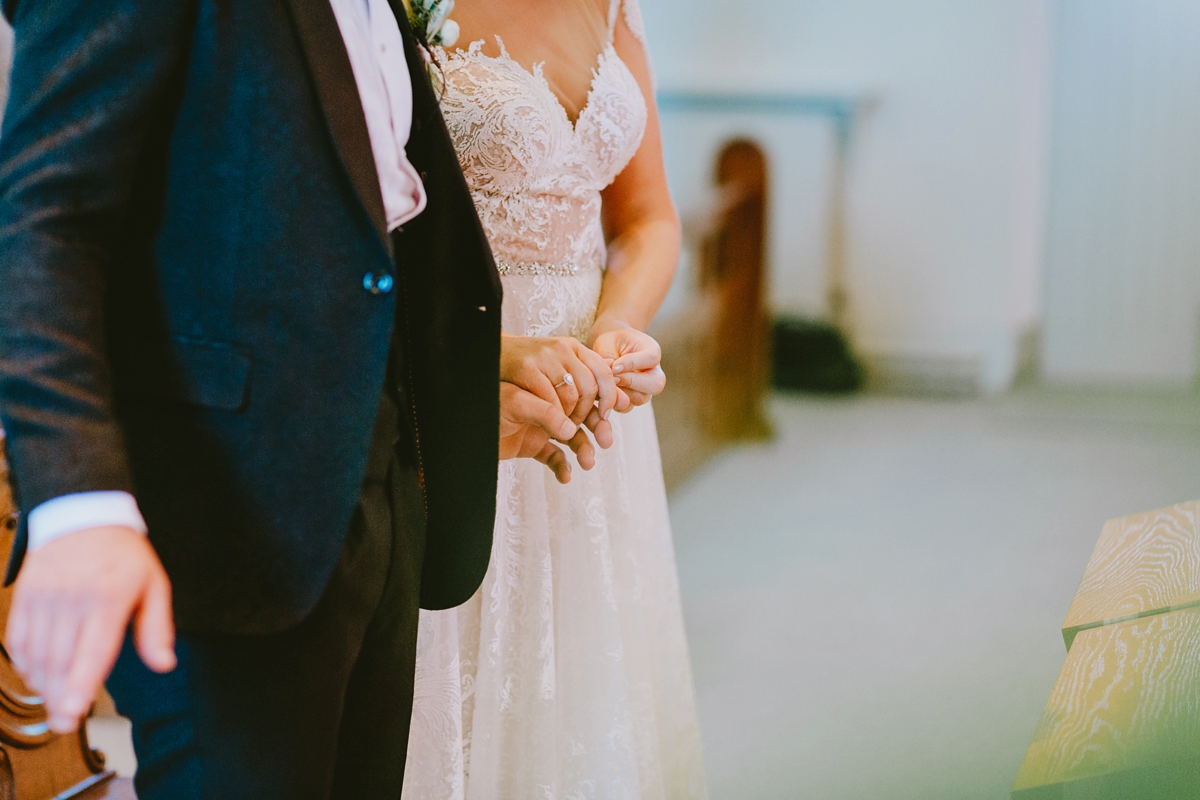 The bridal party travelled together to the church in style, in a limo hired from I Do Wedding Cars.
"We are very fortunate to have talented family members and friends.  Three of my friends from work formed a band 'Anais' about two years ago and I knew they would be perfect for our service.  Bernie, Marie and Shanelle devoted their time to create a personal playlist with many of our favourite songs and hymns.  I will never forget the important role they played on our special day."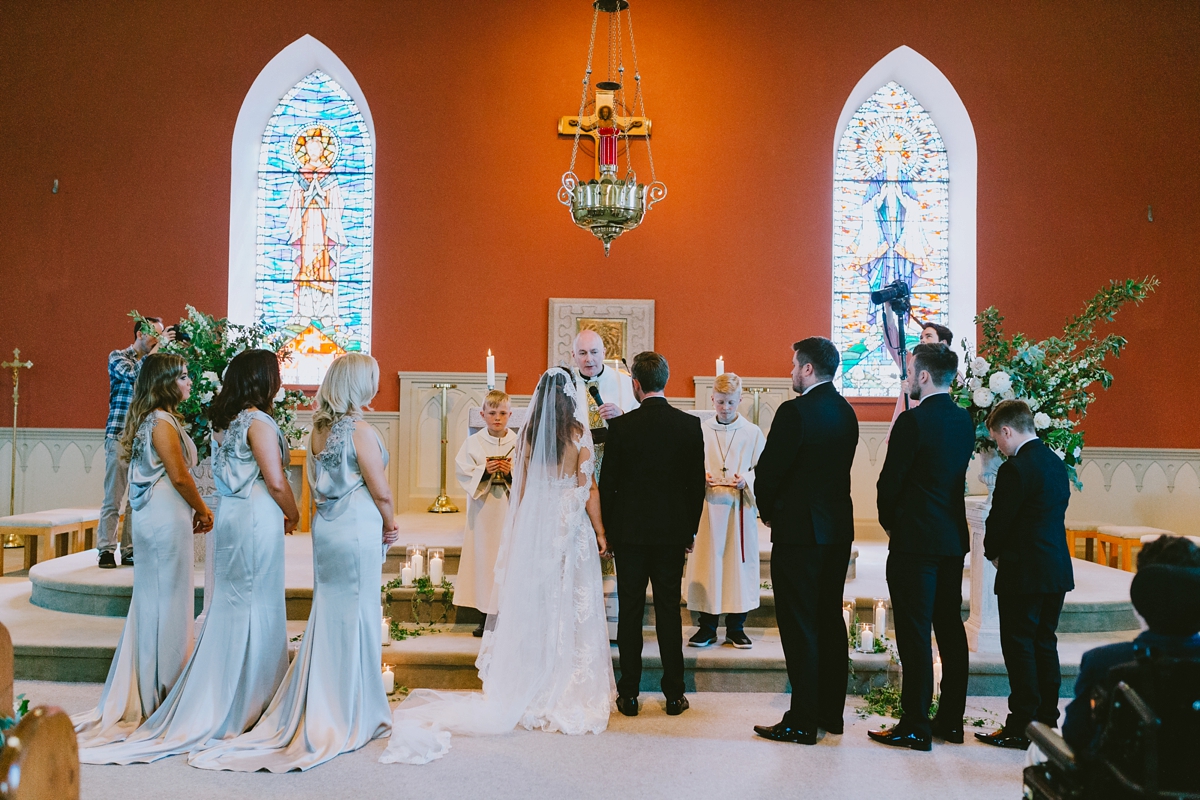 "My mum went first down the aisle with my nephew by her side, then each bridesmaid was accompanied by a flower girl and finally my dad walked me down to Pachelbel's Canon played live by Anais."
Family and friends looked on while a beaming Leanne and Nathan said their vows, and exchanged rings as a reminder of their words.
"My engagement ring was from Lunn's Jewellers in Belfast so we decided to get the matching wedding band  and thought it would be nice to get Nathan's ring from the same store too."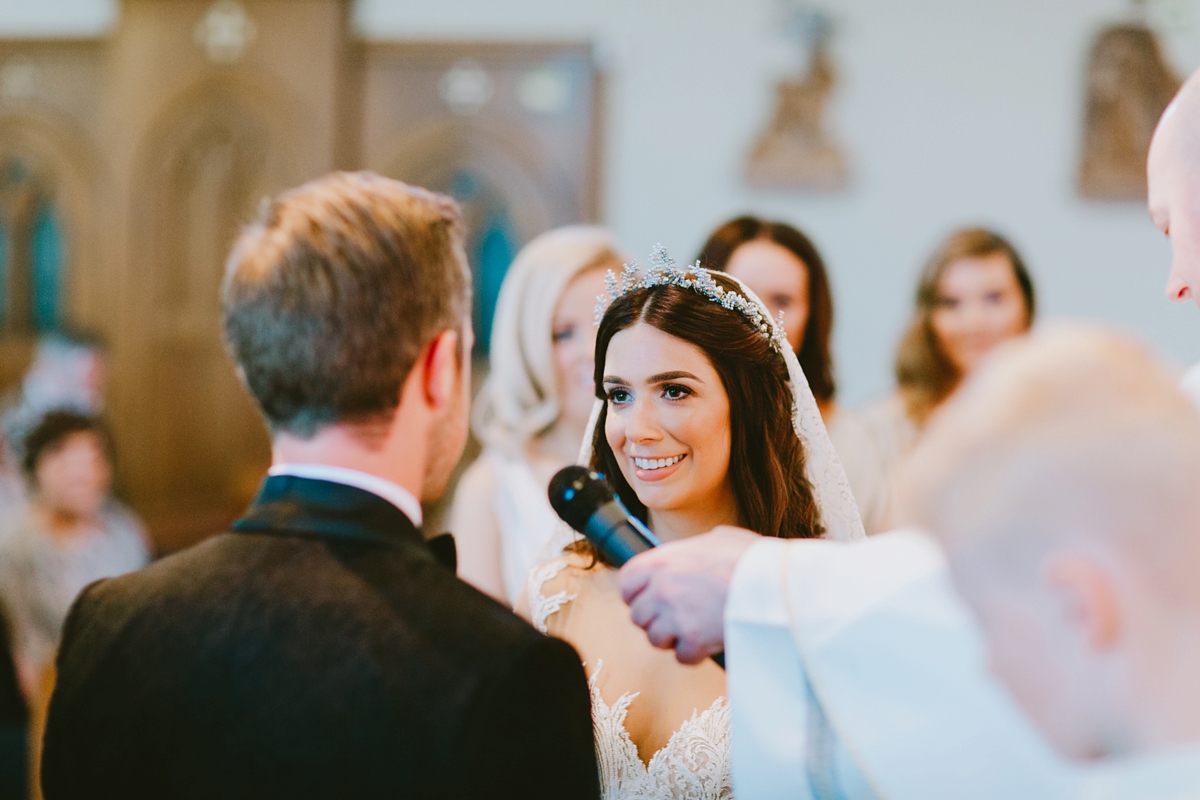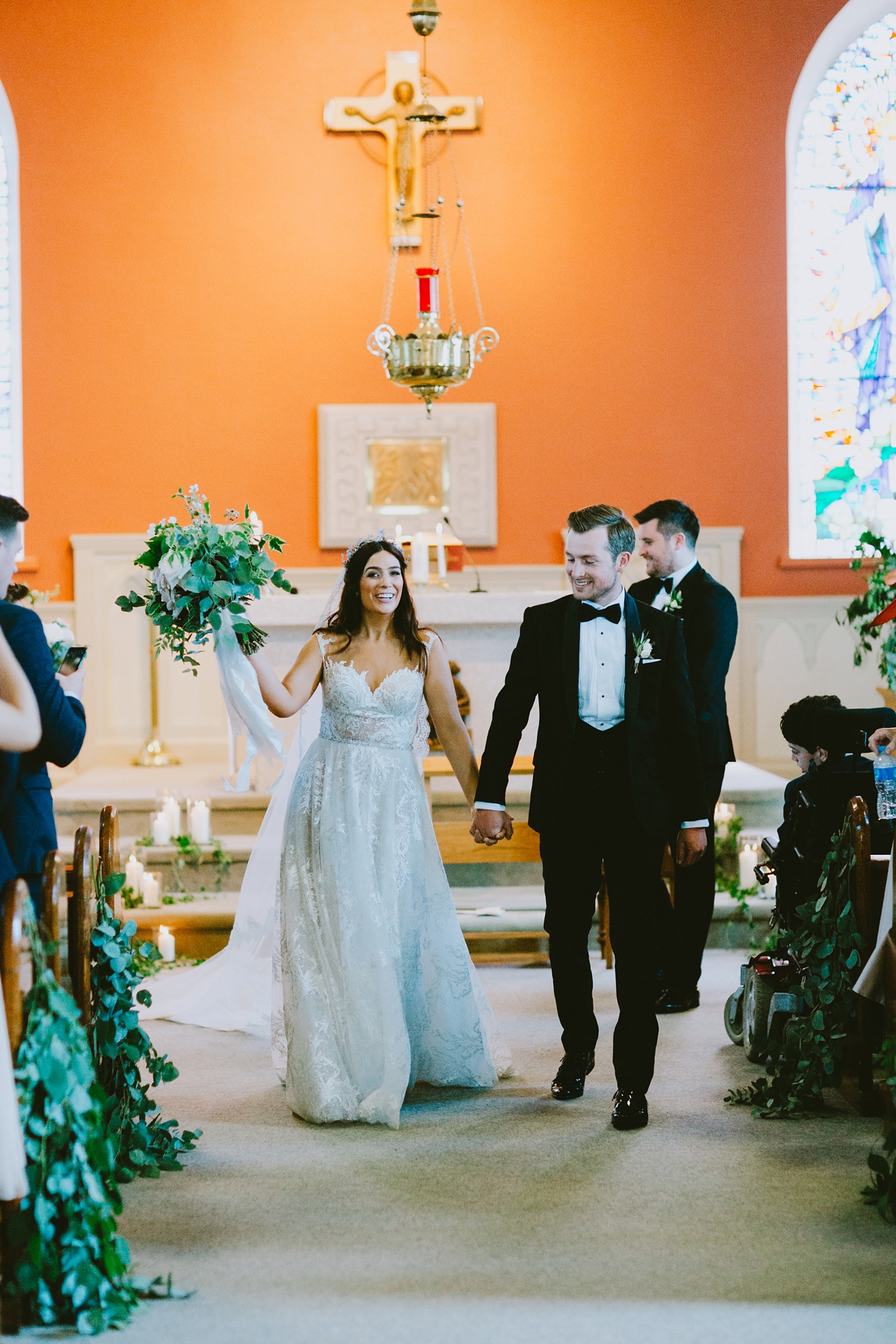 The day was captured on camera by the talented Hannah of Hannah McKernan Photography, who captured every moment of the day, from the laughter getting ready to the amazing evening sunlight.
"Choosing our photographer was one of the easiest decisions we made.  Quite a few brides from my local area had the pleasure of Hannah McKernan Photography capturing their day so I immediately knew I wanted her to be a part of ours.  Hannah's natural, relaxed and fun images tell a beautiful story and each wedding is unique to the bride and groom but her style is instantly recognisable.  Hannah was a dream to work with and we are thrilled with the plethora of amazing pictures.  We could not speak higher of Hannah and we highly recommend her to any couple planning their wedding."
Leanne and Nathan also chose to have their day captured on moving film, and chose Soul and Rise to do the honours.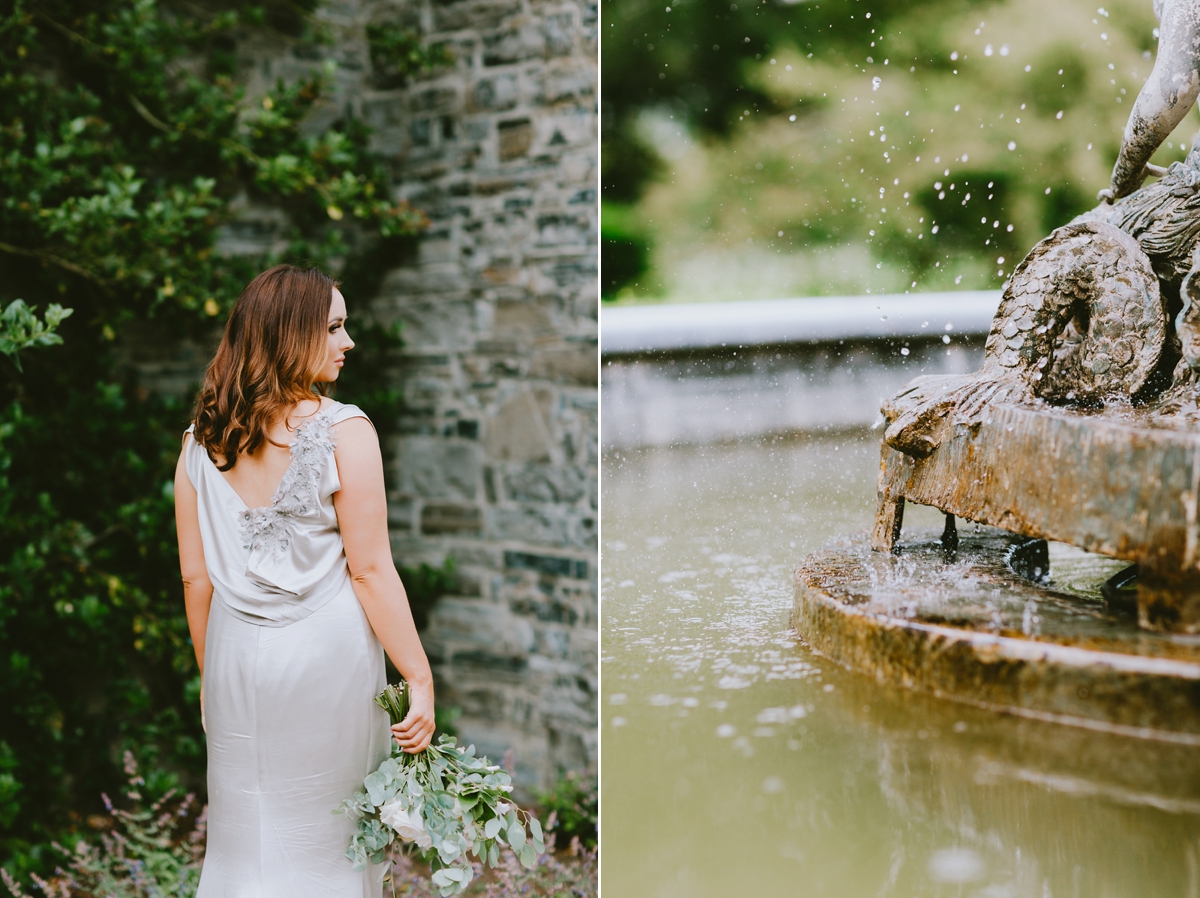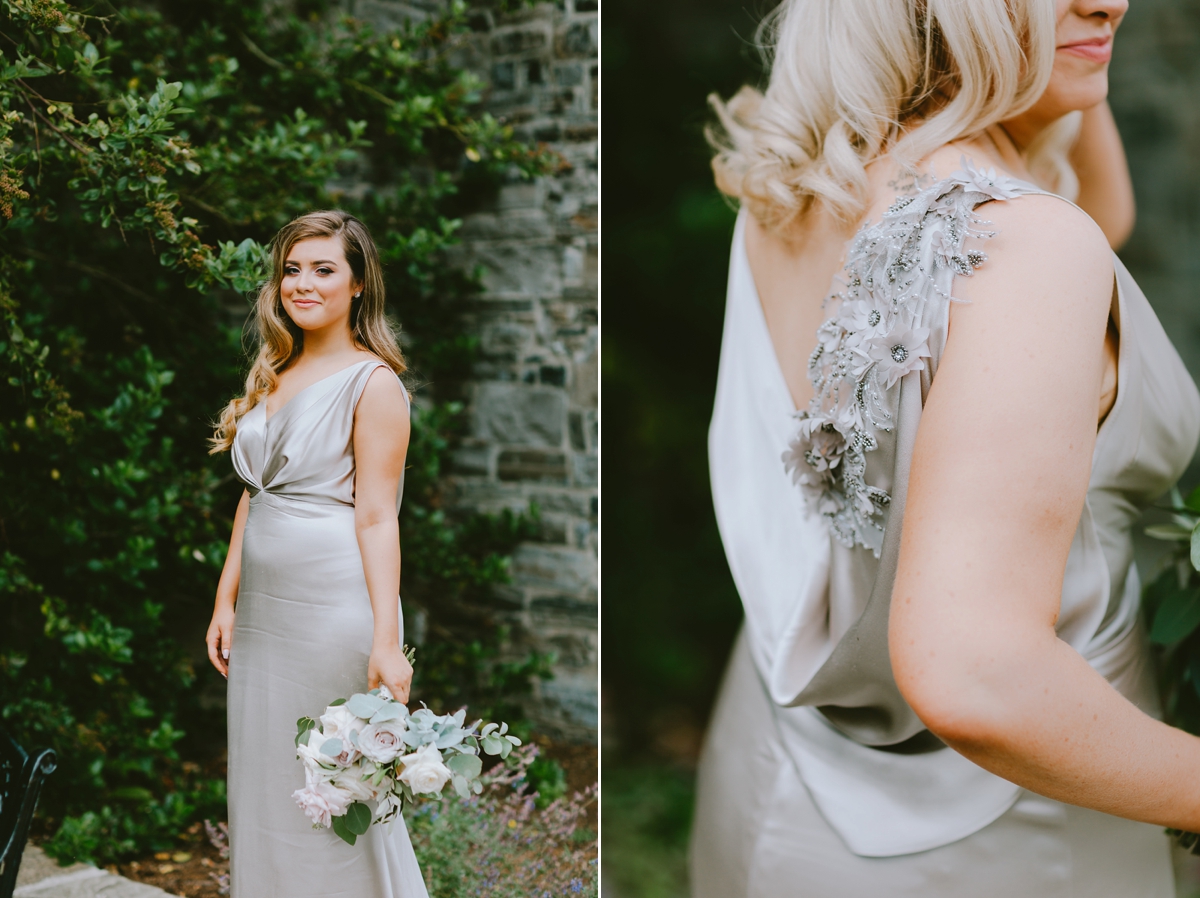 The flowers really stand out for me in these photographs- they're just stunning, and absolutely everywhere!
"I was extremely picky when it came to our flowers.  I adored the floral arrangements at Ballymagarvey and wanted something wild, free and relaxed.  Once I met Hollie of The Rosehip and Berry, I left it in her capable hands to create our amazing bouquets, buttonholes and arrangements for the chapel and reception and she exceeded our expectations.  Our floral arch stole the show and was a key backdrop for many photographs."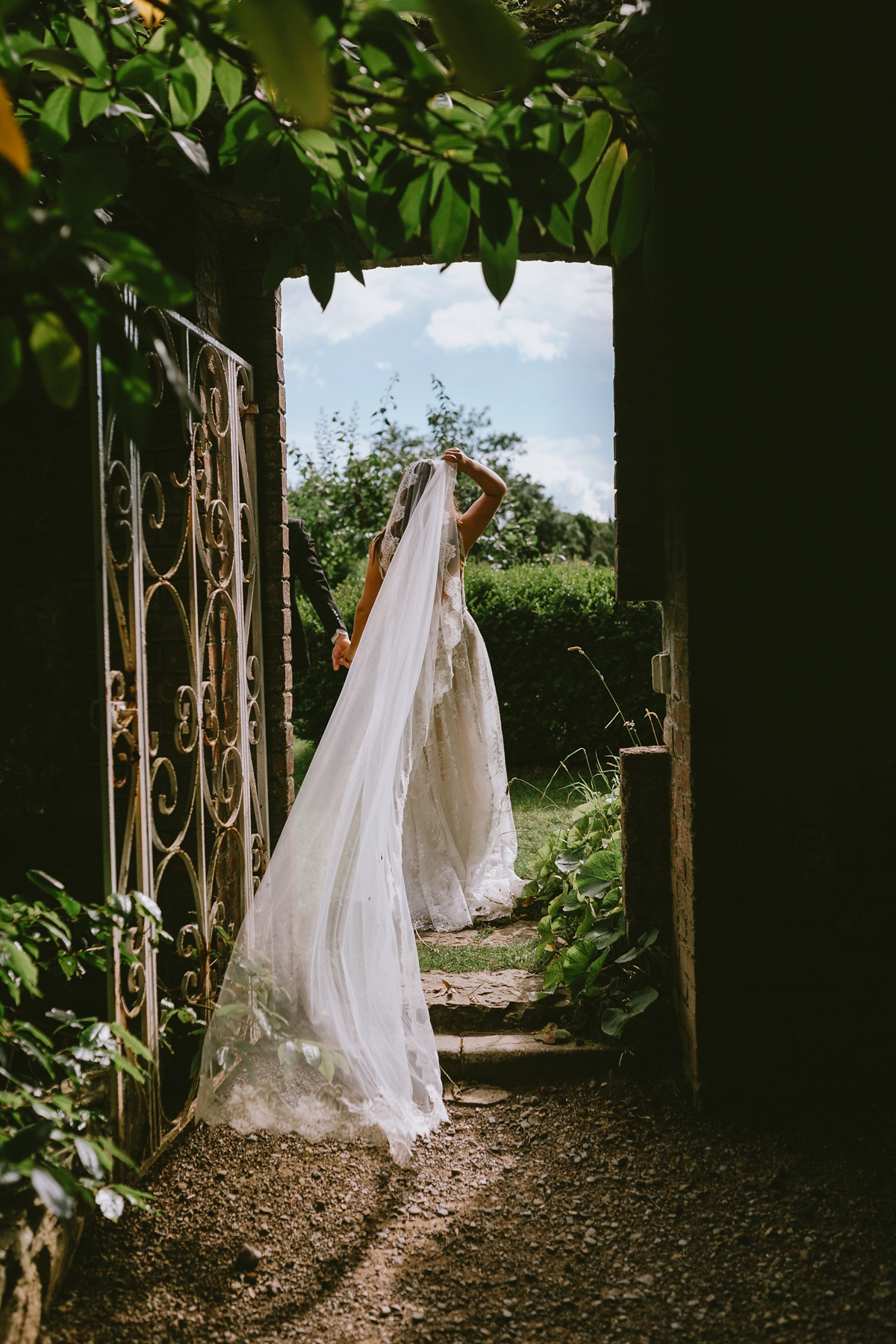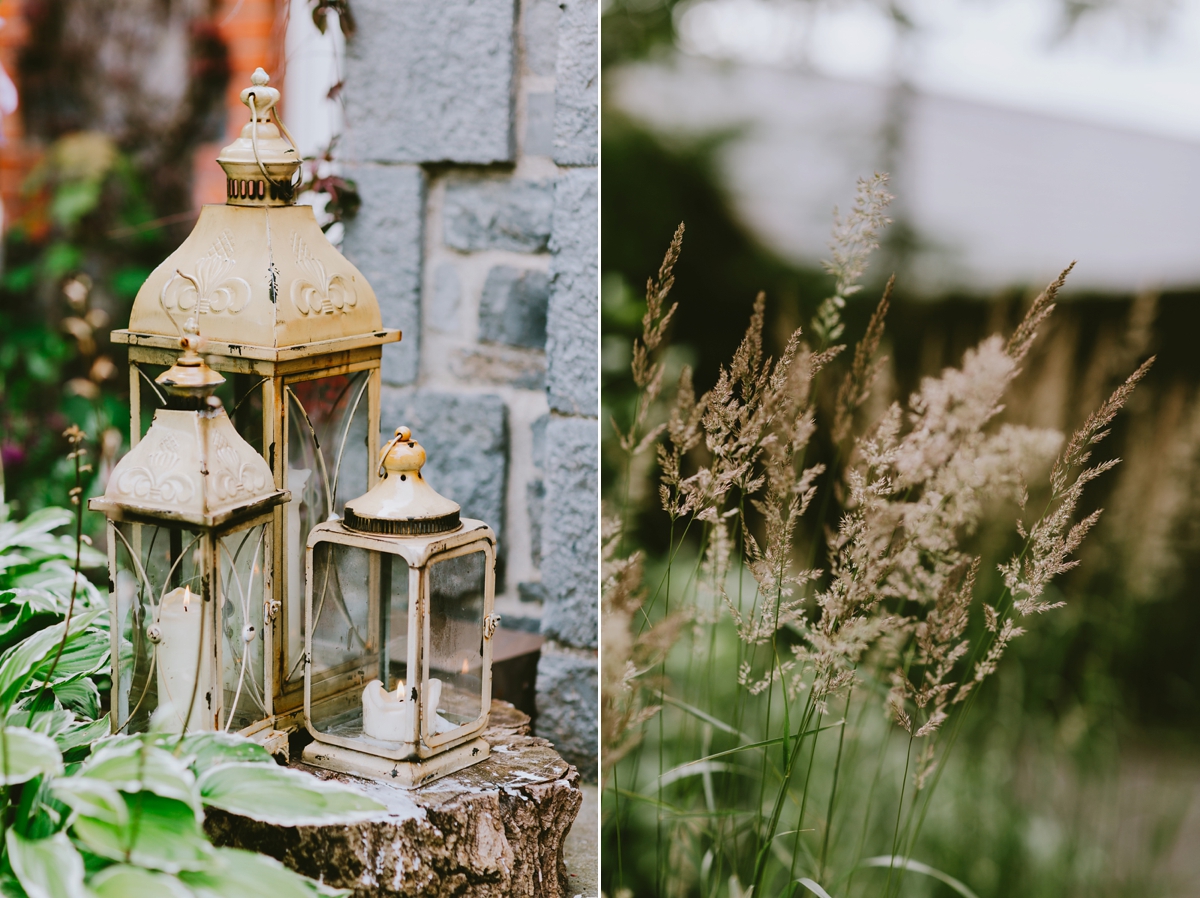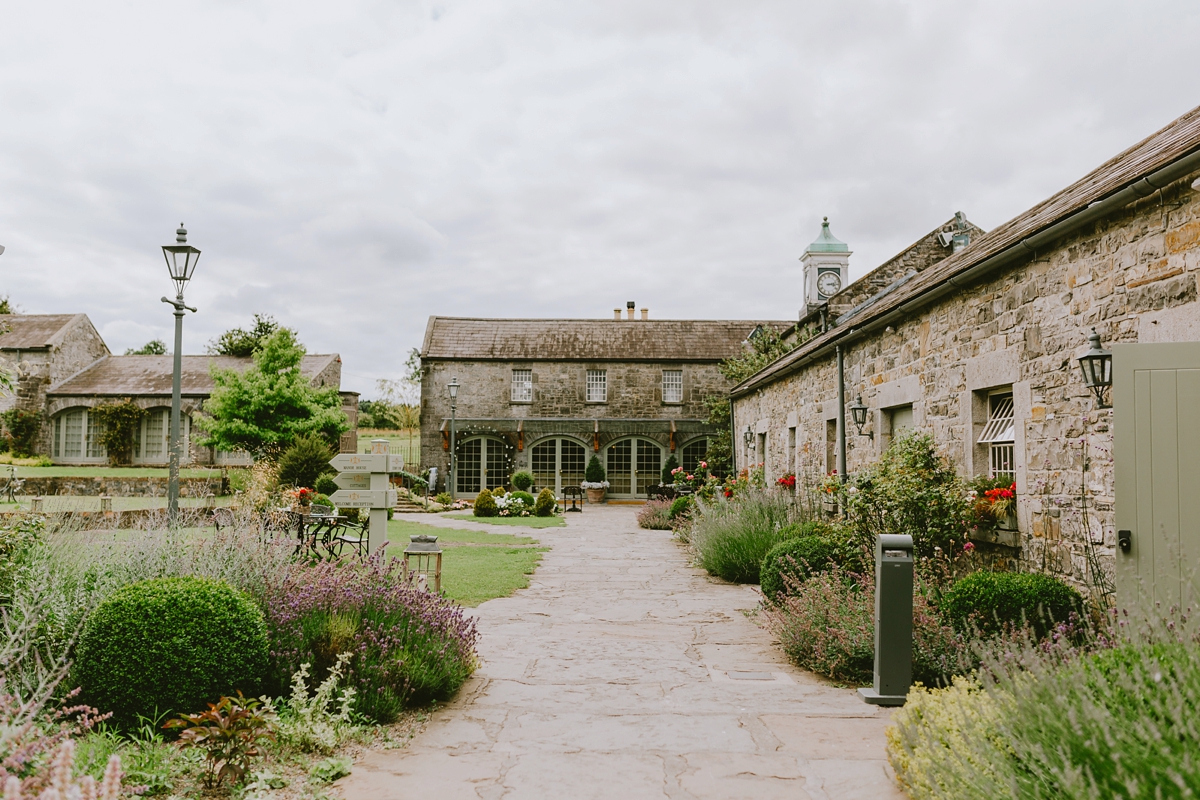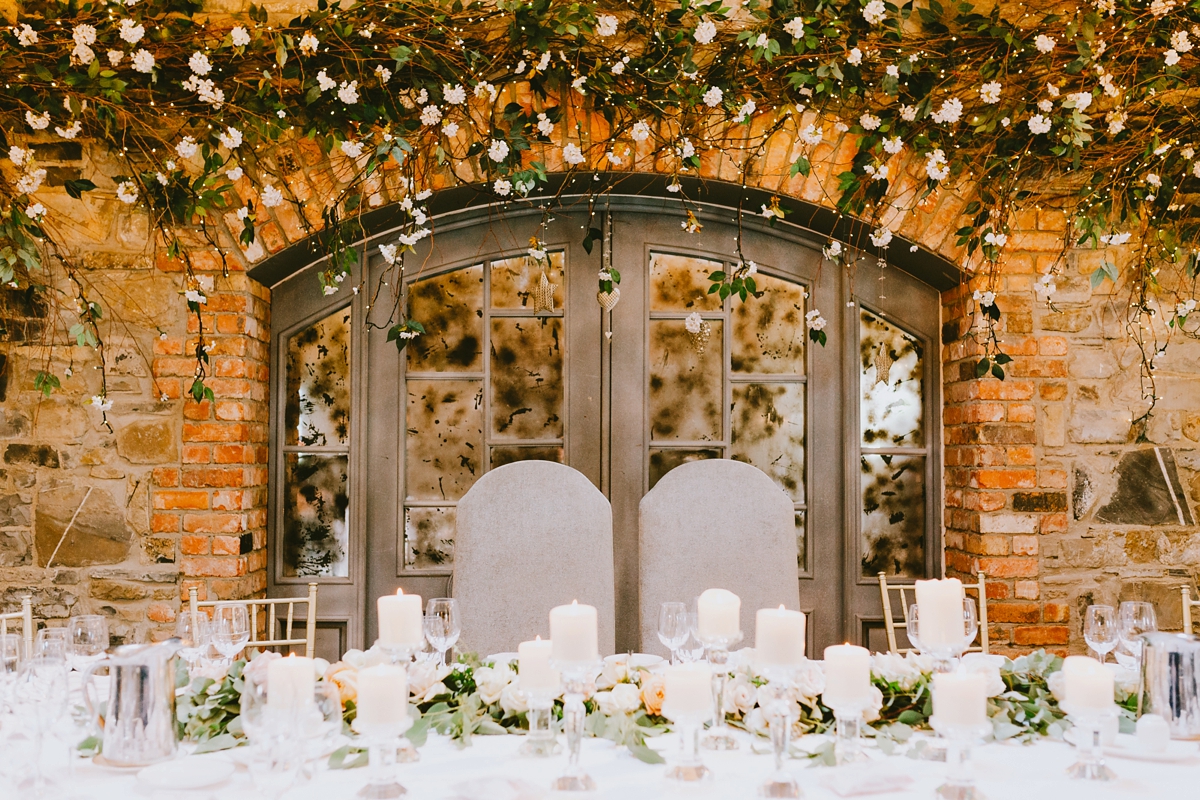 Nathan's aunt kindly baked the beautiful three-tiered cake, which was decorated with flowers.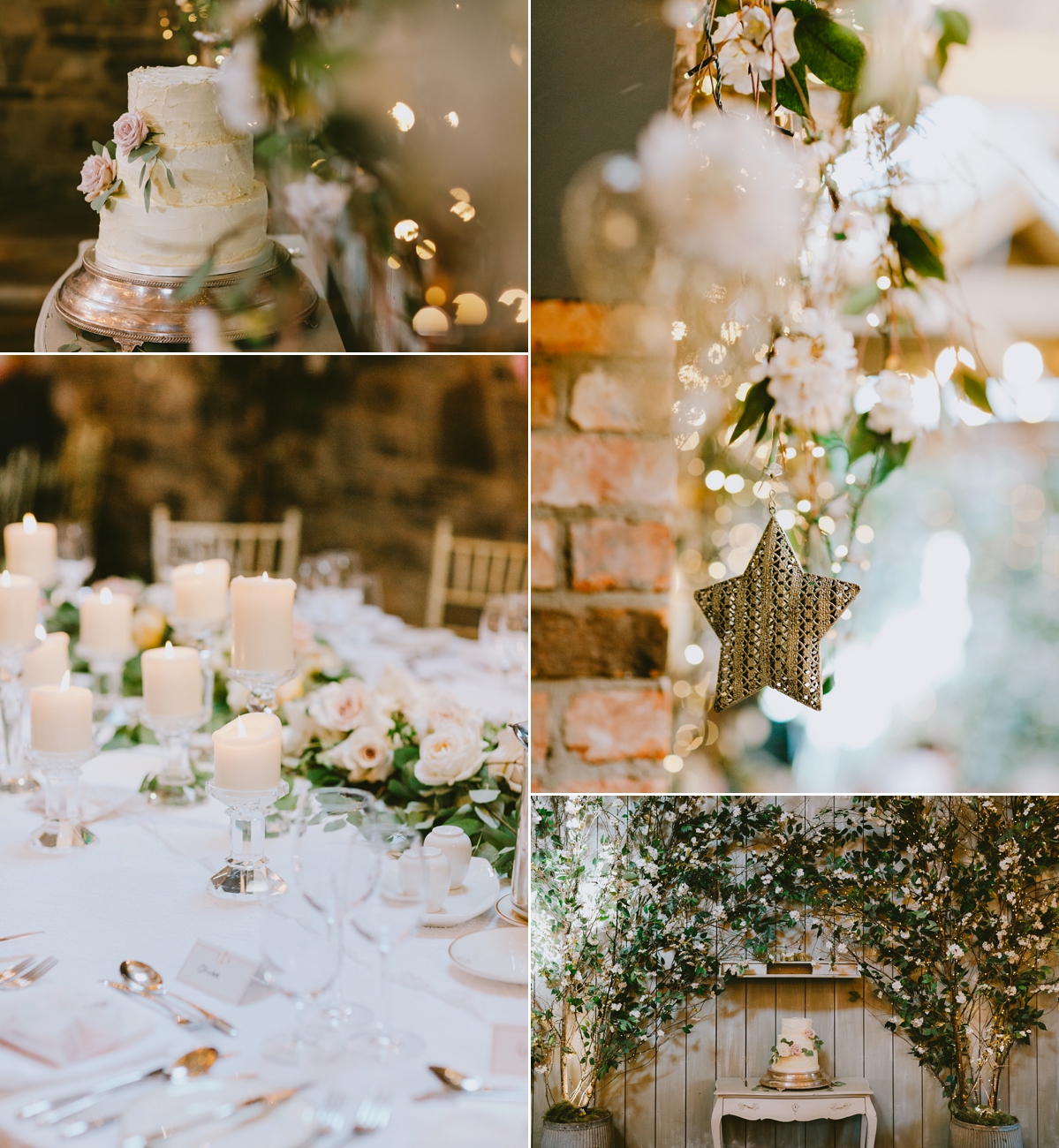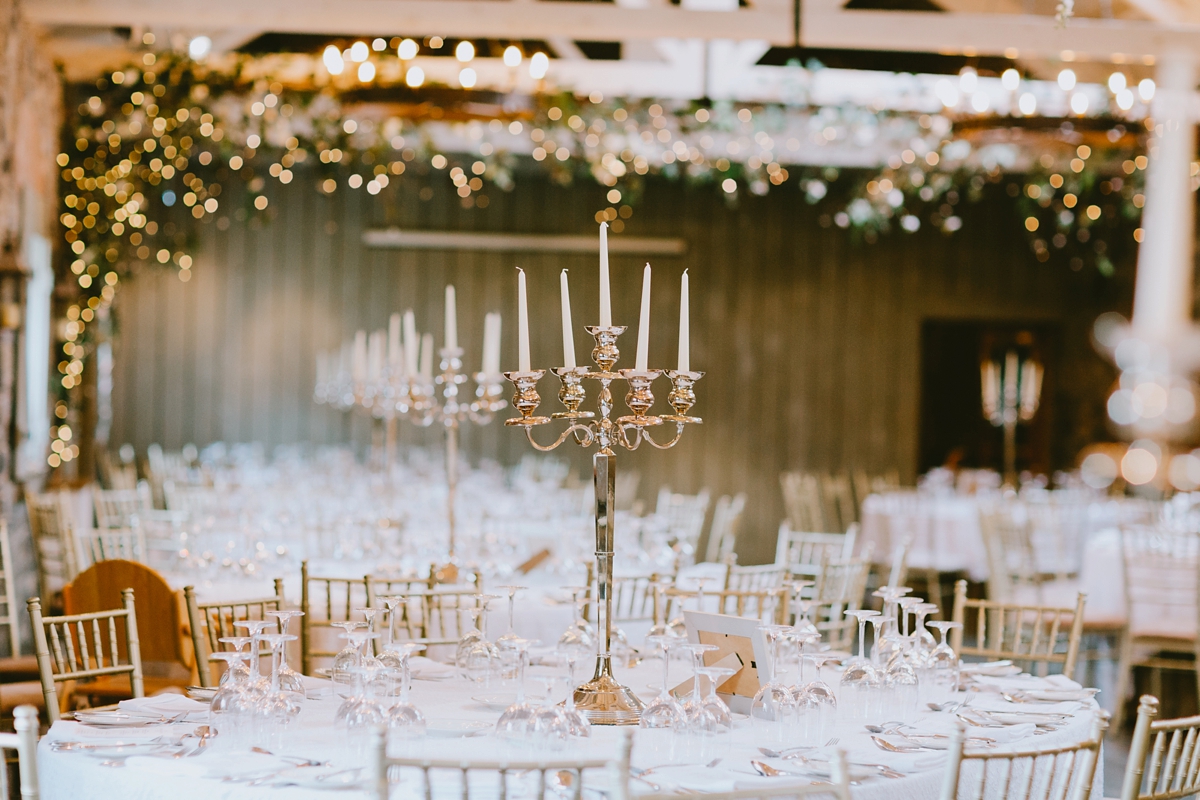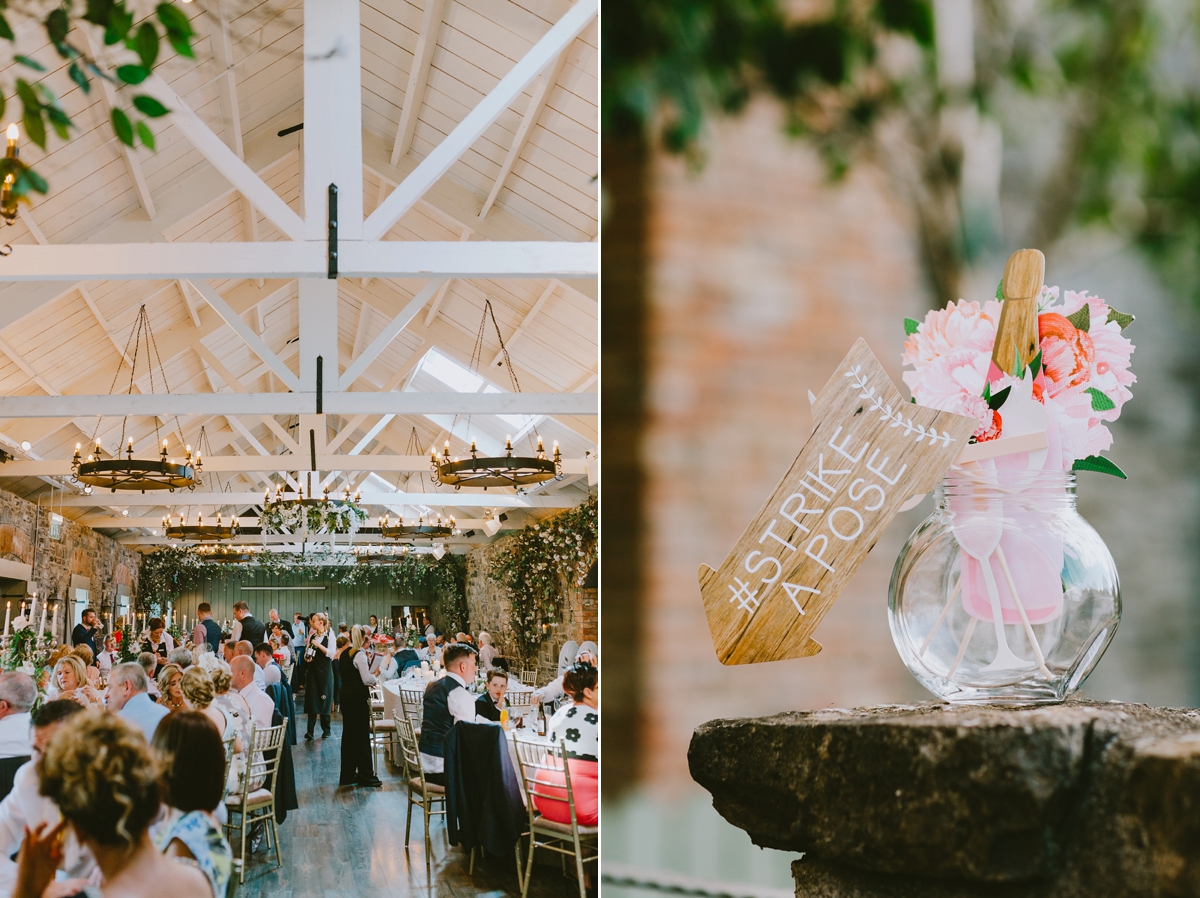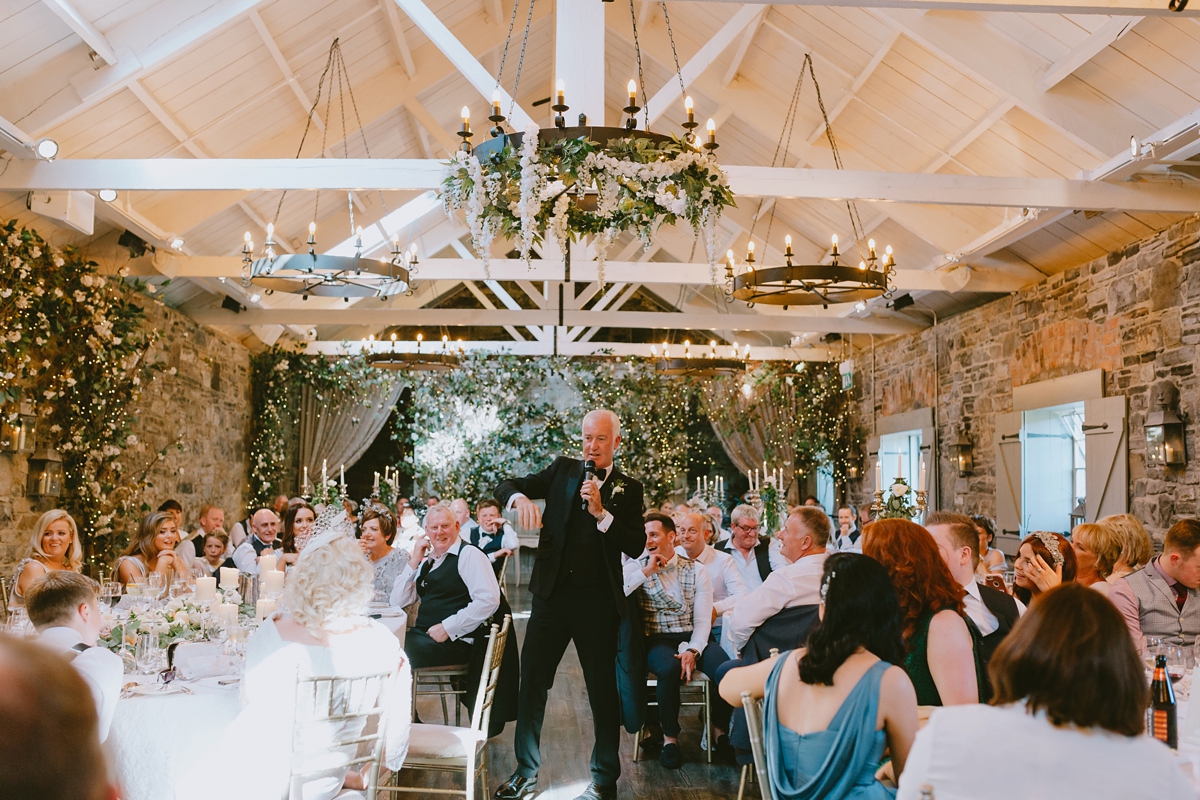 "We had our wedding invitations part made by Paperworks in Moygashel and once again, Ballymagarvey set the theme. We kept them nice and simple with cream card and sporadic pastel floral print and finished them with some twine."
A romantic closing note from the wonderful groom; "The entire day was just perfect from start to finish, however, my favourite moment was definitely seeing Leanne at the altar.  No matter how hard I tried to guess what her dress was like or how hard I tried to envisage what Leanne would look like, nothing could have justified how she looked; I was totally blown away, she looked so beautiful.  I felt like the luckiest man in the world."
Words of Wedded Wisdom
"Make sure to enjoy those quiet moments together – things can get so busy.  The journey to the reception and private shots with your photographer are great.  The most important thing is to have fun and enjoy every moment as it truly is the best day ever."
Huge thanks to Nathan and Leanne for sharing their beautiful, laid-back day with us all.  If you love Leanne's gown too, take a peek here for more Love My Dress brides wearing Liz Martinez dresses- all gorgeous!
Love, S x