Weddings of all styles and sizes are brilliant and special in their own right (and it's one of the great joys of Love My Dress), and I've got a spectacular celebration for you today, as well as an array of gorgeous, intimate images too. Get comfortable and settle in for a seriously cool bride and groom, lots of thoughtful handmade, personalised touches and a breathtaking country house setting in rural Norfolk.
Emma and Dan were married on the 14 October 2017 at the beautiful Arts and Crafts house Voewood. Emma paired her skirt and top with a romantic lace edged mantilla style veil from the always excellent and Little Book For Brides member, Britten Weddings, and shoes, earrings and gold rings from ASOS.
"We wanted the day to feel laid back and informal, like a party we'd throw at home but of course on a much bigger scale! We shied away from any set styling themes or colours, and tried to create everything we possibly could ourselves. Our guests were also at the forefront of our minds – most of our big decisions centred around making things cosy, entertaining…"
Images by  Luis Holden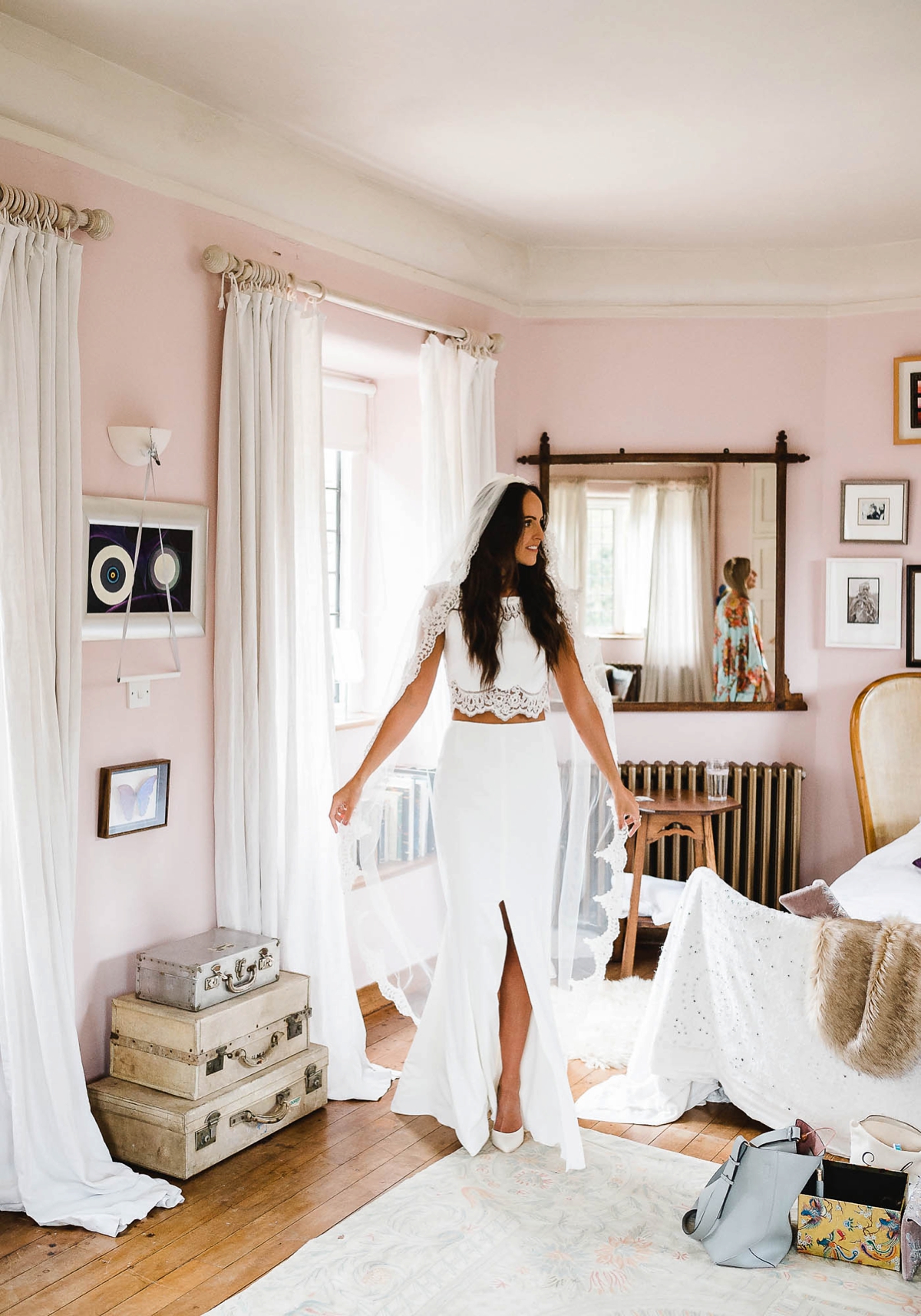 "We had a very clear idea of the sort of wedding we wanted, an informal house party in a venue full of character. It was really important to us to have the freedom to design all elements of the day ourselves, no paid bars or curfews allowed! Voewood was the only place we visited and it was perfect for us. It's a lovingly restored Arts and Crafts house full of its owner's own eclectic collection of pop art, retro furniture, and musical memorabilia."
"Every element of the building and its contents is vibrant and creative, new discoveries lie around every corner and yet you still feel unusually at home as soon as you step through the door. We stayed for the weekend and half our guests stayed with us, helping us to create a celebration that was hand-made and without rules or restrictions."
The couple met through work in 2010, sharing a love of music that later led to them becoming engaged at Glastonbury in 2016, at the top of the hill at the Park.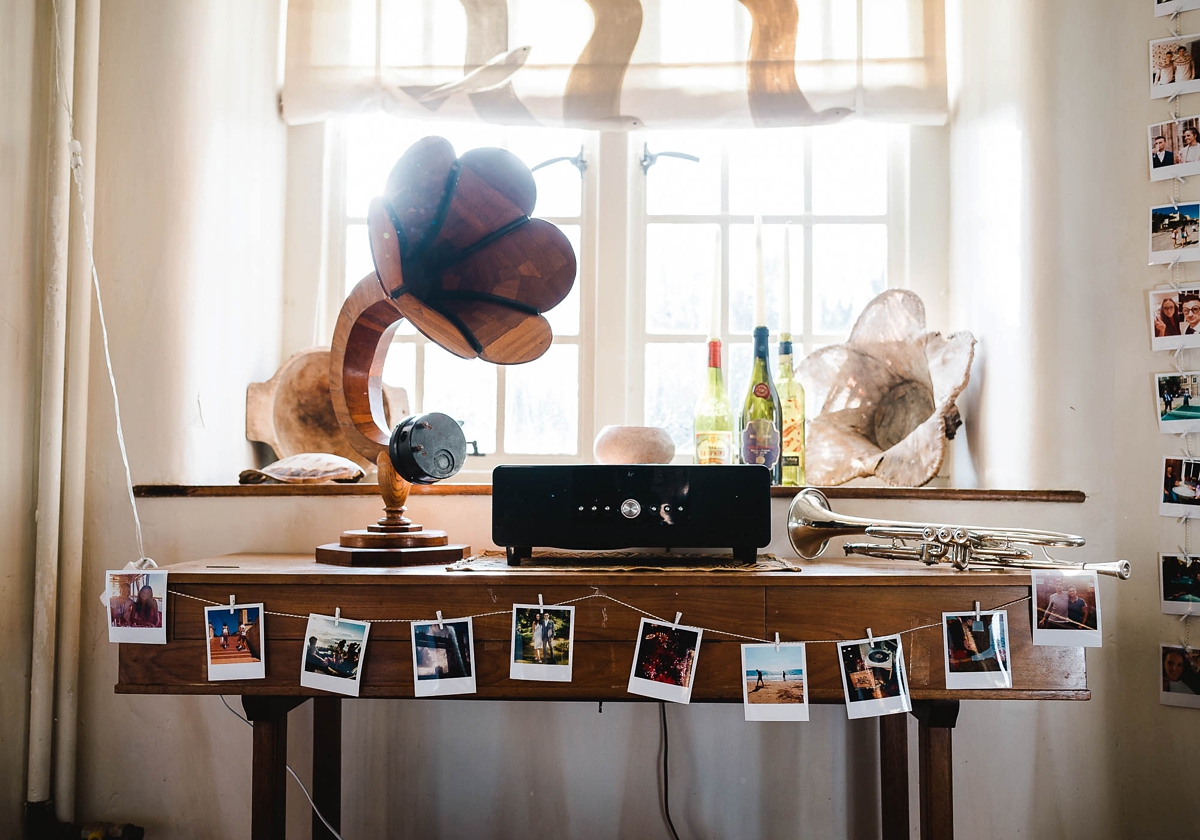 Bridal separates are a brilliant (and super stylish) choice, if a dress or gown really isn't your cup of tea, and Emma looks absolutely beautiful in hers – the 'Caplan' top and 'Camila' skirt, both by Rime Arodaky and purchased from The Mews Bridal, Notting Hill. The sleek and simple skirt pairs perfectly with the cropped top with pretty scalloped edge lace across the collar, sleeves and waist.
"Whilst I wanted something bridal, I also didn't want to feel too serious or traditional. I really struggled to find anything I liked, whilst I tried on some beautiful dresses they all felt like they belonged to someone else. I loved the idea of wearing separates and a friend recommended I try The Mews. The stylist there was wonderful, she suggested the combination herself as it wasn't a matching set, I loved that it felt modern and true to my own style."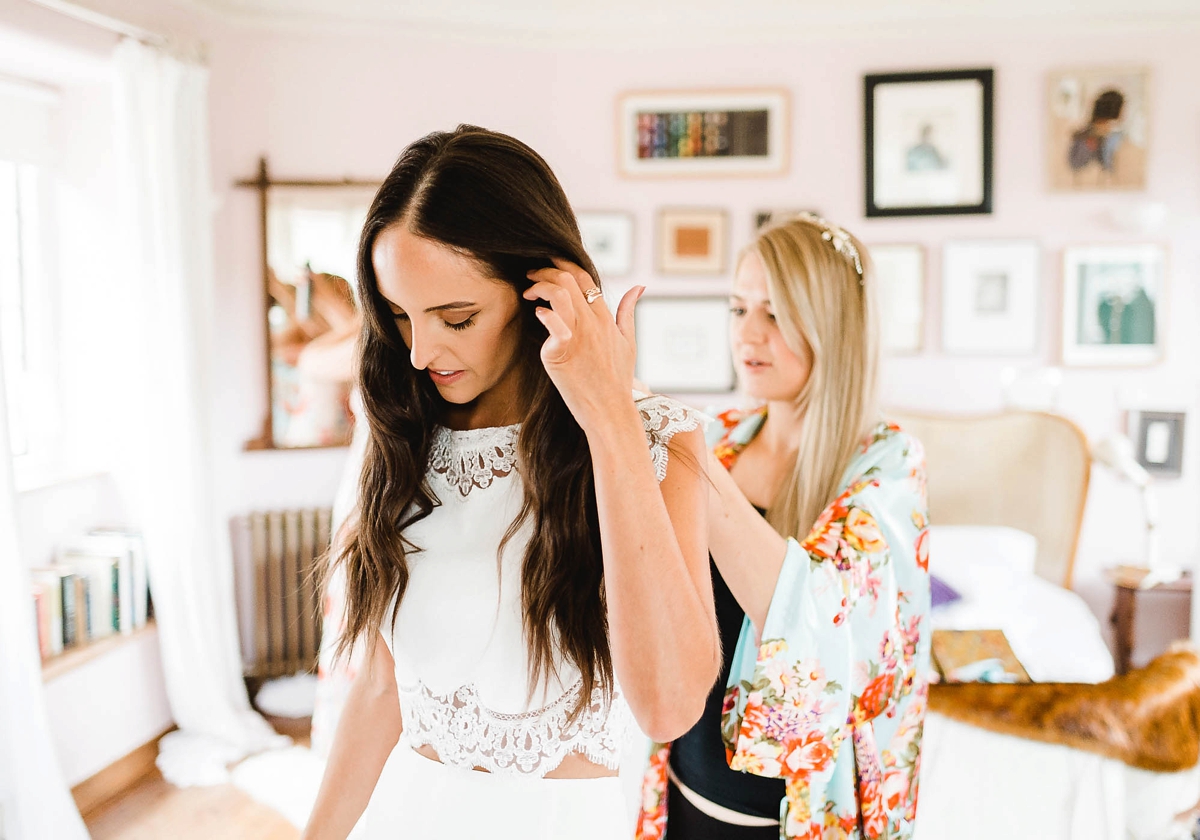 "I did my own hair and make-up, I didn't want to look particularly different and also wanted to feel relaxed getting ready at my own pace. I was really pleased with this decision and remember it as a peaceful and reassuring part of the day."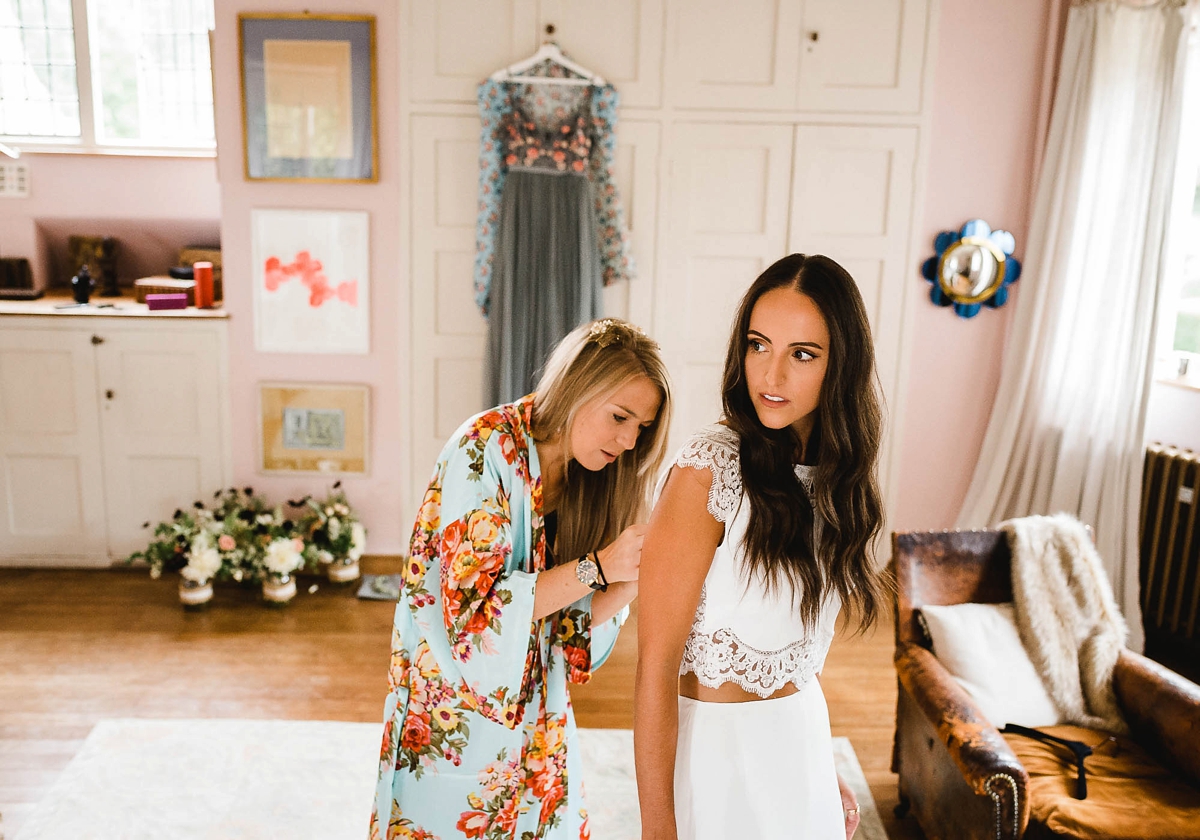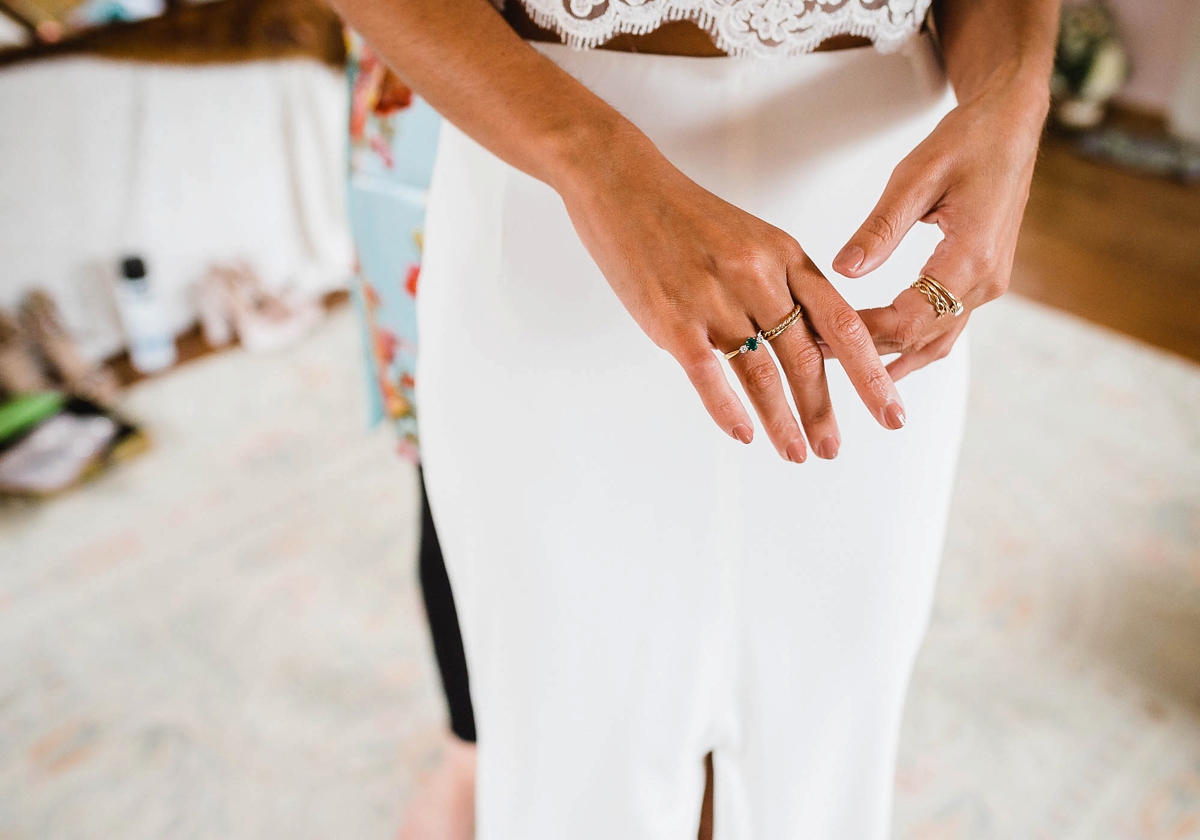 Groom Dan chose a handsome charcoal grey suit from ASOS, with smart, autumnal accents in his dark, floral print tie from Dickie Bow and Topman shoes. The groomsmen also wore ASOS suits and Dickie Bow ties.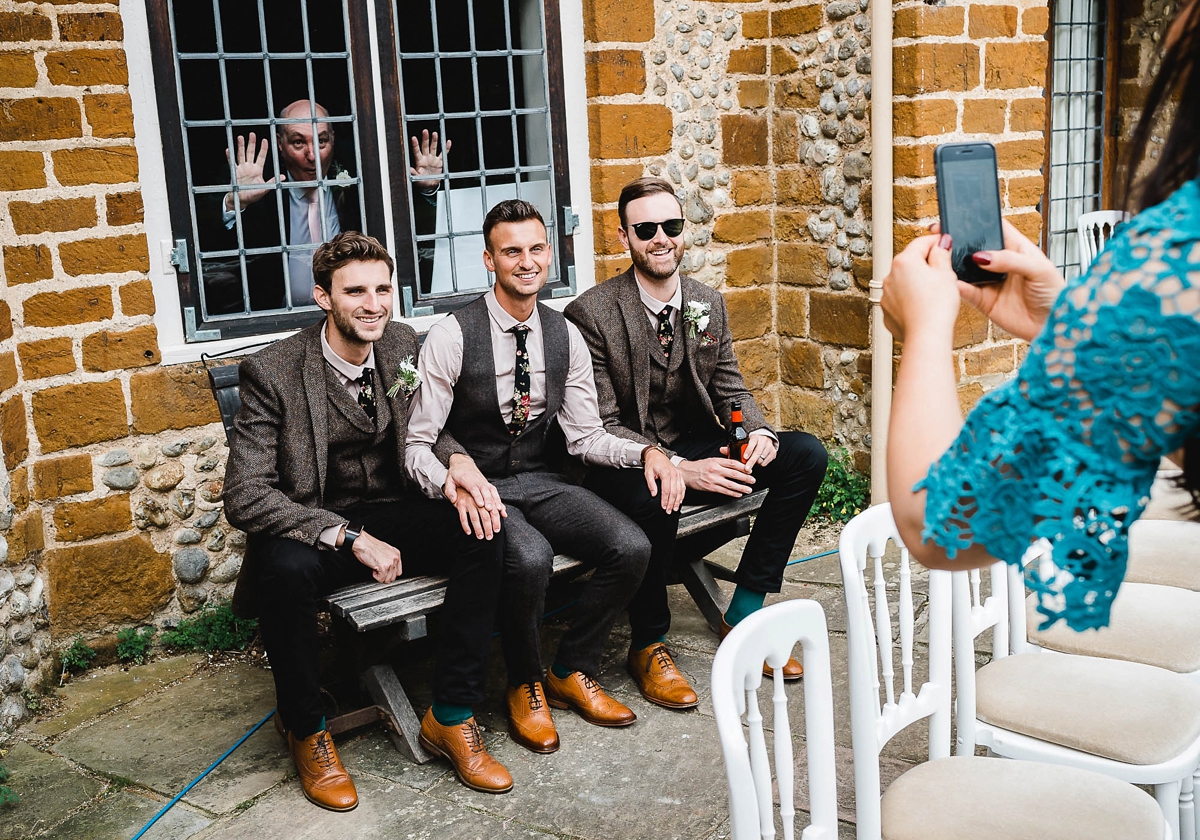 "After a lot of thought we decided to only dress our respective brothers, who were also acting as our witnesses. Whilst we were conscious of costs, with six ushers, they all had such a variety of styles and preferences that we decided it was more important that everyone felt happy and comfortable on the day."
The outdoor ceremony began as Emma and her Dad walked down the aisle together; a moving moment for them both.
"We lost my mum at a young age and from then he raised me and my brother as a single parent. Both Dan and I are incredibly proud of him and wanted him to feel like a big part of our day."
Emma's song of choice for this moment was Radiohead's Weird Fishes / Arpeggi.
"…not the most traditional of choices! A band, and song that means a lot to us both."
The couple wanted to maximise the party time and the relaxed and informal atmosphere and keep the ceremony short and simple!
"We opted not to have readings and kept our vows to a minimum, whilst this was a little controversial we were keen to get on with the celebrations and felt their absence would soon be forgotten!"
"I love gold jewellery and had always imagined having an engraved, patterned ring. I did some online searching and managed to find exactly what I was looking for at the London Victorian Ring Company. Dan really suits rose gold, and chose a simple brushed finish ring from E. Katz & Co."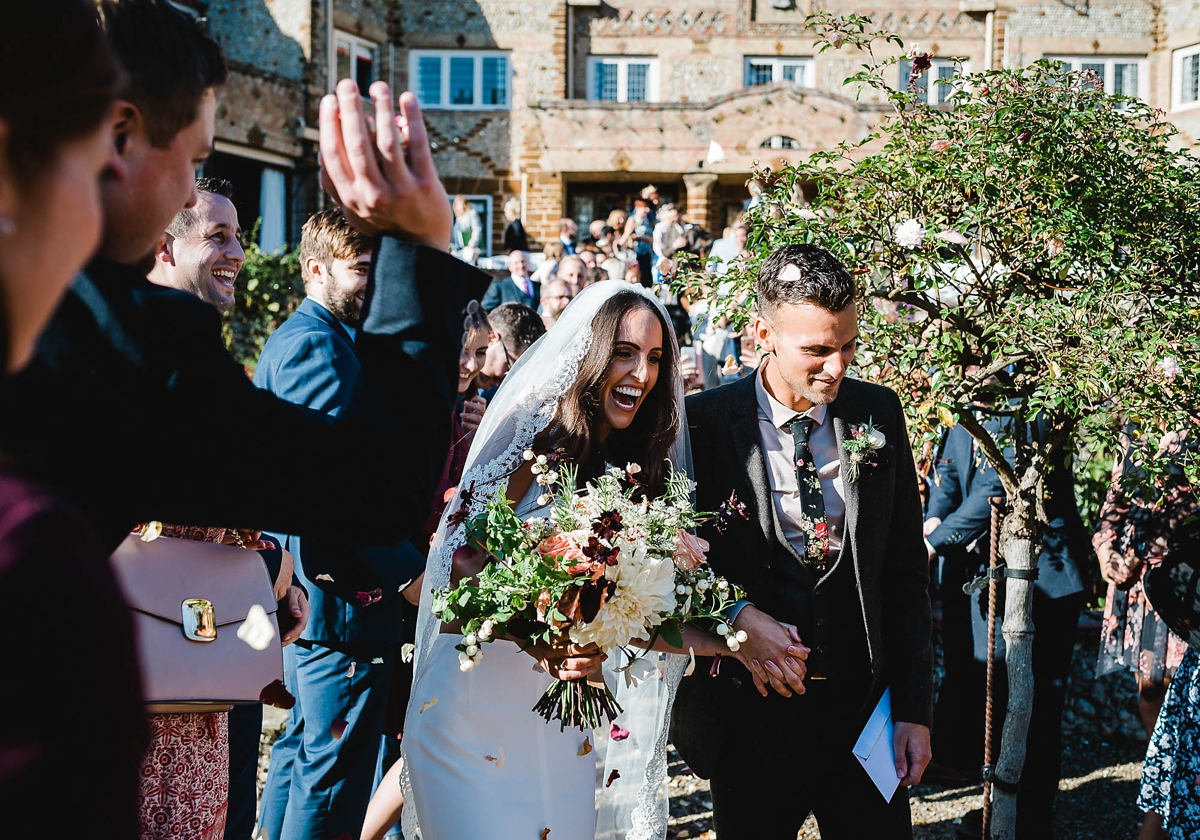 The beauty of Voewood and the happiness of Emma and Dan and all of the fun had by their guests were captured in gorgeous, atmospheric images by Luis Holden Photography.
"The incomparable Luis Holden, this guy …We were hoping to find someone that would embrace the party atmosphere and stay to capture the later, wilder parts of the day. Seeing the images on his website we could tell he was the man for the job! Luis captures moments that are completely true and natural, often in an unusual style, which was exactly what we wanted. He took such authentic and innovative pictures, and beyond that he was just wonderful company. Our very welcome and cherished 81st guest – thanks Luis!"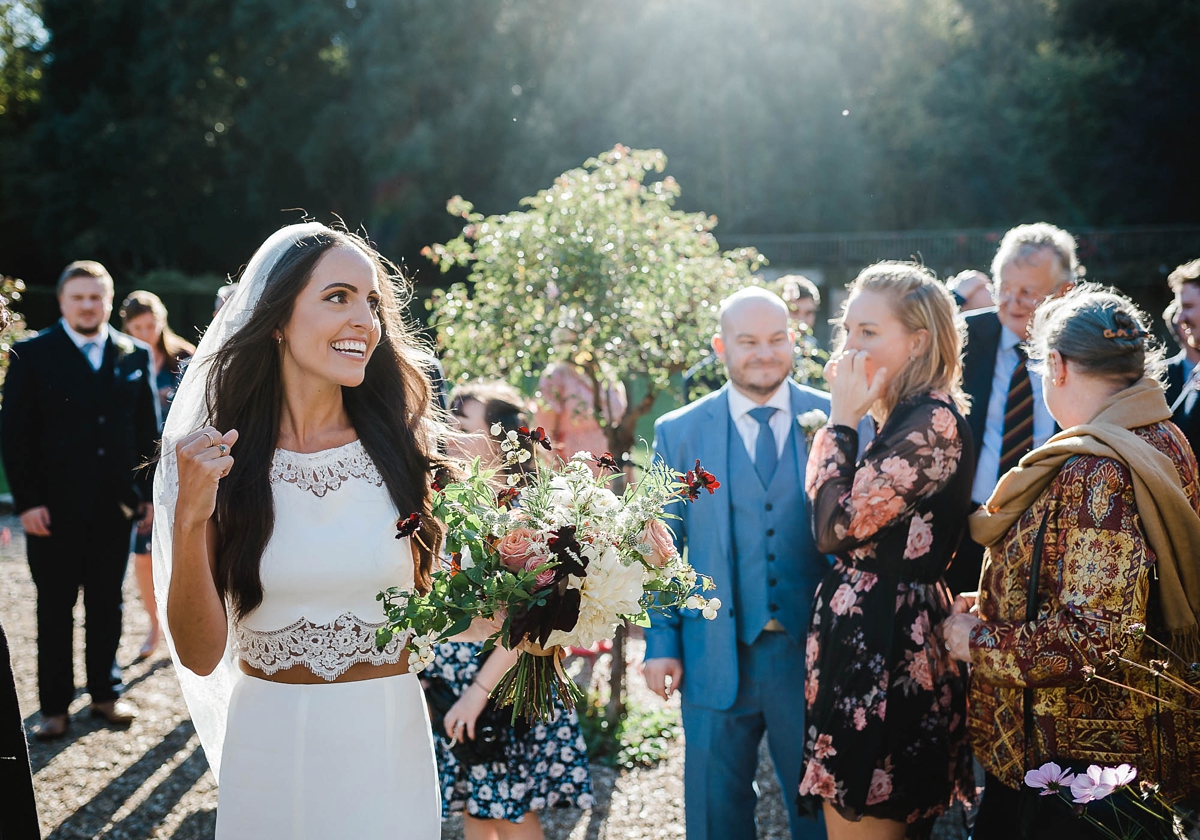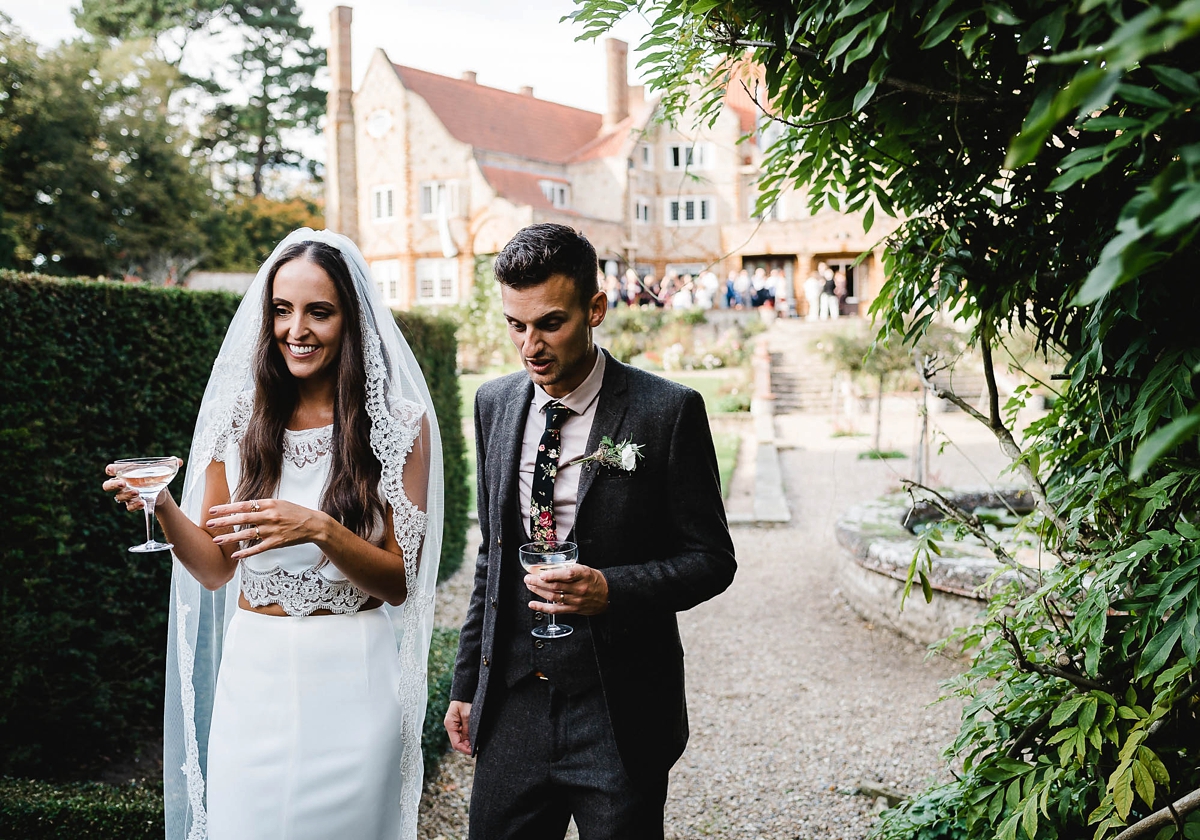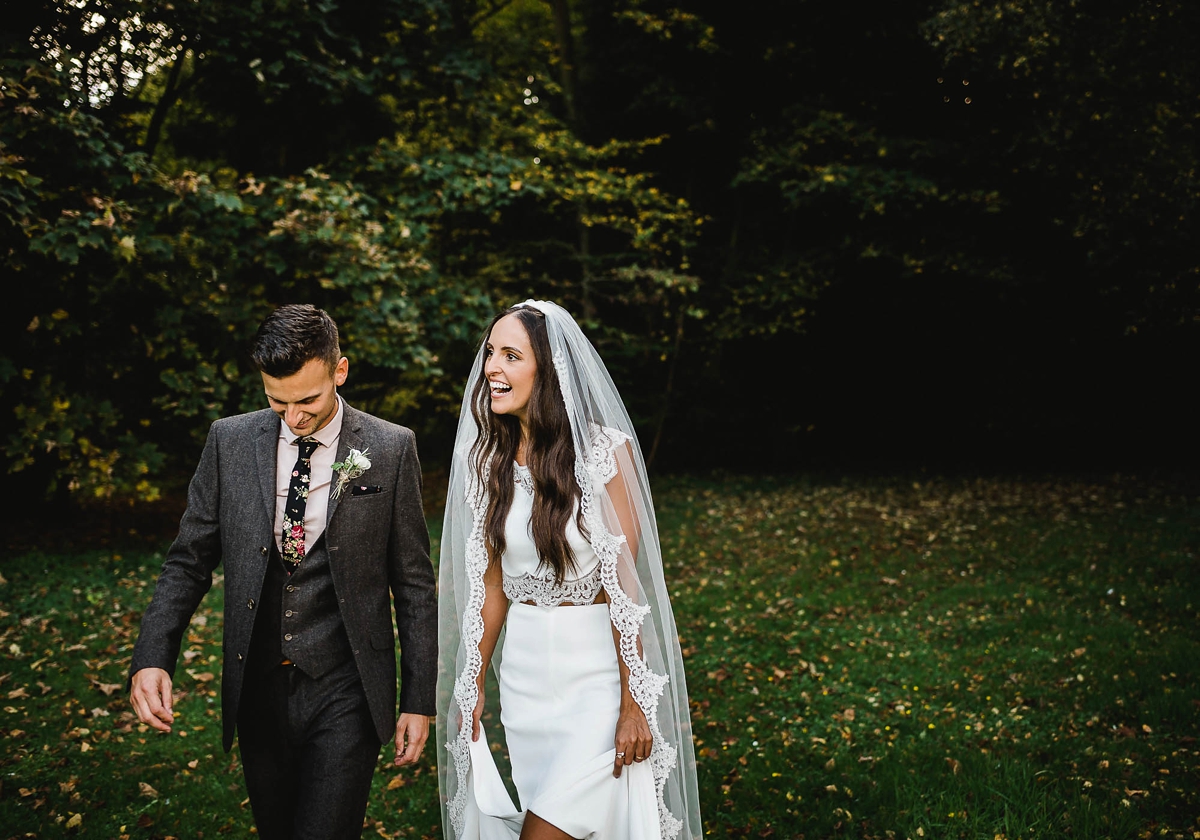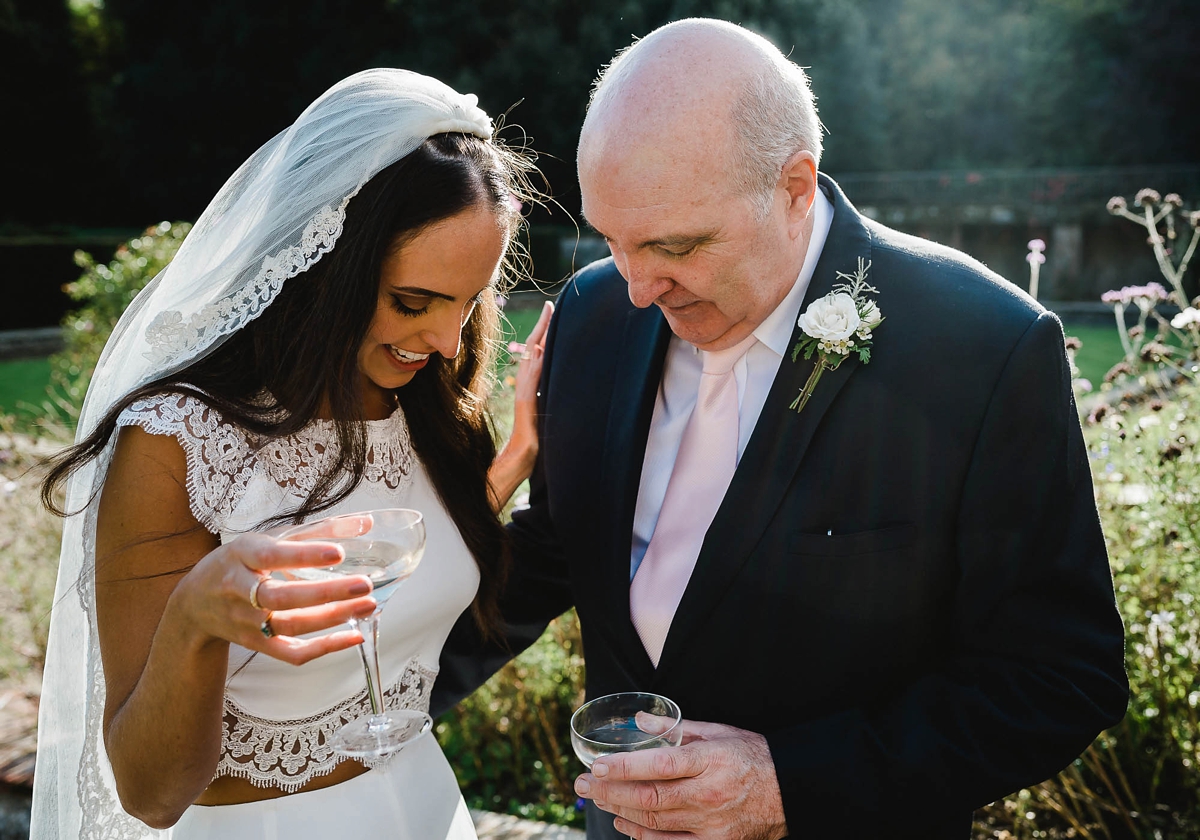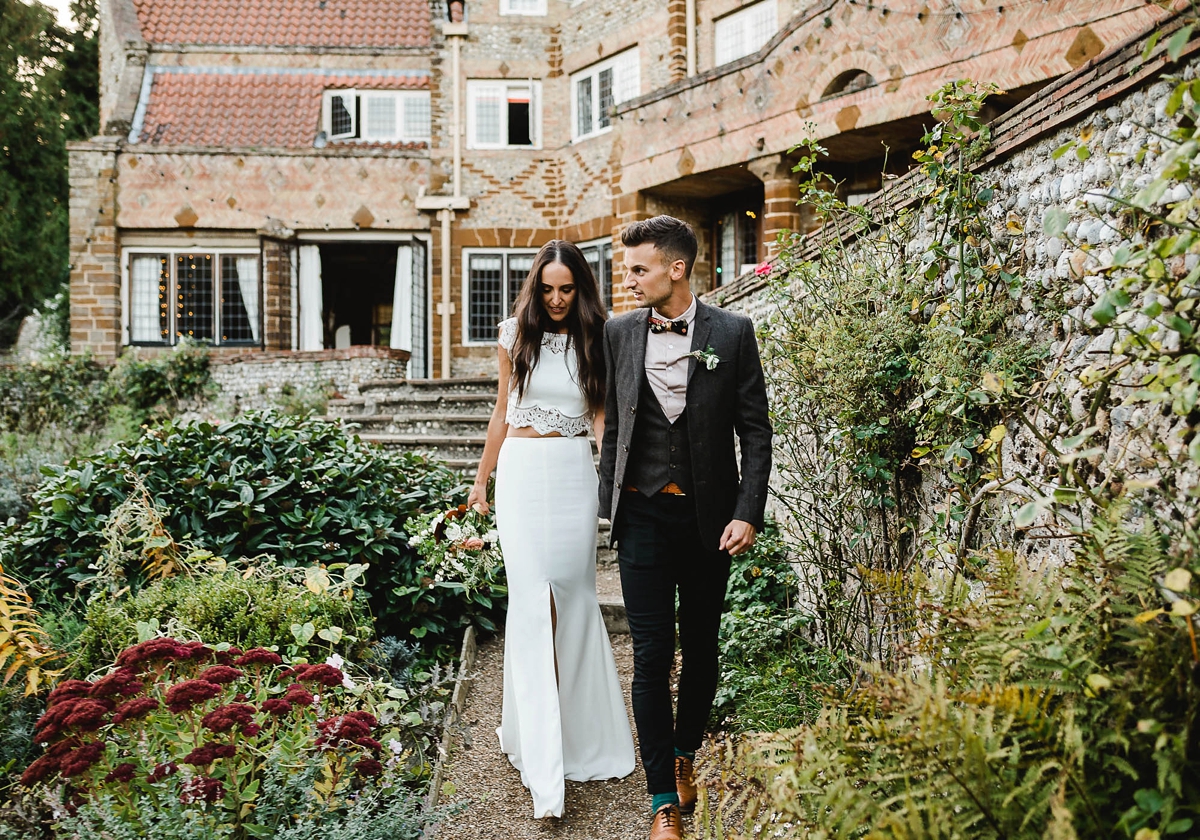 The breathtaking flowers for the day were arranged by Bramble and Berry, with natural, seasonal bouquets and vases that gave a nod to autumn, with huge white dahlias and berries, dusky peach roses and accent blooms in a beautiful, deep red wine hue.
"Neither of us know anything about flowers and we shied away from committing to specific colours or themes across all aspects of the wedding. Sarah did an amazing job at turning our extremely vague suggestions into a stunning array of wild, autumnal bouquets and scattered vases."
The bridesmaids wore dreamy dresses from Needle and Thread; frothy tulle skirts with a colourful floral embroidered bodices, with their own shoes and accessories.
"Our bridesmaids largely styled themselves. It was important to us that they wore what they wanted, so I helped them choose their own dress together and they picked their own accessories."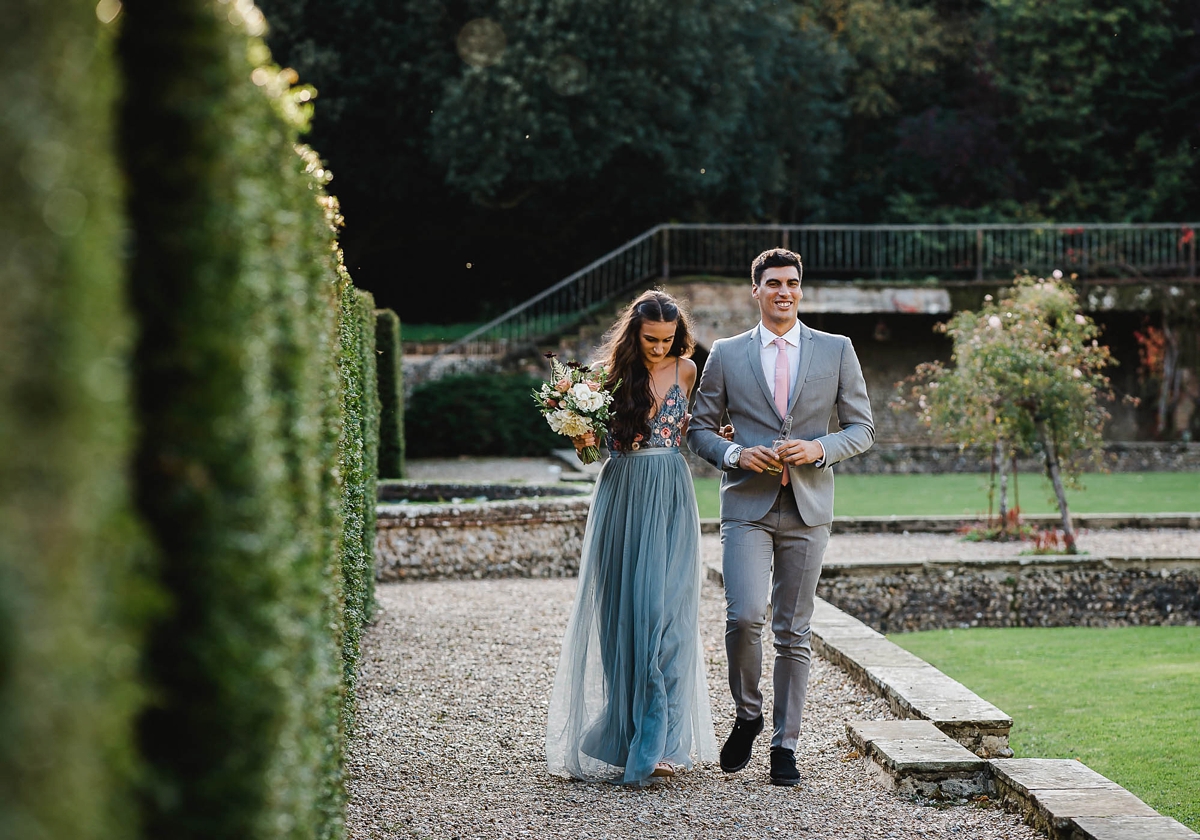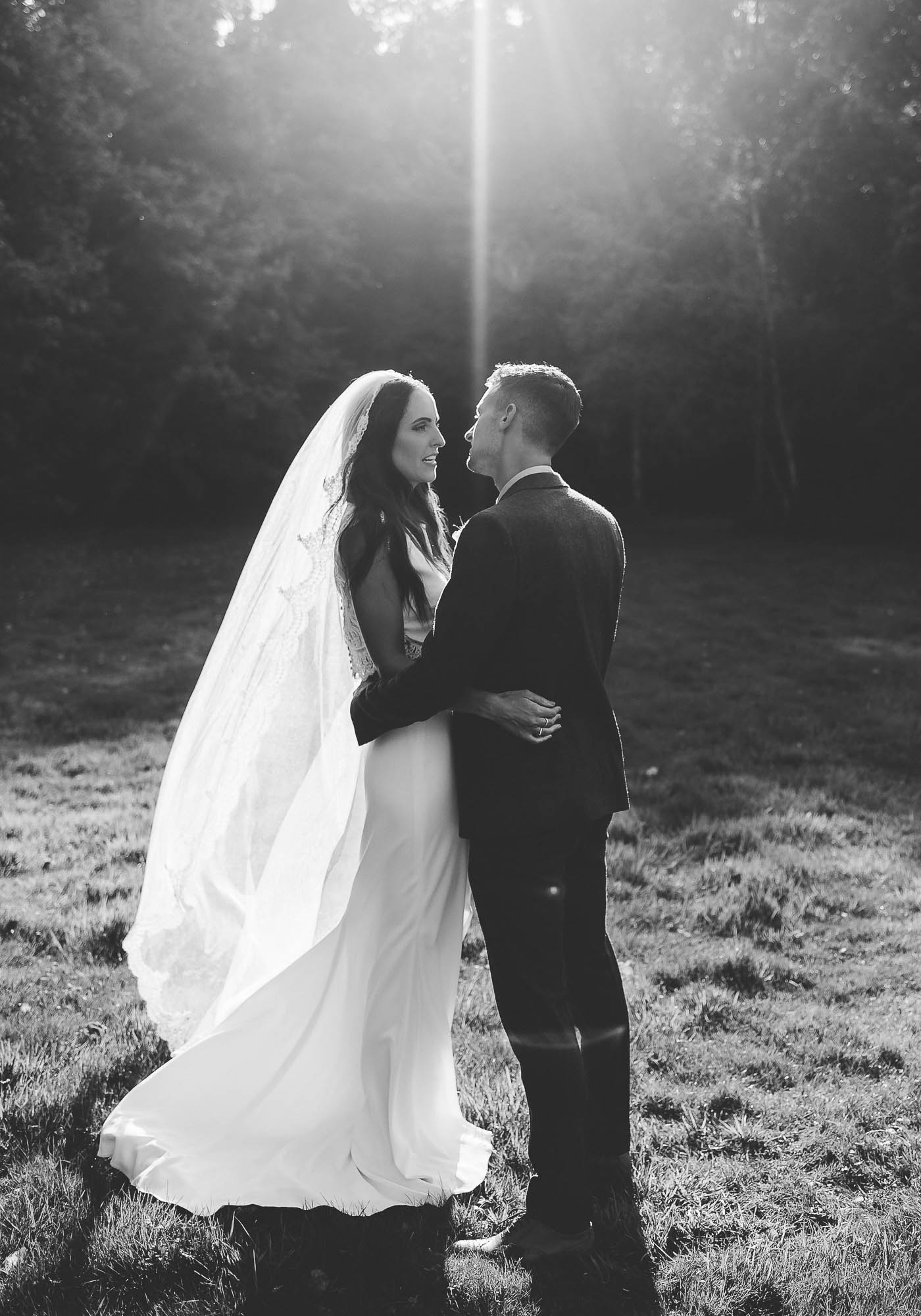 The welcoming atmosphere at Voewood was like a home from home, adding to the informal, relaxed feel, and Emma and Dan were keen to hand make lots of items to scatter around the house and provide fun and interest for their family and friends. Instead of table numbers, they used easels with favourite album vinyls and designed the table plan based on these records, with guest names taking the place of track listings. Continuing the music theme, place cards were made from old cassettes designed to look like mix tapes.
"The natural styling of Voewood did much of our work for us, being a home as much as a venue it already felt intimate and personal. We added to the cosy vibe by covering the downstairs rooms with hundreds of polaroid prints of us with family and friends, intertwined with soft green vines and warm fairy lights."
"We also created a unicorn themed 'photo-cave' in one of the downstairs bedrooms, for guests to stumble upon and fill up a book with polaroids. With something to explore in every room, several of our guests commented that we'd managed to capture the atmosphere of Glastonbury – probably the best compliment we could receive!"
The couple hired a vintage wooden bar from the Vintage Bar Company and stocked it with drinks as well as empty bottles filled with lights as a menu, and set up a beer pong table as a bit of extra fun for guests, too. Later everybody sat down to a meal prepared by AlexChef, and instead of a cake, Emma and Dan laid on late night burritos courtesy of Nanna Mexico.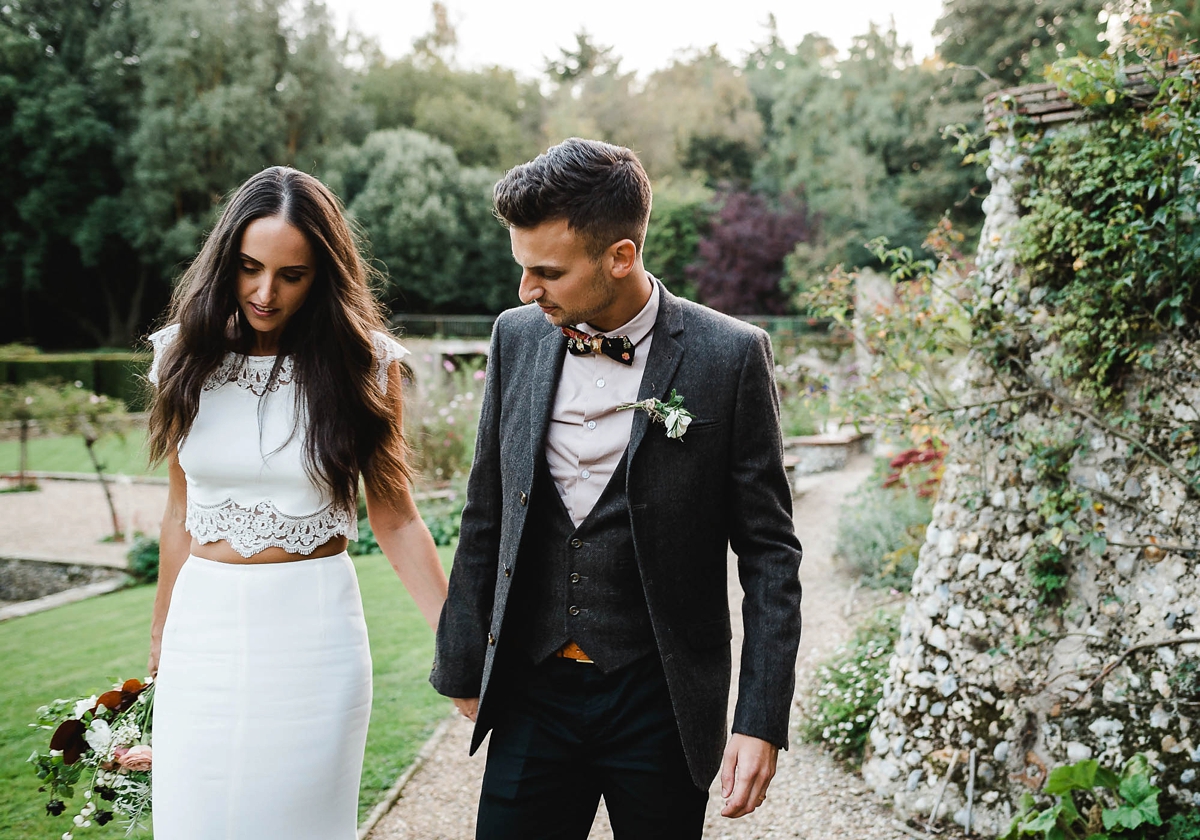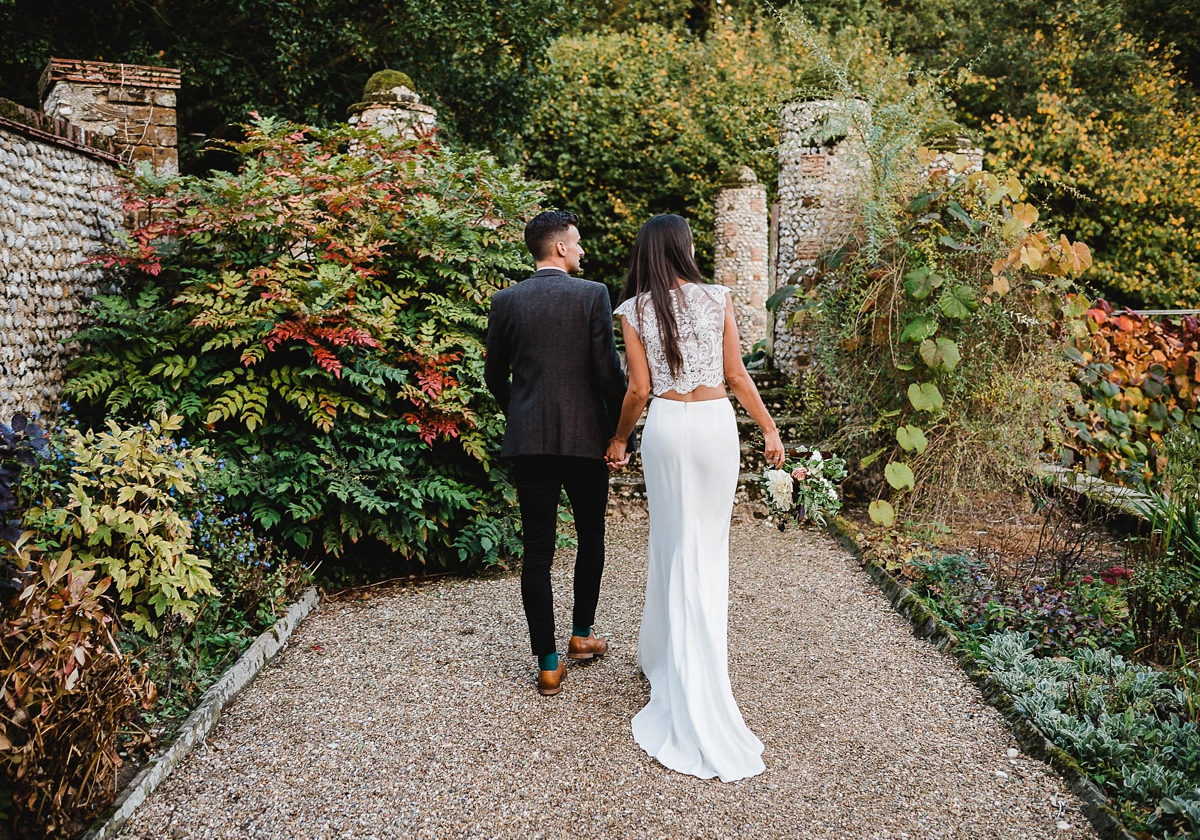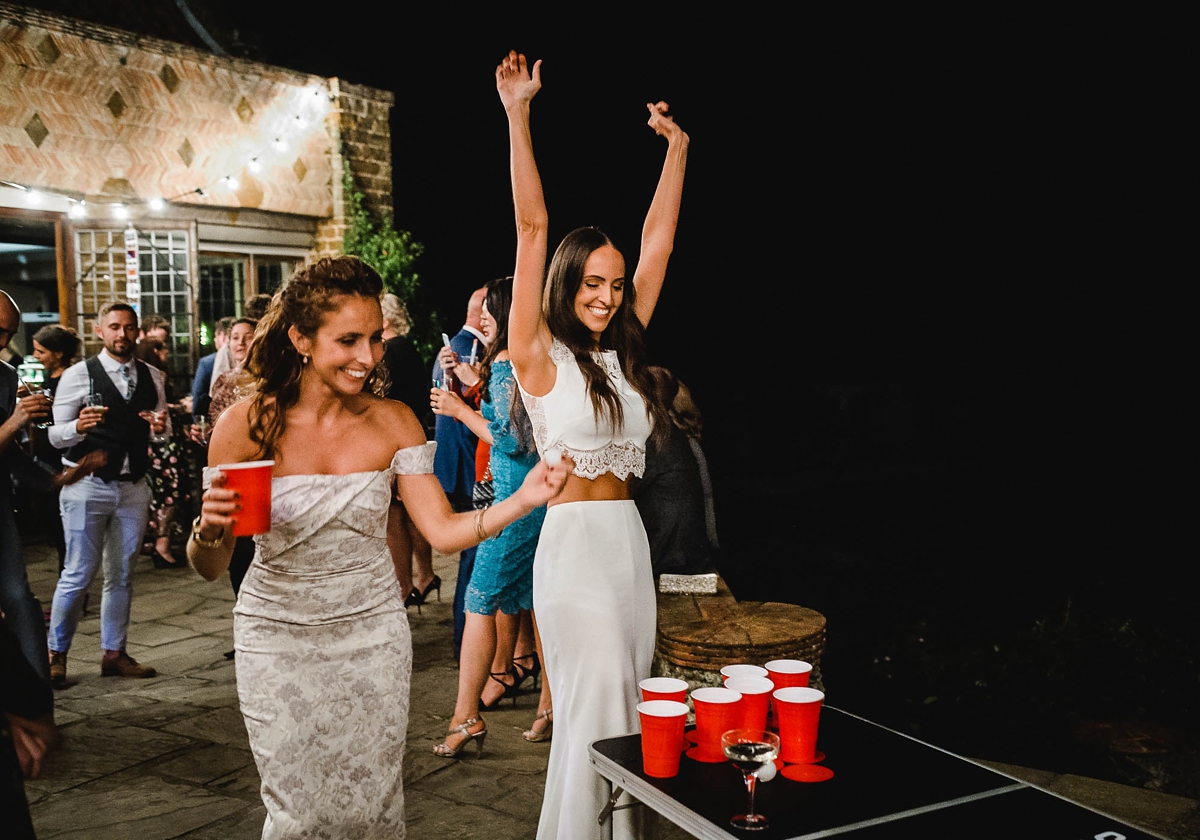 A favourite part of the happy couple's day was seeing everybody dancing and enjoying the band's medley of Garage songs, and they chose the song Fake Empire by The National as their first dance.
"We wanted to be true to our own tastes, but also to ensure everyone else would enjoy the moment. We chose one of our favourite bands and a song we've seen performed countless times together. Ultimately the main reason we included a first dance was to get everyone to the vicinity of the dance floor, so we were confident anything we chose would accomplish that!"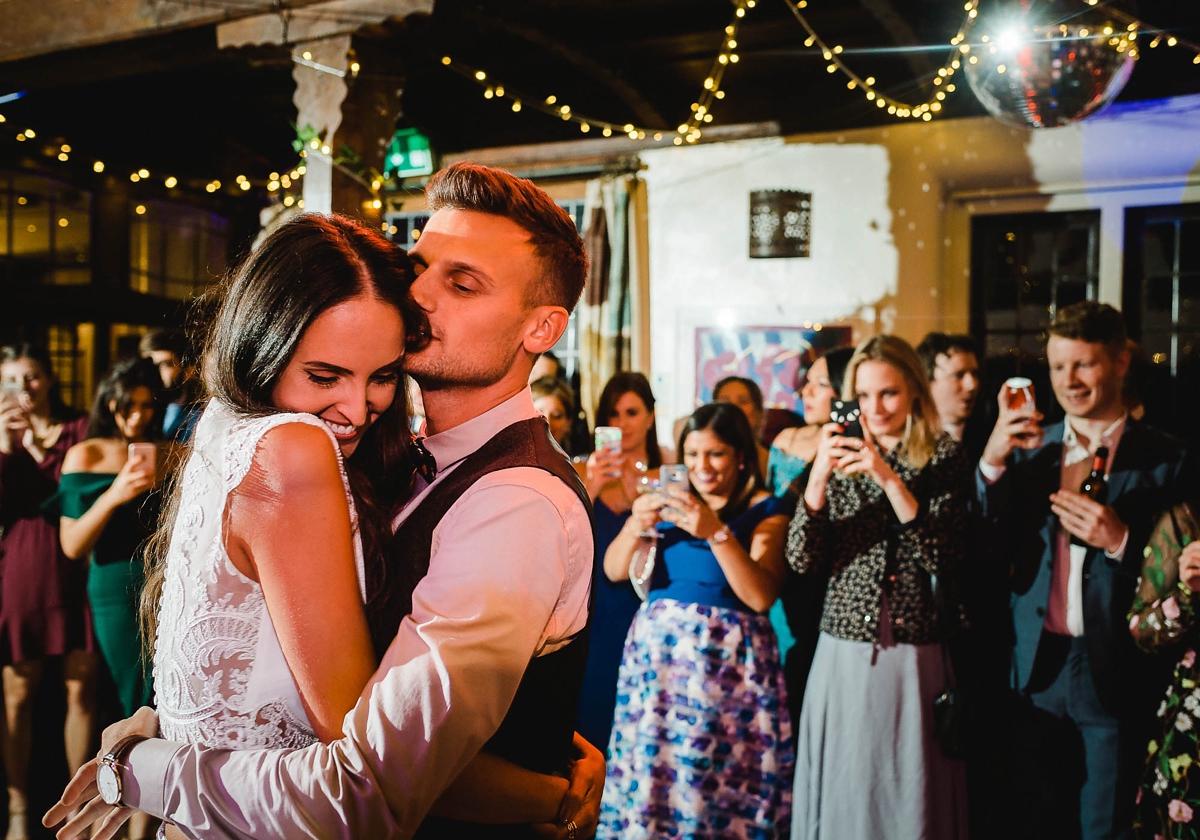 "We saw the incredible Pandora's Jukebox play at Emma's brother's wedding in 2015. When it came to us finding a band we couldn't look any further than them – the array of genres they play, and their crowd interaction is brilliant. We can't recommend them enough, they were wonderful performers and so much fun to have around. They're largely London based, but fortunately for us were willing to make the five hour round trip to north Norfolk!"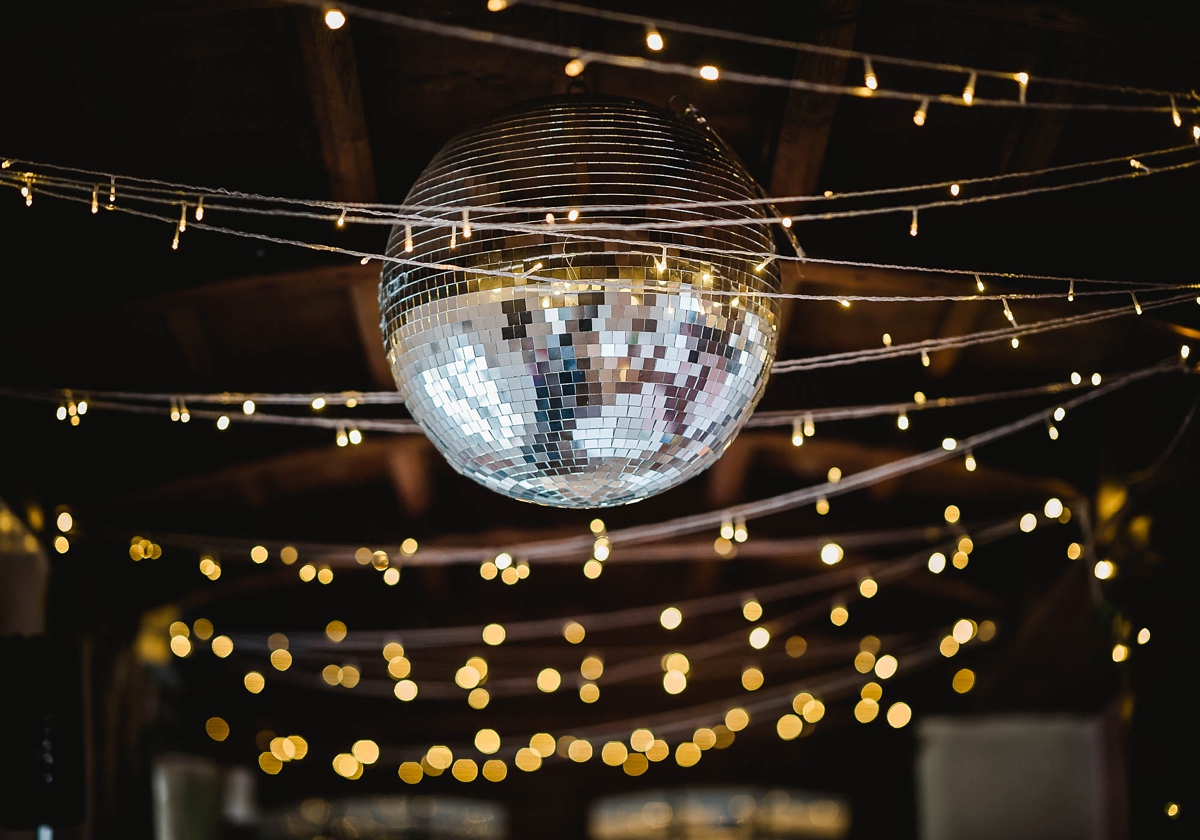 Words of Wedded Wisdom
"It's worth thinking about each expense and considering whether you're doing it because that's what usually happens at weddings, or because you actually want to. By doing this we cut out quite a few elements of the day that went unnoticed, and were able to put more money into what mattered most to us, such as the band and the bar."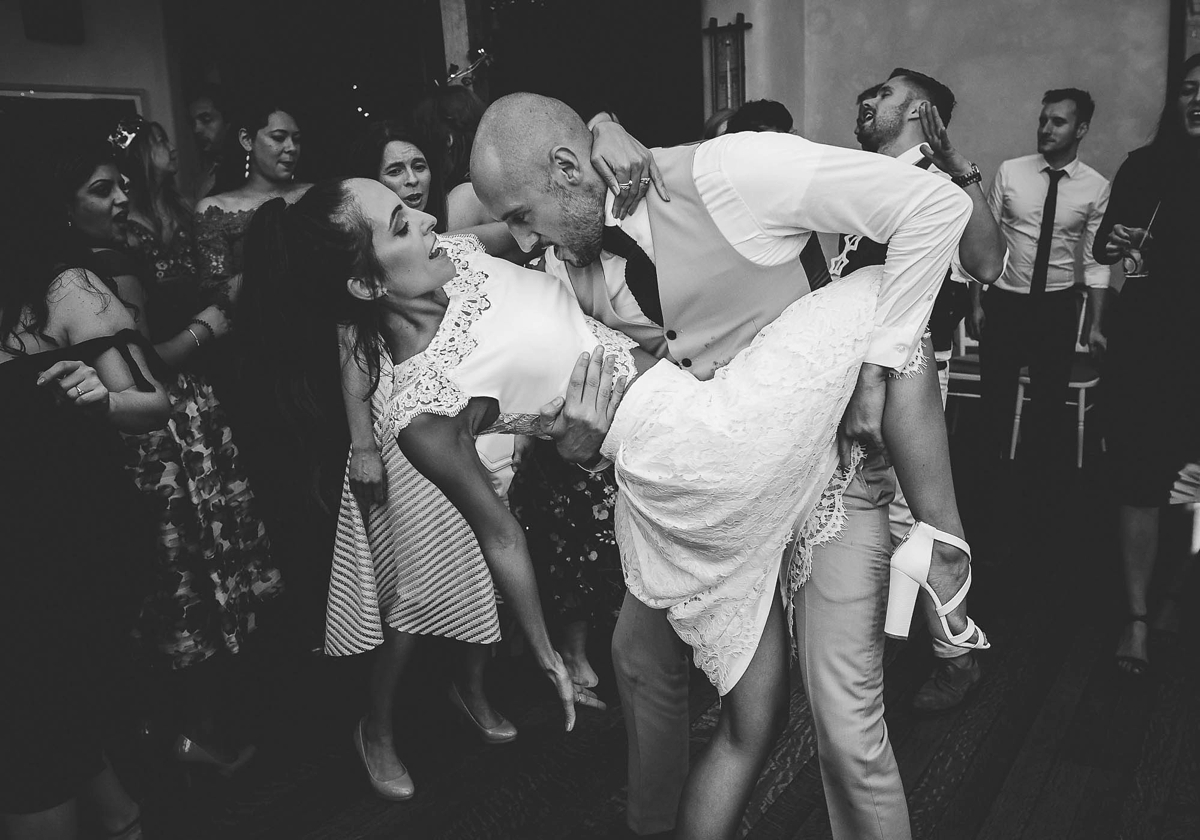 These are really great words of wisdom to live by when planning your wedding. Emma and Dan, it's been a real treat to share in your day. It looks like it was a fantastic, fun party in an amazing setting. It's also been a delight to see Luis Holden's magical images, and a pleasure to share his work with our readers. You can also view more chic Rime Arodaky brides here.
With love,
Laura