Hello lovelies! How was your bank holiday weekend? The second in a month – bliss! Today I have a gorgeous northern wedding up my sleeve, full of love, laughter and family – I do hope you enjoy it as much as I did writing it up. So without further ado, let's introduce you to our bride and groom.
Property Developer Brett and singer Suzanna were married on 2nd September 2017 at The West Mill in D'Arley Abbey, Derbyshire.
"The West Mill  was the first and only venue we went to see. It was still a building site when we first saw it but we fell in love with it straight away. We couldn't imagine getting married anywhere else. We wanted the day to be all about family and friends as they're the most important things in our lives. It was about me becoming an Amey and sharing the same surname as our babies."
Images by Ania Ames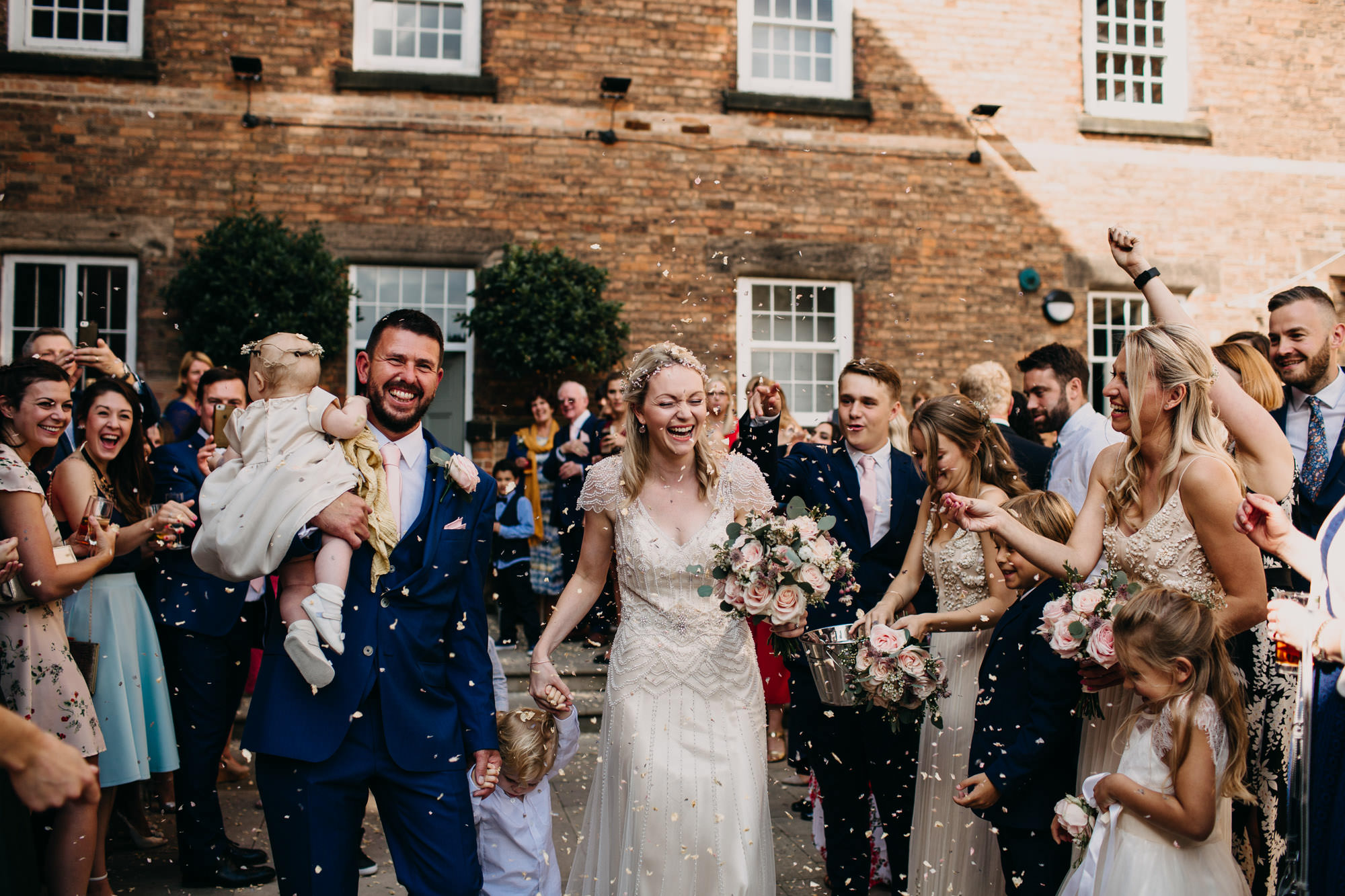 There to capture all the love and emotion of the day on camera was Northamptonshire-based photographer Ania Ames, whose timeless and romantic style suited Suzanna and Brett's day perfectly.
"We are so glad we picked Ania to be our photographer. I thought I would feel very uncomfortable being photographed but she put us so at ease and was so lovely. We also really liked that she had lots of experience photographing family and children as our children were one of the most important parts of the day."
In keeping with the day's fun and relaxed vibe, Suzanna chose the stunning vintage style, beaded Ettia Maggie Sottero gown from Fleur de Lys Bridal store in Saffron Walden.
"I went to a local shop and this was the only dress in the entire shop I liked! There was nothing to compare it to but I was too scared to trust my gut straight away, so went and tried it on again in two more shops. I hadn't seen any other dresses like it and felt beautiful in it (which is rare with two little ones to feel so glam!). The beading detail on it is out of this world."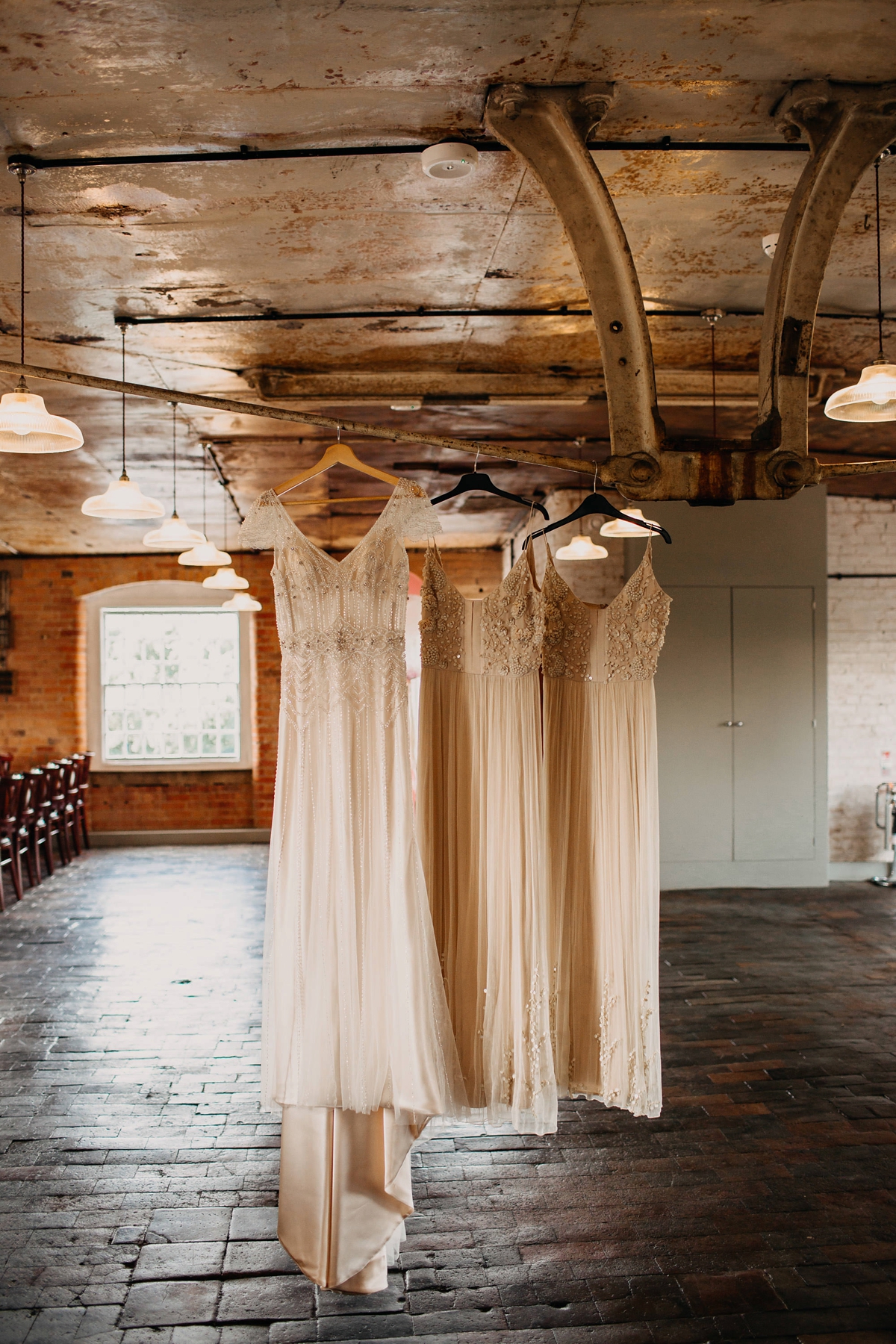 Suzanna chose not to wear a veil but instead accessorised with a beautiful rose gold gypsophila hair vine by Little Willow and Co via Etsy to compliment her dress. She also wore the mid-heel Elizabeth bridal shoe by Emmy London, a pair of rose gold earrings from Etsy, and a rose gold bangle also from Etsy.
"I didn't wear any perfume as I was still breastfeeding my little one on the day!"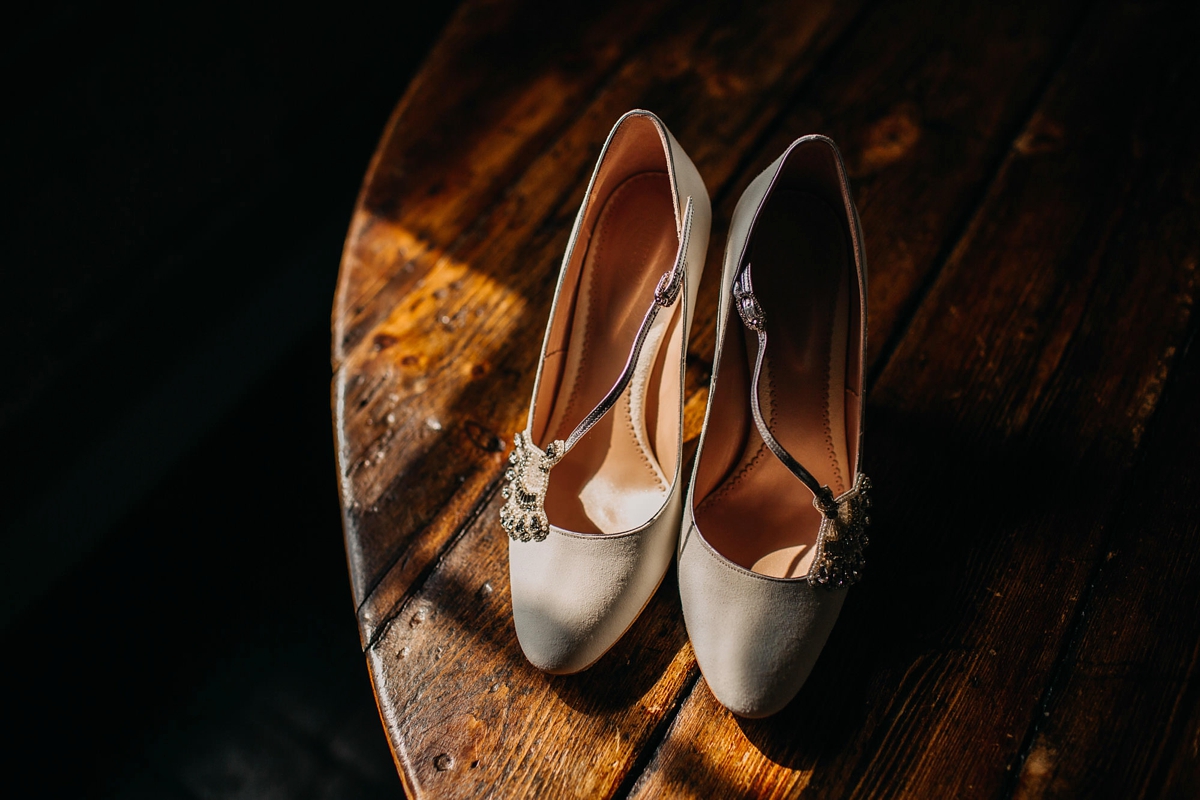 The couple met whilst on holiday skiing in Italy in 2013. They were engaged in December 2014 and got married three years later.
"I was actually on holiday with my boyfriend at the time when we met, and Brett was on holiday with his friends and we were all staying at the same place. Fast forward a few months and my boyfriend and I had split up. Brett got in touch and the rest is history! We got engaged a month before our son Otto was born."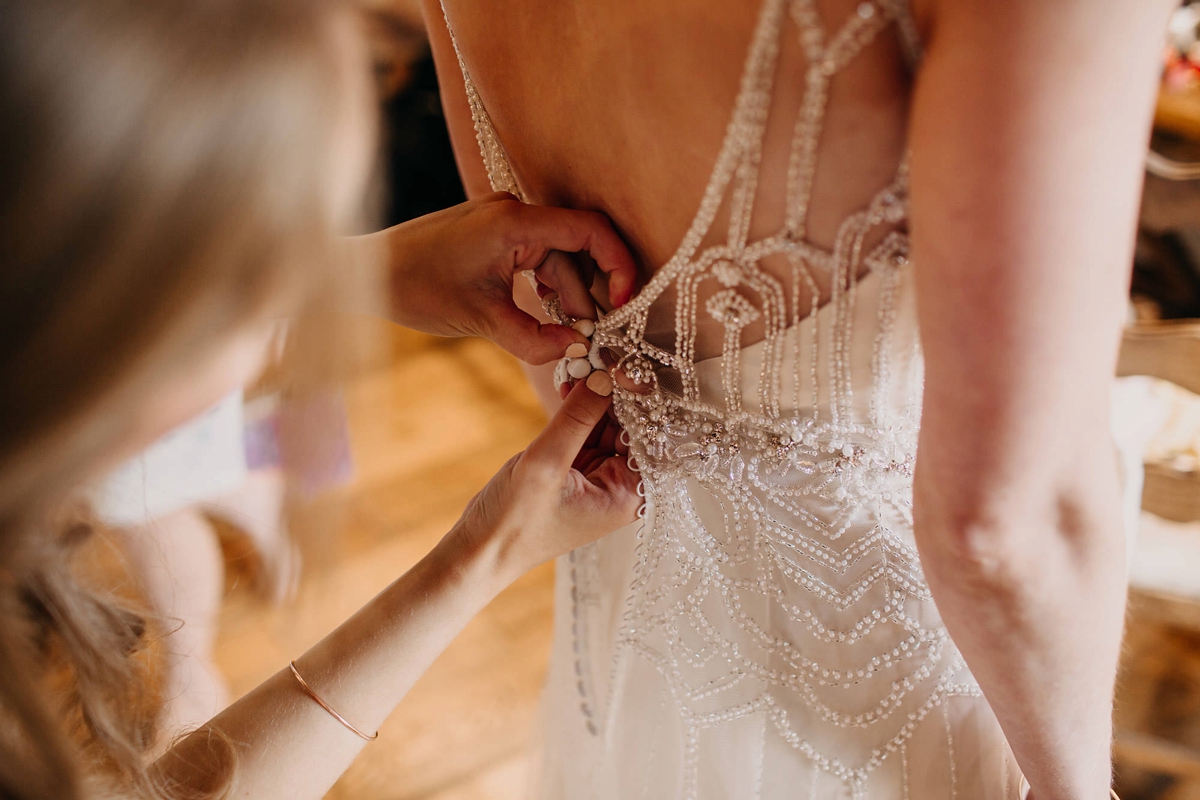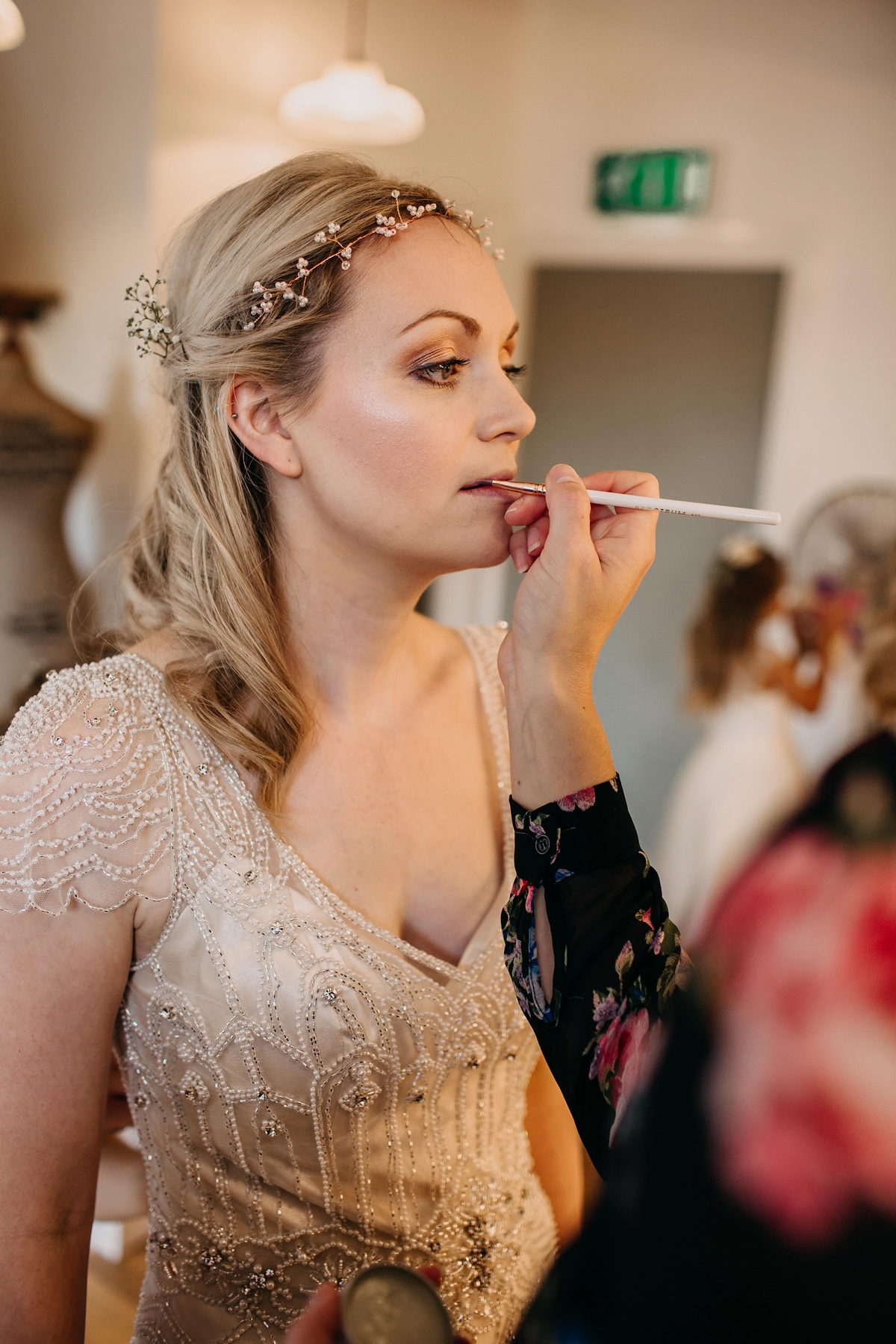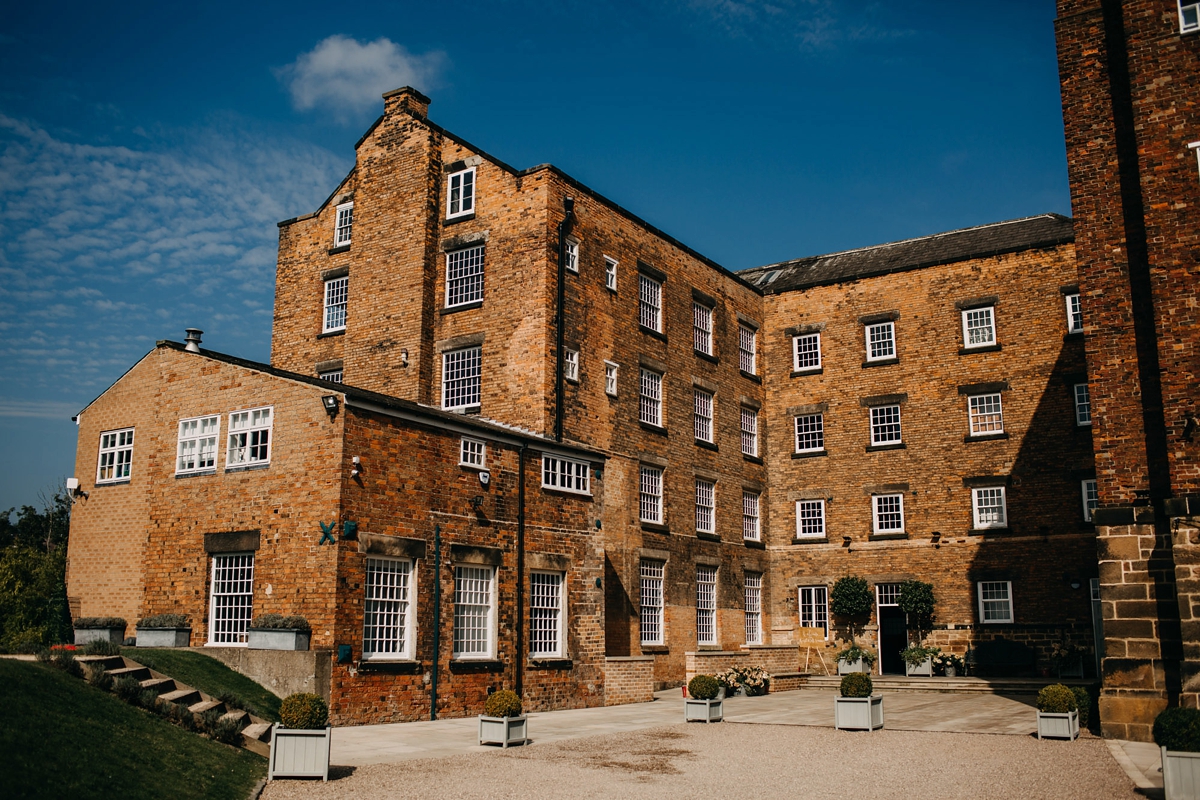 The couple used the venues ready-made industrial vibe as the main overall theme, with only a couple of additional touches such as a peach and white ribbon backdrop placed in the ceremony room and then behind the top table, and the gorgeous blush, green and white blooms.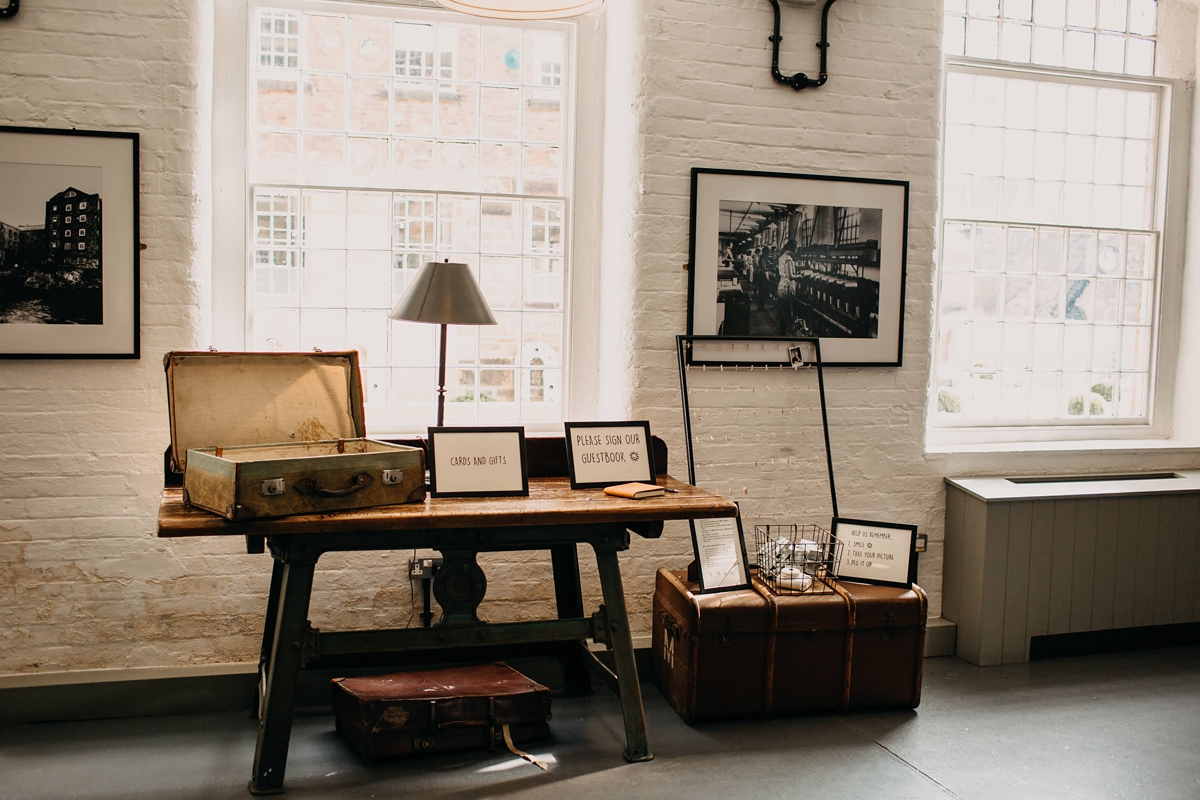 "The venue really didn't need much as it was so amazing in its own right. We didn't want to take away from the raw beauty of the venue and believed that less was more. With the main focus being on family and friends, we tried to recruit our loved ones where we could to help us create the perfect day."
"One of my closest friends Kelly, who owns Doodle June, made our stationery which showed our journey as a family. Brett's mum and sister arranged all of the flowers on the tables, and our wedding cake was made by one of my close friends who I met through having our first babies within days of each other."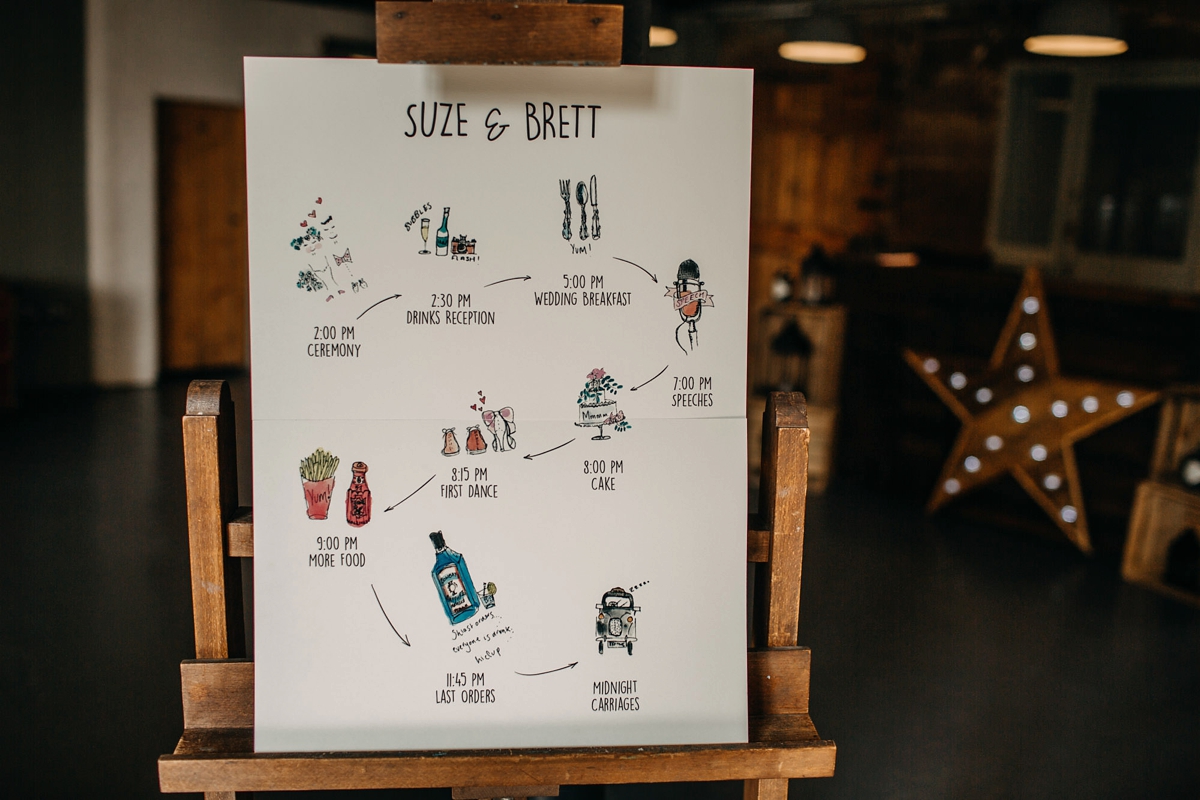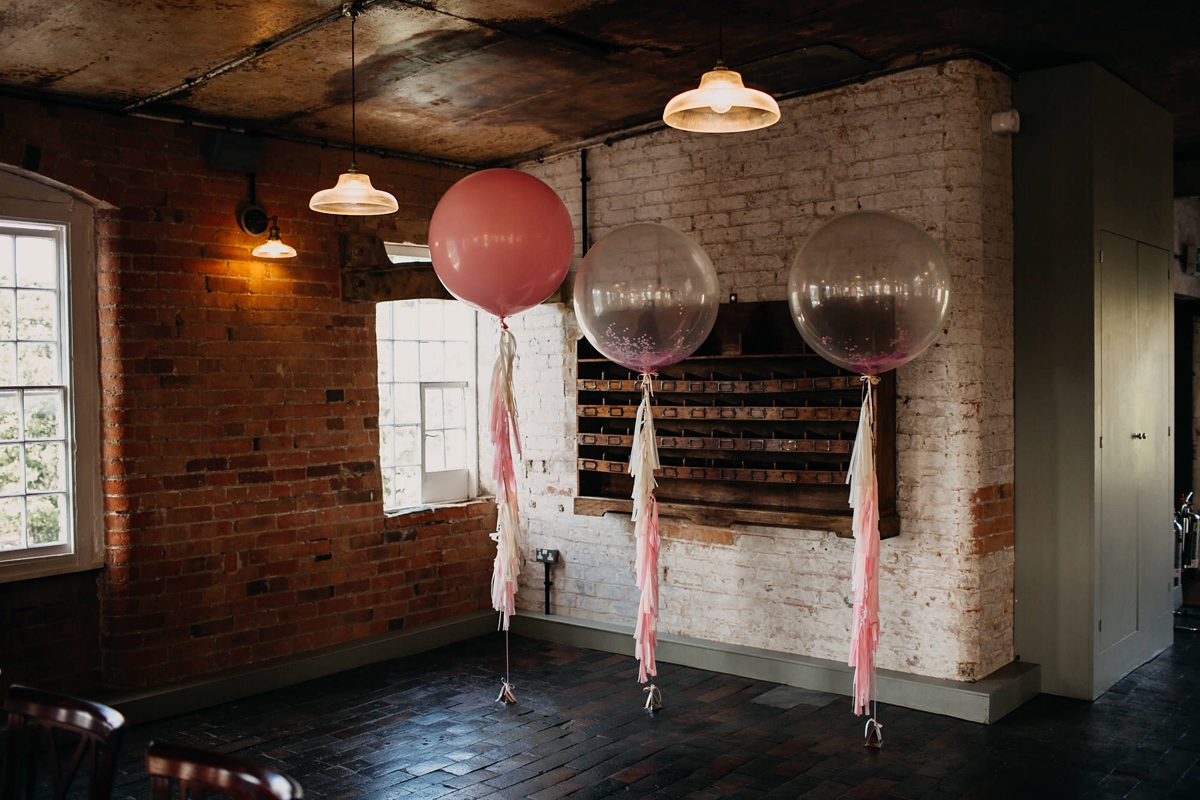 The men also wore blush pink ties with matching buttonholes by local florist Designer Daisies who also created Suzanna and her bridesmaids simply beautiful bouquets.
"We picked a local florist for my bouquet and the bridesmaids bouquets and then the table centerpieces were put together by Brett's mum and sister. My bouquet included sweet avalanche roses, white wax flower, white phlox, pink astrantia and eucalyptus foliage. To be honest I know nothing about flowers so I just presented the florist with my Pinterest boards and she did an amazing job from those!"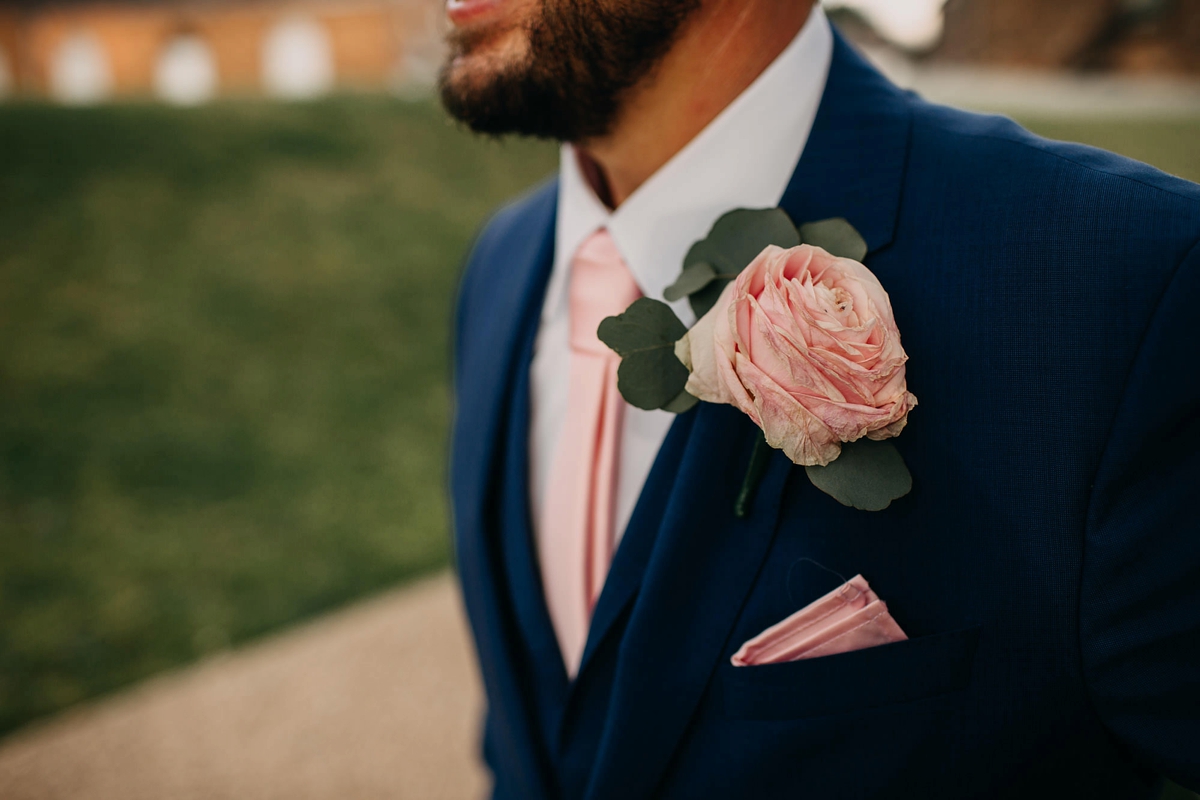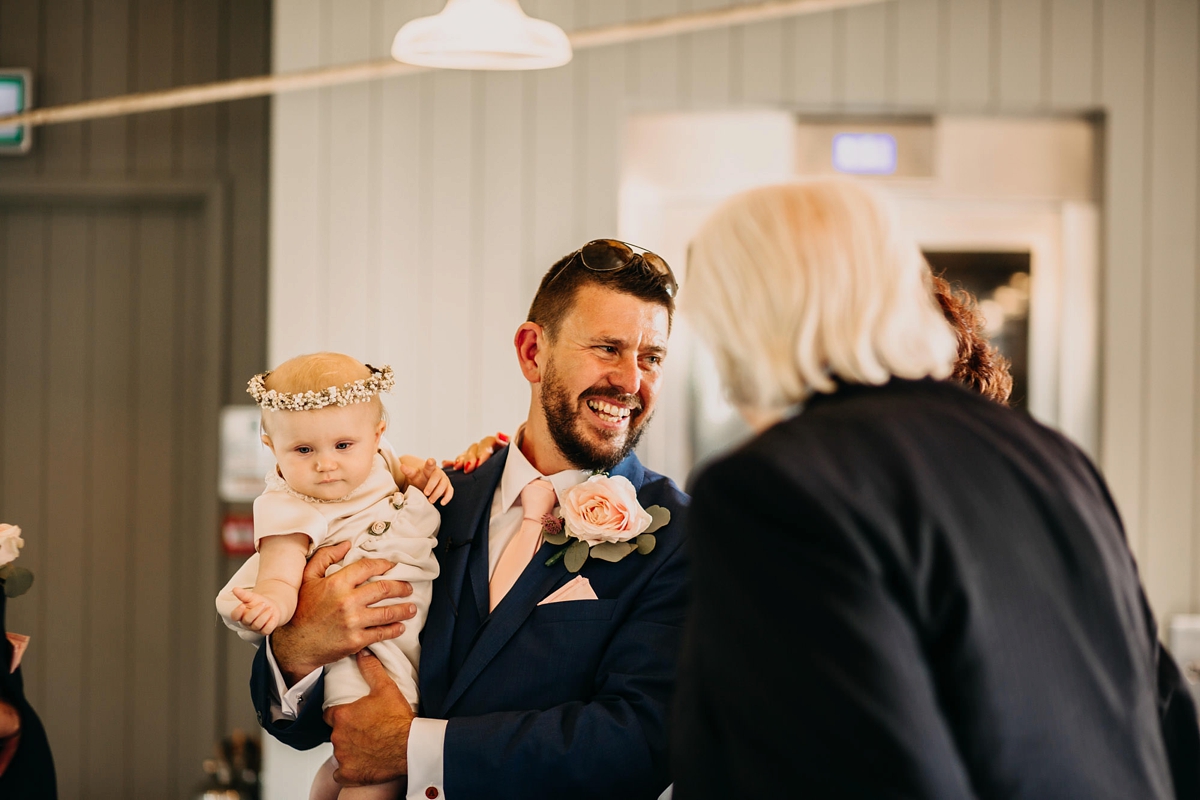 Suzanna was walked down the aisle by her brother to the sounds of Imagine by John Lennon played on the piano. The couple wrote their own vows for the occasion as writing is a special part of Suzanna's identity.
"Writing our own vows was something I really wanted to do as I did English Lit at uni, so writing is very special to me. It comes less naturally to Brett so it meant such a huge amount to me that he wanted to do it too. We wrote the first half of our vows alone and then decided to finish them by saying the same thing, which was; 'I promise to be faithful and supportive, and to always make our family's love and happiness my priority, I will dream with you, celebrate with you and walk beside you through whatever our lives may bring, You are my person – my love and my life, today and always'."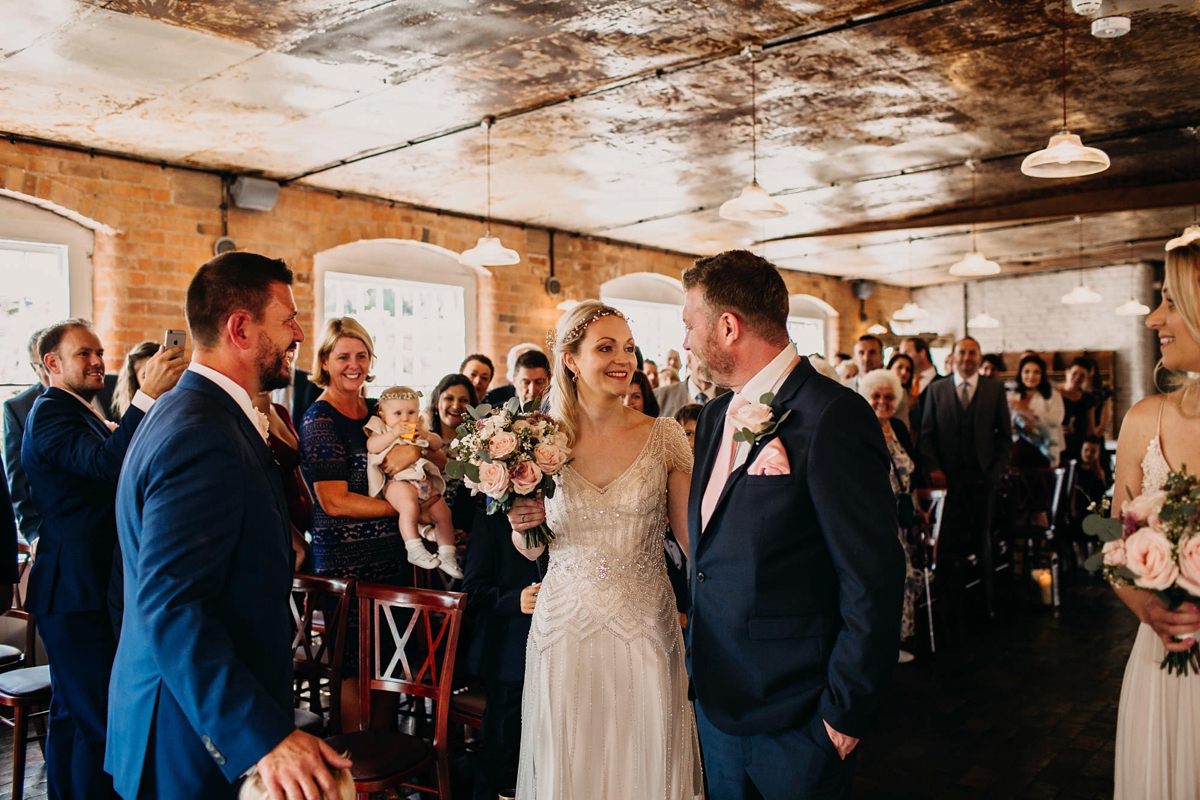 "We asked one of my oldest and best friends Steph to do a reading for us and we asked her to choose it herself, as we felt that would be much more special and heartfelt. She chose this quote called Wild Awake by Hilary T. Smith; 'People are like cities: we have alleys and gardens and secret rooftops and places where daisies sprout between the sidewalk cracks, but most of the time all we let each other see is a postcard glimpse of a skyline or a polished square. Love lets you find those hidden places in another person, even the ones they didn't know were there, even the ones they wouldn't have thought to call beautiful themselves'."
The couple swapped wedding rings, Suzanna's from Gardens of the Sun and Brett's from Goldsmiths.
"We actually opted for really cheap wedding rings. Brett works on a building site so he chose a titanium band, and I got a silver band with raw diamonds from Gardens of the Sun, a jewellers based in Bali who I follow on Instagram and love."
Following the ceremony and the signing of the register, the couple were greeted by a confetti shower thrown by their guests, and then went off into the venue's grounds with Ania for their couple's portraits.
The bridesmaids wore gorgeous off-white pleated and beaded dresses from Phase Eight at John Lewis and the flower girls looked angelic in dresses from both JQ dresses and Milly Wedding Shop on Etsy.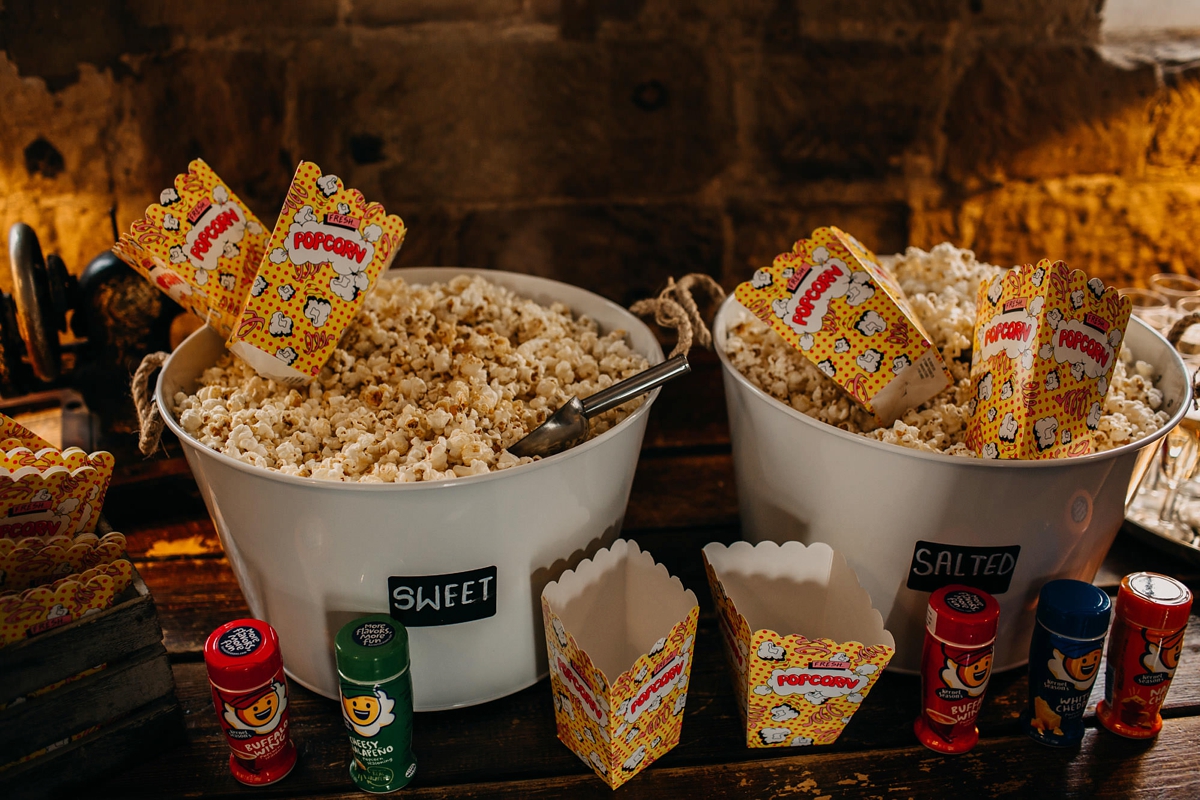 Meanwhile back at the venue, guests were welcomed with a drinks reception and music played by Essentially Brass, before heading inside for the sit-down wedding breakfast catered by Jenkinsons.
"The cakes were made by Emma as a wedding gift. She made an amazing rainbow cake for our children's joint 1st birthday party so I knew she would be amazing at this. I asked her and was so pleased when she agreed to do it. For the wedding cake we had a lemon and elderflower cordial cake, a chocolate and strawberry cake, a carrot cake and a victoria sponge to make sure all bases were covered. The wedding cake topper was made by another of my wonderful friends Phillippa."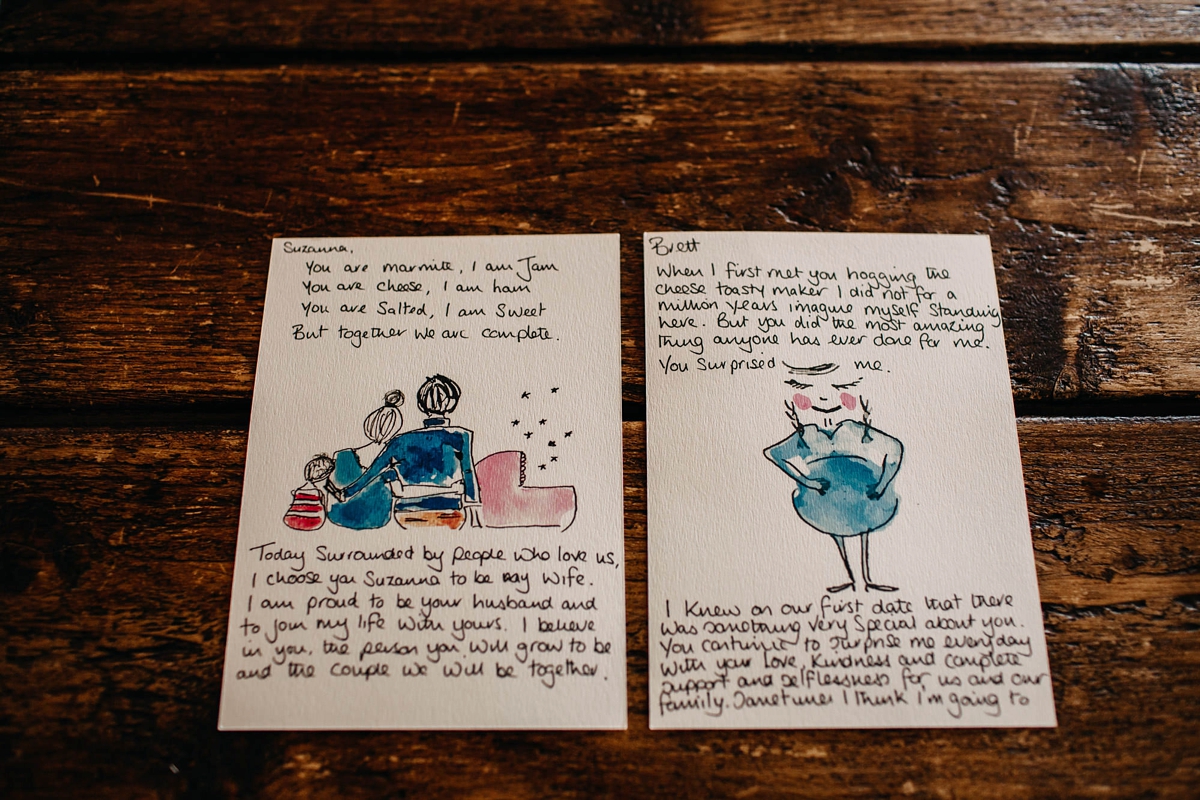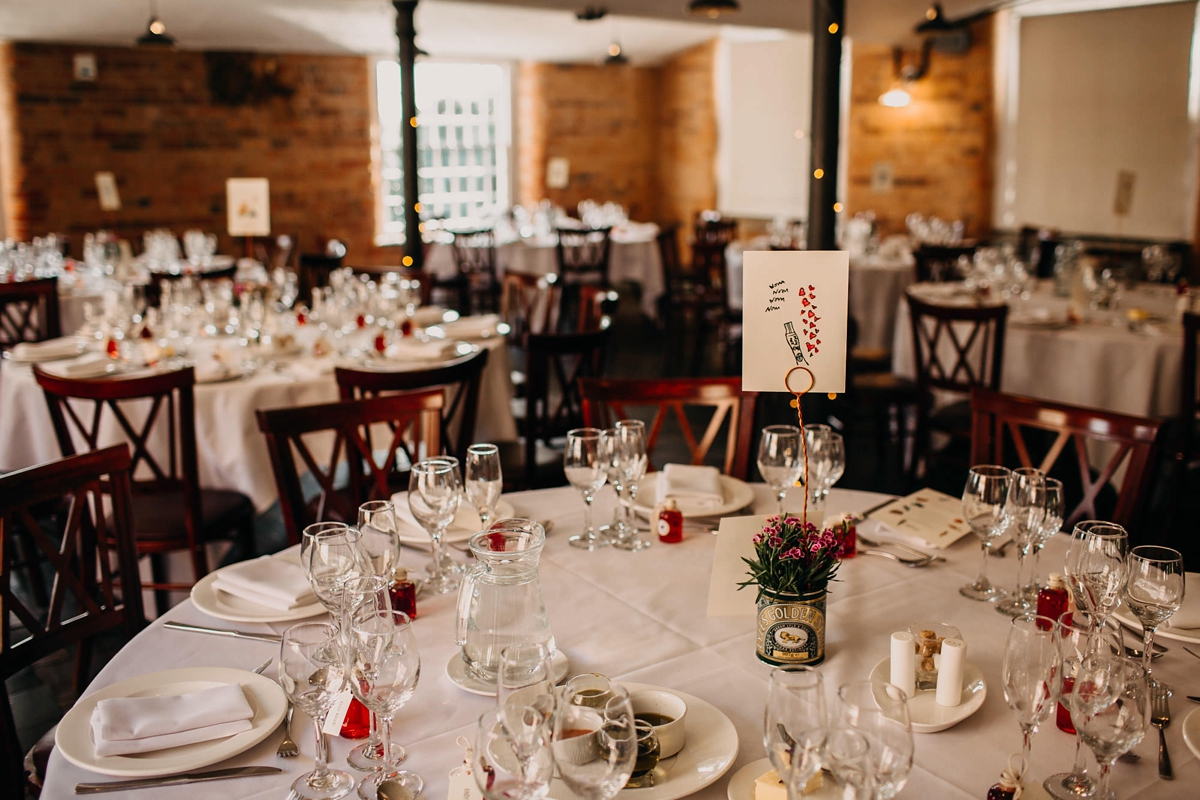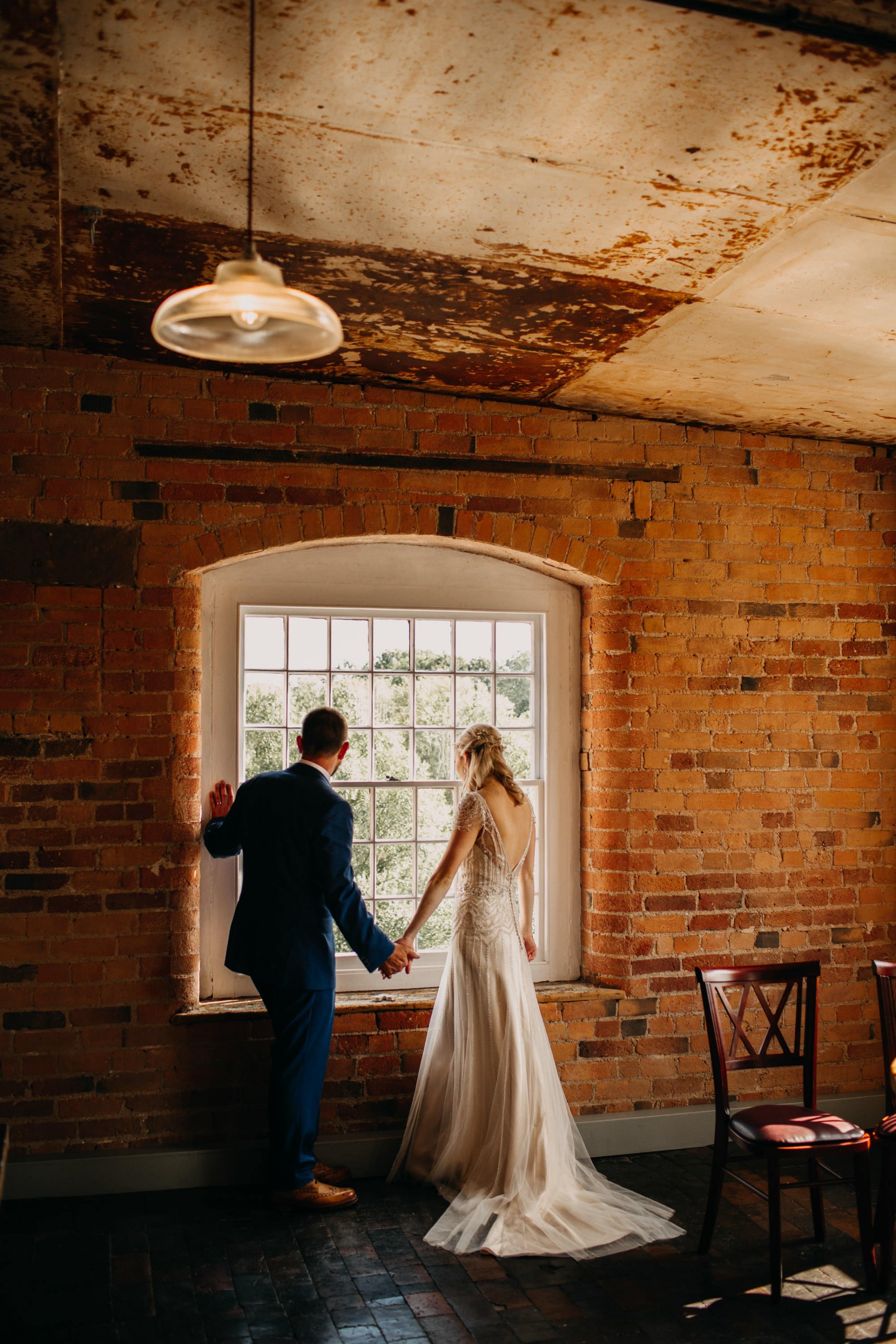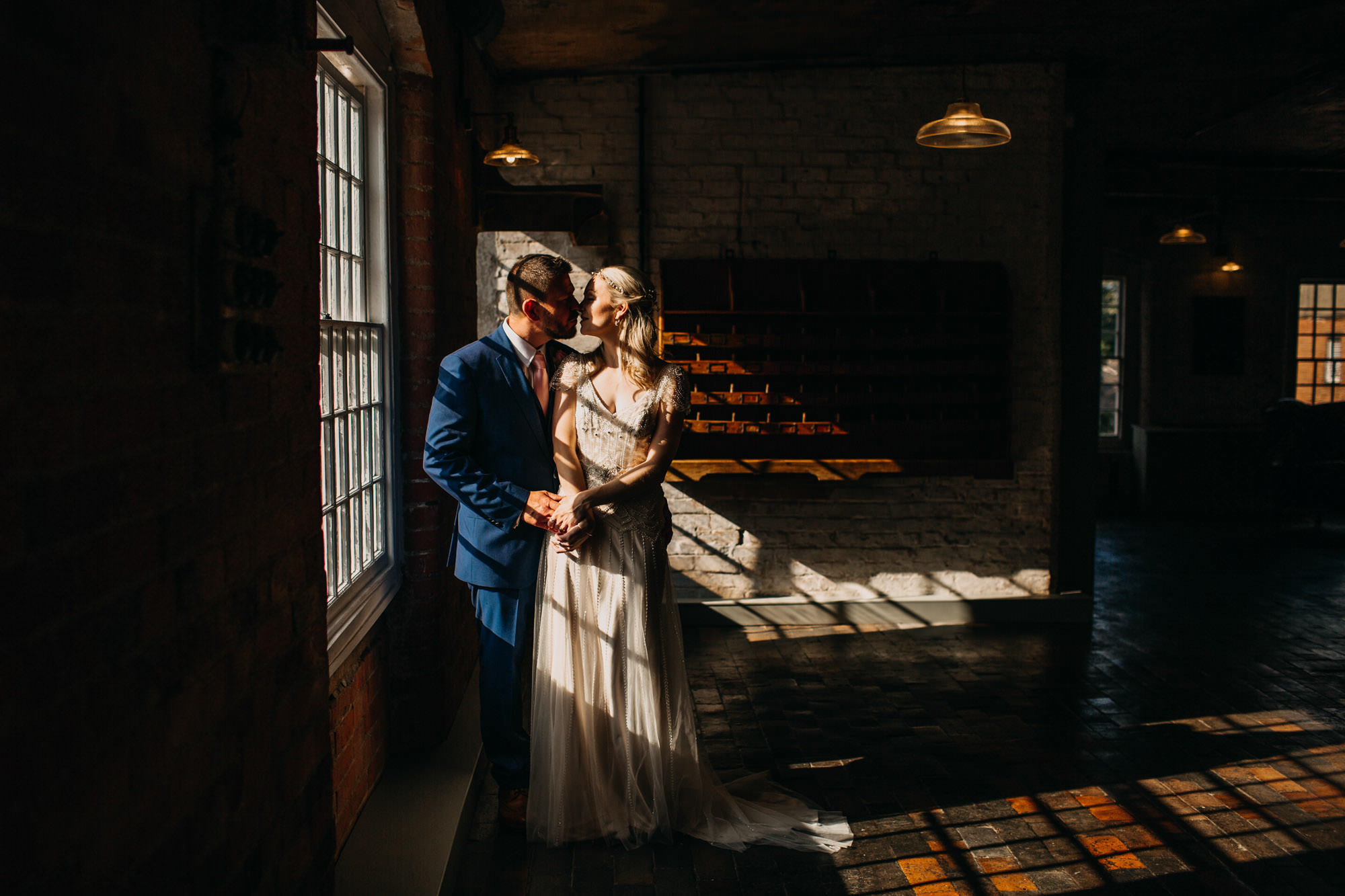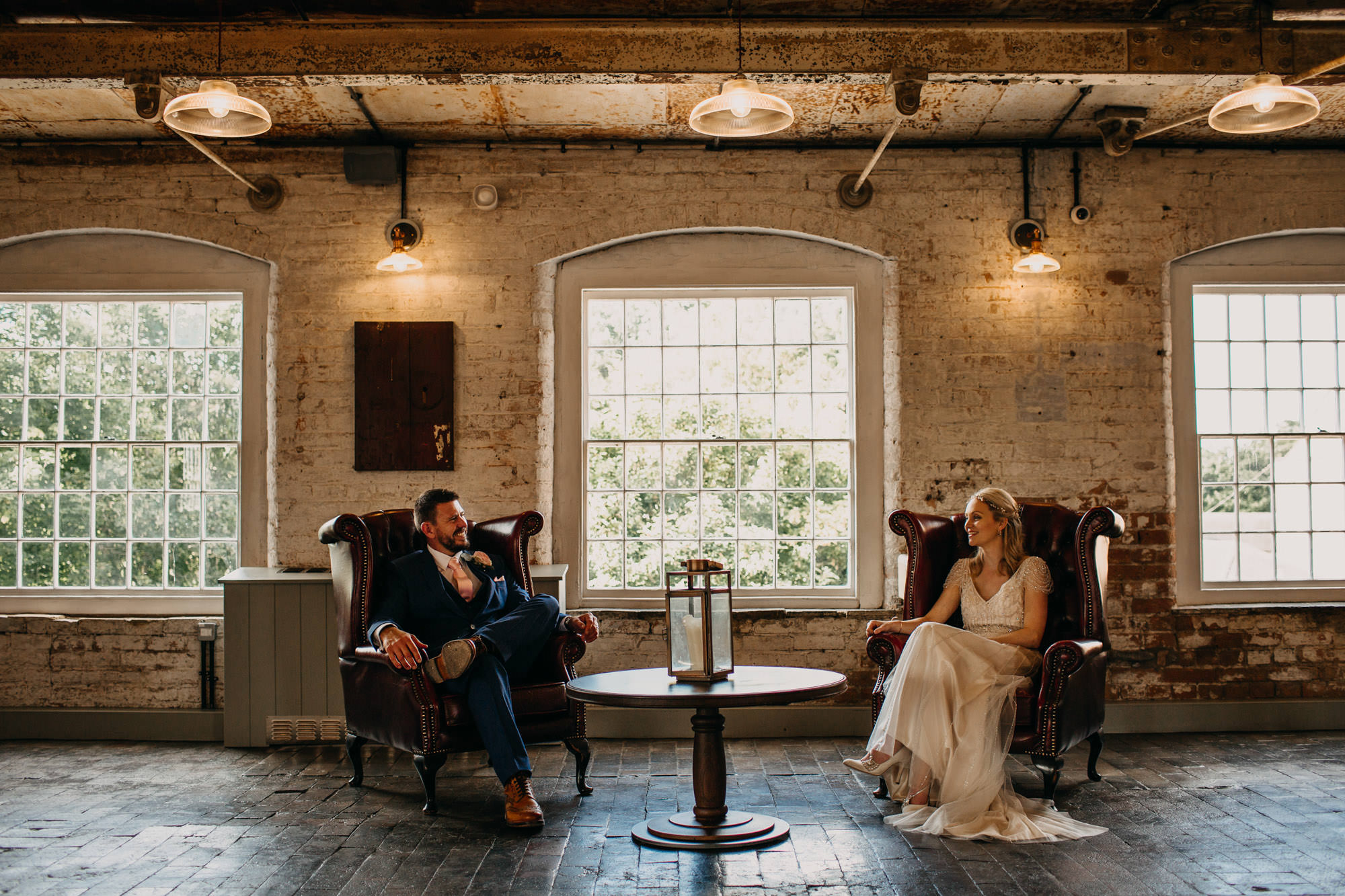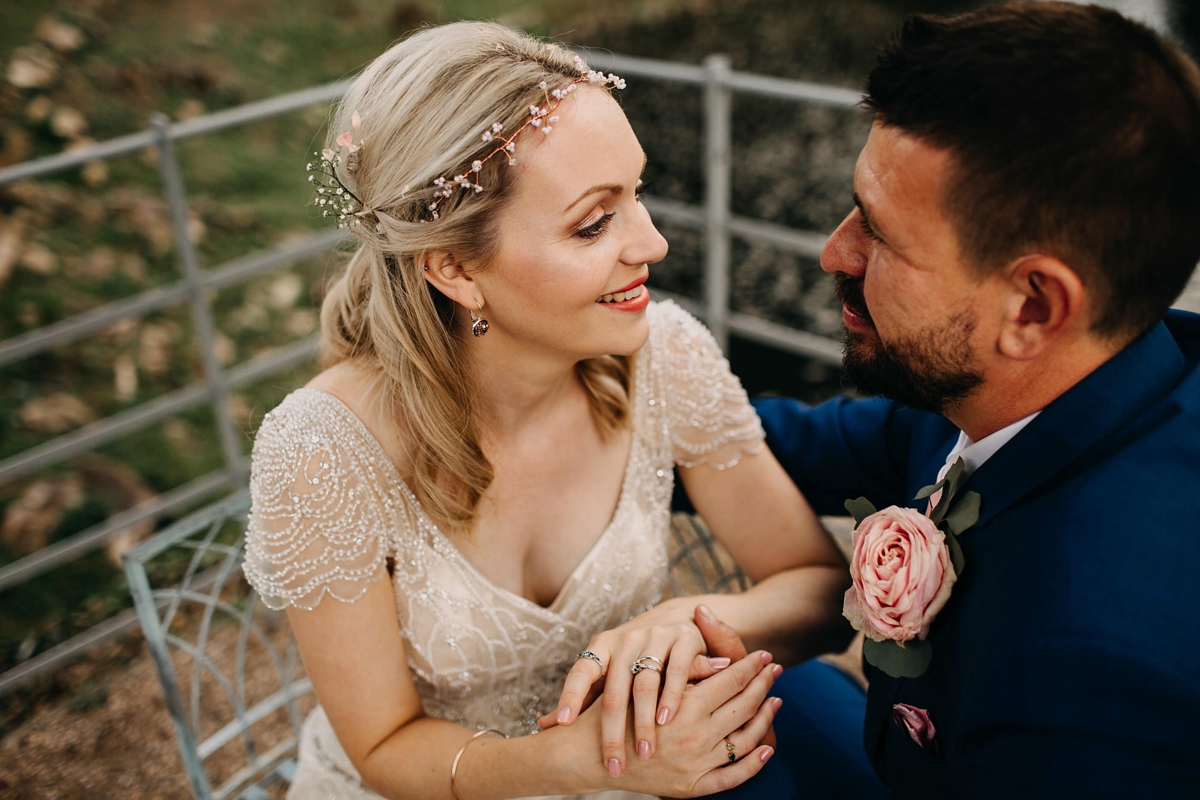 Looking back on the day, Suzanna struggles to pick just one part as her favourite, but seeing their children dressed so beautifully was a moment they could never forget as proud parents.
"It all went so fast! The drinks reception post ceremony when all the wedding nerves were gone and we could enjoy a drink in the sunshine with all the people closest to us and some fantastic music in the background was a definite high point! Getting back to our hotel at 1am and seeing our little ones jumping around excitedly on the bed was special too (yes, they made it to the very end and yes, we all had a family room on the night!). We wouldn't have changed a thing!"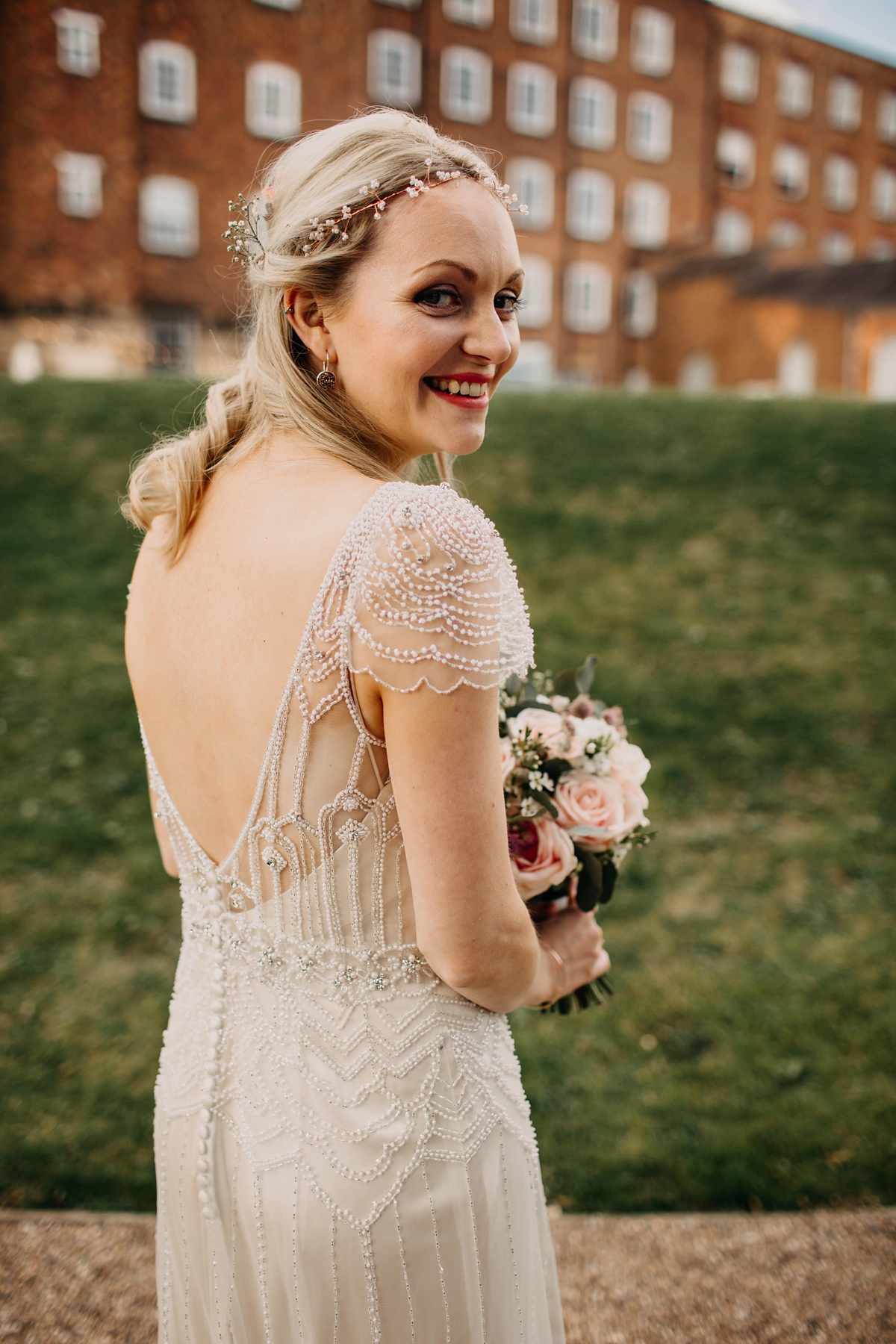 Words Of Wedded Wisdom
"It's your wedding day so you pick whatever you love and don't listen to anyone else. Don't get too tied up in the detail as you won't really notice it on the day and when or if you are getting stressed, don't forget why you're getting married in the first place! I had to plan the wedding with two tiny ones so my time was limited but I think that helped me not to agonise over every decision and just to trust my gut instincts. Also, accept the help of anyone who offers it – it's a huge thing to plan alone!"
What a gorgeous wedding and huge congratulations to the happy couple! You can see the warmth and love just radiating out of these images. A big thank you to Ania Ames for capturing it all so wonderfully on camera.
Until next time…
Much love,
Holly x
Taking centre stage was the gorgeous 3-tier white wedding cake lovingly created by Suzanna's extremely talented friend Emma, as well as a table featuring even more delicious creations.