Finding the perfect dress is the most important thing to any newly engaged bride which makes your designer very important indeed. Step forward Caroline Castigliano.
As one of UK's leading bridal designers she has been realising brides dreams for 27 years and cares about your dress as much, if not more than you do.
We caught up with one of our very favourite British bridal fashion designers, Caroline to discuss the how wedding dresses have changed through the years and how to find the perfect dress for you and there is always a dress to suit and flatter your body shape and leave you feeling your most beautiful on your wedding day. Over to you Caroline.
How would you say that bridal gowns (and what bride's want from their dress) has changed over the 27 years you have been in business?
In 1991 weddings were still mainly religious and the ceremony was at a place of worship, some weddings took place at a registry office but this was very different from weddings of today. Now civil weddings can take place anywhere, a castle, a vineyard, the beach – you name it and you can properly be married there! So I would say there is a change in the expectation of the bride, but not in her desire for perfection or for the day to be the most special and important of her life. But she has freedom now to express herself more openly, to wear a gown that is more risqué – to really live the dream.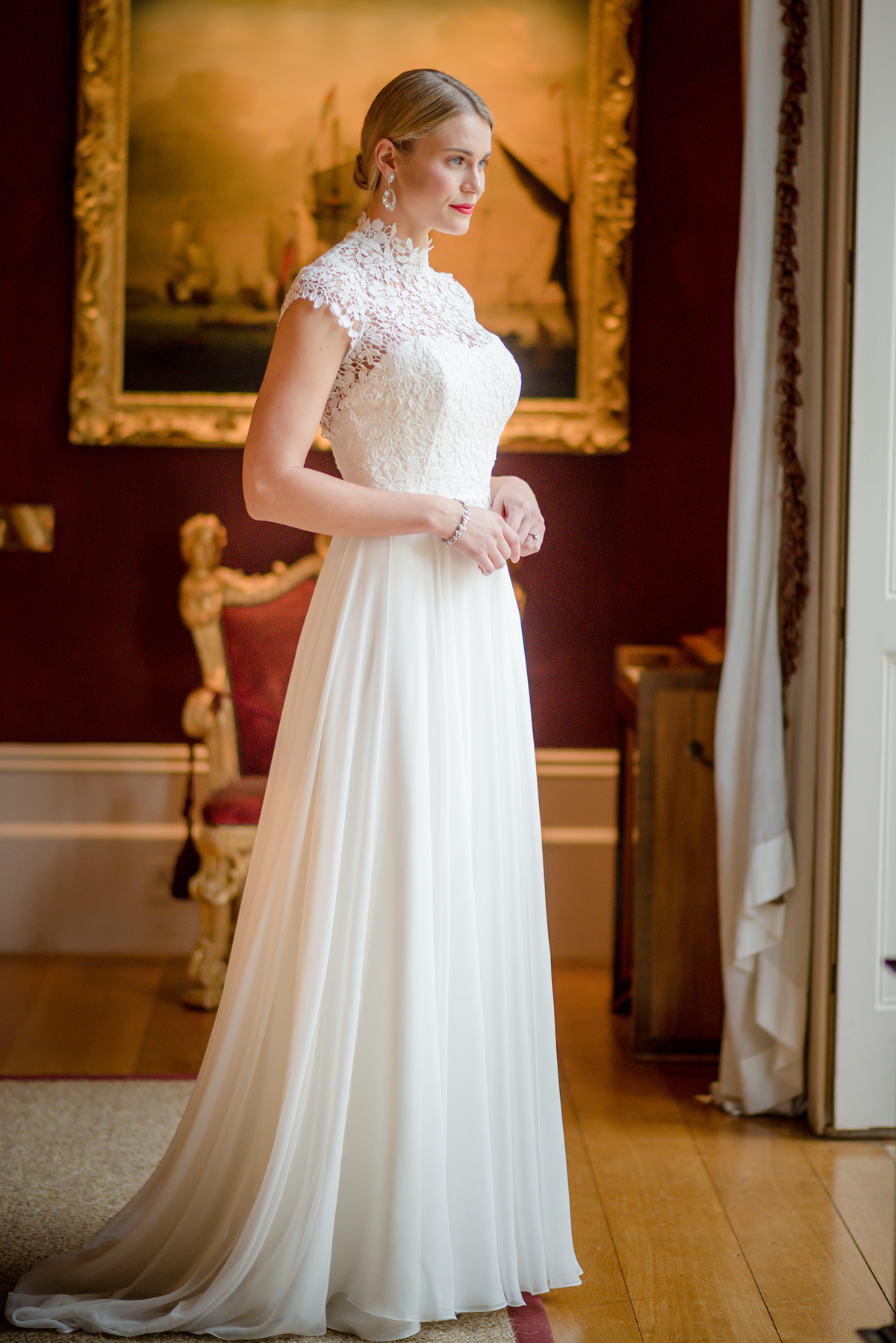 And what elements have remained constant?
I am well known for clean cut lines, and this has stayed constant over the years. I draw on fashion to create highlights within a design that is mainly classic, and most importantly the cut and structure that I have stayed true to since the beginning.
People always say they can spot a Caroline Castigliano, but how would you define the Castigliano 'signature'?
The Castigliano signature style is understated effortless glamour – beautifully engineered gowns in luxury fabrics.
How important is designed and made in the UK to your clients, and to you?
I think brides like to know that under the umbrella of MADE IN BRITAIN that time and precision has gone into the detail and the quality of their gown/dress. It is also impossible to create bespoke gowns within a factory environment or Made to Measure – these need hands on skilled technicians to create quality gowns.
So many designers have now taken their manufacturing abroad to gain more margin in their business- they immediately loose the quality and attention to detail as their clothes are made in large factories – slowly over time they cut corners and the product changes and they just have another standard dress.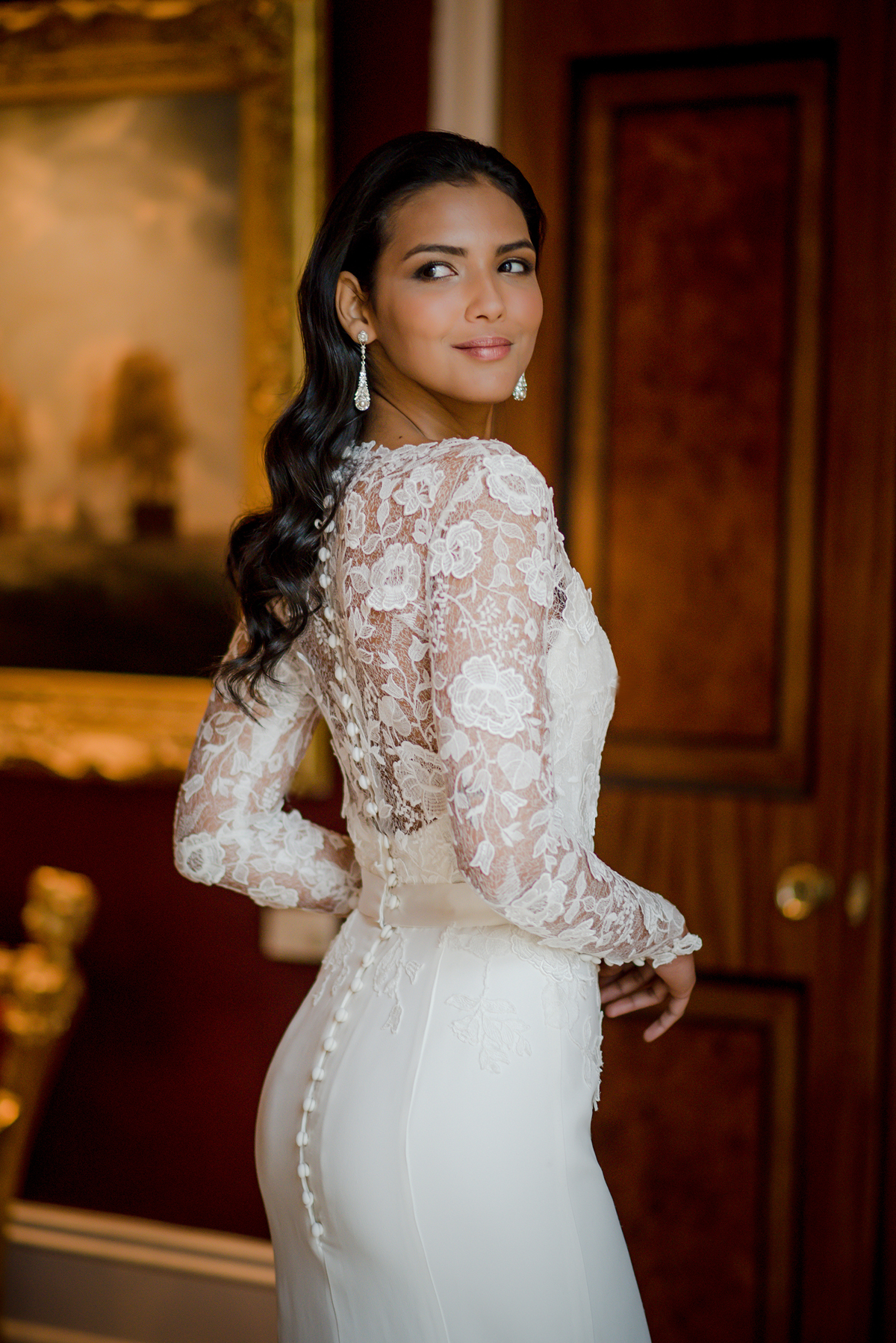 There are so many styles of wedding dresses to choose from the search can feel a little overwhelming. Initially, what should brides-to-be think about when setting out on their dress search?
Once they have booked the venue, and they have seen the room where they are going to have their wedding breakfast, they have seen the dance floor, they just want to think about that moment. When you leave the table and walk towards the dance floor with their now husband how is it that they want everyone to see them.
You don't need to know the shape of the dress, if you are working with an expert they will find the silhouette for you. What you need to know is what that dress is saying to people is it saying a very strong traditional look, soft and romantic, elegant and classic, vintage, boho. What is the appeal of the dress?
Without considering the silhouette decide on the vision – once this has been determined – go see one of our fantastic stockists and you will get advice. It is important to work with someone that understands silhouettes and fabrics so they can show you what suits you what creates a strong silhouette for you.
If you are 5ft you will suit totally different silhouettes to someone that is 5'8" tall – if you are full busted you will suit different silhouettes to a bride that is more petite. Once you get going it is all quite easy but it starts with that one all important question – What vision do I want my future husband and my guests to see when I arrive at the wedding.
Image by Rubie Love Photography – see more here on Love My Dress
In what ways can professional boutique stylists and designers help brides make the most of their figure – highlight assets and disguise any body hang-ups?
When choosing a wedding gown, it's important to find a silhouette that properly accentuates your figure. The cut and fabrics of your gown are essential for the beauty of your dress.
Fit is everything, a gown has to fit amazingly, it has to balance a person's figure, bring out all the fantastic elements and play down the things they don't like so much. They should look in the mirror and feel that they have never ever looked so beautiful; that they look the most beautiful they ever have in their life – that is the absolute key.
The art of designing brilliantly is when you can have someone who comes in who is 5 ft tall with a very full bust and she looks incredible in a dress and you can also take a dress on a girl who is 5'9 with a very small bust and make her look absolutely incredible. Design is about being able to take all the different body shapes and make them look stunning.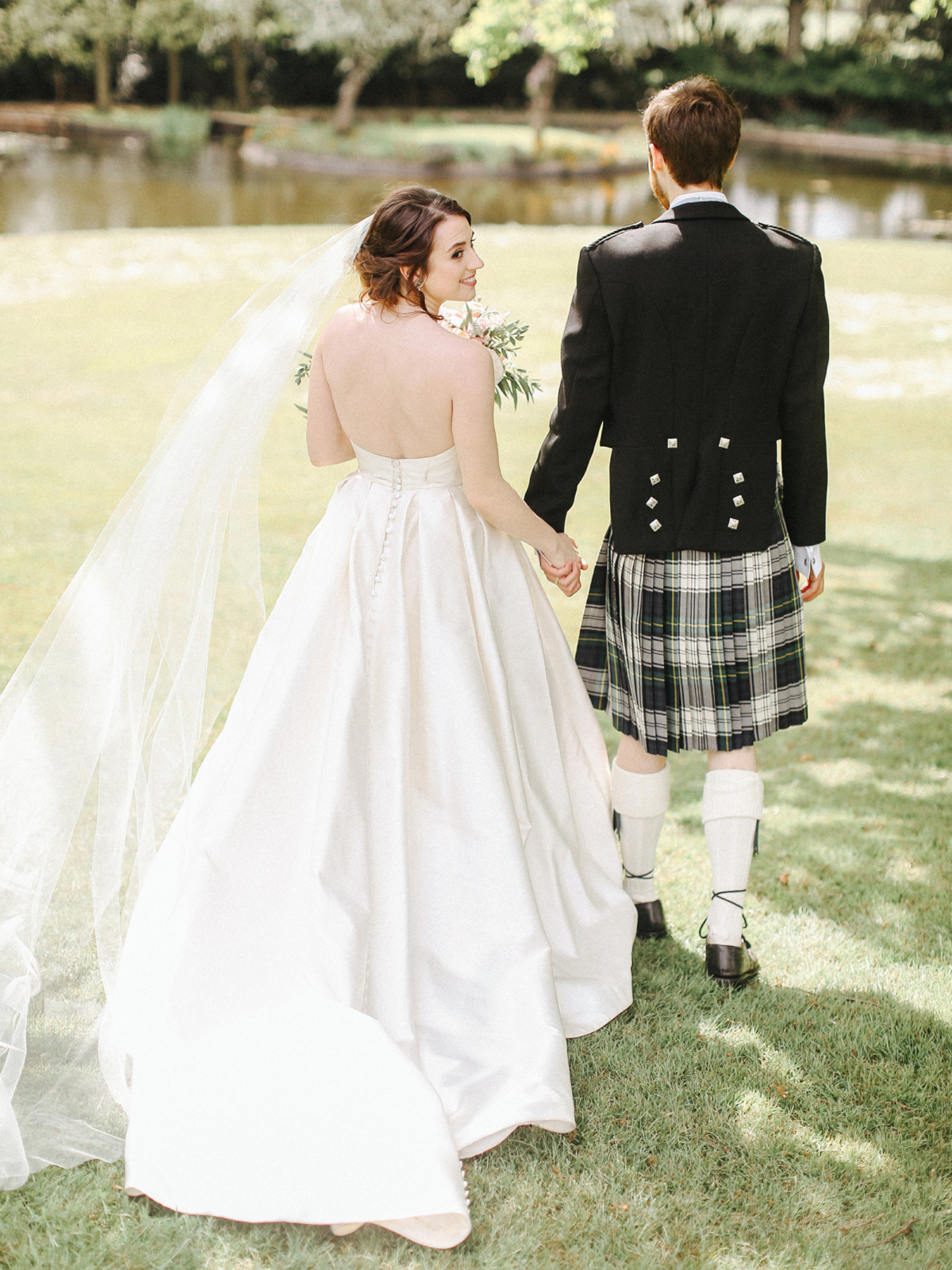 Image by Belle and Beau, see more here on Love My Dress
How do your dresses help to enhance the female figure while remaining comfortable?
Corsets are the engineering of our gowns, they are the foundation that everything is built around- each panel is hand cut to mould and sculpt the figure. They also have a very flattering effect on the brides figure, I design the corsets to really balance the figure and extenuate a small waist. I have a number of different corsets that create different effects depending on the design of the gown, nothing will ever compare to a beautifully structured corset creating the foundation of the gown. We have also developed a unique stretch corset that is to die for so while you are getting the beautiful balance you also get great comfort.
What other elements of their attire can help to improve a bride's posture, stance and confidence – any golden tips when shopping for such e.g. underwear, shoes etc.
I like to create a corset in as many of my gowns as possible as it really helps a bride with her posture. Even if you are slim with a perfectly balanced figure corsetry helps in every way as it makes you stand up straight and walk nicely with a straight back. It also effects the way she sits so ultimately has a sensational effect on all the photographs and videos taken on the big day.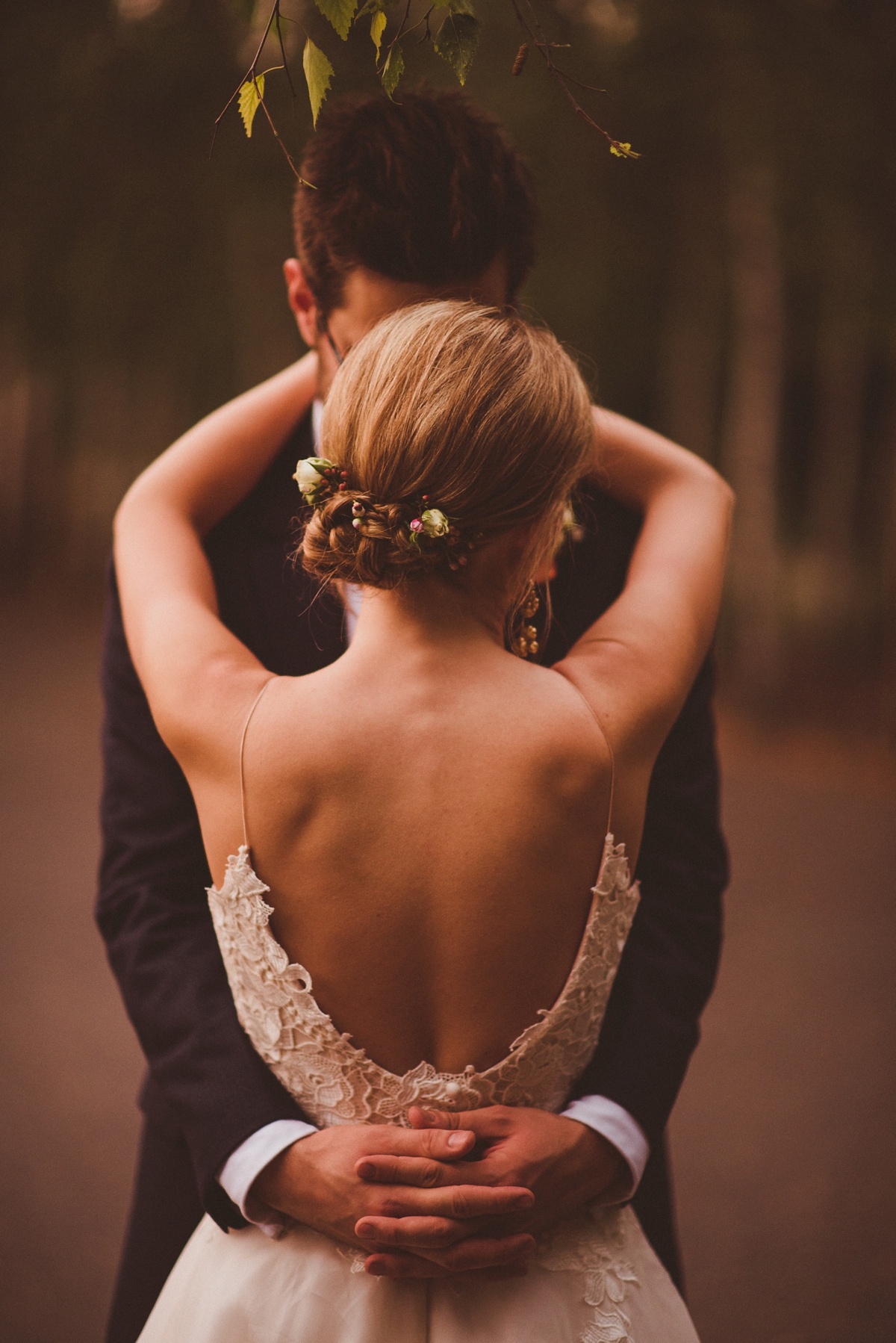 Image by  Matt Penberthy, see more here on Love My Dress
What styles of dresses – fit, fabric, length, detailing etc – would you suggest for the following figures/body types and which of your designs would you pick for each:
Athletic
Brides who have a straight body shape will find they have a less defined waist than most. Your bust and hips tend to be pretty balanced and you are not as curvy. This is known as more of a 'sporty' athletic body shape, and it is important, when picking a bridal gown for a straight structure, to enhance your waistline and create a soft curve on the bust.
Avoid: Strapless dresses can make your shoulders look broader than they are so avoid harsh necklines and column wedding dresses that have no definition in their shape as they won't give you a defined waist.
Look for: Bridal gowns with full skirts gives the illusion that the hips are wider than they will add a feminine shape to you. Look for  embellishment around the bust and necklines it is also good to have an off the shoulder strap as this draws the eye to the width of the shoulder and then gives the illusion that the figure is more curved as the eye leaves the shoulder to a small waist.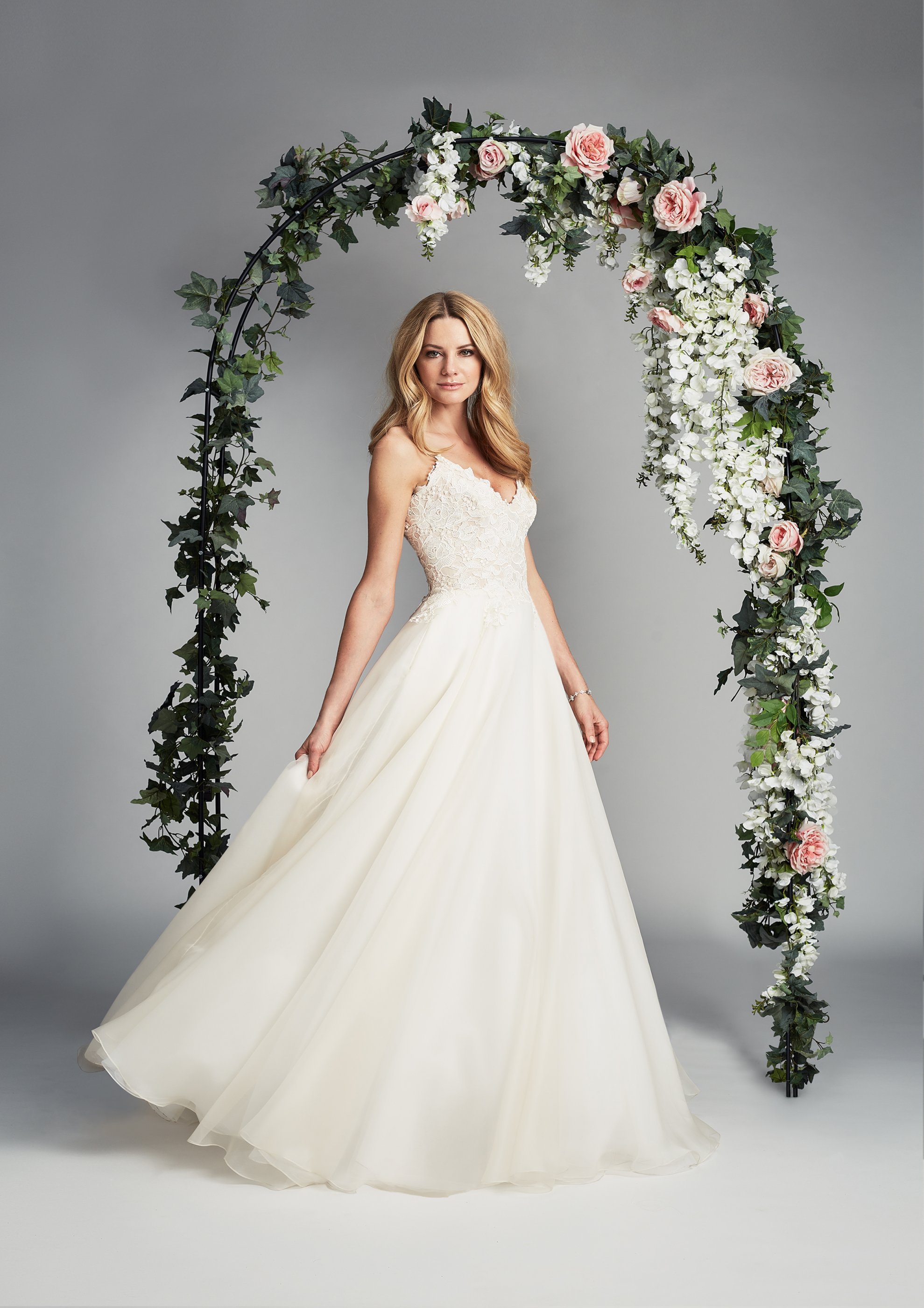 Tertia
Pear shaped – Ballgown shape or A line skirt
Look For: For a pear shaped body choose a ball gown. A waisted dress and full skirt accentuates the waist. These gowns will still show off your waistline and really flatter your body type.
A pear shape bride wants to really emphasise the top of the body, beautiful arms, lovely bust shaping and small waist – a corset will always redefine your figure and create a perfect balance between your bust and waist. Choose a gown with embellishment on the bodice or a beautiful lace, falling in to a full or A line skirt.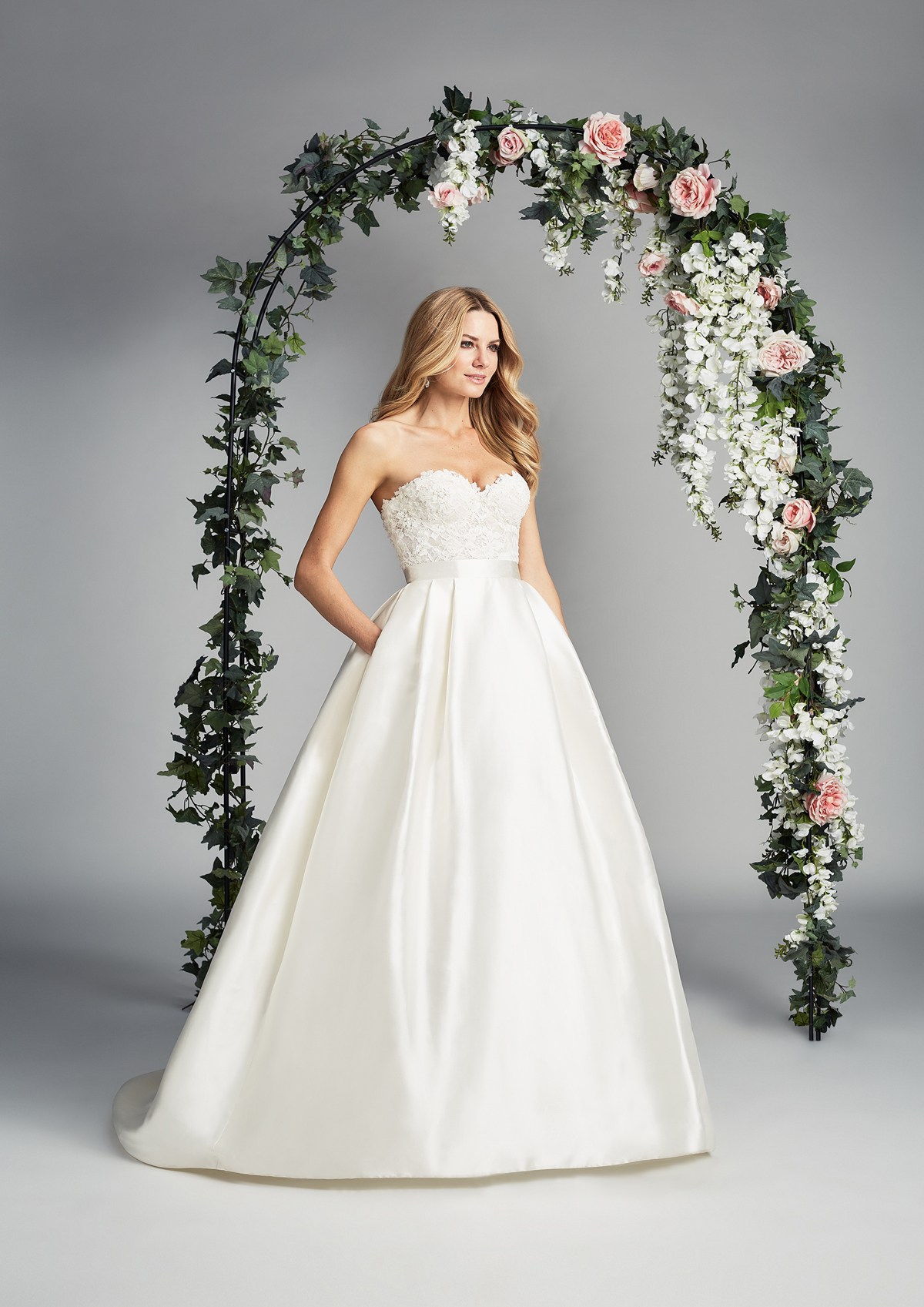 Everlasting
Tall
Look For: Strapless, dresses with shape, waisted and fit and flare. Soft fishtail looks excellent on a tall bride.
Wear a strapless gown to draw down the eye and give the optical illusion that you are not quite as tall but remember height is a wonderful thing and gives you loads of options with bridal gowns.
Avoid: Boat necks and column gowns as these will simply make you look taller.
Petite
Look For: Boat necks and column dresses. Designs that have high neck lines that make you look taller, the silhouette can be ball gown or fit and flare.
Avoid: Strapless as this will give the illusion that you are shorter.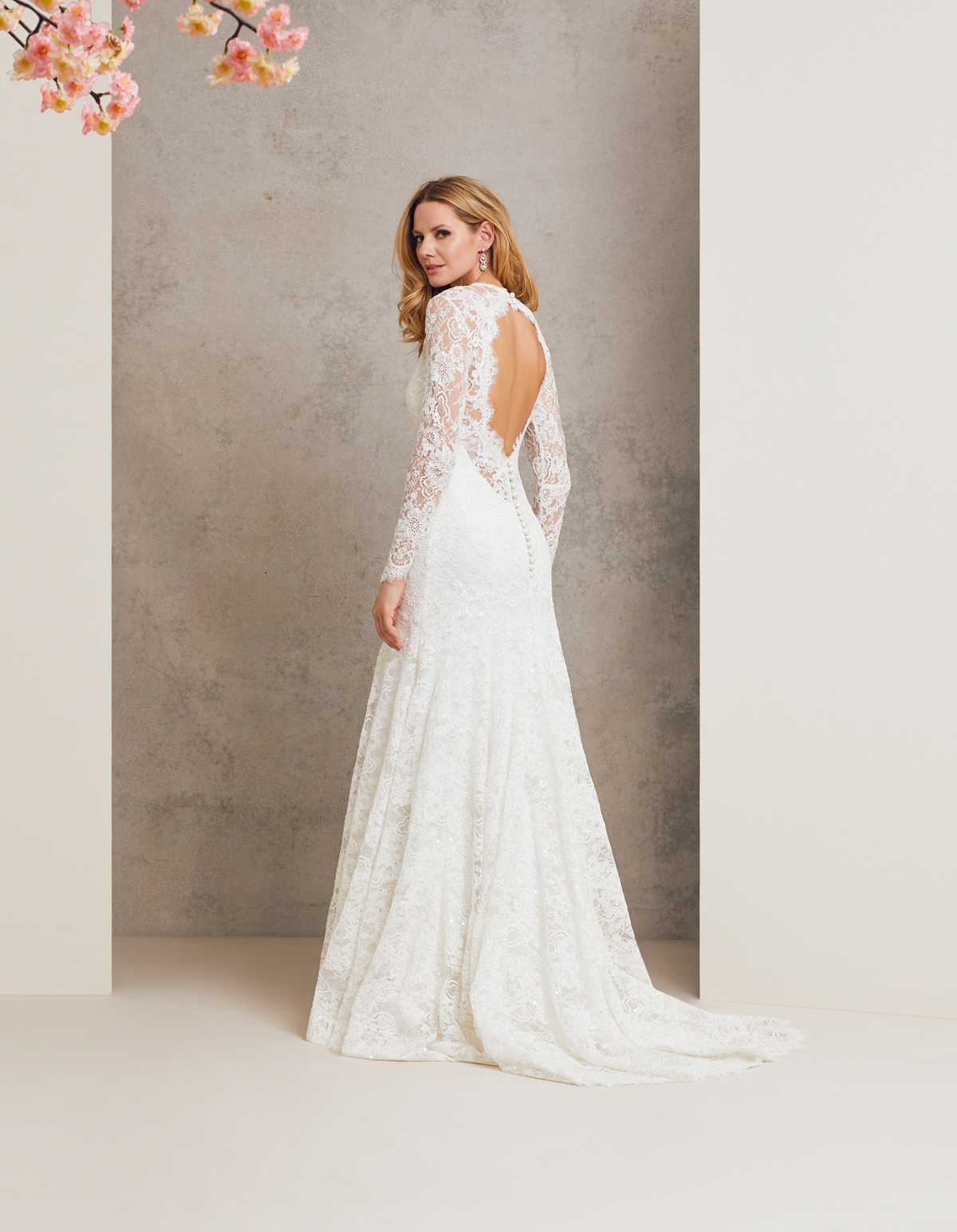 Falling in Love
Small Busted Body Shape
Brides with a smaller bust have more option when it comes to styles, but need to make sure there is enough detail/style in the top half of the dress to balance out the small size of their upper body.
Avoid: Sweetheart necklines and a strapless dress may not be the most flattering thing to wear if you have a smaller bust.
Look for: Dresses with lots of upper body detail are much easier to wear with small bust and you even have the option of wearing backless dresses as less support is needed. Slender designs are really flattering but so are fuller skirts and ballgowns – small busted always looks good with a boat or crew neck bodice on a gown and this is really fashionable right now.
Best Styles: Backless wedding dresses
Hour glass
An hourglass figure is similar to the pear body shape, however the shoulders and hips are perfectly balanced and the bust is more apparent. Brides with this body shape tend to have an extremely defined waist and very curvaceous assets.
Avoid: Try not to add weight to your bust or hips as they are already perfectly balanced. Empire wedding dresses are a 'no' and dresses with heavy embellishment on the bodice emphasise the bust and make it look larger, princess-style skirts will be less flattering
Look For: Dresses that are very fitted around your waist will look the most stunning and corsets will be fabulous on your figure . Opt for a sweetheart neckline, this is feminine and works well for keeping the bust and hips balanced.
Best Styles: Wear a gown that accentuates your waist, this will show off your best asset, and understated but beautifully cut gowns will work really well on your figure and give you a powerful strong vision yet at the same time be understated.

Carousel
Plus size
Big is beautiful!
It is important to take into account your height when choosing your gown. Remember that you do not want to cover up, this is not flattering ad does not 'hide' it emphasises rather than plays down.
Look for a gown with a corset that will really create a beautiful silhouette and balance your figure while also helping your posture.
Look For: Pick an A-line gown with a scoop or V-neckline to flatter the top part of your body and draw the eye upwards. V-neck lines are very flattering, A line skirts or a fit and very full flare skirt.
Lace shrugs or lace bodices with delicate laces not heavy bold laces.
Avoid: Completely covering an ample chest makes it look bigger, boat neck lines are a 'no'. Don't wear a heavy sleeve in a crepe or duchess satin, if you want to cover your arms choose a delicate lace where the skin tone shows through.
Selected gowns are available through Caroline Castigliano stockists – find your closest stockist on the Caroline Castigliano website here.