Happy Tuesday lovelies! I hope you've all had a really wonderful Bank Holiday weekend. I'm absolutely delighted to share this sunshiney, outdoor wedding with you all today to ease you into the working week. Join me on a trip to the beautiful Northumbrian coast for the summer wedding of John and Carly.
On 21 July 2017 Carly and John married in an outdoor ceremony at Northumberland's Newton Hall, Newton By Sea. The couple wanted to host the best party they could for their guests, and they were drawn to Newton's incredible setting right on the coast. They took the natural countryside as the main inspiration for a day in which they, their family and friends could all relax and feel at home, with pretty whites and green hues running through the floral design.  Carly looks incredibly glamorous in her Pronovias gown. She found it at the Spanish brand's store on New Bond Street, London. The illusion neckline and asymmetric detailing is so flattering, and the skirt looks so romantic layered with her long veil.
"My mum and my sister (maid of honour and best friend) had made a couple of appointments at bridal stores initially just to get a feel of what kind of style I was looking for. I had no idea that I would find the dream dress on that first outing. The dress was the seventh I tried on, and I know it sounds like cliché, but I just knew that was 'the one'. I felt such a wave of emotion and began crying when I saw it on in the mirror, as did my mum and my sister."
Photography Matt Penberthy
Matt Penberthy was commissioned by the couple to capture their day, and what fantastic photographs he's created. His use of light is spectacular, and those seaside portrait shots….
"Our photographer Matt Penberthy was exactly what we were looking for. Someone who would help capture the special moments throughout the day with natural shots. He was so friendly and not pushy in the slightest, he mingled happily with the wedding guests and we barely noticed he was there. He advised us on what would work best for our formal shots and he is so polite and easy-going when trying to usher the herds of people into place. He also suggested a fabulous idea of doing a twilight shoot on the nearby beach for our portrait shots and the results are just stunning. He really made us feel very relaxed and we had so much fun in the process. We would highly recommend him!""I had always said I didn't want a veil but the lovely seamstress Teresa from Pronovias who helped me with my fitting suggested she had the perfect veil to compliment the dress… of course she was right and I ended up with a five metre long veil from Pronovias too. Top tip; always be open to trying things out before you say no!"
She chose baby pink heels from Carvela for extra glamour, and a special Swarovski bracelet from her sister Abby.
"I'm a heel kind of girl. I wanted something that was a little different that I knew I would be able to wear all day, from vows to dance floor. I tried so many shoes on, and in the end chose a baby pink pair of Carvela's. Reasonably priced, comfortable and worn several time since!"
The white peonies in Carly's bouquet are so beautiful, and I love the natural countryside effect offered by the fresh green foliage.
"With the flowers, I knew I wanted plain and simple. Our florist Catherine Turley was just amazing at advising what could work, and she was just so easy-going and helpful through the whole process. With the help of Catherine we went with white peonies and white rose posies for the bridesmaids' bouquets. She also helped me choose something quite unique, and in my mind absolutely stunning, for my bouquet that completely complimented my dress. For the finishing touch, we teamed this with simple button holes for the groom and groomsmen."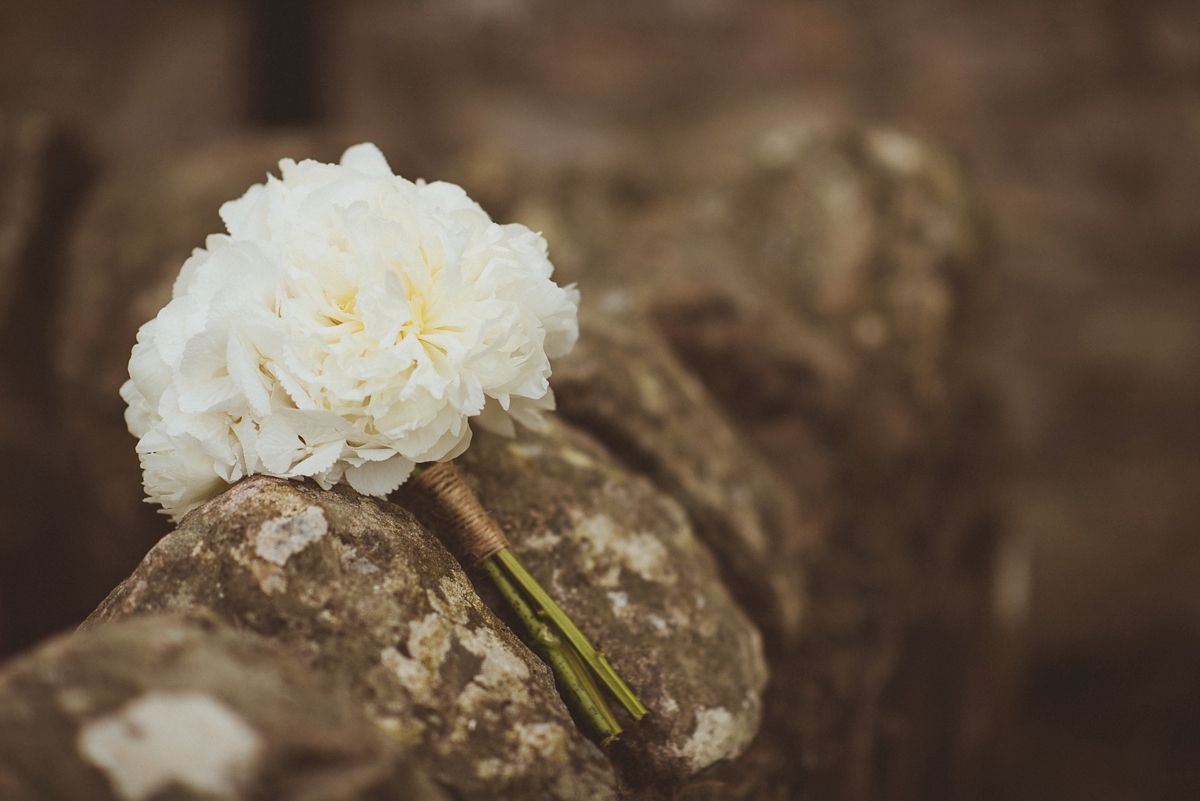 "We mirrored this style throughout the tables and flowers for key areas of the ceremony; simple whites, greens and grasses that brought a little bit of the Northumberland fields to the event. I can't recommend Catherine and her company highly enough. They did an absolutely amazing job."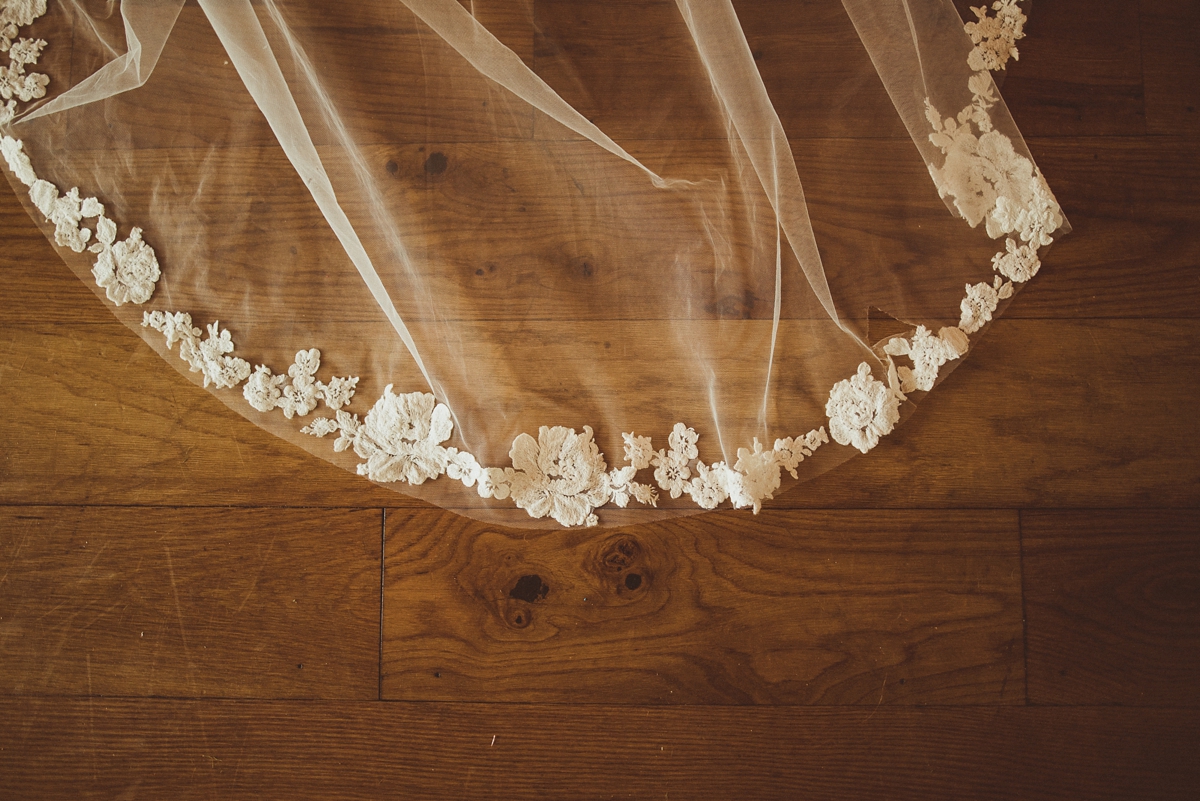 It sounds as if Carly was surrounded by so much support whilst she prepared on the morning of the wedding, and the relaxed and happy atmosphere really shines in these photographs. The bridal party stayed at Newton Hall the night before the wedding, whilst the groom and his groomsmen stayed in the Hall's sister pub.
"My dear friend and hairdresser Carly who owned her own salon in Shoreditch, London, styled my hair. She was five months pregnant at the time and had the most beautiful bump. We lived together for a while and whilst she was doing my hair, we reminisced over happy memories of late nights dancing to Fleetwood Mac and laughing at how our lives had changed since we first met, long before wedding rings and bumps. It was emotional but amazing!"
"My make-up artist Danielle Hall was great. She made me feel so relaxed and helped calm my nerves when I had a bit of 'a moment' whilst getting ready."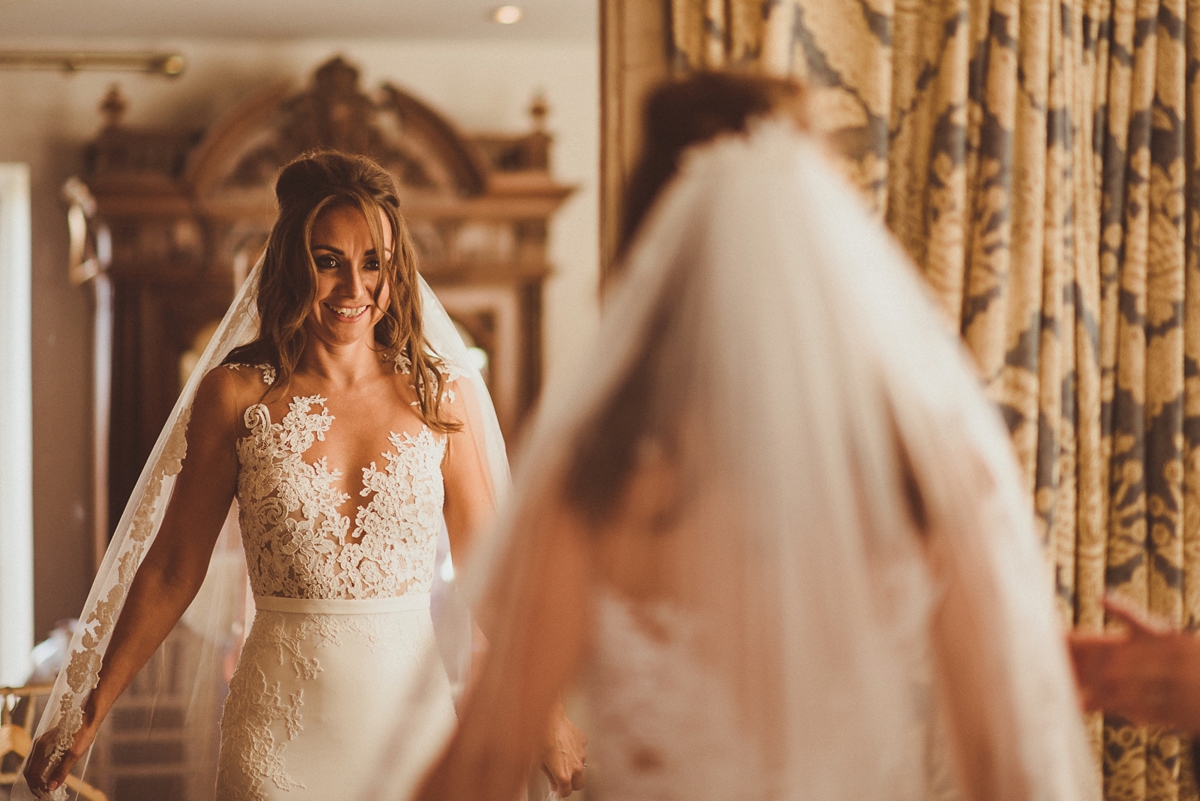 Carly chose for her bridesmaids to wear black, and don't they look elegant in these floor-length evening gowns?
"From the moment we started planning the wedding I knew I wanted the bridesmaid dresses to be black. But so many people had a negative opinion of that, that we tried every different colour under the sun, none of which I liked. So we came back to my first choice, black and I'm so pleased we did. My sister and I have a very special friendship and I knew I wanted her dress to be a different style from the other three bridesmaids."
"Her dress was a sweetheart-style fishtail dress called Mina by Elle Zeitoune from littleblackdress.co.uk. The other bridesmaid dresses were Watters purchased from a gorgeous little store in Newcastle called Laura Lea Boutique."
"Chanel Allure has always been my scent. One of my great friends and bridesmaids Michelle gave me a bottle as part of a gift the night before the wedding."
The couple met at work, bonding over their Northern roots.
"As the only two Northerners in the London office, we bonded over mid-week drinks and the rule of the 'round'.  Eight months into our 'friendship', I was offered the opportunity to work and live in Toronto for a few months. A couple of months into my stay there, John came to visit and made me the happiest person ever when he proposed on a gorgeous sunny day, on a secluded area of the beach on Centre Island, Toronto. Our relationship has been a bit of a whirlwind romance, but they say that when you know, you just know, and we certainly did. We were engaged for almost two years before we got married – even with John's spreadsheets it still took that long to plan."
"We were so sure that we wanted everything to be very natural. Newton Hall is such a gorgeous venue, in the most stunning setting of the Northumberland coastline, and we wanted to ensure that all of the elements of the wedding reflected that beauty."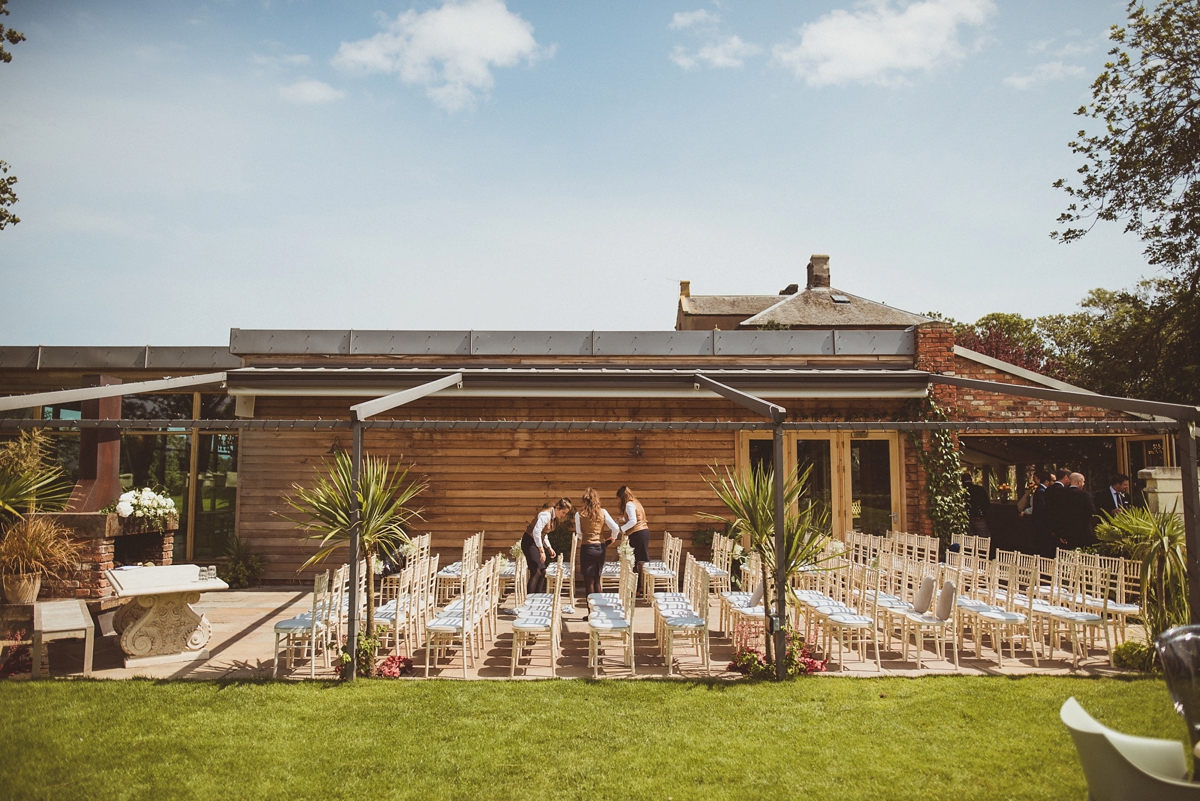 The July weather was absolutely beautiful, meaning the couple could say their vows on the Hall's patio, surrounded by the lush green gardens. Carly was walked down the aisle, which was decorated with beautiful bunches of natural flowers, on the arm of her mum's partner and her father figure, 'Big Phil' as 'Crystal' by Stevie Nicks played.
"My mum brought my sister and I up listening to Stevie Nicks. She has a kind of magic around her that we've always shared. This particular song just spoke volumes about my husband-to-be and the special bond with my mum and sister."
John's outfit was a mix and match affair, with trousers from Hugo Boss and a jacket, shirt and pocket square from Reiss. The groomsmen looked equally slick in modern, slim-fitting suits from Marks and Spencer, and the page boys so summery and fresh.
"John's nephews Ralf and Jake were dressed in light khaki shorts, white shirts and waistcoats from Next."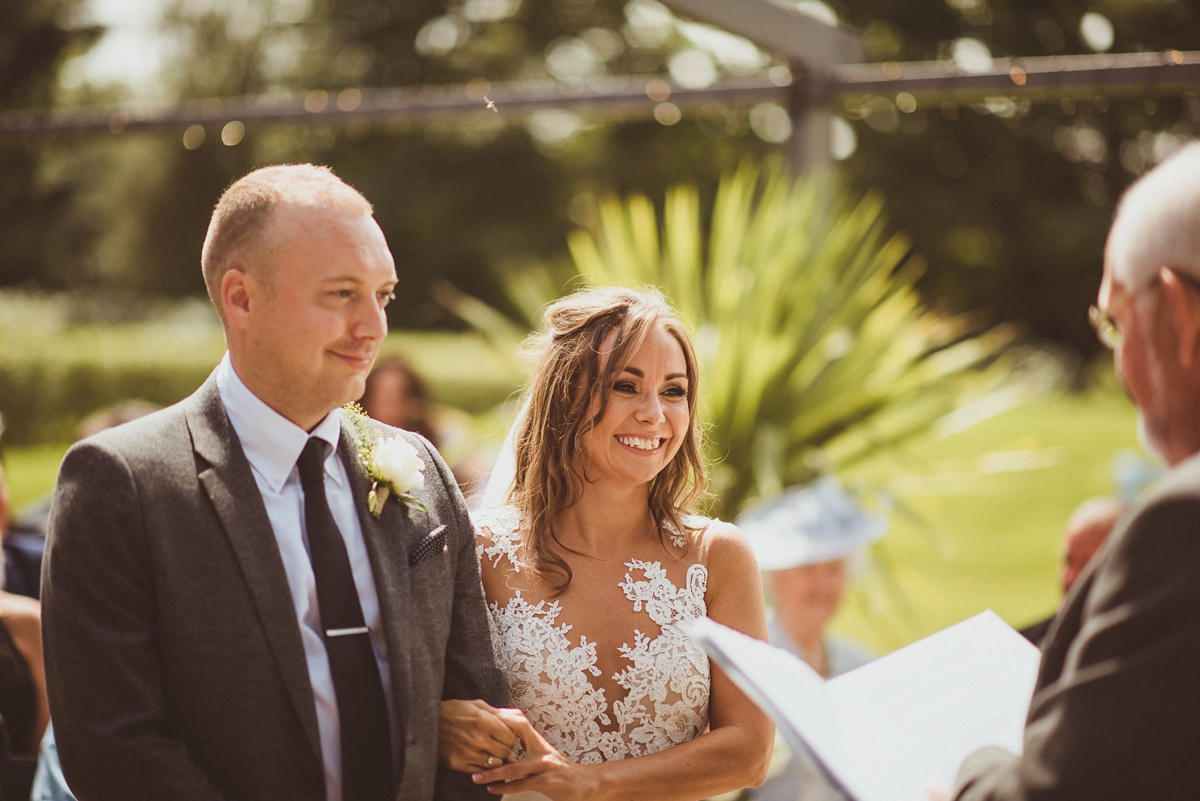 "We had two readings at the wedding. John is a Liverpool supporter and his friends Carla and Ben did an absolutely incredible job of reading the words to 'You'll Never Walk Alone'. Beautiful words, but very difficult to just read and not sing! I searched high and low for a reading that wasn't standard and just reflected how I felt… it was tough!"
"In the end, I found some words that came from 'Game of Thrones' (I actually don't even watch it but they seemed so apt). My dear friend and almost brother, Jones, and his gorgeous wife-to-be, read it in English and Welsh which was really special as we had Welsh family present."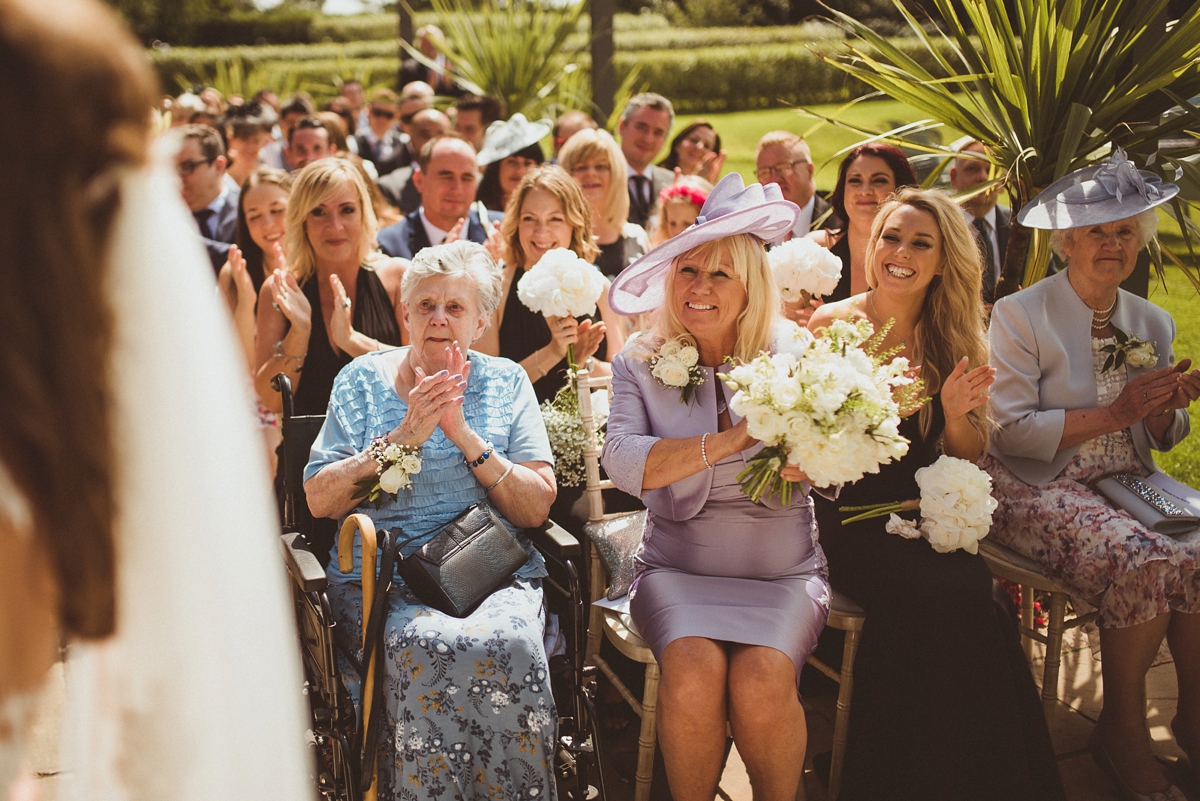 The couple exchanged simple wedding bands from Hatton Garden.
"My engagement ring is from Birks in Toronto, which has the Royal seal of approval so we were quite content in having plain wedding bands."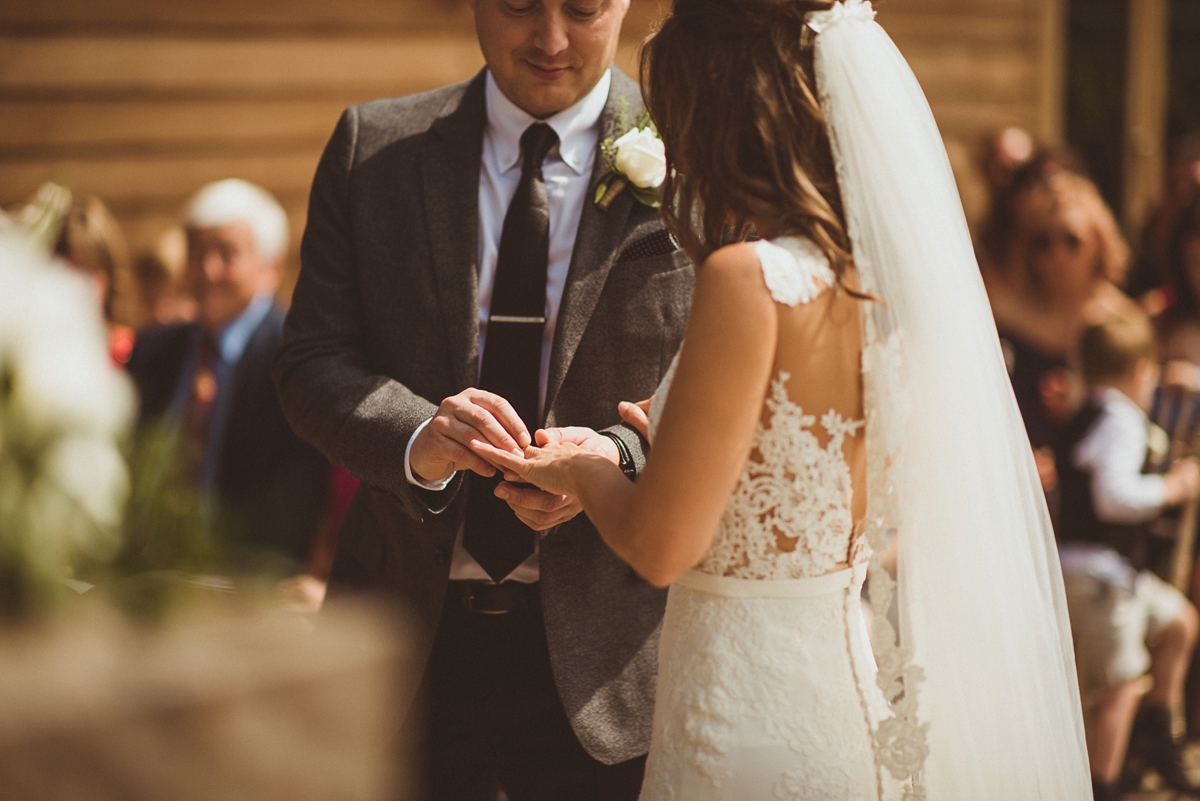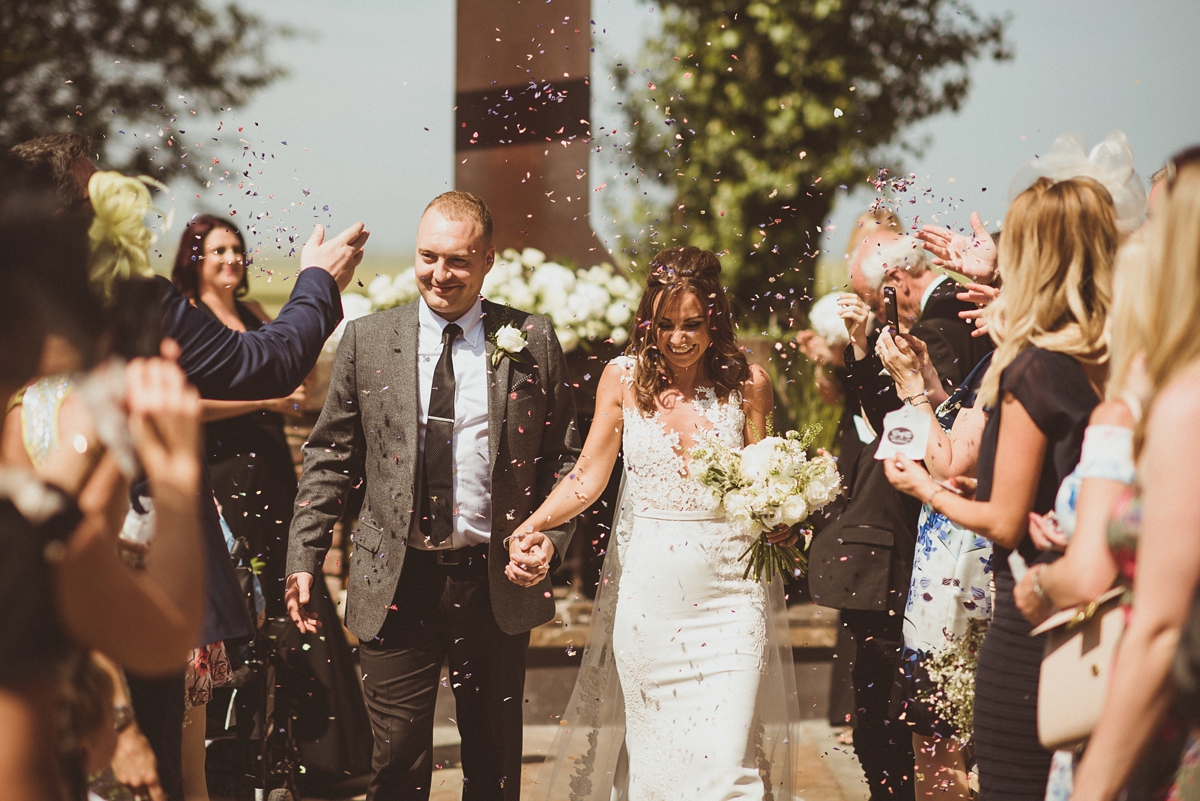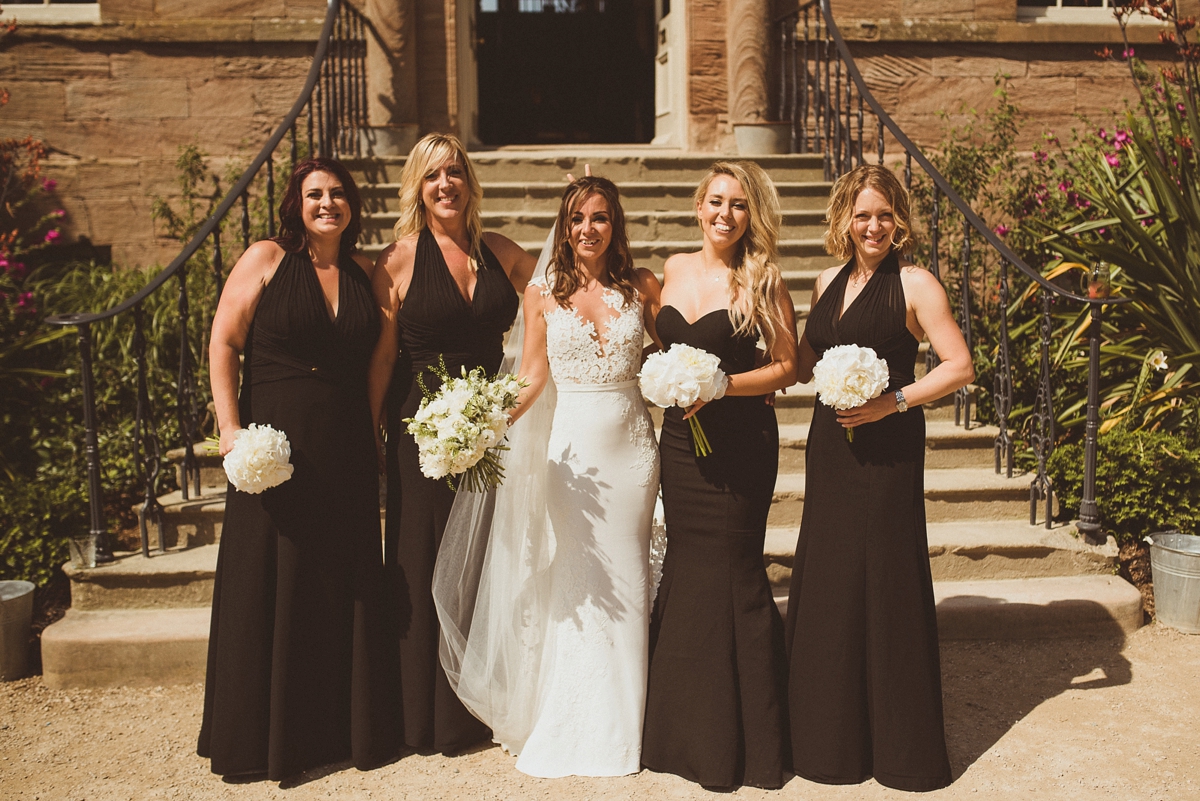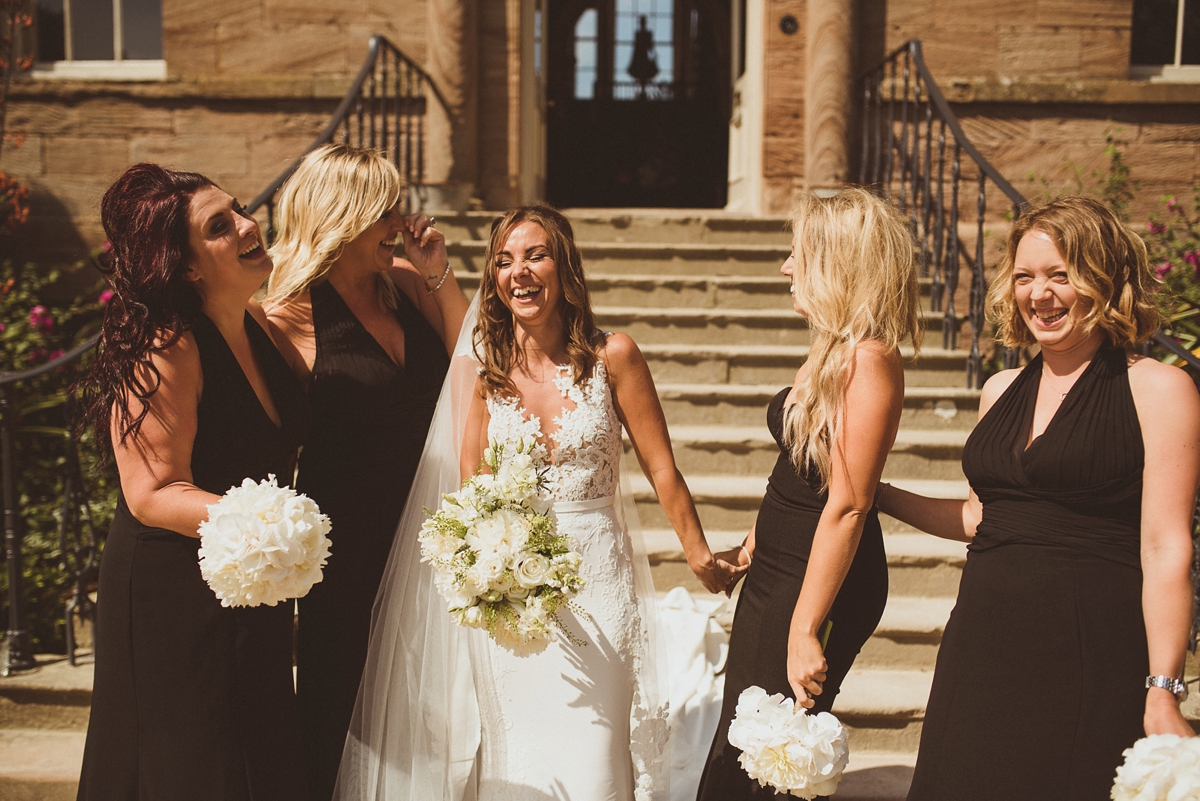 After the ceremony, Newton Hall's gardens provided a gorgeous setting for the guests to relax and play games. As the venue is so beautiful, only flowers were needed, as well as beautiful stationery designed by the couple's friend, freelance designer JP Stanway.
"He designed all of our order of service and table stands. John (my husband) is in marketing and knows good design, so he was really in charge of that area. We were absolutely thrilled with the outcome. The order of service looked fab and we'd taken the time to explain the table names and why guests were suited to that specific table within the menu setting in the middle of the table. That was also designed by JP."
The wedding breakfast was a decadent barbecue provided by the Newton Hall catering team – with fish and chip cones for later in the evening. Oh, and the pretty tiered cake was from Northumberland's The Master Cakesmith.
"We went for a semi-naked cake in-keeping with the rustic theme of the wedding. We couldn't decide on fillings so we had four tiers, each one a different filling: chocolate, chocolate orange, lemon and coffee. The cake got snapped up and although I didn't get to try it I was told by multiple guests that it was dream."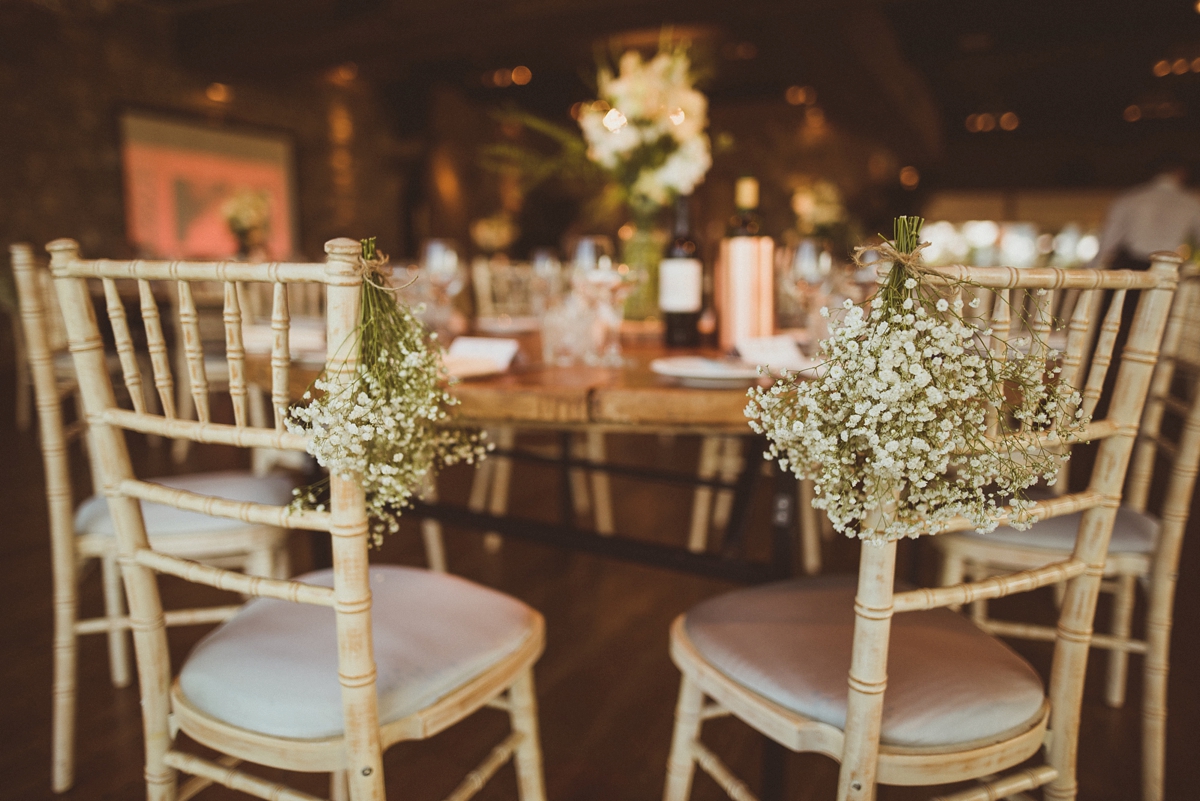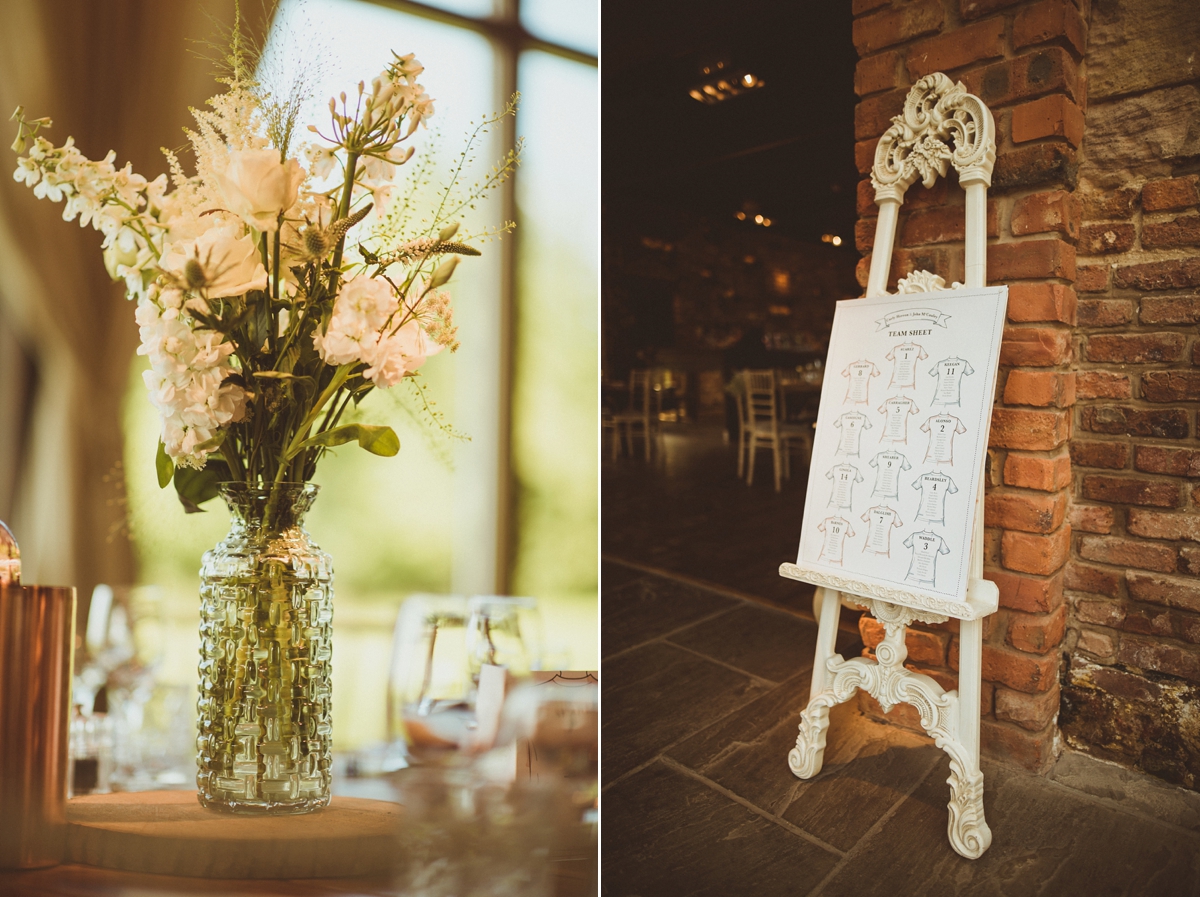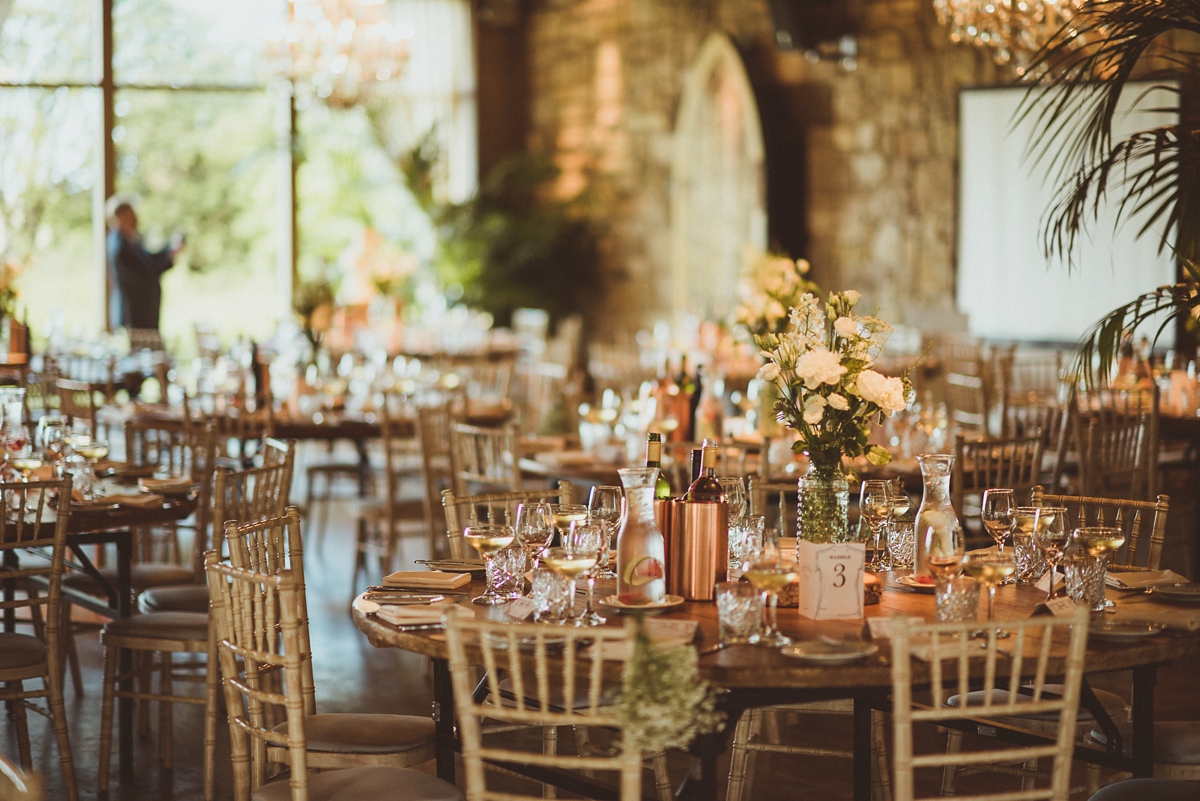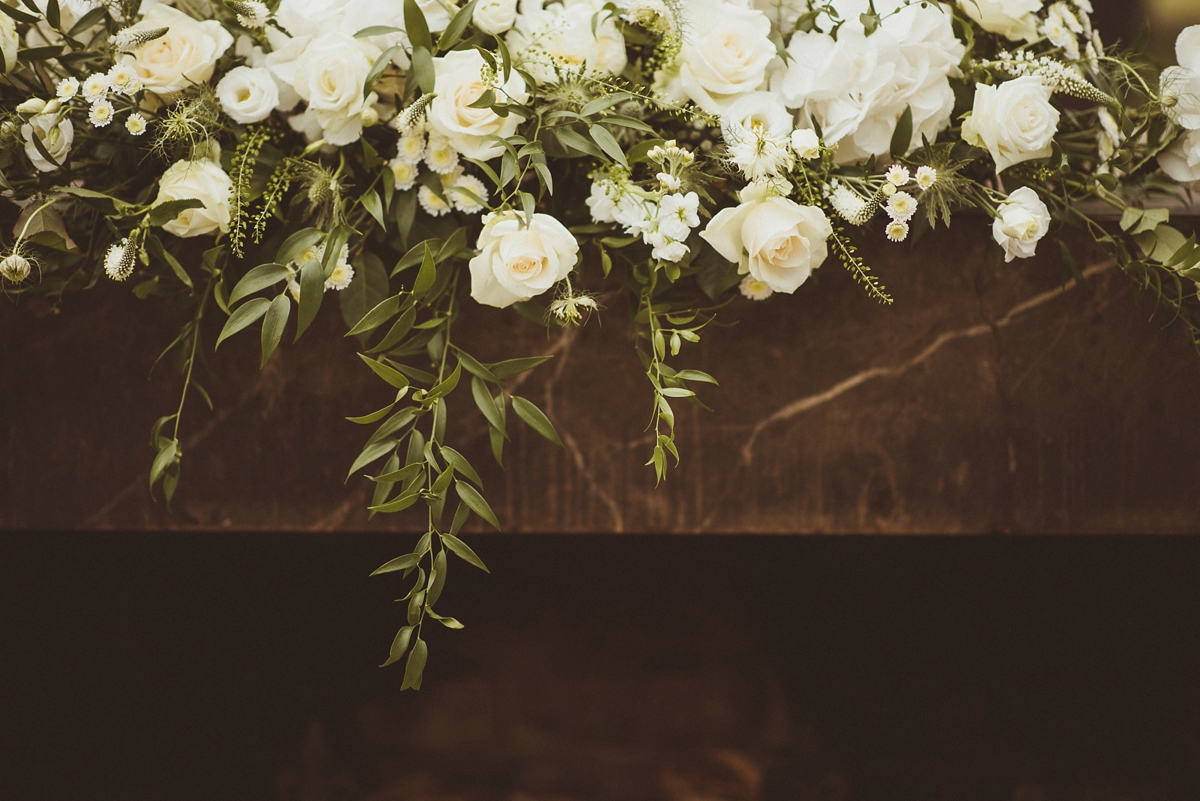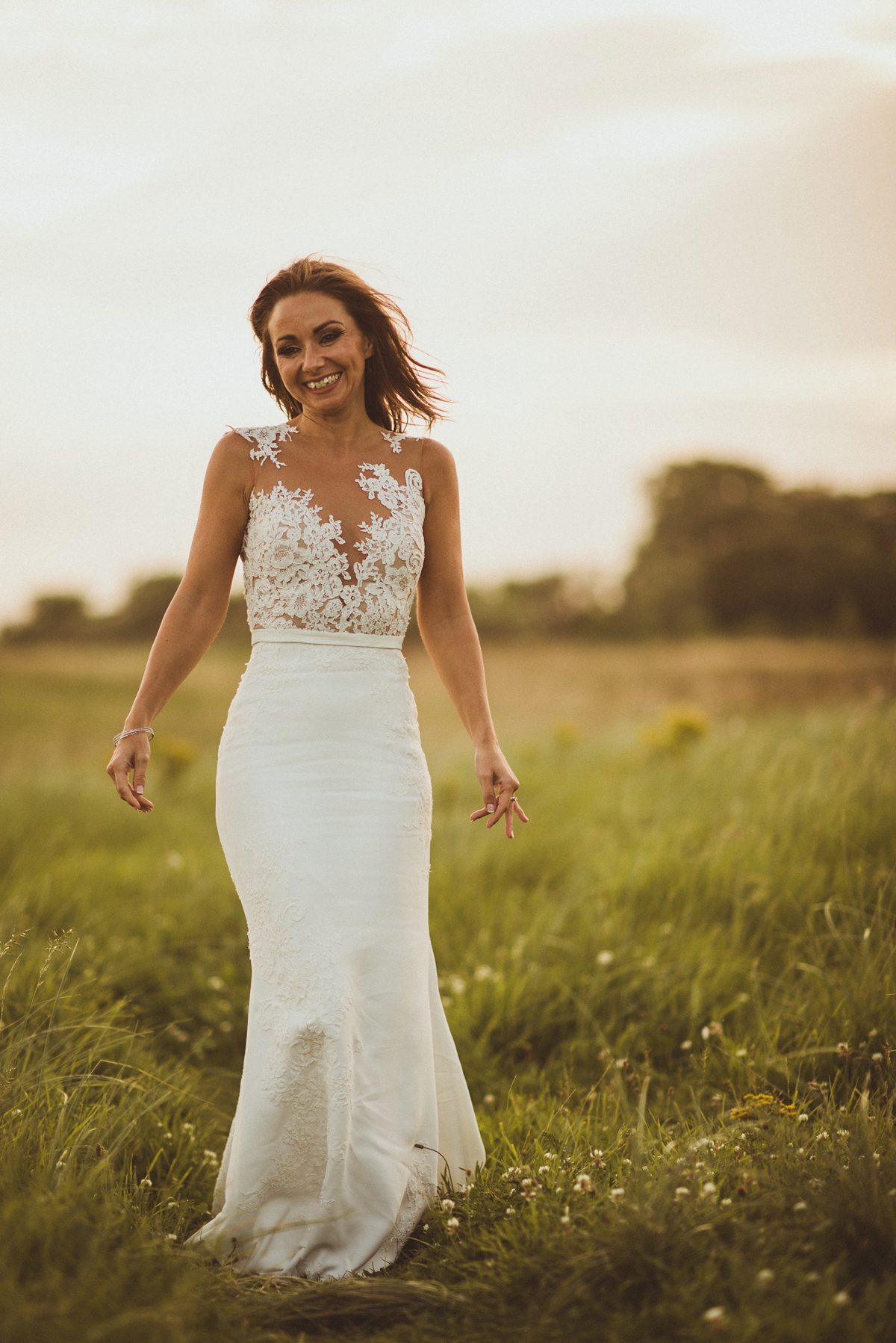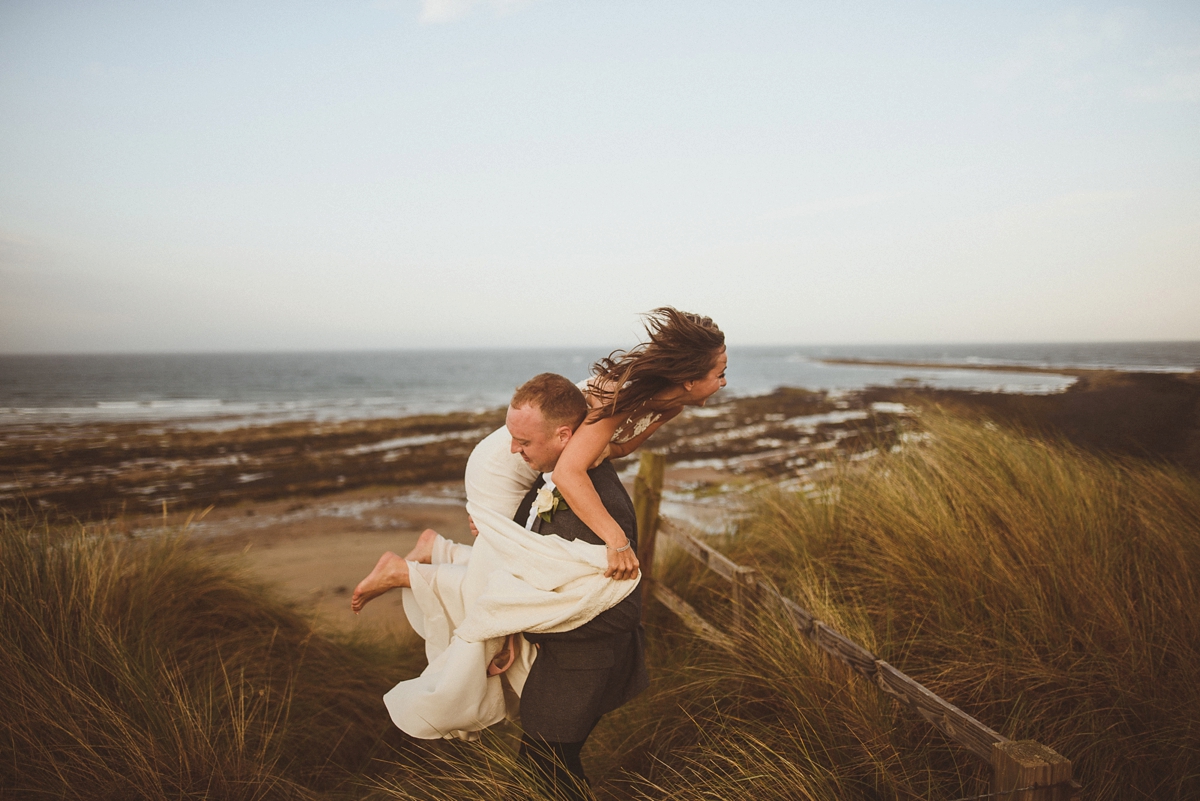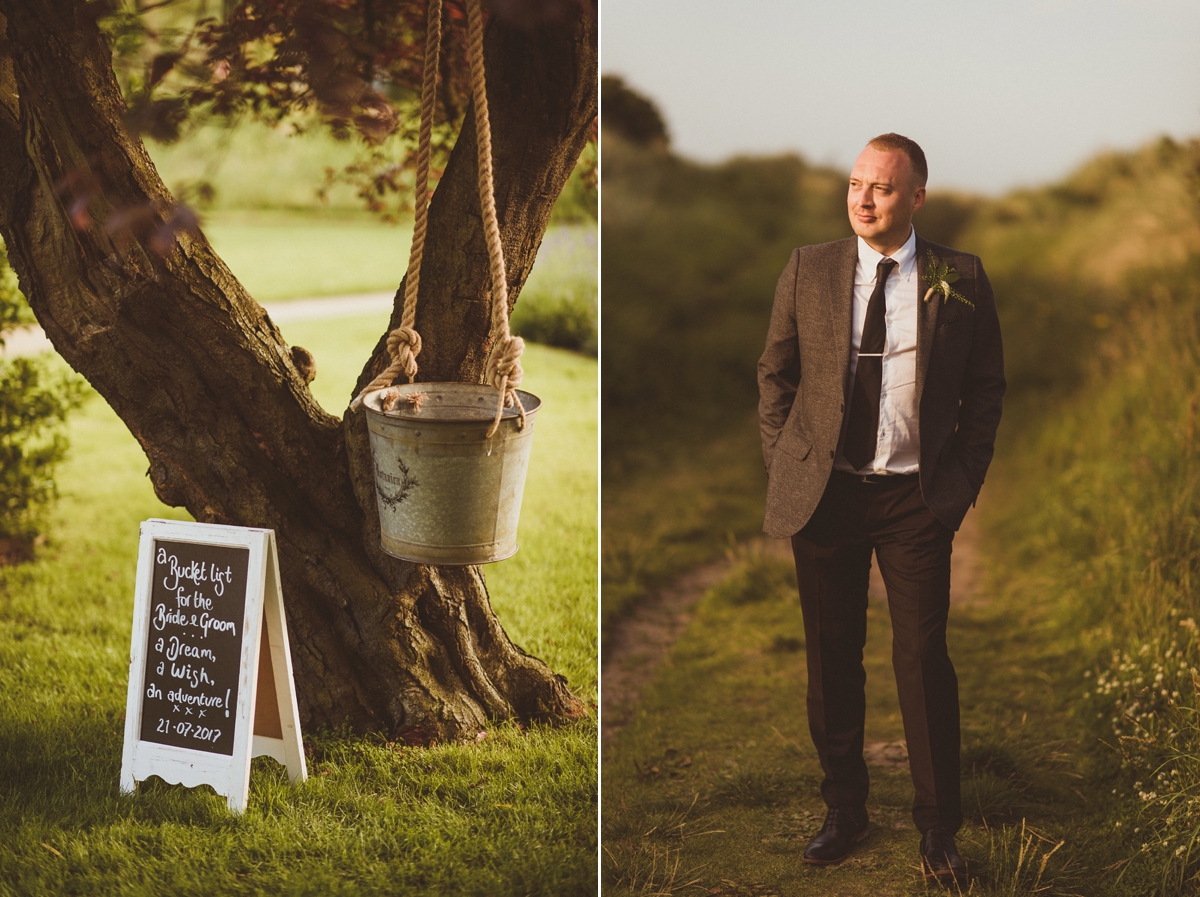 For their first dance, the newly-weds took to the floor for 'Your Song' by Elton John.
"Our good friends Scott and Susanna who had just been married one month before us, said their one piece of advice for us would be to practise the first dance as it was something they hadn't done. I kept asking John if we could but he was adamant we didn't need to, and we really didn't. He led like a pro and even managed a little lift before we got everyone else up to join."
A talented band made sure that everyone got up and dancing early in to the next morning.
"Purple Cloud of Funk were recommended to us by a friend and we are so glad we had them to play at our wedding. Their energy was incredible, they really knew how to get everyone going and they helped us party the night away with some absolute classics. Everyone was blown away by them."
"I loved sharing the morning with my girls, my sister, my mum and my nan, the moment of finally getting to the altar and seeing my husband-to-be, and the moment you're announced as husband and wife, sharing drinks and laughs afterwards, the speeches…oh, the speeches, they were just incredible."
"Then the little photo shoot and time alone with my new husband was fab, but we both wanted to be back with our friends enjoying the party: all of the dancing, the 3am shots at the bar, and bubbles and breakfast in the morning catching up on all of the shenanigans. Everyone had the BEST time EVER."
Words of Wedded Wisdom
"I have to be honest and say I was incredibly lucky that my husband is a great planner. He helped with so much and was super-organised with numerous spreadsheets and of course the budget. So aside from the practical, I think the best piece of advice I can give is to really do what makes you both feel comfortable. It's an incredible amount of time, effort and money that goes into the planning and you should be able to just enjoy yourselves on the day."
"Do take some time to think about the little things as they really make the day extra special and unique for you both. But all in all, make sure you take a moment to remind yourself that this is YOUR DAY and live it that way!"
So many thanks Matt Penberthy for letting us publish your work today. If you'd like to see more of his photographs then take a look at other weddings we've featured on Love My Dress here. I'd like to say thank you also to Carly and John – it's been a real pleasure to share your lovely words and recommendations here today.
Ele xx