Lovely readers, I do hope you're having a wonderful week, wherever you might be. Here in my little corner of the world, the sun is shining and some wildflower seeds I planted just a couple of weeks ago are beginning to peek through the soil as the air warms and spring begins to turn itself towards summer.
As if by magic, I've got a perfect, fresh and modern summer wedding to share with you all today and a wonderfully relaxed yet gorgeously detailed bridal gown. Meet bride Daisy, who works in Child Protection for Staffordshire County Council, and groom Jake, who is a Communications Engineer in the Army with the Royal Signals.
They were married in a bright, joyful celebration on the 27 August 2017, with their ceremony in the splendid grand setting of Ashton Memorial in Williamson Park, Lancaster, followed by a relaxed reception at Lancaster Brewery.
Film by Worthington Films
What immediately caught my eye when I opened the image folder for this lovely wedding was Daisy's showstopping gown. There's just so much beauty to take in, from the cool high-low style to the amazing fringe detail and beautiful floral embroidery and beading. The dress is by Rue de Seine, and their designs are always ultra stylish and bohemian. Daisy purchased her gown from Jean Jackson Couture in Urmston, Manchester.
"Mum and I went to Jean Jackson Couture in Urmston. Bec was such a genuine delight. I have never felt so special in an outfit and my mum encouraged me to go for it and helped me pay for it. I wanted a relaxed, two piece, silky ensemble and the Cleo nailed it. I loved the embroidered, fringed, kimono style and I felt fabulous on the day."
Images by Alfred & Co. Photography
It's wonderful that Daisy found Love My Dress so helpful during the wedding planning process, as well as the amazing Love My Dress Facebook group, where both brides-to-be and those newly married share wisdom and inspiration and offer both practical and emotional support. It was through this group that she found videographer Matt from Worthington Films.
"The girls on the Love My Dress group raved about their wedding videos. I am so glad I persuaded Jake to book Worthington Films as we have this video to treasure forever."Daisy's pretty, braided hair style was created by Mairéad at Wedlocks and teamed with a delicate crystal hairband from Johnny Loves Rosie. I adore when brides go for a bright red lip for their wedding day, and Daisy did just that, and her make up was done by a friend, Anna Shorrock.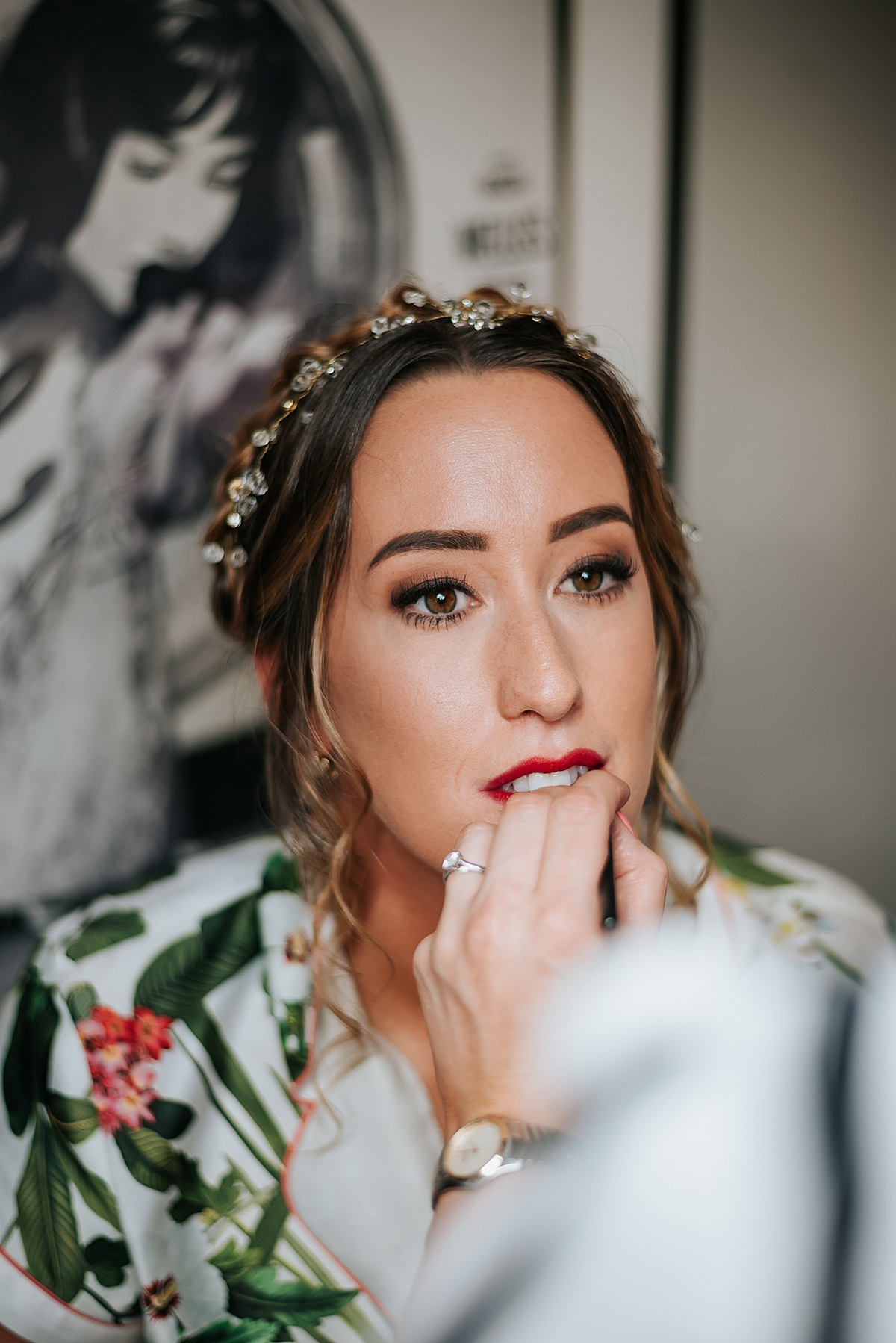 The couple opted to send email invitations using Paperless Post, with Jake's dad, Jason thoughtfully sketching Ashton Memorial for the design.
"…lots of guests posted comments and pictures. My grandma Pat still printed it out and stapled the invite together."
Daisy found it difficult to decide on the right shoes for the day, but eventually settled on a pair of stylish chunky nude sandals from T. K Maxx, with a spritz of her scent, La Vie Est Belle by Lancome, along with gold anklets from eBay and funky, modern earrings from ASOS.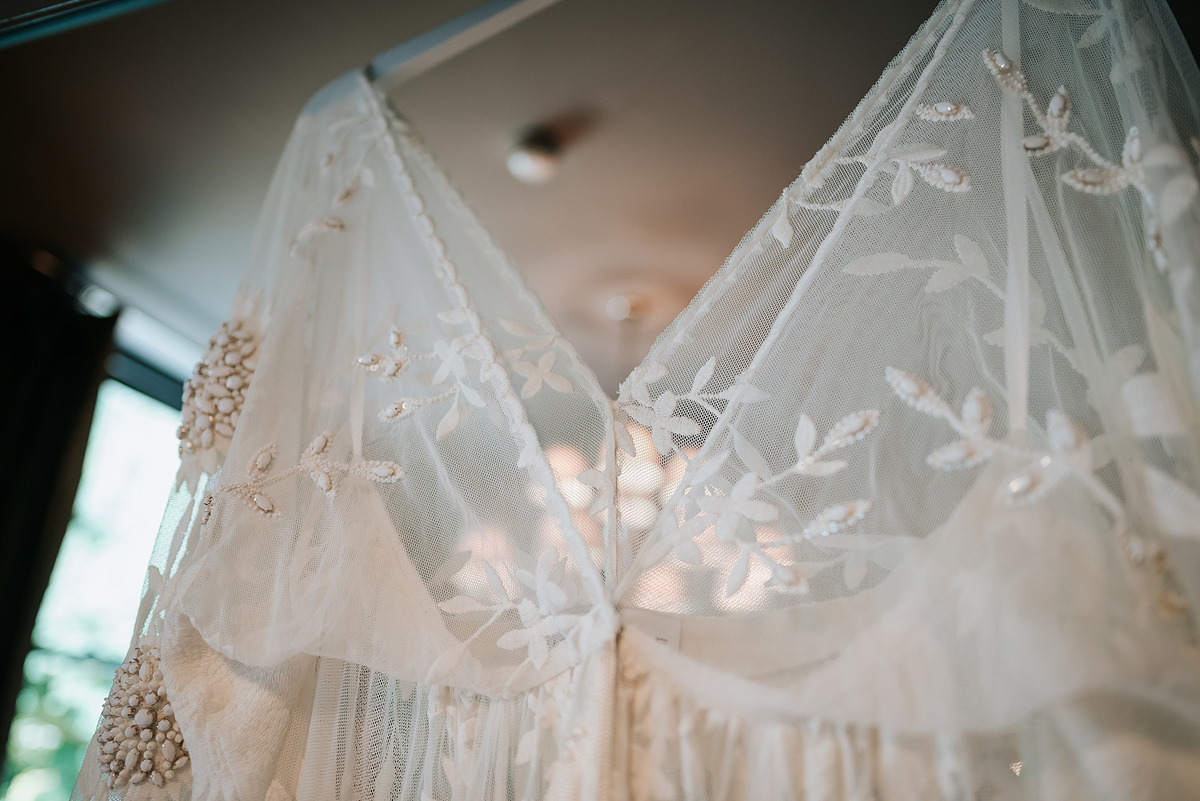 The bridesmaids wore colourful and romantic dresses from Stay Sunny Chicago, and they are the perfect choice for a bright summer wedding with their wonderful floral embroidery. The couple's flower girls wore pretty dresses with gorgeous butterfly-like cape detailing from Monsoon and fragrant flower and herb crowns from florist Becky at Picking Posies.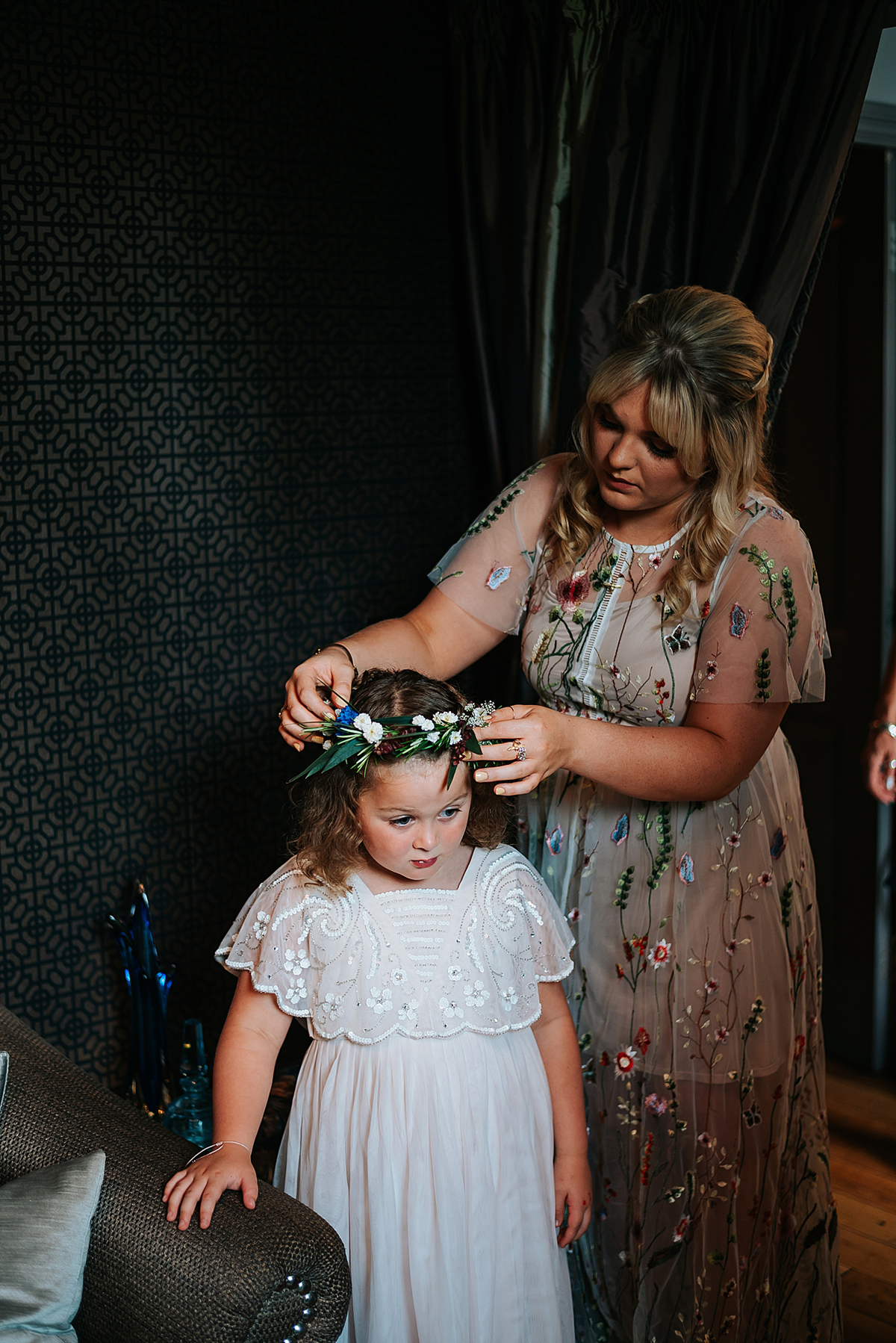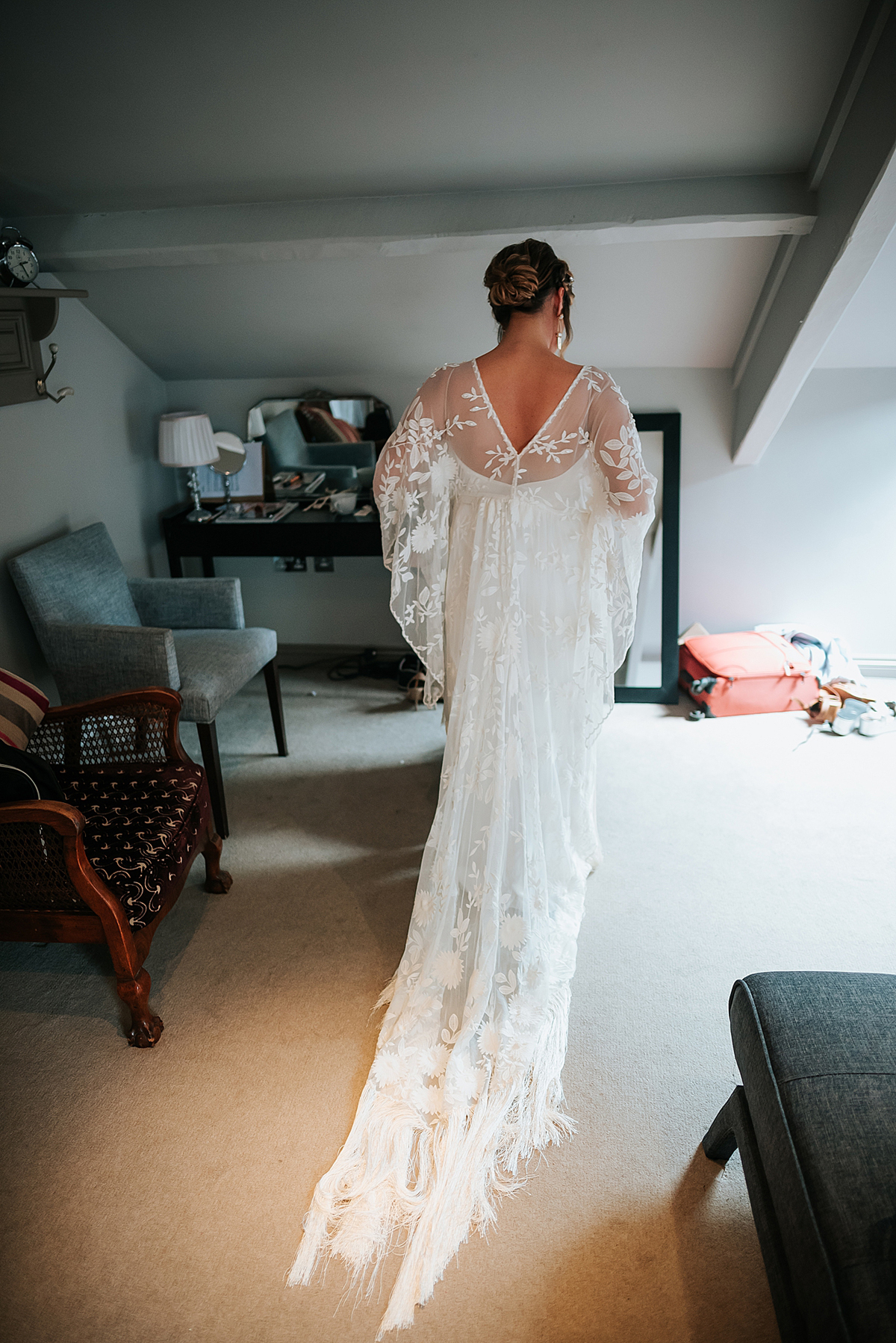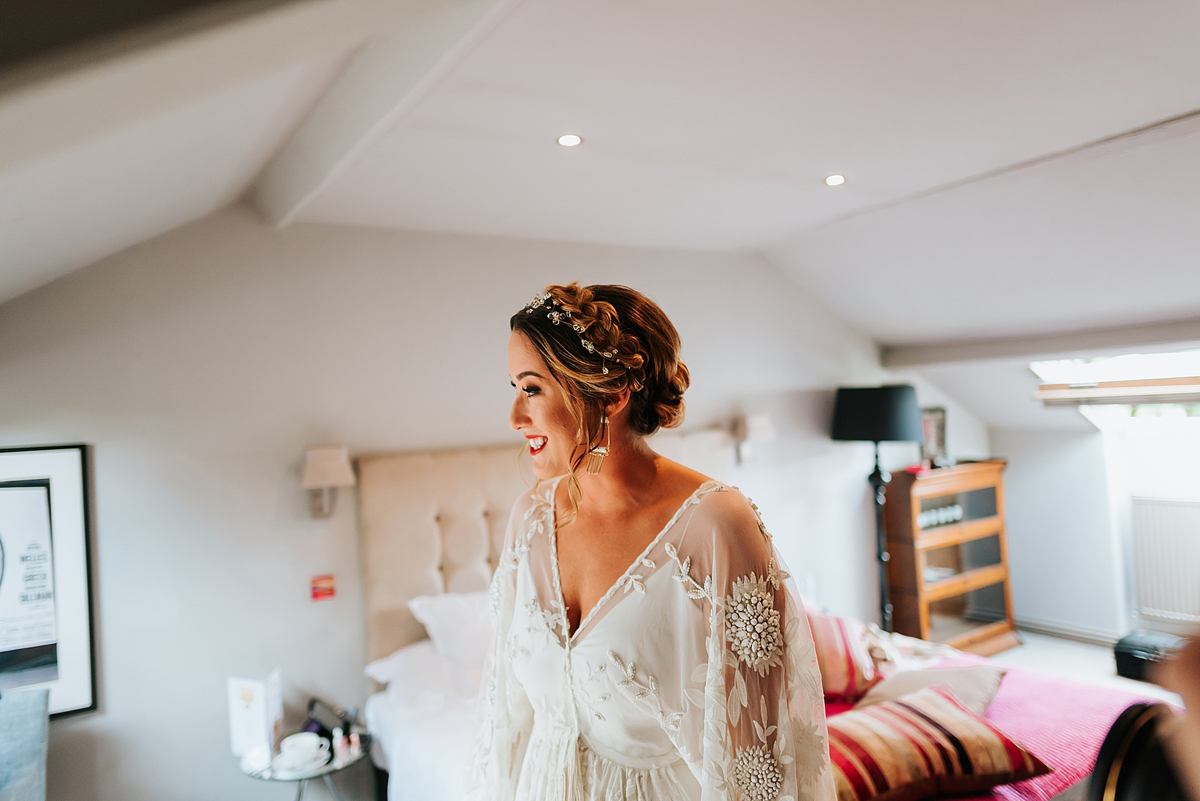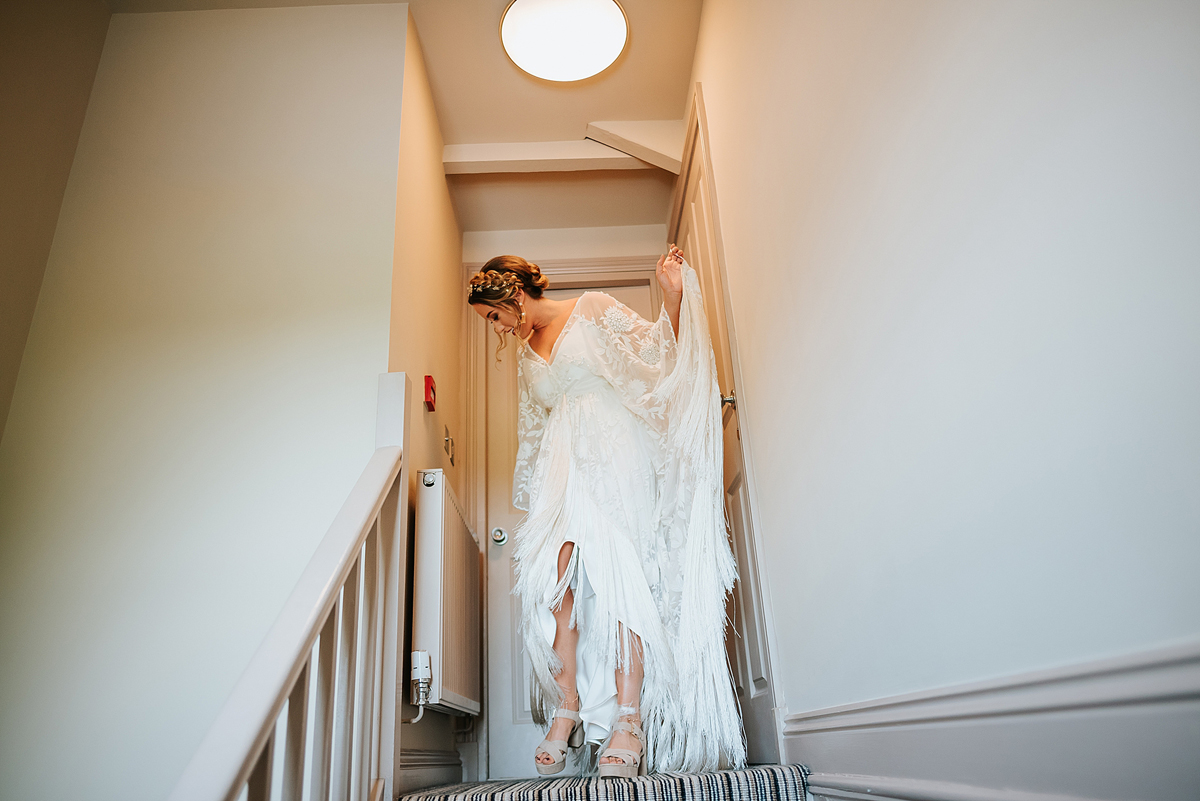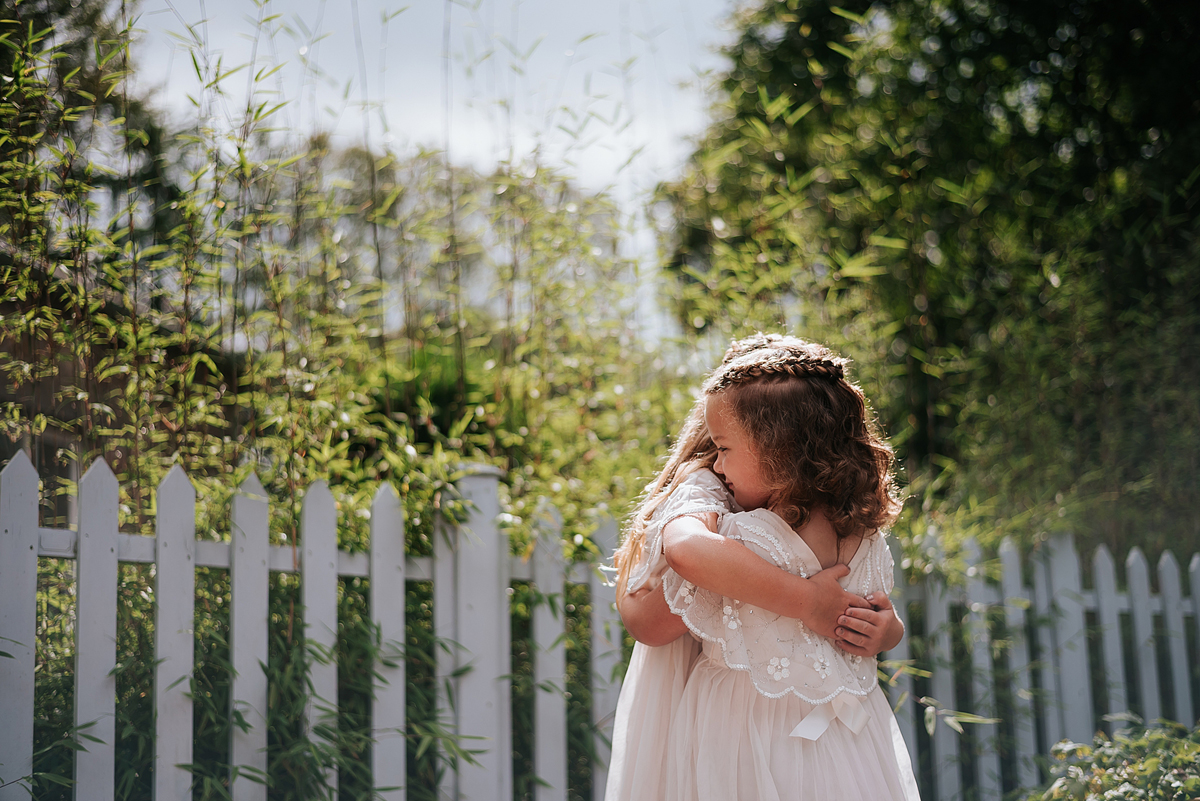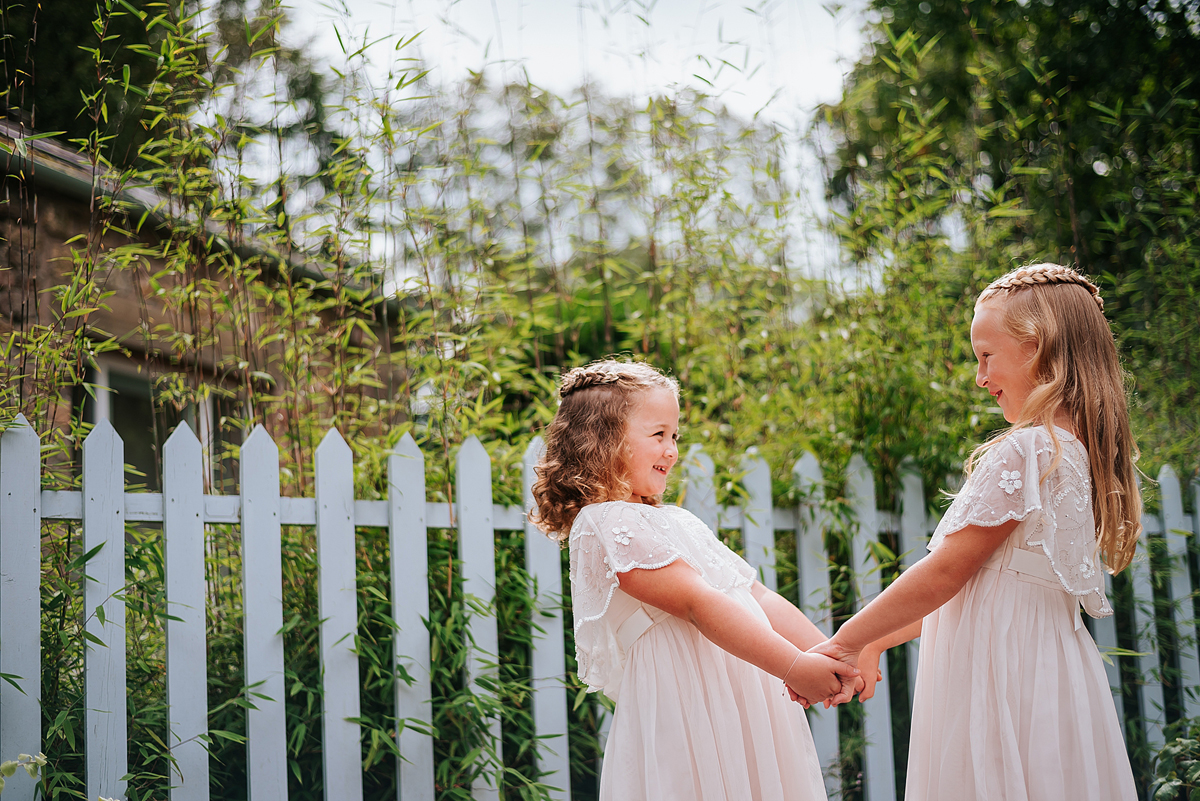 The bridal and bridesmaid bouquets are a summer delight, with huge red and pink dahlias and meadow grasses and greenery, as well as the unusual but beautiful Amaranthus.
"Becky turned up with the most out of the world flowers and mum nearly started crying…Becky went above and beyond in helping with planning, design and delivery. I loved the flower crowns for the flower girls. I loved the cornflower, rosemary, herbs and have pressed all the flowers to keep them hanging proudly in our home."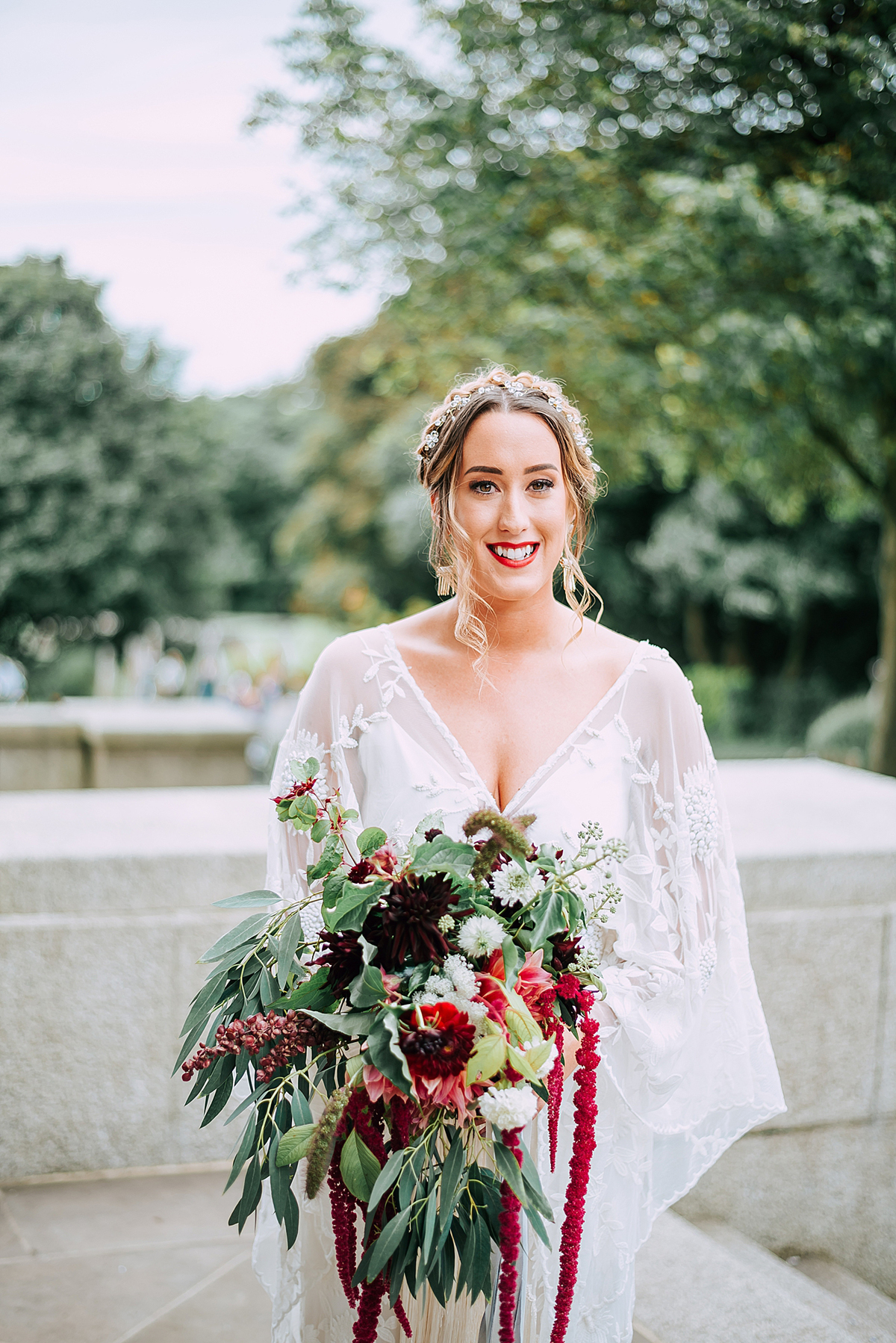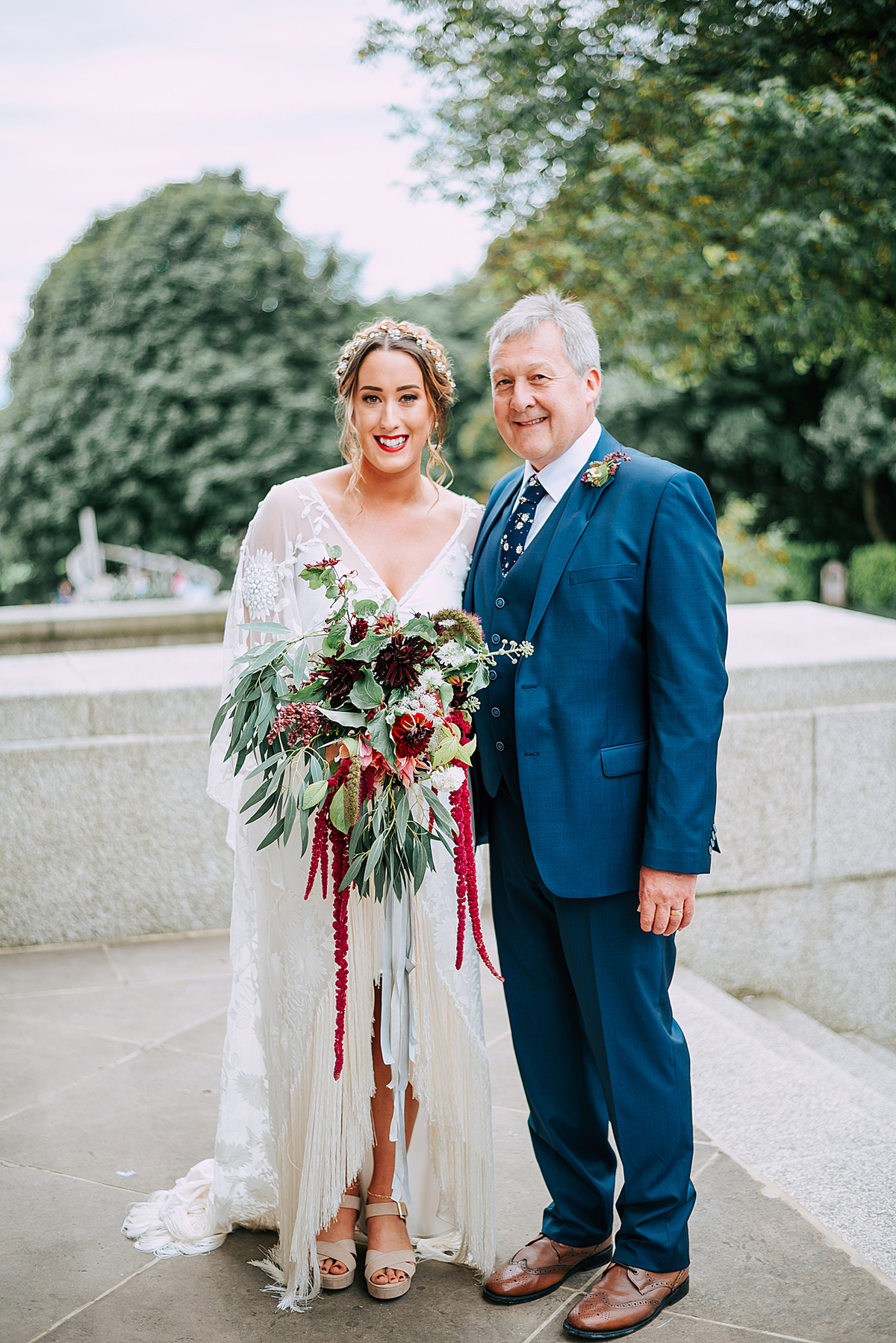 Groom Jake wore a smart grey three-piece suit from Reiss with a contrasting tie and pocket square in deep burgundy, and shoes from ASOS.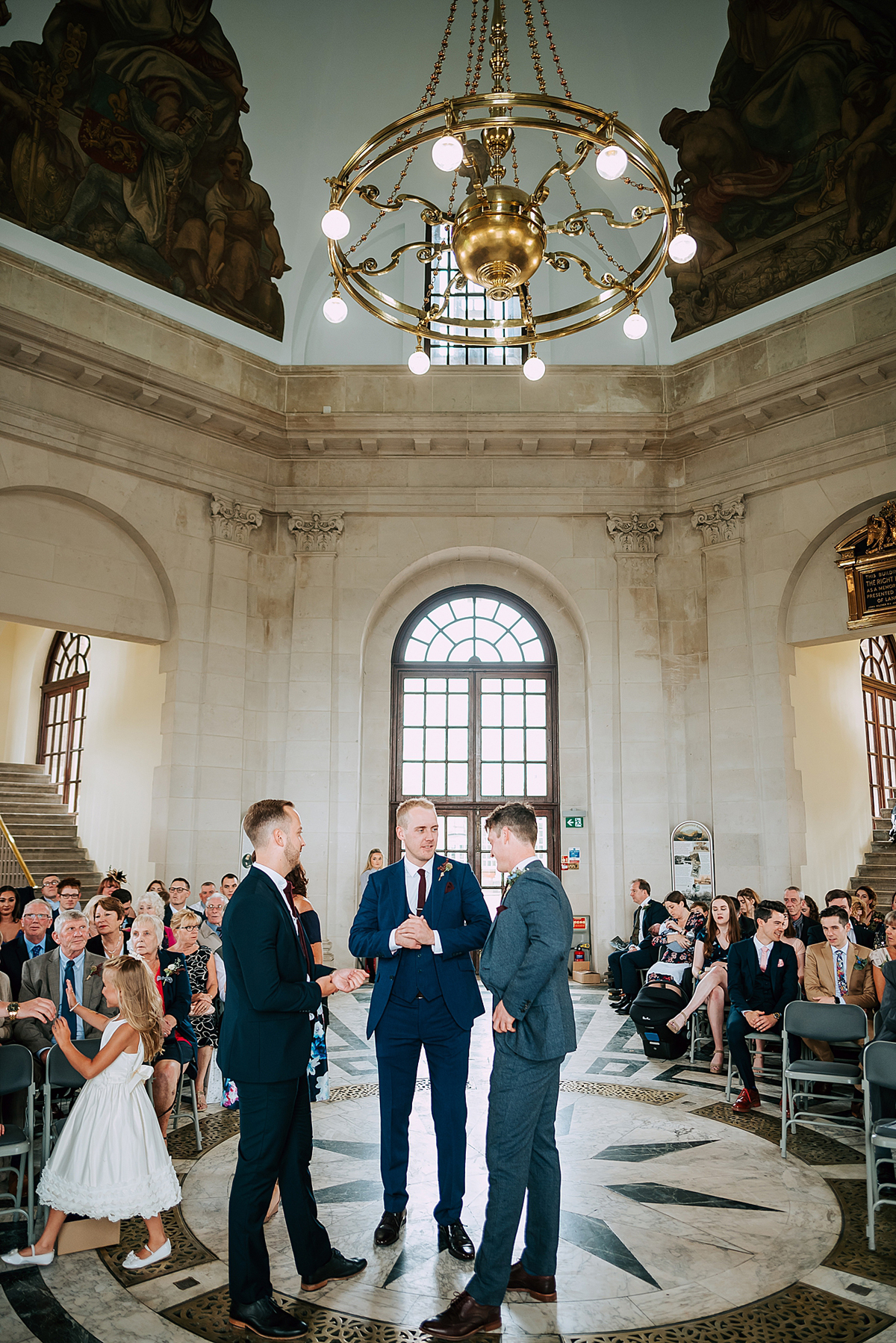 The couple's engagement story is a lovely one.
"Jake asked me to pass his phone out of his pocket. It was an engagement ring and I was overwhelmed for days. Luckily we were on holiday in Florence so it was super romantic, fuelled by pizza and wine. It was the most beautiful ring I had ever seen, but 5 sizes too big! We were engaged for a year and a half before we married."
As Daisy walked down the aisle with her dad Phil to meet her groom, they chose a sweet song inspired by a favourite TV show.
"We both love New Girl and opted for a Burt Bacharach cover. This Girl's In Love With You – She & Him."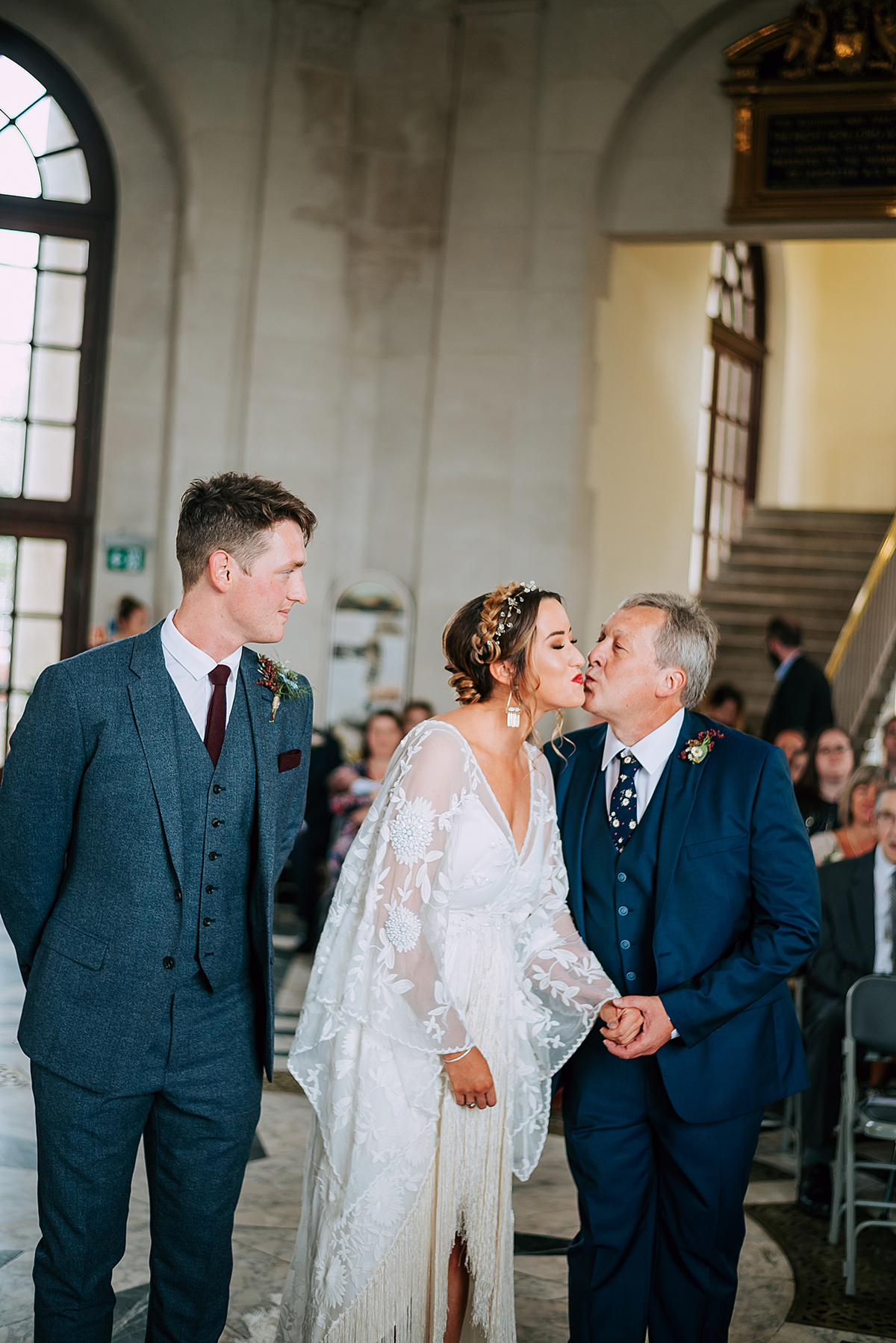 Beneath the soaring ceiling of the Ashton Memorial, Daisy and Jake exchanged vows and rings from A & B. Christie Jewellers, who are based in Blackpool. The bride's sister Ellie read a moving extract from Richard Bach's book The Bridge Across Forever.
"A soulmate is someone who has locks that fit our keys, and keys to fit our locks. When we feel safe enough to open the locks, our truest selves step out and we can be completely and honestly who we are; we can be loved for who we are and not for who we're pretending to be. Each unveils the best part of the other. No matter what else goes wrong around us, with that one person we're safe in our own paradise. Our soulmate is someone who shares our deepest longings, our sense of direction. When we're two balloons, and together our direction is up, chances are we've found the right person. Our soulmate is the one who makes life come to life."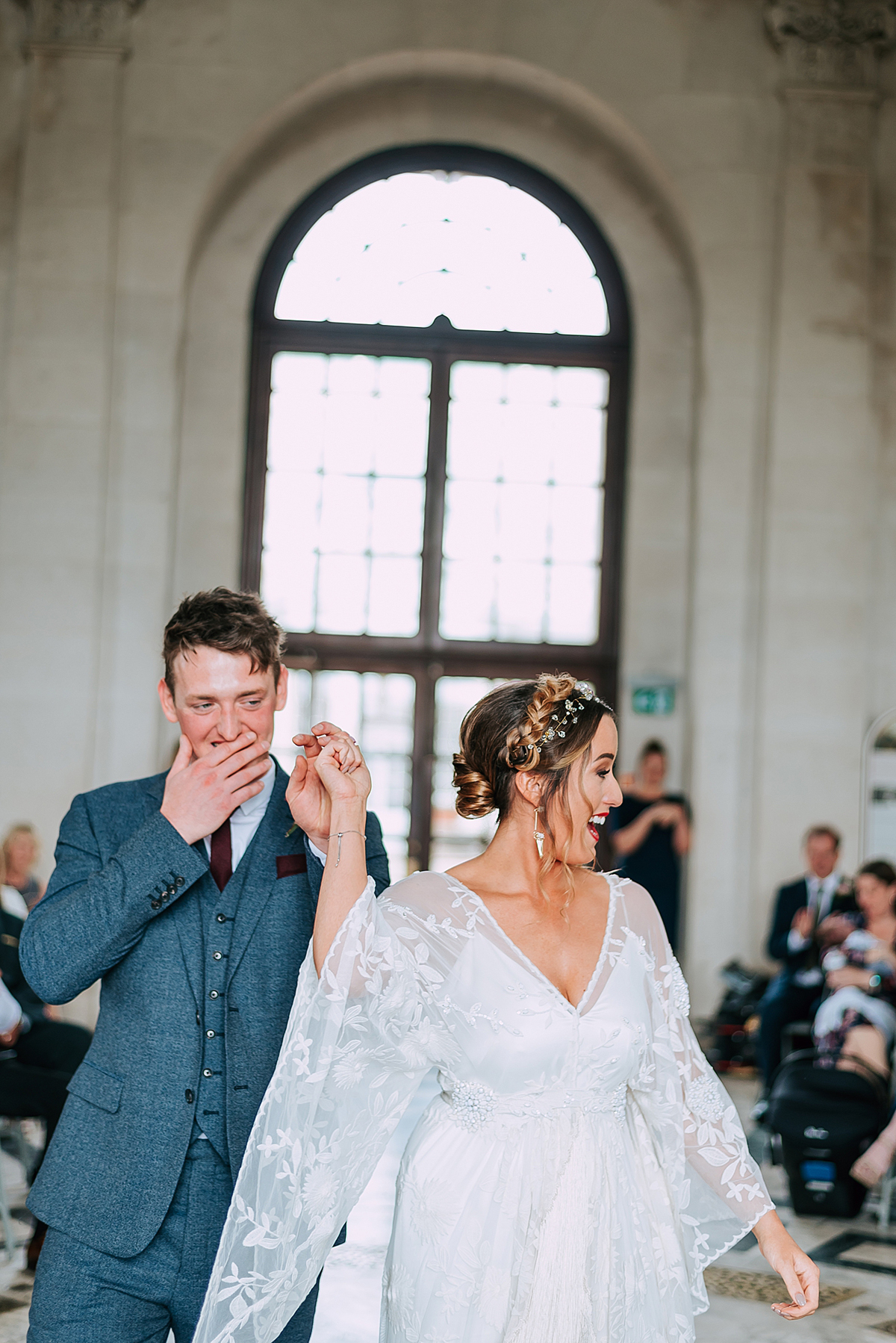 It's a real pleasure to share the work of photographer Kirsty at Alfred & Co. Photography for today's wedding. With a relaxed, natural style, she has beautifully captured the colour and happiness of the day in gorgeous, light-filled images.
"Kirsty totally understood the relaxed vibe we wanted for the wedding, focused on family and friends. Kirsty was super attentive throughout the whole process and everything ran perfectly."
"We used a mirror to write the table plan on, which was ideal to make last-minute changes to!"
Daisy and Jake were drawn to the relaxed feel of their reception venue, Lancaster Brewery, and made full use the existing decor – garlands of hops and greenery and twinkling fairy lights.
"It was a spontaneous visit, we both loved the relaxed atmosphere and outdoor space. We booked the venue and everything else fell into place."
Table decor was kept simple, with beer bottles filled with flowers and cute cacti planted in beer cans, which guests could take away with them at the end of the day.
"My twin sister Ellie handmade table names for guests to take. We also made lots of cacti beer cans for decoration that we hoped guests would take home. I would have liked to say I made Limoncello or homemade chutney, but I decided to reduce factors that may cause added stress and keep it simple."
Guests tucked into a hog roast feast provided by The Striped Pig and sumptuous cheesecake tower from Love Cheesecakes as well as a chocolate fountain, popcorn and candy floss all provided by Lancashire Prop Hire.
"To our Grandparents' dismay we did not go for the traditional wedding cake. Everyone loved the cheesecake with added edible flower petals and both services were impeccable. The chocolate fountain did make an appearance on my dress!"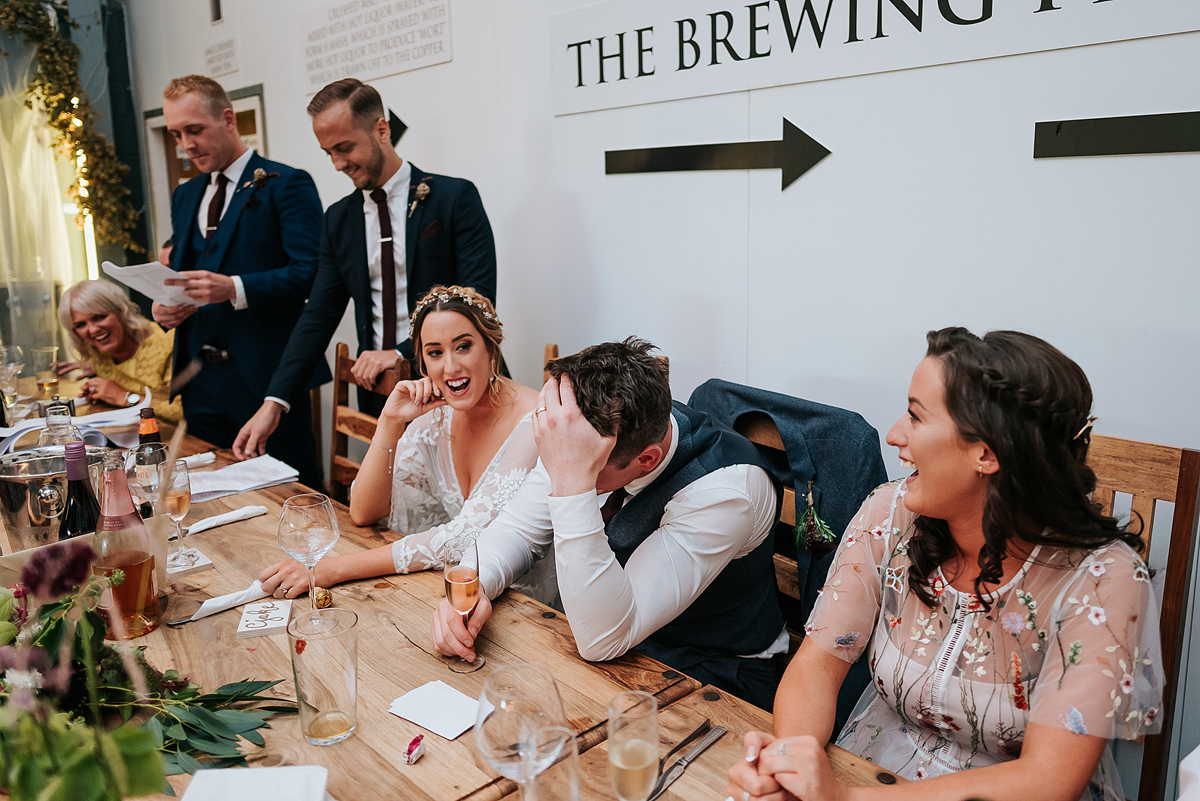 The Capone Band provided a live funk and soul soundtrack for everyone to dance to, and the couple chose Never Gonna Give You Up by the Black Keys for their first dance, despite feeling a little awkward!
Words of Wedded Wisdom
"Attend as many dress appointments as you need. No rush. Don't feel too stressed with the planning, speak to the girls on the Love My Dress Facebook group. Take a break from Pinterest when you have everything finalised. Don't listen to what others expect you to do and wear."
"Do buy the leopard print heels. You don't have to lose weight for your wedding – Jake proposed to this cute beer belly so it's here to stay. Enjoy your day!"
Daisy, what fantastic and empowering words of wisdom and I couldn't agree more! Like our bride, I would encourage you to head over to our private Facebook group and join in the fun. Thank you to both Daisy and Jake for sharing their cool, colourful and happy day with us. As I come to the end of writing this piece, I'm still thinking about all of that amazing fringe on Daisy's gown, too! Thanks also to Kirsty at Alfred & Co. Photography for an enchanting, heartfelt set of images.
With love,
Laura