As clichéd as it might be, summer weddings are my favourite. You just can't beat a wedding in the sizzling heat of the summer, providing the Great British weather is playing ball of course. And if you are lucky enough to be graced by the sun's presence, there's nothing like a sunset shot on the edge of water to really round off your wedding photo album!
Today's bride Zara and groom Jonny said their I Do's on a warm and gloriously sunny 5th August 2017 at their local church in London, followed by a reception at Brook Farm in Cuffley, Potters Bar. With summer being the perfect time of year to take full advantage of the gorgeous surroundings their venue had to offer, the couple planned their day on a date two days before their anniversary.
Having taken inspiration from Grace Loves Lace for the vibe of the wedding day, the bride also wore one of the designers incredibly stunning gowns for the occasion too.
"Have you seen it?! I'm still in love with my dress – it's a shame I can't wear it again! The story of my wedding dress is one of indirect love at first sight. In my hunt for wedding inspiration early last year, I came across the Grace Loves Lace Instagram account and fell in love with the style and photos. I took so many screenshots you'd think I was recreating Pinterest! One day I looked back at all the screenshots, and I had taken to jotting down ideas for my bridal bouquet, wedding decor and bridesmaid dresses. That's when the pin dropped. Almost all of my screenshots were of brides wearing the same stunning dress. It was GLL's iconic Alexandra dress. It was perfect and it was the one for me."
Images by Kelsie Low
"We knew we wanted a summer wedding that was around the time of our anniversary and amazingly, it turned out to be just two days before. Summer weddings lend themselves so perfectly to the outdoors, that is if you're blessed with good British weather, which so thankfully we were. We had a boho chic rustic summer wedding with lots of greenery and festoon lights. I was inspired by the idea of an outdoor summer wedding from all the real Grace Loves Lace brides I had seen and wanted that same vibe."
"When I saw a picture of the venue and its beautiful reflective lake and tall green trees, my first thought was that it must be in America or Australia. I actually moved on and continued with my search. It wasn't until I came across it again some time later that I discovered that, not only was it a venue in the UK, but it was only a short drive from us too. I couldn't believe it!"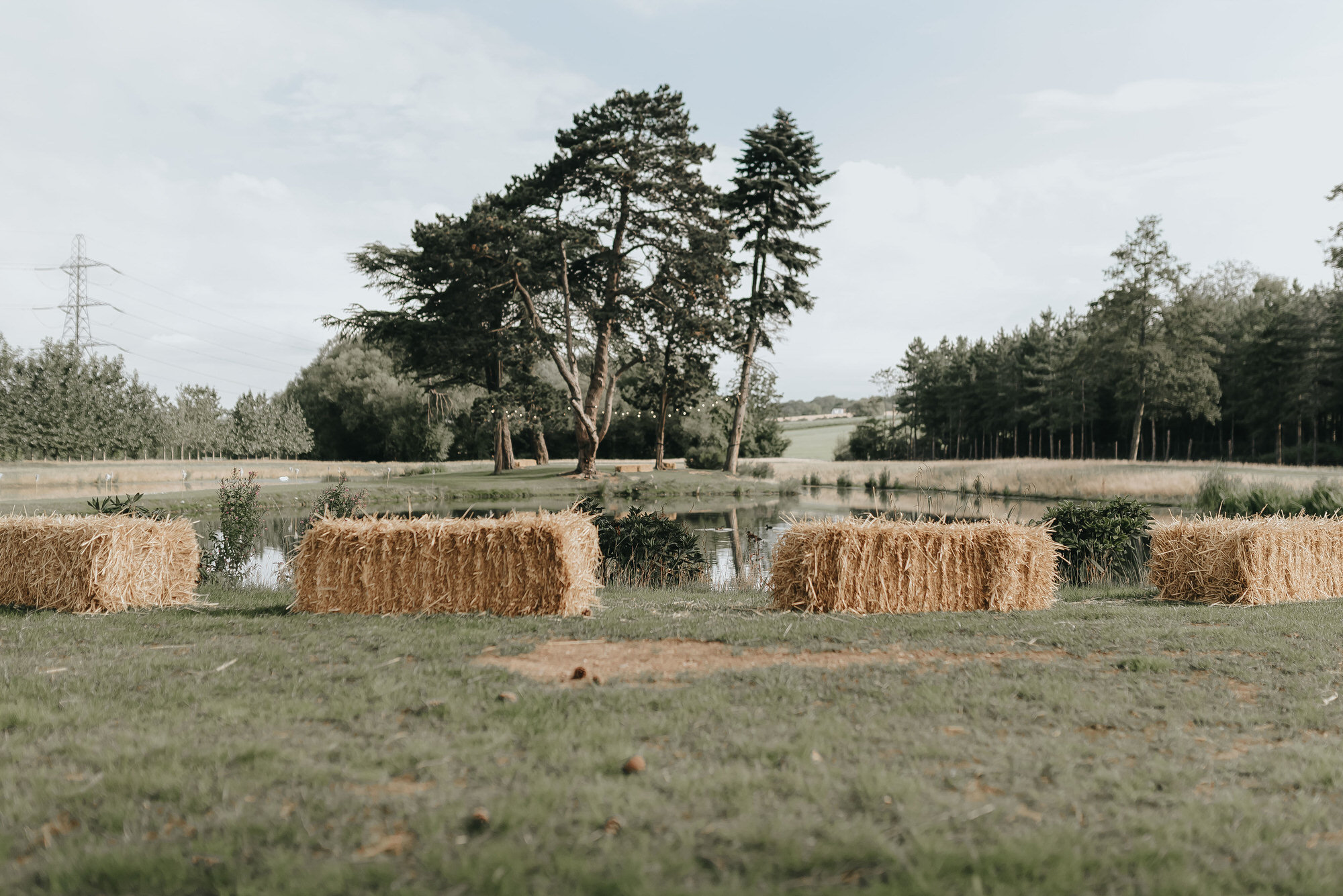 "I enquired straight away and the rest is history. Brook Farm is a stunning, scenic and versatile venue with an international destination feel to it, yet conveniently located in the UK. The people who run it put their all into it and were a real pleasure to work with when planning the wedding."
"Our florist, Alice at Meadowfolk, was recommended by a friend and is a talented and creative florist. She met up with me and Jonny and we talked all things wedding flowers over some dinner and drinks. It was the perfect start to a great relationship. I wanted a big oversized bouquet that was totally wild and bohemian."
"Alice was on my wave length and knew exactly what I envisaged in my bouquet and our other wedding flowers. She was an absolute gem throughout the planning stages and was well organised when it came to the big day."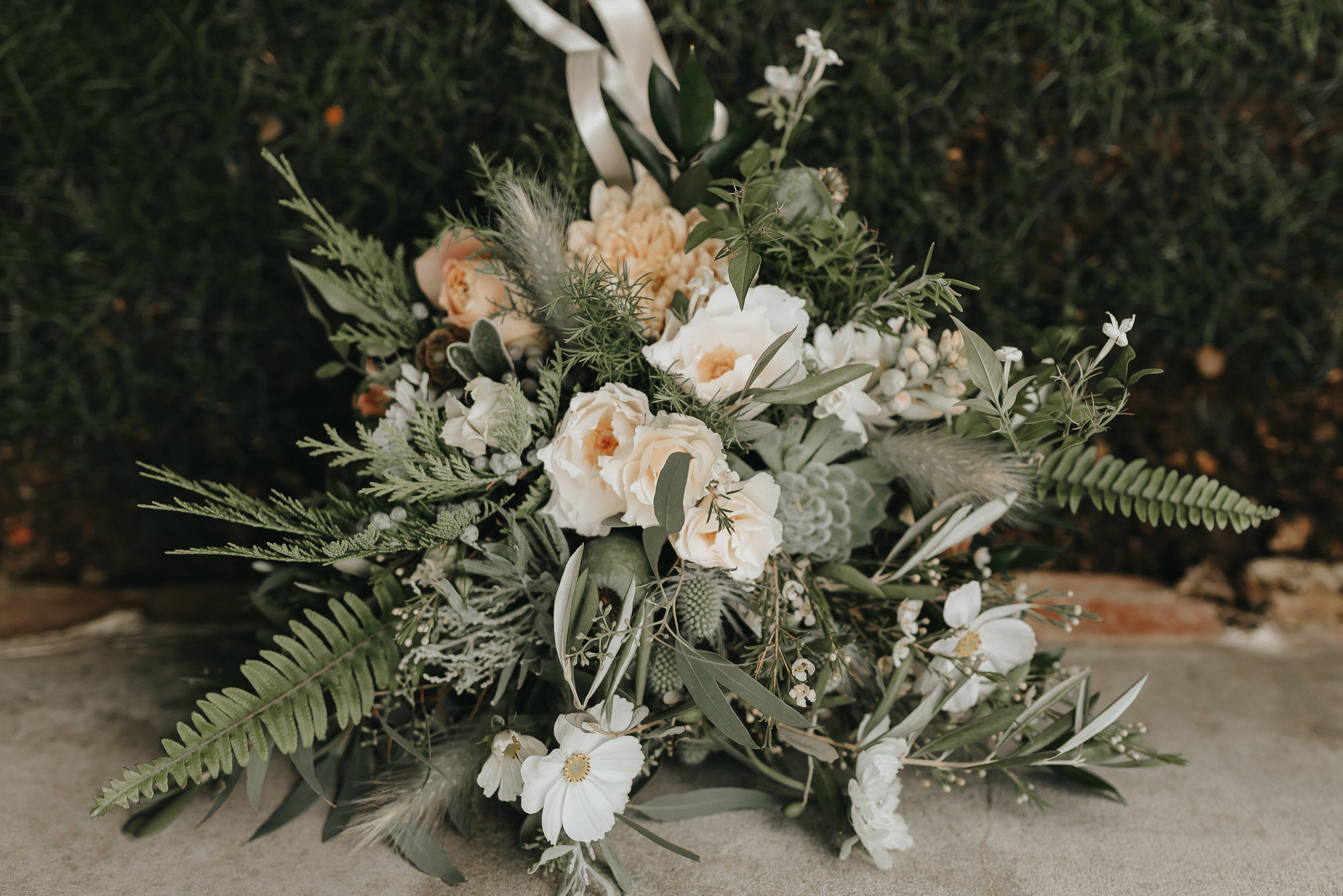 "I wore drop pearl earrings from a boutique London jeweller and the most prominent accessory I wore on the day, and my favourite (second to my wedding ring) were my Grace Loves Lace Hera anklets that matched my heels and my dress. The anklets were bought for me as a gift by my amazing friends and bridesmaids after I tried them on with my dress at the Grace Loves Lace London showroom."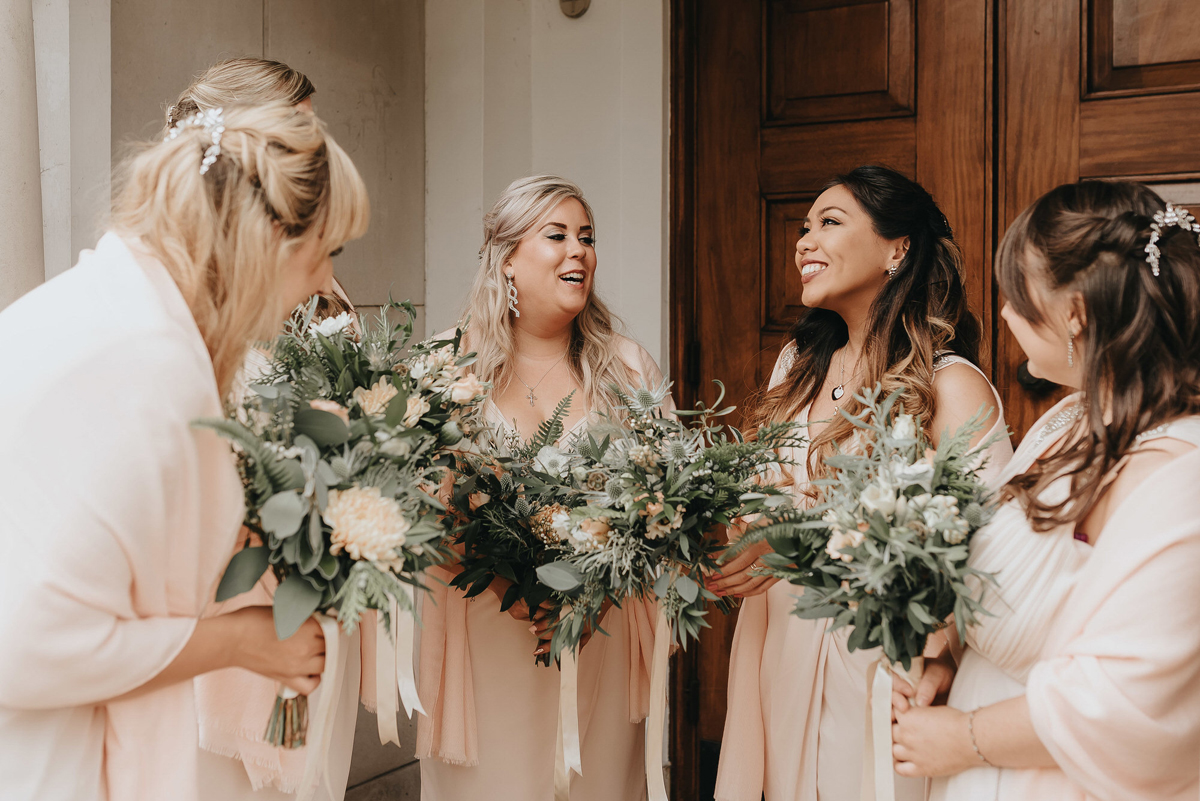 Not to be upstaged, the groom also pulled out all the stops in a two-piece black tie suit by Charles Tyrwhitt, which he accessorised with a bow tie and braces from Topman.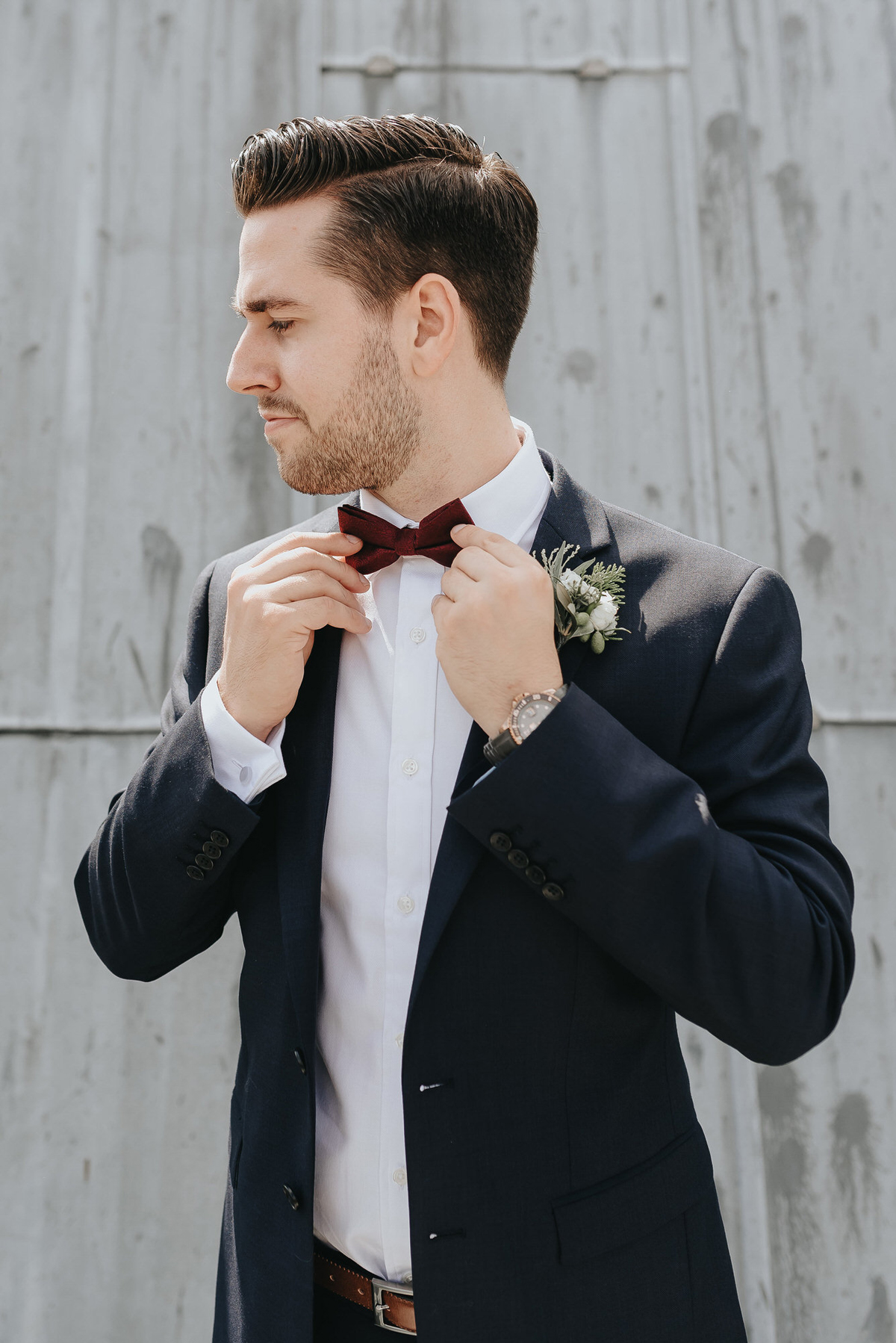 Putting their meeting down to fate, the pair were eventually engaged at the end of 2015 on a trip to South Africa, where Jonny proposed to Zara at the top of Lion's Head mountain in Cape Town.
"Fate had a big part to play in our story. We met online through Facebook some eight years ago. We'd never met before and lived on opposite sides of the country (and at that time, the world). I received a friend request from Jonny who was on a year out volunteering in a town in South Africa and accepted. He had just signed up to Facebook and imported all of his email contacts."
"Fate had it that my email was on that list. We started messaging each other and when our conversations got too long, we moved on to MSN, where we progressed to video chat every day. It turned out that we had one mutual friend in common and were invited to the same group chat, and that's how it came to be that my email address was on his list of contacts. Some months later when he returned to the UK, we met up and started dating."
"We got engaged on a trip to South Africa. The day before my birthday we decided to hike up to the top of Lion's Head mountain to catch the African sunset. When we reached the top, just as the sun was setting, Jonny reached inside his backpack and gave me a photo album of our milestones together, which he posed as a birthday gift."
"The final page had a picture of my gorgeous engagement ring and was titled 'our engagement'. In total shock and excitement, I looked up and my incredible and loving husband was down on one knee holding that same ring. I cried (a lot) and then managed to mutter the word YES! It was the second greatest day of my life (after the wedding day) and he had captured it all on camera so that we had another lifetime memory."
"We were engaged for a year and 7 months before getting married, which gave us plenty of time to plan our summer wedding."
The brides ring was a band to match her engagement ring from Browns Jewellers and the grooms a band from H Samuel.
"We chose Browns for my wedding band because it is where Jonny bought my engagement ring in South Africa when he proposed. It was designed to match my engagement ring called The Queen Of My Heart and I fell in love with it the moment I laid eyes on it."
"Jonny was fussier with rings than I was! Mine was love at first sight whereas we had to shop around a little bit to find a band that he liked. To be fair, some men just aren't used to wearing a ring so it had to be right."
Zara's bridal party looked super Pinterest-worthy and simply stunning in cream coloured wrap midi dresses from TFNC, which they paired with ASOS heeled sandals, making for the perfect shot together with the bride.
Each of her ladies carried a gorgeous bouquet to match Zara's, which all included foliage with accents of gold, white and blush flowers, created by the talented Alice Antcliff at Meadowfolk.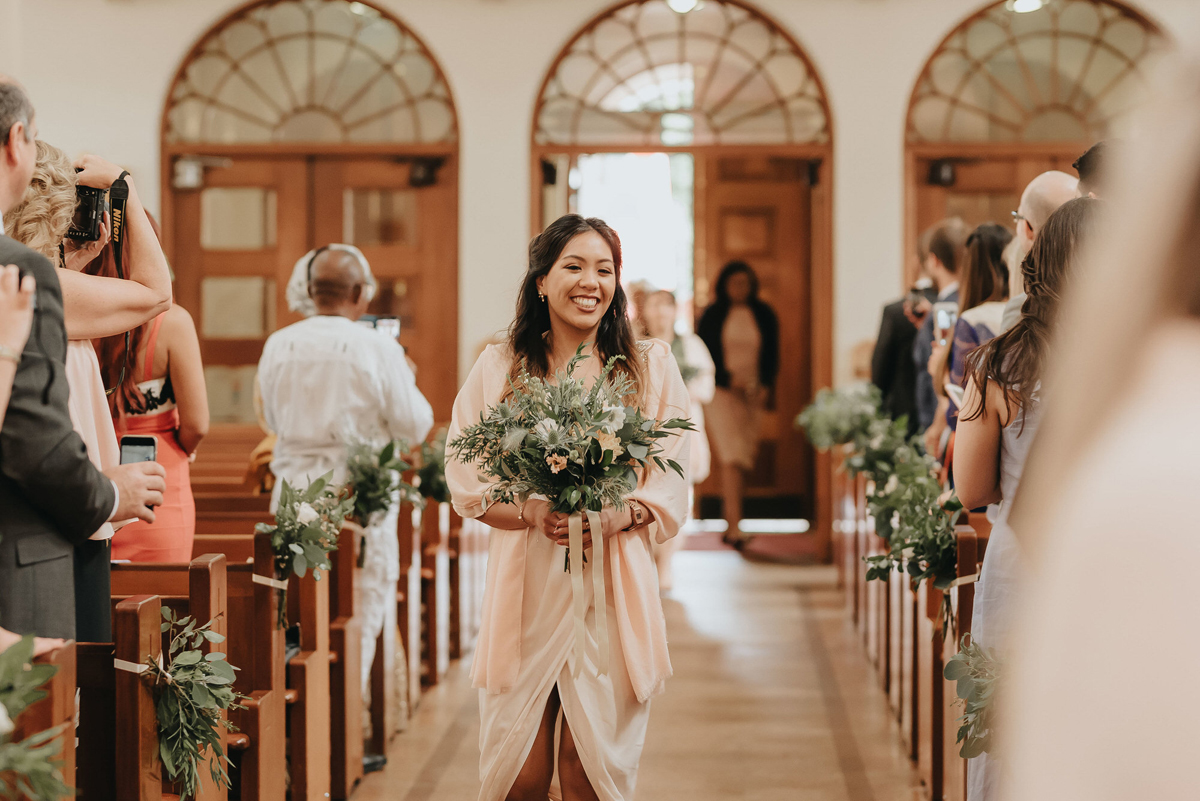 Zara and Jonny were married in their local Catholic Church in London before moving onto the reception venue. Zara's brother walked her down the aisle in the place of her late father, to This Is Our God by Hillsong Worship.
The vows were followed by two readings, a passage from the book of Ecclesiasticus read by Zara's chief bridesmaid and sister, and the letter of St Paul to the Ephesians read by Jonny's youngest brother and groomsman.
"We had many choices when it came to the readings but we wanted to keep things traditional and chose two readings from the Bible that really spoke to us."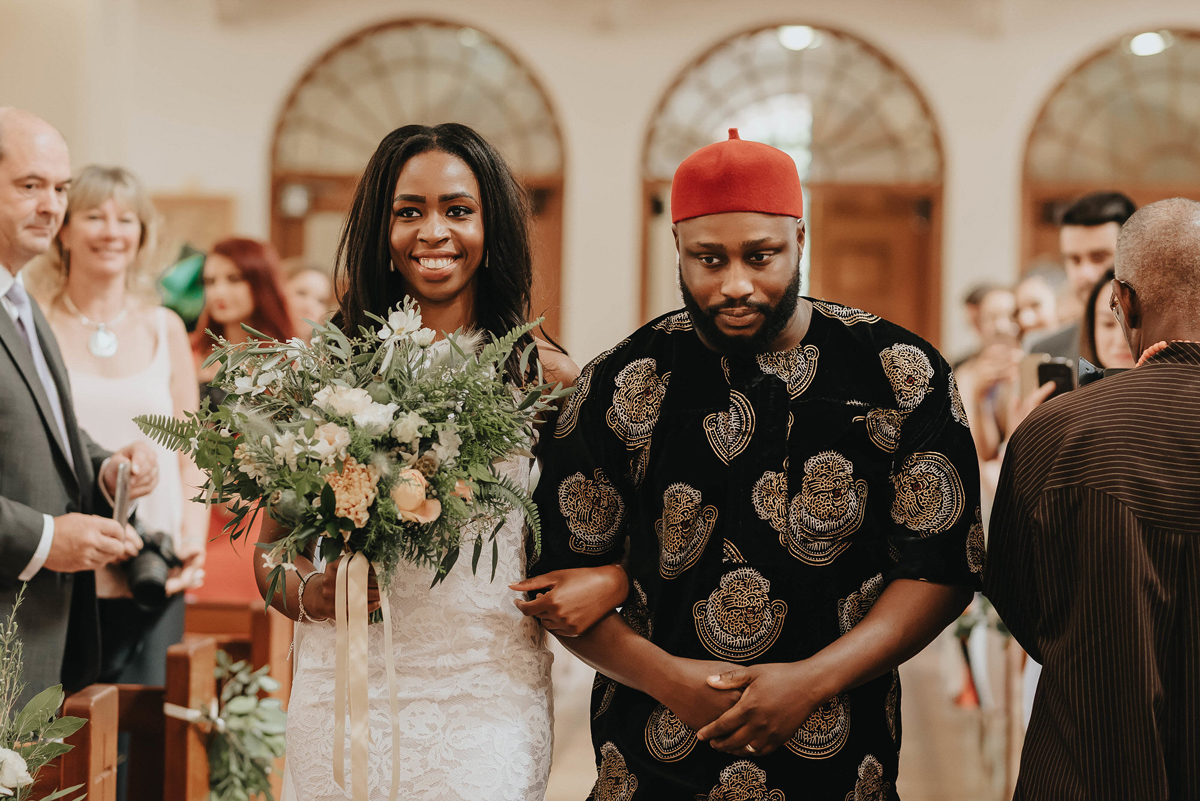 "My veil was bought in a high street wedding boutique and my shoes were barely-there white heeled sandals from New Look. My sister bought me a white floral hair piece for my bridal shower and attached it to my veil and I also wore Dusk Eau de Parfum by New Look as my scent."
"It's a sweet fragrance described as 'an incredible scent with depth and complexity for the confident, sensual woman who celebrates her femininity', so it was a perfect fit for me on my day."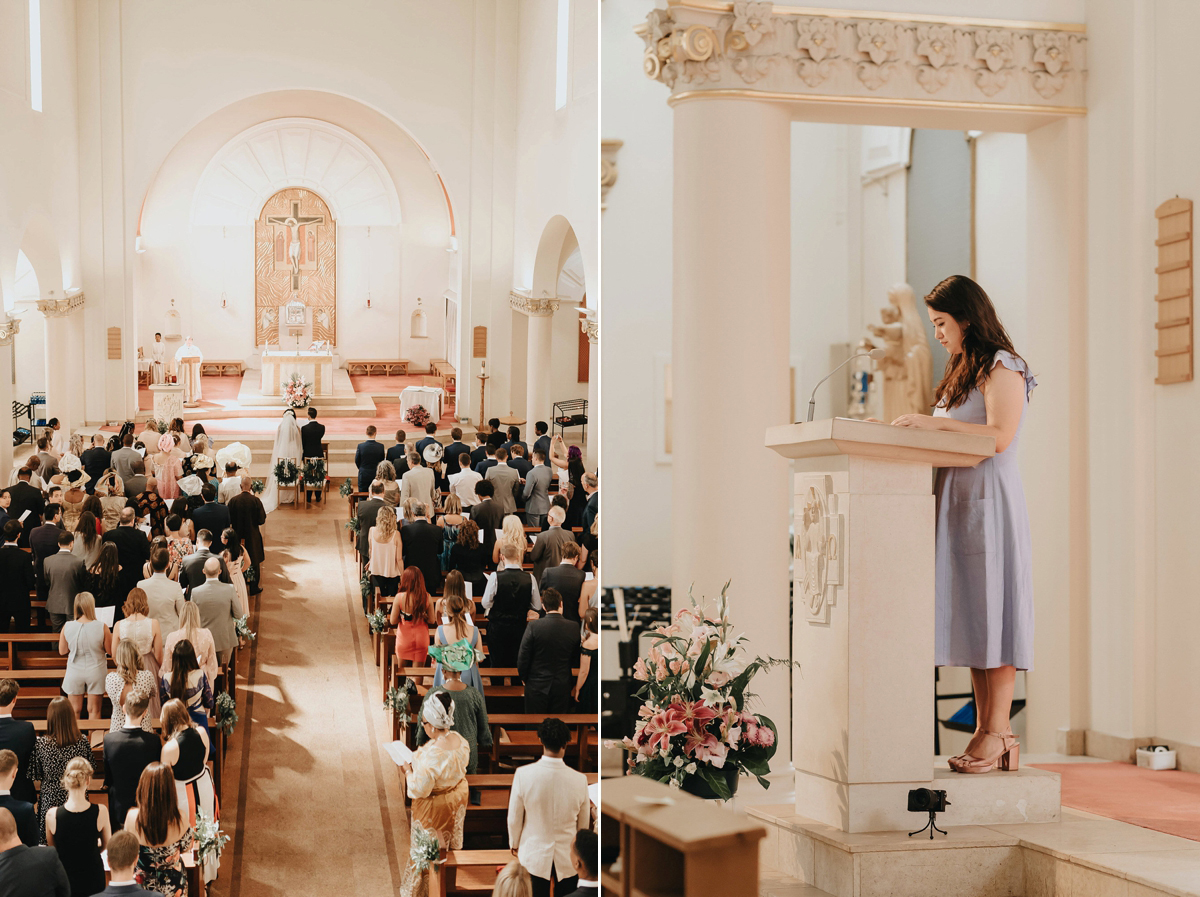 Following the church ceremony, guests were transported to the reception venue in large coaches hired from Southgate & Finchley whilst the newlyweds hopped into a self-drive Austin Healy 3000 classic convertible hired from GT Classic Hire.
Capturing the day in all its bohemian summery gorgeousness was Essex-based photographer Kelsie Low who specialises in fun documentary style wedding photography.
"Kelsie did an incredible job as our photographer. When we saw her website and her work, we knew straight away that our search was finally over. She captured every moment beautifully and discreetly. Jonny and I just love our photos. Kelsie went above and beyond on our wedding day and took some incredibly artistic shots."
"She captured the natural and unstaged moments of the day and gave us a lifetime of memories with real emotion. Her photos speak for themselves. She can (and did!) make a bench look amazing, but what truly stands out when you meet her is her personality."
"She's a lovely, friendly and approachable person. Kelsie kept in touch with us from day one and was well organised and well prepared and liaised with our other suppliers. She arranged for us to have a pre-wedding shoot and made us both feel comfortable in front of the camera. She had us laughing and having fun straight away. Kelsie is a true professional and we cannot thank and recommend her enough."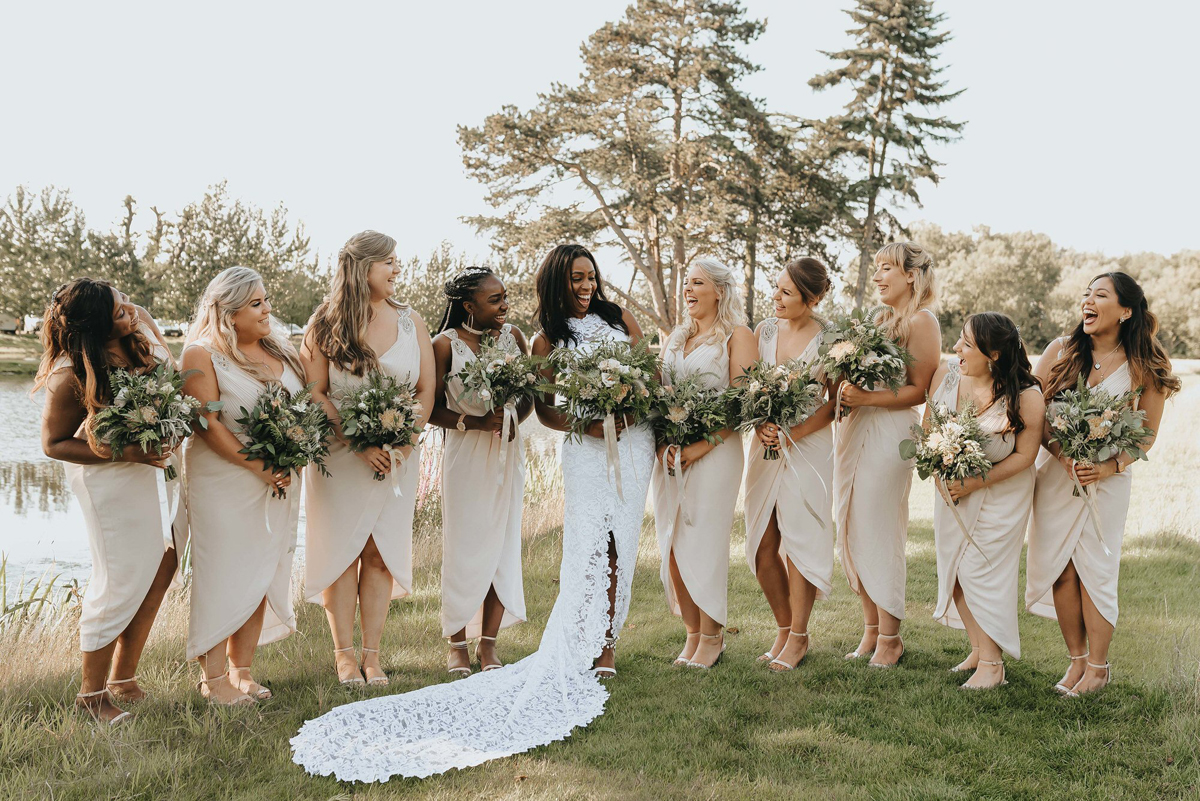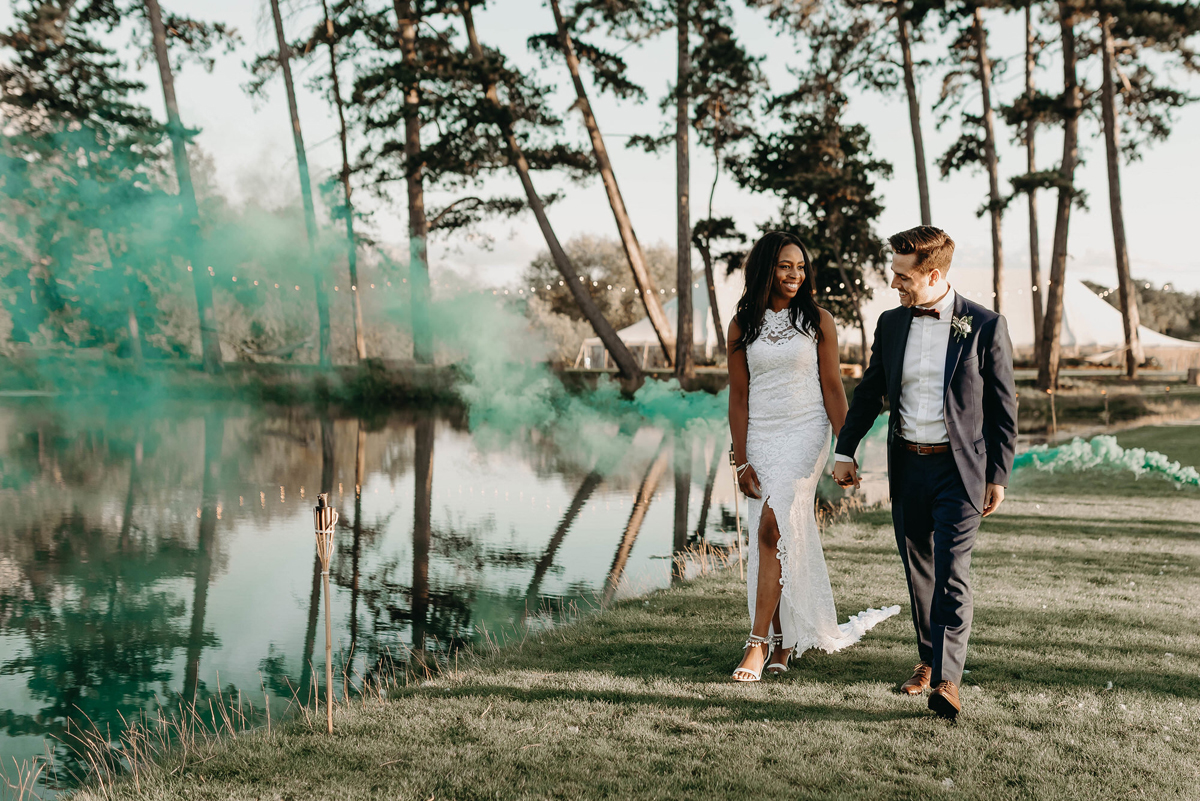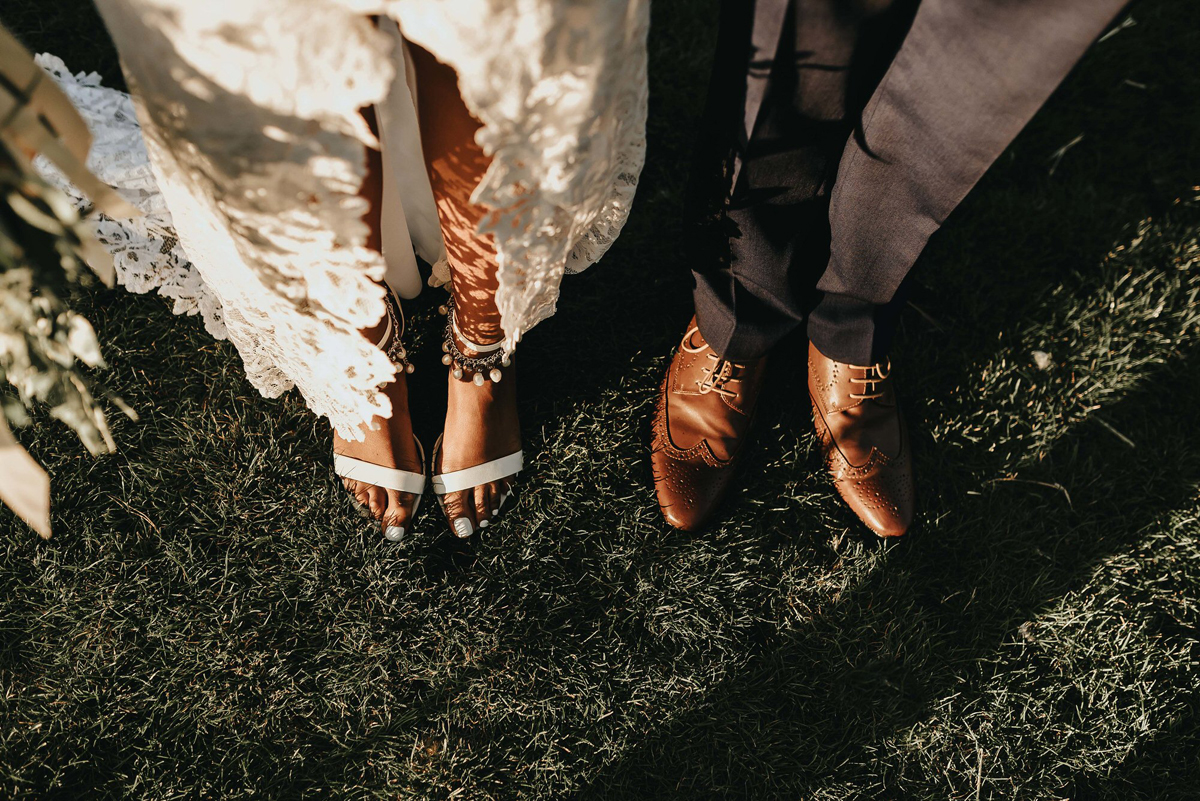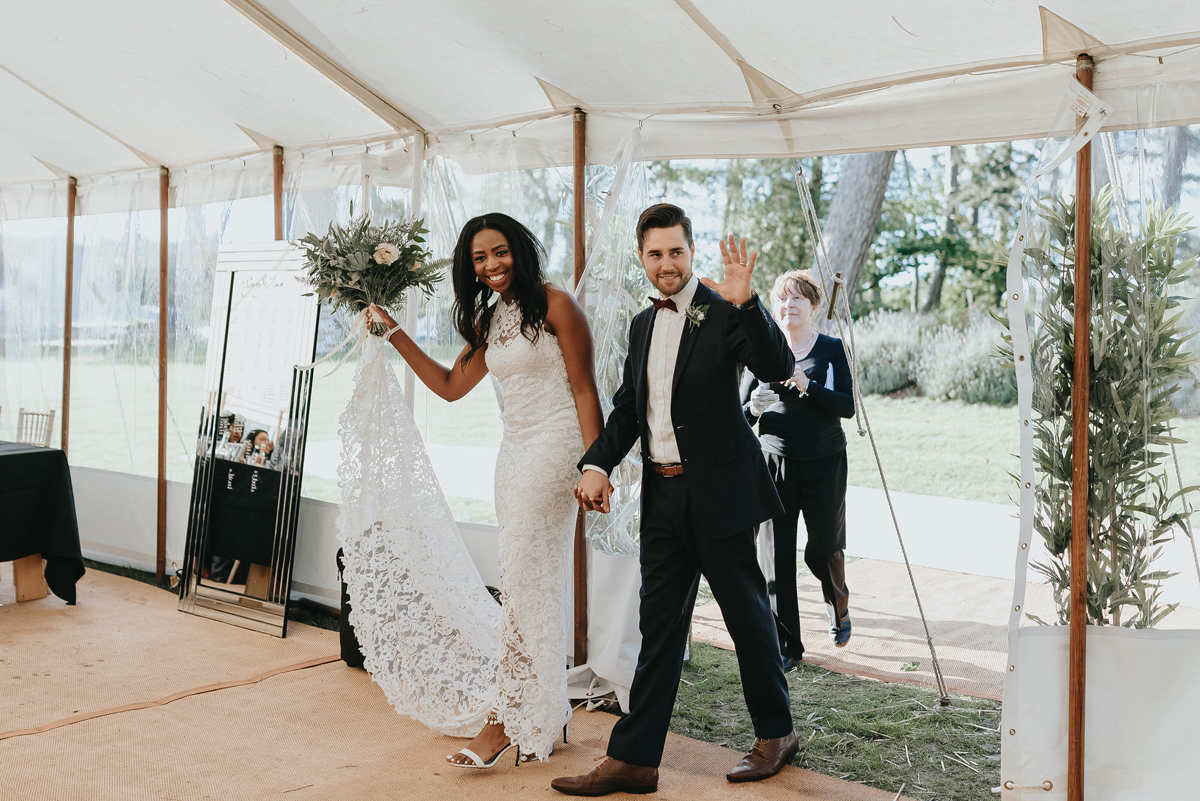 On arrival at the venue guests enjoyed the beautiful surroundings under the gorgeous summer sun, alongside an acoustic set performed by singer, songwriter and pianist Lizzie Cullen before heading inside the marquee for the wedding breakfast.
"Our caterers Kate and Tracey from The Giggly Pig Company were like fairy godmothers on our wedding day. They went far beyond their role as caterers and we owe so much of the success of our day to them. If you're a fan of hog roasts, I can't recommend them enough!"
As well as an outdoor fire, the couple also bought items they thought they might use again in their first home together to decorate the venue with, including a large venetian dress mirror for the table plan, wooden benches for outside of the marquee, red wine glasses used as candle holders, pillar candles, festoon lighting and a vintage bike with a chalkboard for the marquee entrance.
"We chose not to have typical wedding favours and instead gift wrapped blankets for guests to have around our outdoor fire and take home with them on the night. These were from IKEA and wrapped with hessian and a gift tag with our personalised wedding stamp on it."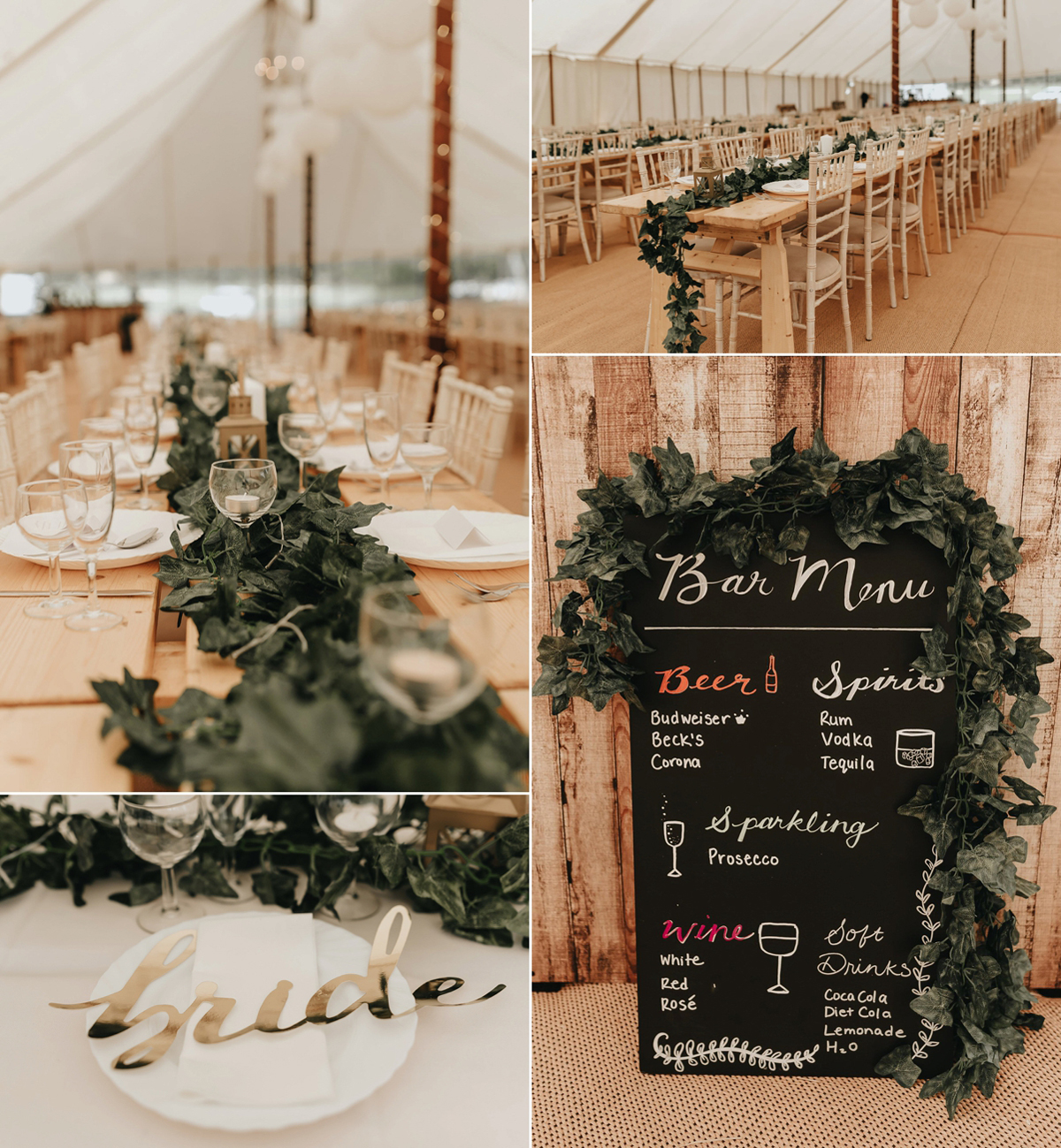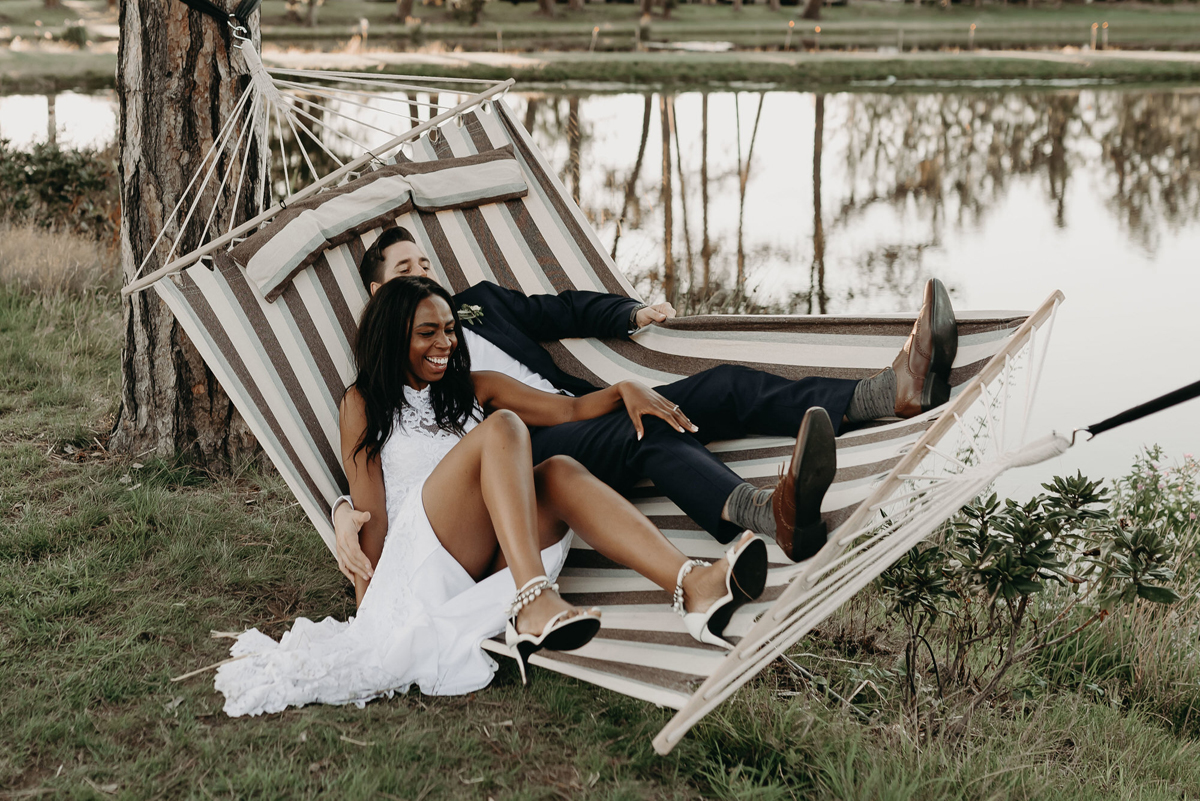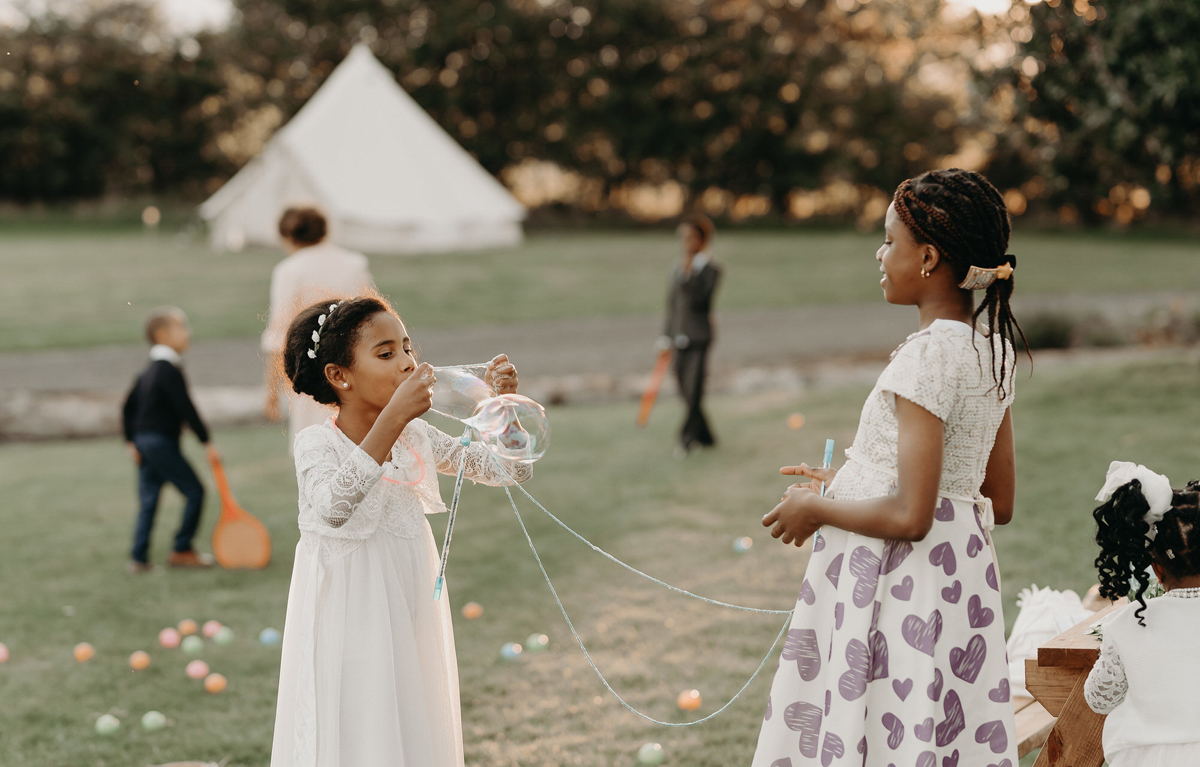 Other entertainment included a VW camper van photo booth hired from Buttercup Bus, a kids bell tent with games and cushions from Victoria Lily Events and lawn games hired from Nerissa Eve.
"We love entertaining and we love playing games. We hired a giant chess set, giant Jenga, giant noughts and crosses, giant connect four, giant bubble wands and lots of games for the children too."
"We then had a DJ play, DJ Dean Bryant, who was awesome. He was a personal recommendation from a friend of Jonny's. Dean was brilliant at mixing songs for the right occasion and played African music for the Nigerian side of my family. He made sure that everyone had a brilliant time and was so much fun to be around. He really made our wedding evening!"
"From start to finish, our entire wedding day was incredible. Our wedding wasn't just about our love for each other but also about celebrating our love for our friends and family who have supported us along the way. A big highlight for me was the evening part, starting with the spectacular performance by Adanta who involved all of the guests. One of my favourite moments in particular was standing with my new husband side by side, all of our guests on their feet and the whole party simultaneously performing a sequence of African dance moves that we had just learnt from Adanta's lead dancer. The evening fun was then followed by the hilarious Mrs and Mrs shoe game and our choreographed first dance."
The first of the evening's entertainment came in the form of African dance and entertainment group Adanta before Zara and Jonny performed their first dance as husband and wife to L-O-V-E by Nat King Cole.
"Ever since I watched The Parent Trap I think I always wanted this to be my first dance song. Our first dance was choreographed to incorporate a fun and entertaining blend of swing, Charleston and ballroom dancing."
"Surrounded by our friends and family, it was a magical moment and the most fun we have both had dancing together. It didn't matter one bit that I put a foot wrong and nearly blew our grand finale!"
Words Of Wedded Wisdom
"Wedding planning can be a stressful process. There will be amazing days and some not so amazing days. Good day or bad, you will soon be marrying the love of your life and best friend. In the heat of your stress, my advice would be to take a moment to think about that all important, wonderful and comforting fact and it will help carry you through."
"Also, unconventional as these words may be, planning a wedding can be a rollercoaster but your health shouldn't be. My husband and I used raw apple cider vinegar daily in our food and drink and our health was never better! For brides looking to get wedding dress ready, have energy, glowing skin or simply avoid illness, it's the one product that truly kept us going. I mean, I was still up at 5am on our wedding day to decorate the venue so trust me, the stuff works."
The aesthetics and simple gorgeousness of this wedding is up there as one of my all time favourites. I can see what Zara means when she says she first thought the venue was somewhere exotic and not in the UK, by the looks of these images. A big thanks to photographer Kelsie Low for capturing it all so perfectly on camera and all the best to our newlyweds Zara and Jonny.
Until next time…
Much love,
Holly x