Everything about today's wonderful wedding is suffused with such romance, from the coastal, rural Scottish location to the vintage inspired decor, our bride's dreamy tulle gown and lots of gorgeous, twinkling fairy lights. It's also a real transatlantic celebration, with the bride and her family from the USA, and the groom originally from England, choosing to marry in the place they now call home together in Crail, Fife.
Mr and Mrs Hey have both recently finished their PhDs in History, and work as freelance editors, with our bride also blogging about beauty over at Coffee Spoons. They were married in a joyful celebration on the 12 August 2017 in Crail's thirteenth century parish church, followed by a reception at the village hall.
"We wanted a vintage—but not twee—feel to the day, with loads of flowers and a modern take on 'rustic'. We live in the countryside, so I wanted plenty of rural touches, like the farmhouse tables and the fairy lights, but I didn't want anything to feel too quaint. I am American, and he's British, and we live in Scotland, so we wanted to have nods to all three cultures. We had a piper at our wedding who piped our guests into the church and then piped us in a procession to the reception hall (which was also an old, repurposed church). We had tea and coffee for the guests in antique tea cups, which is a nod to my grandmother, who collected vintage tea cups." 
Photography by Anna Urban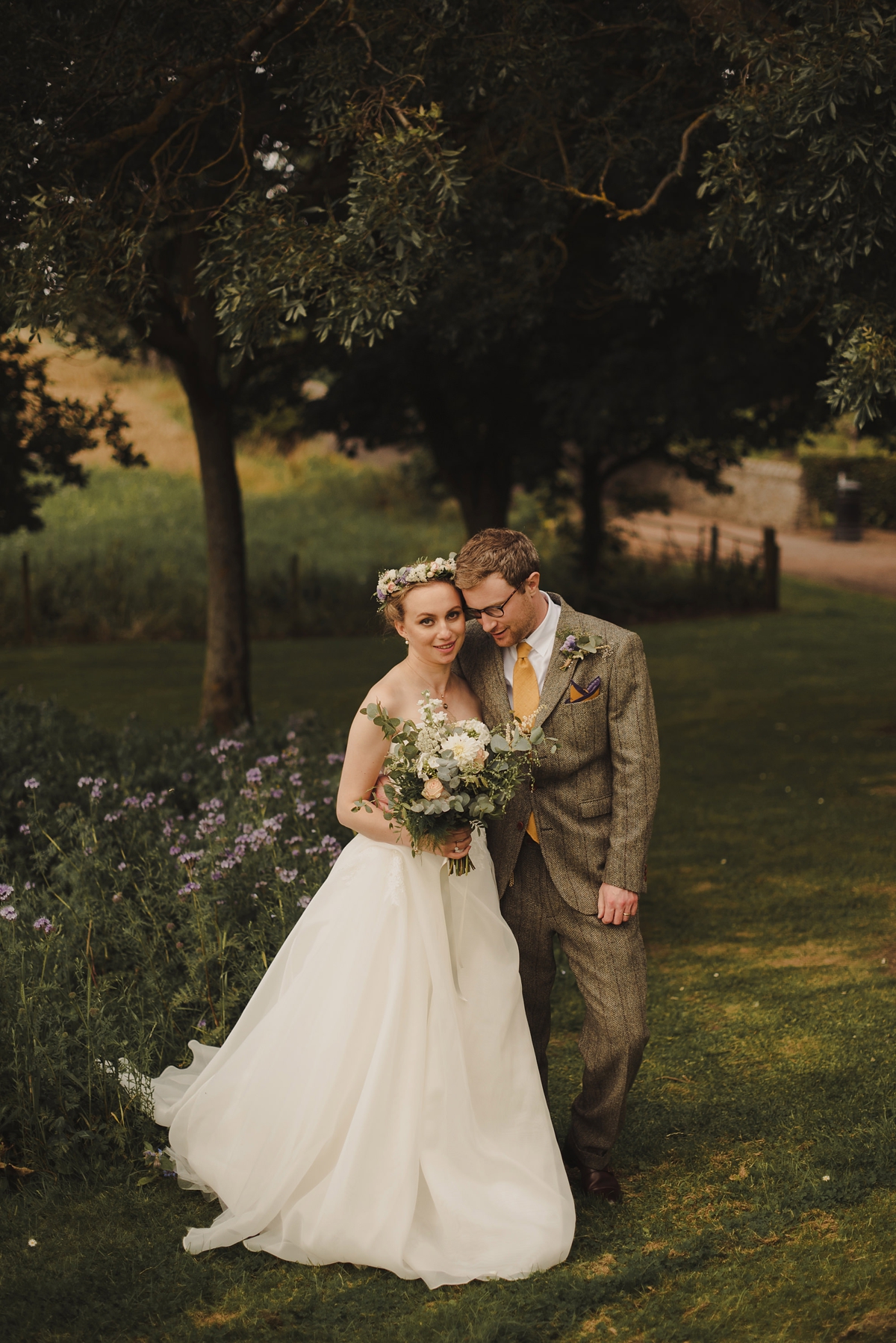 The talented photographer chosen by our bride and groom was Anna Urban, whose soft and natural, light-filled images really show what a jubilant day it was, filled with thoughtful, personal touches.
"Anna Urban — she was amazing. We wanted a photographer who took journalistic style photos and who wouldn't be too 'in your face'. Anna was perfect — we hardly even noticed she was there, and the photos she took captured the day brilliantly."Mr and Mrs Hey first met while they were both studying for their PhD at the University of St. Andrews.
"We had the same PhD supervisor. The first time I saw him, it was across the room at the postgrad induction reception. He was drinking a cup of tea and had a red beard. Something inside me just clicked and I ran over to tell my then-roommate that I'd just seen my future husband, even though I'd never even spoken to him. The vicar who married us told that story during our wedding ceremony. We got engaged two years later when we were in Tel Aviv, Israel for work."
The couple worked with planner Sara Jane, from Weddings by Sara Jane about a month before their big day, to ensure all the details were taken care of. Flawless on-the-day coordination came from Cat at Fin Flükra.
The locally sourced floral arrangements were by Hannah at Vintage Gathering, and are an absolute picture, in fresh, neutral colours with the softest of pastel accents and wild meadow greenery.
"I felt clueless as to how to approach the flowers, I just knew I wanted the wedding to feel like it was overflowing with nature. Hannah had a look at my Pinterest board and created an incredible design for me. She came up with so many ideas, like garlands for the tables, that I would never have thought of. She's a huge part of why our day turned out so well."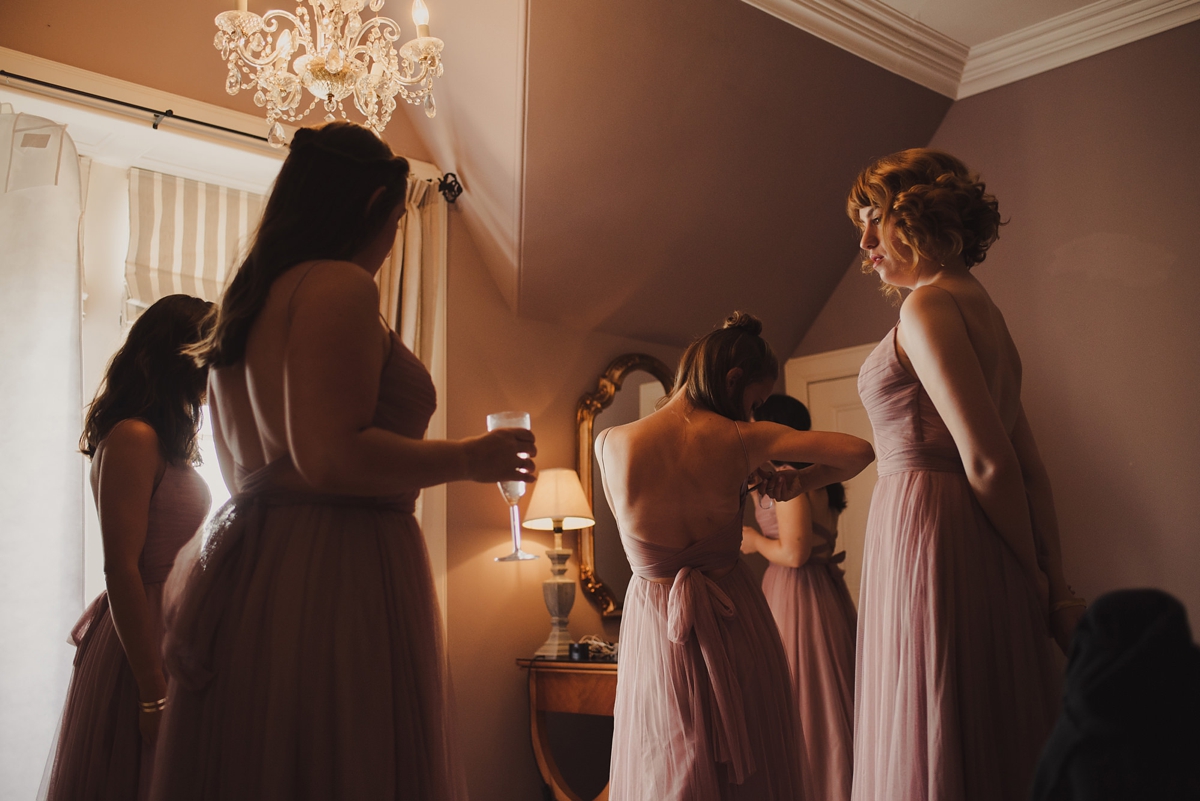 The team at AMM Hair and Make-up created Mrs Hey's glowing and natural make-up look and her elegantly curled chignon, which was then dressed with a pretty flower crown. BHLDN's 'Annabelle' dress in blush pink was the charming choice for the bridesmaids' outfits, teamed with their own shoes and accessories.
Our bride originally thought she wanted an all lace wedding gown, but on a trip to Hitched Boutique in Georgetown, Washington D.C, her mom found the perfect – if unexpectedly different choice – the 'Erin' dress by Nouvelle Amsale.
"My mom found this sweetheart ballgown with lace detailing and a tulle skirt and the moment I tried it on, I knew it was perfect. I never expected to go with a ballgown, but it ended up being perfect for me. I loved how the skirt was a little different and the tulle and lace detailing across the bodice. The train felt very special as well."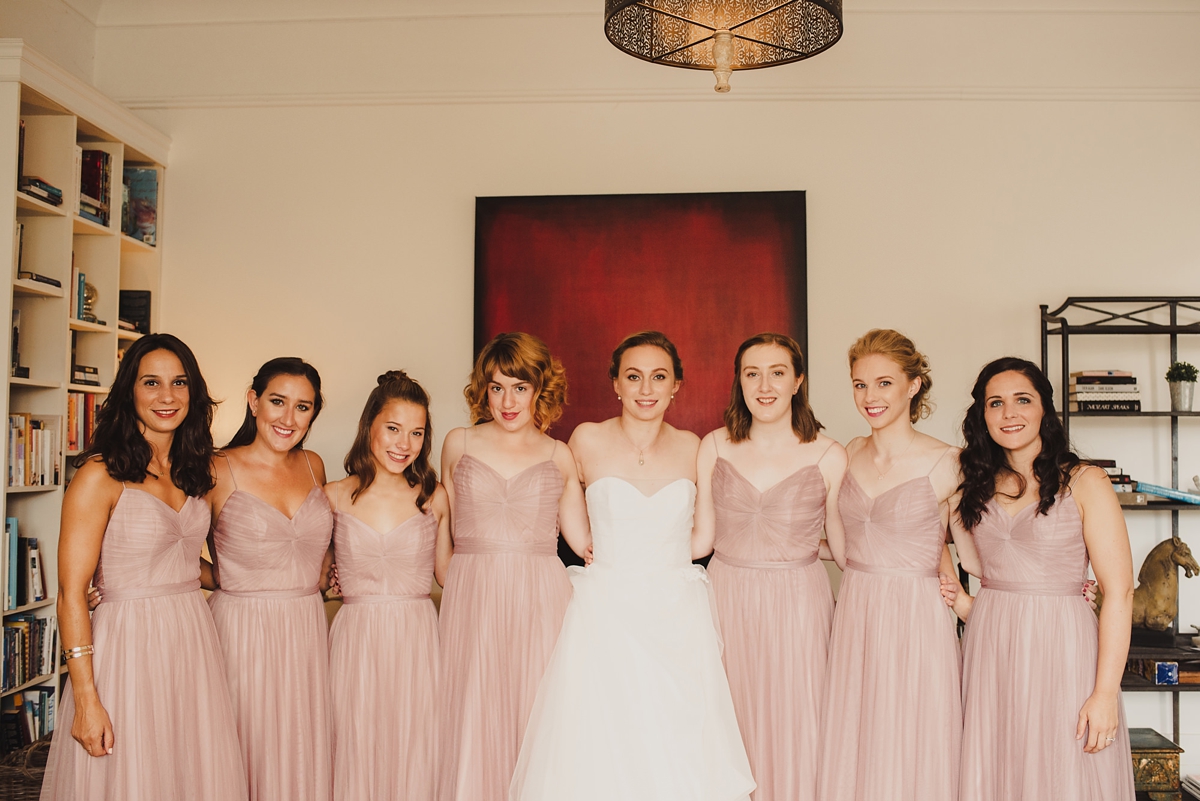 "I had picked out a scent I was sure I'd love, but on the day it just didn't feel right. So all my bridesmaids brought their perfumes in and let me pick one I'd like, which was actually really special. I ended up wearing Tom Ford 'Neroli Portofino'."
Mrs Hey paired her dreamy gown with a simple veil from Edinburgh based Emma Roy, which acted as the perfect foil for the dramatic romance of the dress. On her feet, she wore pastel pink woollen courts with sparkling buckles from Ted Baker, and accessorised with jewellery gifted to her by her parents, bought from Facets Fine Jewelry in Arlington, Virgina.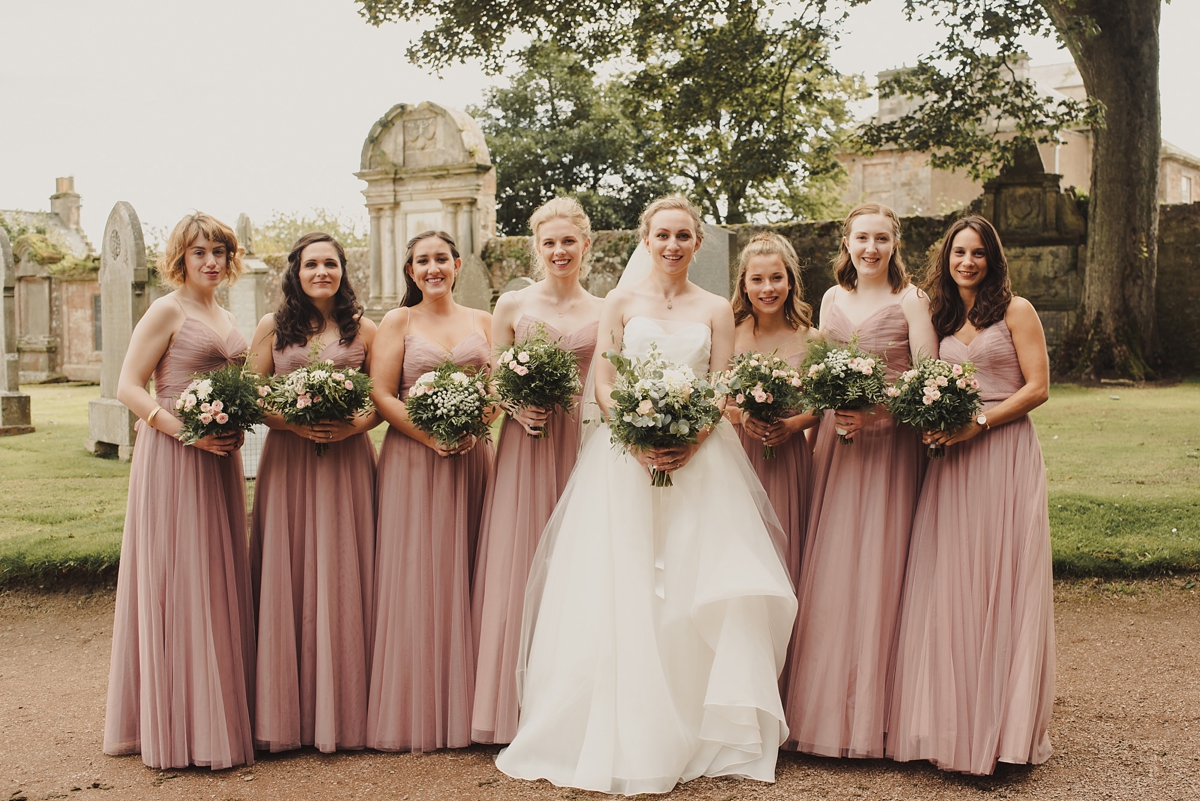 "My father walked me down the aisle, with my sister (MOH) following behind holding the train. It's actually kind of a miracle that my father was able to walk me down the aisle or indeed be at the wedding at all —four weeks before the wedding he broke his leg extremely badly in two places and had to have two surgeries."
"He's ok, but he was almost unable to fly over to celebrate with us, which would have been devastating for me. He pushed through and thanks to some great doctors and the care of my mom, he made it down the aisle, albeit on crutches. It was a little difficult to manage the volume of the skirt with the crutches, I must say!"
The groom wore a handsome, summery light tweed suit from Scottish tweed specialists, Walker Slater together with a smart mustard coloured tie and pocket square from Drake's. To the sound of  Jeremiah Clarke's Trumpet Voluntary, the bride walked down the aisle with her father – an incredibly special moment, made all the more significant by the fact that it nearly didn't happen.
The Reverend Margaret Rose conducted the ceremony at Crail Parish Church, with our couple opting to exchange traditional vows, as well as rings. Mrs Hey chose a wedding band from Matthew M. Henderson in St. Andrews to go with her engagement ring, which had been bought second-hand in Clitheroe. Mr Hey also opted for a second-hand wedding band from a shop in Edinburgh.
"We wanted something unique and we love the look of mixed metals."
Rev. Rose surprised the couple with a touching reading from the book Captain Corelli's Mandolin as well as a Bible reading from the Song of Songs.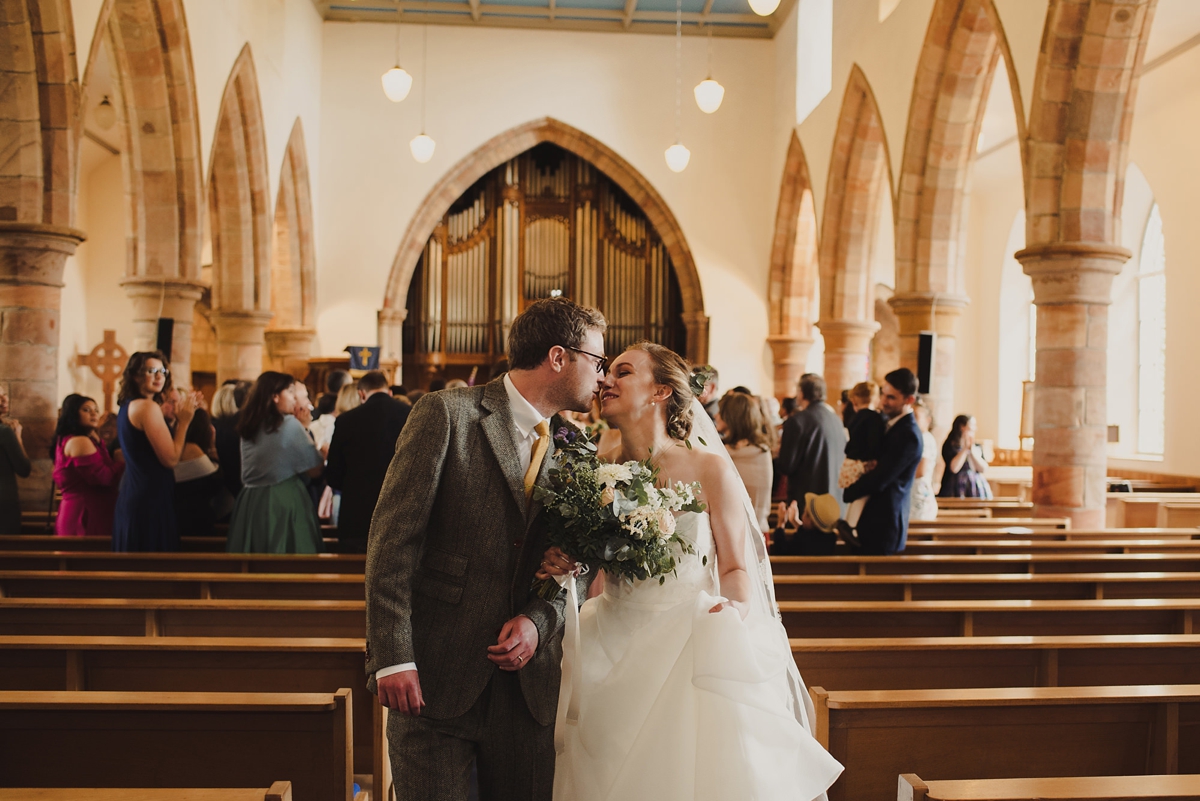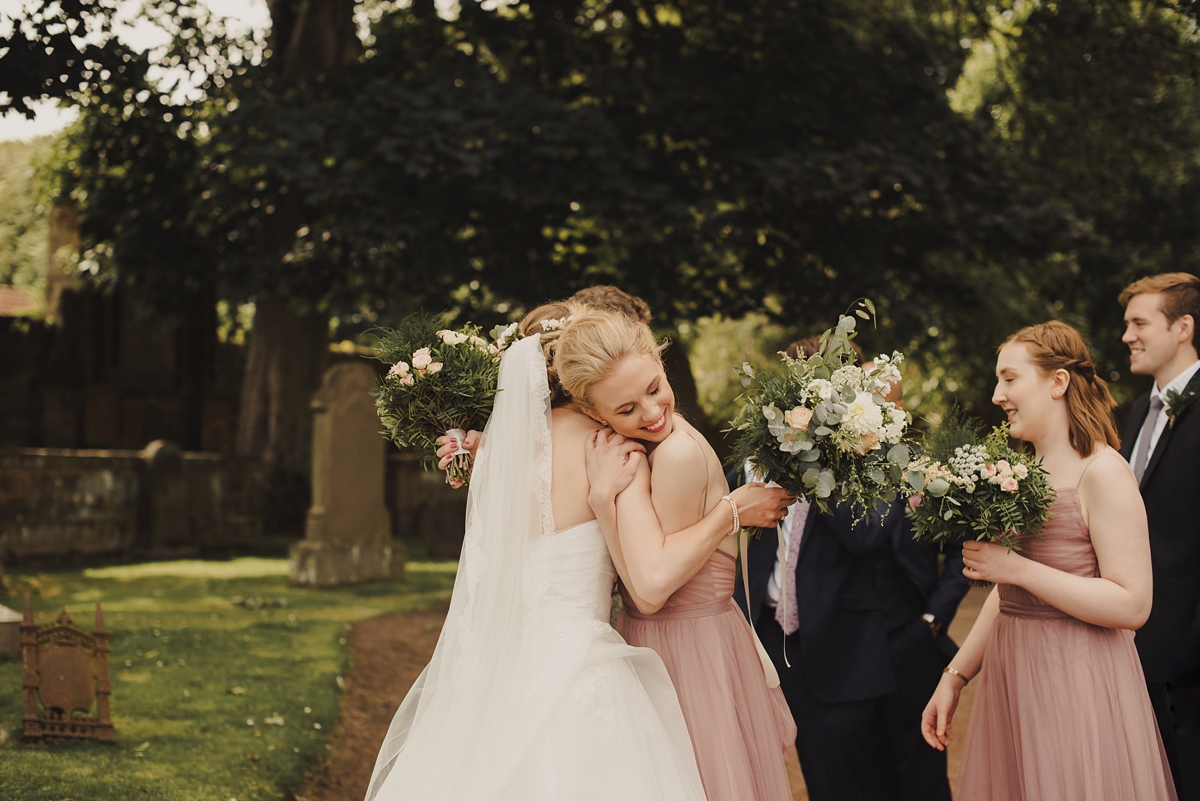 Following the ceremony, Mr and Mrs Hey and their guests walked through Crail to their reception venue at the village hall. These images of the happy couple being serenaded on their way by a traditional piper are enchanting.
"We chose Crail because we live there! It doesn't hurt that it's a beautiful, rural seaside village with a lovely 13th-century church. The best man, in his speech, joked that it was the most convenient location for us, and the least convenient location for everyone else (it's quite remote). My family is from America, and my husband's family is from England, so it was kind of a half-way point between them, in a way!"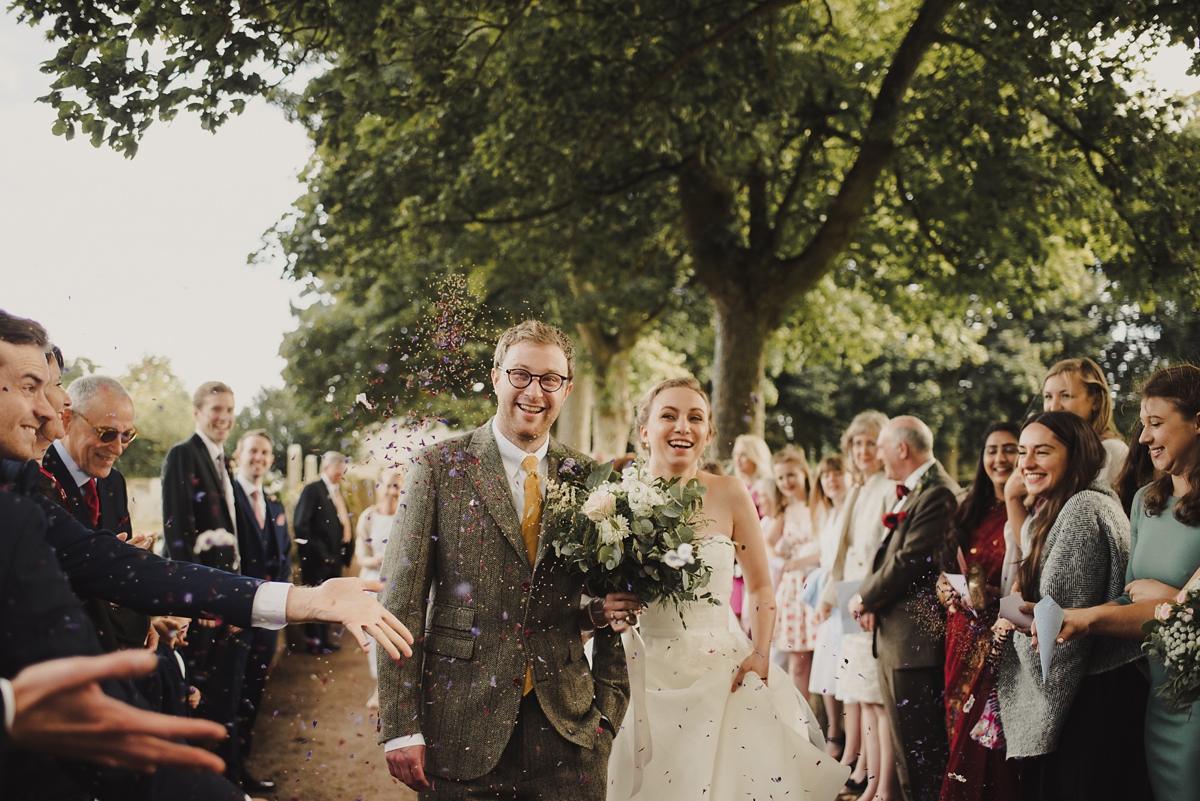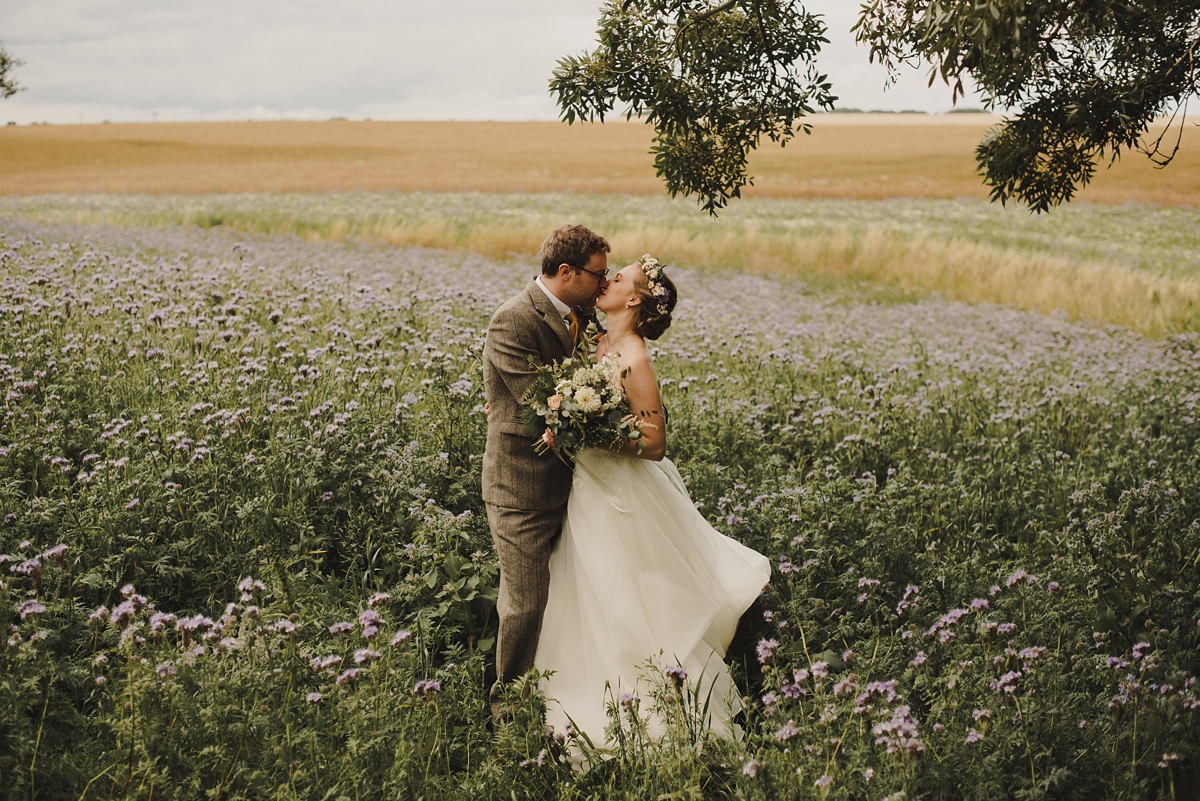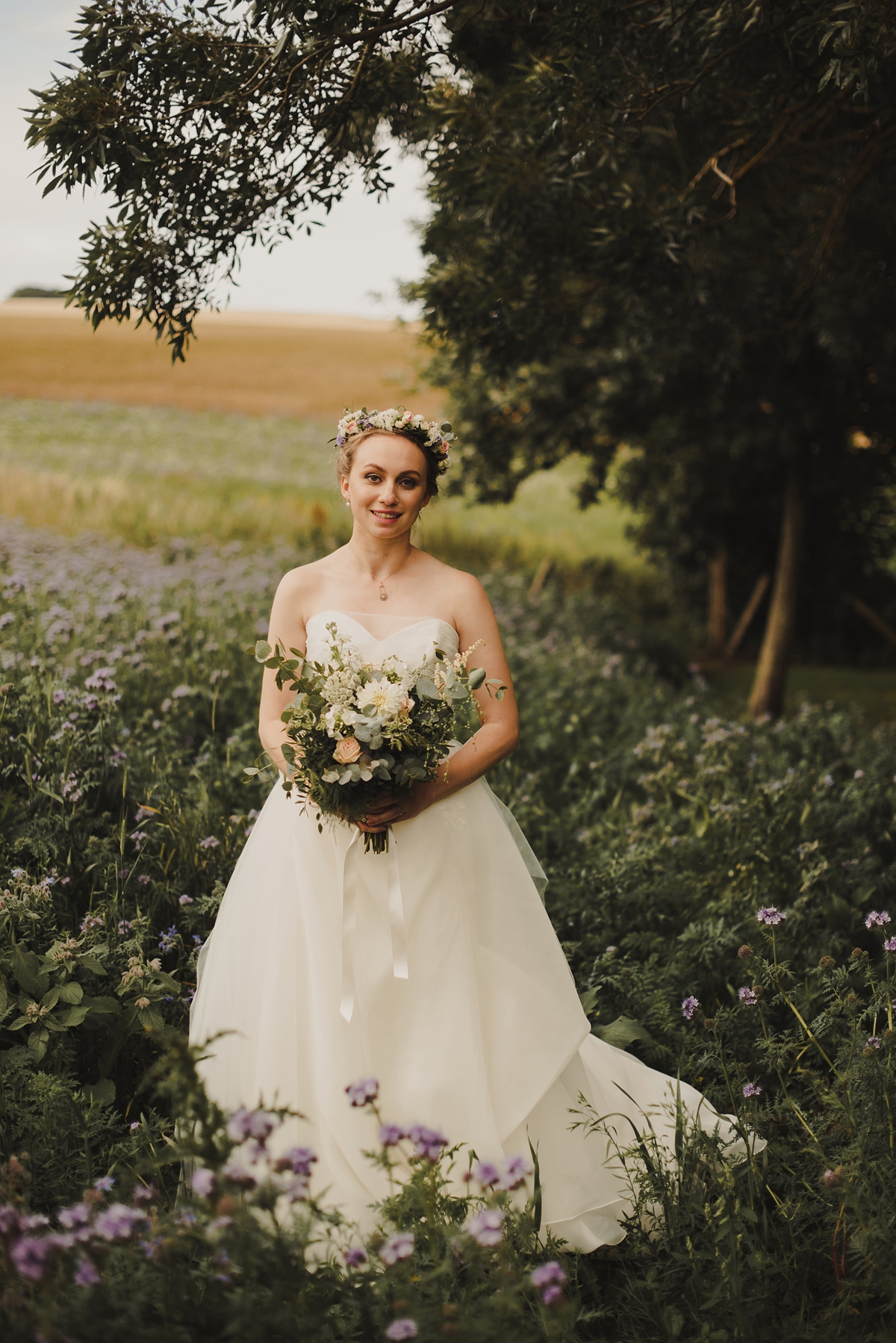 Wild Rover Food provided a feast of locally sourced food for everyone to enjoy.
"They were amazing! Just look at that mobile kitchen!"
Natural, rustic furniture was sourced from Virginia's Vintage Hire, who helped the couple put together the perfect look for their venue. Vases of pretty flowers and garlands adorn the tables, together with colourful, mismatched vintage crockery from The Green Cockatoo and lots and lots of fairy lights from Wedding Lighting Hire Scotland.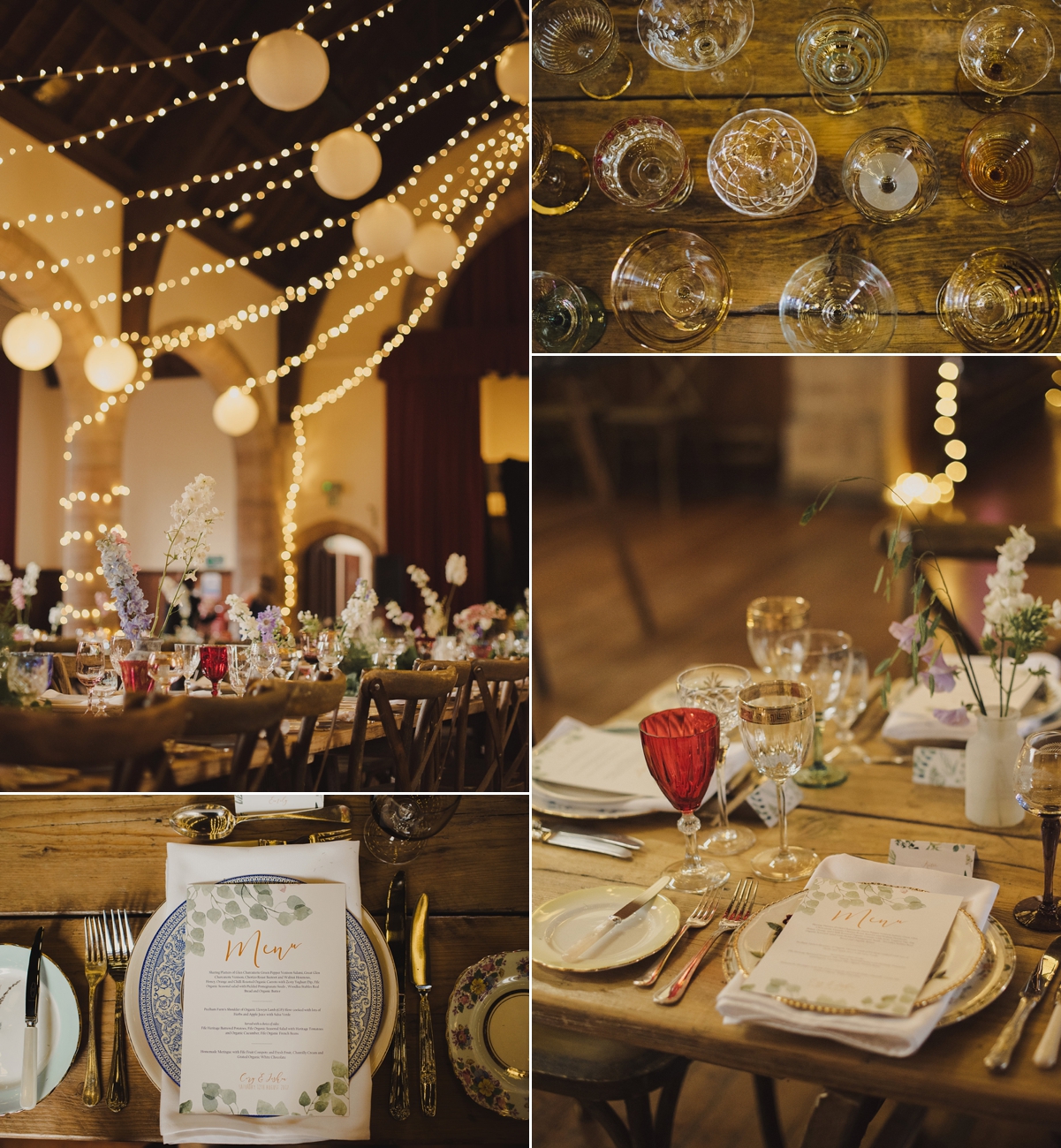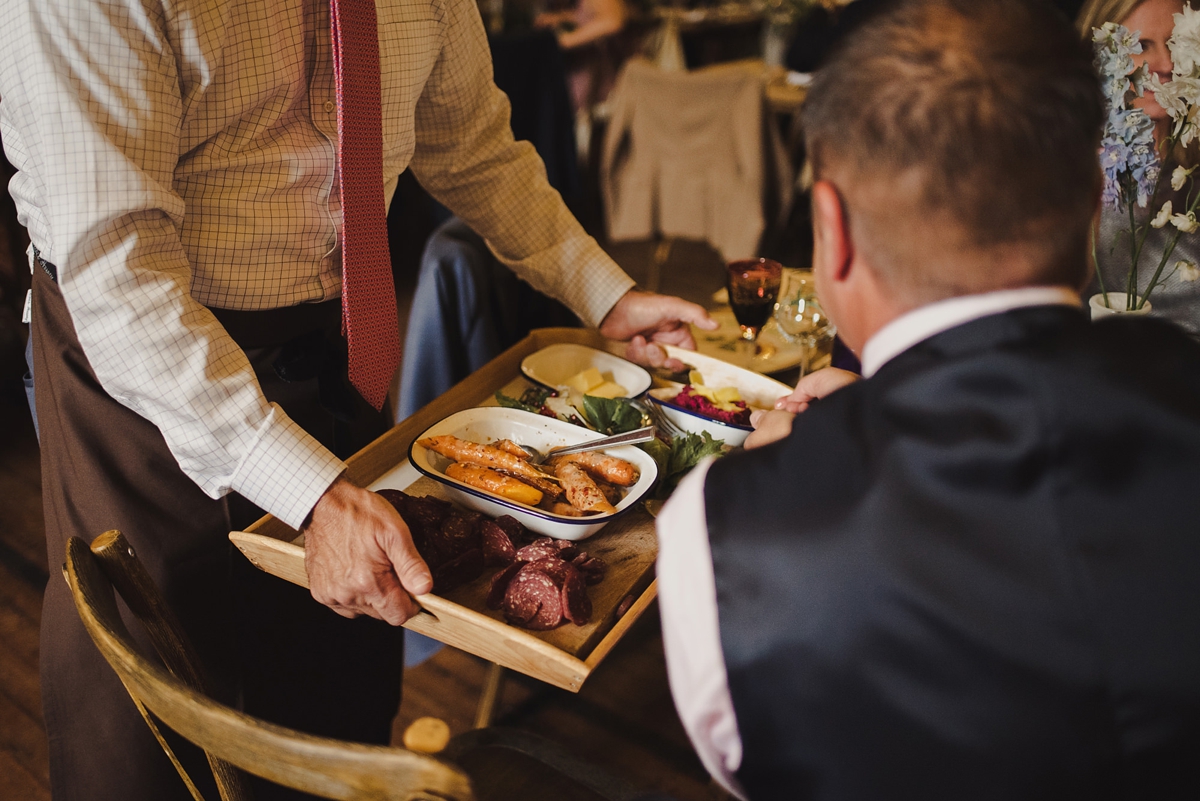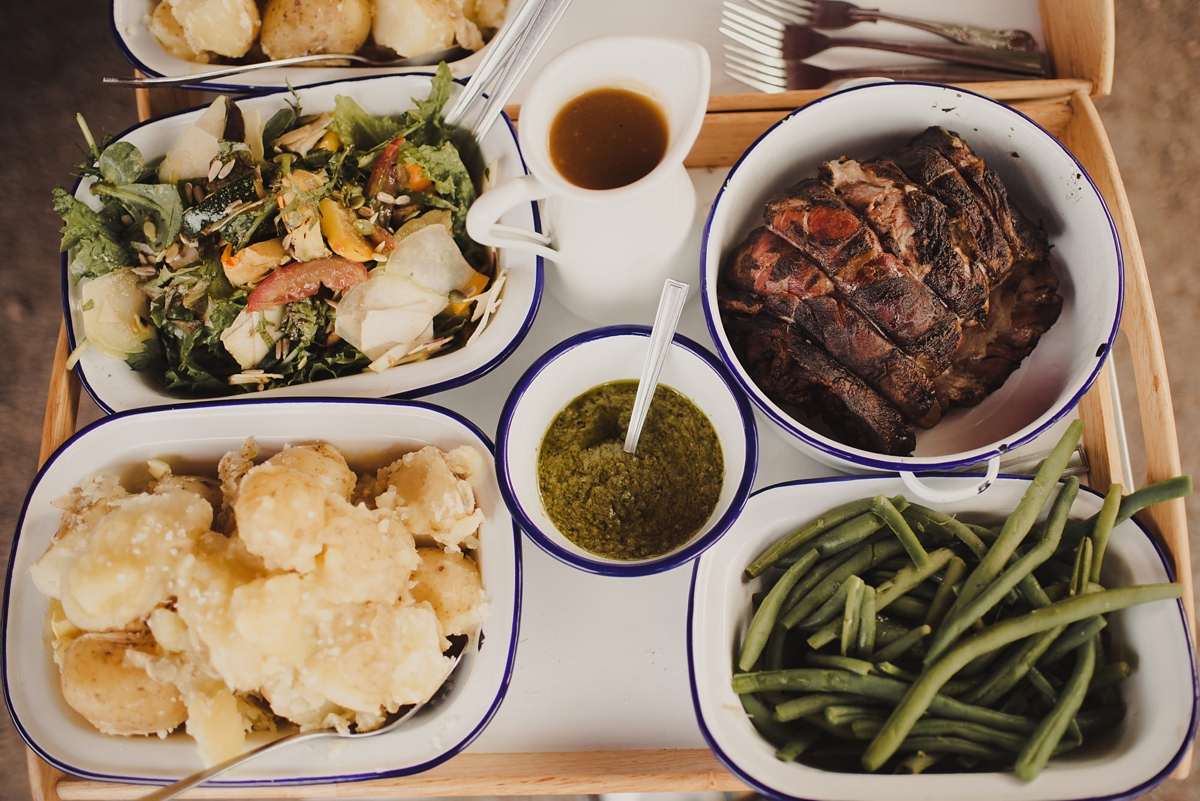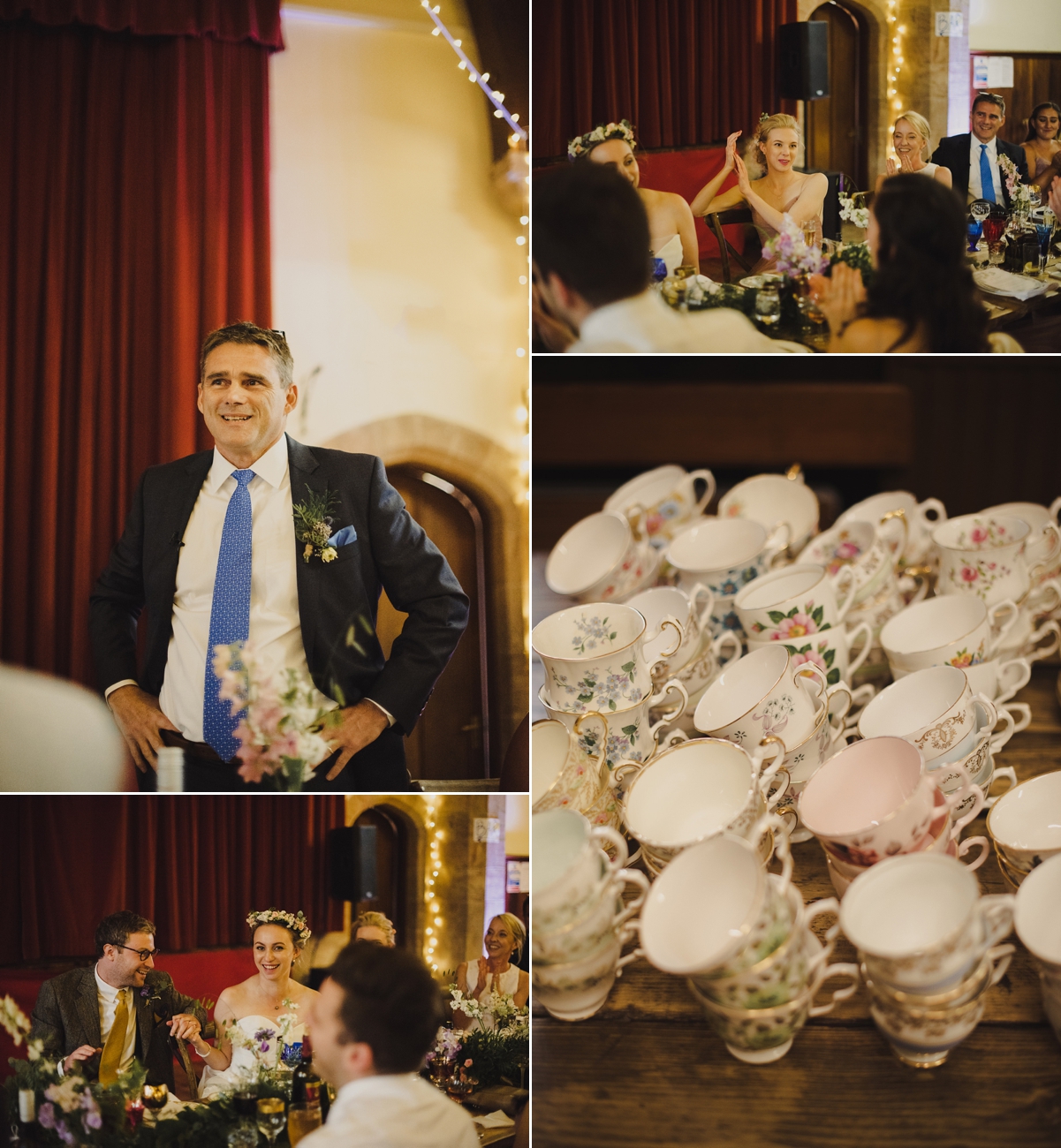 The brief that our bride gave to baker Loren from Loren Brand Cakes to describe just the kind of cake she was looking for is fantastic!
"I told Loren that I wanted the cake to look like it had spontaneously erupted in the middle of a forest, with plenty of flowers and greenery. She also provided the tree trunk cake stand, which was the perfect touch."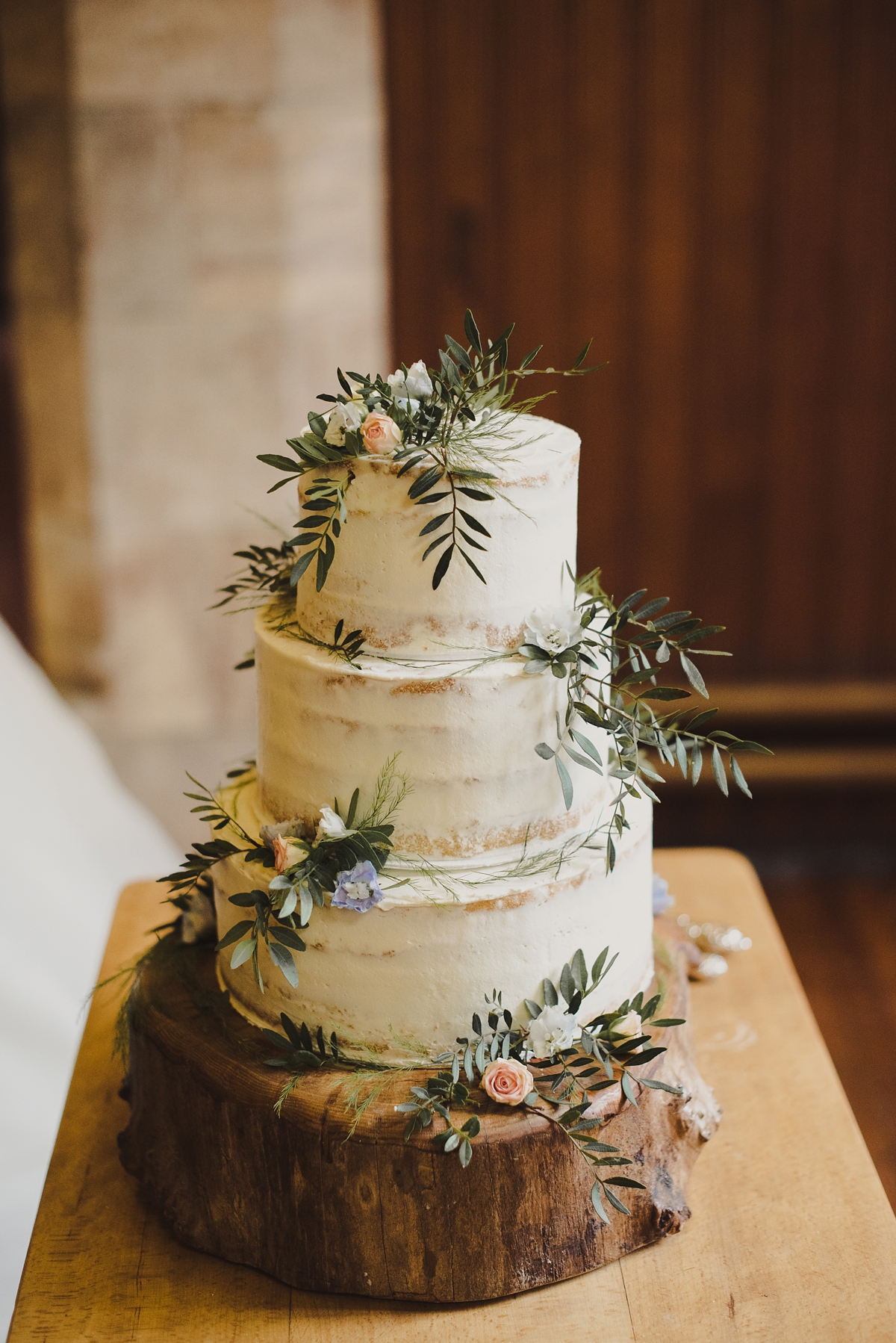 The band responsible for getting everybody up, dancing and having a merry time were the Staffin Island Ceilidh Band.
"I let my husband choose the first dance song, as we don't really have 'a song'. He chose 'Can't Buy Me Love', and it's now our song."
"It's hard to pick a favourite part of the day, because it was all so beautiful. Aside from actually getting married, I'd say my favourite part was seeing our friends and family so happy. I especially loved seeing all our guests enjoy the ceilidh — many of whom had never ceilidhed before."
Words of Wedded Wisdom
"Make sure you do a hair and makeup trial. I didn't have time to do this because we live in such a remote village, it was too difficult and costly to go to Glasgow for the trial or to have the stylists come to me. It was the one bit of the day that I had to wing it. Luckily it ended up great, but it was a stressor for sure."
"The other thing is don't worry about trying to please everyone. People get weird about weddings…just try to focus on why you're getting married and the little things you can do to make sure your guests are happy. One of my favourite touches from the day was that we had champagne ready and waiting for the guests as soon as they got to the reception venue."
"The only thing I would have done differently is to stress out about it less! Everyone tells you to expect something to go wrong on your day, but sometimes I guess it goes even better than you could have imagined."
Many congratulations, Mr and Mrs Hey, and thank you so much for giving us this glimpse into your utterly charming, natural and romantic day – it's been a pleasure. Thanks also to the talented James at Strangeworx Wedding Films and photographer Anna Urban for a dreamy film and magical images.
Until next time, dear readers!
With love,
Laura