This time next week I'll be lounging on a beach on Kos, hopefully having completed an early-morning, energising yoga session in the poolside yoga shala at my hotel. My excitement is mounting, so how apt that I'm sharing this wedding today between Mrs McConnell, a yoga teacher who also works in advertising and Mr McConnell, who works for his family business All Seasons Marquees and owns the super-cool, totally retro glamping bus Bus 'n' Breakfast.
Come with me down to Mrs McConnell's parents' home in Devon, where the couple celebrated their marriage on 27 August 2017 in an outdoor blessing and marquee reception (in one of the groom's very own marquees) They were inspired by the beautiful valley surrounding the house and garden, and wanted their day to be a real celebration with lots of time spent with friends and family. Asking friends and family to be involved in the wedding planning and ceremony itself was hugely important to the couple, a philosophy that I wholeheartedly support.
"Our motto for the wedding was to use friends and family wherever possible. You spend a lot of money on a wedding and we wanted to put that back into our community of friends, many of whom are running small businesses. We wanted minimal décor and wanted the day to feel fresh and natural and relaxed. We didn't want to use our budget on lots of decorations and instead made sure everyone had plenty to eat and drink."
Photography and Film  Liberty Pearl Photography
Photographer Amber at Liberty Pearl Photography captured the day in all of its sunshiny glory – with a fresh, vibrant approach capturing lots of relaxed moments that I just love. It's brilliant that Mr McConnell's bus, 'the Dominator', made an appearance.
"Amber is such a joy to have at your day and you can just tell that she's enjoying herself which makes the whole experience so lovely! She made me so excited and at ease every time we spoke/emailed in the build up too."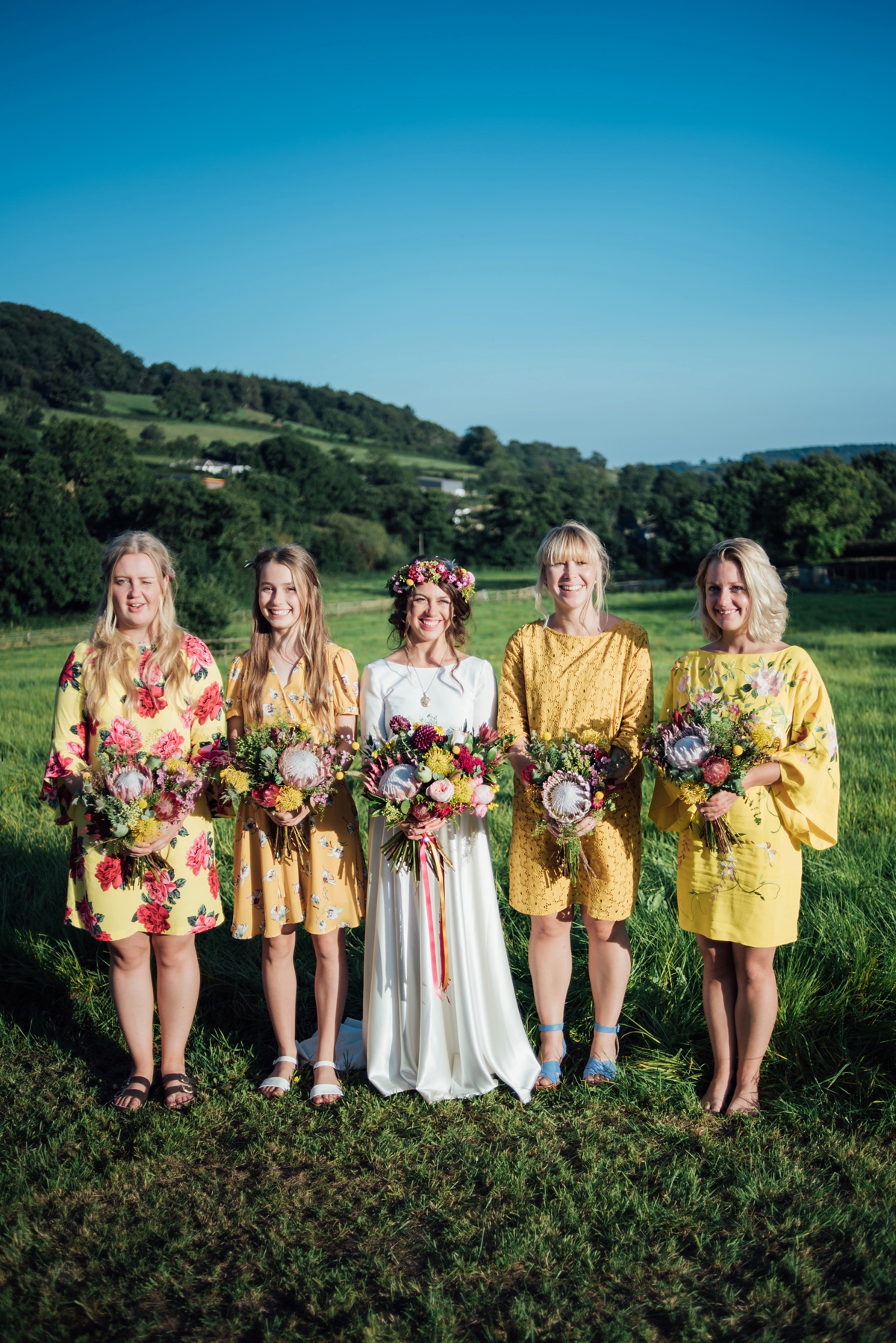 The bride looks so relaxed and elegant in her Rose Savage gown, which features a fitted bodice with a deep scoop back, flowing skirt and lace detailing around the fitted three-quarter sleeves. It's the epitome of pared-back bridal design and I really admire this look.
"Rose Savage made my dress. I tried on a few and decided what I wanted but couldn't find quite the right thing so together Rose and I designed my dream dress. Rose is amazing at getting inside a brides head and making just the right thing.  I wanted beautiful fabric but quite minimalist so that I could dress it up with lots of flowers. A bandeau neck suits me and I've always loved the idea of a low back. I always always thought I would wear a short dress but when it came to trying it I felt so amazing in a long skirt and thought when else would I wear a full circle of floor-length silk."I really love the green pennants (made by the groom's mum), fresh wildflowers and ears of corn, and the fun wedding table plan pegged up in the breeze. The pretty watercolour stationery was designed and made by Wolf & Rosie, whilst Mrs McConnell  created the table settings and wrote the table names onto Living Pattern postcards herself.
"Wolf & Rosie is a close friend and so we gave her full reign for our invites. We loved them so much!  We kept with our theme of simplicity and opted against order or services, menus and order of the days."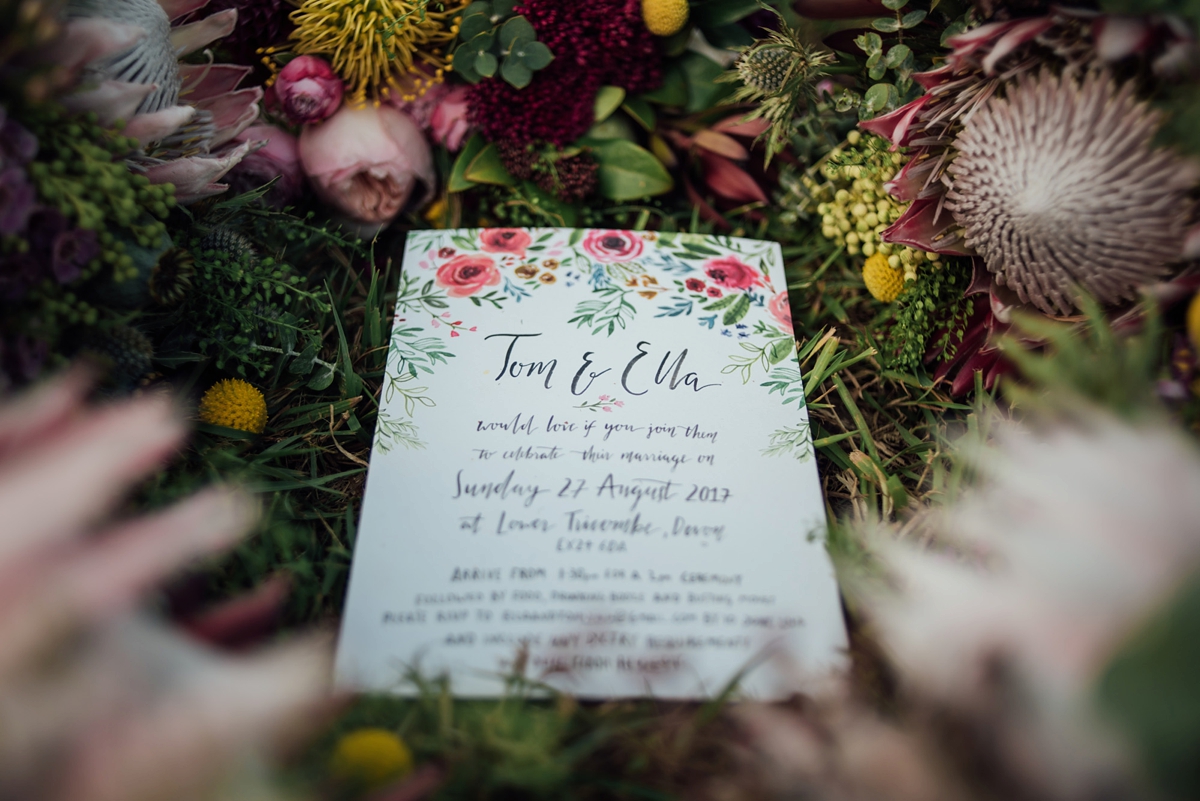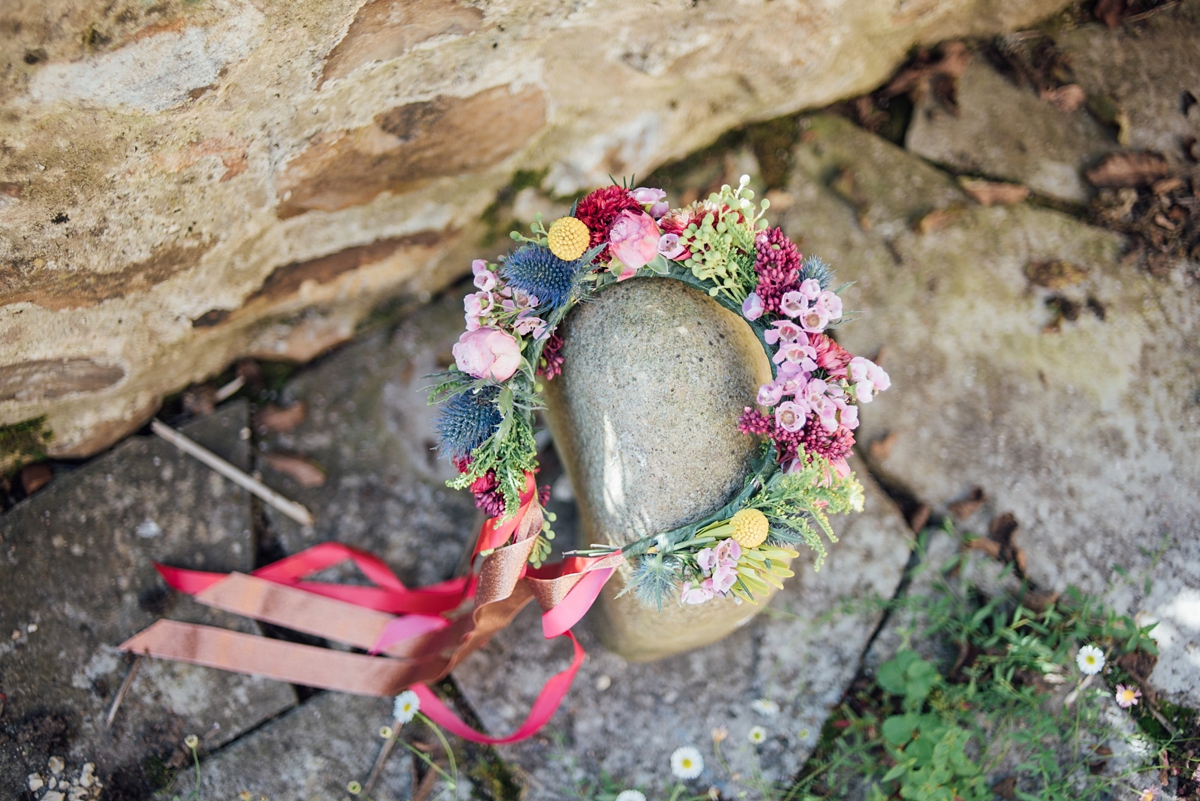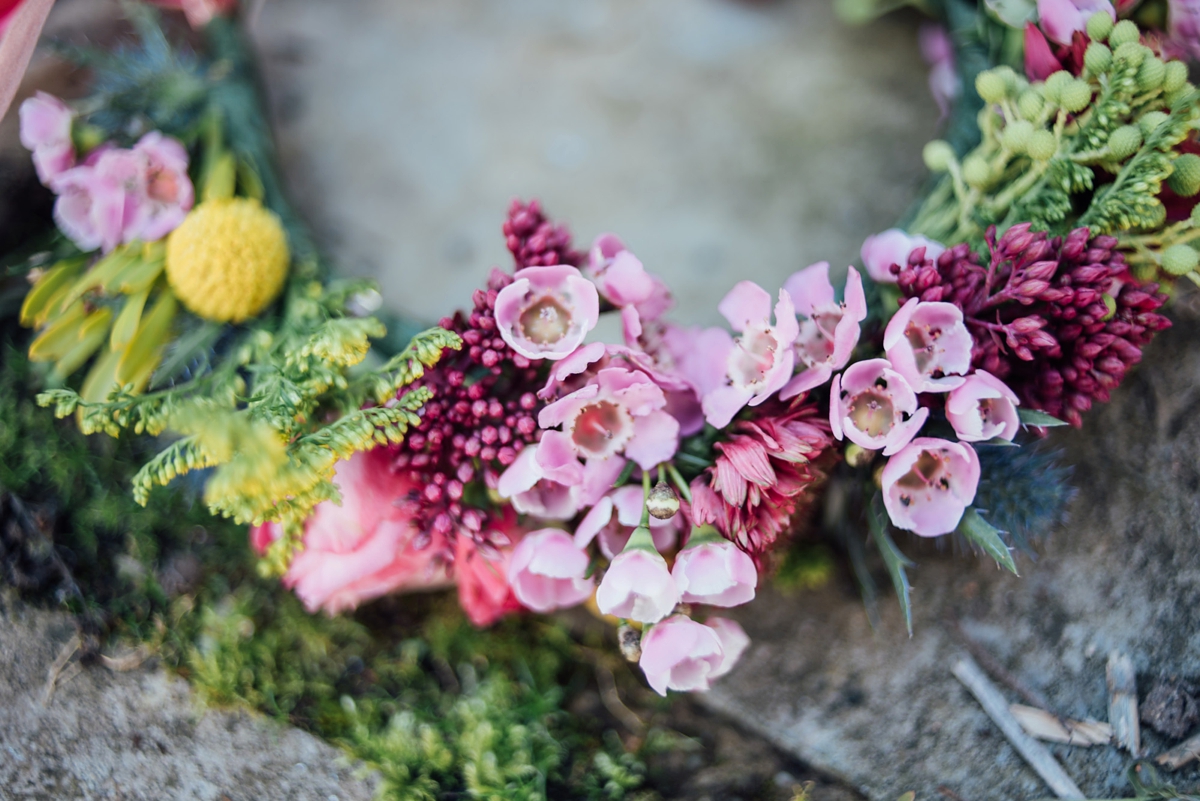 "Flowers were really important for me, I love fresh flowers and wanted them to be the main focus in our marquee. Maybe May got our ideas perfect! We lived in Australia for three years and it is very, very dear to our hearts so we wanted to nod to this."
Take a closer look at these bouquets and you'll see a real celebration of summertime flowers – incorporating blooms native to Australia too. The bright flowers are so joyous, and the contrasting ribbons such a clever idea. Maybe May also made the divine floral crowns, closely packed with all kinds and colours of flowers.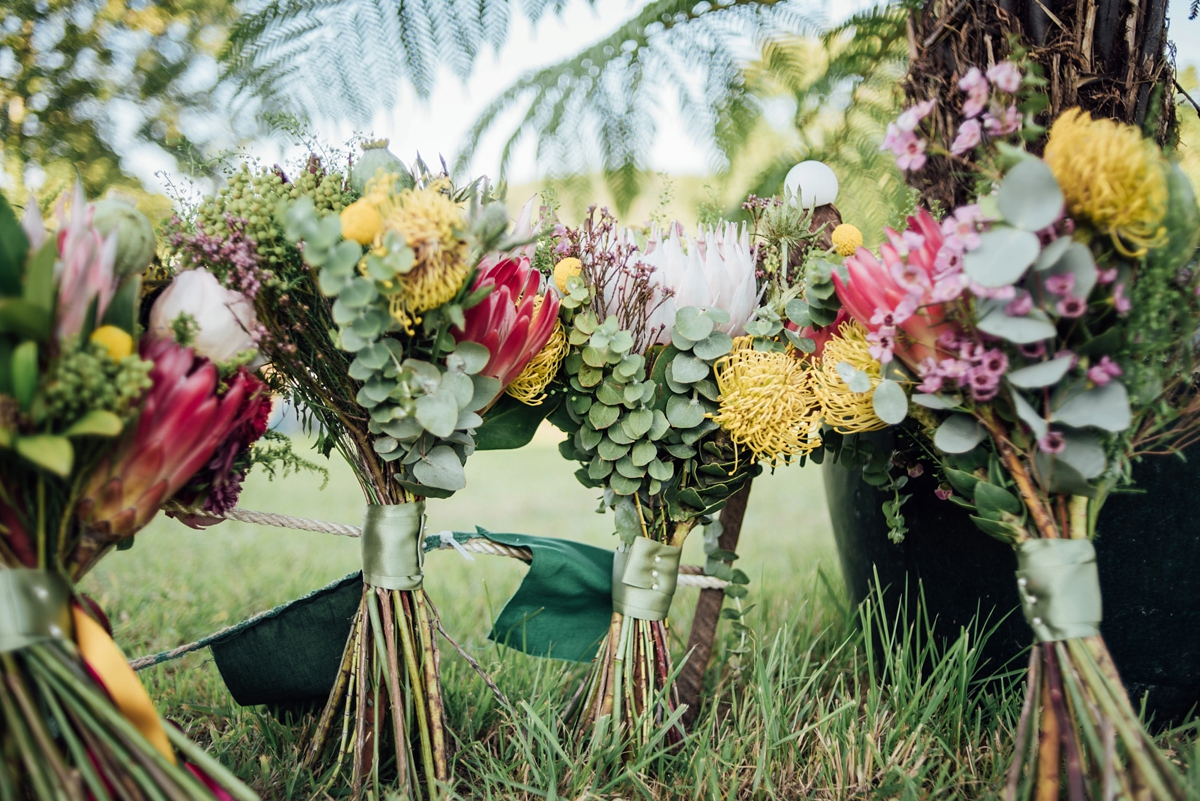 To finish off the pared-back look, the bride wore a pair of rose gold sandals from Dune (a last minute-alternative to her grandma's red court shoes that she'd planned to wear but got chewed by the puppy…) and fine gold jewellery.
"My aunt lent me a lovely bracelet and my mum lent me a beautiful pair of pearl earrings. I have a few very sentimental pieces of jewellery that I wear everyday so it was important to me to wear them as usual. My locket, my pride and joy, was flipped to the ornate gold side as it looked a bit different and suited the dress better."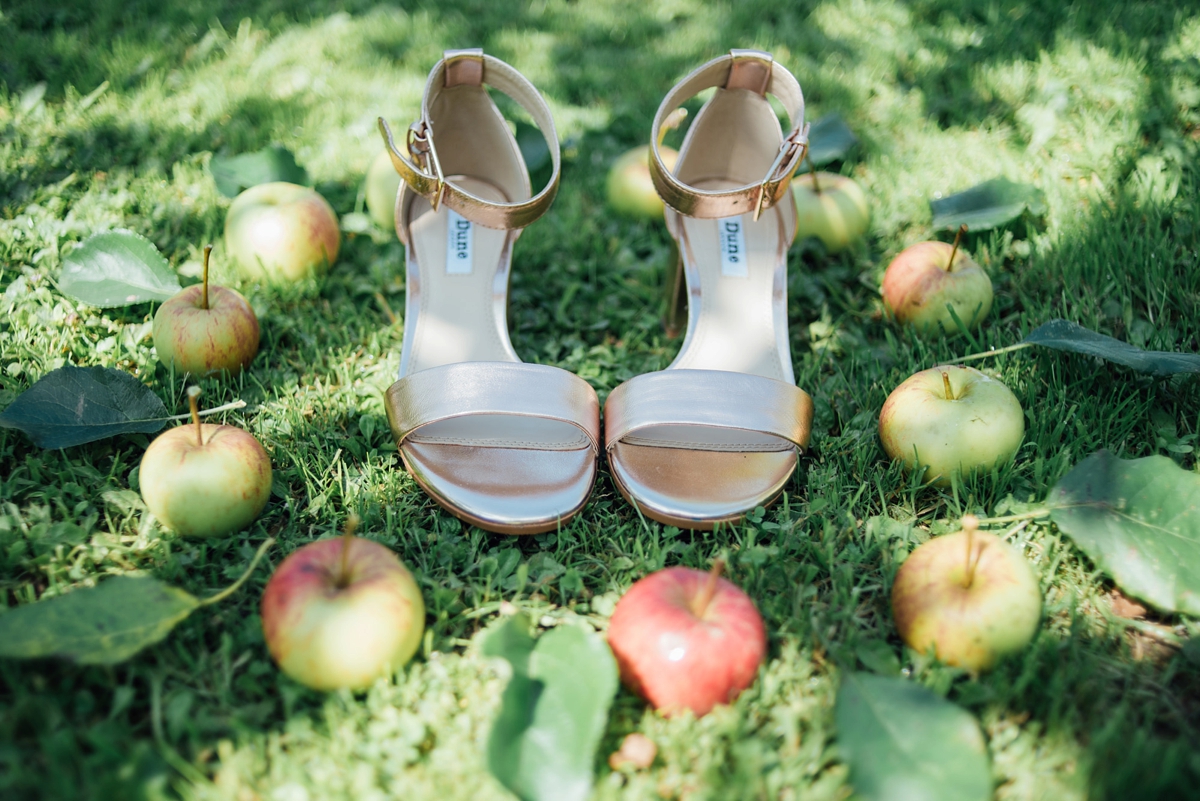 The bridesmaids wore bright yellow dresses which look fabulous in the August sunshine.
"All the girls are very different in shape and size and I wanted them to feel relaxed and comfortable so they picked their own in various shades of yellow. I loved the bright colours on the day and it was so easy to spot them in the crowd! I bought the girls infinity circle jewellery as a thank-you."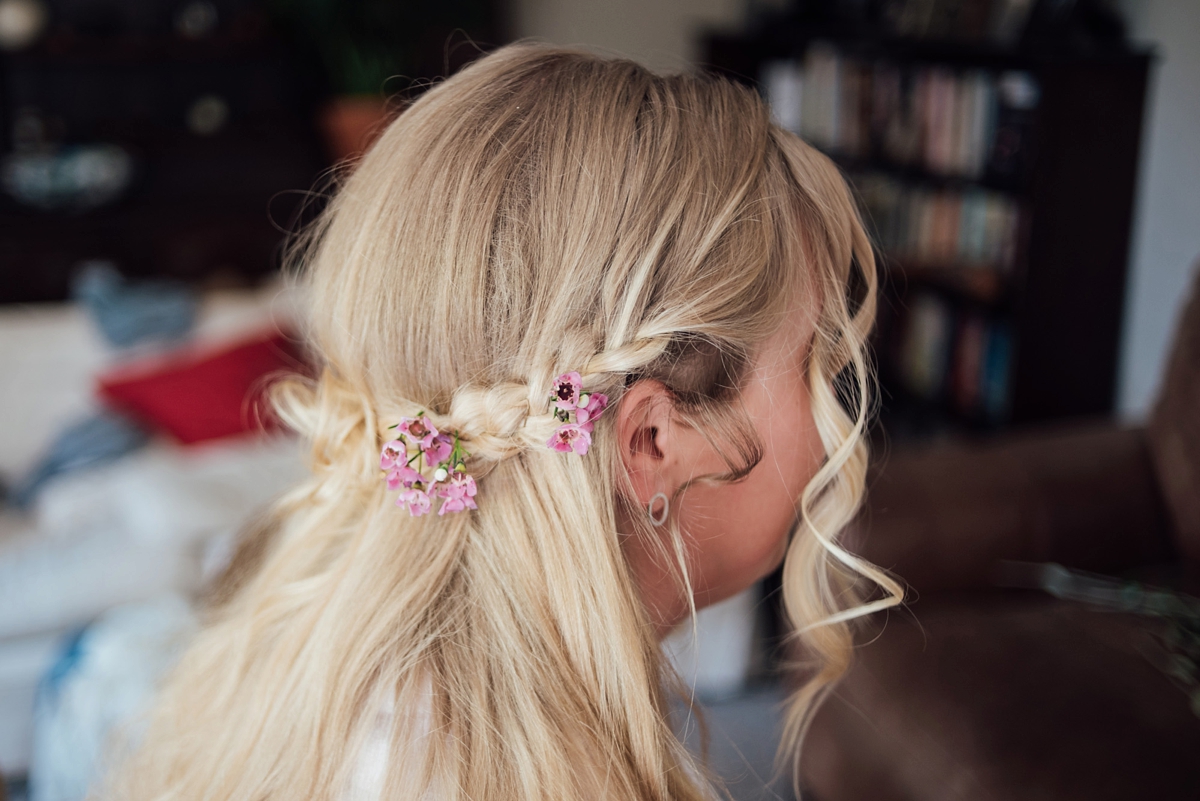 Like many Love my Dress brides, Mrs McConnell enjoyed a perfumery experience to design her perfect scent.
"I wore Jo Malone. My good friend couldn't make the wedding as she lives in Hong Kong and so we went on a Jo Malone experience together and she bought me my perfume to remember her on the day."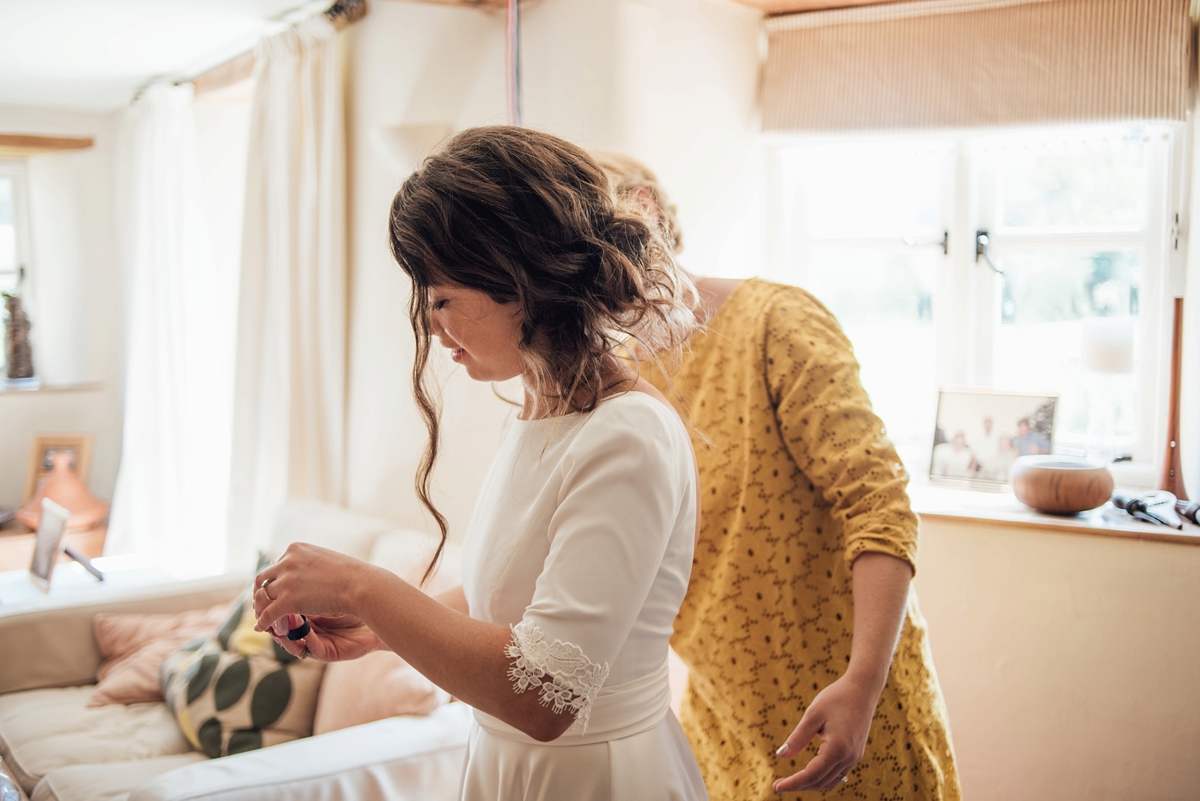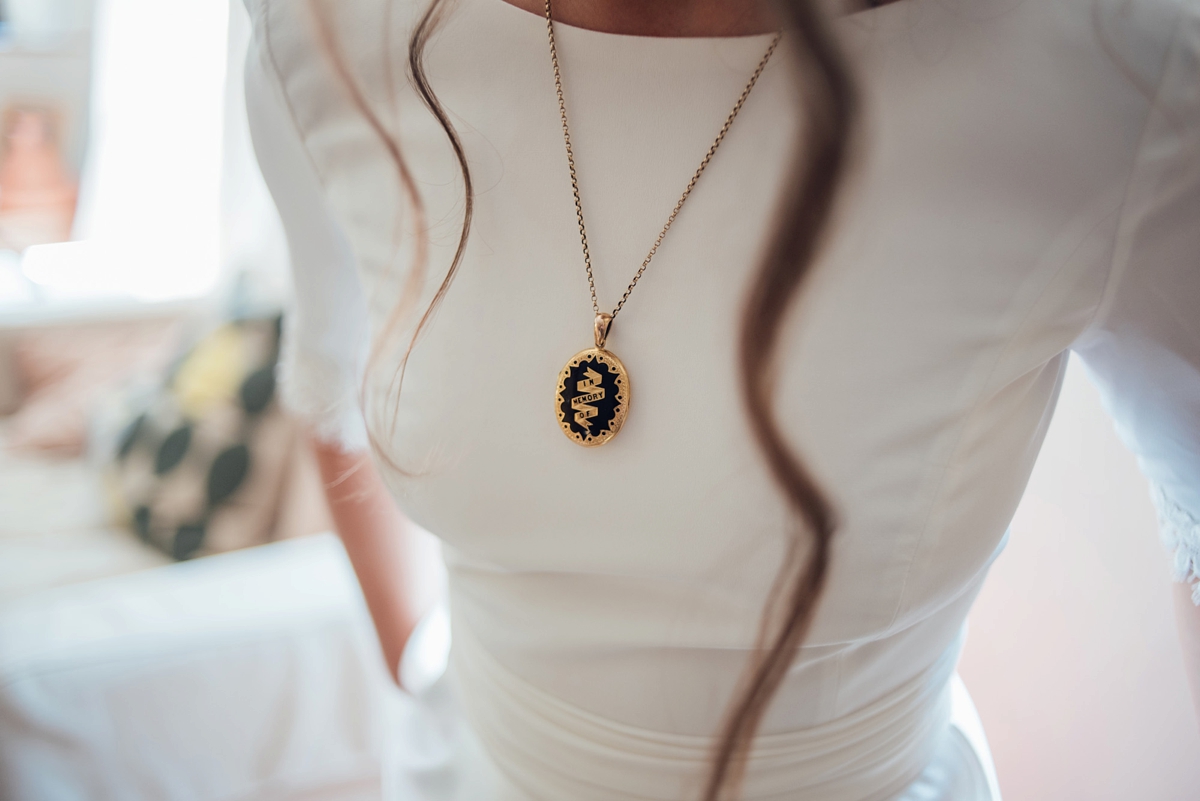 The bride and the girls got ready in her parents' house, with the help of her friend Sophie Anderson who styled her hair into this softly-waved down-do. She did her own make-up, choosing a natural but radiant look which really makes her green eyes pop.
"Mel Jeffries, another friend and brilliant hairdresser, did the bridesmaids' hair and we had the lovely Harriette as an assistant! It was really relaxed and fun!"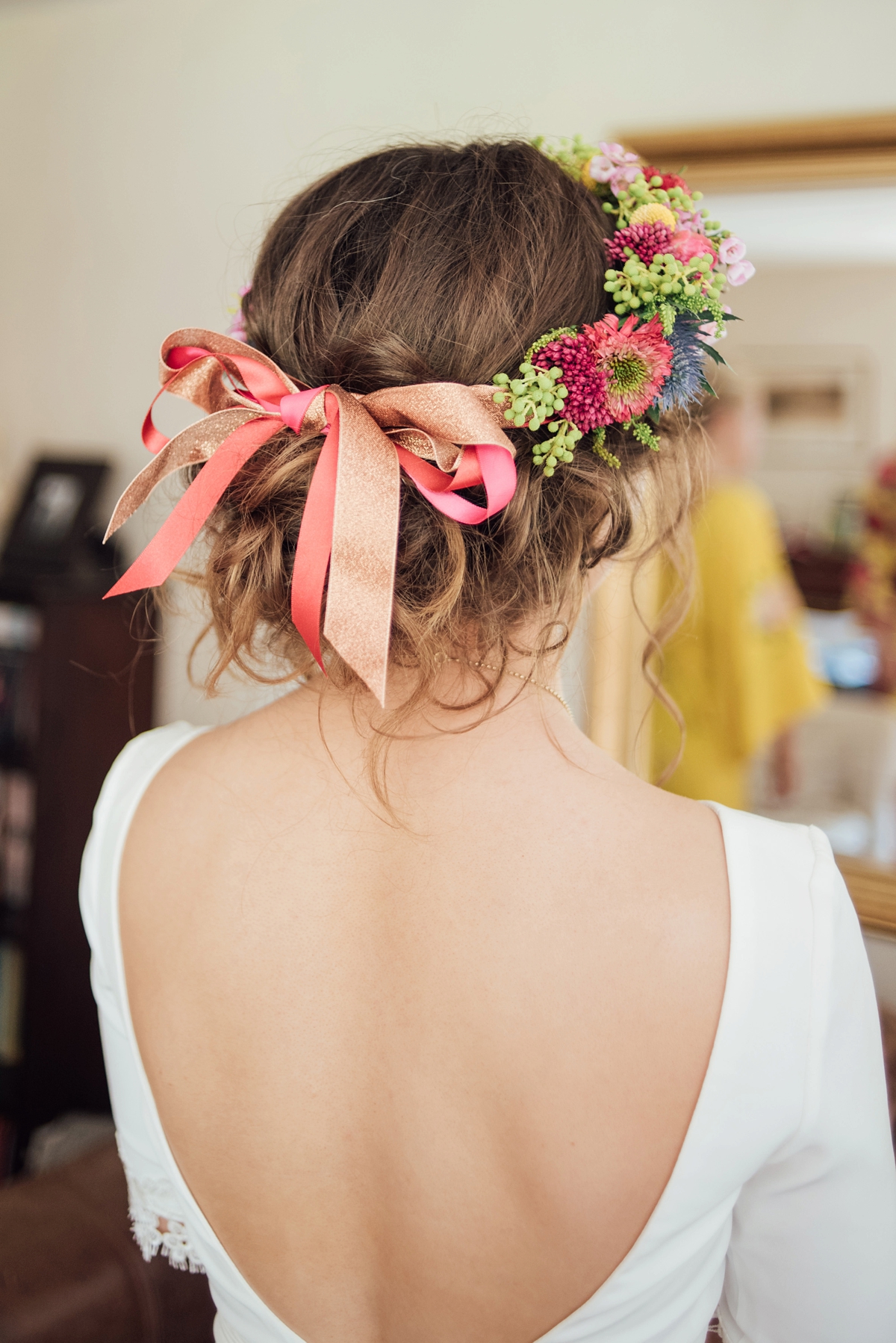 The yellow theme continued in the groom's and groomsmen's outfits and their yellow braces and fun yellow bow-ties, handmade by Mr McConnell's mum. The groom wore an informal outfit of a Racing Green jacket with trousers from Crew, and he looks comfortable, relaxed and summery.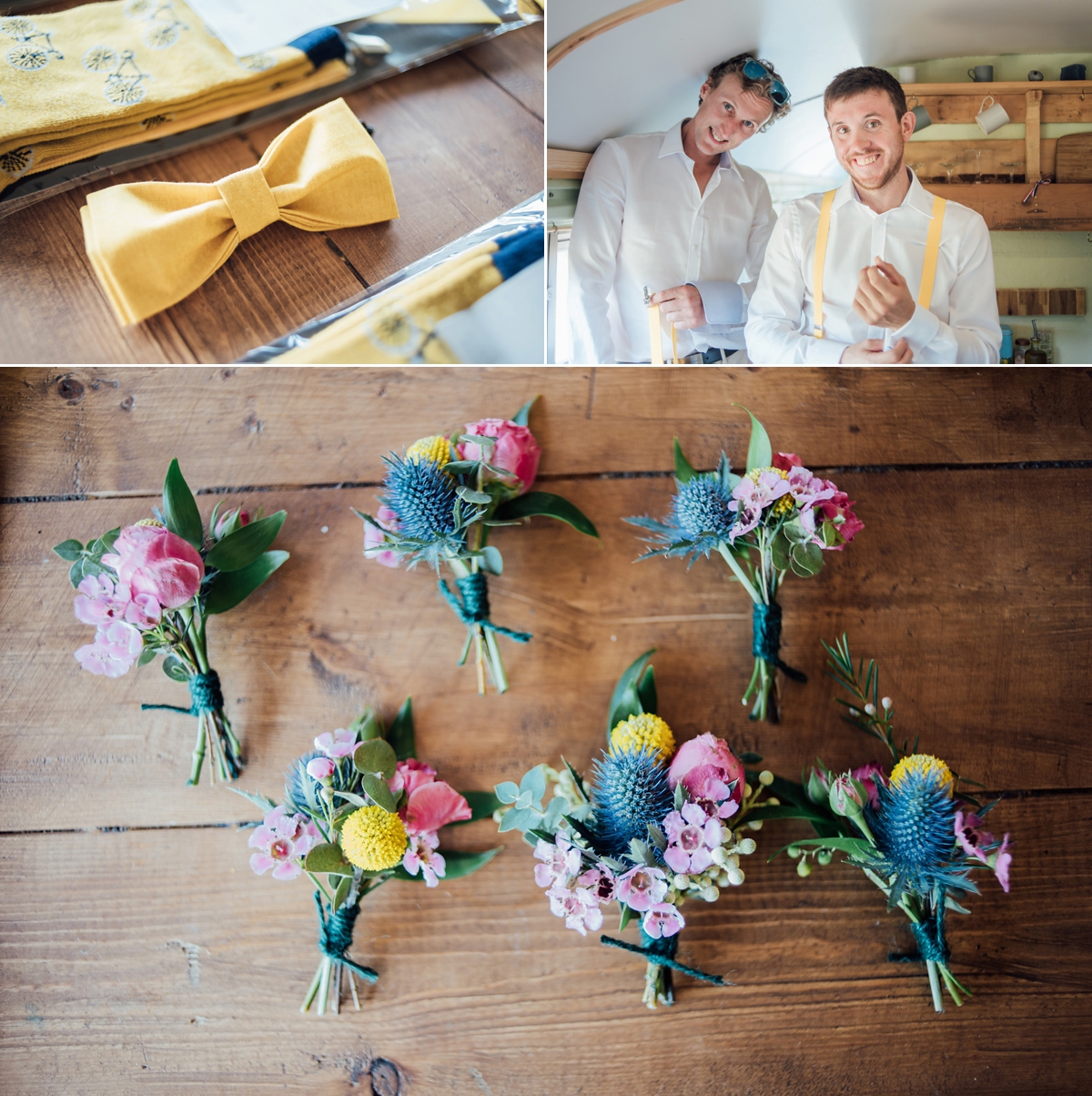 The couple had a short six-month engagement, after Mr McConnell proposed on a walk at local beauty spot Lulworth Cove. They have a long history together, encompassing different continents and stages of their lives. Over to the bride to tell us more.
"We met eleven years ago through our mutual friend Rob, who conducted the blessing! We spent the following few years dating on and off. Tom spent a lot of time skiing in the alps over this period and I travelled in Australia and NZ and worked as a designer in Exeter. We finally decided to make our relationship more official (five years ago) and within a few months had decided to move to Melbourne. Tom did lots of big romantic gestures and wooed my whole family and friendship group at that time!"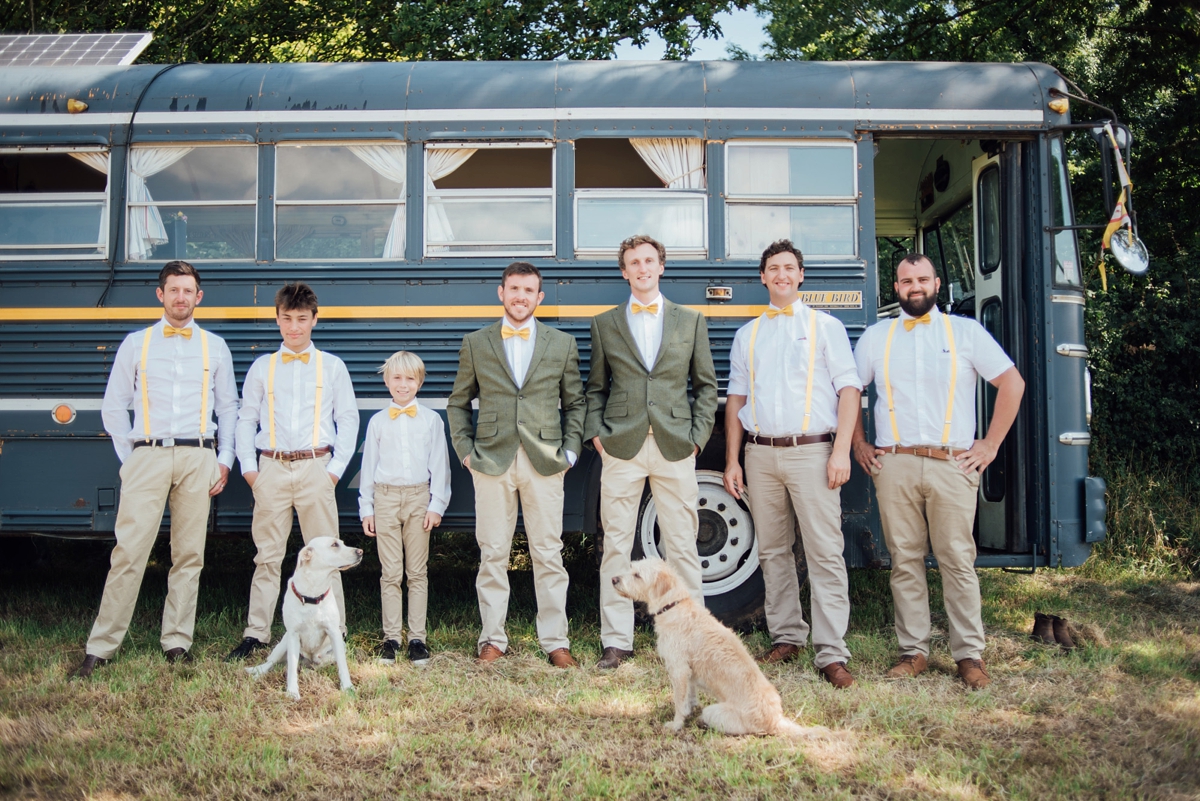 "We loved Melbourne, cycling around the city and exploring Australia with big road trips and our tiny tent! We got extremely into food, taking advantage of the multi-cultural influences in the city; we are particularly big fans of Lebanese food! Tom is a fireman and after a few years in Melbourne he got the opportunity to move to Canada to fight wildfire, a lifelong dream. This was a really hard time for us as a couple. We spent two years living apart for big chunks of time and it put a lot of pressure on us. I did my yoga teacher training during this period so although it was a challenging time for us as a couple, it was a really amazing period for us as individuals."
"We also met for some of the best trips of our live! Whilst in Canada Tom converted a 1970s American school bus to live in, together we bought it back to England and Tom now runs it as a B and B! It was during a trip to our bus in Lulworth Cove that we got engaged. We were out walking our beloved dog Manuka when Tom dropped to one knee at the top of the cliff! This was in February and then we married just six months later in August."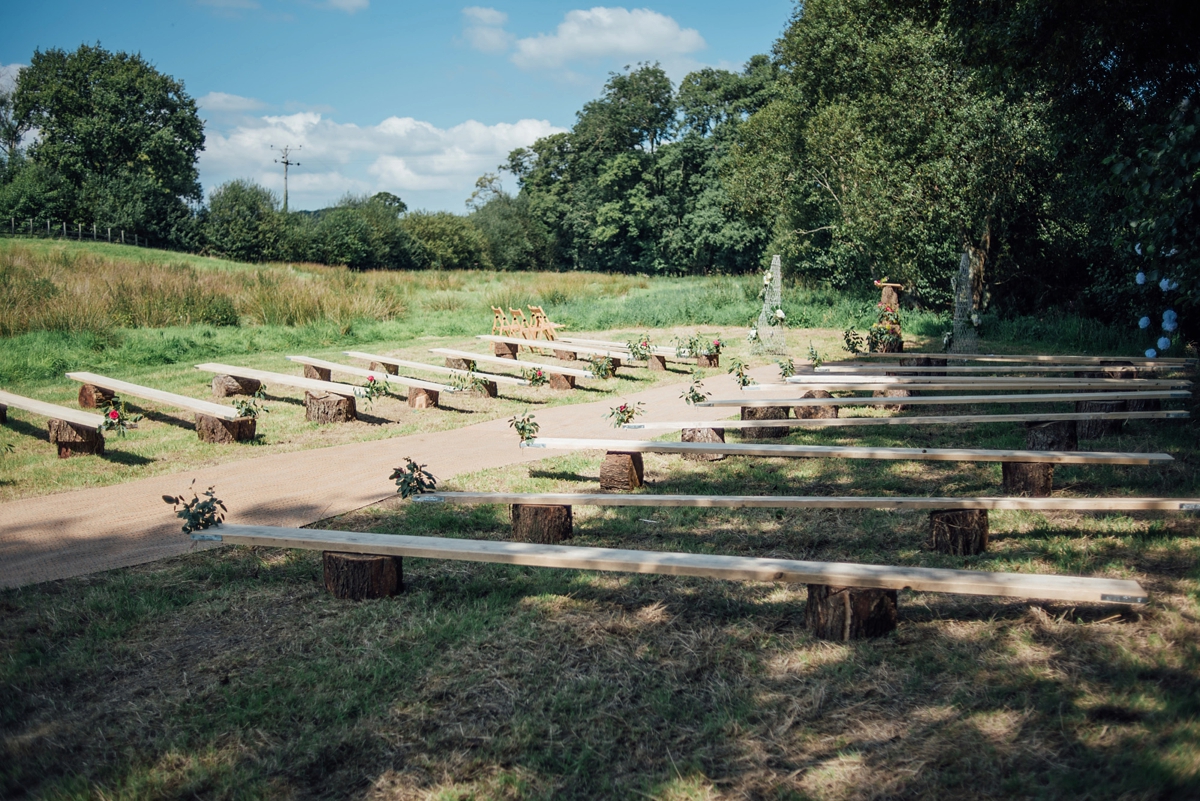 The gorgeous little flowergirls came over from Australia for the celebration, and were dressed in cute outfits from Marks & Spencer.
"The flower girls both live in Australia so finding the right ones in the right size was actually quite hard but these were exactly what I had imagined."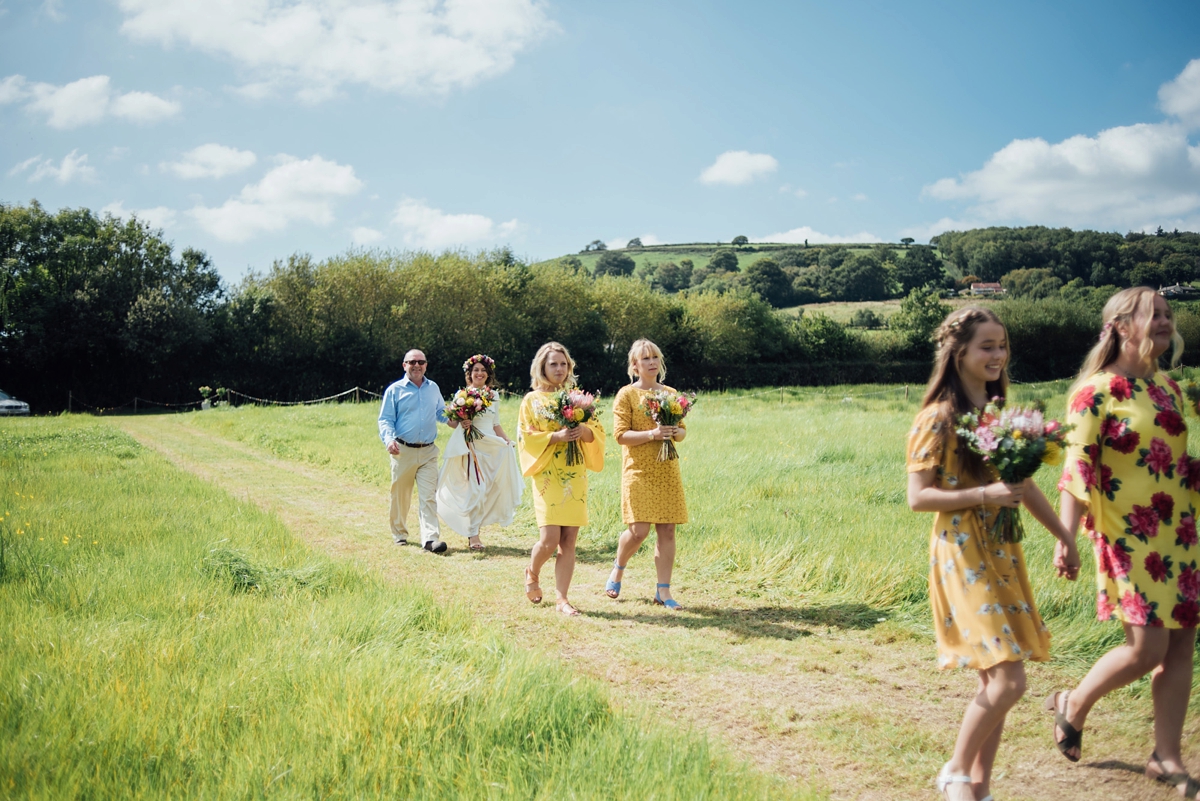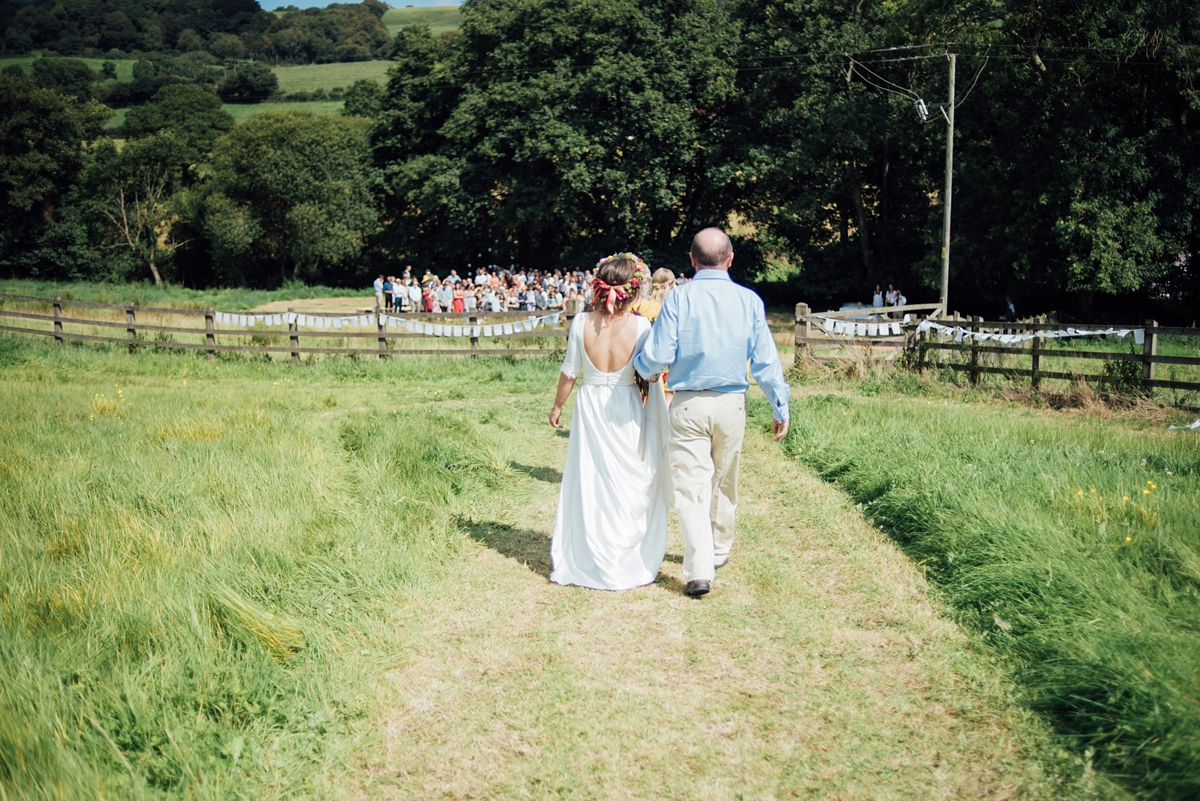 When the time came, the bride and her dad made their way from the house to the bottom of the field where the outdoor ceremony space had been set up in a woodland clearing, with wooden benches, thick slices of wood and fresh flowers.
"Our aisle was very long! We walked from the front door of my mum and stepdad's house all the way to the bottom of the field so we choose two songs – 'That Dress Looks Nice On You' by Sufjan Stevens followed by my middle namesake, 'Susanne' by Leonard Cohen."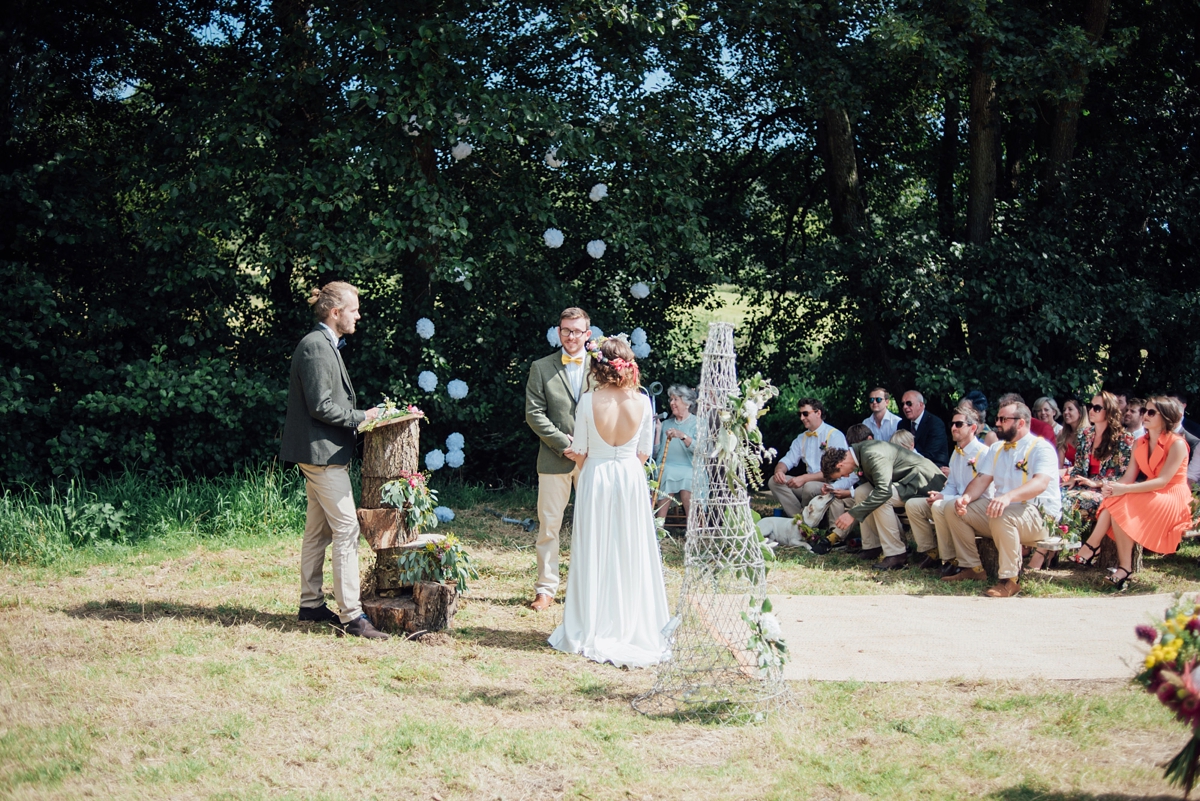 Mr and Mrs McConnell had married legally at a registry office beforehand and asked their friend Rob (who originally introducted them) to lead the blessing.
"He did a brilliant job, it was really personal.  We wrote our own vows. I wasn't so keen to do this but Tom insisted! I was nervous about writing them but in the end just asked myself what I was really vowing to after that the words came easily and I was really happy to say them. It was so special to hear what really mattered about being married to each other."
"We had three readings – an extract from 'Captain Corelli's Mandolin', a poem from the film 'Like Crazy' and 'Rings' by Carol Ann Duffy. We knew the three people who we wanted to do readings so we tried to match appropriate readings to people! I have always loved the extract from 'Like Crazy' and Tom thought the 'Captain Corelli's Mandolin' extract described our journey as a couple well. We wrote our whole ceremony ourselves and so we wanted to add some pieces that added to the ceremony. 'Rings' was perfect for that; it is a lovely introduction to exchanging wedding rings."
The bride's ring was a family heirloom from the groom's side of the family, whilst his was crafted from Australian Maple tree.
"He was really keen to have a wooden ring and this one was made in Byron Bay, one of our favourite places."
After the ceremony, the guests relaxed outside, enjoying the spectacular views over drinks and canapés, and indulging in fun garden games too. Mini BMX track anyone?! Before long, it was time for feasting in the beautiful tent.
"Alice Kerr from Coppice and Canvas did our catering. She does such amazing work for charity and is an all round inspiring person so we felt very lucky to have her as part of our celebrations. We knew from day one that we both really wanted a 'help yourself'-style meal with lots of fresh salads and veggie food. Alice pulled it off amazingly! We had so many compliments about the food and it was one of my favourites parts of the day."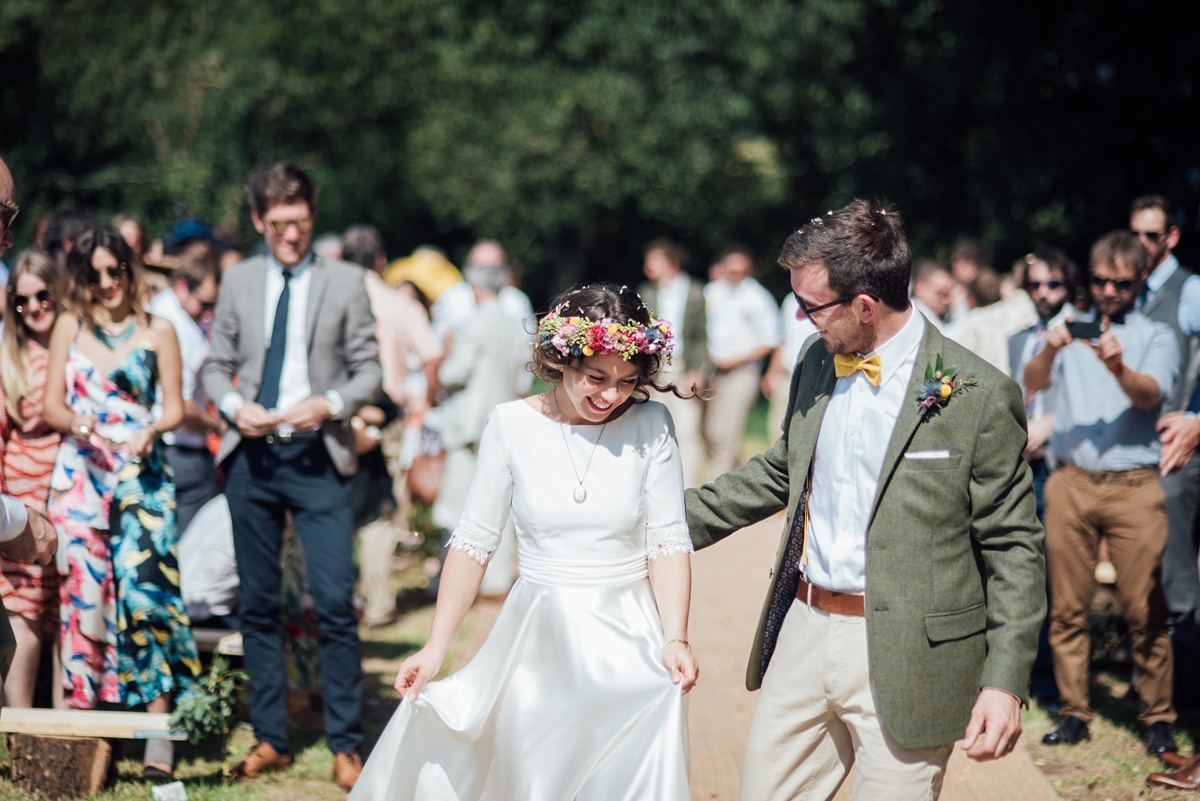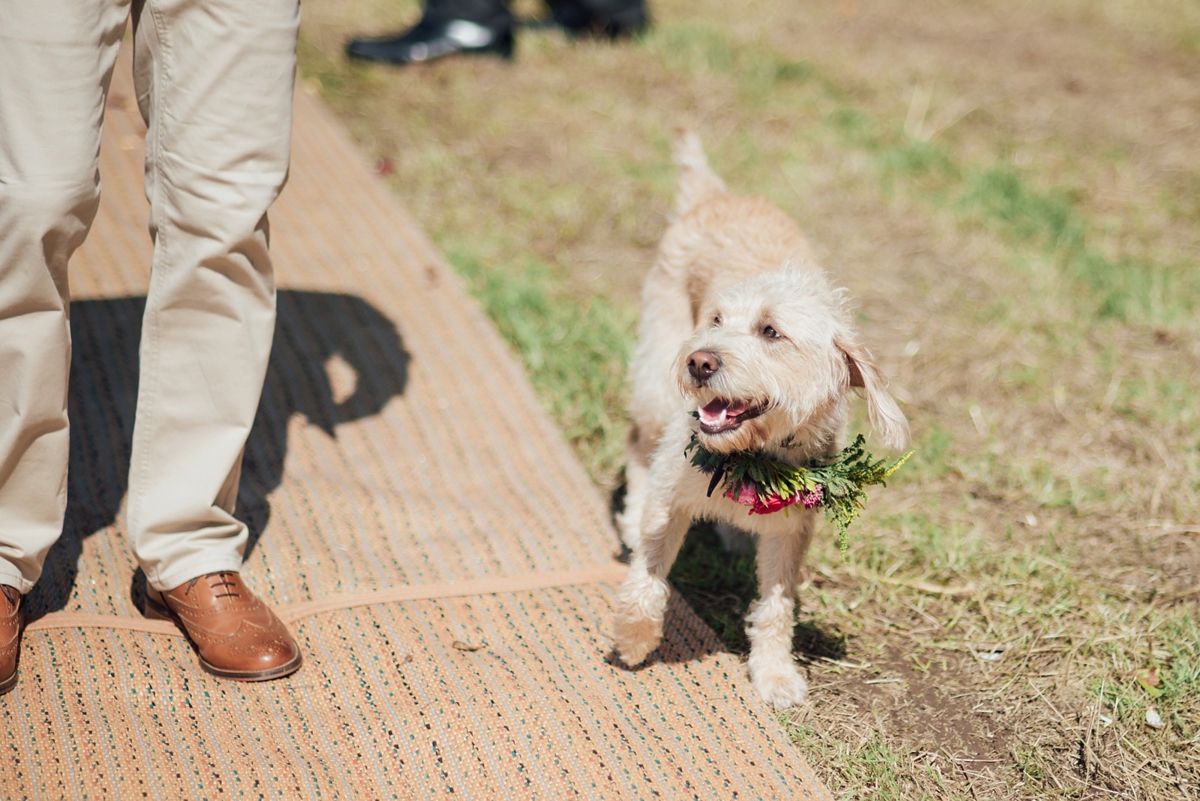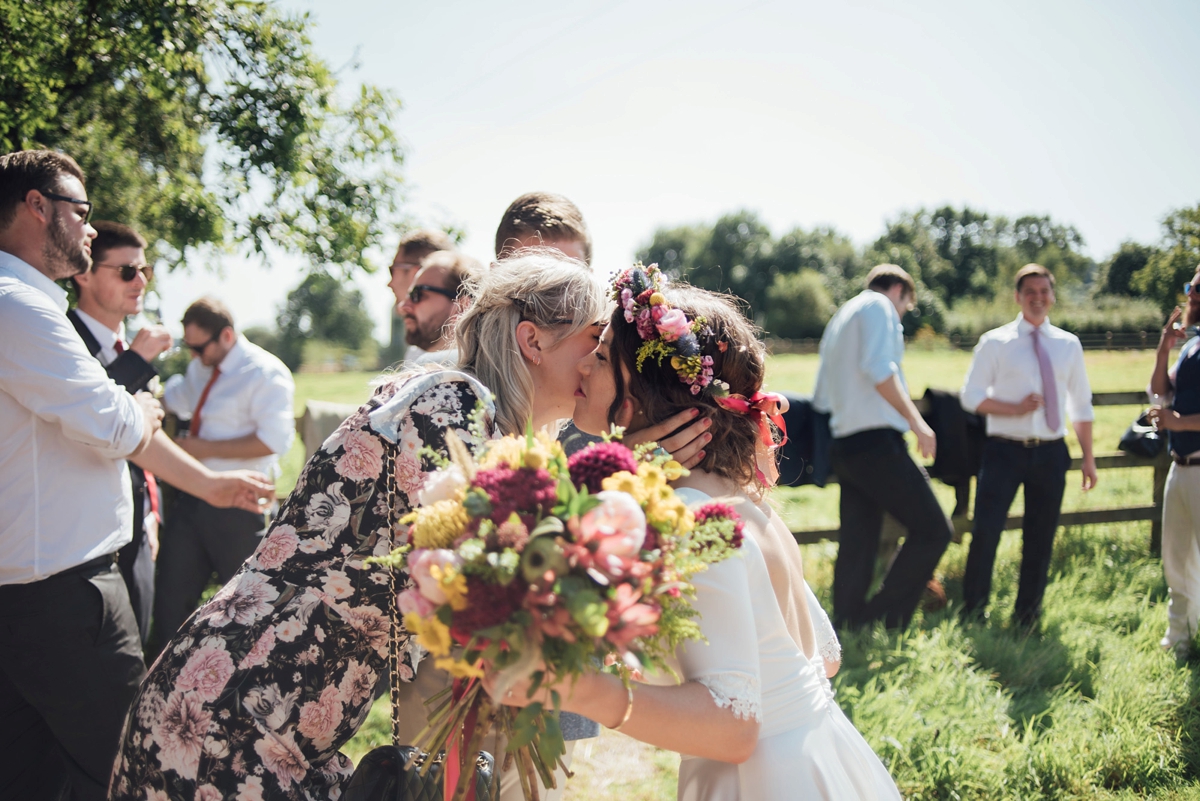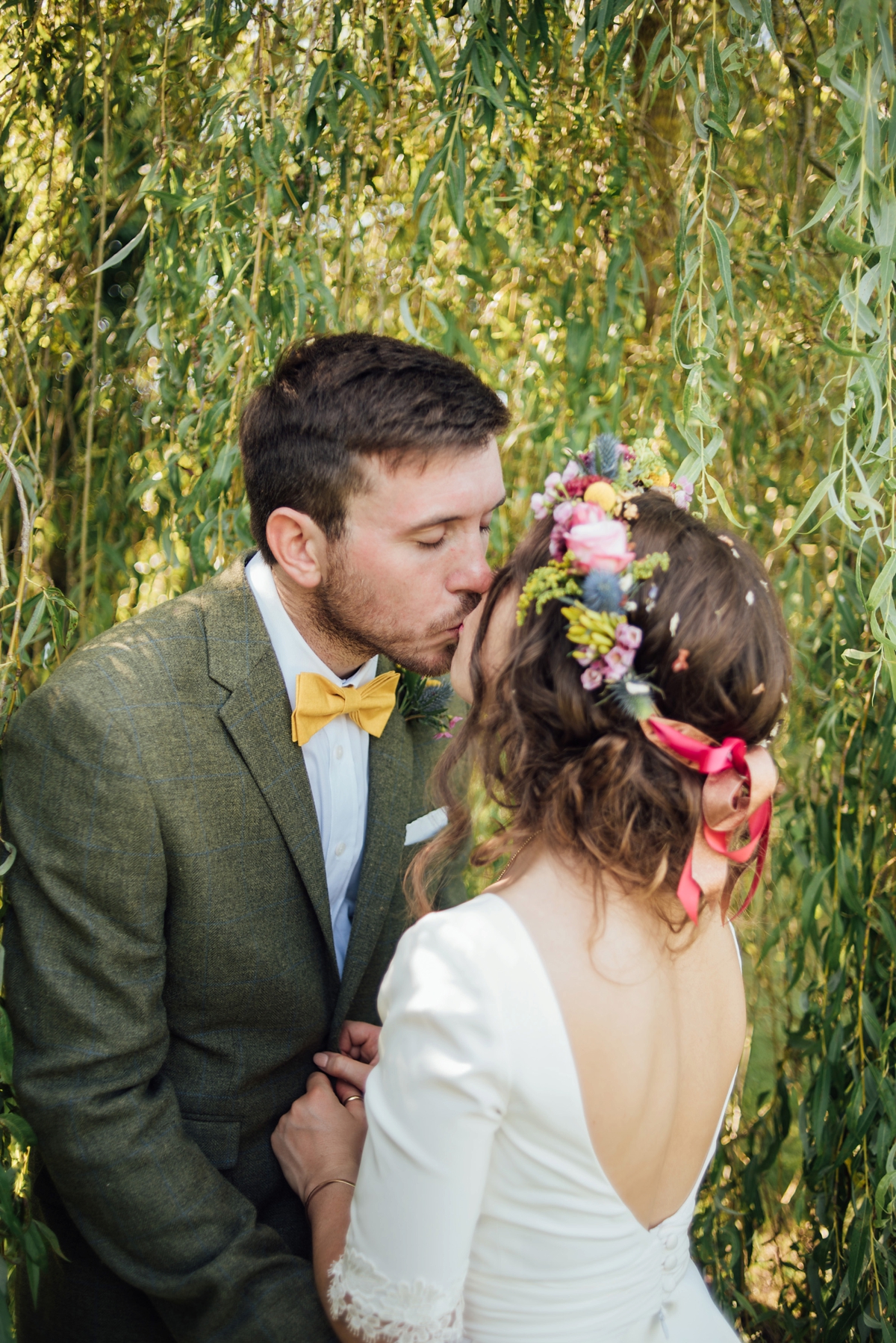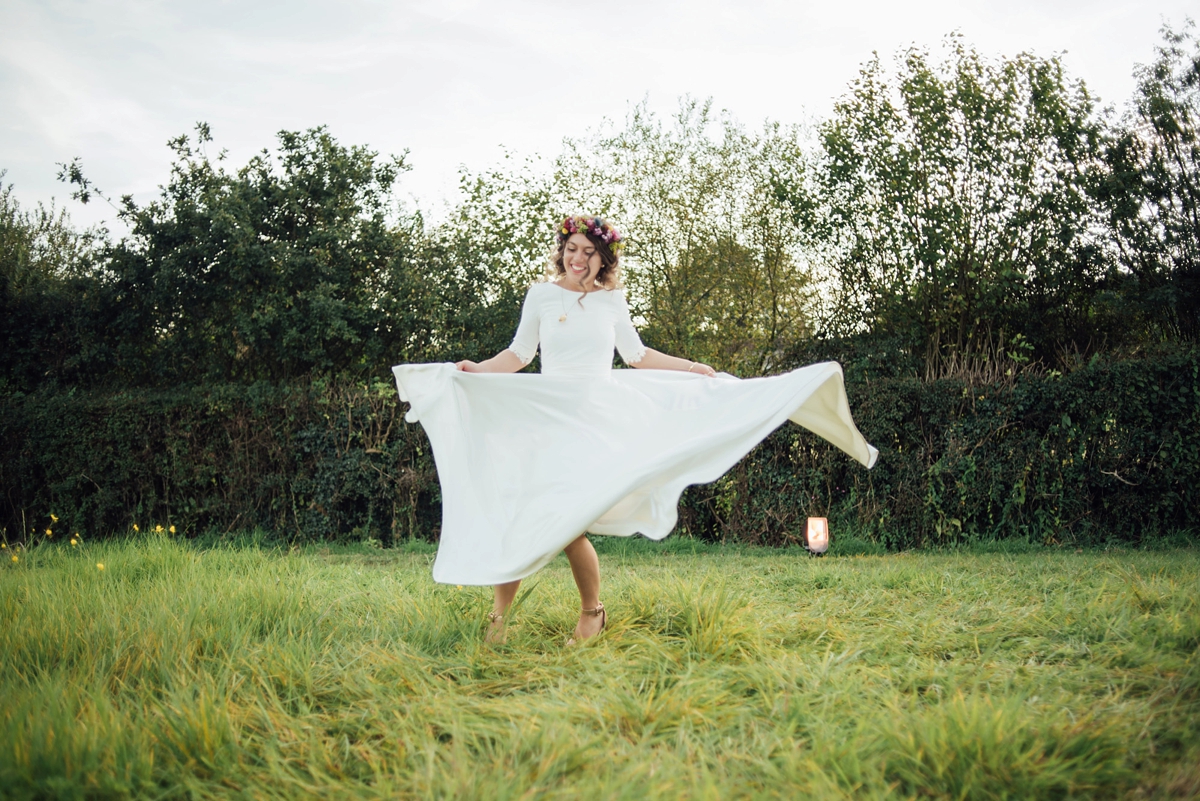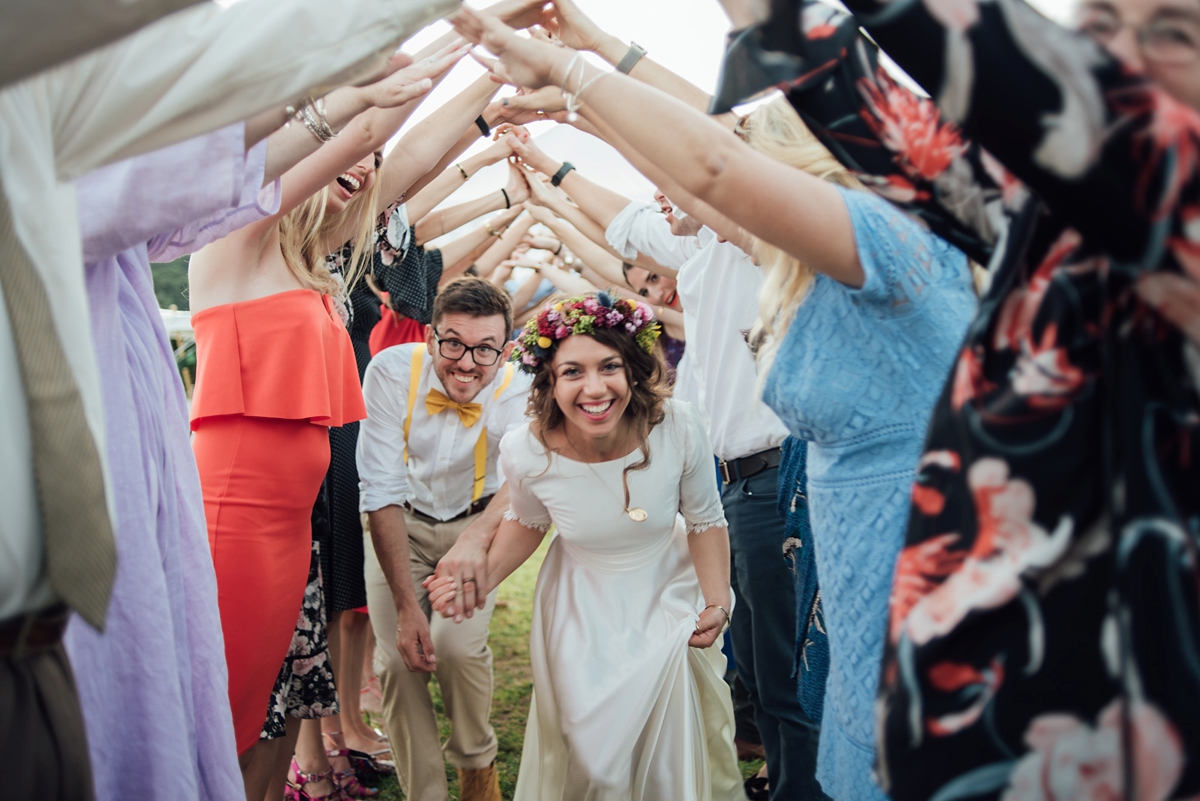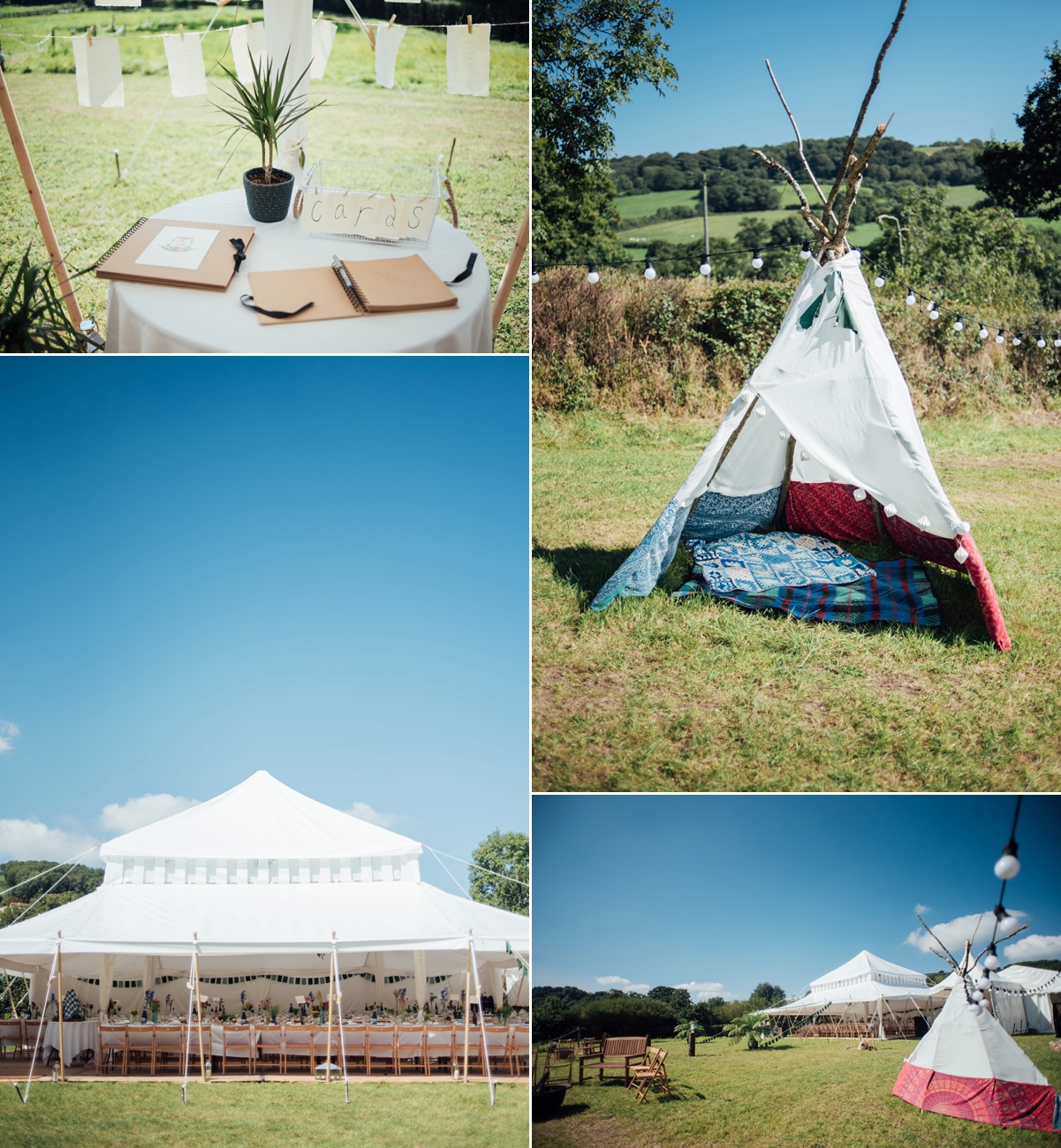 A beautiful, tiered All Seasons Marquees tent was put up in the garden, with simple nature-inspired decor and jars and vases of fresh blooms. Just look at the incredible chandelier which the bride, groom and family crafted from branches of foraged eucalyptus and flowers in shades of pink and orange. The overall feel is organic, simple and 'outdoors-in' – so lovely.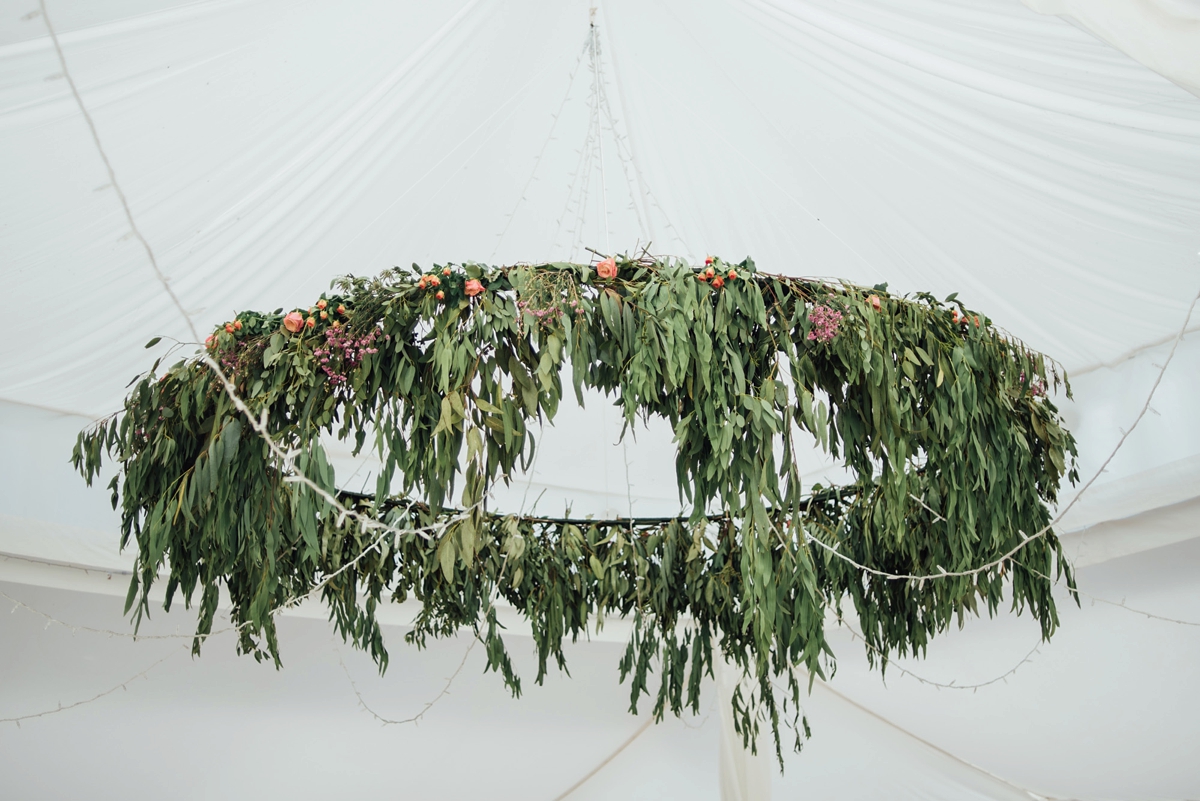 The cake, a tall tiered semi-naked design adorned with fresh flowers, was made by the bride's super-talented sister.
The evening celebrations continued with music from not one, not two but three DJs!
"We had three DJ friends – it was brilliant! Tom enjoyed sitting by the fire in the later part of the evening but I basically danced the whole evening."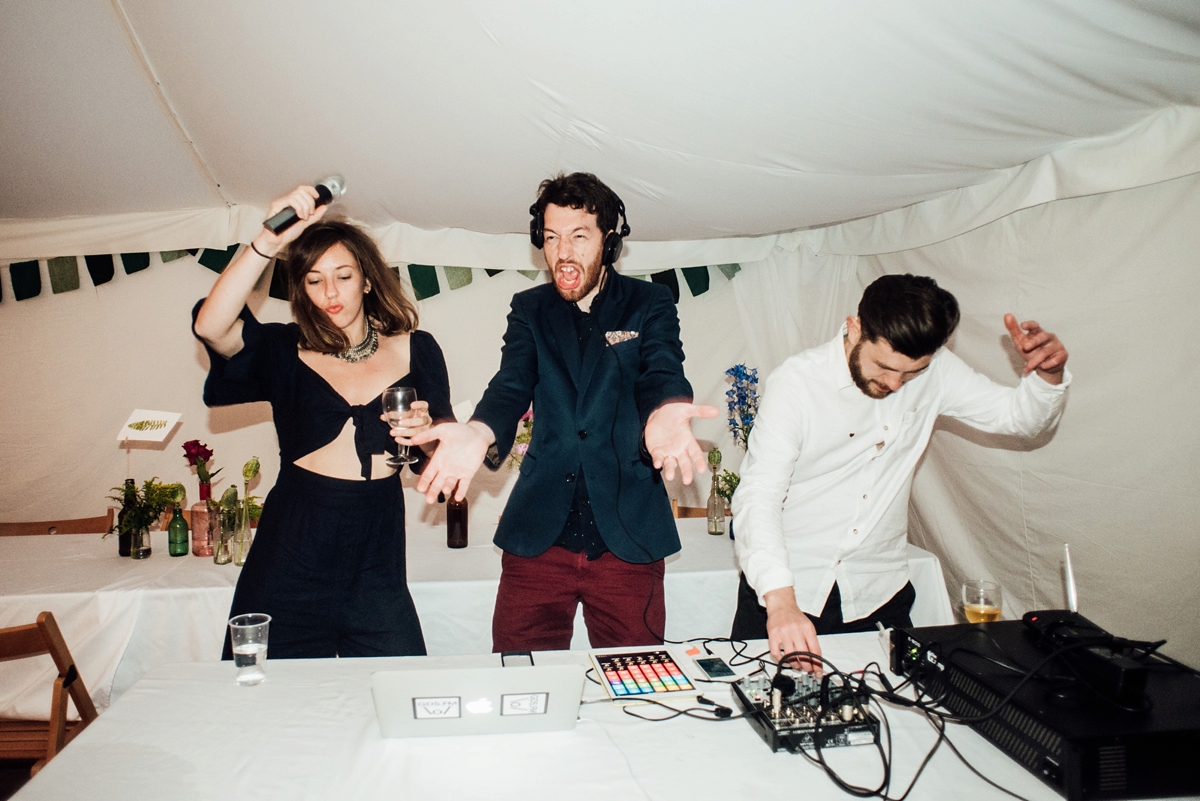 The party stretched long into the night, accompanied by music, the firepit and more drinks. It looks like a truly wonderful day.
"I wish I could re-live it all again! I loved it all but if I had to choose a favourite part I think the speeches, or the canapé/mingling time. There are a few people I wish I had chatted to a bit more but we had 160 day time guests so it felt impossible to get around everyone."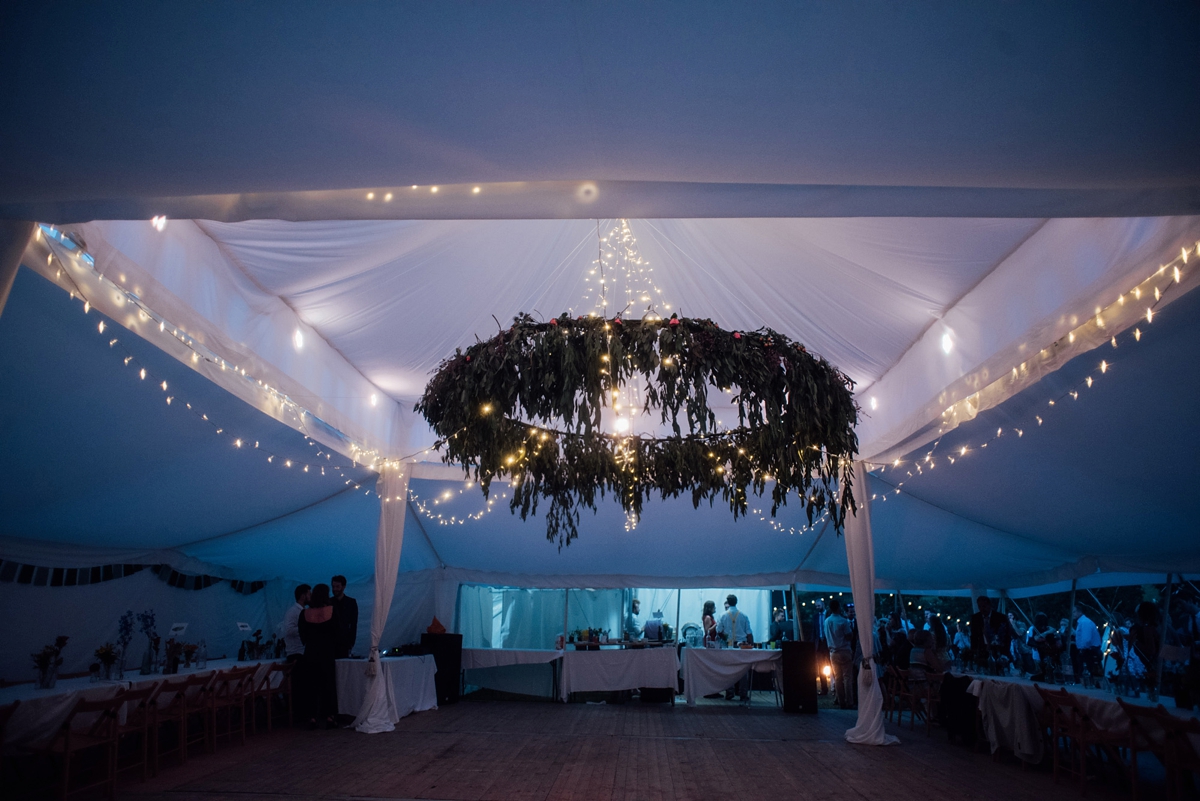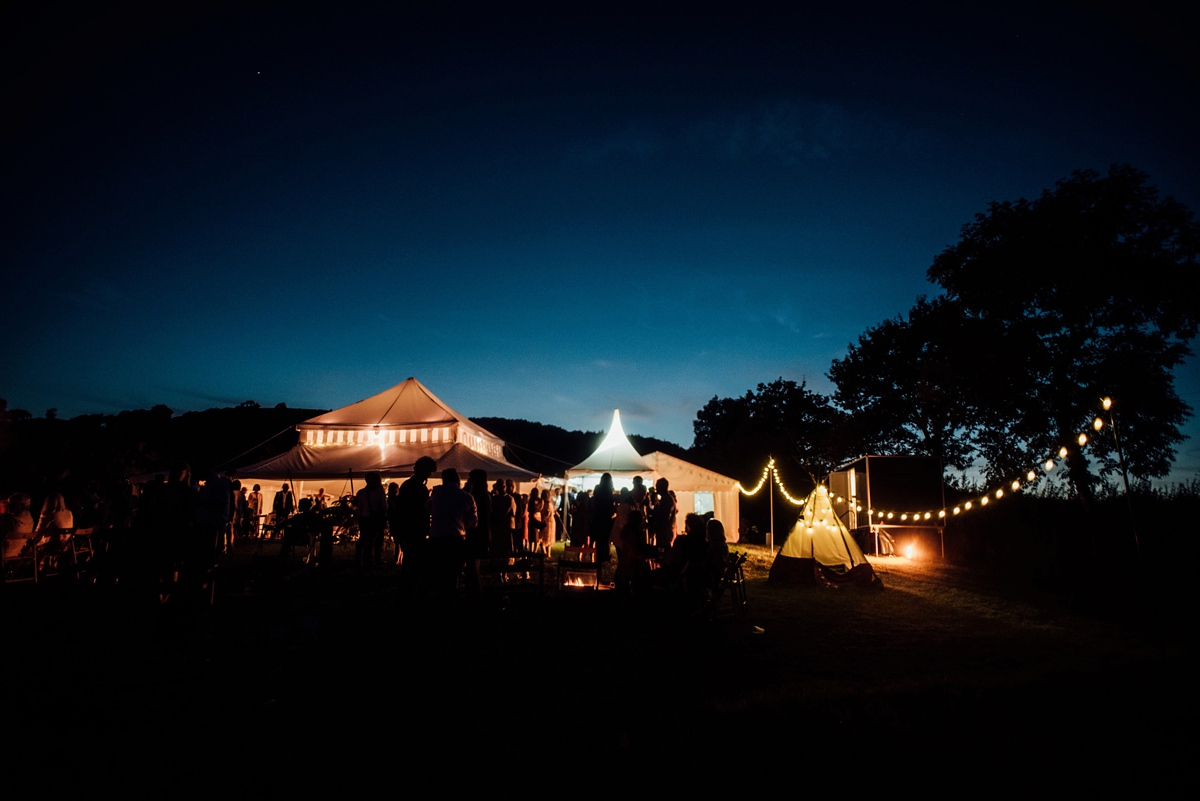 Words of Wedded Wisdom
Mrs McConnell has some excellent words of wisdom for DIY brides looking to host their wedding at home and follow a non-traditional path.
"Agree early on what is important to you, keep coming back to this and to the real reason for the wedding. I found this helped me stay down to earth."
"Try to establish a vision of the day and stick to it, get clear about what you want between the two of you so that you can share with friends and family when asking for their help but don't be swayed by what people tell you what you 'have to have at a wedding'. You don't have to have anything!"
"Amber, our photographer, gave us the tip of writing down the 3 things most important to you both and focusing your money and attention on them. For example, decorations didn't feature on our list but flowers/foliage did. Knowing this gave me more time and brain space to focus on the things that were important to us. If we were unsure about something we asked ourselves if people would notice it on the day and if the answer was no then we skipped it!"
"Pick your battles, be firm when it is something that is really important to you but try to remember life past your wedding day and try to communicate with everyone involved to avoid crossed wires."
What a beautiful, sunshiney wedding. I love how this couple called on the talents and businesses of their friends and family to craft their perfect day for a true homespun vibe. Thank you so much to the newly-weds for sharing your day here, and many thanks Amber for your vibrant photography.
Ele xx