As editors of influential and such visually led online spaces like Love My Dress, it's incredibly important that we make every effort possible to ensure our content reflects the diverse community it is intended to serve.
It's something I feel genuinely passionate about and have strived to address for a number of years now, but equally, it is something I absolutely feel we could be doing more about.  It is my responsibility, and mine only as Editor of Love My Dress, to ensure that no one has to scroll and scroll and scroll our Instagram feed, for example, to find a single person of colour. It is my responsibility to ensure that plus size and curvy brides, that older/more mature brides, that disabled brides or any other bride who feels marginalised by society, does not feel alienated by our content.
This beautiful little set of images were sent in by photographer Berni Palumbo Photography after I opened a discussion about diversity on our Instagram feed. It truly heartens me that people are responding to these discussions in a meaningful way that helps us to make progress. I'm open to criticism, however constructive or honest. It's OK to call us out if you feel we're not being representative enough – it matters that you do! Having the conversation is the most important thing in my view – and I'm so very encouraged by everyone who is taking the time to participate in our discussions about diversity in the wedding media in an honest and helpful way.
It can only be a wonderful thing that since opening up these discussions and becoming more proactive ourselves in reaching out to people, that the number of wedding submissions we have lined up to share with you that feature beautiful brides of colour has increased significantly, as has the number of creative photoshoots, just like this one. So people, please, let's keep talking about this incredibly important subject. Diversity, representation and inclusivity matters. You can join the conversation here and here. Words below by talented image maker, Berni Palumbo.
"As soon as I saw Annabel's Instagram post about diversity in our industry, I just knew I had to share this styled shoot with Love My Dress. I am very much a fan of storytelling, genuine emotions and less of 'traditional' styled shoots, but I do love working with like-minded suppliers. On this particular shoot, we managed to have a lovely team of local suppliers and the atmosphere throughout the shoot was very relaxed and fun, which is always very important to me."
Images by Berni Palumbo Photography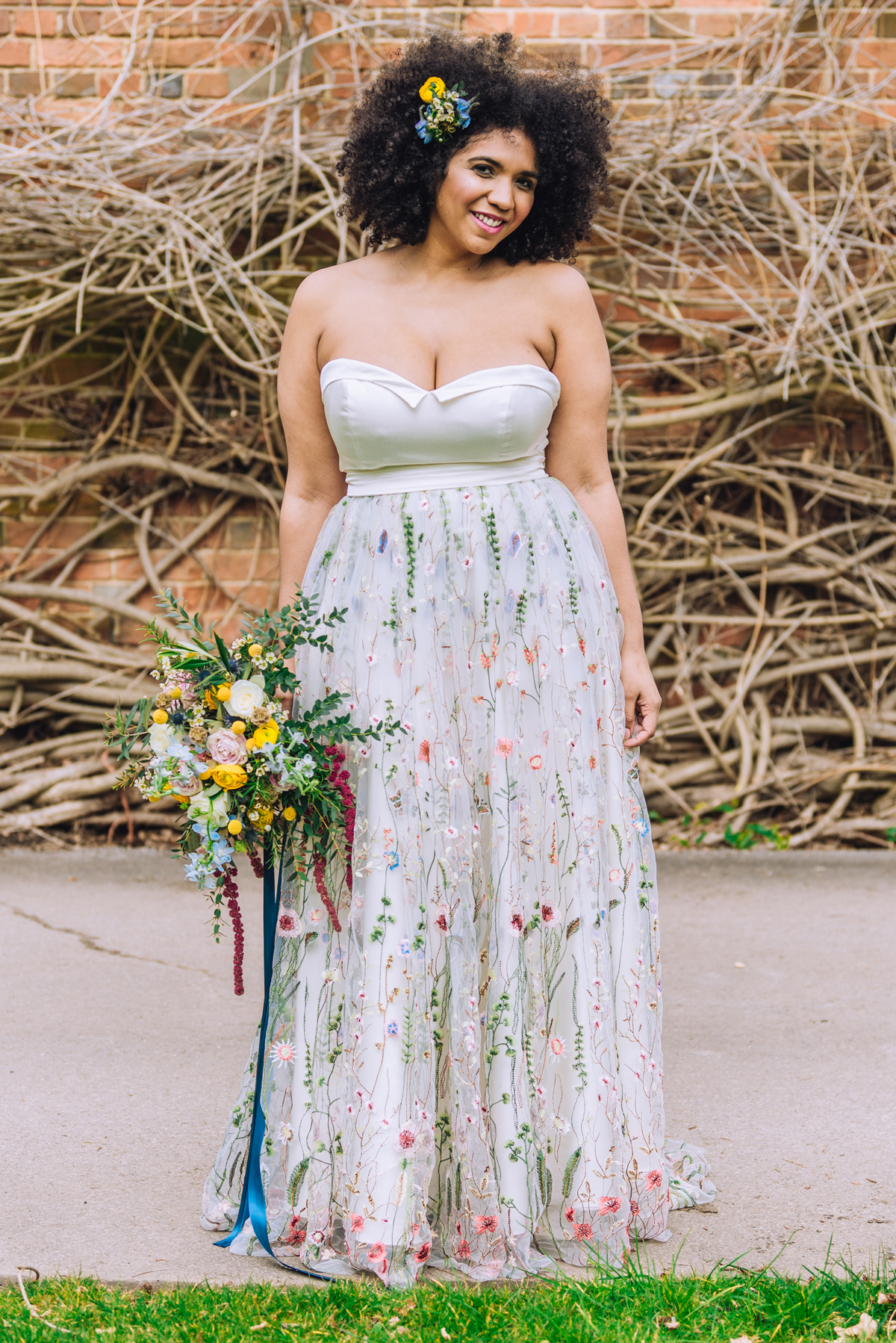 "The inspiration came when I first saw the gorgeous floral dress by Louise Rose Couture. Louise is a young independent business owner and we had worked together in the past. As soon as I saw a sneak peek of her dress, I wanted to be the one to photograph it. Rather than pushing the more obvious pastel colours, I choose to follow palette of blue and yellow tones: bold and yet elegant."
"As we wanted to achieve an authentic look, I insisted from the very beginning to have a real couple and was hoping, in particular, for a black bride as they are so underrepresented in the industry. I've been dreaming to shoot someone like Carissa  for a very long time and when I saw her, a mum of two and a blogger, on Instagram, I knew straight away she would be perfect."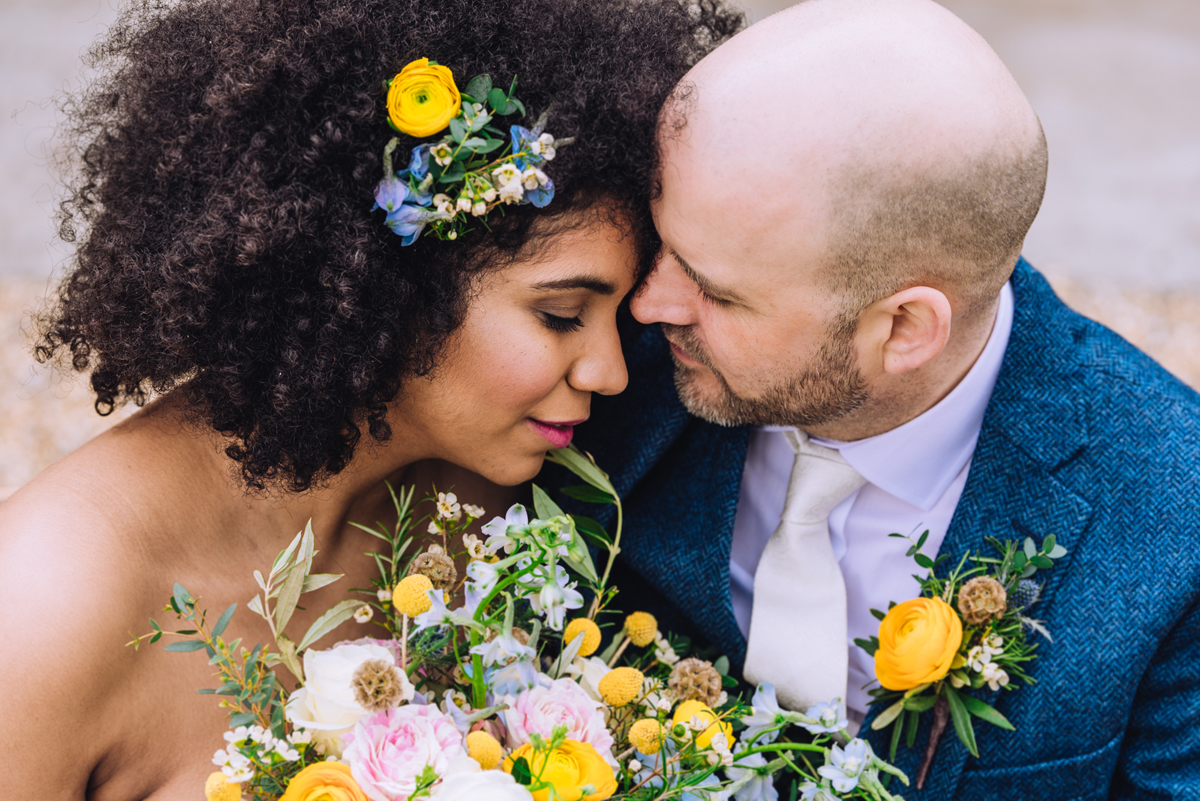 "Carissa and Chris have been together for over a decade and everyone from the team kept commenting how natural and comfortable they were together. Their kindness to each other and the harmony between them shine through every single image. There is no surprise then, that my favourite photos from the shoot are hands down the couple shots, especially the ones of them laughing together."
"In addition to that, it was very important to me that Carissa was a genuine natural beauty. I think as photographers, we too often tend to display ideal beauties rather than honest images that reflect and celebrate the diversity of women's beautiful, natural bodies."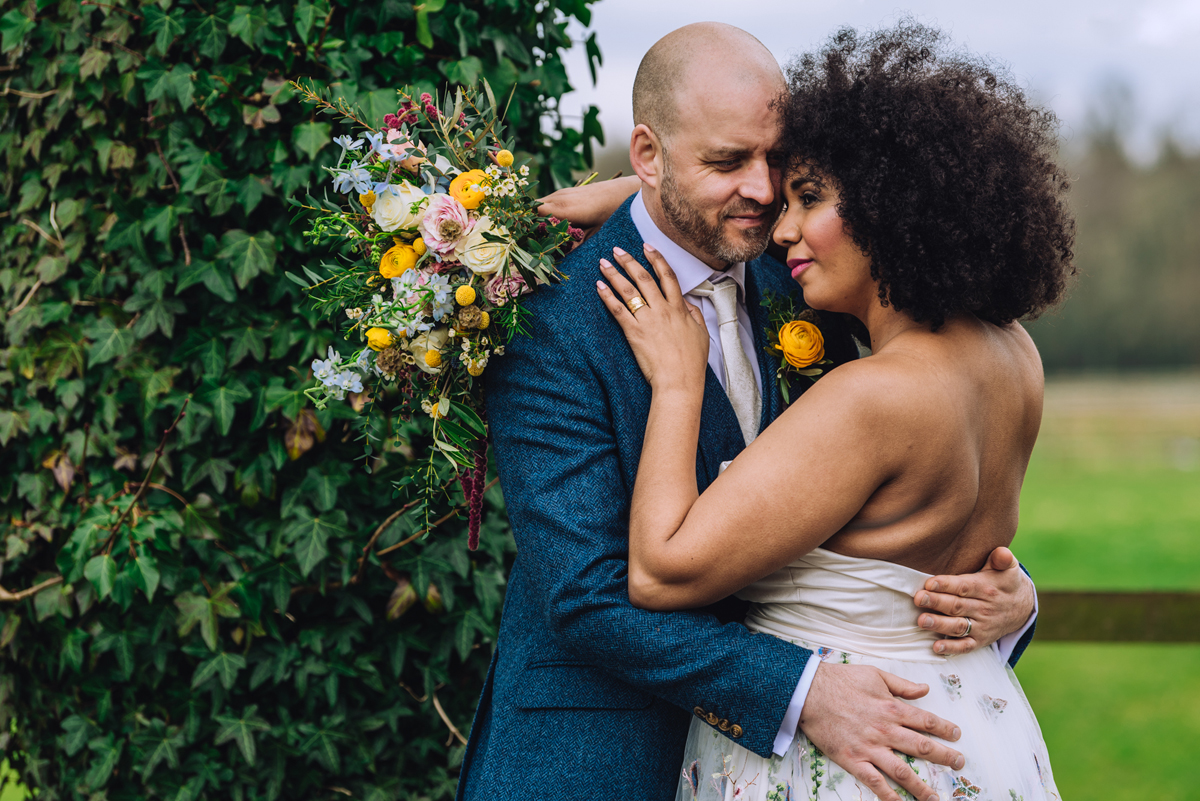 "We were also lucky to have Joyce Connor for the makeup and hair, as a successful makeup artist and a black woman herself, Joyce also offers training to other makeup artists on how to apply the right make up on women of colour."
"The venue was the lovely Herons farm.  With the raw beauty of its barn and the green surroundings perfectly complemented our theme. Sally and her husband Ralph, from 'With These Hands' brought everything together with their creative props and the gorgeous floral arrangements."