I don't know about you, lovely readers, but I am very glad indeed that its Friday!  Apart from anything else it means I'll have a little bit of time to catch up with the fabulous weddings we've featured so far this week.  To add to your weekend viewing pleasure, here is another beauty, perfect for enjoying over a cup of coffee.
Meet Louise, an Event Director and Jon, Executive Director at an Investment Bank, who married on the 17th June 2017 at Hengrave Hall in Suffolk.  The couple met at a pub in London on New Years Eve 2011 after an evening spent chatting and became engaged five years later on holiday in Mykonos, Greece when Jon proposed over a surprise meal.  Richard Skins (who we're proud to say is a member of our Little Book of suppliers) captured every moment of the day on camera, from those special getting-ready laughs to the first few moments as husband and wife, then long into the evening celebrations.  I do love Richard's work- take a look here for more Love My Dress weddings shot by this talented photographer.
"I came across Richard on Instagram and I loved his pictures instantly: the rich colours and natural people shots.  He captured moments which is exactly what I wanted.  He was also a really nice, friendly guy, which really matters when choosing a photographer as you want someone that will make you and your guests feel at ease.  Everyone really liked him and he fitted in so well with the rest of the wedding party.  He didn't miss a thing, even in the 30 degree heat."
Photography by Richard Skins
Louise wore Ofelia by Pronovias, which she purchased at their New Bond Street store in London.  This really is the most wonderfully princessy gown- perfect for a grand venue like Hengrave Hall.  She paired the gown with a dramatic lace detail veil, also by Pronovias.
"I really think you have no idea what style of dress you like until you try them on.  I never thought I would go for a big dress but when I tried on Ofelia I felt like a bride.  It was a big dress but very delicate and modern at the same time with the sheer and lace bodice, tulle lace skirt and low sheer back and it was also really light and comfortable.  I knew I would never get a chance to wear a dress like it again."
"We had such a stunning venue it did not need much to make it special but we did want to put our touch on it.  Jon's style is classic whereas I love very contemporary trends so we tried to find something that worked for both of us so we chose contemporary designs but in classic colours."
"Hengrave Hall was everything we could have wanted- a real fairy tale venue.  From the moment we drove up the long drive we fell in love with the place.  Every room was different and full of character and history and the terrace, courtyard and gardens were breathtaking, but what really sealed the deal for me was the church on the grounds.  As a Roman Catholic I was struggling to find a venue with a church on the grounds that would allow a Catholic ceremony or one nearby that matched the beauty of the venue.  When we saw the church we knew we would not see anything better. It was so intimate and beautiful and would allow any denomination so we knew we had found our venue."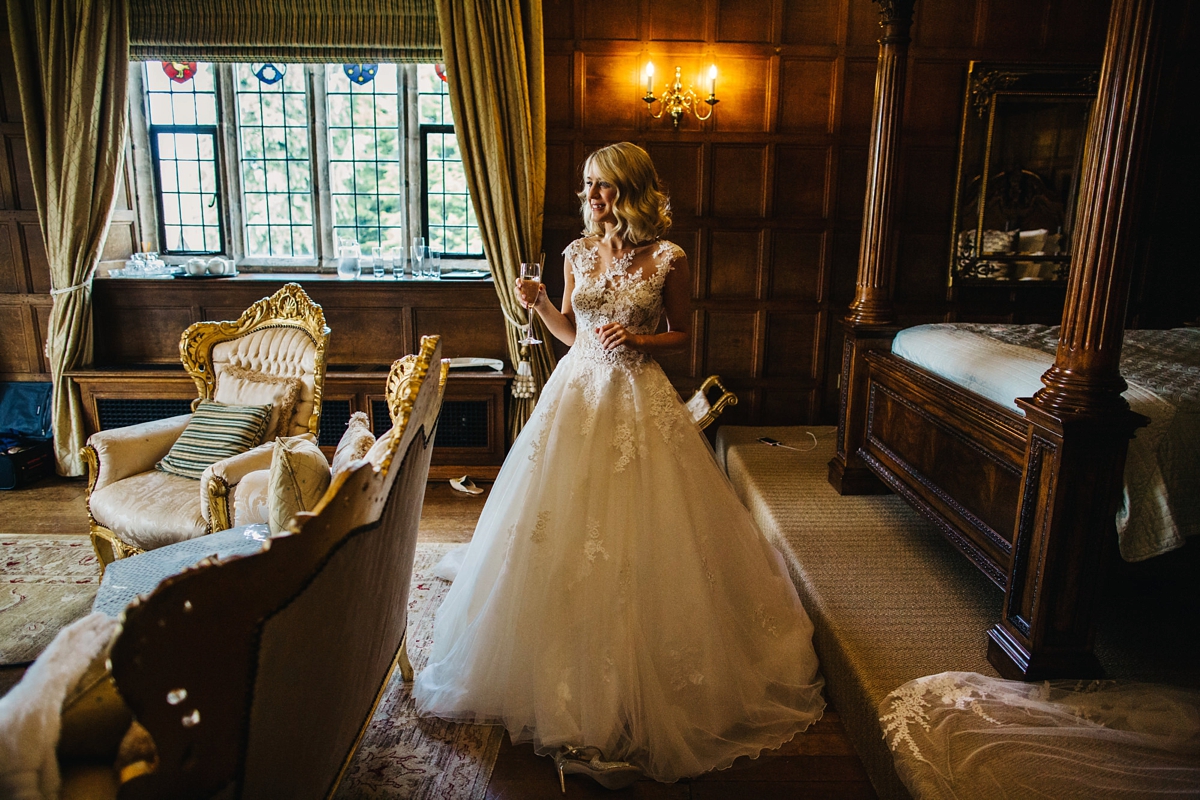 On her feet Louise wore the beautiful 'Emily' by Jimmy Choo in champagne, while for jewellery she opted for a pair of elegant diamond studs, which were a gift from Jon on the morning of the wedding.  With the detailing on the dress providing the majority of the decoration, she needed nothing more to finish her look off perfectly.
"For scent I wore Black Opium by Yves St Laurent.  It's lighter than some of my other perfumes but still quite sexy."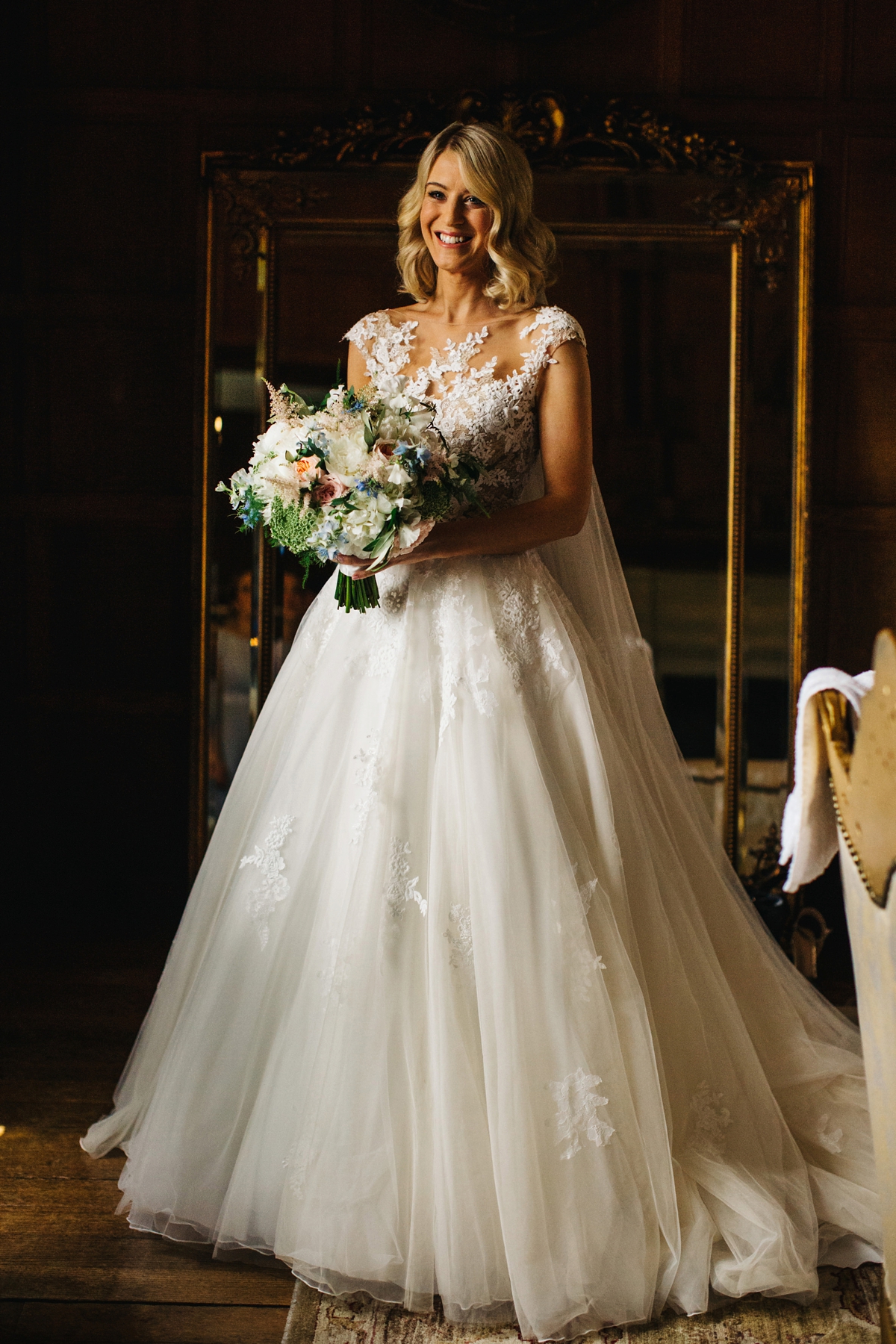 "I never wear my hair up so thought it would be silly to not look like me on my wedding day.  Instead my hairdresser, Tilly Penn [no details] curled my hair so it looked special but natural at the same time."
For make up, Louise opted for a natural look with a pretty pink lip, courtesy of Ian McIntosh.
"I guess you could say I met my Prince in The Frog… I had just come back to London for New Year's Eve 2011 after celebrating Xmas and my 30th birthday at home on the Wirral. My flat mate Natasha had persuaded me to go out and had got us tickets to a pub in Clapham Common called The Frog."
"I nearly did not go thinking I had enough of crowded bars on NYE. However my housemate was having none of it and persuaded me NYE was not a night to stay in on my own so I put on a red dress and headed out. We had been there about half an hour when I went to the bar for a drink. I could see two guys looking over at me and my friends when one approached and started chatting."
"This was actually Jon's friend Will. Jon maintains that he made Will the wingman to go in and break the ice so he had an excuse to come and talk to me. Jon said he had noticed me in my red dress as soon as I arrived at the pub. Anyway Jon and I got chatting and we hit it off. He was refreshingly down to earth and funny, easy to get on with. Turns out he did not live in London, he lived in Chelmsford and was just visiting friends so it was definitely fate we met that night."
"At the end of the night Jon said he would message me and I asked how since he hadn't got my number and he said I will find you on facebook. Jon said he then spent a whole day searching for Louise Wallace on facebook. Unfortunately he did not realise I used my middle name Annette in my profile and it wasn't until he had gone through hours of searching he finally found me. The rest is history."
"Jon and I had been together 5 and a half years when we got engaged. We already lived together in Wapping after I persuaded him to move to London. When Jon proposed I was really shocked. I had not seen it coming. I had organised a holiday to Mykonos in Greece in June 2016.  A beautiful boutique hotel called Utopia. As I had organised it I never suspected he was planning to propose thinking he would want to 100% be in control. When we arrived Jon suggested we go to a restaurant his friend had recommended the following night, The Buddha Bar and Restaurant right on a secluded beach."
"I said sounds nice but wouldn't he prefer to just go somewhere local to the hotel and not as upmarket. Jon said he had already booked it so may as well try it. We went to get ready and I was debating what to wear. I thought I would go quite casual but Jon was insistent as it was a nice restaurant to wear my white dress. I said who wears a white dress at the beginning of a holiday! Then I thought I would leave my hair to dry naturally but again Jon persuaded me I should make more of an effort. I should have twigged then he was planning something."
"Jon had asked the hotel reception how we get a cab to the restaurant as there were only 40 cabs on the island. They told us if we turned up 40 minutes before we should be able to get one. 45 minutes later we still hadn't been able to order a cab. I told Jon I was happy to have dinner in the hotel restaurant but he said we should go since we had a reservation. They offered us the hotel private car which so happened was double the price but Jon was happy to get us there."
"Finally we arrived at the restaurant which was beautiful. Really secluded on right on the beach overlooking the bay. It was definitely worth the effort. We ordered cocktails to start, had our starter and Jon was being really soppy. I was like you're being really soppy tonight. We were also talking about friends getting married and how long it takes from when people get engaged to when they get married. Then Jon said 'in that case I had better get on with it'."
"Then he got down on one knee in the restaurant and asked me to marry him. I asked was he kidding and I kept staring at the ring he had produced. I said put it on then. He said you have not said yes yet! Guess I was a bit shocked. Of course I said yes. I was so shocked and somehow no one else in the restaurant noticed. I could not eat another thing. I was so excited. I asked for another cocktail instead and I called my mum. Of course they already knew as Jon had asked my dad's permission to marry me earlier in the week.
The rest of the holiday was extra special as we spent it celebrating our engagement."
Louise was accompanied down the aisle of the church by her father Eric, to the traditional Bridal March- always a fantastic way to make an entrance.
"The priest from my family parish travelled to Bury St Edmunds to conduct the service and made it so personal and special.  Father Ravi is quite a character- full of humour and personal anecdotes, he engaged the whole congregation, religious or non-religious.  The marriage ceremony is the most important part of the day and he made it so memorable, even if we were all sweating to death as it was so hot!  Thankfully my order of service was an excellent fan."
The newlyweds exchanged rings from Daniel Christopher, who also designed Louise's engagement ring.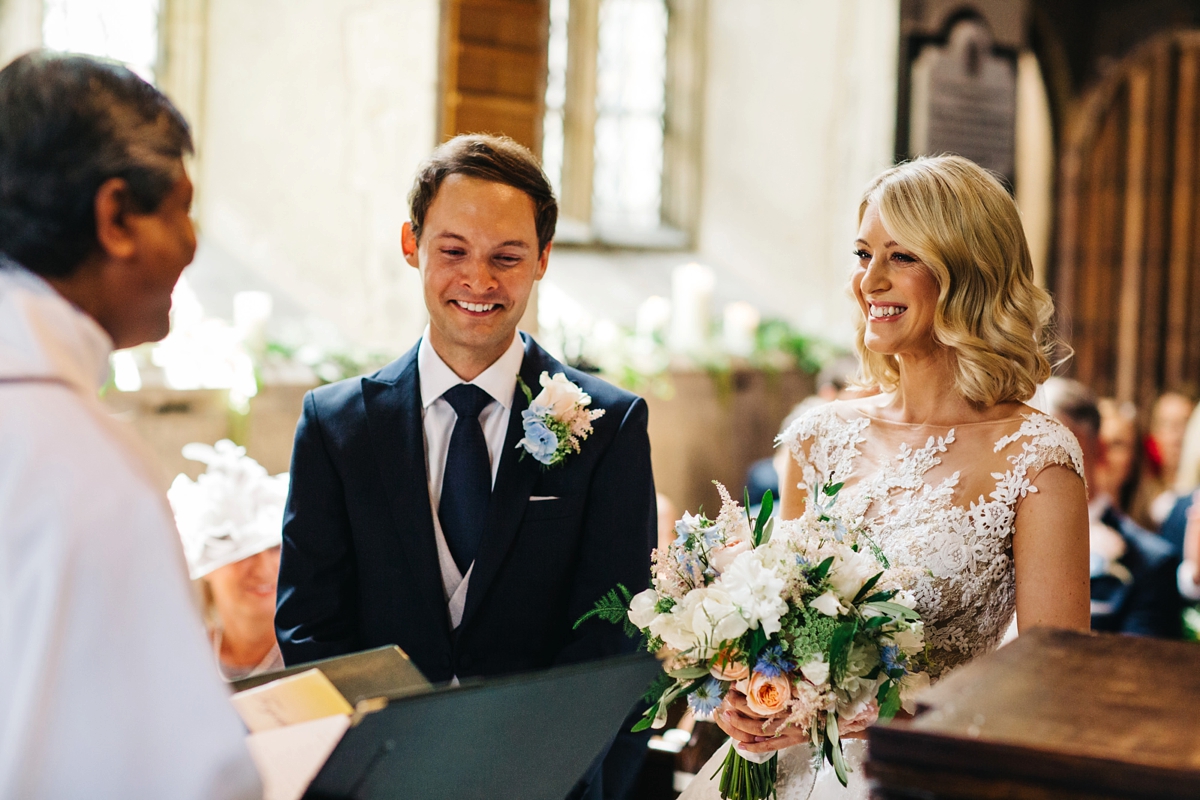 The church was decorated with ivy around the pillars, windows and the altar, with gypsum, peach roses and ivy on the pew ends while at the altar stood an urn with all the flowers in Louise's bouquet.  This was later moved to the Hall for the wedding breakfast. The wonderful florals were the work of Beverley from Jade's Flowers, who filled both church and Hall with oceans of beautiful floral arrangements, as well as creating Louise's stunning bouquet.
"I wanted a few colours and types of flowers with foliage and I wanted them to look natural. Beverley completely understood and my bouquet was beautiful- full of soft pastels (roses, peonies, sweet peas) and delicate foliage."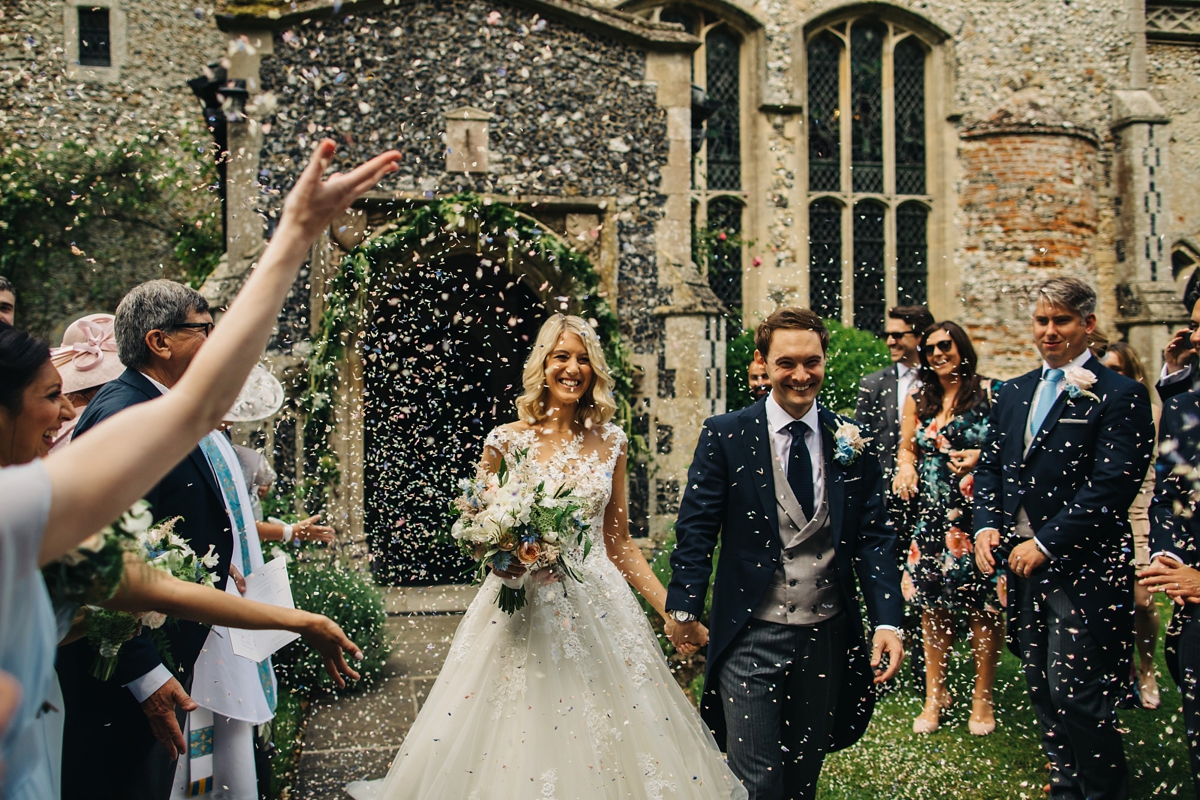 Jon chose a traditional navy morning suit and dove grey waistcoat from Anthony Formal Wear in Billericay, paired with a navy Hermes tie and Jeffrey West shoes.
"We hired jazz band Soho Cool for the drinks reception.  It was the perfect backdrop for conversation on a hot summer's day."
The bridesmaids looked perfectly summery in pale blue 'Isla' gowns by Maids to Measure, worn with their own choice of silver shoes and square crystal earrings from Kate Spade, a gift from Louise.
"I purposely chose different colours in my flowers (pale pink, blue, cream, peach) so I had several options for bridesmaid dresses.  Finding these was the hardest job.  Maids to Measure have lots of different styles and colours so once you have found the style you like you can have it any of their colours. This made life a lot easier!"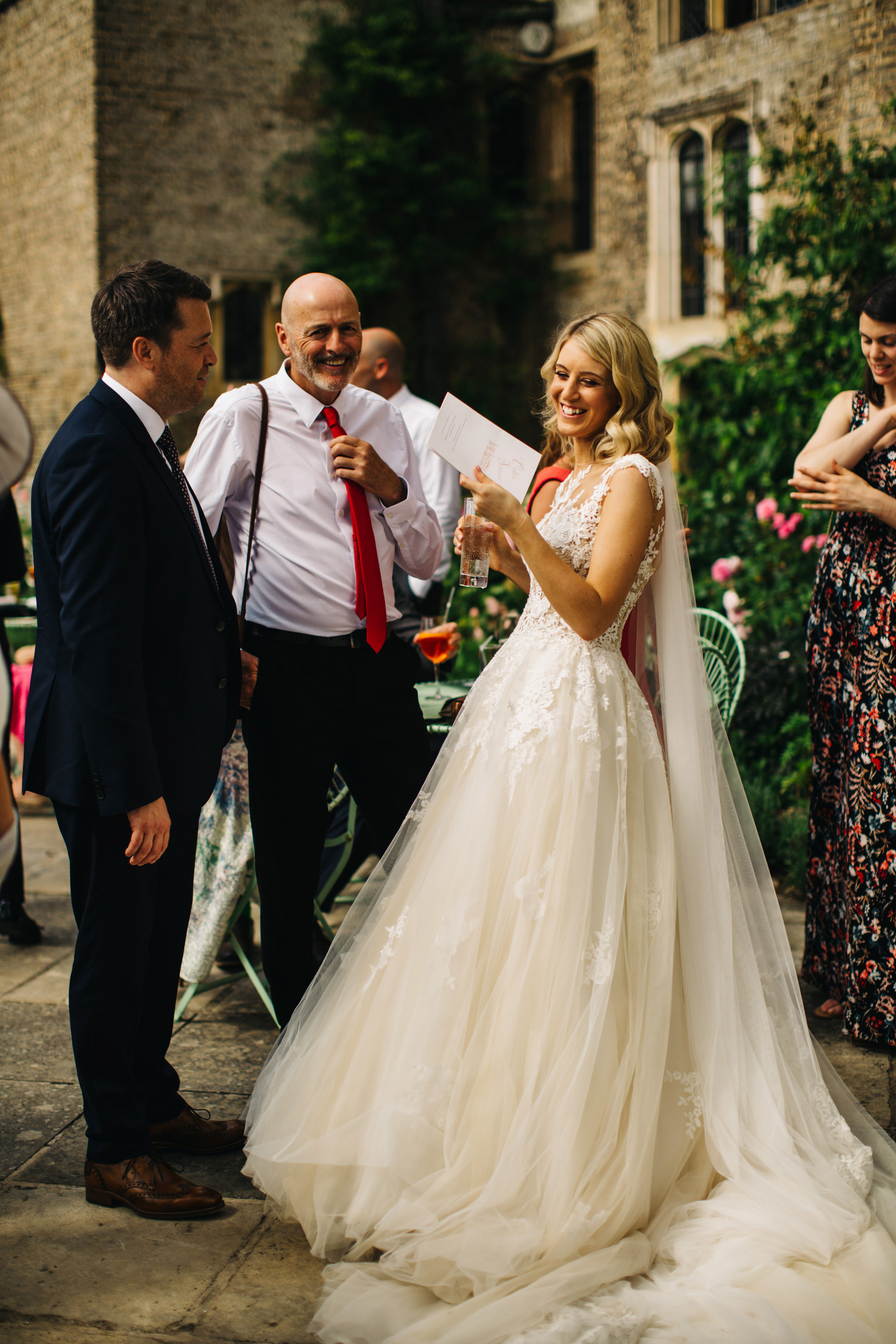 For the evening celebrations the room was decked in ivy and fairylights, and festoon and fairy lights lit up the paths and terrace so guests could cool off outside and enjoy the grounds, even at night.
"The wedding breakfast room blew me away as it looked stunning.  It was wall to wall with flowers and beautiful colours.  We opted for five tall and five low centrepieces and a long train of flowers the whole length of the top table.  It was magical."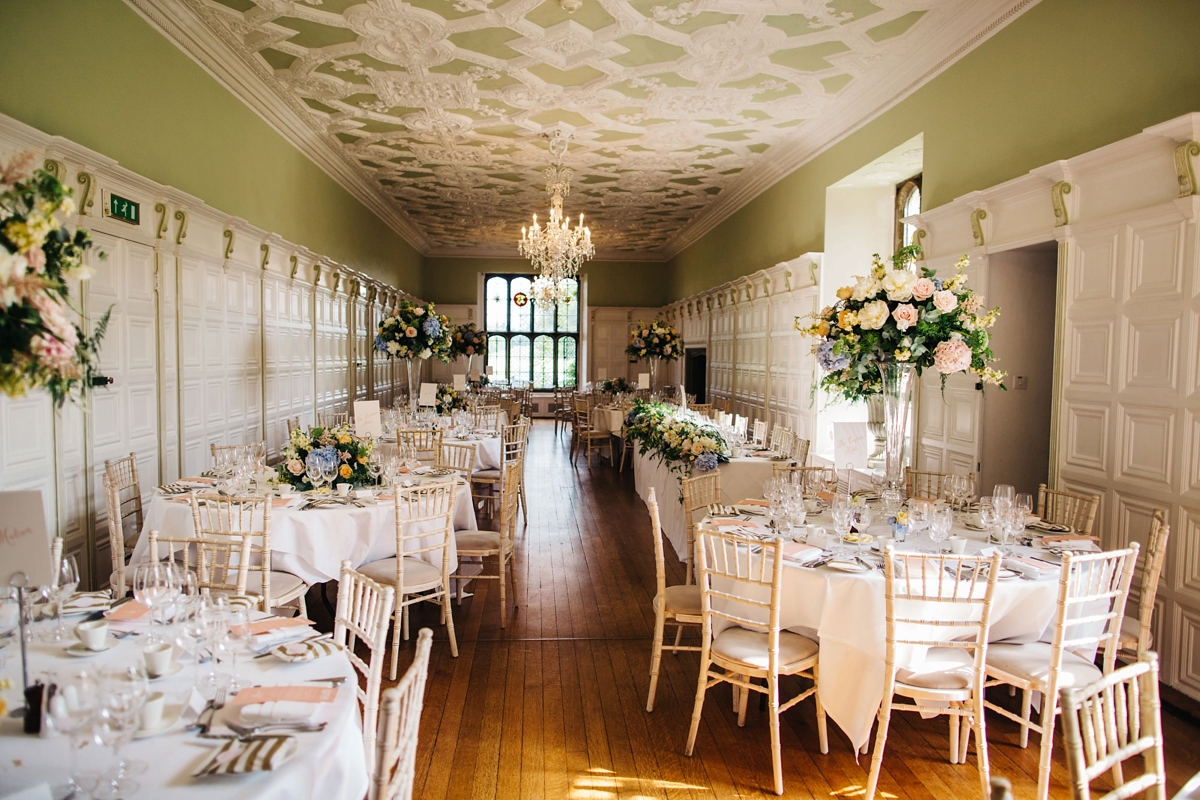 Catering was the work of in-house Milsom's Catering, whose excellent reputation was one of the reasons Louise and Jon chose the venue.
The fabulous cake was by Domino Purchas.  I just love the beautiful icing and very modern style.
"It was so contemporary with a beautiful patterned icing as well as gorgeous flowers. I knew it would look great from all angles."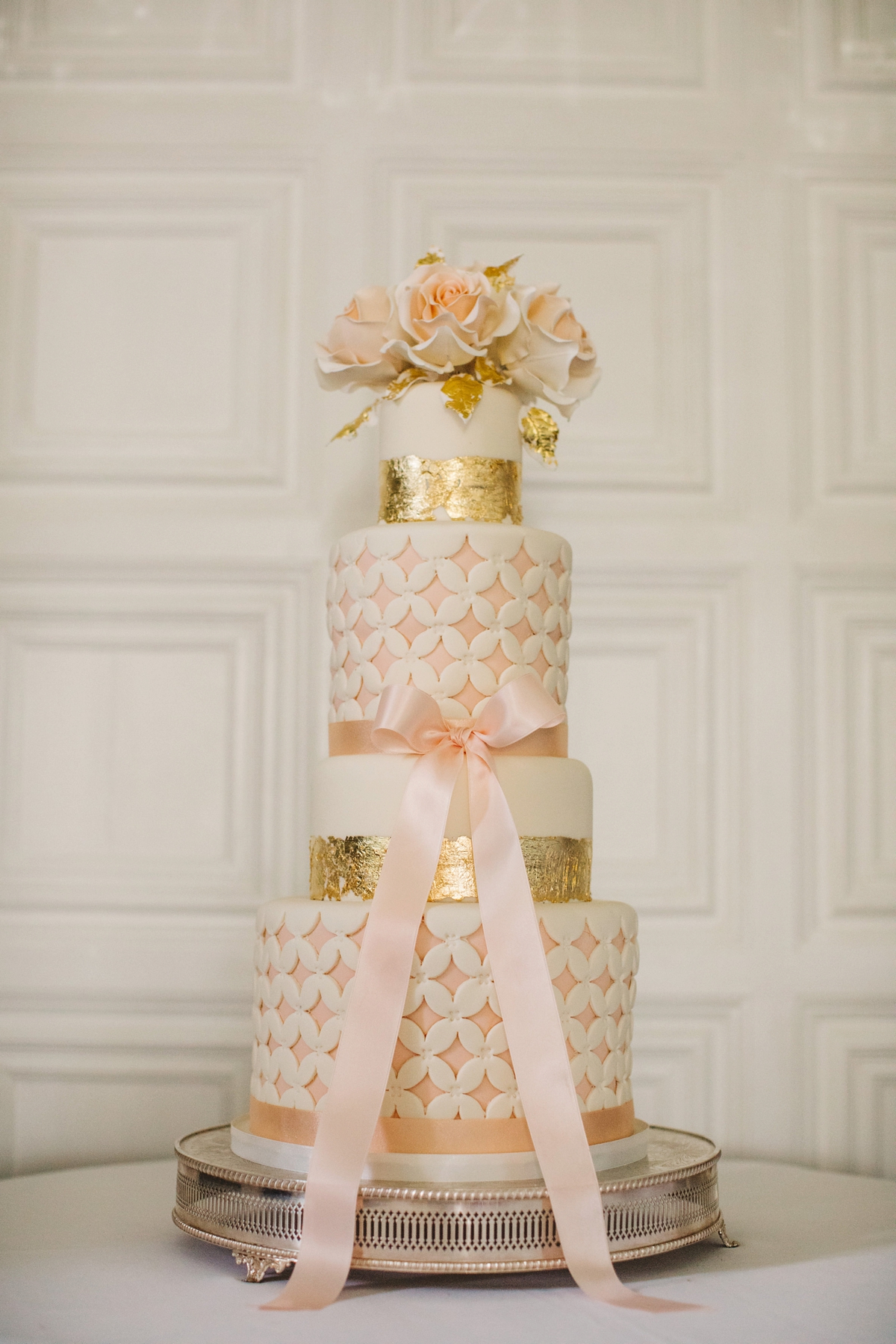 For their first dance, the happy couple took to the floor to 'Perfect' by Ed Sheeran.
"Your wedding day is all the people you love in one place for you. Nothing beats that.  However if I was to choose a favourite moment then I loved our service but also the speeches.  I'm so glad we got them on video."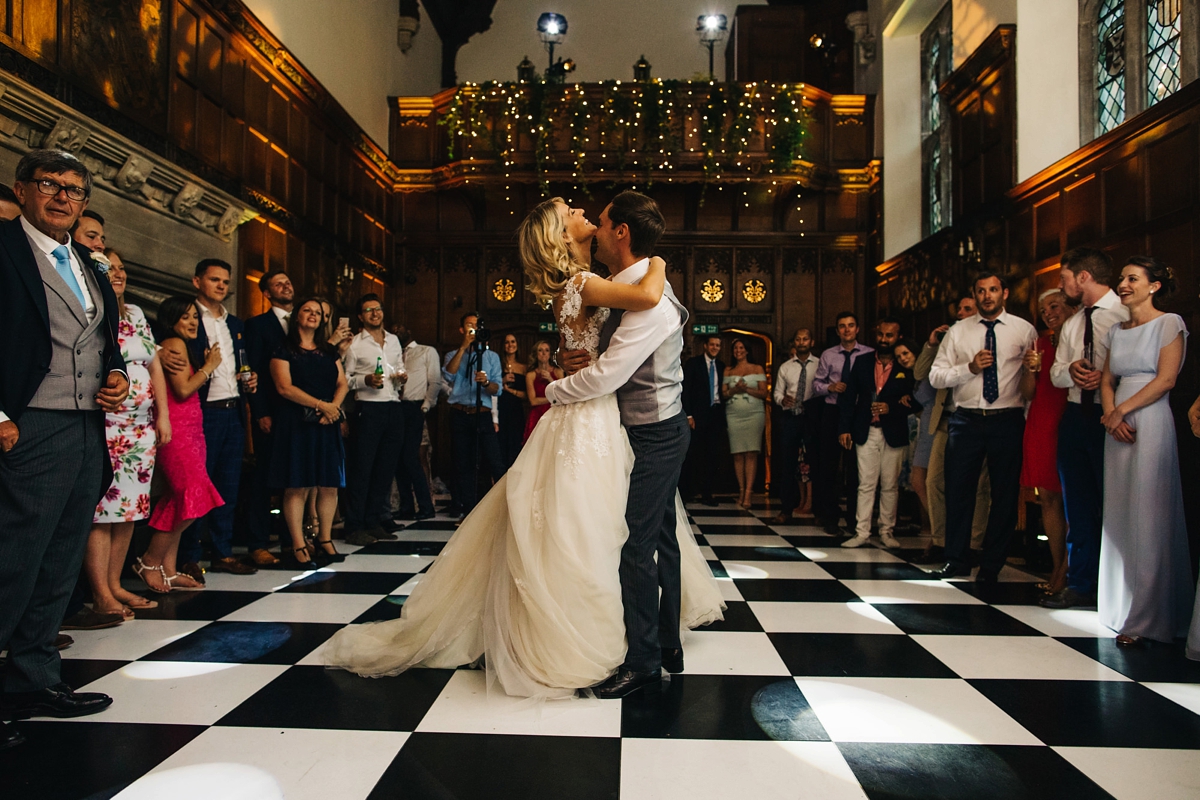 Evening entertainment came in the form of Dreamwave DJs, who made sure the dancefloor was constantly packed, despite the warm evening.
"We also opted for a photobooth from Photobooths London.  We bought extra props including a Storm Trooper helmet and Mr Bean and Homer Simpson masks.  I even wore the helmet on the dance floor."
Words of Wedded Wisdom
"Do what is right for you both and don't sweat the small stuff- you really won't notice it on the day."
So many thanks to Louise and Jon for sharing their beautiful day, and to Richard Skins for allowing us to share these gorgeous images.  Pronovias gowns are forever popular with our brides- take a look here to see the huge range of styles we've featured in the past.
Much love,
Shona x