Hello lovelies, how are you all today? Last weekend I had the absolute pleasure of spending the weekend in Cornwall for the beautiful wedding of friends, and on the way I stopped over with a friend in Somerset.
Oh my gosh; the views, the fresh air and the company of good friends – made all the better by the unseasonably hot weather. Speaking of Somerset, I do hope you're in the mood for an English countryside wedding as that is what I've got in store for you today. Let's begin!
The bride and groom are nurse Rachel and Pat, a policeman, who met nine years ago at sixth form college when his family moved down to Taunton from Macclesfield. They made their vows to each other on 1 July 2017 in the pretty church at Ashbrittle, Taunton, Somerset followed by a magnificent tipi wedding in the field next door to Pat's parents' house – which is luckily a glamping site Lantern and Larks. Their day was planned to be as relaxed, natural and fun as possible, bringing together and involving the family and friends who are so important to the couple.
One of our Love My Dress and Little Book for Brides favourites Sassi Holford was the designer of Rachel's modern and pretty 'Danielle' gown – I love the lacy detail of the off-the-shoulder style and its fitted silhouette. Rachel visited the Sassi Holford boutique in Taunton to choose it, and the waterfall veil which added gorgeous glamour to her look.
Photography Joab Smith Photography
"I was very lucky to have Christine, an amazing sales assistant in the Sassi Holford shop, assist me. She advised I pick out five dresses that I might be interested in trying on. I am not very good at being very feminine and didn't want anything without sleeves. I thought I would like something quite plain – no diamantes and slightly flowy."
"All the dresses I had picked I had thought were ok but nothing special then Christine picked out Danielle – a sleeveless dress in a trumpet style (tight-fitting and kicking out at the bottom) I was adamant I wouldn't like it but Christine asked me to trust her and try it on anyway. Once I had it on I kept saying that I could see my body in the mirror and I kept thinking it belonged to someone else like something out of a magazine but I still wasn't sure about the lack of sleeves, however Christine assured me that Sassi's dresses are so well-made that they don't fall down!"
The bride had her hair perfectly styled by Carly and Clare at Sarah Hodge, Taunton. As she doesn't wear much make-up usually, Rachel's sister applied the light, natural make-up.
"Clare has cut my hair for ten years and knew me when I first met Pat. It was really important for me to have someone that I know so well to be part of the day. They were amazing and created such a classy but beautiful hair do that stayed almost perfect till the next morning even on the tractor ride from the church!"
I really do love the light, relaxed feel of these photographs, the work of Joab Smith.
The beautiful, wildflowers were homegrown by Rachel's mum and aunties – they must have taken so much time and dedication.
"We wanted to try and do as much ourselves as possible so my mum, my two aunties and my auntie's partner decided that they would like to grow the flowers for the wedding. In the months leading up to the big day they stressed excessively over the weather, the slugs and whether the plants were going to flower at the right moment."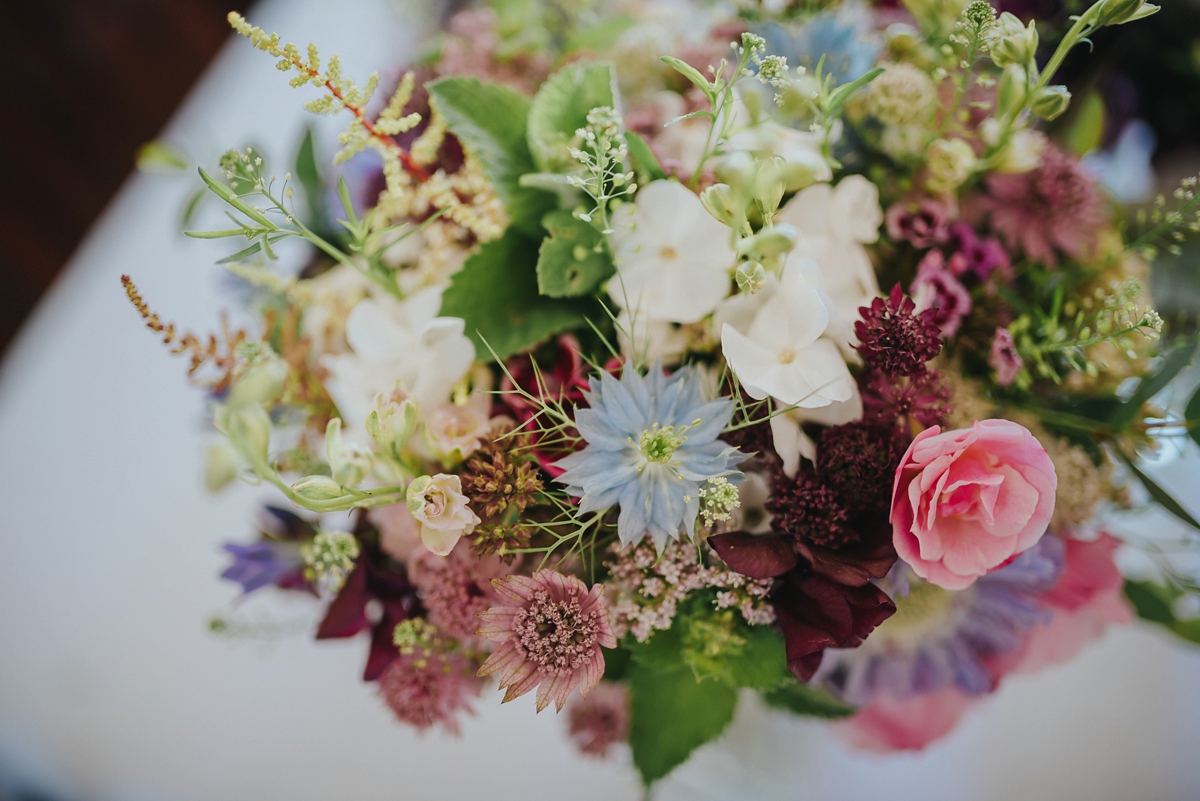 "Their gardens became their babies! They did an incredible job of producing all the flowers that we used for the jam jars on the tables and decoration and the bridesmaids bouquets that the girls made themselves on the wedding morning. We didn't have any specific requirements –  just natural and anything that would grow in the garden."
"My sister Aneka has her own sewing business (Made to Sew) and she advised adding a bolero-type top with a belt to show off my waist. I loved the fact I could then have two different looks – one for the day and one for the evening. I had an amazing seamstress Donna who fitted Danielle to me perfectly and not once did I 'yank' my dress up, even with the crazy dancing."
"I loved the fact that the dress didn't have too much detail but if you looked more closely the intricacy of that fabric is beautiful. It's the only time in my life I've looked at myself in the mirror wearing a dress and thought actually I look pretty damn good!"
"My friend's mum owns her own floristry service where she grows all her own flowers at home. She taught us how to make the bouquets for the bridesmaids and the gypsophila for their hair and she created a beautiful bouquet for me."
"I decided against a necklace as the neckline of the dress wouldn't really have suited one. I did wear two Pandora bracelets which were gifts from my new in-laws before the wedding. One was a charm-style with a heart charm on it and one had Swarovski crystals all the way around. My earrings were Swarovski teardrop-style earrings that my mum and dad bought me as my 'something new'."
Rachel wore Rainbow Club kitten heels in a lace pattern to match her gown. They were so comfortable that she was able to wear them all night.
Rachel and Pat were thrown into each other's paths when they travelled to the National Colleges Hockey Tournament in Loughborough. Their engagement story is so unique and special:
"It took us a couple of months before Pat asked the big question, 'will you go out with me!' and we were officially boyfriend and girlfriend. After we had been together for about five years Pat's brother Nick also moved down to Taunton and as he didn't know anyone of his age Pat introduced him to my older sister Aneka."
"They began seeing each other and after a couple of years Nick proposed and they planned to marry in 2016 in Italy. They only wanted family at their wedding so we stayed in a villa for a week with my parents, Pat's parents and Pat's middle brother Callum and his girlfriend Laura. After the wedding we all separated to go on holiday to other areas of Italy. We, Callum and Laura decided to go on a trip together and one part was on a sailing boat around the Amalfi coast."
"One night we moored in Amalfi itself and went into the town for dinner. Callum took us on a long stroll up hundreds of steps to the top of Amalfi, and when we got there asked Pat if he could take a photo of him and Laura with the view in the background. At this point Callum got down on one knee and asked Laura if she would marry him. I was completely overjoyed at this news and turned to see Pat holding the phone having not taken a single photo, looking gobsmacked and slightly concerned rather than happy with the news. I kept asking Pat why he had such a strange look on his face but he just said that he was shocked and happy."
"The next day we took the boat around Capri where we stopped off for lunch by a pretty rock statue. Before lunch whilst I was wearing a nice pretty dress Pat asked if he could have a photo at the front of the boat but I told him to leave me alone because I wanted to go swimming! Whilst we were all drying off Pat lingering in a strange area of the boat looking particularly dodgy asked again for a photo at the front of the boat which I reluctantly agreed to. Pat asked Callum to take the photo and then winked at him, got down on one knee and held out a little black box."
"He is the biggest joker in the world and loves playing tricks on people so I assumed he was taking the mick out of what had happened yesterday, proceeded to swear at him and tell him to stand up and stop being so silly, he then opened the box and my brain started to work out that Laura was already wearing her ring which meant that the diamonds shining in my eyes couldn't be Laura's ring and then Pat asked me to marry him. Apparently I didn't speak for so long Laura was worried I was going to say no! I've never been speechless but I definitely was that day!"
The bride and her sister, chose a deep burgundy red for the bridesmaids' dresses, finding the perfect colour and style at Rewritten. You can find out more about this label on our recent feature here, and head to Little Book for Brides for more information.
"I was really worried it could look really tacky if I got the wrong shade of red. This resulted in the girls having to try on hundreds of dresses but they were very obliging. We had been looking on all of the high street stores but the burgundy/wine colour was already out of season now it was almost spring time. Fortunately my mum stumbled across the website Rewritten who supply amazing high-quality bridesmaids dresses in the same colour but different styles. They had exactly the colour we had been imagining and were so helpful allowing us to make sure we chose the right style and exactly the right size."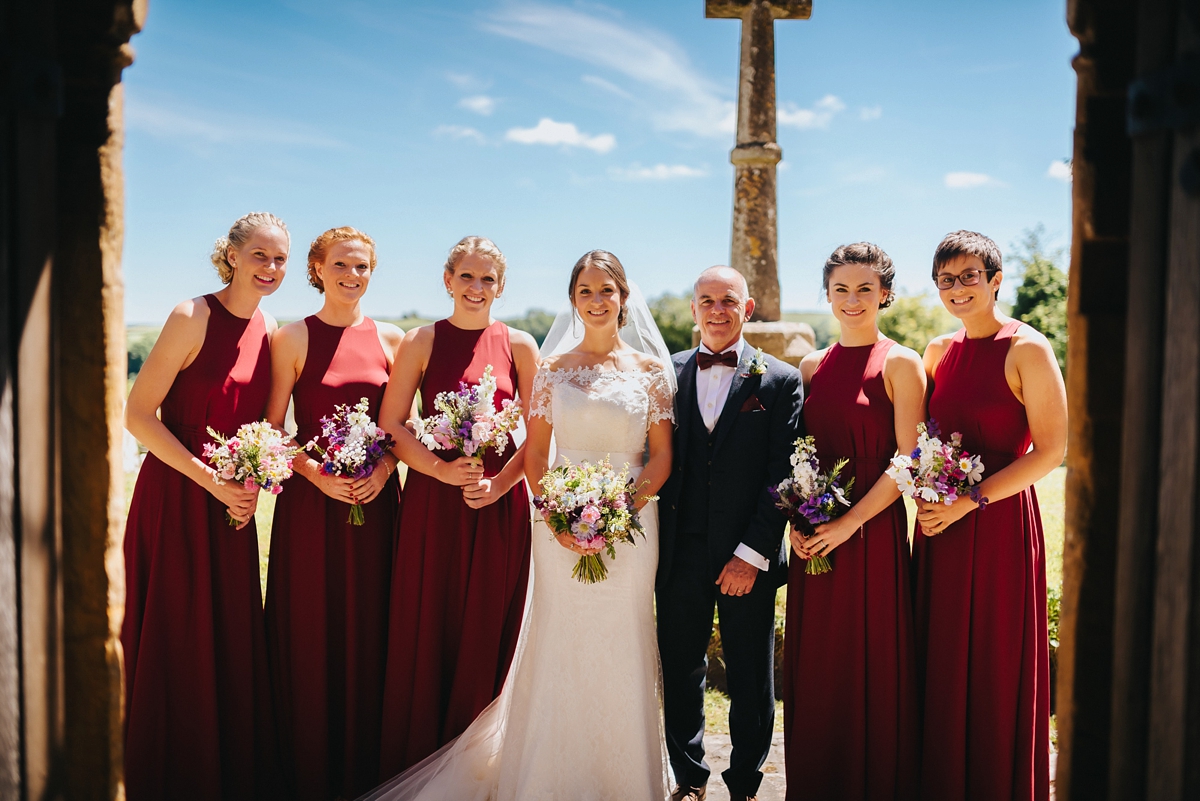 The couple were keen to marry in Rachel's home parish, but as the church which she grew up next door to was undergoing renovations they headed to Pat's parents' parish. They loved the beauty of Ashbrittle Church and the history of the yew tree in its graveyard – thought to be an amazing 3,000 years old.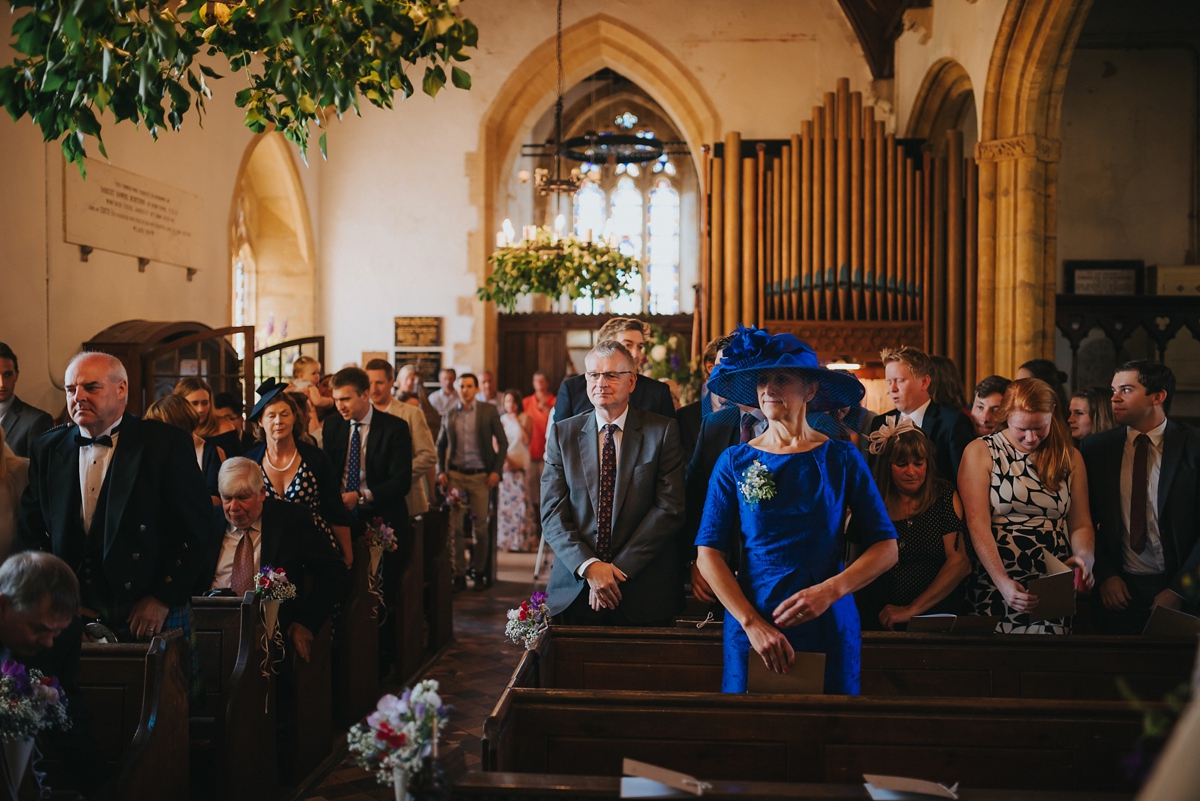 On the wedding morning, Rachel and her dad travelled to the church in her godfather's Mercedes, entering to the 'Trumpet Voluntary' played on the organ. Their touching service was led by the parish's vicar Tim Treanor.
"We said the traditional vows used in a church ceremony and had two readings. One had to be biblical and my godmother read Corinthians then Laura, Callum's girlfriend, read 'The Art of Marriage' by Wilfred Peterson. We really liked the art of marriage because we felt it was the most relatable."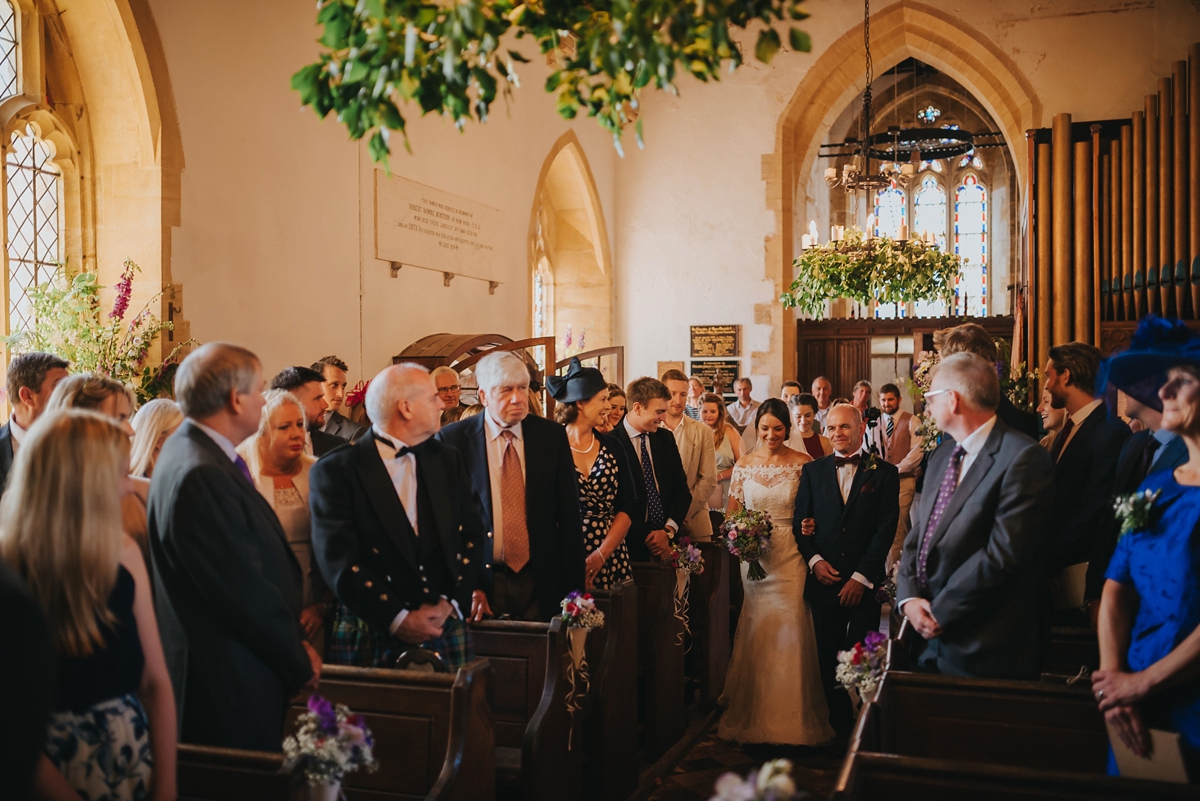 "We are very lucky that our best man Nathan's grandad is a jeweller (who made Ozzy Osbourne's cross). When Pat told Nathan he was going to propose, his grandad (who is 84) wanted to make the engagement ring for us. Knowing that my mum and both my grandmas have three stone rings and I love tradition Pat designed it to incorporate three diamonds. He also made our wedding rings. As we both work in jobs that can get a little 'messy',  I am only allowed a plain wedding band, which is slightly shaped to fit to my engagement ring whilst Pat chose a plain white gold that was buffed. As he isn't used to wearing any jewellery he didn't want it to be too 'shiny'."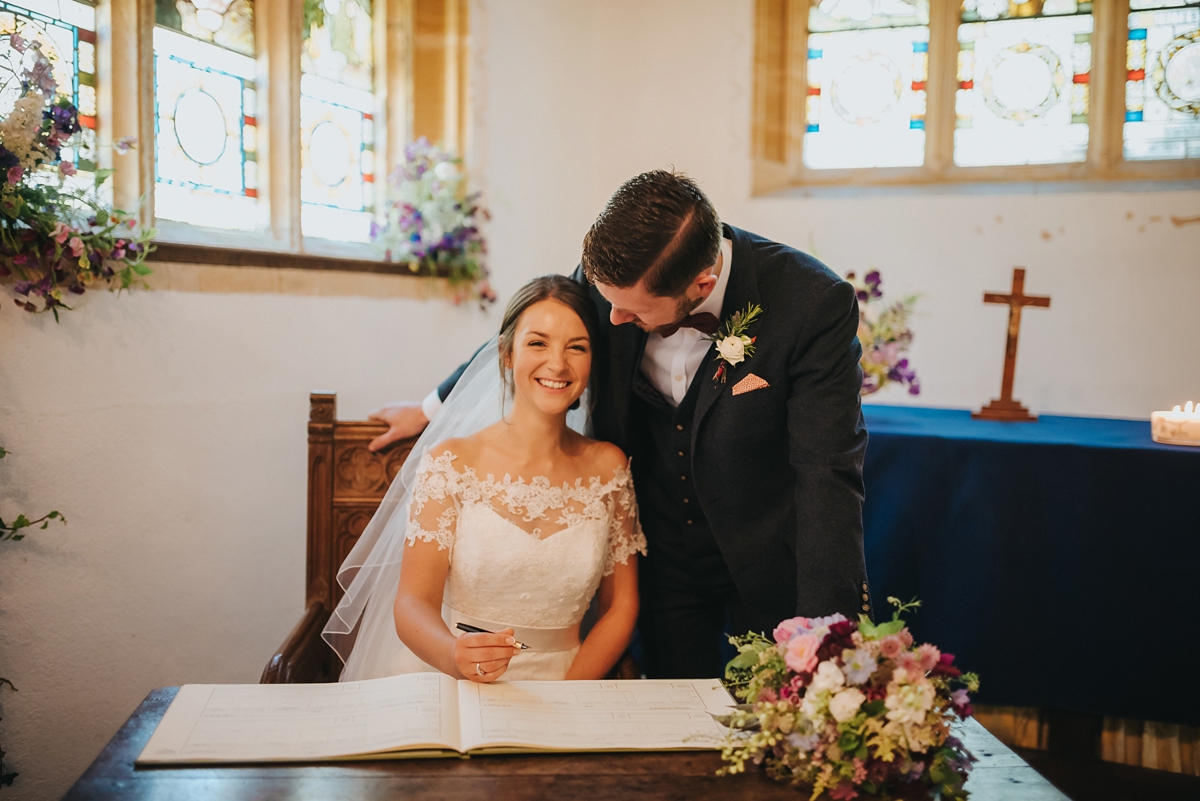 "I spent weeks desperately searching for the best photographer and was happy to spend a little bit more because I think it's the most important thing to get right. I had found a few photographers I had liked the look of but suddenly I stumbled across Joab's website and immediately knew I had found the photographer I wanted to be at our wedding."
"His photos are so natural but also really artistic without even trying. After meeting with him I was even happier that he was going to be our photographer – such a genuinely nice person who made us both feel at ease. You hardly noticed he was there during the group celebrations but he would suddenly pop up the minute you thought about wanting a photo and those he took captured the feeling of the day so perfectly. I would recommend him to every single person who is getting married. I think he is absolutely awesome and his photos speak for themselves."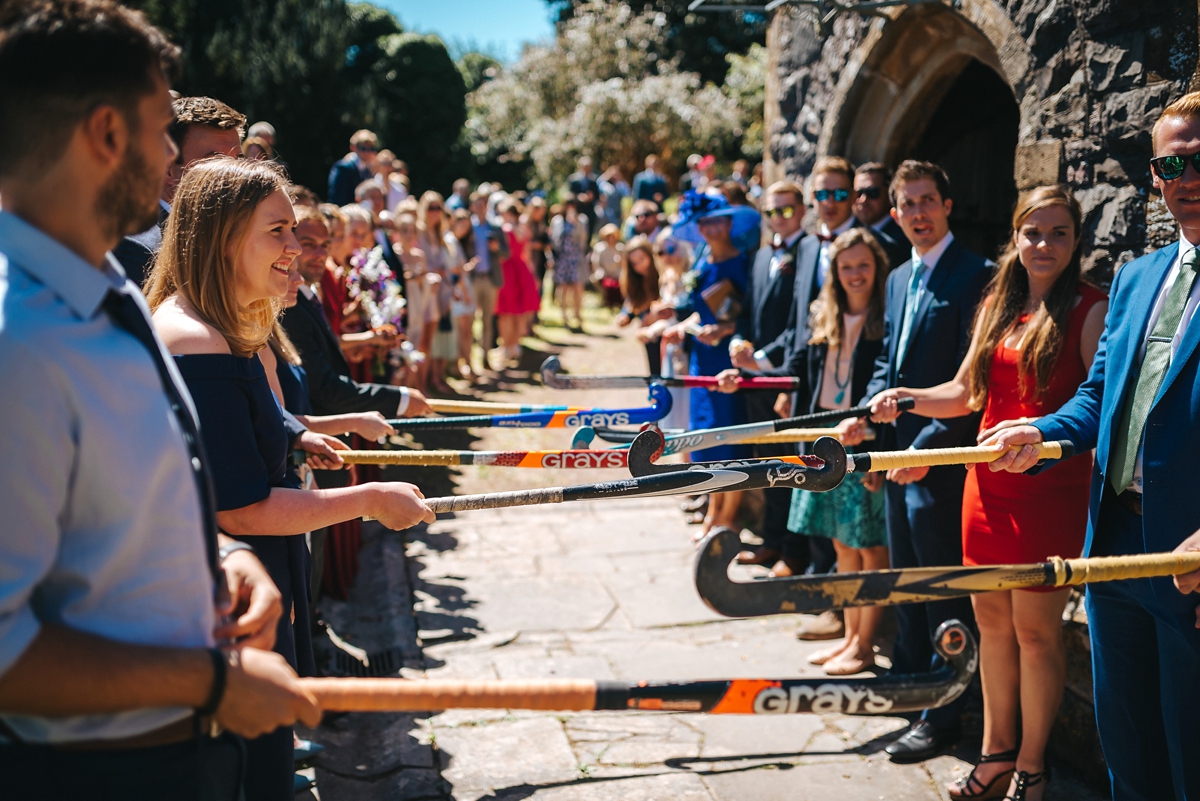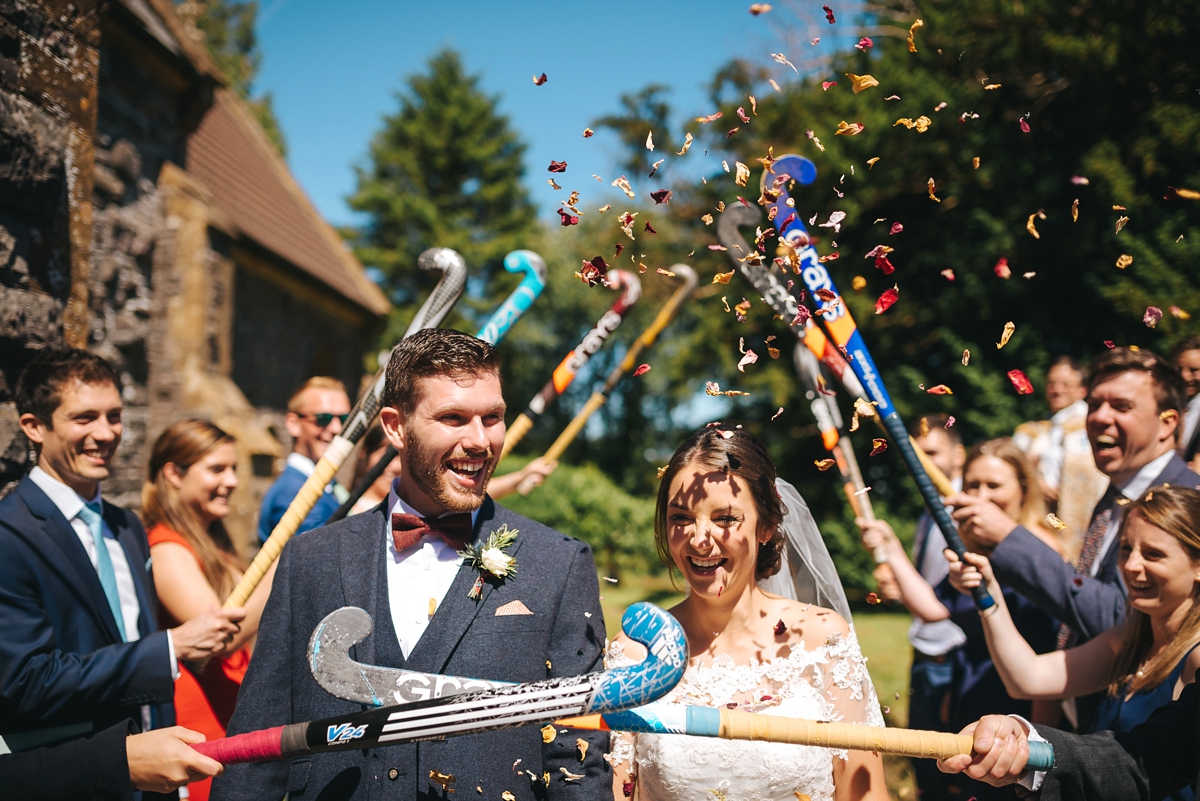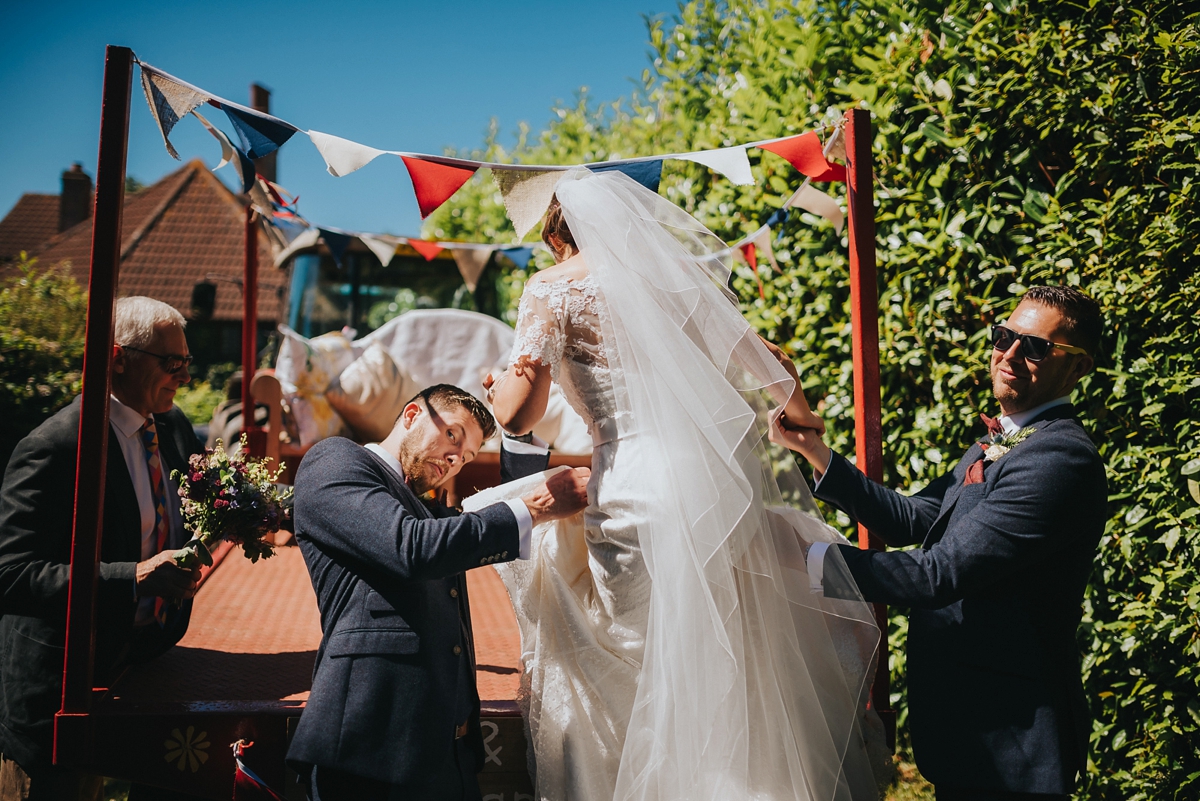 "Pat and I travelled from the church to the reception down the country lanes on a bench on the back of a tractor. It's one of my favourite moments of the day as it was the funniest – attempting to drink Champagne whilst sliding around on velvet cushions and trying to hold onto the bench whilst being bounced around all over the place. It was amazing to spend 25 minutes together – constantly laughing. Everyone says it's good to spend a little bit of quality time together as the rest of the day you can get so caught up not seeing each other. I think that's such a good point to remember."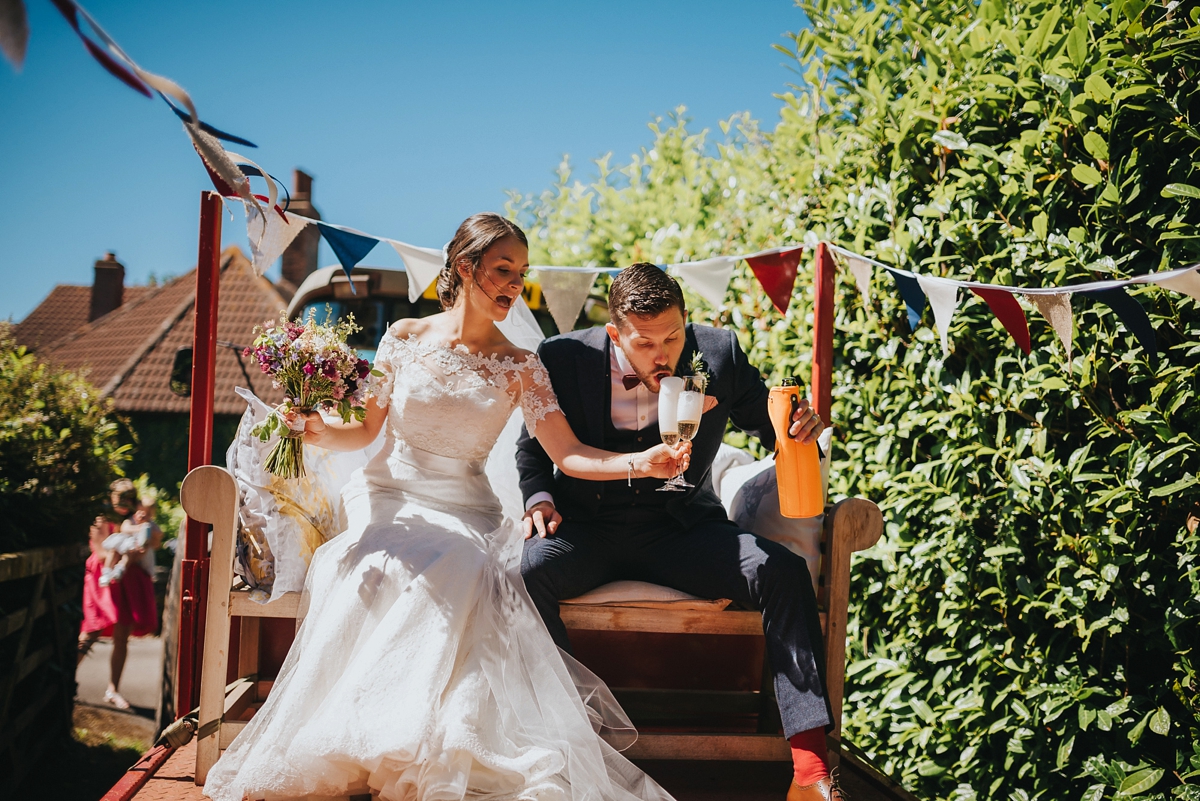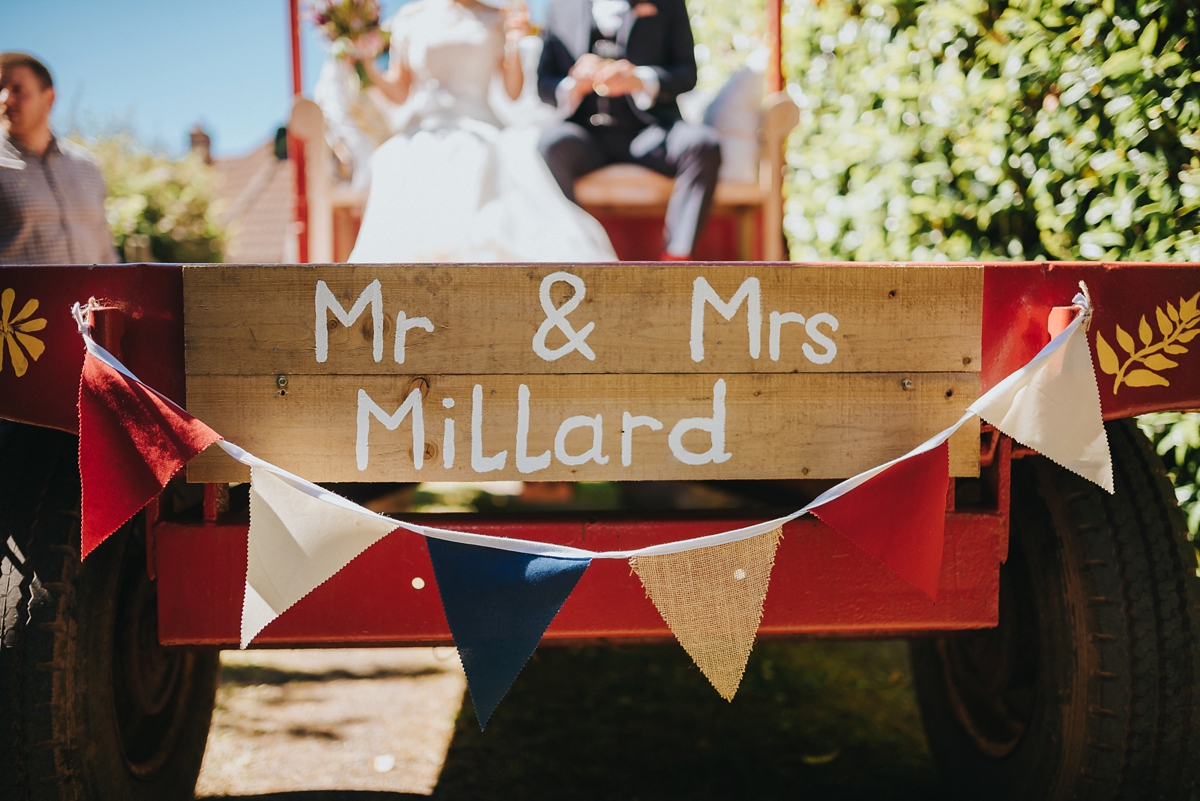 "Pat's parents live next door to a farmer who also have a glamping site on their property and are great friends. They offered their field to allow us to have a tipi from Tipi & Kata on site and we were able to book out the glamping site to offer guests somewhere to stay."
The tipi was a completely blank canvas for the couple to style their day as they wished, and they got their friends and family to help them create a simple, pretty theme using lots of bunting, fresh home-grown flowers and handmade stationery and favours.
"I had a little crew of bunting makers including myself, my neighbours, my mum and aunty, friends from work and bridesmaids. We used the bunting all around the tipi, and then decorated with pictures of me and Pat growing up over the years. The homegrown flowers were placed on all the tables with hessian table runners and in jam jars, Pat also grew Grass Heads which he decorated with little faces for some entertainment for people."
The guests, in their speedier car transport, reached the tipi field first, so were kept entertained with welcome drinks and acoustic music sung by the newly-weds' friends Nathan and Lily. The whole party then sat down to an incredible, relaxed feast by Oaktop Hot Roast – who catered for the entire weekend and provided amazing gluten-free options for the bride, her sister and mum. For dessert, the guests brought home-made cakes and treats for Somerset's own Great British Bake-Off.
"Oaktop Hot Roast provided a food truck that offered our guests burgers or an amazing coconut curry on the Friday night when they were arriving and setting up camp in the glamping tents or in the field. On the wedding day they provided canapés and then a hog roast with a number of additional sides. On the Sunday they returned with the food van to provide a cooked breakfast for everyone. The evening food was brought by Georgio's Pizza with an authentic pizza oven in a trailer which everyone raved about."
"The bar company we used was Drinks By Dexter who brought a horse trailer bar and an extra bar that were both outside the tipi. They also provided all the glasses and garden games like boules and frisbees which allowed people to entertain themselves."
Pat looks smart and suave in his relaxed suit and deep burgundy bowtie.
"Pat had complete control over what he looked like. He really wanted something which looked quite 'country' and thought about something tweed or wool-related. After trying a few different options he found a suit from Skopes – 'Brolin', which was a navy woollen style suit. As it was the end of the season no one shop had all of the sizes Pat needed for his groomsmen but the guys at Skopes were really helpful and searched all their stores to get him the right sizes, even tailoring a waistcoat for my little dad. The bowties were from TweedFiend – they are handmade by Jade and great quality. She also provided the material for Pat's pocket square."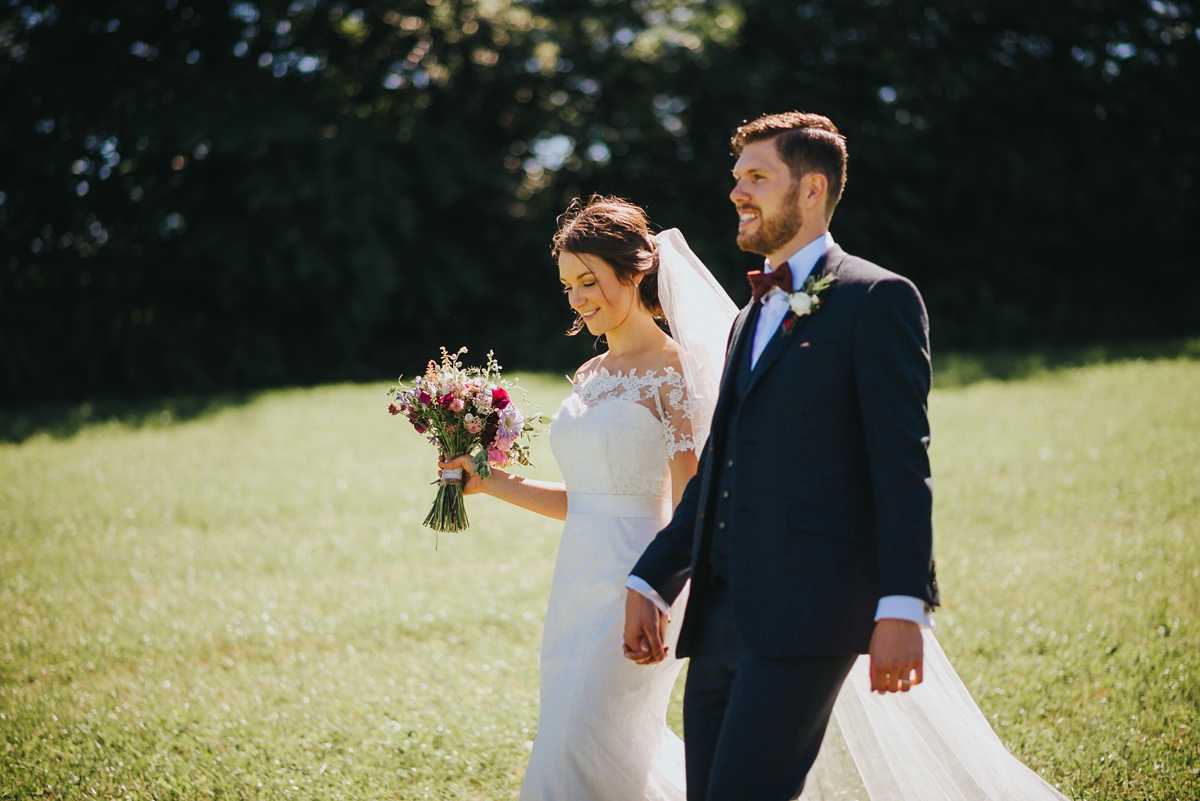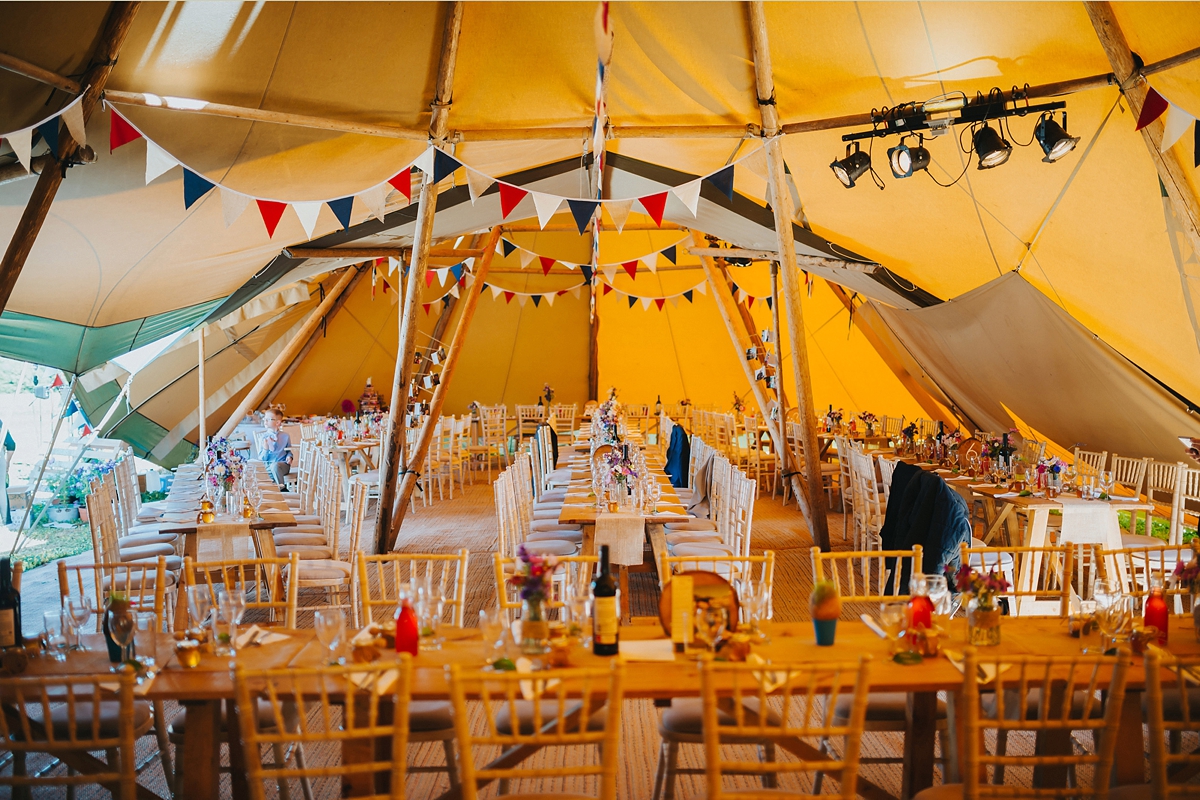 "We handmade all of our invitations, orders of service, table plans, menus. Our plan of the day was painted onto a wooden pallet and our place cards we created out of leaves from a bush in my aunty's garden which I wrote on with a gel pen and then attached to wine glasses with little pieces of wire that my dad made."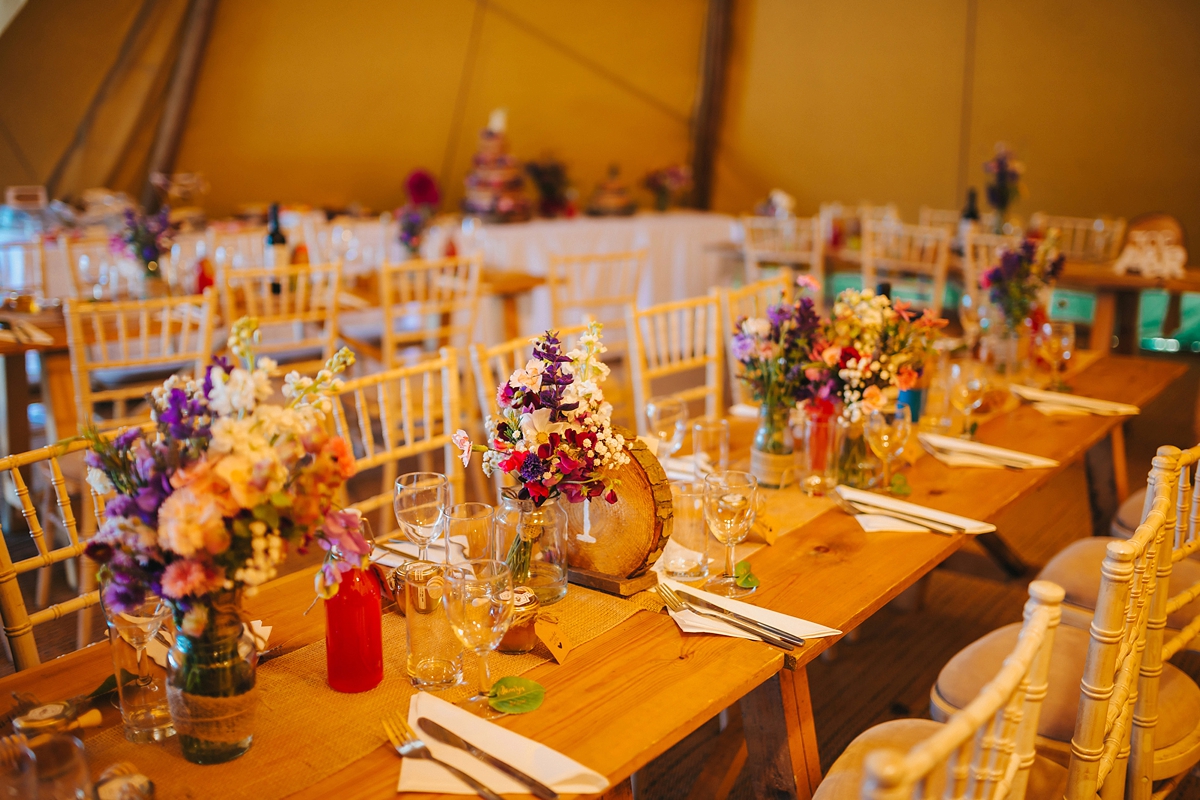 "Pat's dad Andrew has his own bees which he makes honey from so Helen (Pat's mum) and Andrew created lots of little pots of honey as our favours and Helen made elderflower cordial for those not drinking and people to take home if they fancied it."
Rachel's super-talented mum was responsible for the magnificent naked cake with its berry and flower decoration.
"My mum is a complete superhero – she stepped up and said that she would do it for us, even though she was already thinking about the garden and all the planning of the day and what she was going to wear. Not only that, me, my mum and my sister can't eat gluten so she had to make two wedding cakes…one gluten-free and one 'normal'! We really liked the idea of a naked cake and my mum made two incredible Victoria sponges, a three-tier for the normal cake and a two-tier for the gluten-free cake. My cousin decorated them with fruit, flowers, lavender and rosemary."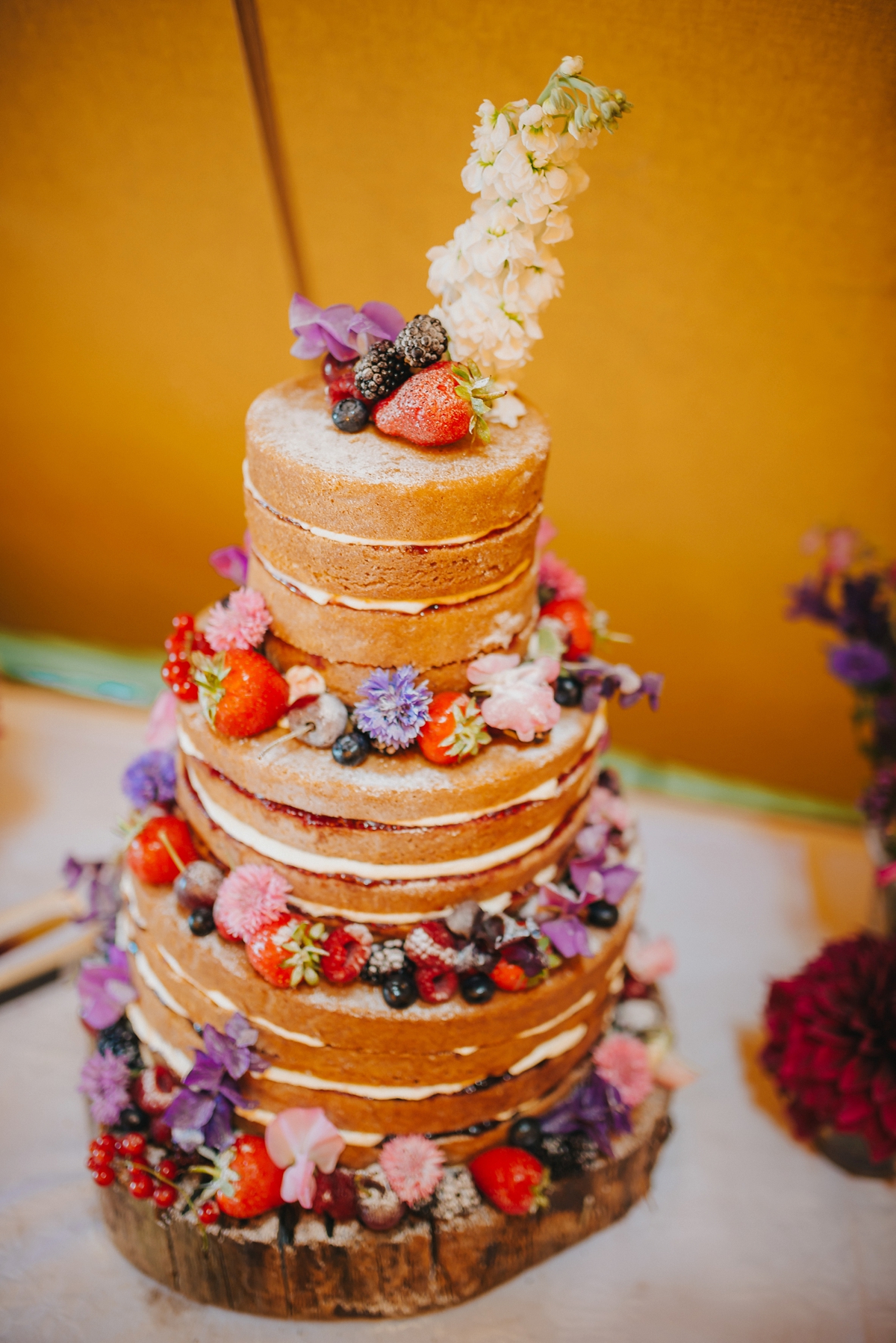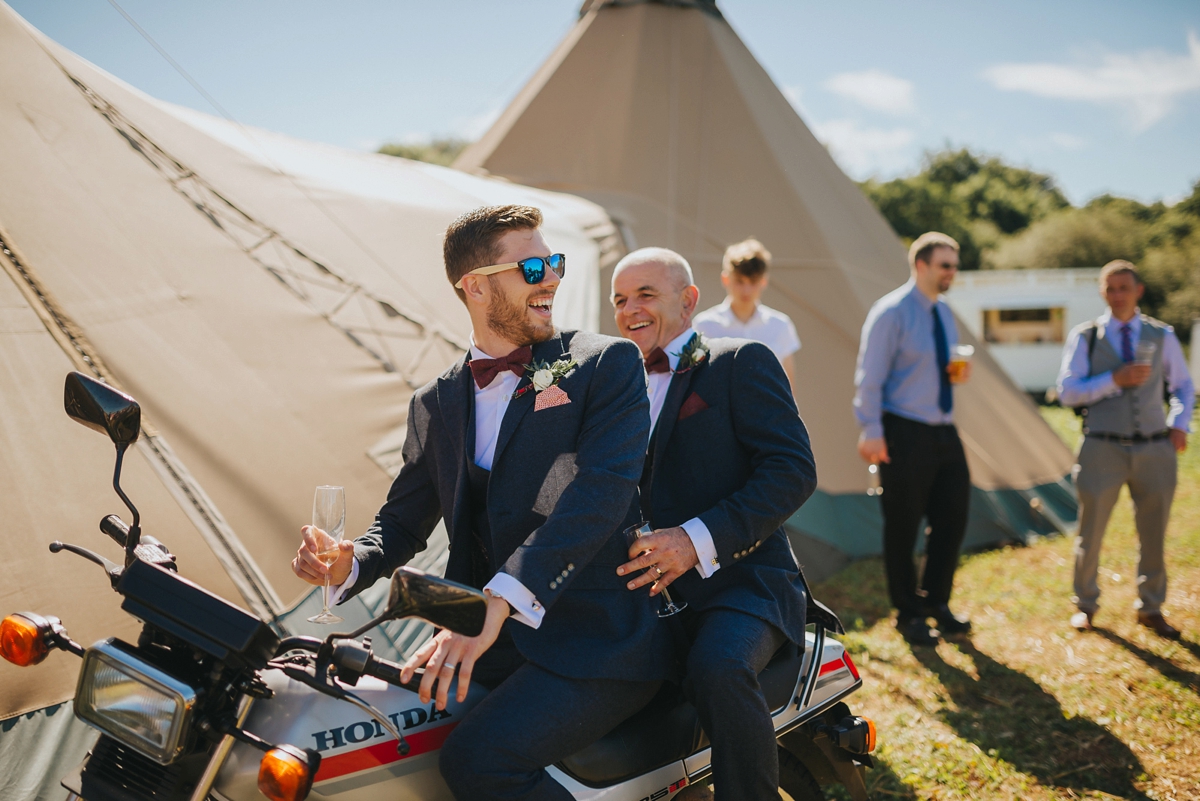 "The band in the evening was The Man from Funkle – the drum player used to live around the corner from my parents. The guests absolutely loved their covers of rock and pop numbers, they handed out instruments and really got everyone involved in the dancing. The dance floor was full all night and particularly full whilst they were playing, included us crowdsurfing. This was probably one of my favourite memories of the night and one I will never forget – a tent full of your favourite people belting out an awesome song whilst we both got passed around all the guests together!"
Words of Wedded Wisdom
"Don't over think it. Everyone said to me that all the little things that you worry about before the wedding become completely irrelevant once the day comes around."
"Try not to let what everyone else wants impact on your decisions. If people care enough it should be more important to them what you want, rather than what they think you should have. Listen to their advice but don't allow it to decide your day for you."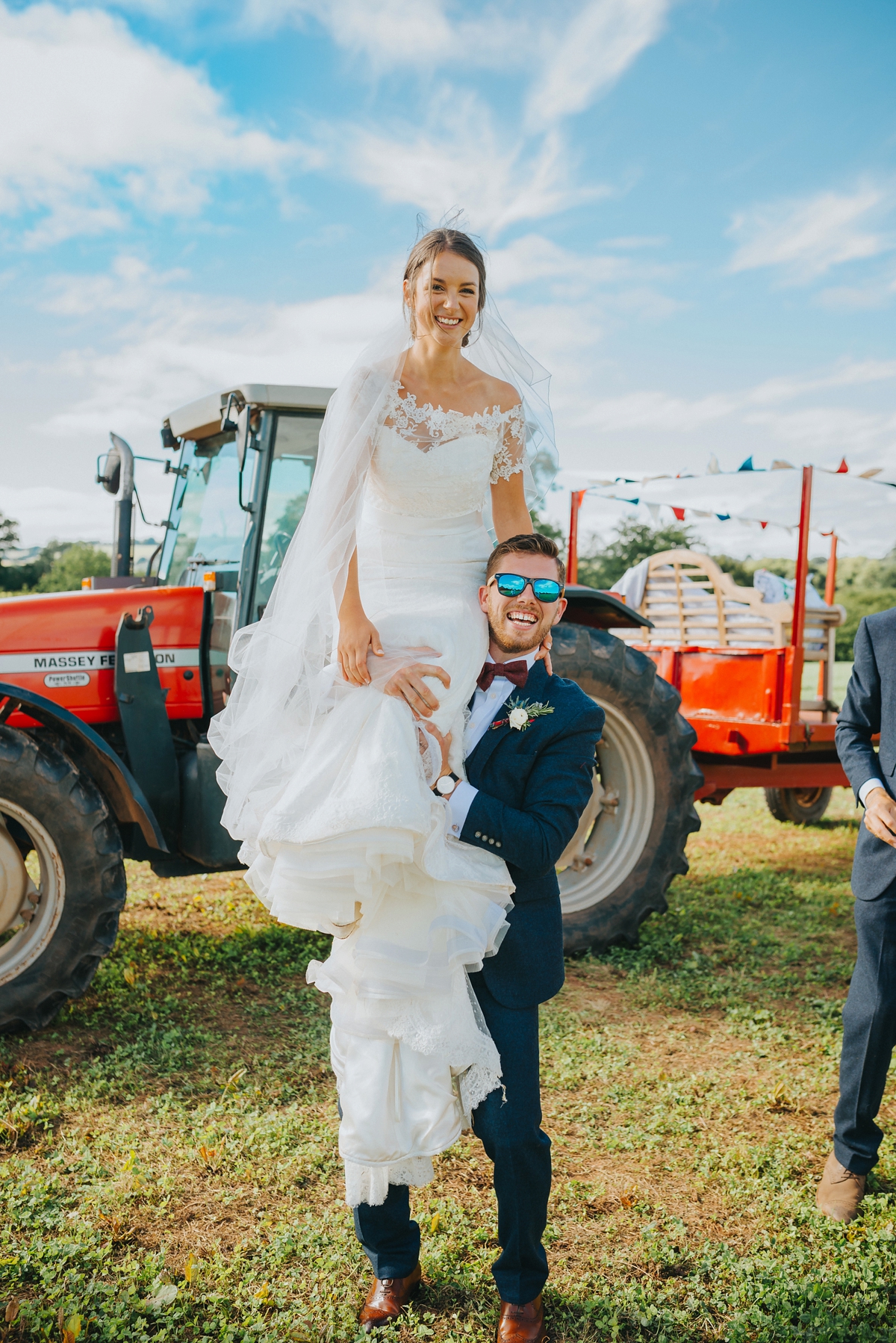 Ah, I've totally fallen in love with this summertime Somerset and Rachel's wonderful enthusiasm and zest for the beautiful details of her wedding. Sending you and Pat so many congratulations and thanks for sending in these photos, and thank you Joab Smith for your divine work. If you love Rachel's gown then please do take a look at Sassi Holford on Love My Dress here, and for more tipi wedding magic we have a whole host of weddings to inspire you here.
Ele xx