If you're searching for wedding planning inspiration that's less formal and more relaxed, then I have just the wedding for you today. The lush woodland setting is just magical, with the bride and groom taking their cue from the fun and easy-going atmosphere of a music festival. So, sit back and enjoy this tree-filled treat of a celebration, crammed with absolutely beautiful details handmade by the bride.
Flight attendant Venus and IT product manager Mark were married on September 16 2017 under a canopy of trees at Teybrook Orchard in Essex. The couple were looking for a relaxed and fun feel to their day, and when they saw festival inspired weddings on offer at the orchard, they knew it was just the place for them.
"We both love the outdoors and music and relaxed vibes… Once I found a festival brides type of wedding style I fell in love with the idea and loved the rustic interpretation. When I proposed the idea to Mark he loved it too since he said he was always worried about having a boring, stiff wedding. We thought it'd be great to gather our friends and family for a weekend of fun and drinks in the woods!"
Images by Mediterranean Photography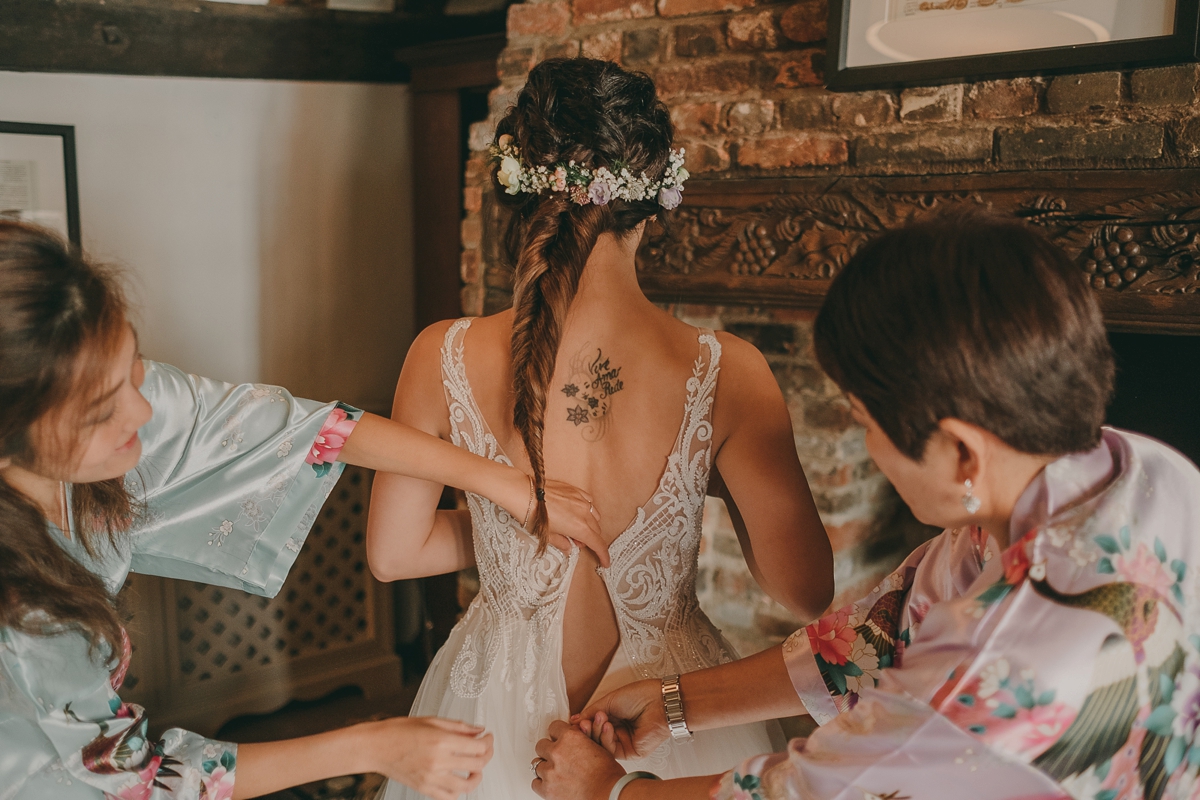 Her talented Maid of Honour Linda styled Venus' hair in a wonderful fishtail braid, whilst friend Celine took care of make-up, with gorgeous winged eyeliner and a pretty peach hued lip. In her hair, Venus wore a delicate floral crown of spray roses and gypsophila. The bride herself undertook all of the floral arrangements for the day, and the muted pastel tones and wild greenery were rustic and romantic.
On her feet Venus wore white lace-up espadrille wedges from Soludos. Due to the outdoor setting, our bride (very sensibly!) bought a second pair of shoes, too – 'Yippy' rain boots from Nomad Footwear, and also wore a pretty gold and red jade pendant – a gift from her grandmother along with gold flower earrings from Bimba Y Lola.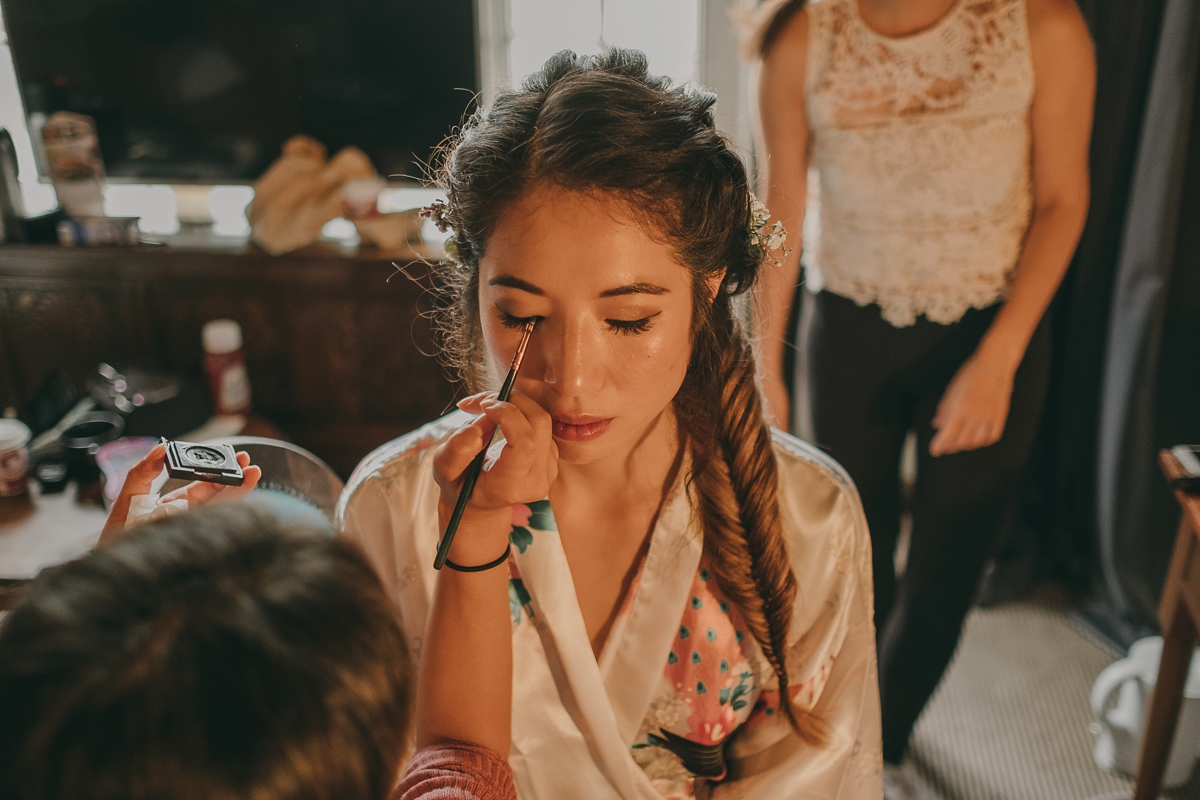 Luca and Sandro of Mediterranean Photography were on hand to capture all of the joy and beauty of Venus and Mark's happy day, including a wonderfully sweet first look between the bride and groom.
"Luca and Sandro were fabulous in capturing our big day. We loved all the photos, they are very unobtrusive and managed to capture many candid photos of us and the guests too, which is what we wanted and very much appreciated."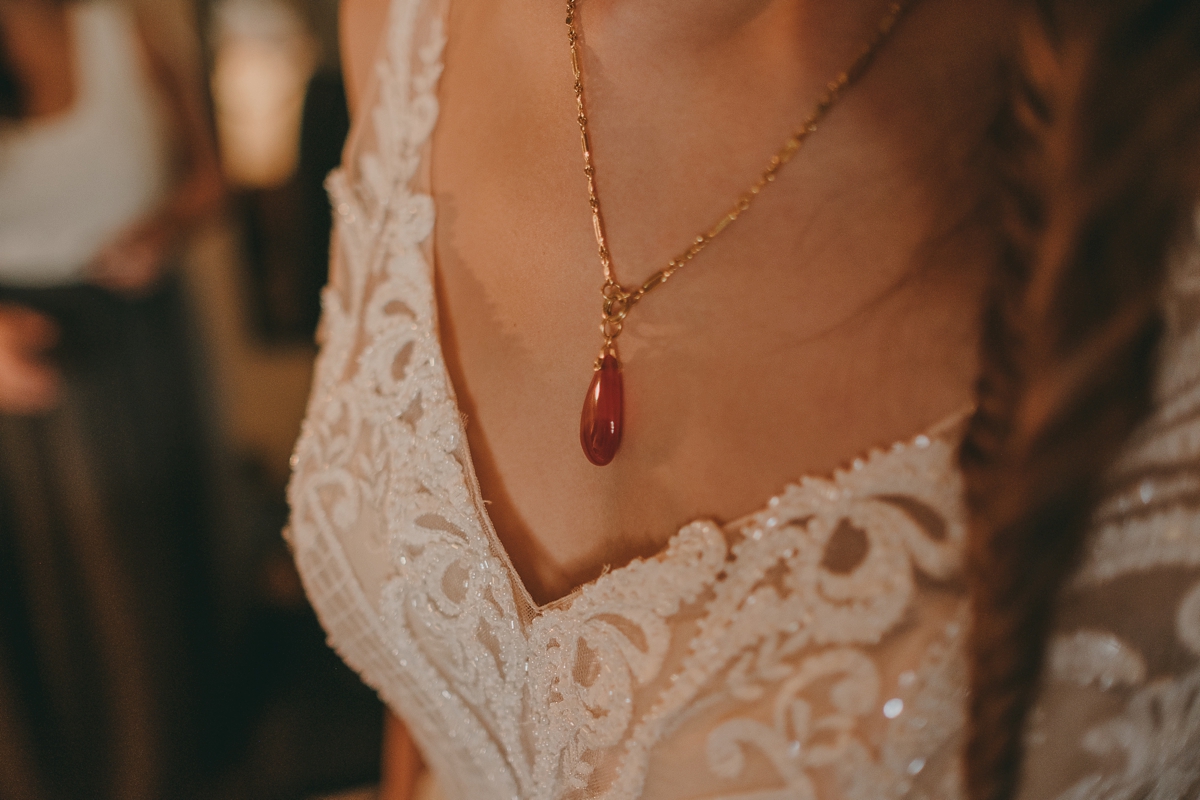 The bridesmaids chose tulle skirts in varying tones along with contrasting lace tops, which they sourced from a Chinese supplier (no details provided), and they complemented Venus' gown wonderfully.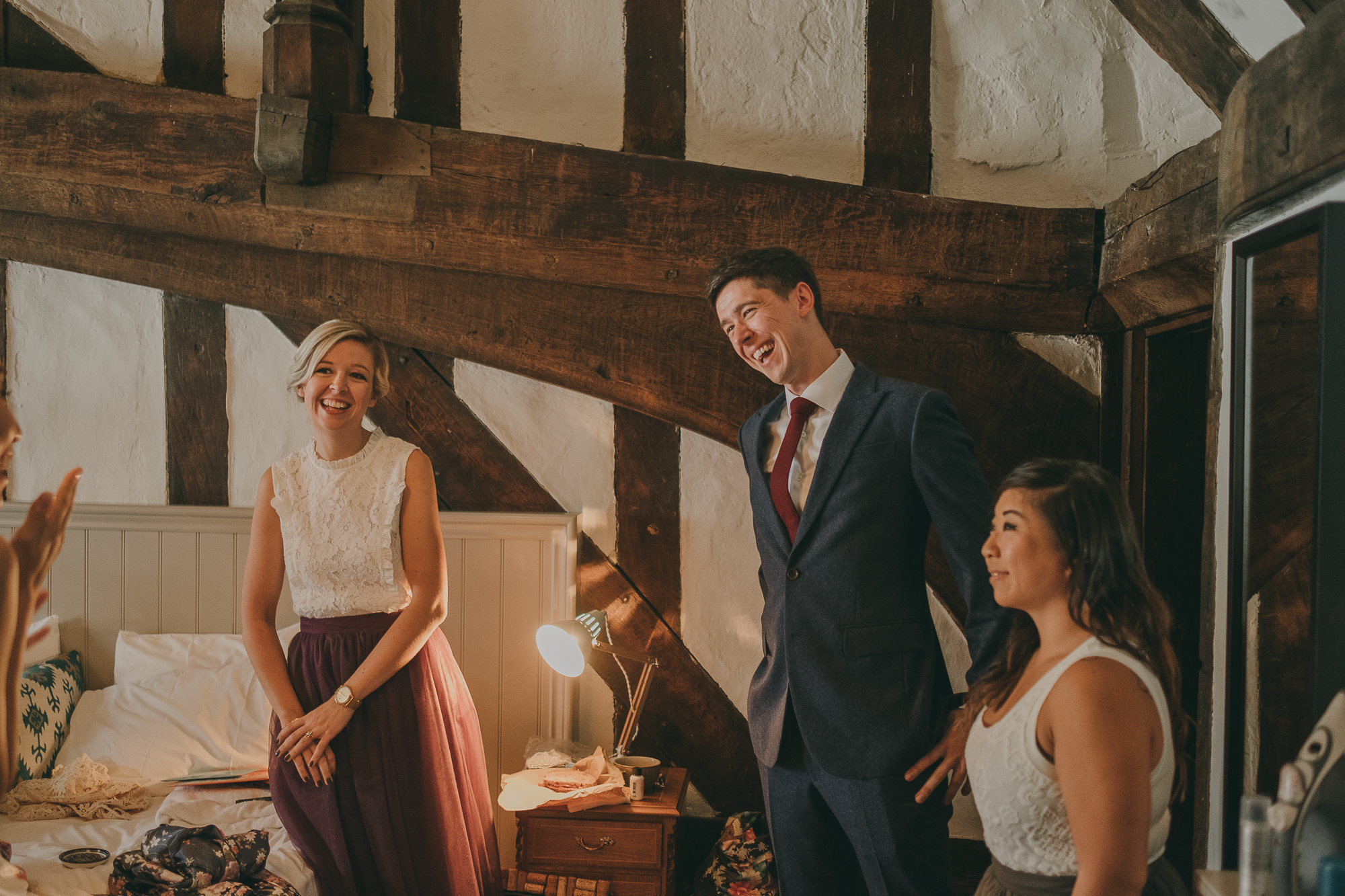 Groom Mark chose a smart grey suit from Hong Kong based Il Sarto, which he paired with a crisp white shirt and deep red tie, as well as shoes from De Novo Men.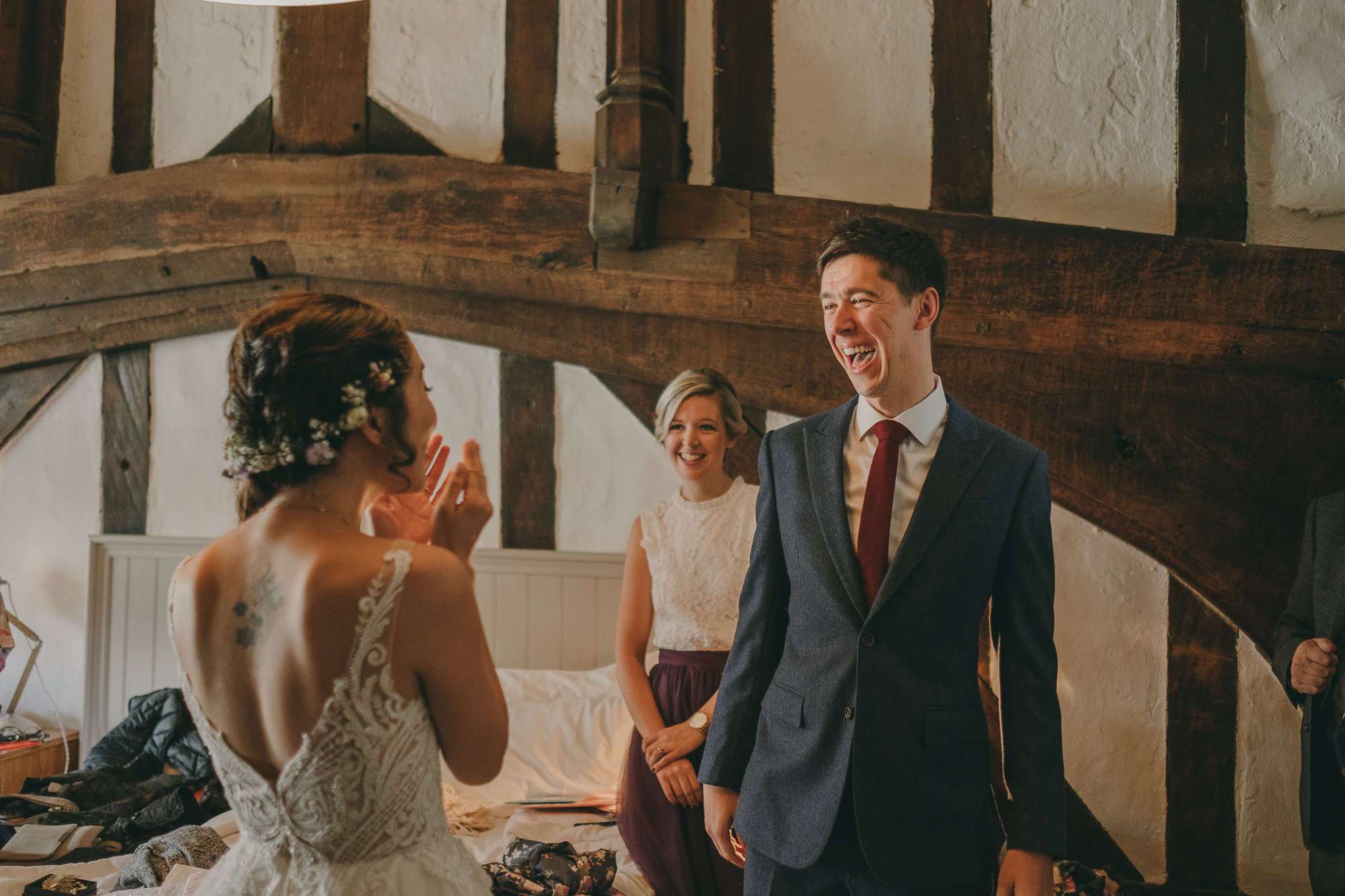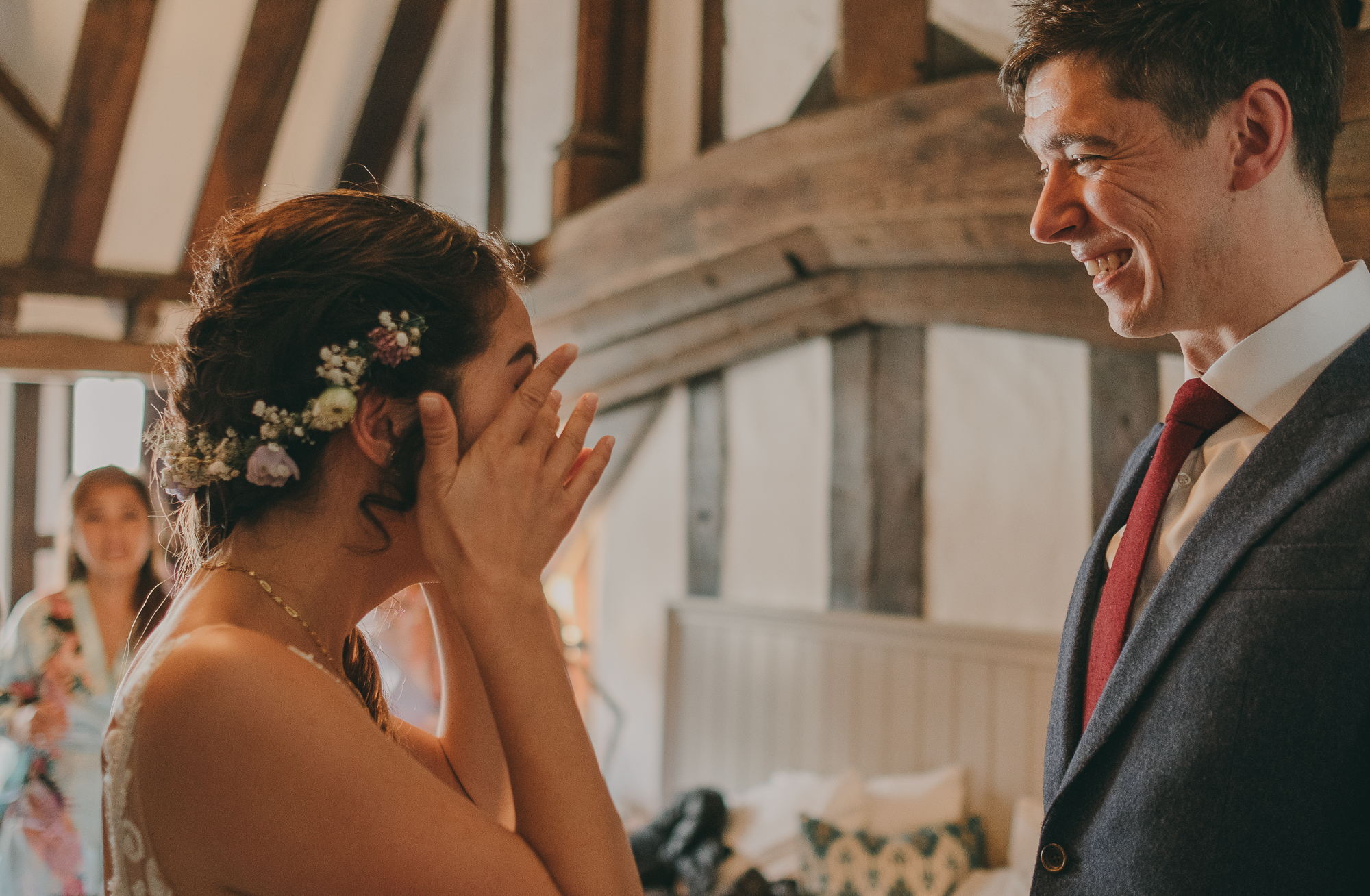 Venus and Mark originally met in Hong Kong via an online dating website, with Venus asking Mark out for coffee.
"The coffee date turned into dinner, then drinks and an exploration around town! I never expected it to turn out the way it did but I guess love finds you when you least expect it. Eventually in May 2016 he proposed to me while we were hiking and had a moment to ourselves admiring and appreciating the landscape and history on the Great Wall of China. It was an amazing trip, and eventually we had our wedding about a year and 3 months later!"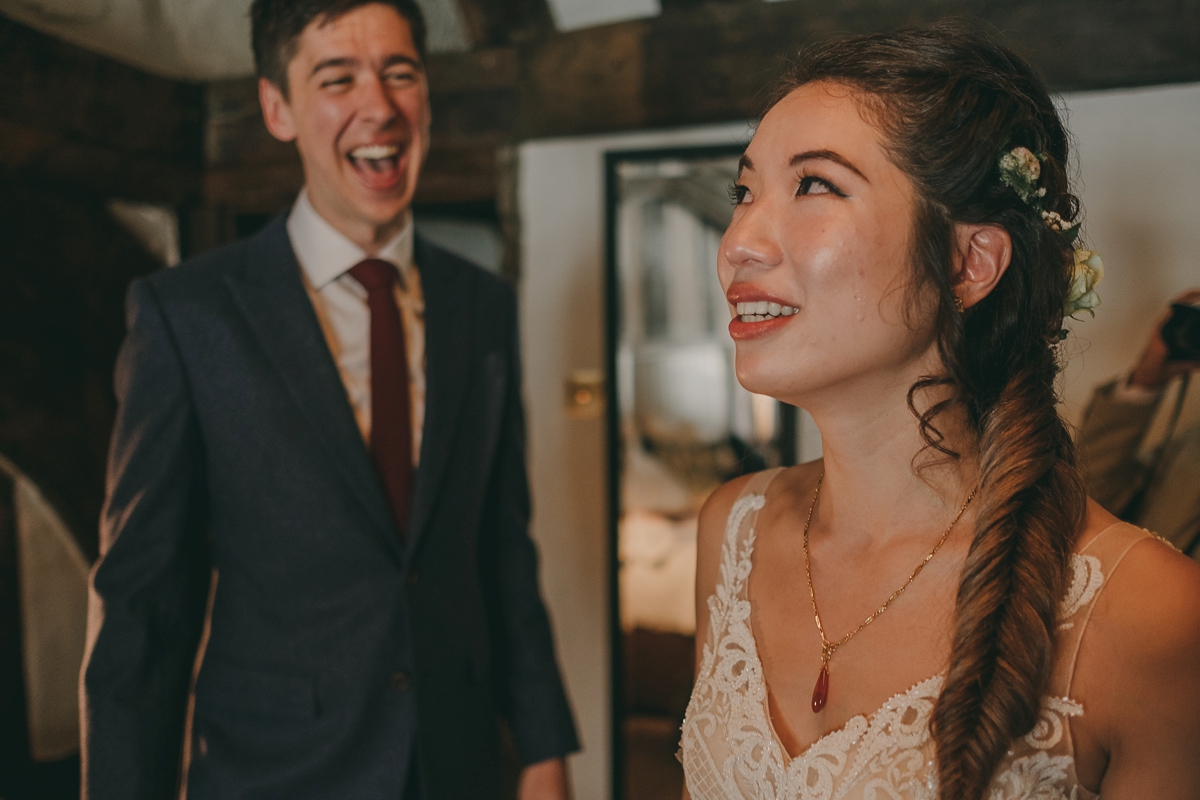 The bride's bewitching dress was purchased in Guangzhou, China, and was the perfect, ethereal choice for a woodland wedding, with a lovely beaded illusion bodice and a frothy tulle skirt.
"I actually searched for a dress for quite a while. I originally wanted something lacy, giving a vintage vibe with a simple flowy A-line bottom… In the end I chose my dress because it fit me perfectly when I first tried it on in the shop. I loved the low back cut, which is what I'd searched for. I didn't expect to like the bottom, but after taking out a poofy layer under the lining it was perfect. I figured it was okay to have a big princess-y dress for your once in a lifetime wedding! It ended up looking amazing with the woodland backdrop!"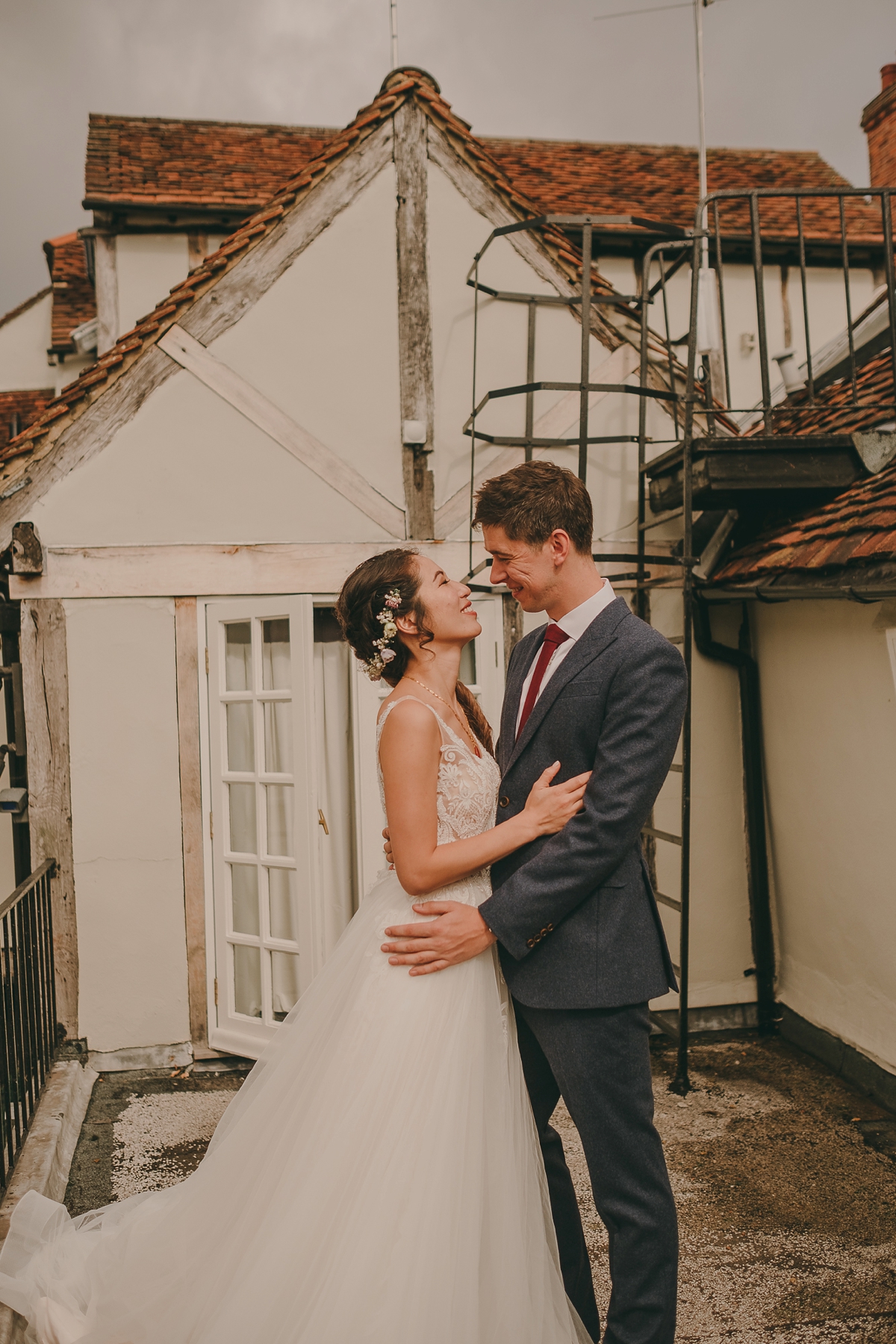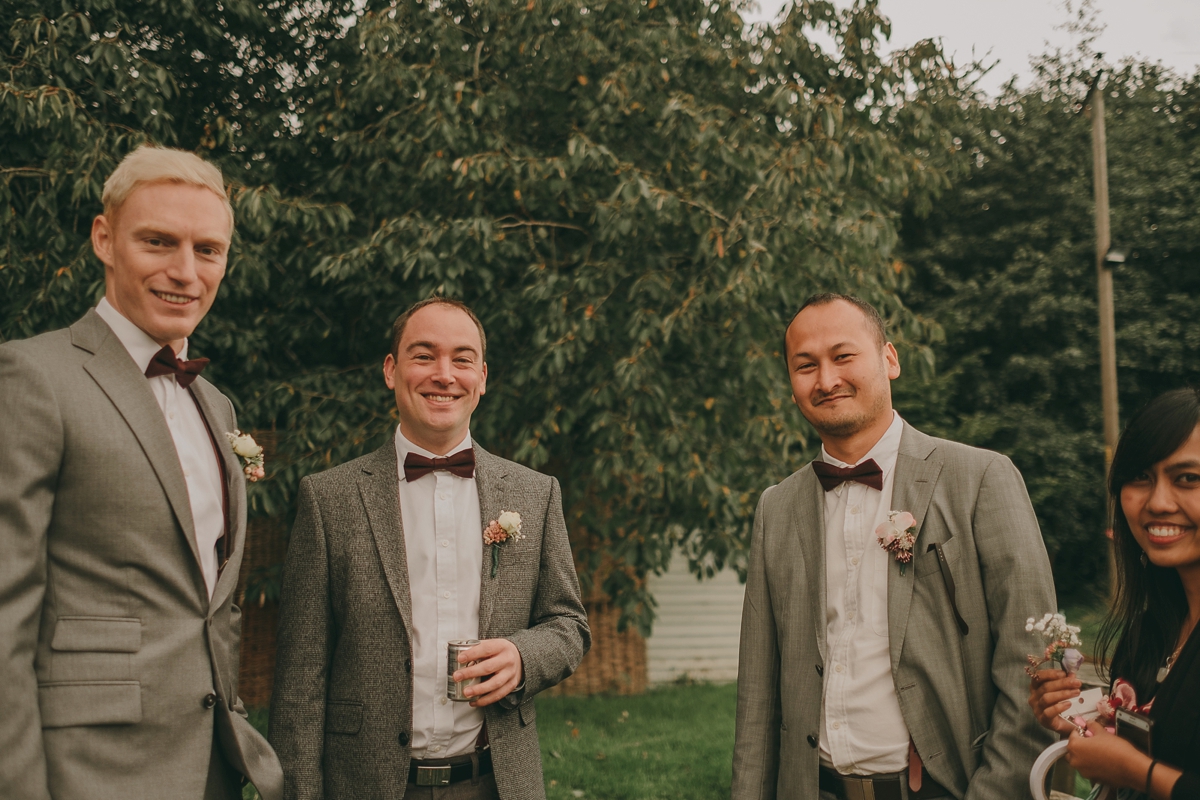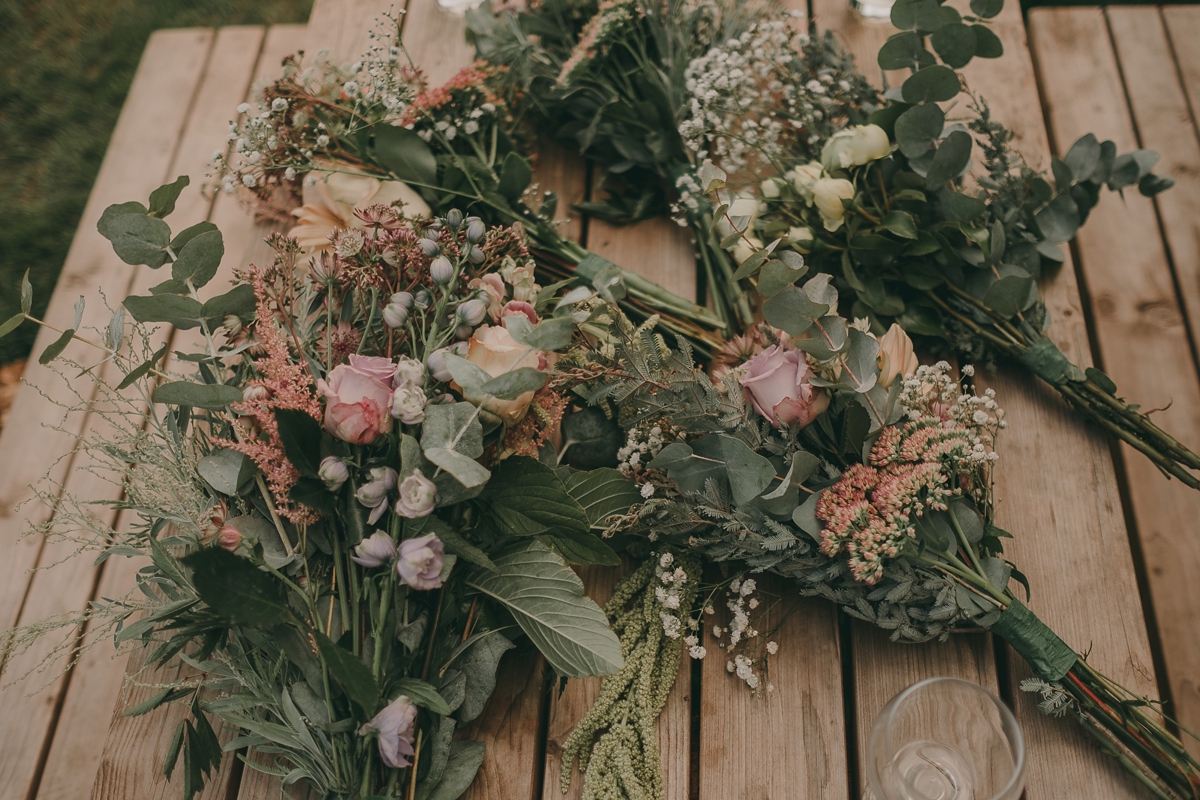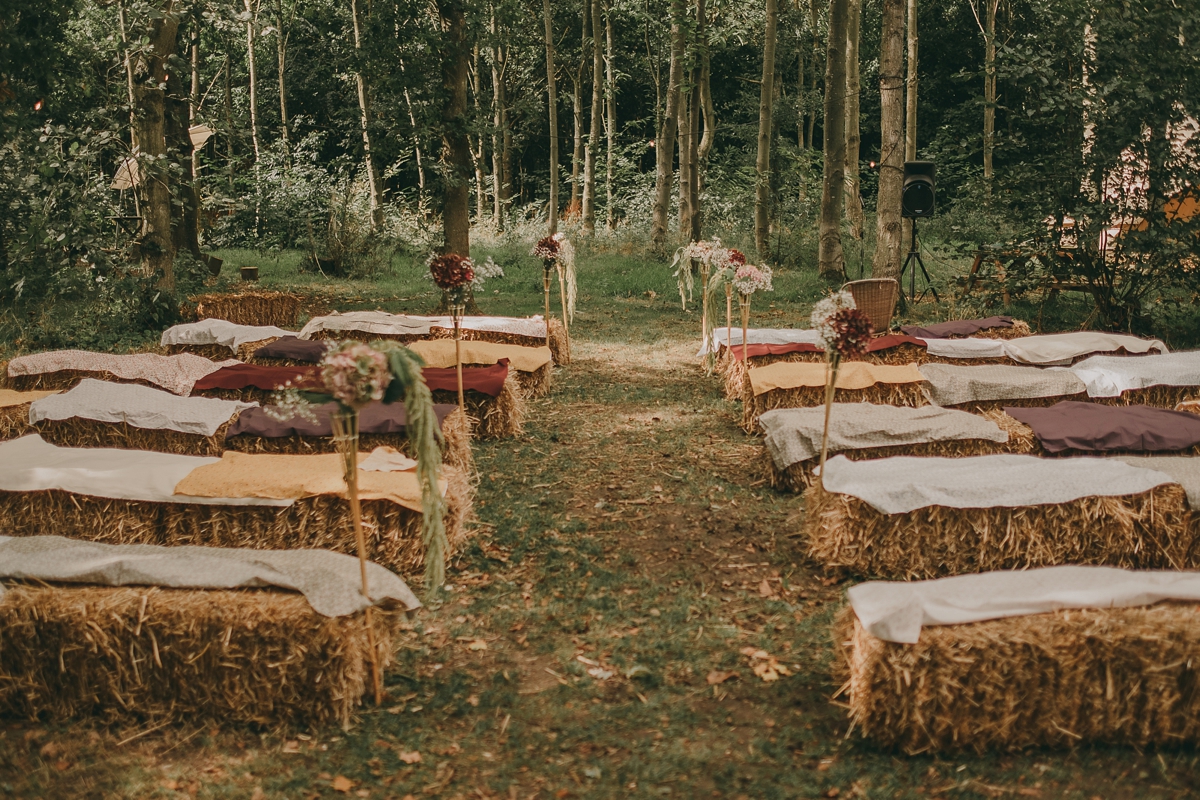 To the sounds of The Beatles Here Comes the Sun, Venus and her father walked down the flower-lined aisle to begin the ceremony, which was celebrated by their friend, Johnny Chiou.
Whilst saying their vows to one another, the bride and groom exchanged rings; Venus choosing a vintage style band from Blue Nile to go with her engagement ring from Chow Sang Sang, and for Mark, a simple and elegant customised white gold band.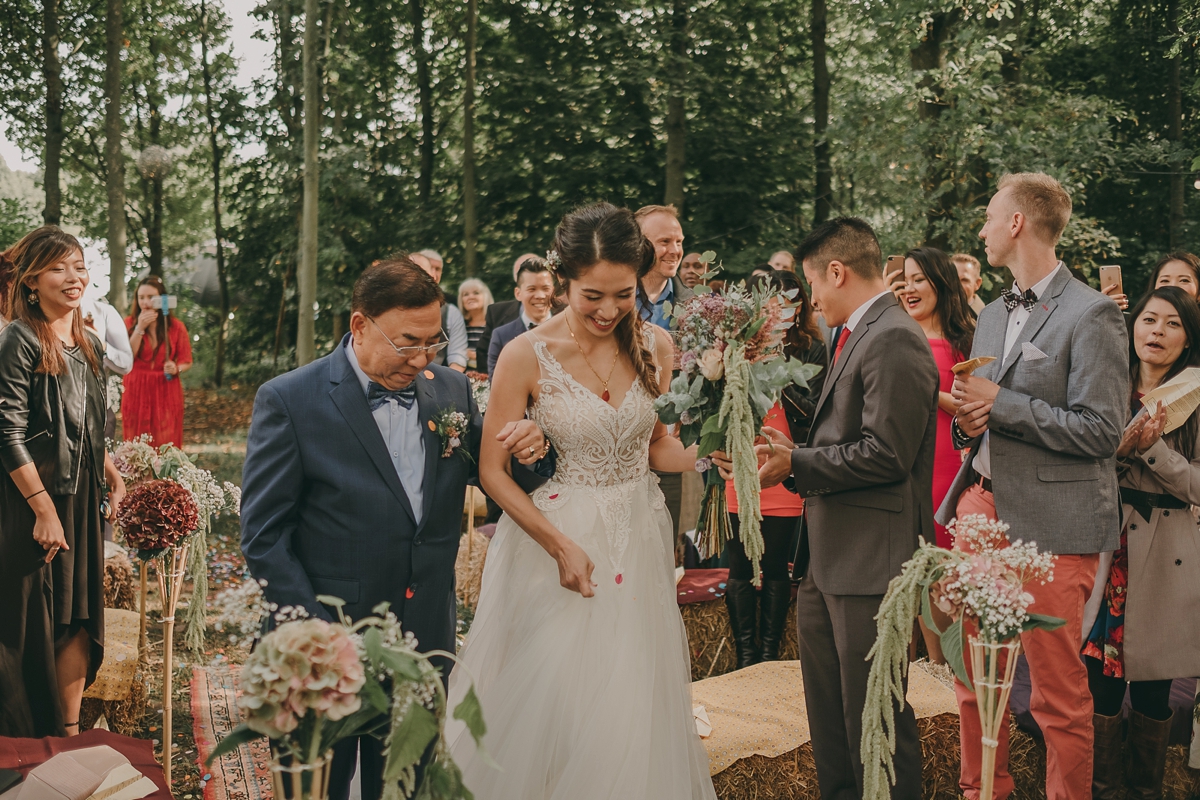 "We had the ceremony in the woods and I was stressed out pretty much up until that point when there was a perfect window of sunshine shining down the carpeted aisle in the woods. I remember walking down and feeling so humbled by the whole scene. I loved Mark sharing his vows, my friend Johnny did an amazing job as the officiant, with all the right touches of humour and love. I remember walking back down the aisle to Florence and the Machine- 'Dog Days are Over', and feeling so free and blessed and happy. I pretty much gave up stressing on anything after that point."
A passage from Walt Whitman's brilliant Song of the Open Road proved a fitting choice of reading for the bride and groom.
"Camerado, I give you my hand!
I give you my love more precious than money,
I give you myself before preaching or law;
Will you give me yourself? Will you come travel with me?
Shall we stick by each other as long as we live?"
"This passage really stood out to us as we are both travellers, and we value travelling and seeing the world together above material things. I hope we can live by these words and never forget our passion to see the world together."
Venus and Mark also chose a reading from Life's Little Instruction Book by H. Jackson Brown, inspired by the Dalai Lama.
"Remember that the best relationship is one in which your love for each other exceeds your need for each other. So love yourselves, love one another, love all that is your life together and all else will follow."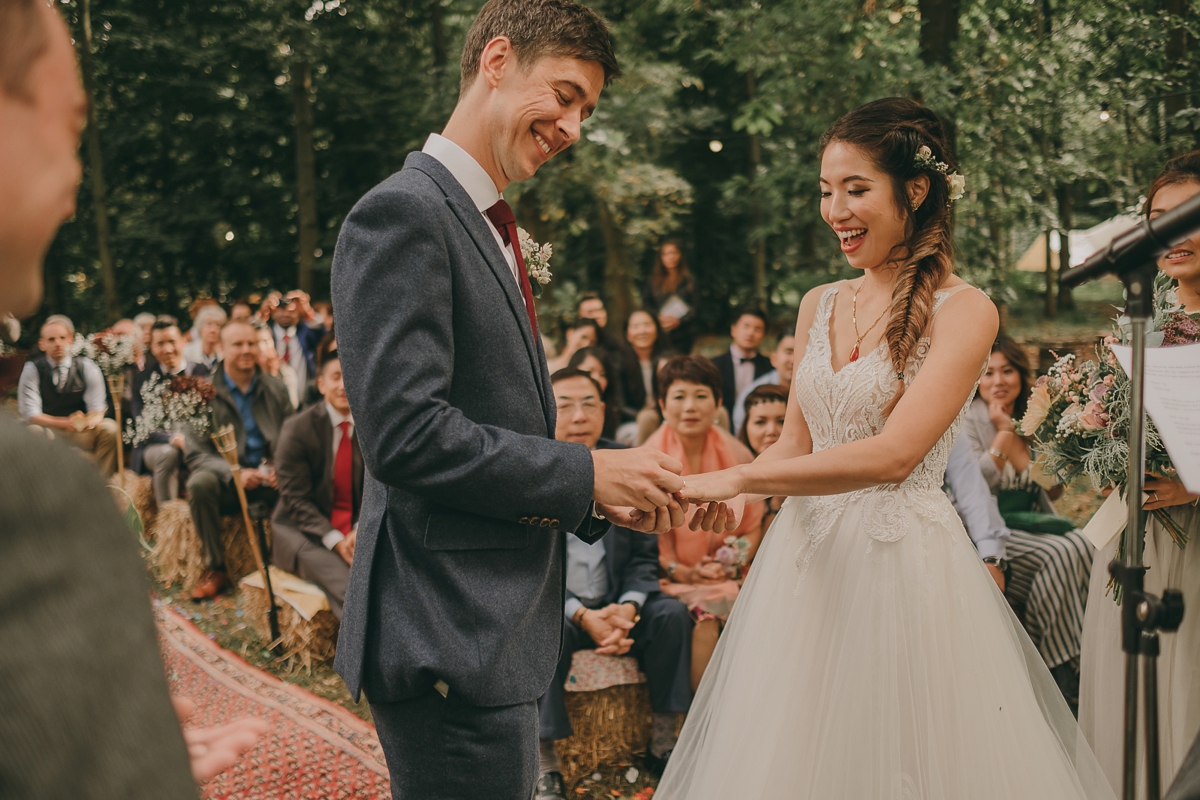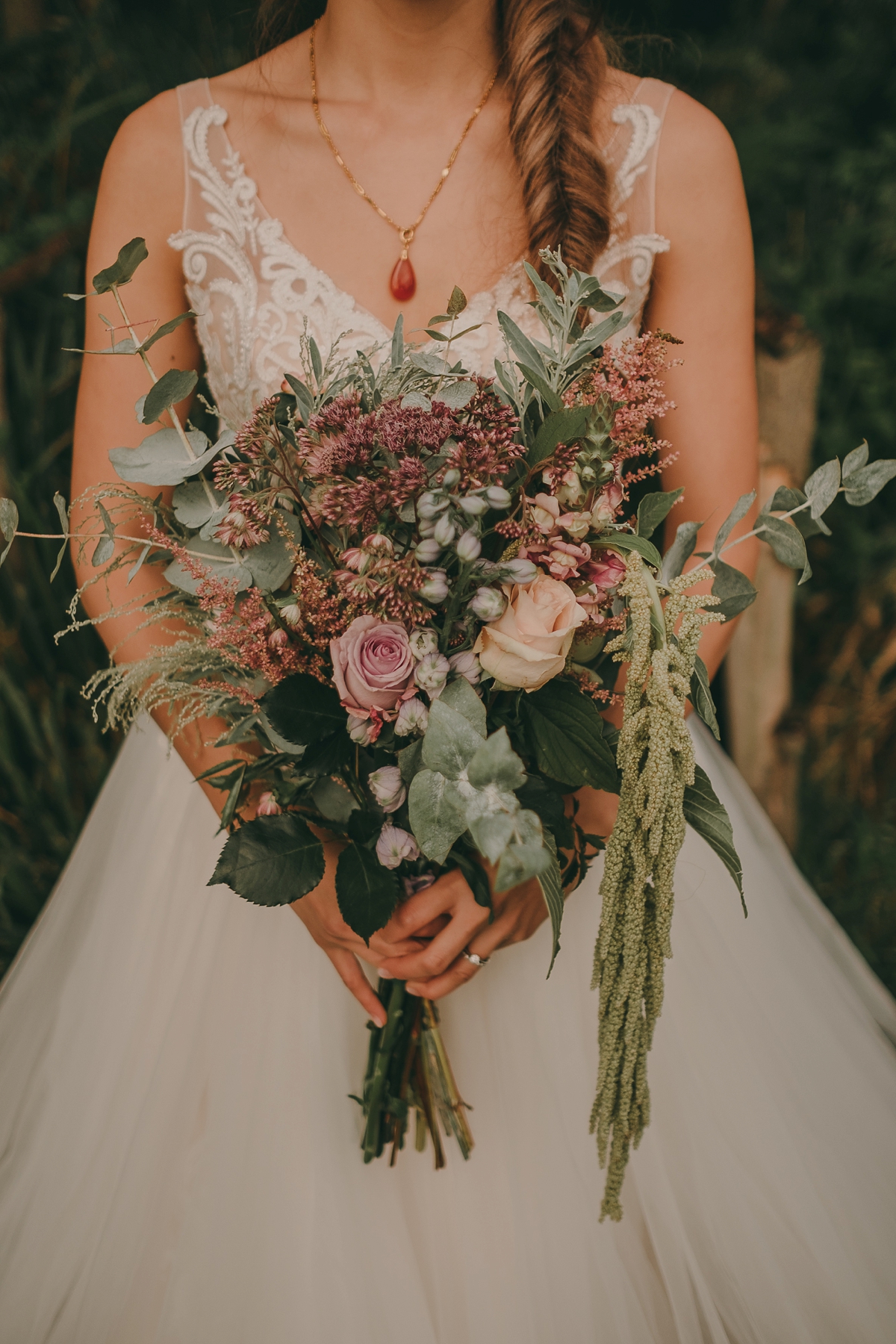 Guests had fun playing croquet, and later in the evening as night fell, gorgeous sparklers filled the night sky with light. Catherine Wright and Band and Deejay Sparksy kept guests dancing, with the bride and groom choosing the song Home by Edward Sharpe and the Magnetic Zeros as their first dance.
The lovely and rustic marquee at Teybrook Orchard was thoughtfully decorated by the bride for the reception, with cheerful  bunting and string lights, garlands of flowers and foliage, and burlap and lace table runners. Venus also undertook all of the wedding stationery as well as making table place settings from Scrabble pieces! More favours came in the form of personalised mason jars and coasters for each guest. Caterers Fuud Ltd were on hand to provide a delicious and relaxed wedding feast.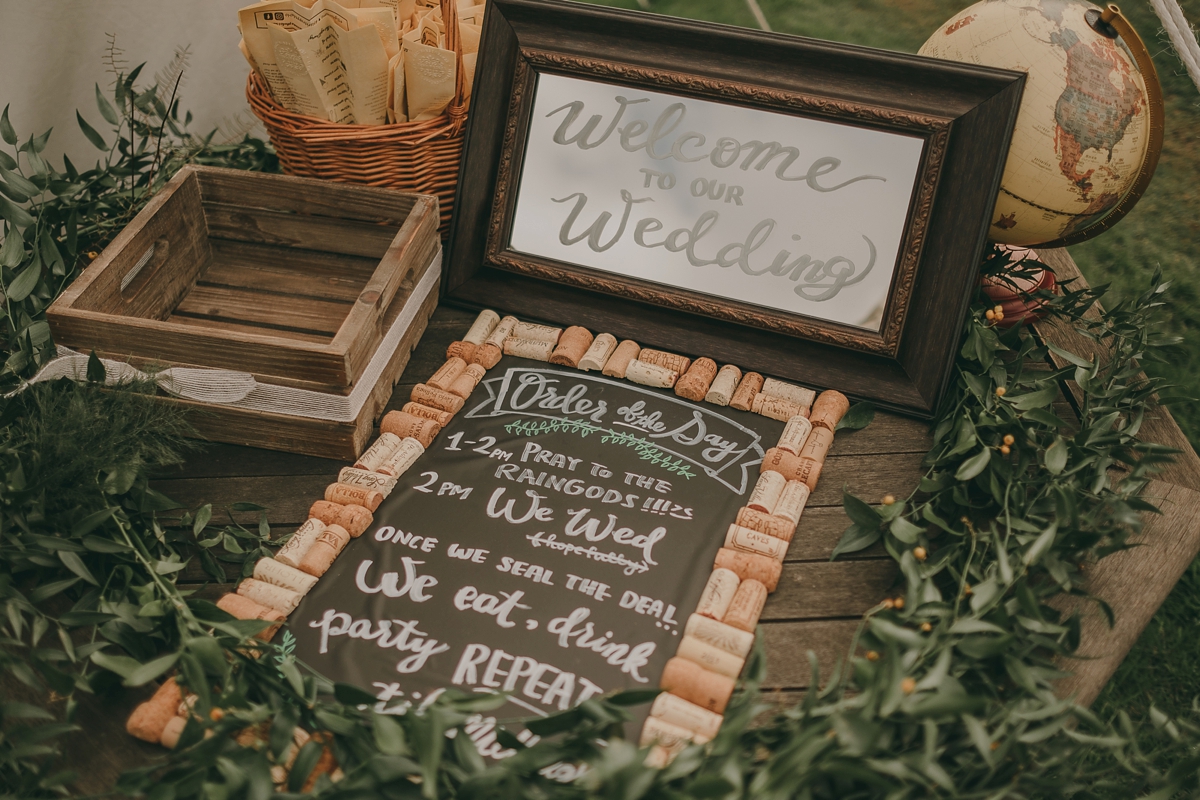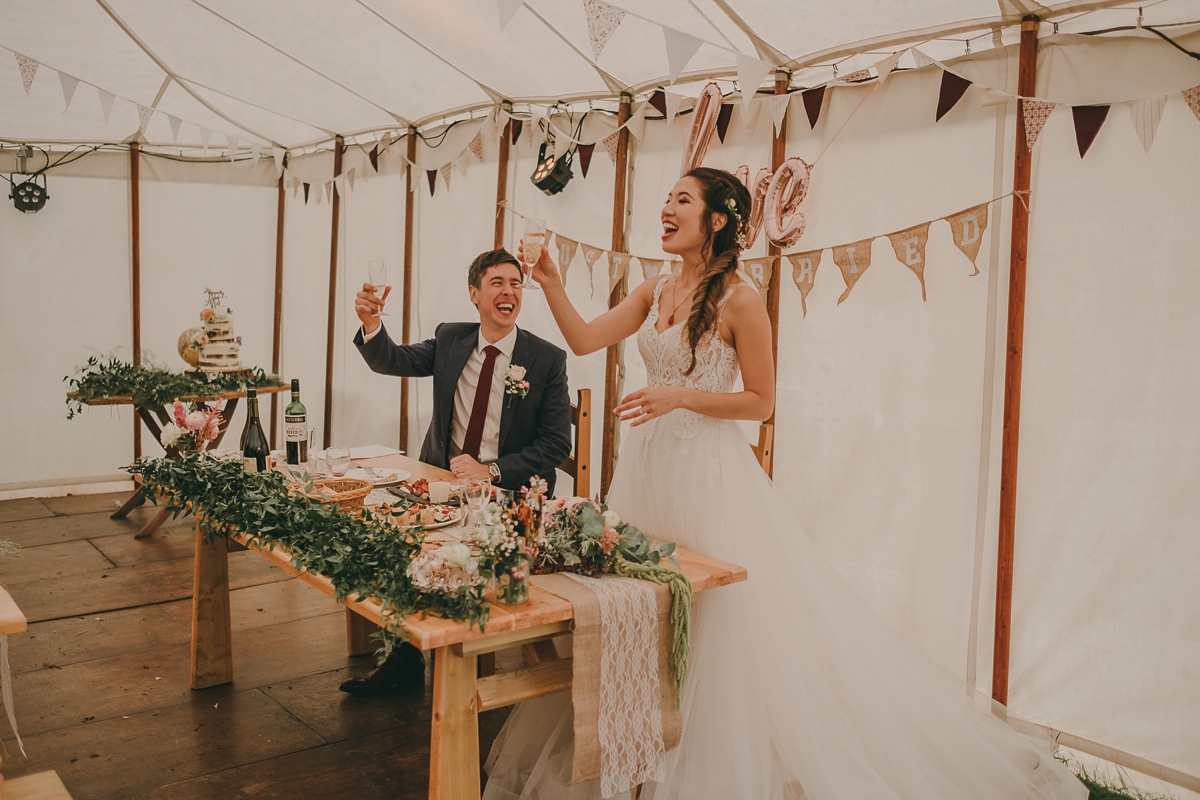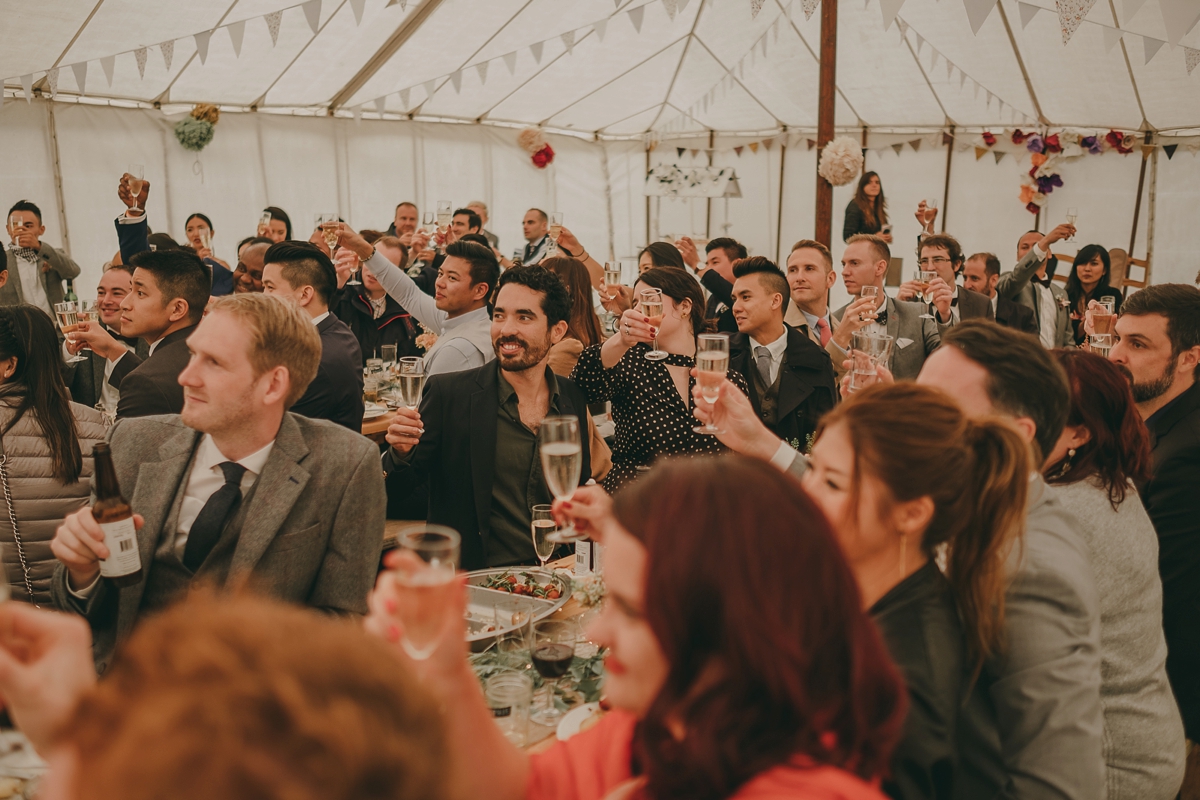 "My friend Rinn made the amazing cake! When I told her I wanted to have a rustic cake she immediately got the idea and showed me photos of 'naked cakes' barely frosted and decorated with flowers or fruit."
"She made such a beautiful cake under crazy conditions (a campsite kitchen!) It was delicious lemon earl grey tea flavour with vanilla buttercream and absolutely beautiful. Her Instagram is @littlesweetsandbakes."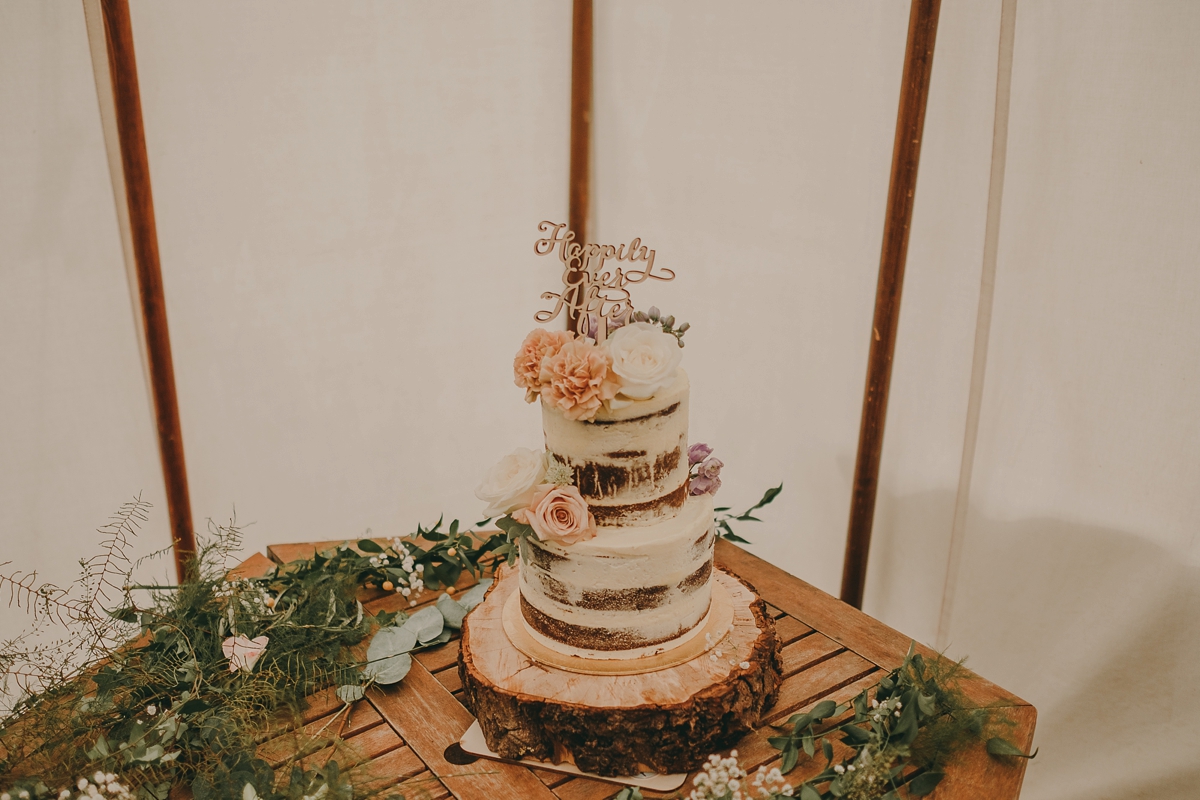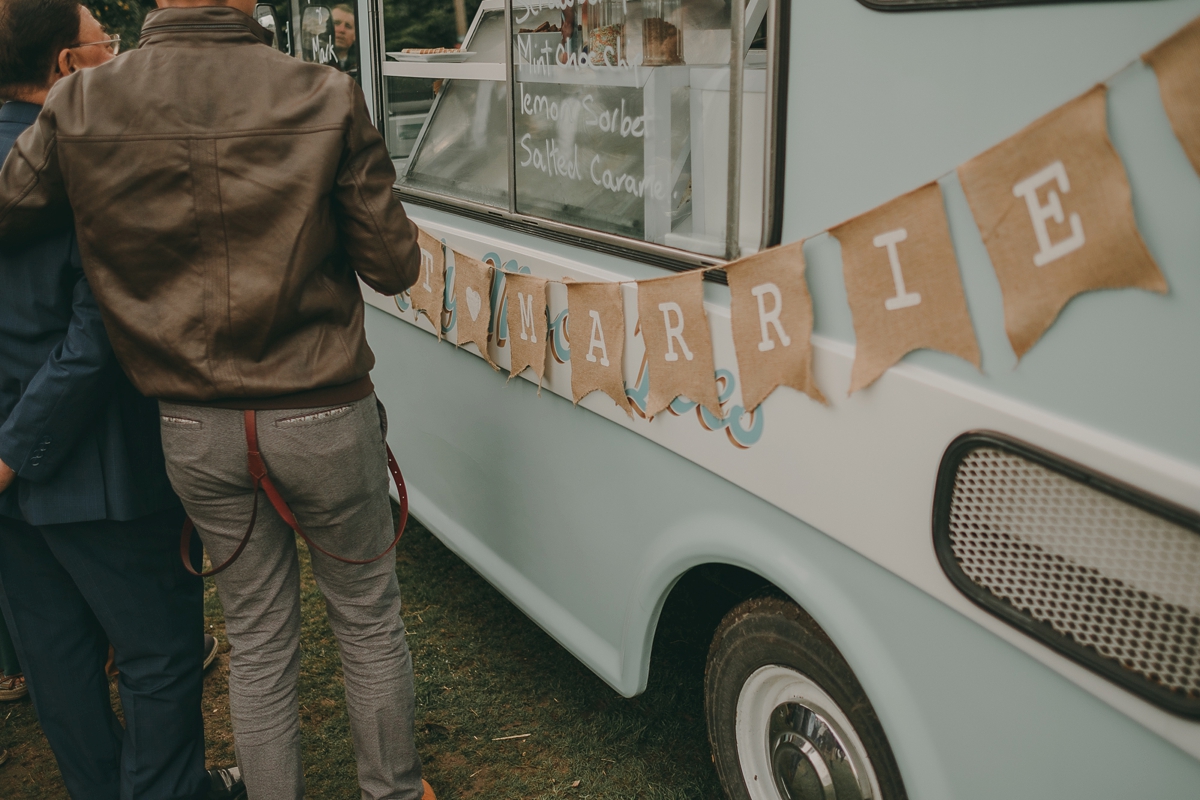 Words of Wedded Wisdom
"If I can organize a wedding from abroad, for a wedding in the woods where I didn't know anybody in the area – you can do anything! Have faith in your vision, but don't stress. If you need help, ask for it. If you are planning everything yourself, it's imperative that you split tasks and assign people to help. You cannot do it on your own! Your friends and family are there to help."
"If you hire help, trust them. Most importantly, remember to breathe and just enjoy your big day. I remember the night before our big day I was still stressing out and my husband and I just took a moment by ourselves in the woods to soak it all in and feel present. Everybody says this, but the day really does fly by. Give yourself the time to slow down and take it all in, feel all the love, remember all the things that make you laugh."
"On reflection I would've kept a better tab on things, since I did everything myself and from abroad I feel like I didn't quite organise or utilise people as best as I could. I wanted to use GoPros to get video footage of the day, but with battery issues and not properly assigning people to help, the idea kind of fizzled in the end."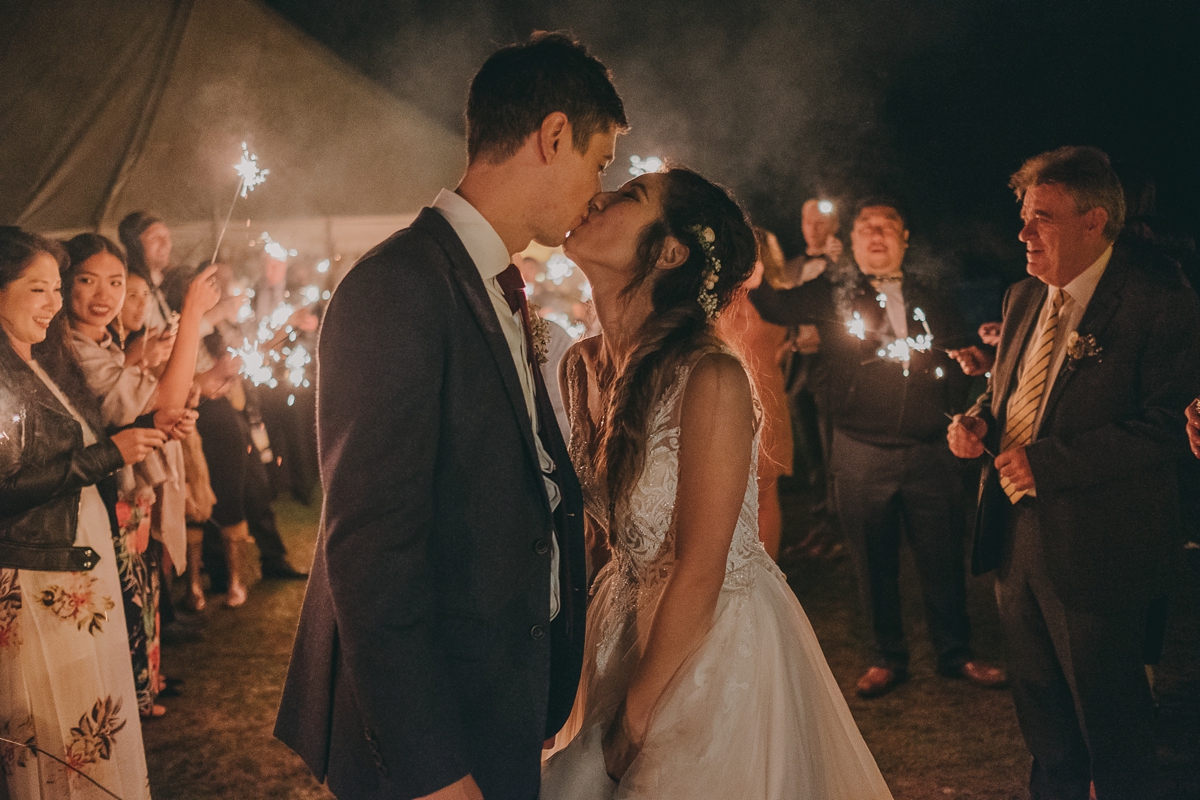 Venus and Mark, thank you so much and congratulations! Teybrook Orchard is a spectacular setting, and how wonderful to have such a joyful and relaxed celebration under the trees. Thanks also to Mediterranean Photography for an enchanting set of images. Woodland and forest venues are such a lovely choice, and you can see more on the pages of Love My Dress, here.
Until next time!
With love,
Laura