Morning ladies! Hopefully the sun is shining where you are and you're ready for another glorious wedding! Today we're taking it back to the months of winter for a gorgeous wedding which took place in the run up to Christmas, aka one of my favourite times of year. So, we better get to it and say hello to today's bride and groom…
Vocal coaches and singers Natalie and Chris said their nuptials on 9th December 2017 at The Barn at Bury Court Barn in Farnham, Surrey. Natalie also chose a stunning long sleeve lace dress by designer Anna Kara via Morgan Davies Bridal, with a chapel length veil by Liberty in Love and pointed-toe lace heels from Nine West.
"At first I really struggled to find a dress I felt comfortable in. This was dress number 20 I tried on! However, as soon as I tried it on, it just felt so right. It was very classic. Anna Kara's design made me feel so elegant and the dress was so different to everything else I'd been looking at from the start of the search. It was so easy to wear and I loved it!"
Images by John Barwood Photography
The bride's vision of a cosy winter wedding came to life with her choice of decor and theme, and photographer John Barwood Photography who's intimate and relaxed style suited the time of year.
"I met John and Sophie when they were the photographers at a friend's wedding. As soon as Chris and I got engaged, John was the first person I contacted. They are the perfect team! They were incredibly discreet all day but still managed to capture the most intimate, relaxed photos. I love their style and they were both such great company as Chris and I got ready in the morning."
After the pair met online, Chris proposed to Natalie during a surprise birthday trip to Paris. They then gave themselves 14 months to plan the wedding of their dreams.
"Chris and I met online though technically through a singing lesson. I was auditioning for a lead role in a West End show and heard he was the coach I needed to see. The lesson was recorded so we have our whole first meeting on tape as a hilarious keepsake; cringey flirting and all!"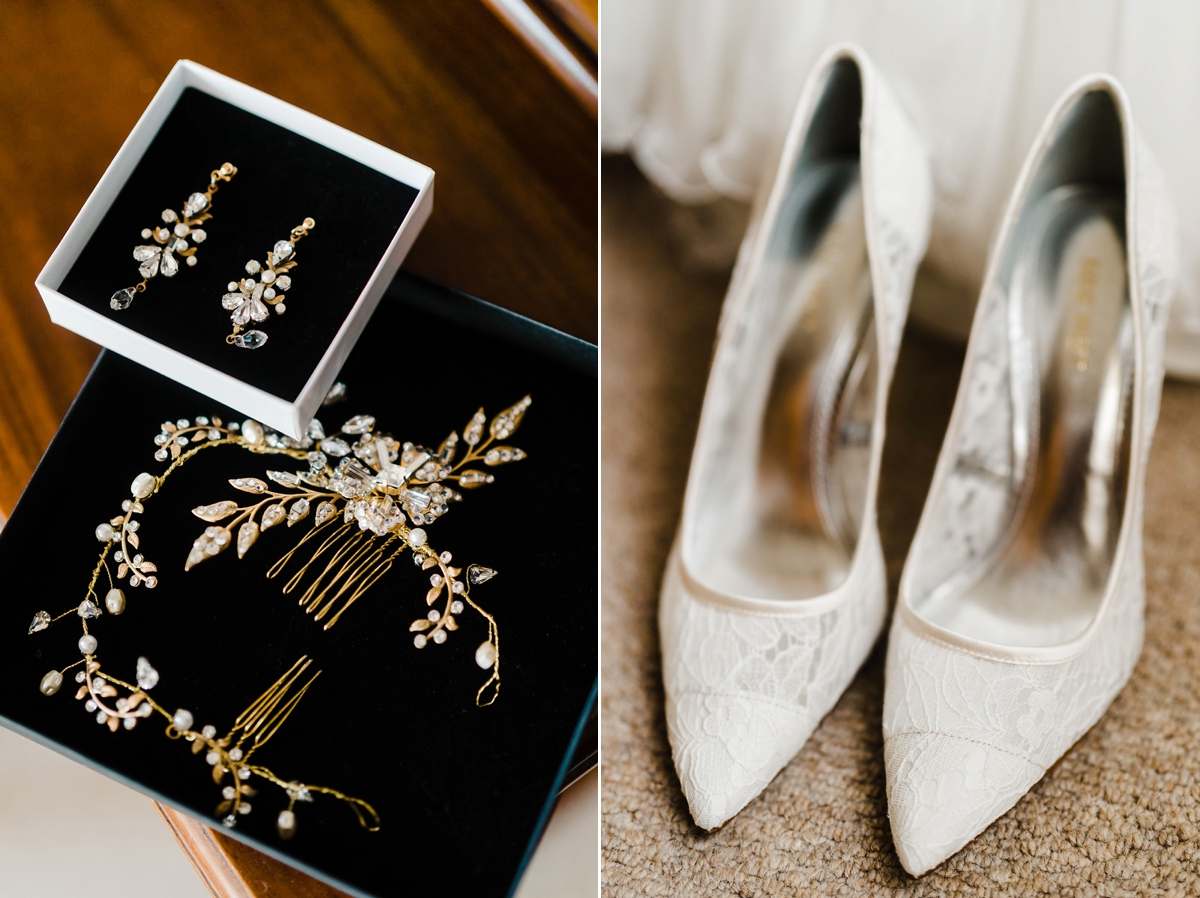 "Our best man at the wedding actually showed a snippet of the video in his speech and caught me saying to Chris that I'd take him out to dinner if I got the job. It turned out that I got the job! And we got married after Chris proposed on a surprise trip to Paris to see Gregory Porter."
She kept her jewellery minimal with a gorgeous pair of drop earrings from Liberty in Love, a delicate hairpiece also by Liberty in Love and a spritz of Molecule No 38 by Zarko Perfume.
Opting for a deep navy and wintry theme for her bridal party, her bridesmaids and flower girls were dressed in full-length matching yet slightly different dresses from Dessy, Etsy hair pieces and Thomas Sabo jewellery.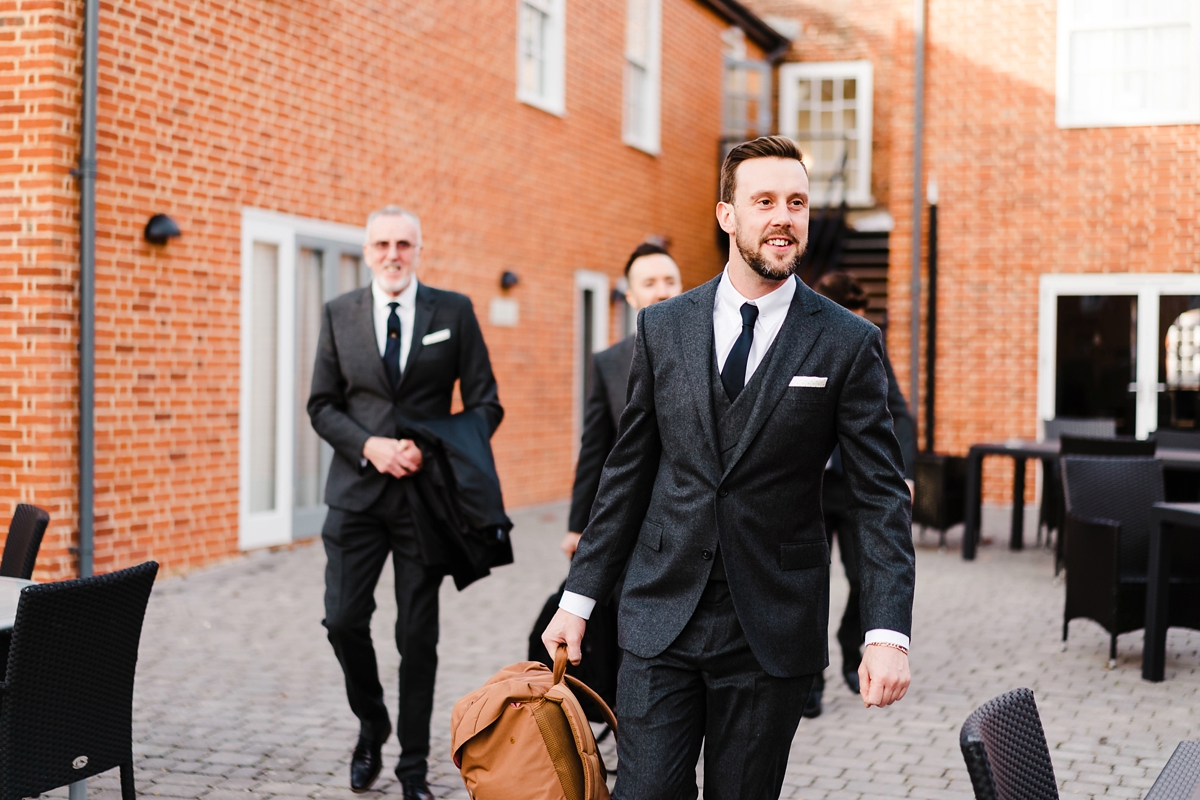 The groom chose a simple yet dashing 3-piece suit from Brooks Brothers with a beautiful white floral buttonhole created by florist Sue at Lavender Hill Flowers, who also created the bridal bouquets and barn floral arrangements.
"We met Sue at a wedding fayre at Bury Court Barn and were so lucky that she was available for our wedding date. Her work is truly stunning. Aside from the bouquets which were full of white lisianthus and ivory roses, we wanted lots of greenery that smelt divine. We had rosemary, eucalyptus and pine cones which ran down the lengths of the two banquet tables and was also hung from beams and the gallery above the ceremony area. We had a huge bunch of mistletoe where we said our I Do's too. Sue goes above and beyond with fairy lights, lanterns and candelabra's which are all available for hire too. I can't recommend Lavender Hill enough!"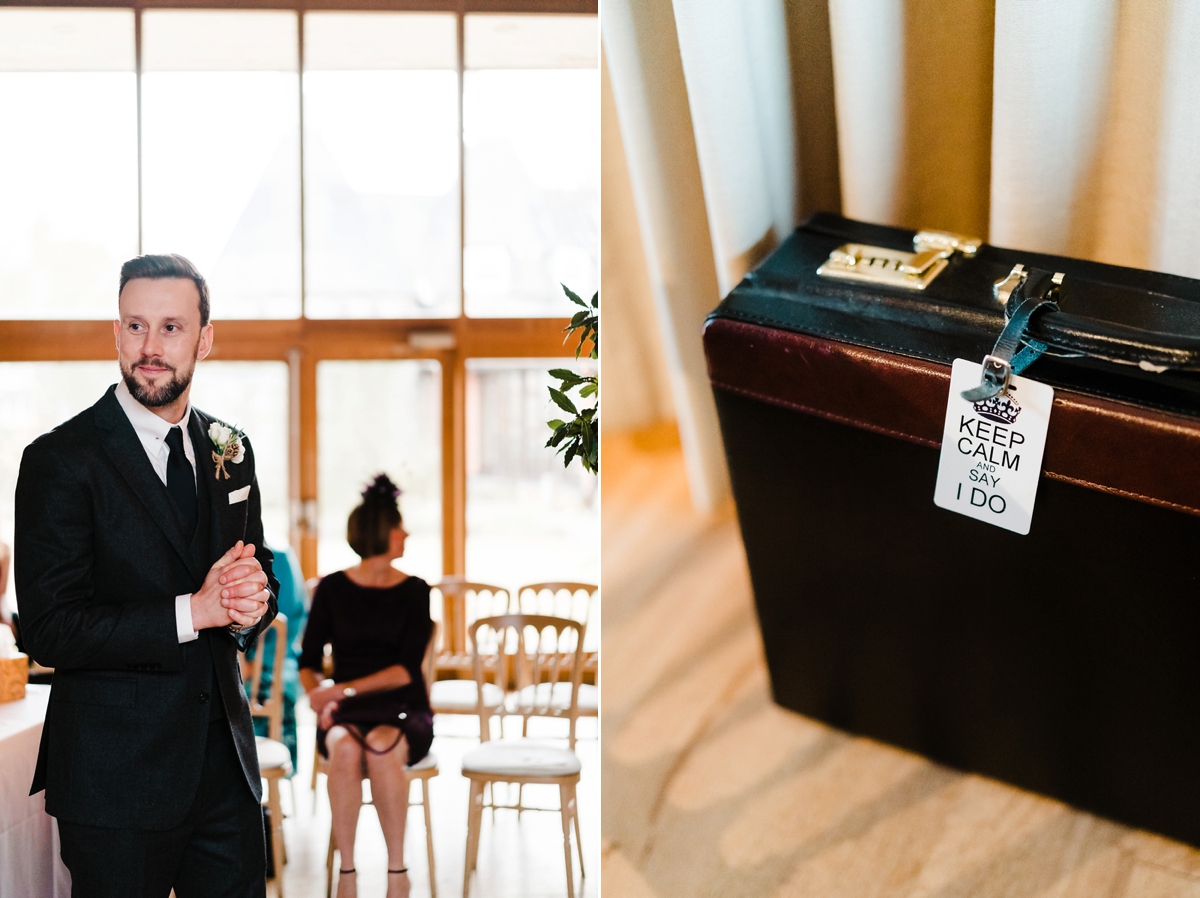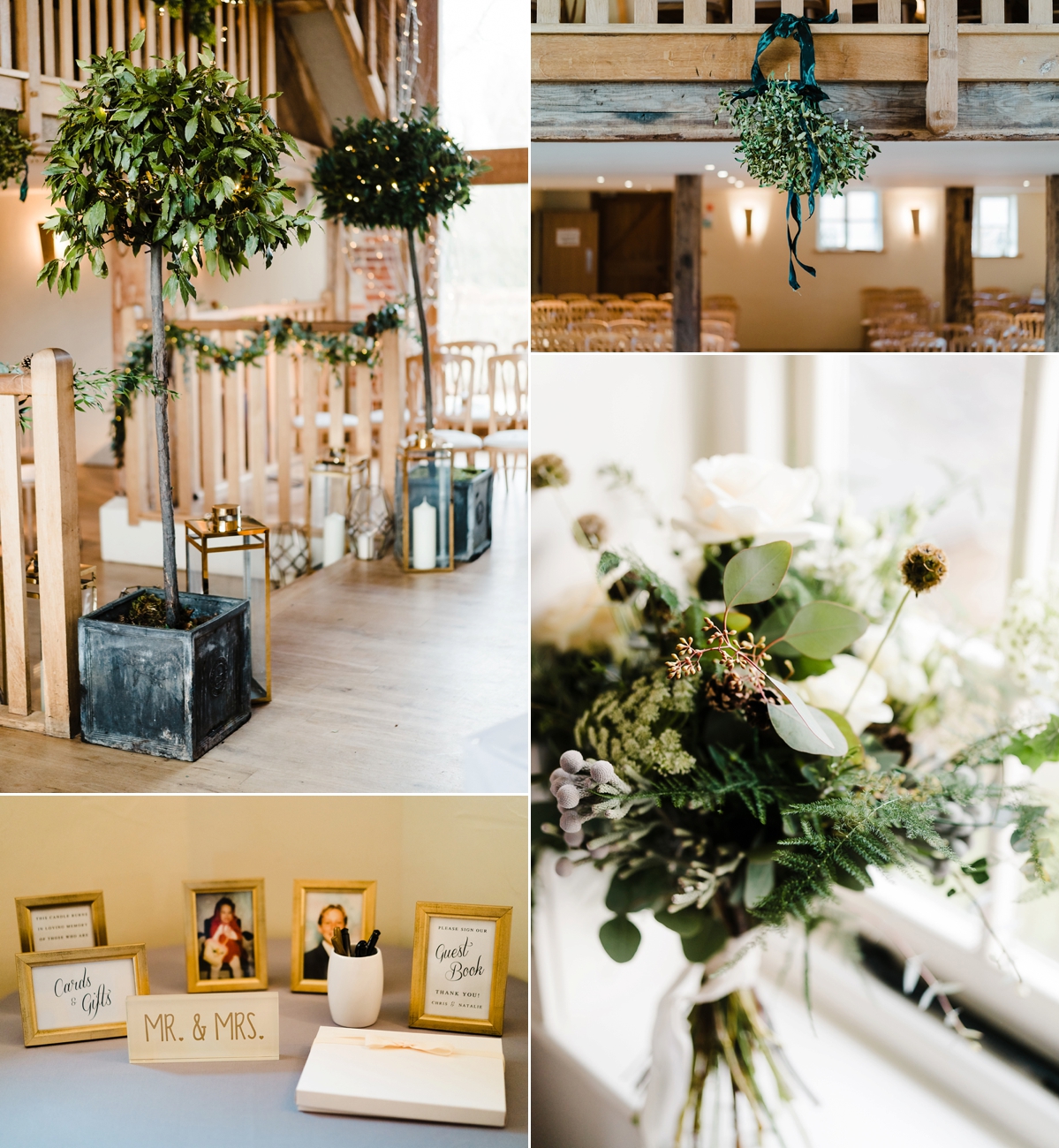 Natalie's father accompanied her down the aisle, a very emotional moment for both the bride and her dad, to the sounds of Sea Of Love by Cat Power. Following the ceremony and after a very short walk to the barn where the wedding breakfast was served, guests were greeted to a stunning scene, all created by Stress Free Hire.
"Stress Free Hire were integral to creating the wintry theme we wanted. We had lanterns and festoons hanging from the ceiling of the barn and a number of candelabra's down the length of the banquet tables. They also helped us out with some barrels for the outside area to act as tables alongside our fire pits where guests enjoyed sparklers and marshmallows."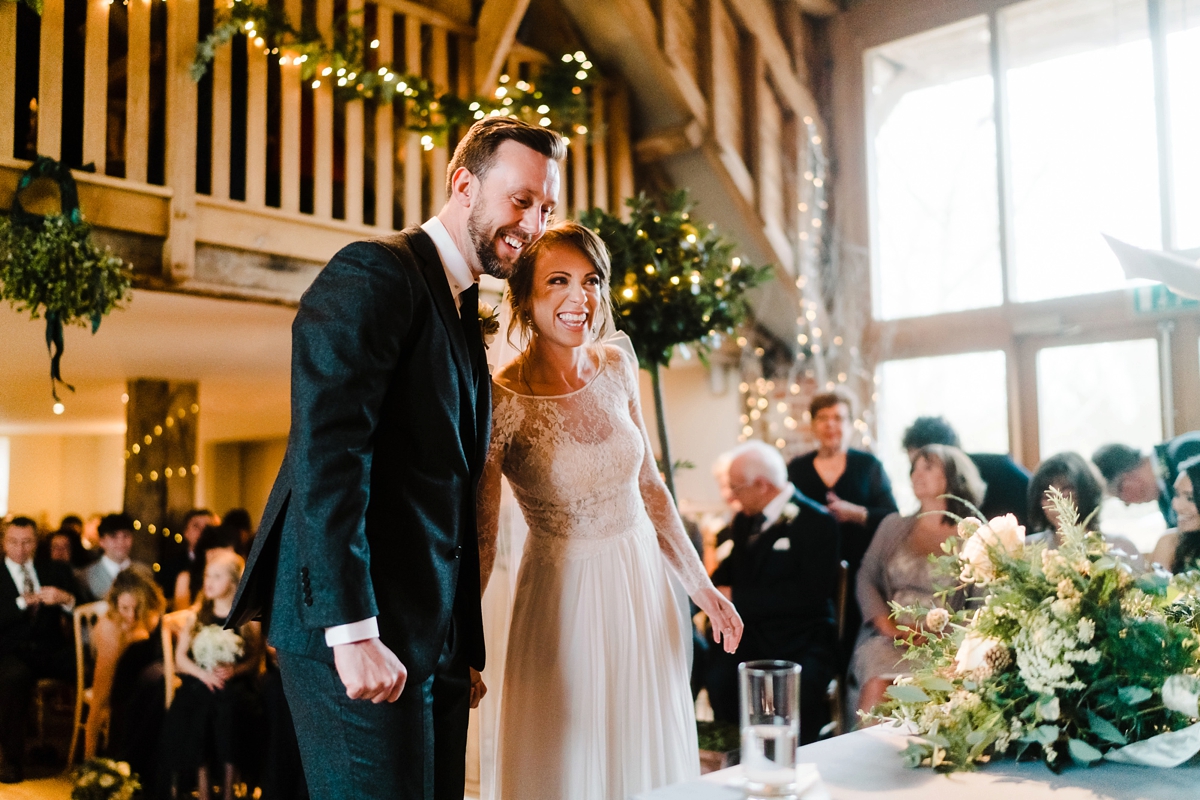 When asked her favourite moment of the day, Natalie describes it as walking down the aisle without a doubt.
"My favourite part of the day was the ceremony, and walking down the aisle to meet Chris was nerve-wrecking. However standing up there was the most exhilarating feeling!"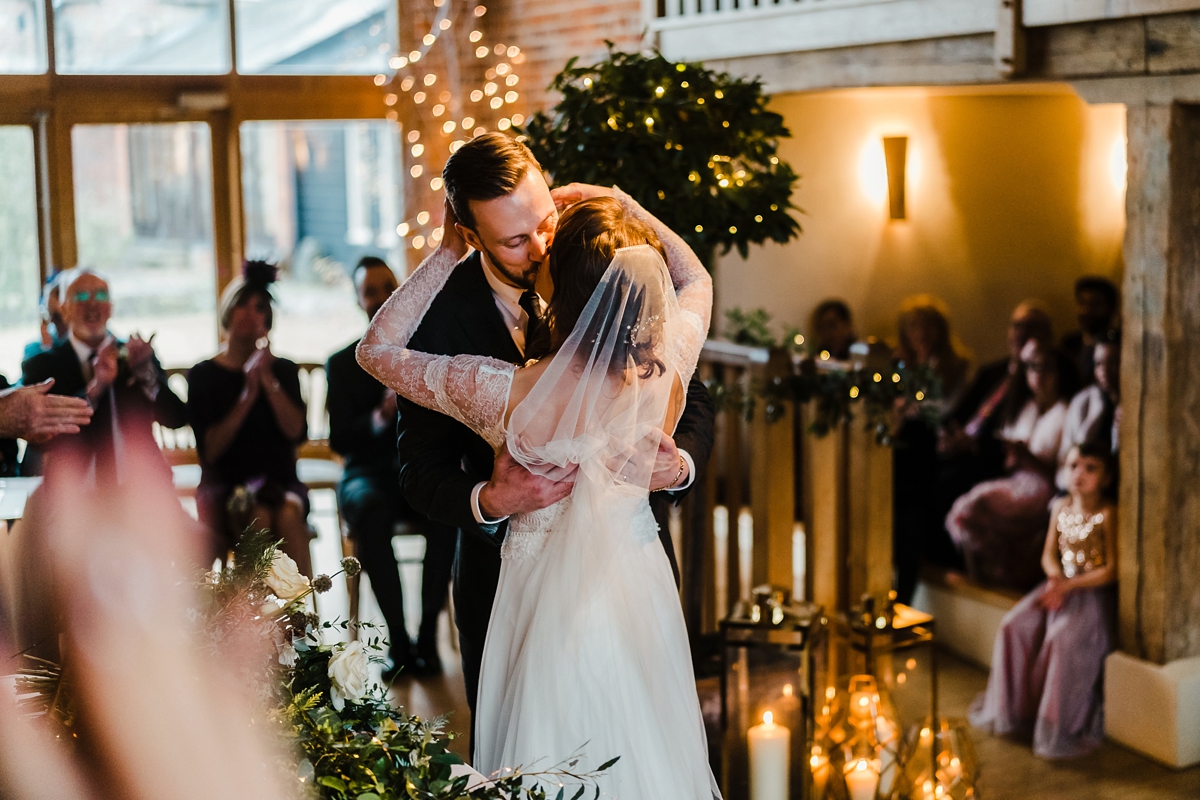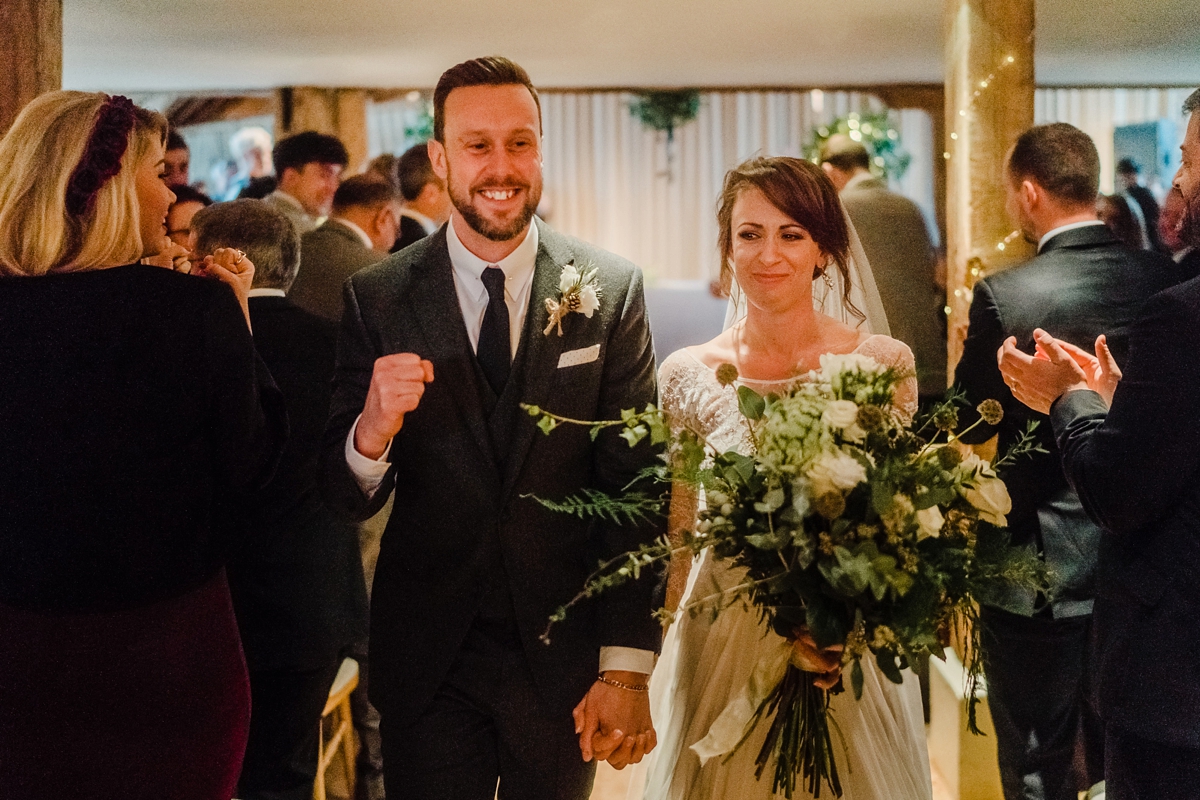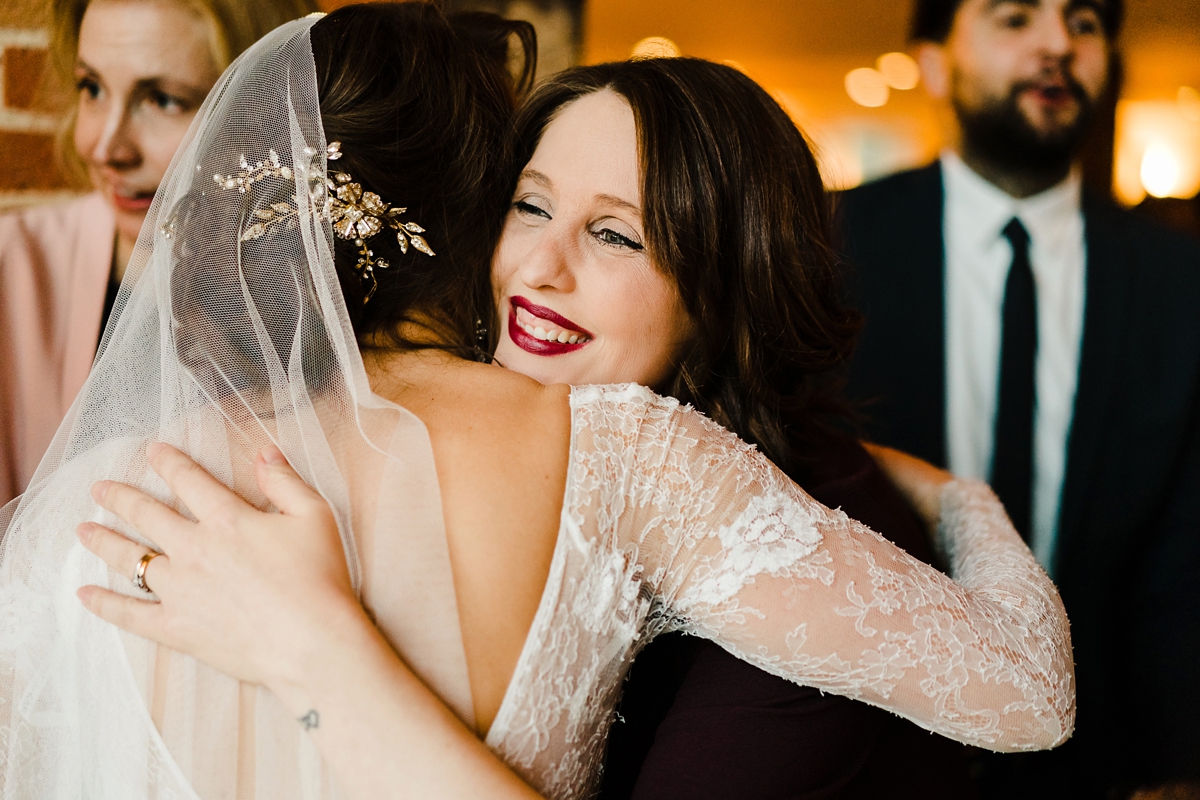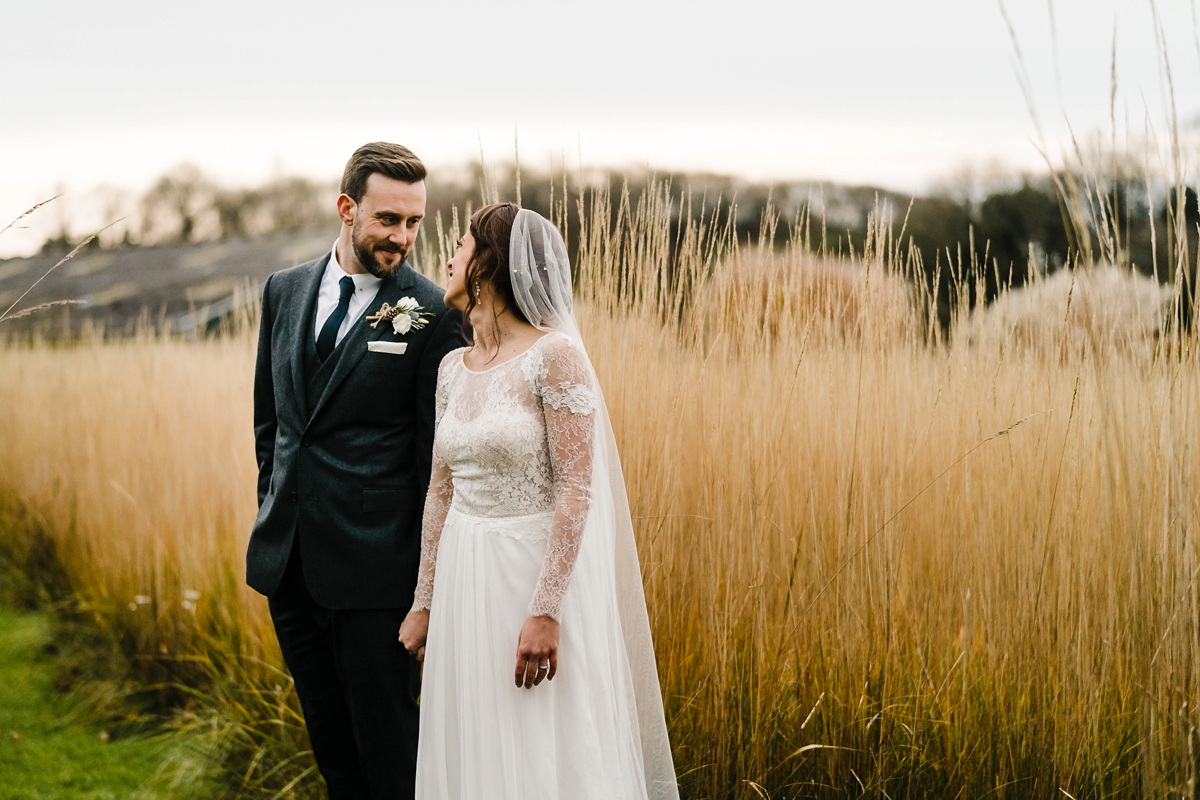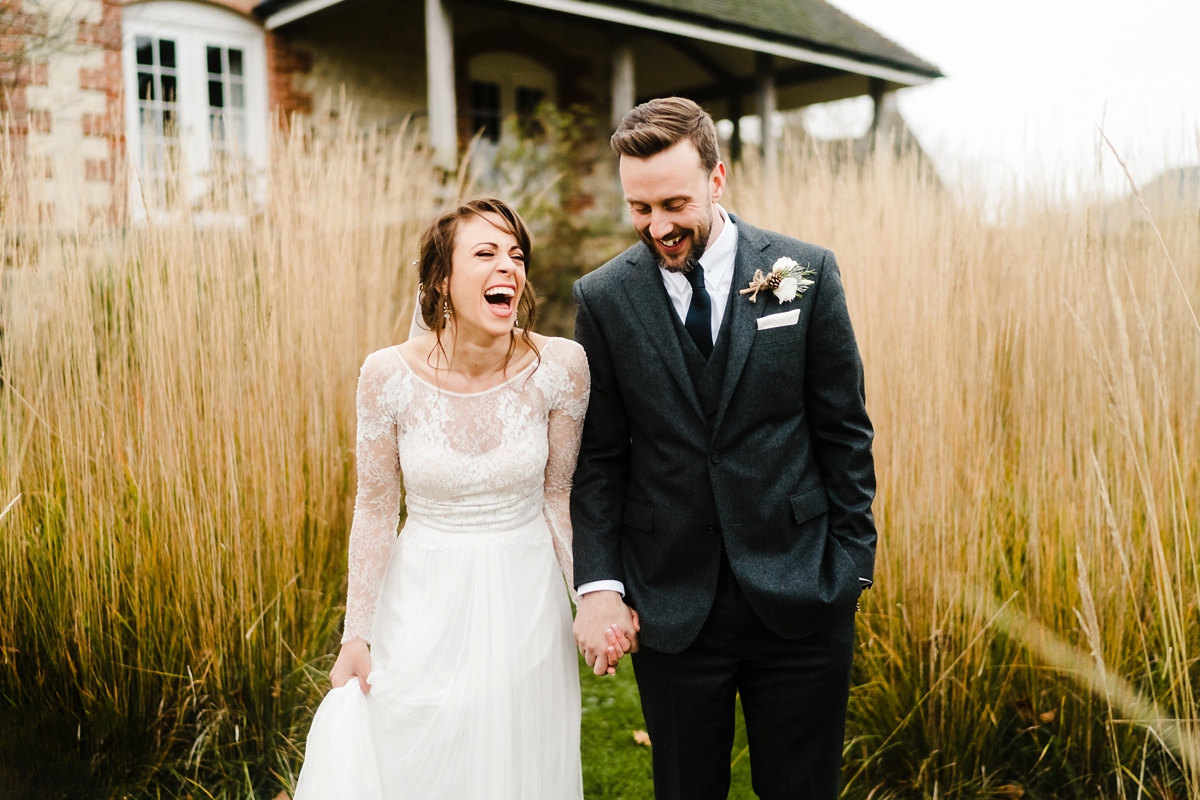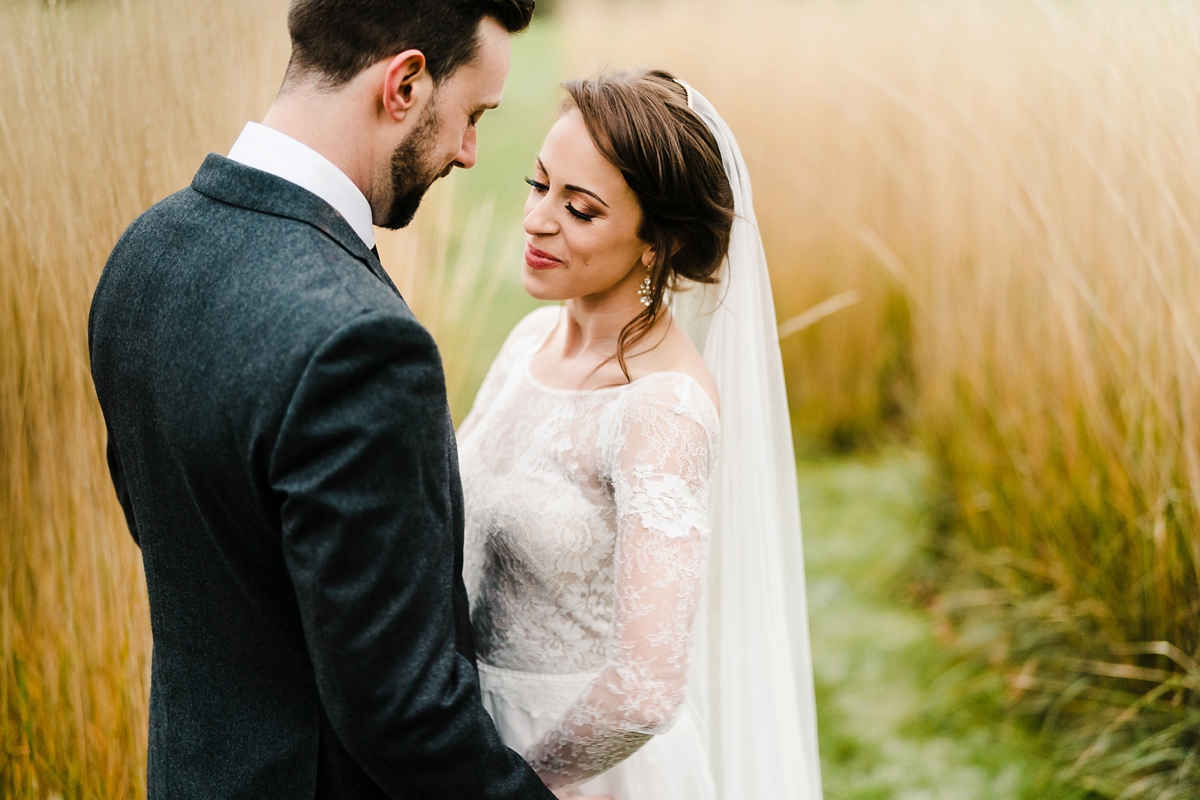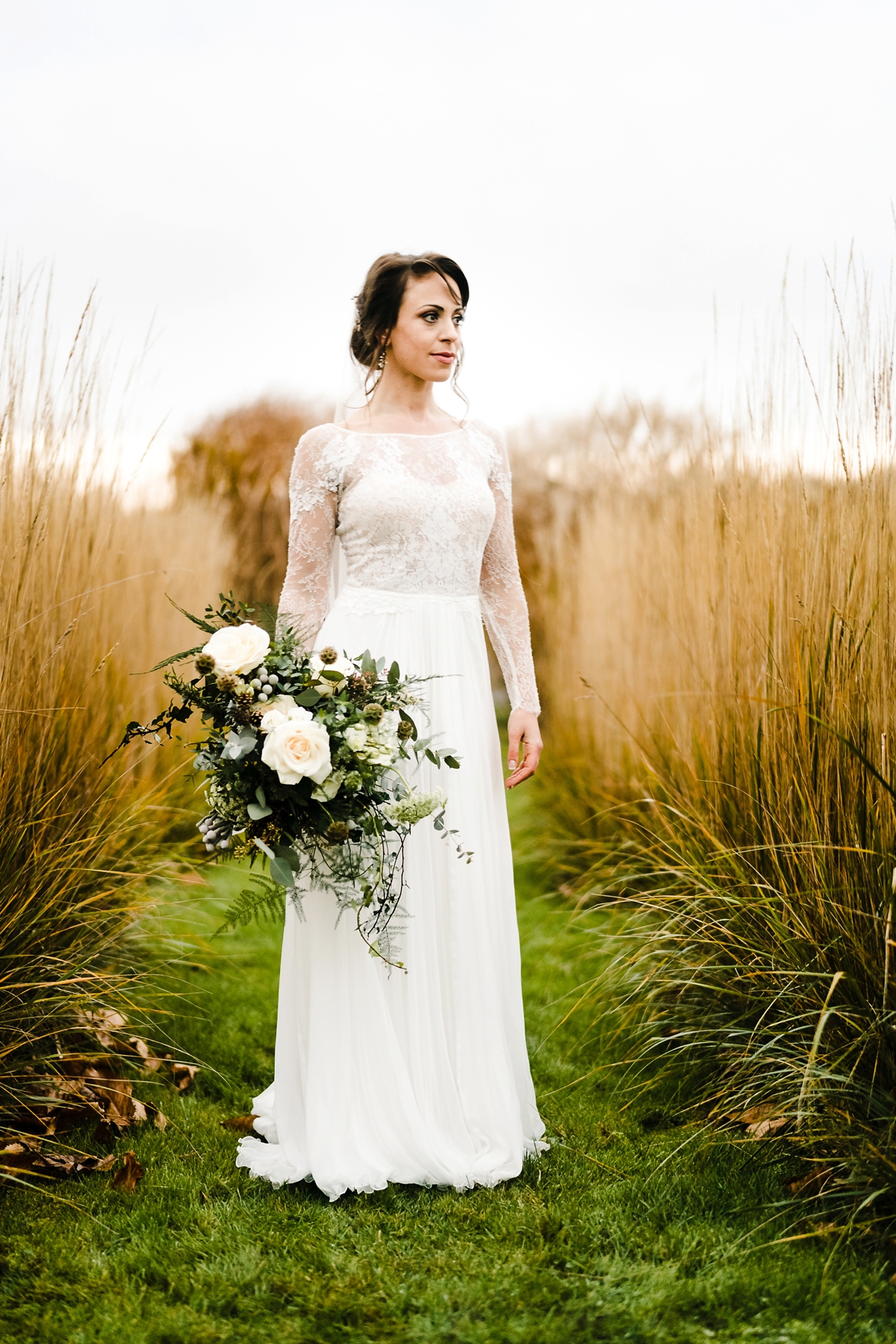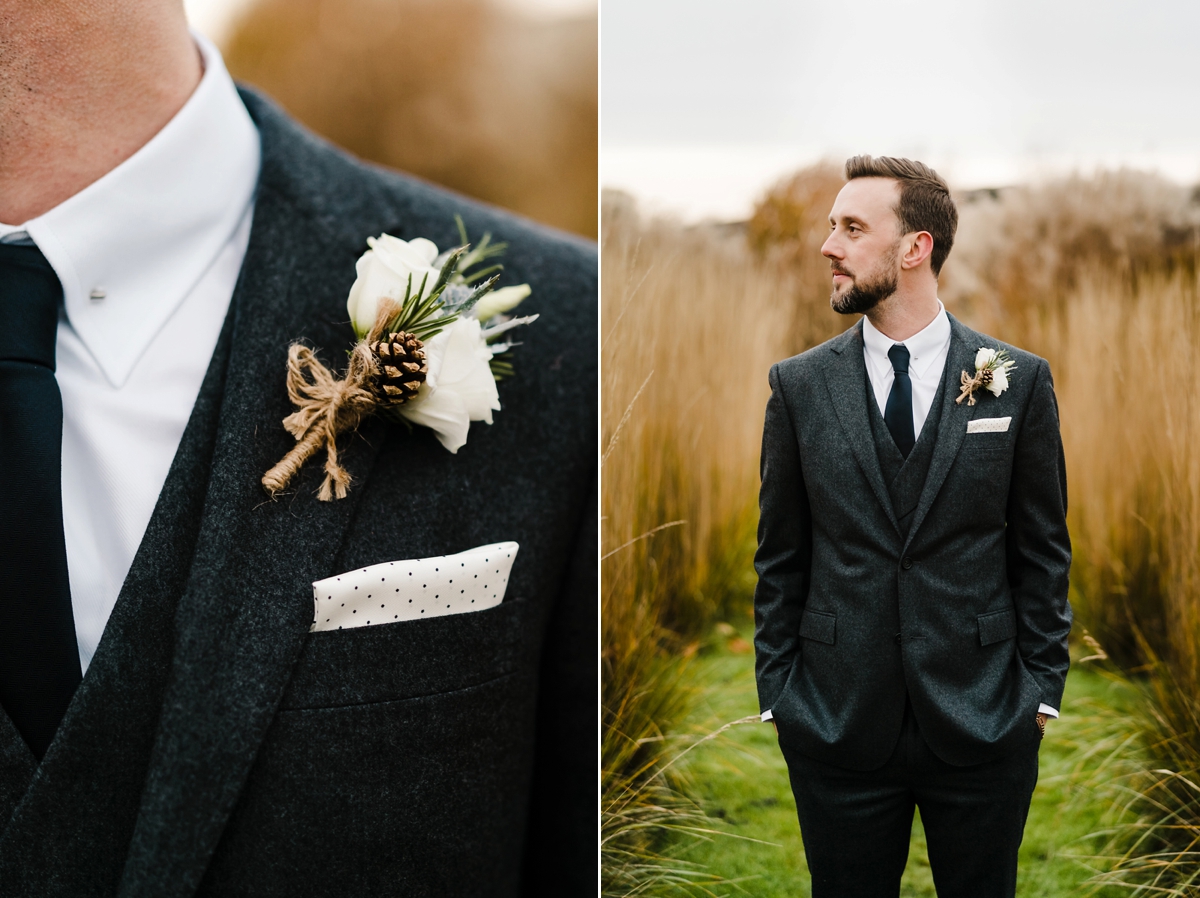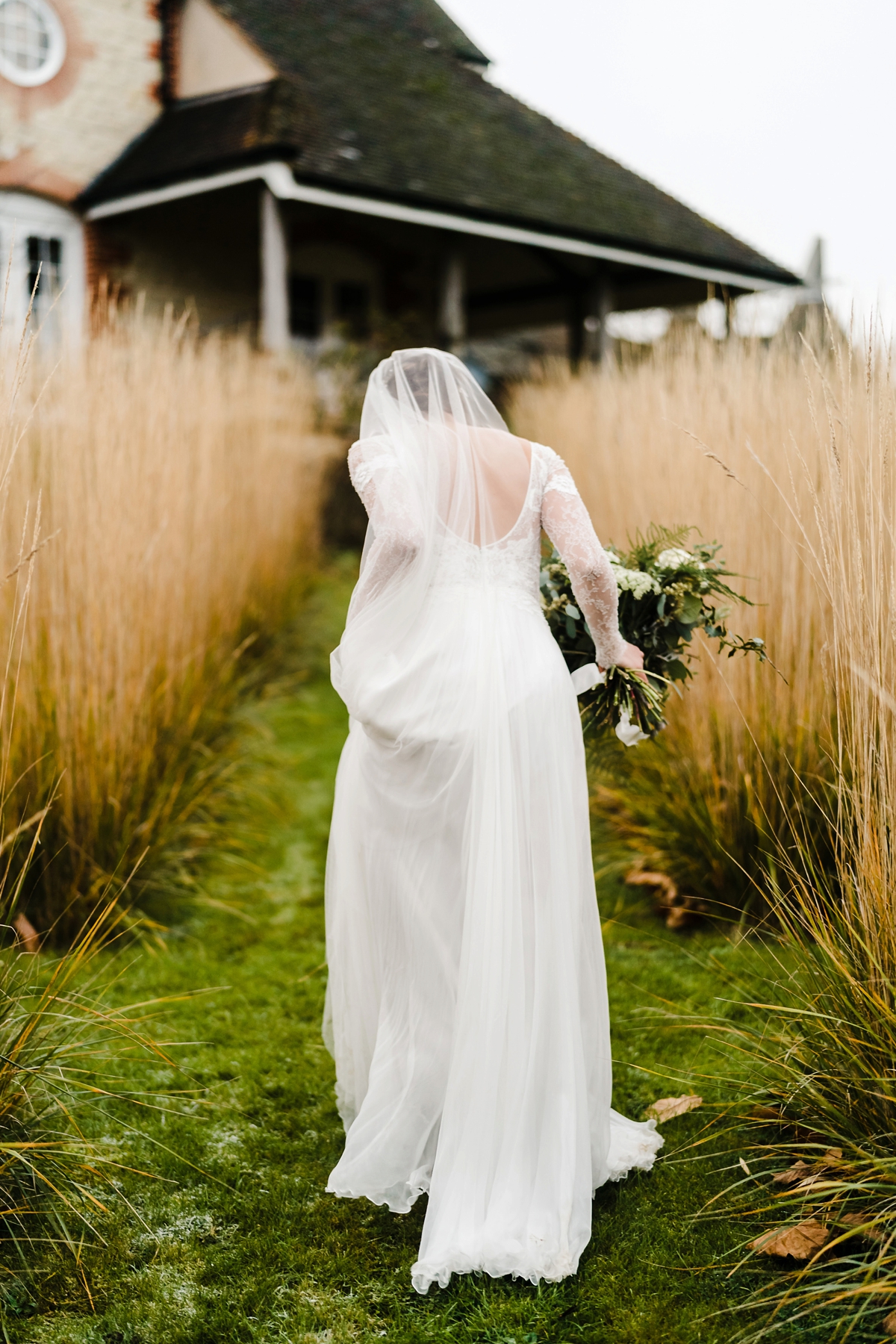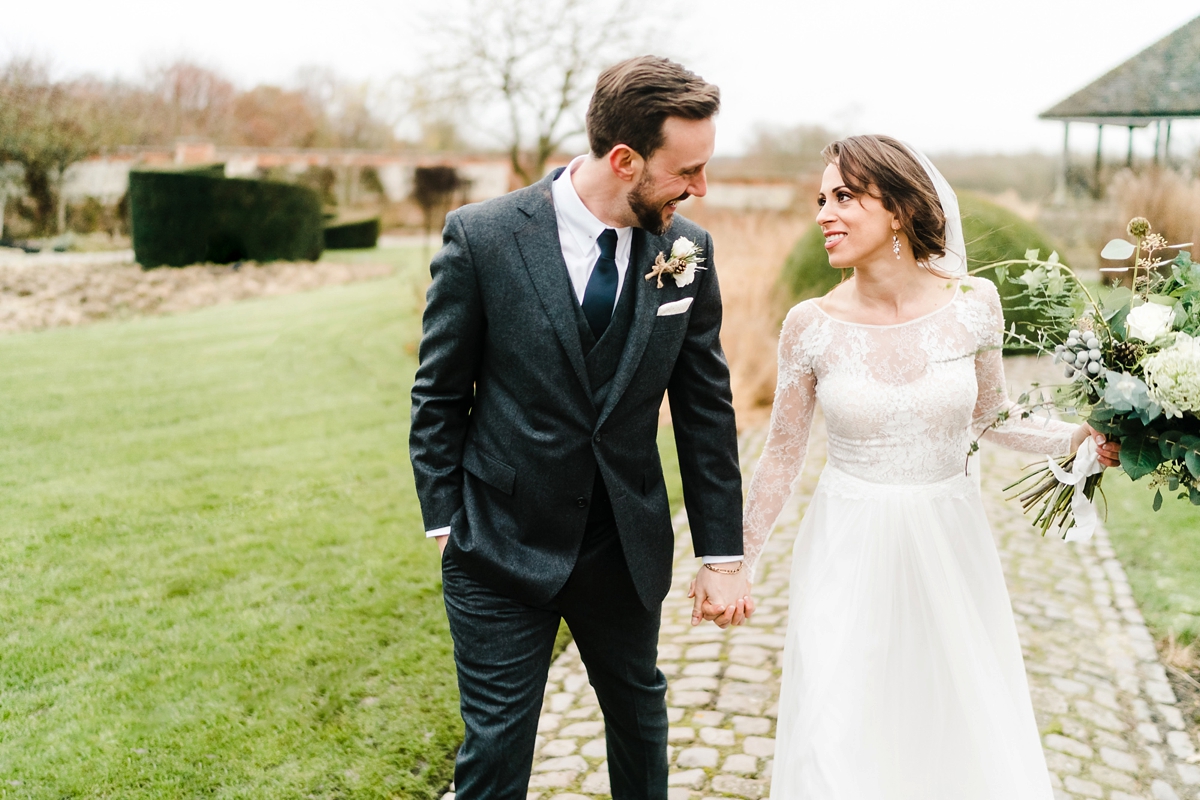 "We'd only viewed one venue prior to Bury Court, but as soon as we walked in, we knew it was perfect for us. We loved that everything could be in the same one location. The barn has been renovated to such a high standard and Suzanne is the most welcoming host. She and Ellena at The Barn couldn't do enough to make sure the day ran as smoothly as possible for us."
"When we found out Bury Court had one date left in December, we booked it there and then. It's such an exciting time of year in the run up to Christmas, and we thought a winter wedding with fairy lights and candles, a hearty wedding breakfast and the barn full of lush greenery suited our tastes perfectly."
The hearty wedding breakfast was provided by Jacaranda Catering and instead of favours, guests each received a laser cut wood place-name from VM Bespoke.
"We didn't provide favours as such but we did get people's place names laser cut from wood. They had the most amazing smell of nutmeg and cinnamon! Most guests took them home at the end of the night and said they were a lovely touch."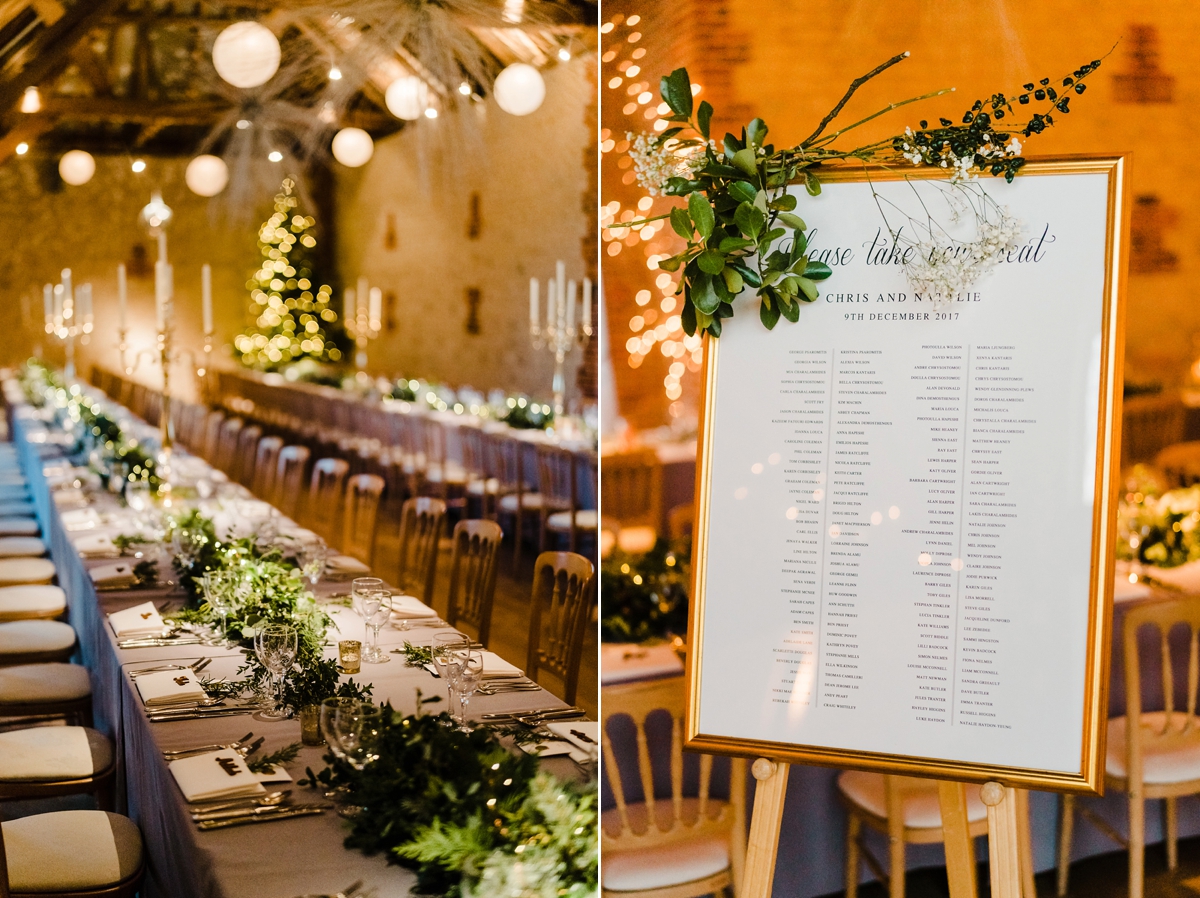 The wedding cake was a magnificent 4-tier white iced cake decorated with greenery and white roses and created by the talented cake maker Vanessa at My Little Shop of Cakes.
"Vanessa makes the most delicious cakes! We chose to have a different flavour on each of the 4 layers and picked carrot cake, lemon drizzle, victoria sponge and salted caramel. We wanted something really simple in terms of decor so it was iced semi-naked and dressed with lush greenery from Lavender Hill."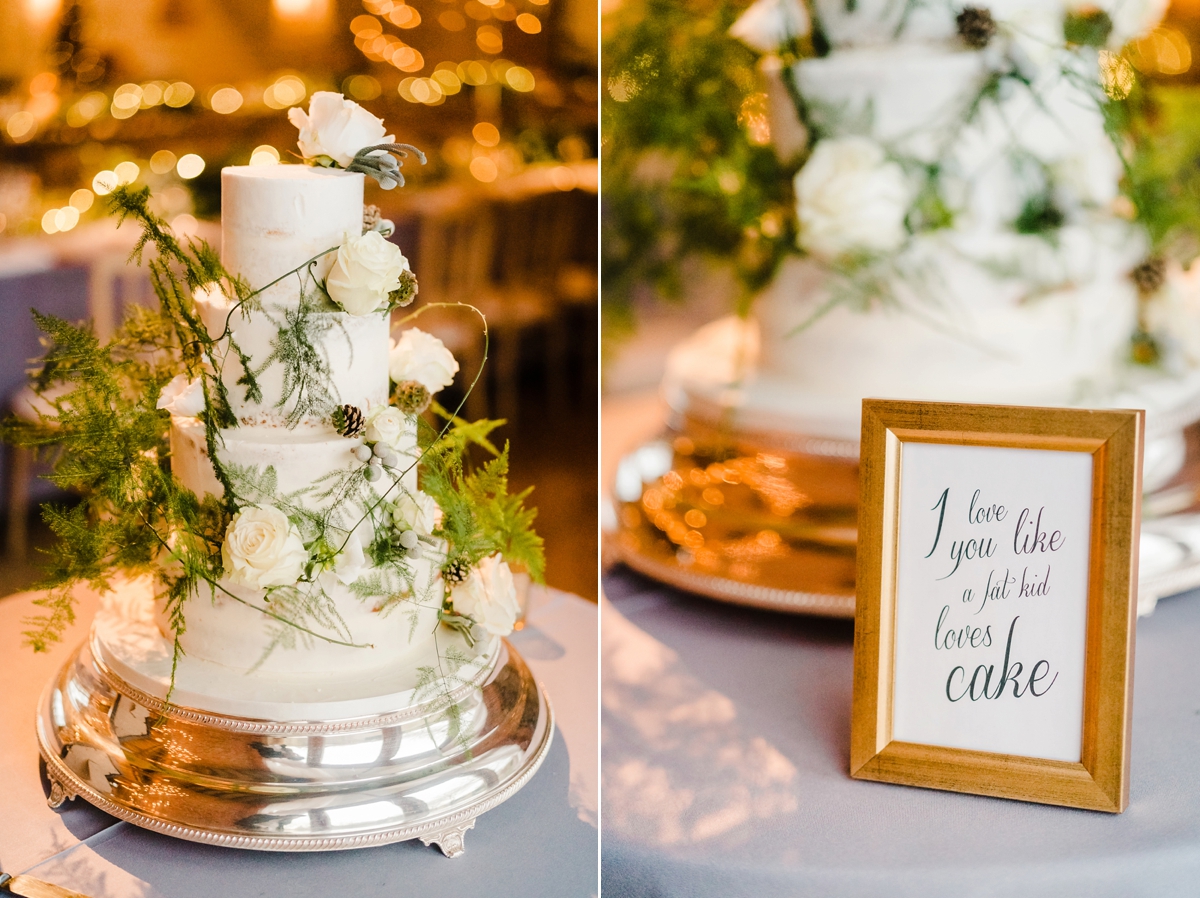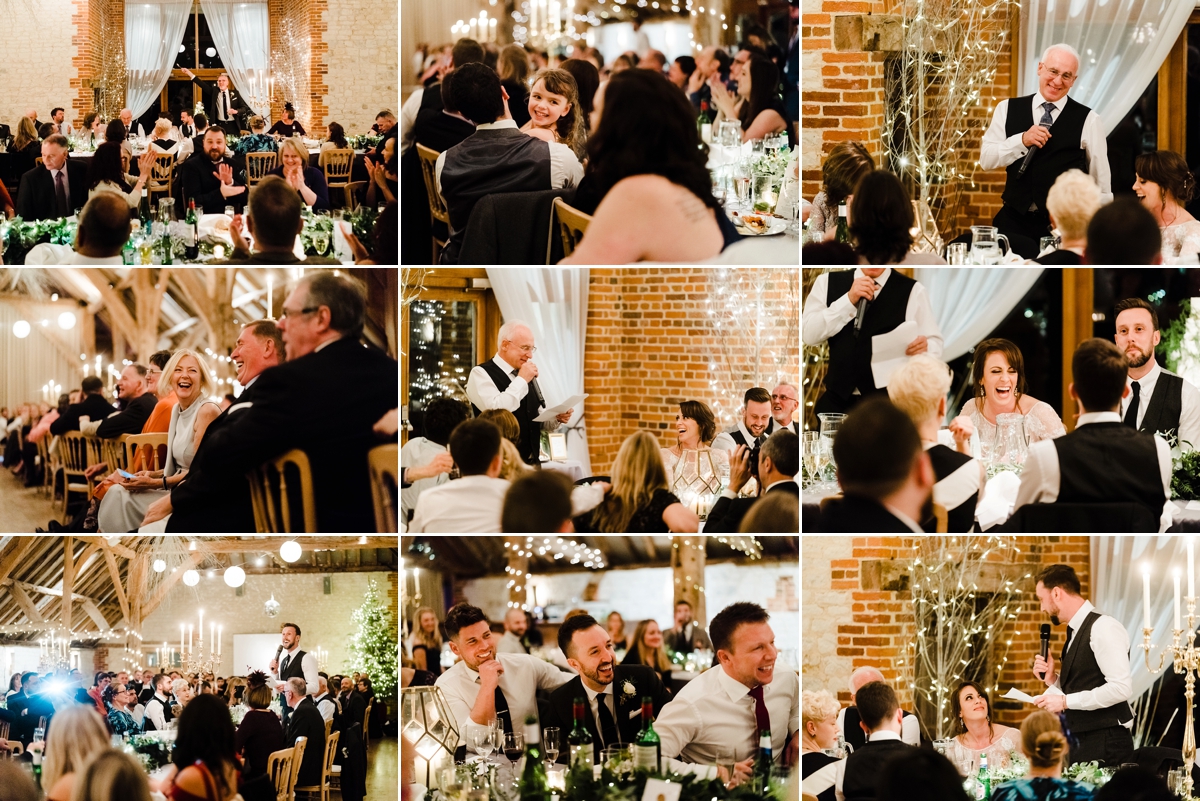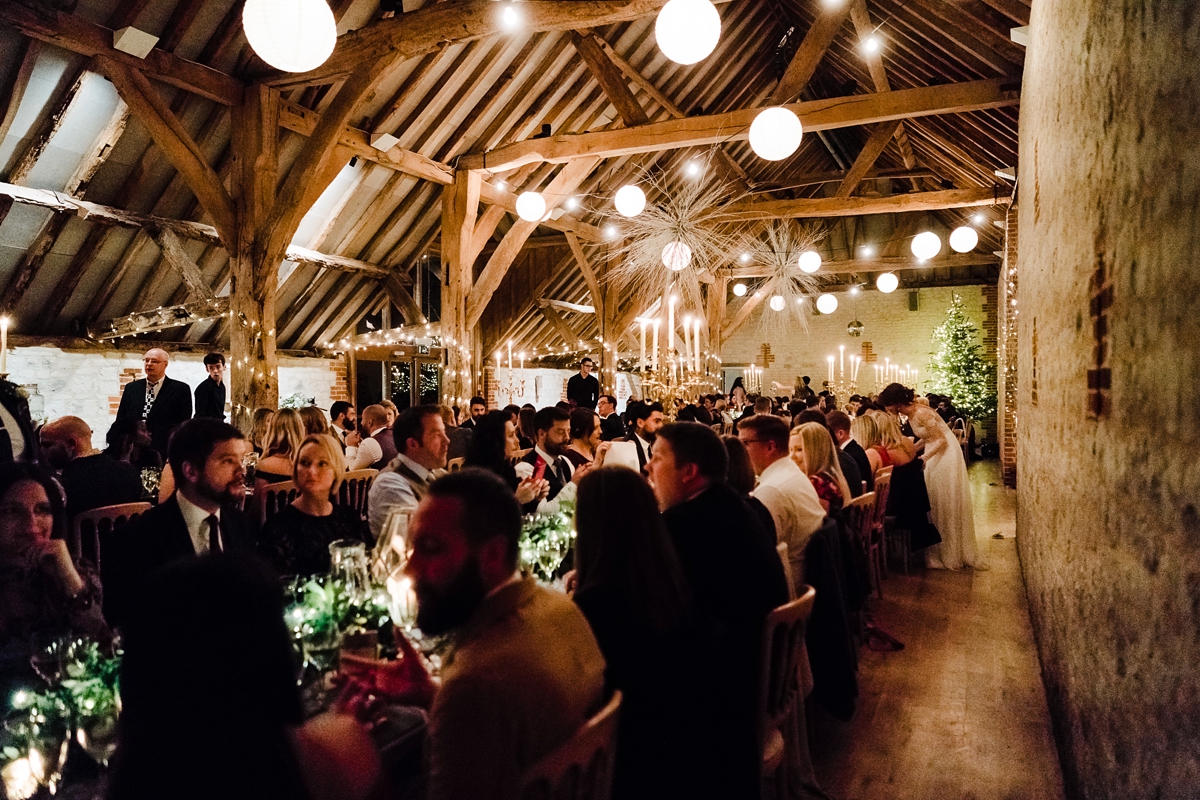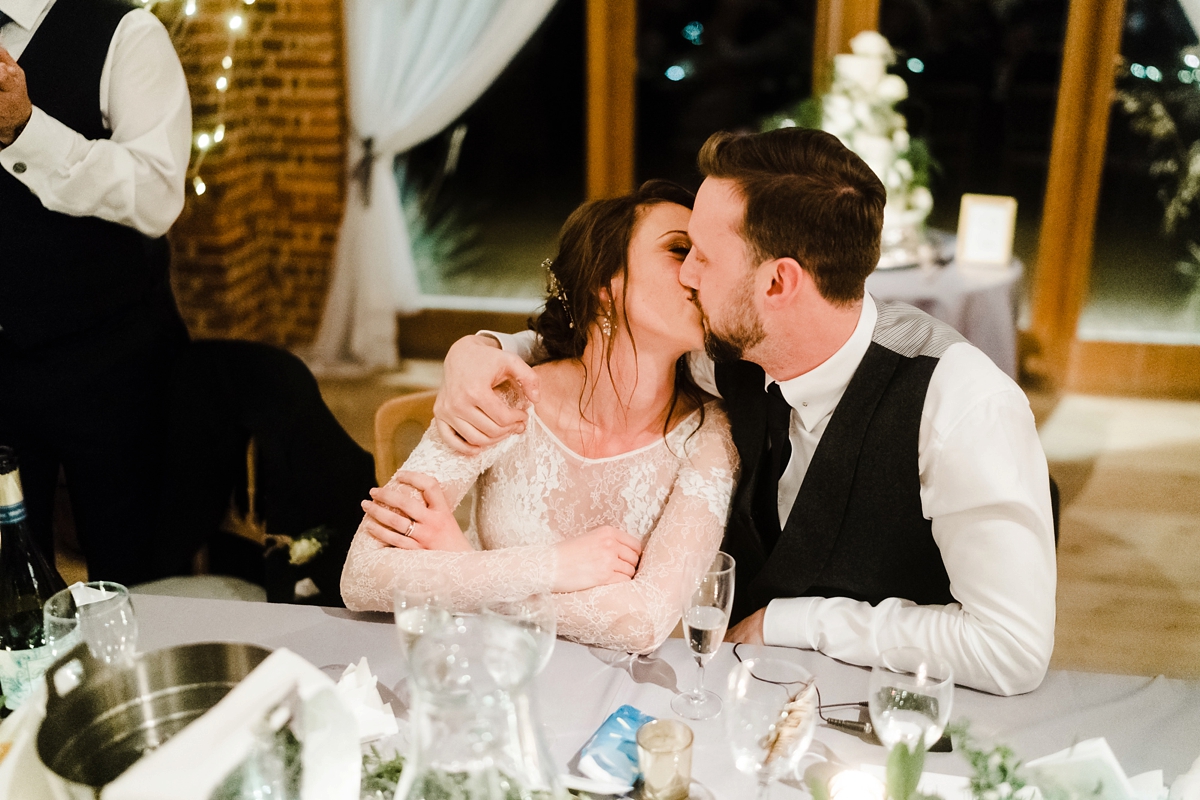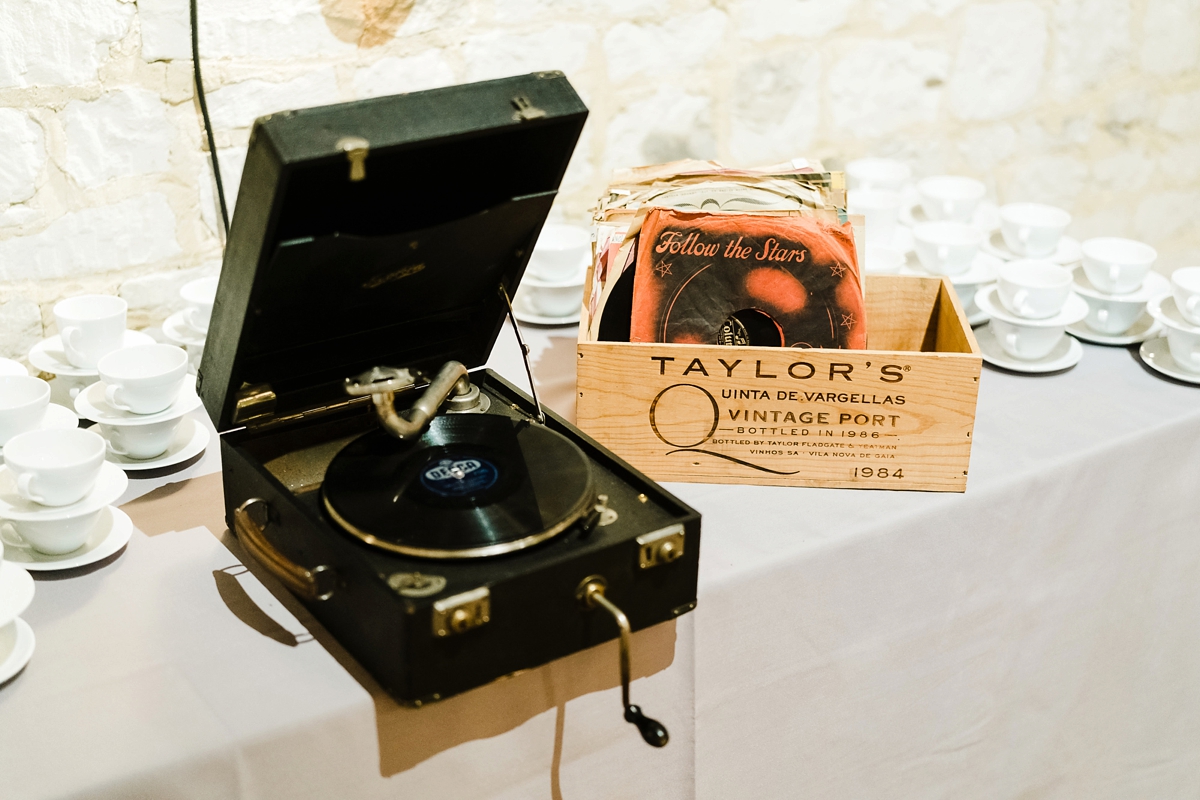 After the wedding breakfast and speeches were done, Natalie and Chris performed their first dance to Feel For You by Chaka Khan.
"My family are all Greek Cypriot so we kicked of the evening party with lots of traditional greek dancing. We wanted to keep the party vibe going so chose our first dance to Chaka Khan which everyone was on the floor for anyway. We're not really the choreographed dance kind of couple so this suited us just fine."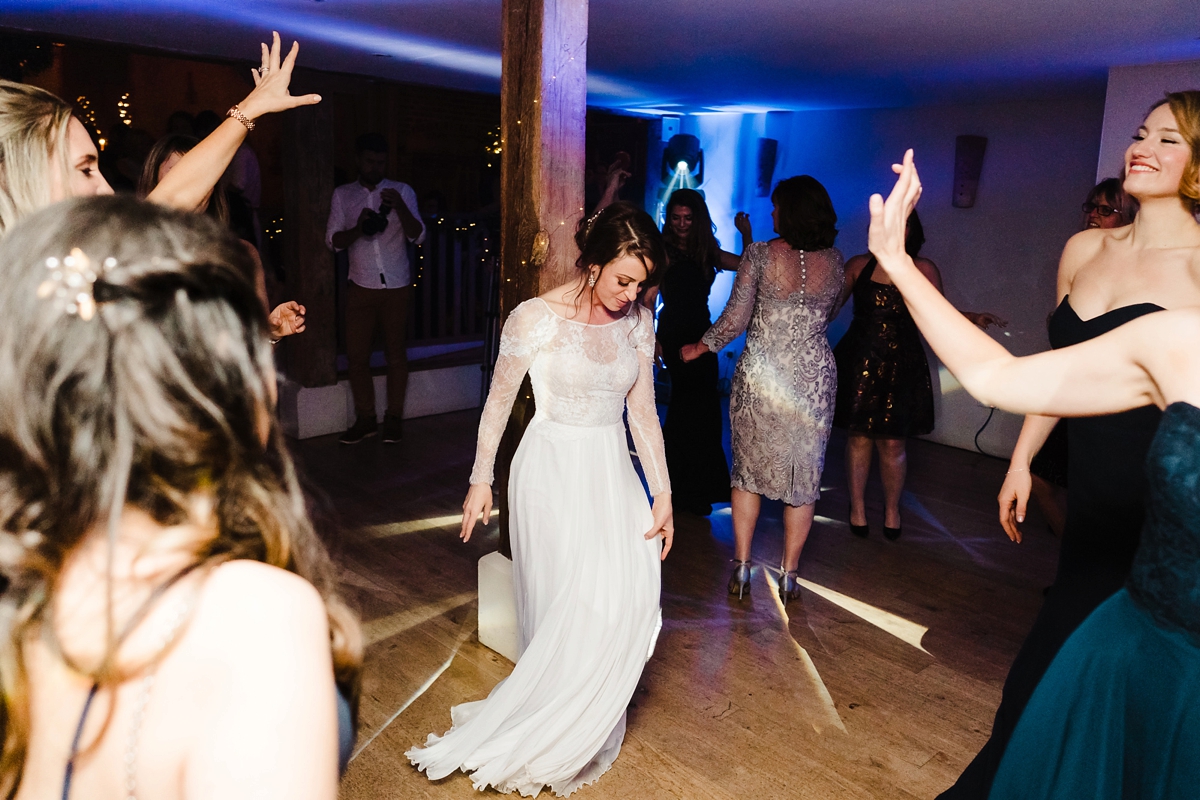 Words Of Wedded Wisdom
"It's so true that the day goes by in a blur. As we knew we probably wouldn't see each other much, Chris and I made a deal to stick together the best we could straight after the ceremony as we said hello to guests. It didn't really work out that way but we tried!"
"One of the best pieces of advise that was given to me in the run up to the wedding was those that mind don't matter, and those that matter don't mind. This couldn't be truer. Stick to your guns and have the wedding that you want, not what anyone else wants."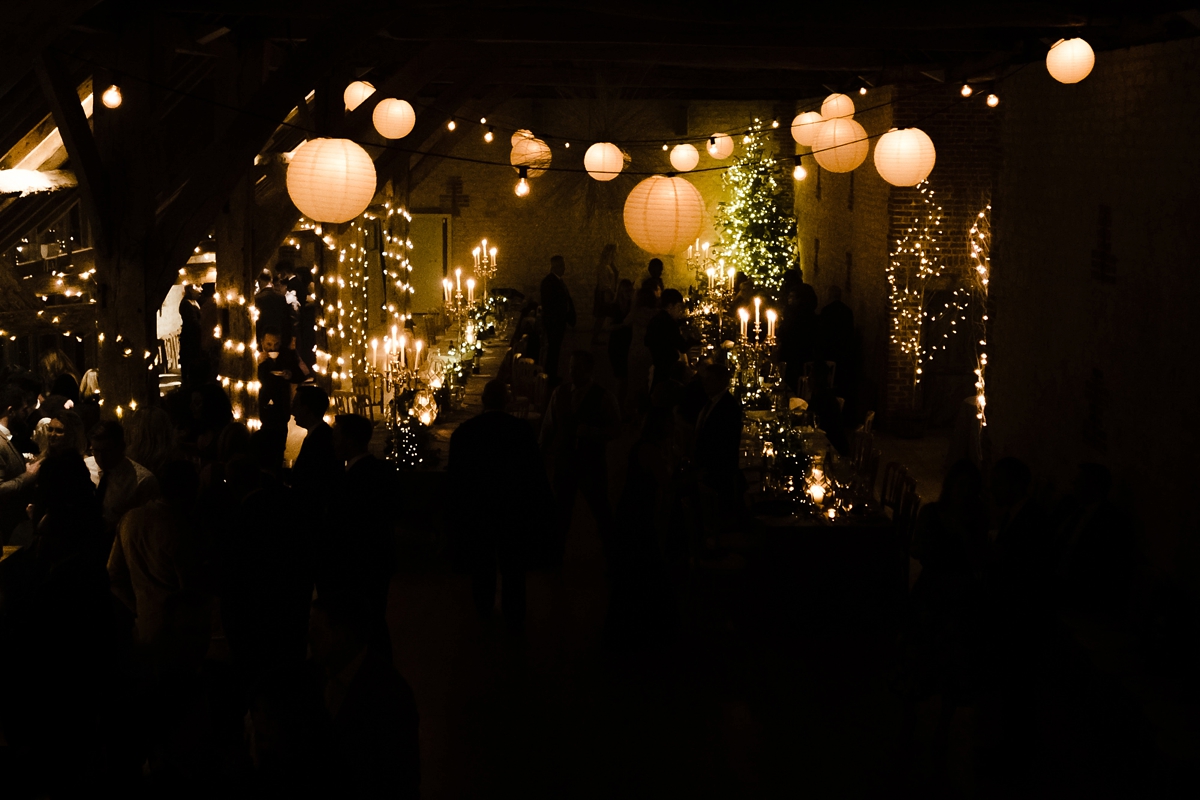 Congrats to Natalie and Chris! What a truly lush day. Looking at John Barwood's photography has me excited for the festive season already! A big thank you to John for capturing it all so perfectly on camera and sharing the images with us.
Until next time…
Much love,
Holly x