The great British weather we all know and love lived up to its reputation for today's wedding, however this Bride and Groom didn't let something like a little rain dampen their spirits. So without further ado, introducing today's couple…
Contracts Co-ordinator Sammi and Lettings Manager Robby were married on 8th September 2017 at The Railway Barn after first meeting at the sweet young age of 16.  After vetoing a wedding abroad in India due to elderly loved ones, Sammi and Robby decided to use their love of travel as the inspiration behind their wedding.
"Robby and I spent six months travelling around India and its our favourite place in the world. We had bindis for our guests to wear and a beautiful Indian inspired Shesha area outside at the wedding. Myself and my bridal party had henna designs on our hands and feet and I didn't wear any shoes all day!"
Photography by Anna Southgate
And to capture the gorgeous day on camera was local photographer Anna Southgate.
"Anna's vision and ability to capture the most beautiful moments is amazing and there was no doubt from the beginning that I wanted her to take our pictures. I was beaming in every photo and couldn't be more grateful that she was able to shoot my wedding day. I highly recommend her, not only for her amazing photography, but also her wonderful approach to the whole day. She makes you feel totally at ease!"
"We first met aged 16 and quickly became best friends. It turned out that we always liked each other but were both too shy to admit it. It wasn't until the age of 22 that we became an official couple and the rest is history…Robby proposed to me in January 2016 in our flat in Blackheath London. I had just come home from a night away with my best friends and Robby had just come home from our hometown of Southend. It was just the two of us, in our wonderful new flat, and Robby got down on one knee and proposed. It was a complete shock but so perfect!"
When it came to her hair and make up, Sammi kept it in the family with her mother-in-law Debbie on make up duty and sister Jo creating her soft bohemian waves.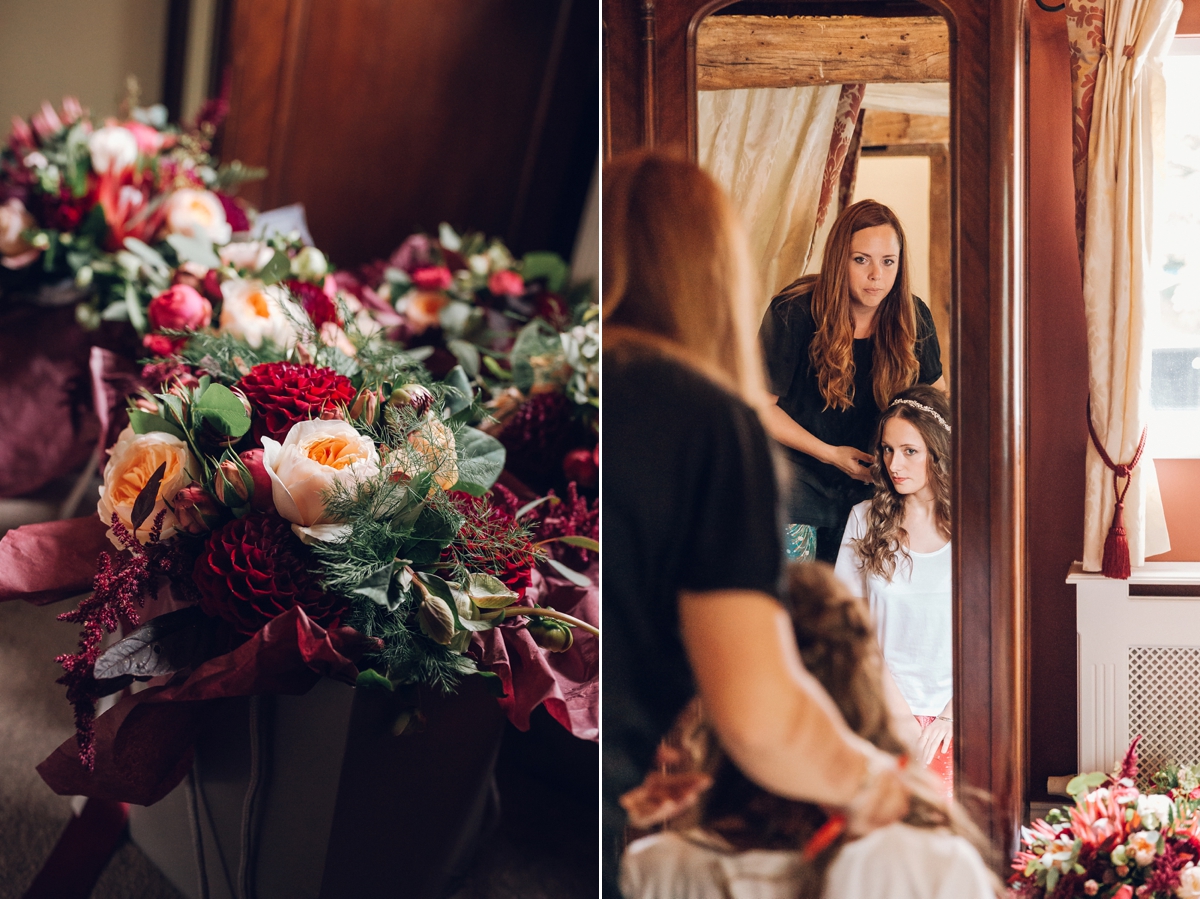 Sammi found her simply stunning off-the-shoulder fitted gown at Blush Bride in Essex and fell in love with it as soon as she put it on.
"The dress was picked out by Linda at the shop. She had secretly put it with around 6 other dresses myself and my bridesmaids had picked out. From seeing it on the hanger I was so unsure as it was everything I wasn't really looking for in my ideal dress. But, as soon as I put it on, I just fell in love with the colour and the shape and I just felt incredible in it. It was everything you would want from a wedding dress."
Sammi paired her gorgeous dress with a simple one layer long veil and thin diamante crown also from Blush Bride, 'Daisy' perfume by Marc Jacobs, and went barefoot for the entire wedding day.
"I also wore a small diamond necklace which my mum gave me for my 18th birthday, my mum's eternity ring on my right hand and my sisters small diamond stud earrings. I wore an ankle bracelet which was given to me the night before the wedding by my two best friends and bridesmaids, Billie and Hannah."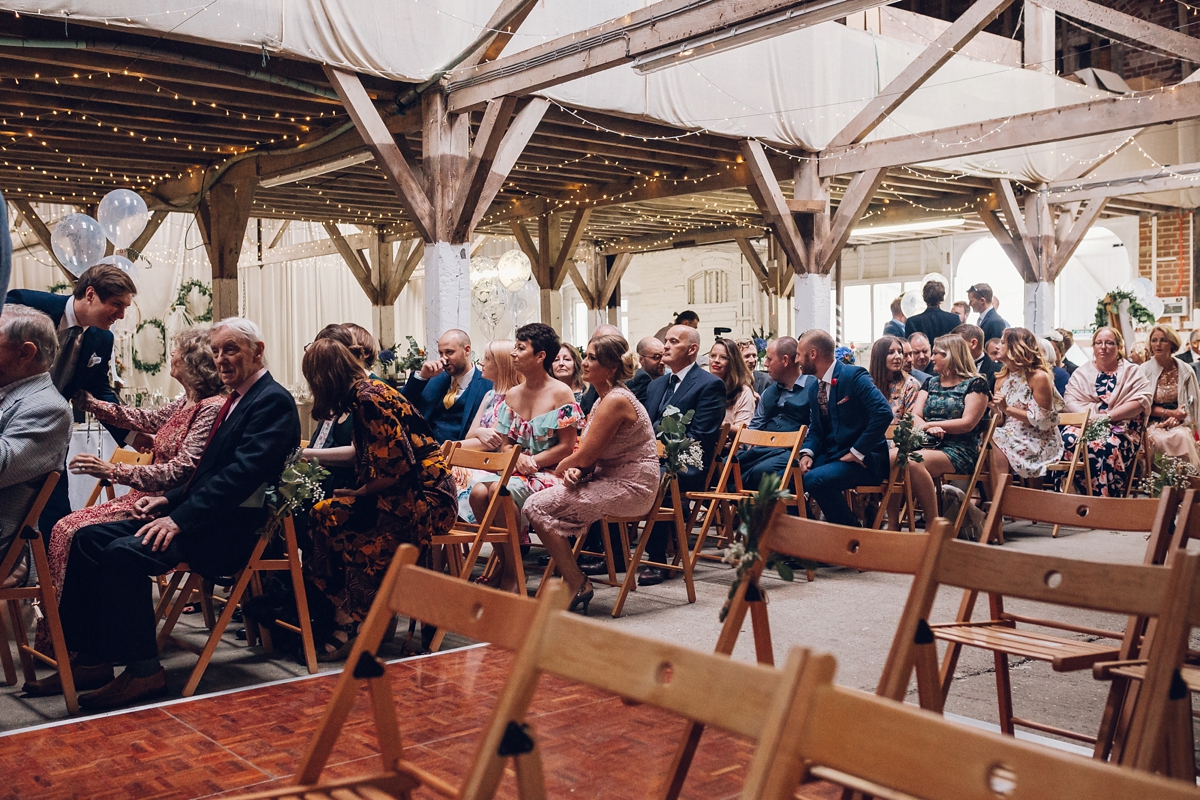 After arriving in her dads Citreon 2CV, a car her family has had since childhood, Sammi's dad walked her down the aisle to an instrumental version of 'Porcelain' by Moby.
"This has been my favourite song for as long as I can remember and it has been prominent in our friendship, our relationship and now our marriage."
"We used a celebrant, the wonderful Stacy Dolby who completely captured mine and Robby's characters and story. We met with her once and she really did create a wonderful script for our ceremony. Our vows were also created by Stacy after she met with us to have a chat about ourselves, and to give her an understanding of our relationship."
"Something she really captured was how important music is for me and Robby, and in particular Robby's love for The Beatles. She finished the ceremony with a quote by John Lennon:
'A dream you dream alone is only a dream. A dream you dream together is reality'."
Following the vows the couple had one reading to add a moment of light-heartedness to the ceremony.
Robby rocked a Paul Smith suit and shirt from Boggi Milano, accessorised with Church's shoes, a knitted tie from Emmett London, Paul Smith cufflinks and a pocket square from Drake's.
His two best men wore matching suits from Reiss, shirts also from Boggi Milano, ties from Emmett London and a pocket square from Drake's to make up a rather handsome-looking groom squad.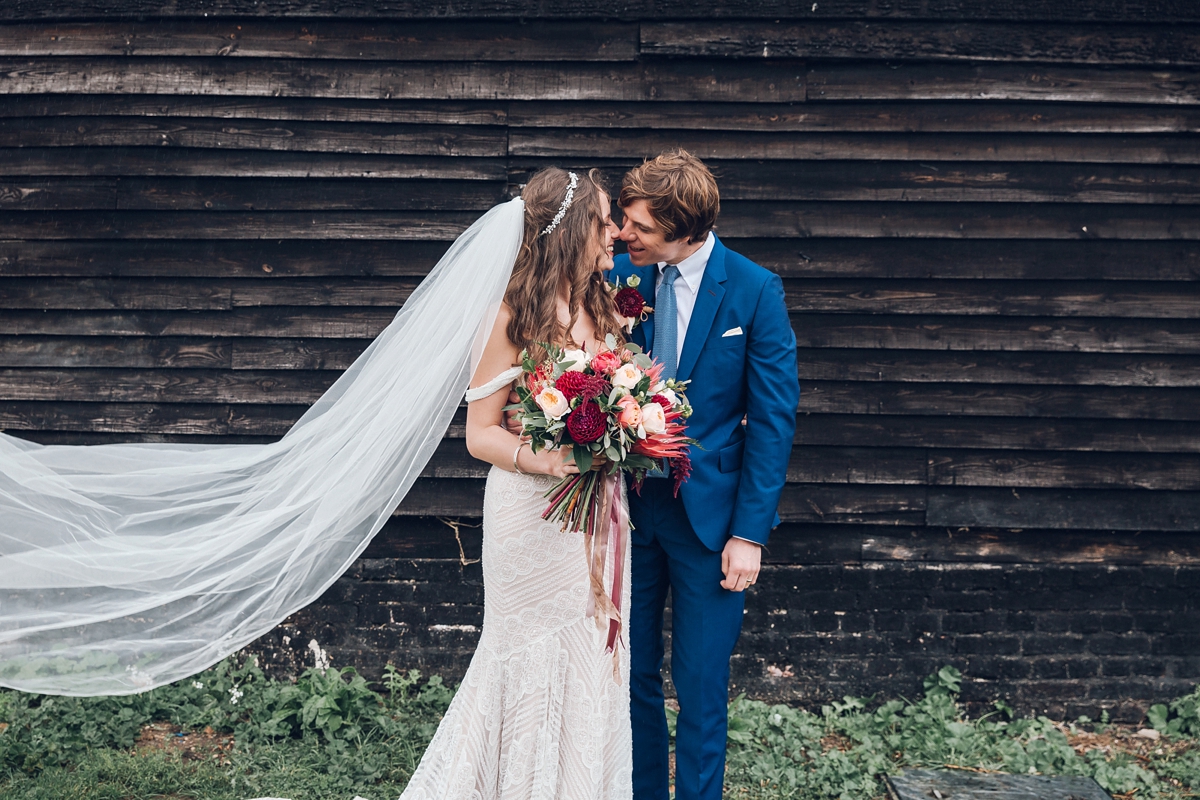 Also supporting Sammi during preparations and on the wedding day were her two Maids of Honour and bridesmaids whose dresses complimented her bridal gown in seasonal, autumnal tones.
"My Maid of Honour, Jo, wore a velvet gun-metal wrap dress made by my bridesmaid Hannah and my second MOH, Tammy, wore a mustard yellow velvet dress from ASOS. My two bridesmaids also wore pieces from ASOS and they all wore their own jewellery and shoes."
When it came to the flowers for the day, Sammi looked at a number of different options first.
"We used Pastiche Flowers in Leigh-on-Sea, Essex, in the end. I didn't feel like anyone was getting the look I was going for initially. I had an idea in my head to have floating centre pieces, which wasn't really being picked up. As soon as I heard back from Pastiche I knew they had totally got the vibe I was going for and I felt comfortable and confident that they would produce what I wanted, and this is exactly what they did. My bouquets were incredible and they really understood my request for Protea's in particular, to represent my mum's South African roots."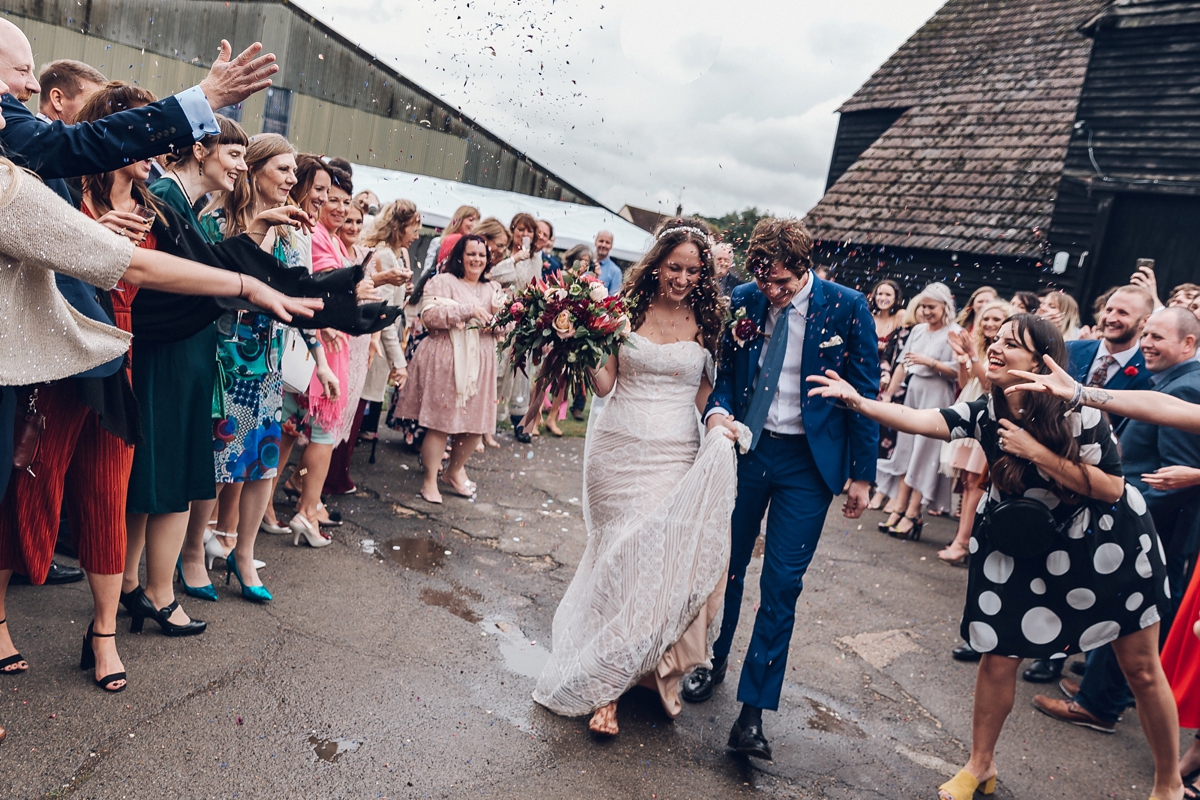 "We discovered our venue, The Railway Barn in Purleigh, Essex, online and when we went to see it we loved its rustic look and beautiful vineyards. We just knew it would be perfect for us."
"I also had lots of flowers and foliage around the venue and some macrame hoops to give the wedding a boho vibe, which worked really well with the rustic venue."
"The colours were autumnal and linked in perfectly with my bridemaids dresses. Aesthetically Robby and I both favour the 60s and 70s and wanted this to shine through in the decor too."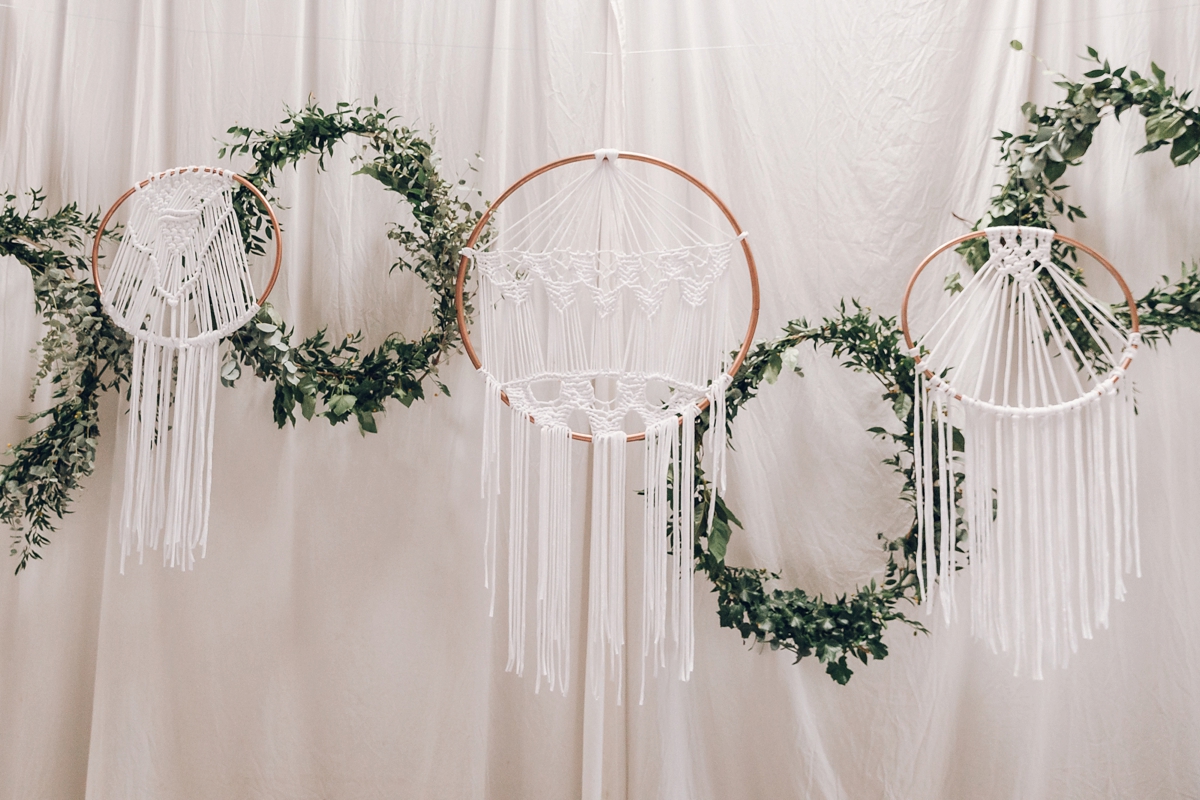 "My favourite part of the day was just after the ceremony when me and Robby ran over to the sheltered Shesha area away from the rain to have a few moments together, drink a glass of champagne and take it all in before the madness of the day began. It was lovely to just chat and talk about how happy we were and what we thought of each others outfits. Robby is a staunch suit enthusiast so his suit was just as much of a surprise for me as my dress was for him."
Their beautiful and unique stationery was by Harry Says Stationery;
"Harry was just amazing at completely understanding what I wanted from the stationery side of things. The invitations were beautiful and very in keeping with the themes of the wedding. I would highly recommend Harry Says Stationery, not only for producing incredible stationery items, but also for her patience, kind help and incredible artistic talents. She also helped come up with some great budget saving ideas like putting our menus inside the place cards, whilst still delivering a high quality product."
Gather and Feast Events in conjunction with the Railway Barn provided the catering for Sammi and Robby's day, with a family friend creating their wedding cake.
"It was a 2-layer semi-naked sponge cake, decorated with flowers and a Protea on top."
Sammi recruited the help of family and friends with the wedding decor and made it a very hands-on affair.
"All of the decorations were done by the bridal party who provided us with almost everything. They even managed to master the foliage hoops! The macrame hoops were a bit of a focal point and they were done by one of my bridesmaids to hang around the venue."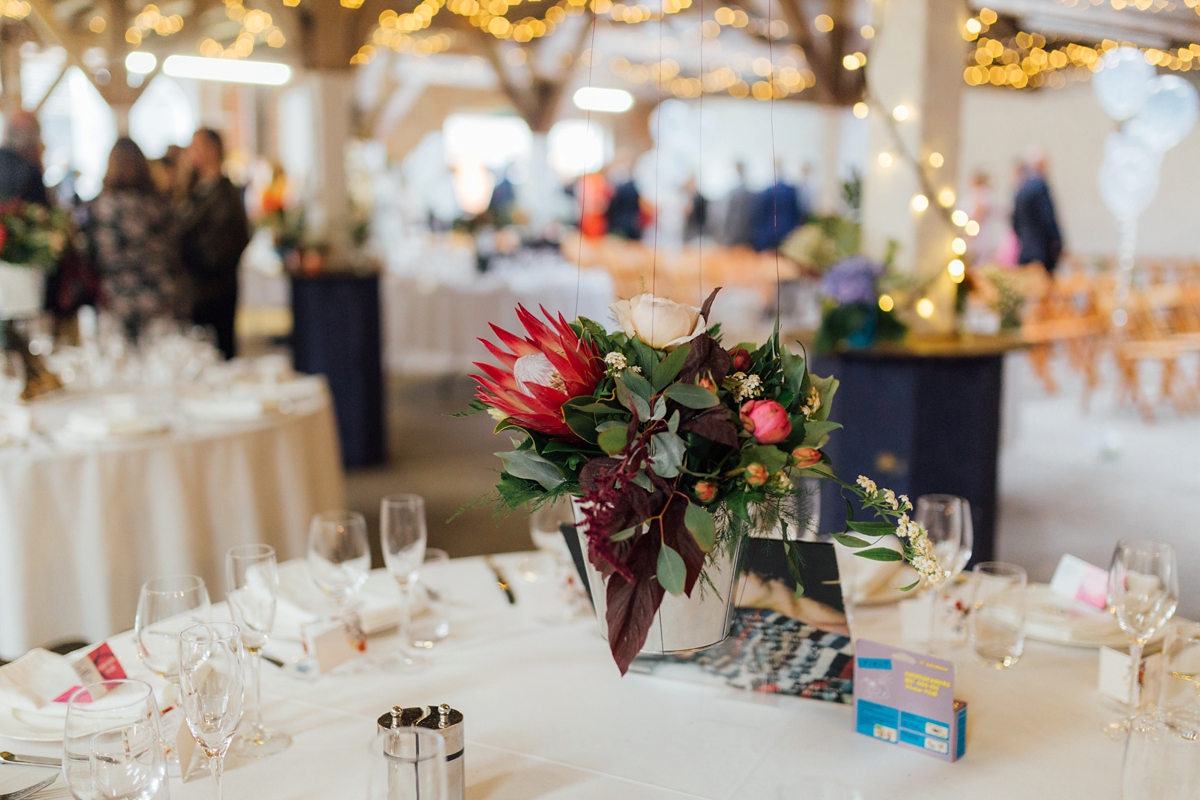 Forgoing traditional favours, the couple instead decided to donate to 3 charities close to their hearts.
"There are 3 charities which mean a lot to us so we donated equally to them and provided our guests with a badge to show support. My grandmother died 2 years ago from Alzheimer's so the Alzheimer's Society was one. My husband's grandmother also died around the same time so we decided to donate to the hospice who cared for her, Havens Hospice. Also around the same sort of time, my nephew was diagnosed with William's Syndrome, so the Williams Syndrome Foundation was a must as well."
The couple danced their first dance to 'For Lovers' by Wolfman ft Pete Doherty.
"We were both huge Libertine's fans in our teens. We grew up together loving anything Pete Doherty and went to their gig the night we got engaged. Once at the age of 18 we were out one night and Robby told me that whenever he listened to this song, it reminded him of me and it has been our song ever since."
"We then had 3 DJ's. We started with an hour and a half of Soul music with the help of a great DJ, Mark Messent. We then had 2 DJ's from my husband's side of the family, who played a mix of Indie, Funk, Blues, 60s and 70s."
Words of Wedded Wisdom
"You won't think of anything else on the day except how happy you are and how exciting it is that the day has arrived. All those minor details you might have missed, or anything material you may have forgotten about, or like in my case, the weather turning bad, won't matter. Don't worry or stress about it. Take everything in your stride, smile and embrace the day!."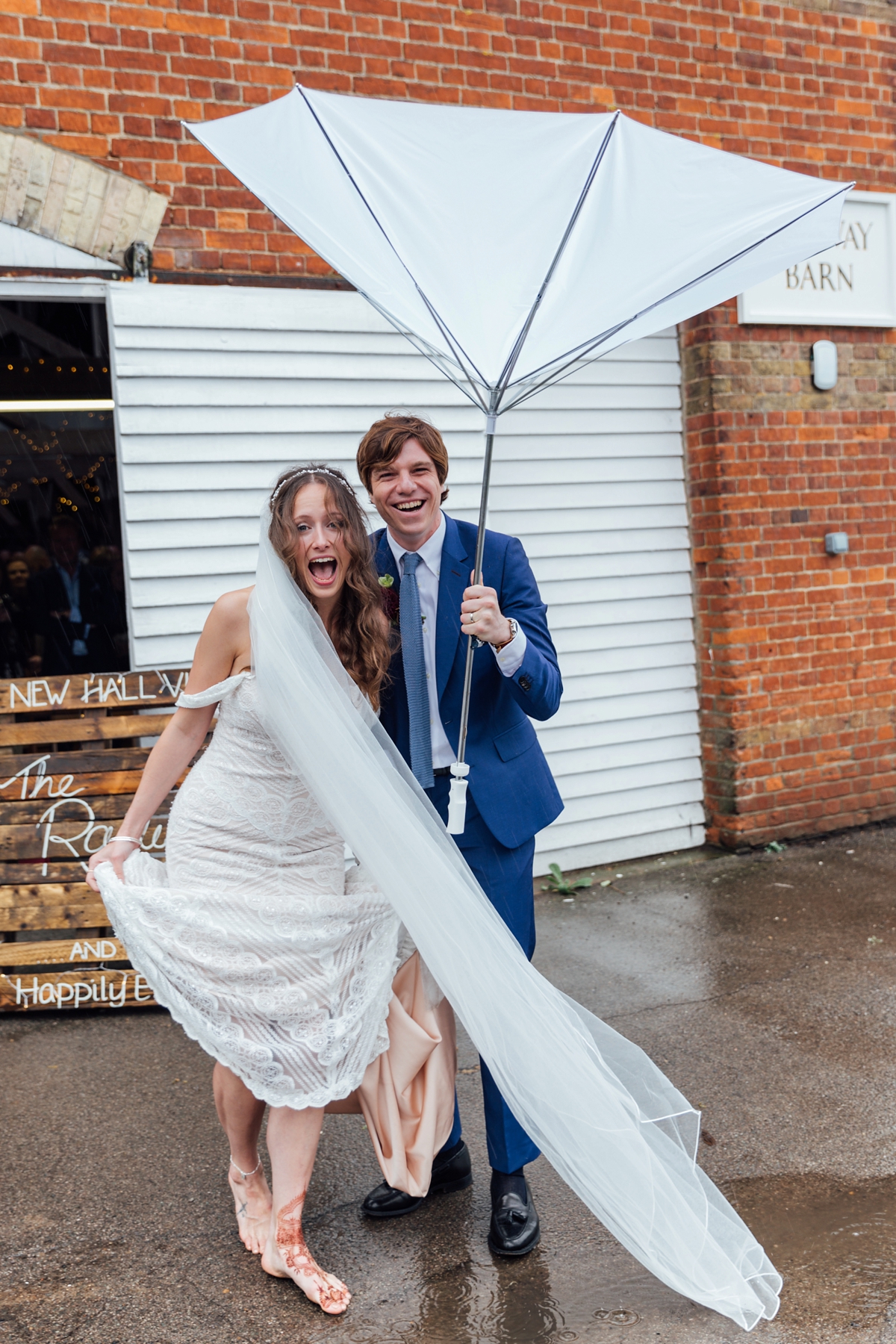 Well what a stunner of a wedding, all despite the rain which I think you'll agree Sammi and Robby took in their stride and used to their advantage when it came to the stunning photo's. A big thank you to Anna Southgate for providing them and an even bigger thank you congratulations to Sammi and Robby!
Until next time…
Much love,
Holly x