Today's lovely wedding is so full of colour, warmth and sunshine that the images fairly leap from the screen, not to mention the fact that it all took place at a breathtaking château in south-west France.
If this charming celebration doesn't have you dreaming of sunnier climes and summer holidays, I don't know what will. Settle in for this treat and enjoy! Claire, who works in marketing and Craig, an engineer, were married on the 15 July 2017 at Chateau Rigaud, Mouliets-et-Villemartin in Aquitaine, France in relaxed house party celebration with family and friends, filled with great food and drink, and where wonderful memories could were made.
Claire headed to our Little Book member,  The Secret Dress House Bridal Boutique in Reigate for her gown, and chose the stylish, boho inspired 'Filou' dress from Rembo Styling, with beautiful geometric lace detailing.
"I chose the dress because it was relaxed, I loved the deep back on it, the geometric lace pattern and because our wedding was during the summer it needed to be lightweight. Plus I wanted it to be easy to dance in!"
Images by Paul Santos Photography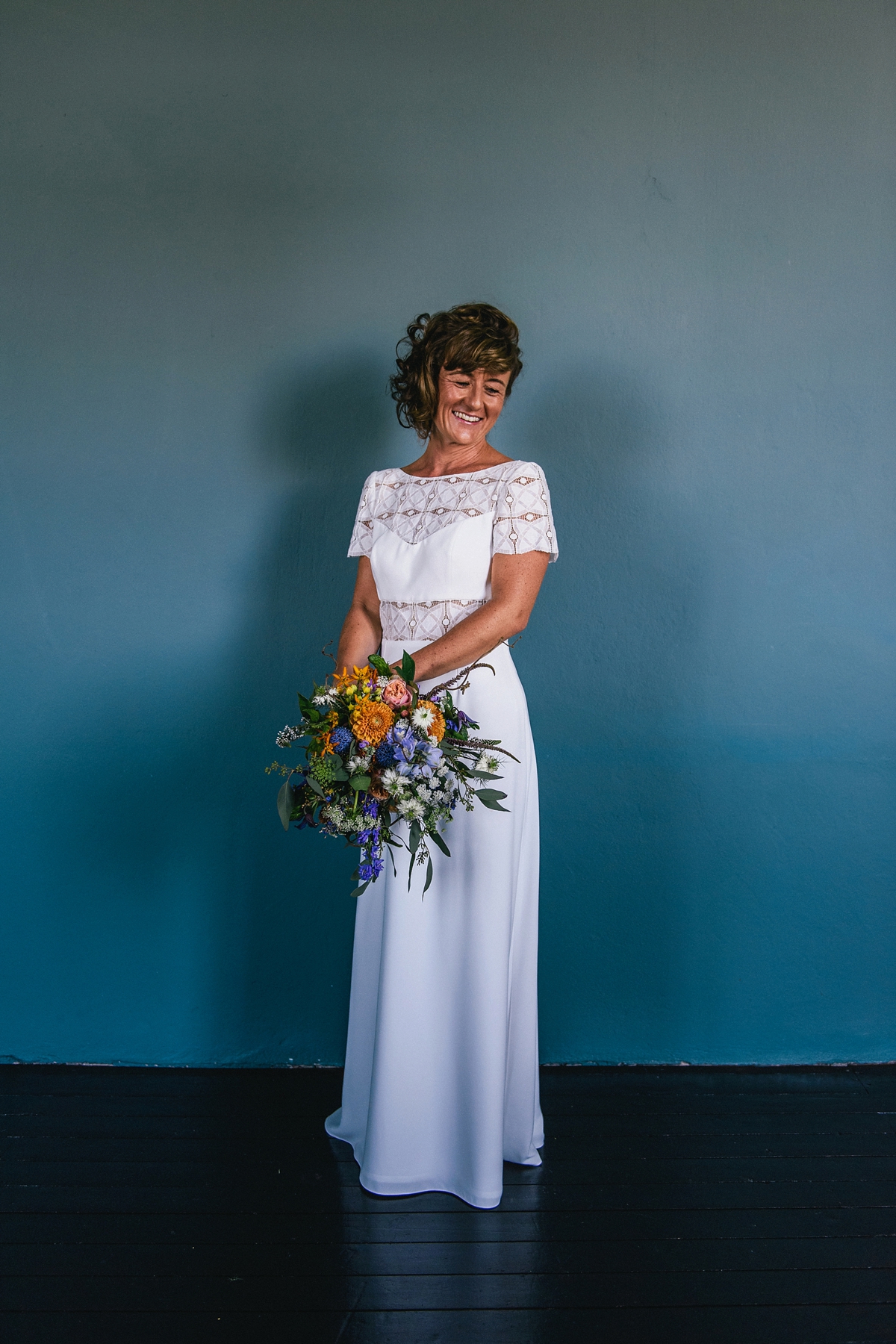 The couple chose Paul Santos Photography, a brilliant member of our wedding directory Little Book For Weddings to capture their day, and what a wonderful job he did. These images are intimate, natural and vibrant, not to mention filled with the sunshine evident throughout the whole day.
"Having a great photographer to capture the day was really important to us. Paul was recommended to me by a friend, also a fantastic photographer so I knew we were going to be in good hands – they were both included in the International 30 Rising Stars of Wedding Photography 2016 by Rangefinder Magazine."
"Paul was great to work with, he's someone that makes you feel very relaxed. His style matched what we wanted – natural, in the moment, mostly un-posed shots. His use of light and shadows is incredible, he took some very clever shots! He nailed it."
"We met through our friend Helen over 14 years ago. Claire had just returned from living in Australia for 20 months, and Craig, an Australian was working and living in London. We both love music and got together at night out in Fabric nightclub in London. Craig popped the question on holiday in Argentina when we were staying in a vineyard in Mendoza, November 2016."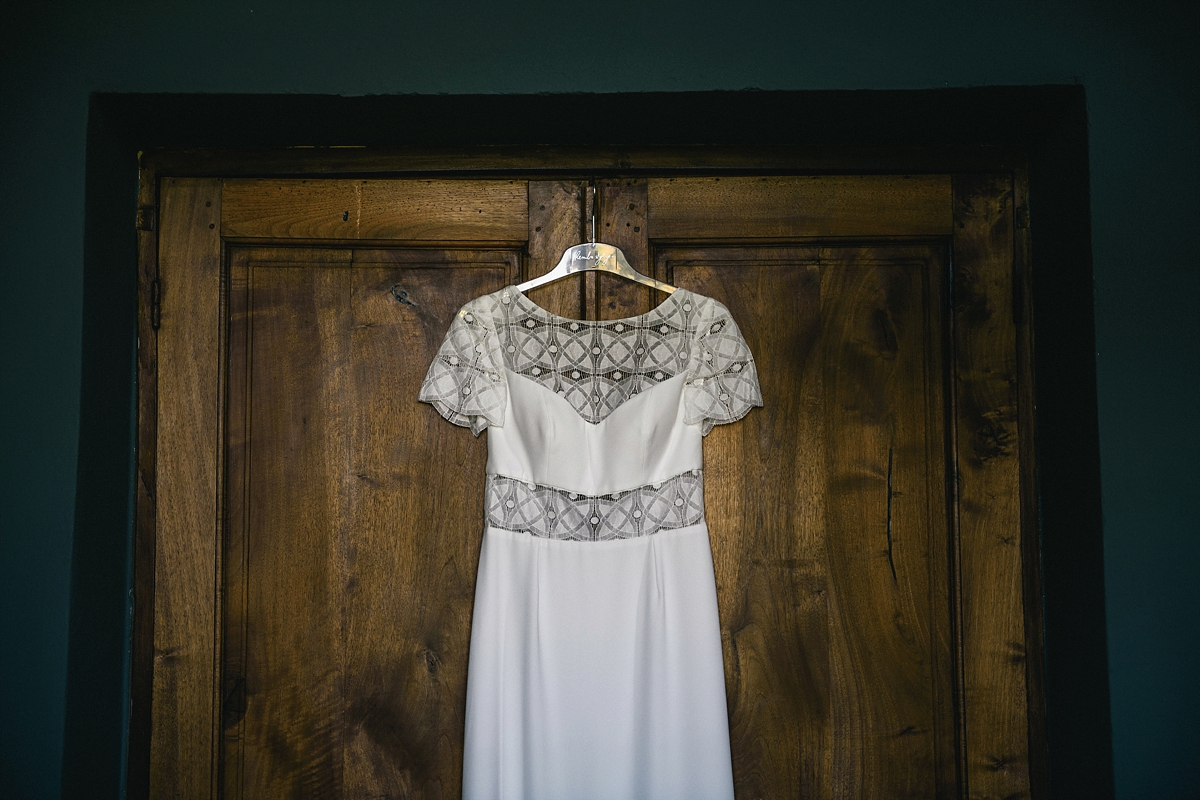 On her feet Claire wore orange sandals from Topshop, and it was the very same sandals that inspired the continued use of the same bold and beautiful shade in the floral arrangements, created by Chateau Rigaud's in-house florist, Heidi Lee of Flowers in the Vines.
"I love flowers and bold colours and briefed Heidi Lee, the amazing florist who works at Chateau Rigaud, to be a bit wild and relaxed with all the flowers and use plenty of colour – leading with bold oranges (also the colour of my shoes) and different textures. She totally delivered.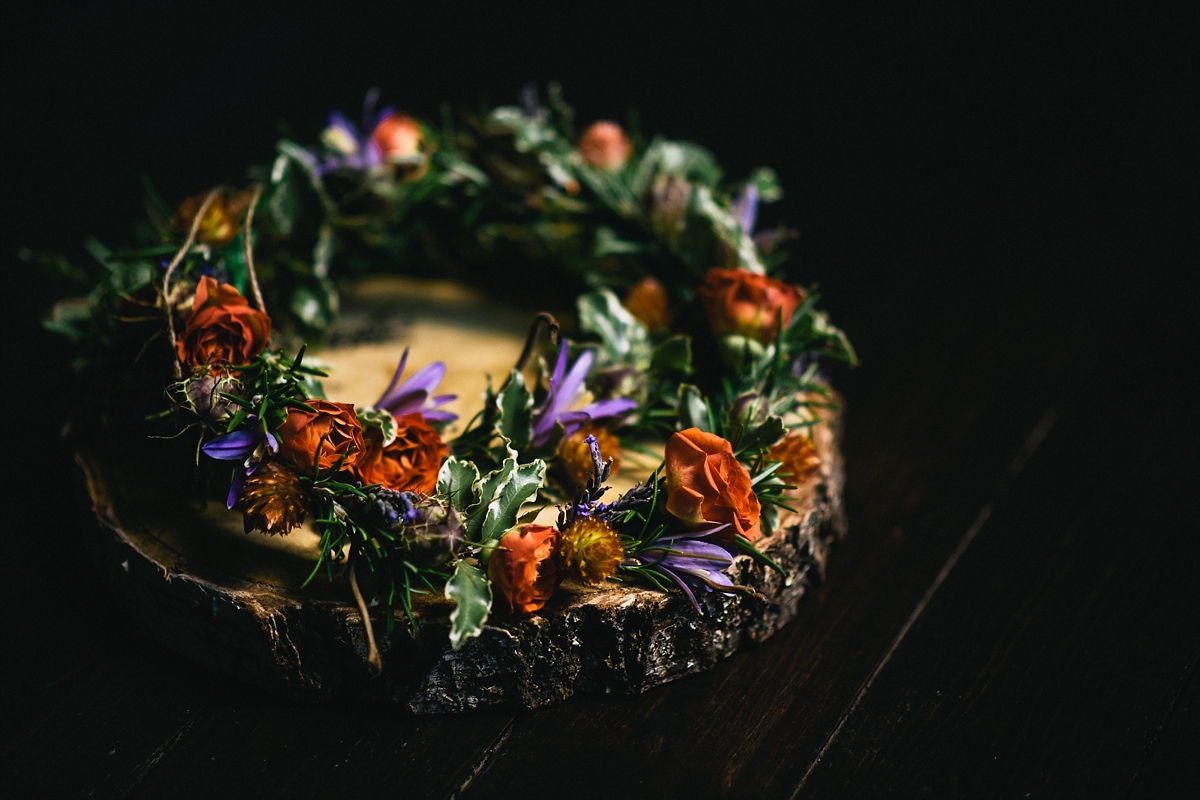 The resulting bouquets and arrangements were breathtaking – unstructured and wild, with bursts of colour in the dahlias, roses, alliums and other summer blooms.
Claire's flower girls also had coordinating flower crowns in shades of orange and blue, with fragrant sprigs of rosemary woven in, and wore cool and summery sleeveless linen dresses from Zara with metallic sandals.
Claire's gorgeous asymmetric swept up hair style was the work of her sister-in-law, Ali, and adorned with delicate origami butterflies in a vibrant shade of orange, which were bought from Etsy seller Claire's Origami.
"I did my own make up, using Bobbi Brown make up, keeping it very minimal and heat-friendly!"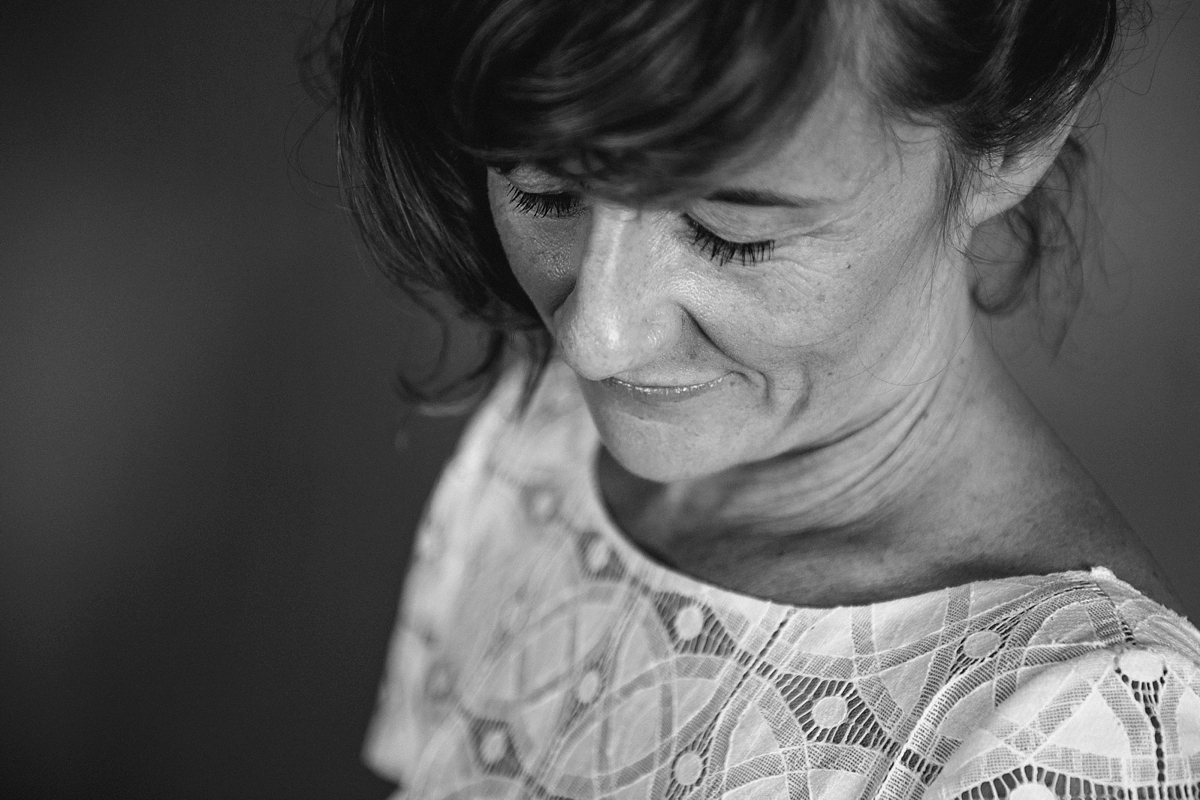 Craig wore a handsome three-piece suit in a flecked blue fabric from Savile Row based tailors, Richard James. He paired the suit with a smart white shirt and pocket square, and a pale blue knitted tie.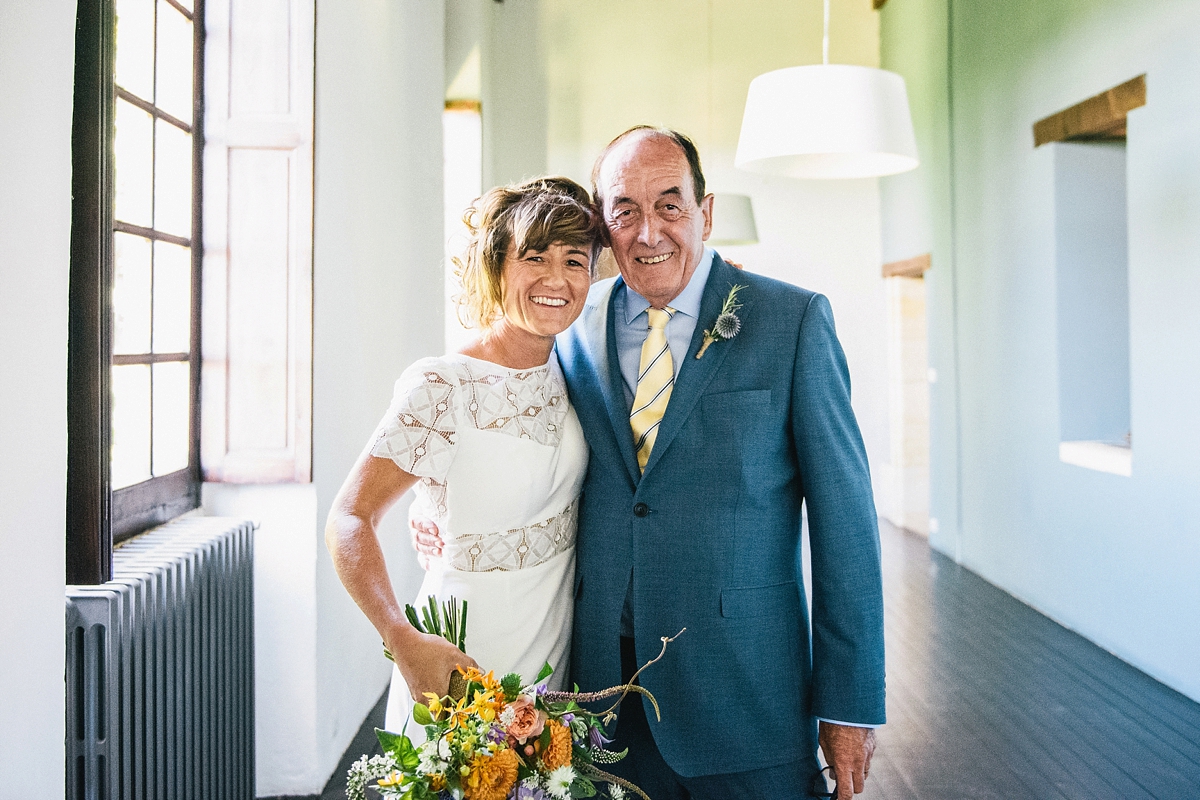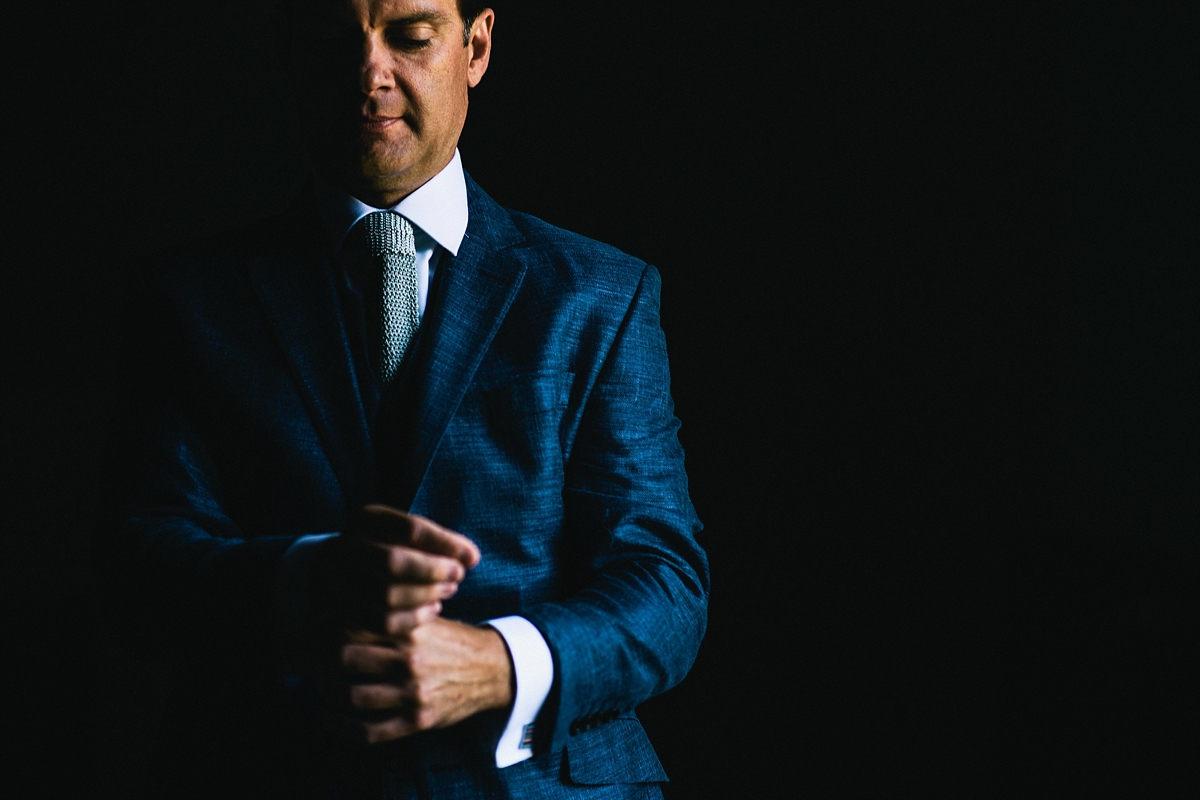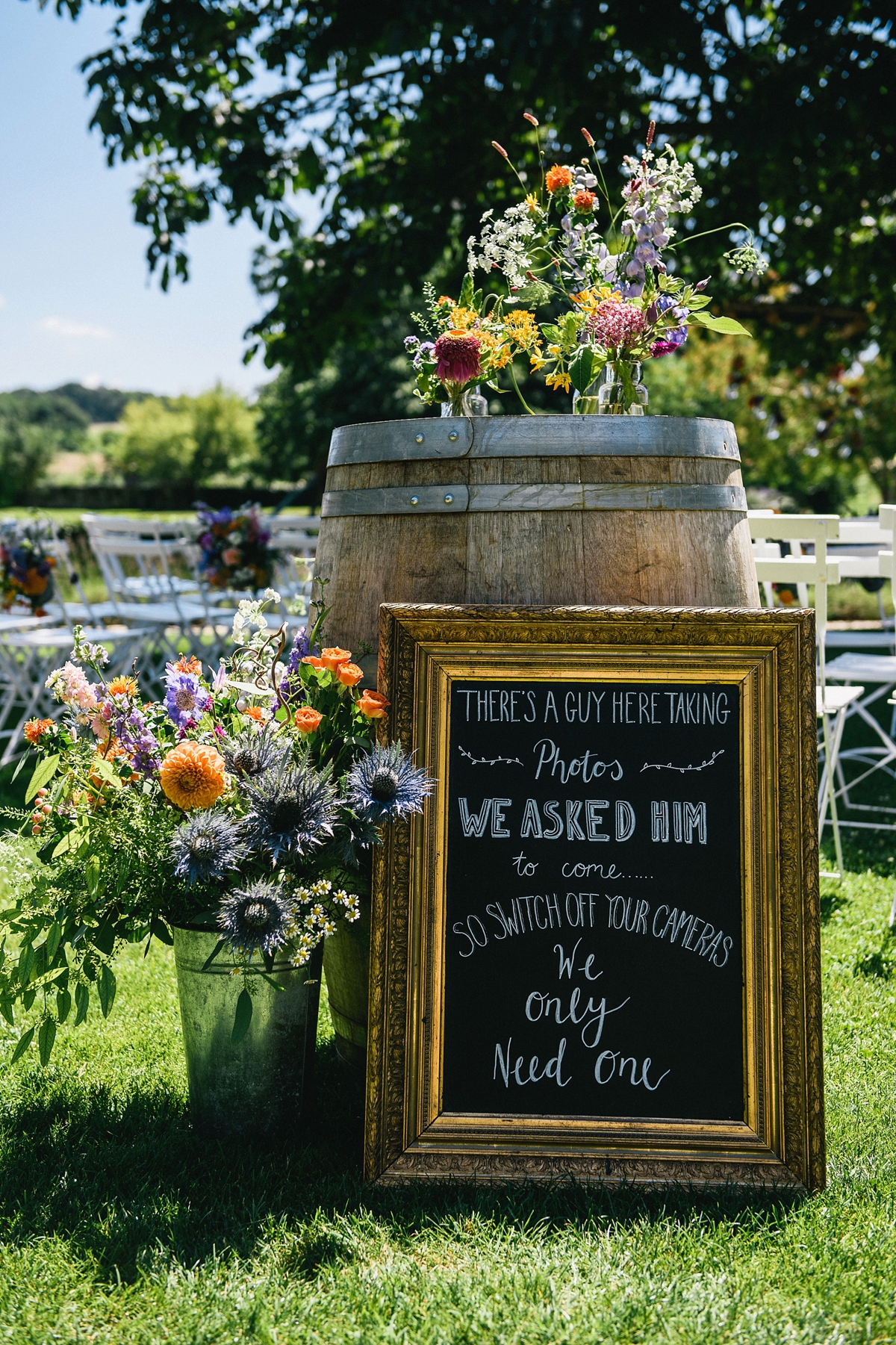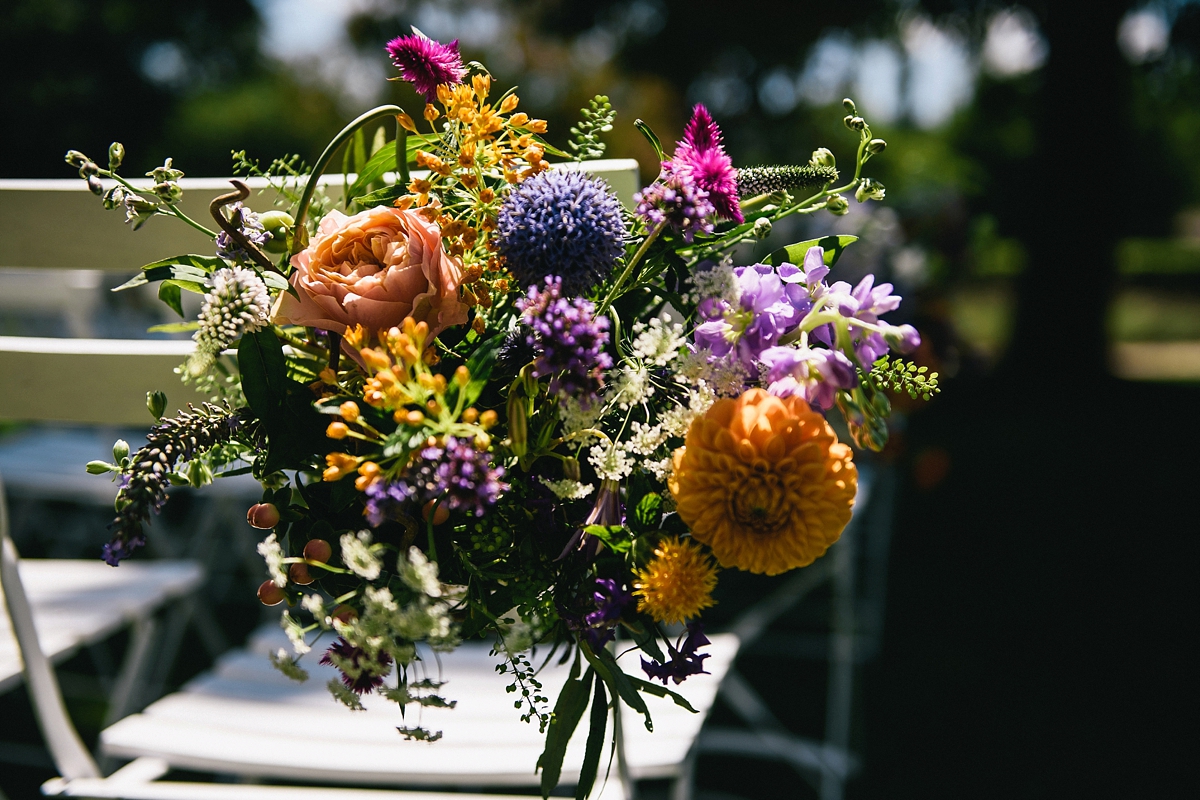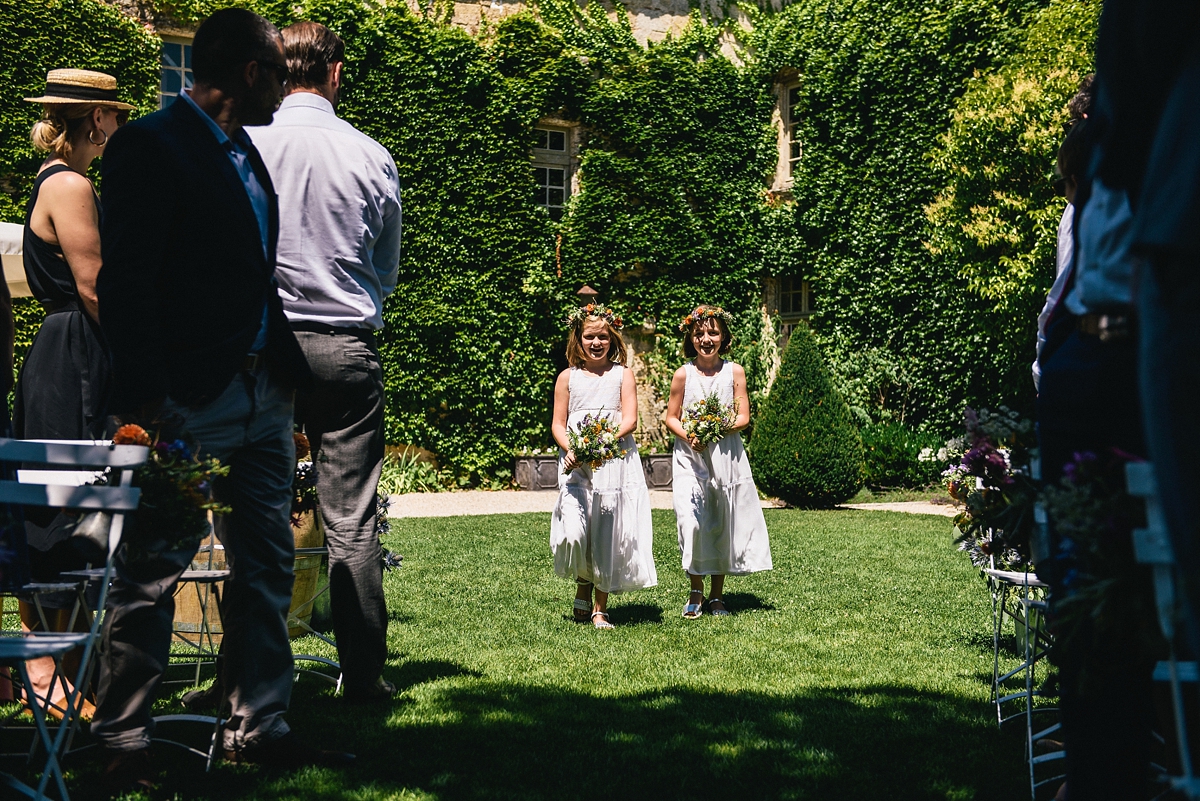 Together with Nigel, her dad, Claire walked down the aisle to a joyful choice of song – Lovely Day by Bill Withers. The couple said vows suggested by their celebrant, Moira Stephen, in the courtyard of the château, under the shade of a lovely oak tree, and exchanged rings from Hatton Garden based jewellers, Hyde Park Design.
"Craig got my engagement ring designed and made at Hyde Park Design, a family run studio based in Hatton Garden, London, so we got the wedding bands made there too. Claire's is made with gold from her late Grandmother's wedding ring."
Chateau Rigaud was the perfect venue for Claire and Craig's relaxed house party, where their guests enjoyed  four days of revelry, and great food and drink. The couple first became aware of the château through a newspaper article they had read some years before, where it was described as being 'the ultimate house party.'
"It's a stunning château with a relaxed atmosphere, but hugely professional in everything they do. So when we got engaged and started thinking about venues we luckily managed to track the venue down on the internet and discovered they were fully set up for weddings as well as other private hire use."
Friend Helen read the couple's readings; the first being The Art of Marriage by Wilferd A. Peterson, and the second, a sweet poem by Sandol Stoddard Warburg, called I Like You And I Know Why.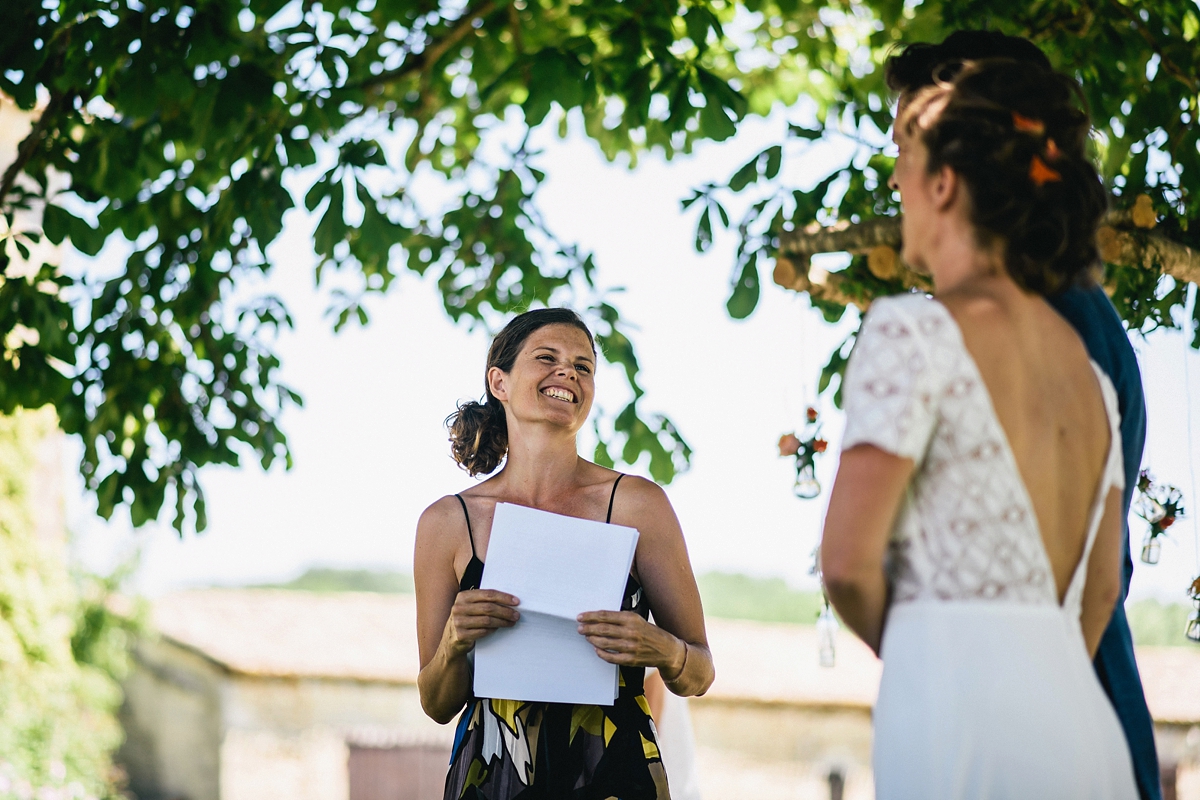 "At Chateau Rigaud, the food is sublime! People still talk to us about how good the food was now, I don't think that tends to be something that's usually remembered from a wedding! We didn't want the wedding celebrations to just last one day, and that's also why Chateau Rigaud worked so well for us."
"We had four nights there with our guests, a brilliant pool party the day after the wedding, and the team there also helped us with organising dinner at a local restaurant and canoeing down the Dordogne the day before the wedding."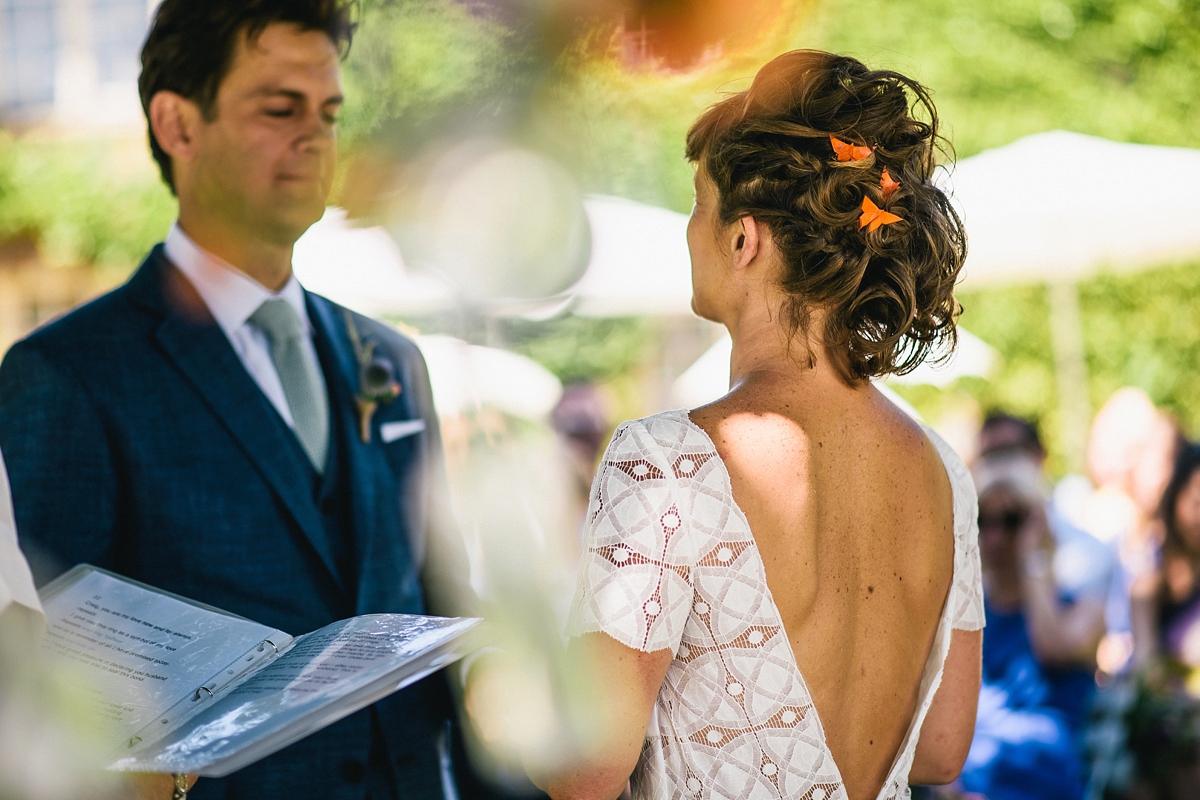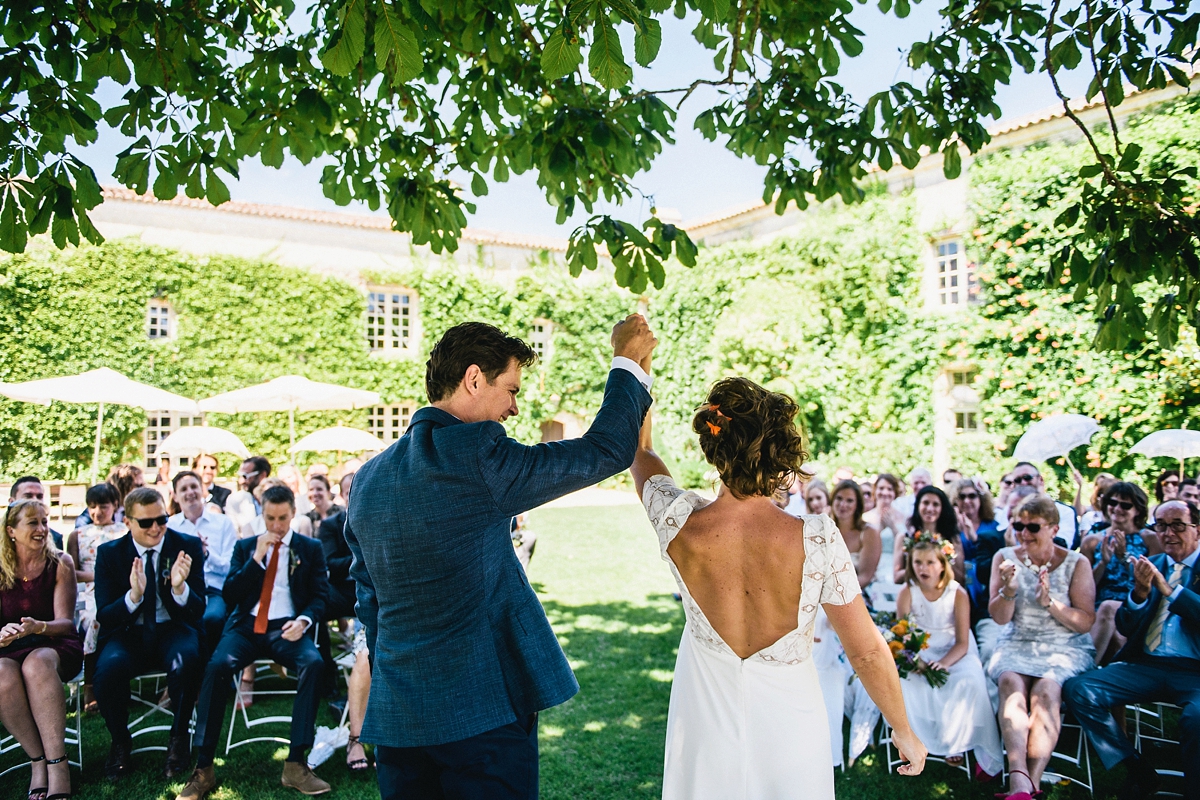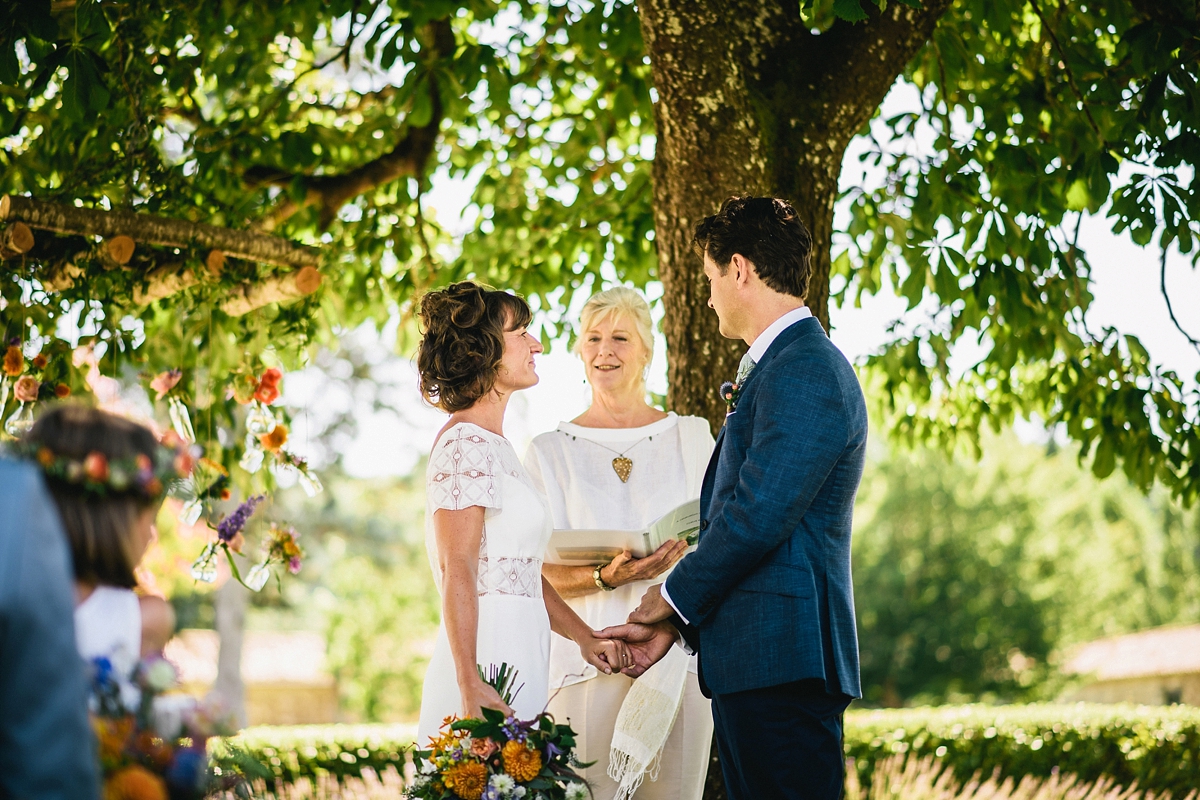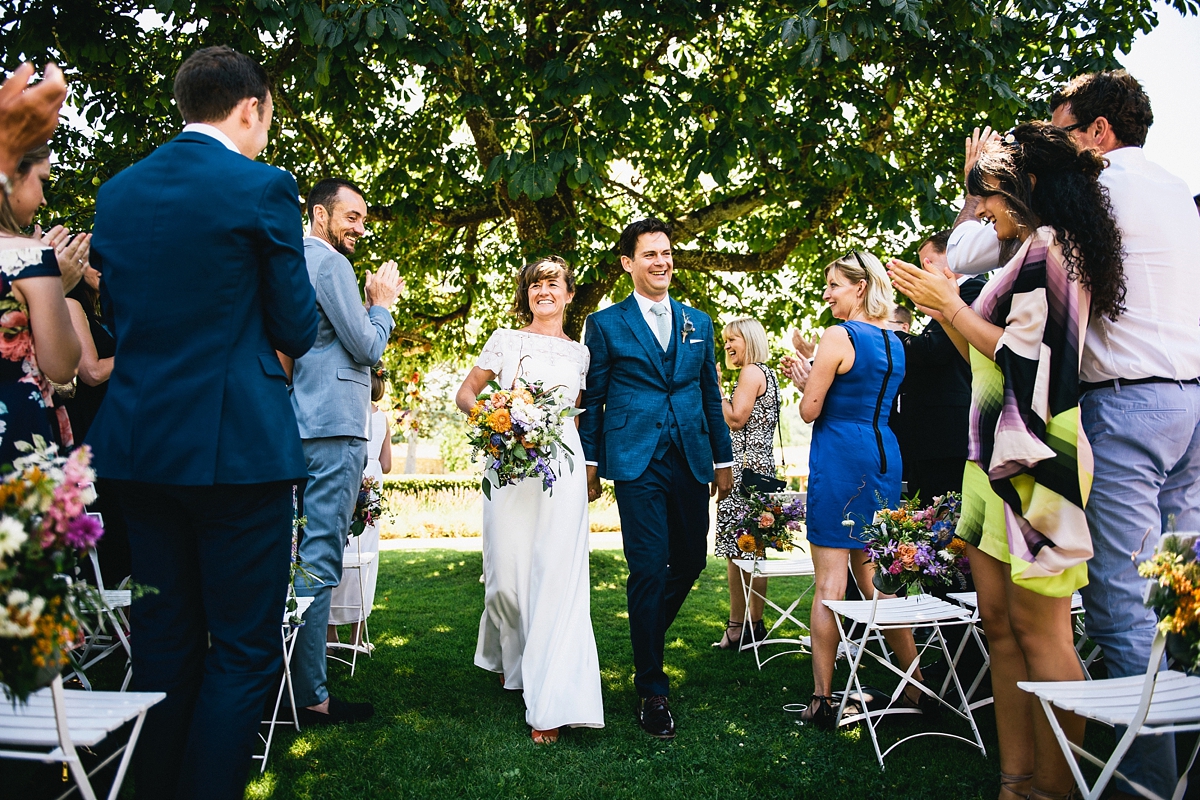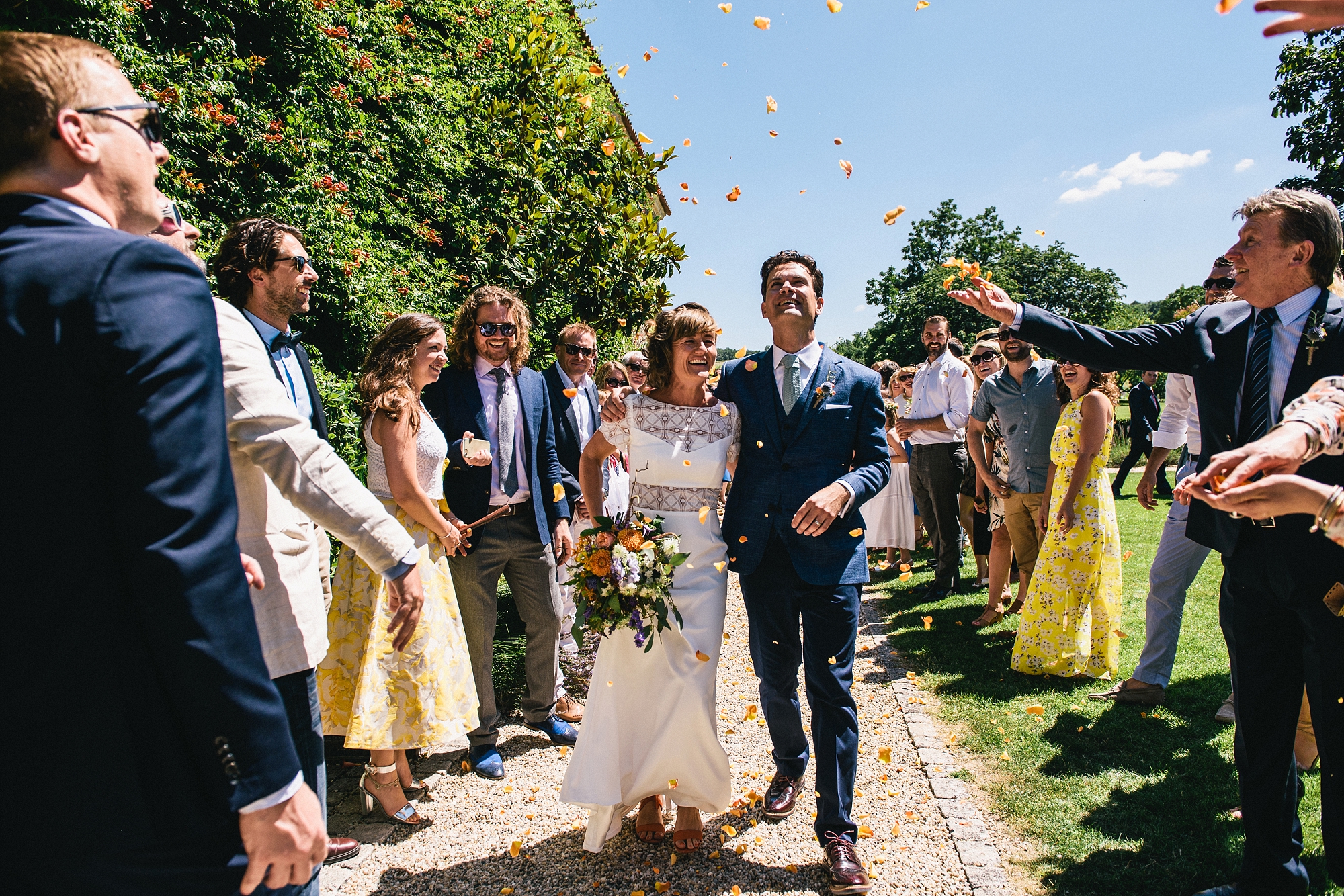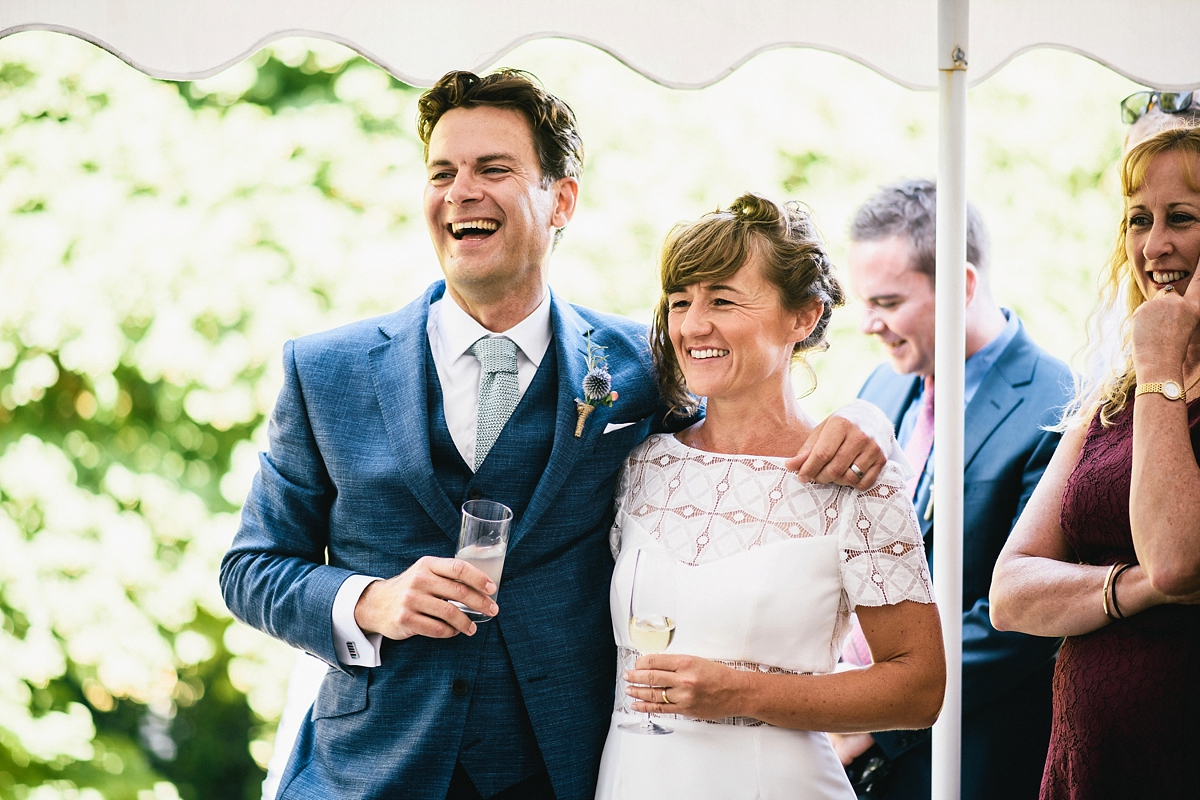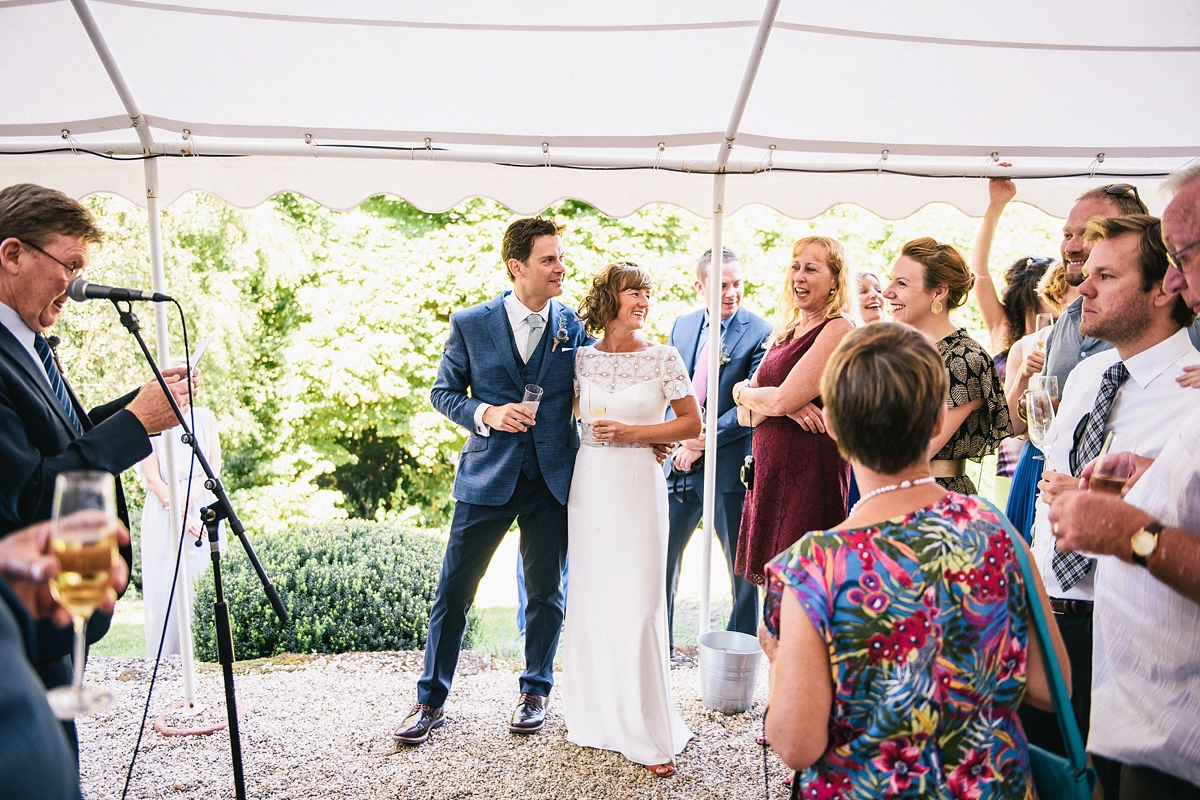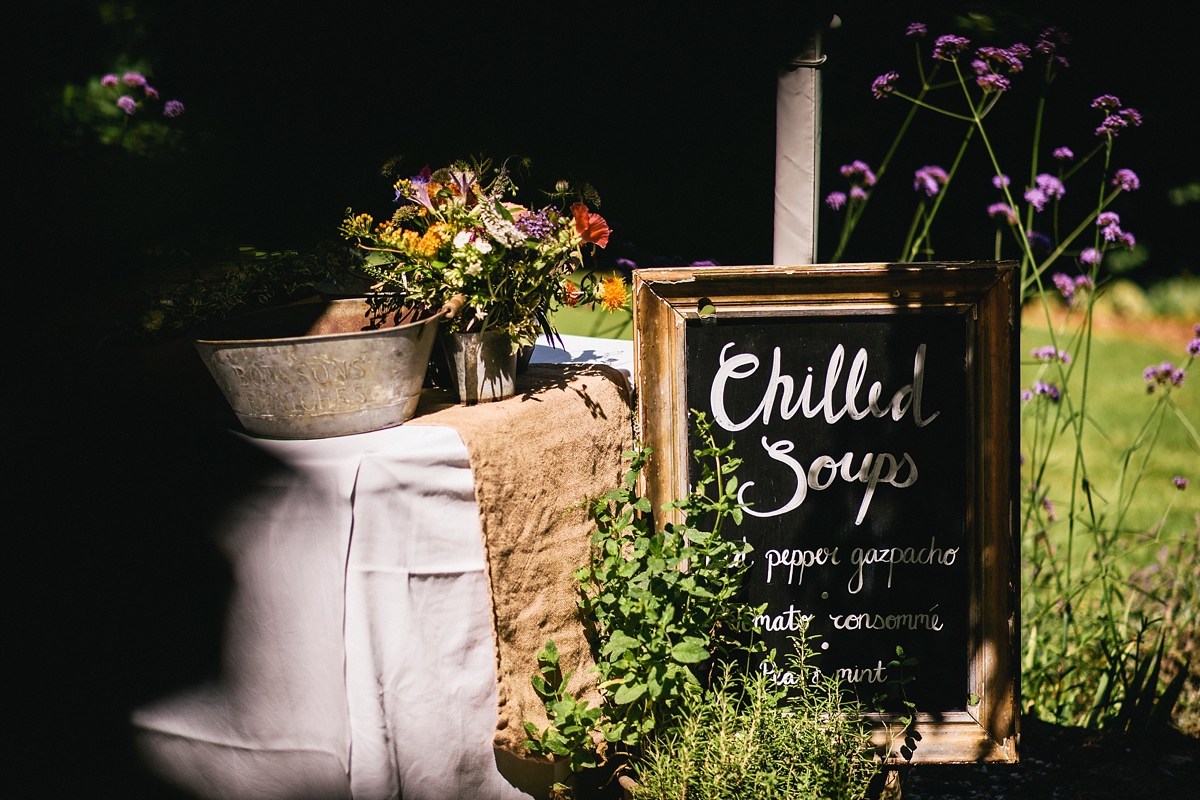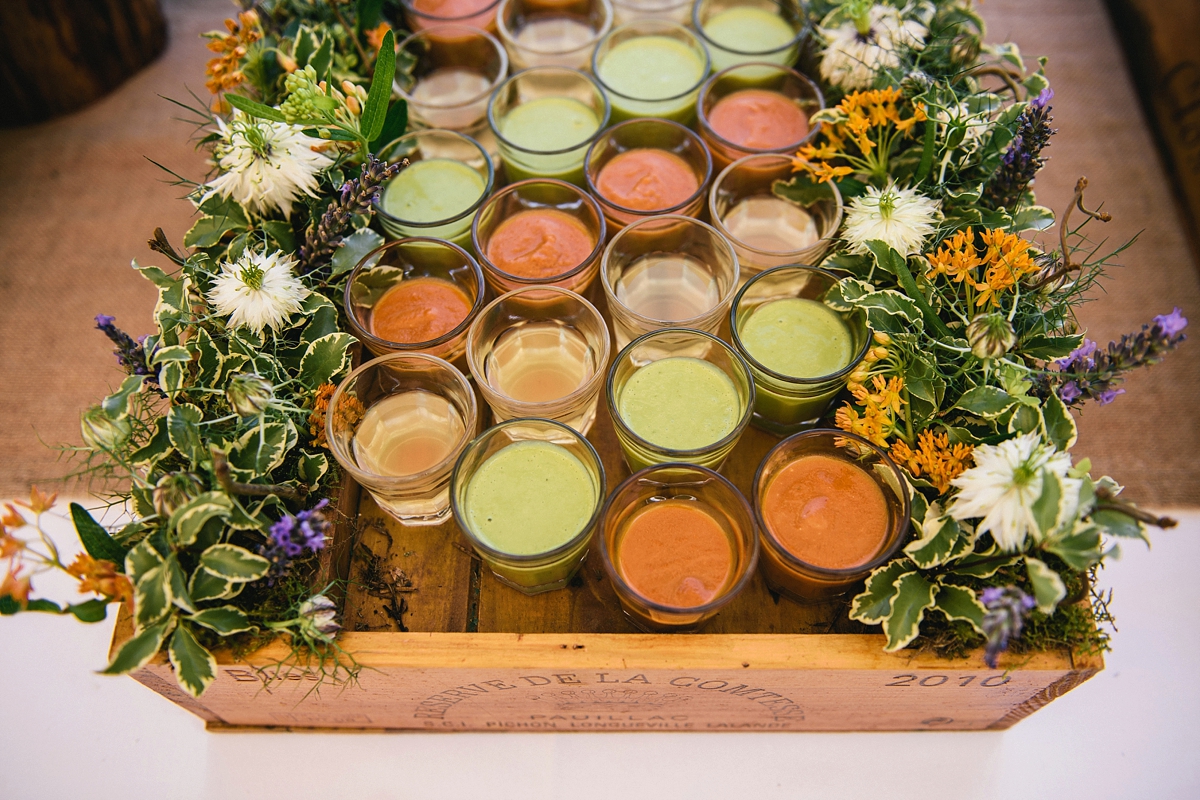 Long tables were simply decorated with white cloths and hessian runners, with small vases and bottles of colourful flowers running down the centre. Menu boards and signs were made by the team at Chateau Rigaud, with place names by Love Me Do Designs.
"We were really lucky that Chateau Rigaud has a very cool style of its own, which we love. Therefore it did not need lots of styling, or dressing up to make it look amazing."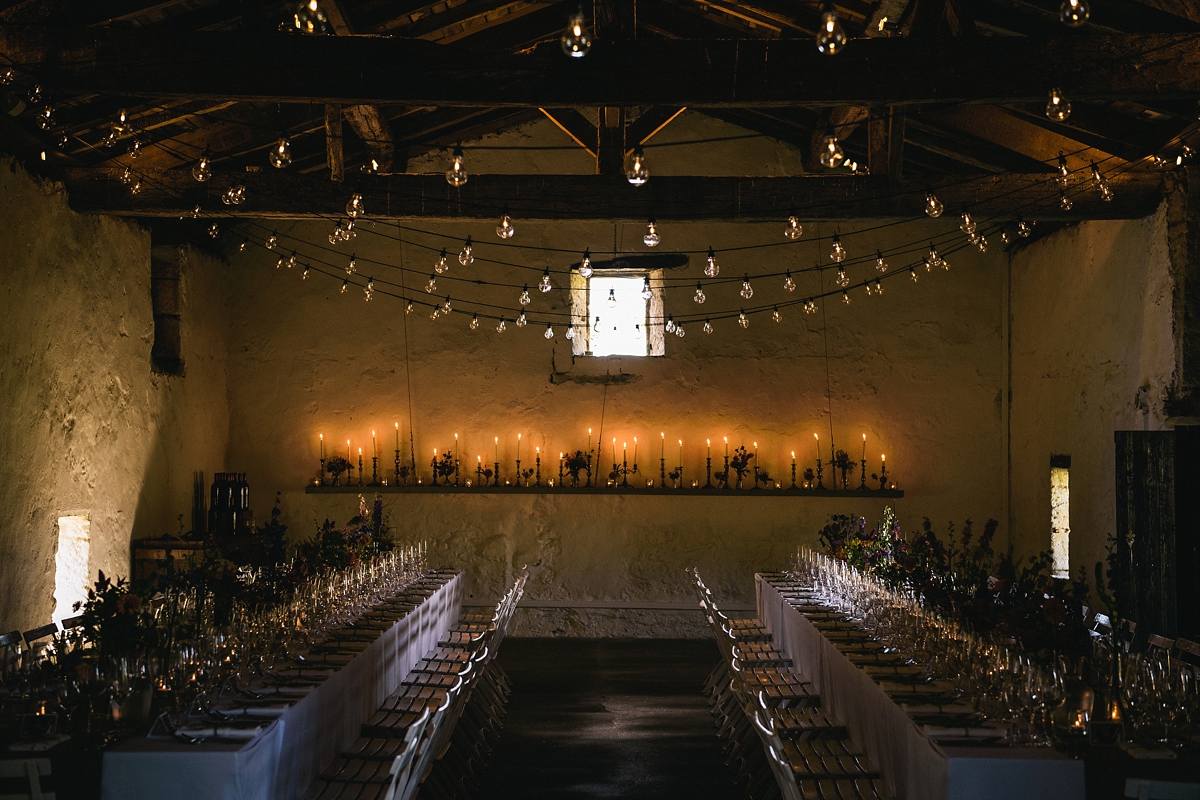 The space was dressed with twinkling festoon lights, candles and twenty or so mirror balls hung from the ceiling – perfect for the dancing to come later!
"On the wedding barn door we hung over 60 photos with string and pegs featuring us over the years with our wedding guests… Jazz, oysters, local sausages and a lot of champagne kept everyone going through to the evening."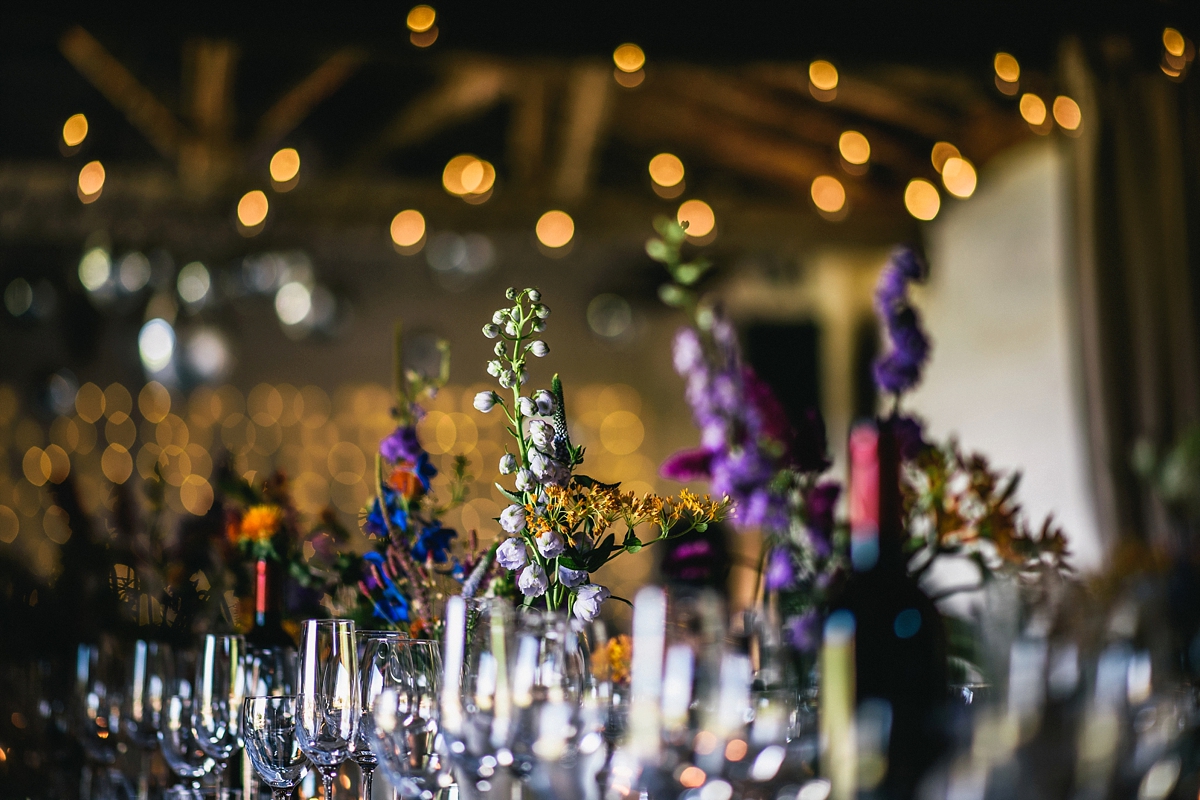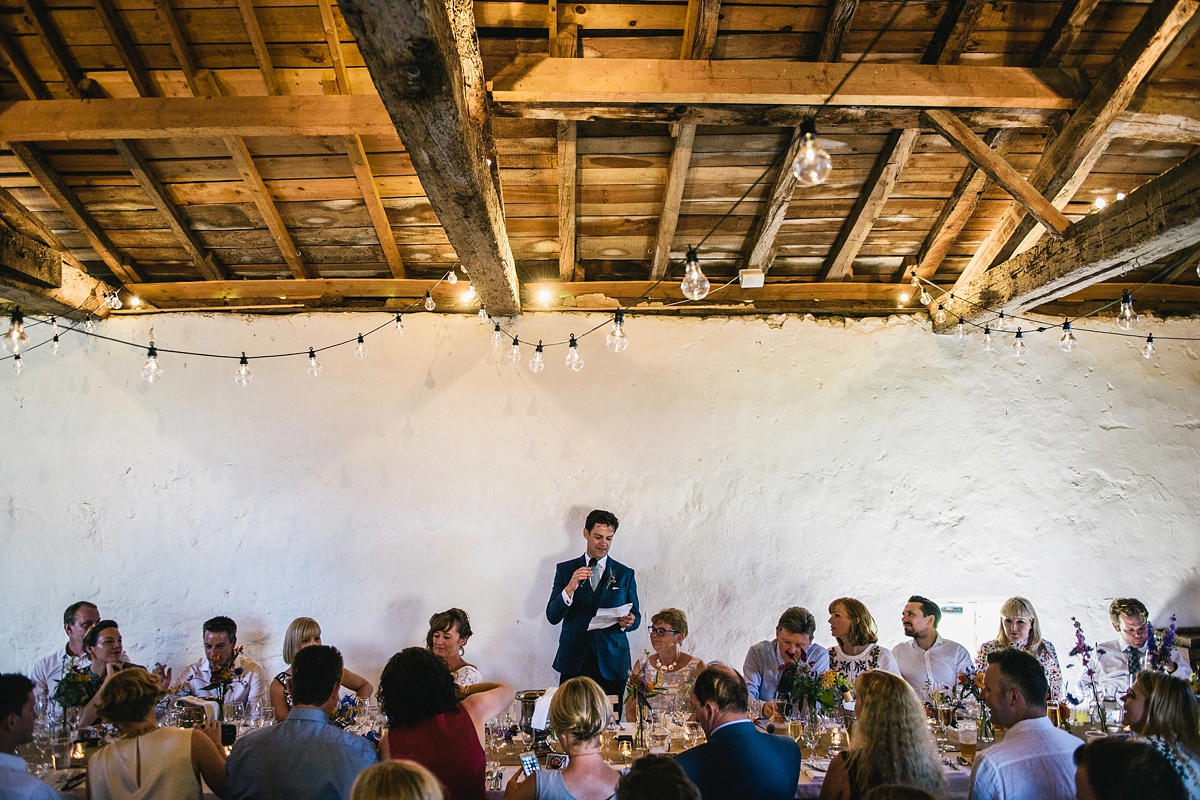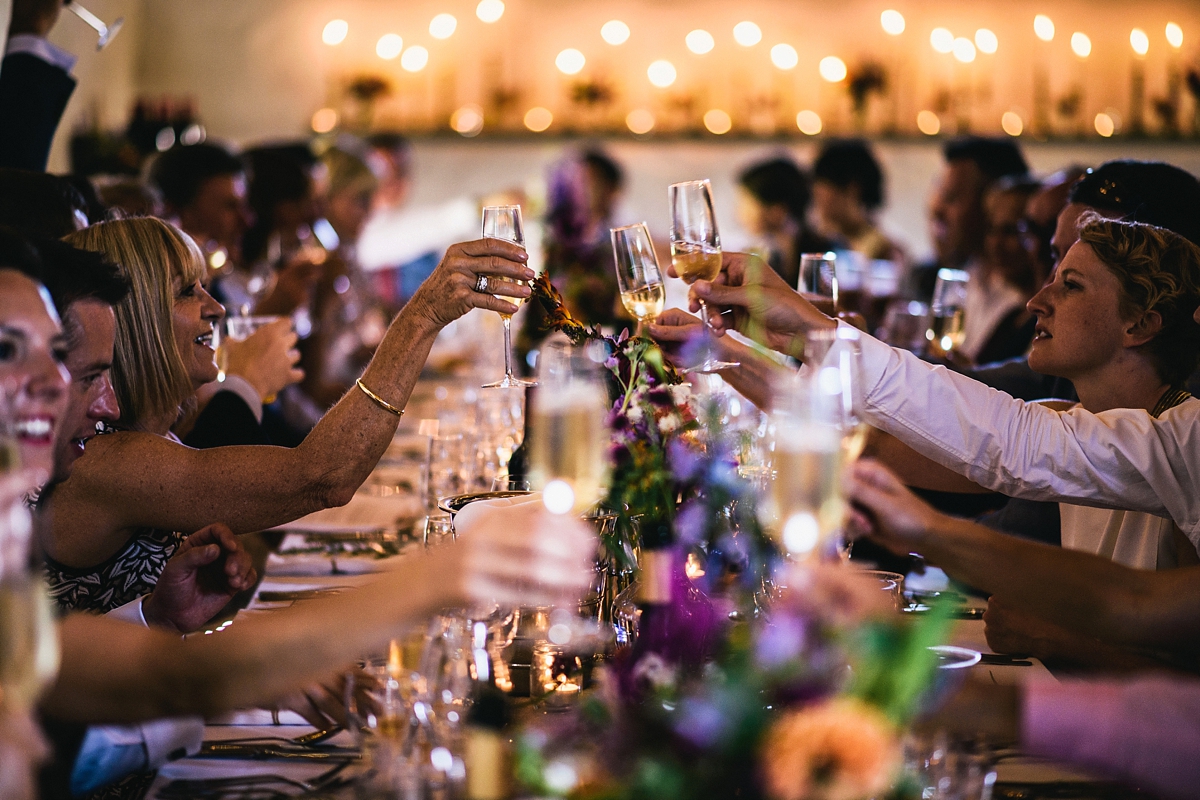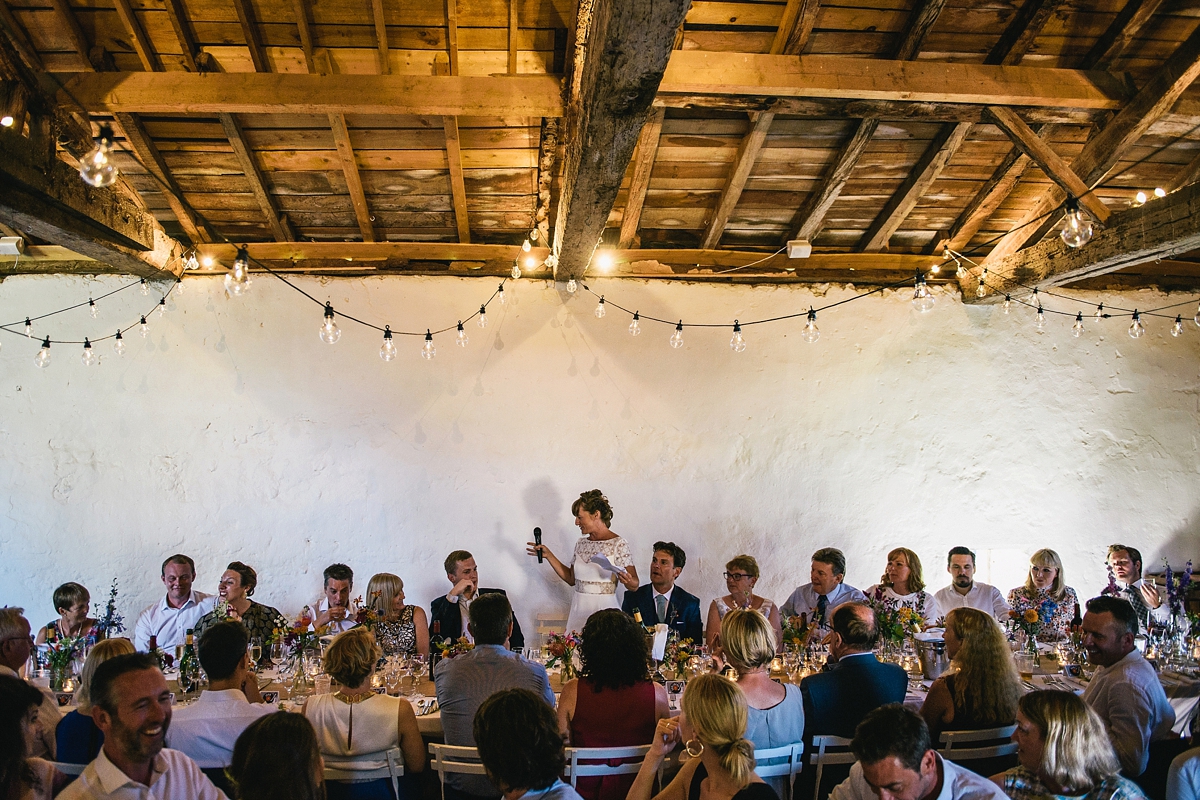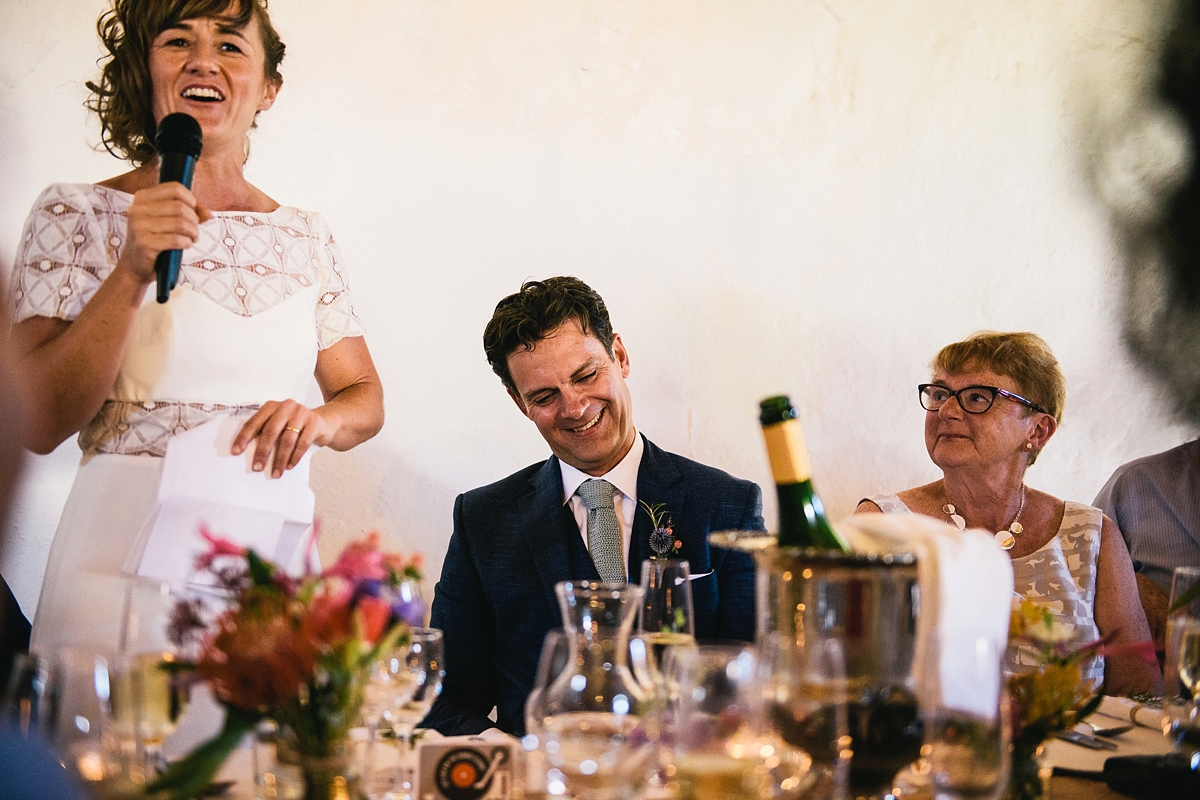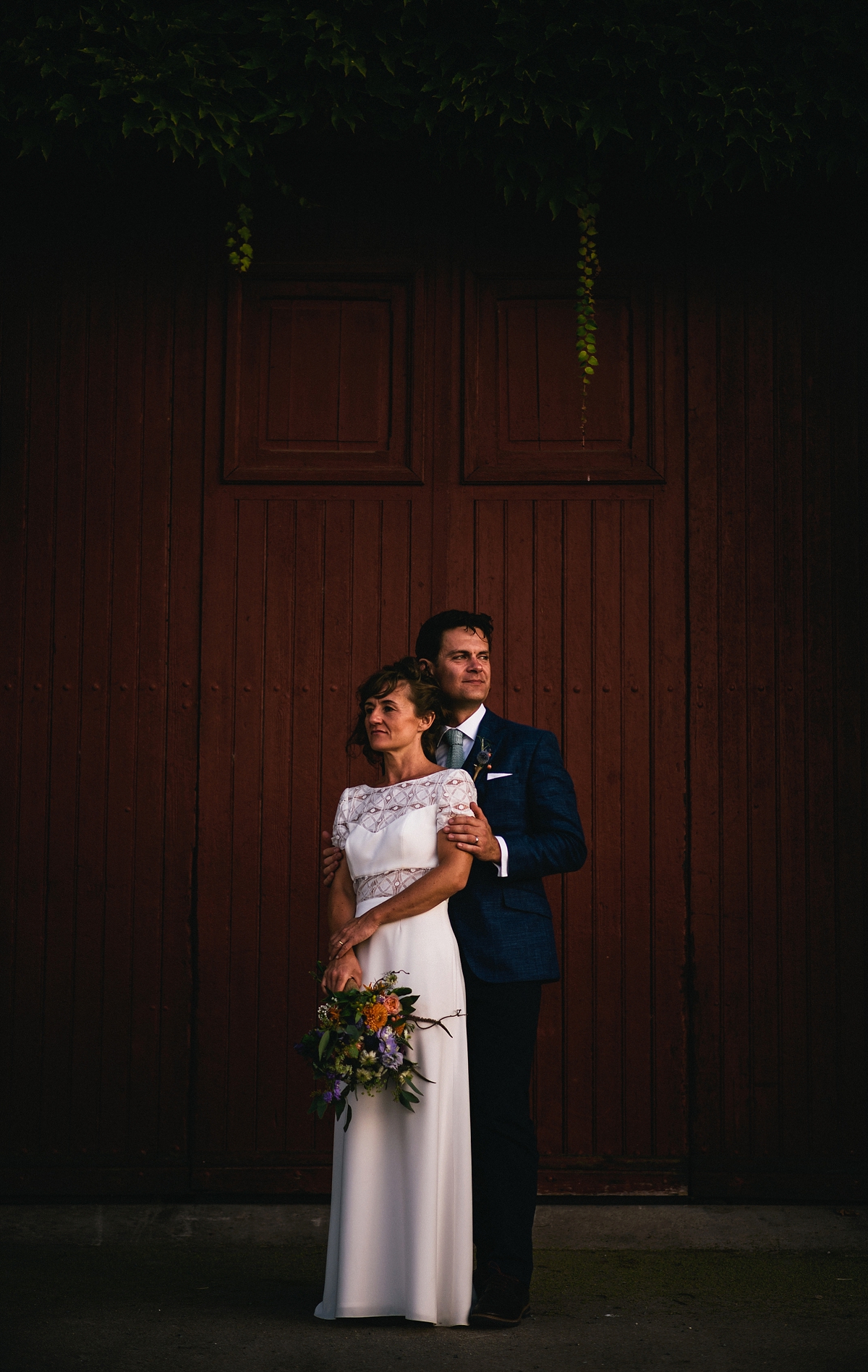 "The whole weekend was so much fun. So much so, we'd love to do it all again in 5-10 years!"
Following an afternoon of jazz from Flora Estel, soul and funk band Ze Fraggles had everybody dancing under those disco balls in the evening.
"We love music, so guest table name cards had a record theme, and we had about 20 disco balls hung over the dance floor, along with two brilliant bands – one in the afternoon playing jazz/ swing and one in the evening playing funk and soul, after which some of our friends DJ'd. Craig bought his own PA system over in our truck… so we knew the sound would be good, and we used this at the pool party the next day too."
Words of Wedded Wisdom
"Don't make it complicated! Nobody will remember tiny details, but they will remember a brilliant time with great people."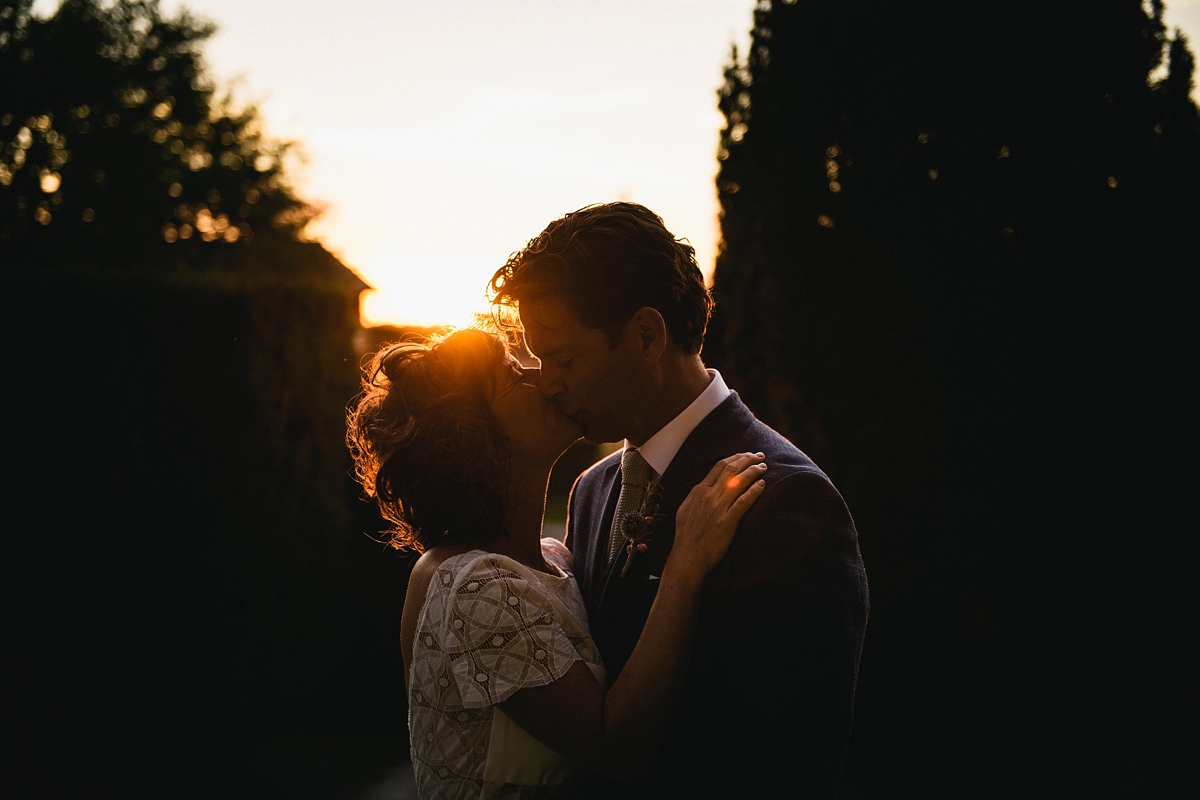 Congratulations, Claire and Craig – what a gloriously vibrant and joyful day you shared – and Chateau Rigaud is absolutely beautiful. Thanks also to Paul Santos for such heartwarming, sun-drenched images. You can view more of his work on the pages of Love My Dress here, and more dreamy French chateau weddings here.
Until next time!
With love,
Laura