Well this summer weather shows no sign of abating, so it's the perfect day to share a sunshiny outdoor woodland wedding with you lovelies. I'm personally so inspired by brides who add their unique take on classic wedding styling, so I hope you enjoy these celebrations in all their glittery rose gold glamour as much as I have done.
Rachel, an HR Manager and Jordan, a Fire Protection Manager, married on 3 June 2017 in the glorious surroundings of Wasing Park Woodland, Aldermaston, Berkshire. The couple, who have been together for seven years but known each other since they were thirteen, were keen to create an informal day where their family and friends could relax outdoors, and the beautiful areas of Wasing Woodland fitted the bill perfectly. Rachel and Jordan developed a 'Woodland Glam' theme using a rich palette of strong pinks, rose gold and purples against a green woodland backdrop.
Film by McGill Sister Films
"After researching different themes on Pinterest, our 'Woodland Glam' idea evolved. The strong pinks, rose-gold and purples against the green backdrop was beautiful and really caught our eye. This inspired the rose-gold sequin bridesmaid dresses and the props we sourced to decorate the woodland."
"My good friend from University, Hannah Bibby coordinated the event and helped me plan the day as it was completely DIY! In addition, my dad's best friend from school, John Bozier helped plan the wedding leading up to the day and supported us both as Master of Ceremonies.  We couldn't have done it without them. Ultimately we really wanted to keep the decoration personal so our amazing friends and family helped create everything you see throughout the pictures."
"From the moment we got engaged, we realised we wanted an informal and relaxed wedding, something to represent the both of us. The more we spoke about different venues, the more we realised that finding a venue outside where our friends and family can dance the night away under the stars was what we wanted. 
Photography A Thing Like That Photography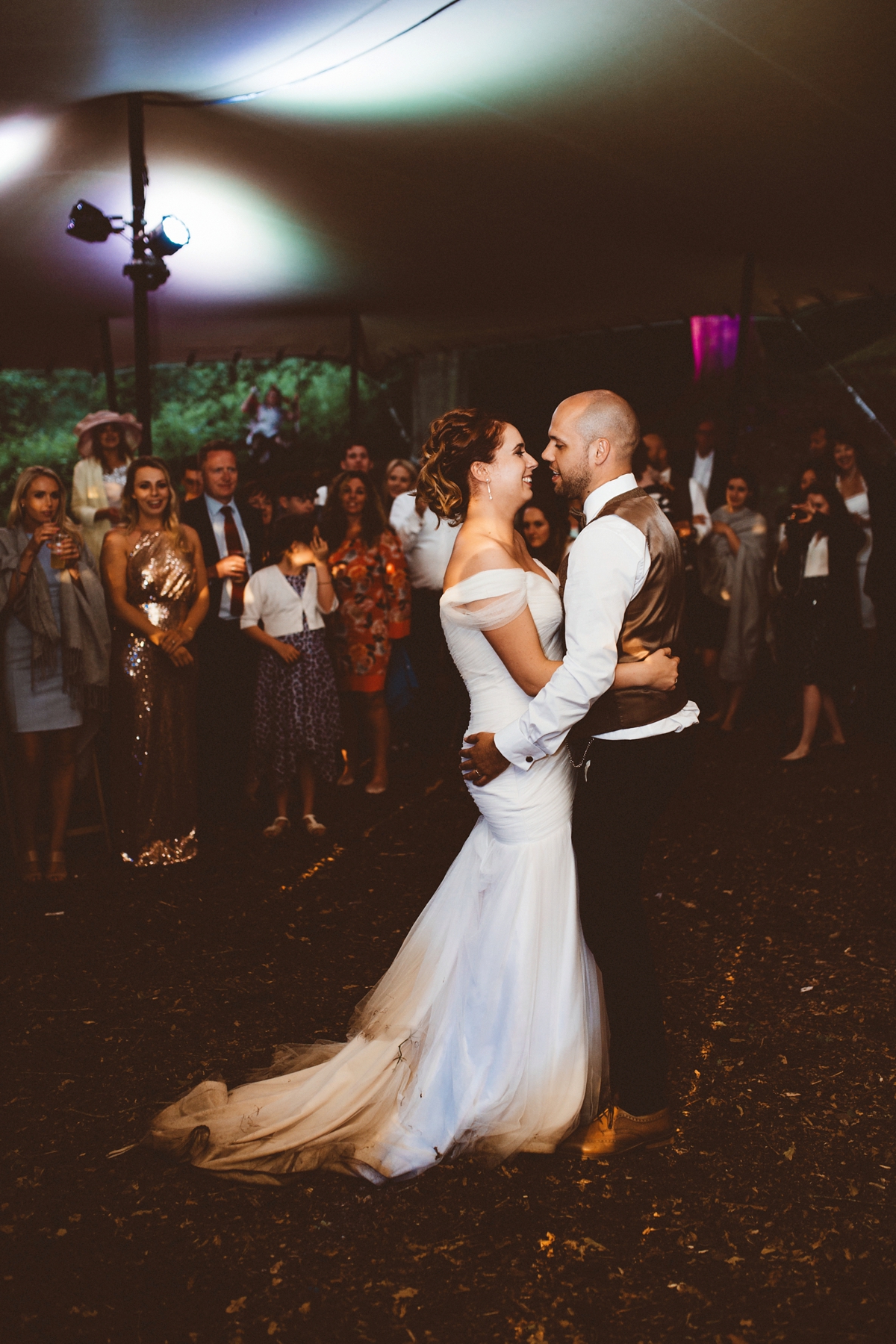 "With that in mind, we visited a number of woodland venues but for various reasons we were not 'wowed'. However that changed when we visited Wasing. We first visited the Secret Walled Garden where the Ceremony took place. It was beautiful, simply stunning. However the best was yet to come as we made our way down a long windy path to the woodland. All of a sudden, the path opened up to a breathtakingly beautiful space. We were amazed by the trees, the stream, the huge fire pit, the bar, the stage. It was everything we wanted, and more."I really do love Rachel's bridal style – her off-the-shoulder gown is so flattering and the pure white looks incredible with the vivid floral bouquet. She found her Essense of Australia dress at Isabella Grace Bridal in Tunbridge Wells, and Miss Kay Seamstress worked her magic to make it fit perfectly.
"I had a really hard time finding a wedding dress, however Isabella Grace were fantastic and really helped me find a dress that suited by body shape. The Essense of Australia gown was the first selected and I instantly fell in love with the fit and elegance of the fabric."
"I never considered having a fitted dress with an off-shoulder cut, however I felt amazing and knew it was the one. After such a long search, it meant so much to find something so wonderfully suited to my body shape. This was further helped by Martine at Miss Kay Seamstress. Martine was so accommodating and knowledgeable and she tailored the dress perfectly. The whole experience was exemplary and I couldn't recommend them more."
"There was no doubt that I'd ask my best friend (and bridesmaid's) sister Hayley from Flame Beauty to do my hair and makeup. She's so amazing and has seen Faye and I grow up together since we were eleven. Hayley was fantastic – we had a couple of trials beforehand and Hayley was so patient working with me whilst we changed my hairstyle a few times."
"On the day I was made to feel like a princess. Hayley made me feel so special in the morning and it all became real once I opened my eyes to see my makeup for the first time. Hayley also did my bridesmaids make-up and again, helped them with their unique style. I loved it and I loved having Hayley there with us in the morning to share the special moments."
A spritz of fragrance, and Rachel was ready.
"I've worked for Coty, a beauty business, for 3 years so I wanted to wear a scent in our portfolio that I've worn since joining; Knot by Bottega Veneta. It's beautiful, light and floral and suited the wedding perfectly."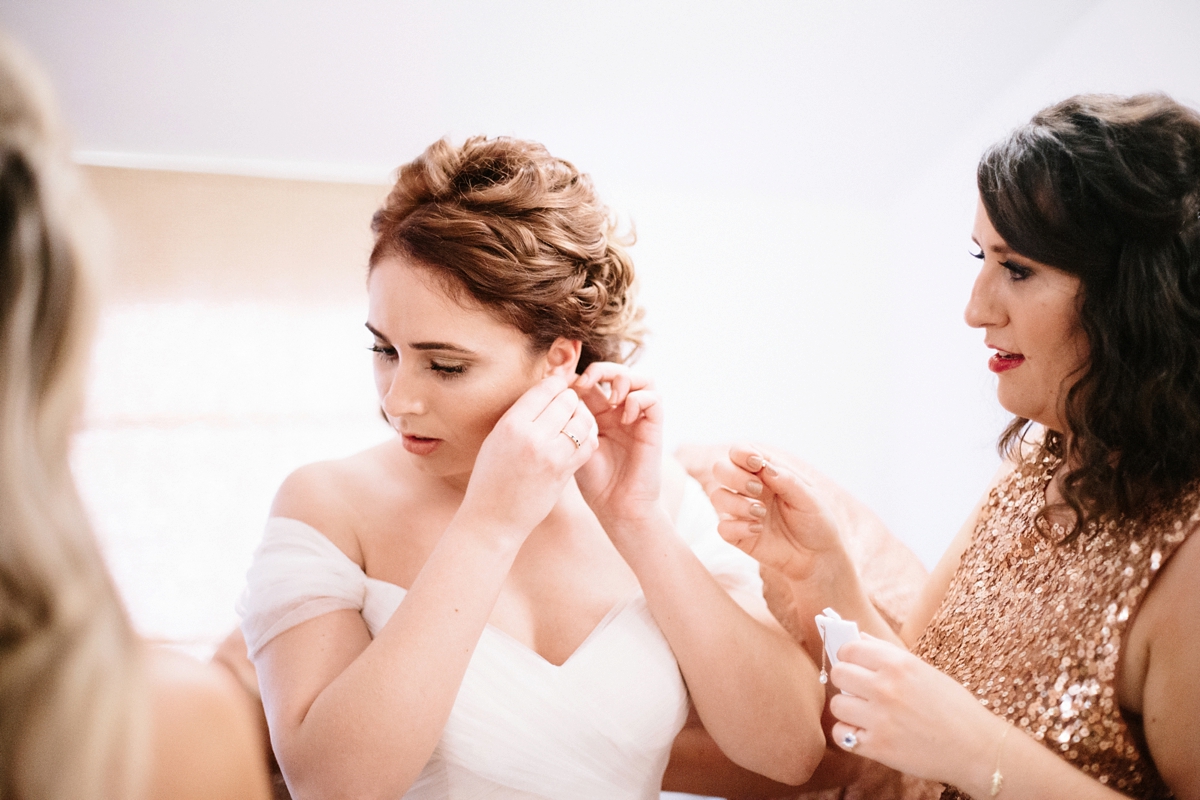 For me, what makes this gown so special is how Rachel has added her own style with her bright and colourful shoes and choice of hair and make-up. I love her statement up-do which looks dramatic and almost rock-chick yet is still so elegant.
"I have a quirky style so I really wanted to find a shoe that represented this. I also wanted a shoe that complimented the rose-gold bridesmaid dresses. After looking in various shops, I found a gorgeous floral heel online and instantly knew they were right. They were also fairly flat so I managed to last all day!"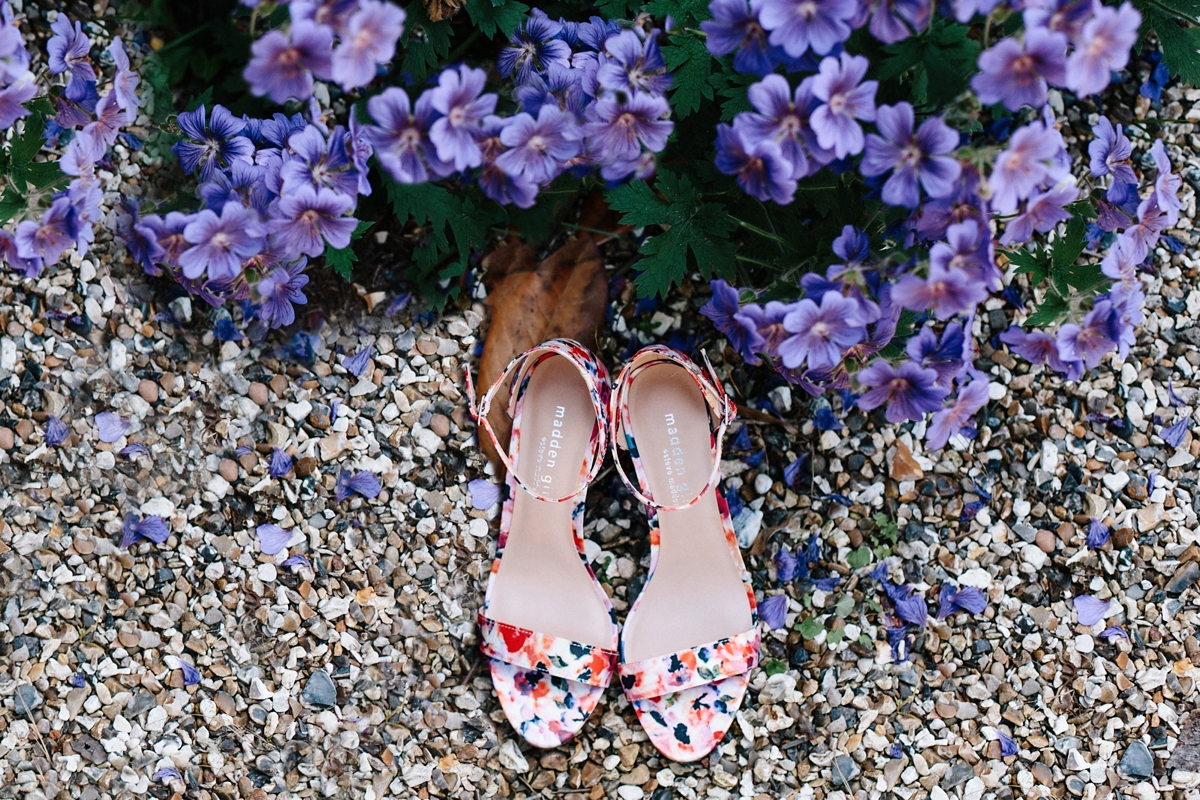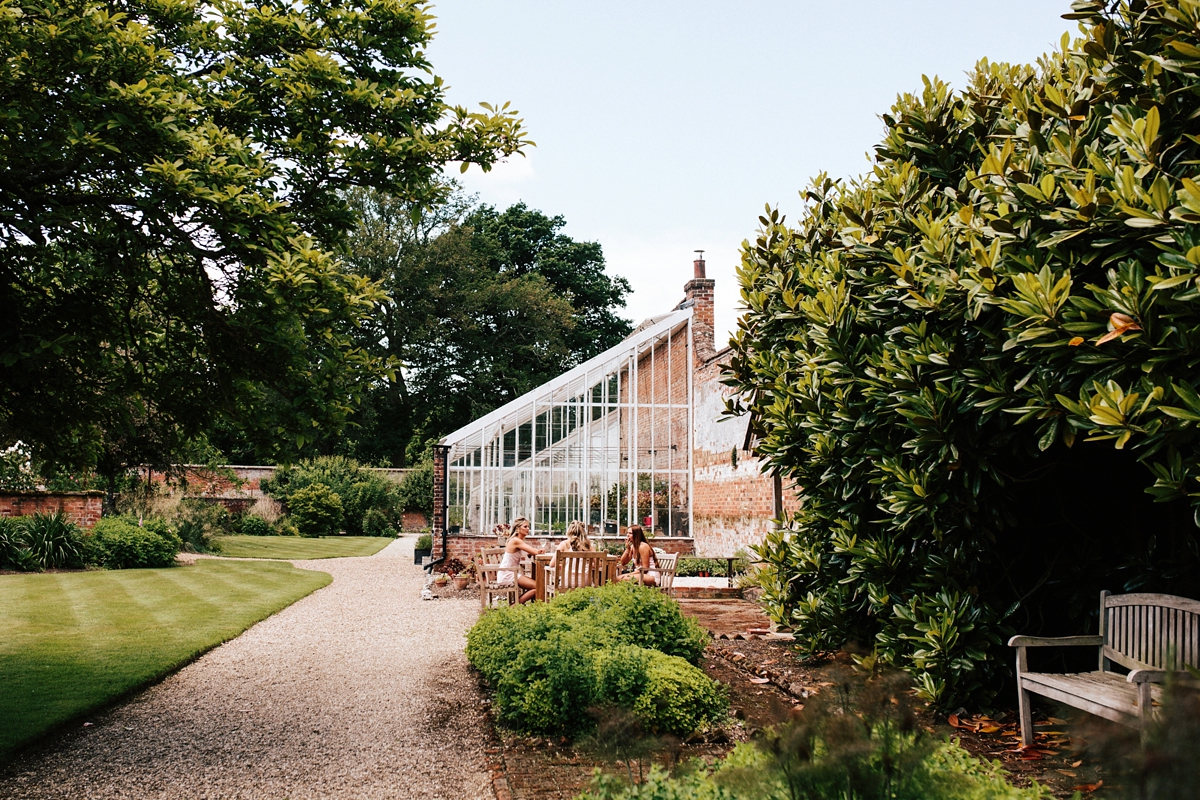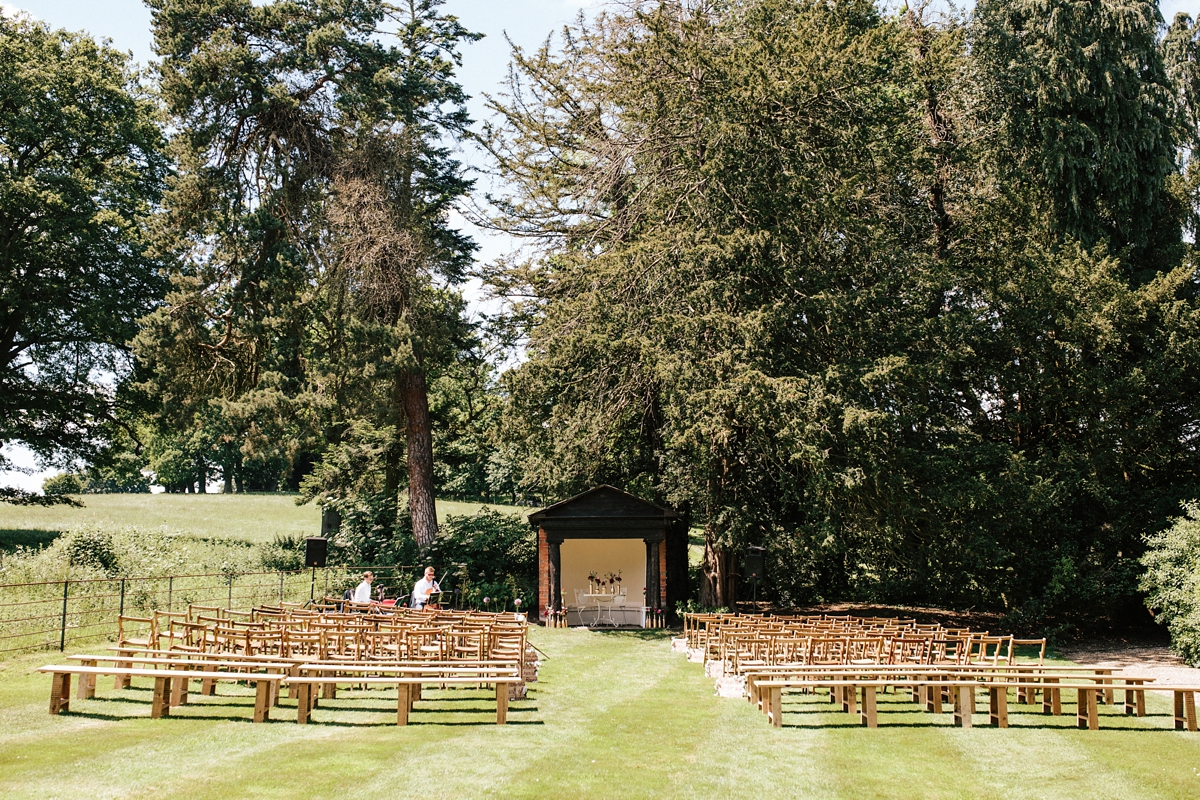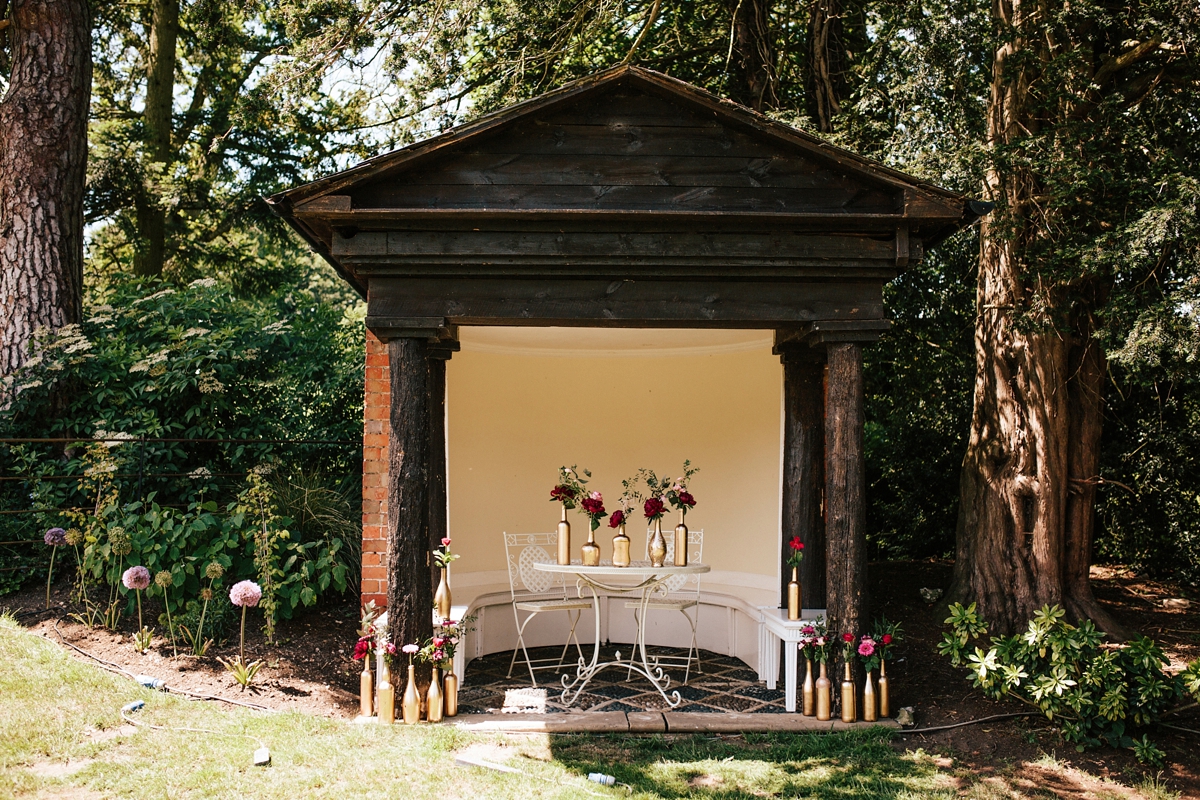 I have to talk about the six bridesmaids' incredible sequinned gowns, all in different styles. That rose gold…
"My priority was to ensure our bridesmaids felt beautiful and comfortable in their dresses. They're all unique so I wanted each dress to represent their shapes, style and personality."
"I spent a lot of time with each bridesmaid to find the perfect dress in the style they felt comfortable in, which in hindsight was amazing as it meant the process was fun and most importantly, we spent quality time together being girly and trying on different outfits! I loved it and I loved how stunning and happy they were on the day. This meant everything to me."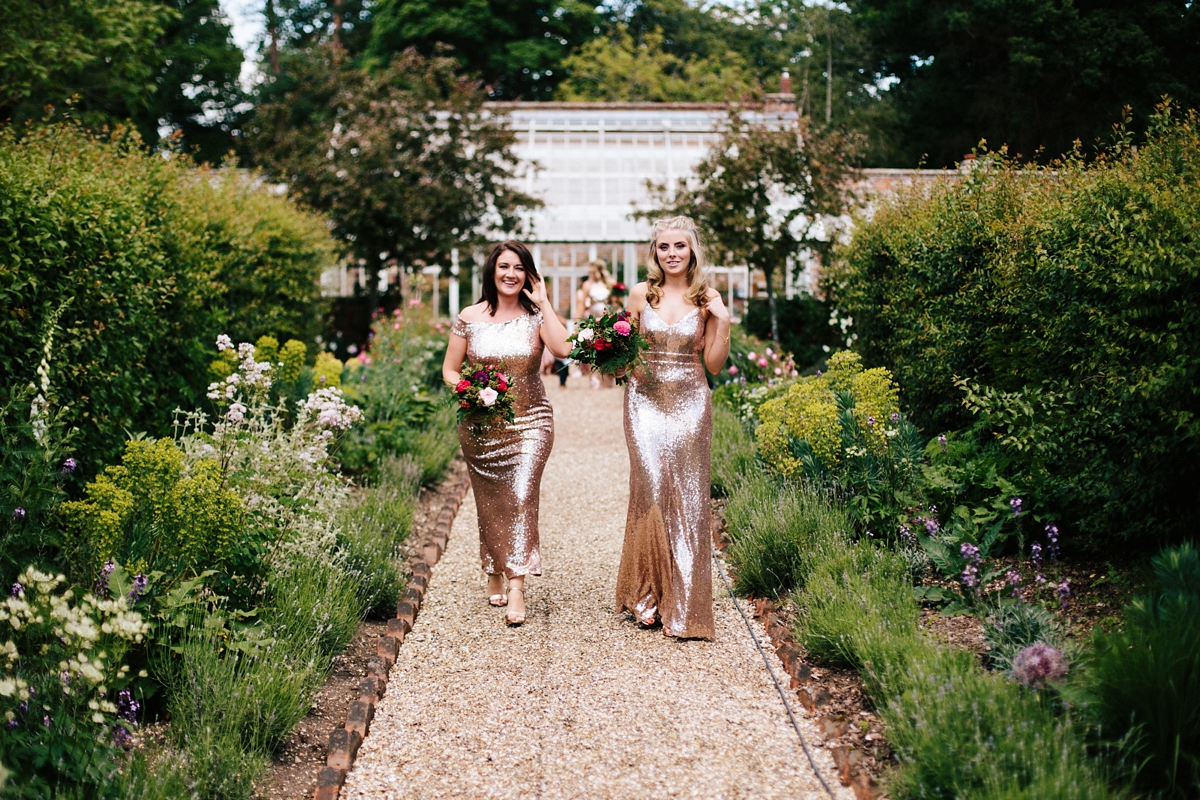 The bridal party was completed by flowergirl Alba, who is Jordan's niece, and the couple's nephews Ryan and Sebastian, who acted as pageboys.
"Alba is adorable so we wanted to find acute dress in the right colour with sequins so she could match her auntie and the other bridesmaids. In the end we sourced the dress from Debenhams and she looked beautiful. For Ryan and Sebastian. We sourced cute waistcoats from an Etsy supplier and they didn't disappoint; the detail on them was gorgeous. We also wanted to make sure they looked similar to the groomsmen so we bought them cute brogues from River Island to finish off the outfits."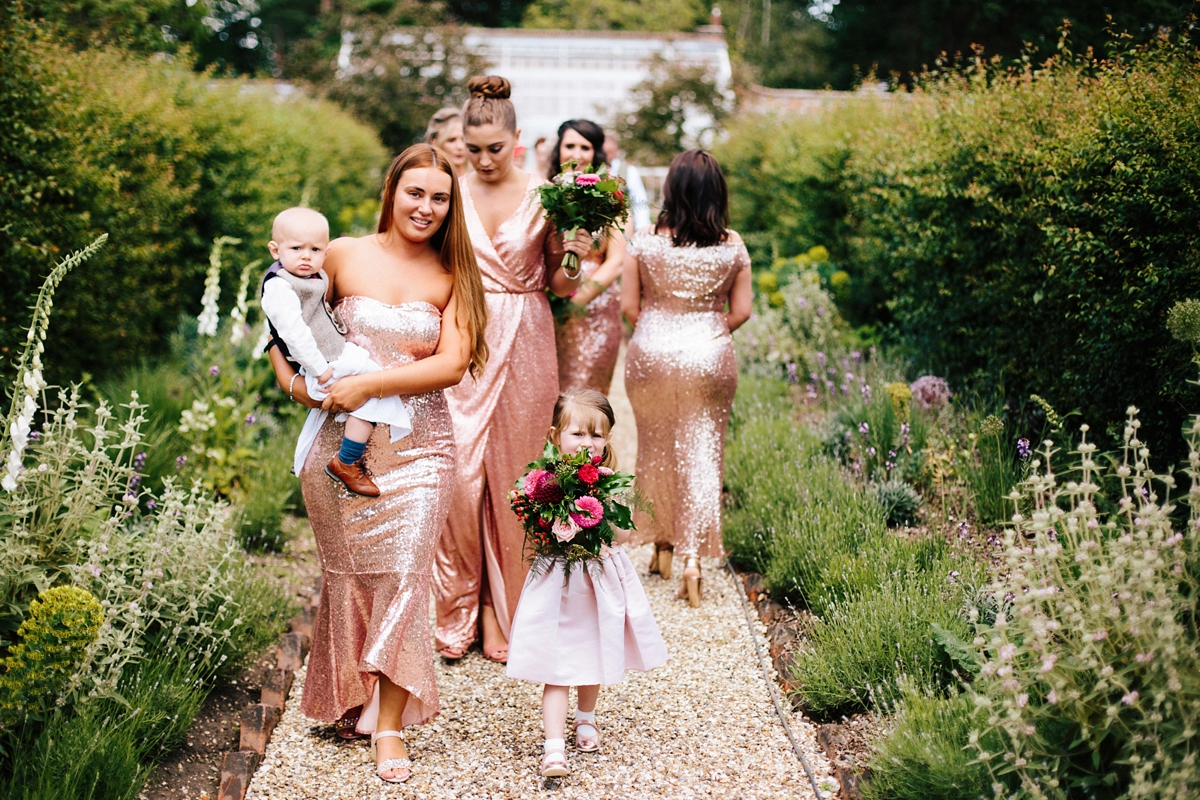 Jordan and Rachel first met when they were thirteen, getting together years later. It's lovely to know that they share so many friends and memories.  As well as gorgeous woodland, Wasing has a Secret Walled Garden, where Rachel and Jordan's ceremony was held. It looks like such a serene space, and the couple dressed it with bright pink blooms and glamorous gold vases. The bride walked down the shady outdoor aisle on her father Michael's arm, as family friend Rosie Sommerville sang 'Songbird' by Eva Cassidy.
"Jordan and I met when we were both teenagers through mutual best friends. Since then, we've always been in contact and seen each other at different events. We made it official on the 3 June 2010, got engaged 3 June 2015 in Paris and were married 3 June 2017, surrounded by the same friends we shared back when we were thirteen."
"My pops accompanied me down the aisle. This was the most special moment. I could see him bursting with pride which meant the world to me. My parents' friends have a daughter called Rosie Sommerville and ever since I heard her sing, I wanted her to perform at our wedding. Once we got engaged we contacted Rosie immediately and met with her in Guildford for a coffee. I felt quite nervous as I was really hoping she'd say yes, especially as she sings Eva Cassidy's 'Songbird' so beautifully. After our hellos, she agreed to sing for us so my dad and I walked down the aisle to 'Songbird', a dream come true. Rosie's voice is something so special and this moment will stay with me forever."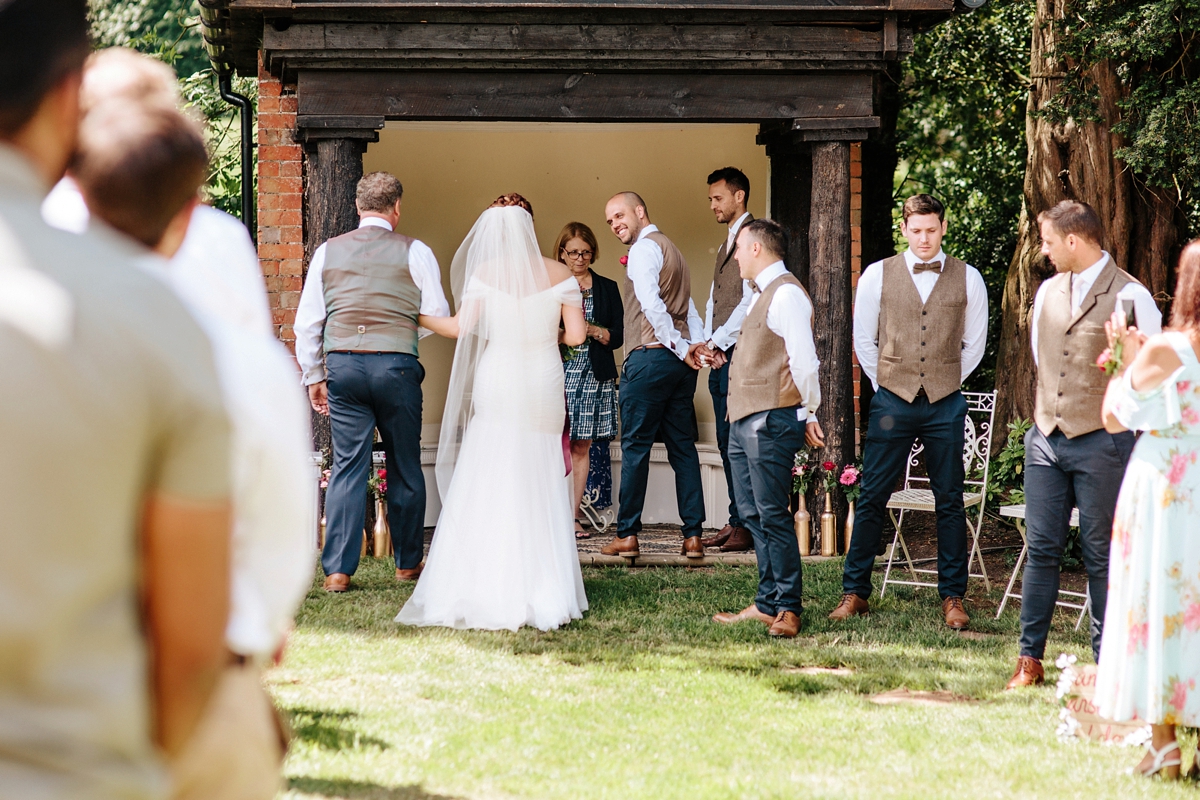 The groom and his groomsmen rocked a relaxed and easy-to-wear style, pairing blue trousers with white shirts, tweed waistcoats and bowtie and ties, all found at Dobell.
"Jordan was keen to wear something informal and suited to his everyday style. He was really keen on wearing a dickie bow and being similarly dressed to his best men and groomsmen. Dobell's were extremely helpful and so accommodating, especially as we had thirteen separate orders."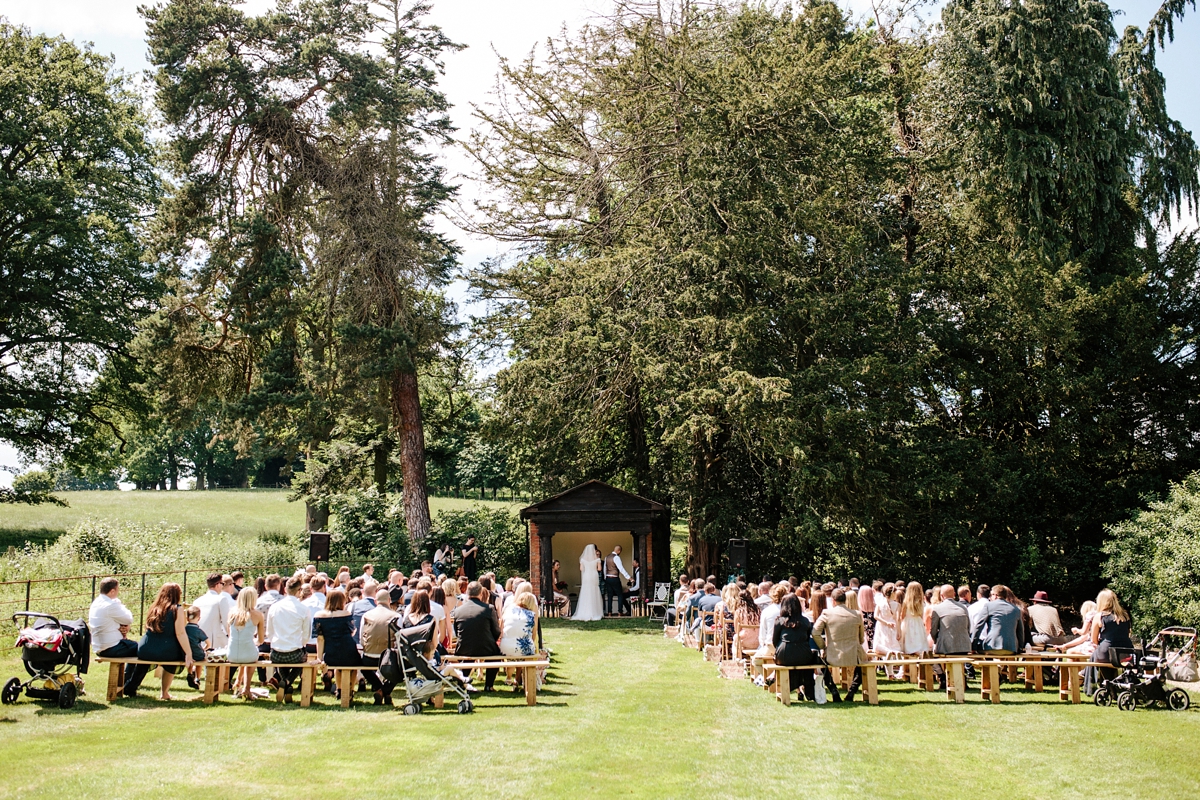 "We're so very lucky to have an amazing florist in our family. Heidi Lawley is extremely talented and did the most amazing job on my flowers. Heidi was laid-back which was great as it meant we worked so well together. I was really keen for her creative juices to flow so we only spoke about what colours I wanted and the rest, Heidi created. I cried when I first saw my bouquet the morning of the wedding. They were everything I wanted and more."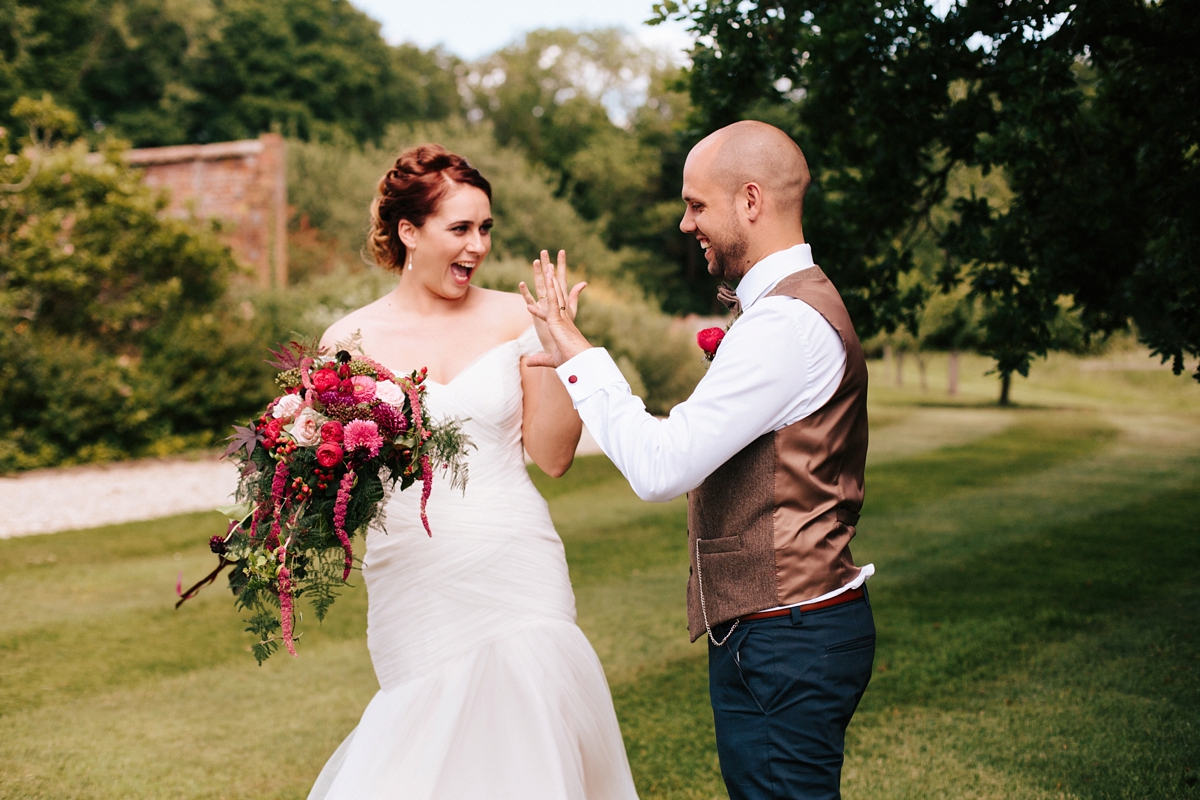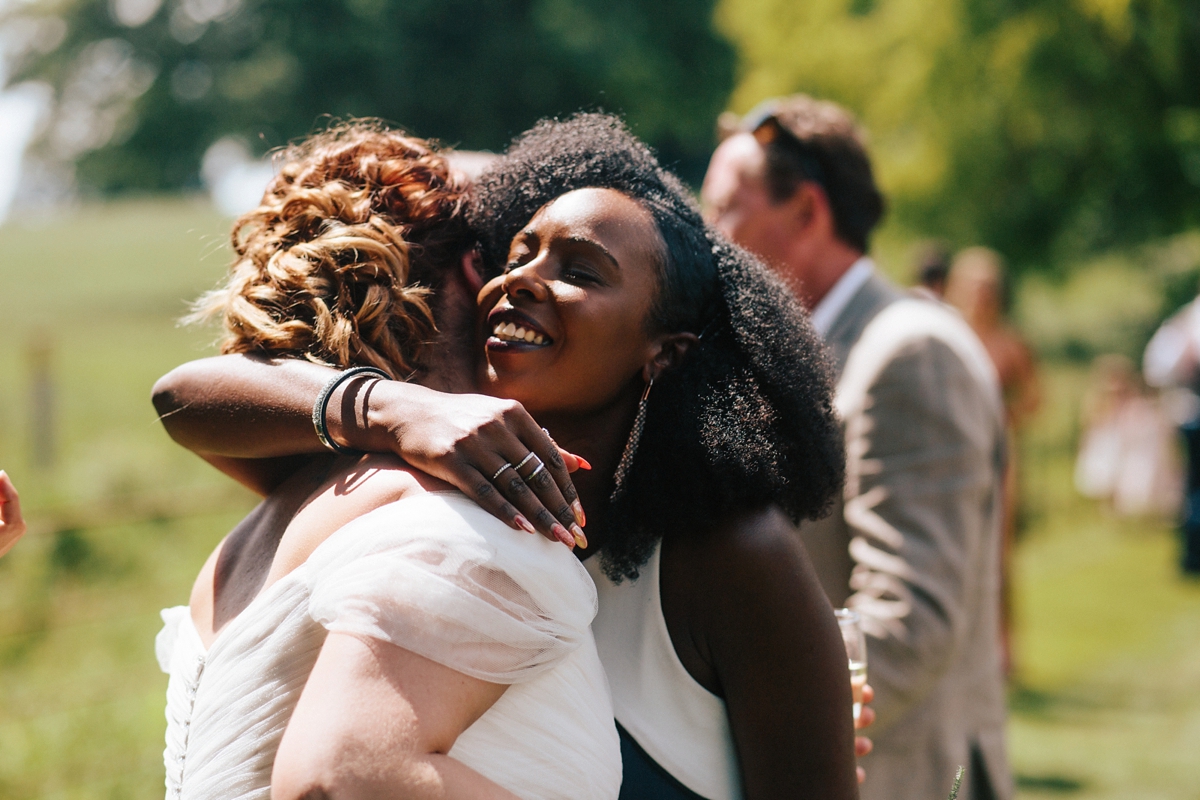 Rachel discovered Rebecca of A Thing Like That Photography at the Wedding Fair at the Excel, and loved her natural, informal approach and totally beautiful images. We are so proud to list Rebecca, who has a background in fashion photography, on our Little Book, so please do visit her listing to find out more.
"I instantly fell in love with her photography. The style was romantic, whimsical and candid – exactly what I'd been looking for. I instantly asked if she was free on our date and she was! This was the best news however my friends took me away to continue looking for photographers as we were only half-way through the event. Despite this I couldn't stop thinking about the photography and emailed Rebecca straight away booking the date! Jordan and I met with Rebecca before the wedding to discuss what we wanted – she was friendly, personable and so accommodating. The photos are simply stunning, I can't stop looking through them. Rebecca is so talented and I can't thank her enough for capturing our special day."
A Thing Like That also recommended videographers who channelled a similar vibe to her own work – McGill Sister Films, who the couple then booked to create a gorgeous film for the couple.
"Rebecca recommended McGill Sister Films, two sisters called Sinead and Siobhan who Rebecca worked with previously. I looked on their website and similar to A Thing Like That, the style was exactly what we was looking for. I didn't get the chance to meet Sinead and Siobhan until the day but leading up to the event, they were fantastic. The two films produced are gorgeous – the laughter, smiles and tender moments will stay in our memories forever."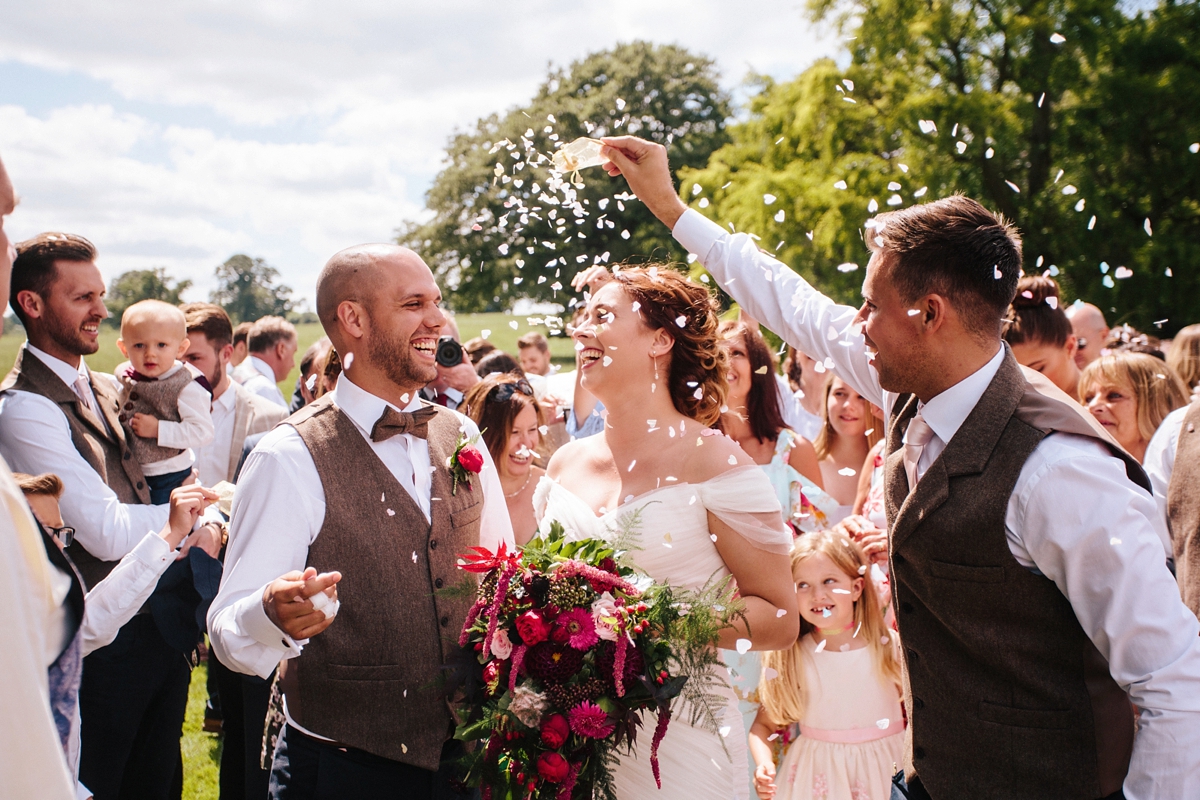 After the private ceremony, it was party time, so the newly-weds and their guests made their way deep in to the woodland for the festivities to begin. For food, the couple had organised for a hog roast with all the trimmings to be served up by Hampshire Feast.
"We sourced Hampshire Feast through a friend and they were fantastic. Quite early on after we got engaged, we got in contact with Ollie Dixon, the Head Chef, and met with him to discuss pricing and different options. We instantly knew we wanted to go for a hog roast. In addition to this, we had a pork pie wedding cake, an array of gorgeous deserts and chilli con carne in the evening."
"Ollie and the team were so professional throughout the day and the smell throughout the woodland was divine! The quality of food was exceptional and all our guests raved about the chilli. Another aspect that I loved was the presentation. Ollie made such an effort to keep to our rustic, informal theme and it looked amazing."
Wasing Park Woodland is clearly an incredible venue, and it was beautiful dressed for the day, with lots of personal details. Over to Rachel to tell us about how she achieved this look.
"The main decoration, for me, was the woodland and the huge bonfire so I didn't want to go too crazy on decoration so it was all designed and put together by our friends and family. The signage was painted by our beautiful bridesmaid, Emma. This included the order of service and seating plan. We wanted to keep things simple and visual so over the year we collected pallets, garden games and bits of stationery to build areas of focus."
"This included my bridesmaid from New Zealand and I staying up until 11pm the day before we left for the venue spray-painting wine bottles! My friend from university designed the table flowers and Jordan's mum bought and created the flower pots dotted around the venue. We also created a mini photo-booth area by hanging photo frames in the trees. We used a lot of memorabilia from our parents and grandparents (such as records and vases) to keep the day personal and representative of us both and where we came from. This meant a lot to us and we're so proud we managed to pull it off!"
"In addition to the above, we sourced our table and chairs from Anthology Vintage Hire. They were rustic and in keeping with our informal theme. We wanted our guests to be close together to create an atmosphere and the benches helped make this happen. We also hired a seating arrangement from Anthology Vintage which was so cool – the vintage chairs against the woodland backdrop was divine. The team at Anthology Vintage were extremely helpful and considering the size of our order, helped us set up and take down which was a lovely touch."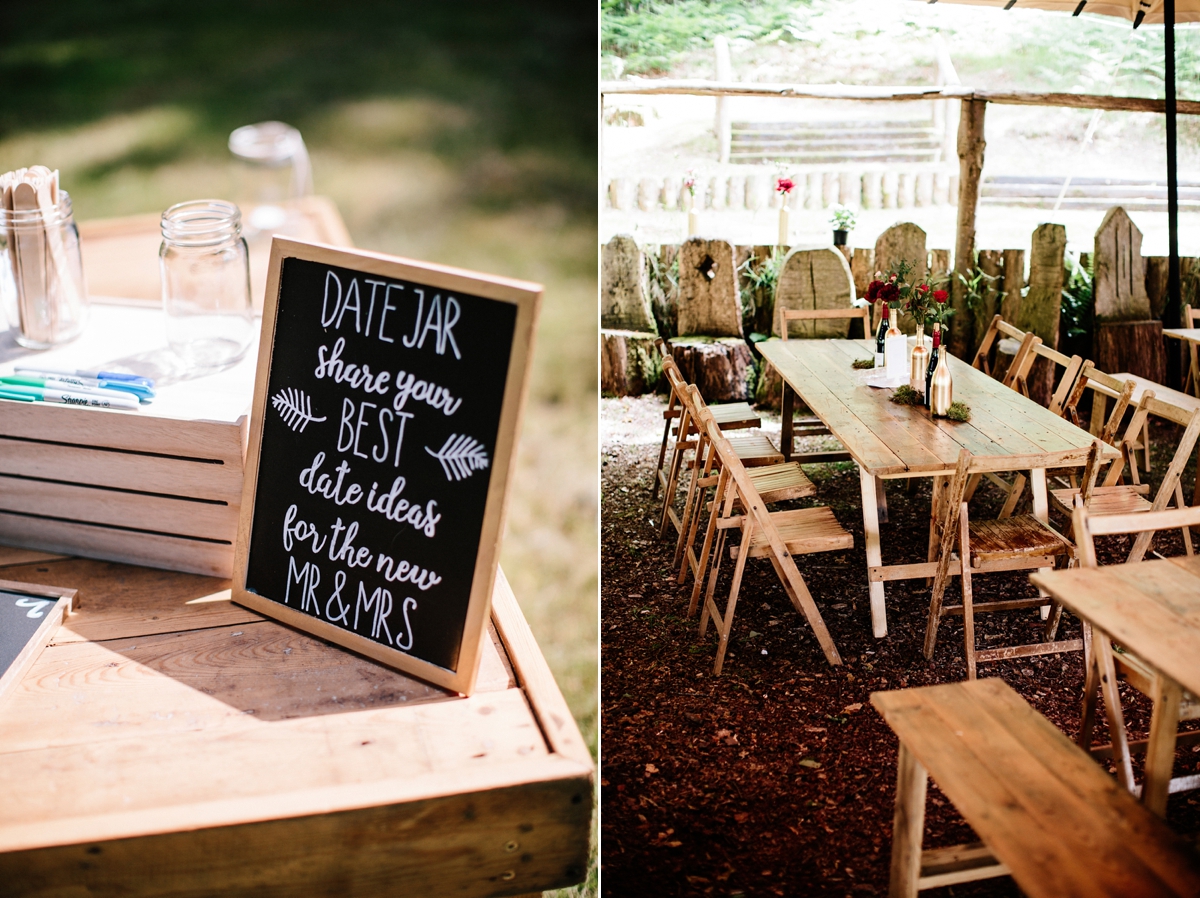 For a really fun, quirky touch, Hampshire Feast also supplied a crisp tree and pork pie cake. Amazing.
"On the last page of Hampshire Feast's brochure, they had a range of pies. We thought it would be a great idea if we combined the canapés with a wedding cake and have a three-tier pie cake! The cake was accompanied by pickles, bread and chutneys. We also created a 'crisp tree' to keep our guests going during the day. This was a surprise to our guests but they loved it – there was not one bag left! It was so amazing, tasted sensational and visually it was in-keeping with our theme."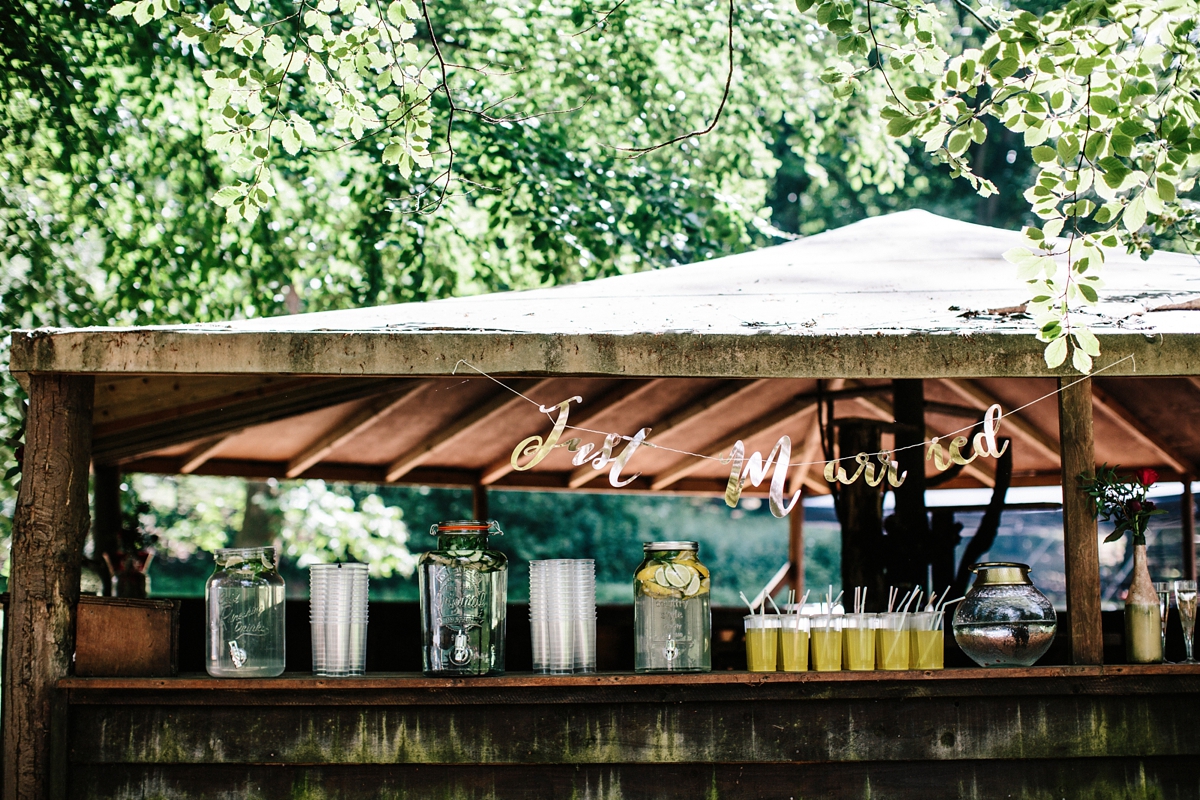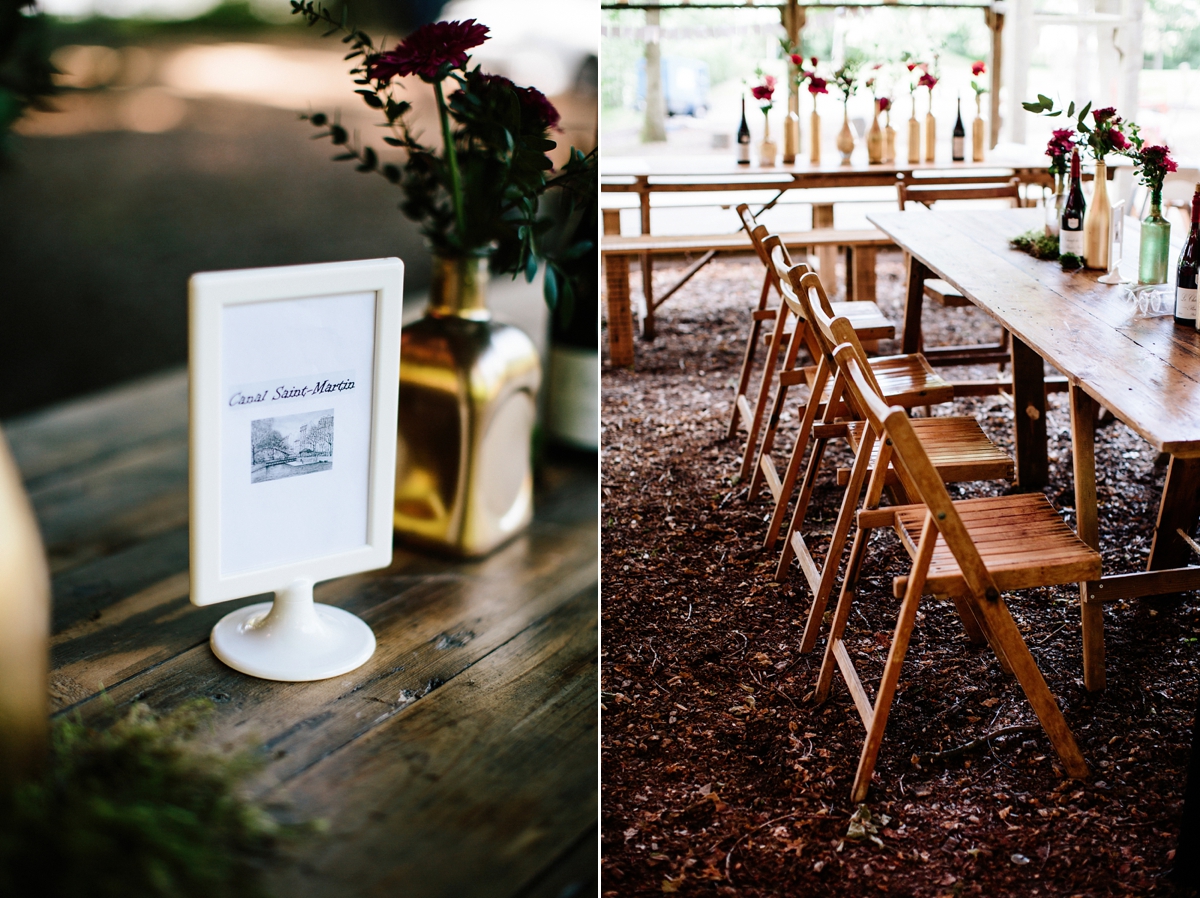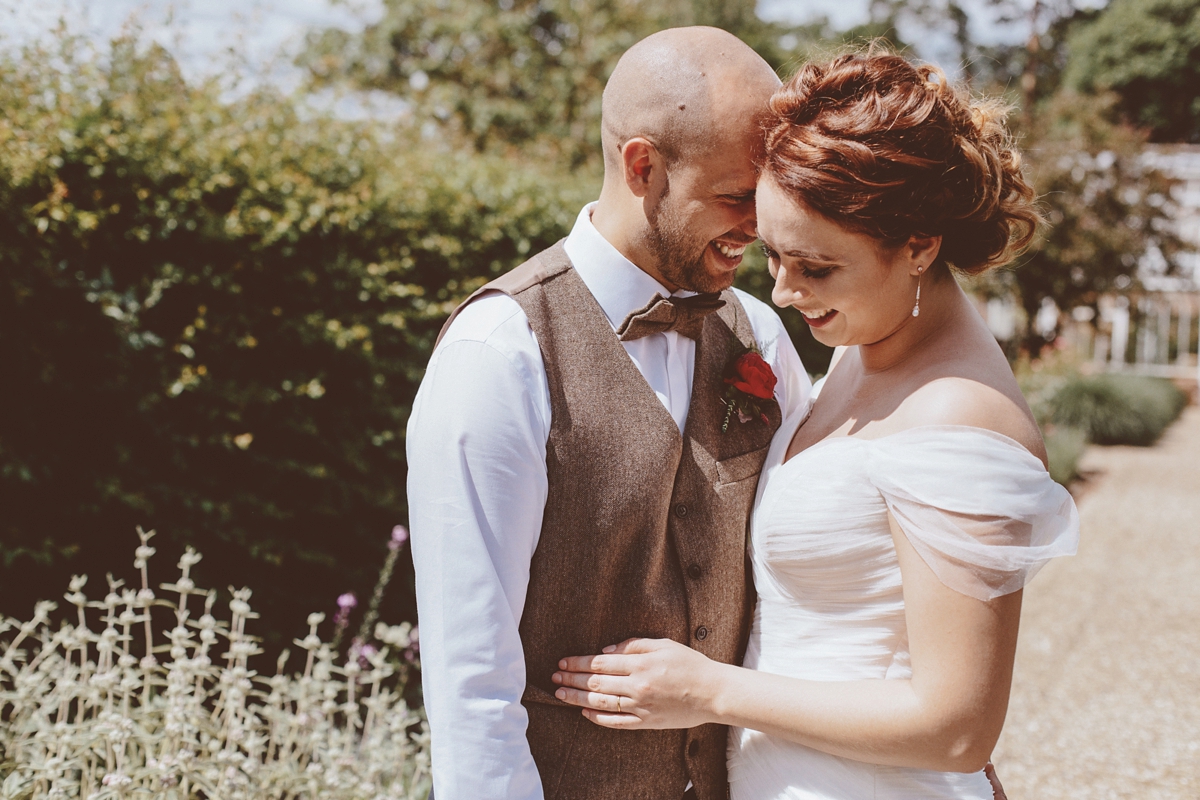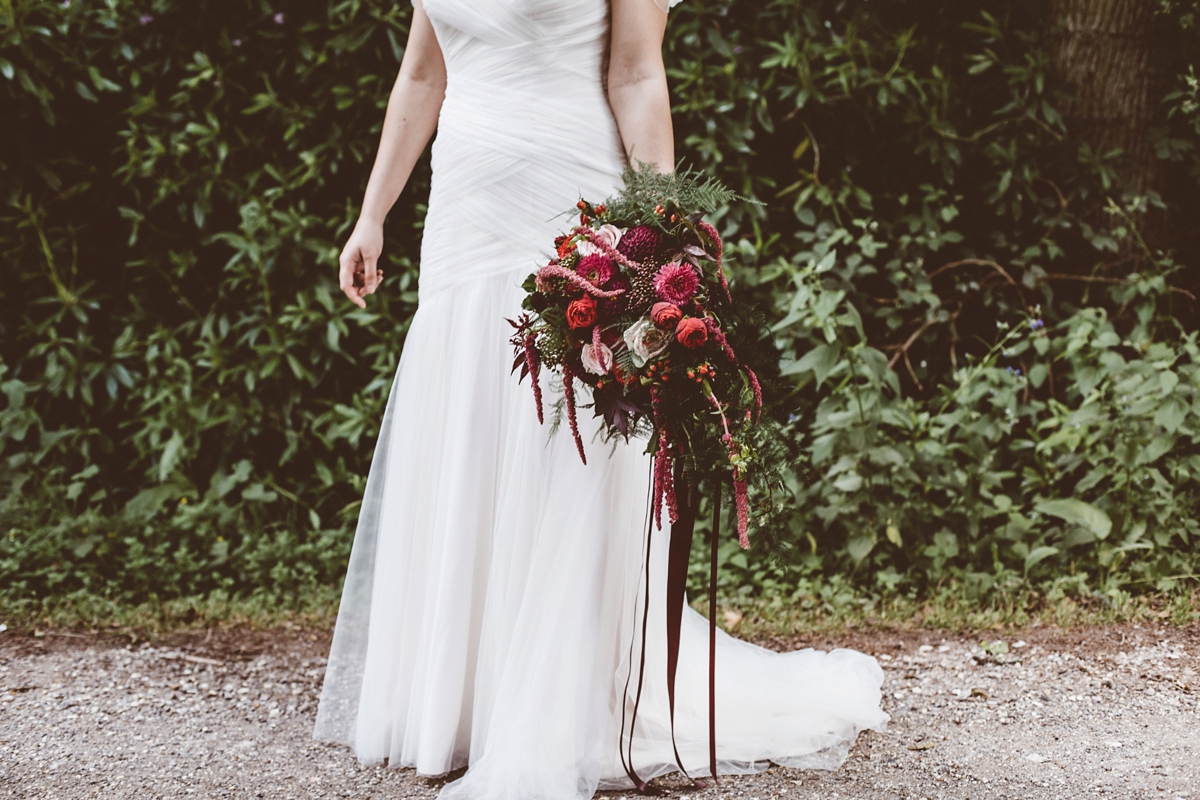 "We decided not to provide favours (per se), however we did supply a fully paid bar. My cousin, a brewer, helped supply a range of cask ales which went down a treat and in addition, we brewed numerous bottles of sloe gin for the tables. Again, we wanted the experience to be personal and therefore involved our friends and family to make this happen."
Having a great dance was really important to Rachel and Jordan, and happily they found The Wild Nights Duo to play live throughout the evening.
"We're big music lovers, hence why we wanted a venue where we could dance the night away under the stars! We researched and researched different bands until we came across A Wild Nights Duo. At this stage we knew our first dance was Paolo Nutini's 'Loving You' so it felt like fate when on pressing play, the band had a similar sound – Ben's voice was amazing. We booked them instantly and they were incredible. The sound, quality of guitar and singing was fantastic… we could have listened to them all evening. Something that makes us smile is seeing the photographs of our friends and family dancing the night away. This was all we ever wanted and we're so happy these moments were captured on camera."
"My most favourite part of the day was marrying my best friend, someone I have known for such a long time. It was so special. My second favourite part of the day was dancing around the bonfire all night and sharing the best time with our family and friends!"
"On reflection I don't think I would have done anything differently, other than perhaps being a little less laid-back and a little more organised so things weren't left to the last-minute. Our original budget was £18,000 and we managed to keep within that, just! We're lucky that we had so much help and were able keep things DIY to keep the budget down."
Words of Wedded Wisdom
"My only advice would be to enjoy every second, the engagement, the preparation and the wedding day. Never forget that, throughout all the preparation madness, you're marrying your soul mate… because at the end of the day, that's all that matters."
"My lasting piece of advice is to make sure you and your husband spend quality time together on the day. Our photographer ensured we had special moments together where we got to talk, laugh and look back over our shoulders at our guests having a wonderful time. This was everything!"
Oh Rachel and Jordan, how I love your photographs, and that gorgeously glam styling. It looks like you had a simply amazing day, so please accept my congratulations and thanks for letting us share them today. Thank you too, Rebecca, for your divine photography work and I do hope to see more soon on Love My Dress. If you love this woodland wedding, then there are so many here for you to be inspired by.
Ele x