Holy smokes lovely ones, I'm thrilled to be sharing this content with you today – it's from one of my absolute favourite bridal fashion brands ever, the one and only Grace Loves Lace. Lovers of bohemian bridal style, you're going to adore this.
We are smitten with Grace Loves Lace here at Love My Dress, so too, it would appear, are many of our brides, and indeed brides the world over! Did you know that the most pinned ever wedding dress is a Grace Loves Lace gown? Indeed, one of our most liked ever Instagram images was one of our very own Grace Loves Lace brides.
Renown for their effortless, luxurious and timelessly sophisticated wedding gowns that are all handmade from only the finest French and European laces and silks, Grace Loves Lace have created one hell of a revolution in the wedding world in recent years by challenging the notion of traditional bridal fashion and doing so utterly brilliantly. You can explore previous collections on our Grace Loves Lace Collections page – today, we want to introduce you to ICON, the latest collection from this inimitable and fashion forward brand. It is just beyond gorgeous and, ladies, available to purchase either online or via the Grace Loves Lace London show room today. All prices you see on the page here today include international shipping duties and taxes – basically, what you see is what you pay.
But first, a little more about this incredible revolutionary bridal fashion brand…
A Revolution in Bridal Fashion
Founded by Creative Director, Megan Ziems in Australia 7 years ago, today, Grace Loves Lace comprises a team of 30 creative visionaries who share a passion for revolutionising the bridal fashion world. Ziems had become disillusioned with the more structured and traditional wedding uniform and set out to change the industry while still lending a gentle nod to tradition. Her gowns are created for the woman of style, substance, and passion.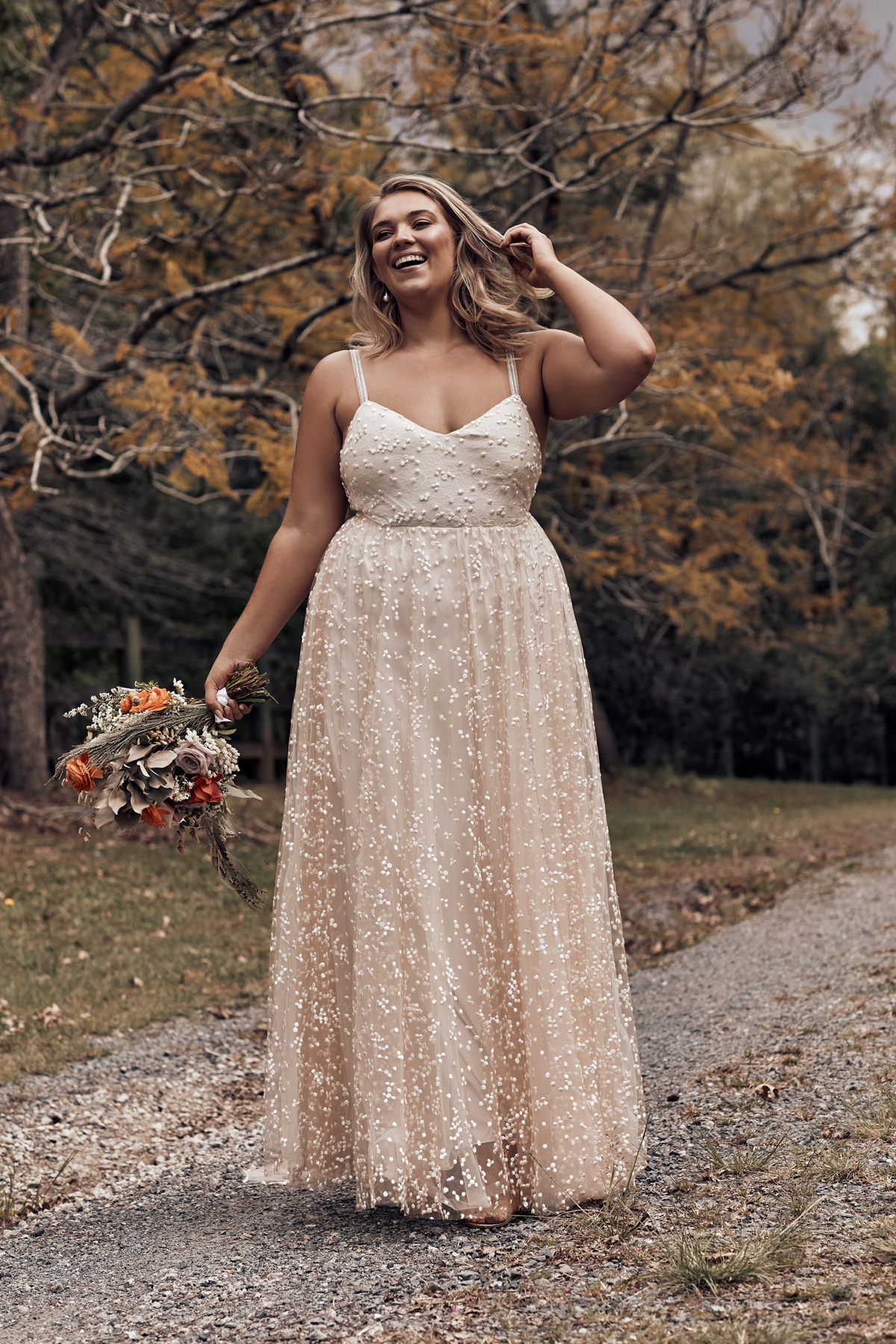 The Menha gown, Approx £2,300
(includes all shipping duties and taxes)
"Style defines each of us on a daily basis, and your wedding day should be no different", says founder Megan. "The journey of Grace Loves Lace began in 2010 after searching (unsuccessfully) for the dress. Now, I had never been the girl who had dreamt of my wedding dress before, but now that I was looking I couldn't believe how accustomed brides had become to wearing the 'uniform' for their special day. I wanted something unique, something that I was comfortable in, something that I would be dying to put on that morning and something I would want to keep forever. I wanted to feel and look amazing, a bride who walked to the beat of her own drum."
"Having come from a family of successful designers with extensive experience with French laces and Australian manufacturing, we set up a small team with a strong mission; to change the bridal industry. The Grace Loves Lace bride is universal, she appreciates and recognises quality, she knows she needs something unique and won't settle for average. She's a modern bride with a romantic heart and sets her own high standards. We are a very hard working, experienced and passionate team and proud to have revolutionised a new era of the bride."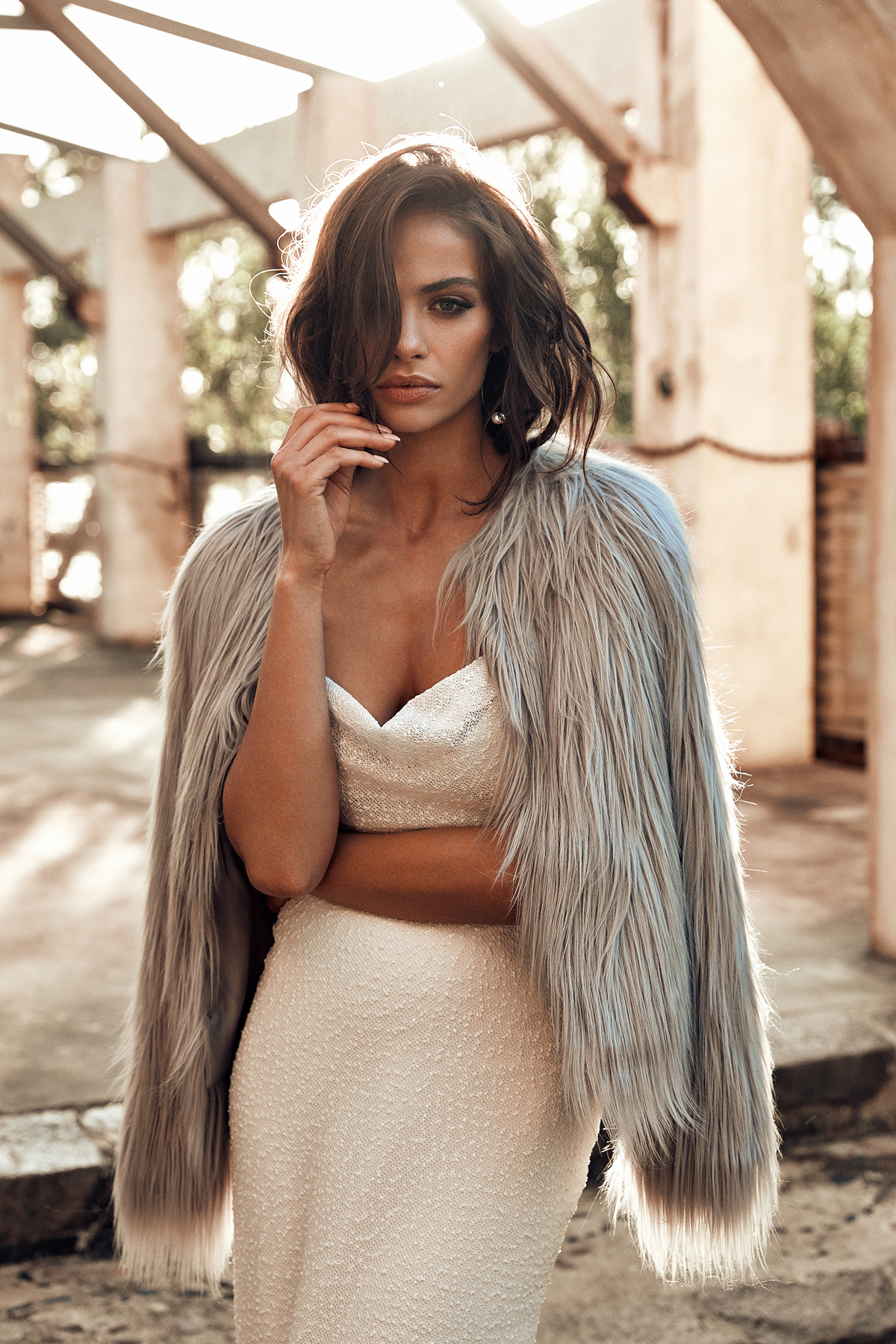 Unreal dream faux fur jacket, £250
(includes all shipping duties and taxes)
The 2018 collection from Grace Loves Lace is entitled ICON, which is apt because it was inspired by iconic and influential women of past and present. ICON is a celebration of women wearing their souls proudly on their sleeves. It is progressive, liberated and adventurous and bursting with all the glamorous bohemian vibes that Grace Loves Lace has become renowned for. This is a collection that challenges the status quo in bridal fashion and turns it's back firmly against the more restrictive and uncomfortable and gowns that don't allow free movement.
The range plays to the strengths of Grace Loves Lace – comfortable fits, effortless silhouettes and unexpected fabric combinations. Each dress is treated like a work of art and tells a unique story. All gowns are handmade in the Grace Loves Lace Australian studio and delivered worldwide, the highly anticipated ICON collection is available exclusively via the Grace Loves Lace website and Grace Loves Lace showroom destinations.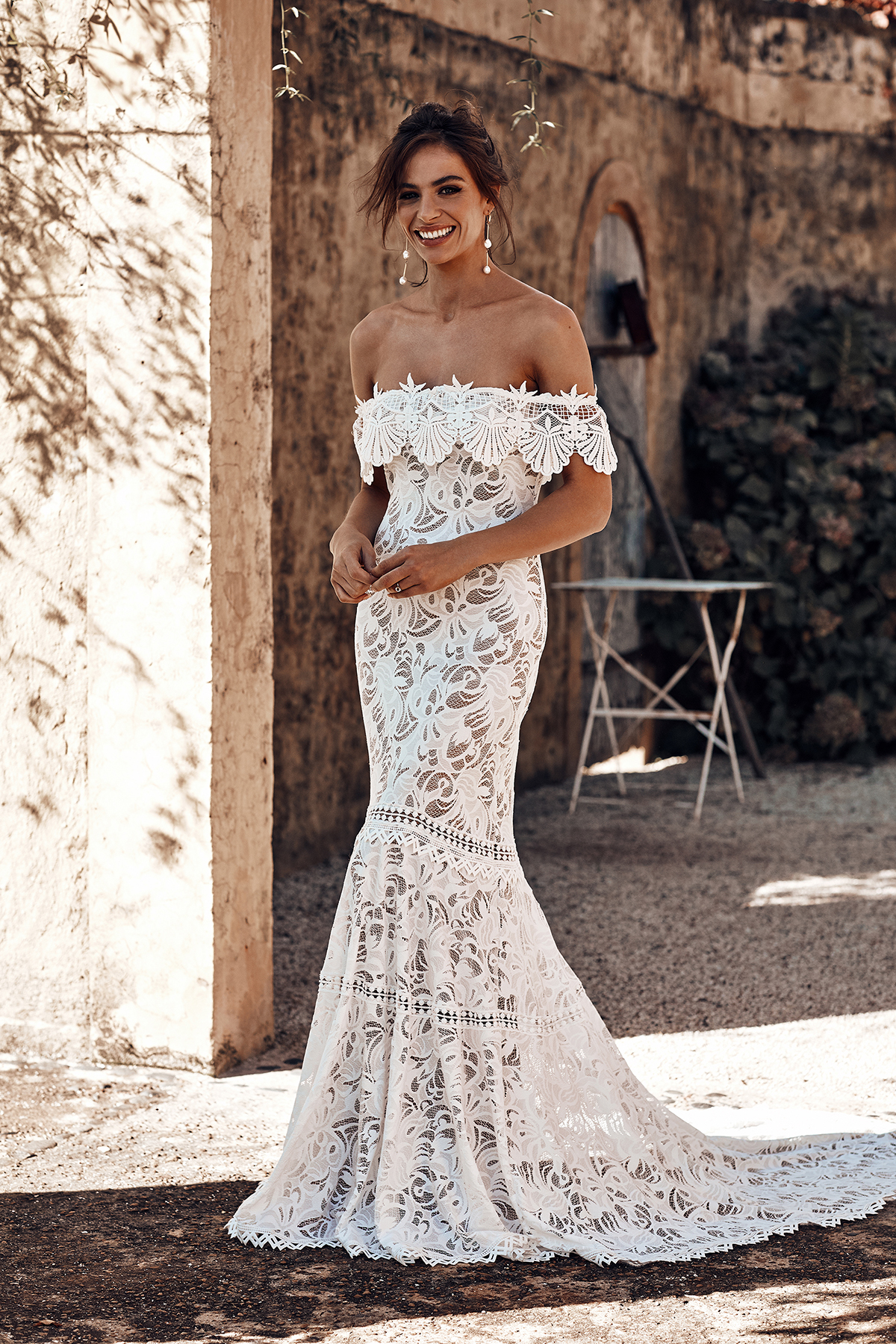 The Cien gown, £1,740
(includes all shipping duties and taxes)
ICON is a collection that celebrates the woman, her body, her character and her desire to epitomise more than the obsolete concept of what a bride should be. It is for the modern feminist who wants to look and feel deliciously feminine on her wedding day.  The collection is a testament that brides of today shouldn't have to sacrifice style for comfort and communicates the strides forward women are making in the direction toward liberation from archaic ideologies.
Espousing a fresh and unique take on the experience of getting married, we are proud to be the revolutionaries defining a new era of bride; the modern, free-spirited woman unbound by monotony and tradition. For the woman with style, substance and passion.
Each gown is more than meets the eye. Look closer to reveal blink-and-you'll-miss-it metallic beading, iridescent threading and playful details like star trims and secret garden embroidery. The range also introduces a champagne-toned fabric which glimmers like stardust and amps up the luxury with the finest French Guipure lace in the world.
The Marloe gown, £2,300
(includes all shipping duties and taxes)
Inspired by the quote 'Well behaved women seldom make history', founder and designer Ziems says the pairing of rebellion and tradition only further cements Grace Loves Lace as the most innovative leaders in bridal fashion. "I'm inspired beyond belief to represent the passionate, confident and liberated women of today." Ziems says her customer has a very strong sense of self – that she is excited by the unexpected and gravitates toward styles that help her express her individuality.
The supermodels of the 90's were a revolution. There was a freshness to them that stood against the prevailing idea of what a woman is. Outspoken, confident, fun, involved, edgy (Peter Lindbergh)
The supermodels of the 90s photographed by Peter Lindbergh inspired a new mood in fashion and were also a key inspiration to Ziems during the design process. "The notion that wild women should not be tamed is the very reason we refuse to hold them back with restrictive, rigid elements like boning, corseting and heavy fabrics," she said. Candid, natural and down to earth, the gowns have soul, originality and authenticity. Grace Loves Lace revel in the excitement, creativity and adventure today's women embrace when it comes to their wedding.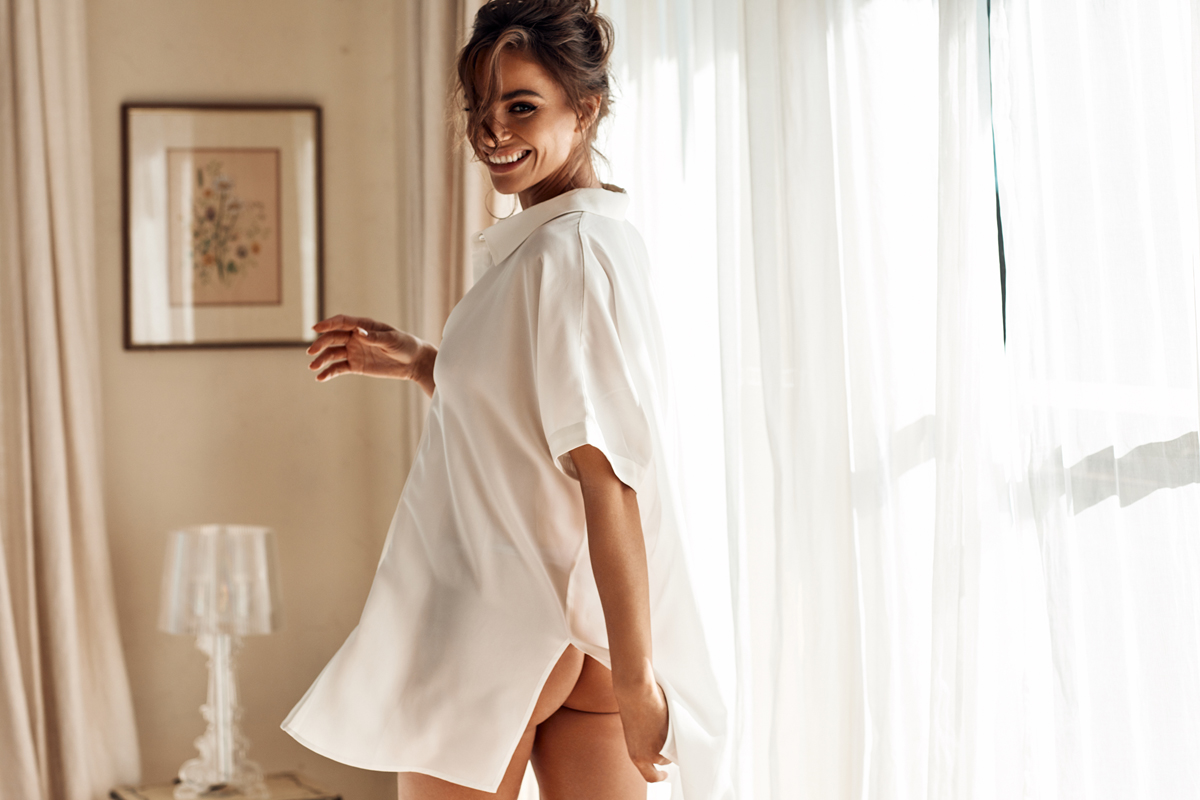 Cheeky! The Silk Shirt, £180
This price includes all duties and taxes
Grace Loves Lace are renowned for their use of exquisite lace, which is imported from one of the most prestigious lace mills in the world in Calais, France.
"The French have been known as the leaders in lace-making for centuries and many of our laces are designed exclusively for Grace Loves Lace. Every single Grace Loves Lace product is designed and handmade in-house at our studios in Queensland, Australia before being shipped to its destination, wherever that may be in the world."
"We pride ourselves on the team we have built and the experience we have. It allows us to control and maintain our quality standards at every step of the way from the pattern making, cutting, production and delivery. What sets us apart is the quality of our fabrics, our unique designs and the flexibility of our fits. Unlike traditional dresses with uncomfortable boning and impractical textiles, our designs are effortless and comfortable and all carry a stretch component for an easy fit."
The Harri gown, £1,580
This price includes all duties and taxes
Purchasing online
There will always be brides who will prefer to visit a boutique and try on gowns in person and if that's you, perhaps arranging a visit to the Grace Loves Lace showroom in London is the solution? But if you're comfortable with ordering a gown online, know that 70% of all Grace Loves Lace brides do the same – assisted in the process by an online Stylist team.
"We are excited to be growing as a movement, shirking the commerciality of getting married, revelling in the pure joy, and stripping it all back down to where it belongs; to love and love alone. All for you, the avant-garde, the free spirited, the rule breaker, the earthen, the gypsetter, the vintage goddess, the chic modernista, the true bohemian beauty; we welcome you to our divine paradigm. Long live the woman who throws it all to the wind, chooses and follows through with conviction and zeal, who is reckless in her passion, nomadic in her joy, progressive in her beliefs, knows exactly what she wants, and always, always bets everything on love."
I hope you absolutely adore what you see today. If you have any questions at all about Grace Loves Lace – please fire away. We are well connect with the team and can assist on your behalf should you have any queries at all.