Dear Readers, I'm so delighted to share this wedding with you today, not least because it features one of my most favourite things in the world – a lighthouse. I went to university in North Wales and spent many an hour skimming stones on the beach at Penmon Point in Anglesey, in the shadow of the very fine lighthouse there.
This quirky and colourful celebration takes place in the ethereal landscape of Dungeness in Kent, with the dramatic coastal light and pebble beaches lending the perfect backdrop to a sweet and heartfelt day – not to mention that the ceremony takes place at the top of a lighthouse. Meet artist Rebecca and European cycling holiday specialist Lewis, who were married on the 16 September 2017 in a day inspired by their mutual love of travel and adventure. They had their ceremony at The Old Lighthouse followed by a reception at the re-purposed Fog Signal Building, where the couple stayed on the eve of their wedding. Dungeness is an absolutely magical and unique place, and Rebecca and Lewis further enhanced the beauty of their surroundings by adding fun elements of decor and some brilliant props.
The couple chose Rebecca from A Thing Like That Photography to capture their day, and she is also a valued member of our lovely wedding directory, Little Book. These really are stunning images, and Rebecca artfully captured the constantly shifting coastal light right through to sunset.
Images by A Thing Like That Photography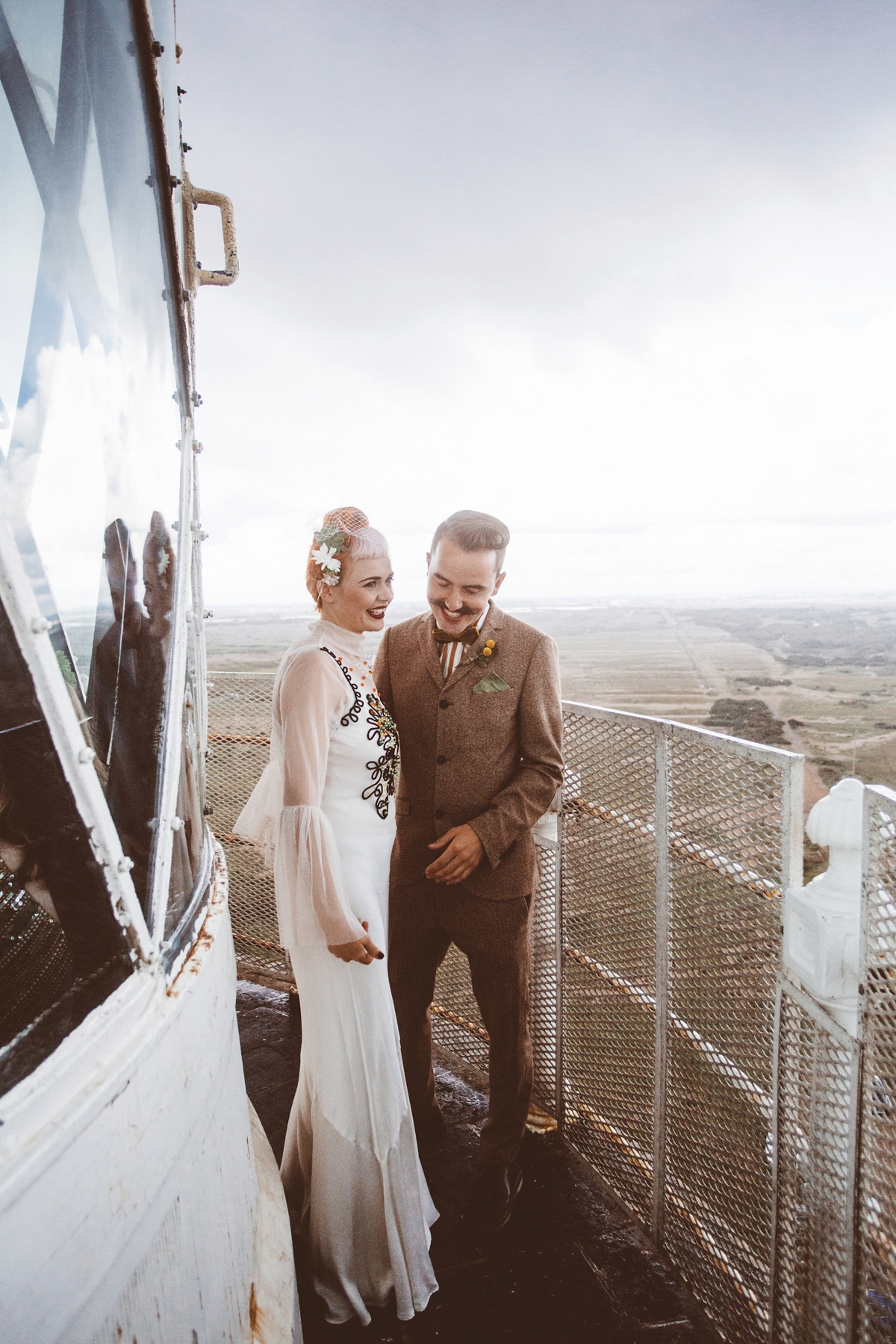 "A Thing Like That was our total pick of the bunch. Not only was Rebecca's portfolio oozing with beautifully natural shots perfect for a camera shy couple, but her personal travel photography also convinced us she should be part of our day -we knew she would love the landscape as much as us. She made us feel completely relaxed throughout the day, bringing laughter by having her beside us, Rebecca knew what photos we were after and prompted our day along with such ease and professionalism."
Rebecca wore an ivory silk gown from Ghost London, with a sheer high-neck top with flared sleeves, which she bought from TFNC at Topshop's flagship store on Oxford Street in London. Rebecca also hand-embroidered the brightly coloured beads on the blouse.
"I was certain for a very long time that I would wear my signature mustard yellow with a white blouse/cropped separate. It surprised even myself when I decided to go with ivory. I knew I wanted the combination of satin, long sleeves, a high neckline and a fishtail dress – my only option was to be creative and find the separates to combine the finished design myself."
Rebecca's hair was pin-curled into a chic, 1940s-inspired style topped with a birdcage veil and adorned with fresh flowers and greenery.
"I chose cruelty free make up from brand Urban Decay with a selection of vegan products."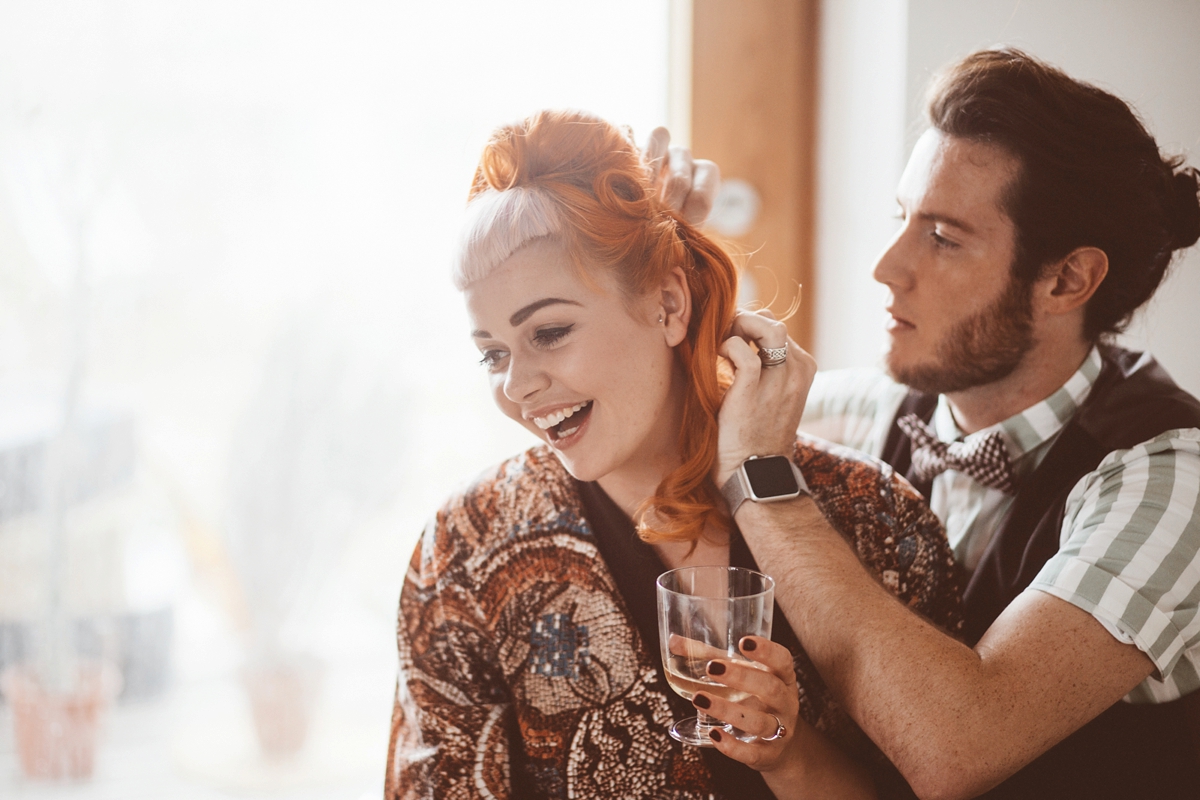 For jewellery, Rebecca wore her great-grandmother's Austrian crystal necklace, which she had already decided she would like to wear on her wedding day when playing dress-up as a child! Rebecca's glittery green shoes came from Irregular Choice, which she customised by adding fluffy yellow pom poms.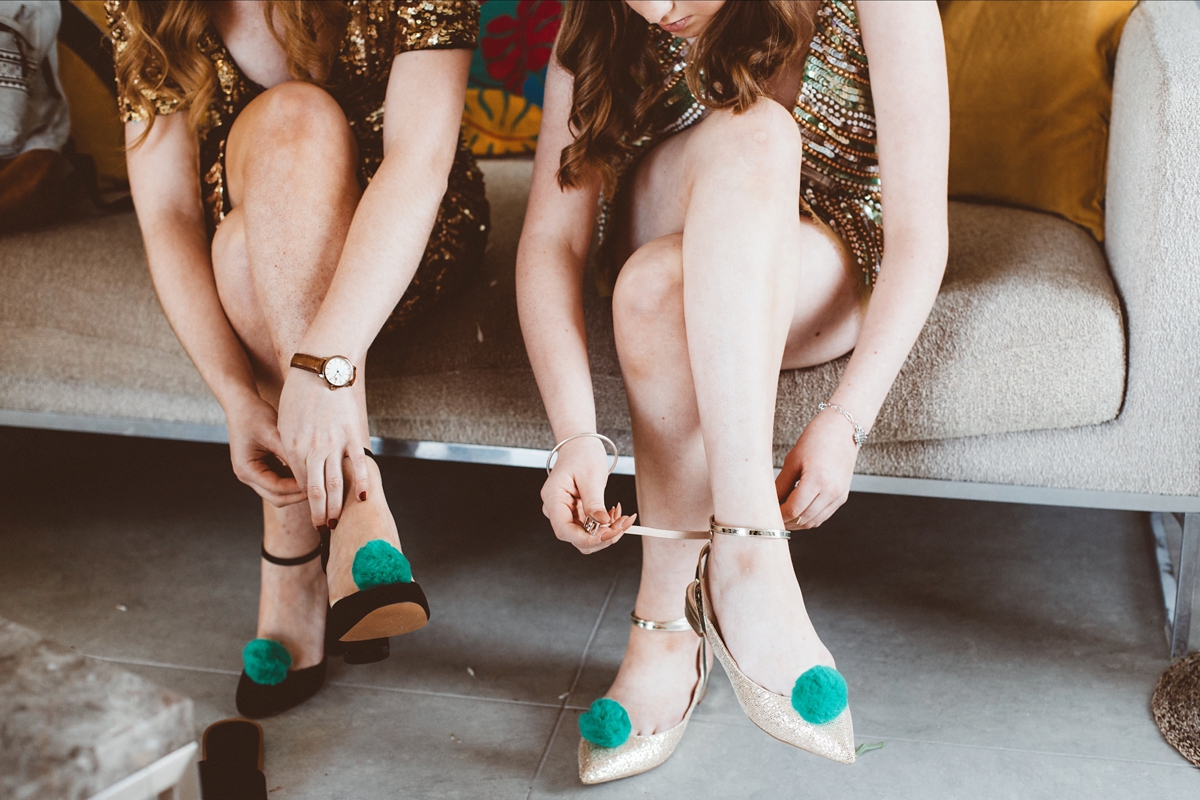 The bridesmaids wore amazing sequinned dresses in different styles (no details provided), with their own shoes customised by Rebecca with bright green pom poms to match her own. Their hair was styled into gorgeous victory rolls and decorated with fresh flowers.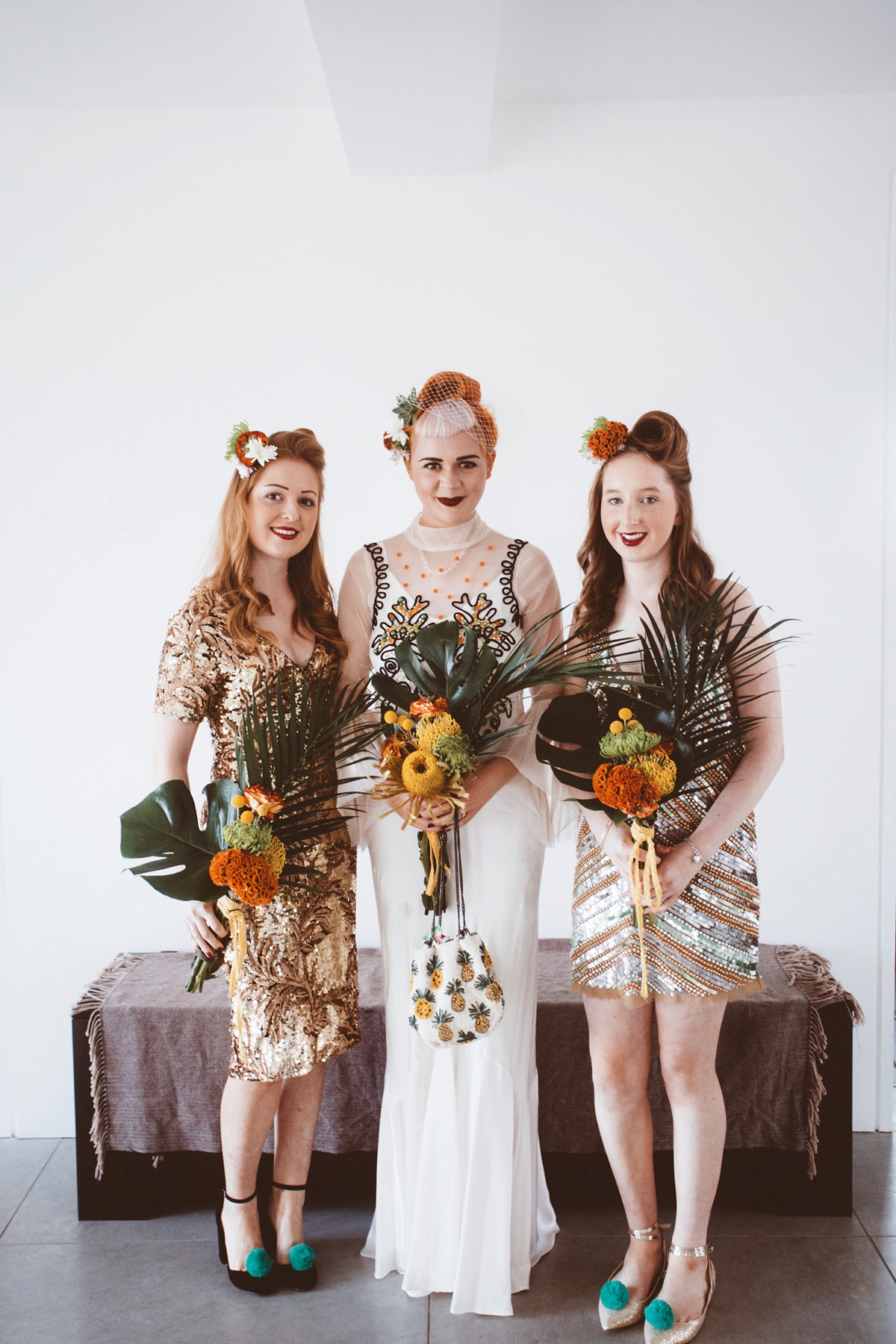 Transport came in the form of Eva, the couple's elegant Nissan Figaro, which they had bought three years earlier as a wedding investment. Eva was decorated with a 'Just Married' suitcase, paper decorations and some painted tin cans, which the father of the bride secretly tied to the car!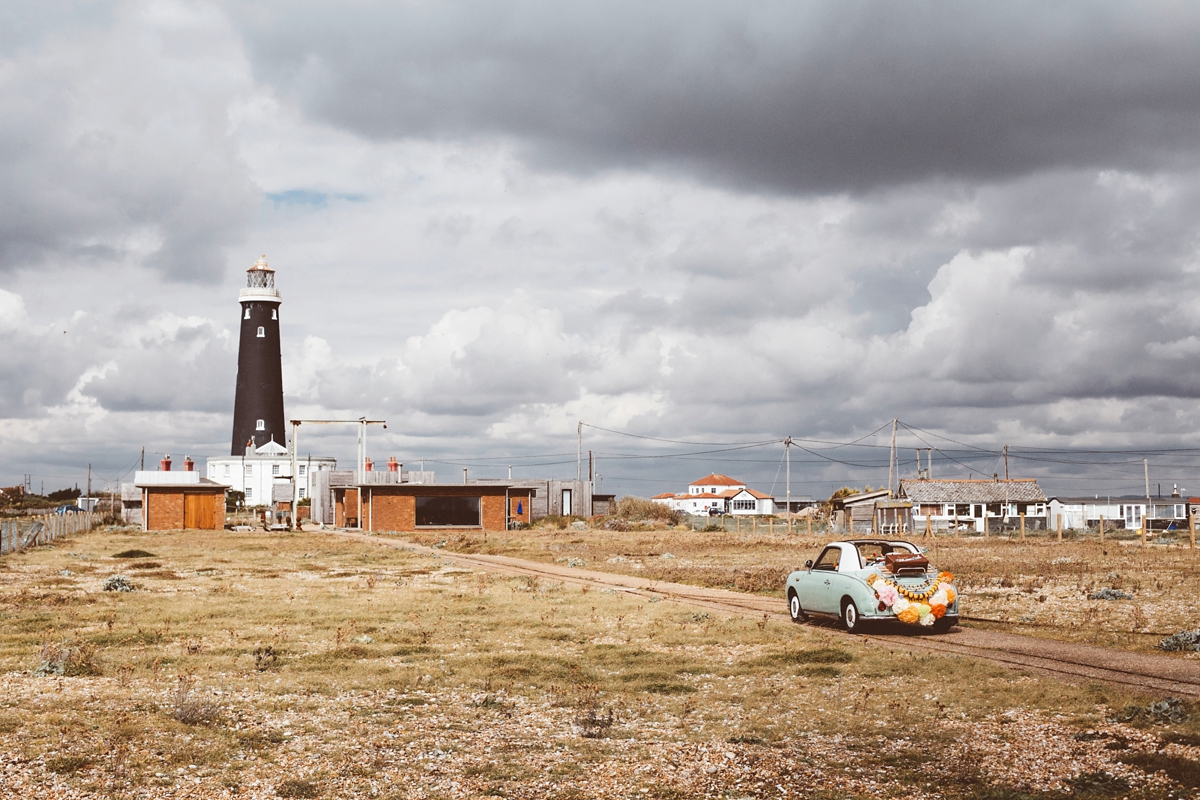 "Childhood sweethearts from the age of 16, we joked from an early age we'd be married 10 years later. We were engaged during a surprise birthday weekend away staying in a hilltop lighthouse in Beachy Head, Suffolk. After just two years of engagement and eager for our next spell of travel we decided to use our wedding as our indefinite send off."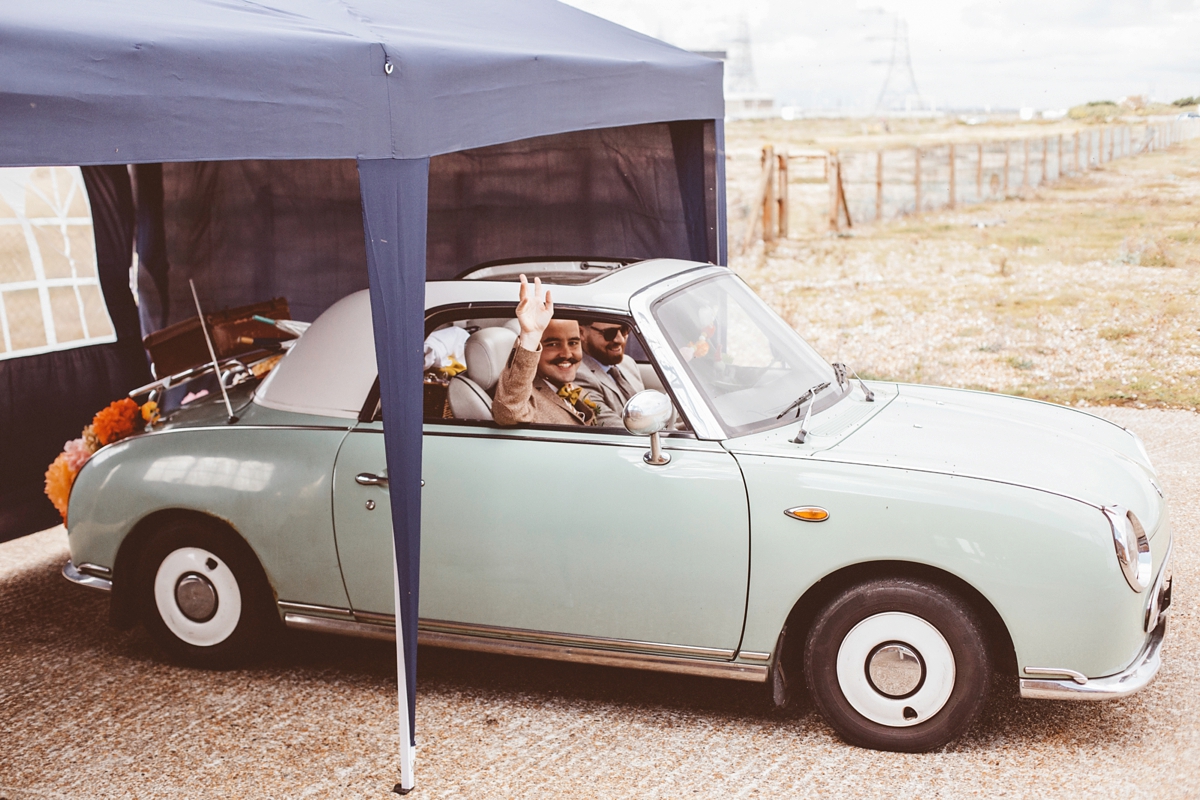 Lewis wore a three-piece suit in a warm brown tweed (no details provided), together with vegan leather Dr. Martens, a striped shirt and a mustard coloured bow tie from Monej Bow Ties.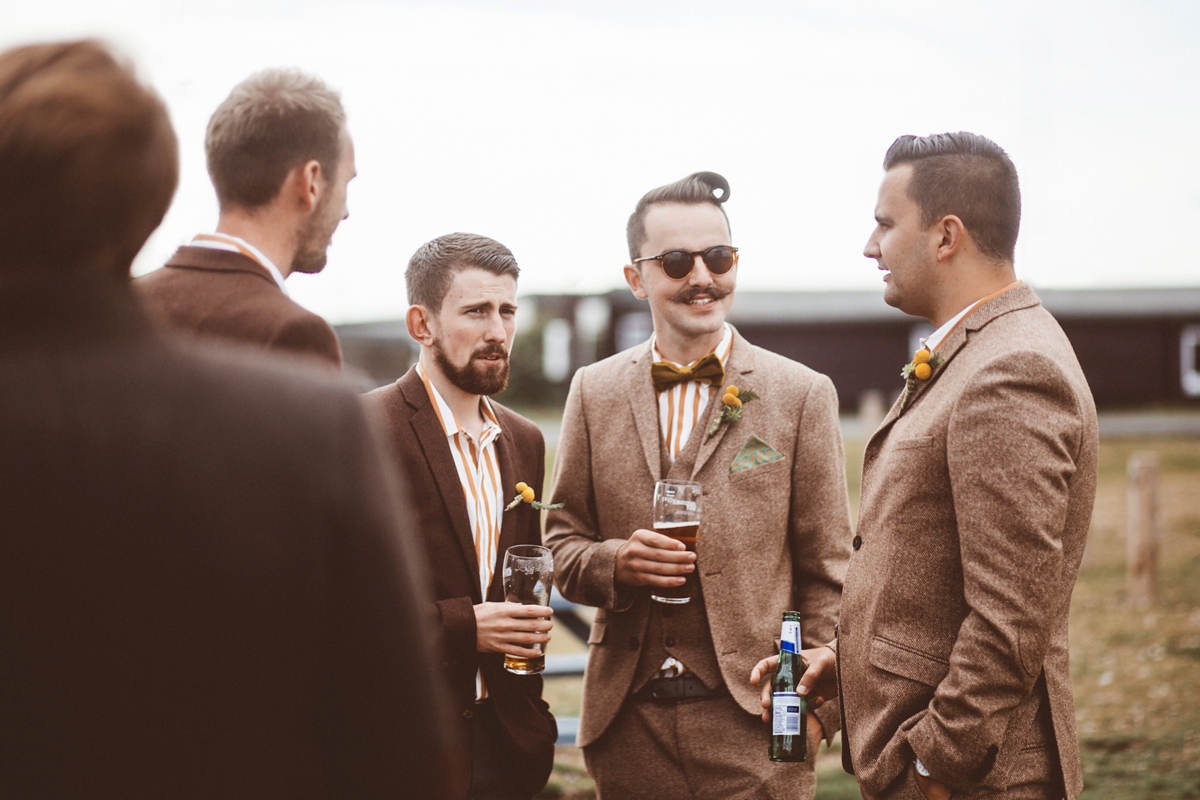 "Known as Britain's only desert, our location was always the main incentive as a landscape that could speak for itself no matter its weather condition. A theatrical film set reminiscent of the barren west Americana we had camper van road tripped two years prior, and of course in the backdrop was Dungeness' very own lighthouse."
"The theatrical backdrop would continue to remind us of our indefinite travel adventures to come. Vintage suitcases, seaside deck chairs and tropical plants/cacti continued our destination style aesthetic with easy hints of our always matching colour palette of mustards and burnt oranges. We pulled in many favours from friends and family to borrow, transport and set up props and utilise the wicker furniture that was already in The Fog Signal building."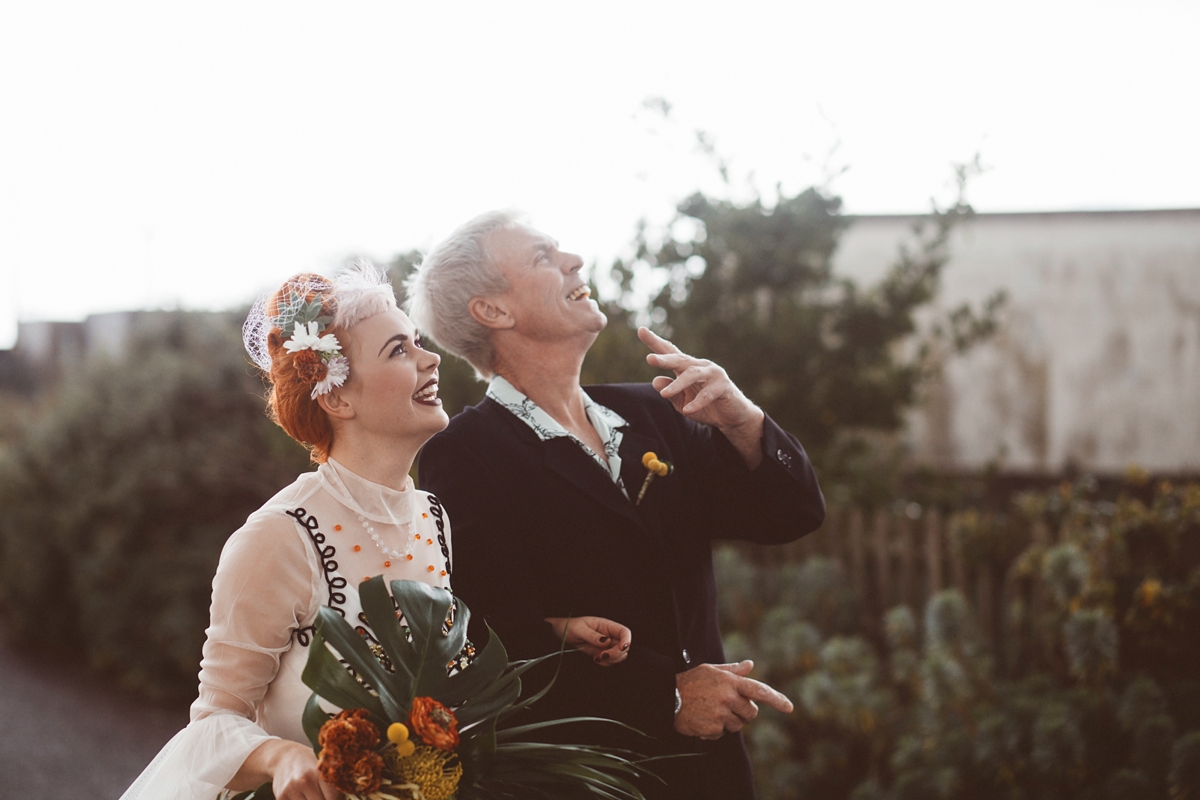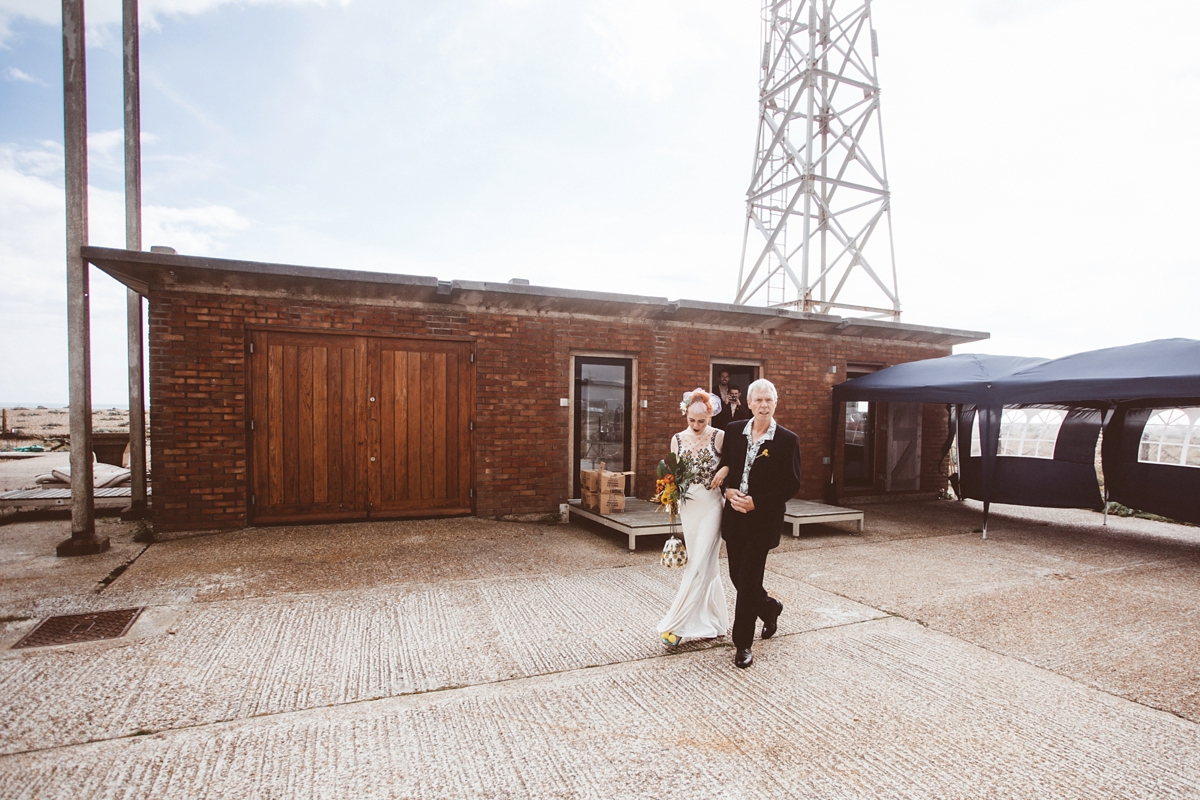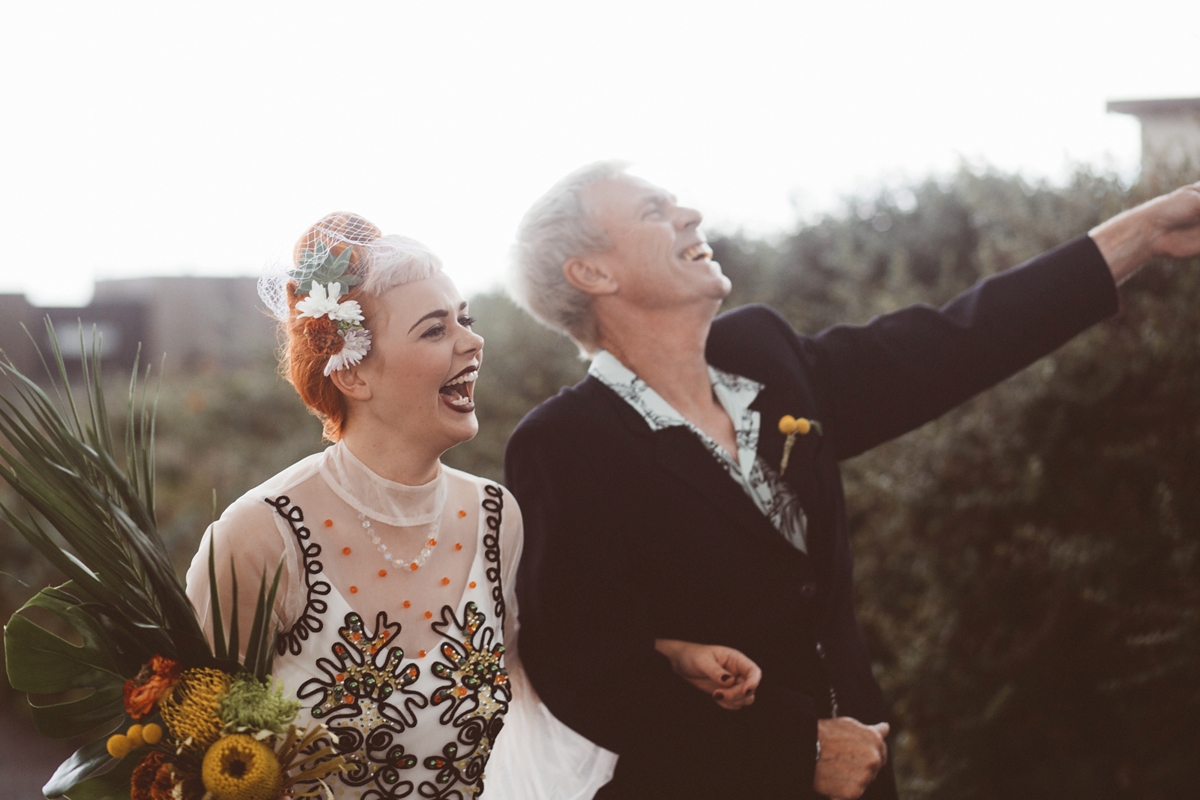 The vibrant, tropical inspired flowers with bright bursts of yellow and orange were put together by Rebecca, with blooms and foliage sourced from the New Covent Garden Flower Market in London. My eyes are especially drawn to the creative use of Monstera and palm leaves in Rebecca and her bridesmaid's bouquets.
"We drove frequently to Covent Garden Flower Market…to scout out and pick our own combinations for bouquets, hair accessories and button holes. We spent three days before the wedding arranging the blooms and 'borrowing' potted cacti from my grandparents as free-standing pieces."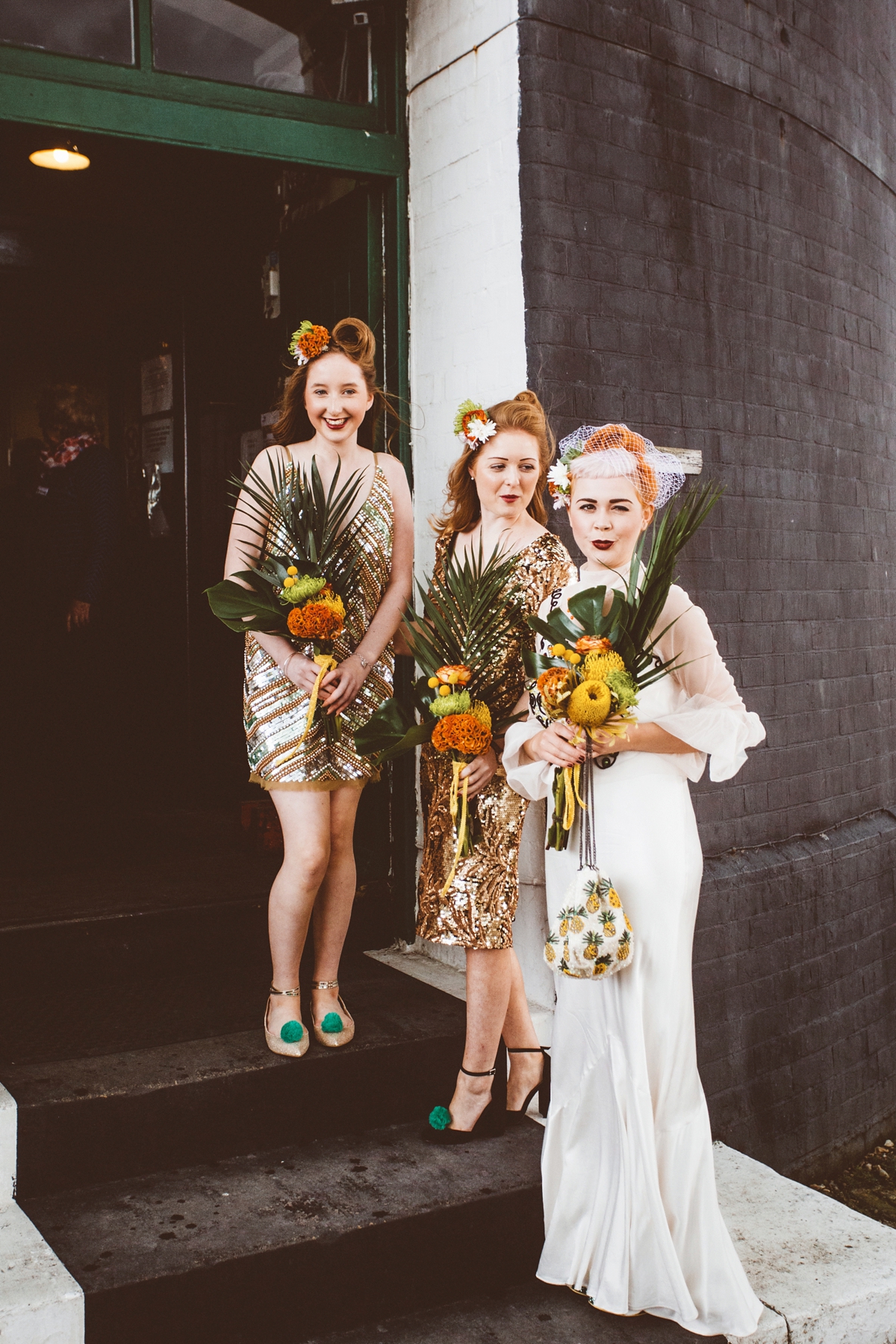 Walking to meet Lewis while he watched from above was Rebecca's favourite part of the day. The couple said their vows in an intimate ceremony right at the top of the lighthouse while their assembled guests cheered on from below. Instead of wedding rings, they opted instead to get matching lighthouse tattoos on their calves a week before the wedding, from Old Habits Tattoo.
"My father walked me down the longest aisle from The Fog Signal Building where we were staying and hosting the evening reception all the way up the 186 steps of the lighthouse."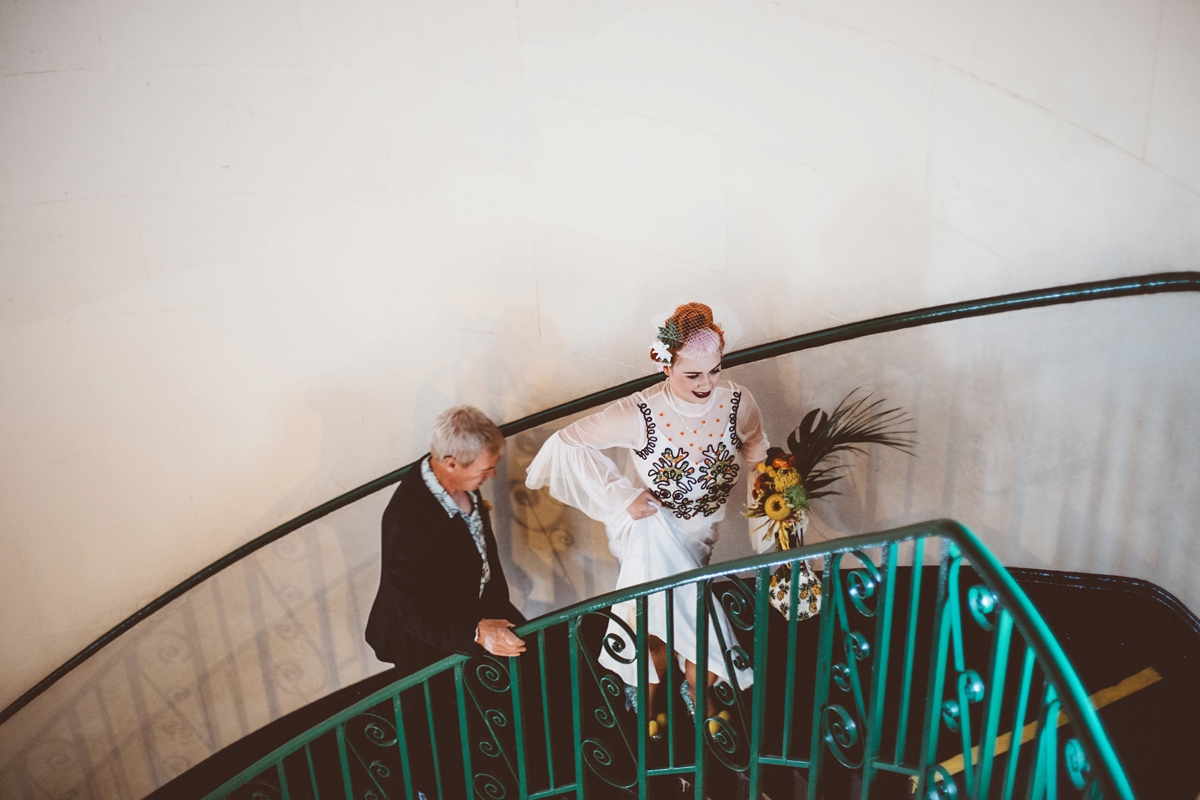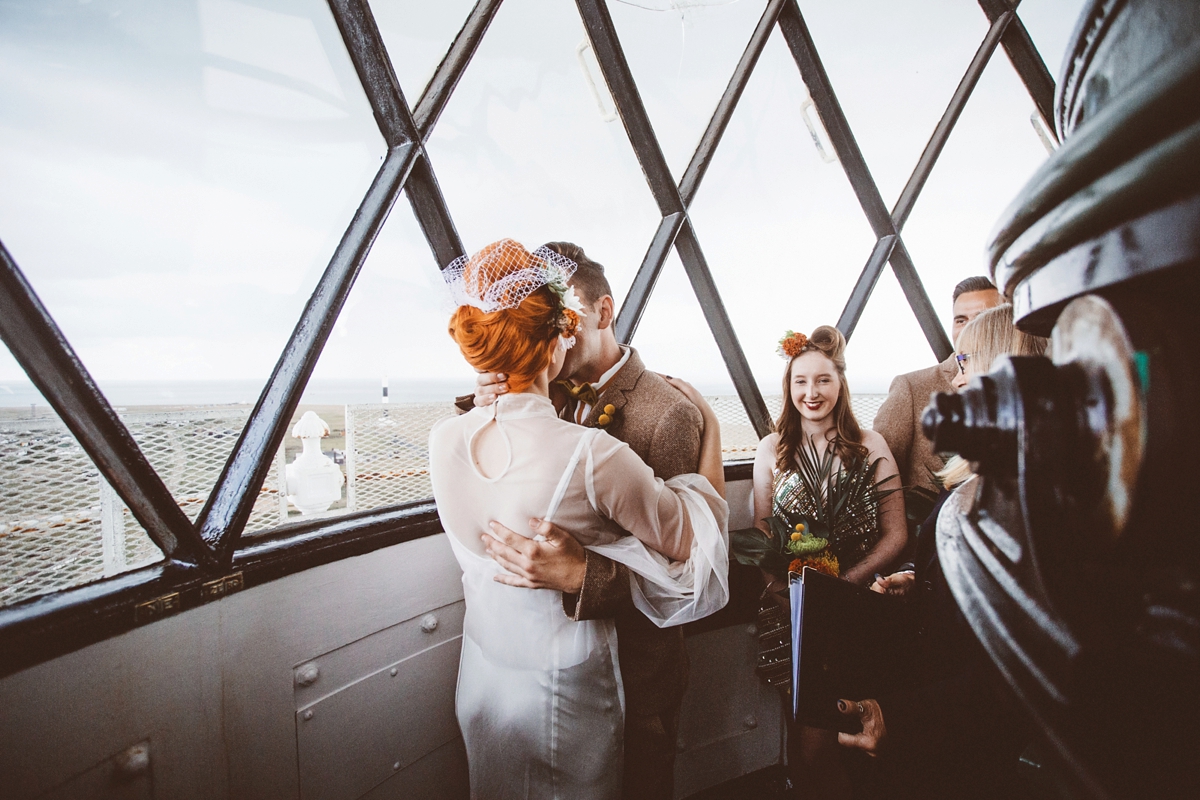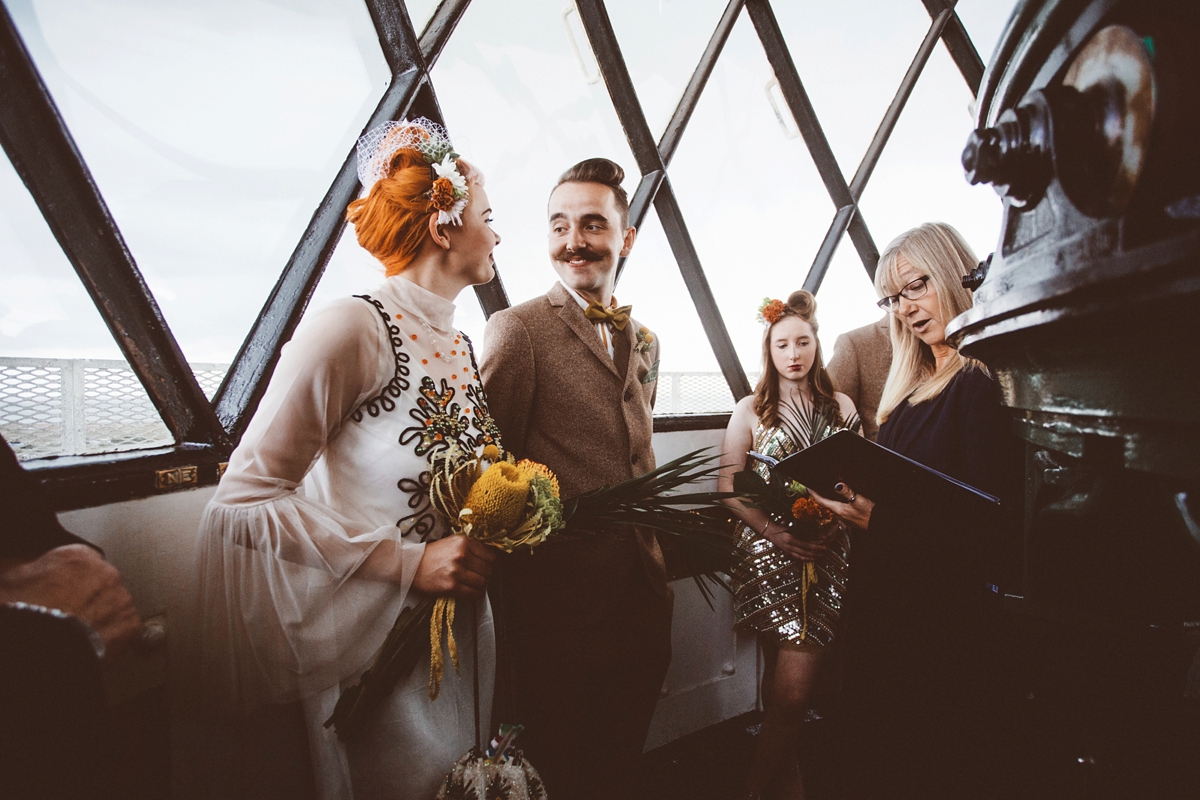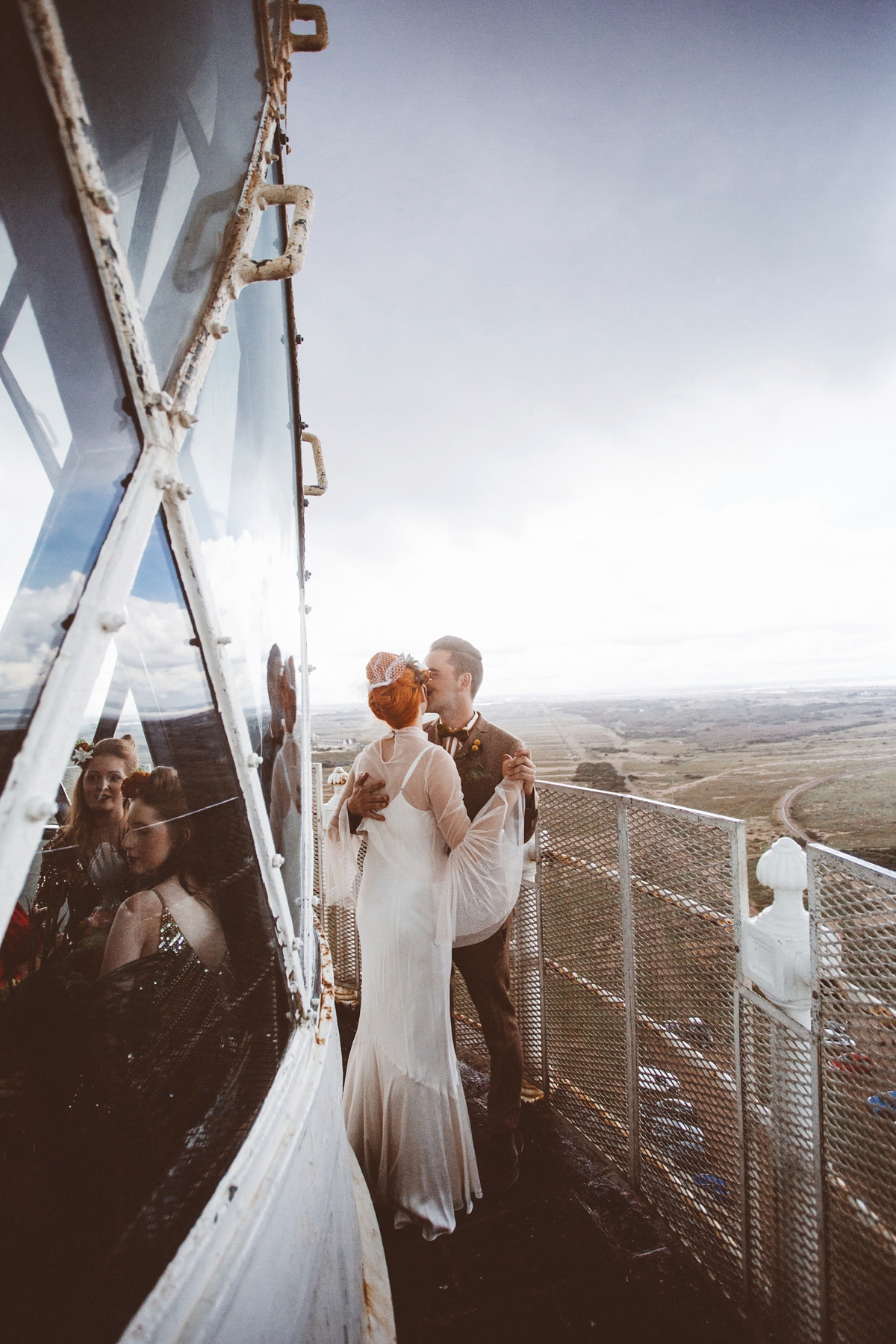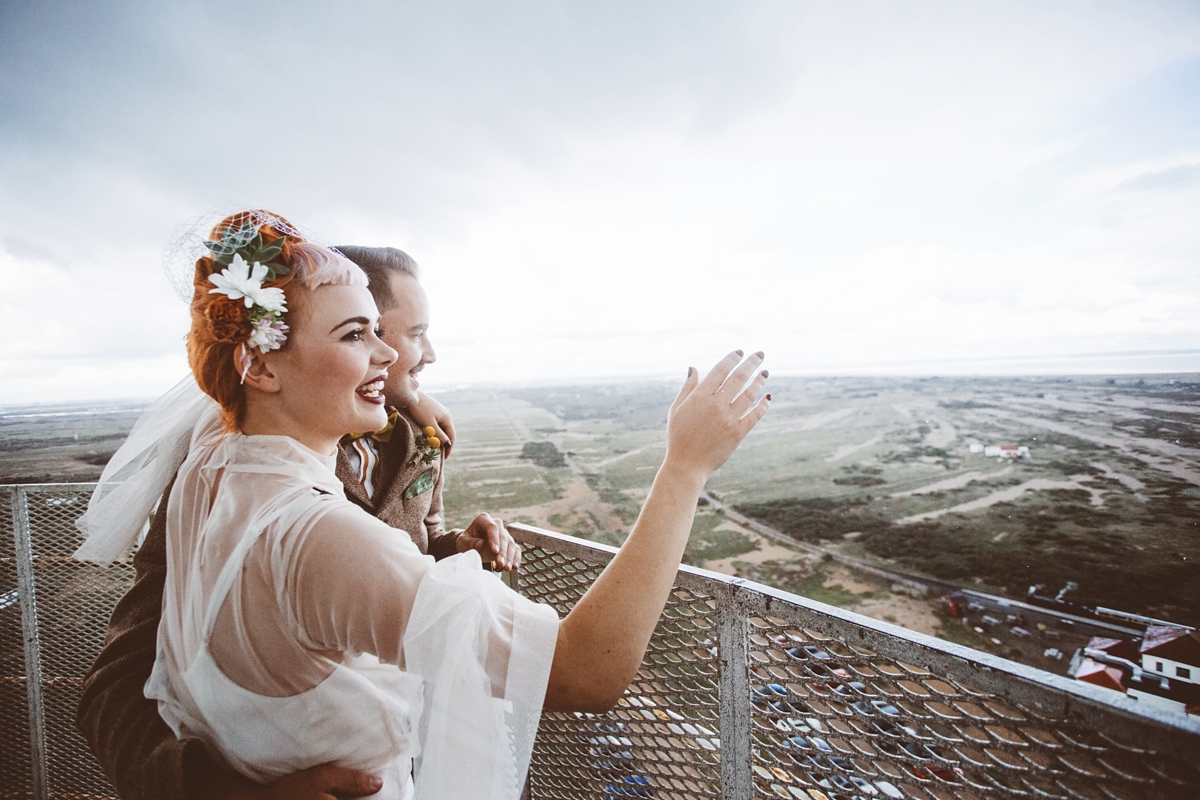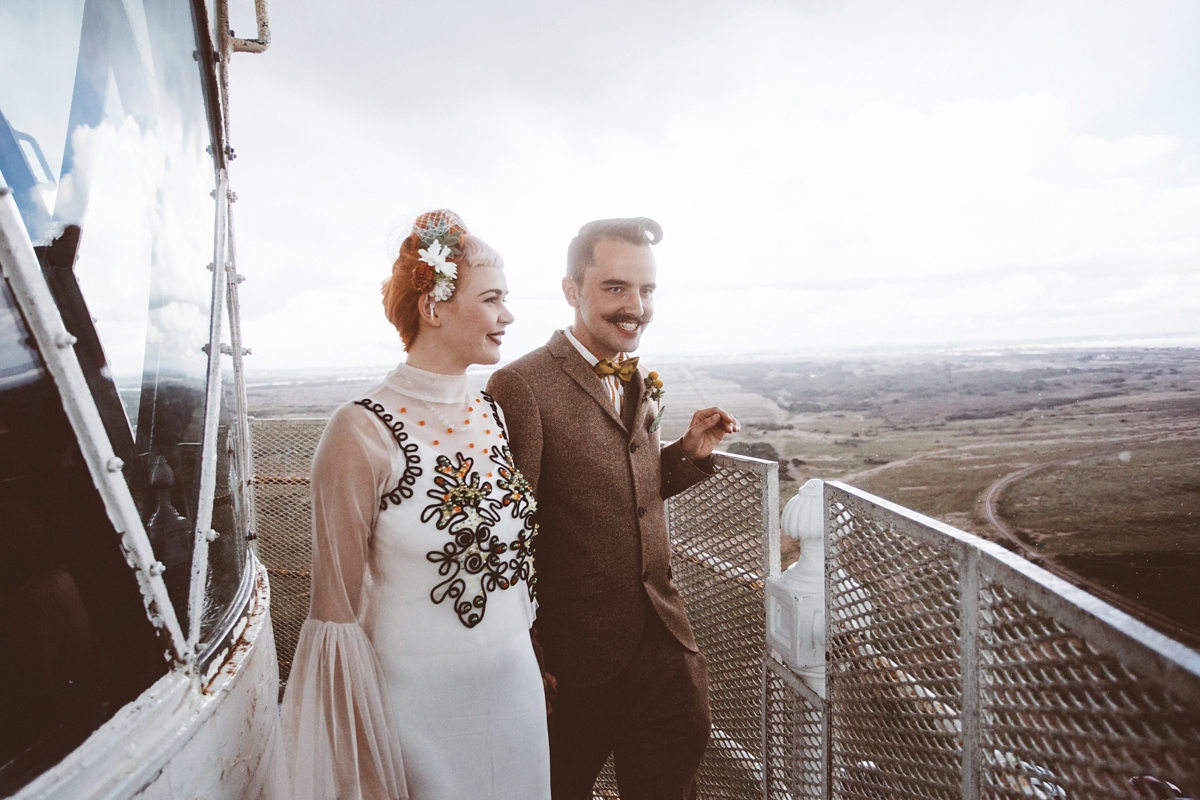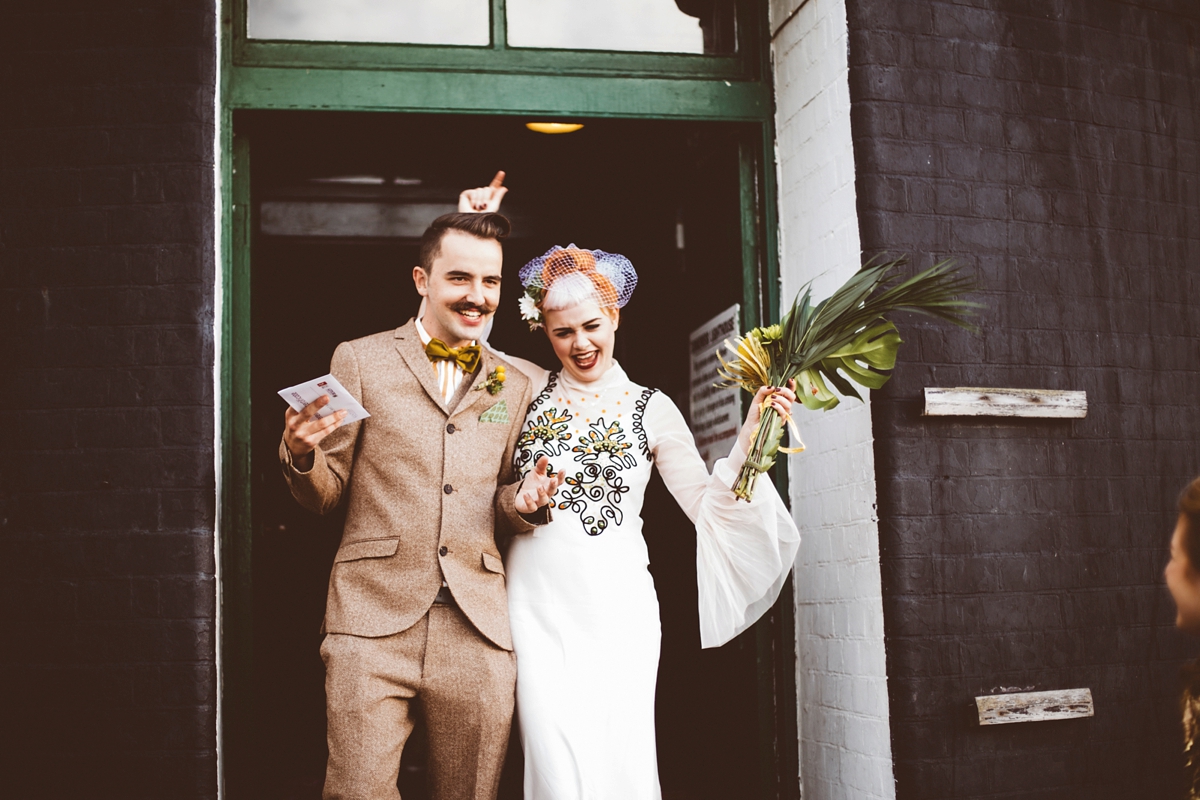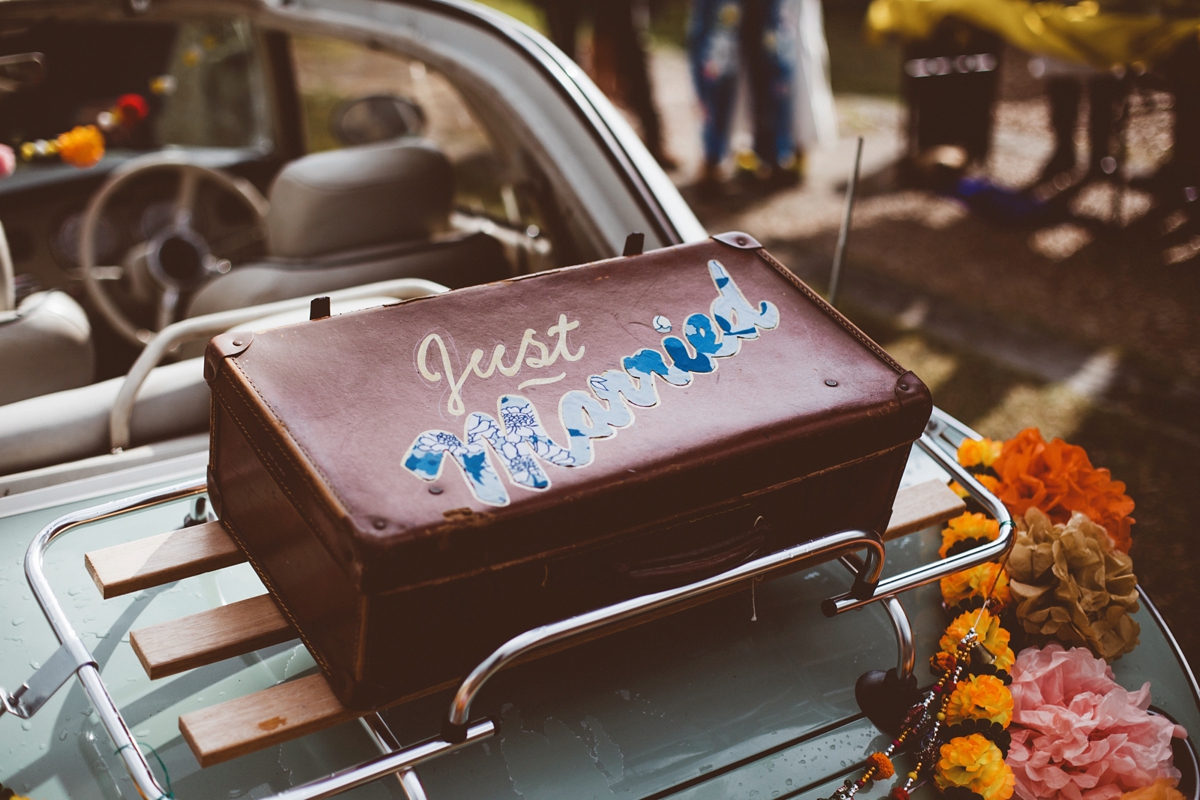 Videography came courtesy of Rebecca's family Staffordshire Bull Terrier cross, Brandy, who wore a a GoPro camera on her harness to capture the day from a uniquely canine perspective (and can we also take a moment to appreciate Brandy's fetching neckerchief?!)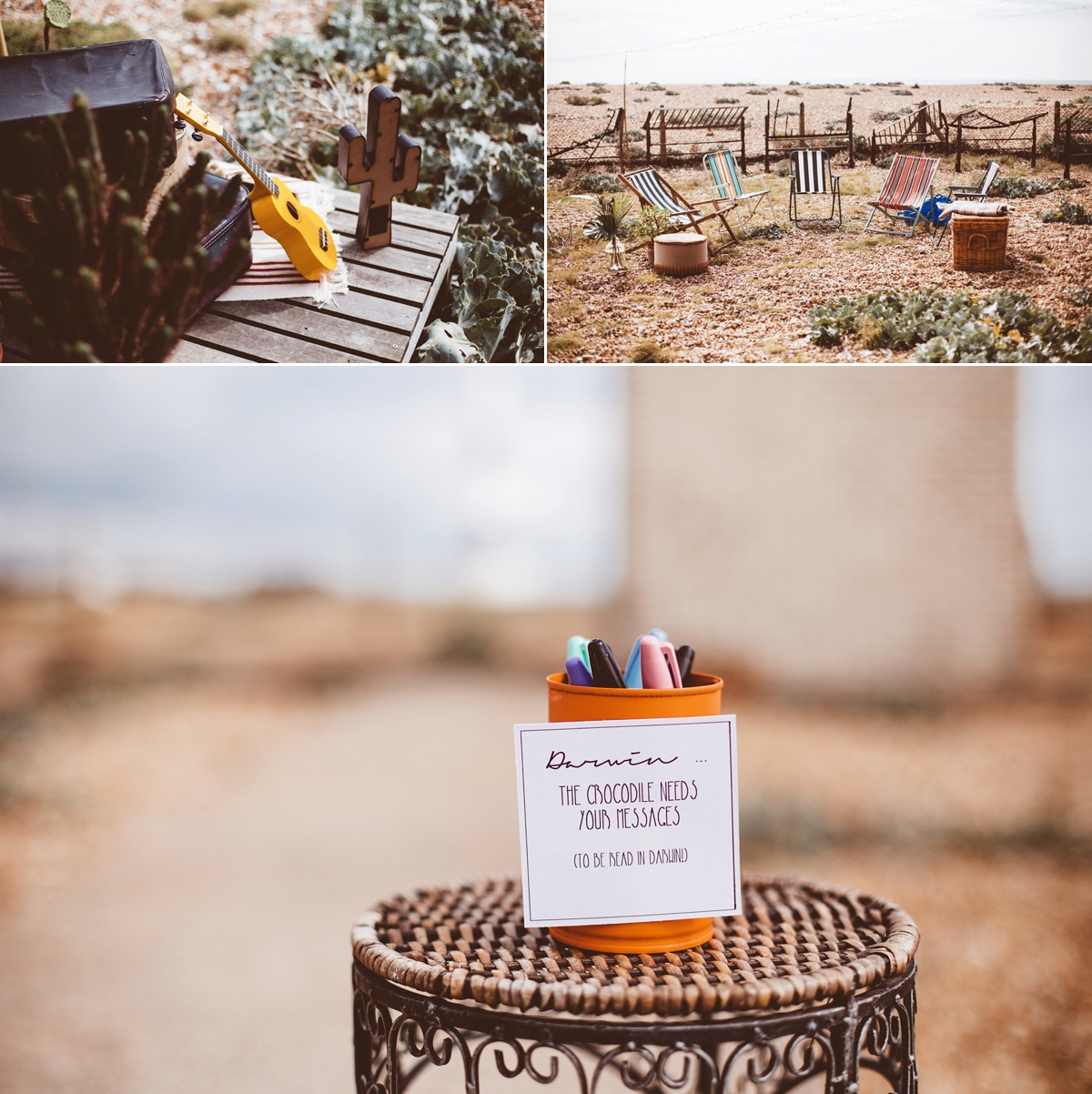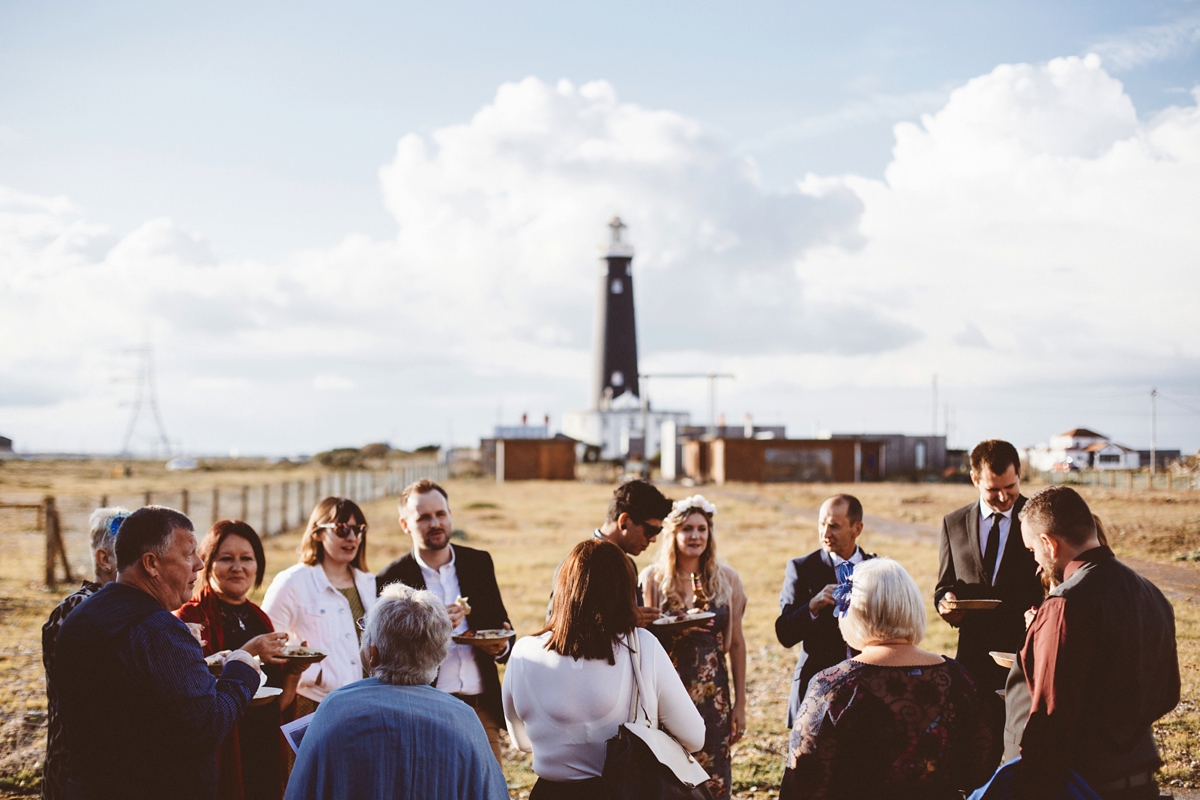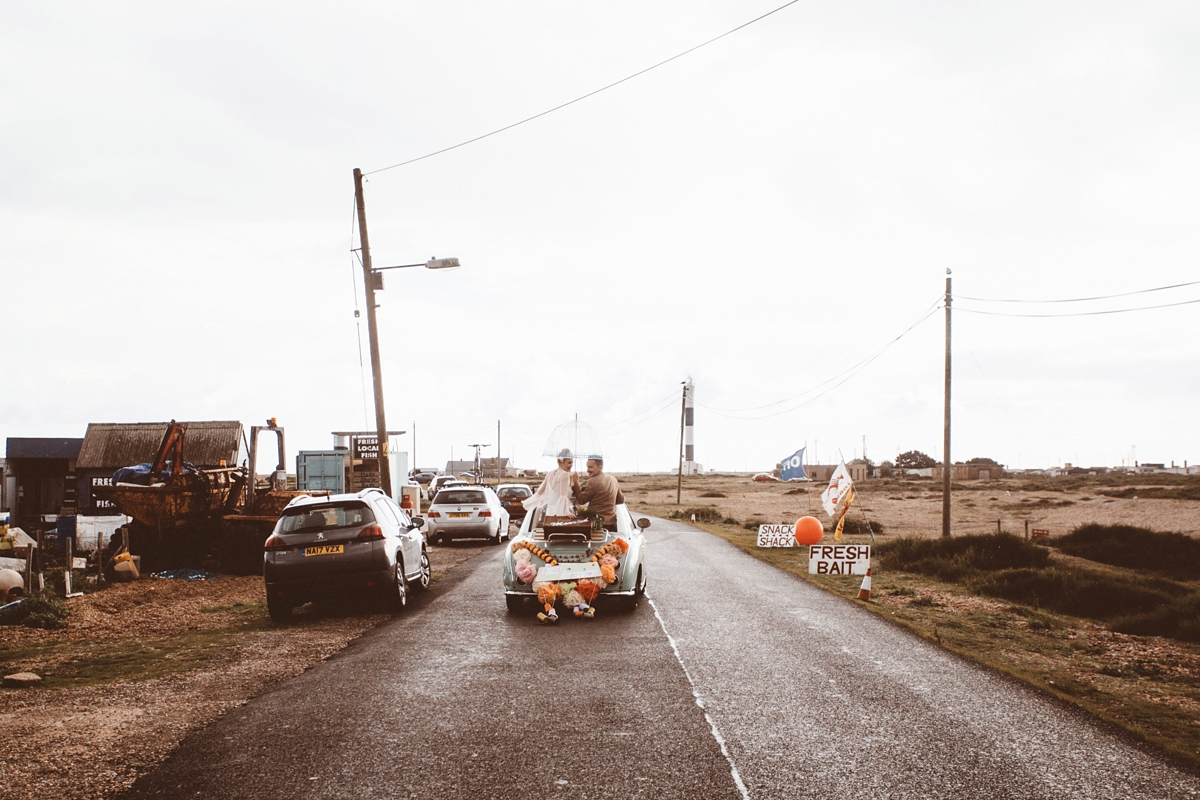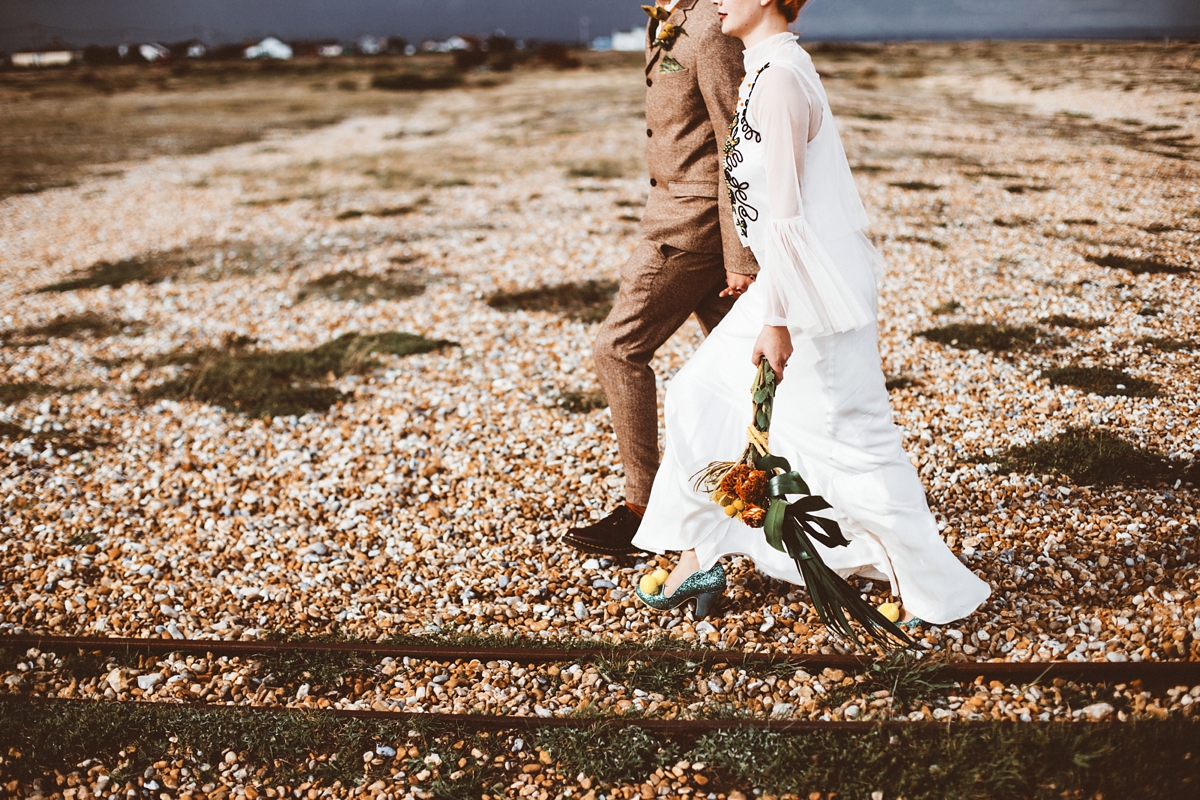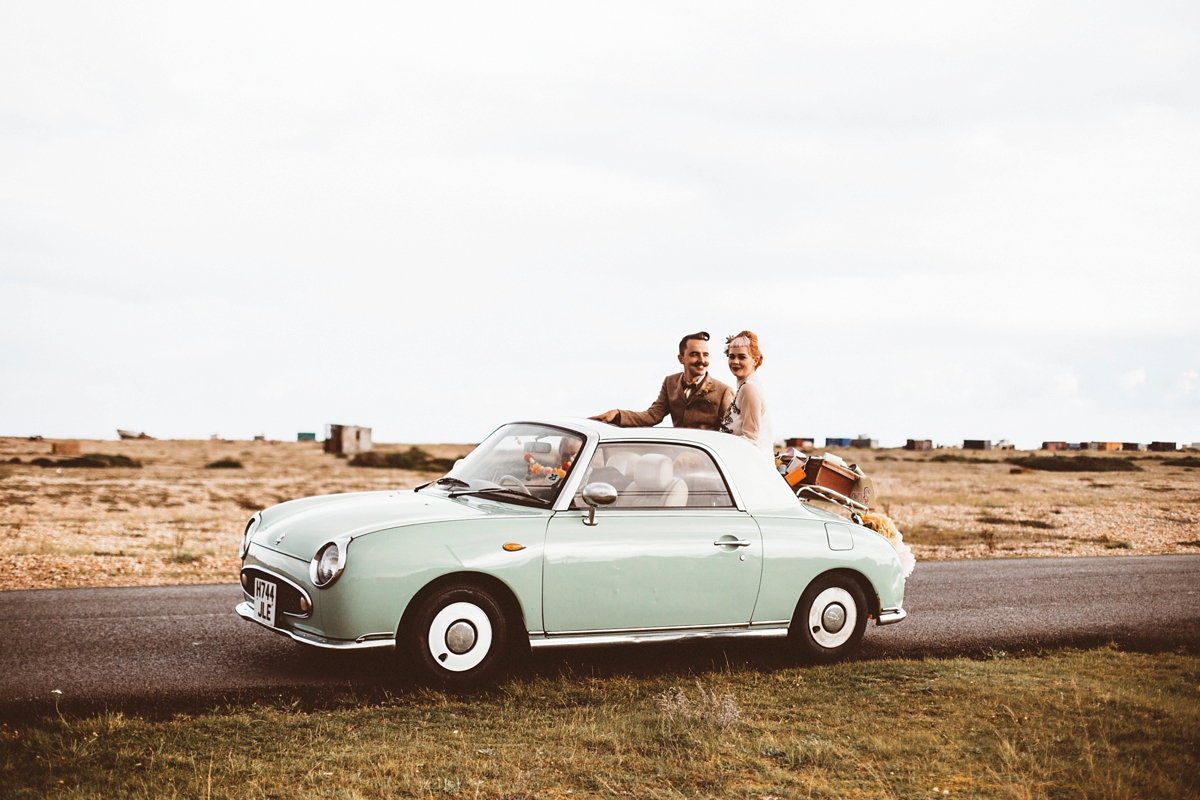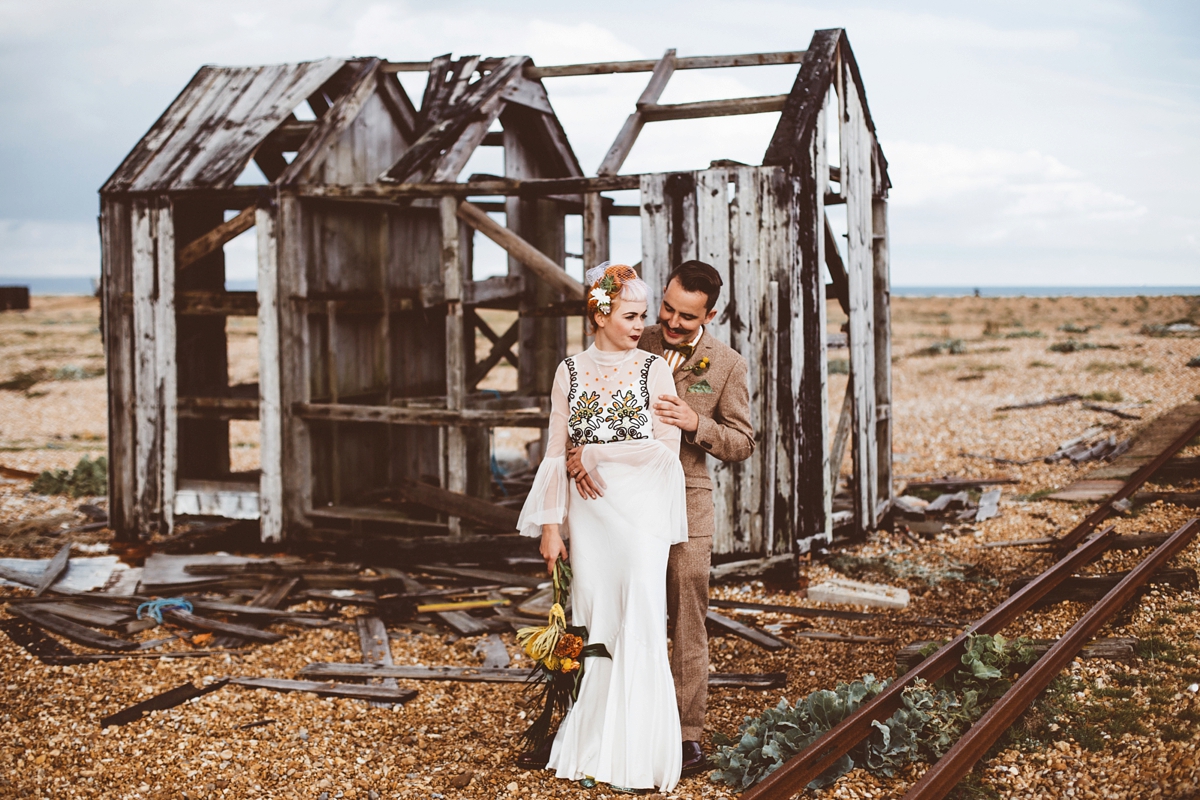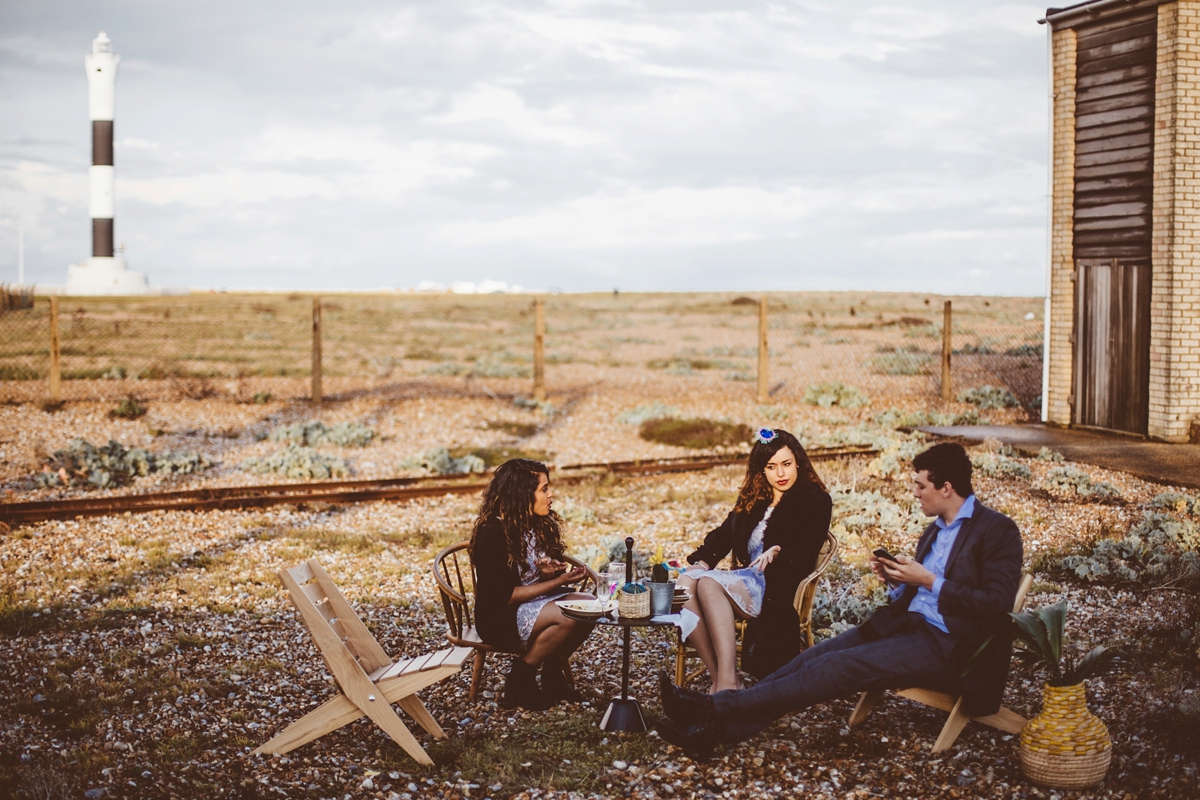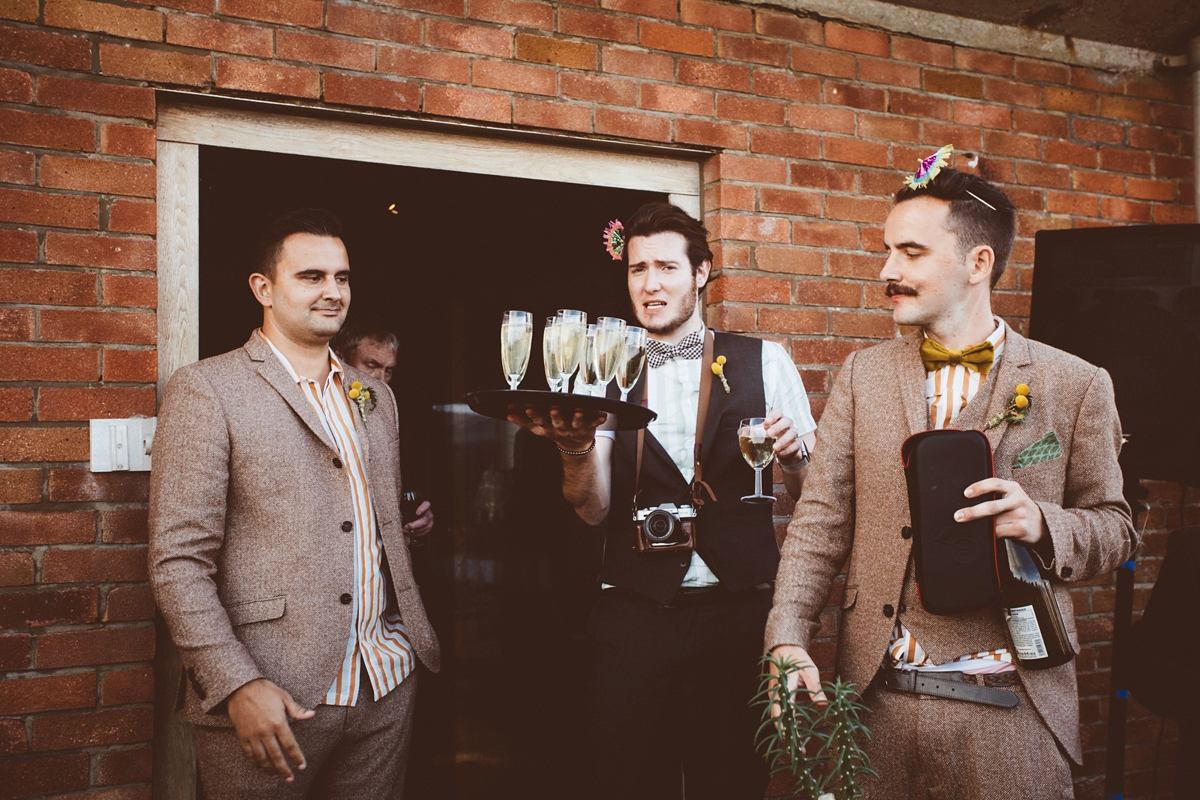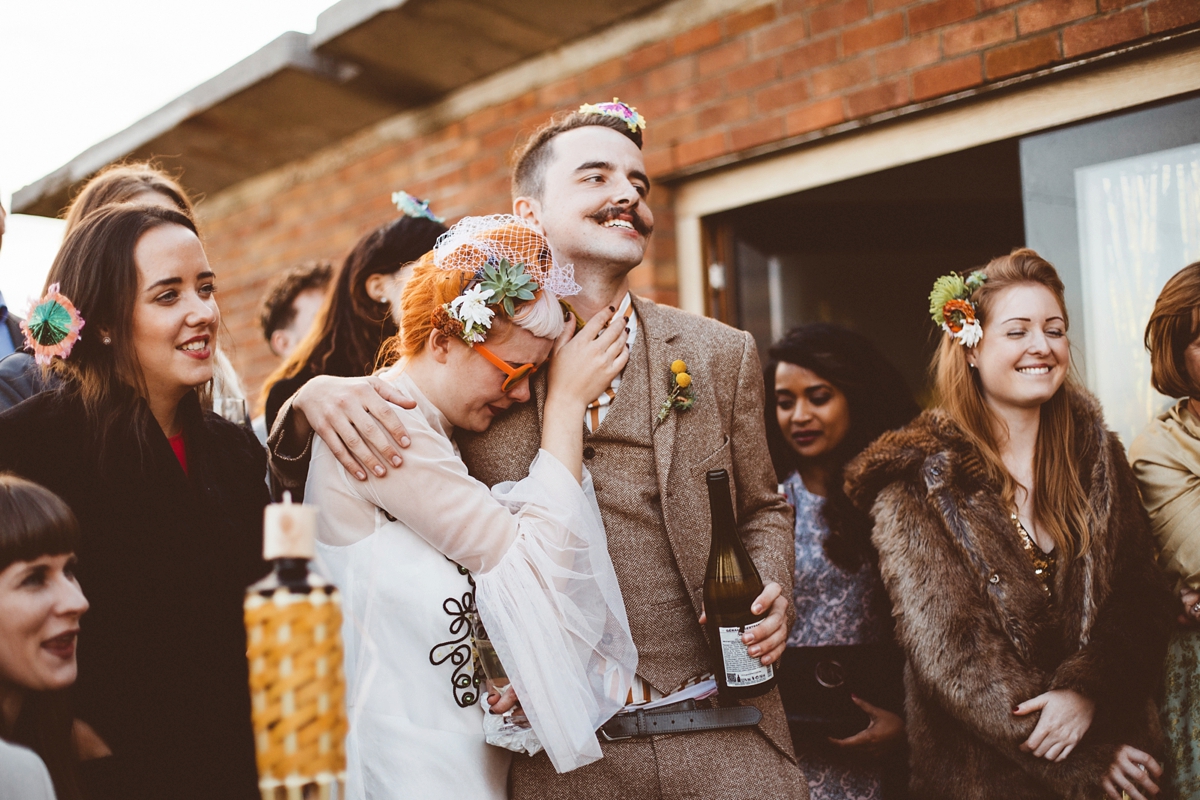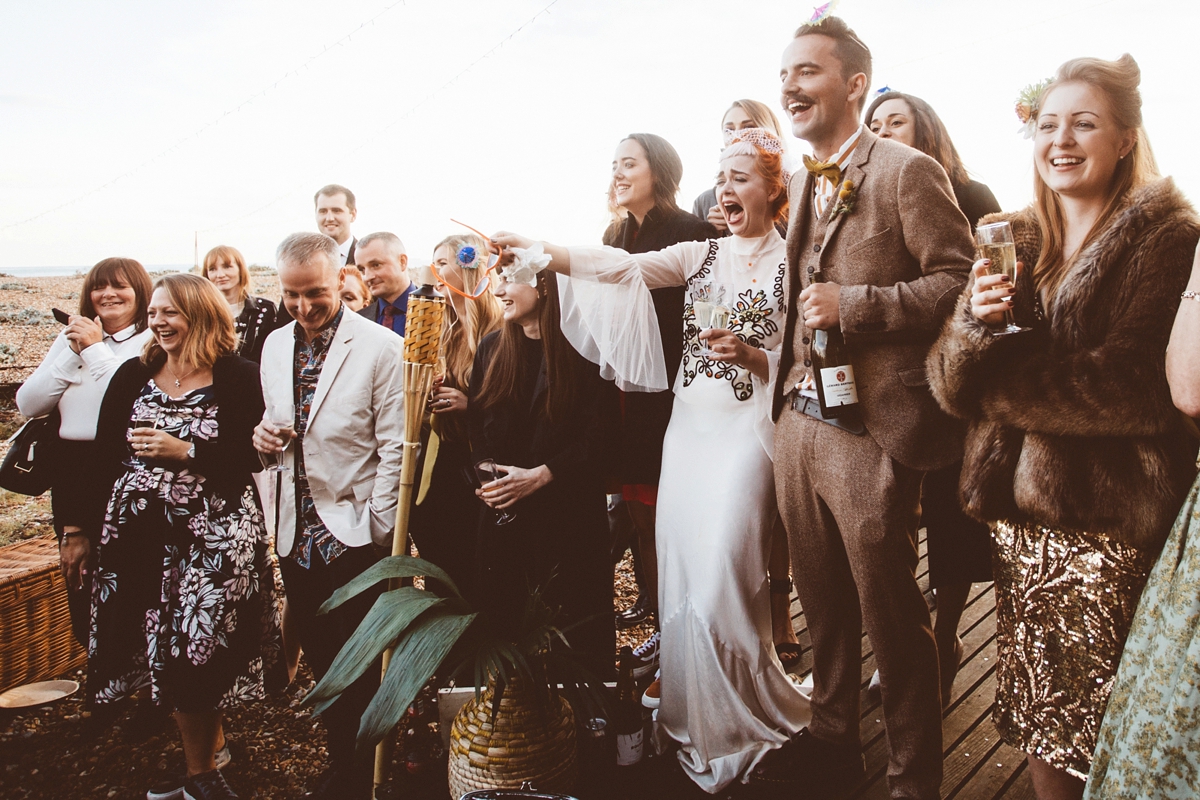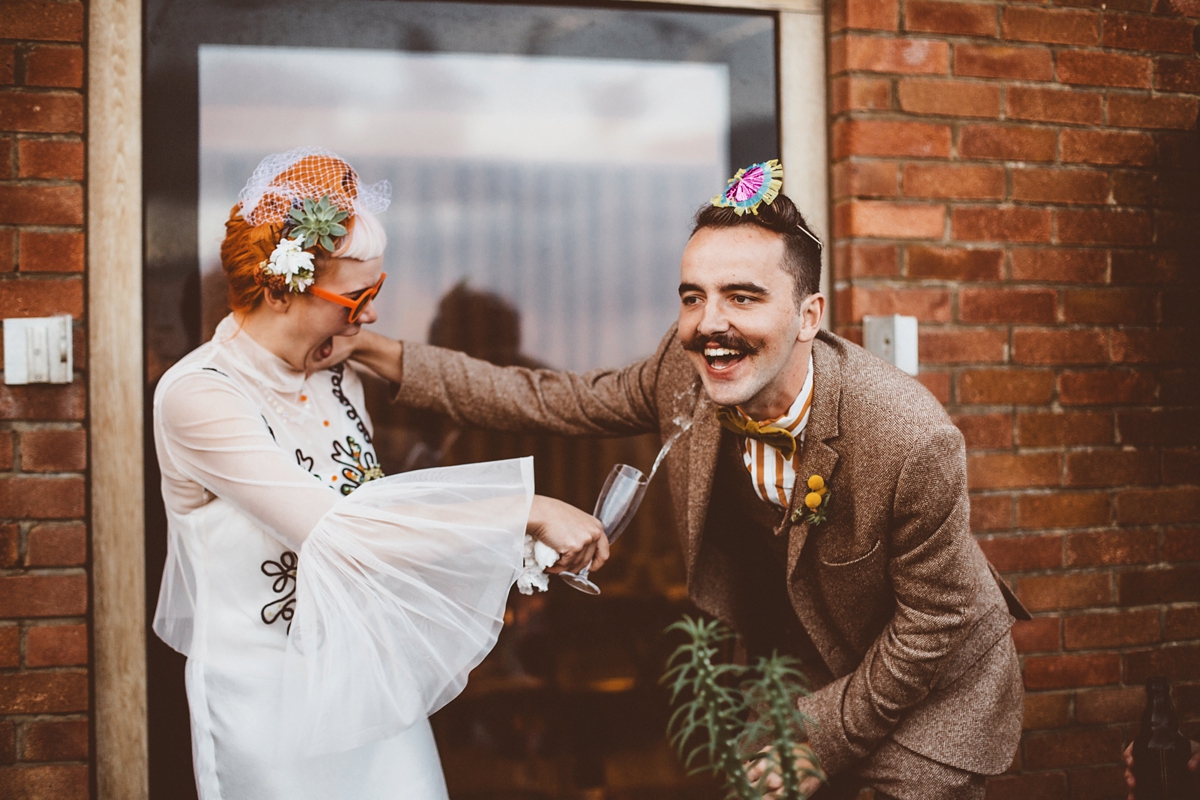 With a passion for craft beer, it was down to Lewis to brew over 50 bottles of wheat beer ('Dungeness Fizz Bomb') with custom-made labels with the slogan 'Ten Years in the Making'. London-based caterers Canababes drove from Hackney to lay on an informal table buffet and vegan canapes.
"East London vegan bakery company VIDA provided three bespoke flavours and designs for our cakes based on an initial consultation and tasting of flavours: Matcha and white chocolate topped with real succulents, banana and passionfruit covered in exotic fruits and a classic raspberry vanilla sponge in which a pair of lobsters (one with a beaded veil) sat together."
As the sun went down behind the lighthouse, guests signed an inflatable crocodile, which doubled as Rebecca and Lewis' guestbook, lit the sky with sparklers and danced along the beach to conclude a magical day.
Words of Wedded Wisdom
"For those moments you knew you wanted but would consequently become too wrapped up in the day to even remember – I'd encourage a bridesmaid or close guest to have the involvement to organise/remind you that now could be the perfect time. For me I totally forgot to throw my bouquet although I never told anyone I even wanted to, and we also forgot to put our favourite vintage film and photo slideshow on the outdoors projector!"
"Since we had no event manager or venue with their own staff to help with the running of the day I feel it's so important to bring people together and let them be involved in the smooth running of your day, plus they'd love to! As un-traditional as we wanted our wedding to be our photographer almost saved the day by knowing our schedule and prompted us along the way."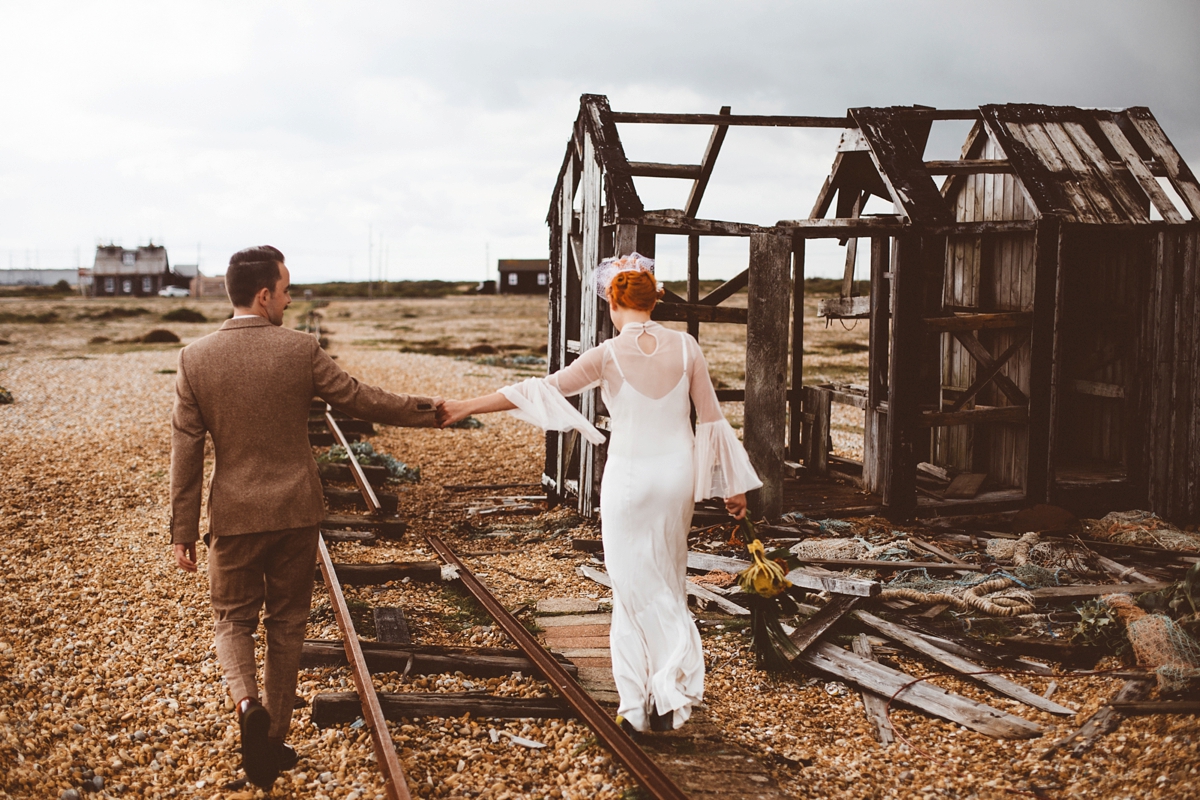 Massive thanks, Rebecca and Lewis. Wherever you are in the world right now on your travels, I hope you're having a fantastic time. What an enchanting day in a unique and incredibly special location. Thanks also goes to Rebecca of A Thing Like That for such beautiful images, too. There are lots more spectacular lighthouse weddings to enjoy on Love My Dress here, too.
With love,
Laura